Prim & Prep's Guide to the Best Shaving Brushes
While wet shaving can provide a much closer, more comfortable shave, it also requires a bit more of an initial investment. Whereas many men simply choose a cheap can of shaving cream and a throwaway disposable razor, traditional wet shaving requires you to pick up a quality razor (safety or straight), shaving soap and a shaving brush. Be sure to also check out our lists of the top safety razors, shaving soaps, razor blades, and more.
You could be forgiven for thinking that the shaving brush is probably the least important of all the necessary tools, but in actuality, the quality of your shaving brush does matter. While it obviously doesn't matter as much as using a quality razor, choosing a decent shaving brush will still help the entire process go more smoothly (and result in smoother results).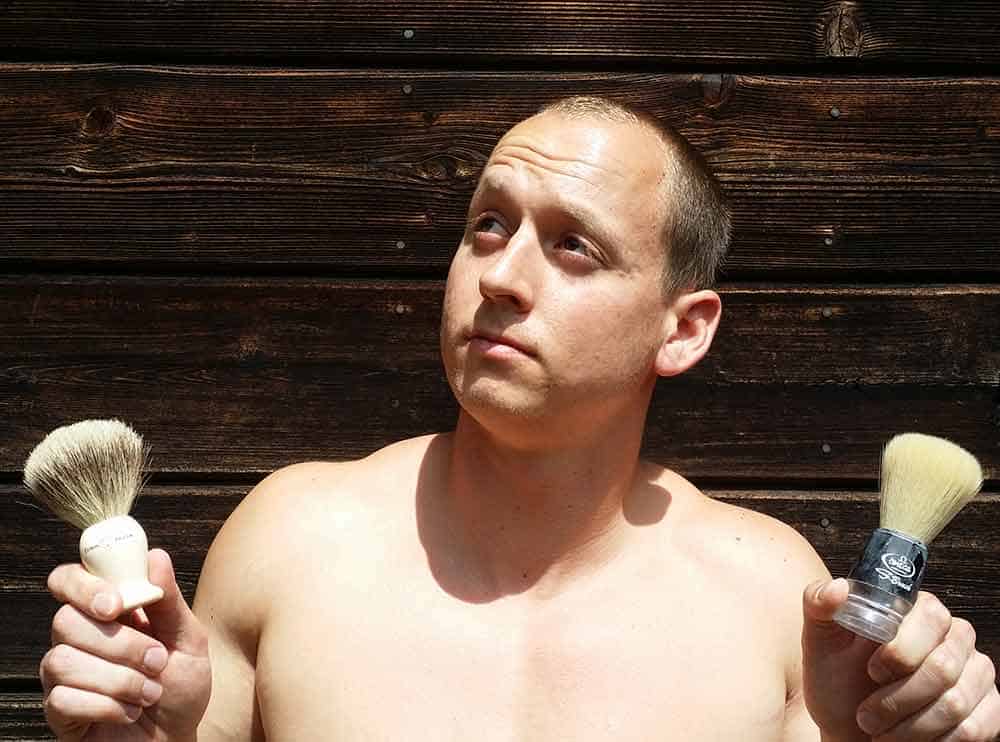 In the past, a shaving brush was considered an essential part of any man's shaving kit, but with the invention of aerosol shaving foams or gels and disposable razors, it's one of those products that's kind of been phased out. That doesn't mean that it's unimportant, especially if you plan on using a traditional shaving soap, as a shaving brush is really the only way to get shaving soap to lather. Additionally, a quality shaving bowl can also greatly assist you in the lathering process. Still, a shaving brush has more uses than just building up a lather from your shaving soap, as the brush also helps to draw the hairs out from the face, making them easier to cut in one stroke. Not only that, but using a shaving brush will also reduce the amount of soap or cream you need to build a rich lather, thus saving you money in the long run. Finally, shaving brushes also help to exfoliate the skin and open the pores before shaving—all of which should result in a much more comfortable and enjoyable shave. Be sure to check out our awesome infographic on the science of wet shaving.
In truth, if you want to use a shaving soap, or even a quality shaving cream (not foam), a good quality shaving brush is absolutely essential (Check out our list of the top shaving creams for men). That being said, there are several different types of shaving brushes available nowadays, so it's important to know the differences between the various qualities in order to determine which is the best shaving brush.
What Makes the Best Shaving Brush: Badger, Boar, Horse and Other Types of Hair
Although you can now find shaving brushes made from all sorts of natural and synthetic hairs, for those that want a true traditional wet shave, badger hair is really the only way to go. That being said, there are a number of decent options that use some other type of hair, while there are also several different grades of badger hair as well. All of these different options makes it important to know the differences between them all, as it will allow you to find the right compromise between quality and price.
While silvertip badger hair brushes may be the best quality, they also tend to cost the most (usually around $150 or more). If you've got that kind of money to spend on a shaving brush, there is no doubt that a silvertip badger hair brush is the best shaving brush money can buy. However, due to the high price, we probably wouldn't recommend them for most guys, but that doesn't mean that you still don't have many excellent options.
Generally speaking, the higher quality hair grades are softer and thus feel more pleasing on the face. In addition, while all brushes need to be soaked, the best shaving brushes require a much shorter soaking time, as they are much better at holding on to water and lather.
Shaving Brush Types Ranked by Grade of Hair
Best Shaving Brushes: Brands We Know & Trust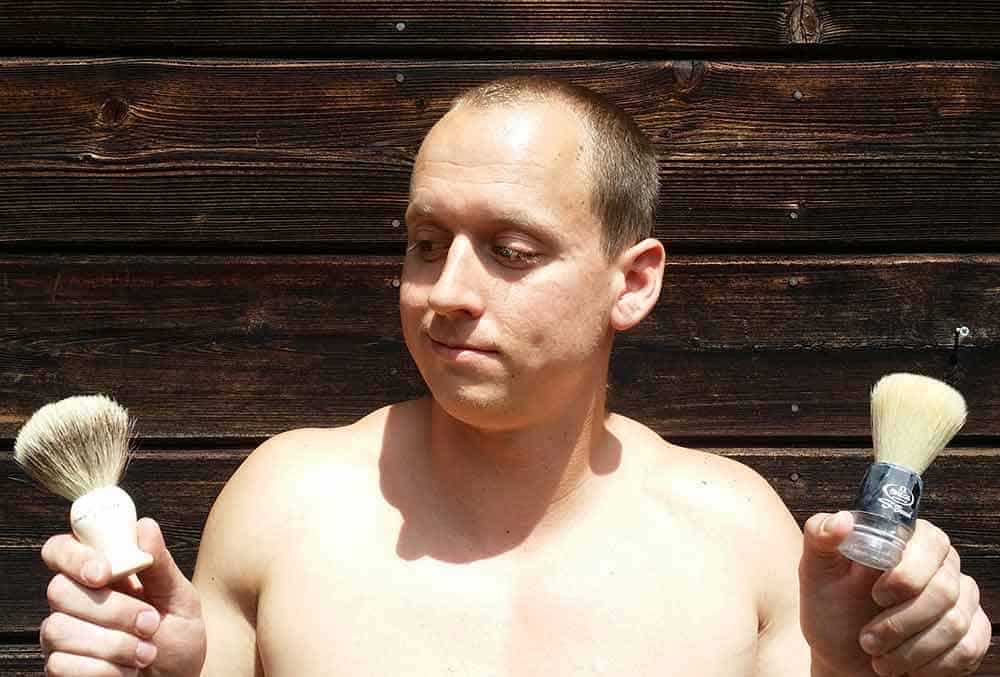 There are a huge number of shaving brush manufacturers, many of which produce excellent products. Nonetheless, there are also a huge number of brands with less than stellar reputations, some of which are known for trying to pass off lower grades of badger hair as silvertip or super by dying the hair to give it the unique banded look that only the higher grades have. For this reason, it's important that you go with a brand that is well-known and has received good overall reviews, as otherwise you may end up paying way too much for an inferior quality brush.
#1 Edwin Jagger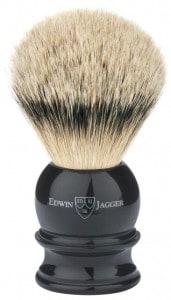 In terms of overall quality, we find English shaving company Edwin Jagger to produce some of the best shaving brushes on the market. The company produces a wide range of brushes in different grades of badger hair, including the super popular Edwin Jagger Extra Large Silvertip, which is one of the best shaving brushes we've ever come across.
#2 Mühle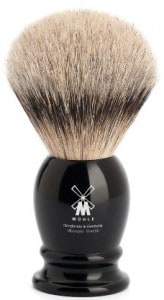 In addition to Edwin Jagger, we also are quite fond of Mühle, which produces some outstanding badger hair and synthetic brushes, including the aforementioned Silvertip Fiber v2.0. Mühle also produces some models with uniquely designed handles that are amongst the fanciest and most expensive models you'll find, such as the Silvertip Badger with Carbon Handle, which sells for well over $600.
#3 Omega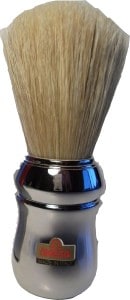 While there's no doubt that brush is probably out of most of our price ranges, Omega is a good bet for something a bit cheaper. While they produce excellent badger and synthetic brushes, we've also found that Omega boar hair brushes are amongst the best on the market. If you're looking for a travel shaving brush, we can definitely recommend the Omega #10048 Boar Bristle, aka The Pro 48. At less than $10, this brush is cheap enough that you won't care if it gets lost, but is still much higher quality than many others on the market.
#4 Parker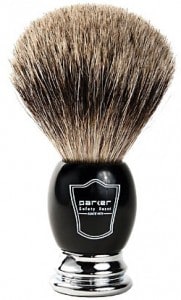 At around $35-50, Parker's Pure Badger shaving brush is another great option, as the quality of the brush far outweighs its price. It is also one of the better reviewed brushes we've come across and has a 4.6 star rating from over 500 Amazon reviews.
Conclusion
In terms of the actual quality of shaving brushes, the type and grade of hair used matter much more than the particular brand you choose. Still, some men also care about the look, shape or size of the brush, but that's all more a matter of personal preference like so many other things. If you're just starting out with wet shaving, you probably won't notice a difference from anything other than the quality of the hair, so we'd recommend just buying the best shaving brush you can afford and getting started.
Hey! Don't Leave Yet!
If you found this article helpful please be so kind as to share it on Facebook or other social media per the buttons below. We really would appreciate it as we have worked so hard on this post for you. I have a feeling some of your friends and family will find it helpful as well.
Also be sure to join the Prim&Prep community! Not only will you have a chance to WIN your choice of a quality safety razor or beard oil but we will provide you with all kinds of helpful and enlightening male grooming tips and advice directly to your inbox so you don't have to waste your time fiddling on the web to find the right information to look and feel your best. There is nothing to lose and so much to gain. SIMPLY SUBSCRIBE BELOW!