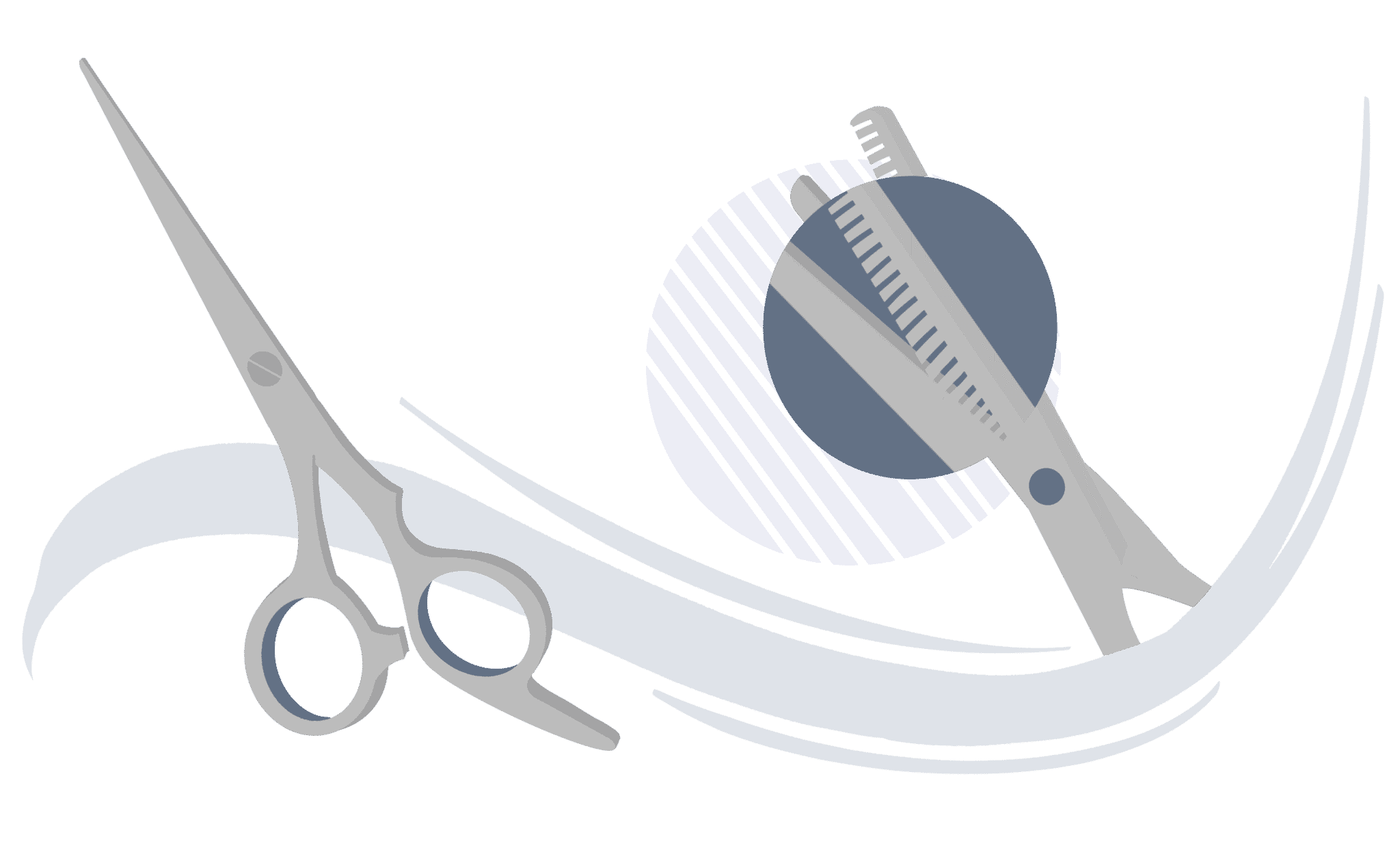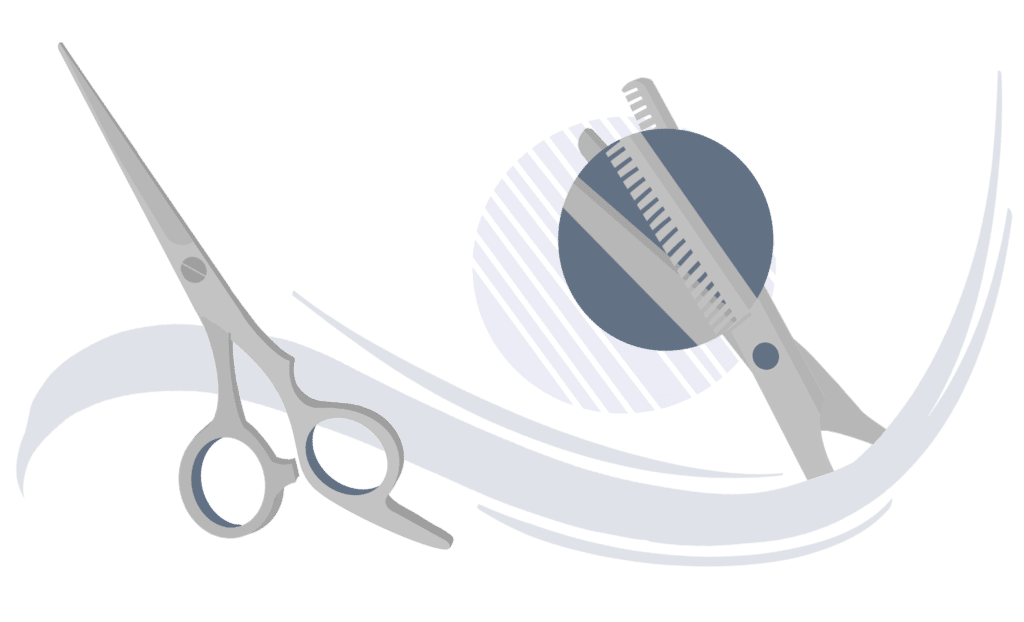 You may have tried cutting your hair at home before. Maybe you ended up with a cut that looked worse than when you started. Perhaps, even though the online stylist said not to use the kitchen scissors, you did anyway. So which scissors are best to use then?
Professional shears designed for cutting hair offer a razor-sharp edge, leaving you with a clean edge kitchen scissors never could.
If you are looking to trim your hair at home and want to achieve a look that doesn't need fixing at a barber, great! Keep reading to find out which hair cutting shears to try.
We have researched the best hair cutting shears out there, compiling this list to share with you. Each pair that made it onto this list offers premium quality and a cut like no other.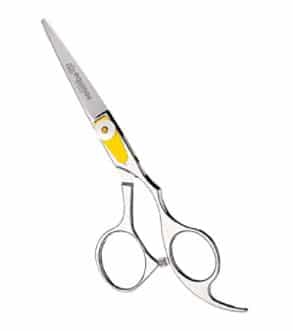 Do you prefer trimming your hair at home? If you do, then Equinox's Professional Razor Edge Series Barber Hair Cutting Scissors are for you.
Equinox offers "outstanding execution" from their barber shears. These scissors come fashioned from quality materials, making it simple to banish split-ends. They offer an easy-to-use design and a sleek look. Use these elegant scissors to give yourself the hairstyle you love.
Specs
Made from Japanese stainless steel
Ergonomic design
Includes a curved finger rest
Measures 6.5-inches
Who is it Best for?
Whether you prefer giving yourself a full haircut or snipping off your split-ends, these shears are for you. Their versatility makes them ideal for creating bold styles or for precision cutting. So, no matter what look you are after, you know it is achievable with these shears.
Perhaps you don't need them to trim the hair on your head. Maybe it is your facial hair that could do with a snip. Use them to shape your beard and keep your mustache in line. These handy trimmers offer the perfect solution to at-home grooming.
If convenience is vital for you, then these shears are right up your alley. They are lightweight and an ergonomic handle that makes them simple to wield. This means you can snip away quickly and easily without hassle.
Key features
These sleek shears come fashioned from quality Japanese steel. This material is resistant to rust and corrosion and provides a sharp edge. It makes sense then why barbers find this steel ideal for hair cutting shears. By tempering them, Equinox adds extra strength to their hand-sharpened blades. Cutting hair with blades that are blunt leads to split-ends instead of removing them. For this reason, Equinox's blades are superior.
The handle of these shears features an ergonomic design that is comfortable to hold. By cradling your fingers, the handle allows you greater control, enabling you to cut and snip confidently. These scissors measure 6.5-inches. The size of choice for most barbers makes it easy for them to trim lengths of hair with ease.
Are you tired of hairs being trapped between your scissor blades? You can say goodbye to that problem with Equinox's hair shears. The stainless steel finish provides a sleek surface that prevents hairs from sticking. So no more annoying clumps of hair being caught in your blades.
These scissors not only look great, but you can also fine-tune them to the tension of your choosing. By adjusting the screw on the scissors' side, you can set them to suit your needs. This customization makes these shears simple to use. It allows you to snip away and achieve the look you have always wanted.
Pros
Features razor-edged blades
Cons
You must wash them before use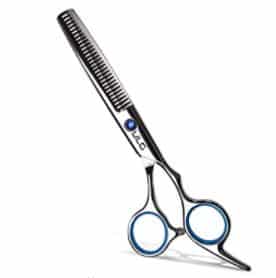 To achieve a soft, feathered look or thin out thick hair, you need a pair of thinning scissors. ULG Hair Thinning Scissors, to be exact.
These special scissors come with a row of teeth fashioned from stainless steel. This design allows you to thin out your hair without causing split-ends or damage. Perfect for achieving the look you want from the comfort of home.
Specs
Made from Japanese stainless steel
Features a length of 6.5-inches
Includes removable finger rings
Sees 30 individual teeth
Who is it Best for?
If you battle with thick, unruly hair, then thinning it out is a way to keep it tamed. Using ULG's thinning scissors, you can do this easily. By thinning out your hair, you soften it, allowing it to sit evenly. With these shears, your days of overly voluminous hairdos are over.
These scissors are safe for use on people of all ages, from babies right up to the elderly. The sharp edges of the teeth are in the grooves and not on the top of the teeth. This means that they aren't sharp where little fingers can grip them.
If the thought of going to the barber fills you with dread, then these thinning shears are ideal for you. Add them to your home grooming kit and lighten up your hair at home. By removing hair with these special shears, you eliminate some bulk. In doing this, you allow your hair to sit without feeling heavy. The result? It leaves you with the right amount of volume.
Key features
Cutting your hair with blunt scissors only leads to more damage. Using kitchen scissors will do just as much harm. That is why we recommend using these thinning shears by ULG. They come fashioned from Japanese stainless steel, a durable material resistant to rust. This sturdy steel also allows for a razor-sharp blade that ensures you get a stylish cut each time.
You may find with other scissors that your fingers become raw or blistered, but not with ULG's shears. Removable rubber finger rings add cushioning to the inside of the handle, preventing pain and discomfort.
These shears take comfort a step further with a handle that sees an ergonomic design. ULG has made the thumb handle shorter than the finger handle. They do this to prevent overextension of your wrist and thumb movement. Instead, your hand sits comfortably, allowing you to trim your hair with ease.
Pros
Luxurious in design and finish
Safe for use with all ages
Cons
Designed for right-handed people only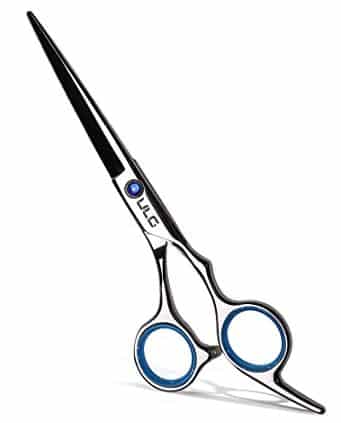 Keeping your hair looking impeccable is simple with ULG's Professional Barber Shears. These sleek, luxurious shears bring a dash of style to your home grooming kit.
Made from the finest Japanese stainless steel, you won't find a more durable pair of hair scissors around. Their razor-sharp blades enable you to achieve the hairstyle that suits you best without damaging your hair. The days of split-ends are over.
Specs
Removable finger rings
Razor-sharp blades
Made from durable Japanese stainless steel
Multifunctional
Who is it Best for?
Are you starting a career as a barber? Or perhaps you are already a barber, in need of new shears? If you are, then ULG's professional barber shears are calling your name. These scissors add a touch of class to your business that clients will notice.
If you prefer snipping your hair at home, then these may be the best hair cutting shears for you. Their unique design makes them comfortable to hold so that you can cut your hair with ease. Painful fingers and wrists no longer pose a problem.
Different hairstyles call for special scissors. These versatile shears allow you to achieve a range of styles, from bold cuts to more precise snips. Use them to trim your split-ends or even those of your family members. ULG's professional barber shears are ideal for use with all age groups.
Key features
When trimming your hair, or someone else's, you need a pair of the best scissors for cutting hair. What makes a set of hair shears so great has a lot to do with comfort—these professional shears by ULG offer that thanks to their ergonomic design. Here, the thumb holder sits lower than the finger holder, creating a handle that is gentle on the wrist and elbow.
The comfort offered by these shears continues as two rubber finger rings. These detachable rings slip inside the handles and prevent friction that causes blisters. This cushioning makes the shears easy to hold for extended periods.
These scissors offer a combination of quality materials with an elegant finish. Durable Japanese stainless steel gives these scissors their strength and sharp edges. A gleaming blue diamante stone that sits on the two-leaf join adds a touch of class. Cutting your hair ceases to be a chore. It becomes an integral part of your grooming process when you use ULG's professional shears.
Pros
Razor-sharp Japanese steel blades
Cons
You will need to lubricate the blades frequently
Designed for right-handed individuals only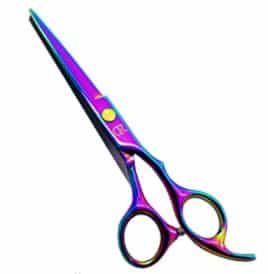 JAVENPROLIU's Professional Hair Cutting Shears bring excitement to the world of hairdressing. Their rainbow-colored design brings the fun back into hairdressing. Use them to fashion cuts as attractive as the colors themselves.
These shears offer a durable design made from quality materials. It is simple to understand why these shears are a must-have in any barber's kit in the salon or home.
Specs
Hand-crafted blades
Fashioned from Japanese stainless steel
Ergonomic handle design
Resistant to corrosion
Who is it Best for?
Men who love to stand out will go crazy for these vibrant barber's shears. Not only are they struck through with vivid colors, but they are some of the best scissors for cutting hair. Javenproliu uses premium materials to craft these shears, making them ideal for professionals.
If you prefer snipping your own hair, or even shaping your beard from the comfort of home, then this handy tool is for you. The shears feature a sharp edge that cuts through the hair with ease, leaving you with the perfect cut each time.
No matter how old or young you are, these fun shears will leave your hair looking better than the kitchen scissors ever could.
Key features
Javenproliu places their scissors through many processes to create this sturdy product. By forging Japanese stainless steel, they ensure that the blade is sharp and durable.
An adjustable tension setting allows you to set the tension of your shears. This means you decide how readily the blades open and close, allowing you to have greater control. The finely tuned design prevents friction, too, for a smoother experience.
Javenproliu takes their customer's preferences into account. We see this in the ergonomically designed handle. This handle's shape allows you to use the shears extensively without experiencing fatigue in your hand or wrist.
Cons
Designed for use by right-handed individuals only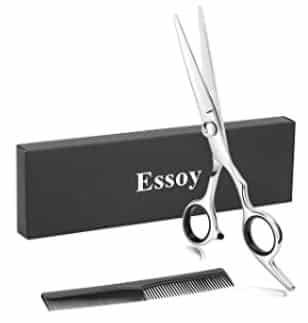 Packaged in a box and accompanied by a cleaning cloth and comb, ESSOY's Professional Hair Cutting Scissors are the epitome of style.
This premium set makes grooming your hair a simple pleasure. Offering the best shears for hair made from quality stainless steel, Essoy creates products professionals want to use. Chances are you will want to try them too!
Specs
Fashioned from stainless steel
Measures 6.7-inches
Includes a cleaning cloth and comb
Razor-sharp blades
Who is it Best for?
If you have a brother, father, or husband who is in the business of cutting hair, then this set makes the ideal gift. This set makes a great grooming kit, with three functional pieces placed in an elegant box. Perfect for the man who loves to trim his hair or beard.
If you like keeping things neat, and by "things," we mean your hair and accessories, then this set will appeal to you! The shears allow you to cut your hair quickly, while the cloth makes cleaning your scissors simple. When done with your trim, pack your set away in the handy box provided.
Clipping, snipping, and cutting at home or in the barbershop become a breeze with these shears. So whether you are a professional or a man who prefers to create their own style, these scissors are for you.
Key features
There is nothing more annoying than a constant clicking sound. Essoy knows this, which is why they placed a muffler on the thumb handle. A nifty little device that prevents the handles from clicking together as you cut.
The considered design of these shears includes rounded edges on the tip of the blades. This feature makes them ideal for use with people of all ages, from babies to the elderly. There is no risk of poking or injuring your clients.
Two removable finger rings provide cushioning for your fingers, offering optimal comfort. These rings also ease the risk of blisters forming. Your other fingers sit in the groves cast for them, a feature that increases your control while you cut.
Pros
Made from corrosion-proof stainless steel
Cons
The shears are not made from Japanese stainless steel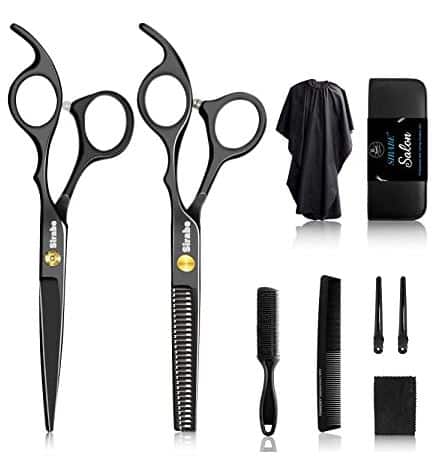 Sirabe offers a professional barber's kit like no other with their Ten-Piece Hair Cutting Shears Set.
In this comprehensive set, you will find ten functional items. They include a pair of the best hair shears, thinning scissors, a comb, a cape, two clips, a thinning comb, a cloth, and a case. If you are starting as a barber, this is one set you will want to look at more closely.
Specs
Convex edges for a cleaner cut
Made from Japanese stainless steel
Adjustable tension screw
Includes a ten-piece set
Who is it Best for?
This set makes the perfect beginner's kit for apprentice barbers or students. The comprehensive set means that you get to save money by not having to buy each item separately. The Handy leather case makes traveling with your kit to and from work easy.
If you are a professional searching for a new kit, then this ten-piece collection has your name on it. The shears are fashioned from top quality stainless steel that won't rust or blunt quickly. This allows you to keep using these tools repeatedly for years to come.
This collection of hairdressing accessories makes a fantastic gift for the man in your life, especially if he likes to cut his own hair. Simple to store and filled with all the items he needs, this set makes grooming at home pleasurable.
Key features
This set includes two pairs of hair shears, one for cutting, and the other for thinning. Both these shears come forged from sturdy Japanese stainless steel, so you can be sure they won't corrode. The razor-sharp blades see a convex shape that allows you to cut wet or dry hair without damaging it.
Both pairs of scissors come coated with a stylish finish that prevents them from rusting. This black coating matches the scissors to the accessories that go with them in the set. A muffler placed on each pair of scissors prevents them from clicking together as you cut.
Removable finger rings provide cushioning for your fingers to prevent blisters from forming. They also make it easier to use the shears for extended periods. An adjustable tension screw allows you to set the tension of your choosing. This handy feature offers greater control as you work.
This versatile set makes tending to your grooming needs a simple task. The cape and cleaning cloth takes the hassle out of cleaning up. While the two pairs of shears set you up to achieve the look you want. Use this set for your hair, your beard, or even to groom your pet.
Cons
The set only comes in black
Things to Consider When Buying Hair Shears
When buying scissors for your hair, there are a few considerations to take before making your purchase. The tips below will go a long way in helping you find the best shears that won't damage your hair.
1. Materials
Take the time to look at what materials make up your shears. The best scissors to cut your hair with come forged from stainless steel. This is because the steel won't rust and it doesn't blunt easily.
Shears made from other metals may rust with time or blunt quickly. This is something you want to avoid. Cutting your hair with blunt scissors leads to an uneven cut and split-ends. Other metals may also be tacky, causing hair to clump between the blades. You may have to rinse your blades repeatedly to rid them of the hair.
Certain hair products may also stain shears not manufactured from stainless steel.
2. Comfort and Design
Browsing through the products we have reviewed, you will see we emphasize comfort. We do so because scissors that are uncomfortable affect the way you cut. You may hold them at an odd angle to ease pain or avoid a blister forming, leading to a crooked cut.
Find yourself a pair of shears that focuses on ergonomic design and comfort features.
One such element is removable finger rings. They provide a layer that prevents your fingers from rubbing against the metal handle. In turn, this prevents chafing and blisters. These rings also add a soft surface that makes the shears more enjoyable to use for long periods.
The shape of the handle of the shears should come into account. Most scissors come with handles that have a thumb holder, which sits lower than the finger holder. This design fits the natural shape of your hand. This prevents undue stress on your thumb and wrist, allowing you to cut for longer without pain.
A muffler is also a significant design element that you will want to have in your shears. This useful tool prevents the handles of your shears from clacking together while you work. It also reduces the vibration caused by the handles connecting. Preventing this shock makes it easier to cut more steadily.
The more comfortable your shears are, the more you will enjoy them. This way, you can focus on the haircut you are giving yourself or someone else, leaving less room for error.
Finding the right barber shears to suit your styling needs takes patience and research. Hopefully, this review makes it a little simpler for you. Out of the selection we have shared with you, our top pick has to be the ten-piece set offered by Sirabe.
Featuring everything you need all wrapped up in an elegant leather bag, you can't go wrong with this set. The quality of each element speaks to all that you need to achieve a timeless haircut.