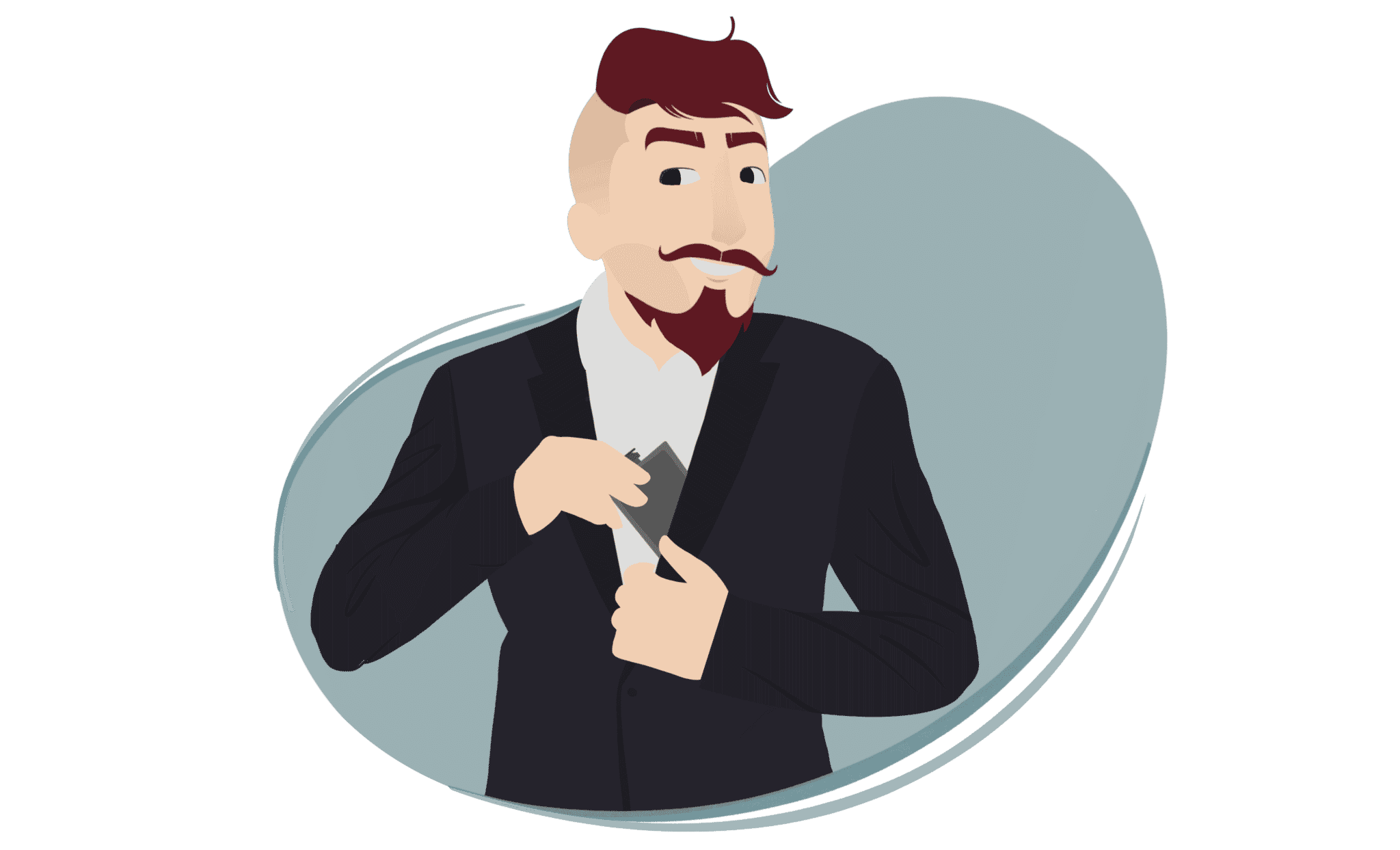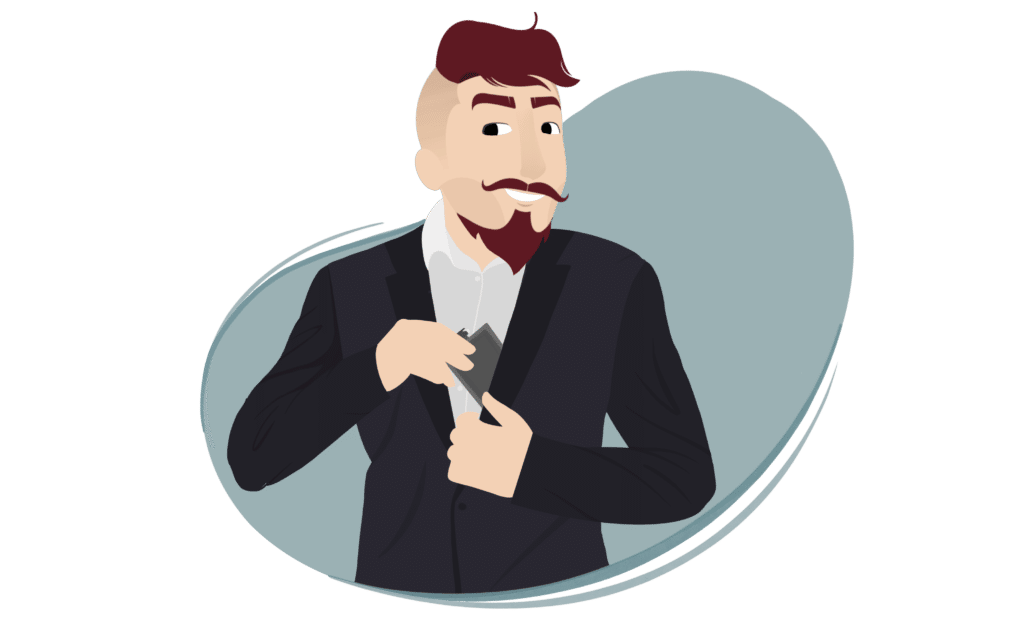 Attending a social gathering can be great fun, and it can be even better when your favorite drink is on offer. But what about the times when it isn't? Do you rock up with an entire bottle of your finest whiskey? Surely there is a better solution?
A flask solves these modern-day dilemmas. They make it simple to bring along just enough of your best liquor without having to lug the entire bottle with you. Besides, they look pretty neat too.
If you are looking for a stylish solution for carrying your tipple of choice, then a flask may be the answer. Keep reading to find out which flasks are the best of the best.
After researching flasks from all across the web, we have found a few worthy of review. Each of these flasks meets our exacting standards of design, capacity, and storage. Whether you are a business executive or a hippy, we have the flask you need.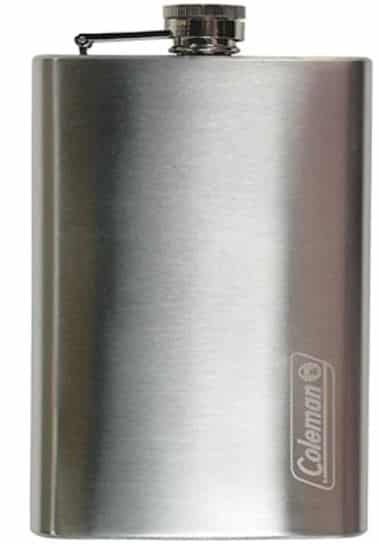 For over 120 years, Coleman has been creating the ultimate outdoor gear. Designed to be durable and portable, their expertly crafted adventure accessories stand the test of time.
Their flasks are no exception. Made to withstand the forces of nature, Coleman designs their stainless steel flasks with the adventurer in mind. Rugged yet sleek, they are ideal for that camping trip with friends or that black-tie cocktail party.
Specs
Made from stainless steel
Offers a capacity of eight-ounces
Includes a hinged screw-top
Brushed finish
Who is it Best for?
Is spending time outdoors, seated around a campfire with friends is your kind of thing? If you answered yes, then Coleman made this flask for you. While spending time in the great wide open, you need accessories built to endure the rough surroundings. This flask offers that and more. Finished with a brushed look, it quickly hides any scrapes or dents.
With the wilderness comes the weather. You need a flask that can withstand the elements. Luckily Coleman crafts their flasks from stainless steel. What this means is that you don't need to worry about your flask rusting or corroding. If it falls in the lake or gets rained on, your tipple stays well protected.
Better yet, it won't contaminate your drink or leave it tasting metallic. So you can enjoy your time with the boys while sipping on your favorite beverage-bliss.
Key features
The ultimate flask offers three important features: capacity, shape, and a lid that won't get lost. Coleman's drinking flask features all three.
Fitted with a hinged, screw-on lid, and your days of hunting about for the top you just dropped are over. Thank goodness. Unscrew your cap and let it rest on its hinges-it's that simple.
The eight-ounce capacity rounds out to roughly five or six shots, allowing you to carry a fair amount of drink. Whether you prefer to sip it neat or pour a measure with a mixer, this flask has you covered for more than a few drinks.
The curved shape synonymous with the best alcohol flasks makes them easy to grip. Coleman's flask is no exception. This curved design allows the flask to sit neatly against your leg for comfortable carrying. Narrow and elongated, these flasks fit in your sock against your leg or in the pocket of your pants.
Cons
Does not include a funnel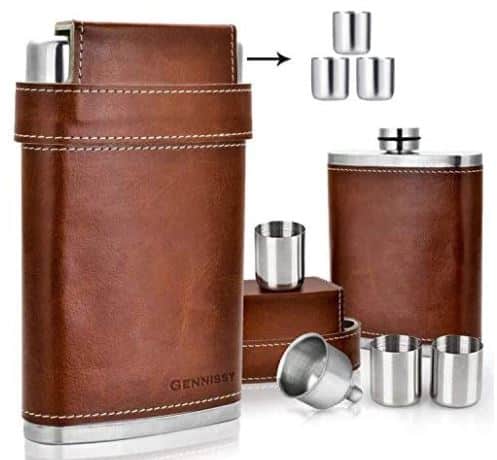 Gennissy's Stainless Steel Flask offers a timeless way to carry your favorite drink with you wherever you go.
Gennissy has been in the business of manufacturing quality home goods for over ten years. Their experience and caliber of workmanship shows in their high-end flask. It sets the standard for flask-carrying gentlemen the world over with its sophisticated finish and shape. Whether you use it at social events or on your camping trip, this flask adds a dash of style to the way you enjoy your beverage.
Specs
Fashioned from stainless steel
Leak-proof
Offers a PU leather grip
Includes a cap and three cups
Who is it Best for?
Few alcohol flasks compare to Gennissy's stainless steel flask. It offers a sophisticated look yet is robust enough to endure the outdoors. Its versatility makes it ideal for men who love spending time in the wilderness and for those who prefer a more refined event.
Included with this flask are a few accessories. These make enjoying your favorite beverage with friends a possibility. A stainless steel flask and three cups fit neatly under the cap. So whether you are on your own, or if you have company enjoying a drink is easy.
Rarely will you find a comprehensive set so sleek and stylish, making this flask the ideal gift. Perfect for men of all ages, the comfortable shape and classic detailing make gifting simple.
Key features
If you are looking for a more refined-looking flask, then this is it. A textured PU leather cover fits over the stainless steel flask, making it easier to grip. Adding a touch of color to the flask, this cover brings a sense of personal taste too.
Stainless steel is the material of choice for Gennissy's pocket flasks. Not only is it hardy, but its resistance to rust and corrosion makes it ideal for carrying liquid. The flask is treated and solidly welded to ensure that your drink of choice doesn't leak or take on the taste of metal. Leaking is even less of an issue thanks to the sturdy design of the screw-cap.
Offering a capacity of eight ounces, you can carry up to six whiskey measures of tipple with you. So whether you use it to store bourbon or tequila, it's up to you.
Pros
Offered in four unique shades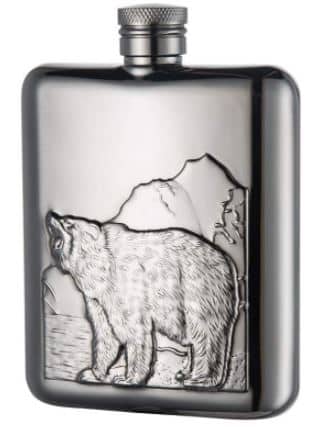 In the world of Lanzon, sophistication is key. They take pride in producing premium drinking flasks designed for the modern man. Polished and patterned, their hip flasks take on a style of their own.
Top-quality materials combine with a sturdy form to create a durable vessel designed to carry high-end spirits. Fill it with your best-loved bourbons, whiskeys, or vodka, and enjoy the taste you want wherever you go.
Specs
Made from food-grade stainless steel
Includes a funnel
Offers a six-ounce capacity
Features a contemporary floral design
Who is it Best for?
If you prefer the finer things in life, this high-end flask will speak to your personal taste. Detailed with a luxurious floral design, the flask is the epitome of contemporary style. The polished finish lends a further dimensionality to this stately flask.
An accompanying gift box and funnel make it simple to give this flask as a birthday or anniversary gift. This flask is suitable for men of every age and offers a refined way to consume the drinks they love the most.
Whether you enjoy taking your own spirits to a barbeque or to a black-tie event, you can do so in style with one of Lanzon's flasks. Enjoy your favored beverage anywhere with this tasteful and durable vessel.
Key features
As sturdy as they come, this tidy flask features a thickened stainless steel wall. The impressive durability and resistance to rust this vessel has made it easily the best made flask of the lot. The food-grade stainless steel prevents your drink from tasting metallic.
A food-grade silicone seal comes fitted inside the screw-on cap. Leaks and spills in your trouser pockets or blazer are a thing of the past. Your beverages remain enclosed, waiting to be enjoyed. A funnel comes included too. This handy accompaniment makes filling your flask effortless.
The detailed design continues as Lanzon has crafted their flasks to fill a curved shape. Not only does this form allow the vessel to fit in your pocket, but it follows the contour of your leg- a comfortable fit. The rounded shape makes it far simpler to hold, too, while the pattern introduces grip.
Pros
Suitable for all skin types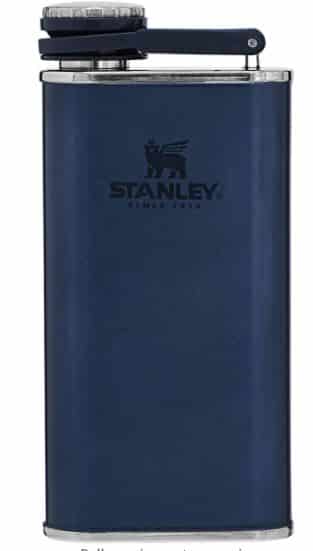 Timeless and durable, two words Stanley uses to describe their products. One such product that lives up to this is their Classic Flask. Robust, rugged, and not without style, these flasks suit every occasion.
For generations, Stanley has been crafting outdoor accessories. These items become a part of your adventures. Their flasks have evolved over the decades, bringing you a modern take on a timeless classic. Once you own a Stanley flask, you will never need another one again.
Specs
Offers an eight-ounce capacity
Rust-resistant
Features a hinged cap
Made from stainless steel
Who is it Best for?
If spending time outdoors in the wilderness is your kind of vibe, then this flask has your name all over it. Whether you take it on fishing weekends, camping trips, or to a cookout, this flask can handle it. It may feel lightweight, but its durability is unrivaled. Fashioned from one-millimeter thick stainless steel, it is as tough as nails.
The unique shades this flask comes in sees it turning its back on the same old silver look. Instead, offering you the opportunity to bring a piece of your personality to the table. So, if you are a guy who finds options appealing, then this flask is one to try.
These sturdy flasks make an ideal gift for groomsmen or for a bachelor's party—a token to ensure that the boys always come together to enjoy a drink and a game.
Key features
As a feature, durability hits the top of the list for Stanley's hip flask. Made from thickened stainless steel, this flask may be small, but it is robust. Known to survive bullets, 4000ft drops, and level 5 hurricanes, there is little this flask can't endure. The stainless steel also resists rusting and corrosion and won't leave your drink tasting metallic.
The lid attaches to the flask with a hinge. A fantastic feature that ensures you never lose the cap. Aware of how frustrating it can be to drop the lid in the sand or the bushes, Stanley made sure that you never experience with their flasks.
Convenience is a crucial part of Stanley's design. This flask is not only BPA-free but also is dishwasher friendly. Hello, easy cleaning! The contoured design allows it to slip into your pocket and fits the shape of your leg, preventing discomfort as you walk.
Pros
Offered in four unique colors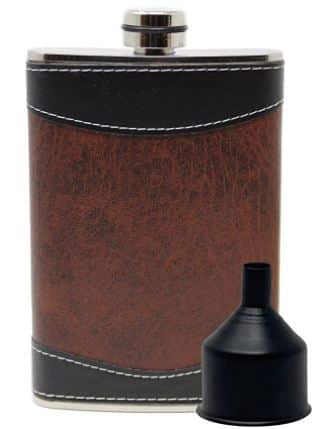 Primo's Liquor Flasks may be pricey, but they are well worth it. They come made to last, yet instead of taking on a rugged look, Primo opted instead for a touch of class. Fashioned from durable materials and finished with a copper lid, this is one of the market's coolest flasks.
Primo places great emphasis on the sturdiness of their design. Crafted with a thickness that is unlike that found on any other flask, it offers a good weight.
Specs
Made from food-grade stainless steel
Offers an eight-ounce capacity
Features a PU leather wrap
Comes with a funnel
Who is it Best for?
Men who value style can't go wrong with Primo's hip flask. The robust stainless steel vessel comes with a sophisticated PU leather wrap. Fashioned from contrasting shades of black and tan, it is both sleek and masculine.
Ideal for those who prefer spending time outdoors, and those who enjoy a high-end event, this flask is made for every man. Packaged in a black gift box and accompanied by a useful funnel, Primo's flask makes the perfect gift. Men young and old will appreciate the sturdy, elegant form that slips into the pocket with ease.
Offering a smart solution for bringing your own drinks to a party, the flask offers an eight-ounce capacity. That is five to six shots of your most-loved liquor, making any outing an occasion.
Key features
The six-millimeter thick food-grade stainless steel makes this one rigid flask. Laser-welded joints prevent leaking, keeping your drink where it should be – in your flask and not coating your pocket. The solid stainless steel is resistant to both rust and corrosion and won't bend, no matter how hard you drop it.
The heavy-duty copper lid brings a luxurious finish to the flask. It is fitted with a rubber ring that gives you a grip, making the cap easy to open. The screw-on design further prevents leaking, keeping your tipple airtight.
Included with the flask is a unique accessory that is often overlooked but is much needed; the humble funnel. This handy gadget makes getting your favorite liquid into your flask simple. It also prevents you from losing any to the countertops.
Pros
Features a heavy-duty copper cap
Things to Consider When Buying Flasks
When setting out to buy a quality hip flask, there are a few details that should remain in the back of your mind. Unfortunately, not all flasks are made the same, and some offer a lower grade quality. Taking into consideration things such as materials, capacity, and design is essential. Keep these pointers in mind, and you can't go wrong.
1. Capacity
Capacity plays a crucial role in helping you decide whether a flask is for you. If you prefer a smaller flask, great, but keep in mind the amount of fluid you want to be able to carry with you.
Most flasks range from between four-ounces to eight-ounces. The general rule of thumb is that one shot is approximately 1.5-ounces. A six-ounce flask leaves you with about four shots.
Figure out on average how many drinks you want to have and how many shots that work out to be. The result here should give you a good indication about what size flask to buy. Another thing to keep in mind is where you intend on keeping your flask. Overly large ones may not fit as neatly in your pockets.
2. Materials
The materials used to make your flask are very important. Manufacturers use a variety of metals, yet very few will last.
Pewter sees a blend of metals that includes lead, resulting in its being banned for drinking and eating utensils. It is also known to alter the taste of your beverage negatively. With this in mind, the best pewter flask is the one that stays in the display cabinet.
A titanium flask offers unique strength and durability. This makes them perfect for outdoor use. They are less likely to become dented or scratched, but they are more costly.
This leaves us with what is widely considered the best flask material: stainless steel. This alloy metal is resistant to rust and corrosion, making it perfect for a vessel made to carry liquid. Because it won't rust, stainless steel is ideal for engraving. The best hip flask is one that has your personal details.
3. Design
Keep in mind the design of the flask when purchasing one. How does it feel? Is it shaped in a way that sits comfortably in your pocket? And how is it put together? A well-designed flask won't cause you discomfort, and it won't leak.
We hope we shared some insightful and intriguing facts with you about the best flasks for whiskey or another hardtack. If you are in the market for a flask of your own, then be sure to look at our reviews a little closer.
If you are looking for a fast-tracked answer about which flask we think is the best, then you can't go wrong with Gennissy's stainless steel flask. It ticks all the boxes, from a sleek design to handy accessories. With this flask, you can't go wrong.