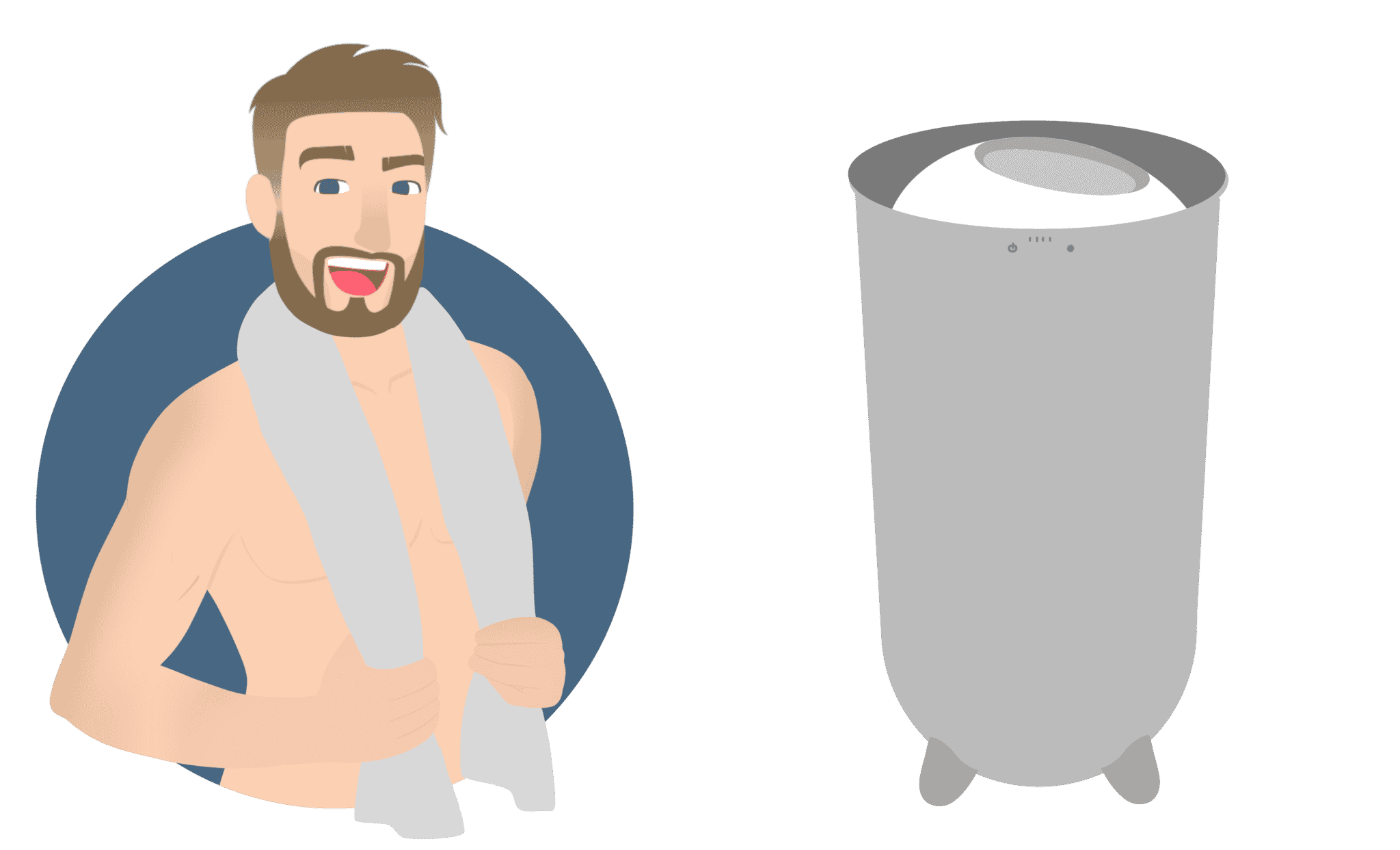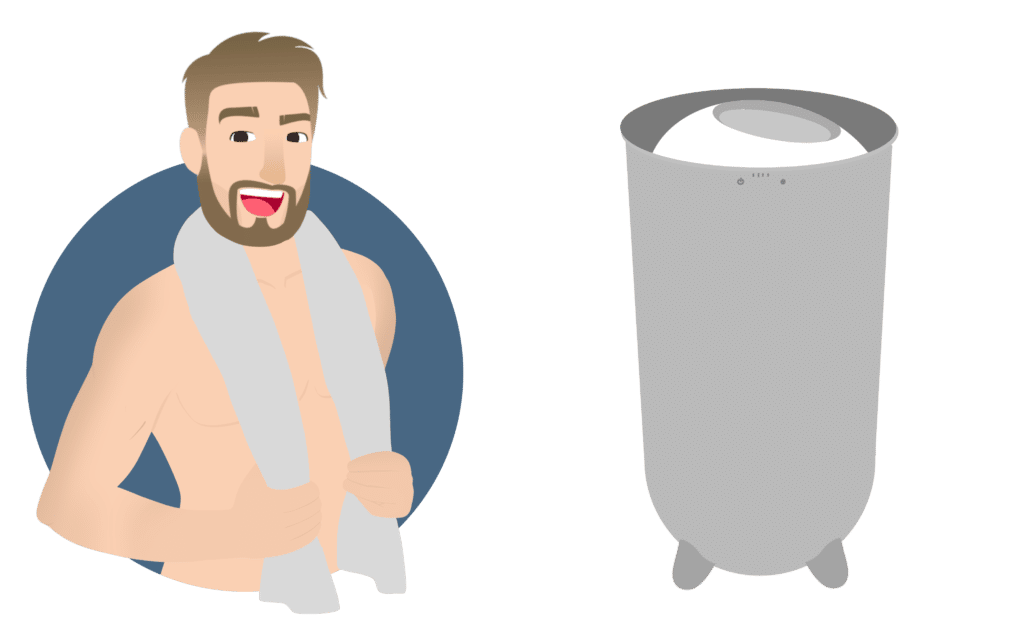 There is nothing more luxurious than stepping out of a hot shower and wrapping yourself up in a big toasty towel, especially in the colder months of the year. Keeping your towels warm can be challenging, though, and expensive too. You could pop them in the tumble dryer or warm them on the radiator, but neither of these is a viable long-term solution. But then, what is?
Investing in the best towel warmers around is a pretty sound solution. These handy appliances come in an assortment of styles, from a radiant hardwired curved towel warmer to a towel cabinet or even a heated towel rack.
We must warn you, though, that not all towel warmers offer excellent quality. We have gathered together a selection of the best towel warmers that Amazon has to offer with this in mind. We have reviewed each of these towel warmers to give you insight into which warmers are worth your hard-earned dollars.
When looking for a quality warmer rack or warmer cabinet, portability, capacity, and additional features such as automatic shut-off are important. We have scoured Amazon, looking for towel warmers that tick each of these boxes and more. So, let's dive in and see which ones leave us feeling warm all over!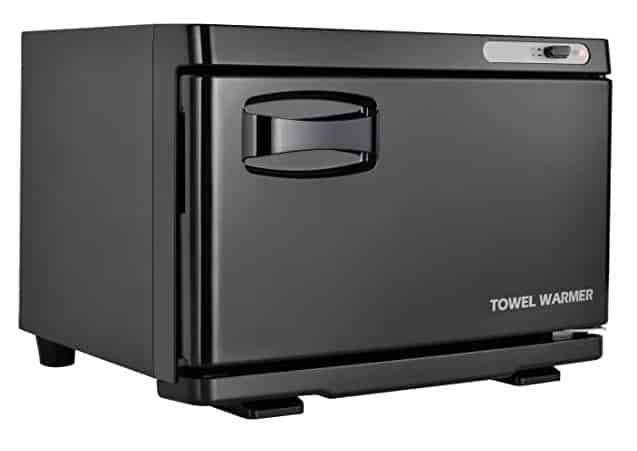 State River is a company that was founded after inspiration struck. Seeing how people enjoyed the luxurious treatment received at Chinese Spas, the brand decided to create products that allowed individuals to have these same experiences in the comfort of their own homes.
The Hot Towel Warmer Cabinet by StateRiver is one appliance the brand offers that leave your bathroom feeling like a spa by providing you fluffy warm towels after your bath or shower.
Specs
Offers a high capacity
Runs at a high temperature of 175 degrees Fahrenheit
Features an oxidized aluminum interior
Plug-in design
Who is it Best for?
This medium-sized freestanding towel warming cabinet is the ideal addition to a spa or a beauty therapist's room. It also works well for restaurants that offer finger foods such as BBQ ribs. Hot facial towels and washcloths are a great way to feel refreshed and germ-free.
If you are looking for a towel warmer that will fit neatly onto the shelves of your bathroom vanity, then this one is an excellent choice. It is freestanding and comes with durable feet that keep it raised. This cabinet also offers a minimalistic design that allows it to fit in discreetly with its surroundings, so your bathroom remains looking stylish and uncluttered.
When it comes to winter, stepping out of a hot shower into frigid air is a huge dampener on a luxurious shower. A hot towel will alleviate this, continuing the warmth and luxurious experience.
Key features
State River's freestanding towel warming cabinet offers a large capacity, holding up to 24 facial-sized towelettes at a time. What we love about this towel warmer is that it can be used with traditional towels and disposable towels.
A microcomputer embedded in the device allows it to regulate the temperature, raising it to a heat of 170 degrees Fahrenheit. This, along with the aluminum inner chamber, allows the warmer to heat the towels evenly and right through.
This electric towel warmer plugs in and is ready for use, making it simple to set up and use.
A removable drip tray prevents your countertop, floor, or shelf from becoming wet and damaged.
It is advised that this warmer cabinet takes between 15 to 20 minutes to warm up the towels so you can set it to do its job while you take your shower.
Pros
Includes a chrome finish wire basket
Includes a 70-inch power cord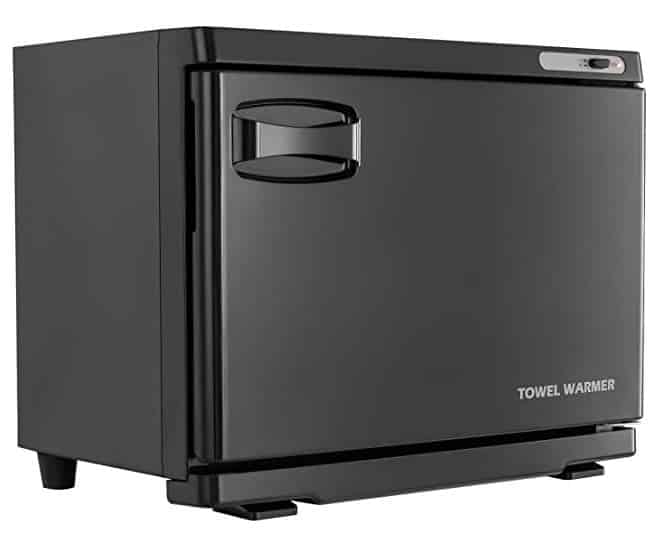 State River strives to provide its customers with the same luxurious experiences they receive at a spa or wellness center. The brand uses the latest designs and technology to craft appliances and tools that allow you to achieve that spa feeling from the comfort of home.
The Spa Hot Towel Warmer Large by StateRiver allows you to step out of the shower and straight into a warm and cozy towel without having to use the radiator to keep it warm.
Specs
High capacity – holds up to 60 small washcloths
Freestanding towel warmer
Features an oxidized aluminum interior
Comes with a chrome-plated wire basket
Who is it Best for?
If you run a spa or enjoy a good facial from time to time, you will know that a hot facial towel can work wonders. Men who take pleasure in grooming and using a heated facial towel will benefit from this handy warming cabinet. It offers a capacity that makes it easy to warm up to 60 facial towels at a time.
If the idea of stepping out of a hot shower into a cold bathroom leaves you feeling as though you would rather avoid showering altogether, then this warmer is an excellent solution. Plug it in and let it work its magic while you take that well-deserved shower. When you're done, your towel will be toasty and dry.
Key features
This warmer cabinet by State River offers an impressive capacity. It provides 18-liters of space, which translates to holding up to 60 facial towelettes or one large bath towel.
Inside you will find an oxidized aluminum interior that is resistant to rust and helps to retain heat. A chrome-plated wire basket provides additional space to place your towels.
The drip-proof water tray collects any condensation keeping your counter, shelf, or floor (wherever you choose to store this warmer) dry and clean.
Microcomputer temperature control regulates the warmer to heat to 170 degrees Fahrenheit, leaving you with soft, warm towels that won't burn your skin.
Four sturdy feet make it easy to store this freestanding warmer, while the sleek gunmetal grey finish allows it to blend in with its surroundings.
Pros
Includes a water drip tray
Cons
Takes up a fair amount of floor space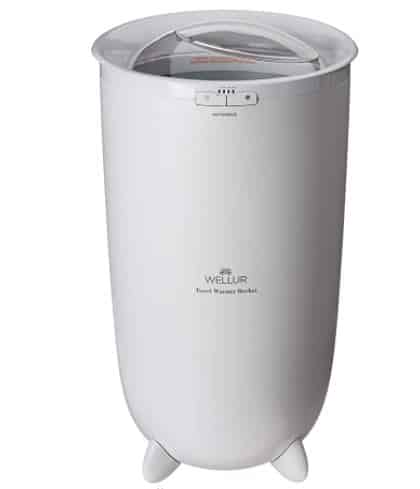 Wellur is a brand that focuses on providing customers with appliances that encourage and enhance wellness and relaxation. The company designs and manufactures an assortment of products such as white noise machines that promote rest and quality sleep.
Another product they make is one that caught our eye, the WELLUR – Towel Warmer Bucket. This handy gadget leaves you with luxurious warm towels or bathrobes that make stepping out of your shower feel like a spa experience.
Specs
Extra large design
Bucket-style
Features a built-in timer
Uses a heating element
Who is it Best for?
If you love big fluffy bath sheets and want to warm them up for those cold winter mornings or nights and have them ready for when you step out of the shower, then you may want to look more closely at this warmer bucket.
This warmer holds a large capacity providing space for two large bath towels or a towel and a robe.
If you own a spa or a boutique hotel, this is an excellent addition to a guest bathroom or a complimentary service when guests use the spa facilities.
When it comes to design, this warmer bucket is a little on the large side, but if you have a more spacious bathroom and would like your towels toasty, then it is the perfect addition to your home.
Key features
This bucket-style towel warmer by Wellur comes with a range of impressive features. It works well with a large towel or two, bathrobes, and even blankets.
The built-in heating element allows the appliance to heat the bath towels evenly so you can wrap yourself in warmth.
A timer makes it easy to choose how long you want to warm your towels and offers time settings at 15, 30, 45, or 60-minute intervals. Once your pre-selected time allotment is complete the warmer will automatically shut off, leaving you with toasty towels and gadget that puts safety first.
This large towel warmer plugs neatly into your wall socket and rests on four elegant little feet. The white shade of the warmer allows it to blend in neatly with its surroundings.
Pros
Accommodates two oversized towels
Works well for a bathrobe or two
Cons
Not the most elegant-looking appliance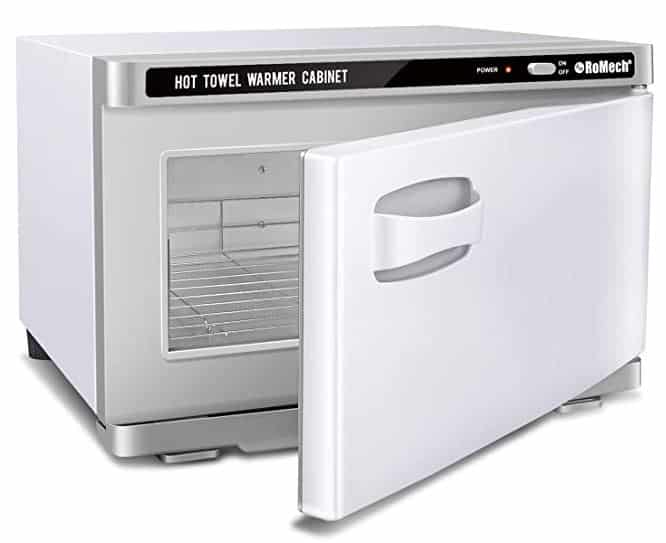 RoMech places its focus on creating electrical appliances that make life simpler. The brand offers an assortment of products that range from hot knives and rotary cutters to DC power supplies and even towel warmers.
The RoMech Hot Towel Warmer Cabinet is a compact towel warming cabinet designed to keep smaller towels such as face cloths and hand towels warm and toasty. This small appliance offers excellent comfort and luxury, especially when winter arrives.
Specs
Features aluminum alloy interior walls
Holds 12 standard hand towels
Rubber seal to lock in moisture
Electric towel warmer design
Who is it Best for?
Whether you run a spa or a gym, this warmer cabinet will add great value to your business. It can heat up to 12 hand towels or a single bath towel, making it ideal for use after training or a facial.
If the worst part of your shower is when you have to leave it and step out into the cold bathroom, this warmer is for you. It allows you to heat your towel while you shower, allowing you to step from one warm environment into another because lets be honest, there really is nothing better than a cozy towel on a cold night.
Men with a bathroom that is on the smaller side can benefit from this towel warmer. It is the size of your average microwave, making it ideal for smaller bathrooms.
Key features
This compact towel warmer cabinet is freestanding and is designed to sit neatly on a shelf or countertop. The appliance automatically heats up to a temperature of 176°Fahrenheit in just 30 minutes. Once it reaches this maximum temperature, it remains at this level, keeping your towels warm until you're ready to use them.
A heating element is built into the walls of the cabinet, and this is what warms your towels evenly.
The warmer's interior walls are lined with an aluminum alloy that is rust-resistant and germ-resistant and offers impressive durability.
A rubber seal keeps the moisture locked in, preventing your towels from drying out and becoming stiff.
This handy warmer heats to a level that allows it to be used as a sanitizer, so you can sterilize items such as scissors.
Pros
Can also be used as a sanitizer
Cons
Can only be used with wet towels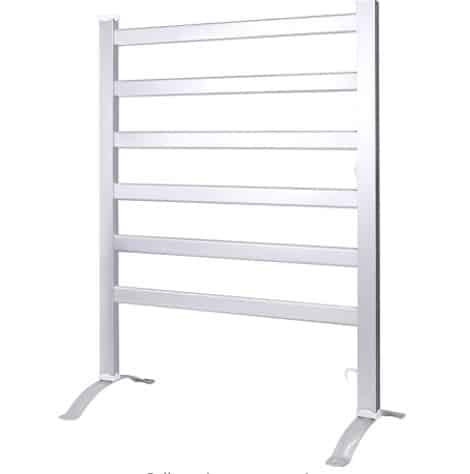 Innoka is a company based in California, USA. The brand's ethos is to "better life through innovation". It strives to provide customers with products that improve daily life, making it simple and efficient through innovative designs and advanced technology.
Innoka offers a range of tools, kitchenware, beauty products, and home and lifestyle appliances. One product of theirs that caught our attention is the INNOKA 2-in-1 Towel Warmer and Drying Rack. This bar towel warmer will make exiting the shower a pleasure every time.
Specs
Can be freestanding or used as a wall mount
Aluminum frame
Built-in thermostat for temperature control
Both horizontal bars and vertical bars are heated
Who is it Best for?
If you have a small bathroom with minimal space for appliances to stand around, this wall-mounted towel warmer is the ideal solution. It allows you to hang up your already dry towels on the towel rails that will gently heat your towel while you take a shower.
This handy warmer rack also works as a dryer, and it is portable, so if you have damp towels indoors, you can move them to another room along with this rack and hang them up to dry, preventing mildew from forming on your towels or bathroom walls.
Included with this warmer rack are freestanding feet and wall mounting brackets, so you can choose how you want to install it. If you enjoy home DIY, this rack does call for the frame to be put together.
Key features
This towel warming and drying rack are made from an aluminum frame that sees horizontal and vertical crossbars that feature a brush chrome-plated finish. This stylish design adds a sleek touch to any bathroom.
Both the vertical and horizontal bars heat up, and you can find wider bars, too, designed for holding larger towels.
The built-in thermostat allows the towel rails to maintain heat and conserve energy. The warming rack needs to be plugged into a standard power outlet and switched on to heat up. Within 30 to 40 minutes, the warmer will reach its optimal temperature that sits between 110°F – 122°F.
The warmer rails are ideal for drying damp clothing or creating hot, dry towels that make stepping out of the shower a luxurious experience.
Pros
Ideal for attaching to the bathroom wall
Can be used for warming and drying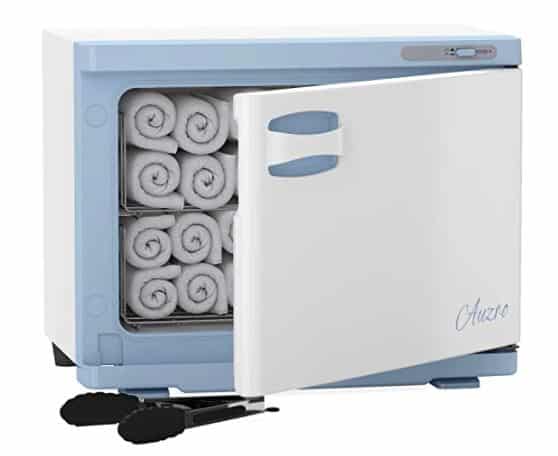 Auzro understands what quality and luxury mean, and they proved this when they began producing versatile lifestyle products such as the Auzro 18L Professional Hot Towel Warmer. This unique appliance is compact, stylish, and functional.
The brand focuses on providing customers with everyday tools and appliances that make life simpler and more enjoyable. Their towel warmer does just that, making getting out of the shower or having a facial that much more enjoyable.
Specs
Large capacity
Reaches a maximum temperature of 176 degrees Fahrenheit
Holds up to 60 washcloths
Magnetic door design
Who is it Best for?
This large capacity towel warmer cabinet is ideal for men who own a spa, a gym, or appreciate a hot towel after a home workout. It allows you to experience the same luxury you get when using a spa towel.
The size of the cabinet allows you to warm up to 24 towels easily, so you always have a hot towel on hand. This makes it ideal for use at a gym or spa.
Men wanting a sleek-looking warmer that won't detract from its surroundings will enjoy this one. It features a white finish and fits neatly onto countertops or on shelving. This makes it simple to store and move about. Because the appliance is freestanding, it features four feet that raise it off the surface on which it rests.
Key features
This spacious towel warming cabinet is designed to keep your towels toasty all day long. Use it to warm up bath towels, spa towels, hand towels, washcloths, and even hot rocks for a massage.
The hot towel cabinet warms up in about 30 minutes, heating to a temperature of 178°Fahrenheit. A magnetic door design keeps in the heat, allowing the warmer to maintain a consistent temperature.
Included with the cabinet is a drip tray that captures any water, keeping your surfaces spotless and free from water damage.
Two stainless steel wire baskets provide a place to keep your rolled towels, so they heat up evenly. Because these baskets are made from stainless steel, they won't rust or corrode, offering you impressive durability. Also included is a pair of towel tongs that allow you to remove the towels from the warmer without scalding your hands.
Pros
Includes two stainless steel baskets
Cons
Will only warm dry towels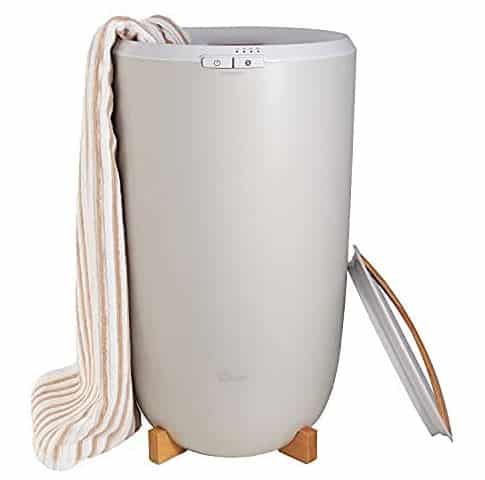 Zadro was founded over 30 years ago. Since then, the company has been designing, producing, and manufacturing a range of products that fall under the categories of shaving beauty, mirrors, personal care, and homeware.
Based in Huntington Beach, California, this US-made brand offers top quality, advanced technological innovation, and forward-thinking designs to leave us with products that make life great. Having won design and engineering awards, this brand comes out tops, and it shows in products such as the Zadro Ultra Large Luxury Bucket-Style Towel Warmer with Auto Shut Off and 4 Timer Settings.
Specs
Features a programmable timer
Comes with an auto shut off function
Freestanding
Offers an ultra-large capacity
Who is it Best for?
If you are in search of a towel warmer that features an ultra-large capacity, you've just found it. This sizeable and versatile towel warmer accommodates a range of items from two oversized bath sheets to a throw blanket, bathrobes, pajamas, or a range of smaller towels.
It is ideal for homes with large families or for a bachelor pad with a generous bathroom.
The unique bucket-style design offers the warmer a touch of class and elegance that is nicely rounded off by the natural bamboo lid handle and feet.
Zadro offers this freestanding plug-in model in both white and grey, so you can find the one that best fits with the interior decor of your bathroom, ensuring it adds to the look instead of detracting from it.
Key features
Zadro's large-scale towel warmer does more than just warm towels; it provides you with a luxurious experience in the comfort of your own home.
The bucket warmer comes with four programmable timer settings that allow you to set the warmer to heat for 15, 30, 45, or 60 minutes. Once the timer reaches your selected time period, the warmer will automatically shut off, offering you peace of mind that the warmer is off and that you haven't accidentally left it running – no more dashing home from the mall to check that your house is still safe.
Included with the warmer is an extra-long power cord that makes it easy to plug it in, even if your power socket is located at a distance. To store the cable neatly, the warmer comes with a built-in cord storage compartment at the base. Zadro also includes a one-year warranty on all their products.
Pros
Features a built-in cord storage
Natural bamboo feet and handle
Things to Consider When Buying Towel Warmers
When buying a towel warmer, you want to find one that offers excellent quality and meets your needs. You also want it to be able to fit into your bathroom or laundry room.
1. Quality
Finding a towel warmer that offers impressive quality is not as simple as it may seem and you don't want to waste your hard-earned money on one that will pack up after a few uses. The best way to ensure you have a quality warmer is to buy one from a reputable brand.
Besides the brands we have discussed in our reviews, a few others you may want to try include:
Warmlyyours
Warmrails
Brandon Basics
Brookstone
Heatgene
Homeleader
Amba
The Amba RWH-CB Hardwired Curved Towel Warmer is another great model to try.
2. Size
When choosing the size of your towel warmer, keep two things in mind: your bathroom size and what sort of warmer will best fit the space, and the number or size of the towels you want to heat.
If you have a smaller bathroom, a warming rack is probably your best bet, but if you want to heat multiple oversized towels, then a warming bucket-style appliance is an excellent choice.
When buying a towel warmer, you want to be sure to spend your money on a good quality model because the only thing that is worse than getting out of a hot shower into a cold bathroom is doing so when you have just bought a warming rack that doesn't work.
We hope our reviews have steered you in the direction of a few quality options that meet your needs. If you're still unsure, give the INNOKA 2-in-1 Towel Warmer and Drying Rack a try. It fits well into any size bathroom and adds a touch of style too.