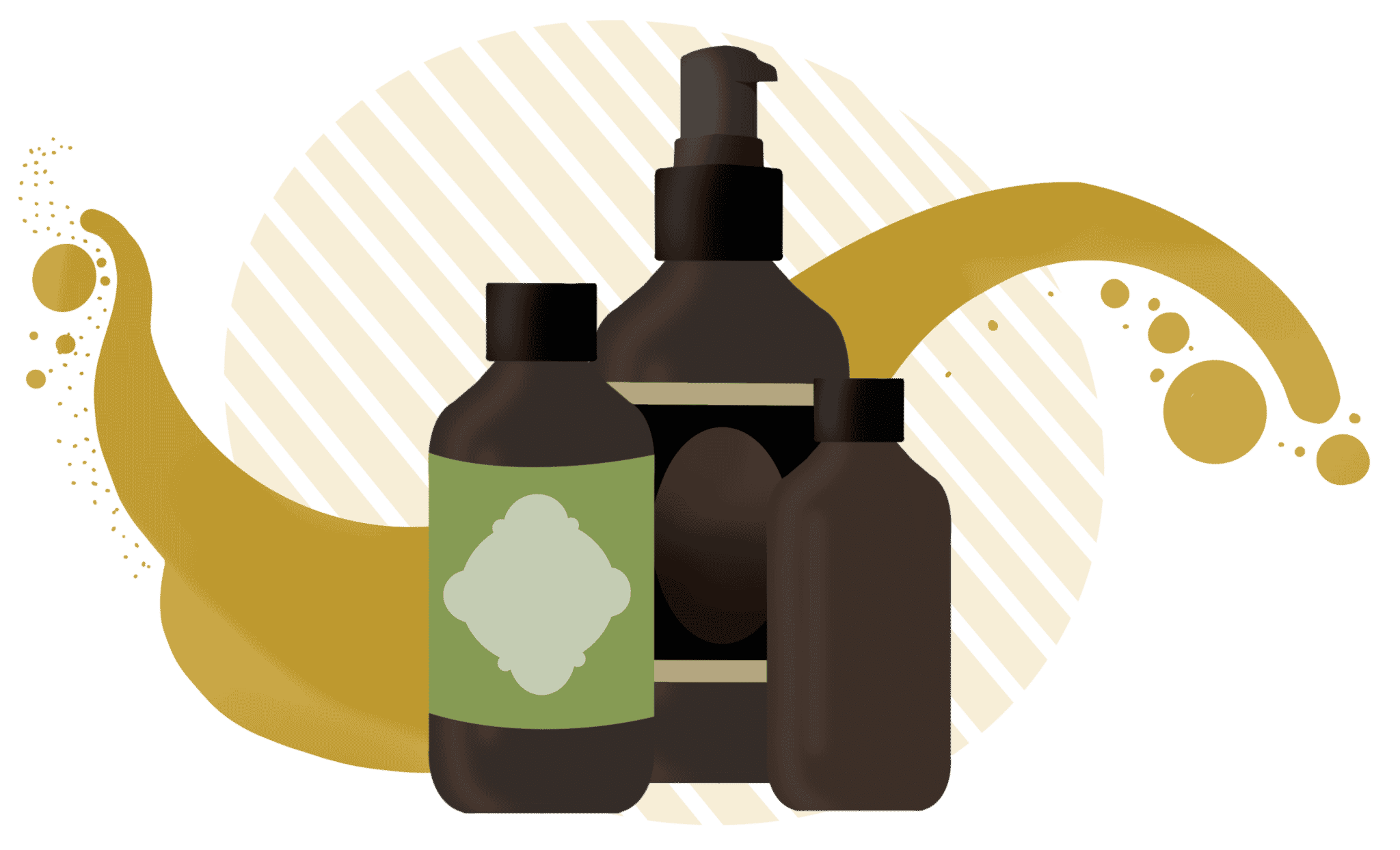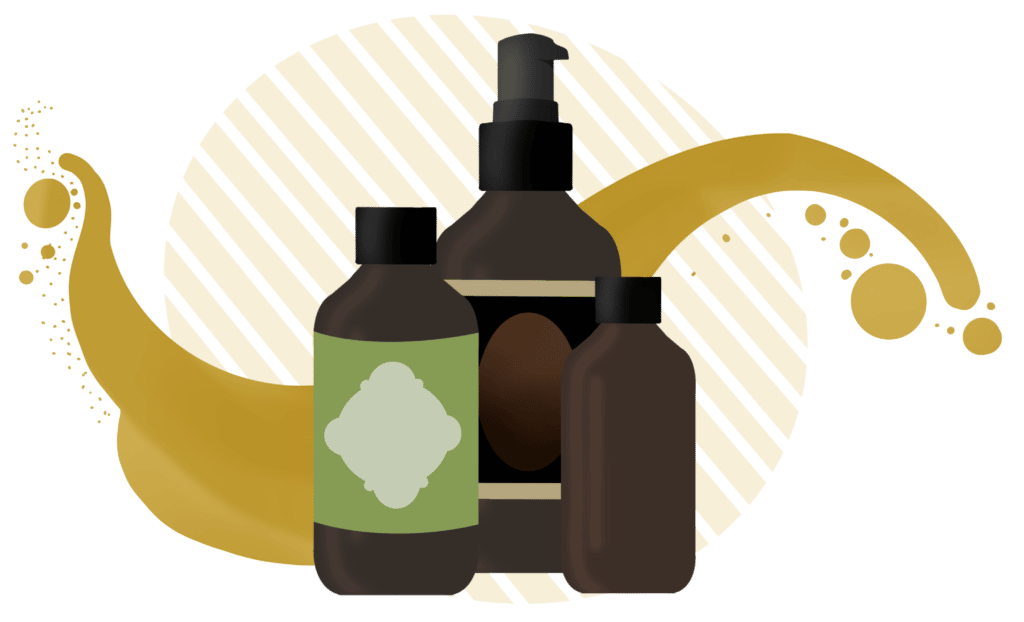 Keeping your skin moisturized, especially the skin on your face can be challenging. We all have unique skin types dry skin, normal skin, or oily skin. One of the trickier types is combination skin, where some patches are dry and flaky, yet other areas are oily. Imagine if there was a way to moisturize all skin types with one product that worked equally as well with each?
While often considered a way to repair hair, Argan oil offers far more uses than hair care alone. It makes a fantastic skin moisturizer too. Better yet, it works well for all types of skin, even those with oily or combination skin. As a midweight oil, it prevents sebum build-up that causes oily skin while nourishing dry skin.
If you are battling with keeping your skin moisturized and you would like to try Argan Oil, but you need a little direction, then keep reading. We have reviewed the best argan oil for face use on the market, making it easier for you to find the one you need.
QUICK OVERVIEW: Best Argan Oil for Face
100% pure
Multipurpose use

VIEW ON AMAZON →

Cliganic Organic Argan Oil

Comes in a two-ounce bottle with a dropper
Imported from Morocco

VIEW ON AMAZON →

VoilaVe Pure Organic Moroccan Argan Oil

Cold-pressed
Offers multiple uses

VIEW ON AMAZON →

LorFain Organic Argan Oil

No strong fragrance
Offers multiple uses

VIEW ON AMAZON →

PURA D'OR Organic Moroccan Argan Oil

Premium-grade oil
Comes in an amber bottle

VIEW ON AMAZON →

Acure The Essentials Moroccan Argan Oil

100% Vegan
For all skin types

VIEW ON AMAZON →

US Organic Moroccan Argan Oil

Fragrance-free
Additive-free

VIEW ON AMAZON →

Pearlessence Balancing Facial Oil Argan + Vitamin E

Easy to use
Comes in a pack of two

VIEW ON AMAZON →
We have done our research and combed the web to find the best Argan Oil for face use. The products that find themselves on our list offer top quality, purity, and a lack of harmful chemicals. So let's get to it and see which products offer the best of the best.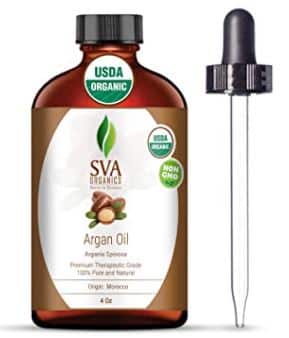 SVA Organics comes with an impressive list of certifications under its belt. Certified as 100% organic, the company follows good manufacturing processes and is quality ISO compliant; SVA Organics takes pride in assuring its products are of the highest standard.
With over 35 years of creating quality products, SVA Organics does not disappoint. Their Argan Oil offers the perfect solution when it comes to keeping your skin moisturized and supple.
Specs
Organic
Cold-pressed
Therapeutic-grade oil
USDA-certified
Who is it Best for?
If you battle with keeping your skin moisturized, then you need to try argan products. This oil contains Vitamin E that deeply nourishes your skin, leaving it soft and supple.
Perhaps oily or combination skin is leaving you frustrated? Argan Oil will help you too. Oily skin usually arises because the skin is undernourished; thus, your skin over-produces sebum, a natural oil. This oil causes your skin to appear oily. Argan oil is a medium-weight oil that absorbs quickly, nourishes your skin, and prevents excess sebum production. While it may seem odd to put oil on oily skin, it actually works!
IF you love using oils on your skin, but you're not a fan of the greasy feeling it can leave you with, then Argan oil may be the solution you are looking for. It absorbs quickly, soaking into your skin, leaving it soft but not slick or greasy.
Key features
SVA's Argan Oil is cold-pressed. This extraction method is the preferred way to obtain oil as it does not involve the use of chemicals and ensures a 100% natural and pure product. SVA's oil is free from Hexane, alcohol, and solvents.
SVA's Argan oil is rated as a therapeutic-grade product, perfect for use at home or in a salon. The oil is extracted from Argan kernels comes with a rich, earthy fragrance. It contains both Vitamin E and omega-6 fatty acids that nourish and repair. The oil is not tested on animals, a cruelty-free product that shows the company's concern for nature.
The Argan oil comes packaged in an amber bottle with a dropper. This dropper makes it easy to extract just the right amount from the jar without having to spill out too much. The packaging's amber color protects the oil from sunlight and UV rays that are damaging to the product. This ensures your oil lasts longer and remains effective.
Pros
Comes in a four-ounce bottle with a dropper
Cons
Not everyone will enjoy the fragrance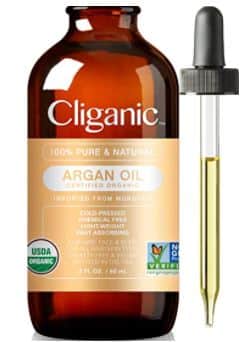 Cliganic was created by a group of individuals who were tired of buying products watered down, filled with chemicals, and of poor quality. Today the company prides itself on manufacturing products that are pure, organic, and of premium quality. Cliganic takes a firm stance against animal testing too something many customers can get behind.
Cliganic Organic Argan Oil is pure and offers a range of purposes for various areas of the body. Whether it is your skin, nails, or hair you are looking to nourish, Cliganic's oil has you covered.
Specs
100% pure and organic
Cold-pressed
USDA-certified
Cruelty-free
Who is it Best for?
If you are looking for 100% organic Argan oil, then this is it. The product is USDA certified, and it only contains one ingredient – the Argan oil.
This oil is ideal for a range of uses. Whether you are looking to soften your cuticles or nourish your hair or beard to encourage growth and eliminate dryness, then Argan oil will do the trick. Another use of Argan oil is to moisturize your skin. It can be used on all skin types, even on sensitive skin. Apply it to your face or scalp to revitalize your skin.
If you can't stand tissue oils or facial oils that don't properly absorb, then you should give Cliganic's Argan oil a try. It is fast-absorbing and won't leave your skin feeling slick or looking greasy.
Key features
Cliganic's Argan oil is imported from Morocco and bottled in the USA, ensuring the product you receive is the real deal. The oil is packaged in an amber bottle that protects it from harmful UV rays that degrade the oil. A handy dropper allows you to use the exact amount of oil you want to use instead of pouring out a large amount wasted.
Cliganic's oil is cold-pressed, organic, and pure. It is free from chemicals, alcohol, additives, and it is not watered down. What you get is Argan oil in its natural form. They add no fragrance to the product, so the nutty, earthy aroma you get from the oil is 100% natural.
If you are into aromatherapy, you can use this argan oil as a carrier for your essential oils, too, making it impressively versatile.
Pros
Comes in a two-ounce bottle with a dropper
Cons
Not for use on eyelashes and eyebrows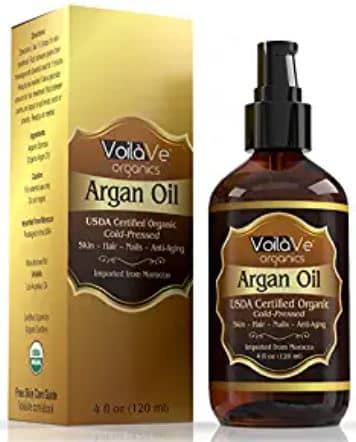 VoilàVe was started up by a team comprising not just women but also men, with the outlook that skincare is not something for only one gender. Tired of products jam-packed with chemicals, this team of health and wellness experts puts their minds together to create products that were natural and pure.
VoilaVe's Pure Organic Moroccan Argan Oil is just one of their many products. It is Ecocert and USDA certified as being 100% organic. It is a product that works wonders not only for your hair and nails but for your skin too.
Specs
USDA-certified
100% pure
Organic and unrefined
Rich in Vitamin E
Who is it Best for?
No matter what skin type you have, Argan oil will keep it moisturized and nourished. Because it is a mid-weight oil, it absorbs quickly into the skin. Even if you suffer from oily skin, Argan face oil will prevent your skin from over-producing sebum, minimizing acne, and breakouts.
If you battle with dry, cracked, or itchy skin, then this Argan oil is the solution. It moisturizes on a deeper level while softening the skin. It works well as a lip moisturizer too, so if dry, cracked lips in the winter are your nemesis, you now have a way to defeat them.
Men who are looking for a skin treatment that is not heavily fragranced will appreciate this skin therapy. It is not blended with added fragrances, leaving it with an almost odorless scent that carries a slight earthiness.
Key features
This pure Moroccan Argan Oil is cold-processed and contains no additives or fillers. It is unrefined, too, so you know you're getting all the benefits the oil can offer. It is also rich in Vitamin E, which is known for its ability to heal and protect.
An Argan product is not just good for moisture, though. They also help the skin to heal and protect it from smoke, pollution, and dry air.
The Argan kernels used to create this oil are sustainably sourced, and the product is not tested on animals, showing VoilaVe's commitment to the environment.
Whether you use this oil on your hair to soften it and stimulate growth or on your skin to keep it nourished and supple is up to you. Either way, we think you'll be impressed with the results.
Pros
Comes in a four-ounce bottle with a pump-action nozzle
Cons
Not advisable for use by people with nut allergies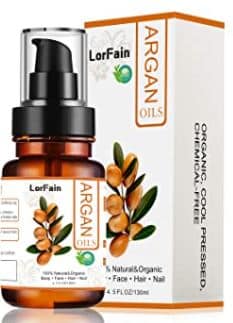 LorFain's natural Argan Oil is 100% organic. LorFain prides itself on producing products that are free from chemicals. Without these extra additives, you can be sure you won't suffer adverse reactions and instead will be left with soft, radiant skin.
While you can use argan oil for multiple applications, such as stimulating hair growth, it is also an excellent skin moisturizer. Best of all, you can use it on any skin type, no matter how dry or oily your skin is.
Specs
Cold-pressed
Organic
Rich in Vitamin E
Fast-absorbing
Who is it Best for?
If you are easily bothered by skin treatments that leave your skin feeling greasy, then give some thought to trying LorFain's Argan oil. It offers a light formula that absorbs into the skin quickly and doesn't leave a sticky residue behind.
An intense fragrance is another thing you don't need to hassle about. Argan oil has a very subtle scent that has an earthy note to it. So you won't walk around smelling like a floral bouquet.
When it comes to thinning hair, Argan oil helps to stimulate hair growth. It nourishes your scalp, too, leaving you with thick, lustrous hair.
If you are battling with the signs of aging or with skin that is dry or oily, Argan oil will help with this too. It balances out the moisture in your skin, reducing dryness and excess sebum. It smoothes out wrinkles and leaves your skin glowing.
Key features
LorFain's Argan oil is packed with Vitamin E and antioxidants that work to revitalize your skin while protecting it. These nutrients help reduce the signs of aging while softening your skin and leaving it supple.
The oil is also filled with essential fatty acids that hydrate dry skin. The better hydrated your skin is, the less prone you are to wrinkles, flaky patches, and breakouts.
This Argan Oil is extracted through a cold-processing process. This means no chemicals are added, keeping the oil-free from unwanted additives that react with your skin.
The oil is packaged in an amber-colored bottle that protects it from harmful UV rays that cause the oil to deteriorate. The pump-action lid allows you to express as much product as you need without exposing it to the air.
Pros
Comes in a 4.5 Fl.oz bottle with a pump-action lid
Cons
Expires in only 12 months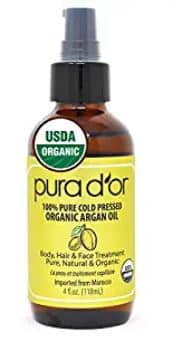 Pura d'Or Argan oil is Hollywood's Best Kept Secret, or so they claim, you will need to prove it for yourself by giving it a try.
Pura d'Or focuses on transforming people's lives through their natural and organic products. Their company ethos rests on three things: "Purity in Every Bottle, Peace with Mother Earth, and Proven Results for our Customers."
Their Argan oil does just that. It is organic, not tested on animals, and it has a queue of customers that swear by it. It sounds pretty amazing to us.
Specs
USDA-certified
Organic
Pure cold-pressed
100% pure
Who is it Best for?
When spending a lot of time outdoors, you want to protect your skin from the sun, but also from the air and the pollution it carries. Argan oil is a great way to do this as it shields your skin from dryness and pollutants thanks to its rich antioxidant content. If you find yourself outdoors a lot, you may want to give this Argan oil face treatment a try.
For those who battle with redness, skin sensitivities, or skin irritation, Argan oil might be the solution you need. It is lightweight and absorbs quickly into the skin. Because it is free from chemicals, it won't cause any flare-ups. Instead, it soothes and protects while hydrating your skin. It is no wonder celebrities swear by this oil.
It is simple to apply, so those who don't have time for an extensive skin routine can fit this oil into their regimen with ease.
Key features
Argan oil is famous for its versatility. You can use it pretty much anywhere, just not on your brows and lashes – getting oil in your eyes is no joke. You can use it to soften cuticles, soothe cracked heels, hydrate your skin, and stimulate hair growth. But, only if it is a pure form of Argan Oil, which luckily Pura d'Or's is. Pura d'Or translates to pure gold; they believe their Argan oil is that exactly.
It is certified as 100% pure organic Argan oil that is extracted through being cold-pressed. It is imported from Morocco, where Argan is grown naturally, and it isn't mixed with any chemicals.
This pure Argan oil for face use comes packaged in an amber-colored bottle that protects the oil from the harsh UV rays. The pump-action nozzle ensures you get as much as you need out of the bottle without being wasteful. So no spills and no fuss.
Cons
Not for use with eyelashes or eyebrows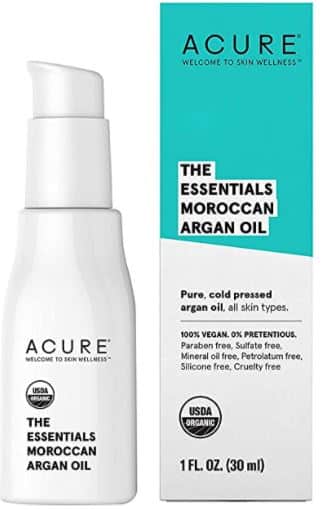 Acure is a skin wellness company that sees the value in purity and the results it can bring. Acure has developed a range called The Essentials, a "group of versatile, everyday products that can be used within any skincare regimen." Included in this set of products is Acure's The Essentials Moroccan Argan Oil.
The Argan oil is certified by the USDA as 100% organic and contains no additives or chemicals. You can see the value Acure places on purity in the natural state of their Argan oil.
Specs
Cold-pressed
Organic
Free from parabens and sulfates
Cruelty-free
Who is it Best for?
If you place value in a product that offers purity and is free from chemicals, you will appreciate Acure's Argan Oil. This product is free from all additives, including parabens, sulfates, mineral oils, petroleum, and silicone. The lack of additives in this oil means that it is perfect for use by individuals that suffer from sensitive skin and breakouts.
Another aspect of this product that we appreciate is that it is cruelty-free and made in a socially responsible manner.
You can also use this pure Argan oil for the face, on your hair, nails, and feet. You can even use it as a carrier oil when using essential oils for aromatherapy purposes. This oil's versatility is remarkable, and better yet, it works well for all skin types.
Key features
Acure's Argan Oil is rich in Vitamin E, essential fatty acids, and protein. These nutrients combine to protect your skin and leave it hydrated, radiant, and supple. This oil is also great for alleviating blocked pores, and it balances out the oil in your skin, preventing the overproduction of sebum.
The Essential range all comes packaged in opaque white pump-action bottles that prevent the contents from being damaged by the sun. The nozzle makes getting just the right amount of oil out of the bottle simple and prevents waste. A minimalist design of the bottles adds a nice touch.
Restore tone and texture to your skin and leave your hair and nails strong and lustrous with Acure's versatile oil. The application is quick and easily worked into your skincare routine, making it simple to keep your skin looking healthy.
Cons
Not everyone will love the fragrance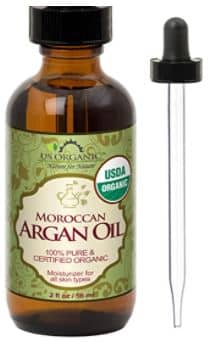 US Organic is a company focused on health and skincare products. Its mission is to provide safe, premium products that are in harmony with nature. They have a whack of certifications to their name, including USDA 100% organic, Green Business, and Good Manufacturing Processes certified. They are also registered with the FDA, and their products are cruelty-free.
With that impressive resume, we are confident that their US Organic Moroccan Argan Oil will live up to its reputation. This pure and natural product is designed to leave your skin looking and feeling healthier, more radiant, and hydrated.
Specs
100% pure and natural
Organic
Cold-pressed and unrefined
Imported from Morocco
Who is it Best for?
If you suffer from dry, wrinkled, or cracked skin, US Organic's Argan oil is precisely what you need. It is rich in essential fatty acids Oleic, and Linoleic that hydrate and plump the skin. Restoring moisture to the skin will also alleviate redness and itching.
The Vitamin E and antioxidants found naturally in Argan oil are proven to nourish, repair, and protect your skin. These elements make the oil an ideal treatment for anyone who spends time outdoors. The wind, cold, and pollution all play a part in damaging your skin, but Argan oil quickly takes care of that.
If you battle with dry, brittle hair, you can use argan oil to treat that too. Use it as a pre-wash treatment or mix it in with your conditioner.
Key features
US Organic's Argan oil is imported from Morocco, where Argan is grown naturally. It is bottled in the US and is placed inside amber-colored bottles. These bottles, although they look great, are more functional than anything as they prevent sunlight from degrading the oil inside. A handy dropper makes it simple to press a few drops into your hands since that is all you need for a single application.
The Argan oil is cold-pressed and remains unrefined. This purity allows the oil to do its job effectively. It works well with dry or aging skin, but it also helps people with oily skin, acne scars, eczema, and stretch marks. It is no wonder this oil is referred to by some as liquid gold.
Argan Oil is easy to apply by placing a few small drops in your hands and then gently massaging the oil into your skin or hair.
Pros
Comes in a two-ounce amber bottle with a dropper
Cons
Be careful using this product if you have nut allergies

Pearlessence falls under the umbrella of Jocott Brands, a company that specializes in personal care products—established in 2009, Jocott looks to provide individuals with products that cater to niche needs.
Pearl essence Balancing Facial Oil Argan + Vitamin E is one such product that aims to help those in need of skincare. The great thing about Argan oil is that it caters to all skin types, making it very niche indeed. Whether you suffer from dry, oily, or aging skin, Argan oil can help you out.
Specs
A blend of Vitamin E and Argan Oil
Rich in antioxidants
For all skin types
Includes a dropper
Who is it Best for?
Pearl essence's product comes with a blend of ingredients, unlike the others we have reviewed here. These include Argan oil, Vitamin E, and fragrance. If you are someone with sensitive skin, perhaps this one is not the best option as fragrance additives sometimes cause irritation.
If you battle with dry or oily skin, then give this one a try. It is a lighter oil that works to unclog pores and reduces sebum production, balancing the oil in your skin. In turn, this action prevents breakouts and dry, flaky skin.
If you need a little extra Vitamin E to hydrate and nourish your skin, then you have just found a great solution and not only one bottle of it, but two! Pearl essence offers their Argan oil and Vitamin E blend in a set of two bottles.
Key features
Pearl essence's Argan Oil and Vitamin E blend is simple to work into your skincare routine. Apply it as an overnight treatment or apply it before you use your moisturizer. It works well for under-eye treatment, as a cuticle softener, or as a facial treatment.
You can use it in your hair too. It stimulates growth and leaves your hair feeling thick and lustrous.
The Vitamin E in the formula works as an antioxidant, protecting your skin from pollution. It also helps to moisturize your skin and reduce the appearance of fine lines.
While it doesn't come in an amber bottle, it does include a dropper. The minimalistic packaging is relatively modern and will fit well with most decor, although we suggest keeping it in a cupboard and out of the sunlight to make it last a little longer.
Cons
Does not come in a light-sensitive bottle
Things to Consider When Buying Argan Oil for Face
Whether this is your first time using Argan oil or you have used it before, there are some things to consider before buying your Argan Oil. Thinking about why you need it versus what it is suitable for will help you figure out whether it is something you need and if it is going to be beneficial for you.
1. The Benefits
Argan oil offers a range of benefits. Let's look more closely at what they are.
Protects from Sun Damage – Argan oil contains antioxidants that protect the skin from free-radicals. It helps prevent and eliminate hyperpigmentation, and it soothes burns.
Moisturizes and Hydrates – Argan oil is rich in Vitamin E that improves water retention in the skin. This helps plump up the skin while hydrating it, leaving your face looking smoother and more radiant.
Heals Skin Infections – Believe it or not, Argan oil also has antibacterial and antifungal properties. By applying it to the area that needs treatment, you will help the wound heal more effectively.
Treats Acne – Argan oil helps regulate the amount of sebum your skin produces by balancing the amount of oil in your skin. Although hormones often cause acne, Argan oil prevents the sebum build-up that comes with it, eliminating breakouts and redness.
Helps with Skin Conditions – Other skin conditions such as redness, itchy dry skin, and eczema are treated with Argan oil thanks to its anti-inflammatory properties.
Anti-aging Properties – Argan oil assists in restoring the skin's elasticity and suppleness. This helps minimize the signs of aging and keeps the skin from developing new lines and wrinkles.
Reduces Oiliness – Argan oil balances out the oil in your skin. When your skin feels undernourished, it overproduces sebum to provide nourishment. By balancing the oil Argan oil prevents your skin from producing excess sebum – this reduces oiliness.
Reduces Stretch Marks – Because Argan oil improves skin elasticity, it is less likely for you to develop stretch marks. It also nourishes the skin healing existing stretch marks.
2. The Allergies
Argan oil comes from stone fruit. However, it is known to cause side effects in those that suffer from tree nut allergies. These side effects often come in the form of redness and irritation. If you are aware of having this allergy, test out a small area of skin first to see how you react before applying it to your entire face.
When buying Argan oil is always ideal to go for the one that is pure, free from chemicals, and is cold-pressed. It is this natural and pure form that gives the best results.
We hope our review has helped you find a few premium quality Argan oils to try. Our top pick for the best organic Argan oil has to be Cliganic's Organic Argan Oil. It offers multiple benefits and is free from additives and chemicals.