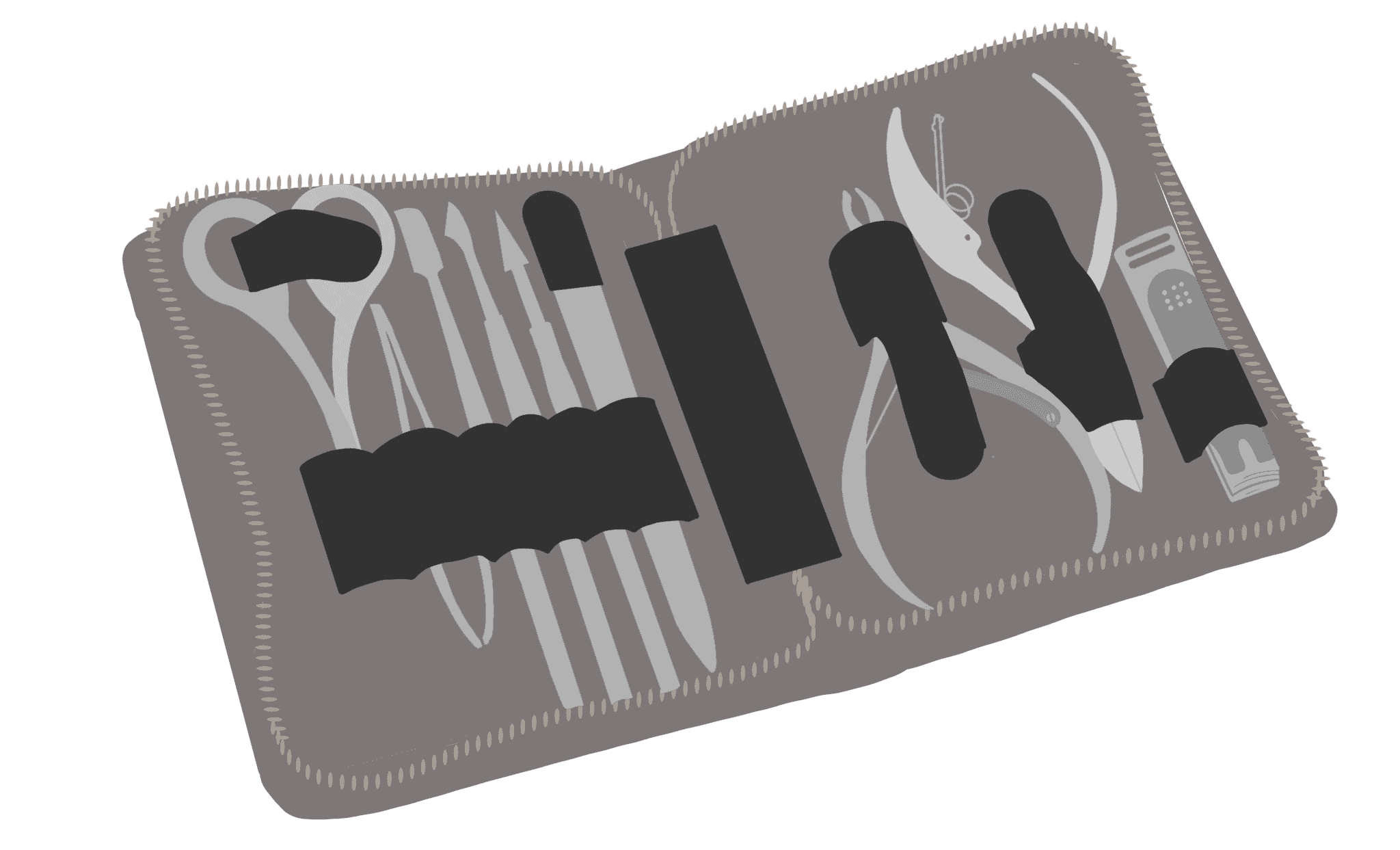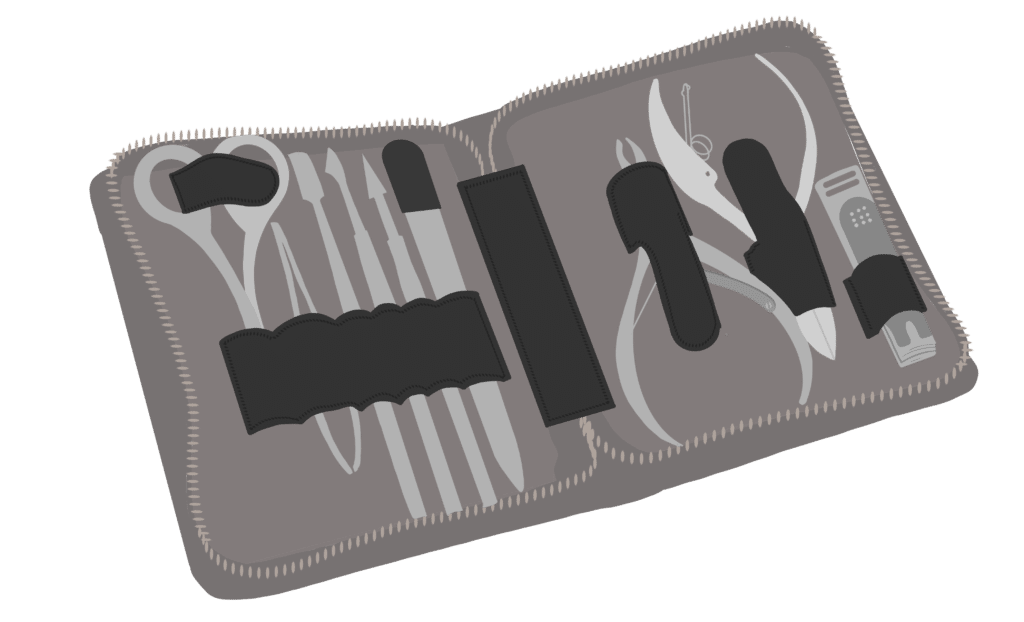 When you are the sort of man who takes grooming seriously, whether you are on the road traveling or in the comfort of your own home, having a manicure set of your own is essential. But, how do you go about finding the perfect men's manicure set for best nail care and of high quality?
Manicure sets for men offer an assortment of care tools, from nail scissors to tweezers and even cuticle trimmer. While it is often thought that these sets are designed predominantly for women, that stereotype has been eschewed. Modern men take their physical appearance and well-being far more seriously, placing the trusty manicure set as a must-have item.
Finding the right high-quality stainless steel men grooming kit to suit your needs can sometimes be challenging. There are so many options available, yet not are all up to standard. Come with us as we review six of the best men's manicure sets on the market.
QUICK OVERVIEW: Best Men's Manicure Set
Takuminowaza 9-piece Grooming Kit by Seki Edge

Comes with a gift box
The case comes with straps to hold each tool in place

VIEW ON AMAZON →

FAMILIFE Professional Manicure Kit

VIEW ON AMAZON →

Tweezerman Essential Grooming Kit

Comes with a travel case
Made from stainless steel

VIEW ON AMAZON →

Revlon Men's Series Grooming Kit

Well-known brand
Easy to use

VIEW ON AMAZON →

Mr. Green Four Piece Manicure Set

Durable
Ergonomically designed

VIEW ON AMAZON →

HeadBlade Groomster Manicure Set for Men

Resistant to rust
Sleek design

VIEW ON AMAZON →
To find the best manicure sets on the market, we conducted hours of research and combed the web. Our efforts lead us to find those nail grooming sets that offer a wide variety of tools, each of which is durable, functional and expertly made. Keep reading to find out more about which manicure sets are worth your time and money.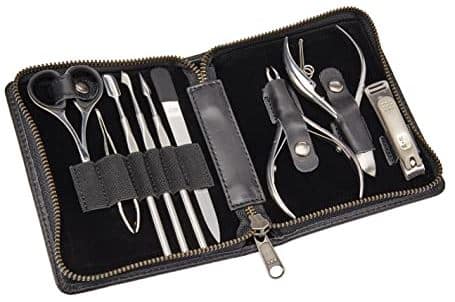 Seki Edge is a line of luxury grooming products produced by Green Bell LTD in Japan. Seki Edge began its story in 13th century Japan, in the town of Seki, known for its pure waters and perfect blade soil. A swordsmith chose Seki as the place to settle and create his samurai swords. Today this town is known for its knives, blades, and grooming tools.
Seki Edge prides itself on blending traditional craftsmanship with modern technology. Their goal is to create grooming tools that leave men with an exceptional experience. They achieve this perfectly with their Takuminowaza Craftsman Luxury 9 Piece Grooming Kit.
Specs
Includes nine grooming tools
Comes in a leather case
Made from stainless steel
Manufactured in Japan
Who is it Best for?
This luxury men's manicure set is made for the man who takes his grooming seriously. The kit is exclusive, and while sitting at a higher price point, offers quality craftsmanship and materials.
The set comes packaged in an elegant genuine leather travel case, making it perfect for the man who often travels. This case comes with a durable zipper to neatly contain the kit, while each tool sees its own leather strap designed to keep it in place. Not only does this protect your instruments, but it allows you to see quickly if you have misplaced any of them.
A stylish gift box accompanies this kit, making it a fantastic gift for the man in your life who loves to give a good impression. When it comes to men who enjoy the attention to detail, you can't go wrong with this set.
Key features
This unique set offers it all. Featuring 11 grooming instruments, each designed to help you achieve the look you are after. These tools are all fashioned from stainless steel, making them durable and easy to clean. Best of all, this material is resistant to rust and corrosion, ensuring they remain looking like new for years to come.
Included in this set, you will find a nail nipper, a fingernail clipper, a cuticle nipper, a cuticle remover, a cuticle pusher, a nail file, a nail and cuticle cleaner, extra grip tweezers, and nose hair scissors. Each of these ergonomically designed tools is made to help you keep your hands manicured and your facial hair on point.
The precision with which these instruments are made leaves you with a set that sees sharp blades and elegantly rounded curves that each offer impressive functionality. A kit that men who favor fine details will love.
Pros
The case comes with straps to hold each tool in place
Cons
Sits on the higher end of the pricing spectrum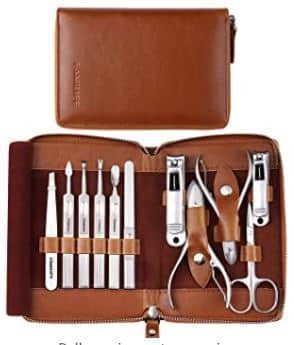 This Professional Manicure Kit by Familife is one of the most comprehensive sets you can find. Famed for their remarkable grooming tools and variety of travel manicure sets, Familife offers men quality equipment to tend to their needs.
This particular set is proof of this. While you certainly need to check it out for yourself, we can assure you this kit covers all aspects of hand, foot, and facial grooming. Each tool is carefully crafted to offer durability and functionality.
Specs
Made from stainless steel
Comes in a leather travel case
Each tool is ergonomically designed
Neat straps in the case hold the tools in place
Who is it Best for?
If you are a man who likes options, then this set is for you. Not only does it come with 11 elegant tools, but these are each individually placed in a stylish travel case. The pouch comes offered in two unique shades, a warm tawny brown and a deep eggplant purple. Whichever best suits your preference, it is there for the taking.
Men who include grooming as part of their daily self-care ritual will appreciate this set. It is expertly crafted and made from durable stainless steel. The tools are made to last, with stainless steel being impervious to rust and corrosion.
If you are looking to give this kit as a gift, you have made an excellent choice. The case keeps each item in place and features a cloth flap that protects each instrument, ensuring they always look new.
Key features
When it comes to features, this kit offers them all. Each tool is made from durable stainless steel. An ergonomic design ensures each one feels comfortable in your hand so you can get to grooming without using awkward-feeling tools.
This set includes a fingernail clipper, a cuticle pusher, an obtuse push broach, a V-shaped push stick, a cuticle knife, and a nail file to make sure your hands look pristine.
When it comes to caring for your feet, a toenail clipper and an ingrown toenail clipper make things easy.
The kit comes with a set of eyebrow tweezers, beauty scissors, and an ear cleaning pick to keep your face looking on point,
All of these handy grooming utensils come packed neatly in a PU leather case that comes with a sturdy zipper and bands designed to keep each piece in its place.
Pros
Offered in a deep purple or brown case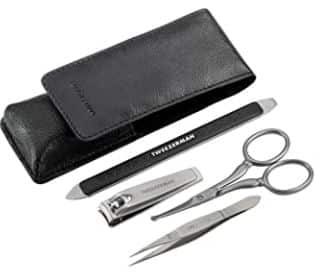 Tweezerman International, LLC has been crafting premium grooming tools for over 40 years. Through innovation and the use of premium quality materials, the company has firmly planted itself as an industry leader.
Tweezerman's Essential Grooming Kit shows that there is proof in the pudding. This impressive set comes together to offer a man's most needed grooming items in one compact and easily transported case. A functional kit that will help you to achieve the look you want to convey.
Specs
Includes four tools
Comes with a travel case
Made from stainless steel
Features hand-filed edges for precision
Who is it Best for?
This handy kit makes the perfect accessory for the man who travels frequently. Whether you are heading off on holiday or out of town on business, this neat set leaves you with no excuse not to stay groomed.
The set comes in a compact travel case that is helpful in various ways. It keeps your tools together, enabling you to see if anything is missing. This case also ensures your utensils are kept clean and protected while providing a convenient way to pack them.
If you are the sort of guy who enjoys keeping groomed but you like to keep things uncomplicated with men's manicure kits that don't come will multiple tools, then this one's for you. It offers just four well-crafted tools that cover all your grooming needs.
Key features
When it comes to quality, Tweezerman knows their stuff. They design their nail care kits to last, using durable stainless steel. This sturdy material resists rusting and corrosion, ensuring the tools last for years.
Included in this four-piece grooming kit, you will find a Tweezerette for removing ingrown hairs and neatening brows. You can use a small but sharp pair of scissors to trim unwanted hair.
For your nails, Tweezerman includes a pair of nail clippers and a nail tool. The nail tool is a unique item that allows you to push back your cuticles, clean under your nails, and file them down to remove jagged edges.
Each of these unique tools features filed edges for a sleek finish. If you are looking for a set that does it all without being overly complicated, then you've found your solution in Tweezerman's Professional Manicure Set.
Pros
Suitable for all skin types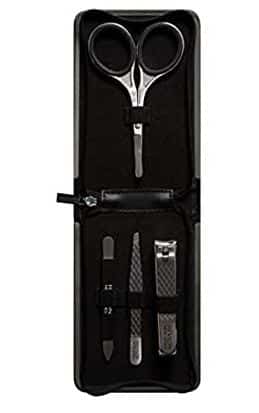 Revlon was founded in 1932 by three gentlemen. Their first product? Nail enamel. Fast forward nearly 90 years, and Revlon is now considered one of the top brands in the beauty and grooming industry.
Their grooming products receive just as much consideration as their beauty products. A testament to this is Revlon's Men's Series Grooming Kit. This set, designed specifically for men, is durable, stylish, and functional. It offers everything you need in a grooming kit without being obnoxious.
Specs
Includes four tools
Comes with a carrying case
Made from stainless steel
Rust-resistant
Who is it Best for?
This sleek kit is designed for men who are meticulous in their looks and sense of style.
The set comes in a hard yet elegant travel case. The case is made to keep your tools neatly in place and to help you see if any of them are amiss. Your instruments are also protected when stored in this container, making them easy to pack into your luggage. This compact set makes the perfect accessory for men who often travel, ensuring you can stay looking your best always.
If you are a stickler for durability and longevity, then Revlon's kit will leave you impressed. The tools and the case that holds them are all made from sturdy materials. These instruments are expertly crafted to provide you with the highest quality, ensuring your kit will last for decades.
Key features
Revlon's manicure kit was designed for use by men. This shows not only in the sleek look and feel of the set but in the sturdy materials used. Each tool comes finely crafted from stainless steel that won't rust or corrode, making them easy to clean.
You will find a pair of scissors with rounded tips that prevent you from pricking or poking yourself with them in this set. The blades of these scissors are quite the opposite; they are razor-sharp and offer a clean cut.
A pair of tweezers with refined, slanted tips allow you to grip brow hairs or ingrown hairs with ease. They are also ergonomically designed to fit comfortably in your hand.
To help keep your nails neat and clean, Revlon includes a nail file that doubles as a cuticle pusher. They also incorporate a dual nail clipper that features a rounded edge and a straight edge so that you can use them for both your toenails and your fingernails.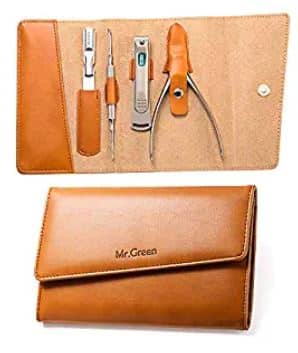 Mr. Green assigns their men's nail kits as pedicure kits, although you could quite easily use them for your fingernails too. Renowned for their exceptional men's manicure sets, Mr. Green offers premium manicure tools.
Mr. Green's Four-Piece Manicure Set is just one of their impressive products. This set covers everything you need to keep your feet looking well-maintained and free from ingrown toenails. Their sturdy tools come in a stylish pouch that adds to the quality of their product.
Specs
Made from stainless steel
Comes with four tools
Includes a foldup travel case
Each tool has a strap to keep them in place
Who is it Best for?
Do you suffer from ingrown toenails? Then this pedicure tools set for men may be your solution. It comes designed specifically for use with your toenails, allowing you to keep them groomed and problem-free.
The sophisticated tan PU leather carrying case the set comes in makes it ideal for taking with you on your travels. It packs neatly into your luggage while keeping your tools inside protected. Inside the pouch, you will find that each instrument has a leather holder that will keep them in place. If any one of them goes missing, you will quickly find out.
If you are searching for a unique gift for the men in your life, then this men's nail kit is going to be a hit. The equipment is both stylish and functional, making it a useful set to have.
Key features
Mr. Green's manicure pedicure set comes made from Japanese surgical-grade stainless steel. These instruments are durable and resistant to rust and corrosion, offering you a kit that will last a lifetime.
The set includes a pair of pedicure set nail clippers that feature an edge that prevents them from being incorrectly positioned. These clippers offer an ergonomic shape made to fit comfortably in your hand. A nail file sits in the center of one arm of the clippers, providing a perfect place to buff off any sharp edges.
A curved cuticle pusher allows you to push back dead skin. The nail file included makes it simple to smooth out jagged edges to prevent your toenails from snagging on your socks.
A pair of ingrown toenail clippers make it easy to deal with uncomfortable and painful ingrown nails. Not only does this kit make it simple to look great, but also it helps you feel great too. These beauty tools will ensure that your foot care is immaculate and your personal care on the level of professional grooming.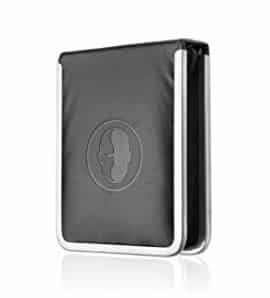 Headblade was founded in 1997 and began a company that makes head shaver for men.. Now, the business has expanded to producing men's grooming accessories too. Made by men for men, this manicure set for men is just the kit you need to ensure you keep your hands, feet, and face spruced up.
HeadBlade's Groomster Manicure Set for Men offers six unique tools, each with its place in a refined PU leather case. This kit is just what you need to stay on top of your grooming game.
Specs
Made from stainless steel
Comes in a PU leather travel case
Includes six tools
Features an ear pick
Who is it Best for?
Whether you are the kind of guy who takes his grooming seriously or you enjoy a quick neatening up occasionally, this set is one to try. It offers all the tools you need to keep your nails and facial care, as well as your ears, well-groomed.
This kit is easily the best men's manicure set on the market. It makes the perfect gift for men of all ages. Whether you need a present for a son, a husband, or a grandfather, this set will leave them all impressed.
A sturdy PU leather case keeps each of the six tools in their place. This case comes with a HeadBlade branded logo on the front, and it features a hardy zipper closure. Traveling with this set or merely storing it is simple. The case allows you to pack it away neatly while keeping the instruments protected.
Key features
As a man, you understand the need for tools of any kind to be durable and well-made. HeadBlade's grooming tools offer just that. For this stainless steel manicure set, rust and corrosion are no problem .
Headblade offers six instruments in their kit. You will find nail clippers, a nail file, and a cuticle cleaner to tend to your nails. You can use these on both your fingernails and toenails.
A set of tweezers and a pair of scissors help to keep your facial hair tidy. To keep your ears clean, HeadBlade includes an ear cleaner in the kit too.
Each of these instruments is designed to fit comfortably in your hand, offering an enjoyable, fuss-free grooming experience. If you need a kit that ticks all the boxes, then this is one to try.
Cons
The case is not genuine leather
Things to Consider When Buying A Men's Manicure Set
Whether you are new to the world of grooming or you're an old hat at it, there will come a time when you choose to invest in a fresh manicure set. There are a few things to consider before buying a new kit to ensure you not only get the right one for your needs but one that will last you a good few years. We have put together a few things that you may want to think about before making your purchase to ensure you get the best men's manicure kit out there!
1. The Tools In Your Kit
When it comes to manicure sets, there is an impressive assortment out there. Some have up to 12 tools, while others only have four. Some instruments are necessary, and these make up the bones of the kits. Others are nice to have pieces that add value but are not imperative to the set. Let's look at the essential tools:
Nail Clippers – Some kits have two sets, a larger pair for your toenails and a smaller pair for your fingernails. Other kits will only offer one or the other, especially if the equipment is designed only for pedicures. Then, some clippers come with a straight edge and a curved one; these are made for use with your hands and feet. These clippers are used to trim your nails, keeping them neat and at the ideal length.
Nail File – A nail file is used after you clip your nails. It helps to round out any sharp edges and to shape your nails properly. These are also perfect for those instances when you develop a chipped nail that snags on everything. Use the file to smooth out the surface.
Cuticle Pusher – A cuticle pusher allows you to push back the cuticle from your nail base. This action makes it easy for your nails to grow faster and stronger.
Cuticle Nippers – This tool allows you to trim your cuticles, dead skin, or hangnails.
Cuticle Scissors – These scissors perform a similar function to the cuticle nipper in that they are used to cut away the dead skin from around the base of the nail. Some people prefer these over the cuticle nippers. You will need to decide which works best for you. Some kits include both, while others only offer one or the other.
Tweezers – This handy pincer-style tool is as versatile as they come. It allows you to remove ingrown hairs, brow hairs that are growing sporadically, and even thorns or splinters.
Round-Tip Scissors – These help trimming nose or ear hair, or even for neatening up your beard or mustache. The rounded tips prevent you from poking yourself and causing an injury.
Ear Cleaner – This unique instrument is designed to help you keep your ears clean by scooping out wax from the opening of your ear canal. An important thing to remember with these is to never push the tool deep into the ear canal, it can push wax further down the canal and cause a blockage, or worse, it can perforate your eardrum.
2. Quality
When looking for the best men's manicure set, you want one that will last. Tools made from any old metal or even plastic may work well for a few months, but ultimately they will break or rust. The best material is used here and these are all stainless steel tools. It is sturdy and resistant to rust and corrosion, making them simple to clean and durable.
3. The Case
The case your grooming tools come in is as vital as the instruments it holds. When looking at a set to buy, there are three essential factors to take into consideration:
Size – You need to think about whether you will be traveling with these tools. If you do, you will want a case that fits neatly into your luggage. The holder should also offer protection to the equipment it holds, so a sturdy container is always best.
Closure – Give some thought to how you would prefer your case to close. Some offer heavy-duty zippers, while others role up with a tie and others use a snap button. If your case is going to go with you on your travels, a zippered closure is best.
Storage – You want a case that offers a space for each tool. Most holders will come with elasticized bands or straps that keep each instrument in its place. Separating each one helps keep them protected. Some cases will come with an additional cloth flap that adds an extra layer of protection for your grooming equipment.
4. Travel
If you plan on traveling with your grooming kit, note the tools that may not be allowed on their airline. You don't want to arrive at the check-in only to have half your equipment confiscated. In this instance, we suggest either having a second smaller kit for travel or removing the unnecessary or prohibited tools from your set and leaving them at home.
When it comes to choosing the best men's manicure set for your needs, a little thought about the tools you would like to own and the style of case you would most enjoy will help you find the perfect set. Whether you want an extensive kit or just a simple one, it will come down to what you are looking for. We hope our reviews on various impressive kits help you along the way.
If you are still unsure about which kit to go for, we recommend the Takuminowaza 9-piece Grooming Kit by Seki Edge. This set offers all the most necessary tools, and each is made with care and precision. Both the instruments and the case are durable and elegant. It is one manicure set that ticks all the boxes.