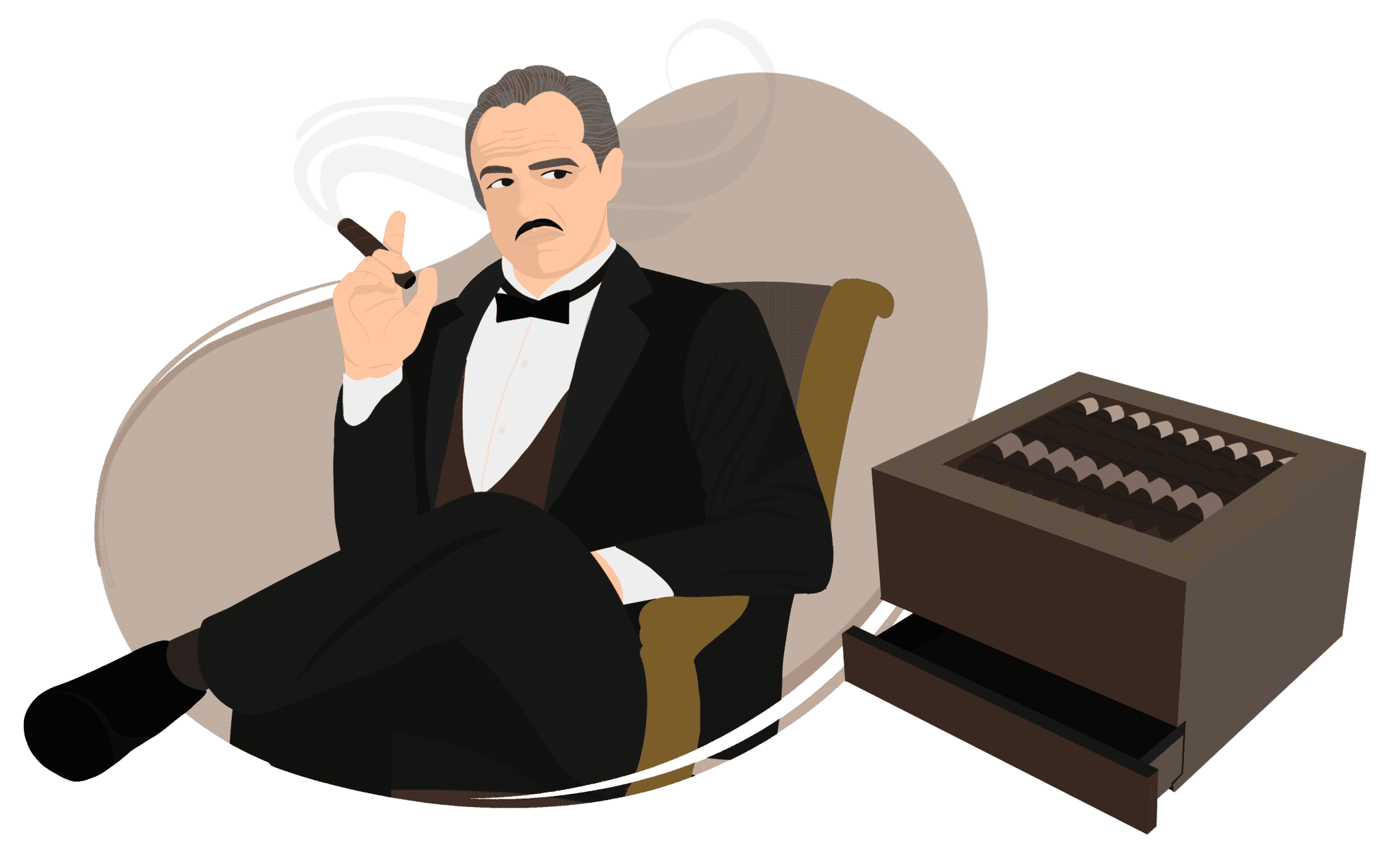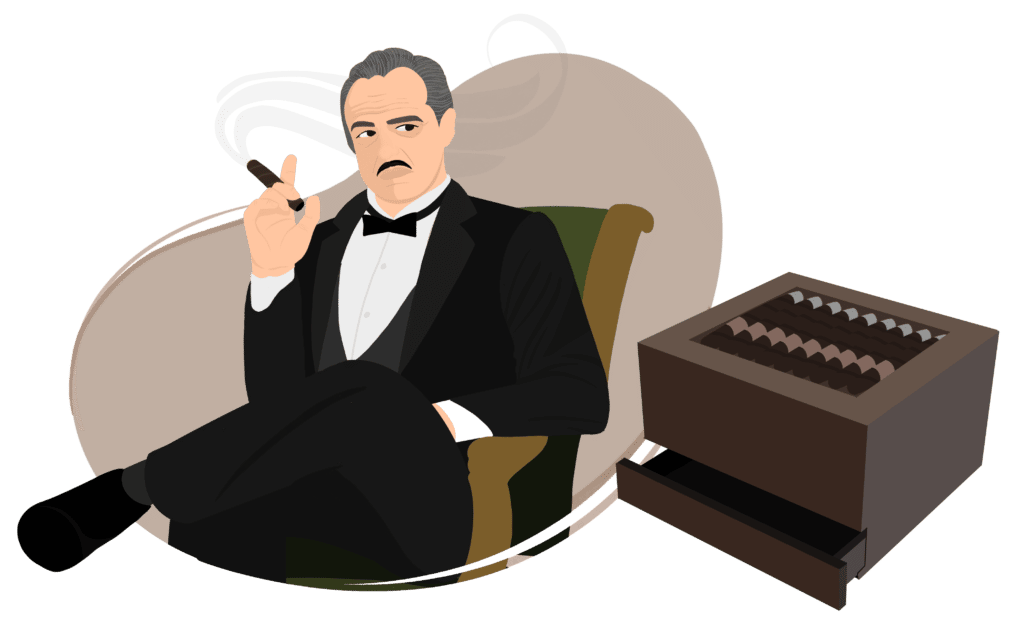 If you enjoy a cigar after dinner or having a smoke with the boys, chances are you have a decent cigar collection. As a collector of cigars, you know how important it is to store them correctly.
Keeping your cigars at the perfect humidity prevents them from drying. Achieving the ideal humidity is simple with a cigar humidor. And best of all, these humble boxes improve the flavor of your cigars as they age.
When it comes to storing your cigars, you don't want to mess about, which is why we have curated a collection of the best humidors. Keep reading to find out more about each of these and why we chose them as the best.
QUICK OVERVIEW: Best Humidors
Glass Top Handcrafted Cedar Humidor by Case Elegance

Holds 25 to 30 cigars
Includes an accessory drawer

VIEW ON AMAZON →

Mantello Royal Glass-Top Cigar Humidor

Rosewood finish
Gold-plated hinges

VIEW ON AMAZON →

XIFEI Acrylic Humidor Jar

Inexpensive
Includes cedar sheets

VIEW ON AMAZON →

High Gloss Cigar Humidor by Bald Eagle

VIEW ON AMAZON →

Includes a travel bag
Lightweight

VIEW ON AMAZON →

Small Humidor Bag by Boveda

Offers a humidity of 69%
No maintenance needed

VIEW ON AMAZON →

Amerigo Luxury Handcrafted Cigar Humidor

Includes a hygrometer
Comes with a removable Spanish Cedar divider

VIEW ON AMAZON →

Pardo Cigar Travel Humidor Case

Includes a wrist tag for carrying
Features a foam-padded interior

VIEW ON AMAZON →

Mantello Magnetic Cigar Humidor

Has a stylish Cherry wood finish
Includes elegant gold hinges

VIEW ON AMAZON →

Easy to use
Includes a magnet for easy attachment

VIEW ON AMAZON →
We searched high and low and conducted hours of research to provide you with the best humidors reviews. The result? We found ten of the best humidor boxes, each designed to keep your cigars fresh and tasting great. So, let's dive in to find out more.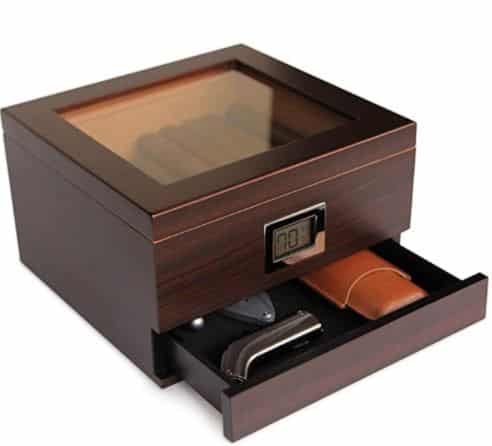 Case Elegance offers state-of-the-art humidors. They test these humidors in every climate imaginable to ensure the best humidity for your cigars. Case Elegance prides themselves on their years of research conducted to create a humidor that is problem-free.
Their Glass Top Handcrafted Cedar Humidor offers an impressive selection of features to keep your cigars fresh. A sophisticated look and feel rounds off these cigar boxes in the perfect way. Case Elegance provides a stylish and functional solution to storing your cigars.
Specs
Handcrafted from cedarwood
Glass top
Built-in digital hygrometer
Includes a hydro tray and gel solution
Who is it Best for?
Case Elegance offers the best humidors for the money you spend. If quality and value for money leave you impressed, then this humidor is a must-have.
This elegant glass top humidor lives up to their name. It offers you a case that allows you to place your cigars on display without compromising their integrity. A sophisticated walnut finish lends the case a touch of refinement. This humidor makes the perfect display piece for men who enjoy having their cigars on show.
A handy accessories draw complements the sleek design. It offers you a neat place to keep your cutters, lighter, and travel case.
If you are the sort of person who favors environmentally friendly products, you will appreciate Case Elegance's sustainable wood use. They have planted over 150 000 trees to offset those cut down to craft their humidors.
Key features
Case Elegance has taken every aspect of cigar storage into account when creating this humidor. It offers the ideal size to store between 25 to 30 cigars. Unless you are holding a Corona or Petit Corona, in which case you can keep between 46 to 68 cigars.
This humidor is manufactured to ensure it keeps your cigars at optimal humidity. A built-in digital hygrometer offers accurate humidity level readings.
The box's lid sees embedded magnets that won't let you pass even a dollar bill through the gap. This airtight seal ensures your cigars are kept at a constant humidity at all times.
Case Elegance employs their patent-pending Hydro System technology to achieve the perfect humidity. The combination of a hydro stick, wooden tray, and a hydro tray with a gel solution maintains humidity between 65% and 72%. The Spanish Cedar inlay placed inside the case allows it to hold moisture to keep your cigars fresh.
Pros
Includes an accessory drawer
Cons
The hygrometer could be more aesthetically appealing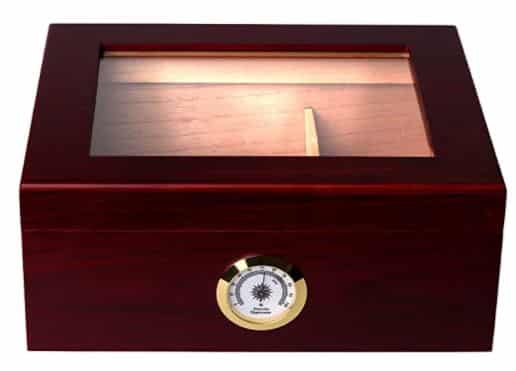 Mantello offers a sophisticated humidor that functions optimally for a price that won't break the bank. Easily the best humidor for the money you spend, it offers a stylish storage solution.
A classic design and a matching analog hygrometer leave this humidor with a timeless look. The Mantello Royal Glass-Top Cigar Humidor provides an environment with humidity best suited to holding cigars. So whether you keep it in your office or your bar area, you can be sure your smokes stay fresh and full of flavor.
Specs
Features a glass top
Includes a cedar inlay
Built-in hygrometer
Holds between 25 to 50 cigars
Who is it Best for?
If you find yourself searching for the perfect gift for the cigar smoker in your life, you have just stumbled across it. Mantello's Royal Glass-Top Cigar Humidor is the ideal way to store cigars. It is both stylish and functional and offers your cigar smoker the opportunity to show off his collection.
This humidor comes fitted with a glass panel in the lid, allowing you to see into the box without opening the lid. This way, you can easily see what you have without compromising the humidity by opening the humidor to look inside.
Value for money is always impressive, and Mantello does not disappoint. They offer this sophisticated storage unit at a very reasonable price, making it ideal as a gift.
Key features
Mantello's humidor ticks the boxes for both design and features. The interior comes lined with a felt bottom that renders it impervious to scratches. A Spanish cedar inlay and divider keep in the moisture and allow you to separate the humidifier from your cigars.
Gold-plated piano hinges and an almost antique-looking hygrometer add to the classic look. The Rosewood finish adds a delicious warmth, inviting you to peruse the wares inside.
The hygrometer makes it simple to monitor the humidity. This humidor offers a constant 70% humidity level, ensuring the up to 50 cigars you can store inside remain fresh and flavorful.
Mantello suggests activating the humidor with a blend of pure distilled water and premium propylene glycol. Equal measures of both solutions will help stabilize the humidity and prevent bacteria and mold.
Pros
Scratch-resistant felt-lined bottom
Cons
Hygrometer is not digital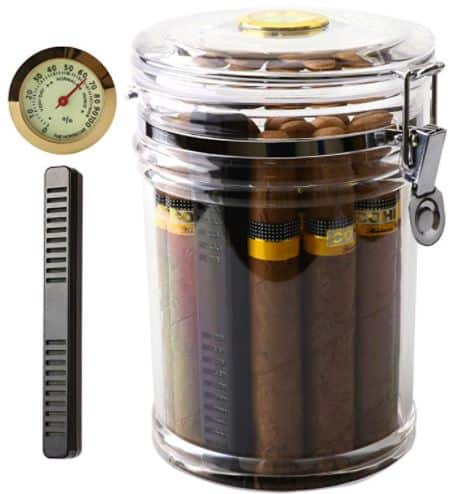 Placed at the lower end of the price range, XIFEI's Acrylic Humidor Jar is perfect for storing a few cigars on your desk or bar counter.
XIFEI strives to craft functional humidors for the practical storage of cigars. They understand that for men, a cigar is not just an accessory but a way of life- a pastime to be savored and enjoyed. With this in mind, XIFEI has taken the time to perfect the art of humidor craftsmanship, leaving you with cigars that remain fresh.
Specs
Made from acrylic
Includes a hygrometer
Comes with a humidifier
Holds up to 18 cigars
Who is it Best for?
XIFEI's acrylic humidor is the perfect humidor to try if you start on your cigar collecting journey. It offers the benefits of a standard humidor without the hefty price tag. The humidor holds between 15-18 cigars, offering ample storage for a collection that is starting.
If space is an issue for you, then this humidor may do the trick. It's neat, cylindrical form fits easily on bar counters, office desks, and shelves.
The compact size and exceptional value for money make this humidor an ideal gift for the cigar smoker in your life. The transparent acrylic walls make it easy to display their collection and add a dash of modernity to this classic accessory.
Key features
This neat humidor comes with all the bells and whistles. Included is a humidifier and all the necessary accessories. So you won't need to go out and buy anything separately.
The lid is fitted with a stable seal that locks in the humidity, keeping your cigars from drying out and becoming damaged.
Built into the top of the lid is the classic hygrometer that makes it simple to check the jar's humidity levels. The elegant design of this analog hygrometer adds to the contemporary design of XIFEI's humidor.
Premium quality Spanish cedar sheets come included too. These fit inside the acrylic jar with your cigars. Their job? To hold in the moisture, ensuring your cigars improve in taste as they age and remain fresh for longer.
Cons
Not ideal for long-term storage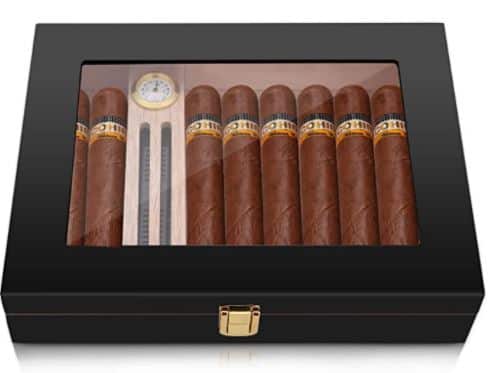 Bald Eagle's High Gloss Cigar Humidor is one that wouldn't be out of place in James Bond's bar. The sleek design, high-end finishes, and functionality easily make this the best cigar humidor out there.
Popular with cigar smokers the world over, this humidor offers the perfect place to store your cigars. This cigar box ramps up the flavor and the freshness by keeping your stogies at optimal humidity. It adds a touch of style to the environment you place it in as a bonus.
Specs
Made from solid Spanish Cedar Wood
Includes a glass viewing window
Features a high-end hygrometer
Holds 10 to 15 cigars
Who is it Best for?
Men who value style and sophistication will appreciate the sleek design of this humidor. Finished with black piano lacquer and detailed with gold-plated hinges, the aesthetic appeal is next level.
If you have a smaller collection of cigars you are looking to store, this humidor is for you. It fits between ten to 15 cigars and offers a glass window through which to view them.
This regal-looking humidor makes the ideal gift for the cigar smoker in your life. It offers a stylish addition to their bar area, but that isn't its main drawcard. The freshness and bountiful flavor it brings to your loved one's cigars will leave them astounded.
Bald Eagle knows what cigar smokers want out of their humidors. This makes their products some of the most sought-after in the world, a gift that will go unrivaled.
Key features
Bald Eagle crafts its humidor from 100% real solid Spanish Cedar Wood. Cedar is the favored wood for humidors as it attracts and holds moisture that keeps cigars from drying out. This wood enhances the cigars' flavors, too, allowing them to age like a fine wine.
A divider panel allows you to separate your cigars, but it offers a second function. It houses the humidifier and the hygrometer, keeping the box's interior as stylish as the exterior. This panel is removable, so you can use the box to store other items, too, if you so, please.
The analog hygrometer, while relatively small, allows you to take the humidity readings. This ensures your stogies remain at optimal humidity at all times.
A humidor that offers both contemporary style and functionality goes a long way. With Bald Eagle's humidor, fashionably storing cigars becomes easy.
Cons
Does not offer a magnetized seal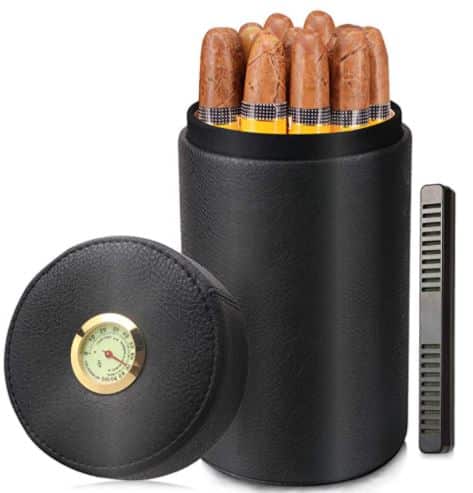 Scotte's Cigar Humidor Jar is unlike anything we have seen before. It offers a contemporary take on your classic humidor. The thing we love most about this modern cigar box is that it is highly portable. So you can take your stogies with you wherever you go.
This lightweight humidor is convenient when you are celebrating at a friend's house or have traveled out of town for work. Scotte's knows that carrying a standard wooden humidor about is impractical. Instead, they present you with this humidor jar-the ideal solution.
Specs
Made from leather and Cedar wood
Holds between 12 and 16 cigars
Features a built-in hygrometer
Portable
Who is it Best for?
If you are accustomed to an after-dinner cigar, that shouldn't change just because you are out of town. If you love cigars and travel often, then this humidor is the solution you need.
Lightweight, compact, and stylish, Scotte have designed their humidor as a travel accessory. This makes it simple to take your stogies with you on your business trip without them drying out or becoming damaged.
Accompanying this humidor is a stylish travel bag that makes it simple to carry. The flannelette bag brings a touch of class to transporting your humidor, something gentlemen of all ages will appreciate.
If you are looking to give this cigar canister as a gift, you're in luck because it also comes in a stylish gift box.
Key features
Scotte fashions their travel humidors from premium leather and lines them with a sheet of cedar wood. The leather keeps the canister wear-resistant while the wooden sheets lock in moisture.
The lid of this travel jar comes fitted with a built-in hygrometer. This device allows you to check on the humidity of your cigars at any given time. It also adds a touch of elegance to the design.
While the canister errs on the smaller side, only fitting between 12 to 16 cigars at a time, the size is ideal for travel. It is compact enough to fit neatly in your luggage or your coat pocket. It perfectly complements any standard humidor you may own and allows you the luxury to have a smoke wherever you are.
Cons
Does not offer a magnetized seal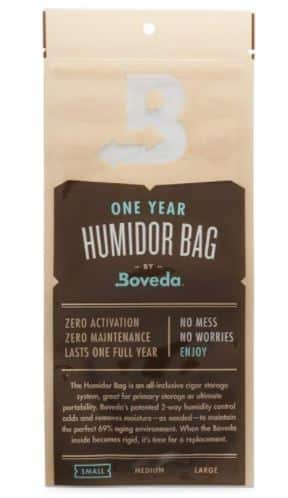 When it comes to humidor bags, Boveda does them best. They design their humidor bags to offer excellent humidity and durability. Traveling to far-off destinations is fantastic, especially when you can pick up a locally made cigar or two. The problem comes when you need to transport them home.
Airplanes rarely offer a humidity greater than 20% and will leave your cigars bone-dry and unsmokable. Boveda knows this, which is why they created these handy humidor bags to make traveling with your new cigars easy.
Specs
Fits up to five cigars
Offers two-way humidity control
Durable
Designed for travel
Who is it Best for?
Boveda's humidor bags are perfect for the constant traveler. The man who loves collecting cigars from international destinations or the business exec who often finds himself out of town.
These lightweight and highly durable bags offer space for five cigars. They offer three times the strength of your average food bag so you can be sure your cigars stay well protected.
The design of the bags allows you to slip them into your briefcase or luggage with ease. Because the bag only offers space for five cigars, you won't need to worry about breaking any international tobacco import laws.
If you are a businessman who is only heading out of town for a few days, then these humidor bags are just what you need. They make it simple to pack just a few, so you can still enjoy your after-dinner smoke.
Key features
Boveda manufactures its humidor bags from heavy-duty plastic. These sturdy bags feature a press-to-close seal at the opening to provide an airtight seal.
The bags require no maintenance or activation from you, making them quick and simple to use. These bags offer a relative humidity of 69%, keeping your stogies fresh and full of flavor. Boveda uses natural salt and water solutions to provide optimal humidity levels.
These bags come in a range of sizes, but we love the small one- holding up to five cigars, it is compact and perfect for slipping into your bags.
The cost of these bags is next to nothing, making them a complete bargain. And while they may only last between six months to a year, that is pretty good value for money in our books. To tell when your Boveda bag needs replacing, a simple touch test will do the trick. If it feels dry and crunchy, then it's time to replace it.
Cons
Only lasts for 6 to 12 months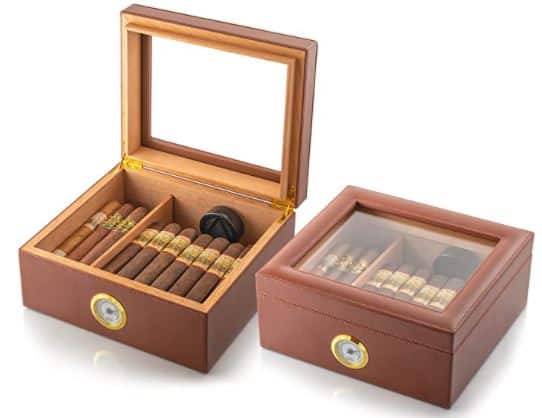 Amerigo's Luxury Handcrafted Cigar Humidor offers the ideal space to store your most-loved cigars. Amerigo uses only the finest materials to create its classic humidors. Their cigar boxes are designed for modern-day gentlemen. They offer a sophisticated design and the ideal humidity to keep cigars fresh.
This particular humidor sees a coming together of Spanish Cedar, leather, and glass. A tight seal and a vintage-style hygrometer add functionality to this humidor box.
Specs
Leather outer and Cedar wood core
Glass viewing window
Holds 20 to 25 cigars
Offers a humidity that sits between 65% and 75%
Who is it Best for?
If you love to entertain the boys and have them over for a whiskey and a cigar, then this quality humidor is for you. It offers a classic look and feels that pairs beautifully with a bar area or luxury man cave. The lush leather exterior brings a dash of class to any interior you place it in. There isn't a man who wouldn't be impressed when you take this cigar box out.
If you're the sort of guy who enjoys keeping his cigar collection on display, then have a closer look at this humidor. It features a large glass window built into the lid. This makes it easy for your extensive collection to be exhibited and allows you to peruse your cigars without opening the box each time.
Key features
Amerigo's humidor is handcrafted and sees a Spanish Cedar interior. A Cedar divider allows you to separate your cigars or leave it out altogether- the choice is yours. This richly colored wood does its part to hold in the moisture needed to keep your cigars from drying out.
The hygrometer can be found on the front of the box and sees a classic analog design with a stylish gold band. This useful little tool allows you to see at a glance the humidity within the box.
Elegant hinges and a plug-in system ensure your humidor seals tightly. The tight seal ensures the humidity stays constant between 65% and 75%. A noise-free switch allows for quiet, unobtrusive operation.
Amerigo's humidor features ample space for up to 50 cigars, ideal for the avid collector.
Pros
Comes with a removable Spanish Cedar divider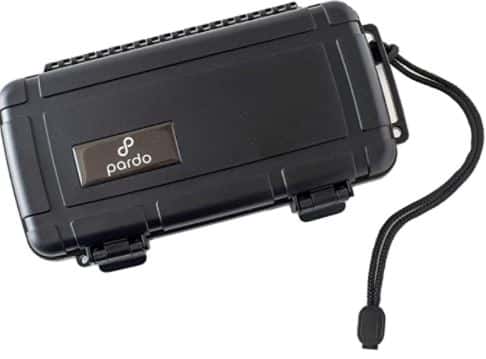 Pardo's Cigar Travel Humidor Case is the perfect way to transport your stogies. It is hardy, durable, and crush-proof, so you can be sure your sticks stay protected.
While it may not be the most attractive humidor on the market, what it lacks aesthetically it makes up for in durability. Offering space for up to five of your favorite cigars and a neat loop that fits around your wrist for carrying, this is a travel buddy any cigar smoker will love.
Specs
Waterproof
Holds five cigars
Features a crush-proof exterior
Includes a humidifier disc
Who is it Best for?
Men who fancy a cigar instead of a cigarette will love this handy humidor. It features a rigid, sturdy outer casing that renders it completely waterproof. These two features combined make it ideal for travel. Take your humidor with you on a fishing trip, when you go camping, or to the golf course.
The small size of the cigar box makes it easy to slip into your luggage. It offers the perfect way to transport your new cigars home on a flight that would typically leave cigars dry and unusable.
This useful little carrier makes an ideal gift for the cigar smokers in your life. It makes the perfect travel accessory, and you can be sure that your family member or friend will be most impressed with your gift.
Key features
This humidor is rugged and tough on the exterior; however, the interior is a different story. A foam padding inside protects your cigars while providing a neat groove for each of them to rest in. This not only keeps them cushioned but prevents them from rolling about and becoming damaged.
A humidifier disc sits inside the lid of the case. A few drops of pure distilled water will activate the disc and kickstart the process. It is essential to remember, though, that this humidor is designed for travel purposes. It will need to be topped up with water if you want to keep your cigars in the case for longer than a few days.
With no hygrometer present, you will need to keep track of when last you added water to the disc not to risk damage to your cigars. The tight waterproof seal does well to keep moisture locked in and holds your cigars well protected.
Pros
Includes a wrist tag for carrying
Features a foam-padded interior
Cons
Does not have a hygrometer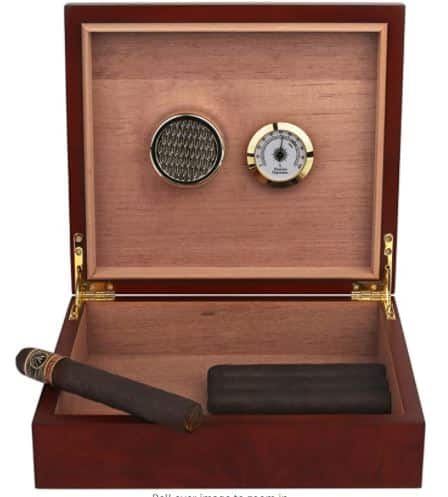 When you think Mantello's humidors can't get any classier, they release one like this. Their Magnetic Cigar Humidor takes cigar boxes to a new level with its sophisticated design and functionality.
This understated box features warm wooden finishes and gold hardware to complement it. Mantello's humidor offers finesse through its craftsmanship and a less-is-more design. Presenting a tight seal and Spanish Cedar interior, it creates the perfect place to store your prized cigar collection.
Specs
Comes with a magnetic lid seal
Includes a hygrometer
Built-in humidifier
Holds 15 to 25 cigars
Who is it Best for?
Mantello's traditional take on the humidor is best suited to men who favor simplicity and refinement over glitz and glam. The cigar box's understated design enhances the beauty of the cherry wood used to finish the exterior.
A Spanish Cedar inlay holds in the moisture needed to prevent your cigars from drying out. This unique wood also helps to develop your cigars' flavors as they age, making it ideal for avid collectors.
The box holds between 15 to 25 cigars, depending on their size. By our standards, this is a reasonably impressive size for a home or office collection. The size of the humidor itself makes it ideal for presenting on your desk or bar at home.
Key features
With an exquisite wood composition and refined gold hardware, this humidor sets a standard visually. The functionality of the cigar box matches this to perfection.
The lid comes with a magnetic seal that offers a watertight closure. This seal enables the humidor to maintain optimal humidity, to prevent the cigars from becoming dry.
An elegant analog hygrometer can be found next to the humidifier, inside the humidor's lid. This hygrometer offers a traditional look and feels while allowing you to check in to see the humidity levels.
The humidifier keeps the climate inside the humidor moist. This keeps the tobacco fresh and enhances its flavor.
While it does not offer a glass viewing window, this humidor does its job to keep your stogies well protected. It provides style, excellent craftsmanship, and impressive functionality – everything you could want from a humidor.
Pros
Features a Spanish Cedar interior
Has a stylish Cherry wood finish
Includes elegant gold hinges
Cons
Does not offer a viewing window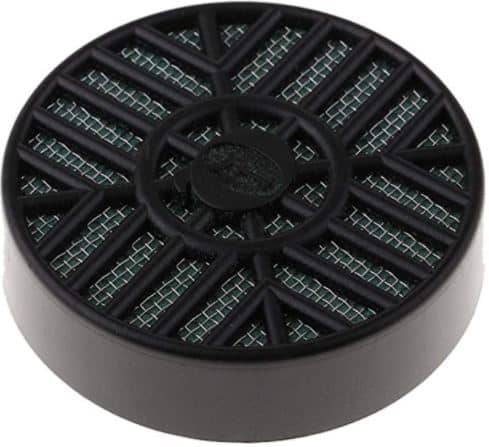 While not a humidor per se, this humidifier deserves special mention. Anync's Cigar Humidifier is compact and elegant. The choice of many cigar smokers the world over, this neat humidifier does the job, and it does it well.
Anync's humidifiers each go through rigorous testing to ensure they offer the highest quality. They are designed to fit easily into most humidors without taking up too much space. This is the ideal accessory for any cigar smoker to ensure their cigars stay fresh and full of flavor.
Specs
Compact size
Works with most humidors
It is refillable
Made from sturdy ABS
Who is it Best for?
Anync's cigar humidifier is the ideal accessory for any cigar smoker. They are designed to keep cigars fresh and prevent them from drying out, making them a must-have item.
These compact humidifiers work well with most humidors. If you find the humidifier on your cigar box no longer works, then this handy little one makes the ideal replacement.
Use this humidifier for travel purposes to keep your cigars at optimal humidity. Airplanes have been known to dry out cigars, and if you have purchased any abroad, you will want to make sure they stay fresh. Arriving home with dry, brittle, tasteless cigars is nothing short of disastrous. Well, we think so anyway.
If you are looking for a humidifier for your cigars then this is one to try. It offers impressive functionality, and it doesn't look too bad either.
Key features
Anync's humidifier comes fashioned from durable and hardy ABS, and it features a metal grille. Its sleek black design allows this humidifier to blend in well with any humidor design.
On the back of the humidifier, you will find a metal tape and a magnet. This allows for easy attachment to the humidor you place it in.
This handy humidifier works equally well with all forms of tobacco. In fact, it works so well; people have been known to use them in their bedrooms too.
Placing a few drops of distilled water, just enough to wet the humidifier, into the device, you activate it. Once you have done this and have wiped off the humidifier's outside, you can place it in your humidor. It is that simple to use.
Pros
Includes a magnet for easy attachment
Cons
Works with distilled water only
Things to Consider When Buying Humidors
Now that you have been through our humidor review, you are possibly thinking about getting one for yourself. Good idea! However, before you dive right in and purchase one, there are a few things to consider. Taking each of the elements we are about to discuss into account makes it easier for you to find the perfect humidor for your needs. Here are some points to mull over.
1. Capacity
The size or capacity of the humidor you choose will depend mainly on your collection or your proposed collection. If you have more than ten cigars, you're not going to buy a case that only has room for five. You also won't buy one that fits 100 unless you plan on extending your collection to that point.
The size of your humidor will also be determined by the space you plan on keeping it in. If you're going to display it on a countertop, side table, or desk, you won't be wanting a sizeable bulky design. However, if you plan to take your humidor with you on your travels, one that is too bulky won't fit in your luggage.
Take some time to figure out where you want to display your humidor if you wish to travel with it, and how extensive your collection is. Together these will help you figure out the perfect size.
2. Style of Humidor
Once you have figured out the size humidor you need, you can start looking at the style. Do you want one you can travel with? Or are you looking for one that doubles as a display case? Or, perhaps you want something simple like a jar?
Travel Humidors – these come in a range of shapes and designs. There is a style to suit every travel need, from compact, waterproof cases to zip-lock baggies and even leather canisters. These humidors are ideal for transporting your stogies when you travel and for bringing home new collectibles. However, they are not designed for long-term storage.
Jars – Jars offer a neat, compact way of storing your cigars. They by no means provide the sophistication of a cigar box, but if you prefer a more modern vibe, then these will be right up your alley. The only downside to these storage units is that they only offer space for between ten to fifteen cigars. This is not ideal if you have an extensive collection.
Classic Humidors – These are your typical cigar boxes that come fitted with a hygrometer and humidifier. The best ones will have a cedar wood inlay and a tight seal. These humidors are best for long-term storage and offer a sophisticated edge to storing your cigars.
3. Drawer Finishing
Most classic humidors come with a tray or drawer in which to place your cigars. Some of these come as wood, while others offer metal.
Wood – A Spanish Cedar shelf or drawer is the best option. The cedar holds the moisture in the case and transfers it to your cigars. It is this that helps them remain fresh and even enhances their flavor. You will find that all the humidors in our review feature wooden drawers.
Metal – you will want to steer clear of metal drawers. Yes, they are cheaper but with good reason. It doesn't repel bugs as wood does and often will alter the flavor of your cigars. They may also form condensation that could cause your cigars to become too wet and unsmokeable.
4. Humidity
Cigars, although dried, need to be kept at constant relative humidity. This prevents them from drying out too much and becoming brittle and tasteless.
The ideal humidity to store cigars at is 62% to 75%, and they should be held at a temperature of between 55 to 65 degrees Fahrenheit.
You must keep these levels consistent, making it essential to choose a humidor that does just that. Take the time to find one that offers a good, firm seal, and that has a well-functioning hygrometer to ensure the humidity and temperature are as they should be.
5. Design and Extras
Once you have all the nitty-gritty aspects worked out, you can look at the design of your humidor. Deciding on the exterior look of your humidor and the features that accompany it is the fun part.
Perhaps a wood finish would suit your bar area or preferably leather. Do you want a digital hygrometer or an analog one? And how do you want it to look? Contemporary? Classic? The choice is up to you.
There are other design finishes you can consider too. Whether you have a glass viewing pane in the lid is one of them. This feature makes it easy to see your cigars without opening the humidor each time and proves to be quite helpful. It also allows you to display your cigars, turning them into a feature piece and not just something to smoke.
A cedar divider inside your humidor can be quite handy should you want to separate your cigars, as can individual grooves to lie them in.
When it comes to purchasing a cigar humidor, the style and design rest mainly on your collection and intended use. Knowing what you want out of your humidor will make it a lot simpler to find the one that meets your needs. We hope our humidor reviews have helped you narrow down your search to find your ultimate cigar box.
However, if you are still unsure and are wondering which one we would choose as our top choice? We would definitively say the High Gloss Cigar Humidor by Bald Eagle. While it doesn't offer a classic humidor look, it is contemporary and offers all the elements that matter most in a high-end humidor.