Welcome to today's review!
In this article, we'll be reviewing our top choices for the best electric shaver for head.
Before we list out the best head shavers that men can find out there, let's take a look at why electric head razors are better than manual razors or clippers:
They allow better reach and access to all the different angles of the head.
The quality of the shave is never compromised.
You can shave without using shaving cream, soap or gels.
Reduces the chances of nicks and ingrown hairs.
As you can see from the above advantages, shaving the head with an electric razor helps you complete the job quickly and with much less hassle.
A manual razor, on the other hand, takes a lot more time to get the job done and if you're a beginner, handling a razor takes time to get used to.
For an easy and effective shave, electric razors are the best choice.
To narrow down the best electric shaver for head, we considered the following questions during our selection process:
Is it corded or battery-powered?
Is it waterproof?
How heavy is it?
How smooth a shave does it give?
Does it come with additional accessories?
In answering these questions, what you'll find here is plenty of help in finding the right electric head shaver for you.
Let's jump right in!
QUICK OVERVIEW: Best …..
Waterproof
Ergonomic Feel in Hand

VIEW ON Sigma →

Extremely Sharp
Powerful and Easy to Control

VIEW ON AMAZON →

Hypoallergenic Gold Foil
Effective on Face & Head

VIEW ON AMAZON →

Panasonic ES-LV81-K Arc5 Electric Razor

Ultra-Sharp Hypoallergenic Blades
High Performance Motor

VIEW ON AMAZON →

Wahl 5-Star Balding Clippers

Skin Friendly Rounded Attachments
Professional Strength Blade

VIEW ON AMAZON →
Use the table of contents below to jump to the sections most important to you.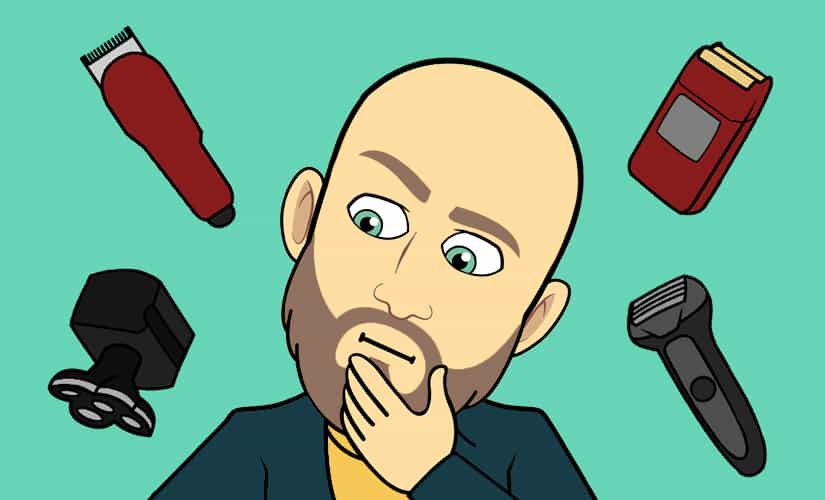 Things to Consider When Buying The Best Electric Shaver For Head
These days men choose to shave their heads for so many reasons – sometimes it may be choosing to submit early to a creeping bald patch…(a slowly receding hairline, anyone?)
Other times it's a style choice, with men like Dwayne Johnson making shiny heads more attractive in the mainstream than they have been for years.
Or maybe you just want to throw on a tank top and cosplay as Vin Diesel – there's no judgment here.
But before we get into our electric shaver reviews, in this first section, we'll highlight the features that you should bear in mind whilst reading the review section.
You've got to remember them as they will help you to find the best electric shaver for head to suit your needs. Each feature will be more or less important depending on what you're looking for in the head razor best suited to you and your head.
Because your head is unique, so treat it that way!
1. Corded or Battery Power
---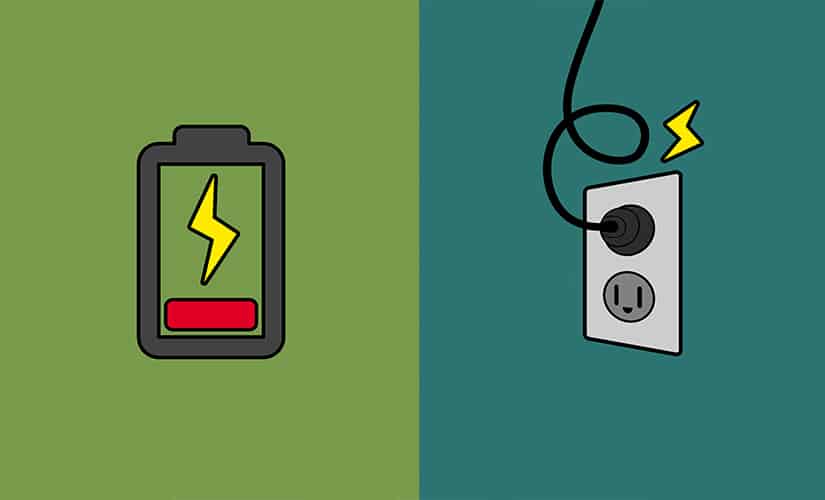 Urgh!
We have the feeling this is going to come back several times over the course of this article.
This corded vs. cordless debate is as old as the hills, and both styles have useful pros and annoying drawbacks.
When it comes to choosing the best electric shaver for head, corded or battery-powered is most likely going to come into play concerning where you cut your hair.
If you like to cut your hair in the bathroom, there may not be a socket close by to plug in a corded shaver.
On the other hand, if you have a battery-powered device, you better keep it topped up with juice!
In our list, you will find examples of both types.
2. Weight
---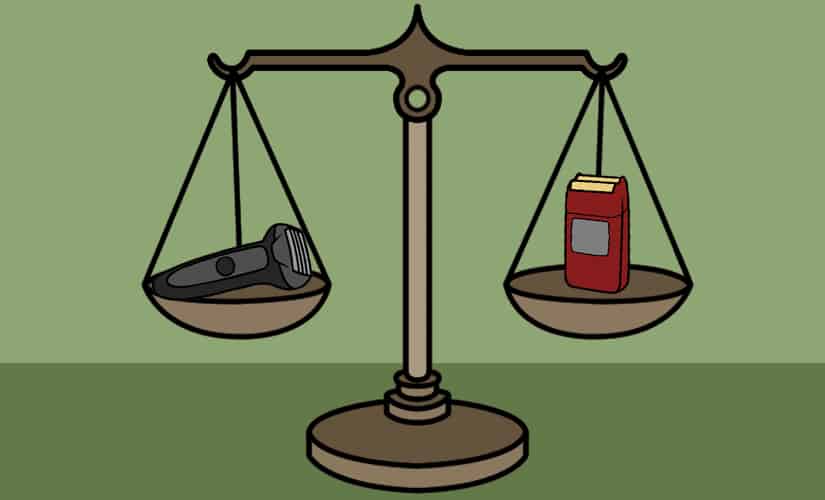 We've taken pains to clearly mark the weight down of each model in our list below.
Frankly, to get an all-over shave, you do need to invest a little bit of time into the job.
The heavier an electric head shaver is, the more time you will be spending to get a better shave.
The more uncomfortable the time is, the more tempted you'll be to do a rush job just so you can put the damn thing down.
But in the long term, you do get the perk of spending that time polishing your guns! (Who doesn't want to tone up a little?)
In the short term, just take note of the weight of each electric shaver men can choose from in the reviews below.
3. Ergonomic Hand Feel
---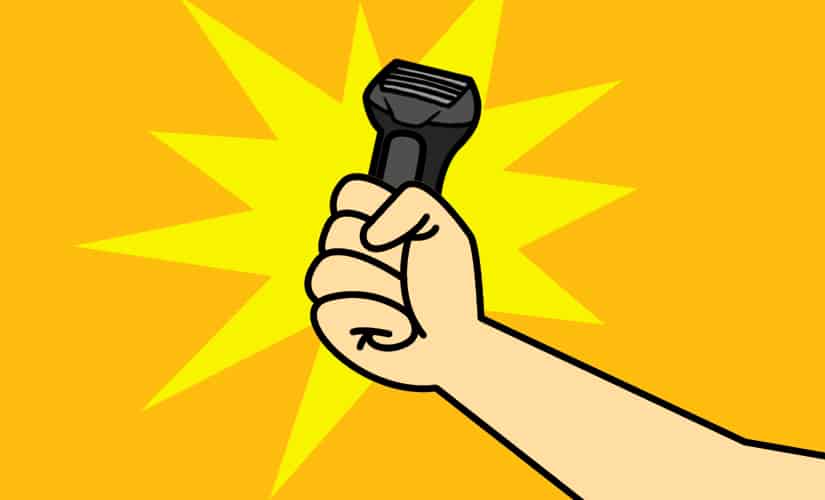 Kind of similar to the point above, a shaver that feels good in the hand is easier to control.
As you make your way down the list of electric razors below, you'll see that we have highlighted those with exceptional ergonomics.
These guys are designed to operate as an extension of your hand.
They have a shallow learning curve too, something we know guys worry about because we often get e-mails looking for advice on the 'best way to shave your head'.
Whilst the answer to that question will be different for all men, the best electric shaver for head will be intuitive and easy to control.
4. Quality of Shave
---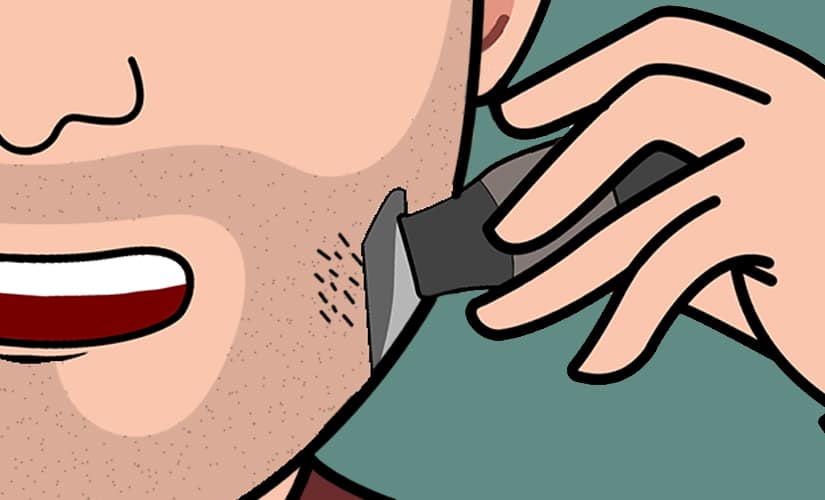 Whilst all the products we're looking at below are razors designed specifically for shaving heads, manufacturers do have different interpretations on what a shaved head actually is.
For this reason, you will find on the list below the best electric shaver for head that are capable of taking away any trace of hair, leaving nothing but smooth skin if we're really inspired by that end scene of Batman Vs. Superman.
Spoiler Alert: Jesse Eisenberg isn't a style icon, he's a tool.
Some other men out there aren't interested in a smooth finish so much as just shaving their hair down to stubble.
For you, we have some hair trimmers designed to do just that.
Bald, stubble, or even a bit longer, there is something on the list to suit everyone.
5. Water Proof
---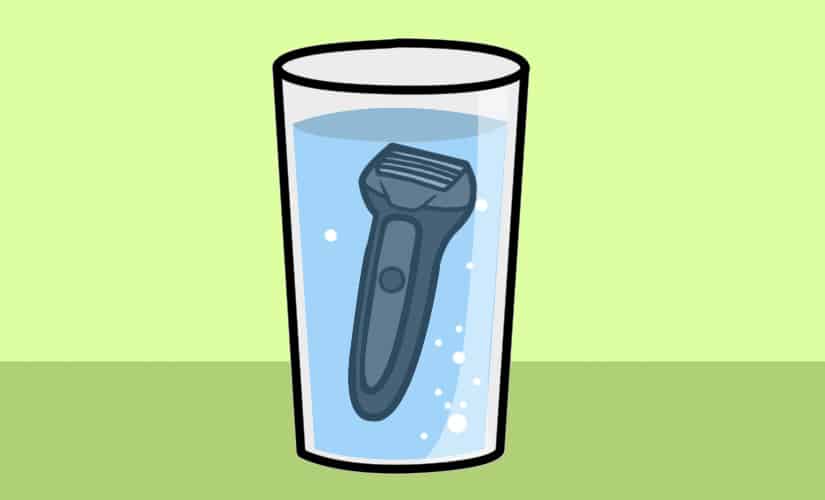 Finally, we've highlighted the level of waterproofing of each tool.
This ranges from the corded hair trimmer (surprise, surprise! not waterproof at all) to several models with complete waterproofing.
These tools are cool because you can take them in the shower to shave your dome whilst having a scrub.
This is an especially helpful feature in an electric shaver for black men since research has shown the melanin-rich skin contains lower levels of ceramides making it more prone to dryness.
In the middle are several products with partial waterproofing.
What we mean here is that the blade can (usually) be removed and rinsed underwater.
This makes cleaning up a little easier.
How To Use An Electric Head Shaver
When first beginning to use an electric head shaver, it is important to keep a few things in mind.
First of all, make sure to have a mirror, scissors for cutting longer hair, clippers for trimming your hair to stubble, an electric head shaver, and finally, an aftershave.
Before using an electric razor, you can either dry shave using powder or take a shower before shaving.
Experts often recommend the latter since showering opens up the pores and makes the hair pliable to shaving.
For longer hair, make sure you give it a cut before shaving.
If you have buzzed hair, however, soak your towel in water and wrap it around your head.
Once your hair has absorbed the water, it is now time to shave.
Do's and Don'ts Of Using An Electric Head Shaver
DO make sure to always clean the electric head shaver after every use. This applies to all kinds of razors, even the Gillette electric shavers that are so commonly used for a fast shave.
DON'T try to shave without a mirror.
DO apply antibacterial soap on the blades and rinse it under lukewarm water. Rub any stray hairs on the blade with a mini brush.
DON'T use a straight edge razor or a safety razor.
DO take a good shower and apply aftershave.
DON'T use the electric shaver for shaving your pubes or balls since an electric shaver for balls is not recommended due to the fact that coarser hairs can cause the shaver to get stuck.
---
Best Electric Head Shavers of 2023 Reviewed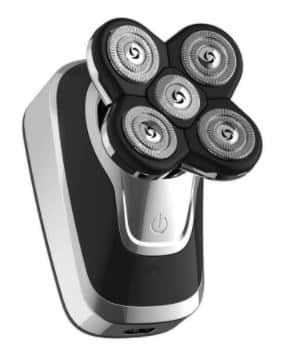 To start off our list, we chose this all-in-one tool from Sigma Grooming, a newer company that is making a solid name for themselves with products focused on ease-of-use and high quality.
With 5 attachments, you can take the barbershop with you with one simple tool.
Specs
Who Is It Best For?
The best electric shaver for head if a man is looking for a close, precise shave but also wants the benefits of multiple attachments.
Key Features
This head shaver competes with the big dogs on every level.
The best and most important aspect of this shaver is the floating head technology that utilizes two cross-rotating blades to give you a quicker and closer shave.
The floating heads help the shaver flex and adjust to all the contours of your head and skin.
This helps reduce friction and prevents irritation.
It also helps with precision and control because the razor heads are able to move with the angle of your hand and the roundness of your head.
The ergonomic shape feels great in the palm of your hand and also helps with precision and control.
The fact that this shaver comes with multiple attachments is a huge plus.
The trimmer attachment, facial cleanser, and facial toner make this the best electric shaver for tough beard and sensitive skin as they fit an all-in-one purpose.
Pack this all-in-one tool in your toiletry bag and you'll basically have packed the whole barbershop.
If you have some longer hair, you can hit that with the trimmer attachment before using the shaving attachment.
Or you can keep your nose hairs in check with the nose trimmer attachment.
Sigma Grooming's shaving kit is waterproof which means you can use it wet or dry – with every attachment.
Finally, another fantastic feature is the 120-minutes of shaving a fully charged shaver can get you.
That means you can take this tool on weekend trips and not have to worry about the charger.
Cons
Not a Big Brand Name Product  (If You Care About That)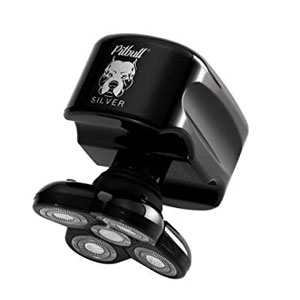 We are kicking off our list with an absolute beast of a head shaver.
A re-designed version of Skull Shaver's famous Bald Eagle Head Shaver product, what tweaks and improvements have they slipped in learning from the numerous Skull Shaver reviews out there?
Specs
Who Is It Best For?
A man with already short hair looking for a head shaver with the perfect blend of power and control.
Key Features
Straight out the gate, we have to recognize that Skull Shaver is one of the leading manufacturers of the best electric shaver for head hair out there right now.
Hands down. Period.
What they have done here is take one of their most popular models, the Bald Eagle, and they have rebuilt it from the ground up.
That means a fresh new design, improved components, and construction techniques that all combine for a head shaver that is ticking many of your boxes.
Firstly, control.
This beast is designed to fit into the hand and act almost as an extension of your arm.
To that end, it is designed to feel natural in the hand and bring an ergonomic feel that we have not felt in many other electric razors.
The five rotating blades can all pivot and move individually, making this shaver even easier to control.
It also helps to deliver a very close shave, with that razor head able to move and adapt to each bump and angle on your head.
That shaver head is also suitable for use on your face, making this a razor with multiple applications.
Additionally, this new design is watertight and that means you can use it in the shower for fast, frequent trims.
There are also a couple of issues – since nothing is perfect apart from Katy Perry, of course.
One, Skull Shaver has released this model in three standards – Silver, Gold, and Platinum.
We reviewed Silver, so is there any difference between it and the others?
Well, frankly, yes.
The Pitbull Silver uses standard-issue flat blades.
The Pitbull Gold Shaver is basically the same design as the Silver except with upgraded curved and beveled blades.
The Pitbull Platinum Shaver, on the other hand, is a complete upgrade on both Silver and Gold.
It has rotary cutting blades for an even closer shave and comes packing such features as self-cleaning blades.
The Silver offers a great and comfortable shaving experience.
The Gold upgrades this a little further and the Platinum trumps the pair of them.
You do have to bear in mind, though, that the price also escalates along with this increase in performance, with the Platinum Shaver coming in more than twice the price tag of the Silver.
We like the whole Pitbull design and are more than satisfied with the quality of shave the Silver model brings, especially as it is so much cheaper.
If you want the more premium-level designs, though, we're certainly not going to stop you – all three are top choices for the best electric shaver for head!
The other issue – there are no attachments with this shaver.
That means that it is going to struggle to cut longer hair.
If you have long hair now and want to shave it, you'll need to get it trimmed right back to stubble length before you can start using this product.
Check out the hundreds of customer reviews here on Amazon.
---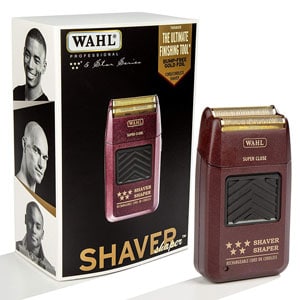 Next up, we are going to take a good look at this product – a head shaver with a very classic design and styling.
Specs
Who Is It Best For?
A man looking for an effective head shaver with no bells and whistles.
Key Features
It was inevitable that a piece we put together on head shavers would have an item from Wahl.
These guys have been out there making quality electric head shavers for years now.
In fact, spoiler alert, this is not the only Wahl-manufactured shaver to make our list today.
This model, as you can no doubt see from the image, is a real throwback.
This is the style of shaver that your Dad would recognize – heck, this is an electric razor that your Grandpa would be able to pick up and use.
That is both the strength and the weakness of this design.
Strengths first, because we're nice that way.
This is a very simple, straightforward design of a head shaver.
There are no bells and whistles here, no laser-guided razor blades, or thermal nuclear internal power source.
This is a head shaver with an "on button" and an "off button".
Flick it on, run it over your head, turn it off when you're done.
That's… about it making it the best electric shaver for elderly man maybe?
All jokes aside, there are still a few premium features here that could make it the best electric shaver for head!
The gold foil, for example, is hypoallergenic, helping this shaver to be extra kind to your skin.
It is also just as effective for use on facial hair as it is on your head, too, and a multi-purpose design is always great to see.
The downside, as we mentioned above, is that simple design.
Some men will love the simplicity.
For others, though, they will want a men's head shaver that helps more, comes with more attachments, and is better designed to sit ergonomically in the hand.
It will depend on you, in terms of what you are looking for in the best head shaver for you.
If you want a very simple but effective design, this could be the best electric shaver for head!
Check out the thousands of customer reviews here on Amazon.
---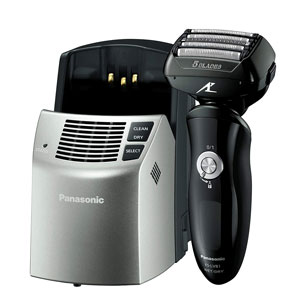 Next up, we are going to have a look at a truly top-end electric head shaver from a well-known manufacturer.
Panasonic is bringing a high, high-quality electric razor here with a truly high-end price tag to match.
Is it worth your investment, though?
Specs
Who Is It Best For?
A man who wants a premium shave experience – and isn't afraid to pay for it!
Key Features
Where to begin with this weapon of a head shaver?
We're being serious, we have a list of features – a mile long here, and it's kind of hard to decide where to start.
Let's start with something you're not going to get with any other shaver on the list – the awesome charging/cleaning docking station.
Keeping your shaver clean and ready to go is a must if you're going to get the most out of it.
Improperly maintained shavers will end up with dull blades, and whilst it is possible to sharpen hair trimmers…
… let's face it, life is too short.
That's why the docking station here is so cool.
Not only does it work to keep the shaver charged up, so it's always ready and available, but at the touch of a button, it cleans and dries the device, too.
This feature makes it our best electric shaver for travel since the docking station is an extremely portable feature.
The shaver itself is also extremely impressive.
You are looking at no less than five sets of ultra-sharp, hypoallergenic blades here.
They have been sharpened to a 30-degree angle too, universally recognized as one of the best all-round cutting angles.
A motor that kicks out an average of 14,000 cuts per minute powers those blades.
Spread that out across the five blades, and Panasonic calculates that you're going to end up with 70,000 individual cutting actions per minute.
That helps to make this shaver fast and highly efficient.
You won't need to make multiple passes for a close cut with this shaver, and it has the power to tackle all types of hair thickness.
It's fully waterproof – so you can take it into the shower too.
Oh, and there's a nifty little trimmer that pops out so you can detail around sideburns, mustaches, and anything like that.
All in all, this is a very impressive choice for the best electric shaver for head!
The only real downside is the price tag.
This tool is a real investment, alright, and if you can justify it, you're picking up one heck of a quality head shaver here.
Check out the hundreds of customer reviews here on Amazon.
---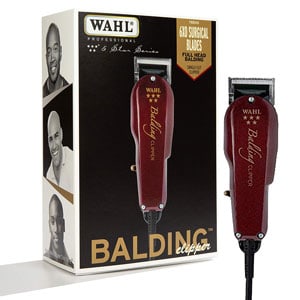 As promised earlier, Wahl is back with a second set of high-quality head shavers.
Ignore the name, by the way, this isn't a bald head shaver.
In fact, its barbershop quality trimming power is suitable for hair of all lengths.
Specs
Who Is It Best For?
Any man looking for the power of a professional quality, corded electric razor for trimming and shaving head hair.
Key Features
No matter what body hair you're looking to trim, you are always going to stumble into the fight of corded vs. cordless.
It's like Pepsi vs. Coke or The Pens vs. The Flyers, you've got devoted fans on either side of the debate, chucking cans of soda and hockey pucks at each other.
Sat in the middle, are people like us, just trying to live our lives and stay out of the crossfire.
So we can say, hand on heart, corded vs cordless is dumb because both styles of shavers have their pros and cons.
But if you do desperately want to try out both, make give a look into the MAX-T electric shaver which has both features – corded and cordless!
With corded shavers, what their fans will say is they deliver consistent power, and that is hard to deny – especially when you are dealing with quality products like this shaver from Wahl.
Wahl, as we already said, makes quality electric razors and shavers.
What you have here then is a hair trimmer designed for the professional market.
To make it suitable for use in a pro barbershop, therefore, there are many impressive features.
For example, that power that we mentioned before.
This product is rocking a 120 Volt electromagnetic motor.
That is the kind of power that can only be sustained long-term via a corded device – a battery is going to be drained pretty quick at that level of power usage.
The power is delivered to a set of German-milled Titanium blades for the fast and efficient cutting action.
Take note – this is a hair trimmer, not a head shaver.
Because of the design, you can't achieve a smooth shave.
This device will leave about 0.1mm of stubble, so you will always have a little bit of hair left behind.
So if you want to be as smooth as a Cueball – Professor X Style – this may not be the right tool for you.
If you don't mind a little stubble left behind, then this is the best electric shaver for head available for a frankly ridiculous low price.
Check out the hundreds of customer reviews here on Amazon.
---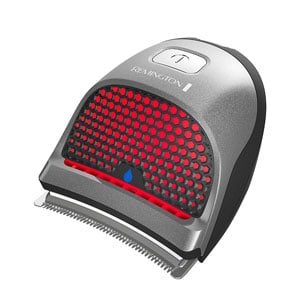 The next head shaver to make our list is another ergonomic design of the tool, designed to fit snugly into the palm of your hand.
It is backed up by a quality construction from Remington – so does this device provide the best way to shave your head?
Read on to… well, you know the rest.
Specs
Who Is It Best For?
Any man who prioritizes control over power and wants a cheap electric shaver that still does the job!
Key Features
It's worked out quite nicely that this electric shaver has been slotted into the list in the place immediately after the corded head trimmer from Wahl.
Ok, we made the list, so we actually did it on purpose.
Nevertheless, it's still a useful comparison.
By being corded, the Wahl hair trimmer was all about delivering high power to the cutting blades.
To achieve that, though, it became heavy and tethered to a power cord, reducing maneuverability.
This entry, from Remington, is the absolute opposite.
On the one hand, it sacrifices power, with a lithium battery that provides the shortest run time of any head shaver to make our list today.
It does this to keep both the size and weight of this shaver as low as possible.
Remington paired this low weight and small size with a very impressive ergonomic design that fits right in the palm of your hand.
That makes this shaver incredibly easy to control.
There is, in fact, a very shallow learning curve with this device, as it simply feels so natural in your hand making it great as a first electric shaver.
The Remington electric shaver parts boast an extra-wide cutting blade, which cuts down on shaving time altogether.
You can cover all of your head with just a few sweeps, perfect for that quick morning pre-work trim.
The blades are also of very good quality, as you would expect from Remington making it a great choice for a cheap electric razor.
No less than nine different length adjusting combs can be deployed here, allowing you to style your hair or sideburns if you like, not just shave it all off!
As we mentioned, the battery is a little weak.
You won't notice any significant drop in power delivery, however, be prepared to charge this device a little more often than some of its peers.
If control and ease of use matter to you the most, however, this could be the best affordable electric shaver for you.
On the lower end of the budget, the Remington can also be one of the best electric shaver for teenagers. After all, who here hasn't been cash-strapped during those years?
Check out the thousands of customer reviews here on Amazon.
---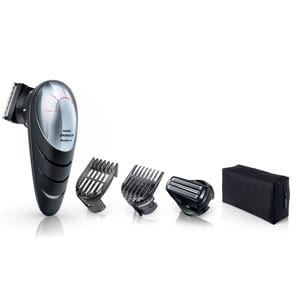 Next up, is another big-name manufacturer.
Just like Remington on the product beforehand, this device is all about ergonomics and feeling good in your hand.
To achieve this, though, Philips developed a pretty innovative design making it the best shaver for bald men? It's up to you to decide. Read on…
Specs
Who Is It Best For?
Any man looking for a versatile, easy-to-use shaver with multiple applications.
Key Features
Here, at Prim and Prep, we really do appreciate an innovative design.
That's why we were so keen to get our hands on this puppy, the Philips Norelco.
The reason we were so keen is because of its innovative rotating head design, and let us tell you, we were not disappointed!
It can be clicked and locked into any angle across a 180-degree arc.
That means that with just a couple of simple adjustments, you have a shaver in your hand with the ideal shape and cutting angle to tackle any head or face.
Every lump, bump, line, and contour, can be easily managed simply by moving the blade into the appropriate position.
That is a level of adjustability that you simply don't see too often and means that this one simple tool has the versatility to provide a close head shave to just about any man out there.
It also means that the shaver is just at home on jawlines as it is on your head, making it an effective tool for shaving any part of your body making it the best electric shaver for sensitive skin.
Well done, Philips, because that is pretty damn cool and that puts this shaver down as the best Norelco electric shaver in the market.
It can also tackle various hair lengths and when used in combination with the Philips vacuum trimmer, it gives you the added effect of an electric shaver with vacuum.
The length adjusting combs allow you to trim without shaving, whilst the Balder attachment allows you to take pollution down to zero.
* Checks Notes *
It can take your hair length down to zero, sorry.
If there is a weakness to this product, actually, then it is the balder attachment.
Designed for a close shave, it is a foil-style cutter.
As we've seen, foil is good, but rotary blades are better.
That means, for a truly smooth finish, you need to make several passes over your head or face to remove all traces of stubble.
Still, all in all, this is a very versatile and easy-to-use product that takes advantage of a very innovative design and that makes it the best men's electric shaver for sensitive skin on the scalp.
Check out the hundreds of customer reviews here on Amazon.
---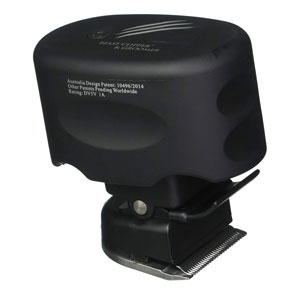 We're going to finish up the list with another beast of a head shaver, the Beast Clipper from Skull Shaver.
Specs
Who Is It Best For?
Men who want to easily trim but not completely shave their heads.
Key Features
You've got to admire Skull Shaver.
Like, how long was the board meeting when they decided what to call their company?
We're going to guess about 5 seconds.
In their defense, though, they do create products that do exactly what they say they will on the tin.
This, the Beast Clipper, is another example.
First of all, it is nice and small.
Like, barely 4 inches tall and weighing only a few ounces.
But don't let that fool you – this clipper may be small, but it is pretty powerful.
Ladies and gents say hello to the Honey Badger of head shavers.
The power that this device is packing is also nice and easy to control.
The battery and motor are both top-mounted, whilst the innovative grip style design is paired with a cool horizontal trigger for a clipper that feels good in the hand.
It is especially effective by the way at cutting hair at the back of your head.
This can be a problem area for a lot of men when they start to shave their own heads.
Therefore, it's good to see a product with the ability to make this a little easier without turning your every head-shaving session into a practical demonstration of one of the weirder pages of the Kama Sutra.
You get 8 length adjusting combs here, though there are actually 4 lengths in truth, they just have mirrored tapering to be more effective on one side of the head.
It's also worth pointing out that, like the Wahl 5-Star trimmer, this product is a set of hair clippers.
Again, this means it is not able to produce a smooth finish – at best, you'll be left with a millimeter or two of stubble on your dome.
Just as with the Wahl, this is not a suitable product for any man looking for a smooth, shaved finish to their scalp.
This is a powerful, effective, and very easy to control set of hair clippers making it the best electric shaver for head, if all you're looking for is a great trim.
Check out customer reviews here on Amazon.
---
Best Electric Shaver For Head FAQs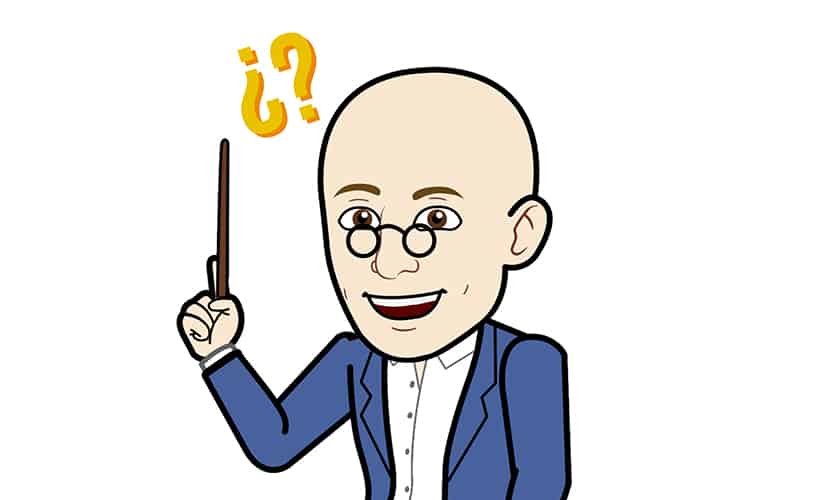 We've already shown you eight of the best electric shaver for head.
If you've got any questions about them, though, you'll likely find the answers in the next section.
In the end, though, it all comes down to your day-to-day needs.
Maybe you should try answering questions like:
How regularly you will be using it?
How close of a shave do you need?
What are the additional tools you require?
And of course, your budget?
Once you've answered these questions, you can then assess the shavers according to your requirements to find the best bald head shaver for you out there!
At the end of the day, only you'll know what's best for your head!