Our team of wet shaving experts has reviewed all the top brands and have determined which are the best shaving brushes you can buy at every price level.
So no matter what your budget is,  we will make sure you get the best shaving brush at the best price.
We also cover all the essential information you need to know including:
The differences between the various types of materials used to make shaving brushes (synthetic vs. badger vs. boar vs. horse)
The different grades of hair including the multiple levels of badger hair
How to properly care for your shaving brush
Use the table of contents below to jump to the sections most important to you.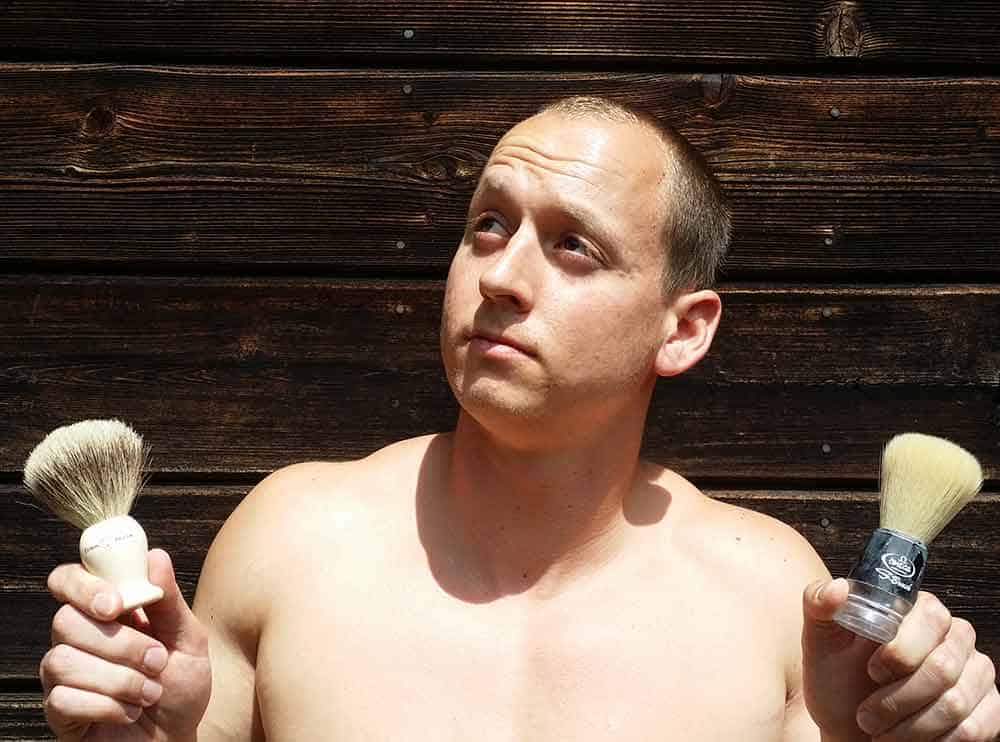 The Best Shaving Brushes from the Top Brands
There are a considerable number of shaving brush manufacturers, many of which produce excellent products.
Nonetheless, there are also a huge number of brands with less than stellar reputations, some of which are known for trying to pass off lower grades of badger hair as 'silvertip' or 'super' by dying the hair to give it the unique banded look that only the higher grades have.
For this reason, it's essential that you go with a brand that is well-known and has received good overall reviews.
Otherwise, you may end up paying way too much for an inferior quality brush.
Once you pick your brand, you can pick your material and grade from their product line as provided below.
#1 Edwin Jagger Shaving Brushes (Best Overall Value)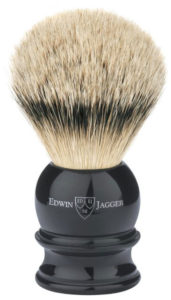 In terms of overall quality, we find English shaving company Edwin Jagger to produce some of the best shaving brushes on the market.
The company produces a wide range of brushes in different grades of badger hair, including the super popular Edwin Jagger Extra Large Silvertip, which is one of the best shaving brushes we've ever come across.
Check out the current price and reviews on Amazon for Edwin Jagger's top brushes:
#2 Mühle Shaving Brushes (Highest Quality)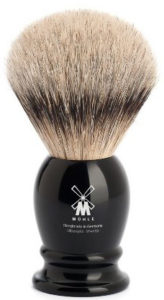 In addition to Edwin Jagger, we also are quite fond of Mühle, which produces some outstanding badger hair and synthetic brushes, including coveted Silvertip Fiber v2.0.
Mühle also produces some models with uniquely designed handles that are amongst the fanciest and most expensive models you'll find, such as the Silvertip Badger with Carbon Handle, which sells for well over $600.
Check out the current price and reviews on Amazon for Mühle's top brushes:
#3 Omega Shaving Brushes (Best Budget Option)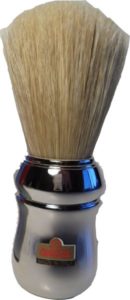 While there's no doubt that brush is probably out of most of our price ranges, Omega is a good bet for something a bit cheaper.
While they produce excellent badger and synthetic brushes, we've also found that Omega boar hair brushes are amongst the best on the market. If you're looking for a travel shaving brush, we can recommend the Omega #10048 Boar Bristle, aka The Pro 48.
At less than $10, this brush is cheap enough that you won't care if it gets lost but is still much higher quality than many others on the market.
Check out the current price and reviews on Amazon for Omega's top brushes:
#4 Parker Shaving Brushes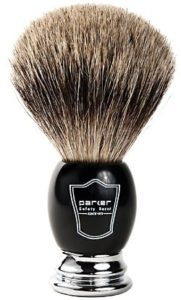 Parker's Pure Badger shaving brush is another great option, as the quality of the brush far outweighs its price.
It is also one of the better-reviewed brushes we've come across and has a large number of outstanding customer reviews on Amazon.
Check out the current price and reviews on Amazon for Parker's top brushes:
Prim & Prep's Guide to the Best Shaving Brushes (Video)
While wet shaving can provide a much closer, more comfortable shave, it also requires a bit more of an initial investment.
Why have we made this list of the best shaving brushes?
Whereas many men simply choose a cheap can of shaving cream and a throwaway disposable razor, traditional wet shaving requires you to pick up a quality razor (safety or straight), shaving soap and a shaving brush.
Be sure to also check out our best of lists including top safety razors, shaving soaps, razor blades, and more.
You could be forgiven for thinking that the shaving brush is probably the least important of all the necessary tools, but in actuality, the quality of your shaving brush does matter.
While it apparently doesn't matter as much as using a quality razor, choosing a decent shaving brush will still help the entire process go more smoothly (and result in smoother results).
In the past, a shaving brush was considered an essential part of any man's shaving kit, but with the invention of aerosol shaving foams or gels and disposable razors, it's one of those products that's been phased out.
That doesn't mean that it's unimportant, especially if you plan on using traditional shaving soap, as a shaving brush is the only way to get shaving soap to lather.
Additionally, a quality shaving bowl can also greatly assist you in the lathering process.
Still, a shaving brush has more uses than just building up a lather from your shaving soap, as the brush also helps to draw the hairs out from the face, making them easier to cut in one stroke.
Not only that but using a shaving brush will also reduce the amount of soap or cream you need to build a rich lather, thus saving you money in the long run.
Finally, shaving brushes also help to exfoliate the skin and open the pores before shaving—all of which should result in a much more comfortable and enjoyable shave.
Be sure to check out our excellent infographic on the science of wet shaving.
In truth, if you want to use shaving soap, or even a quality shaving cream (not foam), a good quality shaving brush is essential (Check out our list of the top shaving creams for men).
That being said, there are several different types of shaving brushes available nowadays, so it's important to know the differences between the various qualities to determine which is the best shaving brush.
What Makes a Quality Shaving Brush
Although you can now find shaving brushes made from all sorts of natural and synthetic hairs, for those that want a straight traditional wet shave, badger hair is the only way to go.
That being said, many decent options use some other type of hair, while there are also several different grades of badger hair as well.
All of these different options makes it important to know the differences between them all, as it will allow you to find the right compromise between quality and price.
While silvertip badger hair brushes may be the best quality, they also tend to cost the most (usually around $150 or more).
If you've got that kind of money to spend on a shaving brush, there is no doubt that a silvertip badger hair brush is the best shaving brush money can buy.
However, due to the high price, we probably wouldn't recommend them for most guys, but that doesn't mean that you still don't have many excellent options. Generally speaking, the higher quality hair grades are softer and thus feel more pleasing on the face.
In addition, while all brushes need to be soaked, the best shaving brushes require a much shorter soaking time, as they are much better at holding on to water and lather.
Shaving Brush Types Ranked by Grade of Hair
Silvertip Badger Hair
As we've said, this is hands down the highest quality of shaving brush available.
Although they are expensive, a high-quality silvertip badger brush could easily last ten years or more if taken care of properly.
These brushes usually have a very distinctive look, as the bottom parts of the hair are black while the tips of the hair are silver (obviously).
This type of hair is the softest and feels incredible to use, with the hairs massaging the face as you apply the lather.
Super Badger
The second best grade of hair is super badger, which is only a small step below silvertip badger.
These brushes tend to cost between $70 and $150, and again, should last for close to a decade with proper care.
Super badger brushes tend to look quite similar to silvertip, with a distinct black and white banding.
In truth, we found very little difference between silvertip and super badger, whereas there are quite significant differences between super and the other qualities.
For this reason, this is the grade we would be most likely to recommend due to its similar quality and lower price.
Best Badger & Pure Badger
Best badger shaving brushes are the third grade, while pure is the lowest grade of badger hair available, both regarding price and performance.
Both types of brushes are usually solid colored, although the color can range from dark brown or black to tan.
Be aware that some people companies try to dye these lower qualities of hair to look like super or silvertip badger hair.
The two lower grades of badger hair are much softer and less stiff than boar or horse hair brushes, albeit not nearly as soft as the higher grades of badger hair.
Depending on the brand and model, these brushes can range anywhere between $30-100 and should be able to last for between five and ten years.
If you're looking for a quality brush, but don't want to fork over a ton of cash, we can recommend either of these grades, as they still offer many advantages over horse, boar or synthetic bristle brushes.
In terms of price and performance, many men choose best badger shaving brushes for the fact that they can still build up an excellent lather, while not being nearly as scratchy as pure badger hair.
Boar Hair
Boar hair brushes tend to be much harder than any of the grades of badger hair, and are thus also quite a bit less expensive.
These brushes normally need much longer soaking time to soften up the bristles, but even then, will generally feel much scratchier than even the cheapest badger brushes.
Still, they are a good option for those wanting to experiment with wet shaving, but who don't yet want to spend an arm and a leg on one of the best shaving brushes, as you can usually pick one up for less than $10.
Due to the low price, many men choose boar hair for their travel shaving brush, as they can always be easily and cheaply replaced should they get damaged or lost.
Horse Hair
Horsehair shaving brushes usually fall somewhere in between badger and boar hair, both concerning softness and price.
A decent quality horsehair brush usually costs between $20-$40 (with the best horsehair brushes sometimes costing even higher) and is often a good option for beginners or anyone who is slightly more concerned about price than quality.
Synthetic Brushes
In truth, we probably wouldn't recommend synthetic brushes, unless you happen to be a vegan or are allergic to animal hair.
While they can still get the job done and allow you to build a rich lather, they typically don't feel nearly as nice on the face.
That being said, there's usually not much of a difference between boar hair and many of the nylon synthetic brushes, at least regarding quality.
Still, when it comes to price, you should expect to pay a bit more for synthetic brushes than you would for the lower quality animal hair brushes, with many of the better synthetic versions costing between $30 and $150.
At the higher end of this range are the companies that use various softer synthetic fibers, some of which can even compare to the higher grade badger brushes.
One that we like in particular is the Silvertip Fiber v2.0 from Mühle, which some men find to be even better than the real silvertip badger brushes.
How to Care for Your Brush
When you first get your brush
Whichever brush you decide to pick from our list of the best shaving brushes, there are a few simple and quick things you can do to keep the brush in excellent condition.
This way you get the best use from it and protect your investment – a well looked after quality brush can last for up to 15 years!
When you first get the brush, be sure to wash it.
This thing has been in a box, on a truck, in a factory somewhere and will have gathered all sorts of stuff that you don't want to be rubbing into your skin.
When do first rinse it out, some hairs will dislodge.
Don't worry; this is a good thing.
These are the hairs that weren't quite long enough to reach the glue base. Meaning you are left with full length, strong, healthy hairs.
Keep washing it!
Your brush is made from real hair.
So to keep it healthy, wash the brush like you would wash your own hair.
From time to time, use a gentle shampoo and conditioner on the brush.
If you notice a residue has developed on your brush, or it is just starting to feel flat and stale, you can bring it back to life with a very weak vinegar solution.
Soak in a solution of ten parts water to one part vinegar for just a few minutes and be sure to rinse thoroughly!
Dry it
If you've just washed it, or just used it for shaving, you must dry your brush as much as you can.
Storing your brush when damp is going to damage the hair and leave it vulnerable to mildew.
Also be sure you store it somewhere where plenty of air can get to it.
It should not be cramped in amongst other things.
Conclusion
In terms of the actual quality of shaving brushes, the type and grade of hair used to matter much more than the particular brand you choose (obviously as long as you select from the trusted brands recommended above).
Still, some men also care about the look, shape or size of the brush, but that's all more a matter of personal preference like so many other things.
If you're just starting out with wet shaving, you probably won't notice a difference from anything other than the quality of the hair, so we'd recommend just buying the best shaving brush you can afford from one of the trusted brands above and get started!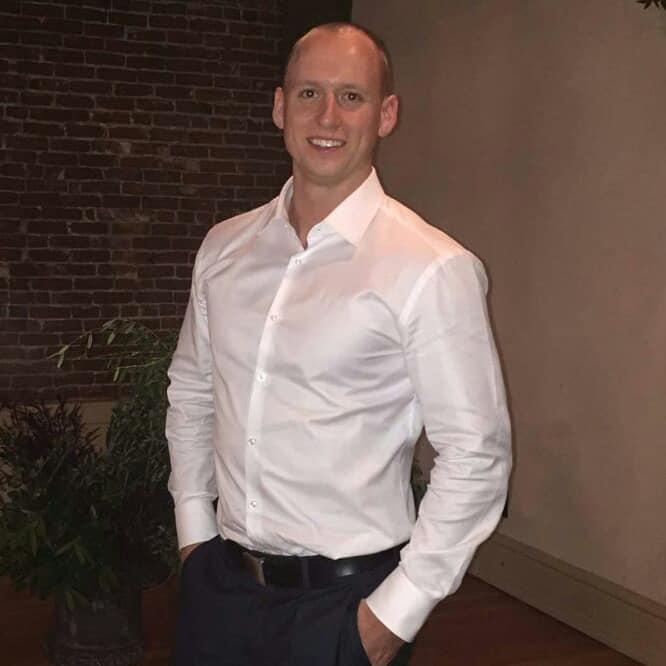 Ben Rose is the founder and senior editor at Prim&Prep, the definitive guide to male grooming. He is a wet shaving expert and body grooming aficionado. His work has been featured on many other prominent publications including Good Men Project, Addicted to Success, Steven Aitchison, and Sharpologist.