Cologne is excellent, but sometimes it's a little too heavy for the occasion.
Everyone's got an embarrassing story about that one guy from the office whose fragrance is so potent it actually drives people away.
While it's great to pay attention to your scent and try to maximize its impact, other methods don't run the same risk.
Body spray, for instance, can give you the same fragrance-enhancing effects as cologne.
At the same time, the best body sprays for men are less likely to overwhelm your senses and those of your coworkers or significant other.
Body spray wears off more quickly, too; you won't still be smelling like sandalwood and citrus days after application!
If you've never used body spray before, don't worry.
That's what this guide is for.
We'll take you through everything you need to know about body spray and show you the best products our testers could find.
We'll even give you some great tips, so you apply the body spray smartly.
Ready to start?
Let's begin.
QUICK OVERVIEW: Best Body Sprays for Men
Lots in purchase
Long-lasting

VIEW ON AMAZON →

Nautica Blue Sail Deodorizing Body Spray for Men

Excellent oceanic scent
Affordable

VIEW ON AMAZON →

Dude Products Deodorant Body Spray

Made with natural ingredients
One of the best at eliminating odor

VIEW ON AMAZON →

Guy Laroche Drakkar Noir Deodorant Body Spray

Complex fragrance
Deodorizes well

VIEW ON AMAZON →

Teakwood Men's Deodorizing Body Spray

VIEW ON AMAZON →

Kenneth Cole Reaction Body Spray

Mellows quickly
Good fragrance

VIEW ON AMAZON →

Old Spice Re-Fresh Body Spray Swagger

Solid traditional fragrance
Lasts for long time

VIEW ON AMAZON →

Calvin Klein Eternity for Men Body Spray

Excellent, complex fragrance
Lasts for a reasonable length of time

VIEW ON AMAZON →

Designer Imposters Mascolino

Interesting, complex fragrance
Works with many styles

VIEW ON AMAZON →
Use the table of contents below to jump to the sections most important to you.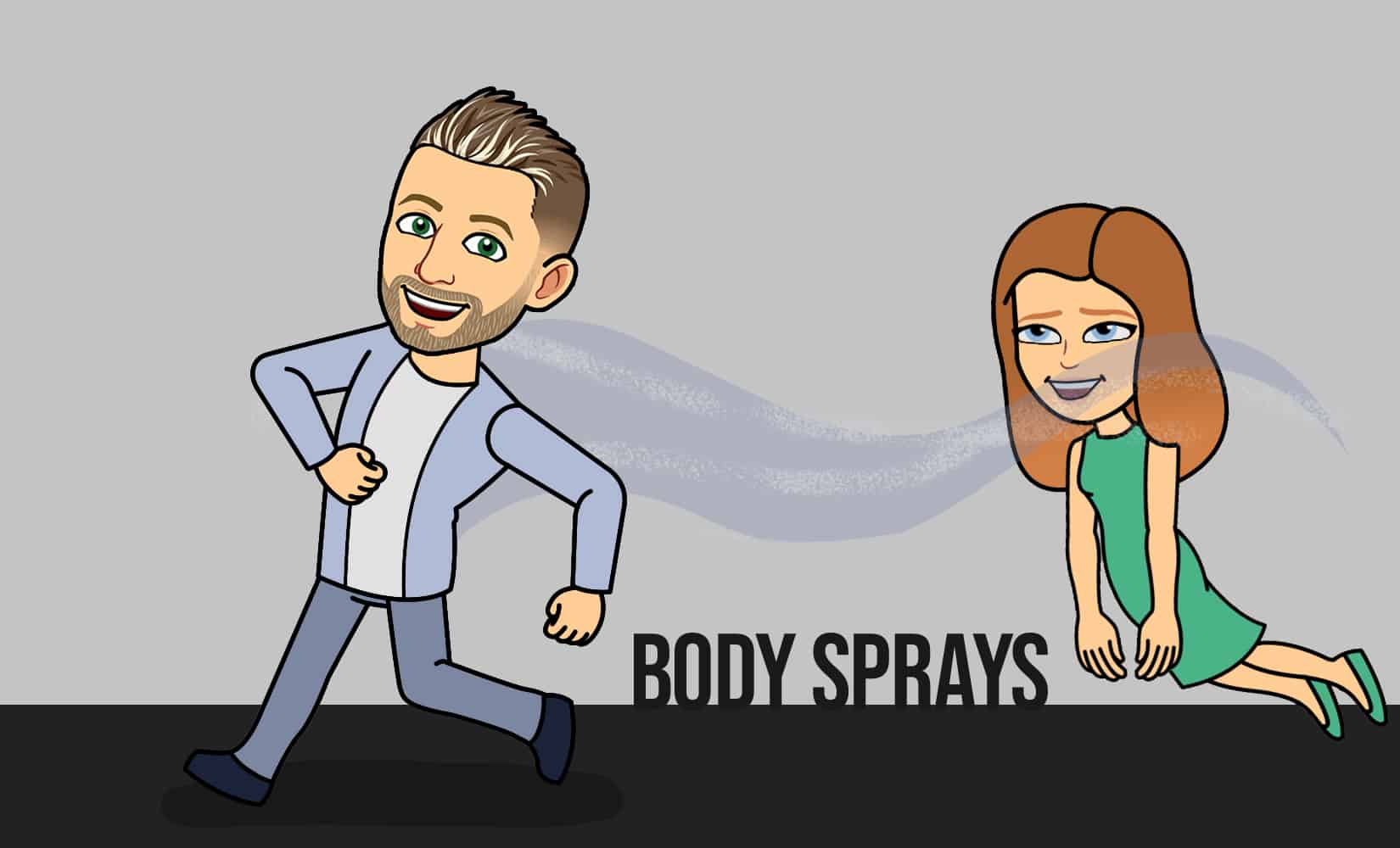 9 Best Body Sprays for Men of 2023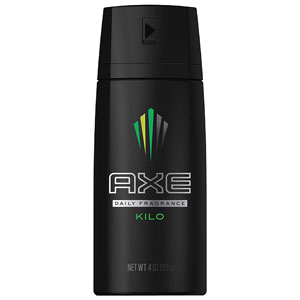 This AXE body spray scent comes with six total bottles, each filled with an interesting-yet-masculine fragrance.
Specs
Who Is It Best For?
This is great for men who need a lot of body spray on a budget.
Key Features
AXE is a well-known personal care brand, and for a good reason.
The Axe body spray and deodorant collection are second to none, and that's very clear when looking at this product.
Scent
Our testers found that the scent was inherently masculine, combining coconut, hazelnut, and caramel to great effect.
This is one of the best body sprays for men that can suit many occasions; parties, social events, and even working hours are all acceptable.
It's also a great combination of ingredients so most guys should find the fragrance complementary to their natural scent.
Performance
The body spray lasts for around 8-10 hours, which is reasonably long.
This does mean that we'd recommend showering before bed if you apply this in the evening unless you want your sheets to still smell faintly of the spray when you wake up.
It's also a good spray deodorant.
The deodorizing effect is so good that you shouldn't need an extra deodorant product to remain smelling great.
For this reason, we'd recommend using this body spray in the morning as much as possible.
Overall, this is one of the best AXE scents around and also one of the best body sprays for men.
Value for Money
You get a whopping 6 bottles of spray for one reasonable asking price.
This might be a bit high if you only plan to use body spray sparingly, but those guys who are looking to secure a long-term source of fragrance will be in luck with this pick.
There isn't much of a downside to this best body spray for men on our list unless you're looking for just one bottle.
Even if that's the case, you will do well to sample a bit of it in a store sometimes and decide if getting a bigger pack like this one is an economical choice.
---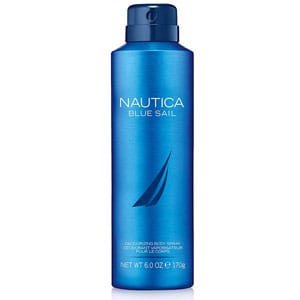 This spray will quickly remind everyone of the ocean, but it's tinged with masculinity at the same time.
Specs
Who Is It Best For?
As one of the best body sprays for men, Nautica Blue is a perfect choice for men who want to associate their personal scent and style with the sea.
Key Features
Some men have aesthetics and body odors that go well with sea-like fragrances.
If you're one of those guys, this might be the best pick for you.
Scent
The spray combines several high-quality ingredients to make a formula that reminds one of the ocean and coastal strolls.
It's a perfect fragrance for guys who live on the coast or even men who live inland.
In this way, you can subconsciously impress women who will love your smell but not necessarily be able to place it immediately.
Performance
It also deodorizes quite effectively.
When combined with the oceanic fragrance, this body spray really enhances anyone's natural "fresh" appeal.
It's perfect for combining with well-pressed clothes and a clean haircut.
As a bonus, this body spray lasts for up to 12 hours.
That's a bit overkill if you're applying this in the evening, but for an all-day body spray, it's great.
One small blast in the morning is enough for well into the evening, making this spray one of our top picks for body sprays for work or weekend days off.
Value for Money
The spray is also super affordable, so most guys should be able to take advantage of its effects.
There are 6 ounces in the can, too, so you're not getting skimped out on in terms of amount, either.
The nozzle is easy to press, but the opening is a bit wide.
We'd caution against squeezing too hard as it's very easy to make too much come out at once accidentally.
Gentle taps are the way to go with this can.
---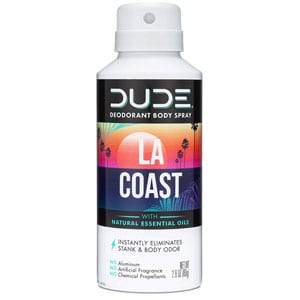 This body spray reminds most of the California coastline, packing a lot of punch into a small bottle.
Specs
Who Is It Best For?
It's great for men seeking this particular fragrance and who don't mind using the body spray sparingly.
Key Features
Here we have a body spray that elicits thoughts of the warm, sunny California coastline.
Scent
It's made by combining some natural essential oils.
This makes it one of the best body sprays for men who don't to spray a lot of synthetic compounds on their skin.
Performance
Even with the essential oils, this body spray lasts for a good amount of time, competing with other, more artificial body sprays.
It's ideal for spraying on in the morning or for a quick fragrance enhancer before heading out on a Friday night.
The essential oils are also excellent for eliminating natural body odors, making it one of the best body sprays for men.
In fact, our testers found that it was one of the best spray deodorants as well.
Whether that's because of the natural ingredients or some other part of the formula is unclear.
The bottom line is that it works, and really well at that.
Value for Money
The downside is that you only get a couple of ounces with the purchase, so the ounce-per-dollar ratio is a bit high.
That being said, the overall asking price is still really affordable, so this con is more a matter of principle.
Also, the high quality of the body spray helps to make it very worthwhile.
We'd recommend this spray for men that have a penchant for personal care products made from natural ingredients or who really want to remind themselves (and others) of the California coastline.
---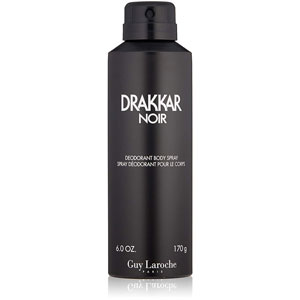 This body spray has a more unique fragrance than most and brings plenty with the purchase.
Specs
Who Is It Best For?
This is one of the best body sprays for men seeking a "spicier" personal fragrance, and it's great for parties to liven things up.
Key Features
Those men seeking a more unique fragrance would do well to check this body spray out.
Scent
It combines spice berries and sandalwood to create a powerful scent sure to attract the attention of men and women alike.
There are also some lemon and mandarin orange top notes to create a more sophisticated fragrance and complete the experience.
Performance
Our testers really loved this fragrance for its complexity and total depth.
It's one of the most interesting masculine body sprays you'll find without relying on the same typical woody base for all of its power.
Despite the complexity, it can last for between 8 to 10 hours like most good body sprays, for example, Gillette body spray.
It's perfect for wearing on a night out or using as a daily fragrance enhancer.
It also deodorizes to some extent, although this is mostly accomplished by its heavy notes covering up anybody's odor rather than directly eliminating negative smells.
Still, you can't argue with its effectiveness and that's why it is one of the best body sprays for men in the market today.
Value for Money
You get 6 fluid ounces for your purchase, and it's a reasonable asking price.
The cap is relatively easy to use although our testers found that it's not the most stable of activation buttons.
The emitter is fine, it's just that the cap itself isn't quite as springy as some others they tested.
Overall, there's not much to dissuade you from trying this great body spray out for yourself.
If you think that the complex fragrance combination described above would suit your aesthetic and personal body odor well, we recommend that you try this out.
---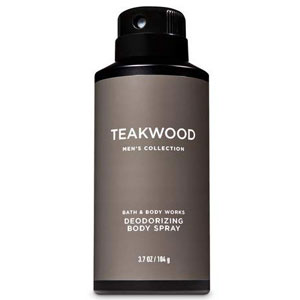 As one of the best body sprays for men, Teakwood body spray has another unique formula that isn't likely to be seen anywhere else, all contained in a relatively small canister.
Specs
Who Is It Best For?
It's ideal for men who want a sophisticated, intriguing fragrance to help define their aesthetic.
Key Features
This body spray from Bath and Body Works is another excellent product that has a relatively unique combination of fragrances.
Scent
When you apply this to your body, you'll start to smell like mahogany, lavender, and black teakwood, all three of which are not typically used when it comes to masculine body sprays.
However, the fact that the fragrance is so unique is a point in this product's favor.
It's relatively easy to find a body spray that relies on cedar or sandalwood to convey masculine energy.
So it's fascinating and exciting to see a body spray that uses a much different note combination.
Performance
It lasts for just a little less than the typical 8 to 10-hour range, but that's still plenty of time to use for a typical workday or for an evening out.
The spray is small and punchy, so applying the body spray in short bursts is relatively easy.
It's difficult to use too much of the spray without meaning to, which is a great design aspect.
The spray also deodorizes by neutralizing any unfavorable odors that you may emit naturally, making it one of the best body sprays for men.
Value for Money
The bottle size is the only real downside.
You only get 3.7 ounces for your purchase, although the asking price is reasonable.
It just means that you'll probably have to buy another one to replenish your supply sooner rather than later, mainly if you use this body spray every day.
Overall, it's still an excellent, unique body spray that will suit some men who want a new experience instead of the same old, same old.
---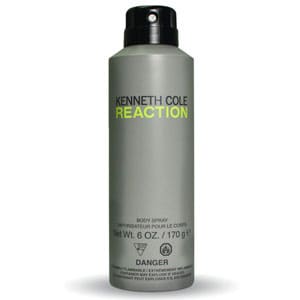 This body spray doesn't deodorize, but it does bring a traditionally masculine fragrance to the forefront of everyone's minds.
Specs
Who Is It Best For?
This is great for men who like traditional masculinity and who have a good deodorant to combine along with it.
Key Features
Kenneth Cole enters the competition with this body spray, which has a typical but effective combination of citrus, green, and woody notes.
Scent
The fragrances are traditionally masculine and quite powerful, but it doesn't overwhelm the senses the way that many colognes often do.
For this reason, our testers thought it was perfect as an example of the body sprays for men that like to exemplify tradition and celebrate masculinity.
Performance
The body spray mellows out and molds with your personal body odor relatively quickly, so it's excellent for use in a pinch or at the last minute, like when you've just remembered to apply it before a party.
It also lasts for between 6 to 8 hours.
Again, this time frame is perfect for applying after work just as well as it's suitable for applying for a full day at the office.
That being said, it's definitely better suited for drawing attention to yourself instead of blending in with the crowd.
This body spray doesn't deodorize like many of its competitors, however, so you'll either need to get a deodorant that doesn't have a clashing fragrance or get a deodorant that has no scent at all to reduce your body odor.
While the body spray here is likely enough to cover up most negative odors, you never want to leave that sort of thing to chance.
Value for Money
Other than that, the asking price is a tad high when compared to some of its competitors, but it's not so expensive as to prevent us from recommending it for most guys.
Body spray, in general, is usually quite affordable, so don't be afraid of trying this out if the note combination interests you.
---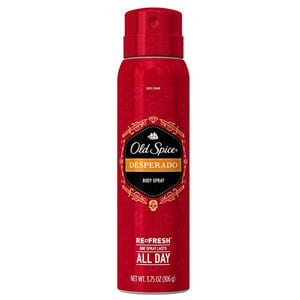 This body spray is well-known and useful, although you should get an excellent deodorant to go along with it.
Specs
Who Is It Best For?
It's great for men who like the classics and who might already be Old Spice customers.
Key Features
Old Spice is another well-known brand that offers this body spray as a great counterpart to its deodorants and other personal care products.
Scent
The downside to this body spray pack is that the fragrance on display is relatively typical.
That's not to say that it's terrible anyway.
It's just not very unique when compared to some of the more innovative body sprays you can find on the market.
But our testers did appreciate its personal spin on a woody, masculine fragrance.
There are probably plenty of guys that will appreciate having a more traditional fragrance to complement their personal style and body odor.
Performance
The sprays last for between 8 to 10 hours, and some of our testers reported that they lasted even longer.
This might be a perfect choice if you want a body spray that can accompany you beyond your typical work hours and into the evening.
Unfortunately, it doesn't deodorize do you'd be smart to include some Old Spice deodorant or deodorant from another manufacturer as part of your personal care repertoire.
Just make sure to get a deodorant whose fragrance doesn't clash with the woody, masculine scent of the body spray.
Other than that, one final positive note is that the spray caps are really easy to use and it's hard to spray too much with these cans accidentally.
They're perfect for short, controlled bursts like you should always aim for one applying body spray.
Value for Money
This is actually a two-pack, so the total amount of body spray you get with your purchase is pretty generous, and it makes the asking price much more agreeable.
---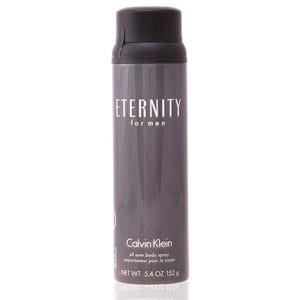 This Calvin Klein body spray combines complexity with solidity and can cover up a lot of bad odors as well.
Specs
Who Is It Best For?
This body spray is good for men seeking a sophisticated fragrance that still has heavy notes of traditional masculinity.
Key Features
Calvin Klein has this body spray to offer, and we recommend that any man interested in a sophisticated fragrance should give it a try.
Scent
It combines a wide variety of ingredients such as sage, mandarin, cedar, lavender, and sandalwood to create an exciting scent that can complement a variety of styles or even help to find your personal aesthetic.
Although the staple cedar is included in the fragrance, the other notes help to make this body spray a little more unique and exciting, especially for people who have smelled a lot of body spray in the past.
It's sure to help you stand out from the crowd, which can be useful at parties or other social events.
Performance
This body spray doesn't deodorize, unfortunately, but the complex nature of its fragrance will likely be enough for most men when it comes to covering up their body odor.
For best results, apply the body spray and smell yourself to see if your body odor is still noticeable.
If the spray has successfully covered your odor, you may not even need to use deodorant at all.
If you do, just be sure to pick something relatively neutral and inoffensive so that it doesn't clash with the myriad ingredients in the body spray formula.
Value for Money
The asking price is a little high, which is the largest flaw working against its merits.
Still, the overall quality is hard to argue with.
Other than that, the cap is decent, but we've seen better. Be careful when spraying with this can to avoid oversaturating yourself with the fragrance.
---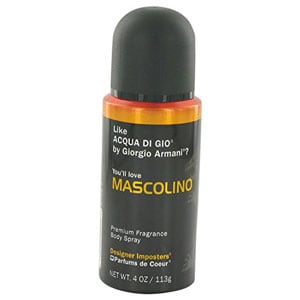 This Mascolino body spray has a super unique ingredients list to present a fragrance that you'll likely not find anywhere else.
Specs
Who Is It Best For?
This is great for men who are willing to experiment and who want to try on something a little more adventurous.
Key Features
Finally, this unique body spray also brings a relatively unseen combination of ingredients to provide us with a sophisticated fragrance that's perfect for men looking to stand out or those trying to create an individual aesthetic.
Scent
You won't see any of the common cedar or sandalwood notes in this one of the best body sprays for men.
Instead, the body spray relies on such exotic ingredients as mandarin, lemon, bergamot, lavender, and myrrh, of all things.
While this might sound a little strange, take it from our testers when they say that it's actually a lot better than you might initially think.
Performance
It goes well with a variety of natural body odors and clothing choices since it's so complex.
In this case, complexity equals variety since it's likely that anyone smelling the fragrance will associate various individual ingredients with what you're wearing.
Besides, the number of ingredients means that there's a higher chance that one of them will gel well with your own personal odor.
This body spray doesn't deodorize, so we'd definitely recommend finding a neutral deodorant product to protect against bad odor overwhelmingly positive fragrance.
Other than that, it's a solid choice for many men.
Value for Money
The asking price is fine, although you only get 4 ounces for your purchase so you may need to rebuy shortly if you plan to use this spray every day.
Also, the cap is shaped a little oddly for our liking. The depression button is alright, but it's a little tough to press down for short bursts.
Take care when trying not to over saturate your person with the spray.
---
Body Spray Vs. Cologne: Differences Between Cologne and Body Spray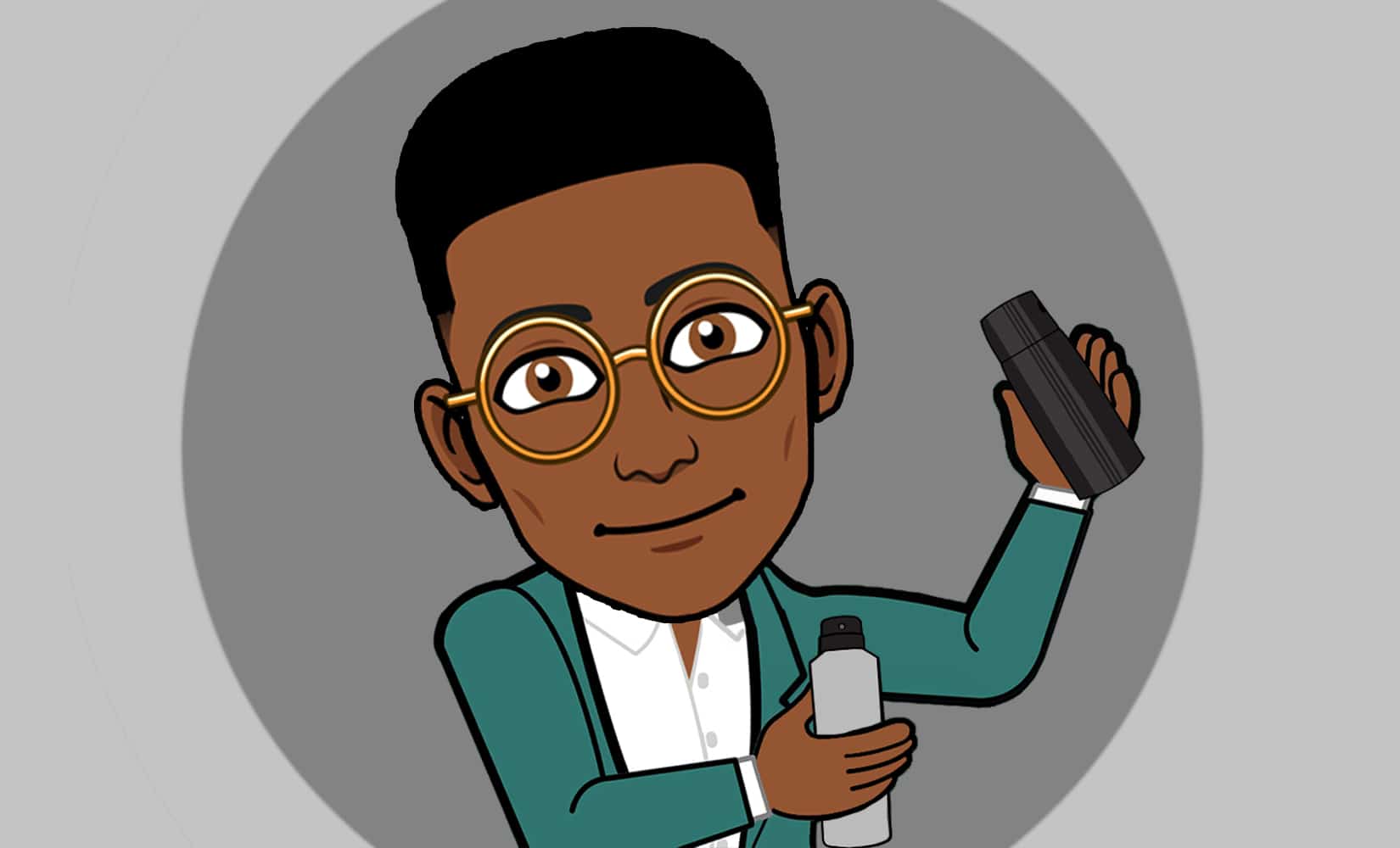 Lots of guys think that cologne and body spray are basically the same thing.
While they both seek to provide the same general service, they accomplish this to differing levels of success.
Body Spray
Body spray, in general, uses more alcohol in its formulas and is aerated.
This causes body spray to last for a shorter amount of time than cologne, especially since it's sprayed lightly on the body and evaporates over time.
This is especially true if you spray it on the correct pressure points where your blood will heat the surface of your skin.
The best body sprays for men have fragrances that can be pleasing but don't tend to overwhelm the senses and can be combined with your natural body odor or deodorant to great effect if you pick out your scents carefully.
Cologne
Cologne, on the other hand, is designed to be much more potent and have a stronger fragrance.
Cologne fragrances are also often "darker" or more "deeply masculine."
They're favorites among the dating crowd for a reason, although body sprays can also be great for impressing your date.
Colognes also last longer than body sprays and can be more challenging to get rid of if you decide you want to try something else.
Overall, there's no wrong answer when it comes to choosing between these two types of products.
We've even done a guide on the best colognes for men!
But body spray does have a few advantages that might be perfect for your particular situation.
Essentially, the best body sprays for men:
Which is right for you? That's up to you to decide.
---
Body Spray Vs Deodorant: Which One is Better?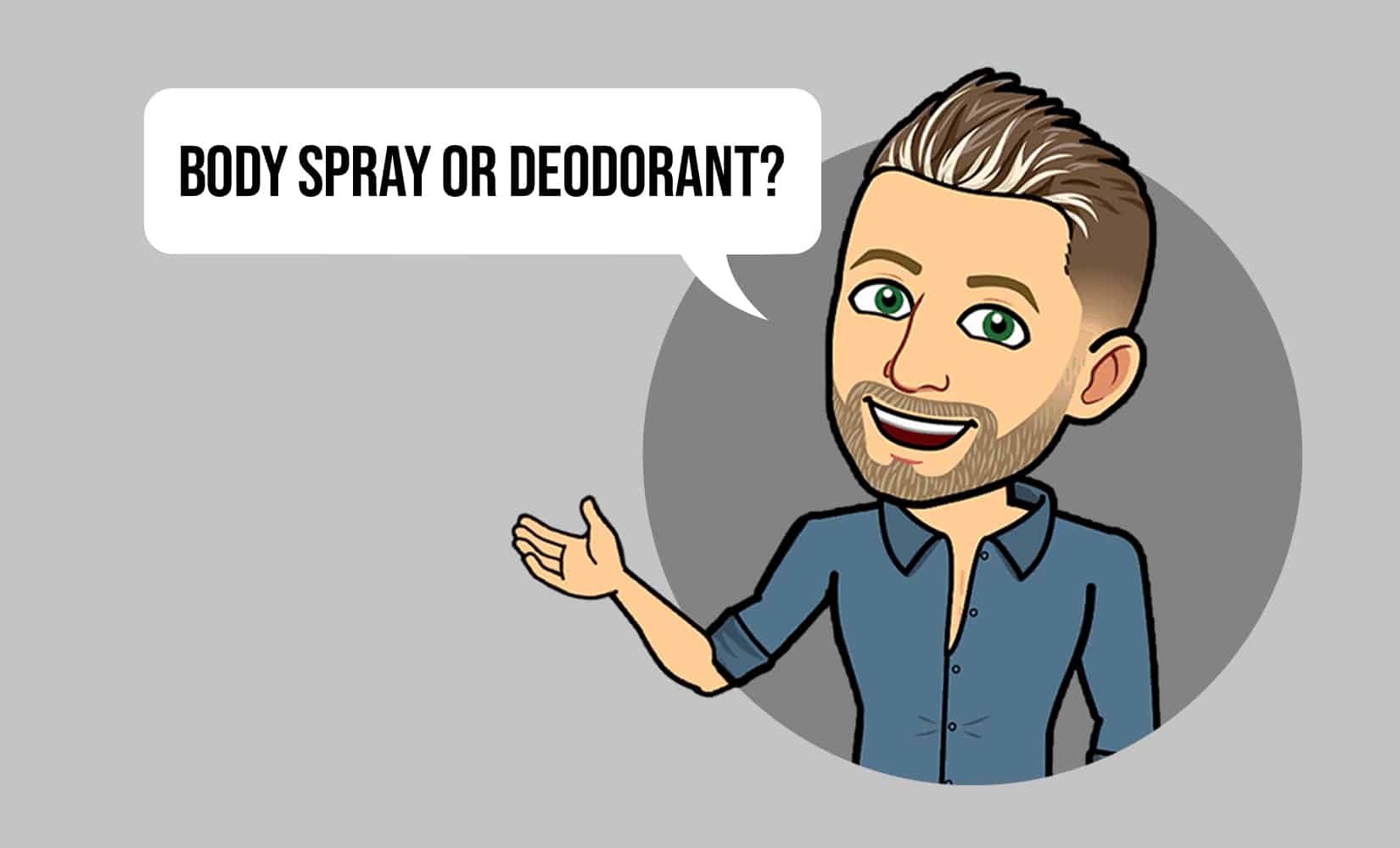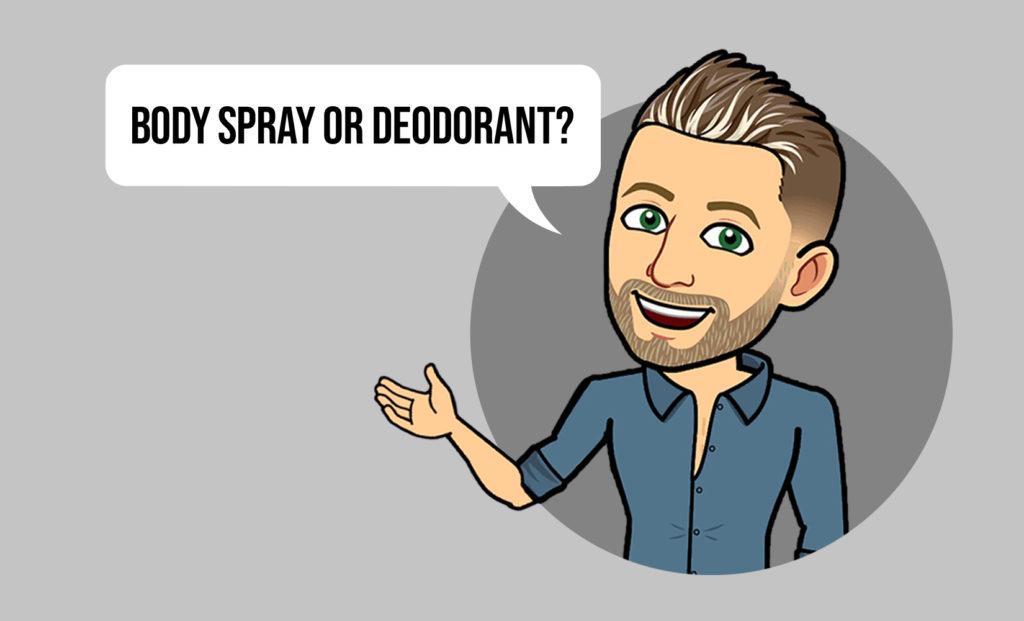 Let's clear up another common misconception about both of these products while we're thinking about it.
Body spray and deodorant technically do different things, although sometimes you'll find combination products that perform both services with one bottle.
Deodorant
Deodorant isn't designed to add any fragrance at all, although many deodorant products indeed have artificial fragrances added after the fact to make them more palatable.
But the best deodorant for men will help eliminate unfavorable body odors.
These products accomplish this task either by neutralizing the molecules that create lousy body odor or by covering up the odor with their own artificial smell.
Body Spray
Body spray, as we mentioned above, is designed to add a fragrance to your person and last for a decent amount of time before naturally wearing off.
Basically, the best body sprays for men adds and deodorant subtracts although there is a fair amount of sharing between the two.
So which should you choose?
That depends on your goals.
If you have an awful body odor and your primary need is to get that under control, you'll be better off going for a deodorant-primary product.
This will ensure that you get the best odor-neutralizing action possible.
On the other hand, if you're trying to impress people or give yourself a particular aura by using a fragrance, then the best body sprays for men are a much better choice.
Body spray offers more opportunities for personal expression. Also, there's a subconscious addition of maturity to those men who use body spray.
After all, you have to use body spray on purpose, which means that the fragrance people associate with you is your doing.
That's powerful social stuff.
Overall, deodorant and body spray are best used when combined smartly.
It's important not to let either one overpower the other and not to confuse one with the other as well.
While some body sprays have strong enough fragrances to overcome mild body odor, you never want to rely on body spray to make sure that you don't stink.
Be smart, and use the product specifically designed to stop you from stinking instead.
---
Things To Consider When Buying Body Spray
Before you start shopping for the best body sprays for men, take a moment to check out the top considerations and factors you should be thinking about as you browse.
After all, not all body sprays are like and if you know what you're looking for, you'll have a much better chance of picking out an excellent product instead of a mediocre one.
1. Fragrance or Scent
---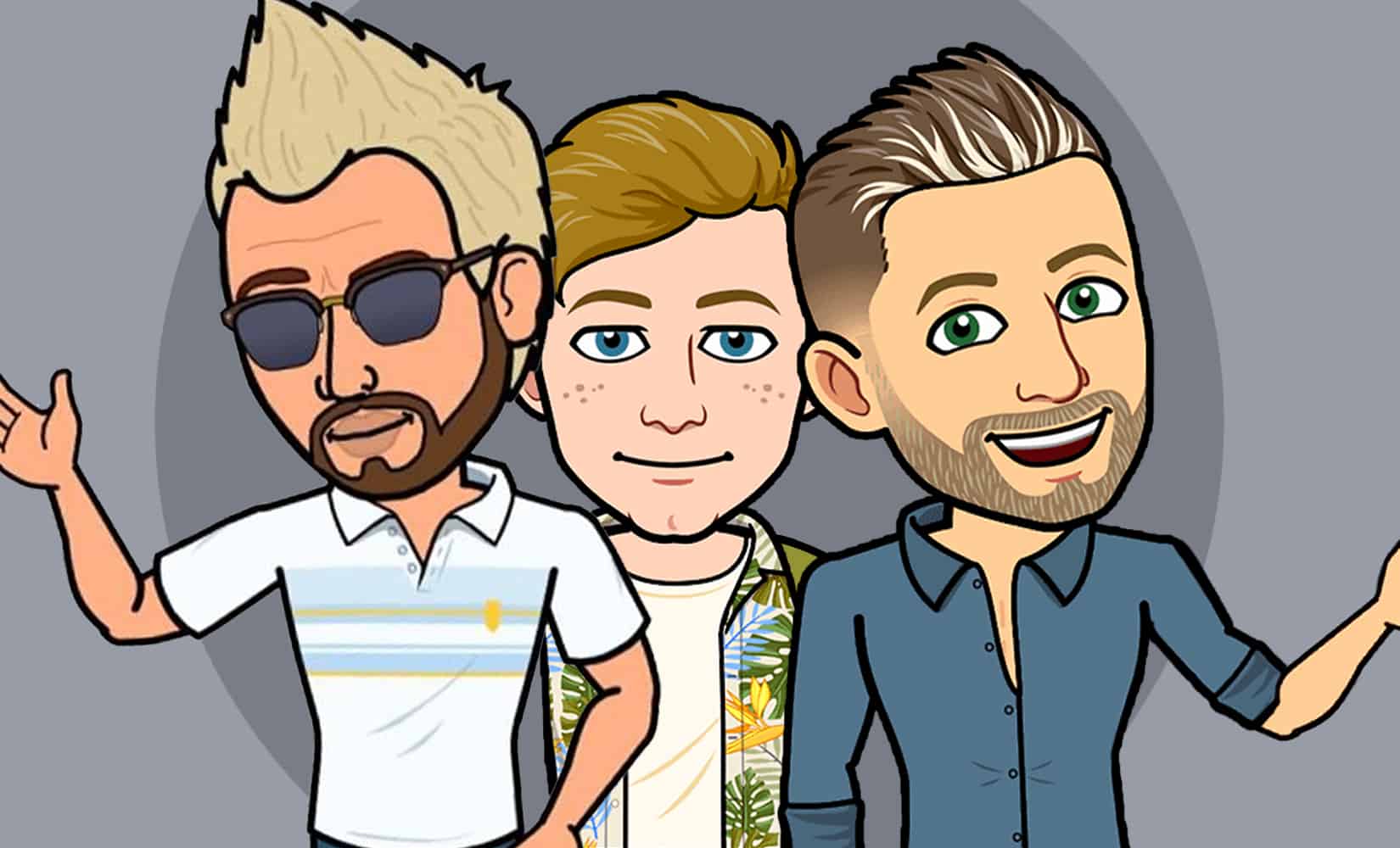 Of course, there's no doubt that the scent of a body spray is the top factor to consider.
The entire point of body spray is to give your person an aroma or scent that you and others find appealing.
It's a little more potent than deodorant but isn't as overwhelming and long-lasting as cologne.
You can find body sprays in just about any imaginable fragrance.
Most masculine fragrances will have nature or wood-inspired smells since these places and professions are often associated with traditional masculinity.
However, you can also find plenty of body sprays that have a fruitier or more citrus-oriented scent.
These can be great for parties or more jovial occasions and can pair well with the right deodorant or even colorful clothes.
There's no lousy fragrance when it comes to body spray so long as it gels well with your personal aesthetic and you personally like the scent.
You may want to try a few body sprays initially and gather some feedback from your friends or significant other to determine what goes best with your unique body odor.
Not all fragrances are perfect for every man, obviously, so don't be surprised if it takes a little trial and error to find your ideal fragrance repertoire.
Besides, plenty of men think that they have to stick to a few traditional fragrances or smells to remain safely masculine.
They'll only get body sprays that have woody notes or things that make them smell like leather or the outdoors.
But this simply isn't true. In fact, there are plenty of smells that go really well with men and which can enhance your masculine nature.
You just have to be open to a little experimentation and new ideas to appreciate this fact.
For instance, spice berries are one of the rarest fragrances associated with men, but it actually smells great on many guys.
Also, citrus and other fruity smells are great on everyone even if people tend to associate them with feminine personal care products.
But the truth is that citrus and other fruity notes can arouse thoughts of freshness and sophistication.
While it's true that notes that contain cedar and sandalwood are great, don't close yourself off to other body sprays just because you haven't tried different fragrances.
2. Does It Deodorize?
---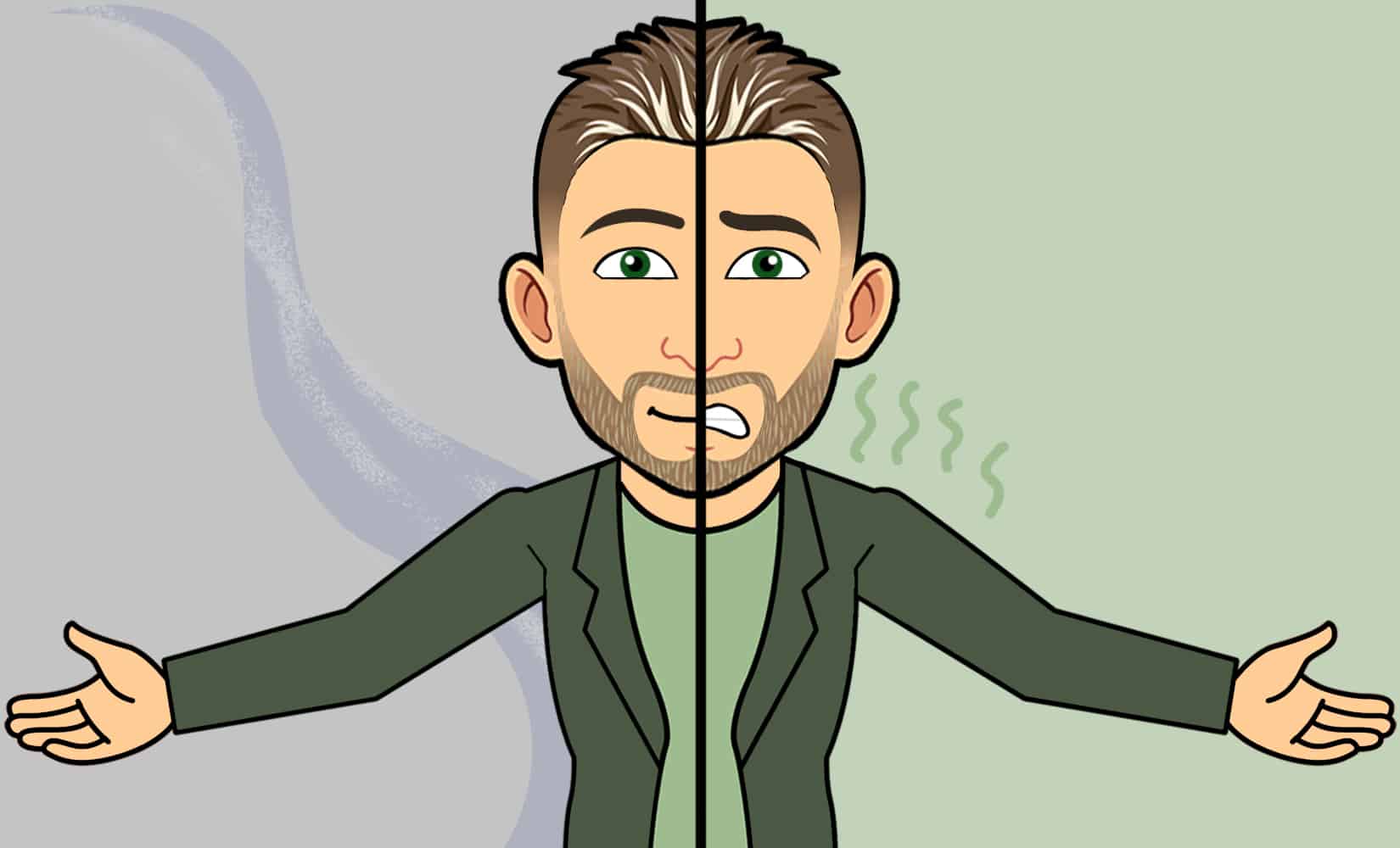 Another vital factor to consider is whether or not a body spray deodorizes in addition to granting you a fantastic smell.
You see, many best body sprays for men contain ingredients in their formula that neutralize unfavorable body odors, such as those that arise when you sweat.
This can be a great advantage if you already have to fight a difficult battle against body odor.
Plenty of men have a harder time handling their body odor than women due to hormonal differences and the general tendency to sweat more overall.
The best body sprays for men that also have deodorizing effects can negate the need for you to apply an additional deodorant before you head out to socialize or go to work.
It's not necessary that your body spray deodorizes since you should already have a good stick of deodorant on hand for any occasion.
But this kind of convenience can't be ignored, and we like to think of deodorizing body sprays as a little better than those that just add an additional fragrance.
When it comes to combining deodorant with body spray, you'll want to find something that is either inoffensive to the ingredients in the chosen formula or that is so neutral that it wouldn't matter what fragrance is contained in your body spray bottle.
Your deodorant can lead to issues with your body spray if the fragrance inherent in its ingredients clashes with the ones you chose for your spray.
To avoid this issue, we'd recommend getting a deodorant that doesn't have any synthetic scent.
On the other hand, if you are willing to put a little more research into the issue, you can always find a deodorant that has a fragrance that melds well with your chosen body spray smell.
Either way works fine.
You just want to avoid a fragrance battle that can lead people to think that you smell bad rather than good.
Speaking of deodorants, we've done a guide on the best deodorants for men that you should definitely check out.
3. Strength/Time It Lasts
---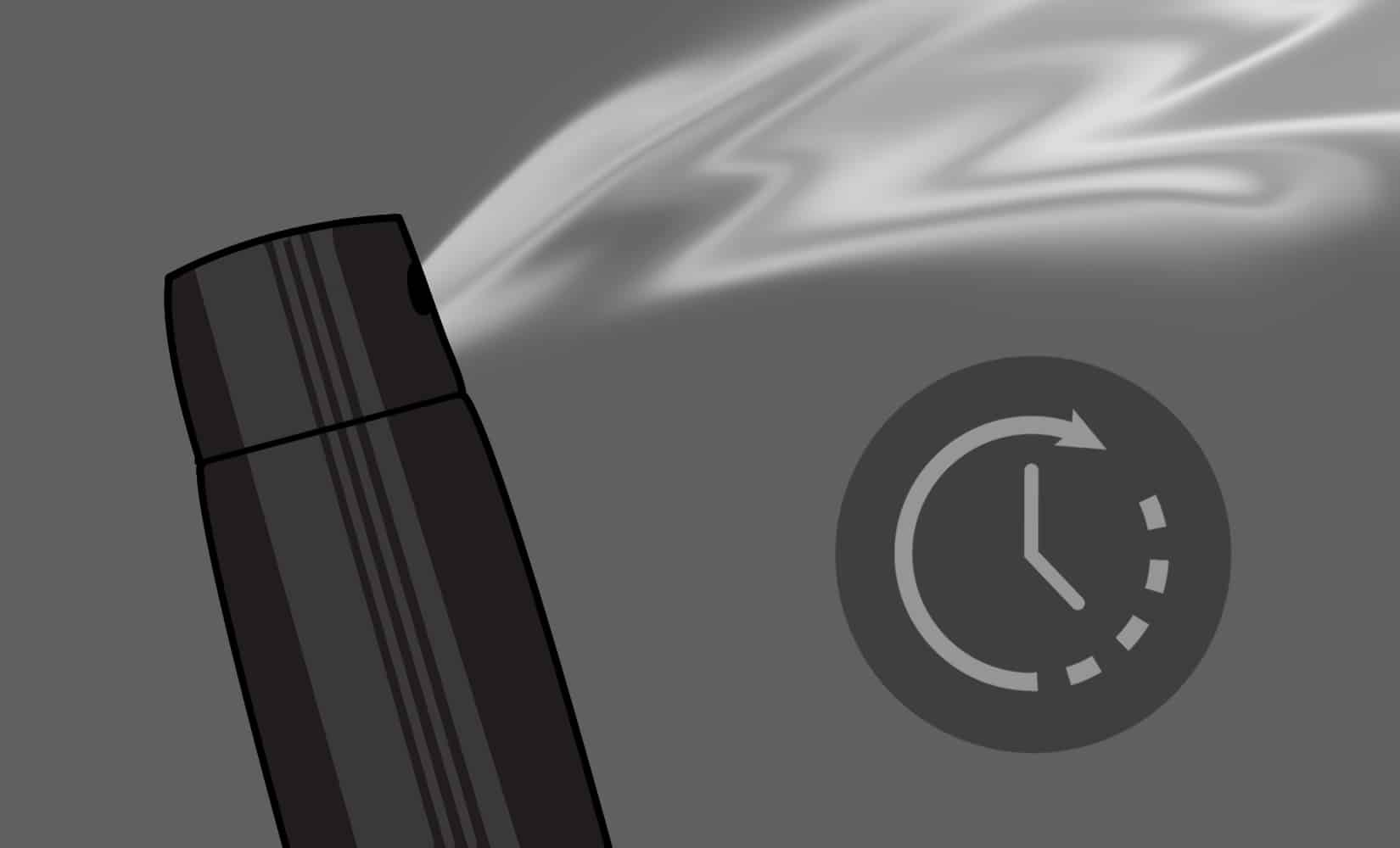 All best body sprays for men will differ as to how long it remains in effect.
This can be affected by several different factors, such as the ingredients in the formula, your body temperature and the humidity in the air.
Body spray naturally wears off as it evaporates off your skin or is absorbed.
Most body sprays will generally last for between eight to ten hours, and some others will extend to a few more.
But when it comes to body spray, you don't want them to usually last for very long since one of their advantages is that they don't linger past their welcome.
It's still important to take into consideration how long each body spray lasts since it will give you an idea of what the body spray will be useful for.
For instance, body sprays that only last for a few hours are great for a party or social event, but they are not the best body sprays for men who go for a full day of work.
In contrast, body sprays the last around eight hours are perfect for a full day of work but might be a little too much if you plan to go to a party a few hours before bed.
Once again, the right answer depends on your needs and what you're looking for in a body spray.
Just think about this aspect beforehand so you can narrow down your list of the best body sprays for men.
4. Amount
---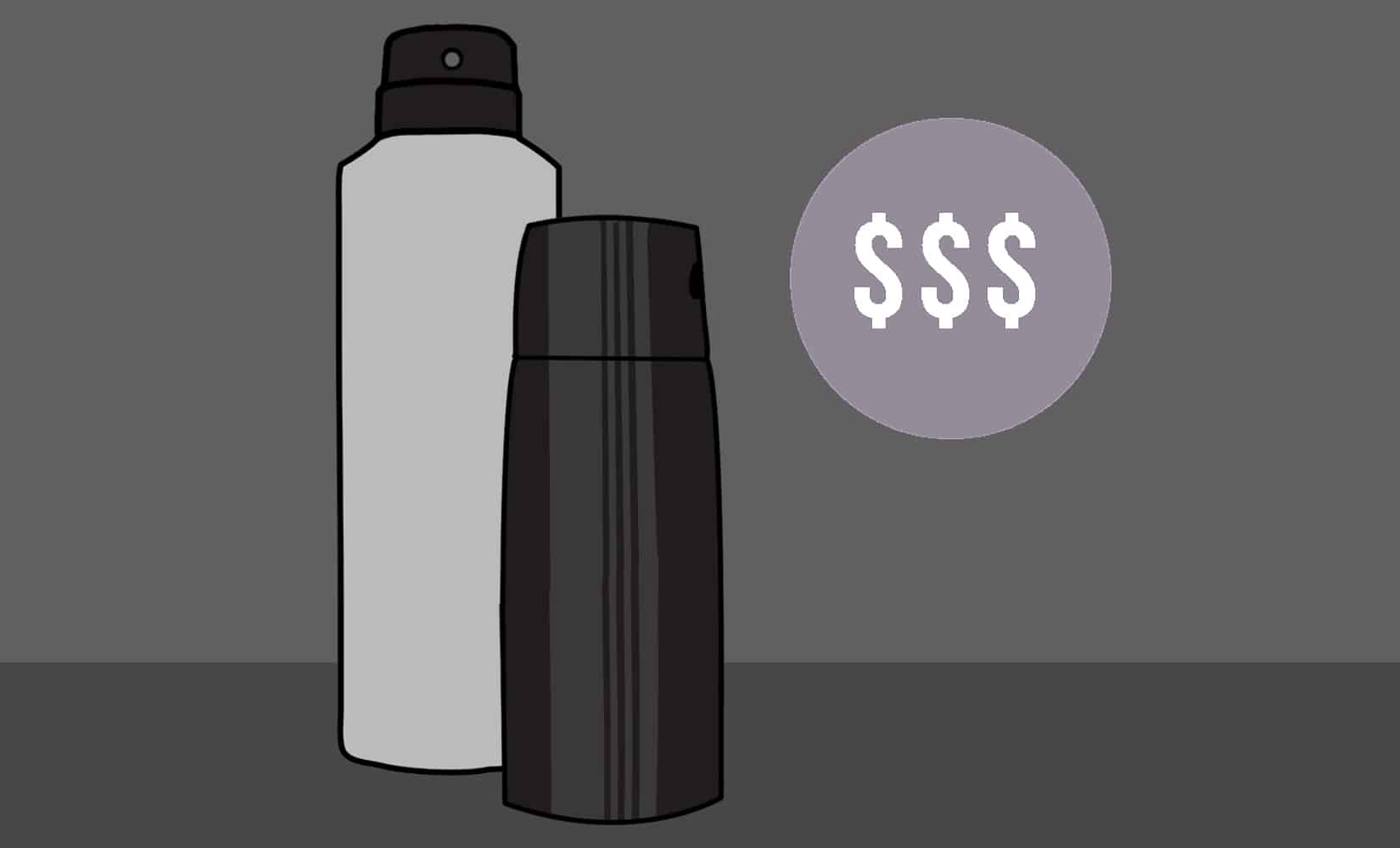 Finally, the amount of body spray with each purchase is something to pay attention to as well.
The value for money of the best body sprays for men is usually directly indicated by how many ounces you get per dollar.
Some of the best body sprays only give you a few ounces and are quite pricey.
While sometimes this is an indicator of higher quality, it's not always true, some high-quality body sprays are also long-lasting.
Some of the best body sprays for men give you plenty of products in the canister for an affordable price. It truly depends on the manufacturer and each product.
If you're only planning on using body spray sparingly, you can get away with buying a small bottle that only has a couple of ounces.
But if you plan to use body spray every day, you should definitely look at more budget-oriented options and purchase enough to last you for quite some time.
You'll save more money in the long run if you get enough body spray to last initially rather than waiting until you're just about out and panicking when you don't have enough for the next day of work.
---
Frequently Asked Questions About Body Sprays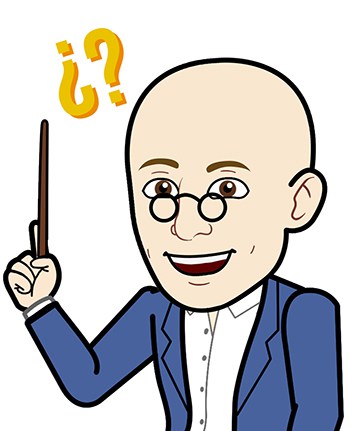 Now that you've seen the best body sprays for men, which are most liked by our testers, you might have a few remaining questions about how to use your body spray effectively.
Let's answer those before we send you on your way.
1. How Does Body Spray Work?
Body spray is layered onto your skin, where it warms due to your body heat and eventually lifts into the air due to evaporation.
This replaces your natural body odor and other fragrances with the smell you've chosen.
Because of this method, it's often ideal to put the best body sprays for men in warmer areas instead of colder areas.
2. Where Should You Apply Body Spray?
The ideal areas are your neck, chest, and armpits.
These areas are also ideal for warming the body spray over time, which will allow it to spread and lift off your skin naturally.
If you want your fragrance to be a little stronger, you can also put the best body sprays for men on your pulse points like wrists, elbows, knees, or behind the years.
3. When Should You Apply Body Spray?
Your skin should be totally dry when you apply the best body sprays for men.
Wet skin can actually cause the body spray to collect and become liquid.
Instead, you'll be left with a slimy or sticky sheen covering the surface of your body.
4. Can You Spray Body Spray On Clothes?
You should never use body spray on your clothes; it's meant to stick to your skin and dissipate naturally on that kind of service instead of clothing.
The best body sprays for men might linger for much longer on your clothes, and it can have adverse effects on clothing fiber.
5. How Often Should You Use Body Spray?
This depends on your individual needs and preferences, as well as how long your chosen body spray lasts.
Some men will use body spray as a daily fragrance, so the ideal time for application is in the morning.
Others will use body spray as a scent-enhancer for evening socializing.