Absolutely no one likes a dirty beard.
People don't like looking at matted food stains as they talk to you, whilst women don't want to kiss you through a tangled and overripe bush of hair.
Closer to home, a dirty beard can be a real drag for you too.
It can be itchy for your skin underneath, your beard may not grow through properly and you may even end up with the dreaded Beardruff (yes, that is a thing!).
If you want a clean, happy, and fresh beard that feels and looks great, then you have got to invest in the best beard shampoo.
It really is that simple, because this shampoo for men's beards is one of the most important in the armory when it comes to beard care and maintenance.
Come with us and let us help you find the best beard products (shampoo and conditioner) for you and your beard care routine.
QUICK OVERVIEW: Best Beard Shampoos
High Quality, Natural Ingredients
Designed to Sooth an Itchy Beard

VIEW ON AMAZON →

Mountaineer Brand All Natural Beard Wash

100% Natural Ingredients
Handmade in the USA

VIEW ON AMAZON →

Professor Fuzzworthy's Beard Shampoo

Old Style, "Woody" Smell
Can be Very Long Lasting

VIEW ON AMAZON →

Polished Gentlemen Beard Growth & Thickening Shampoo and Conditioner Set

Packed with Quality, Natural Ingredients
Designed to Thicken & Promote Healthy Growth

VIEW ON AMAZON →

Seven Potions Beard Shampoo

Works with All Skins Types
Protects the Skin from Drying

VIEW ON AMAZON →
Use the table of contents below to jump to the sections most important to you.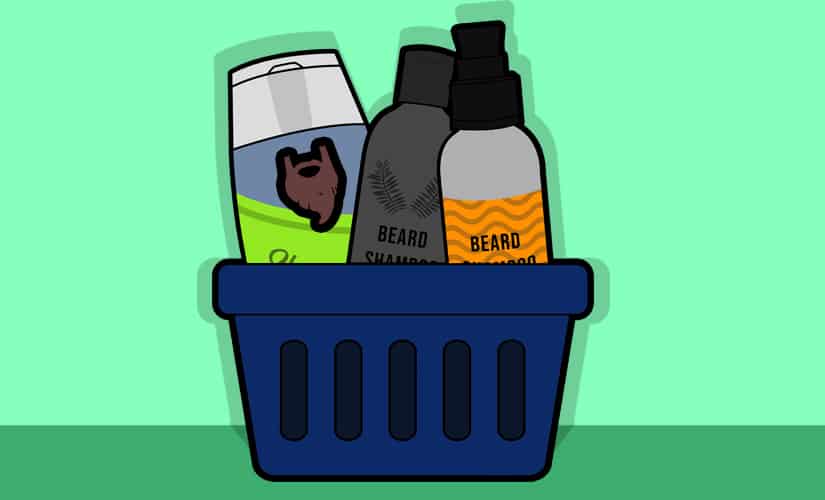 Best Beard Shampoos of 2023 Reviewed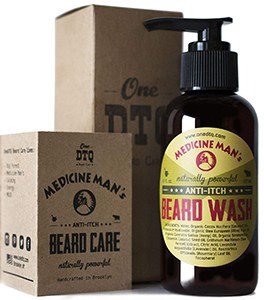 We'll kick off our list with this product from Medicine Man.
True to its name, it is almost a medicinal-style product, designed to tackle an itchy beard.
Specs
Who Is It Best For?
This is the best beard shampoo for a man suffering from the dreaded Itchy Beard looking for a beard product without harsh chemicals.
Key Features
As we mentioned up top in the introduction to this article, an itchy beard is a nightmare.
It can get so bad that you may even be tempted to shave your beard off altogether, and what a waste of your time that would be.
The trouble is that your general-purpose beard shampoo sometimes doesn't have all it really needs to effectively tackle the issue.
No such worries here, though!
Not only is this best beard shampoo designed to tackle itchy beards, but it has also been formulated with truly high-end ingredients such as essential oils to get that mission done.
The ingredients are 100% natural and organic, and many have been specially selected to aid in fighting beard itch to make your beard easier to manage.
Sea Fennel, for example, is included in the bear shampoo recipe because it is naturally soothing and fights against the blemishes and red spots that can cause irritation to the skin underneath.
It is not just what is in the beard shampoo, though.
Just as important is what has been left out too.
There is no room here for BPA's, Paraben, or Sulfates – all things that can cause irritation and itchy beards for guys with sensitive skin.
We were also pleased to see that despite being as mild as possible, this product still had the quality to clean.
It lifts and removes sebum and dead skin to leave your beard feeling soft, clean, and itch-free.
When it comes down to real men's beard grooming, this product will bring out the best of your men's facial hair.
One negative is that this is not a cheap shampoo.
That's not surprising, though, when you look at the list of organic ingredients, and it reads like the side salad option in a high-end restaurant.
It's also a little on the thin side.
Well, not a huge deal, as it lathers up nicely, but you will inevitably spill some of the product down the drain whilst working up that lather.
When a shampoo is this high quality (not to mention expensive), wasting even a few drops is always going to sting.
Check out the collective opinion of Amazon customer reviews.
---

From the most expensive shampoo on the list, we'll turn straight to the cheapest next.
Why? Because it's our website and we'll do what we want.
Also, whilst this may be cheap, it is still a high-quality shampoo, and we're really excited to show it to you!
Specs
Who Is It Best For?
This is the best beard shampoo for anyone looking to keep their beard clean with a regular shampoo on a budget.
Key Features
Yes, as we said, the stand-out feature is the low price tag of this product.
It stands out because it is very low, and this is the only product on the list today with a price hovering around the 10 bucks mark.
However, don't get too hung up about the price tag, because there's still plenty to like here.
For one thing, it is great to see that this product boasts a 100% natural ingredients list.
That means no dyes, no Parabens, and no artificial fragrances (just like you'll make your DIY beard wash).
This is excellent news for you and your beard, with no harsh chemicals anywhere to strip your beard of oils or to dry out your skin.
These harsh chemicals can well result in a coarse beard or flaky beard.
We were also very happy to discover that this product is made right here in the USA, and it is also made in small batches for increased quality control.
That, for a budget product, is very impressive.
We should also point out that the fragrance is very mild and doesn't hang around for long, either.
So if you want the best beard shampoo with a mild smell, that could be a selling point for this product.
What you will find with this product is that it is a little on the simple side.
So, it has been well designed and formulated to wash your beard, but it won't do a huge amount to condition the hair or provide a top-quality moisturizer for your skin.
Still, given the low price, you could simply pick up this shampoo and invest a little extra cash on a high-quality conditioner.
Even better, a better shampoo and conditioner set from the same manufacturer would go a long way in grooming your beard.
It's also worth pointing out that this beard shampoo is a little on the thin and watery side.
This does make it a bit harder to work up an effective lather for deep cleaning (it's not impossible to work up a good lather, it's just a little harder than with a thicker shampoo).
Still, if you want nice clean facial hair for a crazy low price, you won't find a better beard shampoo than this here, which to us is probably the best bargain on the market.
See what others have to say per the Amazon customer reviews here.
---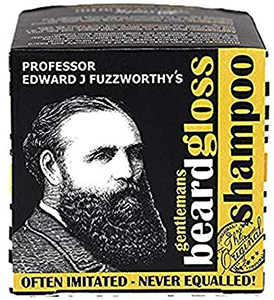 Next up, we have this product, which is Professor Fuzzworthy's beard shampoo.
As you may have guessed from the image on the box, this is very much an old-fashioned, more traditional style of beard shampoo.
Does it have enough about it to make it a winner in the 21st Century?
Specs
Who Is It Best For?
This is the best beard shampoo for men looking for a traditional, time-honored facial hair cleaning solution.
Key Features
This beard shampoo comes all the way from the land down under, the home of giant beers and Chazwazzas.
Just like the other products on our list, this beard shampoo is made from high-quality ingredients.
In this case, not only are they all-natural, but they are also (where possible) completely organic ingredients too.
The ingredients included in this beard shampoo bar recipe are actually quite short but are still packed with ingredients to clean and condition your beard and skin.
There are natural oils, for example (olive and coconut) for a shiny, nourished beard.
You also have honey and Tasmanian Seaweed, ingredients designed to fortify your beard and help it grow thick and strong.
The big difference, of course, lies in how this shampoo is presented.
Unlike the majority of shampoos for men on the market today, this beard thickener is an old-style-bar of shampoo, more like a bar of beard soap.
This brings both positives and negatives.
On the plus side, the fact that this is a solid bar means that it will last far longer than a liquid style shampoo.
Professor Fuzzworthy themselves calculate that this bar is the equivalent of two large bottles of shampoo, so about 30 ounces of product.
We didn't have time to test those claims ourselves, but from a couple of weeks of testing this product, the bar was definitely holding up so, I am confident that their claim is more or less true.
Even if it is only half true, it still represents phenomenal value for your money here.
On the other hand, as a solid bar, this best beard shampoo does take a little practice to get a good lather going.
If you wash your beard in the morning in a rush before work, you may appreciate the easier application of liquid shampoo.
We should also point out that because this style-of-bar contains all-natural ingredients, it does not contain some of the chemicals found in regular bars of soaps.
These chemicals promote rigidity and protect the bar from essentially melting in hot water.
By removing them, this bar of shampoo can be vulnerable to melting quicker in the shower.
You have to be careful not to get it too wet and leave it in a relatively dry area after use.
All in all, though, Professor Fuzzworthy's beard shampoo is a very impressive all-natural beard shampoo product that is crafted in a time-honored and traditional format.
See the consensus of customer reviews here on Amazon.
---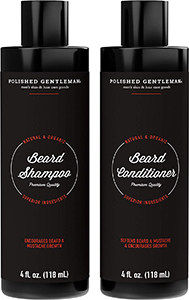 Next up, we have a product making a strong pitch for being the best beard shampoo and conditioner.
It does this by splitting the two tasks between what are essentially two different products.
Is that a good idea?
Specs
Who Is It Best For?
This is the best beard shampoo for men who want high-quality conditioners for their beards in addition to just shampooing them.
Key Features
So, of course, the big stand-out feature here is that this product comes as a set.
That means you are getting two bottles of the product here.
To us, that was both a good and a bad thing.
Let us explain why so you can make your own mind up!
The big benefit of this split product design is the fact that it allows Polished Gentleman to create two bespoke products.
That is actually pretty cool if you think about it.
Many other products have to wear two hats.
They need to both clean your beard as well as condition it at the same time.
That's not the case here.
That means that each bottle is tweaked to provide a different service to your beard.
It also means that you can slather on a huge range of ingredients on your beard.
We're talking here of everything from Manuka honey to aloe vera to shea butter to tea tree oil, rosemary, and cocoa butter.
They are all natural, they are all organic, and it is a truly dense brew of the best beard shampoo and conditioner for black hair.
So we have two very well-made products here, both designed with specific tasks in mind and absolutely packed with top-quality ingredients like tea tree oil and shea butter.
Probably this best beard shampoo and oil is also the best beard softener you need for your nice beards.
So what's the downside?
To us, it is time.
Yes, it is all well and good to split your product over two bottles – in fact, we've just described how good that is!
But at the same time, it does make cleaning your beard a bit time-consuming.
With a regular shampoo, you apply it, clean your beard, rinse it off, and you're done.
But with this product, you have to do all of that – and then do it all over again with the conditioner too.
We also hate the Polished Gentleman marketing crap that is all over this product.
It's all references to my Good Man and fake British slang.
Frankly, it's kinda annoying – though we will admit it's not the biggest issue in the world either!
To sum up, then, this is a very well-designed high-quality product.
But it will only be able to achieve the best results if you can dedicate enough time and effort to use it properly.
See the Amazon customer reviews here.
---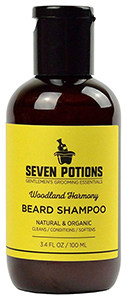 We'll finish up with this product from Seven Potions.
Whilst a relatively new company (founded in 2015), Seven Potions already have a great reputation for producing high-quality beard shampoos.
Could this be the right one for you?
Specs
Who Is It Best For?
This is the best beard shampoo for men looking for a premium, highly natural formula shampoo that is suitable for a wide range of skin types.
Key Features
We were very impressed with the sheer utility that this product offers.
On this list, we have so far seen a wide range of products designed for a wide range of men and a wide range of beards.
Some though have a more narrow focus, for example being specifically designed for itchy beards or for men with especially sensitive skin.
That's not the case here!
Instead, this beard shampoo is designed for just about anyone.
It is gentle enough for sensitive skin whilst also being strong enough to clean beards and remove beardruff.
The ingredient list is exactly what you would expect from a premium product.
We're talking lovely smelling sandalwood, blackcurrant, lime extracts, and aloe vera to help soothe any irritated skin.
This best beard shampoo is also designed to clean away dead skin without stripping away too much natural oil of skin sebum.
This will help to keep your beard soft and the skin underneath nice and happy.
It's worth pointing out that this product comes in a very small bottle, with barely 3 ounces of product to enjoy.
You only need a tiny amount when you are using it as it really foams up very well.
But if you happen to spill any, you could easily see a big chunk of the contents sloshing down the drain!
Be sure to check out the many customer reviews here on Amazon.
---
Things to Consider When Buying the Best Beard Shampoo
After our best beard shampoo reviews, in this section, we'll highlight the features that you should bear in mind whilst actually reading our Amazon customer reviews.
Remember them, and they will help you to find the best beard shampoo to suit your needs, as each feature will be more or less important depending on what you're looking for in the shampoo to clean your beard and keep it happy and healthy.
1. Ingredients
---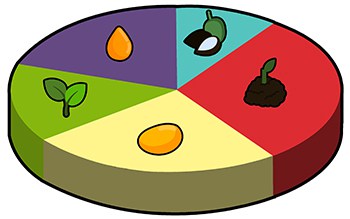 First and foremost, just as with the best shampoo for thinning hair, the most important factor for the best beard shampoo is the ingredients.
Period. Full stop.
Why?
Because it is these ingredients that will be applied on your face and which will be tasked with cleaning, preserving, conditioning and generally caring for your beard.
Now, are the extracts of Blackberry seeds better for your beard than shea butter or lime juice extract?
We don't know.
We'll be honest with you.
What we will say is that every shampoo is formulated by its own manufacturer to be the best shampoo that it can be.
This, in turn, means utilizing a wide range of ingredients – like the best castor oil or jojoba oil, which may include essential oils.
It's hard to break down the best beard shampoo ingredient by ingredient and say for a fact which is best.
Even hair thinning shampoos also comes with a variety of ingredients.
What we suggest you should look for instead is to ensure that the ingredients are of the highest quality to make your beard as healthy as it can be.
That means that they are all-natural, and they are, where possible, organic ingredients too.
This guarantees that for whatever reason they have been included in the shampoo formula, they can perform that function effectively and keep your beard maintained.
2. Application
---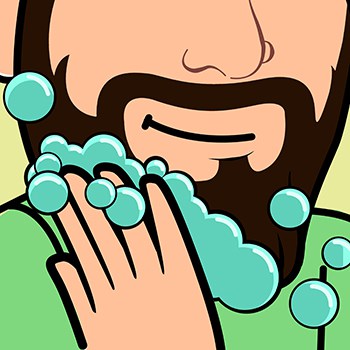 You may not think this is a big deal – and maybe for some people, it isn't.
But for us, the way you actually use your best beard shampoo can have a big impact on how you wash your beard and how much you enjoy it.
This, in turn, will have an impact on how much you actually use the shampoo, because if it is a pain in the backside, you may skip applying it altogether.
Think about when and where you are going to be shampooing your beard.
Do you clean it in the morning, in the rushed 5-minute shower before you grab a coffee and head out the door to work?
And then go for an easy-to-use regular shampoo that lathers quickly and is on your beard doing its job in a matter of seconds?
Do you have a bit more time on your hands?
Consider your choice of shampoo and conditioner set to get the highest amount of top-quality ingredients through your beard.
You could also go for the long-term value (but much slower application) of a solid bar style of shampoo.

3. Size/LifeSpan
---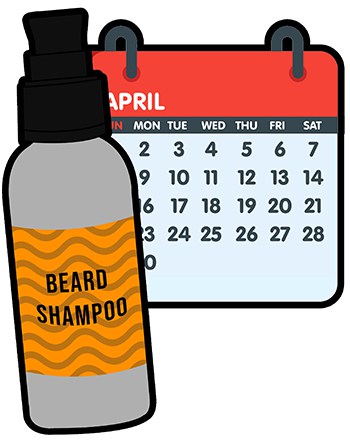 We all know the feeling right?
You're in the shower, and you are scrubbing up… well, everything that requires scrubbing up.
You reach for your best beard shampoo and squeeze nothing but squeaky air and a few bubbles out into your palm.
What a pain, huh!
The fact is, as you will see on our product list below, there can be a huge range of product sizes when it comes to beard shampoos the same way it is with the thinning hair shampoos we reviewed in our earlier guide.
The size of the product does, of course, have some correlation to the overall value for money too.
But it's more about the fact that once you've found the best beard shampoo that you absolutely love, you will want to use it as often as you can.
That means having enough of the stuff!
You should also bear in mind that the consistency of the shampoo can affect its lifespan.
We also point out in our list whether a product is a little on the thin or watery side.
These types of products for beard can spill easily, meaning you end up wasting a percentage of the product instead of getting it on your beard where it belongs.
4. Secondary Functions
---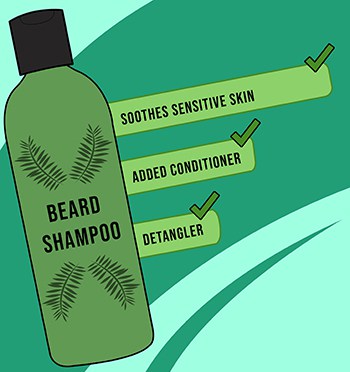 Ok, best beard shampoo, yeah, you're going to clean my beard.
But what else are you going to do for me, huh?
This is what we mean by secondary functions when it comes to your shampoo.
It could be that the shampoo has a built-in beard conditioner.
It could be that the shampoo is extra mild (like most of the best men's shampoo for thinning hair) to soothe sensitive skin.
It could be that the best beard shampoo is designed to detangle your beard and make it easier to comb – though, a top-quality beard comb will also help with that!
Frankly, you will know better than us what secondary functions could help to make the best beard care shampoo better suited to your needs and the needs of your beard.
You will also find, in our product list below, a range of products with some secondary functions (like beard moisturizers or conditioners for beards) between them.
So just bear this in mind whilst selecting your best beard shampoo and conditioner set to finish off the cleaning.
5. Smell
---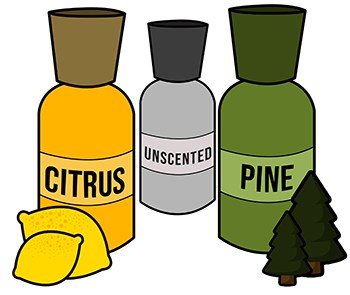 Last but not least, there is the smell of best beard shampoo.
Like in most hair products, including the best products for thinning hair men, having a beard shampoo that smells great is important.
Unfortunately, a scratch and sniff Internet browser application hasn't been invented yet.
Because of that, all we can really do is to give you an idea of the overall smell of each shampoo.
Having great beards is not just about using the best beard moisturizer or shampoo, but also using one that smells really nice.
Again, you are going to find there is a huge range of aromas out there.
Not only that, but they will also come in a huge range of strengths too.
This is another factor that is deeply personal, as some people will like a woody smell, some others will like a minty smell or even a fruity, berry centered aroma.
Woody, by the way, is a smell description we use a few times.
It's not the most descriptive we know, but it's a general sandalwood style of aroma that is quite standard for male beard and skin cosmetic products.
---
How to Use Your Shampoo to Clean & Maintain Your Beard
So, you've got your safety razor in your hand, and you've got stubble on your cheek.
Perfect!
The first thing you've got.
Look, we don't mean to be patronizing.
But it's hard to list out a guide on how to shampoo your own beard without sounding like that.
So we want to say sorry upfront!
But we also want you to read this guide.
It won't take too long but what it might do is to give you a few tips and tricks that you never appreciated before.
Look at it this way.
You may know how to clean your beard.
But do you know how to clean your beard?
Think about it.
To do is… put the razor down.
Then get in the shower, dirty boy.
Time needed: 15 minutes.
How to Use Your Best Beard Shampoo to Clean & Maintain Your Beard
The first thing you need to remember is that you are not just cleaning your beard here.
You are also cleaning the skin that lies underneath.
That means that you really need to work the shampoo deep into your beard and down to the roots and the skin.
Easier said than done, especially with longer beards!
But also very much worth the effort too.
You are not going to get far with a dry beard, and that is a fact!
Before you get the best beard shampoo out then, you need to wet your beard.
This can be in the shower or in the bathroom sink – whatever you prefer.
Generally speaking, though, we would suggest it's easier to wash your beard in the shower if you can.
You get lots of free-flowing water in there, which can also be very helpful when it comes to rinsing your beard.
(Spoiler alert: We'll get to rinsing your beard later!)
The next stage is to lather up your shampoo.
As you will have seen on our beard grooming product list, some shampoos for men are better designed to lather up than others.
A good lather is very important, though, as those bubbles in a rich lather will really help the shampoo to penetrate your beard and deliver a rich, nourishing clean.
You have a wet beard, you also have a palm-full of lathered up shampoo.
Time now to get to work!
Apply the best beard shampoo lather to your face, and using your fingertips, work it into your beard.
Remember, as we pointed out in step 1, you need to get it right down to your skin and work it into there too.
Don't be scared to be a little aggressive either.
Don't rip your skin off, but don't be scared to work the shampoo in either.
Now it's time to rinse your beard (we told you this would be coming!)
Very simply, get your beard under the flow of the shower, and with the same finger motions you used to work the shampoo in, now use the clean water to work it out of your beard.
If you are washing in the sink, we suggest you use a continuous flow of water if you can, rather than filling the sink bowl and dipping your beard in like a hairy chicken nugget into a bowl of sauce.
(Sorry for that mental image)
A quick word on water temperature and you need to think like Goldilocks here.
Water that is too hot will dry out your skin.
Water that is too cold won't encourage your skin pores to open.
Warm water is just right and will open the pores without drying the skin
Dry your beard with a clean towel.
Don't scrub at this stage, just pat gently and carry on until all the moisture (or most of it anyway) is removed.
Your beard should now be clean, dry, and ready to be finished with your favorite beard oil or balm.
Frequently Asked Questions
Want the 411 on beard soaps, cleaners, and shampoos?
Read on and get the skinny on everything you need to know so you don't look like a chump.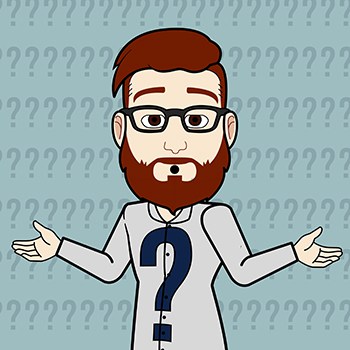 1. How often should I clean my beard?
The frequency with which you need to clean your beard using the best beard shampoo differs from man to man.
If you smoke, for example, you may need to wash a little more frequently.
Likewise, no one likes to spot bits of food residue in a beard.
Some situations that may demand frequent washing of your beard include sports and dusty climates
2. Is a bar better than liquid as beard washes?
Both a bar form of shampoo and a liquid form has pros and cons, so it is all a matter of preference.
A bar, for example, may last longer, and it can allow you to lather up exactly how much you need to minimize waste.
A liquid shampoo, on the other hand, is that bit easier to use, and lathers up much more quickly.
3. Just what is beard shampoo anyway?
Beard shampoo is a shampoo that is designed for your beard, in the same way, hair loss shampoo is designed for hair thinning men.
Pretty straightforward really!
The best beard shampoo is designed not only to clean your beard but also to nourish it.
4. Is there really a difference between beard and head hair shampoo?
Yes.
Almost all head hair shampoos for men contain a wide range of chemicals.
These are designed to strip the higher levels of dirt, oil, and sebum from your head hair.
So, can I use beard shampoo on my hair?
Your beard does not need that level of cleaning.
The best beard shampoo is much milder and gentler for your beard.
5. What makes for the best beard shampoo?
The short answer is that the best beard shampoo will have high-grade ingredients, will be a good value for money, easy to use, and an effective cleaner.
It will also protect and soothe your skin whilst also promoting healthy beard growth.
---