When it comes to growing and maintaining a beard or mustache, the tools and products you use are of course extremely important.
That's why whether you are a newly minted beardsman or have already grown out your pride and joy, picking up the best beard grooming kit can represent a solid investment at any time.
Buying a beard grooming kit can be a cheap and easy way to quickly build up a stash of useful tools for your beard.
Be rest assured that beard grooming products for black men as well as white men, like beard shampoo, beard conditioner, beard wash, and other beard nourishing products are all designed to help you maintain your face fluff.
In this buying guide, we're going to help you to find the perfect beard/mustache kit to suit your needs.
Use the table of contents below to jump to the sections most important to you.
QUICK OVERVIEW: Best Beard Grooming Kits.
Beard Wizard Grooming Care Kit

High-Quality Organic Beard Oil
Good Sandalwood Beard Comb

VIEW ON AMAZON →

Grow-A-Beard Brush & Comb Set

Tough but Gentle Boar Bristles
Very Well Made Tools

VIEW ON AMAZON →

BeardClass Beard Grooming Set

Very High-Quality Oil
Versatile Range of Brushes and Combs

VIEW ON AMAZON →

Beardsley and Company Beard After Care Kit

High Quality Products
Well Designed Wooden Comb

VIEW ON AMAZON →

Maison Lambert Black Edition Ultimate Beard & Mustache Grooming Kit

Provides a Very Smooth Shave
Not As Aggressive as Some Truly Aggressive Blades

VIEW ON AMAZON →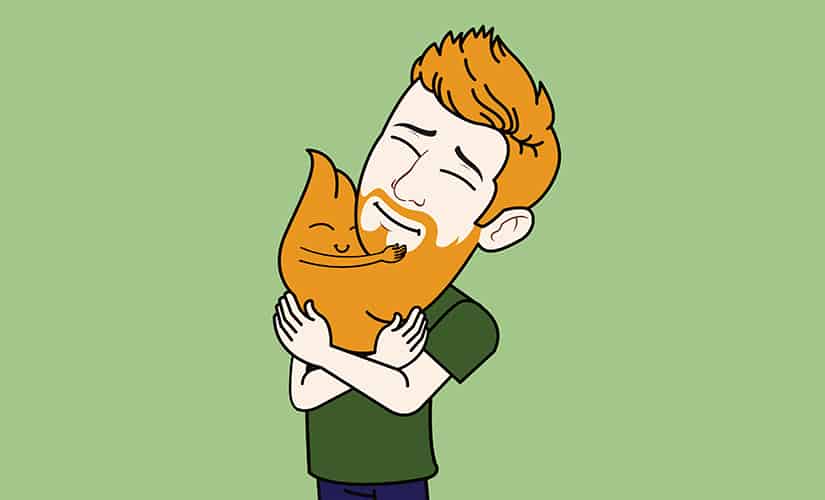 5 Best Beard Grooming Kits of 2023 Reviewed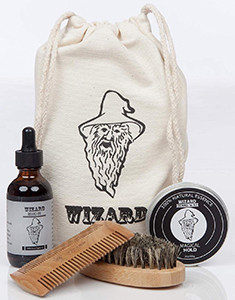 We'll kick off our list with a beard maintenance kit that is so good, you'll think it must be magic!
You get it right?
Because it's made by "Beard Wizard"?
Hey, don't roll your eyes! No, you shut up! We're funny ok?
Specs
Who Is It Best For?
It is the best beard grooming kit for any man who needs to build a basic but effective beard grooming kit from scratch, and who doesn't want to drain his bank account doing it.
Key Features
We'll try to keep the wizard puns to a minimum since they don't seem to go down too well.
So instead let's take a look at this very interesting grooming care kit from Beard Wizard.
Essentials Included
It comes loaded with 4 unique items, 3 of which are of very good quality.
Which one lets the side down a little? Read on to find out.
It certainly is not beard oil.
Boasting an organic, original recipe (one could almost call it a Wizards' potion…), this is high-grade stuff here, making it a great choice for men with sensitive skin.
It has a very low or no fragrance at all – something of note for those who don't like their oils smelling too strong.
It also contains some hair/skin-boosting components such as aloe vera, jojoba oil, and vitamin E.
Jojoba oil combined with other ingredients helps to reduce itchiness and dandruff.
The comb is also of great quality, with a Sandalwood construction designed to reduce static electricity (and thus frizz) in your beard.
It has a cool dual-sided design to provide a variety of teeth widths.
We were also very fond of the wax.
Again, this is a natural formula and included things like Shea Butter and Vitamin E for a product designed to keep your face fuzz sleek and healthy.
It has more of an odor than the oil but is still quite mild.
So that leaves the boar bristle brush.
Value for Money
Let us not be cruel here, the brush is decent.
It has a traditional boar hair brush construction and will do a decent job for you.
It does, however, pale slightly when compared to the other high-end items found in this kit for men, and you may end up replacing it in the long run.
All in all, there is a lot of high-quality beard care items here for a pretty low price tag, and it also makes a perfect gift set for your bearded buddy.
Check out all the excellent customer reviews here on Amazon.
---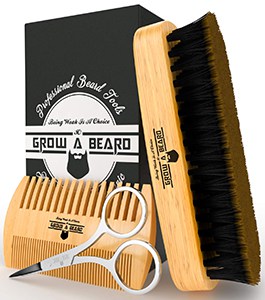 Next up is the smallest and cheapest beard care kit for men on our list.
It lacks any washes, balms, or oils but does have a pair of excellent grooming tools.
Specs
Who Is It Best For?
It is the best beard grooming kit for a man who doesn't want a full beard grooming kit – just brushes and combs.
Key Features
When you picture the best beard grooming kit in your mind, what is in it?
We would hazard a guess that you are seeing combs and brushes – but also beard oils, waxes, and balms, right?
For most people, that's probably correct, and that is why the other products on this list pretty much fit that template.
Essentials Included
The kit here however from Grow A Beard is different – it comes with a boar bristle brush.
There is no oil, balms or waxes to be found here, just a high-quality set of tools in a grooming and beard trimming kit for men.
Grow A Beard has decided to use bamboo, both in the comb and the brush handle.
This is wood that, in addition to being environmentally sound, is also a great beard grooming box.
It is tough but gentle, anti-static, and easy to clean.
The multi-tooth width also makes for a comb suitable for various beard lengths and thicknesses.
The brush is also high quality.
Again it has a tough and comfortable bamboo handle, whilst the boar bristles are soft but strong to provide for a premium combing action.
Value for Money
This set is perfect for the man who needs to pick up a ready-to-use set of grooming tools but already has a preferred brand of oil and balm for their beard growth enhancement.
We mean think about it, why buy a kit and have to spend extra cash on stuff you don't need?
Well, with this set, you don't have to!
Plus, you can rest assured that you are investing in a top-quality set of grooming tools here, that include a boar bristle brush.
If you need a top-quality boar bristle brush and comb combo, then look no further.
See the collective opinion of thousands of customer reviews here on Amazon.
---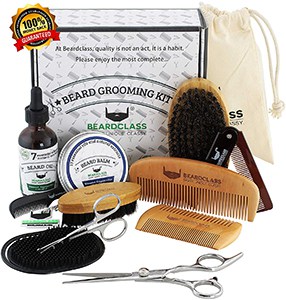 After one of the more sparse grooming kits on our list, we next take a look at this, the most fully loaded kit to make the rundown.
Specs
Who Is It Best For?
It is the best beard grooming kit for a man who needs… well, everything!
Key Features
We better get into this pretty quick or, we are going to run out of time and space!
This grooming kit brings just about everything you need to maintain and even trim your beard or mustache.
Essentials Included
First of all, you are getting very high-quality beard oil.
Packed with no less than 7 essential extracts, and all-natural too.
It is designed to moisturize your beard and keep your skin hydrated and happy.
This is backed up with a beard balm that packs in 13 extracts and is also all-natural and non-oily.
Both items are also fragrance-free.
Tools wise you have more items to pick from here than in a NASCAR pit stop.
A set of beard grooming scissors is always useful for quick maintenance trims.
Do you need brushes? Take two of them!
Both come with ergonomic handles and high-quality boar brush bristles.
Need a comb? How about four?
A well-made wooden beard comb is rocking fine, course set teeth combs, and is perfectly sized for slipping into a pocket for on-the-go grooming.
It is backed up with a folding comb and a larger wooden comb with medium-set teeth that is perfect for working through a thicker and longer beard.
There is also a small mustache comb but more on that in a minute.
A very useful palm diffuser brush rounds out the tool list and allows you to apply oil without getting it smeared all over your hands.
That is a tool that we don't see too often and frankly, given how useful it could be, it's really nice to see it represented here.
Value for Money
Sadly there is an Achilles heel in the kit, and that is the mustache comb.
It is the weakest entry in the set, being just a little too small to hold easily.
Its plastic construction could also lead to snags too, making for a tool that is uncomfortable to use and not very effective anyway.
Still, 11 out of 12 isn't bad at all and this truly is a high-quality set that offers incredible diversity in terms of tools and products.
Oh, and it's crazy cheap too.
Good job, BeardClass, good job.
See the consensus of customer reviews here on Amazon.
---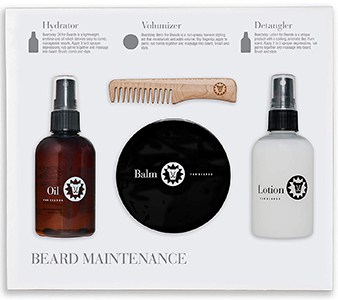 The next kit is a real premium entry from a company with a well-earned reputation for producing top-quality beard care products.
Specs
Who Is It Best For?
If you are looking for a premium kit with the quantity of product to last a long time, this is the best beard grooming kit for you.
Key Features
One thing you may have noticed with the beard products we've looked at so far, at least the ones that come with balms and lotions.
The size of the product included in each kit is a little on the dinky size, right?
As we'll chat about below, that can cause a few problems.
If you come to love the beard oil in your set, for example, but you blow through it because the bottle is small, can you buy it again?
Or do you need to buy the whole grooming set just to get another bottle of oil?
No such worries with this product from Beardsley and Company!
They saw those tiny bottles in other sets and said no, that's not good enough for us.
Essentials Included
So say hello to this grooming set that is packed not only with three excellent quality products but also comes in very generous sizes.
You also get three separate products for use on your beard.
Compare this to many other beard kits that often come with one or even two products at most, and you can see why this product is a standout candidate as one of the best beard care kits around.
You get a top-notch beard oil designed to hydrate beard and skin.
The lotion will detangle longer beards whilst the leave-in balm brings volume and body to your beard.
All three have fragrances, so bear that in mind.
All of them are quite mild and fruit-based though, and none is particularly overpowering.
Oh, and you get a really well-made wooden, wide-toothed comb as well.
Value for Money
This kit is a little pricier than many others on the market and indeed on this list of the best beard grooming kit.
But at the same time, you are not only getting a high-quality product here, but also you are getting plenty of it too!
See the collective opinion of customer reviews here on Amazon.
---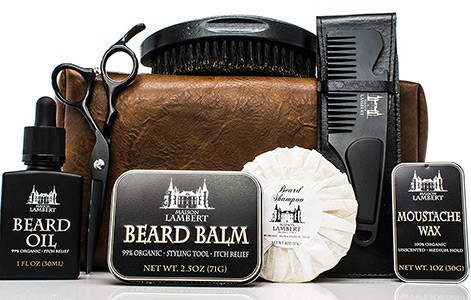 We've saved something a little special for the last entry on our list!
This is a truly high-end premium product here and is not only for beards.
This is hands down the best mustache grooming kit as well for those who rock both the beard and mustache.
But beware, the price tag is also very much at the premium end of the scale. Is it worth it?
Specs
Who Is It Best For?
Anyone looking for the highest possible quality in terms of beard care products and tools and isn't afraid to pay top dollar to achieve this, then this is the best beard grooming kit for you.
Key Features
We've already primed you for how high quality this kit is.
But before we get to that, it's also worth pointing out that you are also getting a good quantity of products and tools here.
Essentials Included
We're talking beard soap, beard oil, beard balm, and mustache wax.
This is backed up with stainless steel scissors, a stainless steel beard comb, and a natural boar bristle brush.
What we're saying is, this is a well-stocked beard maintenance kit with everything you need to care for your beard and all packaged in a neat vegan leather case.
At the same time, as we said, this is all high-quality stuff too.
All the products are organic and handmade, for example.
They are all fragranced with natural oils for a subtle, classy aroma.
The exception is the mustache wax, which has no scent.
That to us is a good idea as the mustache wax is going to be under your nose all day so, you probably won't want a strong aroma there.
That attention to detail helps to make this the best mustache grooming kit that we looked at.
The tools are also high quality too.
Black stainless steel has been employed in the construction of the scissors and the comb for products that look great, are strong and tough, and are highly effective.
The brush has a comfortable wooden handle and firm, all-natural boar hair bristles.
Value for Money
As we said up top this product is not cheap.
But at the same time, it is a phenomenally well-designed and well-made grooming kit that takes advantage of premium organic materials.
If you really want to pamper your beard or mustache or give a great gift kit to a bearded friend or significant other, this truly is one of the best beard grooming kit products on the market right now.
See what others have to say per the customer reviews here on Amazon.
---
So that is the end of our list, and what a list it is (if we do say so ourselves!)
Other noteworthy male beard grooming kits are:
Mountaineer Brand Beard-Care Kit
Viking Revolution Ultimate Beard Care Kit
Zeus Deluxe Beard Grooming Kit
Jack Black Men's Beard Grooming Kit
Rapid Beard's grooming kit
Hipster Beard Grooming Kit
But now that you've seen the list, perhaps you're still asking how you should choose the best beard grooming kit?
If that sounds like you, then read on for our guide to the features you should consider when choosing the best beard grooming kit.
---
Things to Consider When Buying the Best Beard Grooming Kit
After we go through the best beard grooming kit reviews, we'll highlight the features that you should bear in mind whilst reading the reviews themselves.
Remember them, and they will help you to find the right kit to suit your needs, as each feature will be more or less important depending on what you're looking for in a top-quality beard & mustache grooming kit to suit your needs!
1. What's In The Kit – And What Do You Need?
---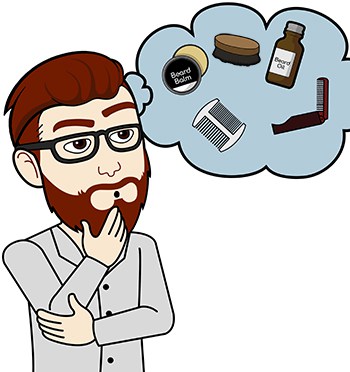 The first consideration is the most obvious – just what is packed in the kit and what do bearded men like you actually need?
In our review section, we have clearly indicated how many pieces of kit and product are found in each offering.
Also, most kits come in some form of packaging to help keep all your stuff in one place – be it a handy travel bag, a cigar box, a pouch, or the old-fashioned burlap bag.
If you have nothing in your bathroom to care for your beard, then go for a kit that is packing more stuff.
That will allow you to quickly build up an effective armory of tools and beard care products.
If you already own some beard wash and maintenance tools, though, you can be more selective and go for a smaller beard grooming kit that fills the gaps.
2. Quality Ingredients
---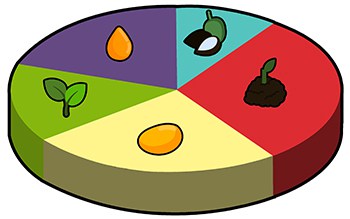 Whichever of the best grooming kit you end up buying, always remember that whatever oil, balm, lotion, or soap that is included is going to make its way onto your face.
So be sure to check for top-quality carrier oils (like argan oil) and essential oils, as well as other moisturizing components in the best beard grooming kit you purchase.
We don't know about you, but we're quite fond of our faces.
We grew our faces ourselves, you see, and we like them.
Bearing that in mind, we only want to put products made with quality ingredients onto our beards and skin.
Keep an eye out for products that use a majority of natural/organic ingredients in their recipes.
Organic is even better as you know you're keeping the nasty chemicals to a minimum with quality organic products.
3. Quantity
---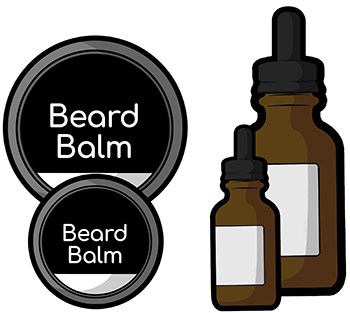 This is a point that we will return to a few times in the article.
The truth is that often the amount of product included in kits can be a little on the smaller side.
We're talking a single ounce of oil or a couple of ounces of balm in a kit – whereas if you bought them as individual items, you could get larger-sized bottles.
Oils, lotions, and balms do go a long way, of course, and you only need a few drops of each of them, depending on your beard length.
Still, if the quantity is important to you then look for larger amounts of product in the best beard grooming kit.
4. Fragrance or Unscented?
---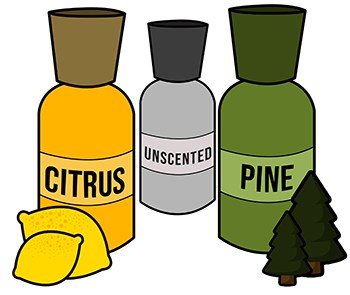 We also clearly marked if the products in the kit have a fragrance or come unscented.
We've done this because we know it is a big consideration for a lot of guys.
Some people like a robust fragrance in their oils or balms.
They like it for the same reason some people like strong aftershaves – they enjoy the fragrance, and they want to smell great!
Some others feel exactly the opposite.
They don't want to smell their beard oil all day, or they don't want it to overpower their aftershave or cologne.
You will know what you like, so make sure you pick up a luxury beard grooming kit that has products with your desired fragrance level.
Naturally, most men would go for that manly woody smell that comes from cedarwood, while others would prefer a vanilla rum or verbena lime smell.
5. Brush or Comb?
---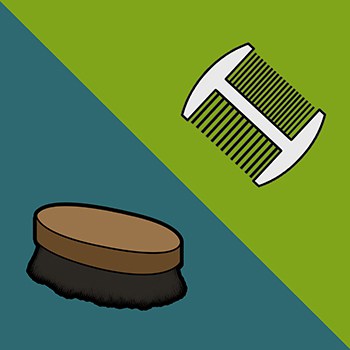 Do you need a brush?
Do you need a comb?
Do you need both, or do you need neither?
The best beard grooming kit, especially larger ones, will usually have one of each.
Smaller ones may have one only or even neither.
Again, you will know better than anyone what it is you need to pick up in a kit that will fill the holes in your beard tool armory, enabling you to shave your beard and maintain it effortlessly, overall.
---
How to Buy a Beard & Mustache Kit as a Gift
These days more and more men here in the States are growing beards and mustaches.
In addition to growing them though, men also have to maintain them.
That is why buying beard care products can make a great gift, and a full beard and mustache care kit can be a really great gift idea.
Trouble is that many people, especially for obvious reasons women, have little to no experience in buying the best beard grooming kit.
That is why we've put together this little checklist of things to know before you take the plunge and order a beard care kit as a gift.
How to Buy a Beard & Mustache Kit as a Gift
This may be harder to tell depending on your relationship with the man behind the beard because you may need to get close to judge this!
But does his facial hair have a distinct smell?
If it does then you know he prefers a beard oil or balm with a fragrance.
If not then it could be a good idea to buy unscented products.
Stop sniggering in the back – we're talking about the size of his beard here, ok!
If it is long and thick then it could be a good idea to pick up a long beard grooming kit with a high-quality balm that can add volume and keep it looking great.
Shorter beard grooming styles, on the other hand, could benefit from high-quality oil and a short beard grooming kit.
Beard oil is designed to hydrate not only the hair follicles but also the skin too.
That makes it a great product for men with shorter trimmed beards.
3. Does He Have The Stuff Already?
Finally, the best beard grooming kit can be a great way to quickly build up a selection of all the tools and products required to care for beards.
It is though a waste of time and money to invest in a full-size kit if the bearded gent you are buying for already has half the stuff!
So if you can, do take a peek in his bathroom to see what he already has.
Remember that different kits have different levels of tools and products within them, so look to buy one that fills any gaps in his armory.
Why Buy a Beard Grooming Kit Anyway?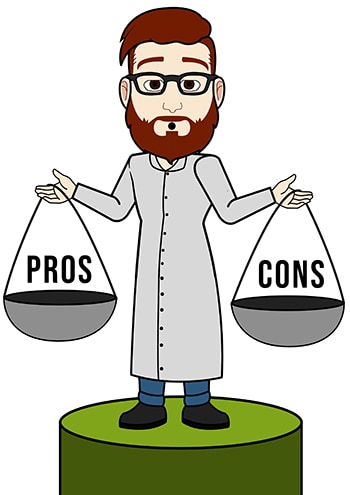 Pros
---
Money Saver
We won't promise it's the case in every single example but broadly speaking, buying in bulk can usually provide cash savings.
That can often be seen with beard care kits, too.
If you take the items found in the best beard grooming kit we looked at above, then we would bet that it would cost you a fair amount more money to buy them all individually than as part of a kit.
Build a Kit
This next point is somewhat related to the one above.
If you are growing a beard seriously, for perhaps the first time, then you may come as something of a surprise to discover the number of tools and products required to care for it properly.
Honestly, it almost feels like getting a new pet (though you don't need to buy your beard any toys).
Again, as we mentioned above, building that kit for men from scratch one item at a time can be expensive and time-consuming.
The best beard grooming kit for men would, therefore, be one that comes fully loaded with everything you need to care for your beard or mustache.
We're talking about the oils and balms it needs to look (and be) healthy, and the tools you need to trim, brush and otherwise help with overall beard growth and maintain it.
If you can get all of that stuff nicely wrapped up in a box or bag and delivered to your door in one go, you could stand to save time and money.
Cons
---
Are there any negatives to picking up a kit?
Of course, there are!
You should bear in mind that:
You May Not Like All the Parts
We actually saw this in some of the items that we looked at.
It can be the case that a kit is packed with a mixture of high-quality items and a few less than stellar ones.
If you buy the best beard grooming kit with some items that you don't like, you are technically spending money on pieces of the kit that are a waste of that money.
This is, though, something of a balancing act.
We didn't like the mustache comb in one of the kits we looked at above, for example.
It was cheap, it was plastic, and it was, frankly, crap.
But the rest of the items in that kit for men were so good that, to us, it didn't seem too unreasonable to invest in the kit and chuck the mustache comb in the trash.
That's what we mean by a trade-off.
If you don't like the comb or already have a great brush, it could still be a good idea to pick up the kit if you really like the oil, balm, or lotion in the kit.
Can You Buy More?
Another issue that we picked up in our review is that the best beard grooming kit can come with products that are a little small size.
One concern some people have is that if they grow to love oil, balm, or lotion that is found in a kit, then it may be hard to find again when it runs out.
That can be an issue, no doubt about it.
One thing you can do is to keep an eye out for a kit made by a manufacturer that also offers the same product individually.
A little look around online should show this.
You can also check out the website of the manufacturer to see if they sell replacement products directly.
Another way around this potential issue is what we pointed out in our review section.
Pick up a grooming and trimming kit for men that packs larger sizes of care products.
They may come with a bit of a higher price tag, sure, but you can also rest assured it's going to last longer.
Frequently Asked Questions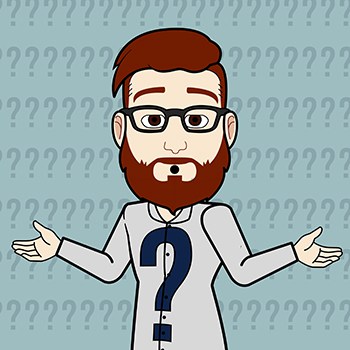 Got some questions about the best beard grooming kit?
Read on for the answers to some of the most frequently asked ones we get in our mailbox!
1. What needs to be in the beard kit?
You really just need to take a look at what you need.
If you already have an oil or balm you like, perhaps go for a kit that is heavier on tools.
On the other hand, if you've already picked up a top-quality beard comb you love, then maybe you prefer a kit loaded up with top-quality care products like oils and balms.
2. Do I need a storage bag?
A storage bag can be extremely useful, but it's not a necessity either.
It will help to keep everything in place for ease of packing, and it can also protect the kit whilst in transit.
This will allow them to air dry any moisture or oils and balms, rather than sitting wet in a storage bag.
3. Do I need to buy a Beard & Mustache kit?
The short answer here is, of course, going to be no!
No one is going to put a gun to your head and force you to buy a beard kit.
On the other side of the coin, though, we feel that yes, in most circumstances, it can be a good idea to pick up the best beard grooming kit.
---