Growing a thick and healthy beard is one thing.
Keeping that beard looking great is something else entirely.
Whilst there are a wide range of oils and balms and even nutritional supplements designed to do just that, many men are really looking for assistance in one key area.
In this article, we are going to evaluate seven of the best beard straighteners products on the market today.
So read on to find out which one could be the best product for you, your beard, and overall facial hair.
It's highly recommended that you read the section on "Things to Consider When Buying the best beard straightener", before digging into the reviews, to assure you get the right beard straightener product for you.
QUICK OVERVIEW: Best Beard Straighteners
IMAGE
PRODUCT

Andis High Heat Press Comb

20 different heat settings
High quality chrome comb

VIEW ON AMAZON →

Extra thick, jelly like consistency
Great value 4 oz. bottle

VIEW ON AMAZON →

Grave Before Shave Beard Brush

Cruelty free bristles
Comfortable, ergonomic handle

VIEW ON AMAZON →

CNXUS Ionic Hair Straightener Brush

Excellent temperature range
Simple and easy to use

VIEW ON AMAZON →

Prophet Premium Beard Balm

Blends well with all beard colors
Adds control and style with ease

VIEW ON AMAZON →

AMOVEE Mini Flat Iron Ceramic Hair Straightener

Very mild cut
Nice and cheap

VIEW ON AMAZON →

Peter Coppola Keratin Hair Treatment

Long term results
No down time after treatment

VIEW ON AMAZON →
Use the table of contents below to jump to the sections most important to you.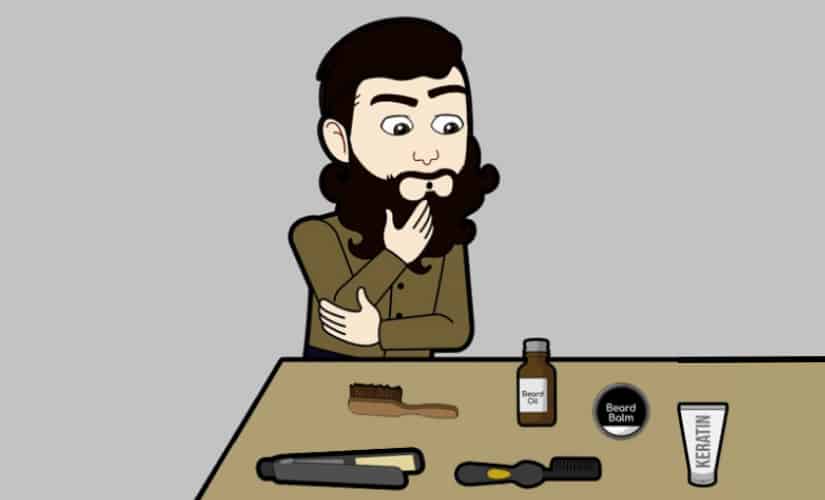 ---
7 Best Beard Straighteners of 2023 Reviewed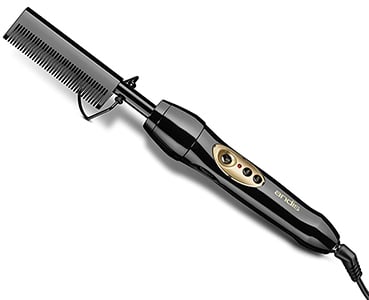 We'll kick off with this product from Andis, one of the more high-tech beard straighteners and beard hot comb.
Specs
Who Is It Best For?
Any man looking for a fast and convenient way to tame and straighten a longer beard.
Key Features
When it comes to flat iron beards, whether for men or women, heat can be a key ally in this battle.
This is because of a protein called Keratin, which makes up a large proportion of the mass of each strand of beard hair.
Apply heat to Keratin and you start to break down the hydrogen bonds found in its chemical formula.
Do that and hair becomes pliable and easy to make straight.
The same principle that women use when they apply straighteners to their facial hair also applies when you are looking to straighten your beard.
That is why there is so many heated beard straightening brush on the market today.
Of all the options though, this offering from Andis is our favorite.
It is packing a lot of very useful features and design points that any guy would want to have in their beard straightener comb.
For one thing, we were very impressed with the temperature range it is bringing.
A max temperature of up 405 Fahrenheit is actually going to be too hot for most beards, but it is indicative of a device with the power to reach any useful temperature that you may require.
There are also extremely impressive controls placed on that power.
There are no less than 20 variable heat settings, and temperature control between each one is very precise; thus allowing you to find the optimal temperature without damaging your beard.
Add in a top-quality ceramic comb which does a great job of dispersing the heat through your beard hairs and this is a quality tool.
See the collective opinion of over one thousand customer reviews here on Amazon.
---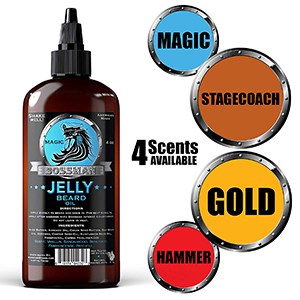 More of a beard jelly than a traditional oil, this product from Bossman is easy to apply but designed to provide effective control for short to medium beard lengths.
Specs
Who Is It Best For?
Any man looking for a simple and straightforward way to manage their unruly facial hair.
Key Features
From a very high-tech device that puts a lot of straightening power right into the palm of your hand, this next product is a far simpler affair.
Whereas the heated beard straightening comb required a lot of practice to get it right though, that's not the case here.
In fact, that is very much the selling point of this particular offering from Bossman which is the best beard straighteners for short beards.
We're willing to bet that a lot of you are already using beard oils since this simple product is one of the cornerstones of good facial hair maintenance.
The best part of this product then?
Almost all of you know how to use it already and ultimately how to make your beard hair straight.
There is no training time, you don't have to practice it.
But what exactly is it and what is it doing?
Well, this is first and foremost a beard oil.
That means it is packed with natural oils to pump moisture into your beard and soothe your skin.
But this is also made of a jelly texture.
This, in turn, means that it is extra thick, and that is why it can help to straighten your beard.
When you apply it, it is rather like putting the product into your head hair to style it.
It removes the fluff and curls by introducing concentrated moisture.
You can even comb or brush the product through your beard for an even greater straightening effect.
This is not the most powerful straightener for the beard on our list.
It is however very easy to use and, coming in a huge 4 Oz. the bottle also provides excellent value for your money.
See the consensus of over a thousand customer reviews on Amazon.
---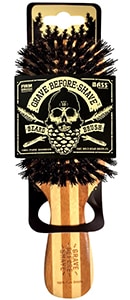 Next up we'll take a look at another product that should have a place in the armory of any man who wishes to maintain their beard. The fact it can also be used for straightening your beard explains its presence on our list today.
Specs
Who Is It Best For?
Any man looking for a top-quality electric beard straightener brush to help maintain their mane.
Key Features
As we said above, a top quality beard brush should be part of the armory of every man looking to effectively clean and maintain his beard.
Let it not be said that we here at Prim and Prep are not prepared to hammer home a good message.
If though you don't yet have a great straightening brush, then we would definitely suggest taking a closer look at this one from Grave Before Shave.
As a brush, there are a lot of features about this product we like that will take care of your overall beard grooming routine.
The bristles are of course where these types of tools make their money.
In this instance, we have a head comprised of lovely, stiff boar bristles.
This all-natural material is one of the best you can get when it comes to bristles that will take care of your beard.
They have the strength to power through knots and, when combined with a blow dryer, you can use this straightening brush to style and tame a curly, unruly beard.
This brush also gets bonus points for being animal cruelty-free, with no boar harmed or killed in its production.
It's great too at helping to work balms and oils through your beard, which can also be a big aid during the straightening process.
The brush is comfortable, easy to hold, and feels nice in the hand too.
See the other impressive customer reviews here on Amazon.
---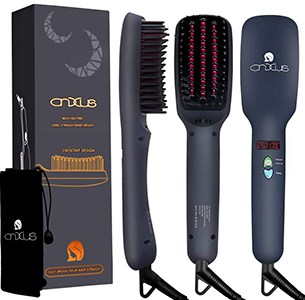 It's time for another beard straightener brush. Yes, that's right, we've got two similar products in a row. This one though is hiding a few extras under the trunk.
Specs
Who Is It Best For?
Any man who thinks a brush would be useful for straightening their beard but is looking for a little extra power too.
Key Features
This brush is like Robocop. The brush above, the normal one from Grave Before Shave, is when Peter Weller (we don't recognize the existence of the remake) is a normal cop; it's effective but ultimately a little under-powered.
Now here we have the Robocop version, a heated beard brush backed up by the power of technology.
That technology is bringing heat to the party, which, as we described above, is extremely effective when it comes to hair straightening.
What we were really impressed with here though is the ease of use of this device.
Partly that ease comes from the fact that is just a very well-designed little tool.
It has a great heat range, for example, capable of heating to anywhere from 300 to 450 Fahrenheit.
All of this is controlled via a simple button interface, whilst a small LCD screen tells you the current temperature.
There are also a lot of safety features that impressed us.
Chief amongst them is the fact this is a brush.
That means that the plastic bristles of the brush keep you skin away from the heating element, whilst also dispersing that heat through the beard.
This means that the brush is both very effective and very safe.
You have much less chance of accidentally burning yourself with this tool than with some others.
The other reason this device is so easy to use is the fact it is at its heart, still a brush.
We all know how to use a brush, right?
Well, this is exactly the same, a product that is easy to simply pick up and start using with little practice or prior knowledge required.
See what hundreds say per the reviews here on Amazon.
---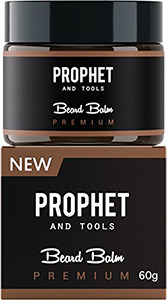 Next up we're going to take a look at another tool-free way for straightening your beard.
This premium beard balm is certainly simple and easy to use, but what else is it bringing to the table?
Read on to find out.
Specs
Who Is It Best For?
Any man who wants a beard that looks shiny and well cared for, with an added element of hold and control to style the beard straight.
Key Features
We turn to another product that is designed to bring hold and styling ability to your beard.
Just as with the beard straightening jelly we looked at above, this is a tool-free application method.
Of course, you may like to add a beard straightening brush or comb to your styling routine for added control, but in many cases, it probably won't be required.
That is because what we are dealing with here is a quality balm.
Produced by a company called Prophet, this is a beard balm with a number of great features.
Chief amongst them is the ease with which it can be applied.
You just take a little pea-sized amount of product on your fingertips.
Roll it around your hand a little until it melts then run it through your beard.
That. Is. It.
It frankly could not be simpler.
But, as this balm was made to provide a certain level of hold, it is also very effective at working styles into your beard.
That includes of course simply straightening out your beard, making this balm one of the best beard straighteners.
It's also 100% Organic, something that we frankly love to see in a product that will be spending a considerable amount of time in contact with your hair and skin.
Add in the fact that this product is designed to melt into your beard to really bring out its vibrancy and help make it look shiny and well-nourished, and this is a premium quality option.
See the collective opinion of over one thousand customer reviews here on Amazon.
---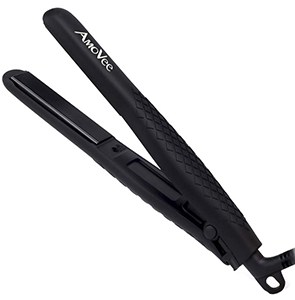 We'll take a look at another electrical product now, the beard iron, the last powered device to make the list.
But we've saved something special for last, a device that is very well made but also won't break the bank.
Specs
Who Is It Best For?
Any man with a long beard looking for the ultimate way to apply the straightening power of direct heat without paying too much.
Key Features
A flat iron style of hair straightener is pretty much the NAVY SEAL Assault Team of beard straightening tools.
Are we overplaying their abilities a little?
Ok, maybe just a tad. But if you are looking for a tool that is really going to help you tackle a wild and unruly beard and help straighten it out, then this tool here could be the one for you.
But at the same time if you are looking for a tool that is really going to help you tackle a wild and unruly beard and help straighten it out, then this tool here could be the one for you.
It is a powerful little beard hair straightener that is capable of generating heat up to 410 Fahrenheit, more than enough heat for even the wildest and toughest beard.
Did you see we said "little" above by the way?
Well, we weren't joking around, this device is tiny, less than eight inches in length.
For us, this tiny size makes it perfect for work as a beard straightener tool.
This size gives it the maneuverability and flexibility to work in the smaller spaces around your face and under your chin.
We were very impressed with the free heat-resistant glove.
Since the technique behind using a flat iron beard straightener is more hands-on than with other devices, this glove is invaluable in helping to prevent painful burns.
We really love this device.
We'll be frank with you; it may struggle to tackle shorter beards.
The way these straightener works is to clamp the beard hair between its ceramic plates.
On a shorter length, it simply won't have the purchase to grip the short hairs and straighten them out.
But for thicker and fuller beards, there aren't many, if any, better beard flat iron on the market right now.
Add in the crazy low price too, and this is a real winner.
See the collective opinion of hundreds of customer reviews here on Amazon.
---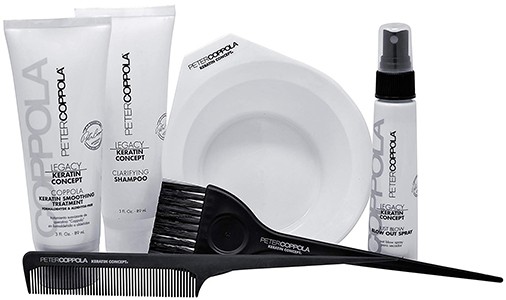 We'll end the list with something a little different.
This product from Peter Coppola is designed to provide a long-term solution for those looking to straighten their beards with the best beard straightener.
Specs
Who Is It Best For?
Any man who doesn't want to be using a straightening brush every day.
Key Features
If hair straightening on a daily basis sounds a little time consuming, then take a look at this product from Peter Coppola.
This is a Keratin treatment in a tube.
(Remember Keratin?)
Because of that, you can kind of look at this product as a heated beard cream.
It is designed to work on and relax the Keratin in your beard in the same way as a heated tool.
This cream delivers those straightening effects with a long-lasting lifespan.
Peter Coppola says this cream can smooth away frizz – and deliver a straight beard – for up to 60 days.
You will likely need to brush or comb your hair a little during that time, to maintain it.
But broadly speaking, it is less of a time sink than many other methods of beard straightening out there.
But there's a catch.
You will find some people are not overly keen on beard straightening creams.
That's because a huge range of them contain Formaldehyde, a chemical that is very good at relaxing hair – but is also considered a toxin.
Personally, we wouldn't be putting that crap on our face, which is why we plumped for this product from Peter Coppola.
It is Formaldehyde free, for a semi-permanent straight beard solution that won't strip the inside off of your lungs.
(Which to us is definitely a good thing).
Yes, it is still packing more chemicals than any other product on this list.
It is also far and away from the most expensive.
But if you want a long-term, low-maintenance solution for a straight beard, then this is one of the best options out there.
See Customer Reviews on Amazon here.
---
Things to Consider When Buying Best Beard Straighteners
Before we get to our beard straightener product list, in this first section we'll highlight the features that you should bear in mind whilst reading our reviews. Remember them, and they will help you to find the right product to suit your needs.
1. Your Beard Length
---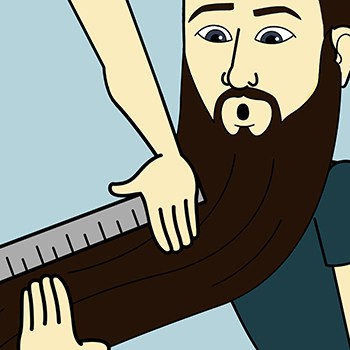 Probably one of the biggest considerations when you are picking out the right product for you, is the size of your beard.
For example, products like the AMOVEE flat paddle are going to need at least a medium-length amount of hair, we're talking an inch or more minimum.
It needs that amount of beard to tame the wild beard straightener, as it requires a certain length of hair to grasp and heat.
On the other hand, shorter beards can be worked with a brush or comb, and often held in place with balms or oils.
The premium beard balm we'll be looking at below, from Prophet, is a great example of this.
Brooklyn beard straightener has a mild hold, which is sufficient to style a short beard but will struggle with longer and thicker ones.
2. Application/Work Time
---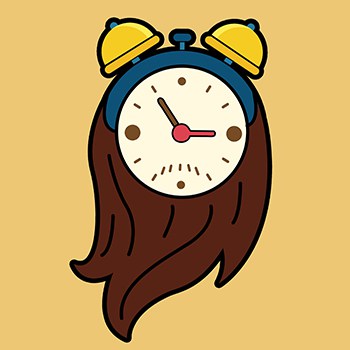 You need to ask yourself how long do you want to spend working on your beard every day.
If you want a simple solution, keeping your facial hair shorter could mean you just have to give it a quick brush and/or throw on some oil or premium beard balm in the morning.
Short and simple.
At the other end of the spectrum, you could have a longer beard and require more heat treatment.
We have a number of heated tools below that bring the heat required to help tame longer beards – but expect to spend a little more time doing so.
Finally, for those who want a beard straightener with minimal effort, you have the semi-permanent results you can get from beard straightening cream.
These products can have their own drawbacks though, which we will get on to in the reviews below.
3. Where Are You Working?
---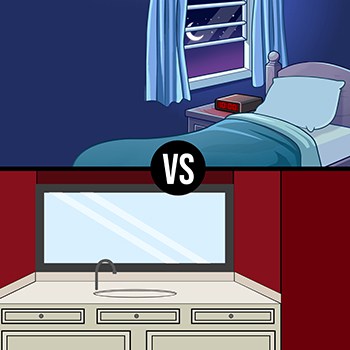 Bedroom? Bathroom? Hallway? Car?
Avoid straightening your beard in the car, but the others are places most of us have to squeeze in our maintenance regimes.
This is a very simple point; so don't shout at us for making it.
But don't buy an electrical device if you are going to struggle to plug it in near a mirror or in an area you can work undisturbed for a little while.
Brushes and beard straightener comb may be underpowered compared to heated tools, but they are also very easy to use just about anywhere.
4. Price
---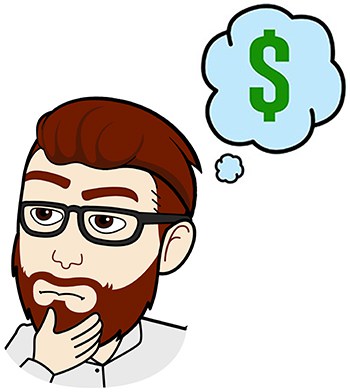 If it was just a matter of price when buying the best beard straighteners, we'd just tell you to rub Beluga Caviar into your facial hair.
Even if it doesn't straighten the beard hair, the smell alone is widely known to drive all Russian underwear models wild.
At the end of the day, isn't that what's most important?
Price matters.
We don't want you dropping huge bucks on products that make outlandish claims.
In our reviews below, we've managed to pull items that combine value for money with the ability to actually do what they say they'll do.
At the same time, don't be scared to drop a little cash if need be.
If you like a product and can afford to, go for it.
It could help make your beard look great for the rest of your life which is actually a pretty good investment.
5. Chemicals
---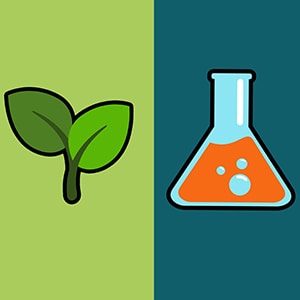 Are you looking for a natural or chemical solution?
That's a question you need to ask yourself because some products are certainly more chemical-laden than others.
If you think about it though, everything is a chemical – even water.
What we mean here is do you prefer a manual tool such as a beard straightening comb or heated beard brush?
In that case, we have a range of brushes, combs, and heating tools for you to take a look at.
If you prefer a chemical option, we have balms, oils, and even the aforementioned beard straightening cream to show you.
Of course, if you're not sure which you prefer, then simply read on for a comprehensive guide to the best heated beard straightener on the market right now.
Best Beard Straighteners Frequently Asked Questions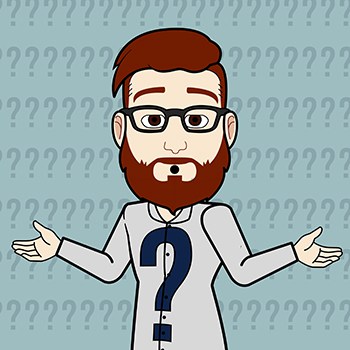 1. Why do I get a curly beard anyway?
Nutrition can also play a big role, with minerals like Zinc and Vitamin A being examples of foods that are good for healthy beard growth.
Whilst this may not automatically straighten your beard, it will make it healthier, thicker, and stronger.
2. My beard is quite short, what is the best product for me?
It's a simple fact that the less hair there is, the less effort is needed to tame it.
For shorter and even medium length beards, we would suggest starting with the Shave Before Grave Beard Brush.
3. I'm in a ZZ Top cover band, which one will work best on my big, bushy beard?
Nintendo Power, you would be ideally placed to be using a device like the AMOVEE Flat Iron, CNXUS Hair Straightening Brush, or the Andis heated beard straightener Comb.
That's because longer beards need heat elements to make them pliable enough to be straightened.
4. Should I be concerned about the chemicals in beard straightening cream?
Yes, especially if the cream contains Formaldehyde.
You can certainly worry about it less than some other products but this is lethal for hair.
A beard straightener might be the most efficient and effective tool when taming and styling unruly, frizzy, curly facial hair.
The best beard straighteners will assist you in controlling and styling your facial hair to perfection.
The correct electric straightening equipment, whether it's a beard straightening comb or flat iron to run through fine, short facial hair or a beard straightener brush for deep penetration and maximum styling, may make all the difference in your appearance.
In recent years, the use of beard straighteners — the precise heated instruments, not the chemical relaxers, and other rubbish – has gained in favor, particularly among men.
We hope that our advice to selecting the best beard straightening iron, heated beard comb, or electric brush has been useful to you in making your decision.