We have applied our extensive wet shaving expertise along with countless hours of research and testing to compile this list of the best safety razors on the market today.
With so many safety razors out there, it is practically impossible to find the best, but don't worry, we have done all the work for you 😉
I know everyone has a different combination of experience level, budget, size & weight preferences, razor aggressiveness needs, etc.
For this reason, I provided you with a list of the best safety razors that will meet everyone's specific needs so you will be sure to find the best double-edged razor for YOU!
I have also provided a guide on what you should consider in order to determine which is the best DE razor for you.
I highly encourage you to look that over first before reading through the safety razor reviews.
Important: Don't forget that among other things, premium DE blades, a quality shaving cream or soap, and a top-tier aftershave are essential to getting the closest, most comfortable shave.
Be sure to check out these vetted lists of the best products along with detailed guides on selecting the best one for your specific needs.
Use the table of contents below to jump to the sections most important to you.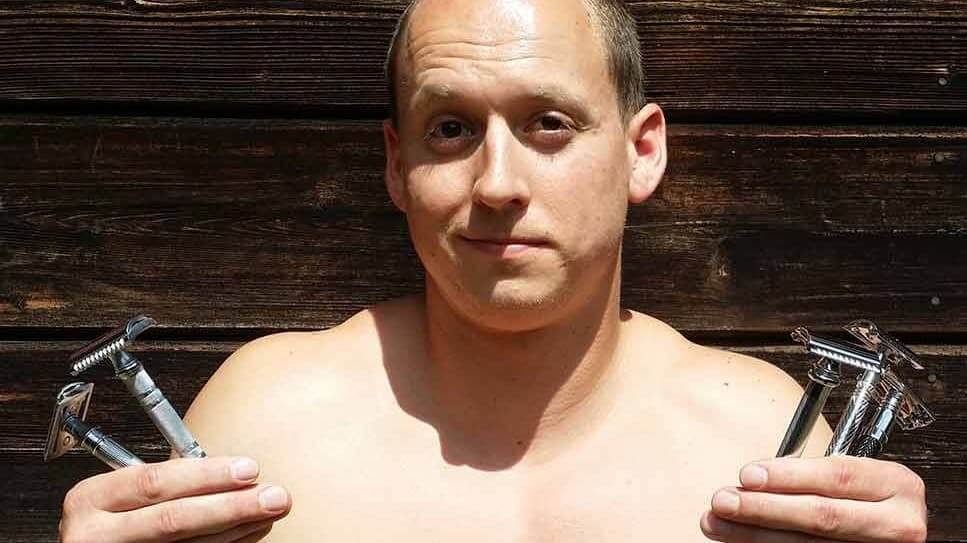 Top Things to Consider Before Buying a Safety Razor
#1 Price
Probably the first thing you should think about when buying a safety razor is how much money you're willing to spend, as they can range anywhere from $10 to over $200.
There are some excellent products in pretty much any price range, so you don't have to spend an arm and a leg to get a quality razor.
This is especially important for first-time users who don't want to fork over a ton of cash before they know if shaving with a safety razor is right for them.
Still, for safety razor pros, you may want to invest in one of the higher end models as you'll be more likely to notice the difference between a cheap and an expensive razor.
We've have labeled each safety razor with the appropriate price level so you can better sift through the list to find the best razors that fit your budget.
$ = Economy
$$ = Mid-Range
$$$ = Premium
#2 Aggressiveness
When discussing safety razors, aggressiveness can be taken to mean the "efficiency" of the razor but also can be viewed as how easy (or difficult) it is to cut yourself with the razor.
Multiple factors affect a razor's aggressiveness including the angle of the blade, the blade gap and how much of the blade is exposed.
For more information, watch our video below or see our post on safety razor aggressiveness.
Adjustable Blade vs Fixed
Nearly all the razors you'll find have a fixed blade, meaning the amount of the razor blade that is exposed is set.
However, companies such as Merkur and Rockwell are now producing a few safety razors in which you can adjust the angle of the blade (a determinant of aggressiveness) by turning a dial or interchanging the base plates.
You will be sure to see them amongst our reviews below.
Beginner's Recommendation: Beginners are recommended to go with a mild to a medium aggressive razor.
#3 Head Type (Closed vs Open vs Slant)
The next thing to think about is whether you want a closed bar, slant bar, or open comb safety razor.
Open comb safety razors leave the razor blade exposed and have little teeth that resemble a comb (hence the name) and help to guide the hairs onto the blade.
Safety bar razors have the blade hidden behind a piece of metal, which reduces the chances of cuts.
Beginner's Recommendation: For beginners, we'd recommend a closed safety bar razor, but more experienced men may enjoy the freedom of the open comb.
#4 Length of the Handle
This is one of those areas where it's a matter of personal preference, as it depends on which type of handle fits more comfortably in your hand.
If you have bigger hands or feel like you need a bit more control, we'd recommend a longer handle, also known as a barber's pole safety razor.
Still, some people find the longer handle to be more awkward to use.
We have categorized each of the safety razors as either short, medium or long.
#5 Weight
The mid to high-end range of safety razors generally come in two weights, classic and heavy duty.
The weight of the razor also varies from brand to brand and model to model.
Some men feel that the heavier razors give them more control, but this is again a matter of what feels most comfortable.
We have categorized each of the safety razor's weights as either light, medium, or heavy.
#6 Number of Pieces (Butterfly vs 2 Piece vs 3 Piece)
Butterfly Razors
While this isn't a primary factor in a razor's quality, some men prefer a particular type of razor, such as a twist to open.
Also known as a butterfly safety razor, it consists of one solid piece, where a knob is twisted that opens up the top plates and exposes the cutting head.
This makes blade replacement extremely easy but due to the additional moving parts, longevity can become a problem.
2-Piece Razors
For 2-piece safety razors, the top of the cutting head usually unscrews from the base and handle to allow you to change the blade.
This makes blade replacement more difficult than the butterfly design but slightly easier than the 3-piece design.
3-Piece Razors
There are also 3-piece razors where the top of the head, base of the head, and handle all come apart.
These razors often last longer than the other two types, as they are easier to clean and have no moving parts, but may be slightly more cumbersome to switch out the DE blades.
You can check out the video below or our article on Types of Safety Razors for more information on the different types of safety razors.
Top 12 Best Safety Razors of 2018
#1 Merkur 34C (aka Merkur Heavy Classic Safety Razor)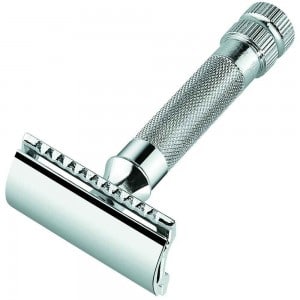 Head Type: Closed
Pieces: 2
Length: Short (3.3 in)
Weight: Medium (2.4 oz)
Razor Aggression: Mild
Skill Level Required: Beginner
Price: $$
Recognition: Best Overall
a.k.a.: The Kingpin
Build Quality
Merkur, a subsidiary of DOVO, is one of the most coveted names in the world for safety razor design.
They have an excellent line of safety razors and straight razors that are still produced where the company was founded in 1906, Solingen Germany.
Made from the world renown Solingen Steel and produced in under the highest of German manufacturing standards "Solingen Ordinance" you can rest assured no matter what Merkur razor you purchase, you are getting a product that is well constructed and will last a lifetime.
Design
The Merkur 34C is a simple and clean 2-piece, closed bar safety razor that is on the heavier side relative to its length.
There is no doubt that the extra weight makes this razor glide effortlessly over the face, which reduces the amount of pressure you have to apply to get a close shave.
It is handle-heavy which allows you to hold it practically anywhere on the handle while maintaining great control and balance.
The handle has an excellent gritty metal texture that really holds its grip even when doused in shaving cream or soap.
Performance
The Merkur 34C has a very mild aggressiveness that makes it's easy to avoid any issues with nicks or cuts but still is able to provide an efficient close shave.
You really get the best of both worlds from this pristine DE Razor.
This razor is so forgiving and easy to handle we even put it on our list of the best razors for shaving your head.
Best for You?
This safety razor really seems to have it all in a nice compact design.
Due to its mild aggressiveness, it makes it perfect for beginners but still provides the high quality shave any experienced wet shaver can appreciate.
Unless you prefer a longer handle or have needs for a more aggressive razor, this razor really fits most people's needs.
At a very reasonable price that fits almost everyone's budget, it's really hard to find anything negative to say about the Merkur 34C.
Be sure to check out our video review below or the complete 34C review article here.
#2 Feather All Stainless Steel Safety Razor

Head Type: Closed
Pieces: 3
Length: Long (3.75 in)
Weight: Heavy (3.25 oz)
Razor Aggression: Mild
Skill Level Required: Beginner
Price: $$$
Recognition: Best Performance
a.k.a.: The Ferrari of Razors
If you're okay with paying $200 for a razor, then you could do a heck of a lot worse than this one.
Carved out of solid stainless steel, this razor will never rust or tarnish and is built to last a lifetime.
In truth, there is nothing especially flashy about this particular razor, but don't let that fool you.
Like many things from Japan, it was built with functionality first in mind.
This razor provides an incredibly mild shave, as very little of the blade is exposed and there's only a small blade gap.
Although this means you'll have to apply a bit more pressure if you're learning or don't want a super aggressive razor then this one is right up your alley.
Some people complain about it being too mild, but it was designed to be used with Feather blades, which are by far some of the sharpest and best blades on the market (check out our review to see why).
So if you think it's a bit too mild, try upgrading your blades.
Check out our video review of the Feature All Stainless Steel razor below.
#3 Merkur 37C Heavy Duty Slant Bar Safety Razor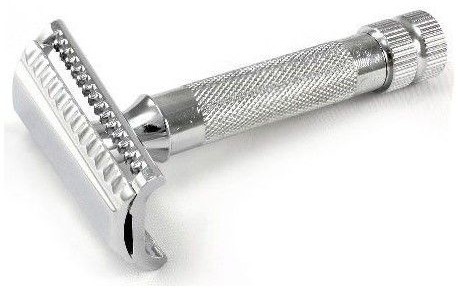 Head Type: Slant
Pieces: 2
Length: Short (3.3 in)
Weight: Medium (2.4 oz)
Razor Aggression: Moderate
Skill Level Required: Intermediate
Price: $$
Recognition: Best Slant Bar
a.k.a.: The Jigsaw
If you've got extra thick or coarse facial hair, or you're looking for a razor that's a bit more aggressive, we can suggest the Merkur 37C.
This heavy-duty razor has all the weight you need for an effortless, controlled shave, but where it stands out is the unique slant bar design that fixes the blade at an angle with one side raised slightly higher than the other.
This thing requires almost zero pressure on the face to achieve what has to be considered one of the closest shaves out there.
The thing is, if you do try to apply too much pressure, you're likely to end up bleeding massively.
Not recommended for beginners, but any experienced shaver who knows the proper technique and is willing to invest the time should enjoy the quality of the shave that the 37C provides.
There is nothing else quite like it on the market, making it more than deserving of a place on this list.
Be sure to check out our video review here or the complete 37C review article here.
#4 Rockwell 6C Adjustable Safety Razor (Best Adjustable Safety Razor)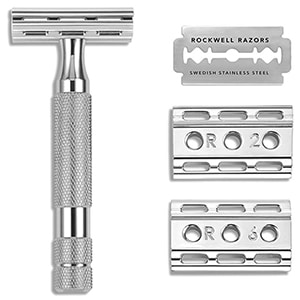 Current price of 6C at Rockwell Razors
Current price 6S at Rockwell Razors
Head Type: Closed
Pieces: 3
Length: Long (3.7 in)
Weight: Heavy (3.4 oz)
Razor Aggression: Adjustable
Skill Level Required: Beginner
Price: $$
Recognition: Best Adjustable
a.k.a.: The Shapeshifter
This relatively new adjustable safety razor has made a splash in the wet shaving community and can compete with many of the big players such as Merkur, Edwin Jagger, and alike.
This DE razor has a revolutionary new design that includes 3 adjustable plates, each plate containing two levels of aggressiveness, resulting in the ability to switch between 6 levels of aggressiveness, so you are sure to get the perfect shave, no matter your facial hair type.
The Rockwell S Series safety razors are hands down the best adjustable safety razor for its price.
If you are looking for the flexibility of an adjustable DE razor, the 6C is the one for you.
With a solid build design that is produced right here in the USA, you can be confident this razor will continue to give you comfortable top quality shaves for many years to come.
They also have a high-end version, the 6S, available as well.
Check out our complete review of the Rockwell 6C here.
#5 Edwin Jagger DE89lbl Safety Razor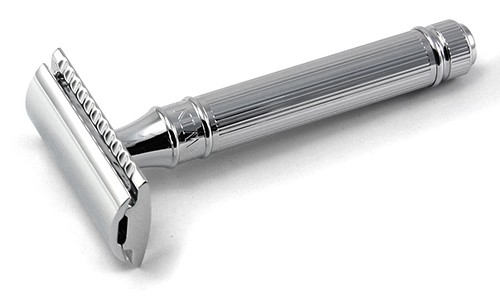 Head Type: Closed
Pieces: 3
Length: Long (3.8 in)
Weight: Medium (2.1 oz)
Razor Aggression: Moderate
Skill Level Required: Intermediate
Price: $$
a.k.a.: Blade Runner
Based in Sheffield, England, Edwin Jagger is one of the most trusted names in shaving tools, creams, and accessories.
Unlike specialist safety razor companies like Merkur, which produce a wide range of razors, the Edwin Jagger line of razors is relatively small, but that doesn't mean it's not excellent.
The company has chosen to focus on a straightforward design, which is has perfected with the DE89lbl.
Unlike most razors, you can choose a DE89lbl that suits your own personal style, as you have the choice of many different handles, including smooth chrome, lined chrome for extra grip, faux ebony, faux ivory—heck, some retailers even sell a 24 carat gold plated version (for about double the price).
The DE89lbl has excellent balance, and the weight seems about perfect.
It is also one of the most well-reviewed safety razors we've come across, with all the various versions having received an excellent rating from thousands of Amazon reviews.
While I hate to pick favorites, I would have to say that the Edwin Jagger DE89lbl is the pick of the litter for this price range, although I'm sure not every man will agree.
Be sure to check out our video review or the complete DE89lbl review article here.
#6 Feather Popular Twist To Open Safety Razor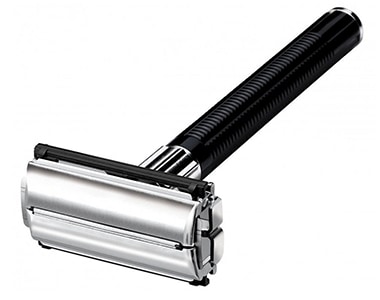 Head Type: Closed
Pieces: 1 (Butterfly)
Length: Long (4.5 in)
Weight: Light (1.2 oz)
Razor Aggression: Moderate
Skill Level Required: Intermediate
Price: $
Recognition: Best Economy Razor
a.k.a.: Plastic Fantastic
Japanese manufacturer Feather is one of the leading names in the safety razor game, at least as far as blades go (read our report on Feather blades to see just how incredible they are).
While the Feather "Popular" doesn't quite live up to the company's reputation for excellence, this has more to do with how excellent their other products are than anything.
Constructed partially of plastic and metal, despite the low price the Feather Popular is still one of the best butterfly safety razors we've come across as, unfortunately, most twist to open razors don't function as well as they should.
This razor uses a more old school design with a fatter head that cuts down on the steepness of the blade angle, which makes it incredibly mild and perfect for those with sensitive skin.
With a vast amount of excellent Amazon reviews, it's evident that the Feather Popular offers excellent value for the money.
You can check out our video review below or the complete Feather Popular Twist review here.
#7 Merkur 33C (aka Merkur Classic Safety Razor)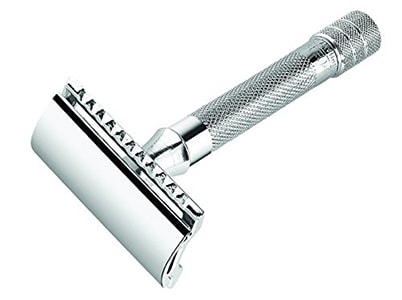 Head Type: Closed
Pieces: 3
Length: Medium (3.5 in)
Weight: Light (1.75 oz)
Razor Aggression: Moderate
Skill Level Required: Intermediate
Price: $$
a.k.a.: Old Faithful
When it comes to the all-around great DE razor, the Merkur 33C Classic deserves a mention.
In terms of striking a balance between performance and price, very few other razors even come close.
In general, pretty much all Merkur safety razors are a cut above the competition, but the Classic is a great place to start.
With mild to medium aggressiveness, this razor provides a much closer shave than those in the previous category.
The chrome plated steel also looks the part, thanks to its stylish, simple and, of course, classic design.
This DE razor is a great all around razor for shavers of all skill levels, with a delicate balance that makes it fit perfectly in hand.
The razor gently glides over the skin, as the weight does the work so you don't have to drag and pull like with some lighter plastic models.
Still, if you're looking for something a bit heavier, with a thicker handle, you may want to check out the Merkur 34C Heavy Classic, which is the same model but heavier.
Alternatively, if you want a razor with a longer handle, we can recommend the Merkur 180 Barber's Pole, which you can find more information about in our post on the best Merkur safety razors.
You can also check out our video review below or the complete Merkur 33c article here.
#8 Muhle R89 Safety Razor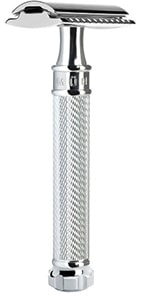 Head Type: Closed
Pieces: 3
Length: Long (3.7 in)
Weight: Medium (2.2 oz)
Razor Aggression: Moderate
Skill Level Required: Intermediate
Price: $$
a.k.a.: Easy Sweep
Muhle is another well-respected name in razors, and their R89 is another favorite amongst shavers in the know.
The sleek, durable design is built to last, while the textured handle looks good and prevents it from slipping.
Still, as you should be able to tell by this point, there is much to choose between most quality safety razors.
For this reason, I'd be more apt to recommend something slightly cheaper like the Edwin Jagger or a Merkur.
Nonetheless, the sheer number of men who swear by this razor means the Muhle R89 deserves a spot on any list of the top safety razors.
Be sure to check out our video review below or the complete R89 review article here.
#9 Parker 99R Safety Razor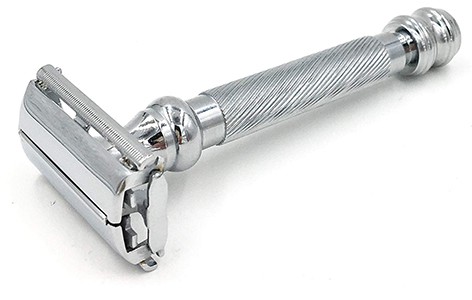 Head Type: Closed
Pieces: 1 (Butterfly)
Length: Long (4 in)
Weight: Heavy (3.4 oz)
Razor Aggression: High
Skill Level Required: Expert
Price: $$
a.k.a.: Mule Skinner
The majority of major razor manufacturer's like Merkur and Edwin Jagger mostly produce two and three-piece designs, as they offer a more classic feel and are generally slightly more accessible to clean and maintain.
Still, nothing beats the convenience of changing the blade on a butterfly safety razor. When it comes butterfly safety razors, Parker has virtually cornered the market with the newly designed head it unveiled in 2010.
While Parker produces many good safety razors, for my money, the 99R is the best of the bunch.
Featuring a 4-inch long textured handle, it offers plenty of control and ensures your hands won't slip.
The razor is also a heavy duty model, weighing in at 3.4 ounces of solid chrome plated brass.
Although butterfly safety razors are notorious for not lasting as long as two or three piece razors, the Parker 99R still seems quite durable and should last for at least a few years—making it well worth the price.
If you're looking for something slightly lighter or prefer a rubberized grip, the long handle Parker 96R is also an excellent choice.
Be sure to check out our video review below or the complete 99R review article here.
#10 Merkur Futur Safety Razor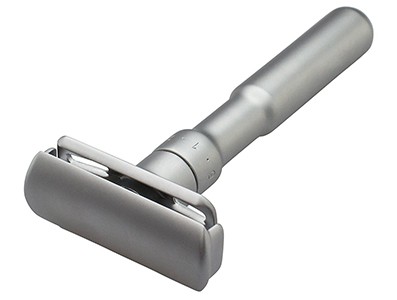 Head Type: Closed
Pieces: 2
Length: Long (4 in)
Weight: Heavy (4.4 oz)
Razor Aggression: Adjustable
Skill Level Required: Intermediate
Price: $$$
a.k.a.: The Matrix
For experienced shavers only!
The Merkur Futur is the only adjustable safety razor on the list, but that's not the reason it made it.
The real reason is the way this thing looks—it is a piece of artistic design and a marvel of precision engineering.
Ok, it does look cool, but the real reason it made the list is, of course, the way it shaves.
The adjustable blade gives pro shavers the freedom to customize their shave, starting off with the blade adjusted close and then slowly opening it up to tackle the tighter spots.
The unique rounded design makes this thing perfectly balanced and fits excellently in hand, which is great since this razor can be incredibly unforgiving if you're not careful or don't know what you're doing.
Even with the additional moving parts of this adjustable 2 piece razor, you can make this razor last a lifetime with proper care and maintenance.
You can check our our video review below or complete Futur review article for more details.
#11 Merkur 1904 Classic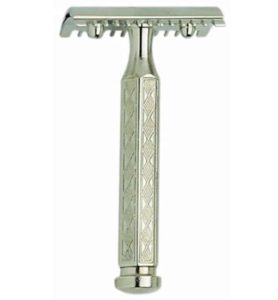 Head Type: Open
Pieces: 3
Length: Short (3.2 in)
Weight: Medium (2.3 oz)
Razor Aggression: Moderate
Skill Level Required: Expert
Price: $$
Recognition: Best Open Comb
a.k.a.: Father Time
Designed to the exact specifications and virtually a replica of Gillette's original 1904 safety razor design, the Merkur 1904 Classic is a great looking, fun to use a razor with a fresh retro appeal.
It gives a nice close shave and offers great value for the money, as it also seems quite durable and built to last.
The thing I like most about this one is that it shows that we don't always need all these fancy new designs and so-called improvements, as sometimes, nothing beats the original.
See the video review below or complete 1904 Classic review article for more details.
#12 Weishi 9306 Safety Razor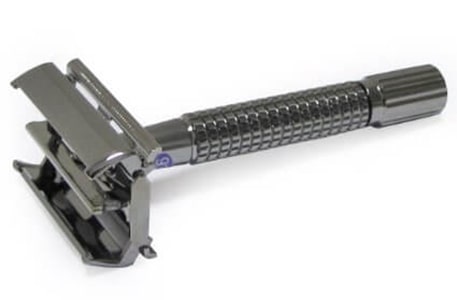 Head Type: Closed
Pieces: 1 (Butterfly)
Length: Short (3.5 in)
Weight: Medium (2.25 oz)
Razor Aggression: Mild
Skill Level Required: Beginner
Price: $
a.k.a.: The Squeaker
The Weishi 9306 line of safety razors includes a variety of models, including classic and long-handle, heavy-duty versions that are available in dark silver or chrome plating.
These models are all twist to open or butterfly style and are constructed of a heavy copper alloy that makes them look and feel like many more expensive models.
While the Feather Popular's butterfly opening seems more durable than the Weishi, the fact that these razors are entirely constructed from metal places them a level above most others in this price range.
Not the best razor on the market, but a decent option for an inexpensive travel razor or for those looking to learn.
Check out our video review below or complete and thorough Weishi 9306 review article here.
Infographic: Why Wet Shaving is Better (Backed by Science)

As all men (and women) know, shaving is a serious business.
After all, you're taking a razor sharp piece of metal to your skin, opening up the possibility of cuts, nicks, scrapes and weeping wounds if you're not careful.
However, when I say shaving is a serious business, I'm talking about something else altogether.
Ever since King Camp Gillette invented the world's first double blade safety razor at the start of the 20th century, razor manufacturers have been fighting against one another to dominate what has grown to be well over a $15 billion a year business—all while seemingly paying no mind to the wishes of their customers, let alone the science behind getting a close shave.

Sure, Schick, Gillette and the others all have multi-million dollar laboratories where they design and test their latest and greatest products.
They also employ teams of scientists who are paid to tell you that yes, definitely, without a doubt, a 3, 4 or 5 blade razor gives a closer shave and minimizes irritation when compared to a single blade razor.
Their claim is normally that the increased number of blades cuts down on the pressure you need to apply to shave the hair closely and as a result, reduces the amount of irritation.
The razor companies and their experts have been so successful in marketing their products and dictating trends in the shaving industry that very few non-biased, scientific studies have ever been done on shaving.
Generally, there are three landmark shaving studies that are cited, all of which point to the fact that wet shaving is the way to go and will surely decrease the amount of irritation more than using a cartridge razor.
The first groundbreaking shaving study was performed in 1937, but humans have been shaving for a heck of a lot longer than that.
This article and accompanying infographic breaks down the results and revelations of these independent scientific studies on shaving and how these findings support traditional wet shaving with a single blade razor (i.e. safety razor or straight razor).
"Factors Involved in Satisfactory Shaving"- 1937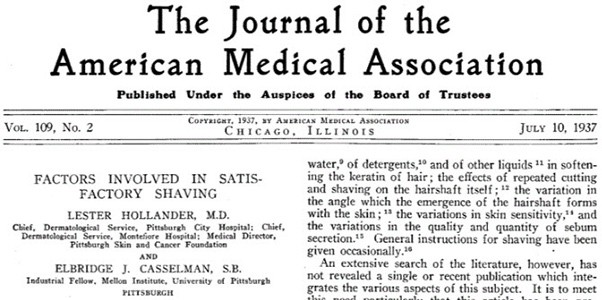 Written by Lester Hollander and Elbridge J. Casselman and published in the Journal of the American Medical Association, "Factors Involved in Satisfactory Shaving" was the first groundbreaking study on shaving to be performed.
I mean these guys looked at everything, from what hair is made of to how long it takes to soak up water, the rate and angle that facial hair grows at and how much skin is removed when shaving amongst many other things.
All told, the paper basically discusses exactly how to get a good shave, including the angle you should hold the razor, how much prep time is needed and how to reduce irritation, ingrown hairs, razor bumps and other common issues.
However, the paper is quite technical and scientific (and no longer available for free), so I'll spare you the pain and simply sum up some of the most important results as they pertain to wet shaving.
Keep in mind that while the study was performed using a safety razor (disposable and cartridge razors hadn't been invented yet), most of the findings pertain to shaving in general—no matter what type of razor you use.
1. Hairs soften up and stretch when they soak up water.
It generally takes around 3 minutes for facial hair to become fully soaked when submerged in warm water.

2. Facial hairs generally grow very quickly immediately after shaving, but the rate gradually reduces with time.
3. Hairs virtually never grow straight out from the face.
Most hairs grow at an angle between 30 and 60 degrees.
This is why shaving brushes are important, as they pull the hairs up away from the face and make them stand at a straighter angle.
4. When shaving, we remove almost the same amount of skin as hair, which is why we experience so much irritation.
5. Washing the face to gently scrub away dirt and dead skin can reduce the amount of irritation.
It reduces both the amount of skin scraped away by the razor and decreases the chances of the razor catching and dragging across the skin.
This is why one should use a quality shaving brush as well which helps exfoliate the skin before shaving.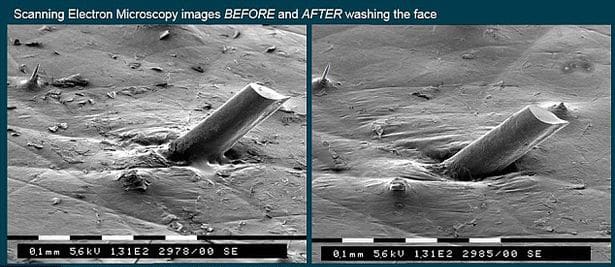 6. The fewer strokes you take the less skin you scrape away and the less irritation you experience.
7. To further reduce irritation and the chance of ingrown hairs, use stiffer lather and only shave every other day.
In general, the two scientists performed quite an exhaustive study that told us many truths about shaving.
Unfortunately, they only looked at the tensile or stretching strength of hair. If you've ever heard that facial hair is stronger than copper wire, that myth comes from this study.
Copper wire may break before hair when stretched, but in terms of shear or cutting strength, copper is far stronger than hair. Try slicing through a copper wire with your razor if you don't believe me.
"Observations on the Cutting of Beard Hair"- 1976

Donald Reim and Martin Reiger were the first to seriously study the cutting strength of beard hair and they published their results in the aptly named "Observations on the Cutting of Beard Hair" in 1976.
This study is much more technical than the first, so again, just the most important observations.
1. Like the earlier study, this one noted that it generally takes beard hair 2-3 minutes to fully hydrate in room temperature water.
2. When fully hydrated, the amount of force needed to cut the hair is greatly reduced.
3. When a hair is sliced with a sharp razor, no bending or pulling occurs.
The last two are definitely the most important things to take away from this study.
The first directly relates to wet shaving, as it shows that taking a shower or wrapping a warm, wet towel around your face for a few minutes will lessen the amount of force necessary to shave off your facial hairs.
This means you'll have to apply less pressure on the razor and thus experience less irritation.
The second factor directly relates to multiple blade razors.
One of the razor companies' biggest claims about multiple blade razors is that single blade razors cause the hairs to lay flat, whereas with multiple blades, the first blade both slices off the hair and also pulls it further out to allow the second blade to cut it closer, followed by the third and so on.
However, this study showed that no pulling occurs when the hair is cut, which totally destroys the claim that cartridge razors are built on.
Check out our article on safety razor vs cartridge for a thorough comparison.
"Cutting Characteristics of Beard Hair"- 2007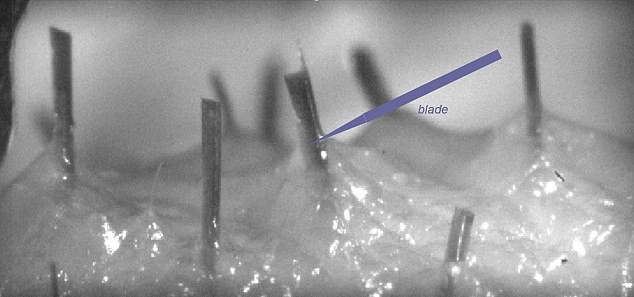 An even more thorough study on the cutting strength of beard hair was conducted by a team of scientists in 2007.
They didn't find much new, except to back up some of the previous findings with more concrete numbers.
In this study, the authors stated that moisture reduced the cutting strength of hair by at least 30%, showing how important wet shaving is.
The Final Score: Wet Shaving Wins!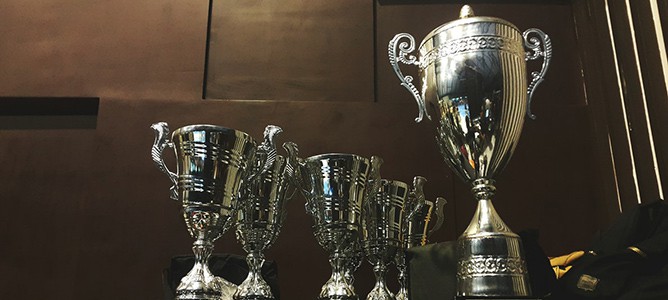 So let's see what we've learned here.
1. Exfoliation helps to minimize razor burn and irritation.
2. Water helps soften facial hairs, making them easier to cut.
3. Multiple blades can't grab and pull the hair, that is, unless the blades aren't entirely sharp.
4. A single sharp blade, such as a safety or straight razor, on the other hand, can slice the hair off close to the face in one swoop.
5. The more times a razor blade touches your face, the more irritation you'll experience. Therefore, more blades equal more irritation, not less.
After looking at the science behind shaving, it really should be obvious that wet shaving is the only way to shave.
Science says no other way makes sense—no matter what the billion dollar razor manufacturers say to the contrary.
Check out our other infographic on the many other benefits of traditional wet shaving.
Downsides to Using Safety Razors? 
Compared to the positives, the negatives are minor.
I am a fan of them, but I'm not going to pretend they achieve absolute perfection.
They simply nearly achieve it. 😉
Over the years we have spoken to a lot of men about their shaving habits and preferences, and discovered that the two main 'negatives' to safety razors are;
Time
Because of the shorter more careful strokes, you may feel that shaving with a safety razor takes longer than you are used to.
If you have been using a cartridge razor, you are a) a fool, and b) going to be used to shaving in double quick time.
But you are also used to shaving with a massively inferior product!
It's something I've discussed at length in the past, see what I mean this article comparing safety razors and cartridge razors.
So with the upgrade in your shaving routine comes an additional bit of time needed to perform it.
But to my mind, the pros here MASSIVELY outweighs this con.
Air Travel
Because of their design, you aren't going to be able to fly with a safety razor in your hand luggage.
Which makes perfect sense, I'm not questioning the rules.
But it does mean you can't be taking it with you for a quick overnight stay if you've got to fly there.
Thankfully there are some pretty awesome beard trimmers, so you can keep yourself looking presentable!
The Final Word on Safety Razors
Simply put, the benefits of using a safety razor are so numerous that it makes me start to wonder why so many men are still subjecting their faces to the pain and irritation that comes along with using disposable or cartridge razors.
Sure they may be quick and easy, but the quality of the shave they provide doesn't even come close to matching a safety razor.
No matter how many blades they put in a cartridge, they still can't compete with a sharp double edge safety razor.
For a thorough comparison of the two check out this safety razor vs cartridge article.
Much of the reason that safety razors are so great has to do with the double edge razor blades themselves, as not only are they relatively inexpensive (even the best ones typically cost less than 50 cents apiece), but they are also generally made of much higher quality steel than the blades found in disposable razors.
The higher quality steel allows the razors to be ground to a much sharper edge and also hold their sharpness for longer.
Of course, this doesn't hold true for all double edge razor blades as some brands are apparently much better than others, which is why we'd recommend investing in the best double edge safety razor blades you can get.
While the quality of the razor blades you use will be a significant determining factor in the closeness and quality of your shave, choosing a decent safety razor is also essential.
Still, determining which is the best DE razor is somewhat of a matter of personal preference, as it comes down to how comfortable it feels in your hand and how much you're willing to spend.
As you can see, the selection of quality safety razors is so vast that it can be tough to decide on one. With so many options, you could go on forever comparing all of the various brands and models, but it's not worth that much effort.
All of the products on our list can do a decent job, and I would say all of the medium to higher end razors we've listed are outstanding for one reason or another.
However, the only way you're going to know whether a particular razor is right for you is to try it out.
So don't spend too much time stressing over which one to buy, pick one and give it a shot.
After all, you can always buy another new or even a vintage razor down the road if you're not completely satisfied.
Plus, no matter what you end up buying, it will be way better than using a disposable.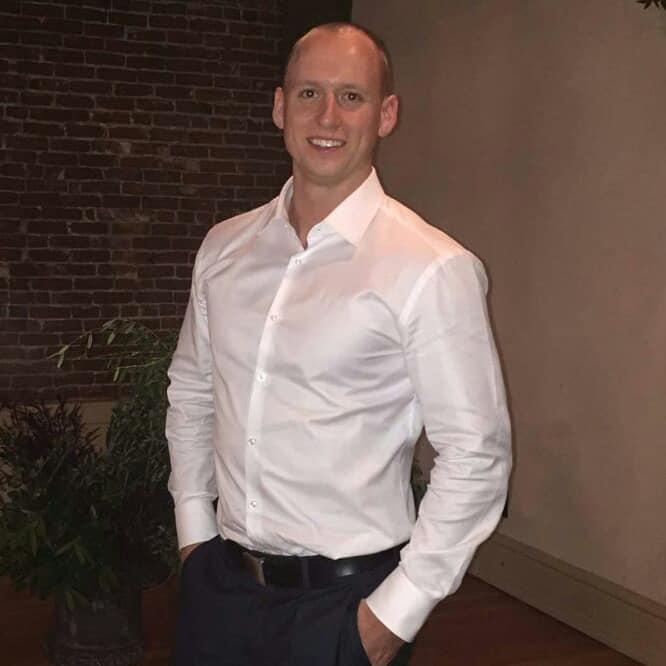 Ben Rose is the founder and senior editor at Prim&Prep, the definitive guide to male grooming. He is a wet shaving expert and body grooming aficionado. His work has been featured on many other prominent publications including Good Men Project, Addicted to Success, Steven Aitchison, and Sharpologist.