Pros
One of the best looking Safety razors on the market
Medium aggressive razor that is good for all types of wet shavers
Three piece design will last a lifetime
Cons
The handle could be a little longer for people with larger hands
The grip could be a little better
Edwin Jagger de89lbl review - come see what I have to say about it
This was one of the first double-edged safety razors that I tried when I first started to wet shave.
Even to this very day I still use it quite frequently and was a shoe into my complete list of the best safety razors.
You'll find a lot of safety razors reviews on the internet but this Edwin Jagger de89lbl review is comprehensive.
Edwin Jagger de89lbl safety razor is a very simple safety razor and that is one of the top reasons that I like it.
Its chrome finish is outstanding and makes every aspect of it stand out.
And it's no wonder, Edwin Jagger (Edwin Jagger double edge safety razor) uses the same method in chroming their safety razors as Rolls-Royce uses to chrome their accents on their cars.
The packaging that the Edwin Jagger de89lbl razors come in is quite similar to the way Parker packages their products.
Both companies remind me of how Apple products are marketed and packaged, very simple and elegant.
Overall this is a great safety razor for a beginner because it is not too aggressive.
More experienced shavers can go for a Merkur safety razor or a straight razor for a closer shave.
Let's jump right into all the Jagger razor specs so you could see if this is the right safety razor for you.
The DE89lbl weighs in at 2.1 ounces.
This is on average a little bit lighter than most safety razors on the market.
The Edwin Jagger de89lbl safety razor (also known as the de89 razor) is slightly top-heavy which means that you need to hold it a little higher up on the handle.
Since the handle is not extremely long that is where I tend to hold it anyway.
Overall the DE89lbl has a good balance.
Although it is on the lighter side for safety razors, it feels pretty hefty in my hand.
Is a very well builds a piece of equipment and certainly does not feel tacky in any way.
The Grip of Edwin Jagger de89lbl
The grip on the Edwin Jagger de89lbl (Edwin Jagger 89) is average.
Although the Edwin Jagger handles are chrome and look amazing, the vertical grooves do not make the most sense in terms of the grip.
The best handles in terms of grip are either horizontal grooves or gritty metal.
Although the grip on the Edwin Jagger de89lbl is not the best, I have never had a problem with this slipping out of my hand even with really soapy hands.
Length of Edwin Jagger de89lbl
The Edwin Jagger de89lbl is 3.8 inches long.
This is a very average length for a safety razor.
Typically I prefer longer handles just because my hands are larger than most.
The Edwin Jagger de89lbl is one of the only exceptions.
The Edwin Jagger long handle has plenty of lengths.
Maybe it is because I hold it towards the top of the handle.
Either way, it just feels right.
The safety razor is perfect for any beginning wet shaver.
On the aggressiveness scale, I would rate it a 4/10.
Which would put it at medium aggressive compared to other safety razors.
It is very difficult to cut yourself with this safety razor even if you're just starting out.
On the other hand, if your facial hair is very thick and coarse, you might need something a little more aggressive.
If you are a beginner, I would still not get anything more than 5/10 on the aggressive scale.
Blade replacement on the Edwin Jagger de89lbl is pretty straightforward.
This is a three-piece safety razor which means that the head of the razor consists of two parts that sandwich the razor blade.
All you have to do to replace the blade is unscrewed the head and pull the two pieces apart.
It is pretty difficult to cut yourself with this model but it is still not as easy as a butterfly open safety razor.
Check out which of the best razor blades you should use with your safety razor.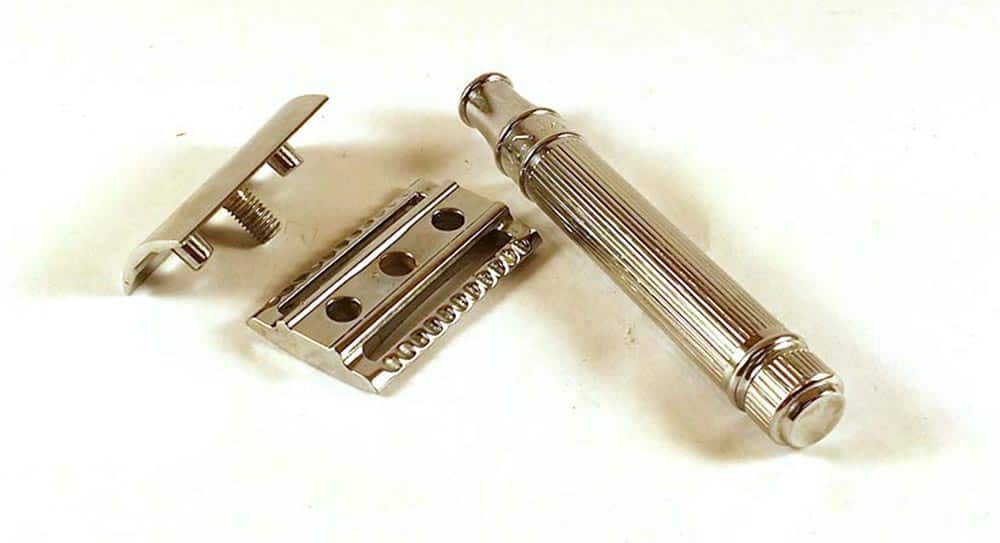 Conclusion on Edwin Jagger de89lbl Review
Overall the Edwin Jagger DE89lbl is a fantastic safety razor for anyone that wants to get involved in the art of wet shaving.
Of the many Edwin Jagger de89 reviews you will come across online, this Edwin Jagger razor review comes top.
This is because it covers all the necessary components of this de89 razor.
The Edwin Jagger razor models are generally very good and durable.
If I had to give this Edwin Jagger de89lbl safety razor a rating out of 10 I would give it a 9.5/10.
There are very few safety razors that can protect a beginner against nicks and cuts like the DE89lbl can.
As a person that gets razor burn quite easily, I could hands-down say this is the best safety razor (because of his aggressiveness) for preventing that.
And although it has a very medium aggressive razor, I still get an incredibly close shave.
The Edwin Jagger shaving set comes in 2, 3, and, 4 pieces respectively.
The 2-piece Edwin Jagger set (EJ de89) comprises the safety razor and cream.
Just pair up this razor with one of the best shaving creams for sensitive skin and a quality aftershave and you will be irritation-free.
I hope you enjoyed my Edwin Jagger DE89lbl review!
Let me know about your experience using the Edwin Jagger de89lbl razor and if you have any other questions don't hesitate to shoot me a comment in the section below this article!
Also, check out my infographic on safety razors vs straight razors
Review of the Attributes of Merkur 33c
If you found this article helpful please be so kind as to share it on Facebook or other social media per the buttons below.
We really would appreciate it as we have worked so hard on this post for you.
I have a feeling some of your friends and family will find it helpful as well.
Also, be sure to join the Prim&Prep community!
Not only will you have a chance to WIN your choice of a quality safety razor or beard oil but we will provide you with all kinds of helpful and enlightening male grooming tips and advice directly to your inbox so you don't have to waste your time fiddling on the web to find the right information to look and feel your best.
There is nothing to lose and so much to gain.
SIMPLY SUBSCRIBE BELOW!