It's no secret that most barbers like the classics when it comes to shaving.
At their core, the best safety razor blades are pieces of incredibly sharp metal designed to be used on your fragile, delicate skin.
Truth is, safety razors are great!
They allow for a closer shave, closest shave, less irritating shave than a cartridge razor whilst being safer and easier to use than a traditional straight razor.
Along with using the right safety razor, shaving with the best double-edged safety razor blades is essential in getting that consistent super close, irritation-free shave.
In this article, we're going to look at the best safety razor blades of different brands you can buy.
QUICK OVERVIEW: Best Safety Razor Blades
IMAGE
PRODUCT

Feather Double Edge Blades

Hi stainless platinum coated blades
Extremely sharp, smooth and comfortable

VIEW ON AMAZON →

Astra Platinum Safety Blades

Extremely durable
Sharp enough to tackle any beard type

VIEW ON AMAZON →

Shark Safety Razor Blades

Delivers an outstanding smooth shave
Suitable for use all over the body

VIEW ON AMAZON →

Gillette 7 O'clock Premium Safety Razor Blades

Quality shave after shave
Sharp and smooth

VIEW ON AMAZON →

Personna Double Edge Safety Razor Blades

Provides a very smooth shave
Platinum & Chrome coated

VIEW ON AMAZON →

Derby Extra Double Edge Razor Blades

Suitable for all cut throat/shavette type razors
Best for men with sensitive skin

VIEW ON AMAZON →

Double Edge Razor Blade Sample Pack

Great selection of quality products
Wide range variety of blades

VIEW ON AMAZON →
From picking the best shaving razor for you to storing and getting the most out of it, read on for everything you need to know about the best safety razor blades.
---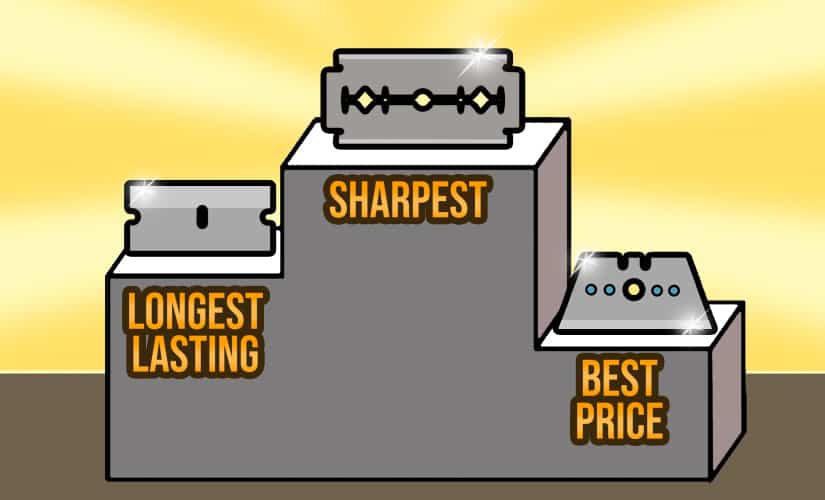 Best Safety Razor Blades of 2023 Reviewed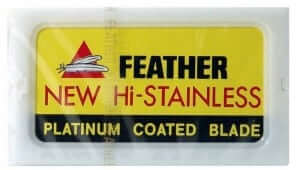 We will kick off our list with this set of double-edged safety razor blades from Feather.
Feather is one of the market leaders with a well-earned reputation for producing premium blades, but they are certainly not cheap.
But are they worth it?
Specs
Who Is It Best For?
Anyone looking for an extremely sharp, high-quality blade – and happy to pay a premium to get it!
Key Features
Feather is a Japanese company founded back in the early 1920s.
They were not founded as a razor blade company, however.
In fact, these days, double edge razor blades are still only a secondary product for Feather.
Their main business lies in producing medical supplies – particularly scalpels.
That might give you an idea of what their main selling point is.
Performance
These razor blades are very, very sharp, making them one of the best safety razor blades.
Basically, Feather just uses the same manufacturing process for scalpels as they do with their double edge razor blades
This Japan safety razor results in what are most likely the sharpest blades on the market right now.
This is basically a medical-grade razor blade design!
On the one hand, this results in a blade that is not ideal for beginners.
Every mistake you make with this blade is amplified by the sharp blade, leading to a lot of nicks and cuts.
If you've had a bit of practice though, this is a quality blade.
It has an aggressive cut to tackle any kind of hair, and the platinum coating is a nice finish that can extend the lifespan of each blade.
Value for Money
Feather blades are not cheap and they are not forgiving to newbies.
But it can not be denied this is the highest quality double edge razor blade around.
---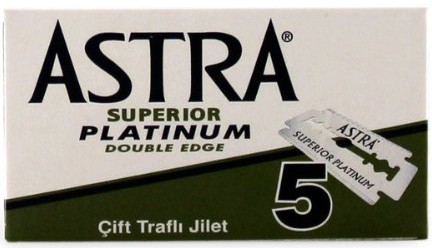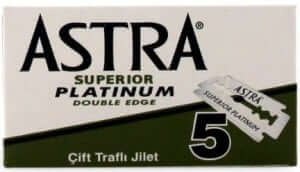 Next up is this product from Astra blades.
They have been developed with one quality right to the fore – product lifespan.
Or rather a long product lifespan.
Specs
Who Is It Best For?
Any man who wants his blades to last more than one shave.
Key Features
We will go into this a little more in the frequently asked questions down below, but, spoiler alert, one of the big questions about safety razors is how long they last.
This is, to a certain extent, a personal issue.
But it also comes down to the durability of the best safety razor blades.
Some safety razor blades, with the best will in the world, are only able to stand up to two or three shaves, maximum.
Some though, like these blades from Astra, are different.
Performance
Astra claims that these blades are made of stainless steel with a platinum coating.
But we think they are lying here, these are not steel blades.
We think these best safety razor blades are actually made of the same stuff as Wolverine's Claws.
They have a crazy level of durability, with some people claiming they are good for up to ten shaves.
They are an aggressive blade too, something to bear in mind.
That is a crazy lifespan for a DE blade.
The other crazy thing is how cheap they are.
That means they are sharp enough to tackle any beard type, even very coarse hair.
That also means they are not an ideal product to try if you are new to shaving with a safety razor.
Value for Money
You would expect a quality product like this, with a long lifespan, to be expensive.
But they're not!
They are very much from the cheaper end of the price scale.
Add in that long life span and they look even more of a bargain.
---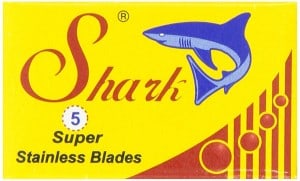 Next up we have a great all-around blade.
It provides a much milder cut, meaning it is great for both beginners, and also men who want a blade with versatility.
Specs
Who Is It Best For?
Men looking for a mild razor blade that is suitable for use all over the body.
Key Features
After a couple of blades that seemed to have been honed by samurai warriors, it is nice to bring you a blade with a mild cut.
Now, don't go thinking that mild means this razor is not sharp like it's made from Play-Dough or something.
Performance
This safety razor blade is still pretty sharp.
But it is not quite as sharp as a blade with an aggressive cut.
This is very useful for a pair of reasons.
One, this is a top-quality blade that is perfect for anyone who is new to using the best safety razor blades.
This is still a razor, again, so you still need to be careful.
But it will still be much more forgiving to mistakes in technique.
That means that if you have just picked up your first safety razor, stocking blades such as this one from Shark could help to keep nicks and cuts under control as you learn your technique.
Because it is mild, it is also great for use on the rest of your body.
Not necessarily because that skin is any softer – though that depends what you're shaving – but because you can't always see where you are shaving.
If you shave your head in the shower, for example, it's good to know the blade is milder so you can shave with less fear of cuts.
Value for Money
With no platinum coating, these blades are not as long-lasting as some others on our list.
Although they are crazy cheap, so they likely won't make a huge dent in your wallet by having to buy a few more blades.
---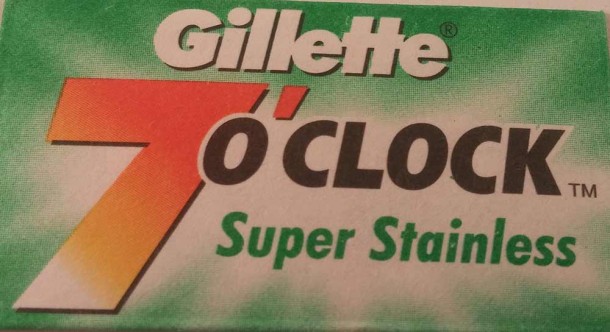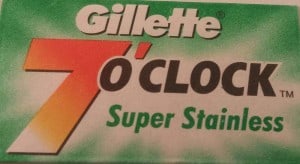 It was always going to be impossible to have a list of the best double edge razor blades without including a product from Gillette.
They have been one of the market leaders for over a hundred years, and this product here is one of their most popular safety razors options.
Specs
Who Is It Best For?
Any man looking for a guaranteed quality shave.
Key Features
What are you getting from this product from Gillette?
Well, for one thing, this can be looked at as an intermediate product.
Performance
In terms of the cutting strength, for example, it is sharper than any mild blade, but not quite as sharp as a blade with an aggressive cut.
That makes it ideal for anyone who wants a little more cutting power than a mild blade but doesn't want (or need) the raw cutting power of super-sharp aggressive blades.
In terms of product lifespan, you can probably expect an average of four to five shaves per blade.
Again, that is much better than some lower-grade blades that will never make it past two or three shaves.
But this double edge safety razor blade is still far behind some other blades that are tough enough to maintain a good cutting edge for eight, nine or even ten shaves.
So that kind of sums up what you're getting here.
Value for Money
This Gillette safety razor blade is without doubt a quality blade.
Yes, there are blades that last longer.
Yes, there are blades that are sharper.
But for everyday use, they are superb.
You know exactly what you're going to get, each and every time you shave.
That level of precision, that degree of accuracy with every blade time after time after time is why Gillette remains one of the market leaders after all these years.
---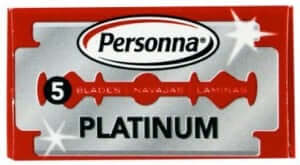 We are off to Israel to check out our next set of blades.
Unlike Gillette, Personna may not be quite such a famous name in the world of razor blades.
But this double edge safety razor blade boasts a very impressive dual-material coat for an extra smooth shave.
Let's see what else it is bringing to the party.
Specs
Who Is It Best For?
Any man looking for a super smooth shave.
Key Features
So far our investigation of the best safety razor blades has taken us to Japan, France, and Egypt (where the Shark blades are manufactured).
Here, we are amongst the sunny citrus groves of Israel.
Personna, based in Israel, may not be the best safety razor blades maker on these shores.
But they have built up a small but strong and loyal following of fans here in the states.
They have done this by creating quality blades that don't break the bank.
Performance
What Personna blades are most well known for is creating blades that provide a smooth shave.
That is true across all their blades, but especially true here.
This entry is very much one of the premium products that Personna produces, which makes the price tag even more notable.
The big stand-out with this blade is the coating.
Platinum chrome has been employed here for a razor that will provide an extremely smooth shave.
This blade is frankly going to glide over your face.
It is from the aggressive cut end of the razor world, so it is pretty sharp.
It is not as sharp as some others though, more of a 75% aggressive cut.
That makes it ideal for beginner and intermediate shavers who want a bit more cutting power but still a blade that forgives mistakes.
Value for Money
One thing to point out is that this is a pretty soft blade.
Most people are only going to get two or three shaves per blade.
Some people with very rough or coarse hair may only get one shave per blade.
Still, it's a quality blade for a smooth shave that is pretty cheap.
---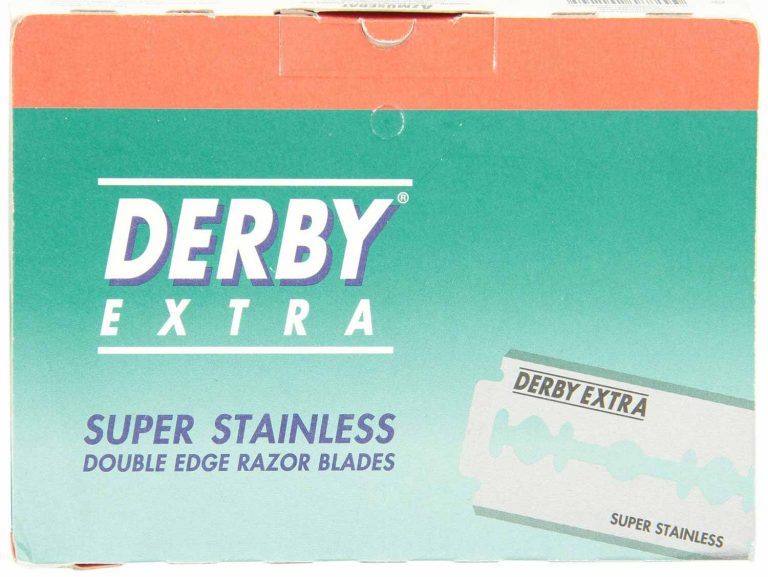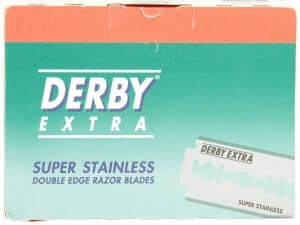 Next up we have a blade with a bit of a mixed reputation.
On the one hand, it is very gentle to the skin, but on the other, some men simply find it to be too mild for a truly close shave.
Specs
Who Is It Best For?
Best for men with sensitive skin.
Key Features
This is a really cool design of a double edge safety razor blade we're going to look at next.
Derby, who is based in Sweden (so another country knocked off the world tour), clearly had an idea.
They looked at the coatings that other safety blade manufacturers were applying to their products and couldn't decide which one was best for their own blades.
That has resulted in a stainless steel blade with chromium ceramic, tungsten, platinum, and polymer coating.
Pretty impressive huh?
But what does that translate to in real life?
Performance
Well, it means that this is the best men's razor blade designed to provide one smooth shave.
All those coatings combine for a blade that creates very little friction when in contact with your skin.
Pair these blades with optimal shaving cream for sensitive skin and this is the perfect blade for any man who suffers from sensitive skin.
Value for Money
This is also a very, very mild blade – possibly the mildest on the market, definitely the mildest on our list.
That, for some men, will be a negative, and this blade may struggle with very coarse or thick hair.
It also doesn't have a particularly long life span per blade.
But if you have sensitive skin, there is no blade out there that will be as gentle with your skin as this one.
---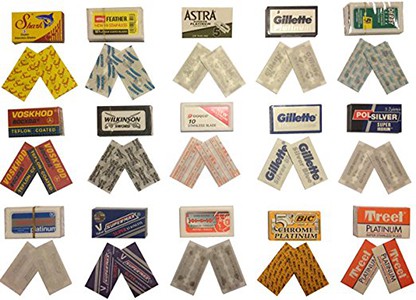 Yeah, we're coming out of the left-field with this final item – or rather items – to make our list.
Like a variety pack of breakfast cereal, except this is a double-edged safety razor blades sampler!
So yeah don't get mixed up and try to eat this product for breakfast, there is very little dietary fiber in a razor blade.
Specs
Who Is It Best For?
Any man who wants to try a selection of the best safety razor blades out there.
Key Features
You know we appreciate that you guys come here, right?
We're happy to share out thoughts on a huge range of shaving products, and we love helping to find the right one for you.
But sometimes we wish there was a more practical way for you guys to go on your own journey of discovery.
We want to watch you spread your wings and fly away on your own shaving and grooming adventures, a tear in our eye as you soar away into the setting sun.
That isn't always possible, because a lot of grooming products are pretty expensive, so you need to read reviews to narrow down the ones you like.
Razor blades, on the other hand, are cheap.
That's why you can get awesome products like this one!
Look at the blades you get to try here.
There's a load of the ones we looked at today.
There is also a range of great products from people we couldn't fit on our list.
Wilkinson Sword, for example, and Bic.
Two giants of razor blades manufacturing we just couldn't get to as the list was already packed with quality blades.
No, this is not a cost-effective way to buy blades.
It is, in fact, one of the most expensive ways to buy them.
But this pack provides you the opportunity to actually allow you to try out a huge range of blades and that is pretty cool.
---
Other Safety Razor Blades
King C Gillette Safety Razor- This single blade razor is designed for edging sideburns as well as strong beard lines. Its closed comb design provides great control, while its quality handle provides better durability.
Viking Blades Safety Razor– This blade boasts a unique weight-distribution to ensure the short strokes are completely effortless.
Micro Touch One Classic Safety Razor– It's a safety razor with a double-edge blade that promises to give you a tight shave while still leaving your skin velvety smooth.
Merkur Progress Adjustable Safety Razor- This is an adjustable safety razor that contains a dial to adjust the blade gap, allowing you to fine-tune the shave's closeness.
Henson Safety Razor– Shaving discomfort and cuts are no longer a problem with the Henson safety razor which also makes your skin feel pleasant and smooth. They designed this razor to give you a completely different shaving experience. After using this razor, your skin will feel great.
Rockwell 6S Safety Razor– This stainless steel is pure, and the company applies a specific treatment to keep the blades sharp for a longer period of time. In fact, a single blade can give around six shaves without causing any difficulty.
Mühle Safety Razor– The closed teeth comb design of this antique safety razor, along with a space below the foam edge, prevents build-up. For the closest shave, the blade angle is specially designed.
Things to Consider When Buying the Best Safety Razor Blades
In this section, we'll highlight the features that you should bear in mind whilst reading our reviews.
Remember them, and they will help you to find the right set of blades to suit your needs, as each feature will be more or less important depending on what you're looking for and what your hair and skin need from your safety razor blades.
1. Price
---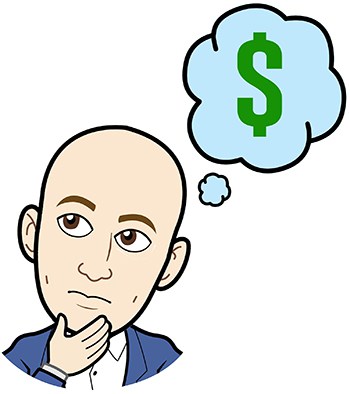 In our review, you will see that we have put the price per blade.
To us, this is the best way to judge the overall value of the blades.
If they cost north of 25 cents per blade, that is pricey and they better be doing a good job!
If best safety razor blades cost less than 10 cents each they are a real bargain, though they may be missing a few of the features of a premium blade – but this isn't necessarily the case!
Also, bear in mind the prices we give in our guide were correct at the time we wrote this article!
If aliens have descended since then to crack our heads open and feast on the goo inside, then the price of razor blades may have gone up a bit.
2. Your Skill
---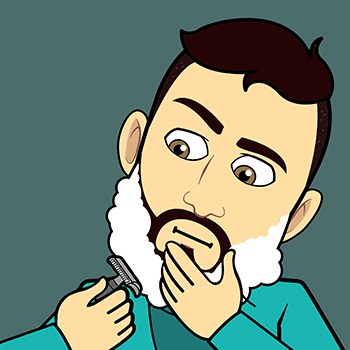 Yeah, aggressive razor cut sounds kind of terrifying, right?
It doesn't need to be, it is just a different way of saying how sharp a razor blade is.
So if it is very aggressive, it is very sharp.
If it is very mild, it is less sharp.
That means that a mild razor blade could be the best option if you're new to the world of best safety razor blades.
A milder blade will be much more forgiving of mistakes you make when perfecting your shave technique.
That means you're less likely to end up with shredded skin whilst you are practicing.
Also, bear in mind that milder blades will normally bring a better shaving experience for those with sensitive skin.
3. Shaves Per Blade
---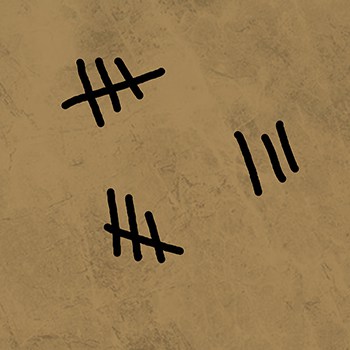 This is actually a pretty heated area for debate.
Well, as heated as a debate about razor blades can get anyway.
To a certain extent, and we will get into this more below, the lifespan of a safety razor blade is a personal thing.
Some people only like to use super sharp blades, for example.
They will often throw out a blade after a single use to ensure they only use fresh and sharp blades for every shave.
Other people will think this is madness!
All we are talking about here is the general lifespan of the best safety razor blades.
Some are frankly tougher than others, with some blades on our list good for up to ten shaves.
Others are worn out after two or three.
This can affect the value of the blade too.
If you are dropping 30 cents on a blade, you are entitled to expect it to last a few more shaves than a 15 cent one.
4. Your Hair
---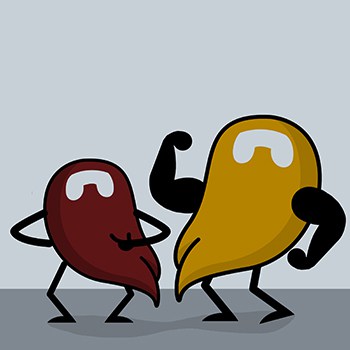 Finally, the biggest thing to bear in mind when looking for the best safety razor blades is your own hair.
What you should consider when picking your blade is how thick your hair is.
If you have very thick or coarse hair, you may have to go for a more aggressive blade.
A sharper blade will likely be the only style that can give you a close shave with these types of facial hair.
Also, consider how often you shave.
If you leave it for a few days between shaves, then again you may need a different blade as you may need that extra sharpness to tackle longer hair.
On the other hand, if you don't have very thick or coarse facial hair, a mild blade may be all you need.
No need to go overkill if it is not necessary.
How to Use a Safety Razor
So you've got the best safety razor blades in your hand and you've got stubble on your cheek.
Perfect.
The first thing you've got to do is… put the razor down.
Then get in the shower, dirty boy.
Time needed: 15 minutes.
How to Shave With the Best Safety Razor Blades
1. Prep your workplace & your face.
Clean up your work area before you start to shave with the best safety razor blades.
Have a warm, not hot, shower to open up your pores and get your skin ready for a shave.
2. Consider using a warm towel
Some men like to pop a warm towel on their face after they get out of the shower.
It's a personal preference really though, and maybe a little too much effort to go to on a grey Monday morning.
A hot towel can be great for your skin though, so even if you're not doing it every day try to work it into your routine at least once a week if you can.
Grab your cream or soap and work it up into a lather.
Whether you use a bowl or the palm of your hand or even an old roof tile for all we care, we do suggest using a quality shave brush.
Yes, we know we bang on about this all the time, but that's only because we're right.
We should point as well here that the best safety razor blades work really well with gel-based shaving creams too.
So whatever style of shaving cream you like, a safety razor will work well with it, which is good to know.
Whatever you're using, work it into your skin with a circular motion.
That will help raise the stubble for an efficient shave.
Grab the best safety razor blades.
Hold the handle.
Always work with the grain for your first pass.
Don't let too much cream and stubble build up on the blade either.
Rinse thoroughly – in hot water – to keep the blade clear of debris.
Does everything feel smooth, do you look great?
Rinse your face, pat it dry with a clean towel and apply a post-shave moisturizer.
Not quite as close a shave as you want?
Now is the time to – very carefully – shave across the grain to achieve a super-soft finish.
Want to know when to change our DE blade, how to properly store your blades and other frequently asked questions about double-edged razor blades and best safety razor blades?
Ok, read on to find out more about your new razor blades.
---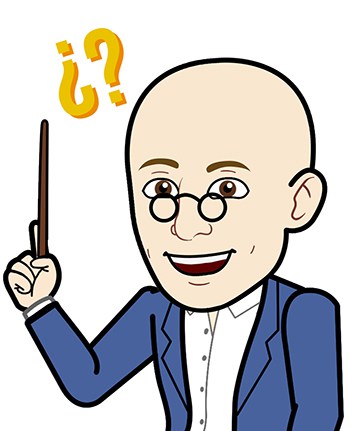 1. How often should you replace safety razor blades?
The time after which you need to replace the best safety razor blades differs depending on the manufacturer.
We've highlighted it above in each review, but some will be good for up to ten shaves, some will be dulled out and useless after two.
2. How should I store my blade?
Most of the best safety razors are super fragile in the blade edge and can easily be damaged by moisture.
Wipe your blades dry after you rinse them using a towel or a rag or kitchen towel.
Store them somewhere dry
3. How should I dispose of my DE blades?
Disposing of the best safety razor blades safely can be a big concern.
Throwing them into the trash individually is not ideal, proper safety razor blade disposal is recommended since they are still very sharp.
You could for example invest in a razor blade bin.
4. Why are safety razor blades coated?
Back in the old days, the best safety razor blades were made of carbon steel.
That changed in the 1960s when the British company Wilkinson Sword introduced stainless steel razor blades.
Platinum, for example, is added as a coating to some blades to make them extra tough.
5. How Do You Recycle Safety Razor Blades?
Here is how to recycle safety razor blades;
TerraCycle- A razor recycling program that accepts razors from all brands.
Leaf Shave offers another recycling program
Albatross Designs offers its own razor recycling program for its customers and competitor brands.
Disposing of them in sharp containers and once full, take them to a local disposal site.
Municipal recycling

---