Looking for the best lip balm for men?
Whether you call it lip balm or chapstick (brand name), we all want the same thing, a high-quality product that moisturizes our lips without the feminine shine, scent, color, or packaging that so many other lip balms possess.
We reviewed every lip balm worth considering and ranked them based on the following criteria:
Moisturizing properties
Quality of ingredients
Manliness (appropriate scent, color, packaging, and no shine)
Whatever preferences you may have, you will be sure to find the best lip balm for YOU within our definitive list.
Use the table of contents below to jump to the sections most important to you.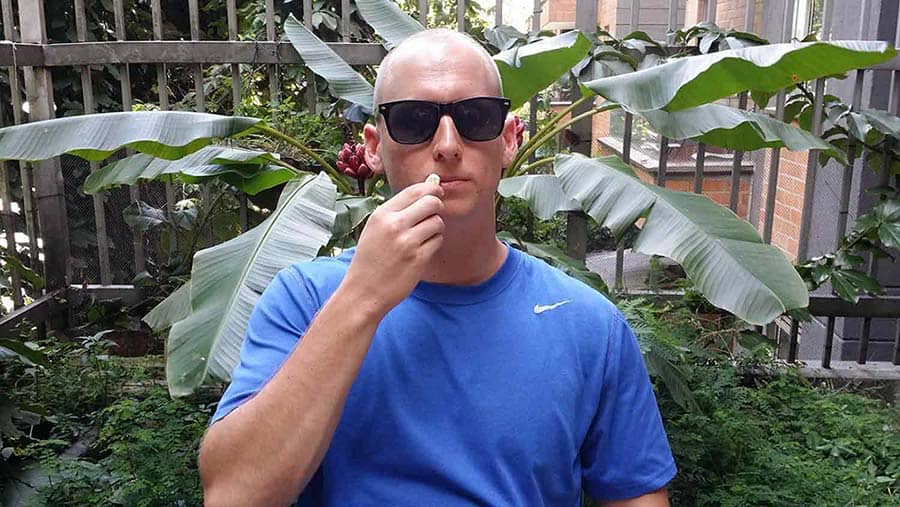 Top 6 Lip Balms for Men Reviewed
#1 Jack Black Intense Therapy Lip Balm with SPF 25

One of the biggest names in the male moisturizing game, Jack Black has previously been featured on our lists of the best male body lotions and the best face lotions for men.
Judging by the quality of these other products, I ordered a tube of Jack Black Intense Therapy Lip Balm expecting the best, and I must say I was not disappointed in the least.
In fact, the one thing that I found missing from many of the other products was a bit of sun protection.
As someone who spends a considerable amount of time outdoors, I was looking for a product that would help prevent my lips from being sunburned on my many outdoor excursions, and Jack Black did the trick with its SPF 25 lip balm.
This product more than lives up to its name of providing Intense Therapy for dry, chapped, sunburned or windburned lips.
Like most others, the company produces a wide range of different scents, from Black Tea & Blackberry to Grapefruit & Ginger.
However, for men, I would have to recommend either the Natural Mint & Shea Butter or the unscented Shea Butter & Vitamin E, as these will provide all the moisturizing and sun protection your lips need, without making you smell like a woman.
With either of these, you'll get it all—both the moisturizing and protection your lips need, plus sunscreen.
#2 Badger Lip Balm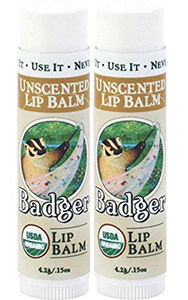 Regarding the all-natural, organic market of men's care and grooming products, Badger is far and away one of our favorite companies—despite not being the most well known.
Their products have made our list of both the best pre shave oil and best beard oil.
So I was incredibly excited when I found out that the company produced a line of lip balms, in addition to all of their other fantastic beard oils, shaving soaps, pre-shave oils and other products.
Now, not all of Badger's products are specifically designed for men, but that doesn't make them any less exceptional and no less deserving of a place on our list of the best chapstick for men.
Regarding chapstick and lip balm, the company produces a wide range of different products.
However, most of them have somewhat fruity or less than manly scents, such as Lavender & Orange, Tangerine Breeze, and Pink Grapefruit.
On the other hand, both the Highland Mint, Tea Tree & Lemon, and Ginger & Lemon scents are quite mild and plenty manly enough for even the most rugged woodsman to use with confidence.
On the other hand, Badger also produces an unscented version that I feel is the pick of the litter, as it won't leave you smelling like anything but yourself, while still giving your lips the care they need.
All Badger lip balms are made using the same natural, organic ingredients, beginning with organic extra virgin olive oil, which provides way more moisturizing benefits that any of those cheap products filled with petroleum jelly.
These lip balms also contain potent antioxidants in the form of aloe vera and seabuckthorn that help to protect your lips against skin and cell damage.
#3 Hurraw! Balm SPF 15 Sun Protection Lip Balm, Tangerine Chamomile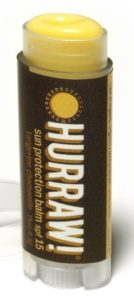 The only slightly fruity smelling product on our list of the best chapstick for men, but don't let that fool you; Hurraw! Balm still has all of the moisturizing and protecting power your lips could ever need.
The tangerine chamomile fragrance is quite mild and not feminine at all, and this is one product that works.
While we like the fact that this one offers protection against the sun, the real reason we chose this product is that it is made using only 100% raw, organic, vegan-friendly ingredients—meaning its free from all of those harsh chemicals and synthetic compounds we've warned you about.
If these things are important to you, there's no doubt you'll love this lip balm.
#4 Anthony Mint and White Tea Lip Balm SPF 25

Previously featured on our lists of the best pre-shave oils and best shave gels among others, Anthony Logistics is another one of the leading names in men's grooming and shaving products.
Like Hurraw! and Jack Black, part of the reason that we chose this product for the list of best chapstick for men is that it includes SPF 25 sun protection in addition to helping moisturize, soften and condition the lips.
Not only that, but we're also quite fond of the unique mint and white tea fragrance that this one includes.
Unlike many other lip balms and chapsticks, this one has a matte finish, meaning it won't leave your lips shiny—making it perfect for even the manliest of men.
Still, this isn't just any old lip balm, as it will also leaving your breath fresh and sweet smelling thanks to the inclusion of mint and stevia.
All in all, a great product and one that we can highly recommend.
#5 Every Man Jack SPF 15 Lip Balm

100% natural, non-greasy and guaranteed to leave your lips feeling amazing—Every Man Jack SPF 15 Lip Balm gets the job done.
Not only is this one free from parabens, synthetic fragrances, and other undesirable ingredients, but it contains beneficial nutrients like organic aloe, shea butter and vitamin E that work to hydrate your lips and protect them from future damage.
#6 Beyond Coastal Vanilla Bean SPF 15 Active Lip Balm

Ok, so we're not totally wild about the vanilla bean fragrance that this one features, but other than that, it's fantastic.
Designed by a man who splits his year between surfing and lying on the beach in the summers and skiing in the winters, Beyond Coastal was explicitly formulated to handle anything and everything Mother Nature can throw at your lips.
Its "active" formula means it won't wash off due to water or sweat, allowing your lips to get the help they need no matter what activity you're performing.
This is some serious lip care designed to meet the challenges of the world's most active men (and women), and it's guaranteed not to let you down—no matter where life takes you.
Guide to the Best Lip Balms for Men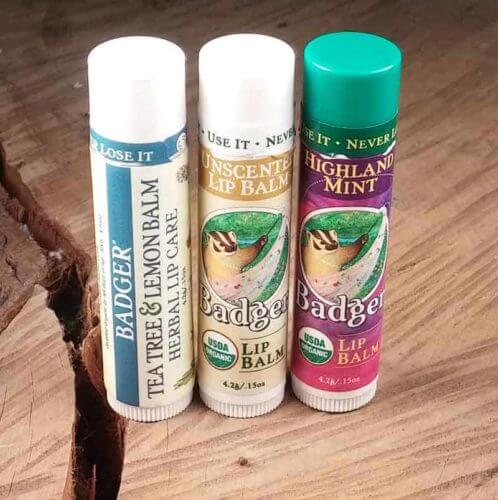 For a while now I've been torn over whether or not to write this article, as the thought of reading an entire post dedicated to discussing the best chapstick for men is probably not something that appeals to most guys.
Still, eventually, I decided "critics be damned." After all, the goal of Prim & Prep is to be your one-stop resource for anything and everything related to male grooming, which requires finding all of the best info on any product—no matter silly or insignificant it may be.
So here is our guide to the best lip balms for men!
So, while I'm sure I may get some grief from some of the more manly men out there, after doing some research, I learned that there are many men out there searching for precisely this type of information.
After all, it's not only women who suffer from dry, chapped lips—even though it seems that the majority of manufacturers out there seem to think so.
Like many other grooming products out there, it seems that men have been mostly ignored as the majority of the most popular lip balms and chapsticks have been designed with women in mind.
Fortunately, though, there are finally a few companies who have not only understood that most men aren't wild about the idea of using fruity or flowery smelling lip balms.
It has also been recognized that many men's lips face specific challenges—especially those of us who spend a considerable amount of time outdoors, continually exposing our lips to the sun, wind, and elements.
If you're familiar with male cosmetics and grooming products, you've probably seen that the last few years have seen a considerable rise in products designed specifically for the challenges that men face.
For a while, these products were mainly limited to more "male-specific" items like shaving soaps, beard balms, and deodorants. However, in recent years the selection has expanded to include a huge variety of different types of products, including lip balms and chapstick.
For this reason, after doing a bunch of research and trying out a ton of different products, I decided to primarily limit this list to only those products that were specifically designed for men (or at least by men).
Therefore, no matter what your feelings are about brands like Chapstick or Burt's Bees, you won't find them on this list.
The reason behind it?
Well, for starters, if you're okay with using one of these inferior (yes, they are inferior) products on your lips, then there's no reason for you to be reading this post in the first place.
The other reason is that there are so many better, more natural products out there that there is no reason for men (or women, for that matter) to keep using that crap.
Frequent visitors to this site will probably already know that we're huge advocates of using organic and natural products whenever possible.
It's not that we're tree huggers (although we do believe we should all do our part to protect the environment), but the real reason that we promote using natural products is that they merely work much better.
This is especially true when it comes to products that are designed to moisturize and condition your skin, as the vast majority of petroleum products and chemicals end up having the opposite effect—drying out your skin and causing irritation when they should be soothing and conditioning.
Not only that, but many of the non-natural products you'll find out there contain other chemicals that are known to cause all sorts of unfortunate and unwanted side effects.
The absolute worst of them all are parabens, a type of chemical that acts as estrogen when it enters the body and is known to cause cancer among many other issues.
So do your body a favor and go natural.
These products only cost a small fraction more, and you can use them with the confidence that every ingredient in there is made the way nature intended.
Why Men Should Use Lip Balm

If you have associated lip balms with women, you may wonder why you, as a man, should be using it.
For both males and females, there are so many benefits to using lip balms.
Such reasons include:
They Need Looking After
The skin on your lips is thinner than that on your face.
Using a face moisturizer is of course no longer just a 'woman thing', you look after your face so you should look after your lips.
They'll Heal Faster
If you have got damaged lips, they'll heal so much faster with help.
The skin is delicate, so keeping it hydrated will help the skin to repair itself.  You may not be bothered by the look of damaged lips but the pain isn't much fun.
Badly cracked lips will just keep cracking again every time you smile or say certain words.
They Contain Sunblock
Again, you'd put sunblock on your face.
You should put it on your lips.
So if you are exposed to any harsh conditions, they are so worth using.
Skiing, working outdoors in the sun, fishing.
They Will Look & Feel Good
Your lips will look and feel more healthy and, erm, plump.  That might not be top on your list of priorities in life we admit.
But it might be.
And let's be honest, who doesn't want to look good.  Or at least who doesn't want to look healthy.
Trust me; the women will notice and appreciate it 😉
So for delicious, plump, kissable lips, use some lip balm.
But a very manly one so that it's ok of course.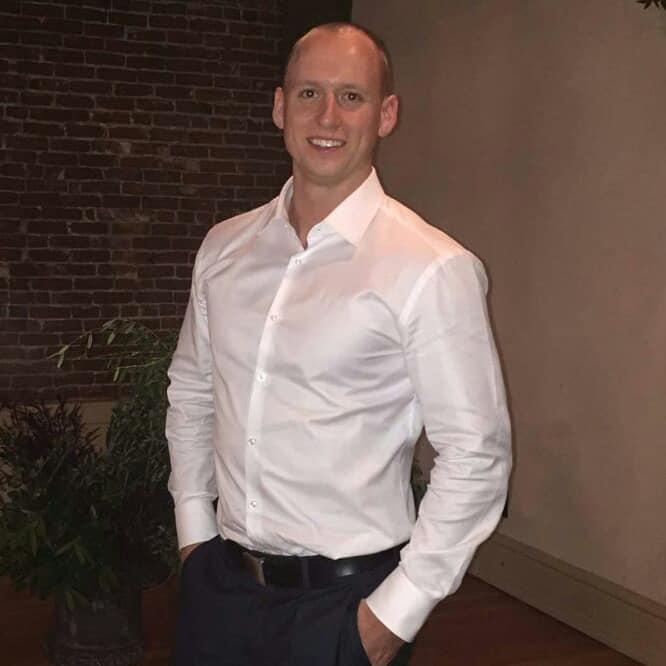 Ben Rose is the founder and senior editor at Prim&Prep, the definitive guide to male grooming. He is a wet shaving expert and body grooming aficionado. His work has been featured on many other prominent publications including Good Men Project, Addicted to Success, Steven Aitchison, and Sharpologist.