Some say that men don't care about their hair, but that's just not true!
In fact, guys care about our hair just as much as women.
Just like women, how we style our hair says a lot about our personalities.
But some men find it harder to style their hair than others, often due to no other reason than their hair type or texture.
Hair waxes or gels don't work for everyone.
Some guys need moisturizing, strong hair styling products that can whip their hair into shape and keep it looking fantastic throughout the day.
If you're one of those men, consider getting some pomade.
These hair styling products can hold your hair in place through wind, water, and whatever else the world throws at you.
They're easy to use and even easier to understand, so long as you check out our guide to the best pomades for men.
We'll take you through the top picks vetted by serious hair researchers and answer any questions you have about these products.
Ready to get started?
Let's go!
QUICK OVERVIEW: Best Pomades for Men
Suavecito Pomade Original Hold

Very affordable
Not an overwhelming fragrance

VIEW ON AMAZON →

Viking Revolution Pomade for Men

Made of natural ingredients
Can nourish your hair

VIEW ON AMAZON →

Old Spice Sculpting Pomade for Men

Water-based but still durable
Suitable for many hairstyles and types

VIEW ON AMAZON →

Uppercut Deluxe Pomade 3.5 oz

Variable shine intensity
Doesn't make hair stiff

VIEW ON AMAZON →

Nice fragrance
Includes helpful ingredients to nourish hair

VIEW ON AMAZON →

Imperial Barber Grade Products

Allows you to restyle your hair in the middle of the day
Doesn't make hair greasy

VIEW ON AMAZON →

Good matte finish
Allows for some hairstyle flexibility

VIEW ON AMAZON →

Deluxe Pomade by Dapper Dan

Fragrance is good
Easy to wash out

VIEW ON AMAZON →
Use the table of contents below to jump to the sections most important to you.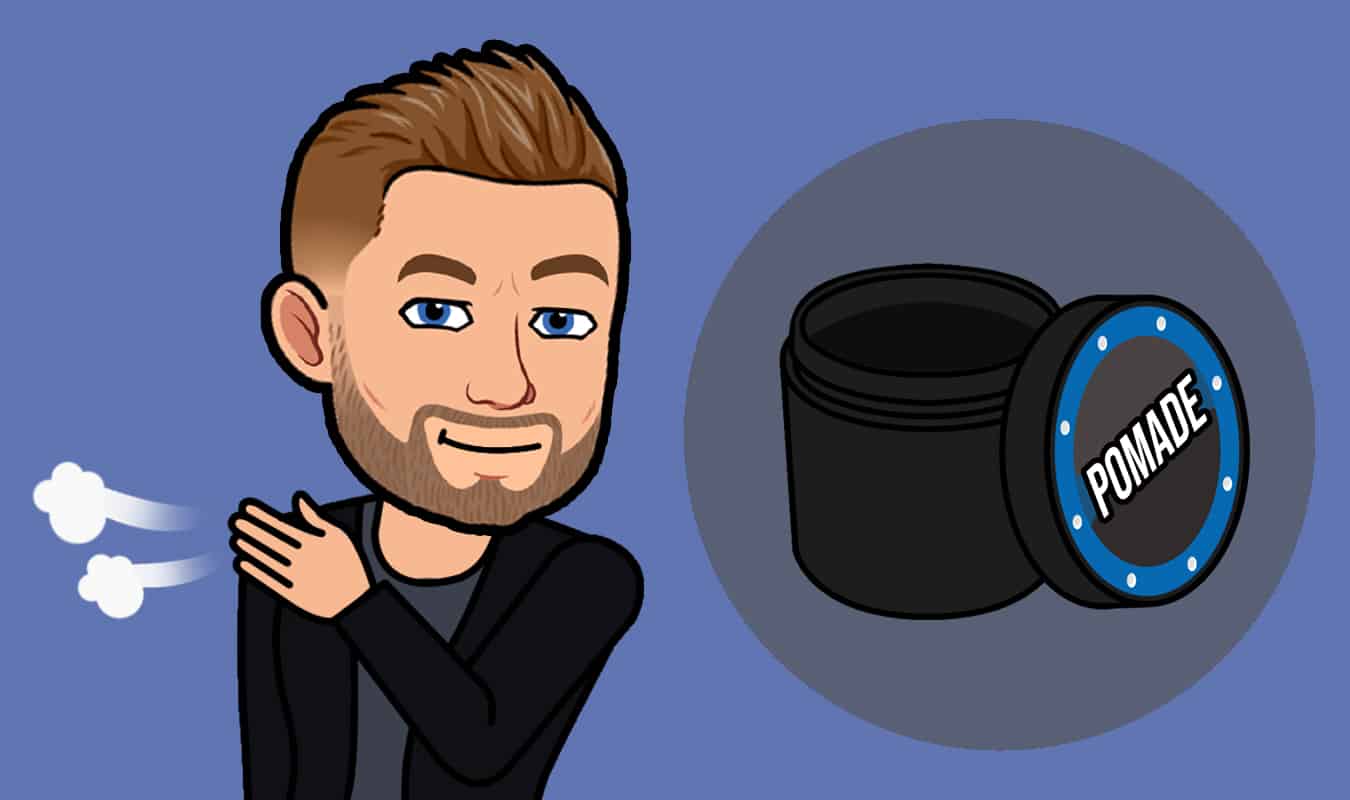 Things To Consider When Buying Pomades For Your Hair
While we have a great list of the best pomades for all kinds of hair, let's go through what our testers used to pick out their favorite products amongst all the choices.
1. Type Of Pomade
---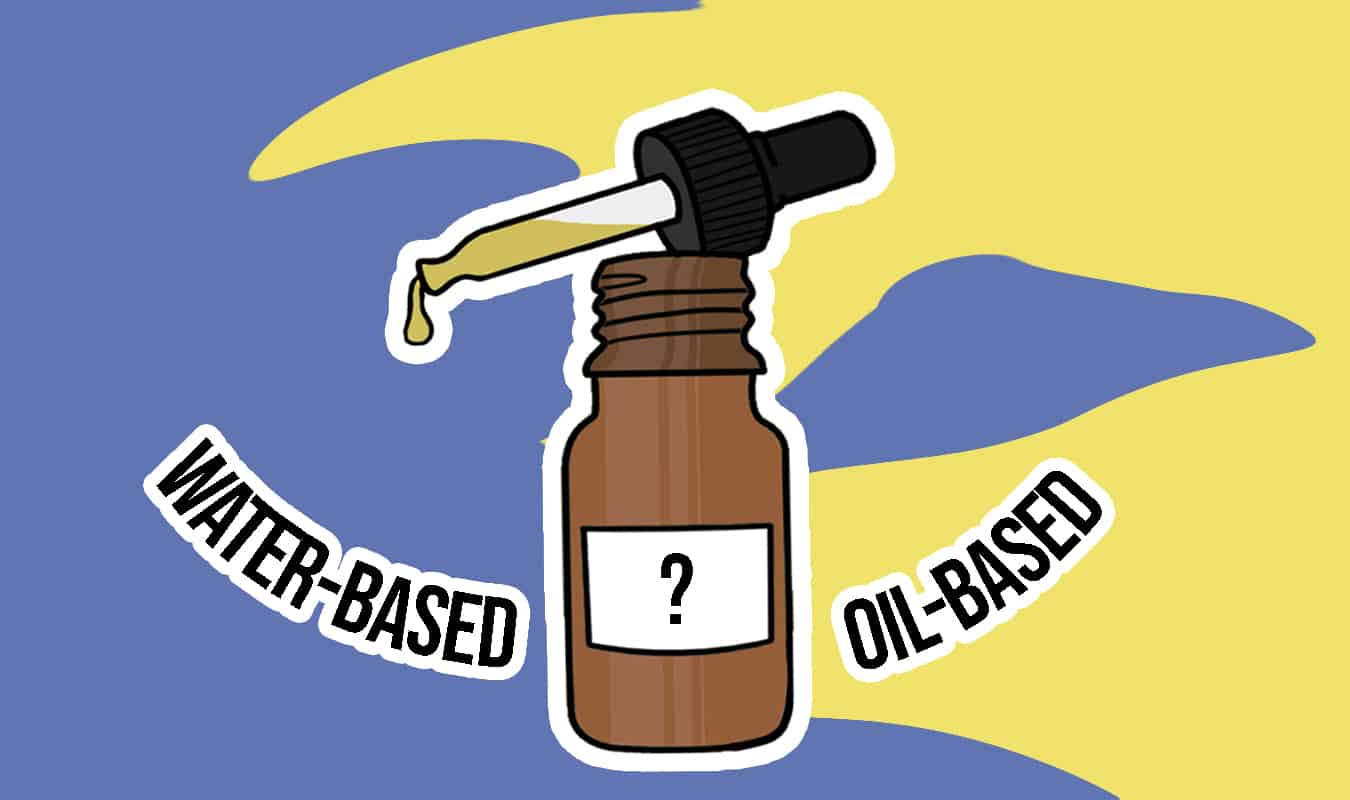 There are two major types of pomades that you'll choose between.
Neither is necessarily better than the other; instead, they both offer different benefits and are better for different hair types.
Water-based pomades are a lot easier to wash out of your hair and allow for restyling throughout the day.
A water based pomade isnt quite as strong as oil-based pomades and don't have as much of an iron hold as their counterparts.
Because they don't use a lot of oil in their formula, they also have a slightly different finish in most cases, looking less shiny and more matte overall.
This finish will be a little "stiffer" looking on some hair types, possibly leading to a crunchy look.
Water-based pomades are excellent for guys who spend a lot of time indoors or who like their hair to subtly shift throughout the day as the wind runs through it.
Water-based pomades are also often a little more expensive than an oil based pomade.
For our guide, we've selected from the best water-based pomades due to their versatility and ease-of-use.
On the other hand, oil-based pomades usually have very high-strength holds on your hair.
Because of their strength, they take a lot of work to wash out of your hair and may take several shampoo washes before cleaning is complete.
This is because oil doesn't mix well with water, so it has to be dissolved slowly throughout several washing cycles.
But they'll keep your hair in check or right where you like it throughout the most strenuous of physical activities or the harshest winds.
Even if you sweat up a storm, oil-based pomades will keep your hair in place.
Oil-based pomades produced a pretty shiny finish, especially compared to water-based ones.
Additionally, oil-based pomades can irritate your scalp if you have sensitive skin since they tend to clog pores and cause acne problems.
We wouldn't recommend them for men with sensitive scalps already.
They can also sometimes strip your hair of natural, healthy oils.
Because they are a little easier to make, oil-based pomades are usually cheaper than water-based ones, as well.
But they are ideal if you spend a lot of time outdoors and want your hair to look the same no matter what has happened throughout your day.
We'd recommend oil-based pomades for men who need all the strength they can get for their wild hair and who don't mind having to scrub their scalps vigorously to clean them at the end of the day.
2. Finish
---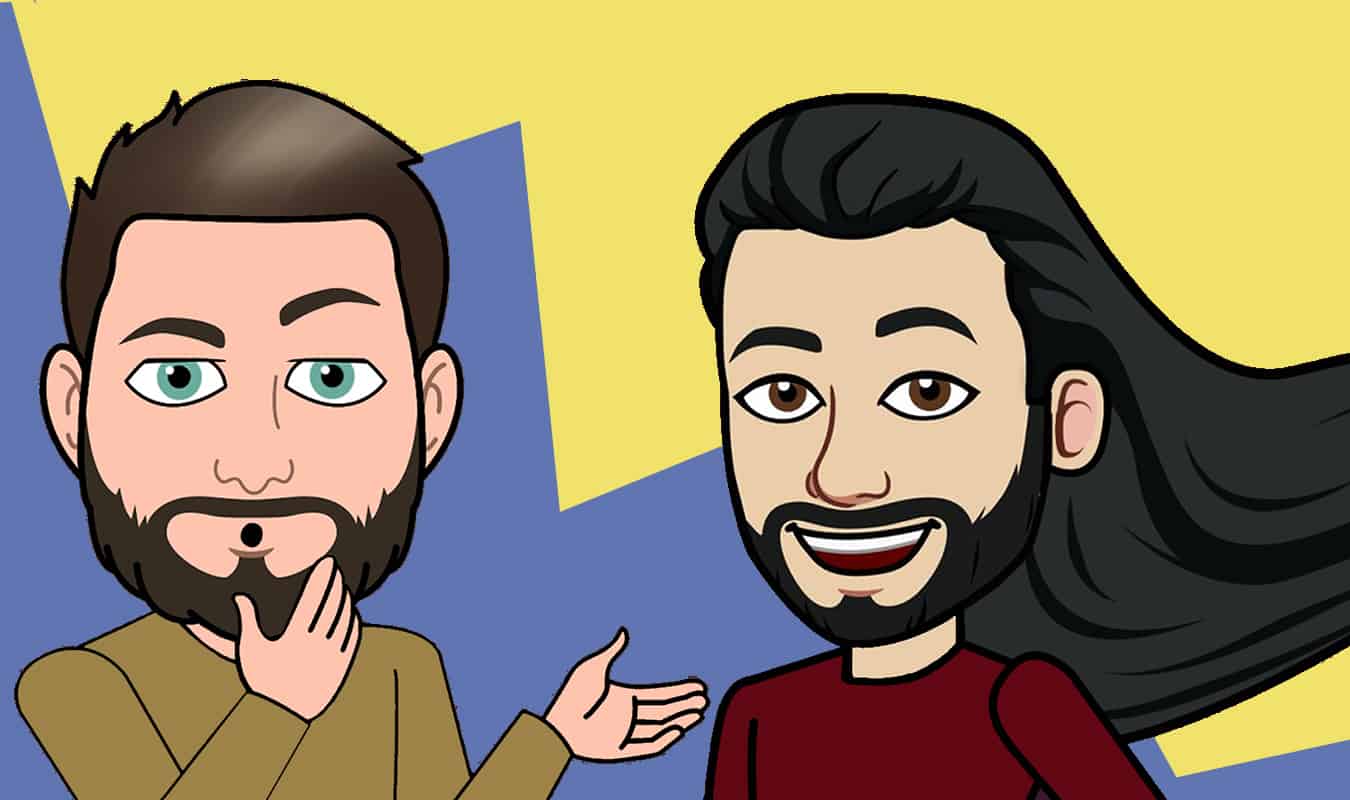 Even though both types of pomades tend to create certain finishes, there's always some wiggle room, and you can find all finishes across both types.
These finishes don't have much of a shine to them and make your hair look more colorful and whole-bodied.
Because they're naturally understated compared to shinier finishes, matte finishes are usually great if you have short hair.
Men with short hair don't usually comb it too much and adding a shine can make your hair look greasy anyway.
Matte finishes fade naturally into the deeper color of your hair strands and can give your hair a simple charm that can attract men and women alike.
It's the equivalent of being styled, but not calling a lot of attention to your hair.
Matte finish hair pomades are suitable for casual occasions or for certain clothing picks.
Shiny finishes are great when you want to call attention to your hair.
They add a bit of a gleam to your hair and reflect natural or artificial light in obvious ways.
It can look particularly nice on longer hair or black hair, especially if you want to draw attention to how deep the color of your strands is.
It's also good to combine shiny finishes with business suits or work attire, as it lends more weight to the idea that you're "sharp" and "well-cleaned."
Shines can make you look polished and collected.
But be careful not to overdo shiny finishes, as it's easy to make your hair look greasy and unclean if you go overboard.
Finally, you can always try to ride the middle ground between both types of finishes.
Using a pomade that doesn't make your hair particularly shiny or mainly matte might be perfect for your personal clothing choices or your work environment.
If you want a run-of-the-mill finish, try to find an oil-based pomade that isn't very shiny or vice versa, a water-based pomade that isn't too matte.
You won't find a pomade specifically recommended for "middling" finishes; it's something you must experiment with and discover on your own.
3. Hold Strength
---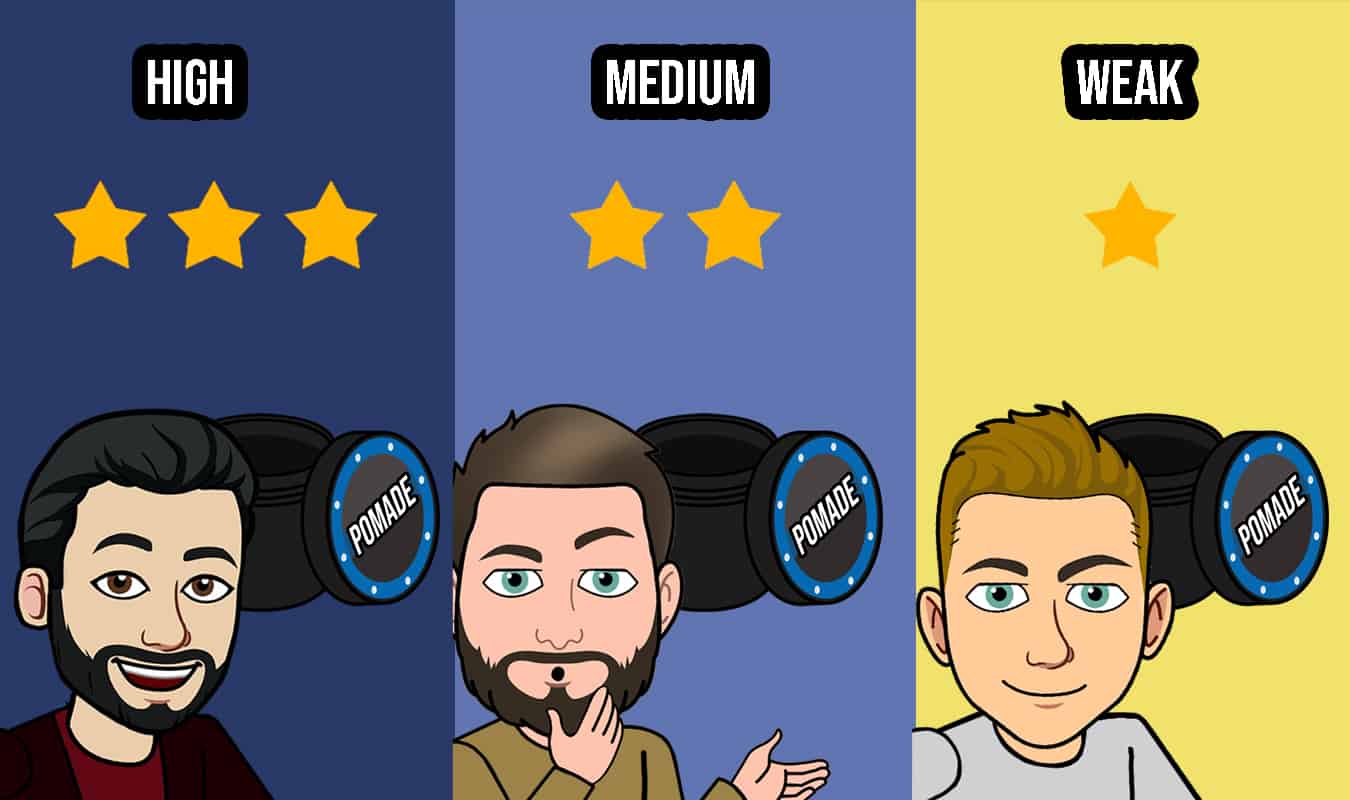 The hold strength of your pomade is basically describing how well it keeps your hair in its styled position.
While you can shape your hair into whatever configuration you desire when you first apply the pomade, pomades with particularly strong holds will quickly solidify and keep your hair in place even if it becomes wet or extremely windy.
This can be ideal if you have a specific hairstyle in mind that you want to keep no matter what.
But pomades with strong holds can also be challenging to restyle without washing all the product out of your hair entirely.
When it comes to mens hair pomade, one can easily say that stronghold pomades do the job better, but they don't always make the best pomade for men because of this restyling challenge.
Therefore, strong holding pomades may not be the best hair pomade for men who desire to style their hair daily.
On the flipside, pomades with middling or low holds can keep your hair in place but also allow you to restyle it without having to wash all the product out of your hair and restart.
This can be advantageous if you want to go from work to an after-hours party, for instance.
After all, the same hairstyle that works in your office may not be very attractive in a casual environment.
Lower strength holds are a little more vulnerable to water or wind changing the style of your hair or making it a little sloppy, however.
It's a clear trade-off with advantages and disadvantages for both ends of the spectrum.
You can find pomades offering hold types both at the far end and towards the middle of the spectrum, so there's something for everyone.
Different hold strengths will also be more effective for different hair types.
Let's examine those next.
4. Hair Type
---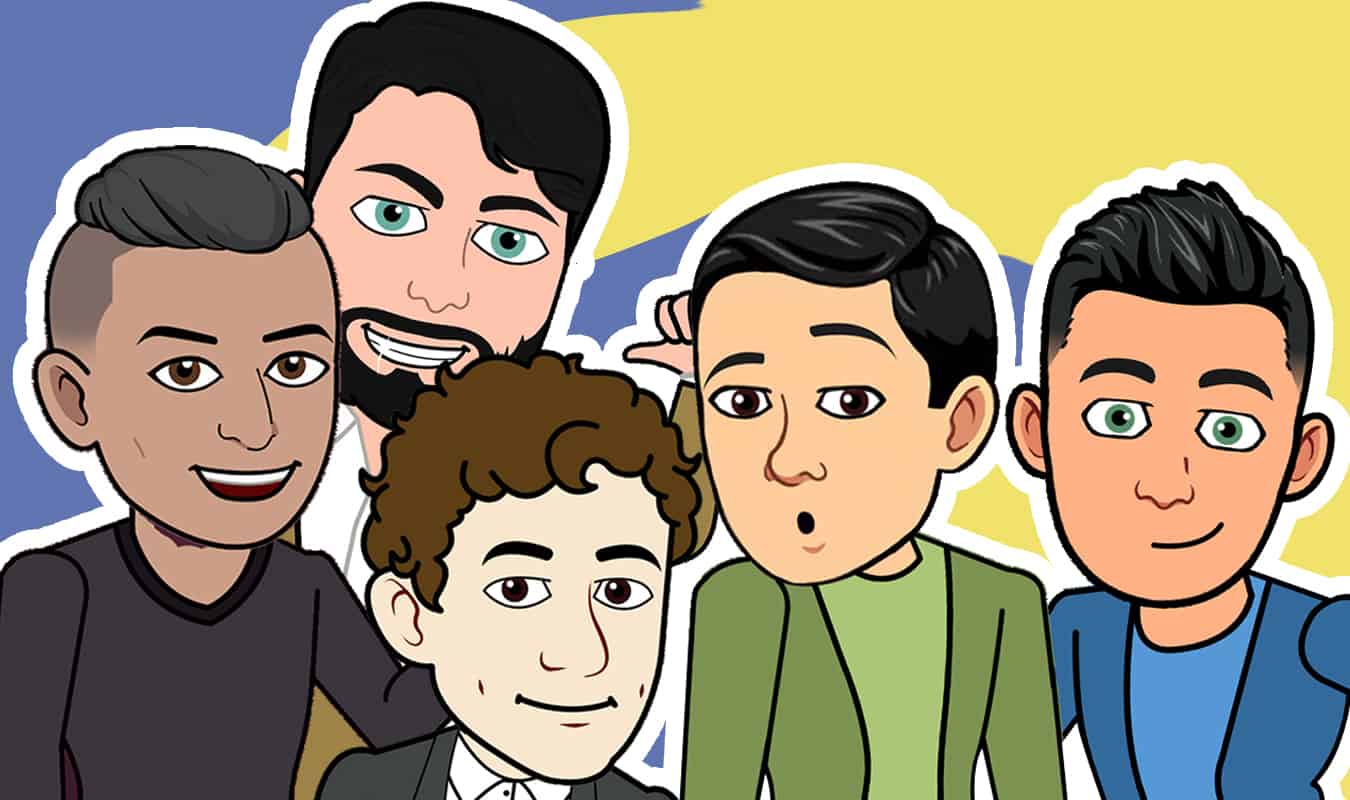 There are lots of hair types and styles across men all over the globe, but let's focus on a few common hair types.
In many ways, straight hair is the easiest type to manage.
It offers low resistance to change and can be styled at least somewhat in virtually any configuration you imagine.
It can reach levels of curliness as naturally curly hair, of course, but there's a versatility in straight hair that makes it desirable for many men and women alike.
Pretty much any pomade hair products will be usable if you have straight hair, and especially if you have longer hair than average.
Picking your type of pomade is an exercise in preference and fragrance above all with straight hair.
Wavy hair can benefit from pomades greatly.
In many ways, it's a little easier to achieve more dramatic hairstyles with wavy hair by leaning into your strands' natural directions or inclinations.
Pomades are also beneficial for wavy hair since most of them have moisturizing effects to keep your hair strong and hydrated.
You can use any type of pomade you wish, although stronger holds will allow you to maintain more drastic shapes and styles for longer than pomades with weaker holds.
Men with curly hair frequently find themselves at a loss as to which kinds of hair styling products are right for them.
The good news is that pomades work exceptionally well for curly hair of all lengths.
Not only does it offer an excellent moisturizing effect to prevent your hair from turning frizzy, but it also lets you finally reign in the tangles and curls that you might want to tone down.
Men with curly hair can benefit from pomades of all different hold strengths.
Kinky hair is also difficult to manage.
Men with this hair type will probably want a pomade with a firm hold and with a shiny finish to make it look more vibrant and alive.
Your mileage may vary but suffice it to say that adding a pomade as opposed to wax or clay is a great idea.
Men with short hair can also benefit from the pomade applications.
You can achieve many classic hairstyles by adding a small amount of matte-finished pomade, and it doesn't take much hold strength to keep the style in check since your hair doesn't have enough length to be easily messed up.
Feel free to use any type of pomade you like but be careful of using a shiny finish type as your hair may look exceptionally greasy by accident.
Finally, we want to reiterate our above warning for men with thick hair.
You must be cautious of how to apply pomade on your thick hair, this is because it's easy to over-apply pomade in thick hair since it can feel like you haven't applied enough of the stuff after the first few seconds.
But applying too much will make your hair look super oily and greasy, which is the opposite of what we're going for.
Because thick hair tends to be heavy, you'll probably want a pomade with a pretty high hold strength.
This will allow you to style your hair without having to worry about the wind messing everything up right after heading outside.
5. Fragrance
---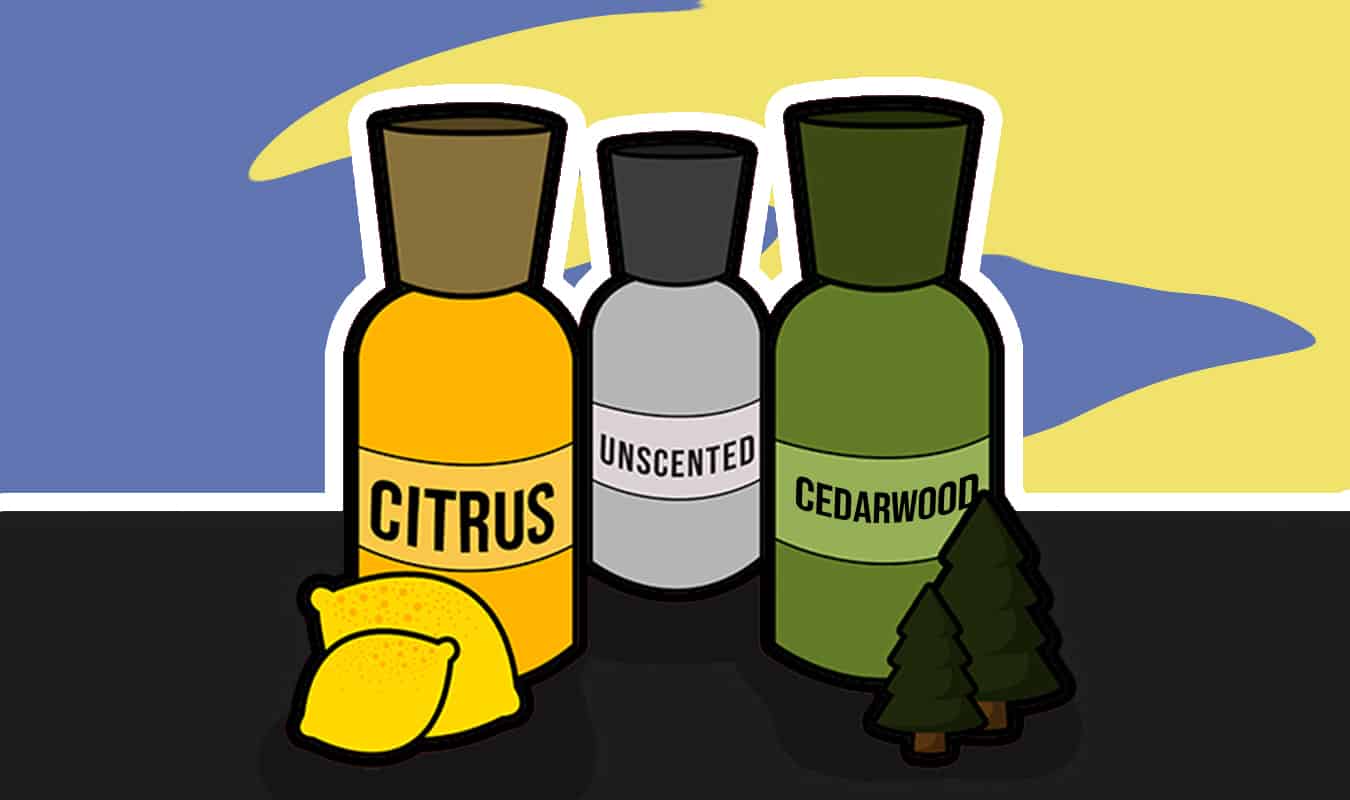 One last aspect to keep in mind as you browse is a pomade's fragrance.
Most pomades for hair will smell relatively clean, but in your search for the best pomade for your hair, you may come across more dramatic scents.
Lots of masculine hair styling products will have fragrances from your typical collection of smells; things like cedarwood or citrus are prevalent.
This isn't a huge deciding factor for most men, but it's something to keep in mind since your hair will likely retain the fragrance of a for as long as the stuff is mixed with its strands.
If you don't want to smell like cedarwood for the next 12 hours or so, try to find something that lacks a fragrance entirely or which has a smell that you prefer.
---
Best Pomades For Men of 2022 Reviewed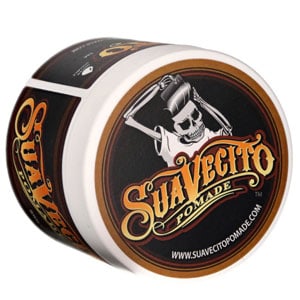 This pomade, one of the top suavecito hair products, is an excellent middle-of-the-road choice that's easy to use and easy to wash out.
Specs
Who Is It Best For?
It's a good option for men who don't need too much of a hold but still need some strength to reign in their hair's natural direction.
Key Features
This mens pomade is an excellent pick for many types of hair.
This is arguably one of the best water-based pomade brands out there because of its versatility.
It has both a middling finish and a medium hold, making it one of the more versatile pomades on the market.
It's great for general all-day use or for more specific styling without the risk of hardness that comes with pomades of higher strengths.
It's perfect for within your hair into shape without turning it crunchy or without giving it an excessive shine.
It's suitable for both touching up your hairstyle or creating an entirely new one right after finishing your shower.
There is a fragrance included with this pomade, but it's rather generic and fresh, so it shouldn't clash with your deodorant or any other artificial fragrances on your person.
It's also not so noticeable as to be overwhelming.
Since it's a water-based pomade, washing this out of your hair is a breeze.
You shouldn't need to take any extra steps besides using shampoo to get rid of everything.
It's not super strong, of course, so men looking for more drastic hairstyle changes will want something else.
You get 4 ounces for the purchase, and the canister is affordable, making this an excellent budget pick, as well.
Watch out for using this during a rainy day, as it's water solubility can cause it to wash out of your hair unintentionally or ruin your style after only a few droplets.
Check out the thousands of customer reviews here on Amazon.
---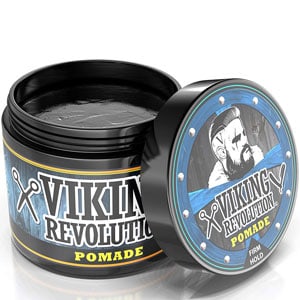 This pomade is a stronghold product that also has castor oil in its formula.
Specs
Who Is It Best For?
This super hold pomade is excellent for men who want to both style and take care of their hair.
Key Features
This high-strength pomade is made with a variety of effective natural ingredients, the most important of which is castor oil.
Not only does this help find the other ingredients together and give the pomade a soothing texture, but it also helps promote hair growth.
That's right; using this pomade can be healthy for your hair, as well as stylish!
The fact that it's made with other natural pomade ingredients instead of harsh chemicals means it's an excellent choice for men who have sensitive scalps or hair.
This makes it one of the best hair pomade for men in this category.
No one likes their scalp skin to become inflamed just from using their hair styling product.
It's really high strength, so it's ideal for dramatic hairstyles for men that have hair which frequently fights against them or is tangled easily.
Men with kinky hair will really love this pomade above many others.
It also has a high shine factor, so stay away from this pomade if you have short or naturally greasy hair as it's likely to make your hair clean a lot more vibrantly than you intend.
There's a light, fresh smell associated with the mixture, but our testers didn't think it was off-putting whatsoever.
Besides, you can get 4 ounces of this high-quality pomade for an affordable asking price or purchase two for a slightly reduced price if you want to store up for a rainy day.
We really enjoy this pomade and everything it has to offer.
Check out the hundreds of customer reviews here on Amazon.
---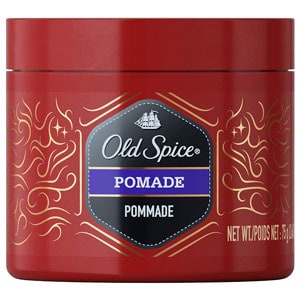 This pomade can eliminate shine and make your hair feel and smell fresher than before.
Specs
Who Is It Best For?
It's a great choice if you spend a lot of time outdoors or live in a humid climate.
Key Features
This is a bit of an odd pomade in terms of its included ingredients.
It's mostly water-based, but it also includes a few mineral oils to help tie various ingredients together and improve the texture of the product.
This makes it a little more resistant to coming apart under the rain or if your hair gets wet from some other accident.
But it's still easy enough to wash out in the shower without having to strain yourself, so that's a nice plus.
There's also beeswax, which makes this feel a lot more like a traditional wax than a pomade product.
One downside to this pick is that it's mostly made from synthetic ingredients.
We'd recommend that you stay away if you have a sensitive scalp or if you prefer all-natural stuff for your hair styling collection.
But this is still an effective pomade if you have a scalp tough enough to handle the chemical ingredients.
It's well-suited for a variety of different hairstyles, and it has an excellent matte finish that blends in well with every hair color.
It's particularly well-suited for men with short or naturally spiky hair since it won't add any extra shine to your hair strand texture.
The beeswax and mineral oil really help the pomade blend in well with all hair colors and textures.
Like most pomade products, this has a fresh generic fragrance that won't be too noticeable once it's been absorbed into your hair.
It's also one of the most affordable pomade products that our testers tried for themselves.
It's a great budget pick, particularly for guys who are experimenting with pomade and other hair styling efforts and who might not know precisely what works best for their scalps.
Check out the hundreds of customer reviews here on Amazon.
---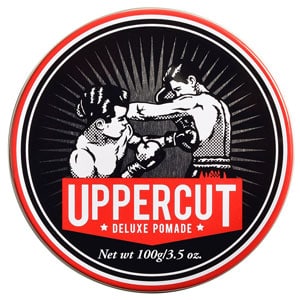 This pomade is heavy-duty and is tough enough to last all day, even with heavy wind or rain.
Specs
Who Is It Best For?
This pomade is great for men who want to adopt the dramatic style and include a flashy shine at the same time.
Key Features
This pomade is one of the rare few that straddles the line between high shine and medium shine finish.
Which exactly you end up with depends on your hair color and how much of the pomade you apply to your scalp.
Adding a little extra can easily take the shine sky high while using as little as possible can keep your shine more towards the middle of the spectrum.
Either way, this pomade offers a firm hold, making it a great choice if you have kinky or rebellious hair that struggles to maintain intricate shapes or styles.
Despite its strength, it doesn't tend to make your hair stiff or spiky, so we could see some men with short hair managing to get some good use out of this product if they were careful and only used a minimal amount.
Its ideal hair length is more towards the middle of the range.
Your hair will also feel great to the touch once the pomade has been fully absorbed.
During testing, our testers found that it was perfect for managing side parts and performing moderate adjustments to the natural forms of their hair.
It's extremely water-soluble, but its high strength means that your style should remain iconic even if it gets a little wet.
It'll be no trouble to wash out once you're ready.
Check out the hundreds of customer reviews here on Amazon.
---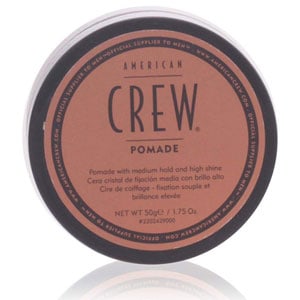 This pomade has a captivating fragrance and can make your hair shine like nothing else.
Specs
Who Is It Best For?
This is the ideal choice if you want to add a stylish shine to your hair.
Key Features
This pomade comes in a small tin that makes it easy to throw in a bag or a glove compartment for storage.
It has one of the more noticeable fragrances our testers experienced in their hunt for the best pomades.
The fragrance is a neat mix of mint, tea tree, and citrus, marking it as suitably masculine.
It's far from subtle, so keep this in mind if you frequently wear a scented deodorant or if you want to wear cologne on your next evening out.
The pomade is made from primarily water-based components, although it includes castor oil and coconut oil in its formula.
These make it easy to spread throughout your scalp, and the castor oil, as we mentioned before, helps to rejuvenate your skin and nourish your hair.
It's one of the best ingredients we like to see in any hair styling product simply because it's a flat bonus.
The medium-strength hold pomade, makes it ideal for most hair types.
But it does have a high shine, which can be helpful if you have kinkier or thicker hair but a bit disastrous if you have short hair.
It tends to make certain hair types look really oily or greasy, particularly if you overapply.
We'd recommend using this in small amounts at first while you get used to it.
You have a choice to pick a single canister of the stuff, or you can get a pack of two ahead of time.
Check out the hundreds of customer reviews here on Amazon.
---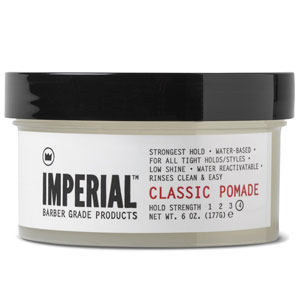 This pomade is as strong as the toughest wax and has a low-shine seriousness to match.
Specs
Who Is It Best For?
It's one of the best pomades for thick hair or for men with hair that is difficult to style.
Key Features
This pomade's label says it's good enough to be used in a barbershop; after some examination, we agree.
Interestingly, the water-based formula allows you to reactivate pomade whenever you want to adjust your hairstyle.
Basically, adding a little extra water in the middle of your day lessens the hold just enough for you to restyle your hair or move things around before the pomade solidifies again.
For this reason, we recommend it for men with longer or thicker hair or for men with kinky hair.
It's hard enough to get those types of hair to do what you want, but this pomade makes it easy upon initial application and keeps it easy throughout the day.
That's something you can't say about most pomade products.
It's probably the strongest water-based pomade you can find on the market.
It lacks any noticeable fragrance, meaning you should feel free to combine this with any other artificial scent or cologne.
In terms of shine, this pomade doesn't quite reach all the way to matte, but it's close enough that we feel safe recommending it for men with short hair.
It isn't likely to make your hair look greasy.
Instead, it fades in well with hairs of all colors.
It's just not the "flashiest" pomade we've tested so far.
This is high hold low shine pomade for long hair men.
The only downside is its high asking price, although you do get a good 6 ounces of the formula for your purchase.
Overall, this is one of the highlights of our search, and we'd recommend it for most men in a heartbeat.
Check out the hundreds of customer reviews here on Amazon.
---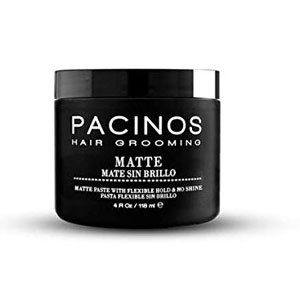 This pomade straddles the middle ground between offering rigidity and flexibility.
Specs
Who Is It Best For?
This is one of the best hair pastes for men just starting out in their hair experimentation.
Key Features
This pomade (often called a paste) offers a medium strength hold that tends toward the flexible side of things rather than rigidity.
It's great for guys who have naturally wavy hair like a little authenticity in their hairstyle.
It's easy to adjust your look with the comb while still retaining the overall shape of your hairstyle as a result of this strength.
As a water-based formula, it's easy to wash this out at the end of the day, and it's made from a mixture of natural and synthetic ingredients.
The matte finish of this pomade is particularly robust and adds a lot of whole-bodied color to hair strands.
Our testers found that it faded into most hair colors without issue and eliminated most shining.
It's great for men who have naturally greasy hair and who want to style their hair in a way that minimizes this aspect as much as possible.
While it's good for curly hair, it's not quite strong enough to handle kinky hair and other more rebellious hair types.
Overall, we think this is an excellent pick for multiple middle-of-the-road hairstyles.
While it's not super affordable, it's not super expensive, either.
Feel free to try this out if you are starting to experiment with hairstyles and want to use something that won't make your hair too rigid to begin with.
Check out the hundreds of customer reviews here on Amazon.
---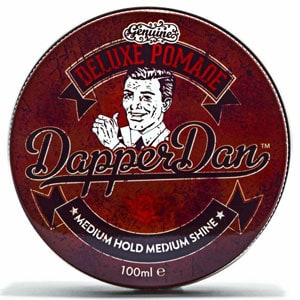 This pomade as a strong fragrance and is ideal for perhaps the widest variety of hairstyles.
Specs
Who Is It Best For?
It's great for men who don't need a pomade for one style or hair type, as it can serve many moderate styles depending on the amount.
Key Features
This is an extremely flexible pomade that lets you swap between hairstyles relatively easily.
It's water-based, so it's easy to wash out at the end of the day.
It also has both a medium hold and medium shine, making it an excellent choice for most hairstyles that don't require some extra string.
It's a good "Jack of all trades" option.
Since it's so adaptable, we'd recommend it for men who don't have mainly dry hair, greasy hair, or tangled hair.
Its versatility also makes a great for men with longer hair, as its strong enough to with that hair type into a shape or style without making it too rigid to become uncomfortable.
You can also control the shine, to some extent, by using smaller or larger amounts of the hair pomade each morning.
Less pomade will be more matte, while more will add to the shine.
There's pretty noticeable citrus and phenol fragrance, which may or may not be your cup of tea.
Also, it's one of the more expensive pomades on our list, even if it is super adaptable and, therefore, valuable.
Our recommendation is to pick this up if you don't need a pomade for one hairstyle or purpose.
Check out the hundreds of customer reviews here on Amazon.
---
Frequently Asked Questions About Pomades and Their Uses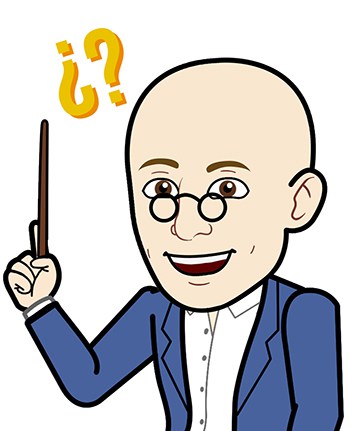 Now that you've got some great pomades to put in your digital shopping cart, what's go over any questions you might have remaining.
1. What Is Pomade, Anyway?
With so many different hair styling products to choose from, many men aren't sure what separates pomade from other things like wax or hairspray.
What is a pomade or how will you define a pomade?
What makes pomade unique, and why should you consider it for your hair?
While there is no one best definition for pomade, put simply, pomades are hair styling products that can give your hair a shinier or slicker appearance than most other stuff.
It also lasts longer than most competitor products and can sometimes take a few serious washes to get out of your hair completely.
But, what does pomade do?
Pomade allows you to reshape your hair and make it look like whatever you please, but it's particularly strong.
This makes it an excellent choice for men with rough or coarse hair types.
Not everyone's hair is easy to style, and it can be tough to find a wax that has enough strength to keep the most rebellious curls or waves sitting where they're supposed to.
A good pomade is often the answer.
In terms of composition, pomade and other hair care products can share many similarities, ranging from ingredients to fragrance and even to texture or finish.
Because beeswax is used in many hair pomades nowadays, the line between pomade and wax is becoming thinner all the time.
It's best to think of pomade as a general category of hair styling products rather than a hard line that can't be crossed.
Some waxes will be close to pomades, and some pomades will be closer to waxes.
Whatever the case, all you need to worry about is whether or not a given product will be acceptable for your hair.
2. Pomade Vs. Wax: Which Is Better?
Neither is better than the other; they are meant for different things.
Wax is typically a little thicker than most pomade products, and they often have more of a matte finish that can make your hair look dry and whole body.
Waxes are great for men with shorter hair or for guys who want to go with classic hairstyles that don't draw too much attention to their hair's shine.
It doesn't stiffen your hair, either, but it gives it a tacky texture that can be a bit off-putting for some men.
It's also slightly dry, so men who have dry scalps or hair will often avoid wax in favor of something else.
3. What About Pomade Vs. Gel?
Hairstyling gel hardens directly on your hair strands and can make your hair feel stiff for crunchy.
It gives most hairstyles a wetter or shinier look, even though they aren't particularly heavy and won't make your hair feel very firm to the touch.
However, gel usually makes hair strands feel brittle and sharp.
They're great for spiky hairstyles.
Gels are a lot easier to wash off than pomade since they're almost always water based.
Hairspray is, of course, much lighter than pomade or any other hair styling product.
It's excellent for providing a quick shine to your hair or adding a little volume, but it's not nearly as good for serious hairstyling or for tangling your hair into dramatic shapes.
Overall, each of these hair styling products types is great for specific situations and worse for others.
Stick with pomade if you want to lean more towards the waxy side of things without the risk of drying out your hair.
Check out our guide on the best hairsprays for men if you'd like to know more about those products.
Everyone has a general idea for how best to use a hair styling product, let's go over how you should use pomade.
Step One
First off: you don't necessarily have to wash your hair before applying your pomade.
It's perfectly fine to apply some of the stuff in the middle of the day after you've already showered but be aware that pomade adheres best to clean hair.
It's always better to put the stuff in at the beginning of your day before you head out to school or work.
And since your hair usually is clean and dry after you've taken a shower, applying your pomade is just an extra short step to your morning routine.
It's easy to fit into virtually any schedule, so we'd recommend putting your pomade and after your shower.
Besides, be sure not to dry your hair all the way if you plan to apply your pomade in the morning.
Leaving a little dampness is key to being able to mold your hair precisely as you wish, it is okay to have a little wet hair.
Tip: You can always apply a little blow-drier heat to your hair after you've put some pomade in it.
This often helps with volume and can even improve the hold strength of a pomade depending on the ingredients in the formula.
Step Two
Squeeze as much pomade as is necessary for your hair type and amount.
Men with thicker amounts of hair will need more of the stuff than men with thinner or short hair.
For our efforts, we found that about a quarter-sized amount was suitable for short to medium length hair, and a little more was perfect for men with longer hair.
It might take a little experimentation before you find the ideal amount for your hairstyle.
Next, think about how you apply wax, pomade, or any other styling products to your hair.
You initially begin with quite a good clump of the stuff on and between your fingers.
The key, therefore, is to make sure that most of the pomade is spread evenly through your hair instead of being stuck in the thicker strands in the middle or absorbed by the edges of your hair.
For the best results, you should start applying your pomade at the back of your hair and slowly work your way forward.
This gives the pomade the best chance of being evenly spread throughout your entire scalp rather than being stuck in a area.
Be sure to keep your fingers apart and dragged them through your hair without going too fast or slow.
Step Three
Rub the pomade into your scalp and pull your fingers up to the top of your hair strands, starting from the root.
This will spread the pomade evenly across all your strands and allow you to mold the entirety of a hair section instead of just the tips or roots.
Step Four
Think about the style you want to apply to your hair.
If you want a traditionally spiky look, keep pulling your hair up until your hair strands stand at attention.
Alternatively, you can use a comb or brush to style your hair in sweeping motions or shapes.
It might help to consider what hairstyle you want to use before you start applying the product.
If you wait too long, your hair will be stuck in whatever shape it took when you started rubbing it around.
6. How To Clean Pomade Out Of Your Hair
Washing pomade out of your hair is no simple feat, particularly if you have one with an oil-based formula.
The best method is simply to use a great shampoo and wash it thoroughly through your scalp and hair strands.
If you have an oil-based pomade, you can always try to find a shampoo that is specifically recommended for clearing away excess oil.
These shampoos will have compounds that can dismantle the oil and make it easier to clean off.
Check out our guide to the best shampoos for men if you'd like to know more.
You can also use olive oil, and you won't need too much of it to get rid of a full head's worth of pomade.
Simply slather a little olive oil onto your hair while you are still in the shower.
The olive oil will cut through the grease and oil of your pomade product without causing issues for your scalp or hair strands.
The olive oil can be washed off with shampoo and water like with any other product.
It might be a great choice if you're oil-based pomade is particularly hard to get rid of.
Whatever method you choose, take your time when washing your hair of pomade, and don't be discouraged if a little bit remains, and you still plan to use more of the stuff the following morning.
Pomade doesn't cause many hair or scalp issues over long periods so long as you clean your hair well each day.
All pomades will eventually rinse out after a few solid washes.
7. What Are The Best Pomade Hairstyles?
The best pomade hairstyles truly depend on your hair type and personal masculine aesthetic.
What works best for another guy might not look too great on your own head.
But a good general piece of advice to follow is to go bold when you apply pomade.
This hair styling product isn't meant to comb your hair to the side or give you a boring hairstyle that you could achieve with a little light hairspray.
Pomade is powerful stuff, so use it like it's intended.