You might have hair that would look perfect if you styled it, but it simply refuses to stay in place.
Or you might spend a lot of time outside and, thus, be subject to whatever hairstyle the wind decides to give you that day.
Whatever your reason for not having your ideal hairstyle, the best hair waxes for men are guaranteed to overcome it.
Hair wax has been used for generations to perfect personal styles and give men the ultimate control over their image.
It's a flexible, long-lasting hair styling product that can help you finally achieve the ideal hairstyle you've always wanted.
Styling wax can also keep your hair from becoming flat and dull throughout the day.
But not all waxes are made alike, and some are certainly better than others.
That's where this guide comes in.
We've done the research and found the best hair waxes for men, plus put together a styling guide to answer any questions you have and show you how to apply wax for ideal results.
If you've ever wanted to learn how hair wax can make you look great, this is where you start.
Let's go!
QUICK OVERVIEW: Best Hair Waxes
Vogarte Hair Styling Aqua Wax for Men

Easy to wash out with regular shampoo
Doesn't leave a tacky texture in the hair

VIEW ON AMAZON →

Old Spice Fiber Hair Wax Style for Men, Twin Pack

The fragrance is noticeable but not overwhelming
Comes with plenty of wax in the purchase

VIEW ON AMAZON →

Mister Pompadour Natural Beeswax Paste

Feels good to the touch
Provides plenty of holding power all day long

VIEW ON AMAZON →

Ideal for shorter, commonly male hair types and lengths
Made with some great natural ingredients

VIEW ON AMAZON →

Easy to spread the hair
Affordable

VIEW ON AMAZON →

Promotes restyling throughout the day
Lots of wax for the purchase

VIEW ON AMAZON →

TIGI Bed Head for Men Matte Separation Workable Wax

Protects hair against humidity and frizzing
Combines natural and synthetic ingredients effectively

VIEW ON AMAZON →

Smooth Viking Hair Clay for Men

Volumizes your hair well
Doesn't dry out the scalp

VIEW ON AMAZON →
Use the table of contents below to jump to the sections most important to you.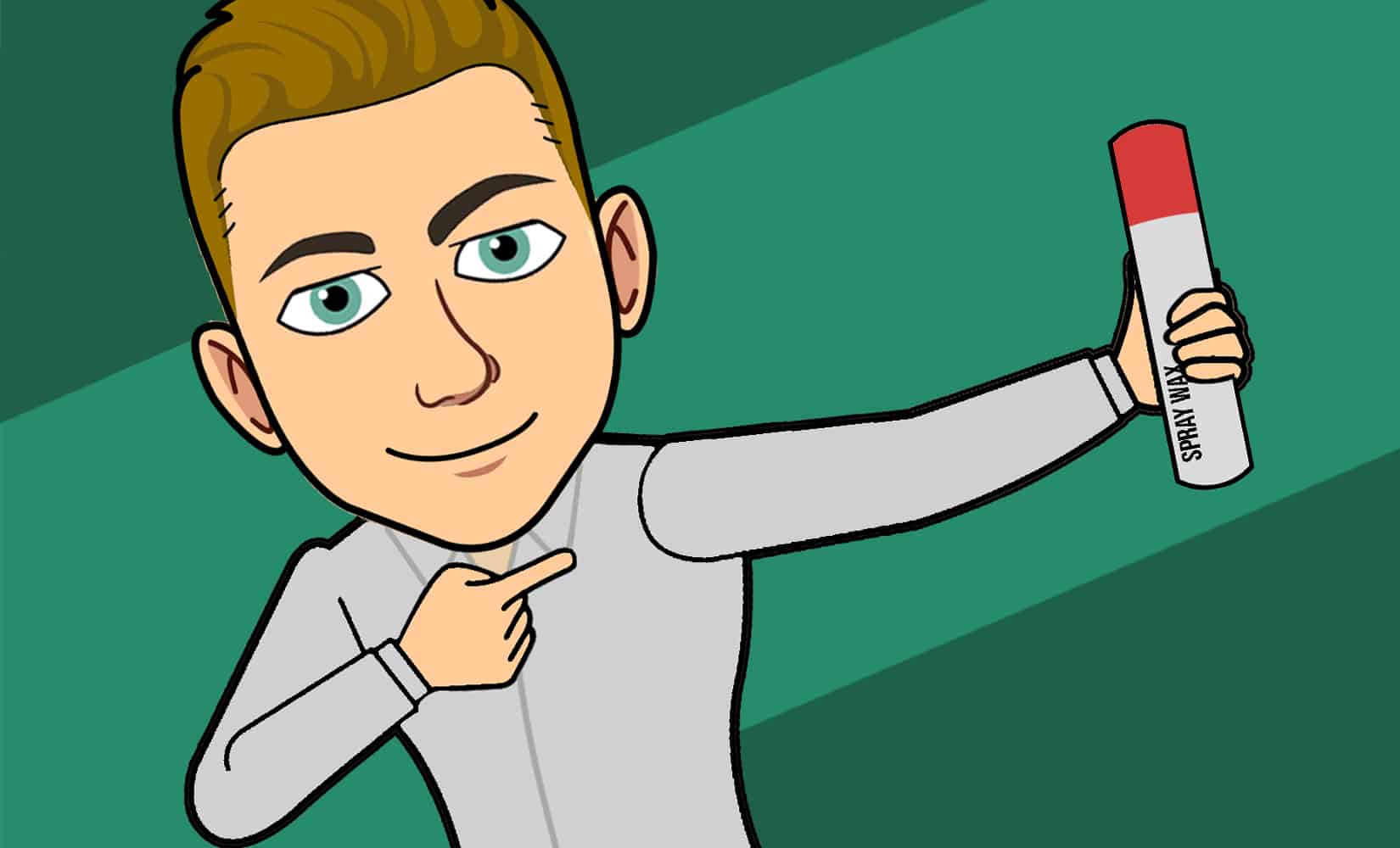 8 Best Hair Waxes for Men of 2023 Reviewed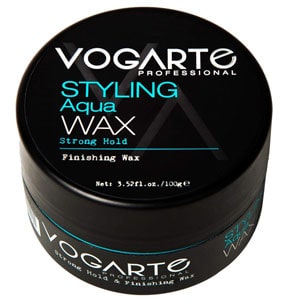 This water-based hair wax has enough strength to control wilder hair types and provide a decent shine all day long.
Specs
Who Is It Best For?
This is one of the best hair waxes for men with longer and thicker hair who are concerned about washing it out at the end of the day.
Key Features
This strong-hold hair wax is made from a water-based formula that lets you spread the wax through your hair quickly and restyle it throughout the day with a minimum of effort.
It's the best men's hair wax for a variety of hair types, but it's particularly suitable for more substantial or thicker hair.
It lasts for a long time, mainly due to its simple formula that focuses on keeping your hairstyle the way you like it without adding ingredients to the recipe for improving volume or texture.
It's a specialized hair wax that is perfect for men looking for a solution to a single problem, but it's not very versatile as a result.
In fact, using this hair wax with some thicker hair types can lead to flatter hair overall if you overapply it.
Still, its ability to last all day without wearing down over time is noticeable and appreciated.
Our testers also found that it was super easy to wash out with regular shampoos, mainly due to its water-based nature.
This wax leaves a shiny finish that can make certain hair colors and styles especially radiant.
Value for Money
Other benefits include the high amount of wax included in the container and the affordable asking price.
This can be a great budget choice if you're a guy that doesn't have a lot of extra cash to spend on hair styling products.
But virtually anyone can afford this and have a wax strong enough to shape their hair into whatever configuration they desire.
As one final plus point, this wax was made with cruelty-free processes and ingredients; nothing was tested on animals beforehand.
Check out the hundreds of customer reviews here on Amazon.
---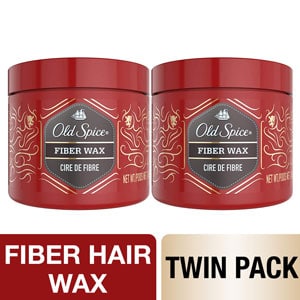 This hair wax comes in two containers of a long-lasting formula.
Specs
Who Is It Best For?
This is an excellent choice for men with hair that needs both an average amount of shine and holding power.
Key Features
As one of the best hair waxes for men, this is a pack of two fiber wax canisters, so right off the bat, it's an ideal choice if you're a man on a budget.
You can quickly get enough wax to last you for the rest of the year with a single purchase, which is a huge benefit in our book.
The formula is a typical synthetic variety that uses several artificial compounds and polymers to provide a medium-strength hold for most hairstyles.
It's also one of the best hair waxes for men used for keeping your hair in a specific shape throughout the day without locking it too hard and preventing restyling.
Its flexible hold makes it versatile for most hair types, even if you have especially curly or kinky hair.
It also provides a moderate shine that isn't as noticeable as our last pick, but which still adds a distinct look to your hair and color.
This wax also has a standard Old Spice fresh fragrance.
It's nothing too extraordinary, but our testers thought that it smelled fine by itself and wasn't too overwhelming for combination with other fragrances.
Value for Money
Our testers think that the tacky texture of the wax lingers for a little longer than most guys will like.
It does eventually dissipate once you rub the wax into your hair, but it takes longer than many competing products and doesn't feel great on your finger right from the start.
Overall, we would rate this as one of the more "Jack of all trades" wax picks you can make.
If you have hair that's mostly "normal" or which doesn't fall under one particular category or ailment, this might be an excellent choice for you.
Check out the hundreds of customer reviews here on Amazon.
---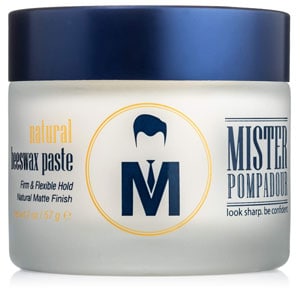 This wax is made from natural ingredients and provides reliable holding power to even tough and thick hair.
Specs
Who Is It Best For?
It's a perfect choice for men concerned about scalp irritation.
Key Features
This natural hair wax product is made primarily from beeswax.
Beeswax has actually been used for hair styling and hair removal for thousands of years, dating all the way back to ancient Egypt.
Despite all the time that has passed, it's still a fantastic ingredient and works wonders here.
This hair wax can hold your hair in place, even if your hair is naturally crazy or curly or tends to be wavy overall, making it one of the best hair waxes for men.
It's not too tacky to the touch, and our testers thought it felt phenomenal to run it through their hair without immediately feeling like they had to wash their hands afterward.
Because it's made with natural ingredients, there's no risk of irritating your scalp or drying out your hair.
It's also free of alcohol and salt, as well as parabens or other synthetic ingredients.
It's perfect for all hair lengths and types, and it lacks any noticeable fragrance so feel free to combine this wax with cologne or scented deodorant.
The matte finish provided by the wax is excellent for simplifying your hair color and making your hair strands appear more whole-bodied.
Value for Money
While it doesn't necessarily add volume to your hair, it will make your hair look a little more naturally healthy than before.
Since it's water-based, it's easy to wash out with regular shampoo in your shower.
The only downside is the high asking price.
We would still recommend it for men who want the best of the best and who don't want to risk irritating their scalp with synthetic ingredients.
Check out the hundreds of customer reviews here on Amazon.
---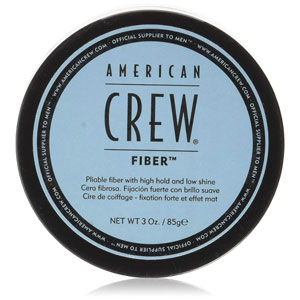 As one of the best hair waxes for men, this wax combines natural and synthetic ingredients to great results.
Specs
Who Is It Best For?
It's a good pick for men with hair that seems to sink down and become flat throughout the day.
Key Features
This hair wax combines a couple of synthetic polymers with beeswax and lanolin.
In this way, it combines the long-lasting strength of the best artificial chemicals with the natural power of organic ingredients to provide you with a super-strong hold for your hair.
It lasts all day long and works particularly well in hair that is between 1 and 3 inches in length.
This is already the length of most men's hairstyles, so most guys should find that this wax works well for them.
Despite the stronghold, it's easy to restyle your hair in the middle of the day as it keeps your hair strands pliable despite protecting them from falling away or turning flat from wind or rain.
The wax adds a matte finish to all hair colors, providing an enhanced appearance and a whole-bodied look that is especially great for shorter hairstyles.
Value for Money
Your hair can look firm and natural all at the same time with just a small amount of this combination wax, making it the best crew-cut hair wax.
Even better, this wax adds a little volume and texture to your hair to give it a little extra lift.
Therefore, it's one of the best hair waxes for men with flat hair that tends to sink throughout the day.
All these benefits are improved even further by an affordable asking price and 3 whole ounces of wax in the tin.
It does feel thick and tacky, especially as you are weaving it through your hair, but the positives far outweigh the negatives in our eyes.
Check out the thousands of customer reviews here on Amazon.
---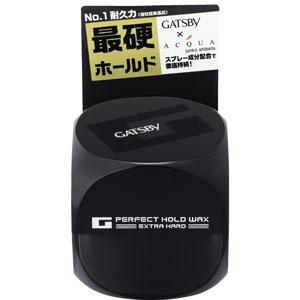 This is a wax with a particularly unique fragrance and plenty of holding power.
Specs
Who Is It Best For?
It's one of the best hair waxes for men who need a strong hold above all else, and especially those who dislike the typical tacky texture of most other waxes.
Key Features
The Gatsby Perfect Hold Wax truly does live up to the namesake, providing an extra hard hold for a variety of hairstyles and types.
The strength of the hold is tough enough to shape your hair into more dramatic styles and keep it looking fantastic for up to 12 hours or more.
It's recommended that you create the style from the very roots of your hair, as this puts the high strength of the formula to best use.
This wax feels exceptionally soft to the touch, meaning you don't have to spend a lot of time rubbing it between your hands before you can start spreading it through your hair.
This benefit also makes it feel less tacky than many other competing wax products.
Value for Money
It's an excellent bonus for guys who don't like the traditional feel of the other best hair waxes for men.
It also has a relatively unique fruity fragrance that you don't smell very often among hair waxes.
It is reasonably noticeable, but it's not undesirable; if you like citrus or fruity fragrances already, you'll likely find little to disagree with here.
Another benefit from this wax is its ability to moisturize your hair.
A few of the synthetic polymers within the formula help to prevent your scalp and hair from drying out throughout the day.
While it won't replace a good conditioner, this added benefit definitely raises its value for money.
Overall, this straight-from-Japan wax is another excellent choice for men who need a wax with a high strength hold and who dislike tackier substances.
Check out the hundreds of customer reviews here on Amazon.
---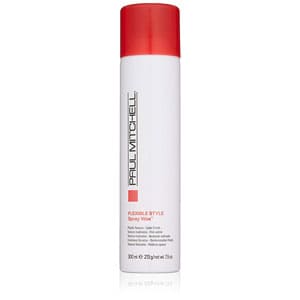 This spray wax is dispensed in a unique way, which may or may not appeal to your tastes.
Specs
Who Is It Best For?
It's suitable for men who need a wax that lets them restyle with ease throughout the day.
Key Features
This is one of the most unique wax products you can find that works very well with short hair.
Rather than being dispensed in a tin or can, this wax is sprayed onto your hands from a small bottle.
However, it's not like hairspray where you apply the wax directly to your hair.
You still need to put the wax in your hands and rub it until it is thin and transparent before spreading it through your hair.
The spray bottle applicator is more of a gimmick that makes this wax easy to put in a small bag or your pocket.
However, despite the novelty of the spray-style application, it can cause problems down the road.
Specifically, our testers found that the wax tended to clump up after just a few sprays of the product onto their palms.
This didn't happen every time, but it was often enough that it raised some concerns.
You can always unclog the wax from the spray applicator by running warm water over the top, but this begs the question: why use a spray bottle in the first place?
Value for Money
The wax itself is a high-quality, non-oily substance that uses beeswax and sunflower oil no fragrance to create a soothing formula that's perfect for a variety of hair types.
It promotes a light hold strength across your hair, making it one of the best hair waxes for men with shorter hairstyles or for thinner hair strands.
There isn't a noticeable fragrance, and the finish is noticeably matte, so it'll tie the color of your hair together and make it look natural even though it's been styled.
Another great benefit is the high amount of wax you get for the purchase.
The asking price seems high at first glance, but you get 7.5 ounces of wax, which is above the market standard for other wax products.
Overall, this is a decent wax by itself, and the spray applicator is hit or miss.
Pick it up if you're in the market for a good light strength hold hair wax and don't mind occasionally rinsing the applicator nozzle out every now and again.
Check out the hundreds of customer reviews here on Amazon.
---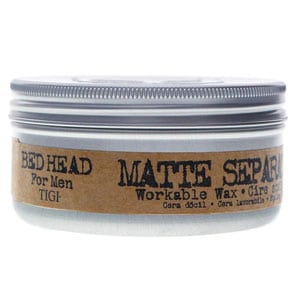 This wax is a versatile formula that can help all types of hair and even control frizzier hair types.
Specs
Who Is It Best For?
Pick this up if your hair tends to go haywire in humid weather.
Key Features
This is a versatile hair wax made from beeswax and a series of carefully selected synthetic polymers to provide a medium-strength hold for all hair types.
The hold is combined with a matte finish that is particularly natural-looking and which fits very well with lighter hair colors, as these shades tended to show hair styling products a little more easily than darker ones.
The formula is reasonably high quality and allows for plenty of bending and restyling throughout the day without relinquishing the general shape of the initial style.
Value for Money
It's great for men with wavy hair, in particular, since you can lean into the natural tendencies of your hair locks to achieve more natural-looking styling success.
The formula also provides some humidity resistance, making it an excellent choice for men whose hair becomes frizzy in such weather.
Stray hair strands will be less likely to fly away from your head or spread everywhere with this wax woven throughout.
There's no noticeable fragrance, and it's incredibly affordable, especially considering that you get 3 ounces for the purchase.
It does feel a little tacky on the fingers, but overall, we think this is a great general-purpose hair wax for men that want something without quite as many synthetic ingredients as some other popular wax choices.
Check out the thousands of customer reviews here on Amazon.
---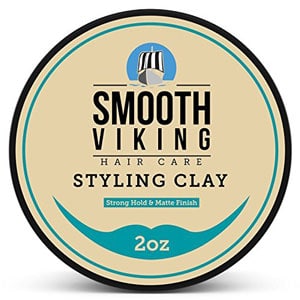 This is a wax made for men who respect strength: specifically, the strength of its high-hold formula.
Specs
Who Is It Best For?
It's great for thick hair in need of a strong hold, plus some added volume.
Key Features
This hair wax is made by combining several synthetic polymers with a natural clay product, plus a few natural ingredients.
The clay both helps to provide a firm hold for even the wildest of hair types while also improving the volume of your hair, making it one of the best hair waxes for men.
The clay will collect near the roots of your hair strands and improve their strength and durability while making them look fuller and healthier than before.
Naturally, this leads to a proper matte finish that goes well with most hair colors and which combines really well with shorter hair lengths.
The hold strength here is really remarkable, especially considering that most clay wax products have less hold strength than waxes without clay ingredients.
Besides, the clay doesn't dry out your hair or scalp, so feel free to use this even if you have drier hair than average.
Value for Money
Our testers think that it can effectively wrangle men with regular bed heads into more professional, sleek styles without too much trouble.
The hold strength remains throughout the day, as well.
Without a noticeable fragrance and a decent texture, the only thing holding this back is the asking price/amount ratio.
It's a bit low, but still acceptable given all the benefits contained in the tin.
We think it'll be one of the best hair waxes for men who appreciate stronger wax products will also need some volumizing help with flat hair.
Check out the thousands of customer reviews here on Amazon.
Things To Consider When Buying the Best Hair Waxes for Men
How did our experts decide which are the best hair waxes for men?
They focused on the key considerations below.
1. Wax Type
---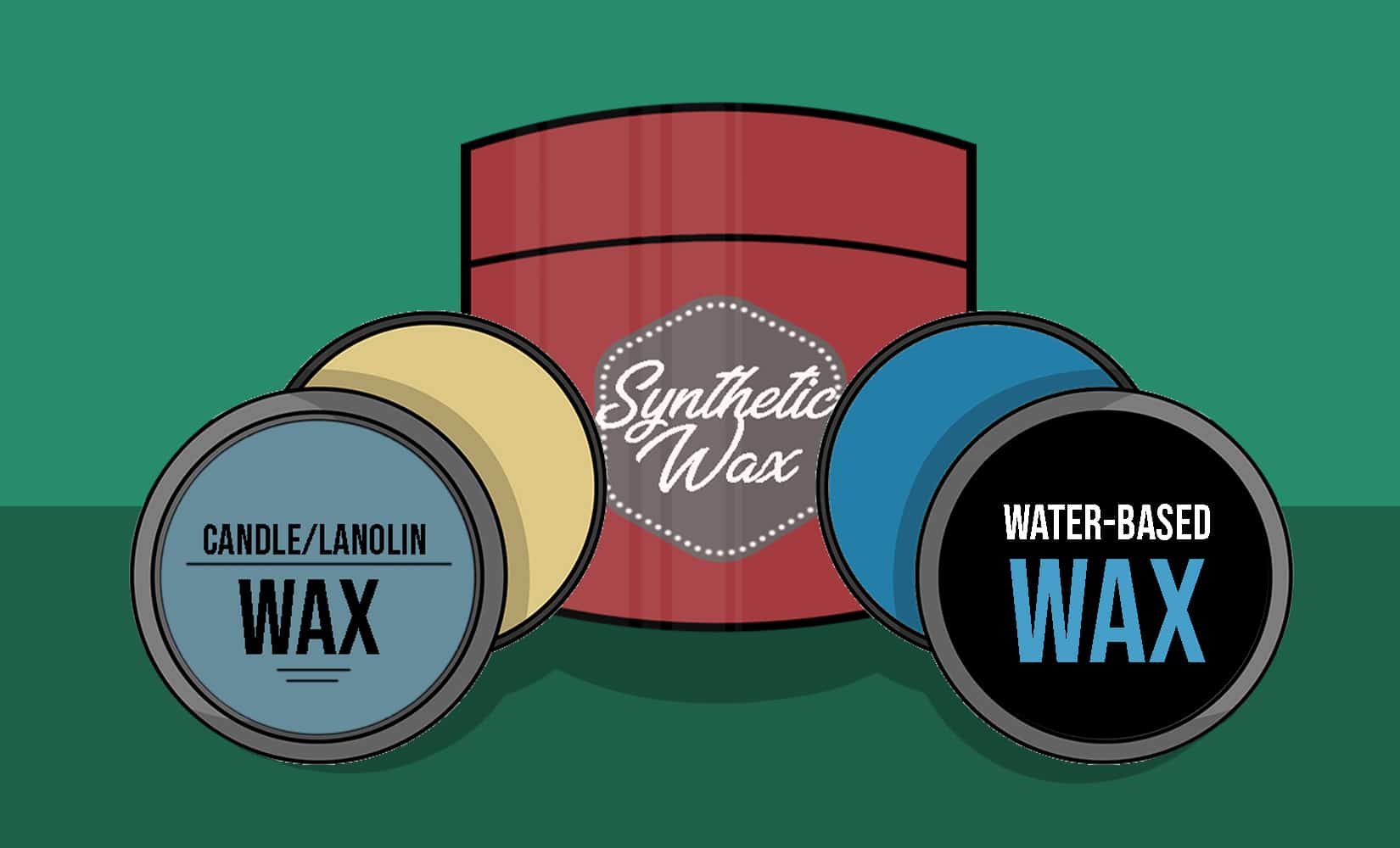 There are three main types of wax products you'll find as you browse for the best hair waxes for men.
There's no one superior choice but to go to for every man, but each has certain advantages that might make it perfect for you.
These waxes are common and were among the earliest ever developed.
Don't know what lanolin is?
It's a type of wax made from wool-producing animals, so feel free to pick up either of these kinds of wax if have ethical concerns, as they are usually made without animal cruelty.
They're usually made with all-natural ingredients, although you may find occasional hair products that have a few synthetic compounds here are there.
But for the most part, there are the best hair waxes for men who are concerned about the health of their scalp or the environment.
They're particularly nice for men with sensitive scalps as the organic ingredients aren't usually very irritating.
They usually leave a shinier finish than other types of wax, and they don't dry out very easily.
This can make them a great choice if you have dry hair naturally.
Water-based waxes are pretty common, although they don't strictly use water as their principal ingredient.
In actuality, these types of waxes will be combined with lanolin or candle matter as well.
The water added to the formula helps the wax achieve a thinner and more comfortable to modify texture.
Because of this, they're fantastic for restyling your hair, although virtually all waxes allow for some degree of restyling even after they've been dried for some time.
However, due to the addition of water, over-evaporation is a real concern.
They dry out quickly and thoroughly once they've been applied, so we'd hesitate to recommend water-based waxes if you have dry hair already.
Still, they could be the best hair waxes for men who don't like the typical texture of wax, either because they have a sensitive scalp or don't like the way it feels on their fingers.
Finally, synthetic wax usually has vinyl or a similar compound as its primary ingredient.
These types of waxes are usually quite cheap compared to the other two kinds, so they're a great choice if you need a good wax on a budget.
However, the textures of synthetic waxes are usually more robust and stiffer than their water-based or candle counterparts.
They can also quickly dry out your scalp if you don't wash your hair thoroughly at the end of the day.
Feel free to use these if you need a decent wax for a lower price, but don't leave the wax in your hair for longer than 24 hours without washing your scalp and adding a good moisturizer.
Avoid these waxes if you frequently suffer from dandruff as a result of a dry scalp.
2. Hold Strength
---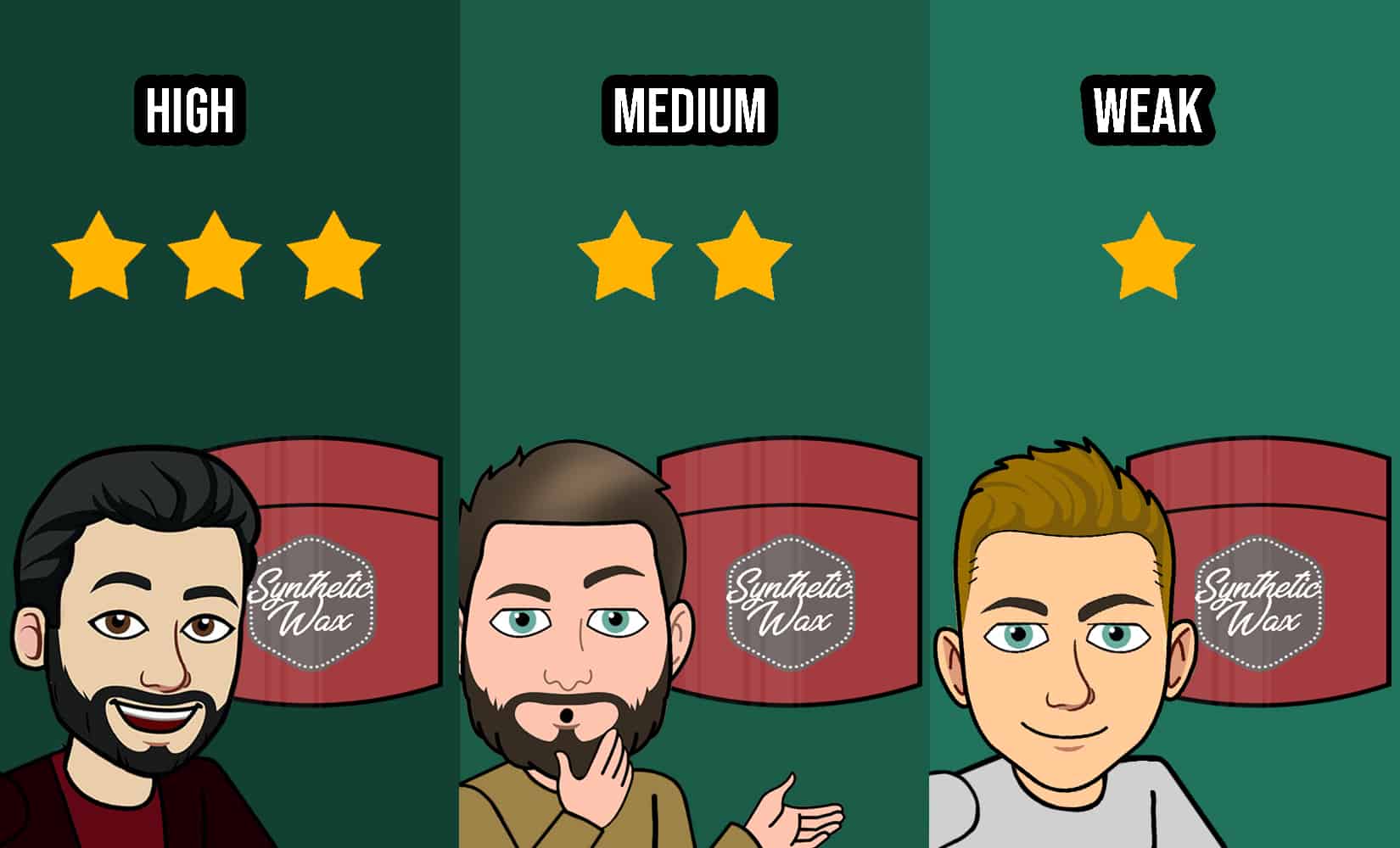 The next most important aspect as you select the best hair waxes for men is the hold strength of the product.
Note that all waxes typically have a hold that would be considered moderate when compared to other hair styling products.
But even though most waxes have a moderate hold strength, this strength can still vary from product to product.
You can sometimes find waxes that are strong enough to compare to the toughest hairspray or gel or weak enough to compare to the lightest pomade hair wax or cream.
Waxes with high hold strengths are great if you have thicker hair or want to ensure that your hairstyle isn't messed up no matter what the weather has in store for you during the day.
High-hold strength waxes are perfect for keeping your hair in a designated style or for adding plenty of extra volume and texture to your hair.
Although their strength is impressive, you'll still be able to restyle your hair by twisting your strands and shaping the hair in the desired direction.
The best hair waxes for men will also keep your hair in place for more extended periods than waxes of lesser power.
However, waxes with high hold strengths can sometimes feel a little dry on the head.
Medium hold is the prototypical wax strength and is suitable for a variety of different hair types and styles.
It's excellent for both restyling during the day and ensuring that your hair looks as you want it for between 12 and 24 hours on average, they are generally ideal for curly hair.
Moderate strength hair waxes are excellent for curly, straight, thin, thick, or any other hair type.
They can also add a good bit of volume to your thin hair and usually have the widest variety of finish types among wax products.
Weak strength wax products are better for lighter or thinner hair since they won't weigh your hair strands down.
But they still add a good amount of volume and keep your hair in check against the wind or daily pressure.
However, these waxes don't last as long as the other two, and they are more susceptible to failure in the event of heavy wind or rain.
We'd recommend these as the best hair waxes for men who don't have a lot of hair to style, or for men who already have naturally wavy hair and want to accentuate that look rather than go for something entirely different.
Weak strength waxes are the easiest to restyle with, as they grip your hair with less vigor than the other two types.
3. Does It Volumize?
---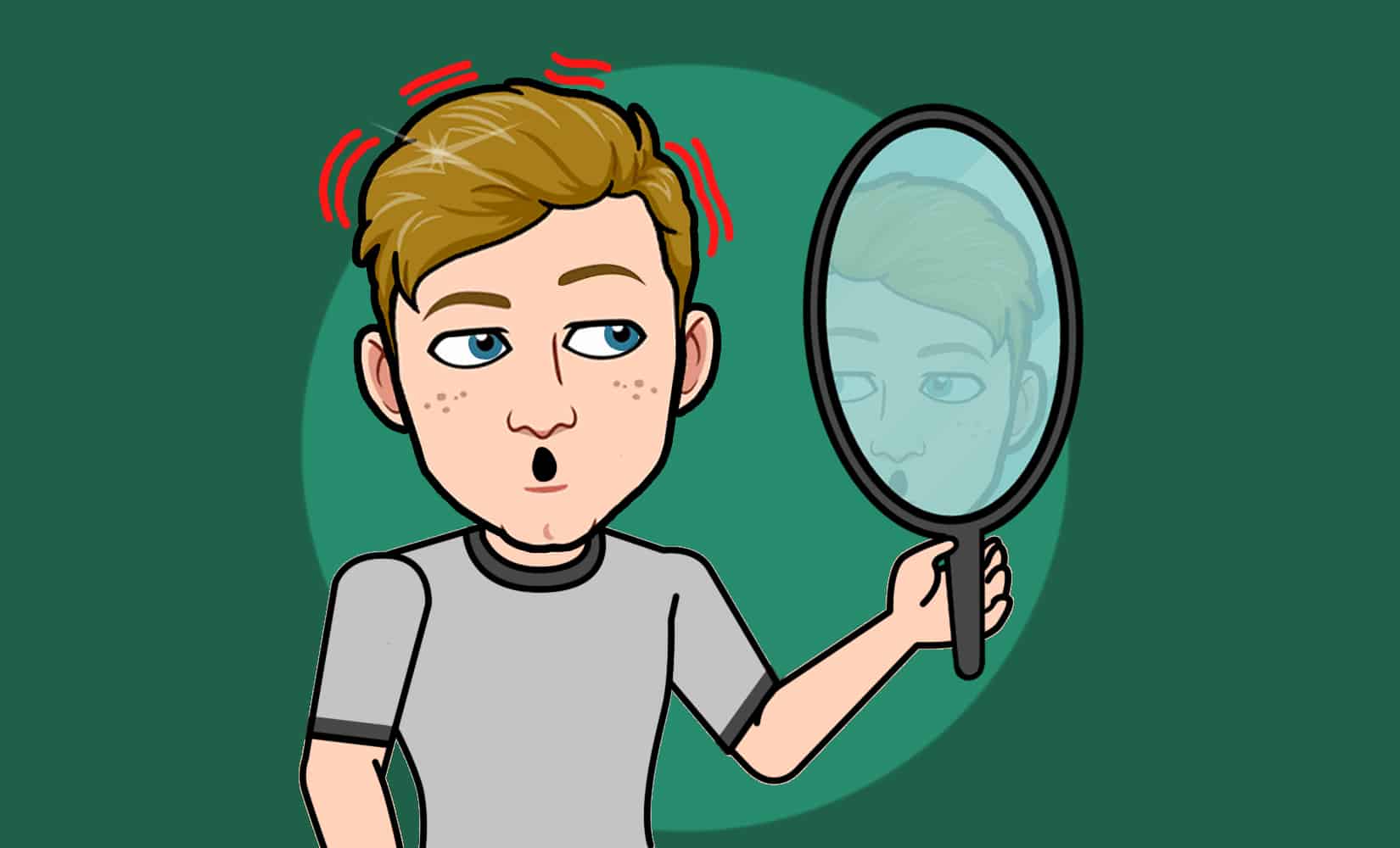 You should also consider whether the best hair waxes for men volumize your hair.
What does it mean to volumize?
Volumizing simply means that wax makes your hair look and feel a little thicker than before.
This doesn't make your hair spiky; instead, it makes your hair lift up or "bounce" more than before.
Certain lucky guys have naturally soft hair that has a good deal of volume or bounce without having to add anything to it.
Others have naturally flat hair that seems to stick to the scalp, and which is difficult to style in a variety of aesthetics.
Even guys who don't usually have to add volume to their hair will still find that it flattens throughout the day just from regular gravity.
So, hair waxes that add volume will make your hair look fuller and healthier.
Waxes that add volume to your hair are almost always a good thing.
If you want a wax that adds a considerable amount of volume, look for a wax made with clay.
When you compare it to regular wax (regular hair wax vs clay wax), clay waxes are mixed together with clay clumps that stick to the bottoms of your hair roots.
This makes your hair appear thicker and fuller, and it can even improve the overall color of your hair at the same time.
Be aware that adding clay to a wax formula sometimes reduces how strong the wax's holding power is.
It's a bit of a trade-off, but it can be really effective if you are going for a messier hairstyle.
However, if you already have pretty bouncy hair adding a high-strength wax that also volumizes could make your hair a little poofier than you intend.
We would recommend that you pick the best waxes for men that also volumize intensely if you have naturally flat hair.
Combine this with an excellent volumizing conditioner, and your hair will start to look better than ever before after the first day.
4. Finish
---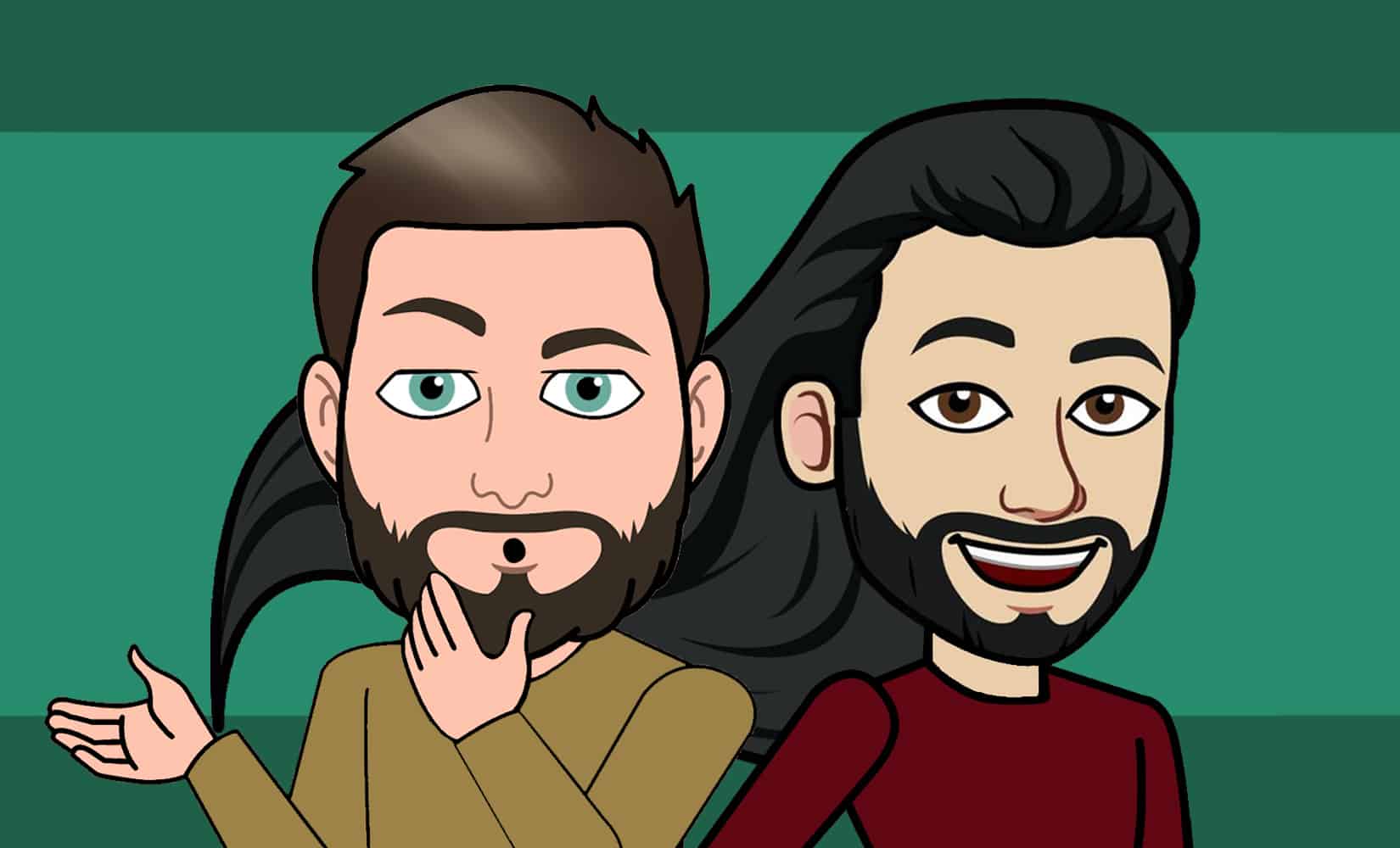 Waxes typically provide a moderately shiny finish no matter which ingredients they have or what type they are.
However, some of the best hair waxes for men can provide matte finishes, and there's plenty of variation between how shiny a given wax will make your hair.
Depending on your hair color and type, you may want a wax that gives you an excellent shine.
Shiny hair can look interesting and dynamic, especially with the right hairstyle.
It can accentuate black hair or give you a sleek, classic look that men have had for generations.
But you'll also want to be careful when seeking out a shiny finish wax.
If you have naturally oily hair, adding the best hair waxes for men will provide some extra shine good leaves for your hair to look even greasier than you want.
This is especially true if you have shorter hair than average.
In general, men with longer and more dramatic hairstyles will appreciate a shiny finish than men with simpler styles and shorter hair.
Some of the best hair waxes for men will have finishes that lean more toward the matte side of things.
Matte finishes will tie your hair together and make its color and texture appear more uniform.
It can make your hair look younger and healthier than before, and it can fit really well with shorter hairstyles or men who have hair colors that don't lend themselves very well to shiny finishes.
Waxes that provide matte finishes are somewhat rare, so your options will be limited if you want this finish in particular.
5. Fragrance
---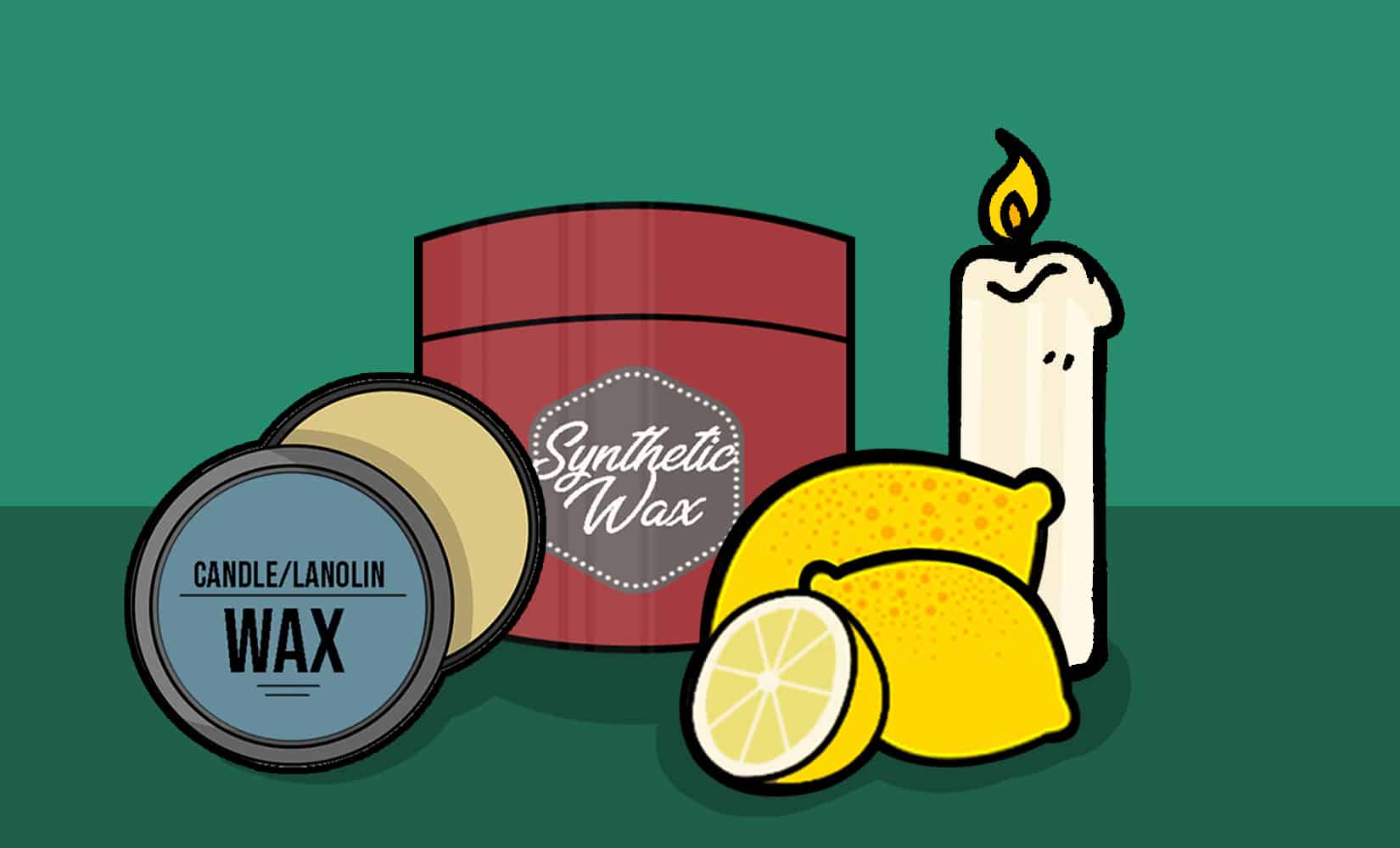 Finally, many of the best hair waxes for men have fragrances that are noticeable even from afar.
Thankfully, hair wax usually smells a lot better than virtually all other hair styling products.
This is mostly due to its ingredients, which are frequently natural or reminiscent of other good-smelling products like regular candles.
No matter what best hair waxes for men are made from, take a moment to check out the ingredients and notice whether or not the manufacturer has a designated fragrance for the product.
This is super important if you already add a cologne or heavily scented deodorant to your person every day.
You don't want your wax's smell to offset the intended fragrance from either of the above two products.
In general, wax usually smells like candles or clay, although a few will have added fragrances like citrus.
---
---
So how do you use hair wax efficiently?
Step One
First off, shower and clean your hair thoroughly.
If you do want to apply a conditioner, you'll want to perform it during this step before you had anything else to your hair.
This gives the conditioner time to work its magic and sink into the cells of your scalp and follicles of your hair.
After showering and applying any other products, dry your hair thoroughly.
You mustn't leave any significant moisture behind before you apply the wax.
Wax doesn't attach very easily to wet hair, and its volumizing abilities aren't as effective when hair roots are wet and haven't yet expanded to their natural size.
While you are drying your hair, try to shave it into the rough outline of the style you prefer.
It doesn't need to be exact but getting your hair into the general configuration you're aiming for will make it easier to style precisely once you apply the wax.
Step Two
Next, it's time to apply the wax itself.
You only need to use a little bit, although it's typical for beginners to over-apply wax and end up with a head that feels tacky and dry to the touch.
You only need to use about a dime size amount in most cases, only adding a little more if you have especially long or thick hair.
Place this small amount of wax on one of your palms and rub it between your hands or fingers.
This softens the wax as it is warmed by your body heat.
Soft, warm wax is much easier to weave through your hair, and it's a lot easier to do this before it's tangled in your hair strands.
By the time you're done, the wax should be thin and virtually colorless regardless of the color it started out as.
Step Three
Spread the best hair waxes for men through your hair, starting at the underside of your hair and moving to the surface and tips.
A good rule of thumb is to start from either the forehead or the back of your hair depending on the style you've chosen.
You'll want to apply the wax with your fingers only, as it's easier to have excellent control and get the detail you may desire as opposed to a comb or brush.
As you spread the wax around, you shouldn't need to reapply it to any single area if you've already applied some.
Whatever you do, try to avoid the instinct to add more wax, you run out halfway through your hair.
Simply drag excess wax from an area you've already reached to the untouched area.
One final note: try not to let the wax touch your scalp.
Wax doesn't do anything for the skin atop your head, and it can be challenging to wash off.
Instead, try to keep the wax contained in your hair strands and avoid rubbing it deep into your head.
Step Four
Now it's time to adjust your hair to the ideal shape you've imagined.
Contrary to misinformed opinions, wax doesn't dry instantly.
You can take your time and perfect your look with the tips of your fingers, twisting and pulling your hair into practically any shape you desire.
The key is sometimes to twist your hair into the right configuration and start from the bottom of the root and work your way to the tip.
Don't try to shave your hair just by pressing down on the tops of your strands; most of the shape of a given strand comes from the general orientation of its root and core shaft.
After you've perfected your shape, feel free to add hairspray to your style for a final boost to volume and hold strength.
Frequently Asked Questions About Hair Wax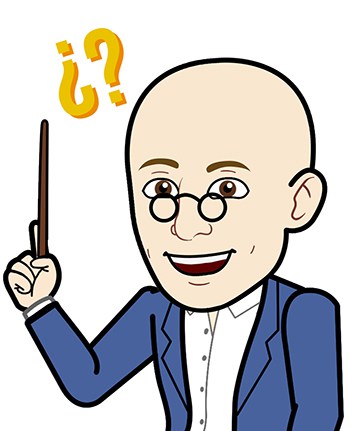 You've got the best hair waxes for men (or at least know where to start looking), but you might have a few lingering questions.
Let's answer those now.
1. What Is Hair Wax Good For?
The best hair waxes for men help your hair maintain its shape throughout the day and prevent it from falling out of style from wind, rain, or other effects.
Wax can be used for a wide variety of hairstyles and virtually all hair types, ranging from thick or thin to curly or straight.
2. What Are Some Other Names For Wax?
You may run into hair wax products that are called by names like "clay" or "paste."
These are basically the same thing as hair wax or pomade but may contain slightly different ingredient concentrations.
It's just a way for manufacturers to distinguish their hair wax products from the competition.
3. Can I Use Hair Wax If I Have Dry Hair?
Of course, you can!
While it's true that hair wax feels pretty dry to the fingers and may dry out your scalp, some products are designed to be the best hair waxes for men with dry hair.
You can always add additional moisturizing products like a great conditioner to moisturize your scalp and hair.
4. What is the Difference Between Hair Wax and Pomade?
Hair Wax Vs Pomade
Pomade is similar to wax in that they are both used to fix your hair into a particular style, but it lasts a lot longer than most wax products or other hair styling products in general.
It's particularly nice for forming sleek, classic hairstyles with a good shine, although there are pomades that have a matte finish.
Hair creams are another popular choice, especially among men who have dry scalps.
Creams are a lot easier to move through curly or thicker hair due to their thinner consistencies.
However, they have weaker hold strengths than the best hair waxes for men.
Hairsprays are really easy to apply and are usually dispensed from an aerosol can.
They have holding strengths ranging from weak to strong and can provide shine or matte finishes.
While they can be effective, many hairsprays aren't as long-lasting as the best hair waxes for men.