The modern man isn't content to buzzcut his hair and calls it a day.
No, we're ready and willing to put forward the effort to style our hair, resist male pattern baldness and grow full heads of hair all the way to old age!
But good intentions only matter so much.
You can only have an excellent head of hair that's ready for styling if you use the best hair products for men.
With so many choices and so many different types of bottles, capsules, and sprays, it can be a daunting task to build up a bathroom cabinet full of the best men's hair products, especially if you're just starting out.
That's where we come in.
In this comprehensive guide, we'll show you all you need to know about the best hair products for men and show you some great examples of each kind, ranging from shampoo to conditioner to wax.
Well, even provide a sample routine for you to follow toward the end.
Ready to get started?
Let's go!
QUICK OVERVIEW: Best Hair Products
PURA D'OR Original Gold Label Anti-Thinning Shampoo

Suitable for all hair types
Provides lots of benefits besides just cleaning

VIEW ON AMAZON →

Brickell Men's Revitalizing Hair Conditioner

Refreshes your scalp and hair
Repairs hair that is damaged

VIEW ON AMAZON →

Viking Revolution Pomade for Men

Has an excellent shine for slicked back hairstyles
Provides a strong hold for thick or wild hair

VIEW ON AMAZON →

Consort Non-Aerosol Hair Spray for Men

Doesn't use aerosol
Provides good holding strength

VIEW ON AMAZON →

Adds volume and texture to hair
Made with good ingredients

VIEW ON AMAZON →

Gentlemen Republic Refined Molding Hair Gel

Doesn't become too crunchy over time
Can be used with most hair lengths or styles

VIEW ON AMAZON →

Smooth Viking Hair Clay for Men

Can be purchased for an affordable asking price
Beeswax makes it easier to apply

VIEW ON AMAZON →

Propridren by HairGenics DHT Blocker and Hair Growth Supplement

Extremely Long Lasting
Sharp Enough to Tackle Wide Range of Hair Types

VIEW ON AMAZON →

Very easy to apply to scalp
Has extra ingredients for added value

VIEW ON AMAZON →
Use the table of contents below to jump to the sections most important to you.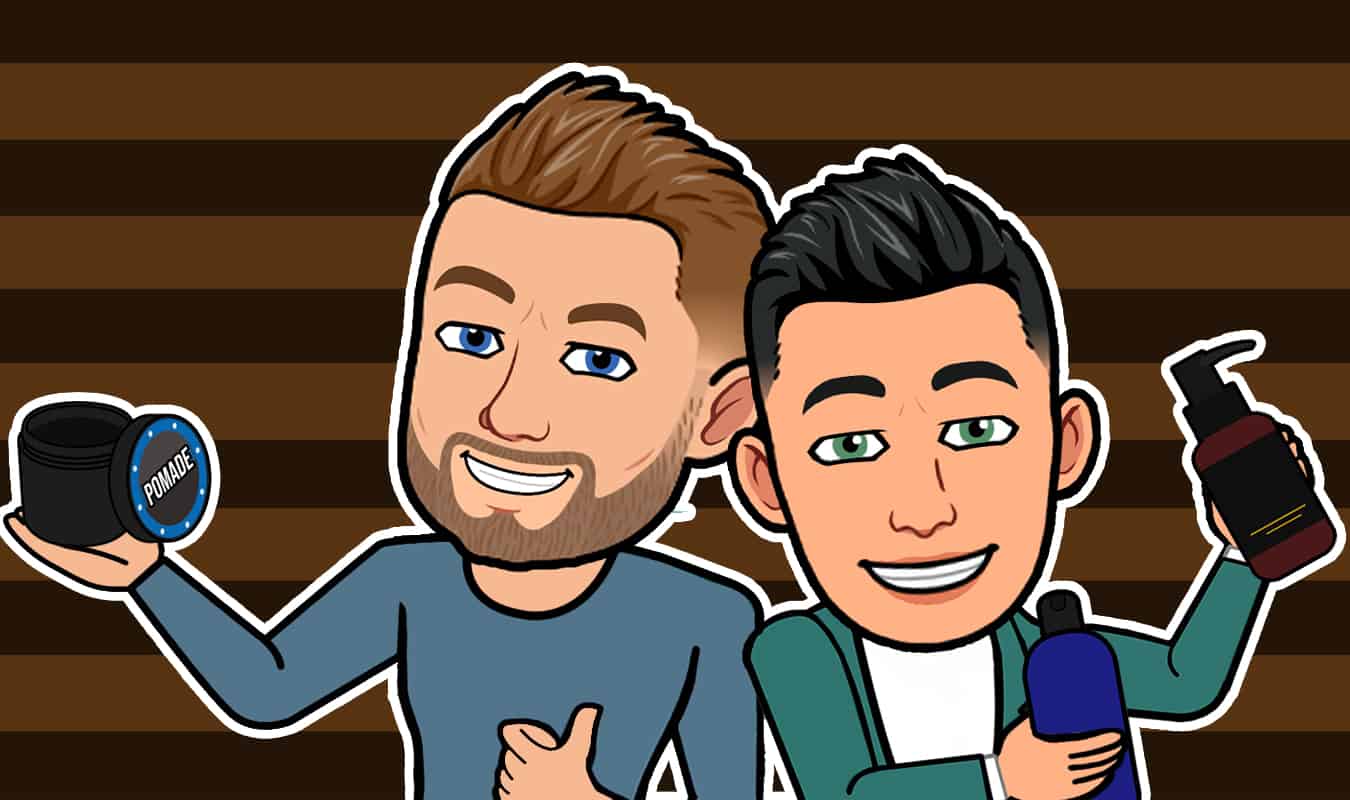 9 Best Hair Products for Men of 2023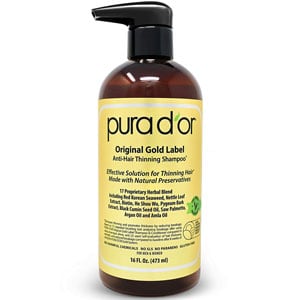 This organic shampoo has one of the most complex ingredient collections you'll find but uses each to great effect.
Specs
Who Is It Best For?
This is one of the best shampoos for men, especially for guys who want to stop their hair from getting thinner over time.
Key Features
This top-tier shampoo is made of natural ingredients and delivers tons of vitamins and nutritional extracts straight to your scalp to supercharge your hair health.
It not only does an exceptional job of cleaning your scalp and cleansing your hair strands of dirt and debris, but it improves your hair's thickness and your scalp's moisture retention.
The shampoo accomplishes all of this thanks to its excellent ingredient list.
It's also one of the best hair products for men with any hair type.
It's not too oily for men with greasy hair, and it's definitely a great pick for men with dry hair due to the high number of moisturizers contained within.
Men with thin hair will also love its thickening capabilities.
Value for Money
It is a little pricey, but it's only fair when it's for a shampoo bottle that's this versatile and effective.
You also get 16 ounces of shampoo for the purchase, which is a comparable amount to many cheaper brands or bulk bottles.
Our testers also liked its fragrance, which is citrusy and suitably masculine.
It doesn't linger too long on your hair, so you'll be able to cover it up with another fragrance or deodorant, as well.
All in all, it's a high-quality shampoo that doesn't really have a downside.
Check out the thousands of customer reviews here on Amazon.
---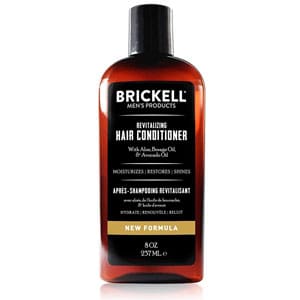 This revitalizing hair conditioner includes plenty of quality ingredients to soothe the scalp and nourish the follicles.
Specs
Who Is It Best For?
This is one of the best hair products for men in conjunction with a decent shampoo.
Key Features
This bottle does just that.
When it comes to conditioner, you want a multipurpose bottle that can help your hair in more ways than one.
Its extensive ingredient collection contains several moisturizers and nourishing ingredients that give your hair the building blocks it needs to produce new hair cells of exceptional thickness and strength.
It also does a great job of moisturizing your scalp and hair follicles, which will prevent your hair from feeling dry even in cold wintry climates.
The conditioner can even help repair hair that is starting to crack, making it one of the best hair products for men with thin or naturally weak hair.
Furthermore, peppermint oil and tea tree oil do a great job of improving the color and fullness of your hair, which can make them look healthier right off the bat.
Not to mention the peppermint oil's great fragrance that mixes well with other masculine scents.
The peppermint oil even makes your scalp feel tingly and can act as a soothing element for men with more sensitive skin.
Value for Money
It's not one of the best hair products for men who have super oily hair, mostly because it has plenty of oils in its formula already.
But our testers didn't think it was too oily in their fingers.
Still, it pays to be cautious, and you might want to go with something else if greasy hair is something you deal with every day.
All in all, it's a conditioner that works for most men and fantastically, at that.
Use it just a few times, and you'll be sure to see some great results.
Check out the hundreds of customer reviews here on Amazon.
---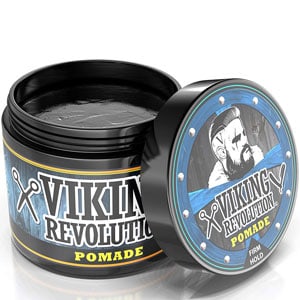 This pomade does everything you could want in a styling product for men but also help your hair grow more thickly and healthily than before.
Specs
Who Is It Best For?
It's one of the best hair products for men who have lots of thinner hair, due to its ancillary benefits.
Key Features
In terms of pomade choices, we'd be hard-pressed to recommend another pick than Viking Revolution's Pomade for Men.
It's an excellent pomade that can provide a high strength hold to your hair using mainly natural ingredients.
The main ingredient is castor oil, a well-known carrier oil that can promote hair growth and transforms the pomade into an easy manipulation film that spread through your hair without much effort.
Since pomade is best used for slicking back your hair and achieving other shiny, classical styles, this is a match made in heaven.
Best of all, this pomade is perfect for men with sensitive scalps since there aren't any synthetic ingredients in its formula.
The pomade also features a rather high shine factor.
This makes it somewhat of a dubious pick for men who already have shiny hair from natural grease production, but there's no doubt that it accomplishes the classical look that all pomades are meant to evoke.
The pomade smells generically fresh without being too overwhelming, so feel free to mix it with another fragrance or deodorant.
Value for Money
You get 4 ounces in the tin, which is about average for pomade purchases.
All in all, it's an excellent pomade because it not only accomplishes the styling objective you purchase pomade for in the first place but also provides a few ancillary health benefits.
Check out the hundreds of customer reviews here on Amazon.
---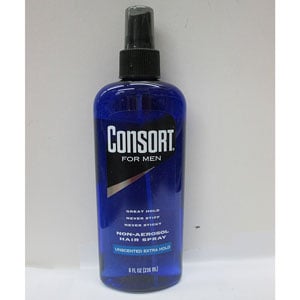 This hairspray is effective and affordable and doesn't use aerosol to deliver styling products straight to your hair.
Specs
Who Is It Best For?
It's one of the best hair products for men who want an affordable and easy-to-apply styling solution.
Key Features
Hairsprays are a dime a dozen but finding the best can be tricky.
While this isn't a hairspray made from natural ingredients, it gets the job done and at an affordable price, to boot.
Our testers found it was a great compromise between effectiveness and price-per-ounce, so it made our list.
Perhaps its most exciting element is the non-aerosol formula; the spray is projected from the can without any of the aerosol found in most other hairspray products.
However, it still uses alcohol and other synthetic polymers to provide a super-strong hold for your hair.
We'd recommend this as one of the best hair products for men with sensitive scalps stick with something made of natural ingredients.
But men with oily hair should seriously consider this hairspray, especially since the alcohol in its formula will help to dry out excessive grease or oil.
It's a non-scented hairspray, so it can be combined with other artificial fragrances without worry.
Value for Money
You also get 8 ounces of hairspray in the can, which is about average compared to other hairspray products.
Finally, it produces a light shine that is perfect for most hairstyles that work well with a robust application of hairspray.
All in all, it's an affordable product that does exactly what you'd want a hairspray to do without much of a downside.
Check out the hundreds of customer reviews here on Amazon.
---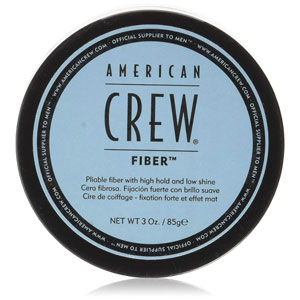 This smooth wax does a great job of holding your hair in place and providing an exceptional matte finish.
Specs
Who Is It Best For?
This is one of the best hair products for men who want wax, full stop, being above and beyond most other wax products.
Key Features
The best hair wax products will do a great job of styling your hair and keeping it lifted up throughout the day.
This wax does just that and is made from animal components and other ingredients to create a partially organic product that doesn't dry out your hair and lasts all day long.
Our testers found that it works particularly well for hair between 1 inch and 3 inches in length, so it'll be suitable for most men statistically.
It provides an excellent matte finish to most hair colors, which is perfect for hairstyles that use wax as their primary styling tool.
The wax also does a great job of thickening your hair and making it look stronger and more volumized than before.
While we wouldn't exactly recommend it for men with thin hair, since wax is the ideal styling product for them anyway, it could be one of the best hair products for men who have their hair is on the border, or if you have naturally thin hair but a lot of it.
Value for Money
There are 3 ounces in the purchase, but it's an affordable buy for most men.
The only real downside is its overall thickness and tackiness.
It's one of the tougher waxes to weave through your hair but warming up ahead of time should take care of that problem.
Check out the thousands of customer reviews here on Amazon.
---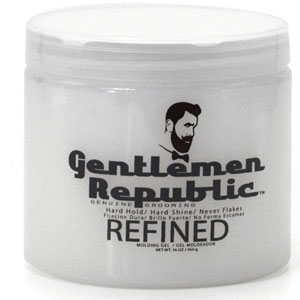 This hair gel is effective and won't make your hair too oily in most cases.
Specs
Who Is It Best For?
It's a perfect choice for men who like the effects of hair gel but are barred from using most gels due to their own hair oil.
Key Features
This hair styling gel is exceptionally long-lasting and can provide a high strength hold that is suitable for hair of most thicknesses or types.
As a result, it's a versatile gel product that can be used to attain just about any hairstyle you feel would be right for your head.
While all gels do a decent job of keeping your hair in place if they aren't washed out, only a few of them keep the high shine that this formula manages to attain.
In fact, our testers found that there wasn't much of a difference between how their hair looked when they initially used the gel and checked again 24 hours later.
It's a great gel for all-day use, particularly for men who like to keep the same hairstyle at work and at a party.
Be advised that this hair gel does contain only synthetic ingredients, including alcohol.
Value for Money
So, we wouldn't recommend it as one of the best hair products for men who have overly dry hair or sensitive hair, as the odds of this gel inflaming or irritating your scalp are high.
But men with oily or greasy hair won't have any trouble with it, and in fact, may find that this is one of the few gels that can be used effectively with their hair type.
Add to that an affordable asking price and plenty in the can, and you've got a winning gel on your hands.
Check out the hundreds of customer reviews here on Amazon.
---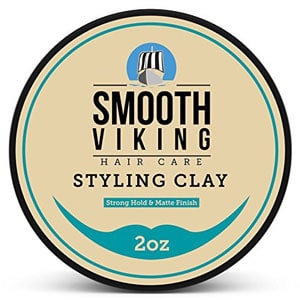 This hair clay feels soothing to apply and does a great job of holding your hair in place all day.
Specs
Who Is It Best For?
It's a perfect choice for men who enjoy warming their wax before applying it.
Key Features
This clay product is not only a great budget pick but is one of the best ways you can find online bar none.
Its primary ingredient is the well-known kaolin clay, which is a part of most hair clay products across the market.
Not only does this hair clay do a great job of holding your hair in place and providing an excellent matte finish, but it also provides some medicinal properties thanks to the inclusion of a small amount of bentonite clay.
This natural clay ingredient removes toxins from your scalp and hair strands.
So, applying this hair clay will have beneficial side effects the more you do it.
These waxes are also incorporated into the formula to lend the clay a comfortable texture and make it easy to weave throughout your hair.
Value for Money
We'd recommend it as one of the best hair products for men with dry or thick hair due to the inclusion of beeswax.
If we could change anything about it, we will remove a little extra beeswax or some other lubricating components since the presence of both clay types in the formula make it a little chunky, especially if it is cold when you try to apply it.
You should always try to warm up this clay before you use it for the best results and for ease of use.
But all in all, it's a fantastic hair clay product and a solid choice for any man looking to style their hair with clay instead of the other types of styling solutions.
Check out the thousands of customer reviews here on Amazon.
---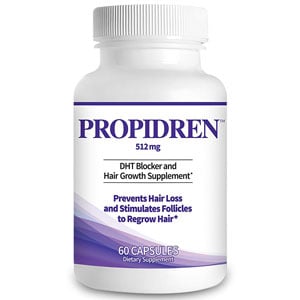 This DHT blocker not only stops male pattern baldness but bolsters your hair growth rate at the same time.
Specs
Who Is It Best For?
It's an ideal solution for men who want to recover the hair they lost ASAP.
Key Features
This is one of the best DHT blocker products that any man can purchase.
That's because it doubles as a hair growth supplement along with providing great DHT blocking powers to stop your male pattern baldness in its tracks.
Saw palmetto and pygeum bark powder are the two primary ingredients used to neutralize the effects of DHT.
These are excellent natural ingredients that aren't likely to upset your system or stomach when you take the capsules with a meal.
Biotin and green tea extract are included to boost your hair growth rate and thickness.
In a sense, this DHT blocker both halts your male pattern baldness and accelerates the rate at which you will regrow the hair that you previously lost.
As a result, our testers think it's one of the best hair products for men who want to recover their hair as quickly as possible.
Value for Money
While it is a little pricey considering that you need to take it consistently for a few months and each bottle only has capsules for one month's worth of use, we still think it's worthwhile due to its excellent effects.
As a final note, the pills do contain iron, so keep this in mind if you already take a daily multivitamin.
Other than that, we have no reservations about recommending this as one of the best hair products for men with thinning hair.
Check out the thousands of customer reviews here on Amazon.
---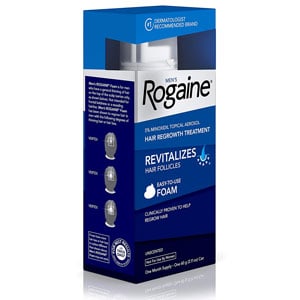 This hair growth treatment is one of the most effective on the market, though it comes with significant side effects.
Specs
Who Is It Best For?
Pick this up if you don't have too much hair to lose and are ready for real results.
Key Features
Rogaine is well known to be a great product to improve your hair growth and thickness due to the inclusion of minoxidil.
Minoxidil is an ingredient that takes over the growth cycle of your hair follicles and causes them to begin producing new hair right away.
This can cause significant shedding in the early stages of the hair recovery process as your follicles get rid of old hair strands in preparation for the new ones.
But if you stick with the treatment, you're likely to receive thicker and healthier hair than you had before.
Value for Money
This minoxidil treatment comes in a foam form, making it easy to spread throughout your scalp or to target specific bald patches if you don't want to lose too much hair once.
The formula also includes a few extra botanical elements and extracts to improve your scalp's health and provide your hair follicles with the nutrients they need to make better hair than ever before.
The purchase comes with enough Rogaine for one month of use, so be prepared to purchase a few of the bottles to see the treatment through to its conclusion.
We'd still recommend it if you're serious about growing thicker hair.
Check out the hundreds of customer reviews here on Amazon.
Things To Consider When Buying the Best Hair Products For Men
air
While our hair care experts have already compiled reviews for the best hair products for men, be sure to check out this buying guide, so you know what to look for to solve whatever problem you have.
1. Intended Use
---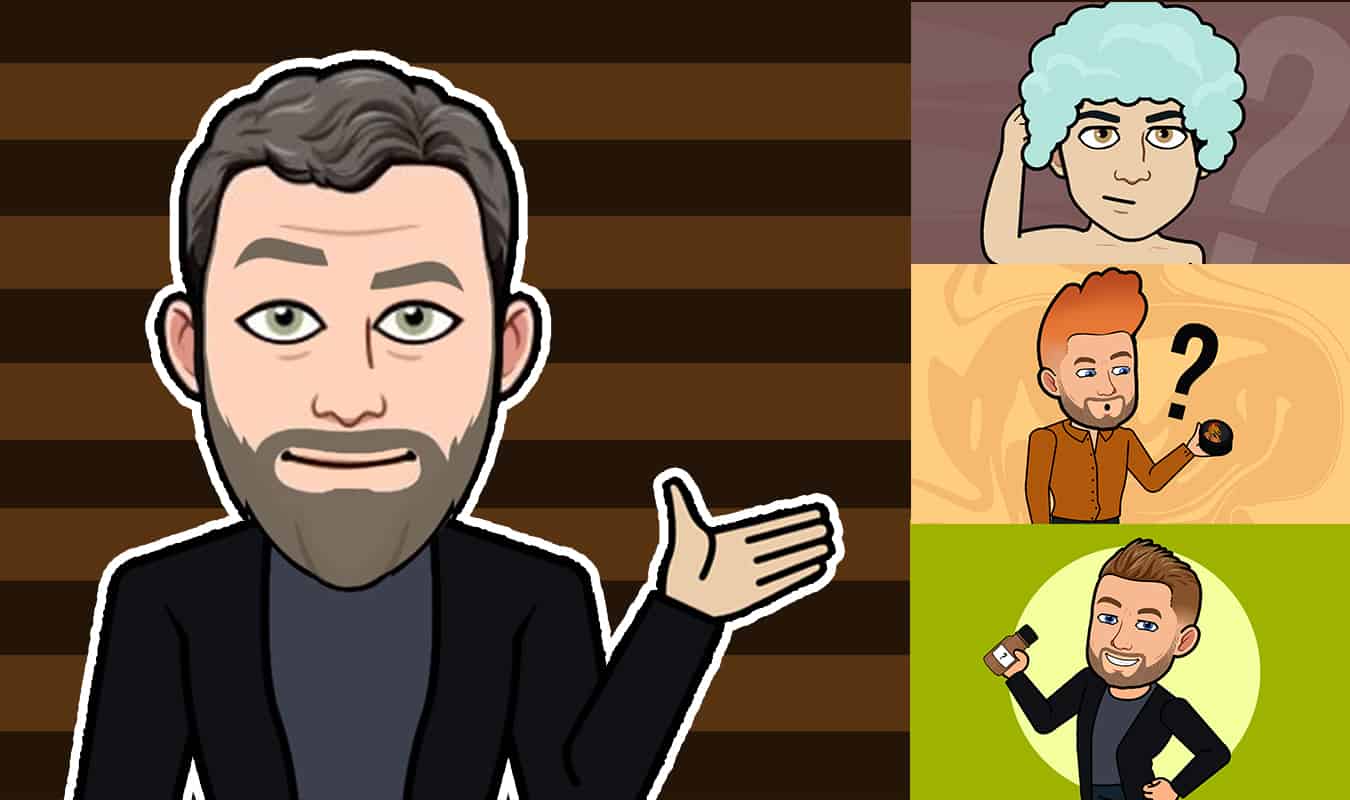 Not all hair products are alike, and most of them are intended for specific uses.
The intended use of your hair care product will dictate its ingredients, the kinds of hair that it's meant to be used with, its overall effects, and any possible side effects.
In short, there's nothing more important than the intended use of a hair product.
Selecting the best hair products for men will ensure your hair is in top form always.
The best styling products for men help them to project the look they desire always.
You wouldn't purchase shampoo when what you really need is something to style your hair, right?
There are tons of best hair products for men focused on proper cleaning and hair maintenance.
These include shampoos, conditioners, and anti-dandruff variants of both.
The fact is your hair has to stay clean to be styled appropriately and look its best.
We'd recommend starting with great cleaning products before moving on to anything that deals with styling your hair.
In our eyes, proper hair care and health begin with how well you clean it during your daily shower.
Having the best hair products for men is very essential always.
The products we'll present in this category include one of the best shampoos and one of the best conditioners for men, but we've done guides on both in greater detail that you should check out if you want more product suggestions or applications guides.
There is also a wide variety of different styling products developed specifically for men's hairstyles and hair textures.
You can use the exact same products as women much of the time, so it's important to purchase the best hair products for men that also works well with your intended aesthetic.
The variety of different men's styling products is fascinating and is one of the more in-depth subjects to research when filling your bathroom cabinet with the best men's hair styling products.
That's why we've done guides on the best clays, pomades, gels, hairsprays, waxes, and more.
In this guide, we'll show you an example of the best of each category, but feel free to check out our in-depth guides on each of the above products are more suggestions and even greater tips.
Lastly, there are lots of hair products out there for men dealing with hair growth or helping to eliminate hair loss.
Men suffer from hair loss, typically known as male pattern baldness, much more frequently than women do.
So, there's an entire industry made up of products to assist with this condition.
With so many best hair products for men to sift through, it can take even knowledgeable consumers quite a bit of time to find the ideal product for their needs.
Naturally, we've compiled excellent guides on the best hair growth products and essential oils for hair growth.
We've also put together guides on great DHT-blockers.
Whatever you need when it comes to reducing male pattern baldness or just improving your hair growth rate and thickness in general, we've got you covered.
We'll show a few products of each but check out the individual guides for more details.
2. Ingredients
---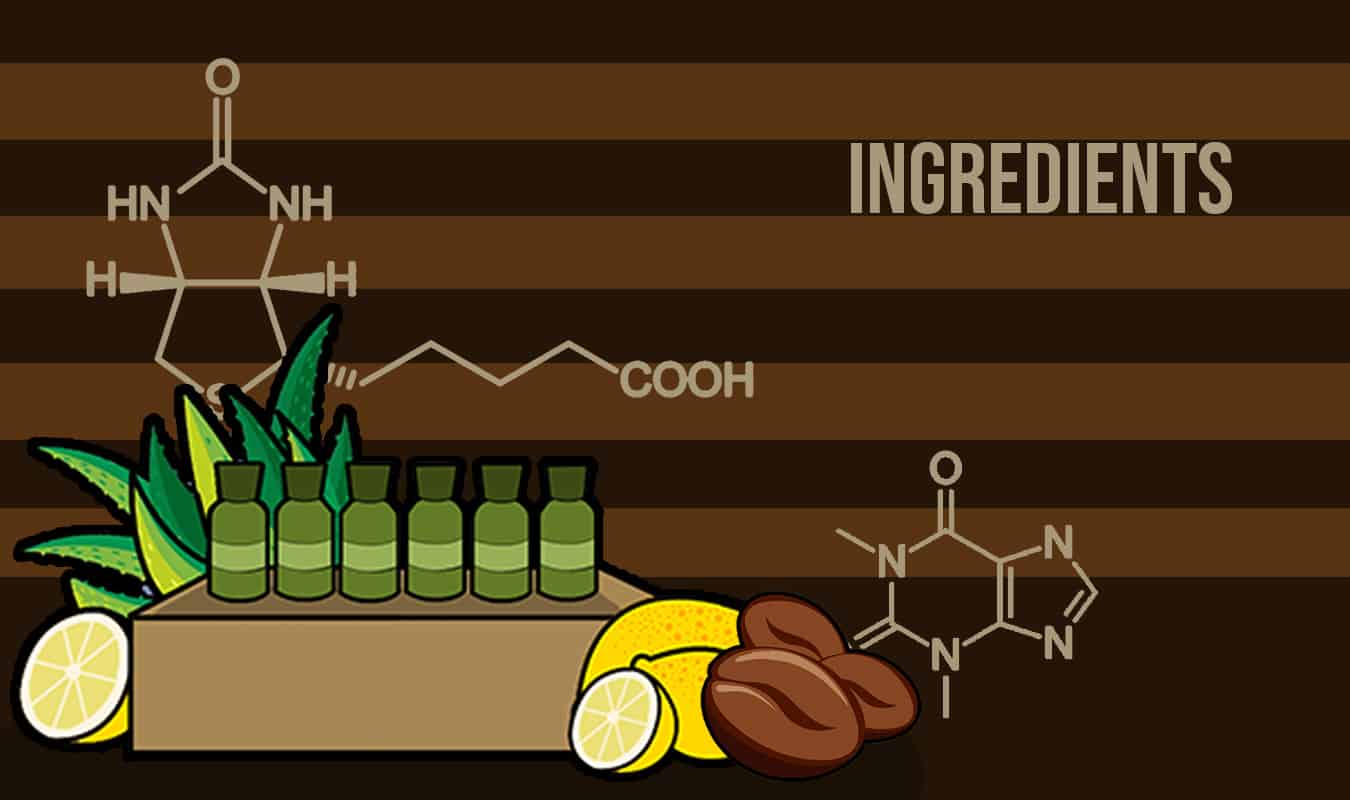 The ingredients that your chosen hair product has in its formula can dictate how well it works with your hair type or style.
But it can have ancillary effects, as well.
For instance, certain ingredients are known to have health risks and should be avoided at all costs.
Other ingredients come from organic sources and are ethically sourced, making them excellent choices for men who want to be responsible consumers.
It's essential to read the ingredients list of any hair product regardless of its intended use.
For our part, we take a lot of time to check out the ingredients in each product we test.
The best hair products for men are produced from natural ingredients that are safe for personal use
In this guide, we'll describe the main ingredients in any product below.
There are too many ingredients for us to go over across the different product categories in this guide, but let's touch on a few major ones that are used across products.
This acid is a moisturizer used in both skincare and the best hair care products across the men's industries.
Moisturization is vital because your hair and scalp require a certain level of hydration to properly spread nutrients throughout your hair and prevent your skin cells and hair from drying out.
Dry skin can quickly transform into dandruff, and dry hair is more easily broken from daily wear and tear.
Therefore, this acid is a great ingredient to keep an eye out for if you have naturally dry hair already.
It works well with cleaning and styling products, but you can find it in just about anything you put on your skin or in your hair.
This is another typical moisturizer that you'll frequently find in conditioners and shampoos, but you can also find it in some hair styling products.
It's a soothing agent that can change the texture of any hair product and improve the moisturization level of your hair.
Because of its multifaceted benefits, this is one of the most common ingredients and hair products across industries.
Shampoos, conditioners, and the best hair growth products for men frequently have some essential oils in their formulae.
Essential oils are concentrated extracts from certain parts of plants that impart medicinal effects or can improve your hair growth rate and thickness.
But essential oils can also act as moisturizers or as nourishing agents.
Their benefits are well examined in our guide to the best essential oils for hair growth, but you can find them as extra ingredients in products designed for other uses.
Carrier oils are organic oils that are frequently mixed with essential oils to dilute the potency of the latter.
Essential oils in their concentrated form can be harmful or irritating, but carrier oils feel great on the skin and hair and can act as powerful moisturizers.
Some carrier oils can also improve your hair's growth rate, so these are common ingredients in everything from shampoos to conditioners to hair growth boosters.
You can even find carrier oils in products by themselves; these pure carrier oils are usually used as hair growth boosters or as hair nutritional supplements.
Jojoba beads are usually used as an exfoliating element and are often accompanied by other exfoliants.
Exfoliants are natural ingredients that scrape away dead skin cells and dirt or debris from out of your hair follicles.
You'll often find these types of ingredients in conditioners and shampoos that are designed to get rid of dirt and clear out your pores.
Caffeine is a common ingredient in many hair growth products because it can block the hormone dihydrotestosterone or DHT.
Since DHT is thought to be the primary cause of male pattern baldness, this can have significant effects if you have naturally thinning or patchy hair.
You can also find caffeine in shampoos or conditioners since it has other medicinal properties and can act as a reparative ingredient that can boost cell regrowth rates.
Biotin, otherwise known as vitamin B7, is a powerful ingredient that you'll find in just about all the best hair care products for men aside from those used for styling.
It's a vitamin that is crucial for the proper growth and repair of hair strands and follicles.
As you might expect, it's most frequently found in shampoos or conditioners and in various hair regrowth products.
Anything with biotin is worth a look in our book.
3. Hair Type
---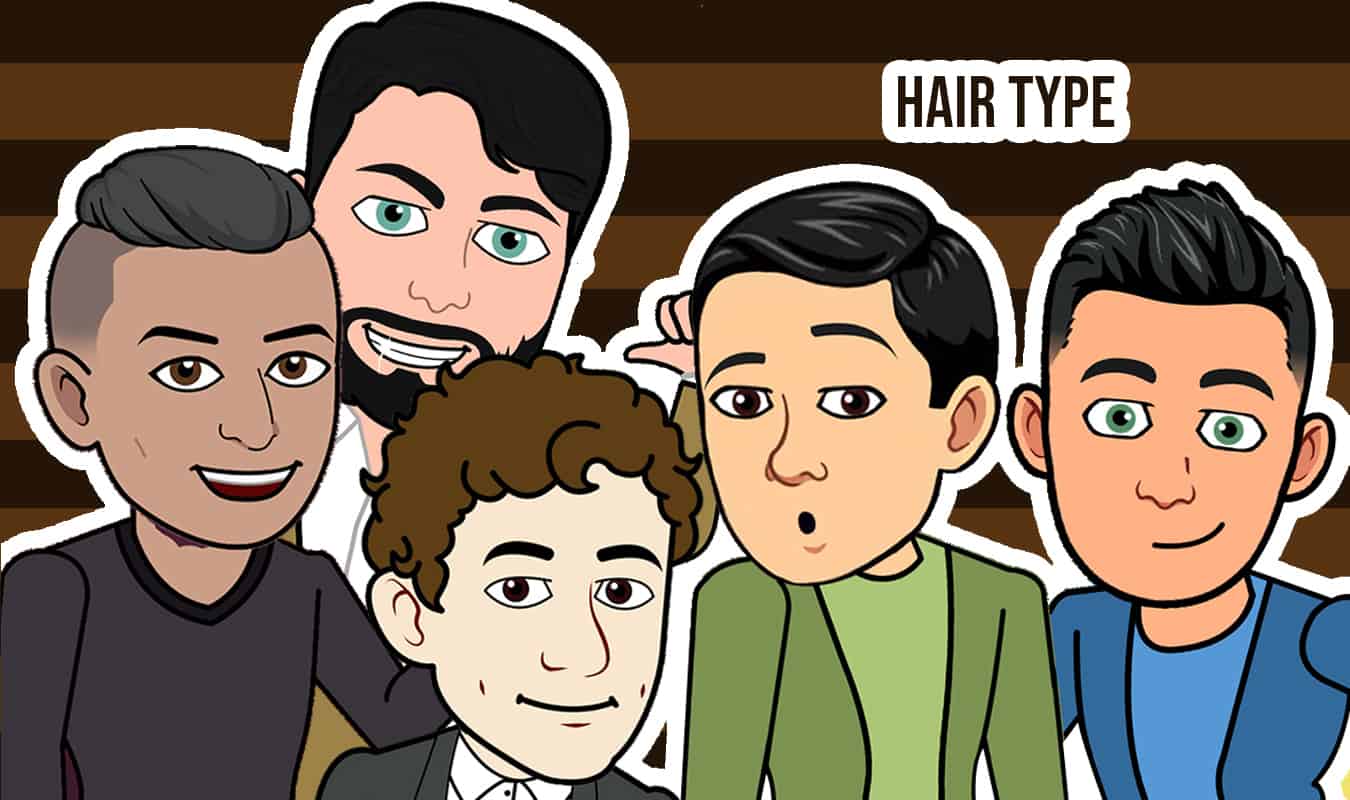 Your hair type will dictate which types of products are best for your needs.
This is because certain products have a natural drying effect, so you wouldn't want to pair them if your head already has difficulty remaining moisturized throughout the day.
Others might have the opposite problem and be naturally oily or greasy.
So, we'd recommend finding something dryer if you have greasy hair already.
Men's hair care routine is not a difficult task if the right product for the hair type is available.
Men with dry hair should always try to find the best hair products for men that contain plenty of lubricants or moisturizers.
It doesn't matter if you're looking for a shampoo or a hair wax.
Always try to find products that contain Aloe Vera, hyaluronic acid, or some other moisturizing element to counteract your scalp's natural tendency to give off too much moisture.
Men with dry hair should also investigate products that have biotin or other hair strengthening ingredients since dry hair breaks more easily than properly hydrated hair.
Lots of men have greasy hair due to hormones.
This means you should avoid hair care or hair styling products that are too slick or greasy already.
Such products can accidentally make your hair too greasy to style or make it look terrible, weighing down strands and changing its color.
Worst of all, oily hair can easily cause dirt or debris particles to get trapped within the scalp.
This can lead to several health complications, or it can lead to dandruff.
Try to find hair products that have a naturally dry texture, or which have acids that get rid of moisture on their own.
Of course, you don't want to do this too well, since you might dry out your scalp and give yourself more problems.
Men with thinning or weak hair should always seek out shampoos and conditioners that have hair strengthening properties or ingredients.
When it comes to styling products, men with thin hair should probably look for ones that won't weigh down their hair strands too much.
You can look for hair styling products that add volume or lift to your hair or products that will improve your hair's texture and thickness e.g. hair mousse for men.
This can help your hair look thicker and healthier than it actually is, adding to the style product's other effects.
Men with sensitive scalps need to be careful when checking the ingredients of a given hair product.
That's because lots of ingredients are inflammatory.
We'd recommend finding products that have plenty of soothing ingredients like aloe vera or moisturizers, as these will make the products more palatable to your scalp and prevent inflammation.
But you may have to go through some trial and error as you discover which best hair products for men.
4. Fragrance
---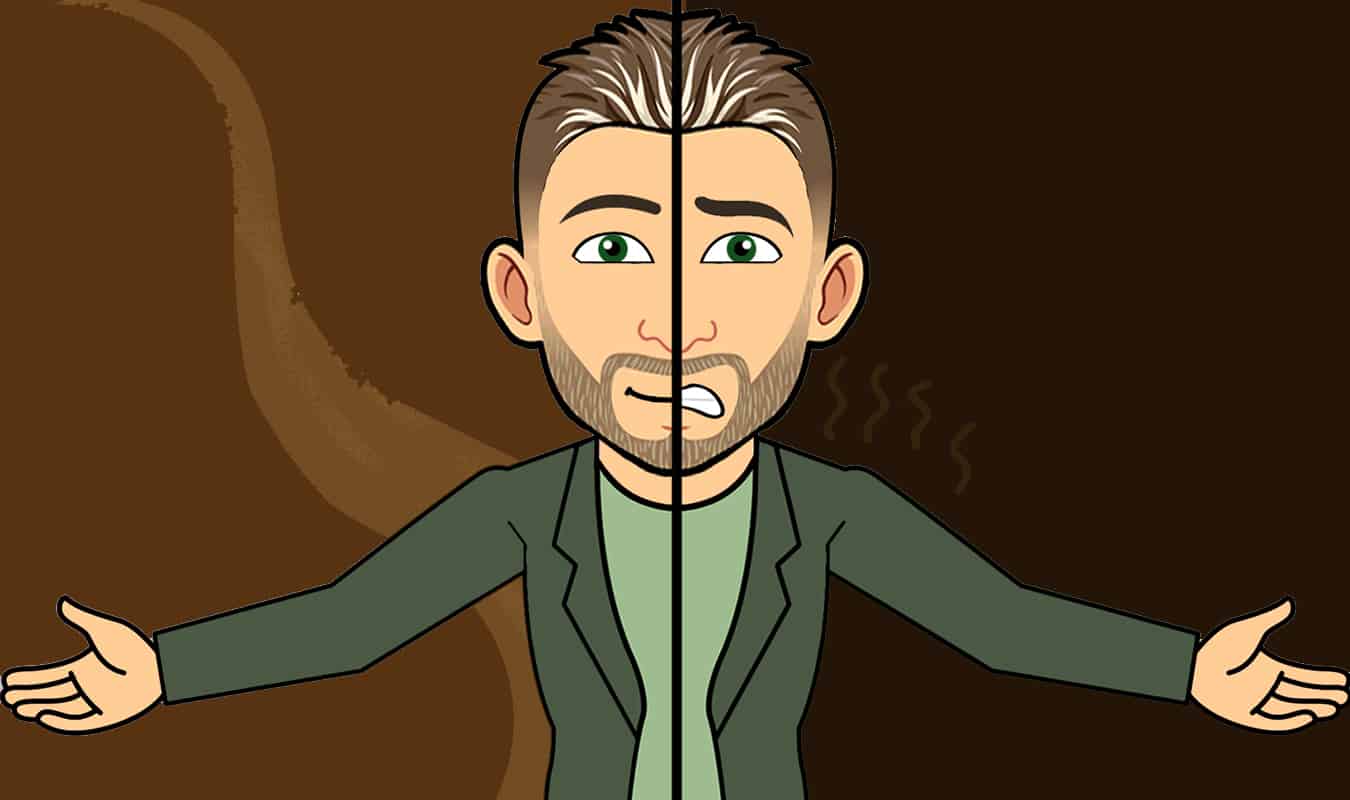 Many best hair products for men contain additional fragrances either as a result of their ingredient composition or on purpose.
For instance, lots of styling products come with fragrances to add to their effects.
Keep this in mind when choosing a styling product to pair with your clothing or overall aesthetic.
You won't want a bright or fruity scent to accompany a leather jacket, for instance.
Alternatively, you might want to pay attention to the fragrance to make sure you don't buy something that smells terrible.
Fragrances can linger for several hours after application.
5. Affordability
---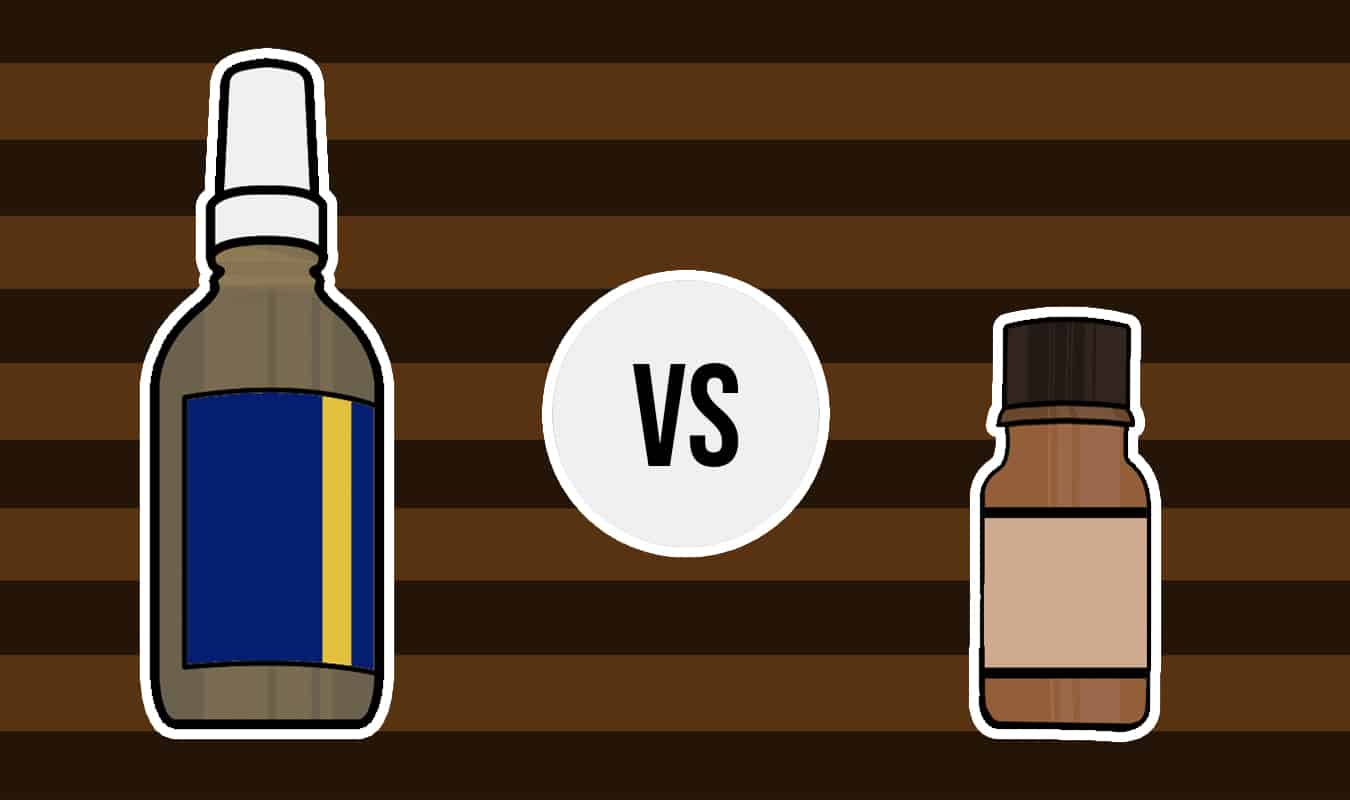 Keep the affordability of a hair product in mind before you finalize the purchase.
Some best hair products for men on a budget might compromise on ingredient quality or effect speed as a result.
Even so, it's always better to pick up a decent product on a budget than to not have shampoo or conditioner at all.
Others might be better for men with plenty of cash to spare and will have exceptional ingredients to provide the best effects.
While these products are top tier, they also usually come with less in the bottle or container.
Keep this in mind if you plan to reorder the same product over and over, as the overall price can quickly rise higher than you might have intended.
6. Amount
---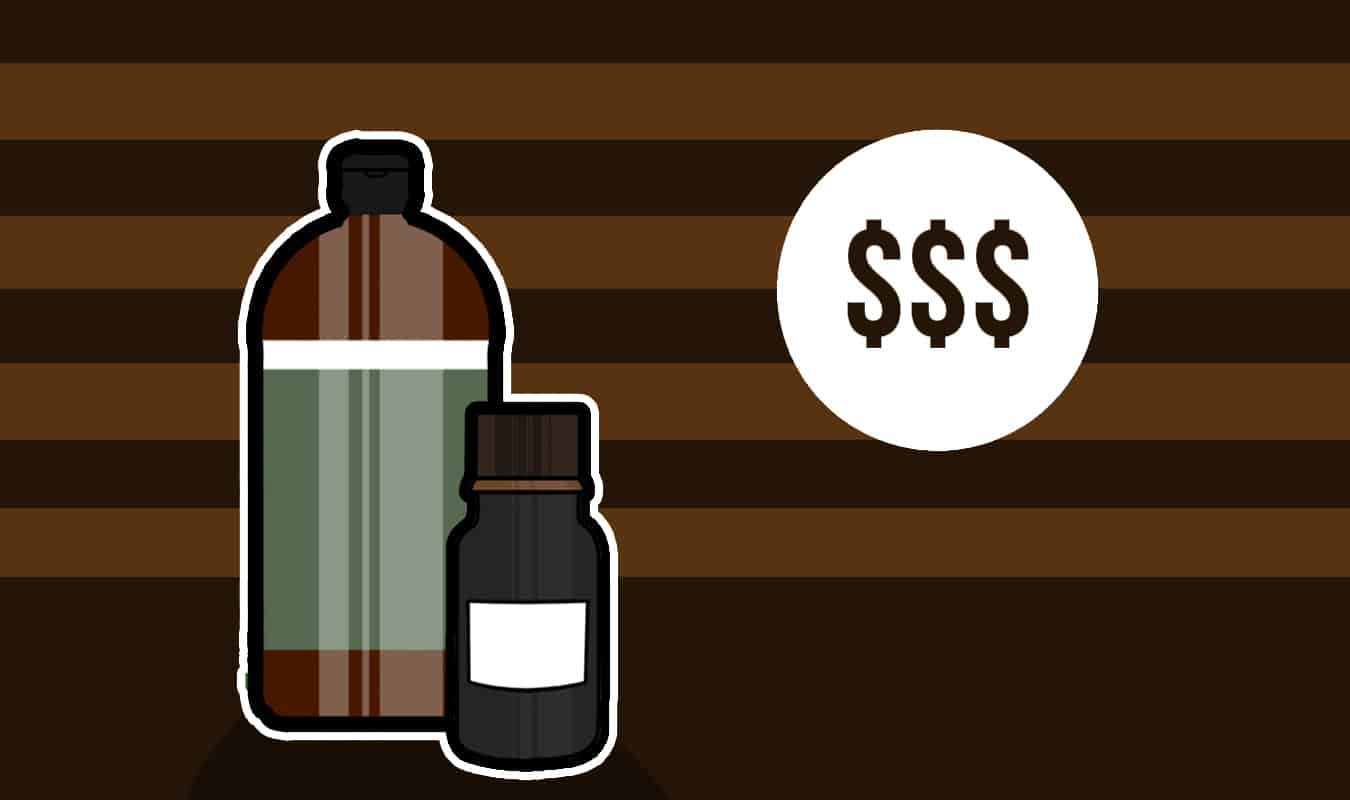 Finally, consider the amount of whatever product you choose when making a purchase.
This ties in with the affordability aspect, and different amounts will be suitable for different men in different positions.
As an example, men in college will benefit from budget choices that have a lot of whatever product they are looking for.
Big bottles of shampoo or conditioner are excellent choices for men in this position since it saves them money and ensures that they can clean their hair for a long time to come before needing to buy again.
Men already settled into their professional careers and looking to hone their overall aesthetic will want to pick up something more high-quality.
This may necessitate picking up less of the hairspray or gel, for instance, but it can yield better results over the short and long term.
There's no right or wrong answer when it comes to how much of the hair product is "correct."
It all depends on your position and budget.
---
---
What Would An Ideal Hair Care Routine Look Like
Men who don't care about looking their best might be satisfied with taking a shower and using some basic shampoo.
But if you're reading this guide, you want to perfect your hair care routine and learn what separates men with great hair from average Joes.
Our haircare experts put this basic routine together that combines all the types of products we reviewed so far into a single comprehensive plan.
As you read through it, keep in mind that some products may or may not apply to you based on your needs.
Step One
No matter what hair products you purchased, virtually every hair care routine starts with a decent shower.
In your shower, you'll use one of the best shampoos or conditioners for men to thoroughly clean and nourish your hair while cleaning the rest of your body.
When it comes to applying shampoo, you don't need to use too much each time to get rid of all the dirt and debris in your hair and scalp.
A quarter-sized amount of shampoo is usually fine unless you have hair that's exceptionally long and thick.
Be sure to let the shampoo lather as you run it through your hair and let it sit for a couple of minutes while it gets rid of oil and debris.
Rinse it out thoroughly and then apply the conditioner after your shampoo.
Depending on the exact type of conditioner you purchased, you may actually leave the conditioner application step until after you've left the shower.
But most men pick conditioner to be used inside the shower; for these guys, about a quarter-sized amount of the conditioner liquid is good, just like shampoo.
Once again, spread it throughout your scalp thoroughly and let it sit for a few minutes.
It's during this stage that the conditioner moisturizes your scalp and provides vitamins or nutrients to your hair follicles.
Step Two
After showering, cleaning, and conditioning your hair, it's time to dry.
Contrary to popular belief, using a towel to scrub your hair dry isn't totally harmless.
Check out our guide to the best hair dryers for men if you want to know more.
But suffice it to say that scrubbing your hair with a towel can weaken your hair strands and cause scalp irritation, which is of particular importance for men who already have weak or fine hair.
Using a blow dryer is far superior.
Step Three A
Next, you can think about your hair growth and thickness product if you are suffering from male pattern baldness.
Depending on your product, you might need to apply the hair growth supplement directly to your scalp.
If this is the case, be sure to do this before you use your styling product.
Alternatively, your hair growth supplement might be in the form of a capsule.
In this case, skip this step and take your capsule with a meal.
Step Three B
If you are using a hair growth product, you can move on to styling.
There are multiple types of styling products to use but pay attention to how well they work with dry or damp hair.
Depending on your best hair products for men, you might want to keep your hair slightly damp to allow for easier styling.
Or you might need to dry your hair to give yourself the best results thoroughly.
Frequently Asked Questions About Hair Products And Their Use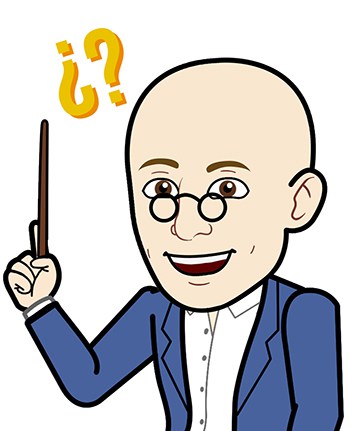 Now that you've seen the best hair products for men who have lots of needs, let's answer some general questions you might have about hair care.
Don't forget to check out the individual guides for each of the above product types if you'd like more specific advice or application tutorials!
1. General Hair Product Use Tips
You need to allocate enough time for the products to actually seep into your hair and scalp.
Be sure to thoroughly rinse out your hair in the shower if you use lots of products in combination with one another.
A thorough cleaning is necessary to reset the process each day.
2. Can You Combine All Hair Products?
Of course, you can.
In fact, many of the best hair products for men are designed to be used in conjunction with other product types.
Just try not to combine products that are meant for different hair types.
3. What Products Are Good for Straight Hair Men?
Pomades are the best hair products for men with straight or wavy hair, particularly if it's long.
Pomades are distinguished from hair waxes by their lustrous finish and improved grip.
Since pomades can feel waxy or greasy, they're best for hairstyles that don't require a lot of movement.