There are lots of hairstyling options for guys that want to customize their look fully.
However, men with thick or unruly hair are often limited in the types of hairstyles they can enjoy. Get to know more about the best hair gel for men.
It's hard enough for wax or other hair styling products for men to get those hair types into any shape and in a stronghold.
But guys with thick hair often have trouble achieving classic or slicked-back hairstyles with just men's hair cream.
Or is it? Hair gel may be the perfect solution for 'how to slick back thick hair. This styling gel can lock your hair into place and let you achieve an ideal hairstyle.
It'll also keep the gelled hair that way throughout the day. Hair gels are tough, long-lasting, and ideal for men who like a bit of shine to their hair.
Don't know where to start looking? That's where this guide comes in.
We've already done all the research and found the best hair gels for men, so keep reading, and you'll find the best pick for your hair in no time.
QUICK OVERVIEW: Best Hair Gels for Men
Improves hair health and thickness
Provides an excellent high shine

VIEW ON AMAZON →

Johnny B. Mode Styling Gel

Easy to wash out
Doesn't produce flakes even though it's thick

VIEW ON AMAZON →

Provides a rare matte finish
Don't need a lot for a full day's worth of style

VIEW ON AMAZON →

L'Oreal Paris Studio Line Clear Minded Clean Gel

Allows you to restyle your hair easily
Holds hair in place throughout the day

VIEW ON AMAZON →

Sexyhair Style Hard Up Hard Holding Gel

Excellent, bright shine
Contains keratin amino acids for hair growth

VIEW ON AMAZON →

Gentlemen Republic Refined Molding Hair Gel

Provides plenty of hold strength without becoming too crunchy
Not too thick for short hair

VIEW ON AMAZON →

Got2B Ultra Glued Invincible Styling Hair Gel

Strong enough to let you make dramatic hairstyles
3 bottles come with the purchase

VIEW ON AMAZON →

Old Spice Hair Gel for Men Twin Pack

Lots of gel in the purchase
One of the few gels with a matte finish

VIEW ON AMAZON →

Majestic Pure Hair Gel for Men and Women

No synthetic ingredients
Versatile for multiple hair types

VIEW ON AMAZON →
Use the table of contents below to jump to the sections most important to you.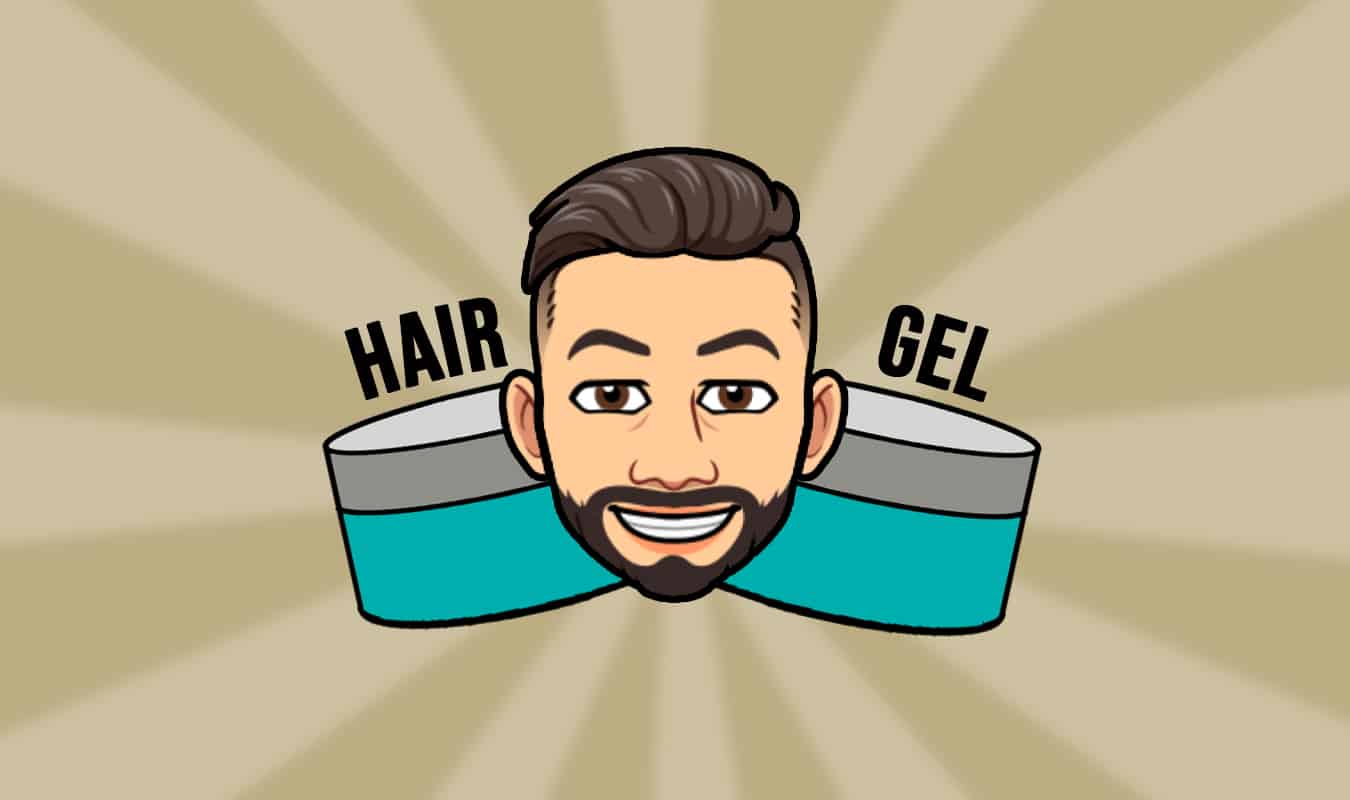 ---
9 Best Hair Gel For Men of 2023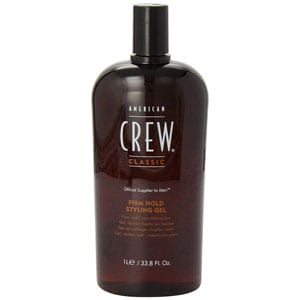 This hair gel for thick-textured hair men is comprised of several high-quality ingredients; it can style your hair and make it healthier in the long run.
Specs
Who Is It Best For?
This is a top choice for men looking for more natural-focused hair gels or gels with several secondary benefits beyond a high hold strength.
Key Features
This high-hold strength hair gel for men is one of the best picks if you also have dry hair that needs styling.
Since it is alcohol-free, there's no chance it will dry out your scalp or your hair strands.
Besides, this formula has a low pH that won't eliminate any natural oils that your scalp produces for normal hair health.
Instead, it's bolstered by Vitamin B5, which is a powerful nutrient for stronger hair growth and healthier than before.
This vitamin also improves the high shine of the gel.
It's a particularly suitable product for traditional slicked-back looks or classical hairstyles.
In fact, this styling gel is one of the best hair paste that our testers experienced when it came to providing a good natural-looking shine.
There are also a few natural extracts to boost the feel and hold strength.
It's strong enough to get practically any type of hair into shape and keep it looking fantastic throughout the day.
Despite all these advantages, it's easy enough to wash out and doesn't irritate the skin or leave your hair feeling wiry.
You also get a considerable amount of the gel with your purchase, so it's great if you'd like to buy one bottle of gel for the foreseeable future.
Our testers would only hesitate to recommend it for men with hair that's already quite oily, as the high shine potential of this bottle may result in your hair looking a bit too greasy for comfort.
Check out the thousands of customer reviews here on Amazon.
---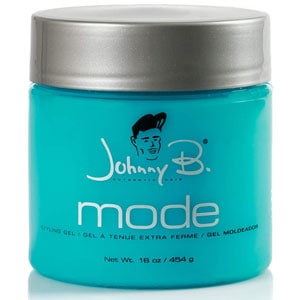 The Johnny B. Mode Styling gel is reasonably versatile and provides plenty of shine for even the most attention-seeking hairstyles.
Specs
Who Is It Best For?
It's a perfect pick for guys who like lots of shine to their hair, regardless of whether or not it's slicked back.
Key Features
This medium strength hair gel is great for a wide variety of hair types and styles, although it lacks lots of natural ingredients to provide its plethora of benefits.
Instead, it relies on synthetics that may irritate your scalp, so we would only recommend this gel if you don't have a history of skin irritation or dandruff.
If you're in the clear, there's a lot to like from the Johnny B. Mode Styling gel.
The medium-strength hold makes it one of the best hair gel for curly hair.
This means curly hair product uses a no-flake formula that is alcohol-free, so it doesn't dry your hair out, it will prevent you from looking like you're suffering from dandruff.
It's also incredibly easy to wash out with regular water.
It causes the gel almost instantly to lose its hardened shell.
This allows you to restyle your gel whenever you please by reactivating it with a small amount of water.
The Johnny B. Mode Styling gel is a fantastic choice for guys who might want to touch up their hairstyle throughout the day.
It's also super thick, so it can provide you with the crunchy texture you might be looking for, although this thickness should give men with thinner hair pause.
It's very shiny, about 8/10, to our testers.
Add to this a manufacturer warranty that will cover any defects included in the product when you receive it, and there's a lot of value for money in this purchase.
Pick up Johnny B. Mode Styling if you need something versatile and practical but aren't sure about a gel that's too thick or thin.
Check out the thousands of customer reviews here on Amazon.
---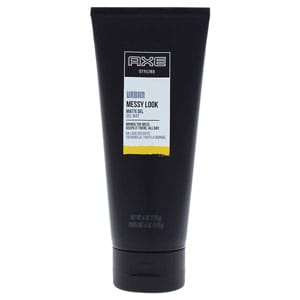 This gel is perfect for either classic or messier hairstyles and is one of the few that doesn't have a lot of shine.
Specs
Who Is It Best For?
It's an excellent choice for guys who prefer a matte finish for their hair but who still enjoy the other aspects of gel products.
Key Features
Like our last pick, this bottle of hair gel for men forgoes natural ingredients in favor of synthetic compounds that can nonetheless provide an excellent reshape-able hold that can maintain strength throughout the day or let you adjust your style as needed.
It's not quite as strong as our initial choice, but it's still okay for longer or thicker hair and should be able to keep your hair styled all day long.
Unlike most other hair gels for men, this bottle provides a dimmer shine that borders on a matte finish.
It's an excellent alternative product if you like the way that hair gel feels and works, but don't feel that a shiny finish would go well with your preferred style or hair color.
You also only need a minimal amount of this styling gel to do all the work necessary, even for a full head of hair.
Since you only get 6 ounces in the bottle, this is a significant aspect and will prevent you from having to purchase more soon after you've started using it.
As you don't need to use lots of it for a full head of hair, we think even men with thin hair could use this firm hold styling gel to great success.
Check out the hundreds of customer reviews here on Amazon.
---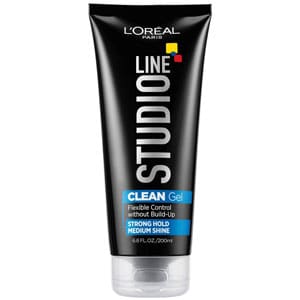 This gel is an affordable pick, and it has a single ingredient that elevates it above other cheaper gel bottles.
Specs
Who Is It Best For?
It's one of the best choices for guys on a budget due to its higher quality formula compared to other nice gels at similar pricing points.
Key Features
This affordable hair gel is an excellent choice for men on a budget.
This curly hair gel uses mostly synthetic ingredients to provide your hair with a stronghold and a medium shine that works with a wide variety of hairstyles and types.
It's just as good for men with thicker hair as it is for guys with shorter curls or locks.
There's also castor oil included in the formula.
This ingredient is often found in some of the best natural hair gels and improves the hold strength of the formula, plus imbues it with some health benefits for both your scalp and your hair strands.
However, this gel is not alcohol-free, it has some compounds that will definitely stand a chance of drying your hair out, especially if you have a dry scalp already.
No matter which kind of hair you have, we'd recommend that you use a good moisturizing conditioner to combat the drying out effect that you will likely encounter.
We've already put together a guide on the best conditioners for men if you'd like to know more.
While the hold of this gel is pretty strong, you can still restyle your hair during the day.
It's affordable, easy to use, and works for most hairstyles, so we think it's a great starting point for men just starting to use gel to style their hair.
Check out the hundreds of customer reviews here on Amazon.
---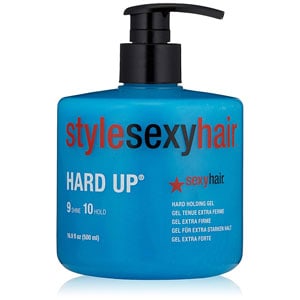 This gel is strong, shiny, and built for longer and thicker hair than others.
Specs
Who Is It Best For?
This is an excellent choice for men with long hair since the keratin amino acids will make your hair less likely to break even at longer lengths.
Key Features
This is another stronghold gel that easily tops the charts in terms of how crunchy makes your hair and how effectively it locks your strands into place.
It's one of the best hair gels you can choose if you like dramatic styles that require a firm hold styling gel to keep in place throughout the day or if you prefer more classic styles that are simple but demand conformity.
It provides a high shine that rivals any other gel, and it also contains several key keratin amino acids.
Keratin is the primary protein that your hair uses for stronger hair growth and maintaining its health.
By using this gel, you'll literally be helping your hair to become healthier than before and improve its overall thickness and resistance to damage, making it a great contender for one of the best hair gels.
That's a great thing since this gel is unusually thick and difficult to wash out without a little extra time.
Keep this in mind if you choose it, as you'll probably spend a few extra minutes in the shower or at the sink than you might have expected.
It also has some denatured alcohol in its formula, meaning that men with dry scalp should probably stay away unless they're confident in their conditioner's abilities.
After all, this has been said, it's quite effective at what it's designed to do: hold the hair in place and provide plenty of coverage for slick, swept-back hairstyles.
It's also reasonably affordable, considering that you get almost 17 ounces for the purchase.
Check out the thousands of customer reviews here on Amazon.
---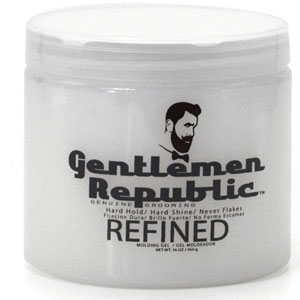 This gel lasts forever and provides excellent shine and holding strength for the duration of its lifespan.
Specs
Who Is It Best For?
This is the clear choice for men looking for a long-lasting hair gel product.
Key Features
This styling gel is one of the longest-lasting we've seen.
Most hair gels remain active if you don't wash them out, but few retain their shine and hold strong as long as this formula.
It's potent enough to remain active for up to 24 hours after the initial application.
You could easily have hair that looks just as slick and done up a full day after you put it into your hair with this gel.
For this reason, we would recommend it for men who need to apply hair gel to last for over a day before they get a chance to jump in the shower.
You should still definitely clean it out of your hair at the first opportunity, of course, but there are certain situations where might be beneficial to have a long-lasting gel.
It provides a high shine and excellent hold strength, so it's great for most of the classic gel hairstyles.
At the same time, it doesn't turn your hair that crunchy.
This is actually a good thing since your hair will feel about the same at the beginning of its effects, as it will 24 hours later.
Unfortunately, this styling gel advertises itself as alcohol-free, when in fact, it contains several alcohol subtypes that nonetheless give it the ability to dry out your scalp if you're not careful.
We would definitely recommend avoiding this styling gel if you suffer from a dry scalp frequently.
Check out the hundreds of customer reviews here on Amazon.
---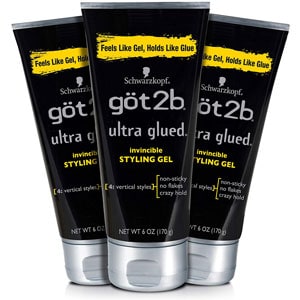 This gel doesn't lean too far in any one direction, although it still provides plenty of holding strength for classic gel hairstyles.
Specs
Who Is It Best For?
It's the right choice for men who have combination hair or who are worried about hair gel making their scalp look oily.
Key Features
This hair gel combines natural and synthetic ingredients for a fantastic formula.
Right off the bat, notice that it contains castor oil, which helps boost hair health and growth.
It has enough strength to let you make spikier or more dramatic hairstyles as you desire, while also providing enough shine to help you imitate classical hairstyles or sweep your hair back.
This is also a gel that makes a pretty crunchy texture, as our testers proved.
One of the most significant benefits of this hair gel for men is its ability to "unglue" with just a little shampoo and warm water.
Despite its high hold strength, it's one of the easiest hair gels to wash out at the end of the day.
We were also pleased to discover that it isn't thick enough to quickly generate flakes, even if some of the gel has piled upon itself over time.
Besides, you get three bottles of this gel with the purchase, which ought to be plenty for most guys for several months.
All in all, it's a satisfying gel that doesn't have a lot of downsides.
We might still avoid it if you have thin or super short hair, but that's just because it's a little shiny and still reasonably thick compared to gels explicitly formulated for those hair types.
Check out the hundreds of customer reviews here on Amazon.
---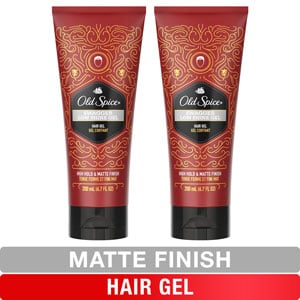 This gel is affordable and seems lighter than most other gel picks.
Specs
Who Is It Best For?
It's a good option for guys on a budget or for men who have thinner hair and don't like a lot of shine.
Key Features
This twin pack of hair gel can be used with any type of hair since it isn't super thick, nor is it terribly oily.
In fact, we think it's an excellent choice for men with shorter or greasier hair provided they don't overapply the formula to their scalps.
It also contains castor oil, a well-known ingredient that's always a plus in any styling hair gel.
This gel features a high hold strength, so it's perfect for most traditional gel hairstyles.
It's also one of the few products that have a light shine or matte finish.
Guys who enjoy gel but who dislike how sparkly it may make their hair look would do well to check this twin pack out.
Also, you won't be surprised to learn that this gel has a noticeable fragrance upon application.
Old Spice is well known for its scented products.
Don't worry, though; the fresh-smelling fragrance should dissipate after an hour or so just like any other gel scent.
Adds all these benefits and affordable asking price and two bottles in the purchase, and you got an excellent choice for budget shoppers or men looking for an easy gel that doesn't thicken up too hard for comfort.
The only downside our testers noticed was a tendency for the gel to fall a little earlier than most of the others we examined.
It'll still be fine for keeping your hair in place throughout the workday, but it's nowhere near as long-lasting as other picks, like the Gentlemen Republic gel.
You can also give a try to old school hair gel, stiffest hair gel, and Gillette hair gel.
Check out the hundreds of customer reviews here on Amazon.
---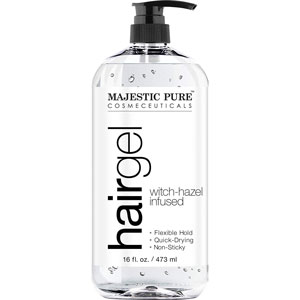 This natural hair gel provides all the same benefits as synthetic gels, but without exposing your scalp to irritating ingredients.
Specs
Who Is It Best For?
This is an excellent choice if you'd like a quality organic hair gel for men without the risk of scalp irritation.
Key Features
This organic styling gel relies on Aloe Vera and witch hazel, combined with a few other natural essential oils to style your hair and provide a decent natural shine.
It's not quite as long-lasting as synthetic gels, but our testers still found it to be a high-quality product. This hair gel for dreads is the best gel ever.
The Aloe Vera and witch hazel have extra benefits beyond helping to style your hair, too.
The Aloe Vera moisturizes your scalp, and the witch hazel is basically a balm for your scalp and hair strands.
Combined, it works well for any man with dry hair in need of styling assistance.
The medium hold strength and shine are suitable for most hairstyles you commonly see with gel, but they don't lean super far in either direction.
As such, it's not the best for styles that need a lot of strength or a ton of shine.
It's a Jack-of-all-trades gel, but those always have a place in any catalog of excellent hair products.
It also provides a smooth texture rather than a crunchy one, which is perfect for certain softer hairstyles.
All in all, we think it's well worth a fresh look if you enjoy natural hairstyling products whenever possible.
Check out the hundreds of customer reviews here on Amazon.
---
Things To Consider When Buying Men's Hair Gel that Doesn't Get Hard
Our testers spend quite a little while checking out various hair gel products to determine the best ones for men of all hairstyles and types.
Let's go over the primary factors they paid attention to in their search for the best men's hair gel that doesn't leave white flakes
1. Hair Type
---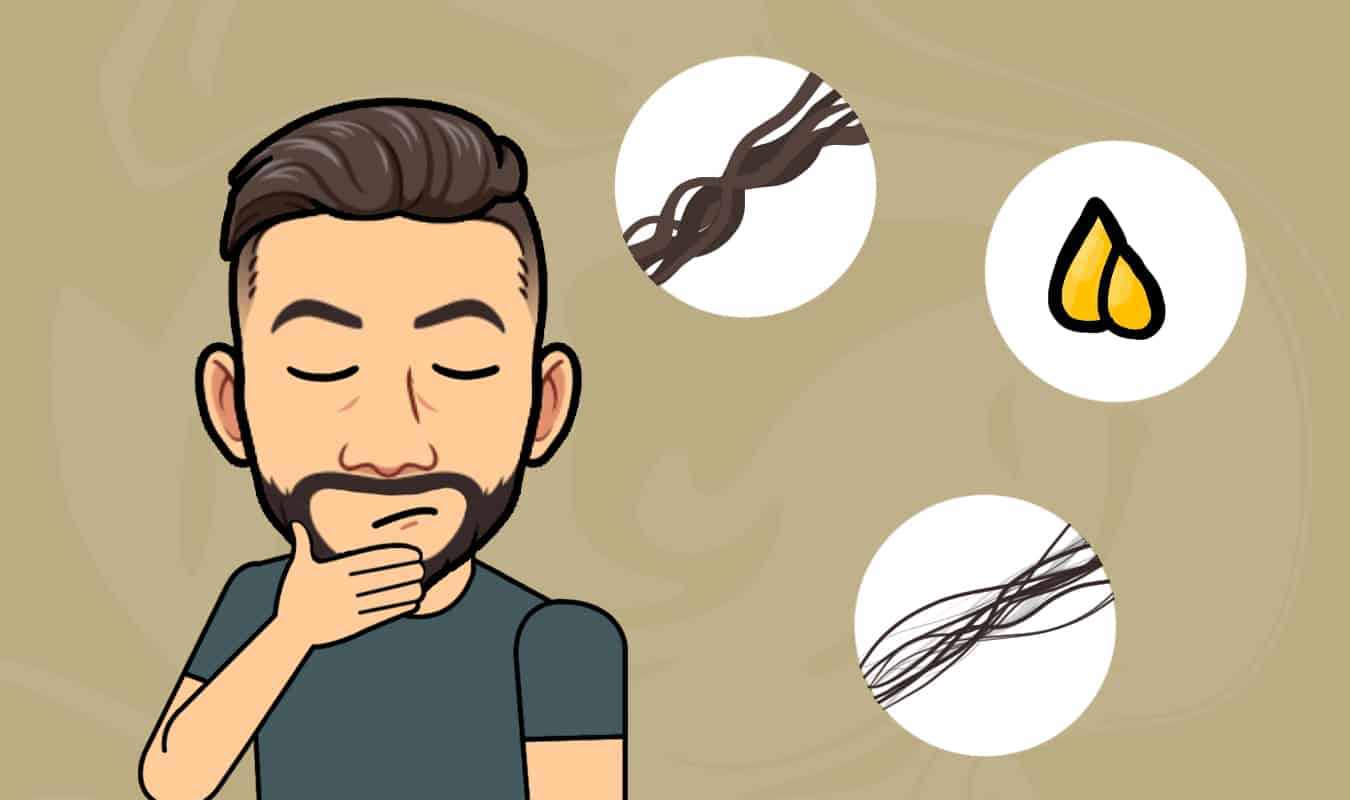 Naturally, your hair type can help you determine the best hair gels for your needs.
While all hair gels will help to keep your hair in the style configuration you prefer, some are more suitable for specific hair types than others due to their ingredient compositions or overall thickness.
Men with dry hair would do well to look for a hair styling gel that has some kind of moisturizing element.
In this way, a great hair gel that doesn't flake can keep your hair looking great and prevent your scalp from producing dandruff or feeling irritated throughout the day.
By the same token, try to avoid hair gels that have so-called short-chain alcohols. These are ingredients like ethanol, propanol, or denatured alcohol.
While these are great for getting rid of excess bacteria and thus are found in a lot of wound treatment products or antiseptic things, they tend to dry out your scalp and weaken your hair overall.
You don't need to worry about this too much if you have normal hair or if you frequently use a good moisturizing conditioner.
If you have oily hair, you'll want to avoid using hair gel that has too many synthetic or natural oils.
Unfortunately, most hair gels contain oil to give the gel its trademark texture and feel. It helps move the holding components across your hair and allows the best men's hair gel to last for a long time.
But it can exacerbate any issues you may already have on your scalp.
Men who have an excess of hair oil can quickly discover that their hair looks super greasy immediately after applying some of these hair gels.
Instead, try to find hair gels that don't have too many oils or use a shampoo that cleanses your hair and scalp relatively thoroughly every time you take a shower.
If you can stay on top of your scalp's oil production, you can enjoy all the benefits of any styling gel without having to worry about your hair becoming greasy.
If you have thin or wispy hair, try to find a styling gel that isn't too thick.
Like with oily scalps, you may accidentally make your hair look greasy if you pick a particularly thick hair gel and use it on wispy hair.
2. Hold Strength
---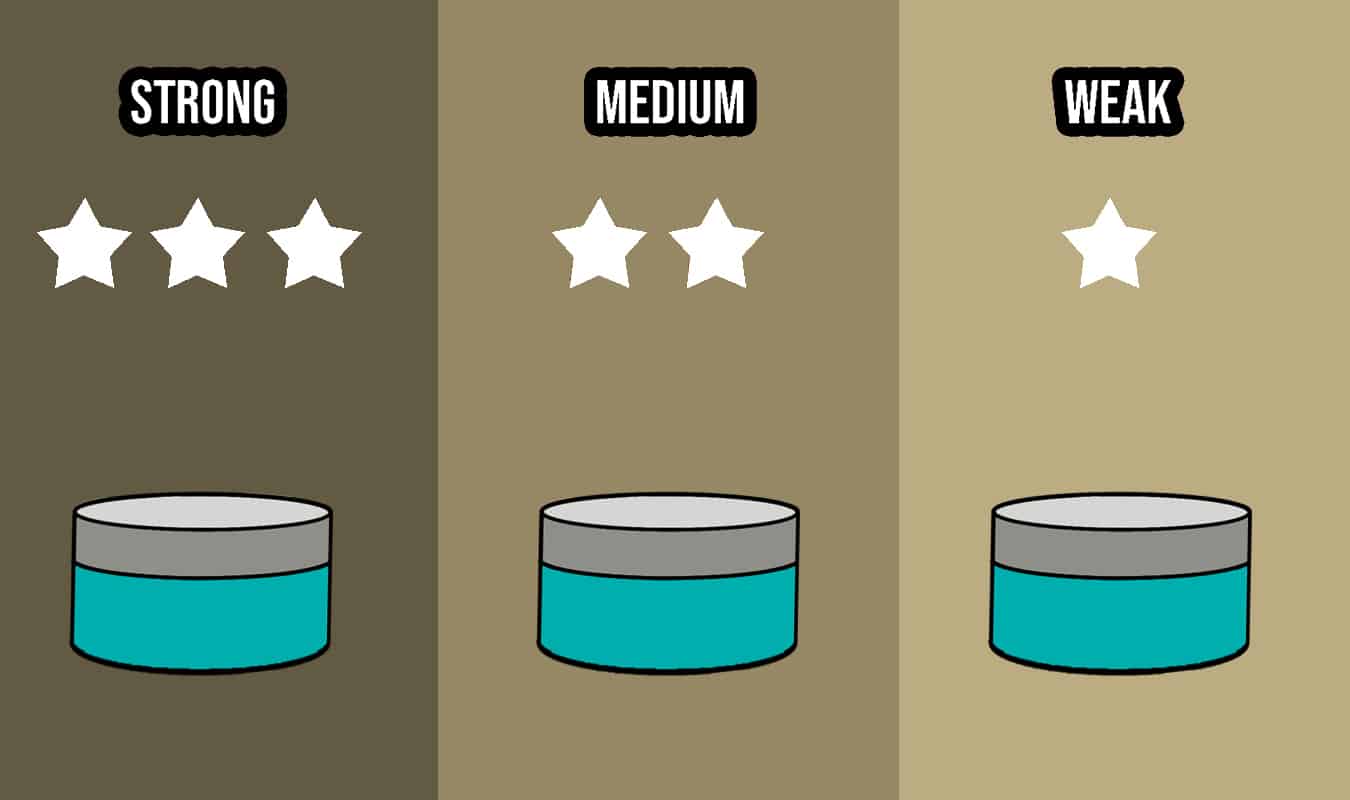 The next most important factor to consider is the hold strength of a given formula.
This measures just how strong the gel will be once it's been applied to your hair. Hold levels are sometimes referred to by a number between 1 and 10.
Gels with higher hold levels will last for longer and be able to keep your hair locked in a specific configuration against worse conditions.
Basically, gels that have high hold strengths will be able to withstand heavy rain and wind, so they are great if you have longer or thicker hair that requires some extra power to keep it in check.
They're also great if you're a guy that spends a lot of time outside in general, as the weather will have less of an effect on your hairstyle with a firm hold styling gel.
On the other hand, these gels are usually pretty thick themselves and can result in scalps with thin hair looking really greasy.
You can also easily over-apply strong hold gels and give your hair a "rocky" or crunchy look.
This also isn't good, so you need to be careful when applying these types of hair gel products.
You can look for a medium hold hair gel that's versatile and which works for the broadest variety of hairstyles compared to the other two types.
Men who have curly or wild hair will want to find a medium hold gel, as this type balances strength with malleability without making your hair look greasy.
Most medium hold gels are also re-workable; we'll explain more about that later in our guide.
Finally, there are light hold gels that don't provide too much strength but are great for men with thinner hair who still want to achieve a great-looking style.
Light hold gels aren't very noticeable and don't run much of a risk of making your scalp look oily.
3. Shine
---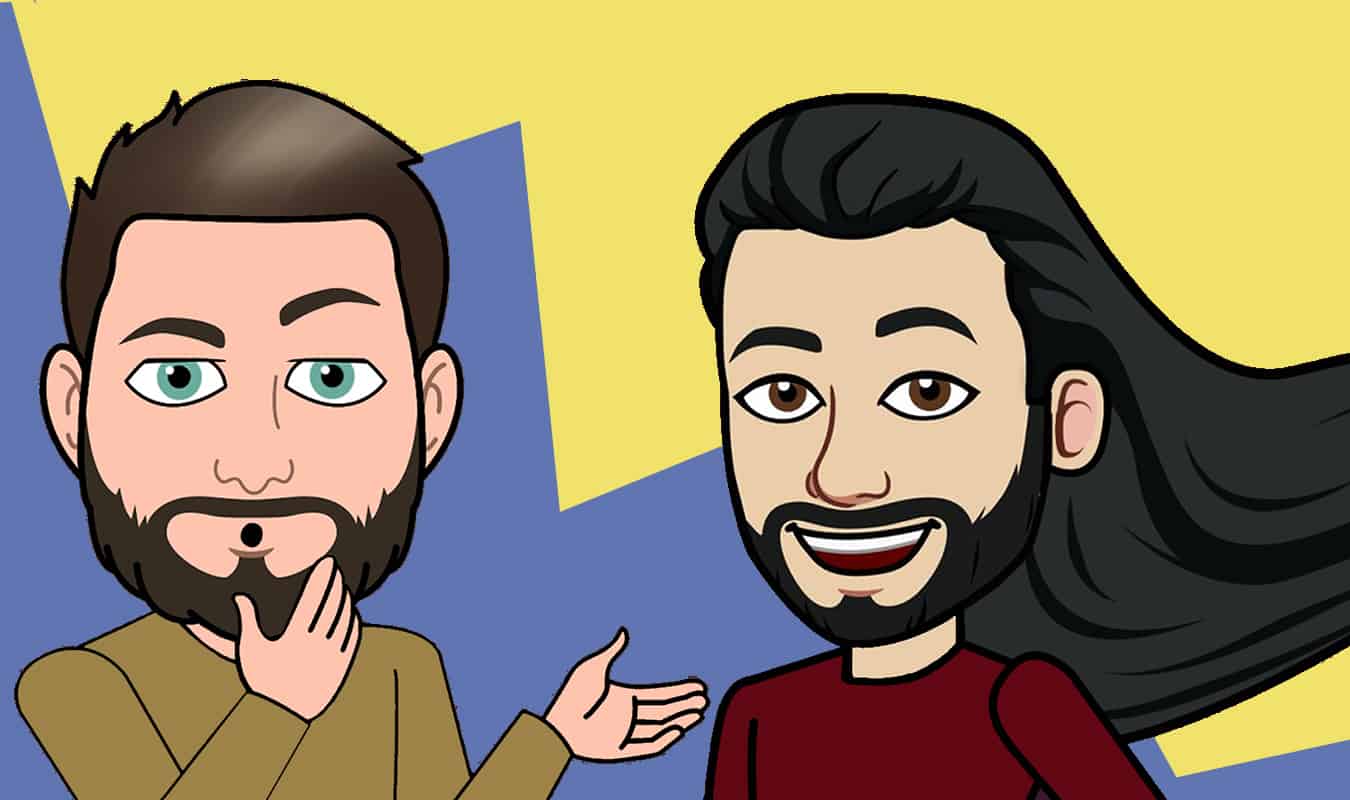 Next up is the shine of a given styling hair gel.
Unlike some other hair styling products such as best hair wax or best pomade for men, hair gels almost always provide a shiny finish to your hair regardless of type or style.
But that's all right!
A shiny finish looks great on most men and can really electrify your style.
Like light hold types, there are different intensities of shiny finishes that various hair gels for men will provide.
But these don't always neatly fall into categories that we can easily mark.
Instead, shiny finishes are best described as "really shiny" or "lightly shiny" or something in between.
We'll do our best to describe the shine level of each of our favorite hair gels below.
So, what type of shine is best for your hair?
It depends on what style you're going for.
In general, slicked back and classic hairstyles will benefit from higher shines than more modern or lighter hairstyles.
Shine also looks great if you have a more boring color of hair, like a generic brown, or even more exciting hair colors look all the greater.
Some of the most attractive men have high shine hairstyles with red or blonde hair.
It's ultimately up to your personal preference, but we would recommend that anyone going for a slicked-back look stick with a high-shine product.
4. Ingredients
---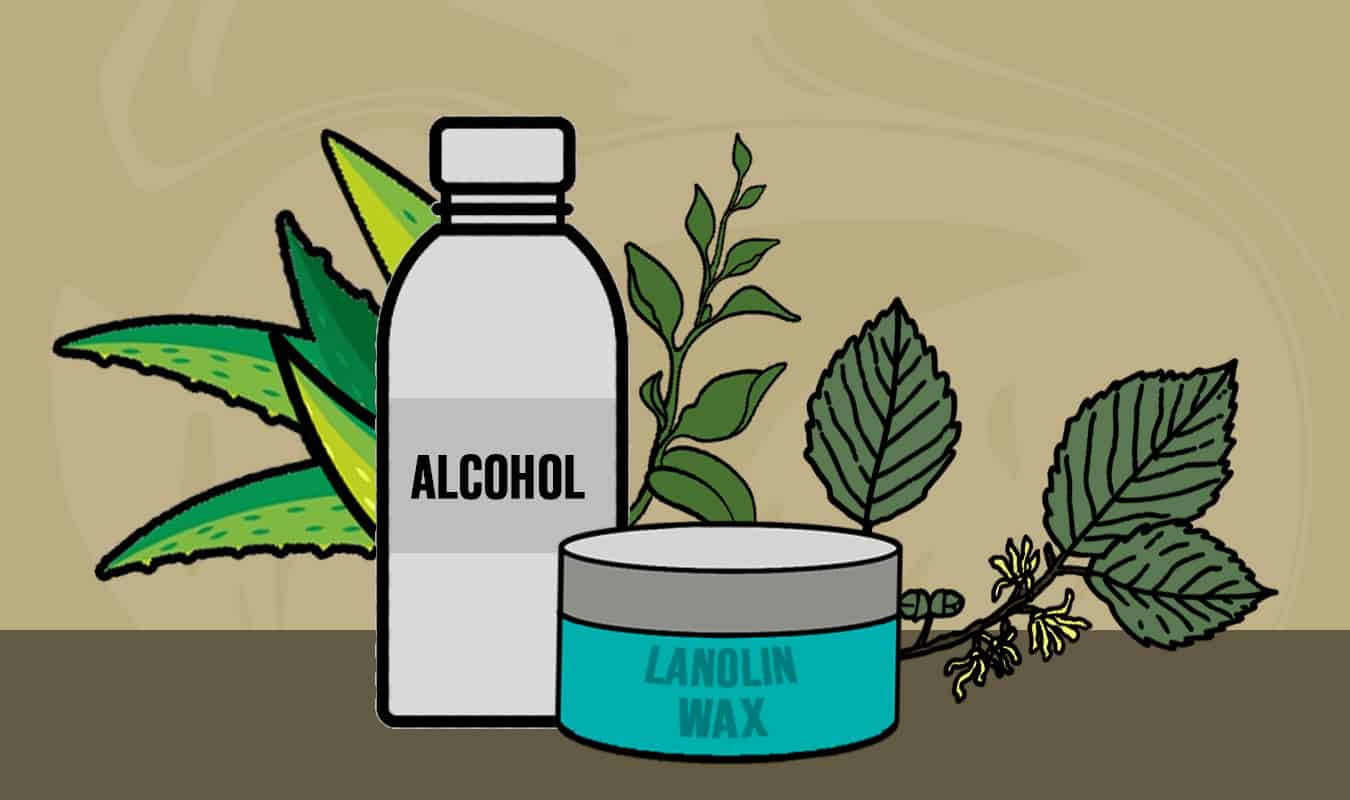 Finally, it's important to pay attention to the contents of each hair gel product.
The exact composition will, of course, vary from gel to gel, but there are several ingredients you'll find shared between most picks.
Like we mentioned above, there are two main categories of alcohol to be aware of when it comes to selecting hair gel: short-chain and long-chain.
In general, you'll want to avoid short-chain alcohols if you can and especially if you have dry hair.
These are ingredients like ethanol and propanol.
While they can help get rid of bacteria on your scalp, they also tend to dry things out way too much.
Long-chain or "fatty" alcohols, on the other hand, are usually fine to use with your hair.
They don't dry out your scalp excessively, and they aren't astringent like short-chain alcohols.
Instead, these alcohols are technically emollients, which are often used in skin care products and which help to moisturize your hair and scalp over time.
This effect is phenomenal when it comes to overall hair health and should be sought out if you have a drier scalp than average.
Long-chain alcohols are usually called names like Lauryl alcohol, Cetyl alcohol, and Stearyl alcohol.
You can find this in lots of best hair styling products for men including hair gels, hair waxes and a few pomades.
These are an animal product that helps to keep your hair in specific styles and prevent anything from falling out of place if you get damp hair.
This sugar compound is often used in hair styling products and gel to prevent moisture loss, so you'll usually see it combined with alcohol.
You'll also find plenty of hair gels for men that use Aloe Vera.
This leaf juice is one of the most common moisturizing ingredients you can find in skincare and hair care products of all types.
Aloe Vera can be found in the best hair creams for men and other top hair products.
You should definitely look for it if you have a drier scalp than average. But even men that have regular hair could benefit from a gel that has Aloe Vera.
It tends to soothe the scalp and makes the styling gel feel slick and easy to manipulate between your fingers.
All in all, it's a positive ingredient that doesn't have any downsides.
Witch hazel is another popular ingredient that you can find in all kinds of conditioners and toner products for your skin.
This natural compound soothes the skin and reduces inflammation, as well as makes your skin less sensitive over time.
It's one of the best ingredients you should look for if you have a sensitive scalp or hair.
It can be particularly effective if you also suffer from dandruff or fungal infections on your scalp.
Combining it with a natural styling gel lets you kill two birds with one stone.
Tea tree oil is in tons of skincare and hair care products, and for a good reason.
As an antioxidant, tea tree oil helps prevent free radical oxygen molecules from damaging surrounding cell membranes and helps soothe your skin and even improves cellular regeneration.
It's a fantastic ingredient for men that are concerned about the health of their hair.
Frequently Asked Questions About Hair Gel and How It Works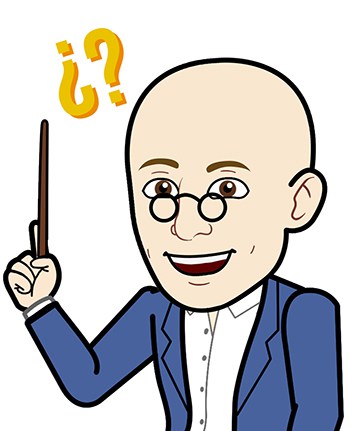 Now that you've got plenty of choices for an excellent hair gel, let's go over any lingering questions you might have.
1. What Should Hair Gel Be Used For?
Hair gel is a styling product designed to create movement and hold the hair in place.
It can also be used to slick hair back or tame flyaway pieces. And seeing as it's not just for men, we tell you, ladies, how to use it.
Styling gels are a great way of adding texture, body, and shine and can be found in different strengths.
2. What About Hair Gel Compared To Wax? Pomade? Hairspray?
Compared to the best hair wax for men, hair gel is usually a little thinner.
Waxes also offer the same styles of holds as hair gels, but waxes are usually much smoother and are oil-based rather than water-based.
Compared to pomade, hair gels are a little stronger.
Pomades are best used for more medium-strength holds.
3. Is Gel Bad For Your Hair?
No, hair gel isn't bad for your hair.
But it can lead to some adverse side effects if you don't use it correctly.
Poor hair gel use can lead to dandruff, oily hair, or a buildup of the gel product that sticks to your scalp and causes further hair health problems.
Since it's so essential that you use hair gel correctly, let's go over the optimal application technique regardless of which product you pick.
Make sure that you've cleaned your hair thoroughly before applying the gel.
After shower, you can squeeze about a nickel-sized amount onto your palm for shorter hair and a quarter-sized for longer hair.
Rub the gel between your hands until it's about even on either side.
Lastly, rub the gel into your hair as evenly as possible.
5. How To Remove Hair Gel?
Since it's a bad idea to keep hair gel sitting on your scalp for too long, you must know how to remove it correctly.
Rinse your hair with water that's about lukewarm temperature.
Wash your hair with a good shampoo.
Now it's time to rinse your hair with cool water.
6. What Is Reworkable Hair Gel?
Reworkable hair gel often called dry hair gel, is the all-day hold that you're in desperate need of.
Reworkable hair gel is all about consistency, its hold lasts all day, but when wind and your environment get in the way, you can simply run your hands through your hair, and put it right back into place.