Too many men in their quest to look their best neglect one of the best assets they have at their disposal: their own head of hair.
While most men shower and shampoo their hair daily, it's not as common to find men educated and informed about all the benefits of the best conditioners for men.
Conditioners are sometimes thought of as extra or unnecessary, but this could be further from the truth.
In fact, conditioners are practically required if you want your hair to look and feel its best.
Most hair is harder to handle before it's been conditioned; this makes it harder to style or alter with a gel or cream.
No matter what type of hair you have or how old you are, chances are you can benefit from applying some conditioner every so often after a good wash.
As you know, men with a head of healthy, vibrant hair are much more attractive and appear more confident.
Given these benefits, why not look at the best conditioners for men and see how they could work for you?
QUICK OVERVIEW: Best Conditioners
Brickell Men's Revitalizing Hair Conditioner

Very good for sensitive scalps
Shows results quickly

VIEW ON AMAZON →

K+S Men's Hair Conditioner

Lots of vitamins for revitalizing your hair
Vastly improves hydration

VIEW ON AMAZON →

ArtNaturals Argan Oil Hair Conditioner

Uses only natural ingredients
Moisturizes and repairs very quickly

VIEW ON AMAZON →

Biotin Hair Growth Conditioner for Hair Loss

Works well to thicken hair
Stimulates hair growth

VIEW ON AMAZON →

Pure Nature Moroccan Argan Oil Conditioner

Great at coloring hair
Suitable to use for oily hair

VIEW ON AMAZON →

Jack Black Nourishing Hair and Scalp Conditioner

Excellent for virtually any hair issue
Makes hair appear younger and fuller

VIEW ON AMAZON →

Pantene Sulfate-Free Conditioner

Prevents hair from drying out
Lots of conditioner in the purchase

VIEW ON AMAZON →

Alleviates scalp itchiness
Makes hair look and feel stronger

VIEW ON AMAZON →
Use the table of contents below to jump to the sections most important to you.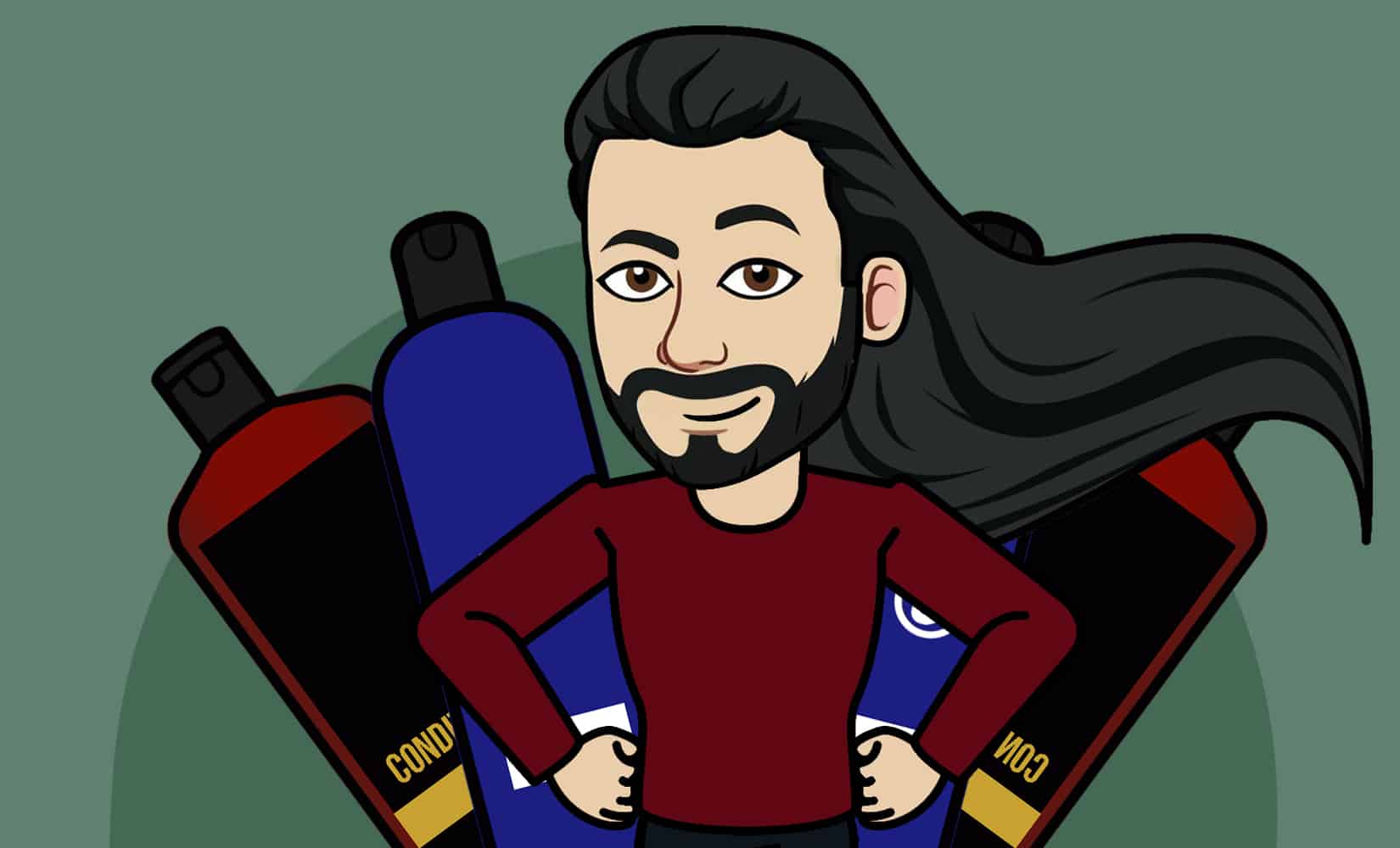 Best Conditioner For Men of 2023 Reviewed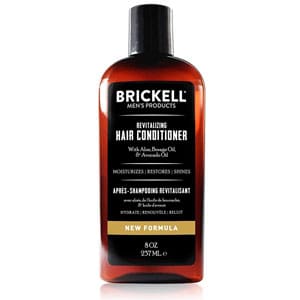 This conditioner is one of the most all-purpose formulas around.
Specs
Who Is It Best For?
Men who need a good conditioner for daily use without a specific problem will love this.
Key Features
This conditioner does practically everything that conditions are known for.
It can tackle thinning hair, dandruff, cracking hair strands, and even restore some color and shine to your hair if it's become dull with age and time.
It has a very effective formula of Aloe Vera, vitamin E, essential oils, and a hint of peppermint oil to make it tingle when it touches your scalp.
The peppermint oil gives it an excellent fragrance, as well; you'll smell all the fresher once you step out of the shower.
This conditioner is excellent for use with sensitive scalps, too.
The essential oils can help remove dead skin cells without irritating the skin or causing inflammation.
Vitamin E is particularly noteworthy for stimulating your hair follicles; these parts of your scalp are responsible for producing more and thicker hair strands.
In conjunction with the right hair growth product, you'll see better, thicker masculine hair in no time.
It's gentle enough that you could easily use it every day for even faster results than other conditioner products.
Despite the presence of all the oils, our tester mentioned that unlike other best conditioners for men, this one felt somewhat "grabby" or sticky as you work it into your hair.
It'll take a bit of elbow grease to spread properly, but otherwise, it's a fantastic formula with a lot to offer.
---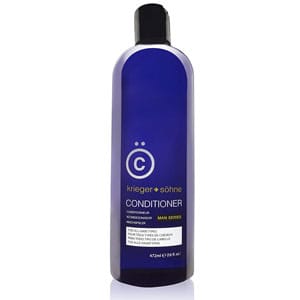 This conditioner is powerful and vitamin-packed, ready to help your head deliver healthy hair.
Specs
Who Is It Best For?
This is one of the best conditioners for men who need to supercharge their hair and make it healthier over time.
Key Features
This formula has a high concentration of vitamins and essential oils.
This means that it's perfect for treating malnourished hair that becomes dry and frizzy over time.
The vitamins act quickly and thoroughly, improving color and shine and making your hair strands thicker and stronger over time.
The oils are also really great for moisturizing your hair.
It is one of the best conditioners for men in dry climates who frequently have their hair give out on them and fall off will appreciate the difference once they've used this conditioner for a few days.
It's infused with peppermint oil to help your scalp feel refreshed upon application and give the formula an appreciable fragrance.
Its strong concentration of oils also makes it one of the best conditioners for curly hair or if you wish to style your hair more dramatically.
Application of the conditioner usually straightens out your hair to some extent, slicking it for easy styling.
The bottle is supposed to improve your mood and reduce your stress; our testers confirmed that this was the case, although that's likely just because the conditioner worked really well rather than from any secondary side-effects from the ingredients.
Overall, it's a practical and worthwhile conditioner for most men.
However, it is a bit oily if you already have greasy hair.
So, choose something else if you're concerned about making your head too oily.
---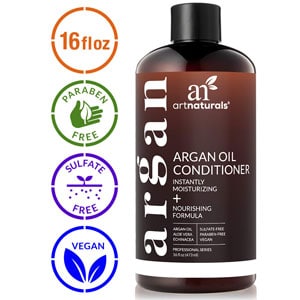 This conditioner is made with all-natural ingredients and manages to compete with other conditioners in terms of sheer effectiveness.
Specs
Who Is It Best For?
Men in the mood for wholesome, chemical-free conditioning will love all that this bottle brings to the table.
Key Features
This conditioner is made only with organic ingredients, so men concerned about synthetic chemicals should stick around for this one.
It's totally free from parabens (synthetic preservatives), silicones, and sulfates, all of which are known sometimes to have adverse health effects when used frequently.
Instead, this conditioner relies primarily on argan oil as its chief component.
The argan oil is fantastic for repairing damaged hair strands and follicles and can even soothe your scalp dryness as it's applied.
It's therapeutic and moisturizing and is combined with other essential oils to deliver a huge performance boost to your hair.
Dry, thinning, or already damaged hair has a lot to gain from being doused in this conditioner.
Over time, you'll see your hair's length and strength both increase dramatically, as well as its color.
Men with thinning hair are likely to see more hair grow where it was thinning before since the formula in this bottle is designed to stimulate hair production.
Other excellent natural ingredients like rosemary, white willow bark, and thyme give this conditioner a unique fragrance and a gentle feel that isn't irritating to even the most sensitive of scalps.
It's truly one of the best conditioners for men, full-stop.
However, it's not the best conditioner for untangling your hair, as our testers found out.
But otherwise, there are no significant flaws to point out.
---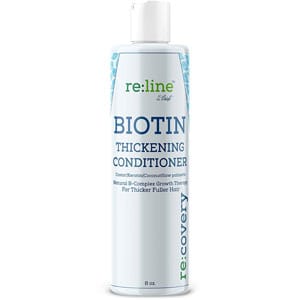 This conditioner is built for one primary purpose: to help your hair grow thicker and faster than before.
Specs
Who Is It Best For?
This is one of the best conditioners for men concerned about their thinning hair.
Key Features
If you're a man in need of a conditioner to help alleviate breaking or thinning hair, look no further.
The Biotin conditioner here is one of the best conditioners for men with those concerns.
It's packed with plenty of high-quality ingredients to help revitalize your hair strand by strand.
It can thicken your hair starting from the root by nourishing your follicles so that your scalp produces better and thicker hair as time goes on.
It even has keratin, the same protein that makes up your hair, that increases the effectiveness of this effort.
There are also some essential oils and Aloe Vera, both of which make it the best conditioners for men with sensitive scalps or dry hair.
The Aloe Vera, in particular, can moisturize your hair and prevent it from drying out.
This is crucial since dry hair is at a greater risk of thinning, anyway.
It's smooth, effective, and it even feels great when you run your fingers through the formula.
The only thing not to like is how little you get in the bottle.
Only 8 ounces come with the purchase as opposed to the standard 16 ounces you get in most other hair conditioner bottles.
Still, having to buy it more frequently is only a small downside considering how good it is at boosting your hair production and strength.
We'd easily recommend this for men who are concerned that their hair is thinning far before they've reached the average age for such a fate.
---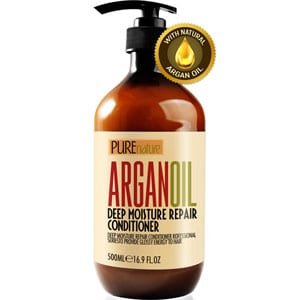 This conditioner combines normal ingredients with citric acid to produce some exciting and effective results.
Specs
Who Is It Best For?
This is great for men who need a conditioner to pair with their greasy locks.
Key Features
As one of the best conditioners for men, this conditioner has a unique blend of ingredients that distinguishes it from all other competing bottles.
Namely, it has citric acid.
How does this help?
Basically, the presence of citric acid makes the oil concentrations in the formula become less intense and not further exacerbate oily hair issues.
If you have greasy hair, you'll be able to use this without worrying.
Of course, the downside is that the citric acid also makes it a bit harsh to the scalp, mainly if your skin is already sensitive.
Our experts wouldn't recommend this for men with sensitive scalps overall.
Still, the other parts of the formula are tried and true: there are vitamins and essential oils to repair weak or damaged hair strands and moisturizing compounds to ensure that your hair doesn't become too dry over time.
Combined, these elements are great for turning dull hair into a shinier version.
This conditioner can drastically improve color and vibrancy in your hair, and even straighten out curly hair, as well as reduce hair frizzes and split ends.
Aspiring stylists will find a lot to like.
As a bonus, this conditioner has a little more conditioner in its bottle than others: 16.9 ounces instead of just 16.
---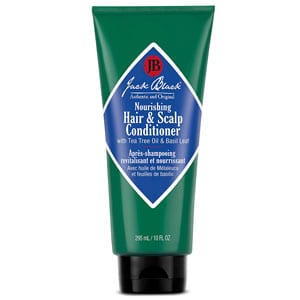 This conditioner has a unique ingredient mix that makes it suitable for virtually all hair conditioner goals.
Specs
Who Is It Best For?
It's perfect for men looking for a single, all-purpose product if they don't have hair that suffers from one issue in particular.
Key Features
Another conditioner with some exotic ingredients, the Jack Black bottle above adds basil leaf and silk protein to the mix.
When our testers gave the formula a try, they were intrigued to discover that this product is one of the best conditioners for men with sensitive scalp or dandruff problems.
It has plenty of vitamins and nutrients, which are absorbed by your scalp and the follicles at the base of your hairs.
These are combined with excellent essential oils and silk protein.
The protein adds luster and body to each of your hair strands, making them appear fuller, livelier, and more manageable.
Overall, it's a deeply moisturizing product that can work as the best conditioner for black male hair.
It's a great all-around conditioner product.
The only negative is that it holds 10 ounces in the bottle instead of 16, but this is overshadowed by all the good things that it can offer your hair.
---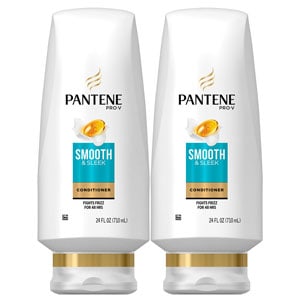 This two-pack provides an excellent conditioner formula that's packed with oils and antioxidants to deliver hair-strengthening results quickly.
Specs
Who Is It Best For?
This is one of the best picks you can make if you have dry or damaged hair.
Key Features
This conditioner is one of the best answers to the problem of breaking or splitting hair.
It has plenty of nutrients and oils to help strengthen your hair strands and prevent them from drying out, even in the harshest of climates.
The oils combine well together without making things feel too greasy, although men with already-oily hair may want to look elsewhere.
Antioxidants are included to strengthen your hair even further.
The ingredients here also work well together to tone down frizzy or curly hair.
It's excellent for making your hair ready to style or making it more manageable for your daily routine.
This is also one of the best conditioners for dry hair, thanks to its oil combination.
The oils will saturate your individual hair strands and prevent moisture from leaking out.
These "micro-moisturizers" are unmatched by most other conditioner products that our testers tried out.
To make things even better, you get two bottles for your purchase, and the pack is affordable for most.
We'd easily recommend this to men who are experiencing hair issues resulting from weak hair strand strength.
---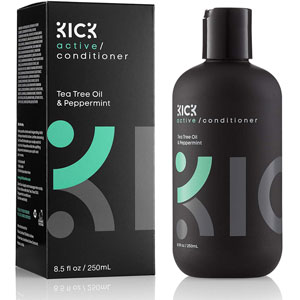 As one of the best conditioners for men, this conditioner is developed to treat all kinds of problems but is particularly well suited to dandruff eliminating and sensitive scalps.
Specs
Who Is It Best For?
This is a fantastic pick if you suffer from dandruff all the time.
Key Features
This conditioner is packed with a higher than average amount of ingredients.
Its complex formula provides lots of benefits, primarily through strengthening and moisturizing your hair strands over time.
Its enzymes and amino acids are particularly well suited to improving scalp regeneration and circulation.
These effects are only part of what makes this conditioner exceptional for fighting dandruff.
The moisturizing oils not only help your hair remain healthy and nourished but also prevent it from breaking so easily.
All of the proteins help your hair to grow back fuller and stronger than before, as well as nourish existing hair.
The effects are powerful, noticeable, and reliable.
Even men with sensitive scalps can enjoy this conditioner.
In fact, the elements in its formula can unclog clogged pores on your head, getting rid of constant irritation and eliminating dandruff even more effectively.
Men with itchy heads will love how great they feel after a few days of application.
There's a little less in the bottles than we'd like – 8.5 ounces instead of 16 – but overall there's plenty of value for money in this bottle.
You should certainly give it a try if you suffer from dandruff frequently and need a real, reliable solution.
---
Things To Consider When Buying the Best Conditioners for Men
When our testers were checking out the best conditioners for men, they focused on a few key attributes to help them distinguish the top players from mediocre ones.
You should remember these aspects as well when doing your own shopping and comparing.
1. Conditioner Type
---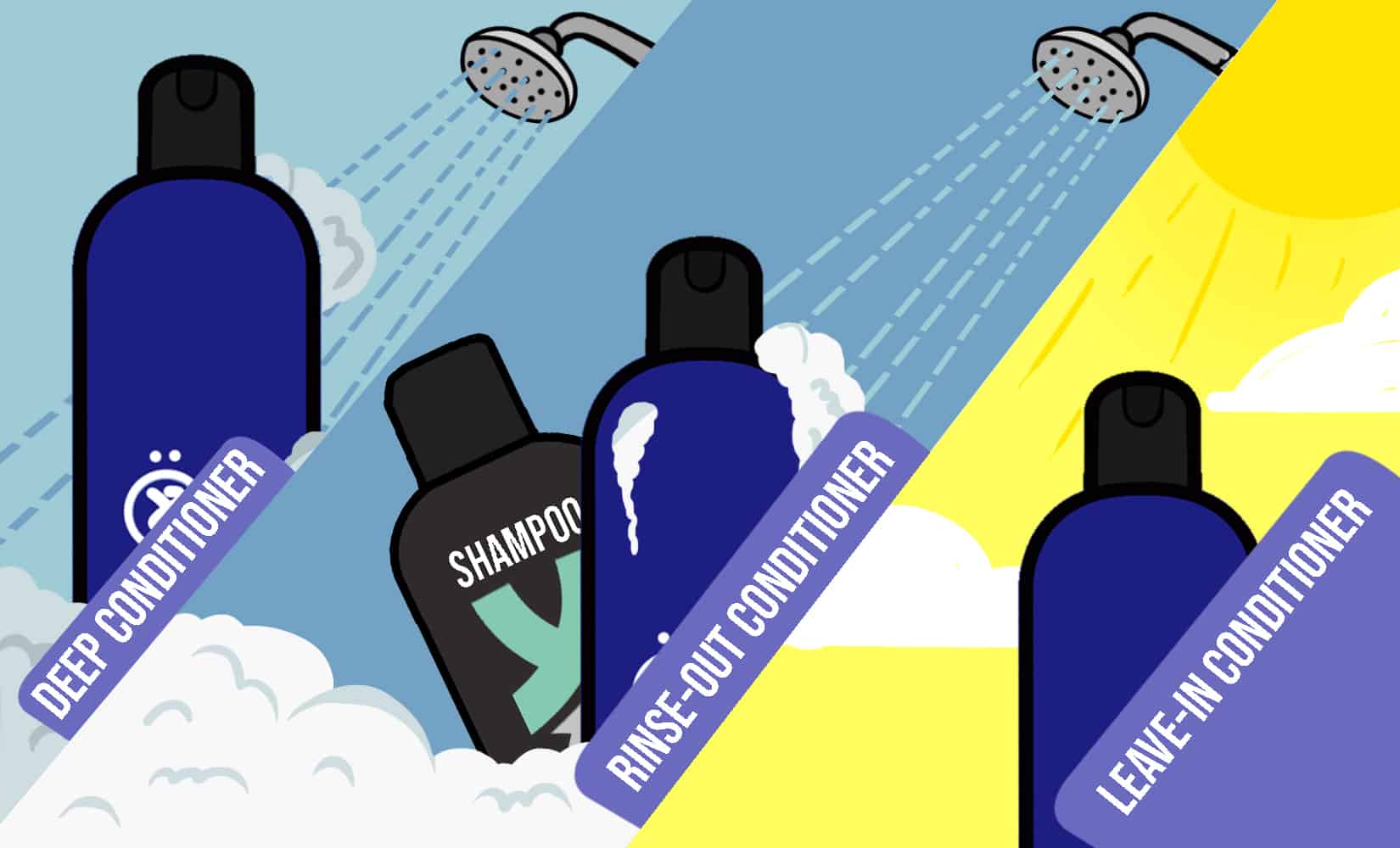 There are three main types of conditioners to choose from.
While they'll all help your hair in some way, each type is best for different hair issues or different hair types.
This difference is because of how long they are supposed to stay in your hair and how they are removed.
Let's go through each type one by one to see the differences.
As the name suggests, deep conditioners are particularly robust and are really intense when applied to your hair.
Their compounds will work to get at the very root of each hair follicle and moisturize and nourish to a higher degree than most other conditioner products.
A deep conditioner is particularly effective for this kind of job since hair follicles are beneath the skin, they require some extra time for nutrients to penetrate the skin for absorption.
Deep conditioners work really slowly, however, and can't be applied for only a few minutes.
Most deep conditioner products need about 10 to 30 minutes to get the job done.
All of this soaking time is part of what enables them to tackle harder hair problems and provide more significant benefits than other types of conditioners.
Besides, most deep conditioners require you to wear a shower cap after you've rubbed it into your hair.
As you might expect, the high effectiveness of deep conditioner products means that you shouldn't use them every single time you take a shower.
In most cases, deep conditioners are best used 2 to 3 times a week, so you don't end up overstressing your hair and causing damage.
This is one of the best conditioners for men, and you can usually find dozens of different bottles of the stuff in any grocery store hygiene aisle.
They are also easy to apply.
Just add it to your hair after you've washed it thoroughly with shampoo, then rinse it out after letting it soak for 10 to 30 seconds.
Rinse-out conditioners are reasonably effective at rehydrating your hair and bolstering its health.
Such conditioners can improve the vibrancy of your hair color or make your hair shafts more resistant to tearing.
But they are not necessarily the best conditioners for men who have dandruff or more long-term hair problems.
Still, rinse-out conditioners are the most common type for a reason.
If you're a man who wants to add a typical conditioner to his daily shower routine, rinse-out conditioners are probably your best bet.
This daily conditioner will strike an excellent balance between how long a deep conditioner requires and how much oil is left behind from a leave-in conditioner.
As a result, all of our best conditioners for men in this guide are rinse-out conditioners.
These types of conditioners are also the types most commonly packaged with shampoo products.
Whenever you see a combination shampoo/conditioner bottle, it's probably a rinse-out conditioner since you always have to rinse the shampoo out of your hair to clean yourself effectively.
Rinse-out conditioners are simple, economical, and effective.
This is the third and final type of conditioner, and as its name suggests, you are supposed to apply it after you leave the shower since it's supposed to remain in your hair all day long.
While this sounds odd, don't think that leave-in conditioner means you'll have soapy hair throughout the day.
Instead, leaving conditioner blends in with your natural hair color and is eventually unnoticeable thanks to its heavy oil mixture.
Just like other types, there are pros and cons of leave in conditioner.
The oils are absorbed by your scalp and hair follicles relatively quickly, allowing the conditioner to detangle your hair and nourish each follicle individually.
Leave-in conditioner is only ever removed from your hair after several days from natural dissipation or upon your next shampoo application.
It's best to think of leave-in conditioners as a hair equivalent to traditional facial moisturizers like the kinds you use on your skin.
Check out our guide to the best face lotion men can find if you want to learn more about that process.
Leave-in conditioners may also have several additional benefits compared to the other best conditioners for men.
Some leave-in conditioners can protect your hair from UV damage or hydrate your hair throughout the day.
For this reason, they can be excellent choices if you live in dry climates or sunny areas where your head is exposed to the sun's rays frequently.
Leave-in conditioners also typically make your hair a little more receptive to various styling gel and formulas.
If you've ever wanted to look like an old-fashioned Greaser, leave-in conditioner is probably your best bet.
However, leave-in conditioners do have a few downsides.
The biggest one of them all is the same aspect that gives it its strength: the high oil content in most formulas.
If you already have oily hair, you could exacerbate your current problems and lead to higher dandruff generation unless you use your leave-in conditioner with another anti-oil product.
It's easy to over-apply leave-in conditioners, but it's critical that you only use a little bit each time since the oil content makes it easy to spread just a few drops throughout your hair.
2. Ingredients
---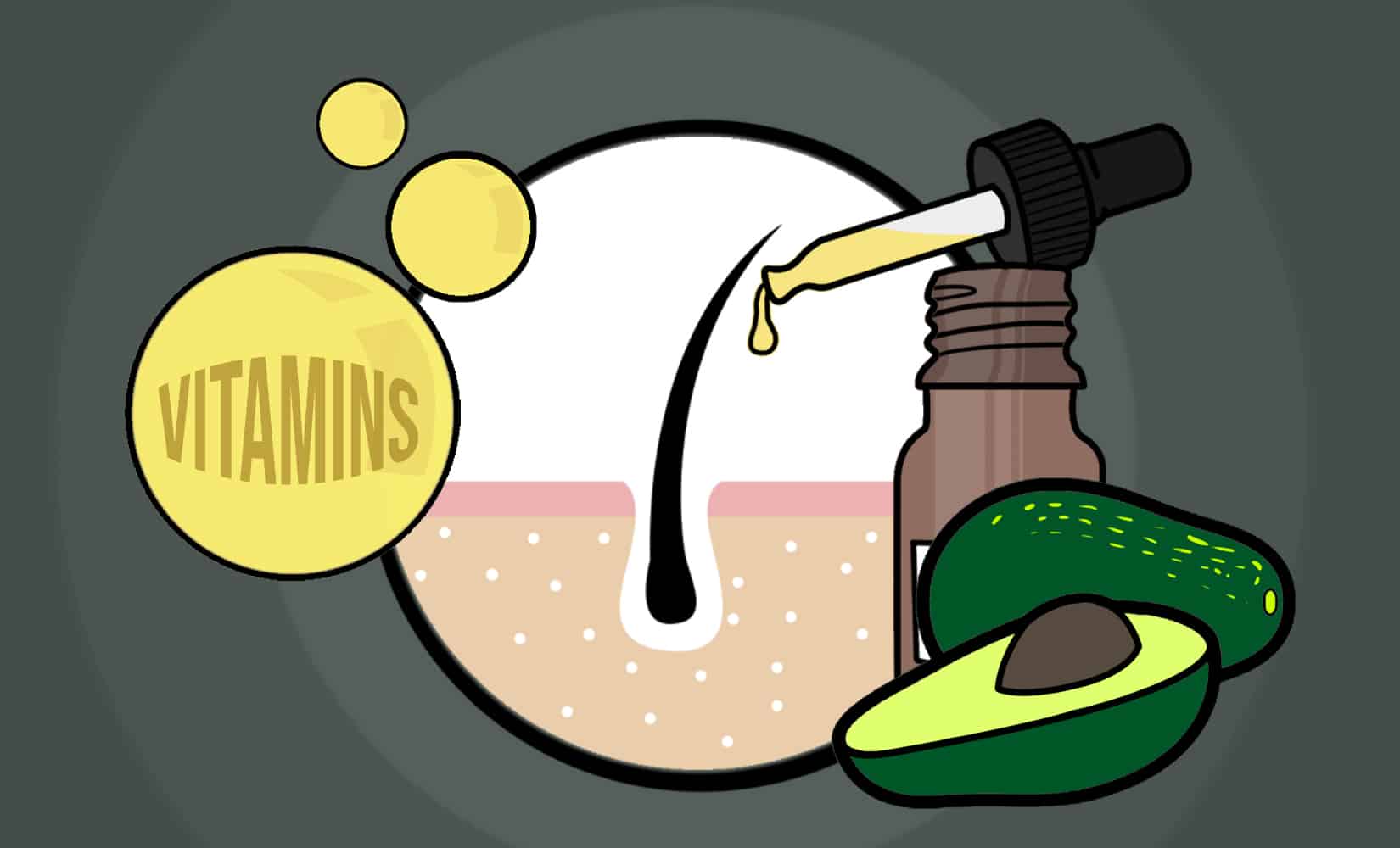 Like all other hair care and skincare products, or typical men's grooming products, the ingredients in the best conditioners for men will dictate its beneficial properties and help define what types of hair it's best used with.
The best conditioners for men have several helpful vitamins.
These ingredients are incredibly useful for repairing damage to individual hair shafts.
They also help your hair build up higher density and strength to stop it from tearing as quickly in the future.
You need vitamins to build everything in your body, from bones to hair, so the inclusion of vitamins is essential in any good conditioner product.
Vitamin B5 (or panthenol) is found in most (if not all) conditioners and helps repair damaged hair follicles.
These ingredients can be described under the catchall term "carrier" oils.
Common ones you've probably seen in the best conditioners for men are jojoba oils, argan oils, coconut oil, and typical essential oils.
These are great for conditioners since they make your hair softer and keep it moist so that it doesn't crack and break in dry climates.
Carrier oils are effectively used in conditioners partly because they mimic the natural oils produced by the glands of the base of your hair follicles, called sebum oil.
Have you ever noticed that your conditioner has a mild "nutty" scent?
That's because of the presence of these kinds of seed oils.
Avocado oil and shea butter are also very beneficial ingredients used in best conditioners for men because of their moisturizing effects.
Cetearyl Alcohol And Emollients
Alcohol normally dries out your skin, which is why we don't recommend it for hair care or skin care products for men with moisturizing issues.
But Cetearyl alcohol is fatty alcohol rather than a subsidiary of regular alcohol.
It helps to soften your hair in both feel and appearance, so it's particularly nice if your hair tends on the crunchier side and you want to make it more pleasurable to touch.
This alcohol and other emollients are phenomenal ingredients you should look for in virtually every conditioner product.
3. Hair Type
---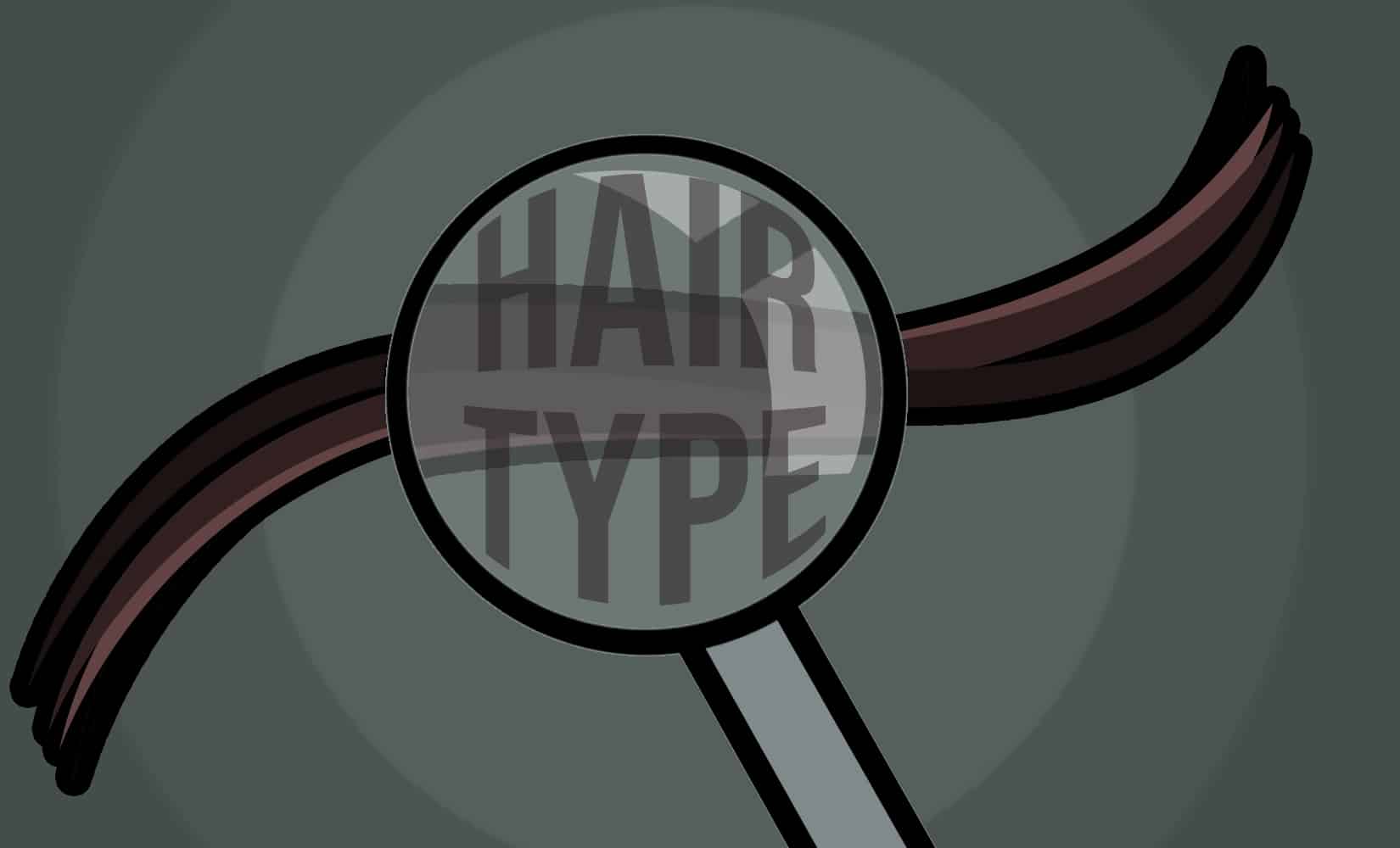 The next factor to consider in your quest for the best conditioners for men is your own hair type.
While this sounds like an easy thing to understand, plenty of guys don't really consider how their hair compares to that of their fellow men.
Tons of men suffer from oily and greasy hair every day.
While they might wash their hair effectively and take a shower every day, they might still struggle with excess oil production.
In fact, overly shampooing your hair can lead to even more oil production even though you think you're helping the problem.
To tackle oily and greasy hair, you should try to find some hair conditioners for men that can strengthen and volumize your hair strands.
These best conditioners for men will help improve the overall health of your hair and slow down oil production from the glands at the base of the follicles.
An added benefit to treating oily and greasy hair is that your hair will look lighter and fluffier instead of flat.
Fluffier hair is always much easier to treat with a hair gel or other styling product, too.
Men who are older or who are unlucky when it comes to genetics may suffer from hair that is wispy and far too thin for their liking.
Thankfully, the right conditioner with volumizing properties can help expand the body of your hair strands and make your hair look fuller and healthier in no time at all.
You'll want to focus on a conditioner that promotes hair growth by possessing tons of nutrients and vitamins, as well.
While conditioner is no real solution for frontal scalp thinning hair, adding the right product certainly won't hurt, and it could stop you from losing your hair if your frontal hairline is in constant retreat.
Men with dry scalps should obviously focus on hair products that have plenty of moisturizing agents and ingredients.
Dry hair is particularly susceptible to breakage since they are likely to crack and become stiff over time.
Stiff hair can break just from daily wear and tear, and it takes your scalp time to replace those lost hair strands.
In some cases, men may think that they have fine or wispy hair but are actually suffering from dry hair that just goes on for too long – resulting in premature hair loss.
Overall, remember to find a conditioner with good moisturizing capabilities if you want your hair to feel soft and healthy instead of crunchy.
Finally, men may have fragile hair or a scalp that is resistant to conditioner products due to irritation or mild pain.
Men who have sensitive scalps or allergic reactions may require a little trial and error before they find a product that will work correctly for their needs.
On the other hand, they can also search for conditioners that don't have any sulfate ingredients; this should be listed right on the bottle if a given conditioner qualifies.
Sulfates are a little rough on the skin, so they tend to irritate scalps that are already sensitive to damage and swelling.
You can also look into the best conditioners that only use natural ingredients, as these are less likely to have any synthetic compounds or chemicals that might inflame your skin and cause irritation.
4. What Does It Treat?
---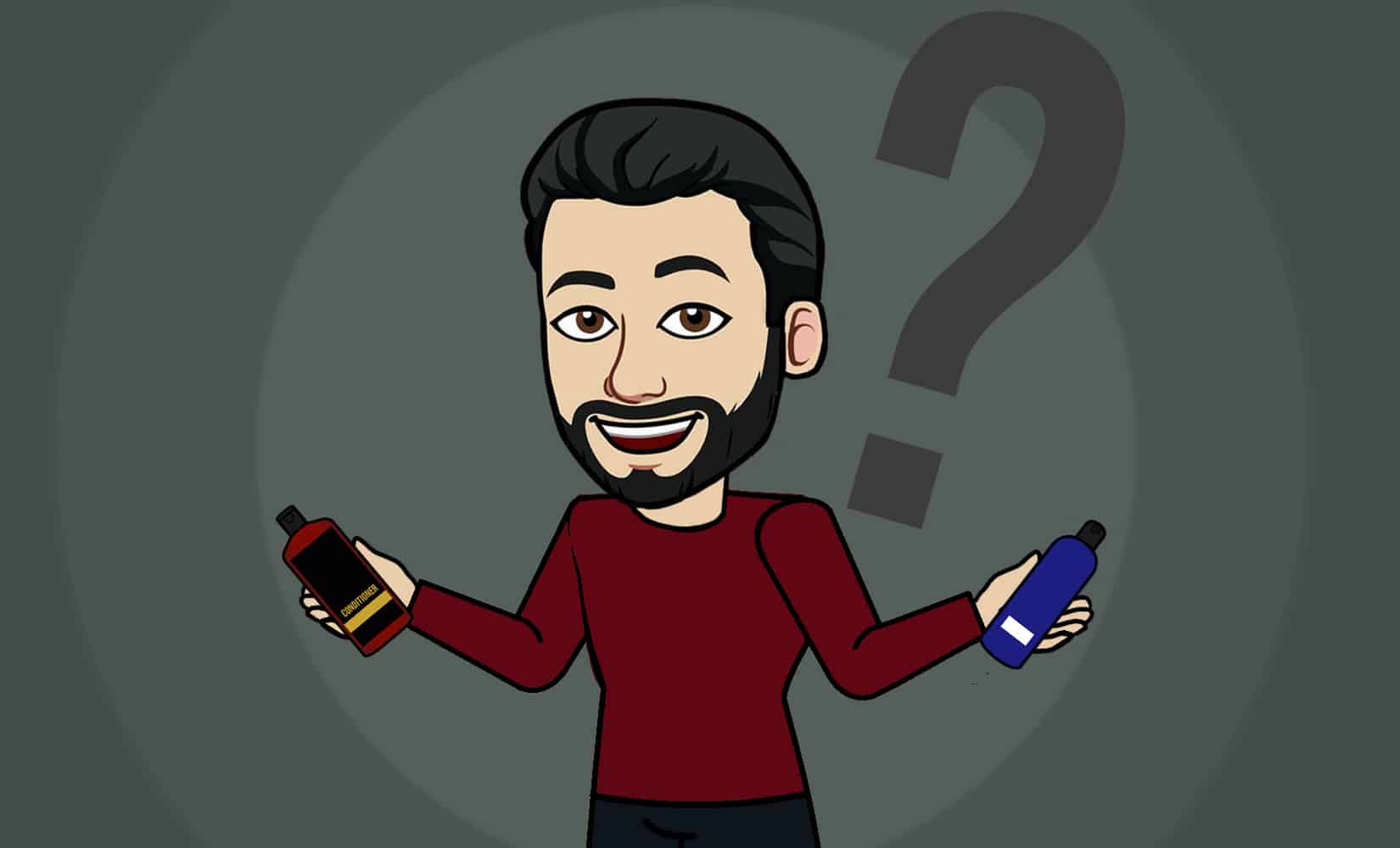 Finally, be sure to pay attention to what exact condition the best conditioners for men is rated to treat.
While all conditioners will help your hair look and feel healthier, certain products can make your hair feel worse.
This is bound to happen if you don't pay attention to what's on their ingredients list or what they've been designed for.
For instance, hair conditioners that contain lots of oils could cause more harm than good if applied to hair that's overly shampooed.
If you have front hairline thinning (male) be sure to get the best men's shampoo and conditioner to treat that specific issue.
Essentially, don't buy the cheapest conditioner you find on the shelf or the first bottle that catches your eye.
Consider what each one can bring to the table before you lay down your dollars and commit.
---
So how do you use conditioner most effectively?
For starters, you should typically use conditioner after you've already washed your hair and taken a good shower.
Getting rid of dirt and debris as well as any lingering chemical particles are an integral part of maintaining healthy hair.
You also don't want to accidentally rub any of this dirt into your hair when you apply your conditioner.
Even leave-in conditioner should be applied after you've washed your hair, although you'll usually apply it after you've already dried your hair outside the shower.
But for the best conditioners for men, you can follow the following process.
Step One
After washing your hair thoroughly and rinsing the shampoo out of your hair strands, squeeze a small amount of conditioner into your palms and spreading throughout your hair.
Use your fingers to work the conditioner throughout your hair, but don't try to rub the product into your scalp or the roots of your hair unless directly specified.
Some deep conditioners may require you to get the product close to the skin, but most conditioner products work better if you apply the product around the middle of your hair roots.
This might sound a bit technical, but simply avoid scrubbing the conditioner into your hair the same way you would normally do with shampoo.
You aren't supposed to be using conditioner to clean your hair, just to improve it.
To achieve maximum coverage, a good idea is to start at the base of your neck and work your way up to the crown of your head.
This will ensure that you hit all the surface areas of your scalp.
Don't forget to get the sides of your head around your ears, too.
Step Two
Allow your chosen conditioner to sit in for some time, depending on its type and the directions on the bottle.
Most rinse-out conditioners only need you to let it sit for less than a minute or so, while deeper conditioners may want you to leave it in for 10 to 30 minutes.
Whatever the case, keep your head out of the shower water so the conditioner has time to do its critical work.
Step Three
Go ahead and rinse out your conditioner once the recommended time has passed.
Warm water is best for this step since it'll help get rid of all the residual conditioner products, including any excess oils that might be lingering behind.
Be aware that conditioner usually takes a little longer to rinse away more thoroughly than shampoo does.
This is a good thing; it's a sign that the conditioner is attaching to your hair strands and working its magic.
Step Four
Now it's time to dry your hair or allow the conditioner to sit in for a while longer, depending on the type you chose.
If you've rinsed your hair free of conditioner and need to dry, it's a better idea to blot it dry with a towel instead of scrubbing it or squeezing it dry.
Blotting your hair dry is a lot gentler on your hair, as opposed to squeezing and tugging.
This is particularly important if you have weak or wispy hair and you're applying conditioner to strengthen it over time.
Frequently Asked Questions About Best Conditioners for Men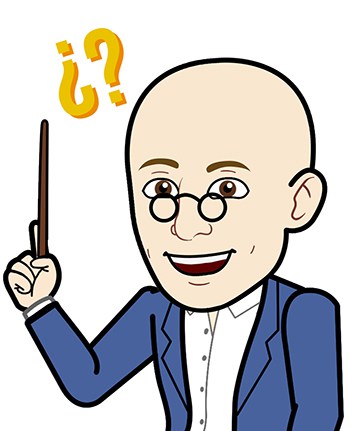 Now that you've known the best conditioners for men and things to consider when buying one, let's go over some common questions many men have when first fitting conditioners into their daily routine.
1. What Does Conditioner Do, Exactly?
Conditioners smooth out the hair cuticles and help them protect your hair against physical and chemical damage.
Besides, conditioners can deliver helpful nutrients and vitamins directly to the roots of your hairs that your body may not naturally produce due to genetic anomalies or diet deficits.
Overall, the best conditioners for men will act as supplements for your hair.
2. How Do You Stop Thinning Hair in Black Men?
Here is how to stop thinning hair in black men;
Use a proper natural shampoo and conditioner for men for instance, the best shampoo and leave in conditioner for black men.
If you already have thinning hair, consider using the best hair products for black men with thinning hair, for example, growth oils.
3. When Should I Use Conditioner?
You should use the best conditioners for men only a few times a week.
Giving your hair too much of a boost might sound impossible, but the truth is that you can overwhelm your hair strands and follicles.
Over applying your conditioner can lead you to have oily hair, which is the exact opposite of what we're going for.
4. Can Conditioner Replace Regular Soap Or Shampoo?
No, it cannot.
The shampoo has an entirely separate role from conditioners.
Shampoo removes physical particles that build up in your hair.
Since the best conditioners for men lack cleansing ingredients, they can't do what shampoos do.
The only slight exception to this rule is if you have a shampoo and conditioner combination product.
5. Are Conditioners For Women Acceptable In A Pinch?
Lots of feminine conditioners have the same ingredients as the best conditioners for men, although they may have slightly different goals.
Feminine conditioners focus on hair strength to a higher degree than masculine conditioners since women usually wear their hair much longer.