Lots of guys throw a stick of deodorant on in the morning and are somehow surprised that they still sweat in the afternoon.
After all, isn't the best men's deodorant supposed to help with that?
Not at all, actually.
You see, while some of the best deodorants have antiperspirant effects, not all do.
And there are specific best antiperspirants for men products that you can use to knock down your excessive sweating drastically.
These are much better choices if your shirts are always soaked.
The truth is that most guys should be combining antiperspirants with deodorants, but far too few know to do this.
If you've never heard of antiperspirants before, but have probably heard of deodorant for men, not to fear.
We've put this guide together to show you the best antiperspirants for men that we could find.
Plus, we'll explain some significant differences between deodorant and antiperspirant.
Let's get started.
QUICK OVERVIEW: Best Antiperspirants
AXE Signature Night Antiperspirant Deodorant Stick

No stains on light clothing
Decent perspiration protection length

VIEW ON AMAZON →

ZeroSweat Antiperspirant Deodorant

Excellent at reducing sweat
Long-lasting protection

VIEW ON AMAZON →

Degree Men Antiperspirant and Deodorant

Great for sensitive skin
Dries quickly

VIEW ON AMAZON →

Old Spice Wild Collection

Masculine Scent
Affordable

VIEW ON AMAZON →

AXE Antiperspirant Deodorant Stick for Men

The fragrance is noticeable but not overwhelming
No streaking or staining

VIEW ON AMAZON →

Gillette Antiperspirant Deodorant for Men

Feels cool and refreshing
Antiperspirant and deodorant have the same time frame

VIEW ON AMAZON →

Certain Dri Anti-Perspirant

Very affordable
Long-lasting

VIEW ON AMAZON →

SweatBlock Antiperspirant

Fast-acting
No streaking or staining light clothes

VIEW ON AMAZON →

Tom's of Maine Antiperspirant for Men

Deodorant lasts for as long as an antiperspirant
Affordable

VIEW ON AMAZON →
Use the table of contents below to jump to the sections most important to you.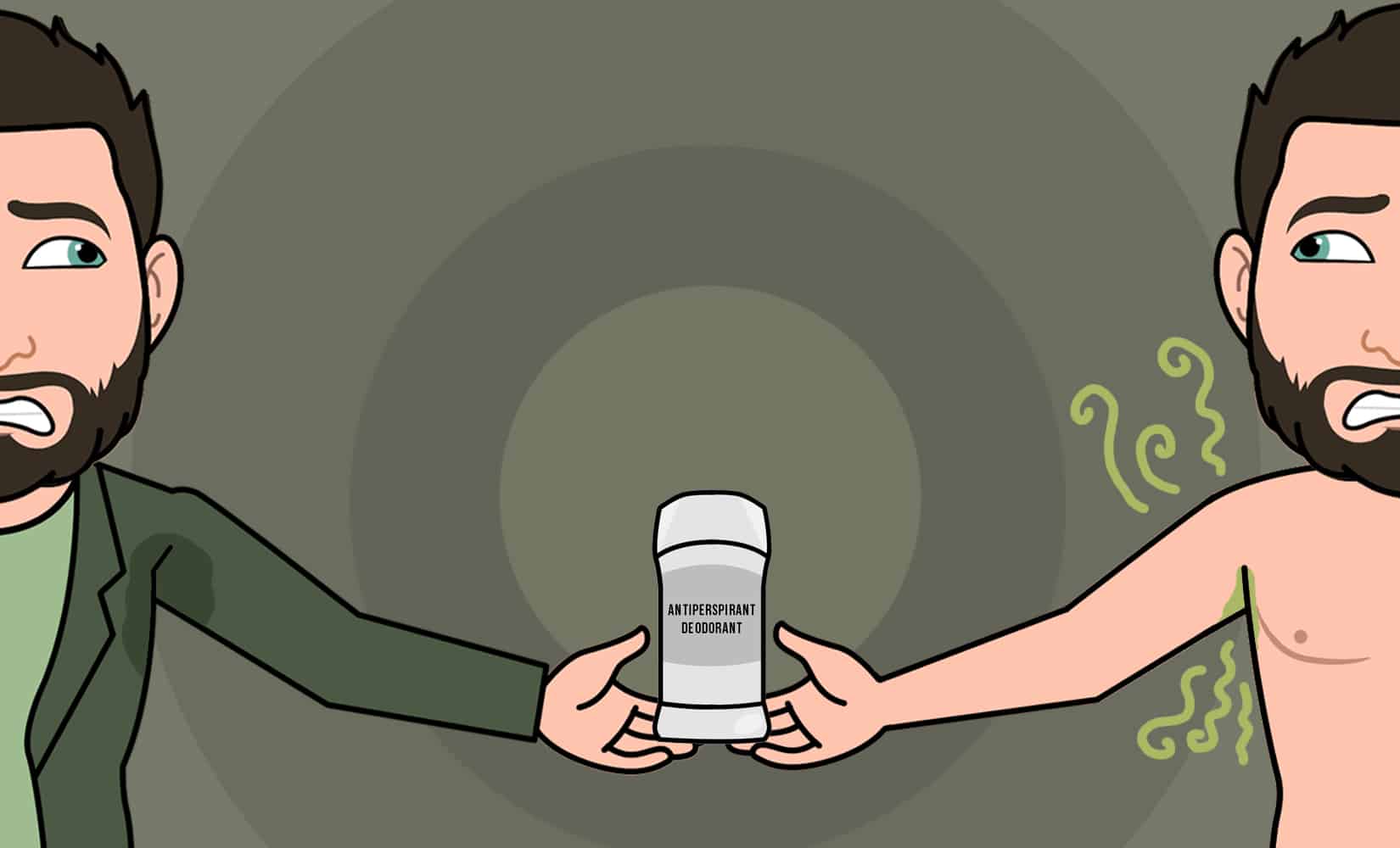 9 Best Antiperspirants for Men of 2023 Reviewed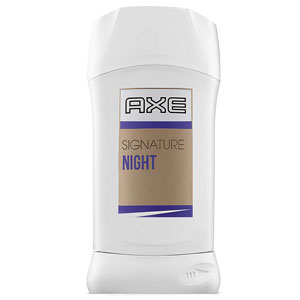 This antiperspirant stick pack has excellent value for money and it's stain-free.
Specs
Who Is It Best For?
It's ideal for guys on a budget or men who want to keep it neat and clean, without any extra fuss.
Key Features
This affordable 4-pack is a deodorant-antiperspirant combo that comes in a stick – one of the best choices for best antiperspirants for men by popular vote.
The formula on display here is well known for not giving you any white or yellow marks once applied to your armpits.
The clinical strength sweat protection clocks in at about 48 hours, which is great for the stick variety.
The antiperspirant formula does contain aluminum zirconium.
It's a great choice if you're on a budget or if you're buying for a teenage male that'll be sweating up a storm for the next few years.
The stick's scent isn't too overpowering, so you might appreciate this as a deodorant product as well if you're not usually into sticks that have a really noticeable fragrance.
Check out the hundreds of customer reviews here on Amazon.
---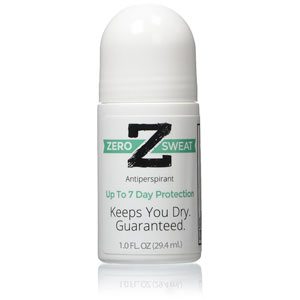 It has excellent long-lasting, anti-sweat capabilities in a small, compact bottle.
Specs
Who Is It Best For?
It's a good choice for guys who prefer a clinical strength antiperspirant and want to forget about reapplication for a few days.
Key Features
This antiperspirant only comes in one bottle, and it's a little pricey when compared to many of the other pics on our reviews of the best antiperspirants for men.
The strongest antiperspirant ability to reduce your sweat is almost unparalleled.
It uses a formula with aluminum chloride to sink straight into your sweat glands and prevent them from producing excessive moisture for up to seven days.
It doesn't cost stains or streak marks, even on light-colored clothing.
It's also paired with a light deodorant formula that doesn't have a very noticeable fragrance.
It's one of the best antiperspirants for men who go camping for a week and don't want to drag extra grooming products around – just put it on before going and leave it at home.
Check out the thousands of customer reviews here on Amazon.
---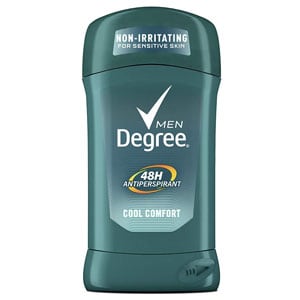 This is a stick pack of two antiperspirants, and it lasts up to 48 hours.
Specs
Who Is It Best For?
It's great if you want to apply a fresh antiperspirant layer each night or morning.
Key Features
This is another phenomenal choice if you need a lot of antiperspirant on a budget.
You get 6 sticks of 2.7-oz antiperspirant with the purchase, and it's a combo product that has a citrus-scented deodorant included in the formula.
The antiperspirant and deodorant are both body heat activated.
They'll start to work most effectively as your body starts to build up a sweat. It absorbs quickly, so you don't have to worry about getting dressed quickly.
The stick base is easy to use, as well as convenient.
Overall, this is another excellent budget pick, and it should be on your radar if you're worried about antiperspirant irritating your skin.
Check out the hundreds of customer reviews here on Amazon.
---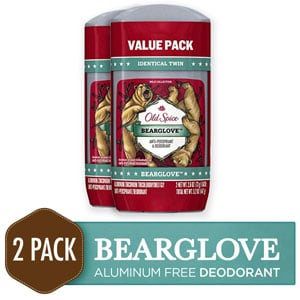 This is a two-pack that has a strong fragrance and good anti-sweat qualities.
Specs
Who Is It Best For?
It's ideal for guys who want a strong deodorant along with their antiperspirant.
Key Features
Old Spice is a well-known brand, and for a good reason – everyone knows that they make some of the best antiperspirants for men.
They've outdone themselves yet again with this antiperspirant/deodorant combo stick pack.
You get two sticks for a reasonable asking price, and the deodorant aspect of the product is mildly fruity and should be pleasing to most people.
At the same time, it's definitely masculine, and it's not so overwhelming that it will overtake any cologne that you may decide to apply.
Speaking of cologne, check out our guide to the best colognes for men to find the best scents for success.
The antiperspirant lasts for about 24 hours and relies on aluminum zirconium and alcohol to reduce your sweat output.
In fact, it looks almost invisible as soon as it touches your skin even though it appears white when you take the cap off – and it dries almost instantly.
The deodorant part of this product is strong enough that most people would be inclined to use it every morning as their primary deodorant product.
Check out the hundreds of customer reviews here on Amazon.
---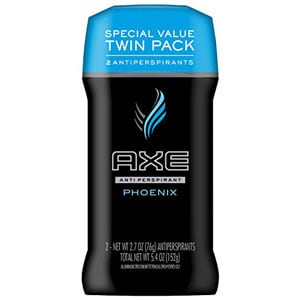 This deodorant stick pack has less of a strong fragrance than the Old Spice pack, but it's still just as effective.
Specs
Who Is It Best For?
It's good for guys that want a combo pack that they can use at night more comfortably.
Key Features
Axe is well known for its personal care products that have masculine scents and a great feel.
This one feels excellent when applied to your skin according to our testers and features notes of citrus, lavender, geranium, and sandalwood.
The instant application of this stick onto your sweaty armpits feels great and extremely relieving.
It can keep you fresh and dry for about 24 hours before it needs to be reapplied.
In addition to aluminum zirconium, this antiperspirant uses talc to keep the formula dependable and active even if you let it sit for a long time.
Overall, we'd mark this one as a toss-up between it and the Old Spice.
You should decide which of the two fragrances you think you'll like better and go from there, although they're both some of the best antiperspirants for men in their category.
Check out the hundreds of customer reviews here on Amazon.
---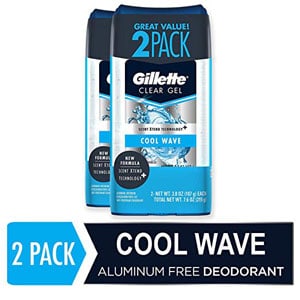 This is a 2-pack of aluminum-free deodorant and antiperspirant from a great brand known for getting close and personal with your skin.
Specs
Who Is It Best For?
This is one of the best antiperspirants for men who want a true antiperspirant/deodorant combo product.
Key Features
This three-pack uses aluminum zirconium and a handful of other compounds to provide fantastic sweat protection and sweat reduction.
It's paired with a deodorant formula that feels cool to the touch and which can provide relief if your armpits tend to become uncomfortably hot when they sweat frequently.
The antiperspirant is totally clear and isn't likely to clog up or hang onto your armpit hair.
Just like the Gillette ultimate protection 6-in-1 antiperspirant, its antiperspirant properties also last for about 48 hours, which is formulated to match the anti-odor properties of the deodorant.
Because of these matching timescales, this is one of the better combination products you'll find.
You see, you shouldn't need to apply deodorant every single morning with this choice since the deodorant will work for 48 hours in total before needing reapplication.
It's one of the best deodorant/antiperspirant combos out there.
Check out the hundreds of customer reviews here on Amazon.
---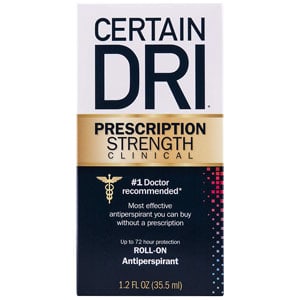 This is a dedicated antiperspirant that takes some time to dry but lasts for 72 hours.
Specs
Who Is It Best For?
It's a great no-nonsense medical-grade antiperspirant, for no-nonsense guys.
Key Features
Finally, we reach dedicated antiperspirant products.
This is one of the best antiperspirants for men you'll be able to find and leaves you with the option of finding a scent that's perfect for you and not a part of an antiperspirant/deodorant combo.
It uses aluminum chloride to provide you with 72-hour protection.
Certain Dri is one of the strongest antiperspirants around.
The formula is clinical strength, but you don't need a prescription to take advantage of its effects.
Altogether, this is an excellent pick for a budget, high-effectiveness antiperspirant that only needs to be applied sparingly.
Check out the thousands of customer reviews here on Amazon.
---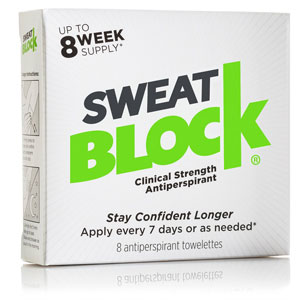 These pads are fast-acting and last for a week, perfect for when you need anti-sweat solutions that last.
Specs
Who Is It Best For?
They're suitable for men who need reliable sweat control that lasts for a long time.
Key Features
For sparing anti-sweat efforts, it doesn't get much better than this pack of antiperspirant pads.
You get eight whites with the purchase, and each is soaked with an aluminum chloride solution that's also clinical strength.
The pads are disposable, and they're perfect for occasional use and immediate sweat relief.
Because the formula is contained on the pads, it evaporates and sinks into your skin quickly.
The anti-perspiration formula can protect you from sweating too much for up to a week without causing any sweat marks or streaking on white or light-colored clothes.
If you've got a tough week ahead and know you'll be liable to sweat up a storm, these pads might be your best bet when you're looking for some of the toughest best antiperspirants for men.
Check out the thousands of customer reviews here on Amazon.
---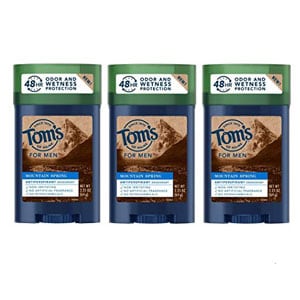 This stick is made from natural ingredients.
Specs
Who Is It Best For?
It's great for men with sensitive skin who want to be environmentally conscious and go easy with the harsher-acting ingredients.
Key Features
This combo stick is made from natural ingredients, which clearly separates it from the competition.
It's also very affordable, and you get three sticks with your purchase.
This is great news in a world where natural products tend to be more expensive, especially when it comes to the best antiperspirants for men.
The antiperspirant formula uses recycled aluminum to reduce sweat from your glands.
This protection lasts for up to 48 hours in total, which is decently high for a stick that also has deodorizing effects.
Since all of the ingredients are sourced from organic spots, you'll also be supporting, which has less of a carbon footprint if you purchase this combo.
Our testers did find that the recycled aluminum likely leads to a very slight dip in effectiveness for super-sweaty armpits.
The deodorant is lightly-fragranced, with a "mountain spring" scent.
This smells somewhat generally fresh, but it's not a bad scent, either.
It lasts for the same amount of time as the antiperspirant, so it's perfect for use in the morning or evening as long as you only use it once every 48 hours.
We'd recommend this choice if you're concerned about skin irritation or health concerns.
Check out the hundreds of customer reviews here on Amazon.
What's the Difference Between Antiperspirant and Deodorant?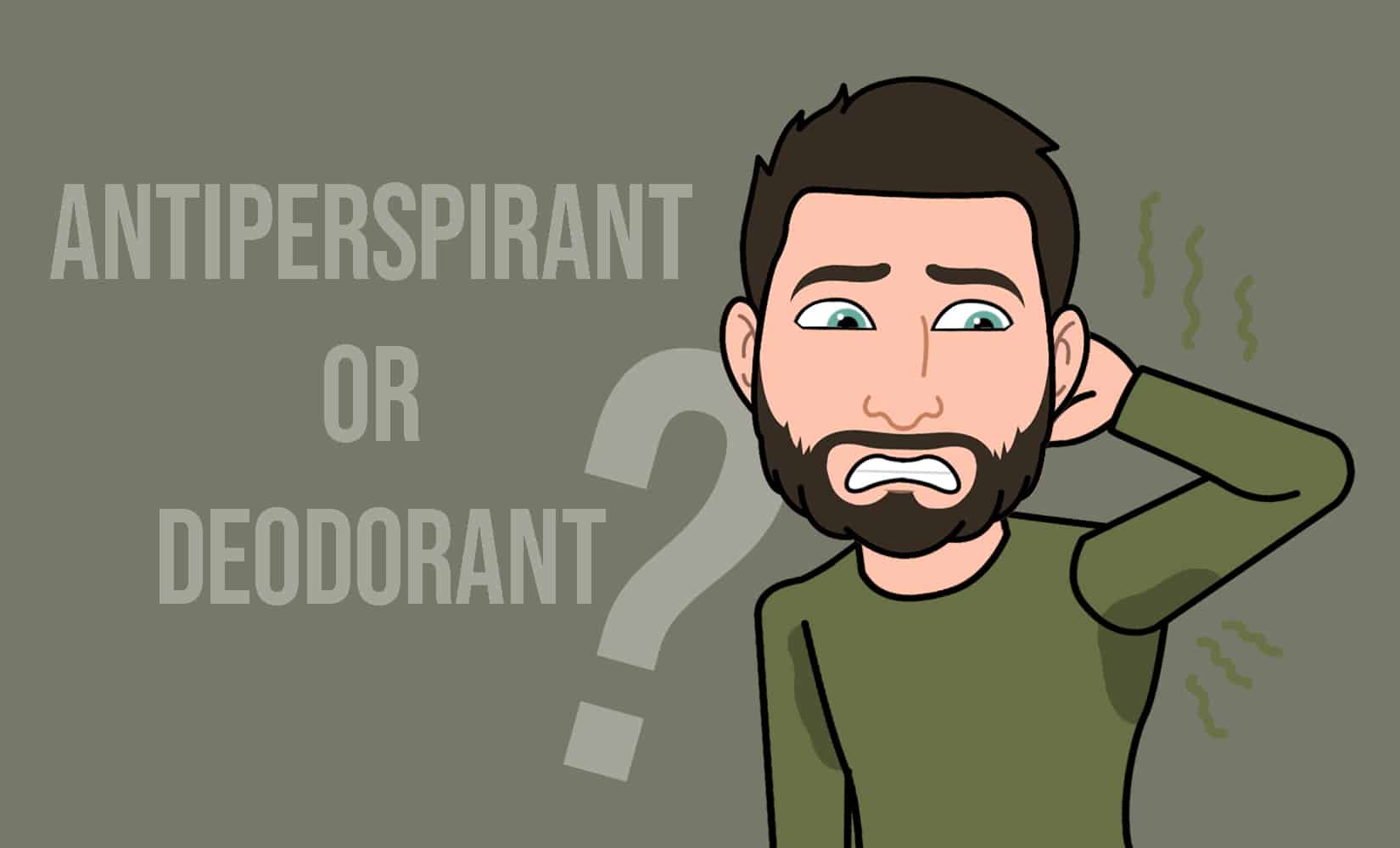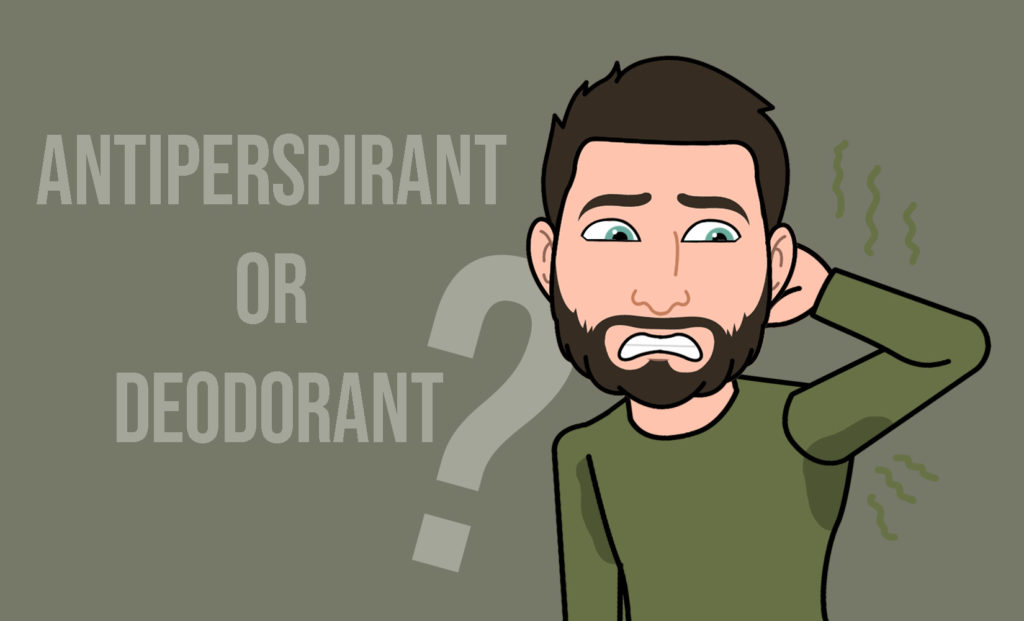 Although these two terms (deodorant vs antiperspirant) are often used interchangeably, antiperspirants and deodorants are fundamentally different: antiperspirants prevent excessive sweating in men, while deodorants tackle bad body odor caused by sweat.
The best antiperspirants for men will mostly work by blocking your sweat glands from emitting sweat through your pores.
These products work by acting as physical blockers or by stimulating your sweat glands to produce less sweat than usual.
The best deodorants work by neutralizing the hormones and molecules responsible for odors.
They contain chemicals or strong fragrances, often housed in a cream or powder it settles into your pores and lasts for a long time.
It's not uncommon to find them packaged together in a single product that sometimes doesn't work all that well.
This is because the combination of antiperspirant/deodorant products is sometimes slightly less effective at reducing your sweat output than dedicated antiperspirant products – mostly because of the amount of the active ingredients used.
Also, there is some evidence that dedicated antiperspirants may have adverse effects on your skin, but we'll get into that further into our guide when we look at specific ingredients.
If you're looking for the best deodorants for men, we've already done a guide on that as well. Check it out!
---
Things to Consider When Buying the Best Antiperspirants for Men
Now that we've got some basic definitions out of the way let's look at the primary factors you should consider when looking for the best antiperspirants for men.
Paying attention to these aspects will stop you from accidentally purchasing a mediocre product that doesn't work as advertised.
1. Is it a Deodorant?
---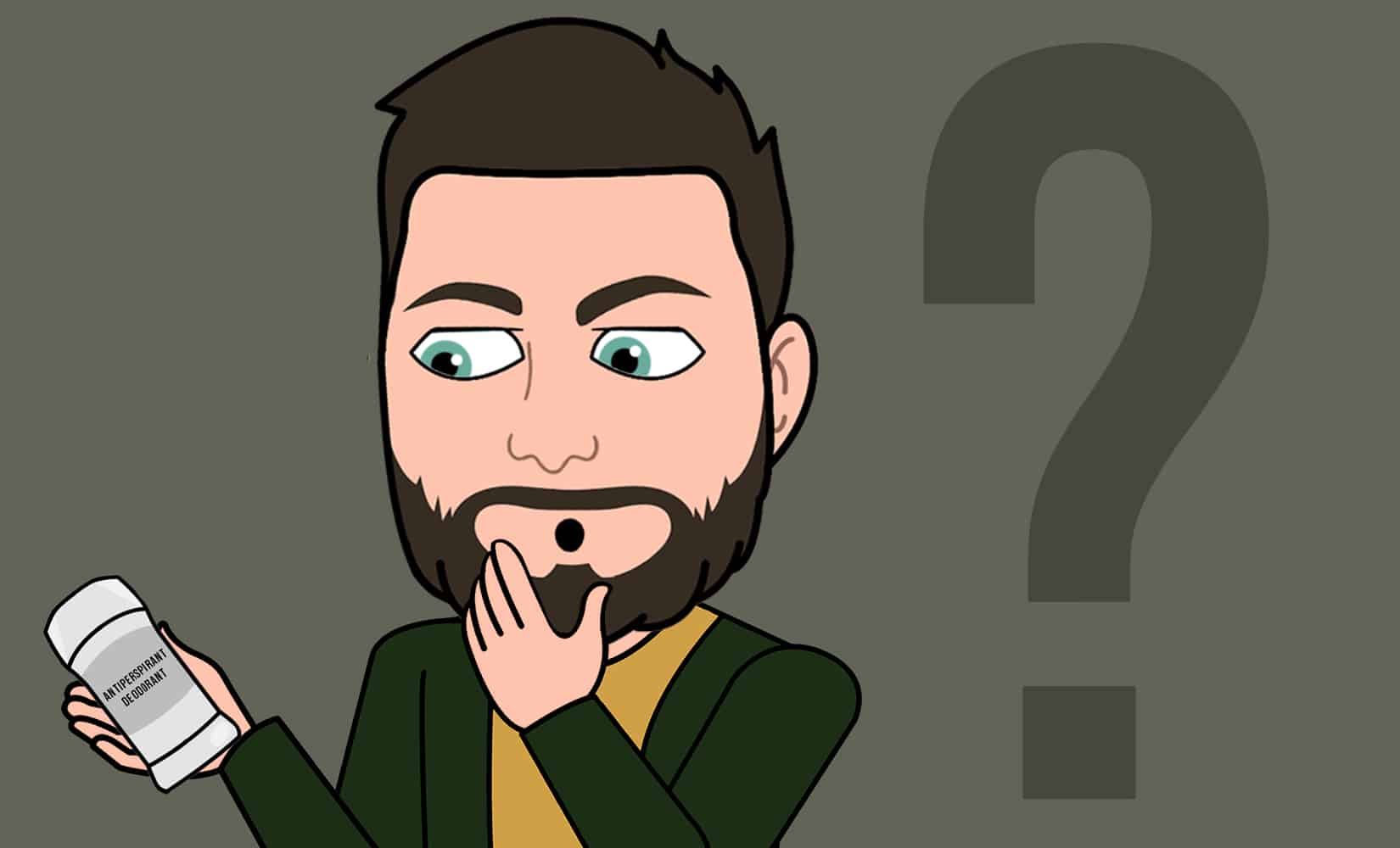 First off, you should check to see whether your chosen antiperspirant is also a deodorant product.
Having a combination product means that there's one less thing you need to worry about.
There is a trade-off, however.
Since antiperspirants are meant to be applied at night (we'll explain later), using them every morning is a bit overkill for your sweat glands.
2. Length of Protection
---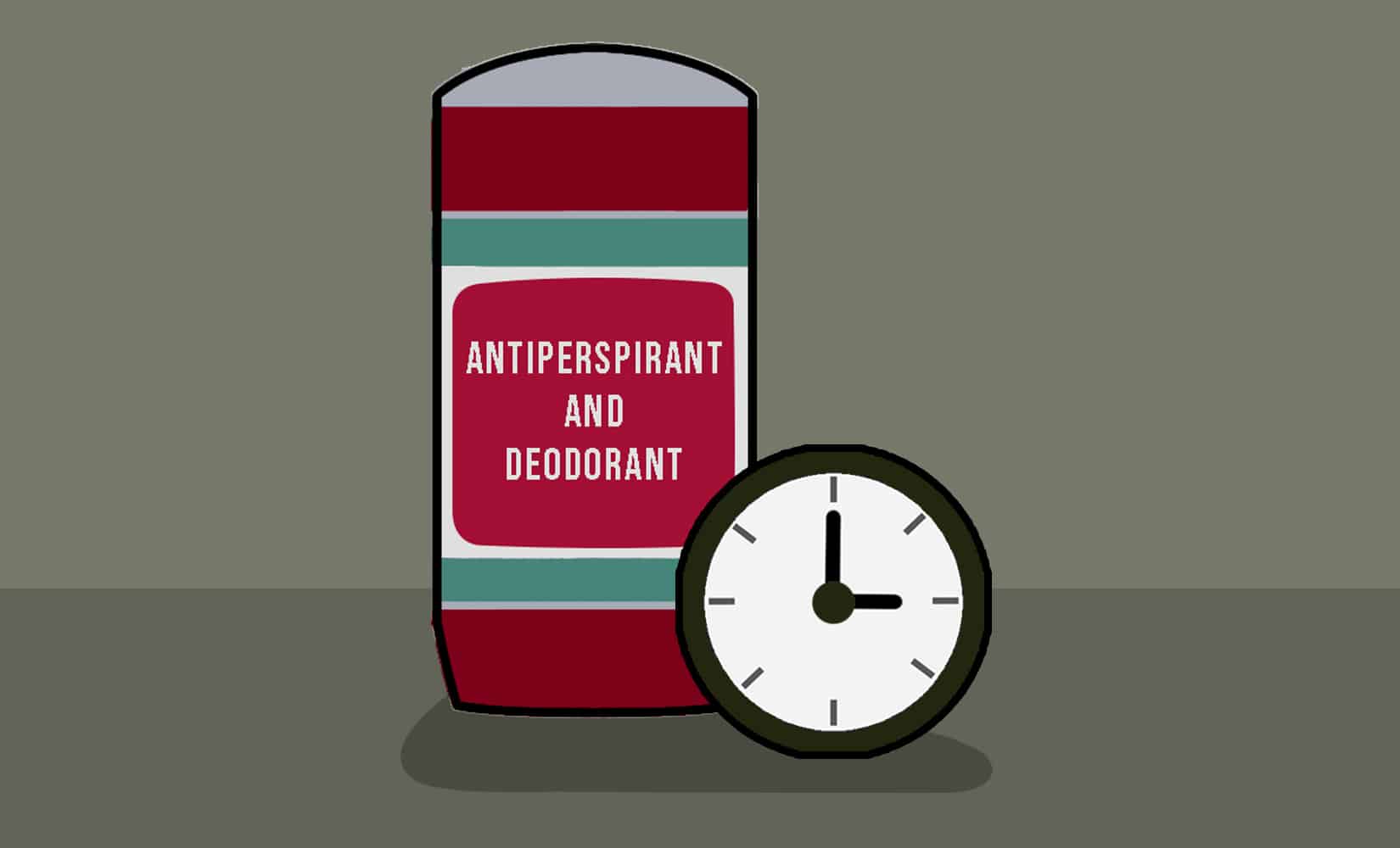 Some of the best antiperspirants for men can protect you for up to many days or even a week at a time.
Those that go even longer are even better deals, although they may have a particularly harsh chemical mix that grants them such a long active period.
Other antiperspirants are only suitable for a few hours and are best used as daily solutions when you know you'll be getting sweaty.
These antiperspirant products are great right before a sports game or before you head to the gym, whereas the longer-lasting antiperspirants are better for men that continuously have to fight against excessive sweat.
The length of protection also affects the product's overall value, and generally, the best antiperspirants for men will last longer.
3. Ingredients
---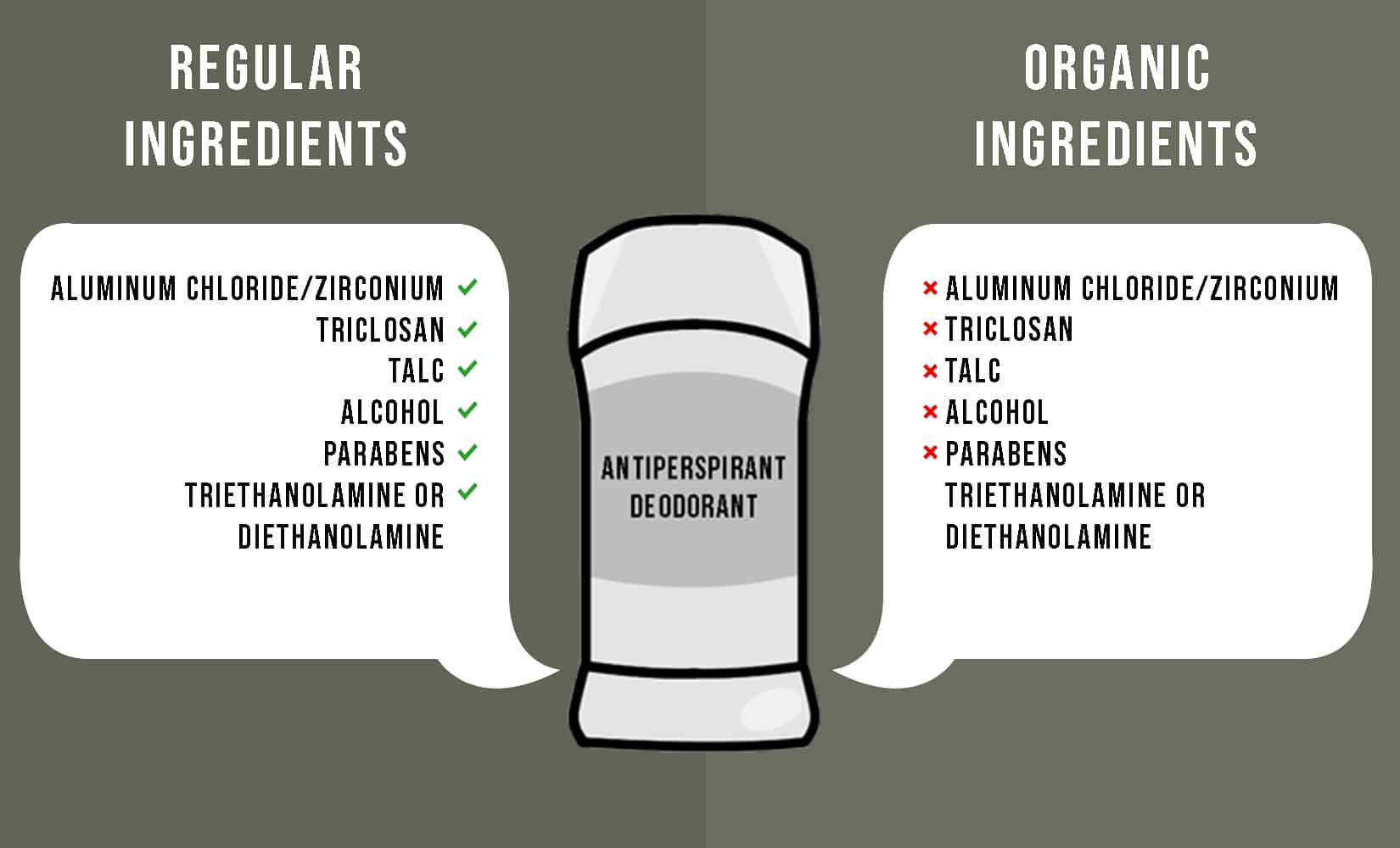 The active ingredients of antiperspirants are important – the best antiperspirants for men will have a higher amount of active ingredients.
Keep in mind that some ingredients can cause allergic reactions in some individuals.
Let's go through the most common ingredients in antiperspirants so you can be aware of any issues beforehand.
Aluminum Chloride/Zirconium
This ingredient is one of the most common in most of the best antiperspirants for men and is the number one doctor-recommended compound for reducing sweat.
This compound blocks sweat glands quite effectively, and you'll often see high concentrations in various antiperspirant products.
However, aluminum chloride and similar compounds have carcinogenic properties, and some best antiperspirants for men will omit them.
This is likely due to its drastic gland-blocking ability. If you prefer not to use products with aluminum chloride, there is a selection of products that don't contain it.
These men's antiperspirants without aluminum chloride and aluminum-free deodorant for men are best for men with sensitive skin.
Triclosan is a compound that's quite effective at removing bacteria.
This can help make a less odorous surface in your armpits and reduce the amount of sweat that is emitted by your glands.
However, triclosan can also feel irritating to the skin of many men, particularly if you have sensitive skin already.
You should definitely pay attention to how it makes your use antiperspirant with this ingredient and stop right away your skin feels irritated or turns red.
Talc is a relatively common absorbent compound that's used in a lot of different personal care products and skincare products, including the best antiperspirants for men.
It helps the rest of the antiperspirant products be absorbed by your skin more efficiently and is part of what makes certain antiperspirants "fast-acting."
However, it does have asbestiform fibers.
That's right, they are derived from asbestos, which is a known carcinogen.
Take care when using an antiperspirant with talc as an active ingredient, and see if you can find the best antiperspirants for men that are talc-free.
Alcohol is another absorptive ingredient that is commonly found in the best antiperspirants for men – it acts as a preservative and a solvent in botanical cosmetics.
It can also feel harsh on sensitive skin and cause skin irritation, so be careful if you already have sensitive skin.
Alcohol has a tendency to dry out the skin if you have issues with moisture retention.
Parabens are molecules and compounds with names like butylparaben.
They're artificial preservatives, and you can find them in many kinds of personal care or skincare products.
While they are excellent for ensuring that your antiperspirant will last for a long time, they also have been linked to the development of breast cancer.
As with aluminum chloride, pay attention to how the parabens present in your antiperspirant formula make your skin feel.
It's easy to pick a paraben-free antiperspirant and some of the best antiperspirants for men won't contain any.
Triethanolamine or Diethanolamine
TEA or DEA are chemicals that alter the pH level of the skin.
This helps reduce sweat emission by changing the environment in your armpits – but has been thought to have adverse effects if used over a long period of time.
Your skin needs a healthy pH level to replenish itself and maintain a healthy defensive oil level.
While these compounds can be useful if you need a short-term anti-sweat solution, we wouldn't recommend them for long-term use due to their long-lasting side effects, and some of the best antiperspirants for men simply do not use them.
Also, some of the best antiperspirants for men are natural and only use organic ingredients.
These are much rarer than antiperspirants which use the active compounds described above, but they are becoming more and more popular.
We've got one on our list of the best antiperspirants if this is something more to your liking.
4. Application Method
---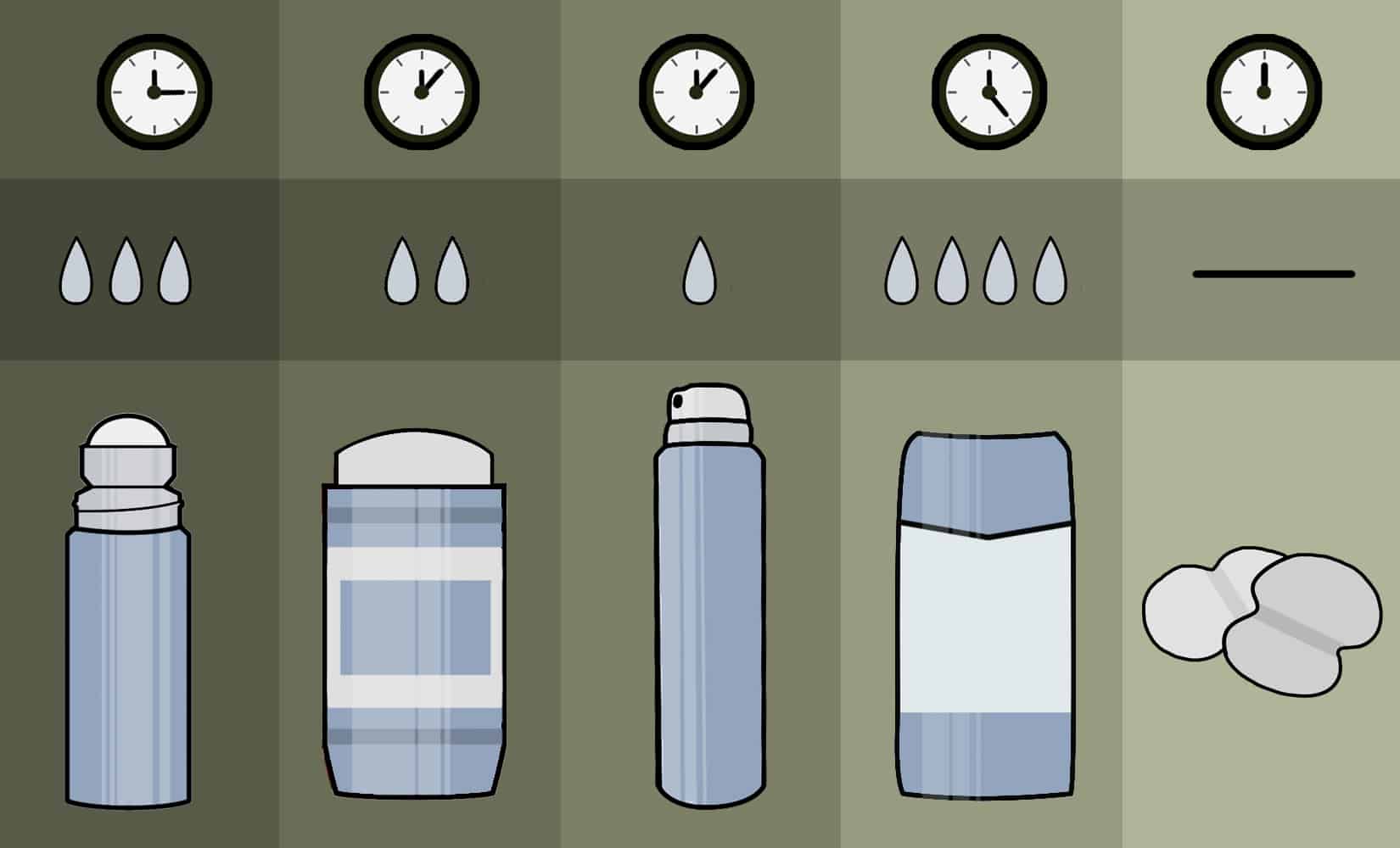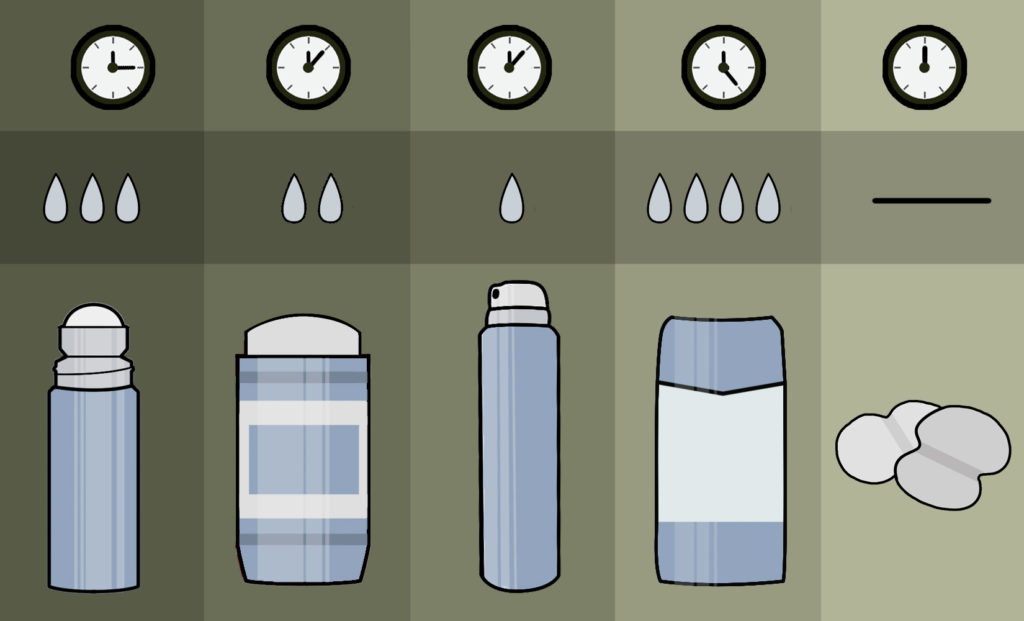 The application method of your chosen antiperspirant product is also an essential factor to consider.
The application method affects the feel, thickness, and appearance of the product.
Roll-on antiperspirants or roll-on deodorants are usually wetter and more gel-like than their stick or aerosol counterparts.
They tend to have a very thick consistency that is viscous and takes a little bit of time to absorb into your skin.
When using a roll-on antiperspirant, it's essential to give the antiperspirant time to dry thoroughly before you put on a shirt and go about your day.
Stick antiperspirants are versatile and fast-drying.
They are also mess-free to apply compared to the roll-ons. Of course, they might leave white residue on your clothes throughout the day.
They are easy to pack, easy to use and they are the best antiperspirants for men when it comes to affordability too.
Spray antiperspirants are also quite affordable and easy to use.
The best antiperspirant spray for men doesn't leave stains and is usually absorbed relatively quickly.
They are also generally better for short-term needs since their scent tends to evaporate quickly and needs refreshing.
Spray-on is on our list of best antiperspirants for men, because of the ease of use, and the fact that they have some of the nicest scents.
The only real issue is travel – they are liquid, and under pressure. If you're getting on a plane, it's not a good idea to take one along, especially if you're traveling with a carry-on.
Gel antiperspirants are thicker but are often quite long-lasting.
They can feel a little uncomfortable to apply and require a longer drying period.
Keep this in mind if you plan to apply antiperspirant gel during a rushed morning routine – they tend to smear if you put your clothes on too quickly – it might not be one of the best antiperspirants for men who like to cut their morning routine to a minimum.
Gel antiperspirants can also sometimes leave streaks or spots, particularly on light clothing.
Take care when using a clear gel antiperspirant and try to avoid using too much at any one time.
Pad antiperspirants come in disposable squares or rectangles and so need to be repurchased quite frequently.
But their advantage comes with their fast absorptive rates and easy disposability.
Pads usually don't leave streaks or other marks and can be excellent choices for sparing or short-term anti-sweat needs. They are some of the most unknown best antiperspirants for men – a lot of people haven't even heard about them.
5. Amount
---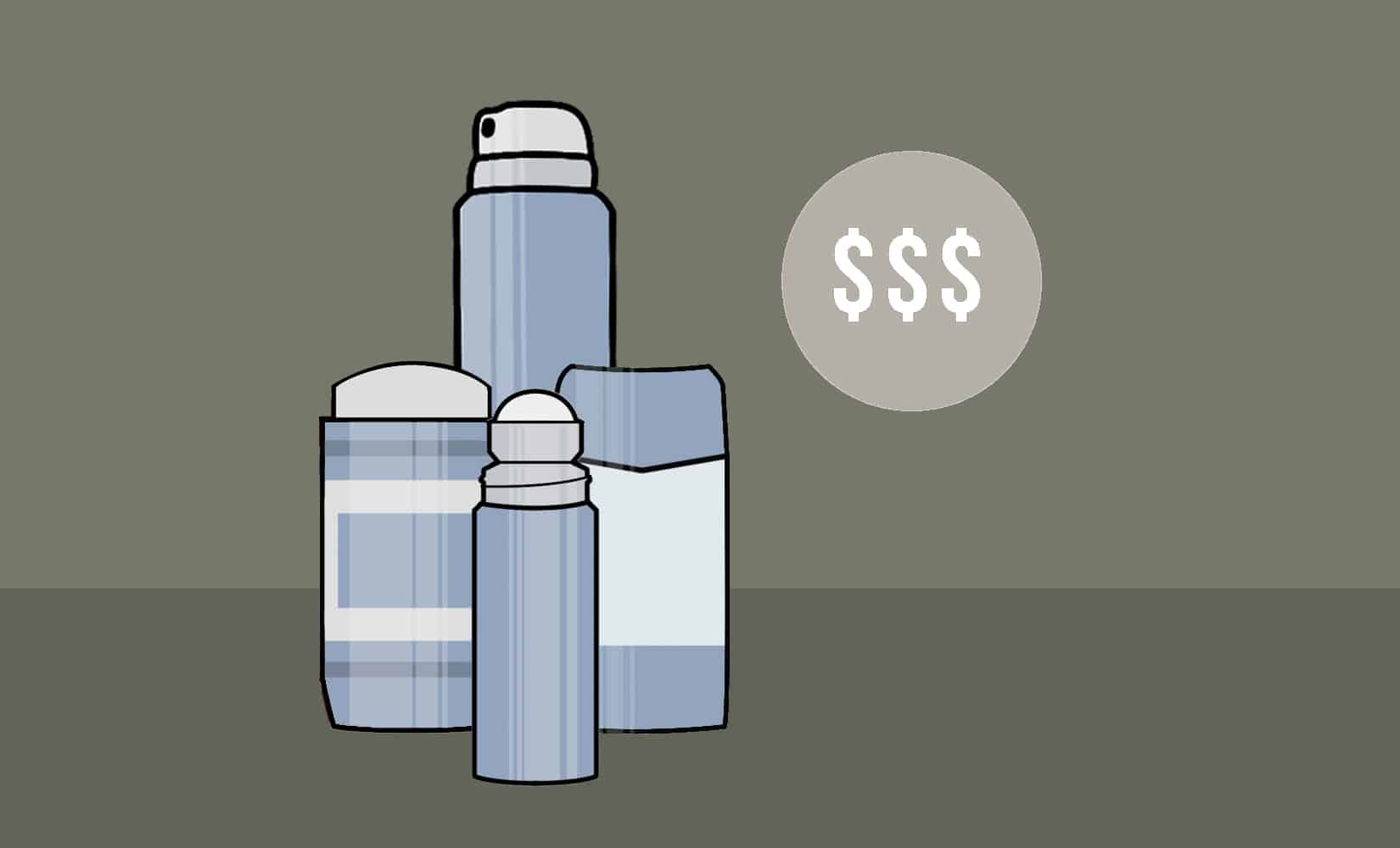 The amount of antiperspirant you get in a package directly affects the value for money.
Some products will offer less active ingredients for a higher price while trying to sell you on the brand.
Sometimes, better brands will actually have better deals on the best antiperspirants for men if you take a look at the active ingredients.
---
---
Frequently Asked Questions about Antiperspirants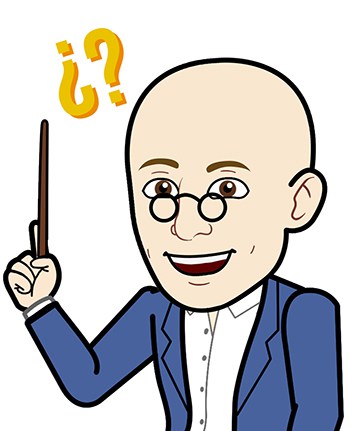 You've seen the best antiperspirants for men on the market, but you might have a few remaining questions about their use and safety.
Let's answer those now.
1. Is Antiperspirant Bad for You?
Antiperspirant is not bad for you in the same way that other skincare or personal care products.
Most of the best antiperspirants for men indeed use artificial chemicals or compounds to achieve their miraculous effects.
But that doesn't mean that they are automatically unhealthy.
2. When Should You Apply Antiperspirant?
You might think that applying antiperspirant in the morning alongside your deodorant is the best way to go.
But the truth is that nighttime is actually the preferred window for antiperspirant application.
Antiperspirant takes a little bit of time, even for fast-acting products.
3. Are Dedicated Antiperspirants Better, or Antiperspirant/Deodorant Combos?
Neither is better than the other, although dedicated antiperspirants may have higher concentrations of their synthetic ingredients and thus can often last longer and block more of your sweat glands than combination products.
The trade-off is that combination products are often more convenient than dedicated antiperspirants.
4. Do I Need to Reapply Antiperspirant if I Become Wet?
You do not unless you have applied the antiperspirant literally minutes before stepping into the pool or shower.
This is because antiperspirant needs a little bit of time to be absorbed by your skin.
In the interim, it's just resting at the top of your skin and can be easily scraped off.