Trimming body hair is starting to catch on among men of all ages.
More and more guys are starting to realize the benefits that come from a little manscaping, whether it's going for totally smooth skin or just some stylistic touching up in critical areas.
But what if you've never used a body hair trimmer?
How can you know which ones are the best to consider?
We can help with that!
In this guide, we will go through all of the things you need to keep in mind when searching for the best body hair trimmers.
Additionally, we will show you all of our favorite tools for manscaping and explain what makes each one unique and well worth your time and money.
Let's get into it!
QUICK OVERVIEW: Best Body Hair Trimmer for Men
IMAGE
PRODUCT

Philips Norelco Bodygroomer BG7030/49

Blades are self-sharpening
Easy to adjust lengths

VIEW ON AMAZON →

Manscaped Perfect Package 2.0 Kit

Trimmer is quiet and very smooth to use
Blades are easy to replace

VIEW ON AMAZON →

Philips Norelco Multi Groomer MG7750 Kit

Each guard is reinforced to prevent bending as you trim
DualCut blades for ultimate precision

VIEW ON AMAZON →

Panasonic Electric Body Hair Trimmer and Groomer for Men

Round-edge blades ensure gentle grooming
Excellent handle and small size

VIEW ON AMAZON →

Remington BHT6455FF Shortcut Pro Body Groomer

Very small, suitable for travel or compact showers
Wide blade trims lots of hair in one pass

VIEW ON AMAZON →

Sminiker Professional 5-in-1 Multi-functional Grooming Kit

Default blades are sharp and close
Stainless steel blades

VIEW ON AMAZON →

Philips Norelco OneBlade Face+Body Hybrid Electric Trimmer and Shaver

Dual-sided blade
Very durable blade

VIEW ON AMAZON →
Use the table of contents below to jump to the sections most important to you.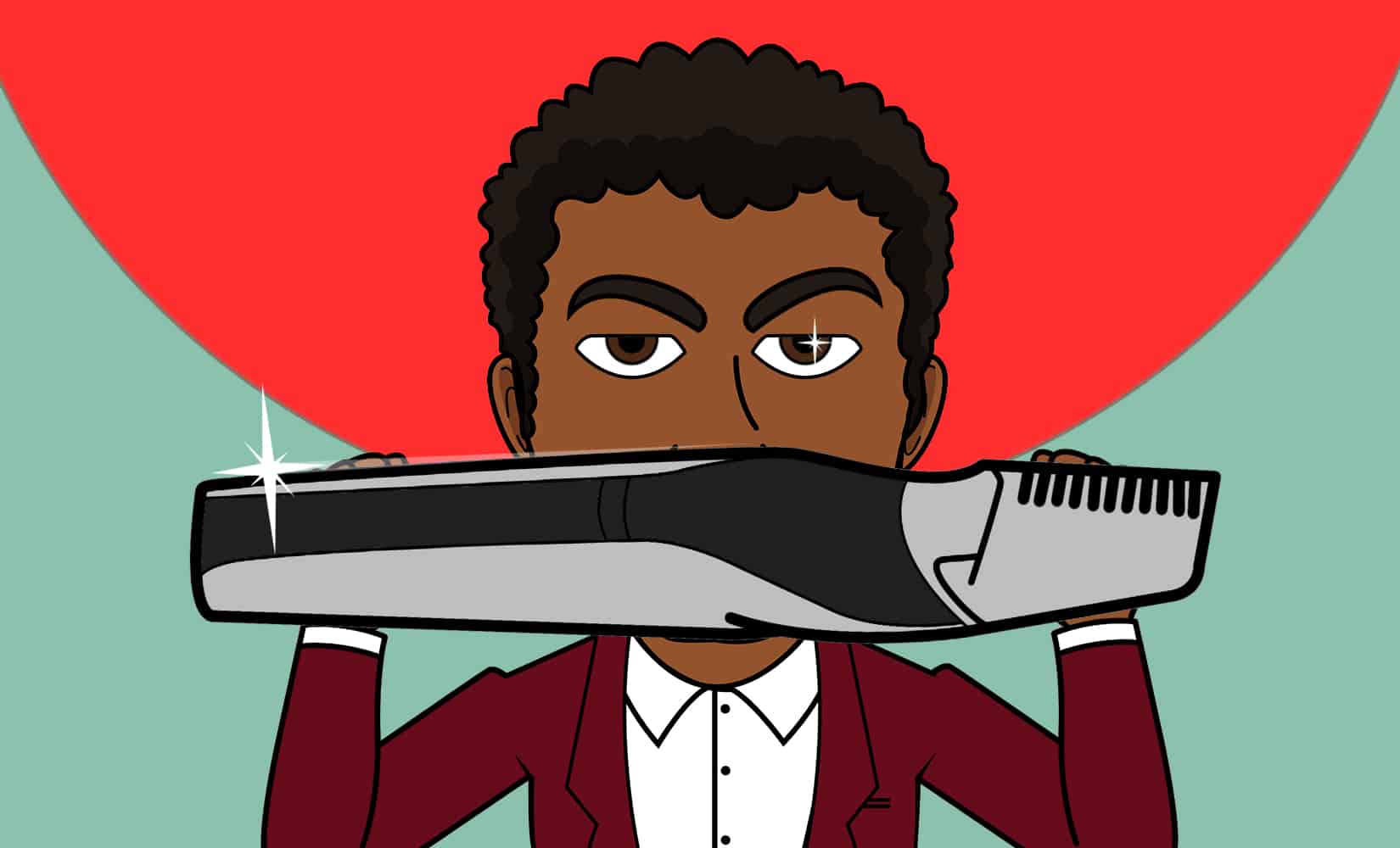 7 Best Body Hair Trimmers for Men in 2023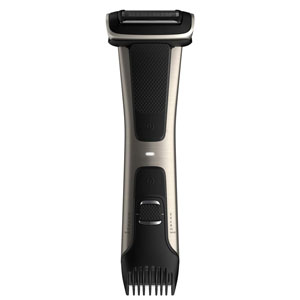 This is a versatile and ergonomic tool with adjustable lengths and self-sharpening blades.
Specs
Who Is It Best For?
This is one of the best body hair trimmers for men who don't like to worry about a bunch of attachments or who like having everything ready to go on one tool.
Key Features
This body trimmer is an easy-to-use, compact pick that doesn't have a lot of extra parts or complicated features.
Instead, it delivers reliable, consistent trimming ability and can handle trimming tasks across your back, groin, chest, or anywhere else.
The body groomer is totally showerproof which means that you can use it both inside or outside the shower for maximum convenience.
There's an ergonomic grip that uses rubber to ensure that you can always hold on to the electric hair trimmer securely, even if you take it into the slippery shower.
The runtime is really excellent: you get 80 minutes of battery life for only one hour of charging.
This means that even if you forget to plug the trimmer in one night, you should still have plenty of battery left to trim most of the hair on your body without worrying.
The blades of this body groomer are self-sharpening.
What does this mean?
It means that the blades are going to last for much longer and you won't have to get replacement blades anytime soon.
The blades also have rounded tips that are designed to prevent any nicks or cuts that are common when it comes to shaving.
At the same time, the blades are sharp enough that they can easily cut short and long hairs all across your body without difficulty.
The blades are assisted by four directional pivoting head that follows the contours of your body and allows you to shave even bonier parts like your hips without difficulty.
It doesn't come with any extra heads or attachments to specialize your trimming experience for one part of the body as opposed to the other best body hair trimmers.
Instead, this body trimmer makes use of a length adjuster control located on the handle of the trimmer.
You can adjust this relatively easily from 1/8 of an inch to 7/16 of an inch, allowing you to manscape exactly how you desire for every part of your body.
Our testers did find that adjusting the lengths of this body trimmer is so easy that it might actually happen by accident.
This means that you have to be careful as you move the body groomer across your body since you might accidentally change the length and cause your body hair to be trimmed unevenly.
That being said, this is a pretty minor nitpick when you take all of the great features of this body trimmer into account.
Check out the hundreds of customer reviews here on Amazon.
---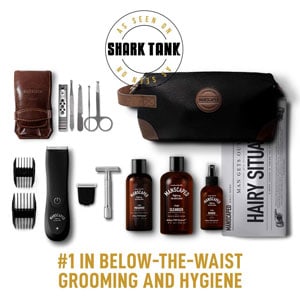 This kit provides you with everything you need for your hygiene and trimming needs for every part of your body.
Specs
Who Is It Best For?
It is one of the best body hair trimmers for men who want to solve all of their hygiene problems in one purchase.
Key Features
This isn't just a body hair trimmer; this is a men's hygiene collection that can help you take care of all of your manscaping needs for the foreseeable future.
You get a wealth of value with this purchase which helps justify its high cost.
While we'll focus on the electric trimmer, we'll also overview all of the other grooming and hygiene pieces that come with the best body hair trimmers.
The trimmer is a pretty compact model that can easily fit in your hands and was pretty lightweight when our testers got their hands on it.
It uses SkinSafe technology to ensure that you never run into any snags as you move the trimmer across your body hair.
It'll be an extremely smooth experience that will be even more comfortable thanks to the QuietStroke tech that is also implemented in the trimmer's motor.
The trimmer is also equipped with two adjustable combs that you can swap out according to your mood or needs.
The combs can allow you to style your body hair as you trim it or can access guards for your body hair, preventing you from cutting it all the way down.
This can be helpful if you're going for a manscaping look that isn't totally hairless.
If you ever need to replace the blades, snapping and fresh ones that are ordered from the manufacturer takes only seconds to accomplish.
You'll also receive a cleaning brush that you can use to maintain the trimmer at peak performance and appearance.
In addition to the trimmer, you also get access to a safety razor that you can use for even a close shave or for work on your face.
That's not all!
This safety razor is made from stainless steel and has a ribbed handle for ergonomic handling.
By the way, if safety razors are your thing, check out our review of the best safety razors.
Along with the razor and trimmer, you'll receive a deodorizing moisturizer to lower your natural body odors, a moisturizing hair and body wash, and spray-on body toner.
We've done a review on the best body washes, too, if you want something more specific.
You also get access to shears for your hands and nails, which come in a five-piece kit, each piece of which is also made of stainless steel.
All of this together is packaged in a premium quality travel bag that can allow you to take your full kit with you on a business trip or family vacation.
Finally, with this body groomer, you get access to the "Magic Mat" which is great for keeping your trimmings and cut hair in one place for easy removal.
This is an excellent addition since you can't take the trimmer into the shower with you.
Check out the hundreds of customer reviews here on Amazon.
---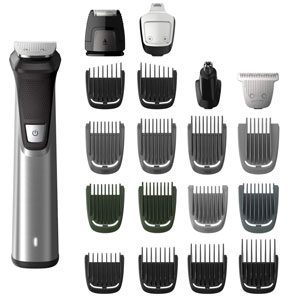 This is one of the best body hair trimmers that boasts a ton of attachments a fantastic battery life so you can test them all.
Specs
Who Is It Best For?
This trimmer is great for men who like to mix-and-match settings and experiment with their manscaping.
Key Features
The Philips Norelco trimmer's frame is made of stainless steel and rubber.
This gives it long-lasting durability and the rubber allows you to comfortably hold it even if your hand is slippery, although you can use this trimmer in the shower.
At the head of this trimmer are a series of sharp blades that are made of noncorrosive material.
They are also self-sharpening, meaning that they last for a long time and extend the time for which you can use them without having to order replacements.
The blades utilize DualCut technology, effectively doubling their cutting potential and keeping them sharp and precise.
The blades can afford to be so sharp because there are so many different hair guards that come with this kit.
The guards, in this sense, handle the length of the trim while the blades remain sharp regardless.
Using the attachments and these sharp blades in tandem will allow you to trim all of your body hair to different lengths if you desire, or to a uniform length to keep everything looking complete.
The guards are made with a reinforced material so that they'll keep their shape and length even if you put a lot of pressure on them as you trim.
In addition to the trimming guards that come with the kit, you'll also be able to enjoy a special foil shaver head or the steel precision trimmer, both of which allow you to trim clean lines around your beard, so that you don't have to buy a separate beard trimmer or to manscape other areas of your body with ultimate precision.
There's also a body groomer, a nose and an ear trimmer that you can use to mop up any straggler hairs that might be poking out unattractively.
The battery life of this body trimmer is truly exceptional.
While it can be inconvenient to forget to plug your body trimmer in the night before, this trimmer makes that problem a non-issue since a full battery delivers five hours of runtime.
The lithium-ion rechargeable batteries will ensure that you'll practically always have enough juice left to get your trim done even if you haven't plugged it in for a while.
The only real downside to this best beard and body trimmer is that it comes with so many pieces that you'll have to keep track of.
We recommend finding a drawer or specific spot to hold all of the trimmer guards and attachments so that you can fully enjoy what this trimmer has to offer for years to come.
Check out the hundreds of customer reviews here on Amazon.
---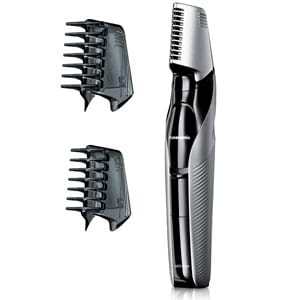 This trimmer has a unique shape to allow you to effectively target all of the hard-to-reach areas on your body.
Specs
Who Is It Best For?
This electric shaver is a great pick for men who have particular trouble with some sensitive regions on their bodies or who want to manscape with ultimate precision
Key Features
This is another compact trimmer that really focuses on its small size and unique shape to deliver a trim you experience that can't be matched by any other model.
This trimmer comes with three head attachments that are each different lengths to allow you to trim different parts of your body that naturally have hair that is longer or shorter.
The three lengths are 0.08/inch, 1/8 inch, and ¼ inch.
Switching these heads out only takes a couple of seconds.
You can also use this trimmer in the shower, since it's the best waterproof body trimmer, making it a very convenient tool to add to your daily hygiene routine.
You'll also really enjoy how comfortable using this trimmer is; the blades are rounded to ensure that all the trimming you experience is gentle.
This lowers the risk of any skin irritation or small cuts, making it one of the best body hair trimmers for men.
The handle and head shape of this trimmer are what truly set it apart from the competitors.
The handle is shaped like an "I," and the head is shaped like a "V."
Why does this matter?
It basically turns the body groomer into a pen-shaped tool that you can then use to reach all of the narrow crevices and hard-to-reach places of your body.
A lot of the time it's difficult to reach some nooks and crannies of your body with wide trimmer heads or large trimmer handles.
You won't face any of those difficulties with this trimmer, and you'll be able to place it where are you desire for maximum versatility.
Of course, the fact that the head is a little more narrow than many other best body hair trimmers means that you'll cover less surface area per minute than you would otherwise.
That makes it a good pick for men who are into precision grooming rather than men who are trying to shave all of their body hair off in one session.
This is further proven because the three combs that come with the trimmer parts are designed for total smoothness but rather for trimming hair to different lengths.
While it's still possible to achieve smooth skin with this trimmer, you'll have to work a little harder for it and push harder than with other models.
You can remove all three heads and use just the blades to get as close as possible if you're set on a clean body shave or want to shave your facial hair.
Overall, we recommend this trimmer for men who are interested in manscaping more difficult to reach areas or who are planning on keeping a little body hair for stylistic or aesthetic reasons.
Check out the hundreds of customer reviews here on Amazon.
---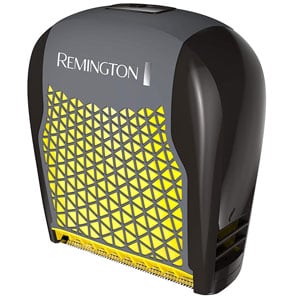 This trimmer is an excellent example of intelligent design to allow you to use it with a short range close handle or an extendable long handle that's perfect for targeting your back.
Specs
Who Is It Best For?
As one of the best body hair trimmers, this is a great pick for men who have a tight shower or who want to shave their back with the same tool.
Key Features
This trimmer is totally waterproof, so we recommend using it in the shower to avoid lengthy cleanup.
Its initial size is quite small and compact, so it's a good pick if you already have a tight shower.
The odd shape will take a little bit of time to get used to, but overall it's pretty easy to grab and sweep across your body.
You can use the extendable handle to reach all areas of your body or even your back.
This is one of the best body hair trimmers in terms of versatility.
It can reach tons of spots across your body thanks to its extendable handle.
It can also double as a back hair trimmer.
Our testers found that the blades are a little rough if you use them bare, without any of the extra attachments.
This wasn't anything to really complain about, and it certainly didn't inspire any pain, but it is something to note if you already have sensitive skin and are looking for a body hair trimming solution that avoids this issue.
The blades are double-sided, so they can cut more hair in less time or can cut in whatever direction that you move the trimmer.
This can be especially helpful for shaving your back.
The blades are also extra wide, up to 60% wider than many competitor blades.
This will allow you to get your manscaping done much faster than if you used a different body shaver.
The five different guide combs that you can clip on the front can bring you length settings of 2 mm, 4 mm, 6 mm, 9 mm, and 12 mm.
Snapping these on is relatively quick and easy, especially once you get used to holding the trimmer handle properly.
The battery power is nothing unusual, but it's not terrible, either.
You get 40 minutes of runtime for a full battery, which is enough time for about four full-body shaves if you take advantage of the speed and flexibility that this tool provides.
We still recommend plugging it in whenever possible, as it's a great tool to take with you when traveling or on a business trip because of its changeable size and ease of use.
Check out the hundreds of customer reviews here on Amazon.
---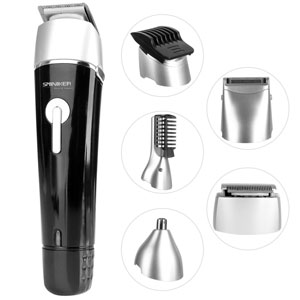 This trimmer is another excellent all-purpose option that provides you with many tools to take care of hair all across your body.
Specs
Who Is It Best For?
It's a good choice for men who don't want multiple tools to take care of hair across their bodies.
Key Features
The trimmer uses a series of micro-blades for its default head that are very sharp right out of the box.
These blades are made of stainless steel both to increase their lifespan and to provide a great shaving experience even for men with sensitive skin.
Stainless steel blades are definitely a good pick if you're such a man, because stainless steel is a hypoallergenic material, meaning that your skin has no chance of an allergic reaction or skin irritation just because the material the blades are made out of.
You can use this head for precision trimming or for achieving a totally smooth shave all across your body.
But if you want to vary the length of your trim according to the area or the type of hair, you can do that too.
This kit comes with five different heads that you can snap on to the main head to act as guards.
What's great about these guards is that they are incredibly versatile.
While you can use this for your body, you can also use this for doing your own haircut.
In addition to the guard combs, this kit also comes with a regular hair comb, some nail clippers, and some cleaning brushes.
But that's not all.
You'll also get access to a precision beard trimmer for expertly shaping your body hair's appearance, or for touching up the appearance of your facial hair.
Then there's the nose and ear trimmer that you can also make use of, which is perfect for getting rid of any stray hairs that might be messing up your look.
There's a nail file, and your spoon, a pair of tweezers, and a pair of scissors also included as part of your purchase.
It's an incredible value considering how affordable everything is.
This makes it an excellent pick for men who need a bunch of hygiene equipment but don't want to break the bank at the same time.
The downside to the affordability is the fact that the trimmer isn't waterproof and the charge time for its battery is pretty long.
You have to charge the trimmer for eight hours to receive its full runtime of 40 minutes.
This means that keeping it plugged in is absolutely integral if you want to make sure that you can use the trimmer when you need it most.
Altogether, these cons aren't enough to overwhelm all of the good that this kit can do.
As one of the best body hair trimmers, this trimmer and all of the accessories can handle all of your body hair trimming needs, and then some.
Check out the hundreds of customer reviews here on Amazon.
---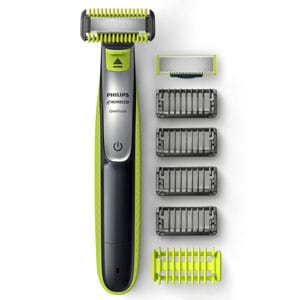 Unlike other best body hair trimmers, this is a smaller trimmer that allows for excellent precision and slow, procedural manscaping work.
Specs
Who Is It Best For?
It's a good pick for men who like the feel of traditional shaving and want to bring that to their body.
Key Features
The trimmer uses two different blades depending on your needs.
One blade is for the face while the other is for the body, and both blades are very durable and designed to last for many weeks or months depending on your shaving frequency.
Switching between these and snapping them on or off is extremely easy and takes only seconds.
Both heads utilize dual-sided blades, so you can move in any direction and still get some good cutting ability.
The electric shaver head is also specially designed to follow the contours of your body, allowing you to smoothly shave areas with sharp angles or bony outcrops, like the hips.
For shaving your body, there are four combs to choose from so that you can select the perfect length depending on the area you're about to shave.
You can use the click-on skin guard at any point to protect any extra sensitive areas of your body.
This can let you go faster on less sensitive areas, like your back or chest, and go slower with the skin guard on more sensitive areas, like your groin or inner thigh.
The head is relatively small, meaning that you can only shave or trim a small amount of surface area per pass.
This will increase the amount of time that you have to spend trimming your body hair if you want to manscape all of your skin.
This would typically be too much of a problem, but the battery life only lasts for 60 minutes before requiring another eight hours to charge the full again.
You'll have to be quick and efficient with your body trimming efforts if you want to get everything in before the battery runs out.
Ensuring that your best body hair trimmers are always plugged in when it's not in use is a top priority.
If you can manage that, you can take advantage of all of the good that this Philips Norelco trimmer can bring in the versatility that it offers.
Check out the hundreds of customer reviews here on Amazon.
---
Other best body hair trimmers for men include;
Braun body trimmer
Gillette body trimmer
Things to Consider when Buying the Best Body Hair Trimmers
But before we head into our discussion of the best body hair trimmers you can buy, let's go over some of the critical aspects that we kept in mind as we tested each product and determined our favorite picks.
Knowing these will help you choose your favorite, as well.
1. Battery Life
---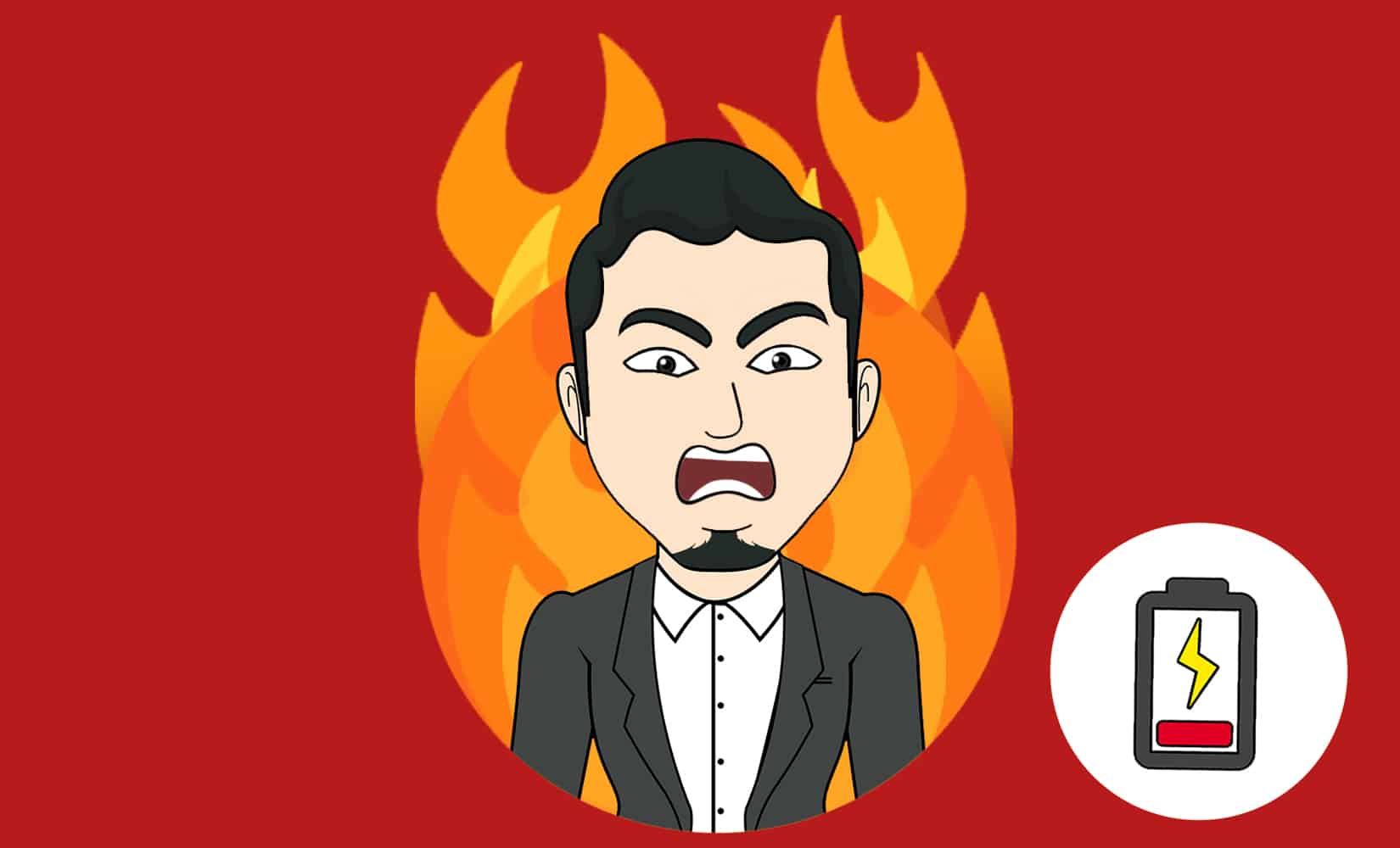 The key to effective body hair trimmers is often the battery life.
Think about it; if the battery doesn't last very long, you'll have to start and stop the shaving process midway.
To that end, it's vital that you look for a body hair trimmer that has a battery life of at least half an hour.
Anything less than 30 minutes won't be enough time for you to efficiently trim all of the body hair that you wish to target.
Also, you'll want to take a look at what each body hair trimmer's battery costs to charge in terms of time.
Some batteries can take up to eight hours or more to attain a full charge.
While this isn't a deal breaker, it does mean that you'll need to try to remember to keep the body trimmer plugged in as often as possible.
No one wants to need to do some manscaping and then find out that their battery is dead, especially when learning how to use body trimmer products.
To avoid this, try to get into the habit of always plugging your best body hair trimmers in after you've used it and cleaned it.
If you've got to get it trimmed but forgot to charge it, chose from our list of the best hair removal cream for men and keep it handy in case the need ever arises.
2. Length Options
---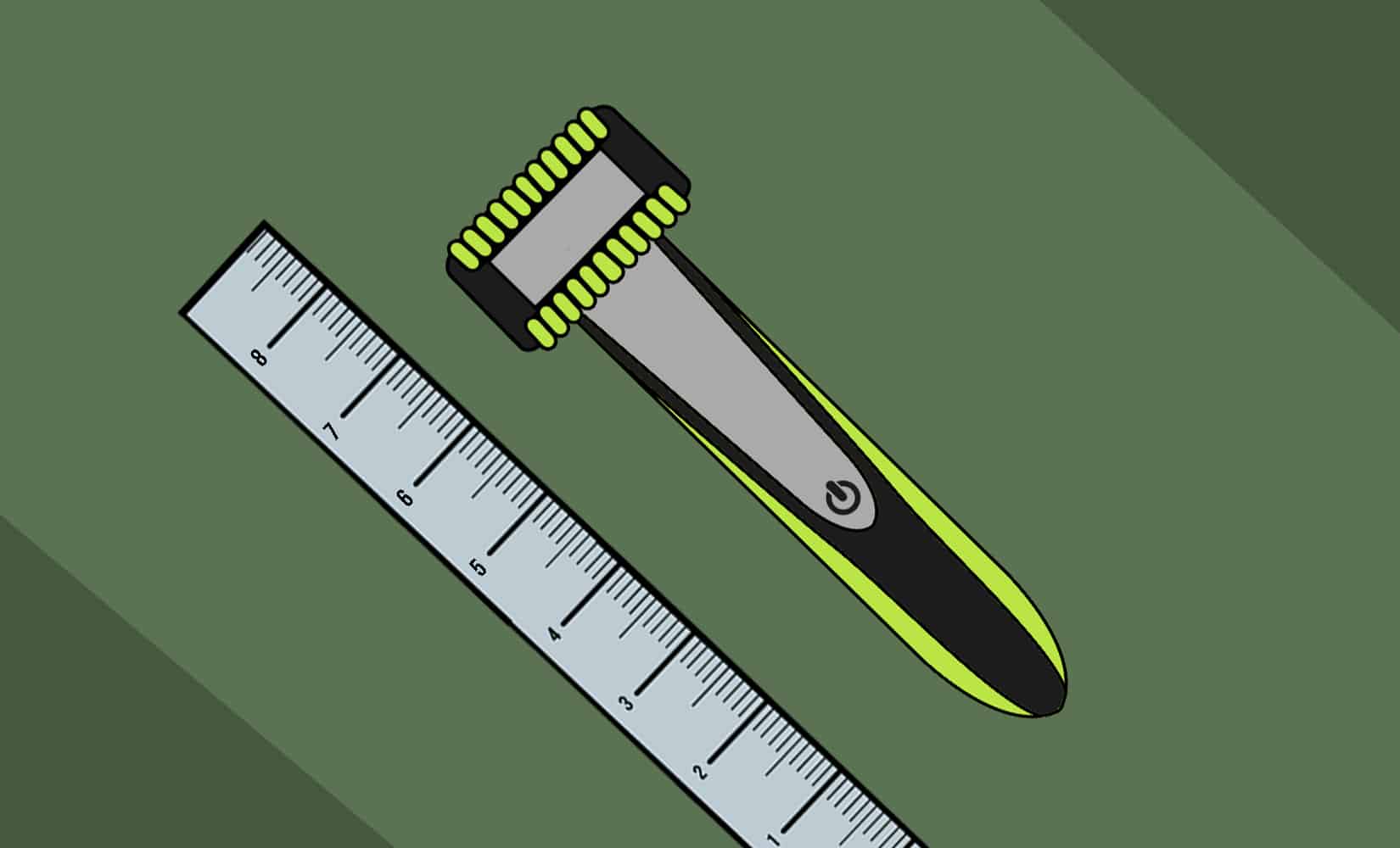 Different areas of your body are going to require different lengths of body hair unless you're going for a clean shave, in which case you only need one length variety.
But if you are trying to manscape with a little more complexity, look at body hair trimmers that offer different guards or length settings to choose from.
Your kind of a body groomer will allow you to trim certain areas, like your pubic area, much more closely than other areas, such as your arms, chest or facial hair.
Although, if you want real pubic hair precision, we've already put together a guide on the best pubic hair trimmers.
With the best body hair trimmers, the more options you have, the better you can personalize your trimming experience and the better that your tool will serve you.
3. Showerproof
---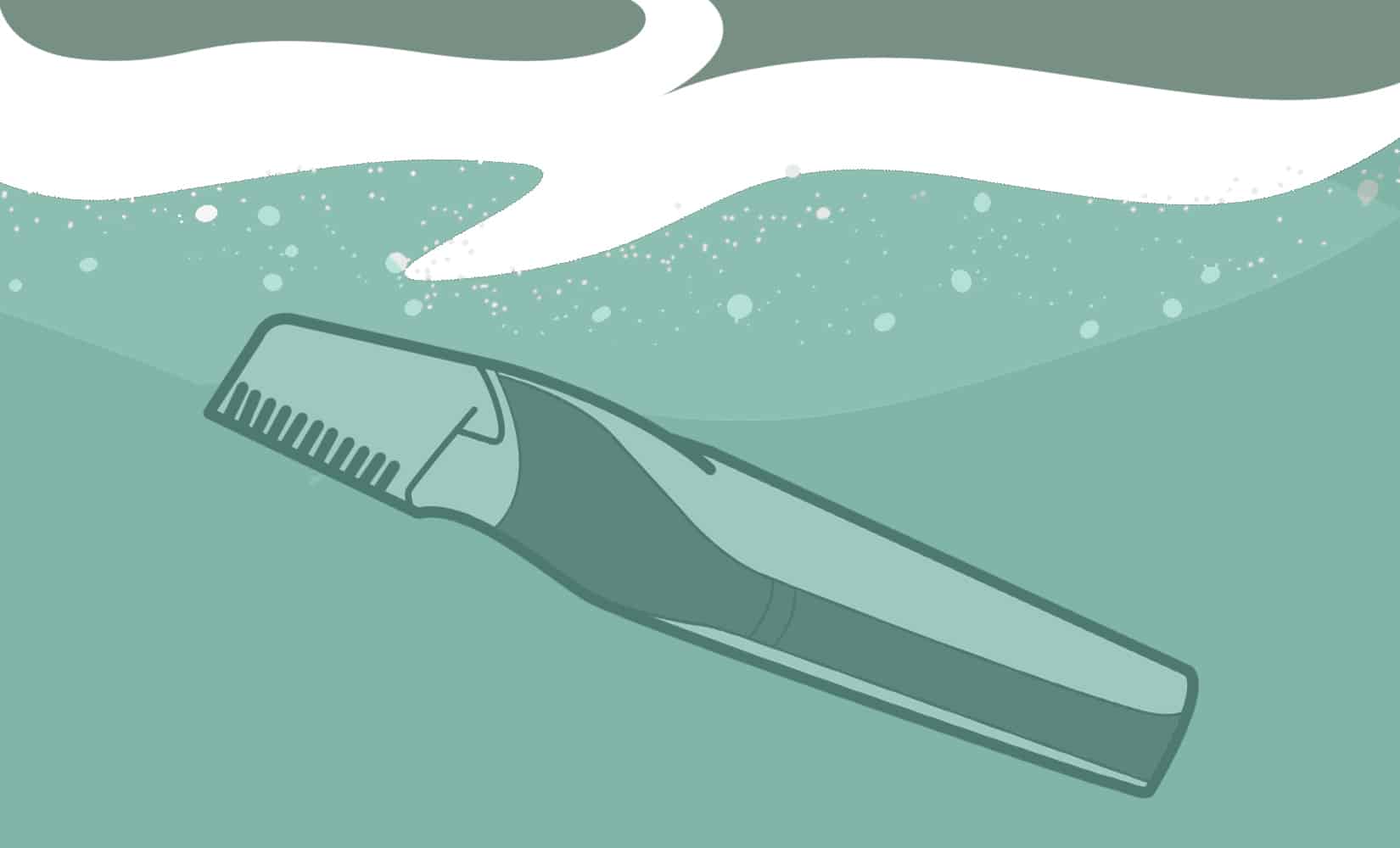 Most of the best body hair trimmers will usually be showerproof or at least water-resistant.
A shower proof body groomer will allow you to effectively trim all your body hair in the shower, allowing you to clean it up pretty quickly and take care of all your hygiene needs at the same time.
Some of the best body hair trimmers aren't showerproof, requiring you to do your trimming when you are dry, while others can accommodate wet or dry shaving.
It's up to you to decide if shower-proofing is a necessity or is something you can live without.
4. Number of Attachments/Heads
---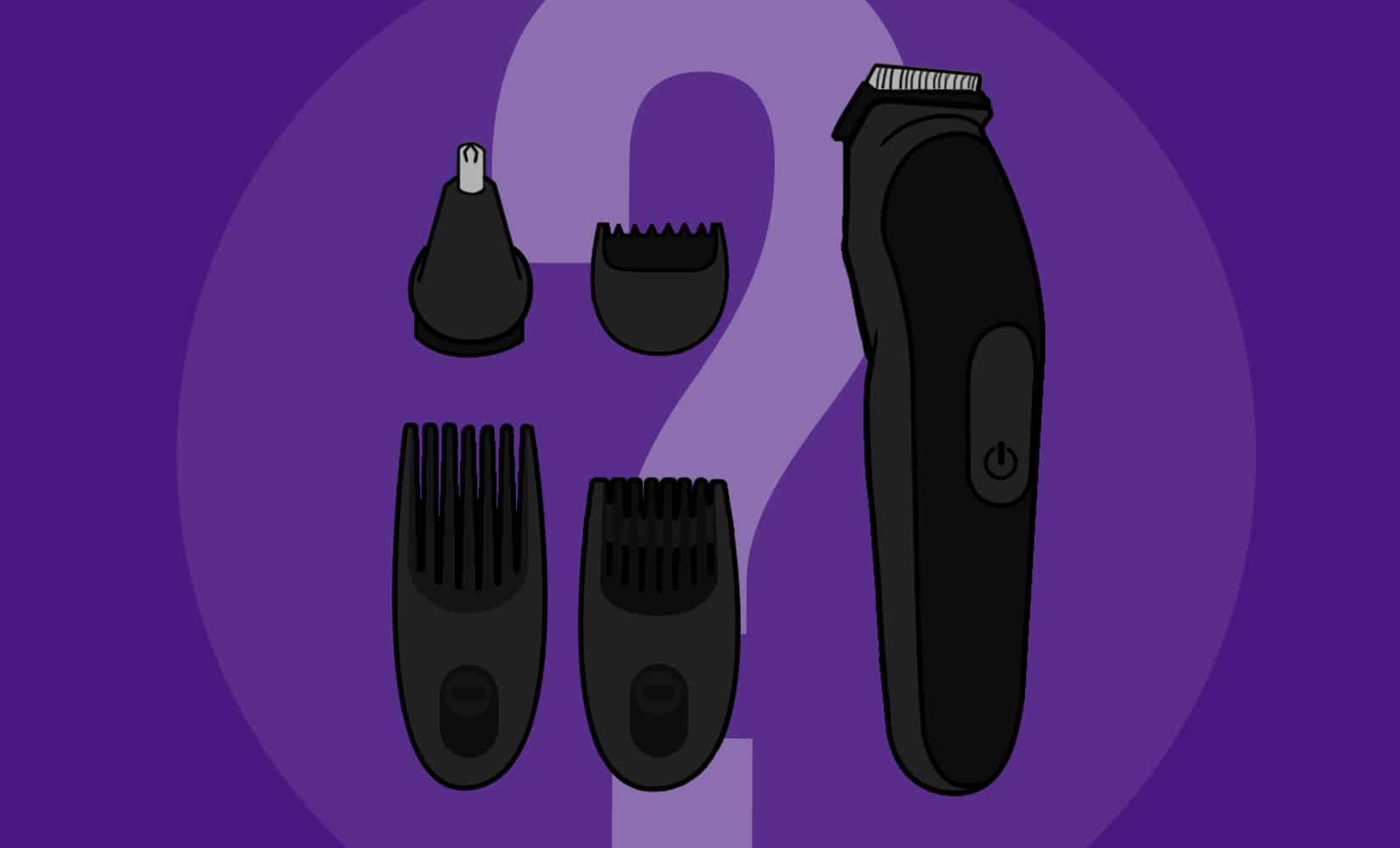 Didn't we already talk about length settings?
This isn't exactly the same thing.
Some best body hair trimmers will be able to change their length due to a button on their handle, while an attachment is specifically a guard comb or another type of blade or extra accessory.
Some best body hair trimmers can have multiple uses, such as an attachment that can take care of ear or nose hair.
These kits or versatile body hair trimmers are usually great in terms of value for money because they allow you to take care of your hygiene across all aspects of your body with just one tool.
There isn't one right answer when it comes to the number of heads or attachments, but it is something you should pay attention to as you make your final decision.
---
Frequently Asked Questions about Using Body Hair Trimmers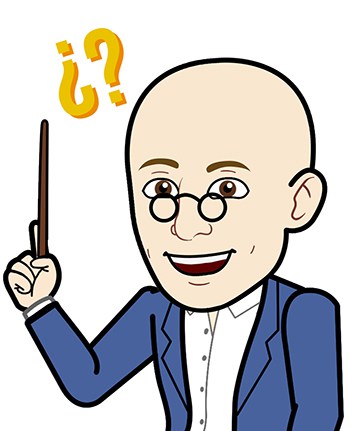 1. Should I use Shaving Cream?
You can if you want to, but the best body hair trimmers don't require you to use shaving cream.
We really only recommend using shaving cream if you have abnormally sensitive skin and want to avoid any irritation.
2. Is showerproof the same as waterproof?
Showerproof is not the same as waterproof.
Showerproof means that the best body hair trimmers can withstand the moisture of the inside of the shower and can even continue to run right beneath the stream.
But it can't be totally submerged, or the electronics within will stop functioning.
3. How do I Effectively Shave my Back?
Great news!
We've already done a handy guide that can teach you everything you need to know about shaving your back effectively.
Take a look when you're done here, and you'll be all set.