Plenty of men have beards, but not all men take good care of them.
There are too many beards that are left to grow untamed on men's faces.
Unkempt beards look scraggly and undesirable, and they often give the impression of a guy that doesn't care too much about himself or his appearance.
But we know you're not like that.
Instead, you've come looking for ways to redefine your appearance and reshape how your beard fits your face. 
For that, you'll be needing a high-quality beard trimmer.
We've got the guide for that; down below you'll find detailed reviews of the best beard trimmers for men, as well as plenty of actionable advice for trimming your beard well.
This best beard trimmer review is your one-stop-shop for all your beard shaving and trimming needs or questions.
Ready to get started finding the best beard trimmer?
Let's begin!
QUICK OVERVIEW: Best Beard Trimmers
Philips Norelco Beard Trimmer Multigroom Series 7000 MG7750/49

Good materials, durable
Exceptional ability to handle different beard lengths

VIEW ON AMAZON →

HATTEKER Beard Trimmer Kit for Men

Waterproof
Good charging locations from a USB port

VIEW ON AMAZON →

Remington MB4700 Smart Beard Trimmer

Advanced onboard computer
Thickness detector

VIEW ON AMAZON →

Panasonic Electric Body Hair Trimmer and Groomer

Durable, sharp blades that can't hurt skin
Good handle for shower use

VIEW ON AMAZON →

Braun 7-in-1 All-in-One Trimmer MGK5045

Suitable for all kinds of beard hair
Good battery life

VIEW ON AMAZON →

Sminiker Professional 5-in-1 Grooming Kit

Tons of value in the purchase
Easy to organize

VIEW ON AMAZON →

SHAO Electric Shaver and Beard Trimmer

Handles nasal and ear hair as well
Comes with charging/organizing stand

VIEW ON AMAZON →

Has a safety lock
Good battery life

VIEW ON AMAZON →

Braun MG5090 Electric Shaver/Styler/Trimmer

Can trim and shave equally well
SmartFoil system

VIEW ON AMAZON →
Use the table of contents below to jump to the sections most important to you.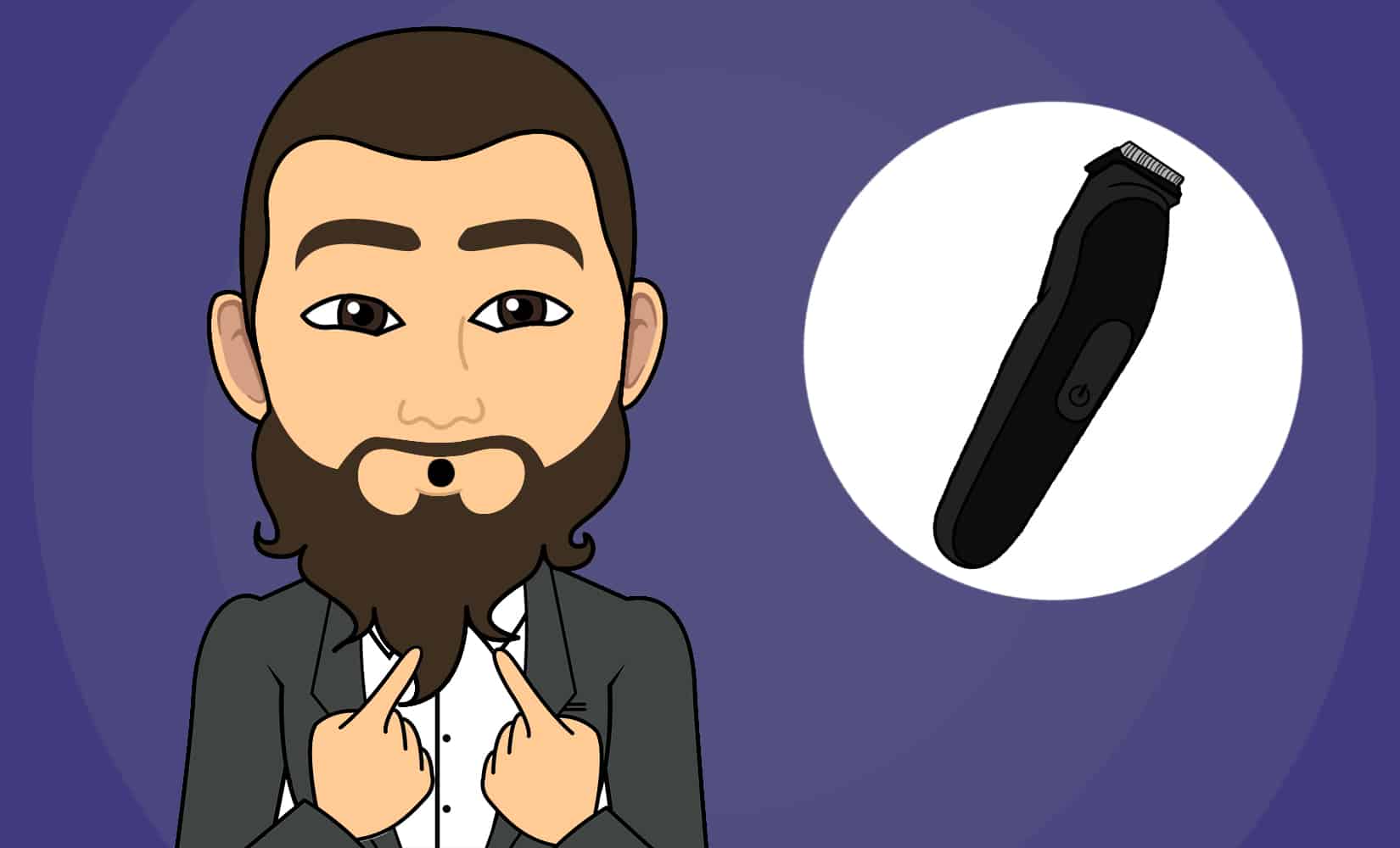 9 Best Beard Trimmers for Men of 2023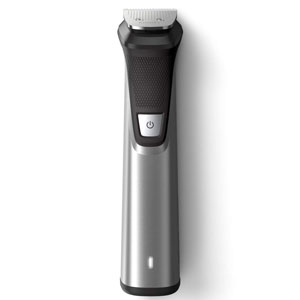 This Philips Norelco multi groom beard trimmer has a massive array of attachments, offering the most choice to men when compared to virtually every other trimmer model.
Specs
Who Is It Best For?
It's great for men who want to experiment or who have a beard with varying lengths depending on location.
Key Features
This Norelco beard trimmer has one of the largest assortments of attachments that our testers have ever seen.
A whopping 23 different heads and guards await you with this model, so it's ideal for men who like to switch things up frequently.
This one trimmer has everything you need for trimming long beards, short beards, and everything in between making it a budget trimmer.
It's made of both stainless steel and fiberglass; the stainless steel makes up the blade composition while fiberglass is present in the trimmer's handle.
Both of these materials make sure that the tool will be usable for a long time to come and the blades remain sharp even after a lot of use.
It even has an excellent lithium ion battery that lasts around five hours.
There are attachments for lengths all the way down to your stubble if you want to give yourself a rugged appearance or keep a little fuzz atop your skin.
You can also use the stubble trimming settings to remove all of your hair entirely, leaving only a bit left for a good clean shave with a razor or electric shaver.
The biggest downside facing this particular trimmer is that it's not waterproof or water resistant, so you'll have to be careful when cleaning it off your trimming session.
While the asking price is a bit high, there's no doubt that you get a lot of value from the trimmer thanks to the sheer abundance of different lengths guards available for you to use.
We would recommend this above all else if you plan to switch your beard style as often as the seasons.
Check out the thousands of customer reviews here on Amazon.
---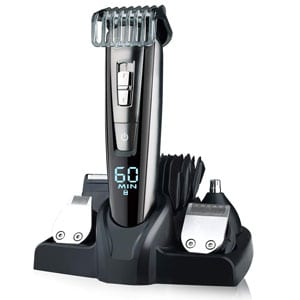 This electric best beard trimmer still has a decent number of attachments and a precision trimmer that you can use to handle areas requiring a delicate touch.
Specs
Who Is It Best For?
This is ideal for men that need an affordable, all-around trimmer that can do it all well enough.
Key Features
While it doesn't have quite as many attachments as the previous trimmer, 11 is still enough for almost all men.
There's a significant number of different beard combs to choose from, plus a precision trimmer head that you can use for shearing off your sideburns or tackling hair close to your jawbone.
You can also quickly adjust the length of this trimmer thanks to the slide switch located on the front.
This gives you a great deal of precision length control when using the trimmer even if you don't have any extra attachments slotted onto its head currently.
There's also a lithium ion battery shelf life indicator near the bottom of the handle.
The battery only lasts for 60 minutes, but it's easy to remember to charge it since the trimmer itself lets you know when you're getting low.
There's also a handful of extra heads for detail work or for trimming and shaving hair across your body, including back hair, nose hair, and many other body areas.
The trimmer can handle your stubble, too, so don't worry about having to endure leaving a little fuzz behind after you've gotten rid of the majority of your beard.
This is an extremely versatile trimmer.
It's waterproof and chargeable via a USB port, to sweeten the deal.
There are hardly any real downsides.
The battery could be a little better, and the attachments don't go on or off quite as quickly as some others we reviewed, but overall this is an excellent trimmer that will service just about any man, and especially those who trim frequently.
Check out the hundreds of customer reviews here on Amazon.
---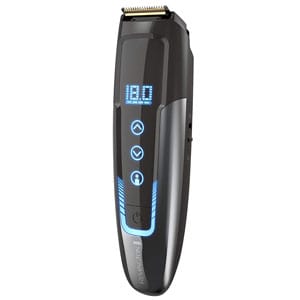 Remington is the best beard trimmer which doesn't have any attachments but can remember your optimal beard length thanks to its onboard computer.
Specs
Who Is It Best For?
This will be the preferred trimmer for men with short beards or just stubble.
Key Features
This trimmer doesn't come with any attachments, but you can still use it to trim your beard at many lengths.
It just might be a little more difficult for men with really long beards to achieve optimal results since there aren't any beard guard combs available with the purchase.
Instead, this trimmer relies on memory settings and the slide switch to handle all the length variation you have in mind.
Basically, a small onboard computer remembers the optimal length for your beard and makes sure that the trimming blades remain at that length every time you turn it on.
You can set different lengths relatively quickly, and it can be precise up to 0.1mm increments.
We'd recommend something like this if you're a man that keeps a close beard or some short stubble.
This tool is optimal for maintaining just a light layer of hair over your skin rather than a big fluffy beard.
The trimmer is easy to use and has a digital touchscreen instead of manual buttons.
You will need to keep this charged often, however, since it only has a battery time of about 50 minutes.
It does have an auto turbo sensor as well that can adapt cutting speed to be faster or slower depending on beard thickness.
Overall, it's an innovative trimmer that's ideal for a certain kind of guy: one who has a short beard rather than a long one.
It's fairly pricey, so we'd caution against this model if you're going to grow your beard out at any point.
This is more of a specialist tool for men who know exactly what they want and are confident they won't change their mind.
Check out the hundreds of customer reviews here on Amazon.
---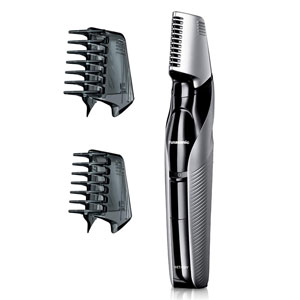 This Panasonic best beard trimmer is perfect for getting hard to reach areas on your body or at the corners of your jaw.
Specs
Who Is It Best For?
This trimmer is ideal for men who need a little help with body hair as well as their beards.
Key Features
Right off the bat, you'll notice that this trimmer has a different shape than all the others.
This unique trimmer is optimized for both shaving your beard and hard to reach places across your body, such as the groin or your glutes.
The V-shaped head brings its blades to bear on all the nooks and crannies of your body without risking any damage to your skin.
There are three guide combs to choose from, and the trimmer is fully washable and waterproof.
We'd definitely recommend using this trimmer in the shower due to these reasons.
You can easily use this tool to trim your beard and keep your body hair intact at the same time.
The trimmer is made with stainless steel blades and no-slip plastic handgrip.
It's been designed for use in wet environments and for clever trimming work.
It's okay for trimming your stubble, too, although the shape might be a little challenging to work with and get used to.
You'll definitely need to pair it with a good wet razor after you're done to give yourself a smooth face.
Are there any downsides?
It's a little pricey, but that's to be expected given the innovation on display.
Besides, its battery life is only about 40 minutes so you'll definitely want to keep this baby plugged in whenever it's not in use.
But if you can justify both of these minor flaws, this is one of the best trimmers for men who have hairy bodies as well as faces.
Being able to use only one tool to handle both grooming areas is impressive.
Check out the hundreds of customer reviews here on Amazon.
---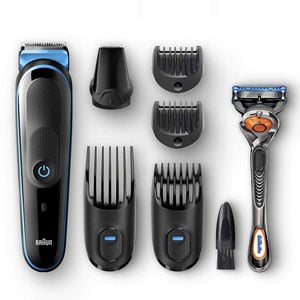 This trimmer has a good number of attachments, decent battery, and comes with a Gillette razor, and places itself in the list of best beard trimmer.
Specs
Who Is It Best For?
It's great for men that need a decent trimmer and a good razor; buying this solves both problems.
Key Features
This beard trimming kit from Braun has six different attachments to choose from.
Four of these are length guard combs to help you trim beards of variable lengths, and the other two are a precision trimmer head and a brush, respectively.
You also get a Gillette razor with your purchase, which is a nice little added bit of value, especially given the reasonable asking price.
The blades on display are made of stainless steel to maintain lifetime sharpness.
The rest of this trimmer is made of durable plastic, although it's not the most long-lasting material.
The trimmer is water resistant, see you can safely use it in the shower.
One standout aspect of this trimmer is the 100-minute battery life.
That's pretty respectable for a trimmer of this size.
You can trim your stubble with this trimmer as well, although the blades aren't quite as gentle for the skin as some other models.
It should still be fine for most men, but guys with sensitive skin should consider using a good wet razor instead.
This is a great all-around kit that's perfect for men that are going to have facial hair at varying lengths.
For instance, you can use the guard combs to trim your longer beard hair and use the precision trimmer to handle your sideburns or make a precise cheek line.
It's a decent trimming kit that has a lot of value in its purchase.
It might be a great idea to pick this up if you need a new razor, too.
Check out the hundreds of customer reviews here on Amazon.
---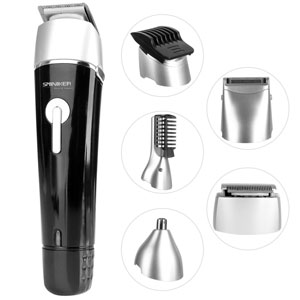 This beard shaving kit offers a ton of value thanks to its extra grooming kit included with the purchase.
Specs
Who Is It Best For?
It's the best for men who need to build up a collection of beard grooming tools.
Key Features
This beard kit packs a lot of value into its purchase.
It has a really affordable asking price that most guys should be able to manage, and you get the trimmer and seven different attachments plus a traditional hair comb for the money.
That's not all.
You also get a grooming kit that contains hairdressing scissors, razors, and other accessories as a free gift.
There's even a charging station and attachment holder included as well.
You can put the trimmer and all its attachments on this charging bay for easy organization, even on a crowded bathroom counter.
This is one of the best choices if you're a man just starting out in life and need to build up a reservoir of beard grooming tools fast.
But how does the trimmer measure up to its competitors?
It's a decent model.
The trimmer can trim your stubble, and the grooming kit can help handle that type of hair more effectively than some other competitors who only give you a trimming tool.
It's not made of the most durable materials, but it is capable of handling beards of all sorts of lengths thanks to its abundance of attachments.
It doesn't have the best charging time, and it's not waterproof, so it's a little underwhelming in those areas.
The real value for this kit comes in its affordability and the sheer number of things you get when you buy.
It's not the highest quality trimmer by any means, but it's certainly good enough to get the job done, and it's a great starting point for guys learning how to handle their beards maturely for the first time.
Check out the hundreds of customer reviews here on Amazon.
---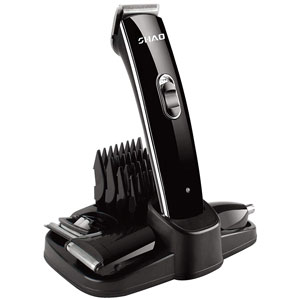 This trimmer has a classy charging stand and an excellent array of length and trimming options.
Specs
Who Is It Best For?
This is great for men with crowded bathroom sinks.
Key Features
This electric shaver is the best beard trimmer and also come with a charging stand that you can use to organize its five attachments.
It comes with several different combs as well as a precision trimmer that you can use to handle sideburns or areas of your face that require a more delicate touch.
The trimmer is simple to use, with a single switch located in the center of the handle.
Any length variation has to be decided beforehand with the guard combs.
The trimmer can tackle your stubble thanks to these guards combs.
When you're ready for the closest shave possible, simply remove the guard combs, and you can use the blades themselves to remove most stubble.
There's even an ear and nose trimmer attachment that hooks right onto the main head.
This allows you to handle ear and nose hair with the same tool.
Talk about value for money!
We've done a guide specifically on the best nose and ear trimmers for men, too.
Speaking of money, this trimmer is super affordable and has a better battery than the last trimmer our testers examined.
You get up to 70 minutes of grooming time with this trimmer, and it's water resistant, to boot.
Feel free to take this tool into the shower for optimal use and easy hair disposal.
The blades are made of stainless steel, but the handle is only made from a plastic that isn't likely to last quite as long as trimmers that have metal casings.
Still, you can't deny that it's a solid piece considering how much you pay.
Check out the hundreds of customer reviews here on Amazon.
---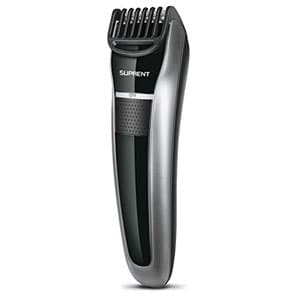 This trimmer is compact and easy to use, and it's got decent battery, too.
Specs
Who Is It Best For?
It's a professional best beard trimmer for men who frequently travel for who just don't want to deal with tons of attachments.
Key Features
This trimmer only comes with a single guard, but the guard comb can be adjusted between two and 14 mm in length.
This is a decent spread that's ideal for men who have beards ranging from considerable thickness to a light layer over their skin.
There's also something to be said about having a trimmer that doesn't have a ton of parts to keep track of.
All you need to take this trimmer with you on a trip is the primary unit in its single comb.
Although it's not waterproof, it does have 70-minute battery and charges pretty quickly as well.
The blades are made of stainless steel, and the handle is made from durable plastic.
The trimmer isn't the best for trimming your stubble since it comes with length adjustments between 2mm and 14mm, so you'll need to use a different tool or a shaver for getting hair that's lower than 2mm from your skin.
It comes with a light and compact storage bag that makes it an ideal choice for men who need a best beard trimmer they can take with them to hotels.
It charges via a USB cable, so there are plenty of places to give your battery a little extra juice, even when you're not at home.
It also comes with a safety lock that you can initialize to both save the battery and prevent the trimmer from accidentally cutting up the inside of a bag.
All in all, we'd call this trimmer an ideal pick for men who travel frequently.
If you're a guy who likes the idea of a best beard trimmer that doesn't have a ton of accessories to remember to bring, this might be a perfect choice.
Check out the hundreds of customer reviews here on Amazon.
---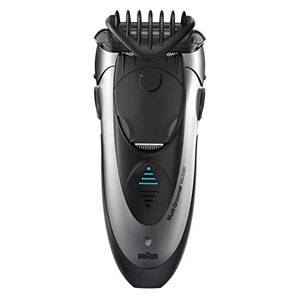 This trimmer can trim your beard or shave it depending on your needs.
Specs
Who Is It Best For?
This is ideal for men who need both types of beard work done: trimming and shaving.
Key Features
This trimmer is actually a combination product that also has shaving and styling capabilities.
It does this through its four unique attachments, each of which serves a different function.
They can all be attached to the extra-wide shaver head, which is equipped with a SmartFoil system that helps to trap beard hairs and bring them in for easy cutting by the stainless steel blades.
One head is easily adjustable to trim your beard between 1.2 and 6 mm making it the adjustable best beard trimmer.
The other heads are ideal for shaving much closer or for styling your beard by cutting off the tops or chopping away excess length.
This level of versatility makes it an excellent tool for guys who have beards that vary significantly in length, such as those that have short cheeks but long chin beards.
Of course, since it's a shaver as well, it can eliminate stubble and get pretty close to a super-smooth shave.
We'd still recommend doing a pass over with a real razor, but this is the best you can get in terms of stubble shaving from a best beard trimmer.
It also has an LED charging light that lets you know when your battery is starting to get low.
Unfortunately, this is likely to happen often since the battery can only last for about 30 minutes before needing a recharge.
Also, the blades are made of stainless steel, but much of the handle is made of plastic instead of a more robust material.
Still, this trimmer isn't too pricey considering all the different trimming and shaving services it can provide.
It's not the overall best beard trimmer, but it might be a decent pick if you need shaving and trimming done in the same grooming session.
Check out the hundreds of customer reviews here on Amazon.
---
Trimmer vs. Shaver vs. Clipper: What's the Difference?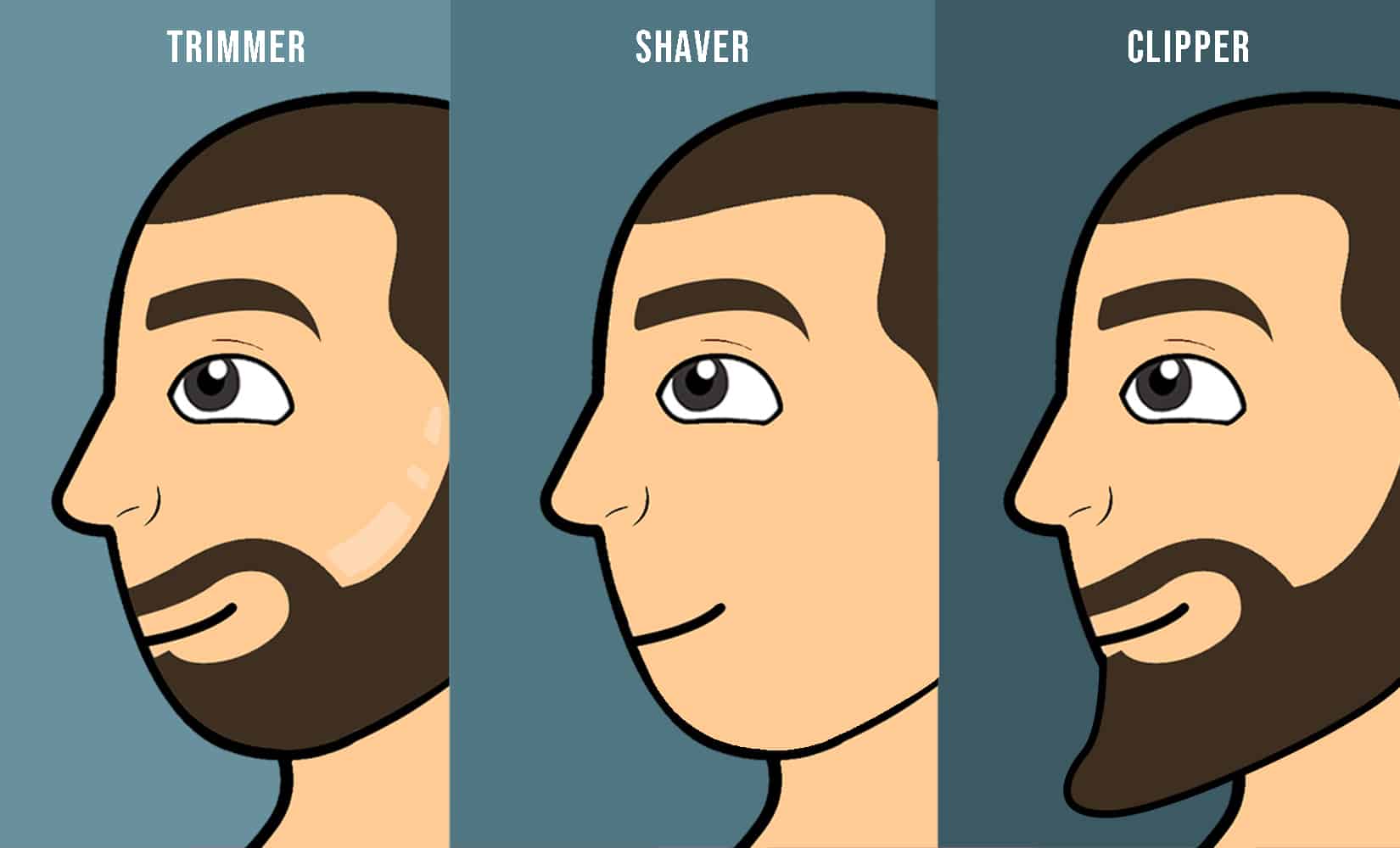 Many men consider all three of these tools to be the same thing.
They're not entirely to blame, either; advertisers often use the terms interchangeably.
But the three types of tools all technically handle different jobs.
Facial hair trimmers are used to keep your beard at an optimal length and make sure that your facial hair doesn't get too wild or unwieldy.
The blades of a beard trimmer aren't meant to touch your skin and often come with guards so that you can set the desired length of your beard easily and quickly.
Beard or stubble shavers are designed to cut your beard all the way down to the skin and are great for men who are transitioning from a bearded appearance to a clean-shaven one.
Oftentimes, men who do this will use a beard shaver to get rid of most of their facial hair, then use a manual razor to clean up and really get their skin baby smooth.
Our guide on the best shavers for men is always around if you want to know more.
Hair or beard clippers are usually used to cut longer hair like that on top of your head.
While it's true you can use hair clippers to tackle thicker beards if they've been growing for many months, beard trimmers are usually just as effective.
They also have an advantage since they can usually trim your beard a little closer than hair clippers can.
So, which should you use?
Trimmers are for men who want to keep their beards or who want to have some "movie-star stubble" at a minimum.
If you want a clean-shaven face, you're better off using a beard shaver instead of a trimmer.
Things to Consider when Buying a Best Beard Trimmer
Buying the best beard trimmer isn't just a matter of finding the most expensive model, or the one that has the shiniest handle.
There are some key aspects you need to understand when browsing the different models in order to pick the best trimmer for your needs.
Specific beard trimmers are better for some guys.
Let's go over what our testers looked for during our reviews of the best beard trimmers for men.
1. Attachments
---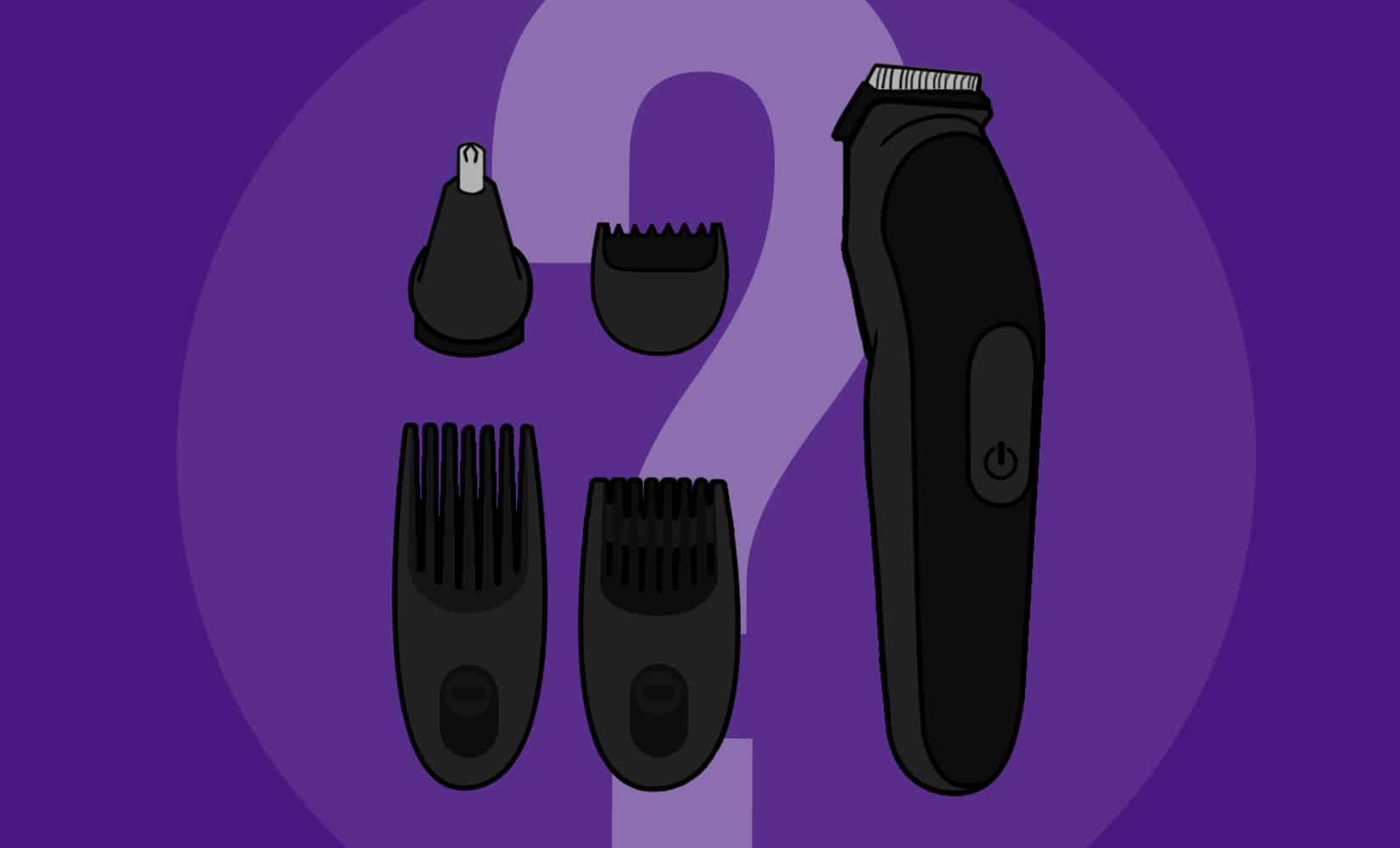 The number and type of accessories that a best beard trimmer comes with dictates all the types of trimming you can do.
Most beard trimmers will come with at least a few different attachments.
Some of these will be beard guards; these are attachable plastic guards that go over the cutting blades and prevent you from accidentally cutting your beard too short.
Obviously, this is incredibly important for men who want to preserve the length of their beard but keep it nicely trimmed as well.
Other heads might be specialized cutting blades, spinning brushes, or even extendable sideburn trimmers that are perfect for cutting surface-level hair back to match up and blend with your beard more effectively.
Best beard trimmer comes with a wide variety of attachments if you'll be doing any kind of variation work on your beard.
On the other hand, if you just need a quick trimmer to slice your beard down to a stubble each time, you don't need to worry too much about your chosen model having a ton of attachments.
2. Battery Life
---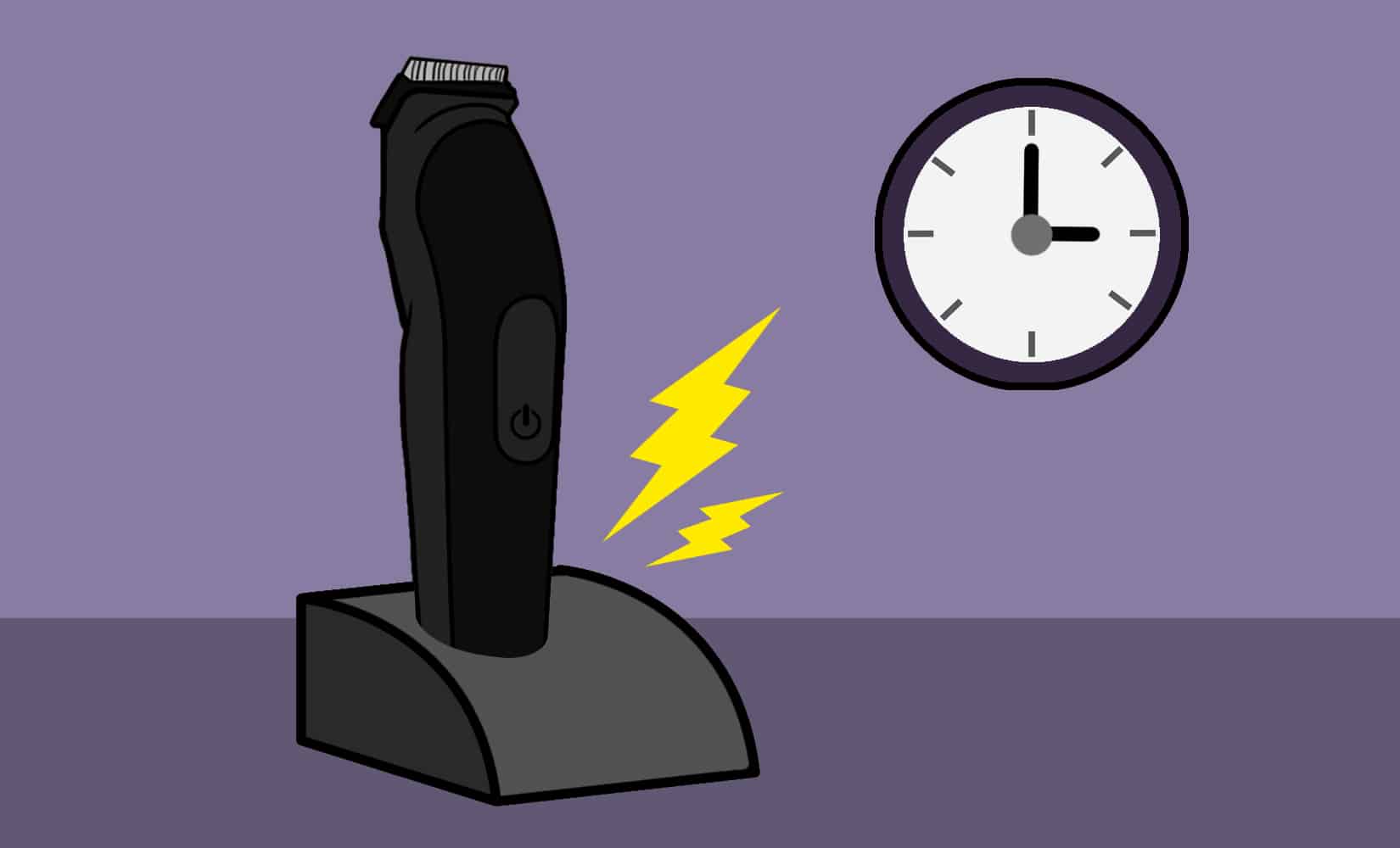 The best trimmers will have a decent battery life, too.
Virtually no beard trimmer relies purely on corded power anymore, although you might see a few here and there.
Instead, modern best beard trimmers either rely on battery power and so have to have fresh batteries every so often or have a rechargeable battery (often lithium ion) that is plugged in when not in use.
However, some best beard and mustache trimmers have absolutely abysmal batteries when compared to their charge time.
Some models will have, for instance, a recharge time of up to eight hours and only provide you with about 30 minutes of running time.
Now, most men won't need to run their beard trimmer for 30 minutes in total, so the danger isn't in the running out of battery when the thing is full.
The trouble comes when, if you've forgotten to charge the trimmer since the last time you shaved, you turn it on the second time, and it fizzles out when you're only halfway done.
Now you're stuck between a rock and a hard place since you can't wait eight hours to finish trimming your beard for work.
The solution to this predicament is to simply buy a beard trimmer that has great lithium ion battery and reasonable charging time.
Some of the better models will have runtimes of around an hour with a charge time around the same, or even two hours.
No matter how efficient your battery is, it's imperative that you remember to plug your trimmer in when not in use.
A better battery is the safeguard against an emergency situation, not a replacement for bad habits.
3. Material
---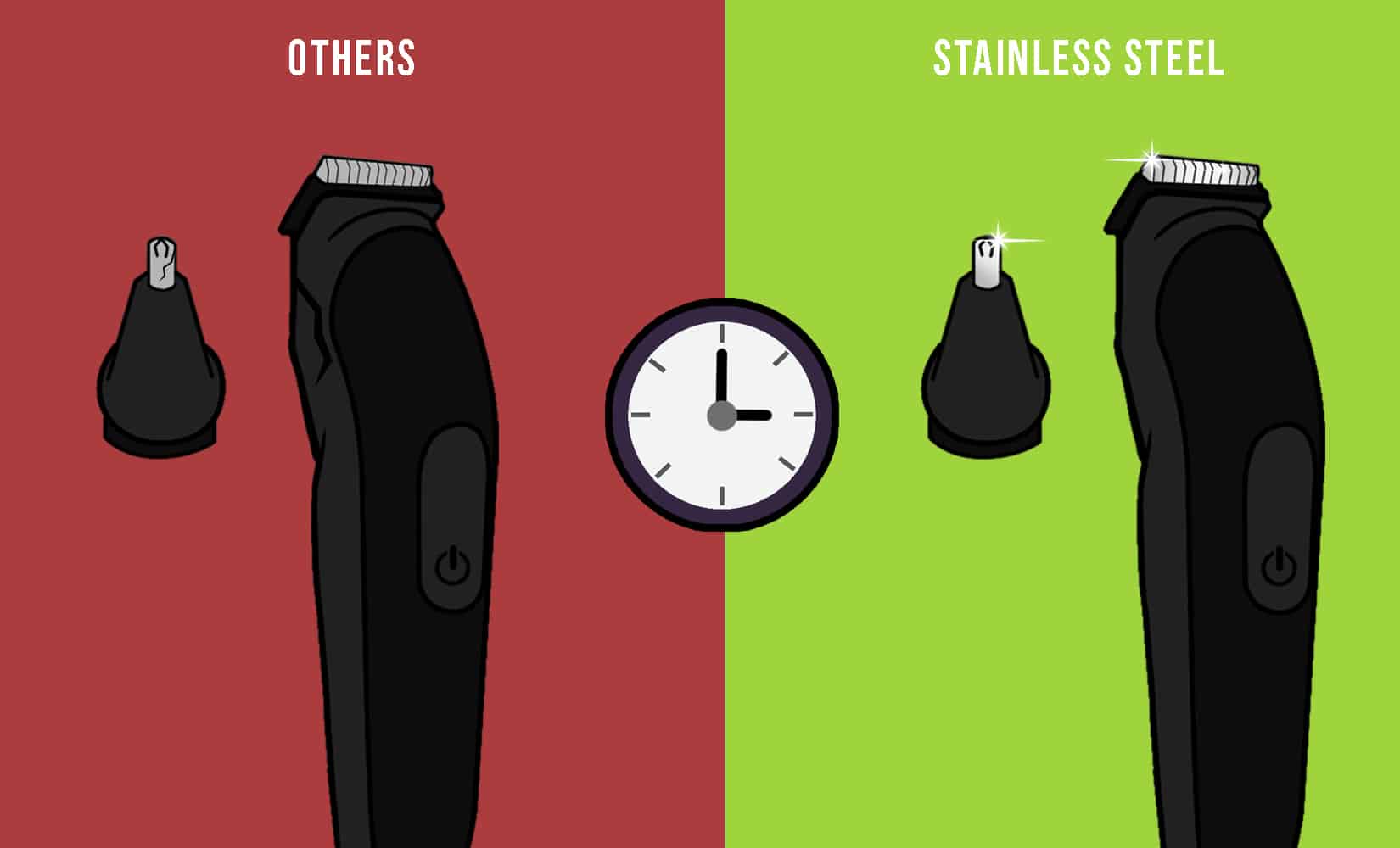 Trimmer material is also quite important.
You need to look at the material used for both the blades of the trimmer and the handle as well.
Stainless steel is an excellent material for both areas since it's hypoallergenic and rust resistant.
That means that it can be doused in water and won't run the risk of rusting anytime soon.
Stainless steel blades are particularly great since they tend to remain sharp even after months and years of use.
You might also find blades that are made of a ceramic material.
These are pretty sharp and are great for cutting through thicker hair, as well as being rust resistant, too.
Still more blades might be made of titanium or chromium.
Both of these materials are great for cutting thick beard hair and retaining their edge long after you've purchased the trimmer.
These are all superb blade types.
Stubble beard trimmers handles might be made of rubber or plastic.
What you want to look for here is durability, since everyone drops their beard trimmer every now and again.
Trimmers that are made of cheaper material are liable to shatter or crack when dropped, causing you to have to buy a new trimmer as soon as possible.
Best beard trimmers are made with more durable materials that will last for a longer period.
Besides, some trimmers with rubber handles are made with a nonstick material that makes it easier to grip steadily while the trimmer is wet, such as during a shower shaving session.
When finalizing your purchase, double check to see what the trimmer is made of to get an idea for how long it'll last and how tough it might be if you drop it.
It's often more worthwhile to spend a few extra bucks in the present and buy a better-quality trimmer than it is to get a cheap model and have to buy a whole new one in a couple of months.
4. Stubble Trimming
---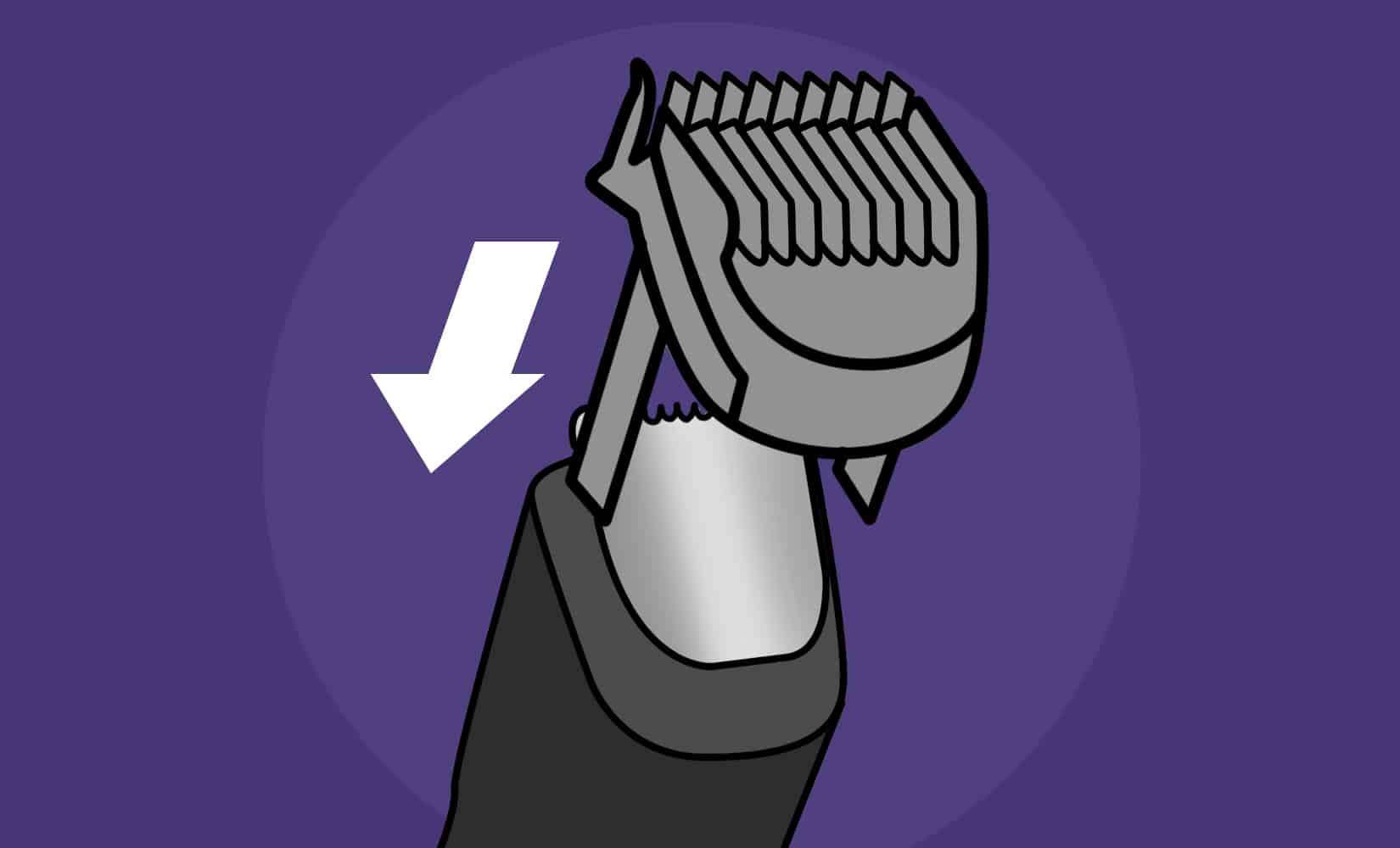 While best beard trimmers will, of course, knock out length beard hairs, you should also check to see if each model can effectively trim your stubble.
If a beard trimmer can also clean up your stubble, this gives it a little more utility and lets you really prepare your face for a clean shave.
Beard trimmers can do this with a very low attachment or guard comb, or you can just remove all the attachments entirely and use the trimmer blades themselves.
This may be a little rough on your skin, so it's usually better if a trimmer has a specific "stubble guard" attachment available for use.
Technically, all beard trimmers can also trim stubble; the difference is just in how well they do it.
Trimmers aren't always made with blades that are designed to be gentle on the skin, although some are fine for placing directly on your face.
It just depends on the model.
You should note that stubble trimming attachments aren't quite as good for obtaining a clean shave as regular razors or electric shavers specifically-designed to tackle small hairs just above your skin.
However, these attachments will still be excellent for making sure that your face is ready for a wet shave.
Also, you can forgo a clean shave entirely and just use the stubble trimming attachment to give yourself a "rugged" look.
Men with dark facial hair will be able to appear like they have a five o'clock shadow if the hints of their facial hair remain intact.
Depending on what you're going for, this may be perfect.
Be on the lookout for the best stubble trimmer for 5 o'clock shadow if that is your preference.
5. Waterproof
---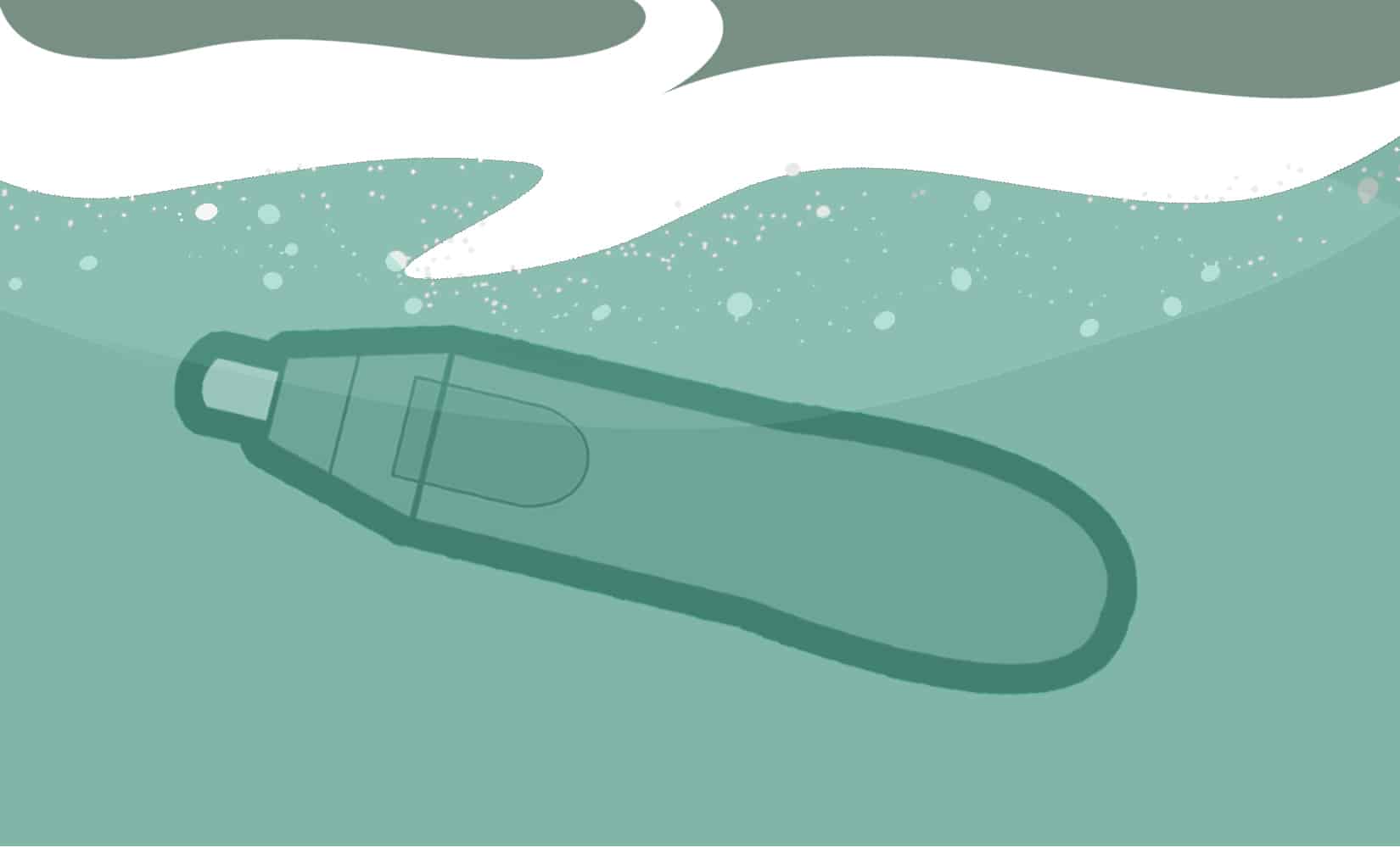 Finally, some of the best beard trimmers for men will be water resistant or waterproof.
There's a little bit of a misconception when it comes to these two terms, so let's clear it up here and now.
Water resistant trimmers are excellent for taking into the shower or for washing beneath a faucet.
They can handle water spraying onto their casings and onto their blades without any issue.
But they can't be submerged in water totally, so you should avoid taking these trimmers into a bath.
Waterproof trimmers can be submerged in water up to a certain number of feet.
These run no risk of incurring water damage so long as they are not plunged too deep beneath the surface.
You should definitely look for a water-resistant or waterproof trimmer if you're interested in getting your grooming done while in the shower.
Many men prefer this since it allows them to accomplish two tasks at once and provides a handy disposal area for their trimmings and hair particles: the drain.
Obviously, this is less feasible if you have an enormous beard.
But men who just use a trimmer to tackle stubble will often do this showering trick to save time.
When it comes to cleaning your trimmer, you don't need to worry if your tool is water-resistant or not.
All trimmers should have heads that can be rinsed in water without an issue.
You just need to be careful about getting the rest of the trimmer wet if your chosen model doesn't have this protective feature.
---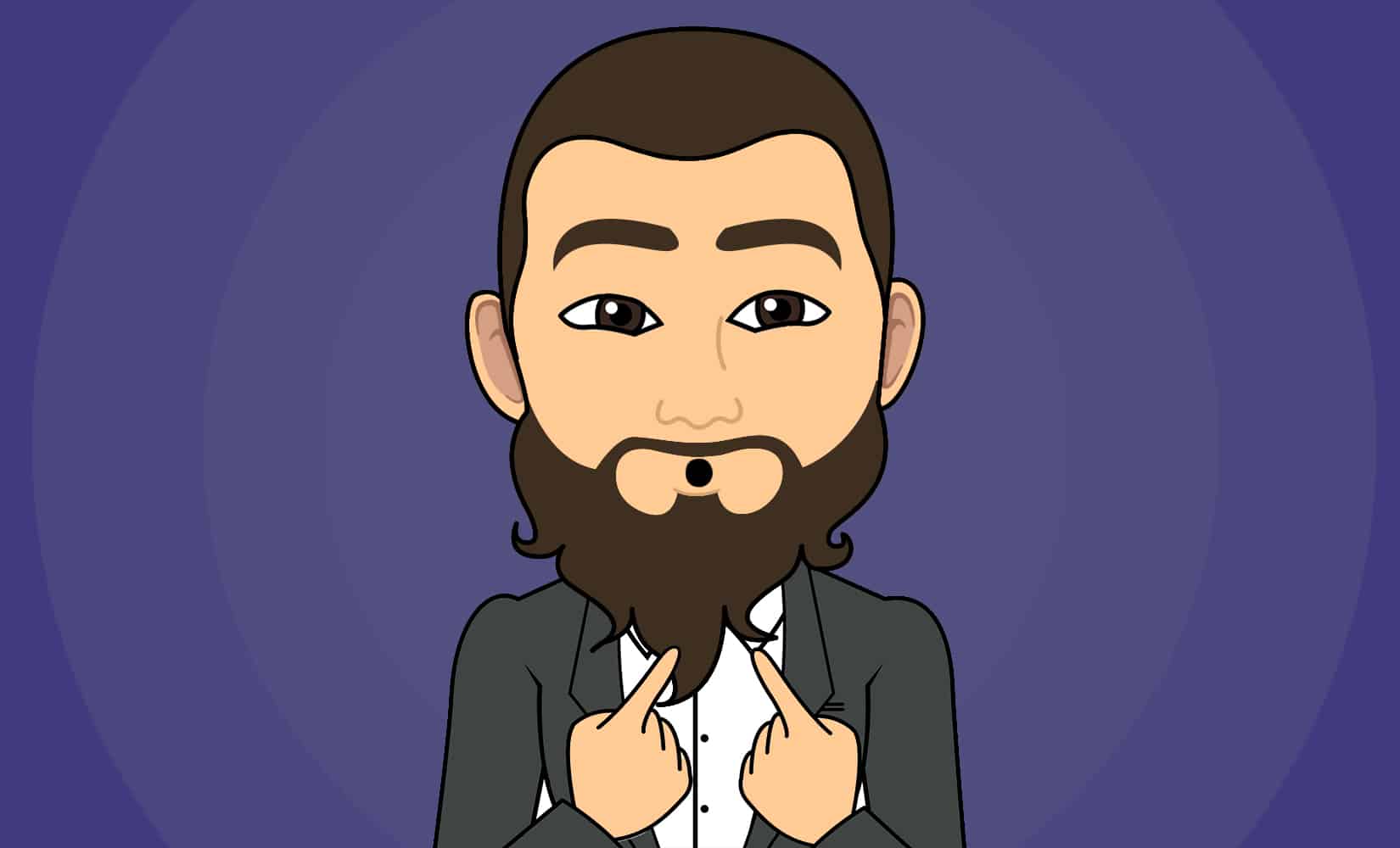 So, you've got the best beard trimmer.
But what if you don't know how to use it?
Luckily, we do!
Let us take you through the optimal, most effective beard-trimming routine.
We'll show you how to trim your beard in the shortest amount of time while keeping your face looking great.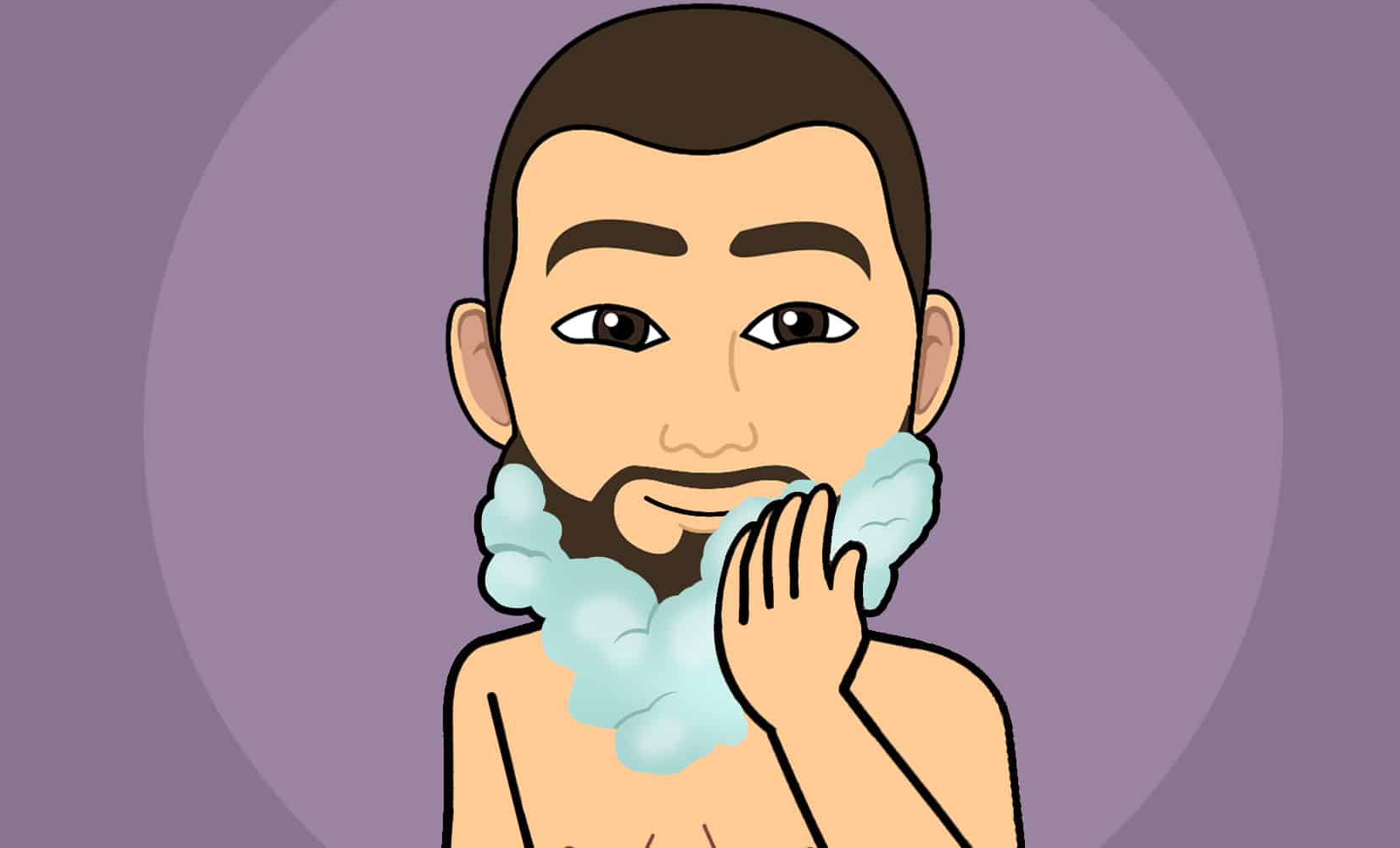 The first step to trimming your beard well doesn't even have you pick up the trimmer tool at all.
Instead, the best way to get started is to take a shower and thoroughly wash your beard.
This accomplishes a couple of different things.
For starters, it clears out any excess dirt and debris, as well as skin oil, that might have built up during the day or night.
All of this junk can easily get caught in your beard and cause trouble when you try to trim it.
Cleaning your beard before you start to trim it has another benefit in that it makes your beard hairs stick out a little straighter and makes them easier to get caught in the trimmer teeth.
Curly beard hairs will bend back on themselves and present more of an issue for any trimmer.
But beard hair that's standing at attention will get cut cleanly and efficiently.
Finally, taking a hot shower and thoroughly washing your face is integral to the next step, where we tackle your neck hair and talk about establishing a good beard line.
After showering, be sure to dry your beard with a clean towel thoroughly.
While your beard hair needs to be clean and moist, you also don't want your hair to be soaked by the time you take the trimmer to it.
Step 2: Shave Your Neckline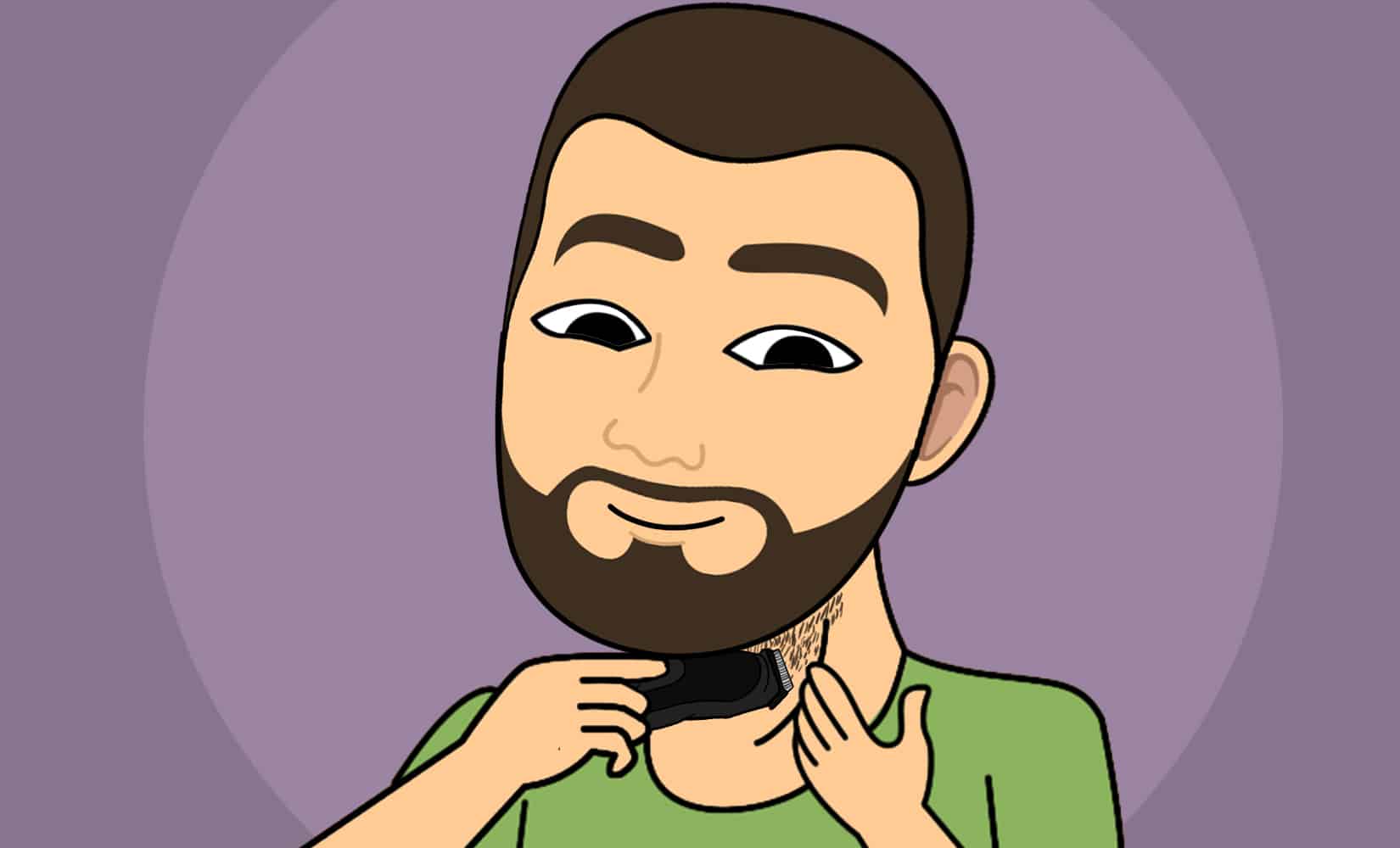 Now we're going to handle your neckline.
Most men grow plenty of hair on their neck all the way down past their Adam's apple.
This is normal, but it can make your beard look lazy or sloppy if it's not appropriately trimmed.
Some men will prefer that their neck hair is totally clean-shaven, without even a hint of stubble at any time.
Others will prefer a slight fading effect where their neck hair fades into their beard.
This is a stylistic preference, and no one choice is better than the other.
But you should take a second beforehand and consider which is your preference before moving forward.
Once you know what you're doing, take the beard trimmer and use its lowest length setting to get rid of any long hair on your neck.
You'll want to shave this hair up to a pre-determined line; for most men, this is where the fleshy underside of the jaw starts to meet their actual neck.
Go slowly when trimming this, since it's easy to go too far.
When you go too far in one section, you often have to trim the rest of your hair to match it so that it looks uniform and intended, even if the net result is worse than what you had in mind.
Go about an inch or so all the way across your neck, then take a look and determine if you want to go further.
However far you decide, make sure that the neckline is uniform and even from one end of your jaw to the other.
If you want your neck clean shaven, you can do that after you've taken care of trimming your beard.
You'll use a regular razor to accomplish this instead of your beard trimmer.
If you'd like, check out our guide on the best safety razors for men to see some great options.
Step 3: Shave Your Cheekline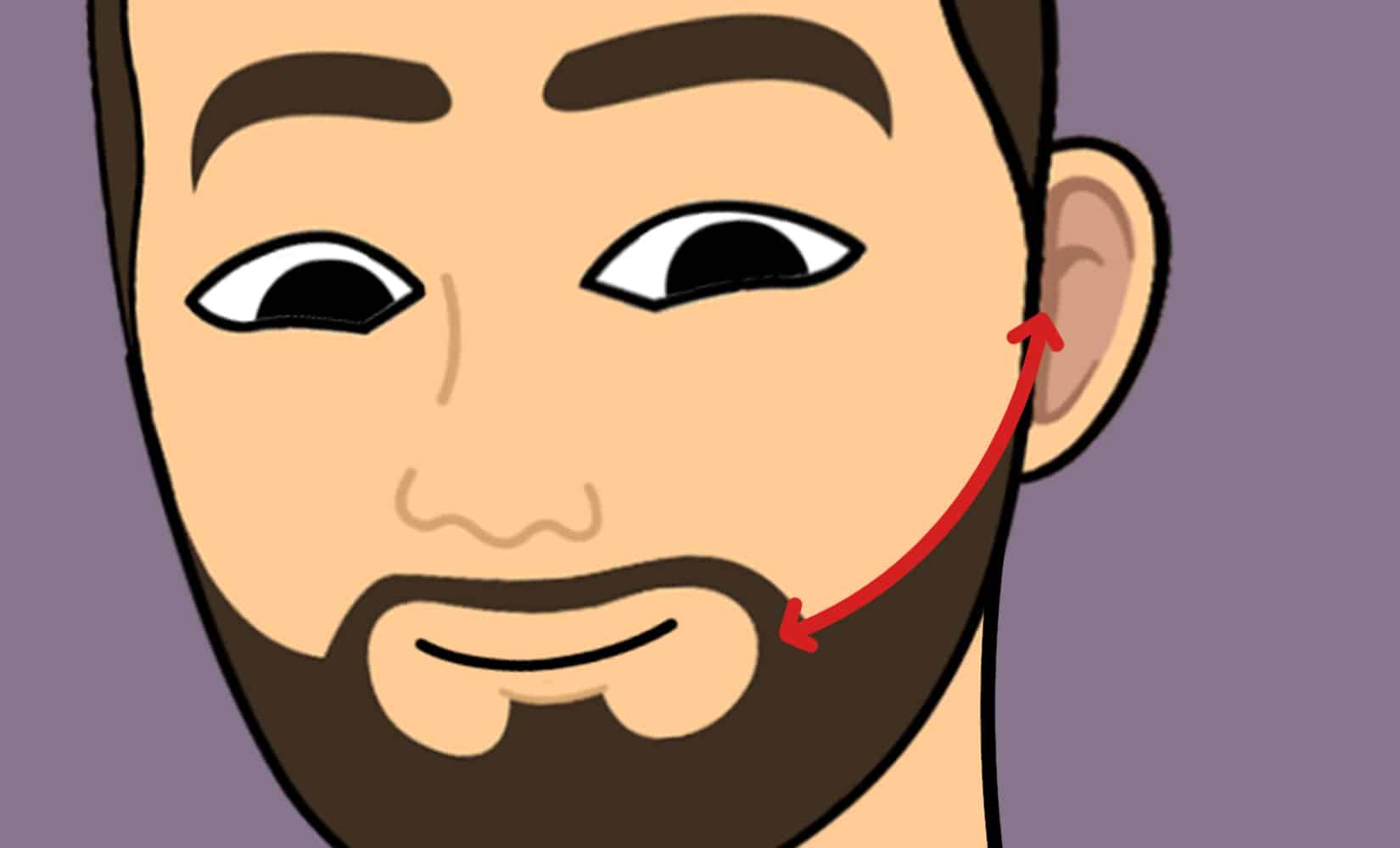 Now it's finally time to use your new beard trimmer.
Select your length to start.
This is usually a combination of sliders on the trimming tool itself or by choosing your preferred guard, which can slide atop the trimmer's head.
We'd recommend starting with a long length if you haven't done this before.
In this way, you can trim your beard to a longer length than you think you want it to ultimately be and get some practice in before you finalize your look.
Going slowly is critical since you can't take back anything you cut off.
While it's true that your beard will always grow back, it's best to get things right the first time, in our opinion.
Select your preferred length, and let's get started.
Step 4: Select Preferred Length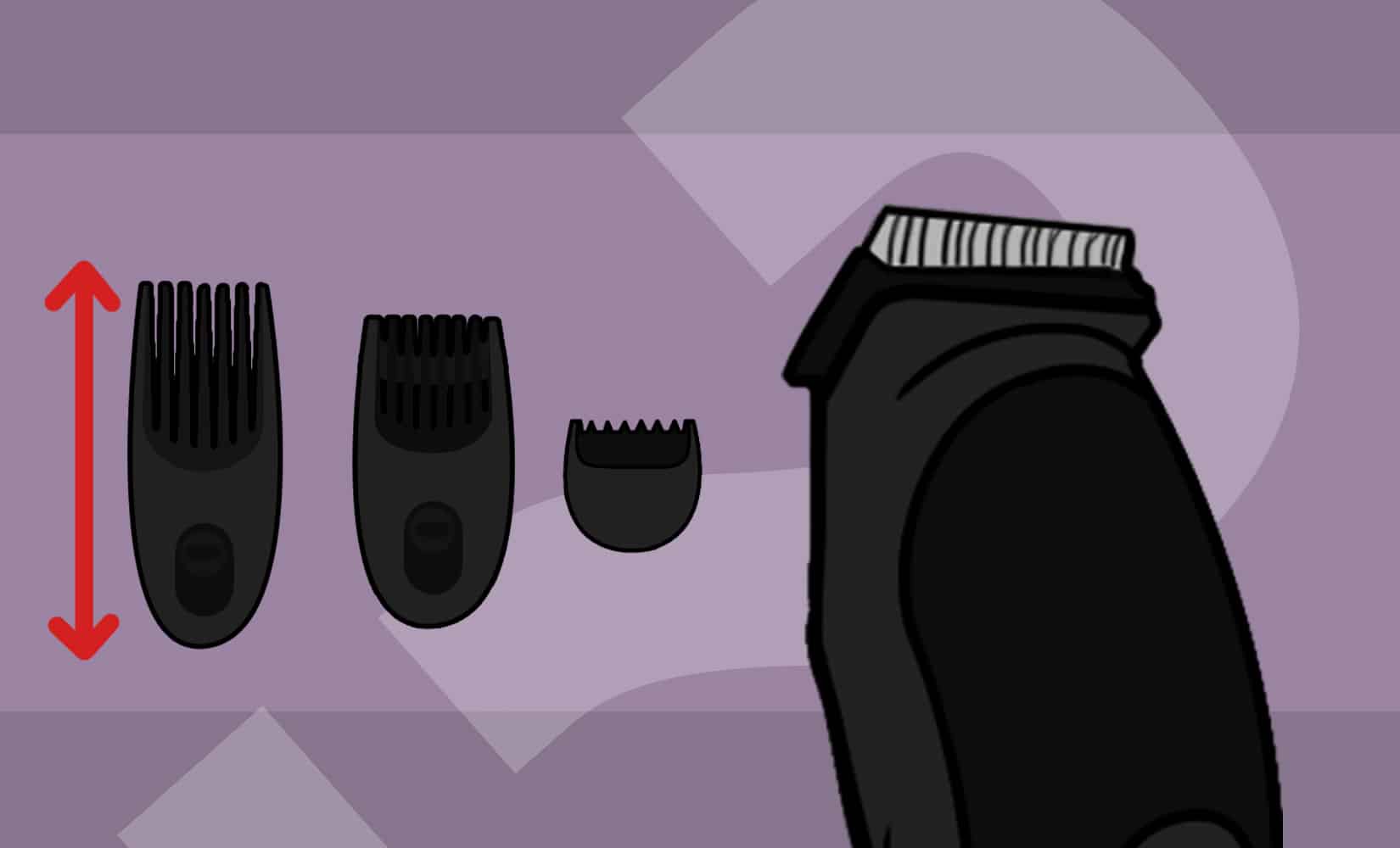 You're going to start with your cheek line.
The cheek line is the border of your beard that separates your beard from the clean skin beneath your eyes and around your nose.
You should take a moment to think about where you want your cheek line to be before you start trimming.
Once you've decided what you think will look best, go ahead and start buzzing.
Some men will look better with beards that go all the way to the top of their cheekbones, while others will prefer a cheek line that is much closer to their lips or even closer to the jaw.
The choice is totally up to you.
If you're undecided, we once again recommend starting slowly and only trimming a little bit on either side before stopping and looking to determine whether you want to continue.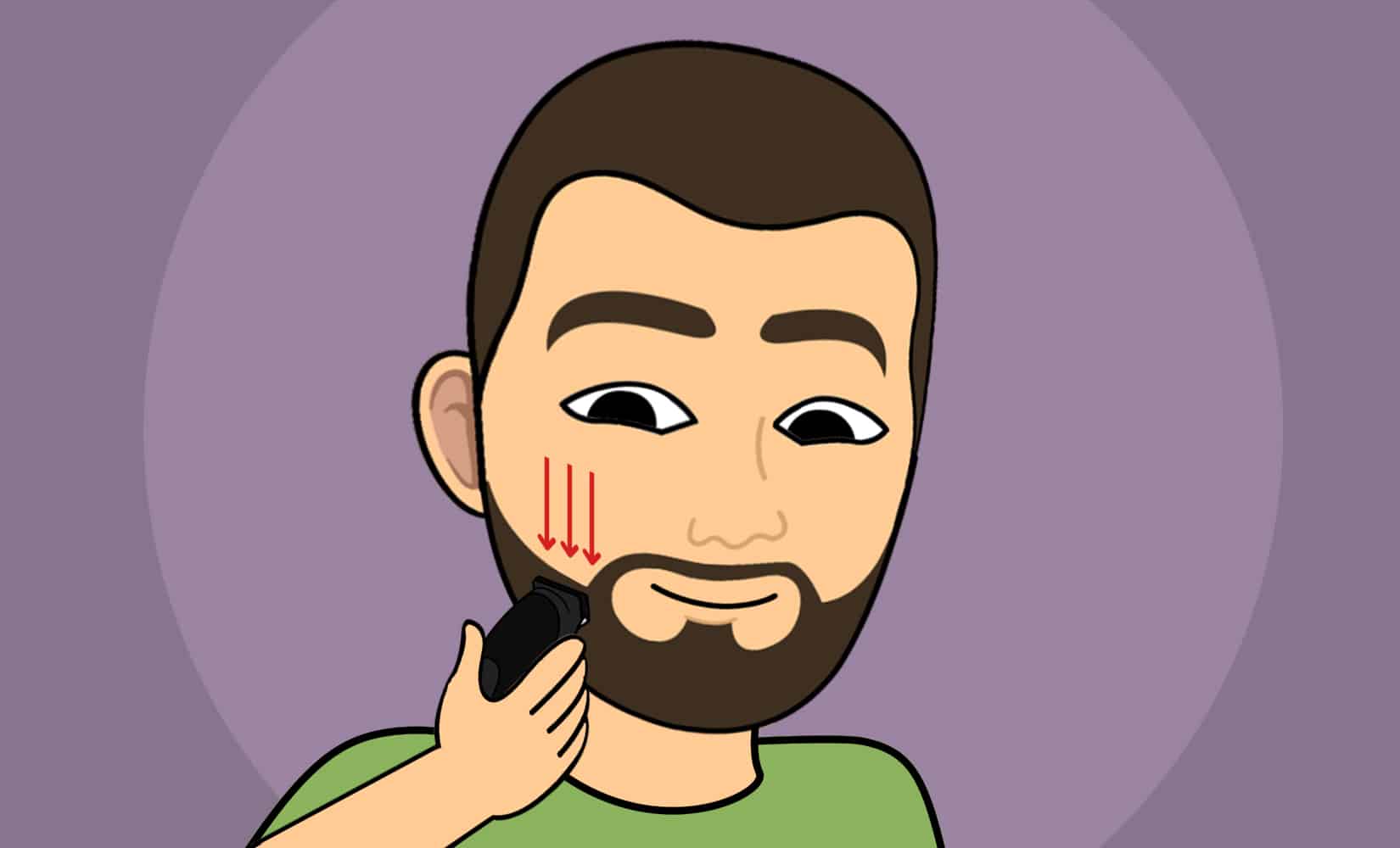 Once you've figured out your cheek line, you can start to trim your beard by placing the trimmer at the cheek line and bringing the tool downwards toward your jaw.
Your trimmer should already be set at the optimal length setting or a long length setting if you're experimenting.
It's essential to go slow here as well since cheek hair tends to grow back more slowly than the hair on your upper lip or on your neck.
This is where personal style starts to play a significant role.
Some men have full beards and will want their cheeks to be fluffy.
But many other men will want their cheek hair to be a little thinner and shorter than the hair around their chin or above their lip.
A good length for this style is to have your cheek hair about 2mm shorter than your front beard hair. You can accomplish this by choosing the correct length settings on your trimmer.
Just remember the lengths you choose as you switch between areas!
Whatever your personal preference, trim your cheeks first and take a look at the result before moving on to the other parts of your face.
Now it's time for your jaw.
Take the trimmer and run it back against the direction your hair is naturally leaning.
This will help the hair become trapped by the trimmer's teeth and be cut more easily. You should use the trimmer to follow your jawline all the way to the corner.
Make sure that you get corner hair particularly well since it's not uncommon for errant strands of jaw hair to escape the clutches of the trimmer.
If necessary, you can use trimming scissors to get the corners of your jaw.
Step 7: Trim Your Chin and Mouth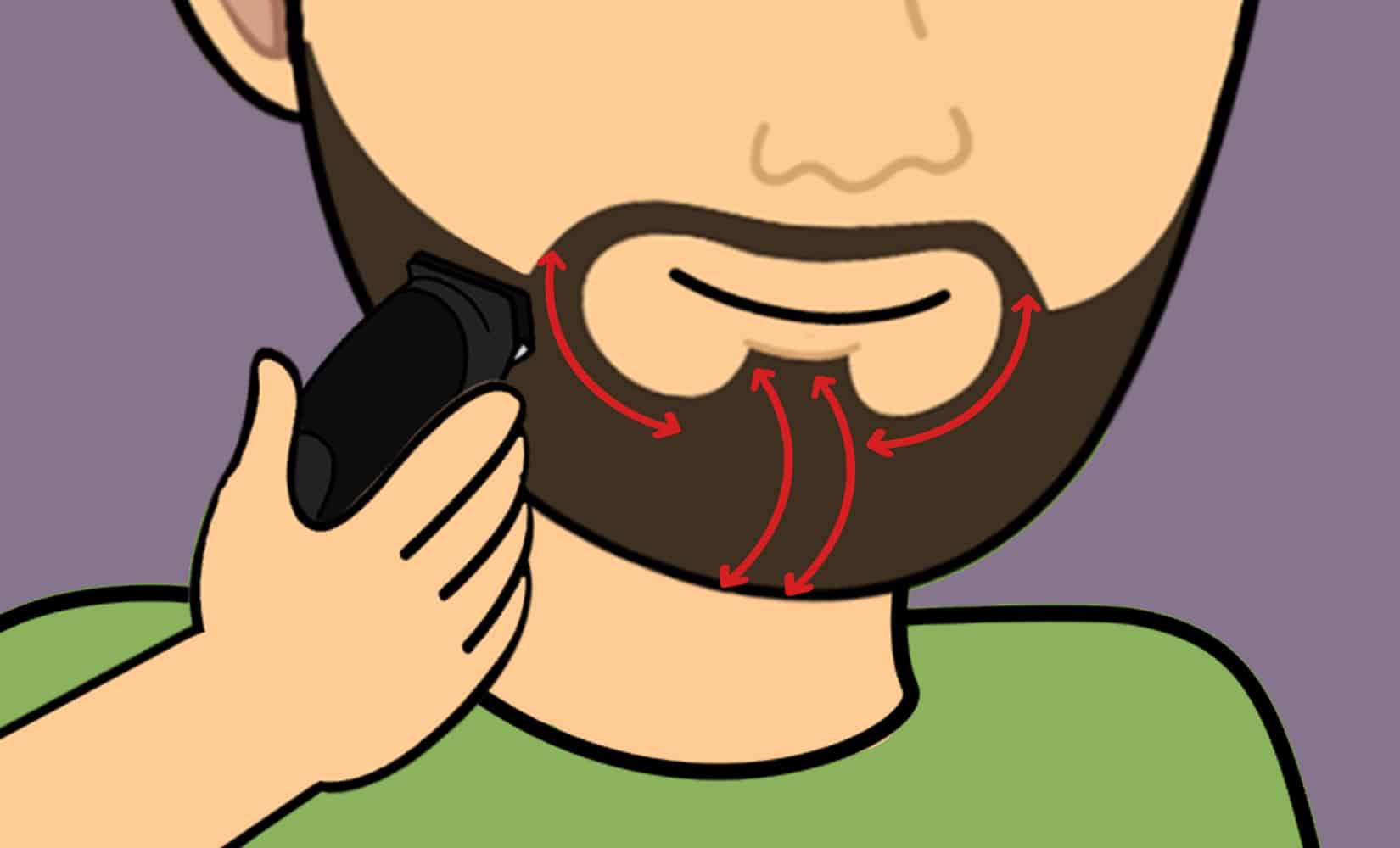 Now it's time for your chin and mouth.
If this is going to be the same length as your cheek hair, you don't have to worry about changing any length settings.
Simply run the trimmer around your mouth and make sure to get the corners of your chin, which are like smaller versions of the backs of your jaw sides.
Give the trimmer a few good passes to make sure that all your hair is a uniform length.
If you want your mouth hair or chin hair to be a bit longer than your cheek hair, change the trimmer setting appropriately and go to work.
Extra Step: Trim/Shave Mustache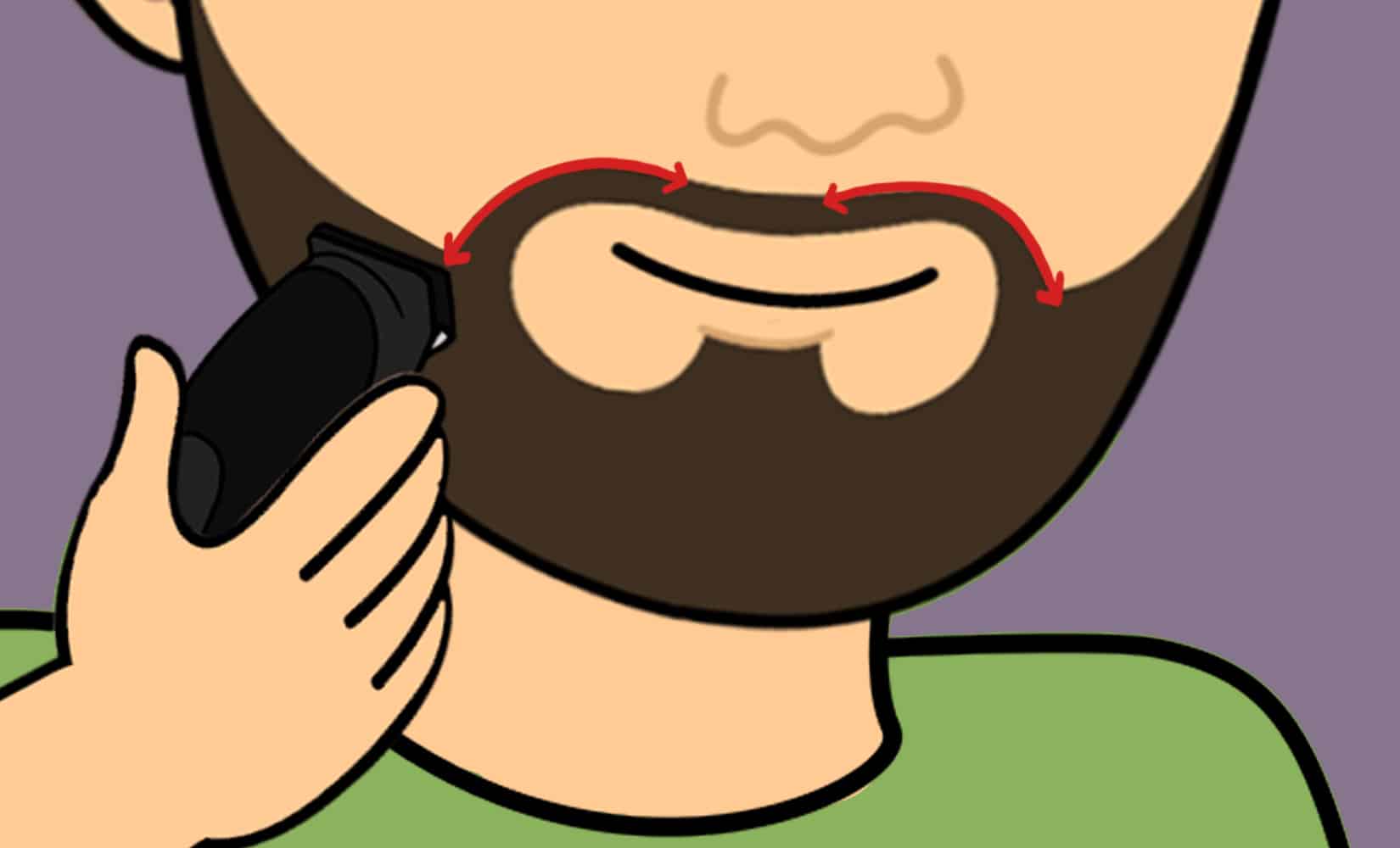 Those of you who want to trim your mustache separately from the other parts of your beard should pay attention to it during this part of the process.
Some men want their mustache to be noticeably longer than the other parts of their beard.
In this case, you might already be set since you've trimmed the rest of your beard down.
But if you need to trim your mustache a little bit for the optimal look, you'll want to comb it beforehand.
Make sure that you comb your mustache hairs downward so that you can see if any extra long hairs might tangle into your mouth.
You can get these with hair scissors or with your beard and mustache trimmer so long as it set to the appropriate length.
To be extra careful, it's a good idea to deliberately set your facial hair trimmer length to an extra long setting while testing out the perfect range for your mustache.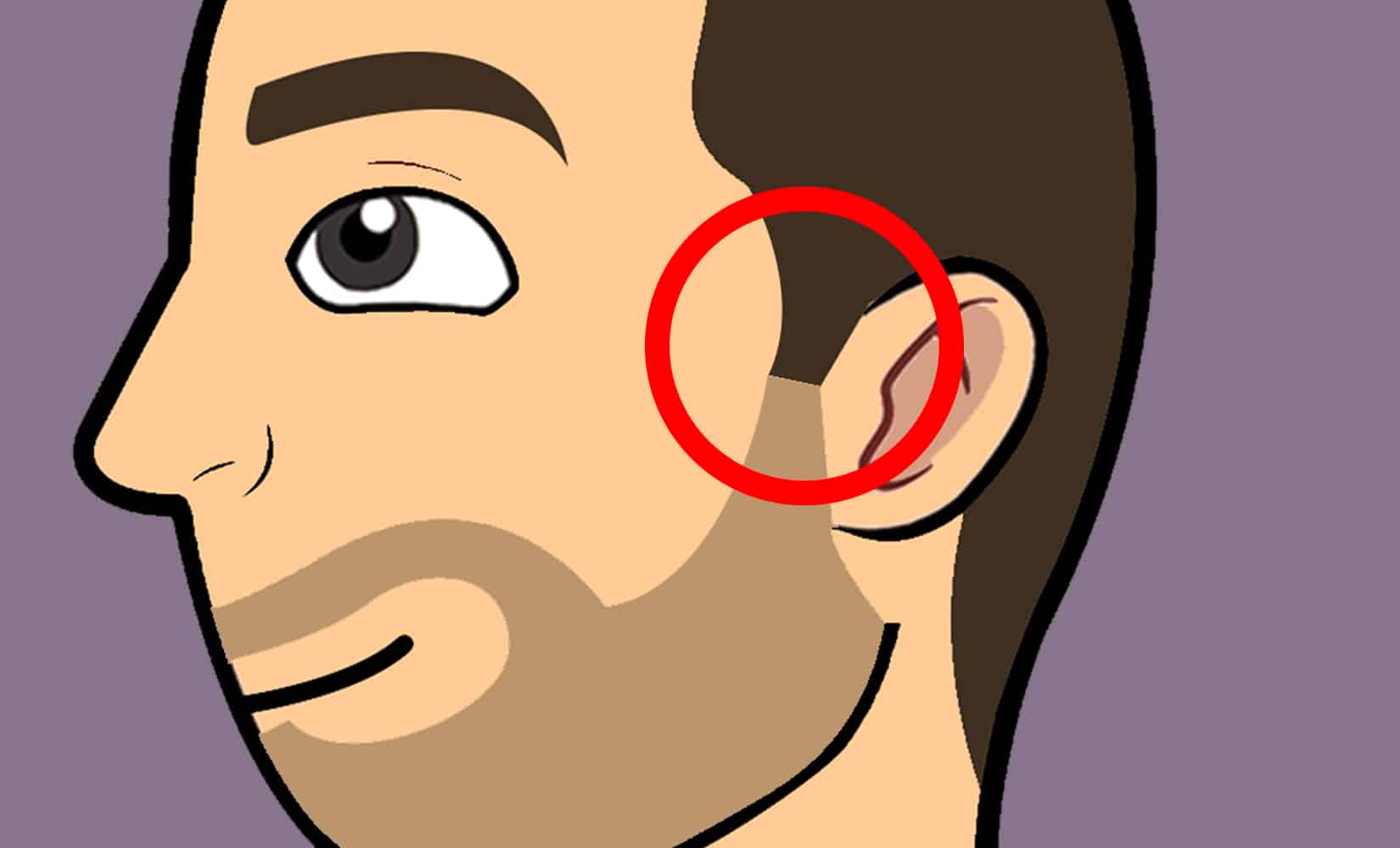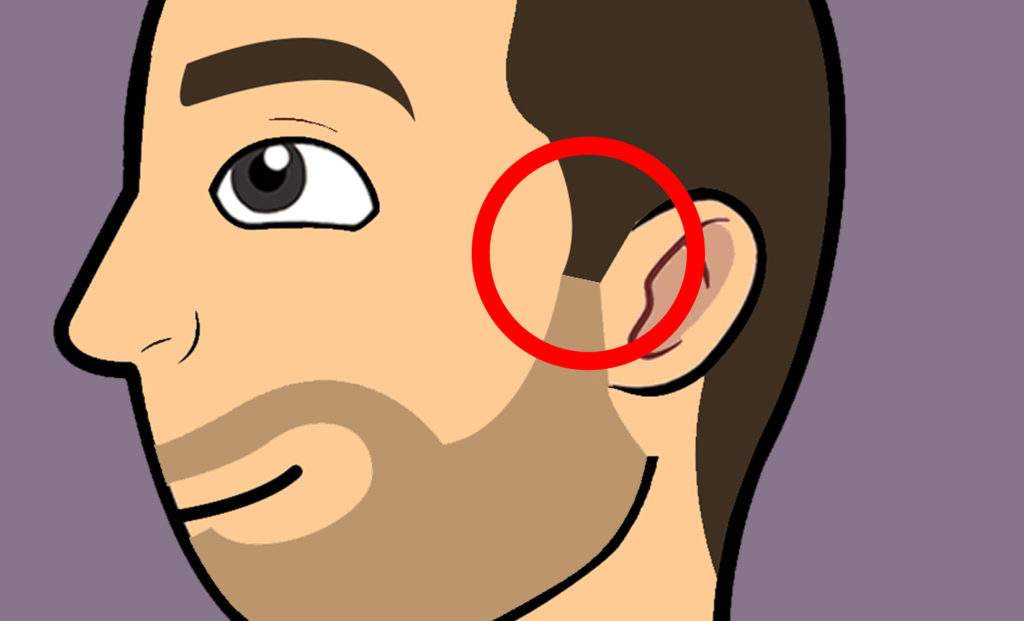 Many best beard trimmers will come with a sideburn trimmer, either as a separate head or a pop-up attachment.
These handy attachments are great for blending your sideburns in with your cheek hair.
There's nothing super special to this process.
Simply comb your sideburn hair down so that it meshes with your beard, then use the pop-up trimmer to shape your sideburns into a rectangular or blocky shape that melds perfectly.
You'll be using the trimmer to cut your sideburns down into a more deliberate shape, shearing away outcroppings and blocky parts that don't lead toward your beard.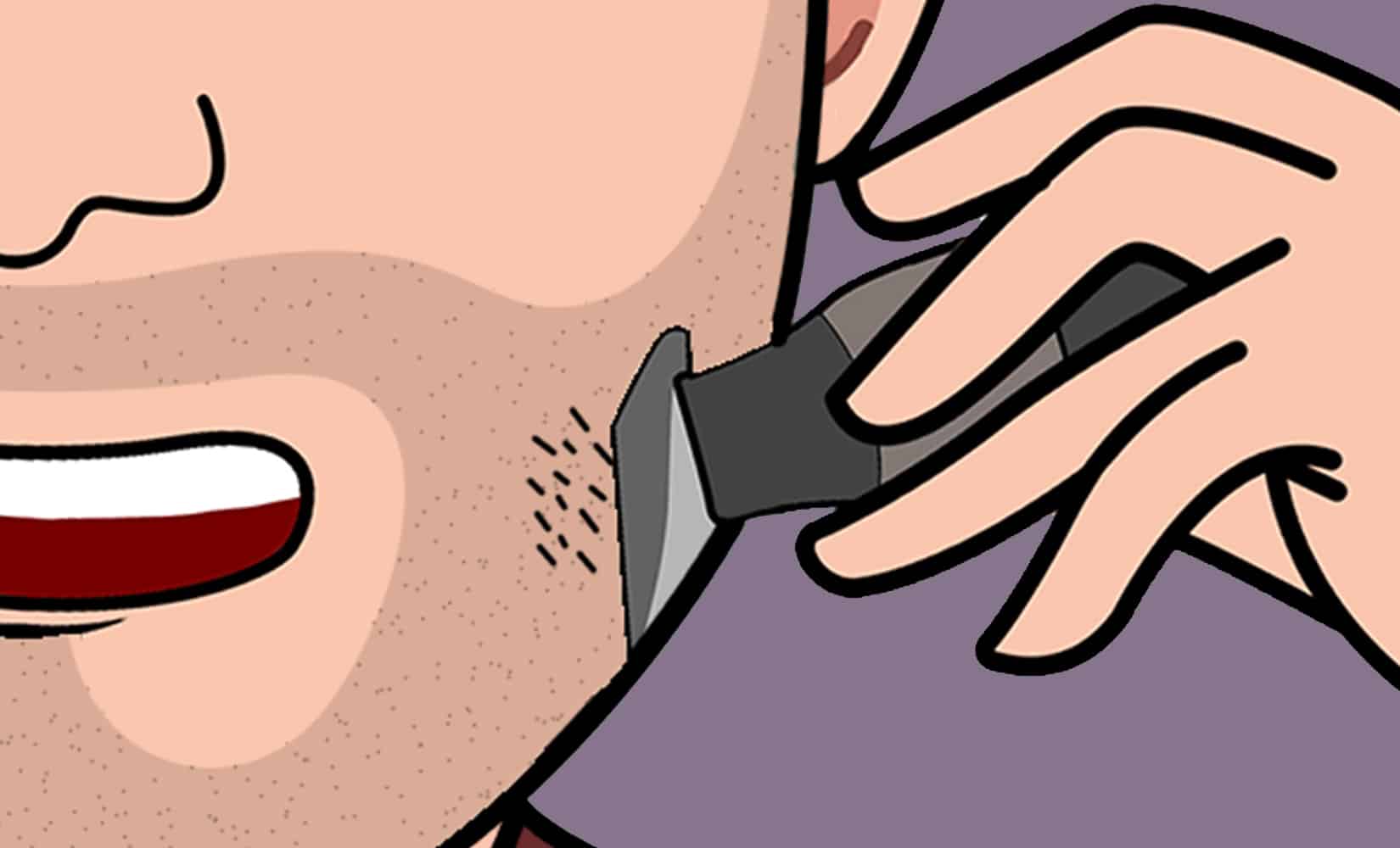 If you want to tackle stubble, it's essential that you only move to this part once you've eliminated the longer hairs of your beard.
This is because most beard trimmers will only be able to tackle your stubble once you remove the guard comb or you place the smallest-length guard comb on the top.
It's a necessity to remove all of the top layers of hair before moving on to stubble since the longer hairs won't get caught in the blades and you'll be able to cut your stubble more closely to your skin when the longer beard hairs are gone.
The best beard trimmer for stubble should be easy to adjust and manoeuver.
The objective when removing stubble is to prepare your face for a clean shave.
The more stubble you can remove, the easier your clean shave will be when you take a wet razor or electric beard trimmer to your face.
It's important to remember that the blades of the theater are not necessarily as gentle or optimized or skin contact as dedicated electric shavers for wet razors.
This means that it's often a good idea to put some shaving cream on your face before trying to your stubble.
The shaving cream will help prevent your skin from becoming irritated, and it will make the beard trimmer cut away from your stubble more effectively.
Some of the best trimmers have a blade that can cut away enough stubble that you may not even feel that you need to use a wet razor afterwards.
It all depends on what you're going for.
You can also use a beard trimmer to trim your stubble just enough that it looks like you have a 5 o'clock shadow.
This can preserve your "rugged" appearance without having to go all the way to a clean shave and wait for to regrow.
Step 8: Shave Neck With Razor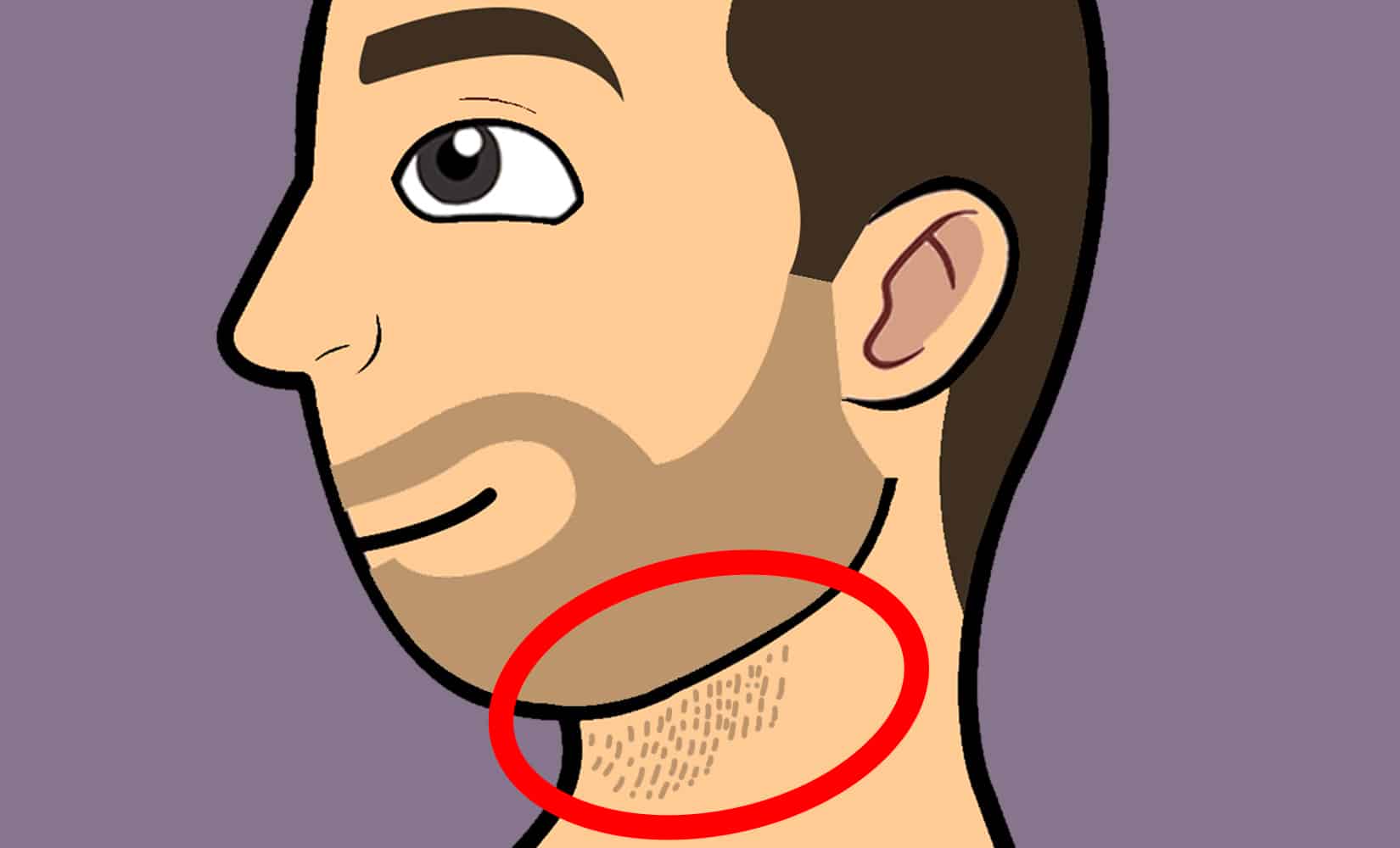 Finally, after you've examined your beard and determined that you're done, it's time to finish.
At this stage, you can take a regular razor and shave your neck down until it's clean-shaven.
Whether or not you accomplish this extra step, you should take the care to clean your beard trimmer and make sure that any wet parts are left out to dry while it's not in use.
It's also a good idea to plug it in while you're thinking about it.
This will ensure that you always have the battery to use even if your particular trimmer has an abysmal charge time.
Frequently Asked Questions About Best Beard Trimmer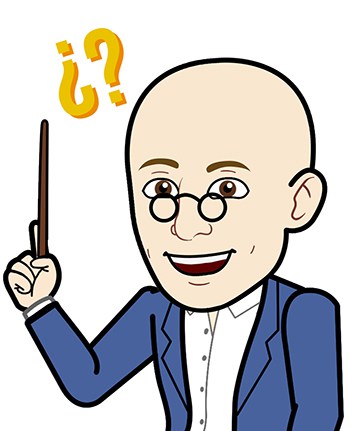 1. Is there any difference between hair trimmers and beard trimmers?
Yes, there is a slight difference between hair and beard trimmers.
Basically, they have differences between their functions and use.
Clippers can be used for both head and beard long hair while trimmers are best suited for facial hair.
2. How men can trim their private area?
You can trim your private area by following the given steps;
First, take shower to soften your body hair
Use the shaving gel on the hair
Select the comb length of your trimmer
Now start shaving gently
3. Which things I should considered before buying your best beard trimmer?
First, consider the price of a trimmer.
Try to buy a trimmer according to your need (wet or dry trimmer).
Length of combs.
Quality of the product
4. How do you shave safely with beard trimmer?
Always hold your trimmer in the horizontal direction.
The face of the trimmer might be in an upward or downward direction.
Then start moving the trimmer either in the direction of facial hair or in the opposite direction, you can use this according to your choice.
For more close shave you can remove the trimmer guard.
Beard trimming is a tradition that many men have learned to master, and now you can too.
With the right tools and the correct technique, your beard can be an extension of your personality and a statement to the rest of the world.
There's no need to let your beard grow untamed on your face.
If you are not sure of the best razor to use, check out this safety razor vs straight razor infographic and make your choice.
Instead, why not show the world the best version of yourself and your beard?
Good luck!