These days, it's becoming more affordable and more convenient for many men to use electric shavers to replace their traditional manual razors.
While the electric shavers of the past may have left something to be desired in terms of shave smoothness or speed, this isn't the case in today's market.
Many of the best electric shavers can give you a shave as close as the best handheld safety razor and do it much faster, to boot.
There are also electric shavers that are perfect if you have sensitive skin or if you want to take your shaving to the shower where it will be most effective.
But finding the right electric shaver is trickier than merely knowing that they're great to have.
That's where this guide comes in; we can show you the best electric shavers for men and give you some pointers so you can use them effectively.
Ready to get started?
Let's go!
QUICK OVERVIEW: Best Electric Shavers
Braun Series 7 790cc-4 Electric Foil Shaver

Great charge to runtime ratio
Lots of modes for sensitive skin

VIEW ON AMAZON →

Philips Norelco Electric Shaver 2100

Great pop-up trimmer
Easy to clean

VIEW ON AMAZON →

Panasonic Arc5 Electric Razor

Pivoting, flexible head
Includes pop-up trimmer

VIEW ON AMAZON →

Aesfee Electric Shaver for Men

Very affordable
Great for traveling

VIEW ON AMAZON →

VENYN 4-in-1 Rechargeable Electric Shaver

Heads are easy to switch
Stainless steel blades

VIEW ON AMAZON →

SweetLF 3D Rechargeable IPX7 Electric Shaver

Pop-up trimmer
Fantastic battery life

VIEW ON AMAZON →

Panasonic Hybrid Wet Dry Shaver

Great blades and foils
Smart shaving sensor

VIEW ON AMAZON →

Remington F5-5800 Foil Shaver

Affordable
Decent run to charge time ratio

VIEW ON AMAZON →
Use the table of contents below to jump to the sections most important to you.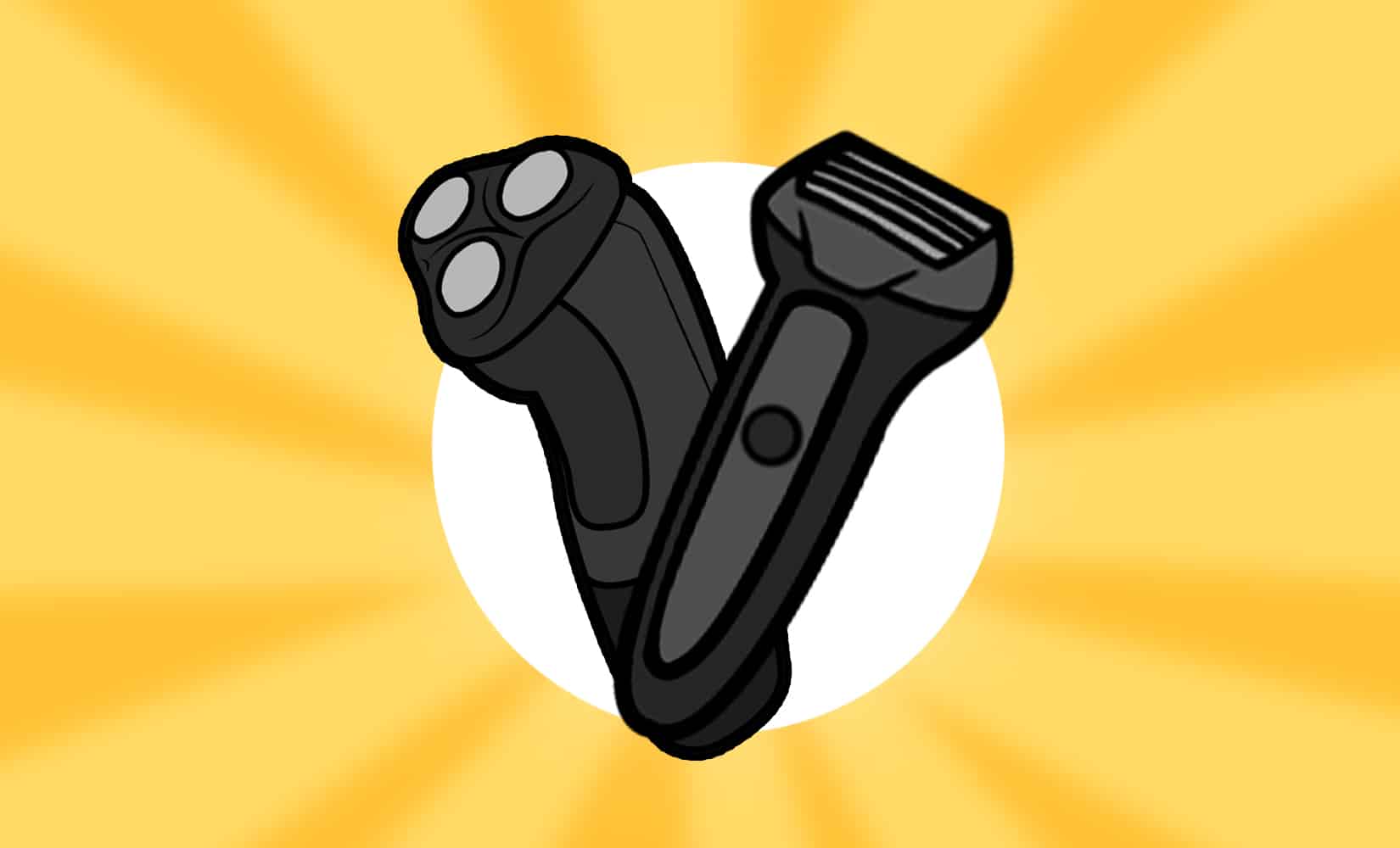 Things to Consider When Buying an Electric Shaver
Before you hit that purchase button and get a brand-new electric shaver for your bathroom, take a moment to think about these fundamental factors.
They can drastically influence the ideal shaver for your face.
1. Foil Vs. Rotary Shaver
---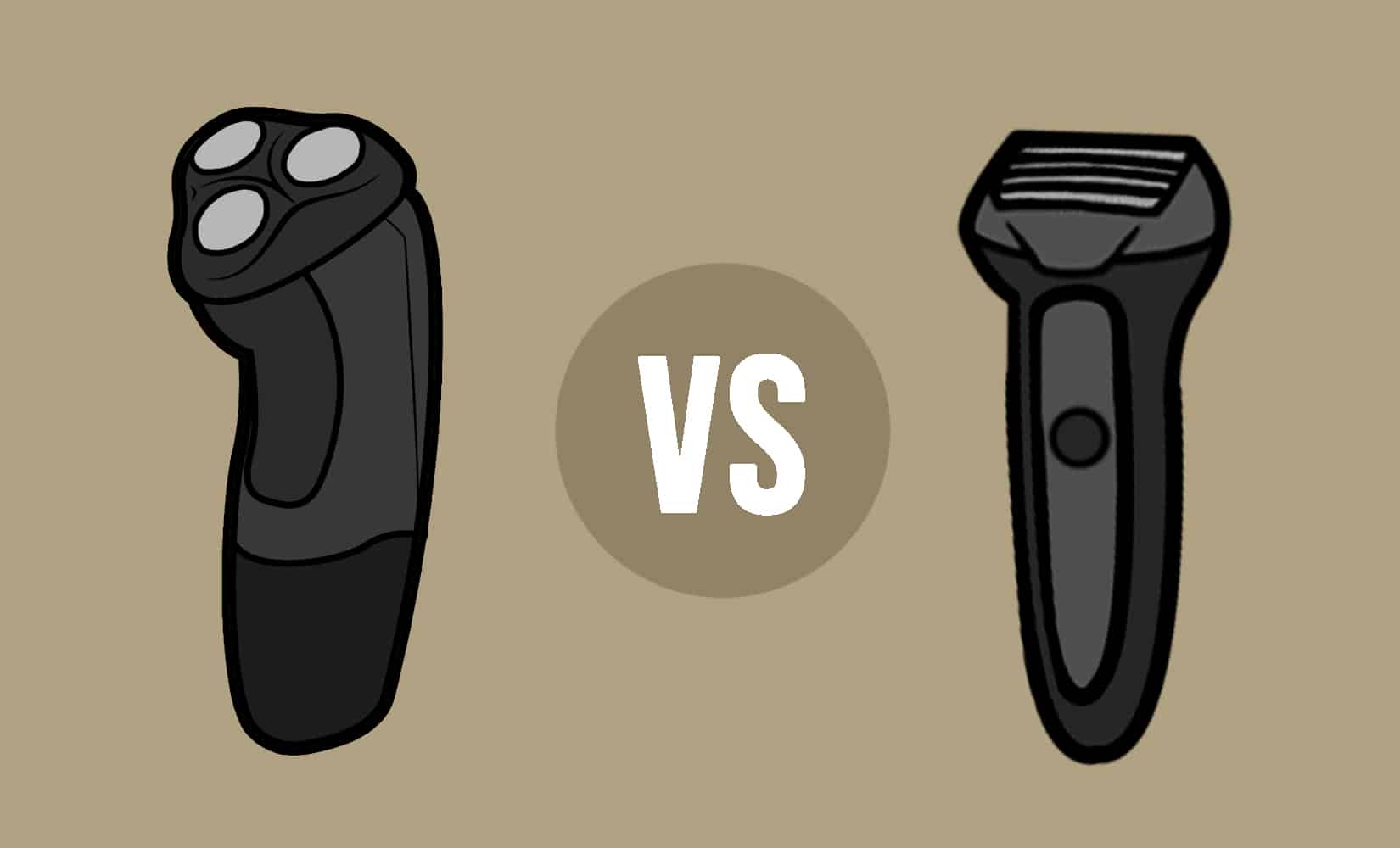 Right off the bat, the most critical aspect that differentiates the various electric shaver models from one another is whether they are foil or rotary type.
Below is an infographic summarizing the differences between foil and rotary shavers:

Below is a more detailed explanation and comparison of foil and rotary shavers.
To fully understand what makes these two types of shavers unique, let's define them clearly first.
Foil shavers use, you guessed it, have a foil over their blades.
This light foil forms a barrier that stops the hairs on your face from interacting with the oscillating blades powered by the shaver motor.
But the foil is always pocketed with variable sized holes to catch your facial hairs individually as you pass the shaver around your face.
Once the hairs are caught by the foil, there pulled up to an upright position (or a straight position, depending on how you look at it).
This makes them ideal for cutting close to the root since they're basically being stretched before the blade even touches the hair.
The blades of a foil shaver oscillate the way a fan or lawnmower's blades move.
This is drastically different from the way that a rotary shaver's blades move around.
Because of this, you must use a foil shaver by moving it in straight up and down motions instead of curving it around your face or the corners of your jaw.
Foil shavers have several advantages that rotary shaver's lack, and one of the biggest advantages is helping with the contours on your face.
For many men, they find that the shaving experience of using a foil shaver is a lot gentler.
For this reason, men with sensitive skin will probably do better purchasing a foil shaver rather than a rotary shaver.
Hairs are pulled near the blades by the foil, so the blades don't touch your skin.
This technique also allows foil shaver to be very precise in their work and to help you get an extremely close shave.
Despite this precision, foil shavers are fast compared to rotary shavers or traditional handheld razors.
We'd recommend getting a foil shaver if you want to be clean-shaven all the time or have sensitive skin.
Foil shavers are also usually a little faster than rotary shavers.
We'll explain why this matters further below.
However, foil shavers do have a few disadvantages.
They are generally louder than rotary shavers, although certain models aren't very noisy comparatively.
Besides, you can't use a foil shaver in a circular motion since this prevents the hairs from being trapped by the foil most effectively.
This limitation can make it a little more difficult for you to effectively shave the hairs on your chin or around the corners of your jaw.
You may need to go a few times or spend some extra seconds on these spots to shave them effectively.
Rotary shavers are the second significant type.
They utilize one major head with three smaller rotating heads positioned at equidistant locations.
Together, all three heads form a triangular shape that's well-positioned to shave large portions of your face all the same time.
This type of shaver works by boasting lines that allow hair to fall through towards the blades powered by the motor.
These blades cut the hair very close to the skin, and in some cases may very gently scrape the skin itself.
For this reason, men with sensitive skin may prefer foil shavers instead.
But there's no denying that Rotary shavers can also give a super close shave.
Because of their design, Rotary shavers are excellent for cutting thick or tangling hair.
Men whose facial hair tends to grow back very quickly will appreciate how effective a rotary shaver is at clearing away all their scruff.
Since you can move a rotary shaver in any direction or orientation, tangled hair that doesn't stand up straight won't be a problem.
Feel free to use a rotary shaver in circular motions or bring it around to the corners of your jaw or chin for smooth shaving.
Rotary shavers are also much quieter than foil shavers.
This can be advantageous if you must do your shaving before other people wake up.
However, rotary shavers do have a few disadvantages.
They can't give you quite the same closeness of shave as a foil shaver can. They may leave a little bit of stubble behind in certain scenarios.
Because of this, you may need to clean up the last bit of stubble or facial hair with a hand razor after using your rotary shaver.
Also, rotary shavers' heads don't allow for the same precision afforded by a foil shaver.
You can't accurately trim your sideburns in the same way, so men who like to sculpt frequently won't find Rotary shavers attractive.
Overall, neither type of electric shaver is necessarily better than the other.
They both suit different goals and objectives and might be better for you depending on the type of facial hair you grow.
We'd break down the ideal uses for both types as follows:
2. Corded or Cordless
---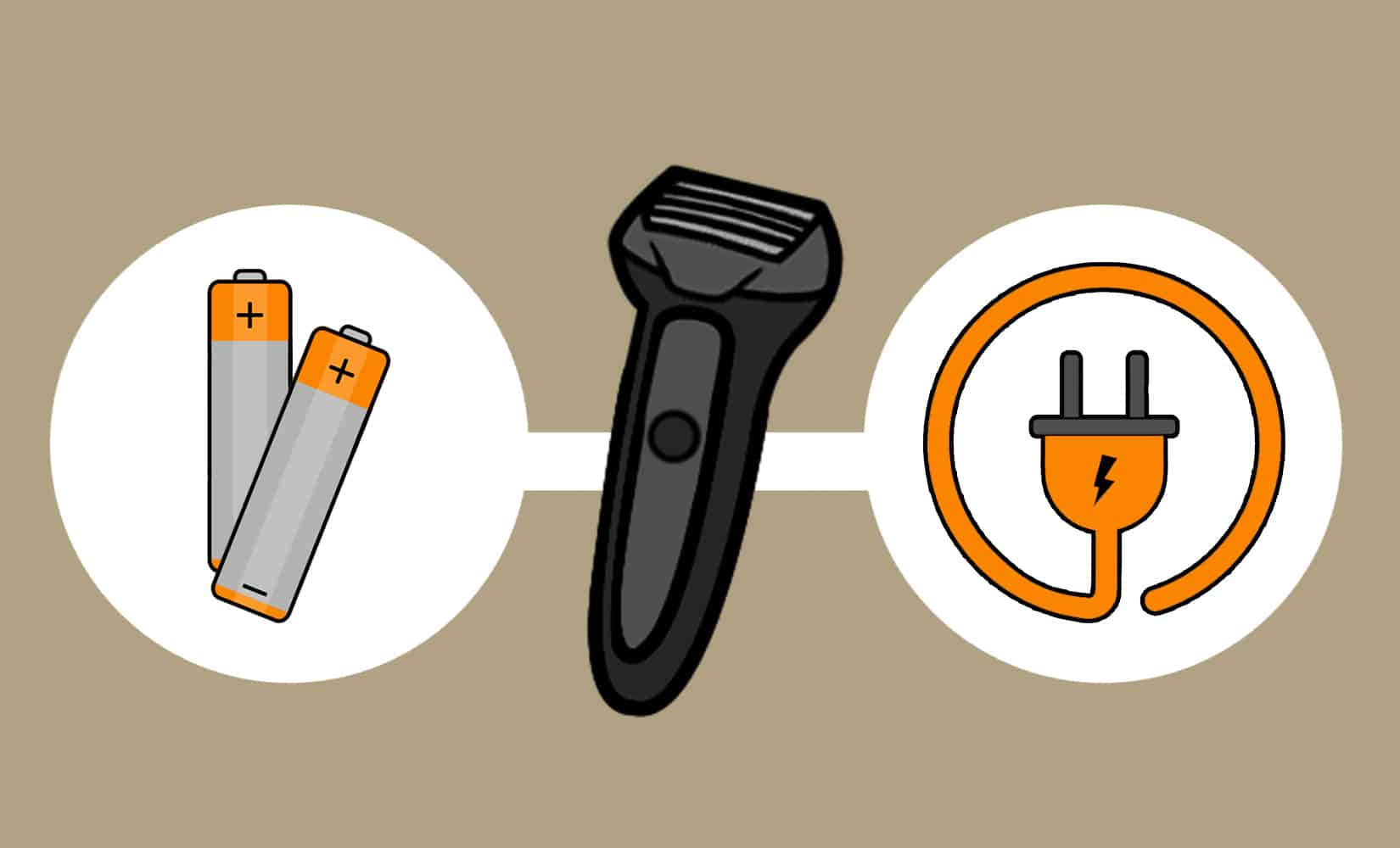 The next major factor to keep in mind when looking for electric shavers is whether they are corded or cordless.
Most modern electric shavers are corded to some degree; they have a lithium-ion battery that is charged via a corded charger, and once they have enough electric juice they can run uninterruptedly until they need to charge again.
Corded does not mean that the shaver is permanently tied to a wire that you'll have to navigate around that in a cramped bathroom.
Corded electric shavers can be unplugged from their charging towards once they are full or if you need to use them with a half-charged battery anyway.
While many companies advertise their shavers as "cordless" if they don't need to be plugged in the entire time, this is a bit misleading.
Practically no one makes electric shavers that must be constantly plugged in these days.
But some electric shavers run entirely off disposable batteries, and these are what we consider "cordless."
These can be great choices if you need to take your electric shaver with you on a business trip or frequently travel.
But the downside is that you will always need to purchase additional batteries over the life span of your chosen shaver.
The downside to corded electric shavers is that you might run into a scenario where you forget to plug the shaver in after the battery has been drained.
In this situation, you might need to shave your face, but be stuck in a pickle since your shaver will stubbornly refuse to start.
Once again, there's not necessarily a single superior choice for all men.
It depends on your needs or preferences.
We would recommend that men looking for a reliable household electric shaver that they'll use every day or relatively frequently should get a corded version.
Meanwhile, men who travel a lot and are looking for a portable facial hair shaving tool could get a cordless electric shaver or use a corded version as well.
3. Battery Life
---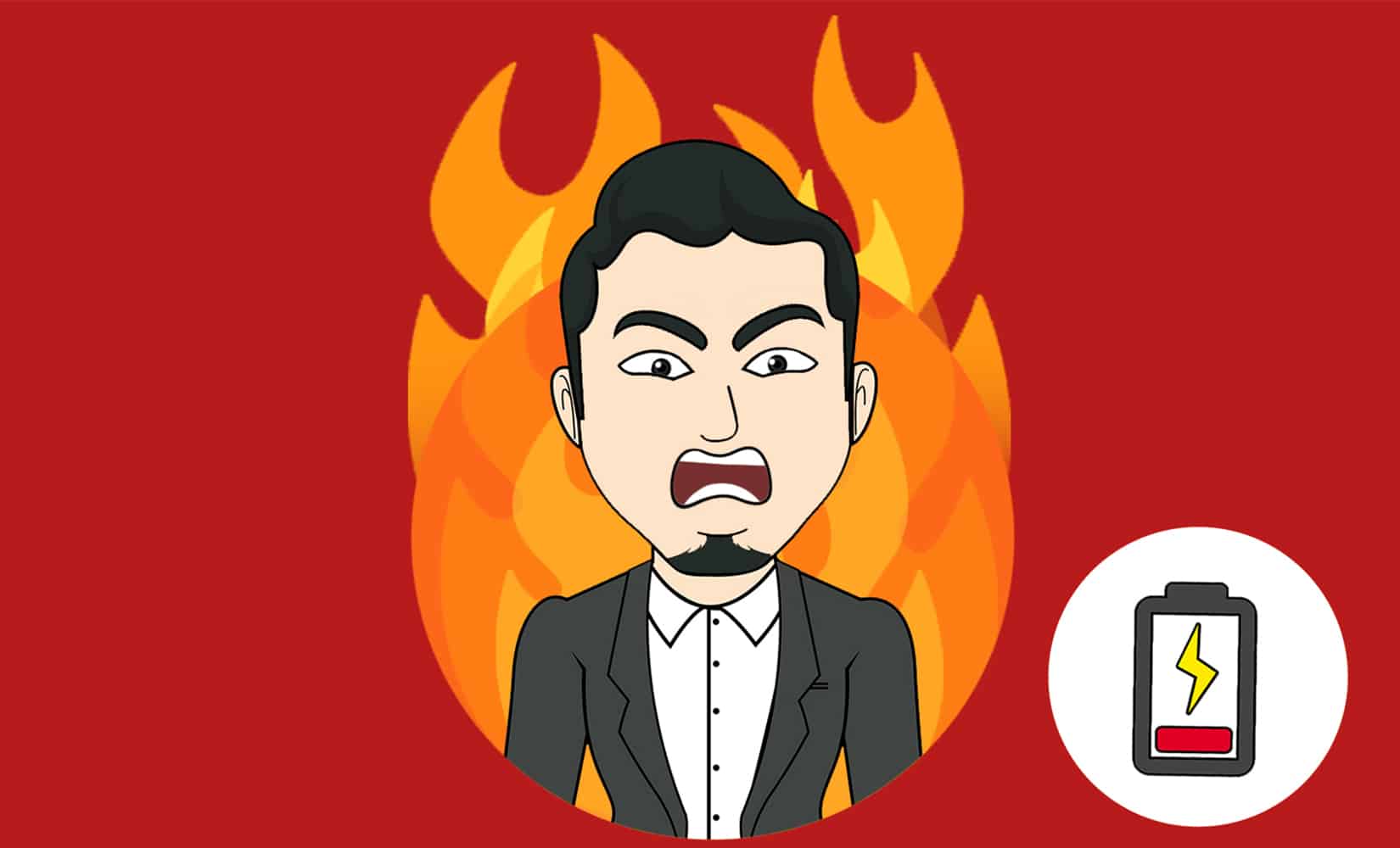 The next critical aspect to keep in mind is battery life.
Note that this applies to both corded and cordless models of electric shavers.
When it comes to corded electric shavers, battery life refers to the amount of activity that they can perform without being plugged into their charger.
Essentially, this battery life dictates the number of uses you can enjoy before you need to plug it in again.
Regardless of what the battery life is, you should always plug your corded electric shaver in when it's not in use.
By getting into this habit, you'll avoid ever running into the unfortunate situation we described above, where you desperately need to shave but your faithful shaver simply doesn't have the energy to do the job.
The battery life of a cordless shaver simply describes how long you can use the shaver before you need to replace its disposable batteries.
Obviously, higher battery life is better since you'll have to purchase fewer batteries in the long run.
We'd recommend keeping a spare pair of batteries close to the shaver itself at all times in case the tool runs out of power at an inopportune moment.
4. Waterproof?
---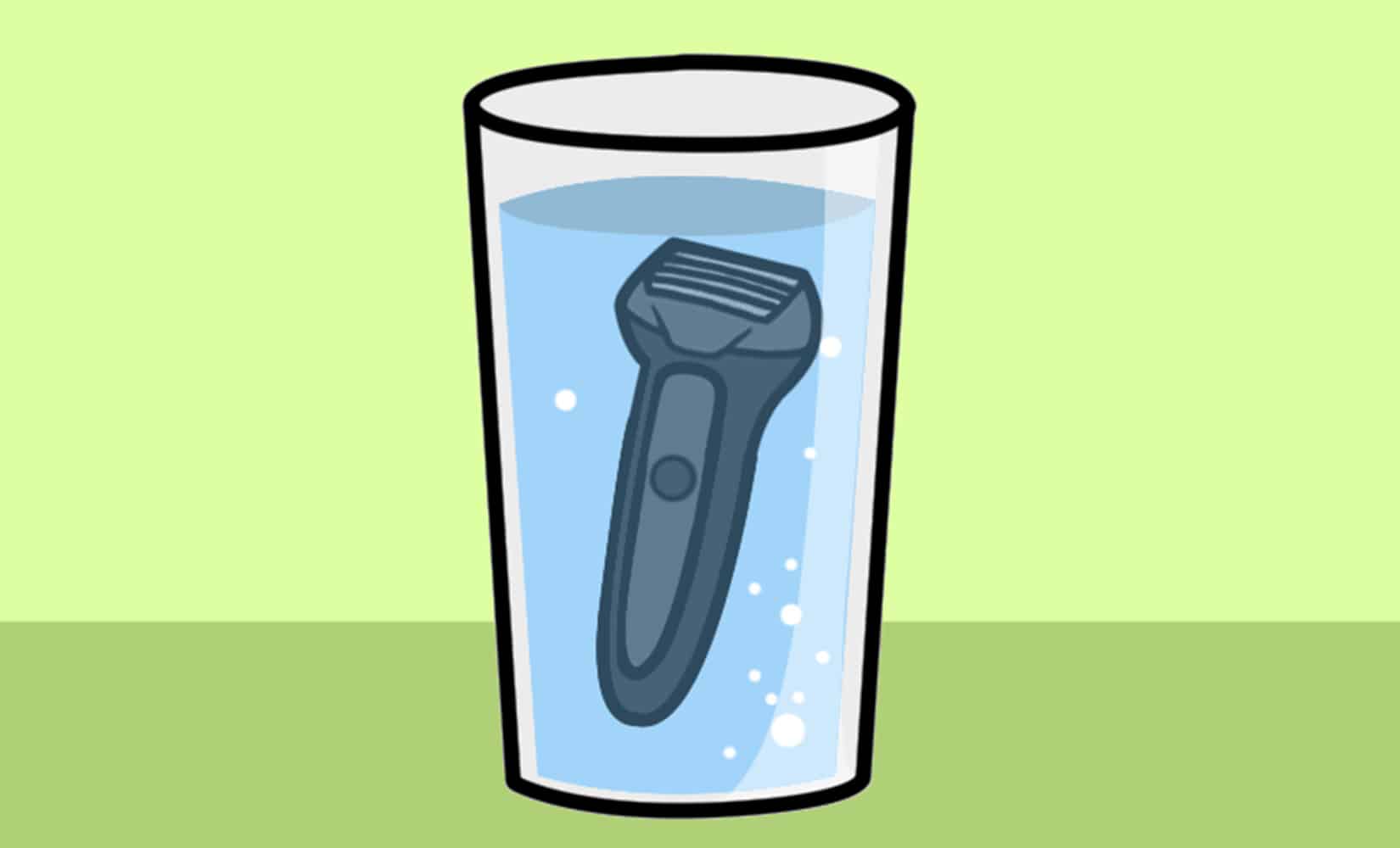 Whether or not your electric shaver is waterproof is another critical thing to consider.
Technically, there are three possible ways that the shaver can be: waterproof, water-resistant, or neither.
Waterproof means that the shaver can be totally submerged in water up to a certain number of feet (usually around 10 or so) without becoming damaged either internally or externally.
Most electric shavers don't need to be waterproof unless you plan to use them in the bathtub for some reason, but it's a helpful factor to have since it means that accidentally dropping them into a sink full of water won't result in you needing to purchase a new shaver.
Water-resistant means that the shaver can be used safely in the shower or get wet from the sink without trouble.
This is usually accomplished by a water-resistant casing that surrounds the delicate electronic circuitry or motor inside the handle.
A water-resistant shaver is what you should look for in most cases.
This is because shaving in the shower is the preferred method for many men due to its convenience and improvements to effectiveness.
We'll explain more about why shower shaving is the way to go later in the guide.
Finally, some electric shavers are neither waterproof nor water-resistant.
While this isn't necessarily a deal-breaker, it does mean that you have to use the shaver outside the shower and should avoid getting excess water on it at all costs.
Note that in many cases, these shavers can still have their heads rinsed beneath the sink.
But you will have to take care not to leave the handle resting on a wet countertop unless you want to risk the functionality of your shaver.
4. Speed
---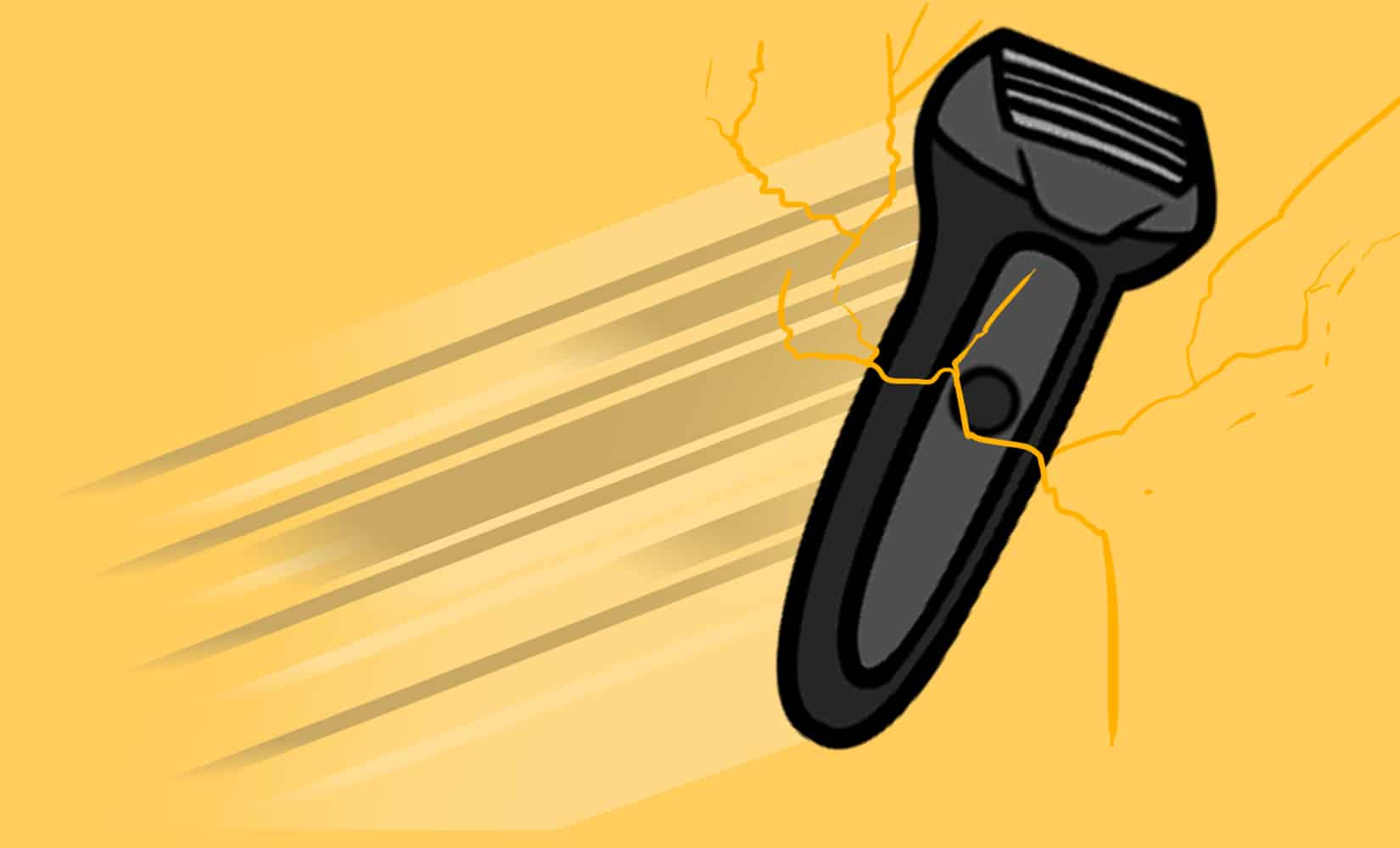 The speed of your electric shaver matters as well.
This is a relatively simple metric to observe since most models advertise their top speeds on the box or on their website page.
Electric shaver speed is generally measured in cycles per minute or CPM.
This describes how many times the blades move per minute, and a higher number translates directly to a closer shave.
Therefore, a higher CPM means a faster shave that is smoother than the competition.
It goes without saying that you should always try to find a model of electric shaver that has as high a CPM rating as possible.
A good benchmark to try to look for is around 14,000 CPM, and the same benchmark applies when you want to buy the best electric razor.
This is a consistent standard that many of the best electric razors for men meet.
However, it's also fine to use electric razors that go a bit below this benchmark, so long as the other aspects of the tool make up for it.
Besides, a higher CPM rating does not necessarily translate to more significant razor burn potential for irritating sensitive skin.
Whether your shaver is a foil or rotary type matters much more.
---
8 Best Electric Shavers of 2022
This electric shaver has excellent speed and allows for extra personalization through its programmable shaving modes.
Specs
Who Is It Best For?
This is an excellent choice for men with sensitive skin, or for men who enjoy having a clean and organized bathroom countertop.
Key Features
This foil electric shaver is technically not corded since you won't find a power cord that plugs into the unit at all.
Instead, you'll see that the shaver relies on a clean and charge station from which it derives its electrical power.
The charge station does use a cord to plug into any standard outlet, but the lack of a direct cable that connects into the shaver itself helps keep your countertop clean and organized.
It also gives the shaver a convenient spot to rest when it's not in use.
It can last for 50 minutes on a full battery and only takes one hour to charge to full strength.
This is a great run time to charge time ratio.
Its head uses innovative ActiveLift trimming blades that work in tandem with the foil top to capture even the flattest facial hairs and avoid potentially leaving any behind.
This technology is excellent for ensuring that every shave is as smooth as possible.
You can choose between five personalized shaving modes.
This is great for men with sensitive skin, who can prioritize gentleness overpower at the touch of a button.
Despite not being a Rotary shaver, this model's head can move in eight different directions.
This gives it virtually unparalleled contouring ability in the foil shaver market.
The shaver uses three cutting blades in tandem with one another; some of the blades are specialized for cutting short hair while others are better for cutting thicker and longer hair.
It's also 100% waterproof, so feel free to take in the shower or even the bathtub without having to worry about damaging it.
Overall, this is a fantastic product that is only limited by its high asking price.
We would recommend it for men that want the best of the best who don't mind paying a little extra.
Check out the thousands of customer reviews here on Amazon.
---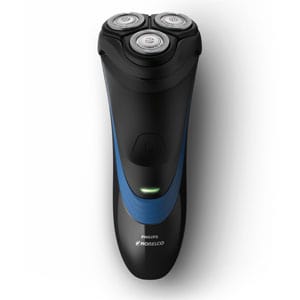 This affordable shaver can still get the job done and allows for both rotary flexibility and the precision of a pop-up trimmer.
Specs
Who Is It Best For?
This is great for men who want an affordable rotary electric shaver that will provide excellent value regardless of price.
Key Features
This is a much more affordable electric shaver than the last.
Despite this significant drop in price, our testers found that it was still quite effective at shaving even the tougher hairs on the face thanks to its effective rotary design and 10,000 CPM speed.
The shaver uses self-sharpening blades that will last for a long time to come.
Each of the three heads will flex in four directions.
This allows it to easily contour with your face and clean up the corners of your jaw or chin without a lot of effort.
This allows the rotary shaver to be one of the better picks for getting tangled hairs around the trouble spots in the job when compared to other models.
This shaver also has a pop-up trimmer.
This alleviates one of the main flaws of the rotary-style shavers since you can use the pop-up trimmer to shape your sideburns easily.
Cleaning the shaver is easy as well. Simply touch the button located on the handle to open the head for rinsing beneath a faucet.
However, since this model isn't water-resistant or waterproof, you do need to be careful not to get too much water into the electronic parts inside the handle.
The other main downside to this model is that it only lasts for about 35 minutes before it needs to recharge.
This is a little low when compared to the industry standard, but it's still manageable, and you should be plugging it in whenever it's not in use, anyway.
Altogether, it's one of the best rotary shavers if you want a formidable budget model that can take care of business without breaking the bank.
Check out the thousands of customer reviews here on Amazon.
---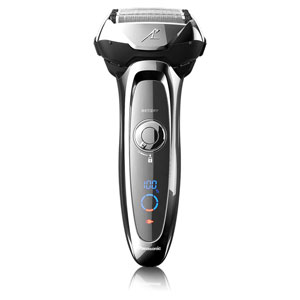 This foil electric shaver has a lot of exciting innovations and electrical advantages, such as an LED display.
Specs
Who Is It Best For?
This is great for guys looking for the best of the best; it has the fastest speed of an electric shaver we've seen, so it's perfect for men who like to get the closest shaves possible.
Key Features
This high-performance foil electric shaver is an outstanding example of innovative technology combined with smart design.
Right off the bat, you'll notice the LED display on the handle.
This indicates how much battery life you have left, and a fully charged battery lasts for about 40 minutes before it needs to be plugged in.
Right above the LED display is the single power button that initializes the device motor.
This shaver uses a powerful motor with a linear drive, giving it enough juice to run at speeds of 70,000 CPM.
The closeness of shave that you can achieve with this model shouldn't be understated.
Despite being a foil type, this shaver boasts a flexible and pivoting head that allows you to make tricky slides and sweeps across your face, helping you get the corners of your jaw even though it can't move in circular motions.
The shaver has a pop-up trimmer that allows you to detail your sideburns or mustache quickly.
The shaver is waterproof and perfect for use in the shower.
Overall, this is one of the highest performance and more advanced models you'll find on the market. Of course, this does explain why the price is relatively high.
But we'd still recommend it for men that want one of the best foil shavers that can really bring a lot of speed to bear on their facial hair.
Check out the thousands of customer reviews here on Amazon.
---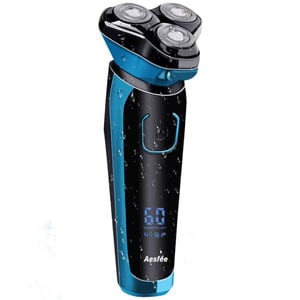 This rotary shaver doesn't have the best overall speed, but it can charge via USB ports and has some great additions, like a travel lock.
Specs
Who Is It Best For?
This is a fantastic shaver choice for men that travel frequently and who could use a budget electric shaver to bring along with them.
Key Features
This is another excellent budget Rotary shaver that, despite its low price, brings a lot of value to any man's bathroom cabinet.
For starters, it's the first model that uses a USB charger instead of a traditional plug to charge its lithium-ion battery.
This makes it an excellent choice for men who are frequently on the move since they can charge their shaver from any standard USB port.
That's a lot of potential charging locations!
It also charges up in one hour, then provides one hour of use.
That's a high ratio.
The shaver uses three floating cutter heads and self-sharpening steel blades.
These will retain their edge for much longer than many other rotary shavers and maintain their close-cutting ability for a long time to come.
Even though it's cheap, this shaver also has a travel lock feature to prevent the shaver from accidentally being turned on while in transit.
This can potentially save you from wasting the battery.
The display beneath the power button also has reminders that light up when the shaver needs maintenance.
The shaver is also waterproof across its entire body and boasts a pop-up trimmer for contouring and detailing.
That's a ton of value for a small, lightweight shaver that you can get for much cheaper than many of its competitors.
The biggest downside facing this model is its relatively slow speed.
While it's still able to give you a close shave, you may have to take your time when moving across your face to ensure that it has the seconds required to trim each individual hair accurately.
This can be a bit of a bummer if you're ever in a rush.
But overall, we'd still feel comfortable recommending this shaver for men on the move.
Check out the hundreds of customer reviews here on Amazon.
---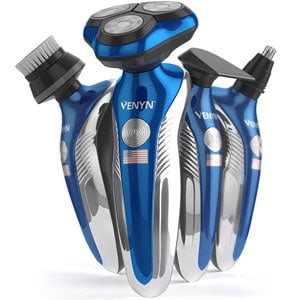 This rotary shaver offers additional attachment heads, allowing you also to trim your nose and ear hair, detail or contour your sideburns or mustache, or scrub your skin with a rotating brush.
Specs
Who Is It Best For?
This is a great shaving system for men who could use a versatile tool that can accomplish a lot of different facial hair objectives all from the same central unit.
Key Features
This 4-in-1 electric shaver is genuinely a bargain.
Its main unit runs at a standard 12,000 CPM maximum speed and is water-resistant so you can take it to the shower without issue.
It runs for 60 minutes after being fully charged, which is generous when compared to many more expensive models.
The main rotary shaver unit comes with four different attachable heads.
Each of them is made with 100% stainless steel.
This and use the steel with anticorrosive capabilities and makes them retain their sharpness for much longer than other types of steel.
The other heads include a precise trimmer that allows you to contour or detail parts of your beard with ease, a nose trimmer that can let you tackle nose or ear hair that's making you look gnarly, and a rotary brush.
The rotary brush is excellent for exfoliating and cleaning your face.
This can make your skin look younger than before and make your pores feel open and refreshed.
All the included heads make this one of the most valuable electric shavers you can buy.
What's better is that you can get this for a low asking price, so it's an ideal choice for guys trying to build up a collection of good facial care tools.
In terms of downsides, there's not much to talk about.
The handle is shaped a bit oddly, and it may take a little getting used to, but it may even become ergonomic once your hand becomes used to the arc.
Besides, the motor is a little louder than our testers were used to, but both flaws are ultimately minor when compared to the excellent benefits that this shaver can bring any man.
Check out the thousands of customer reviews here on Amazon.
---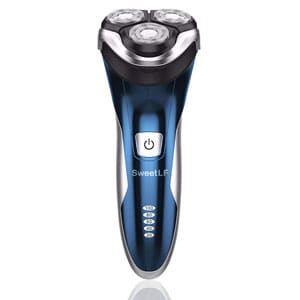 This rotary electric shaver has one of the best battery lives we've ever seen and can even be purchased on a budget.
Specs
Who Is It Best For?
This is a great electric shaver choice for men who frequently forget to plug their shaver in when it's not in use; with the large battery capacity, the chances of you running out of power at an inopportune moment are low.
Key Features
This cool blue shaver is another excellent example of a budget product that virtually every man can appreciate.
Despite its low asking price, it brings a lot to the table that our testers really appreciated.
The shaver is USB quick charging, so you're not limited to standard power outlets to get the battery going.
Once it's fully charged, you can enjoy 120 minutes of shaving before it needs to be charged again.
This is a far higher battery capacity than most other electric shavers can even dream of.
When combined with the USB charging design, it's one of the best picks you can make if you travel frequently.
It's also fully waterproof, and you can use this in the shower without worry.
The shaver comes with a pop-up trimmer to allow detailing and contouring of the sideburns or your mustache.
The main rotary head uses four-directional floating heads to provide its cutting effort.
These blades are powered by a quiet yet high-speed motor that isn't likely to annoy you with constant, incessant buzzing as you shave.
Also, they are self-sharpening and use a double-track cutter to increase the amount of space to cut every second.
There's an LED display near the bottom of the handle to let you know when you're about to run out of battery, too.
That's a lot of great stuff for a relatively cheap product.
Are there any downsides?
The biggest thing holding the shaver back is its relative roughness.
The blades tend to irritate or inflame the skin mildly, so we'd recommend against purchasing this model if you have sensitive skin at all.
Check out the thousands of customer reviews here on Amazon.
---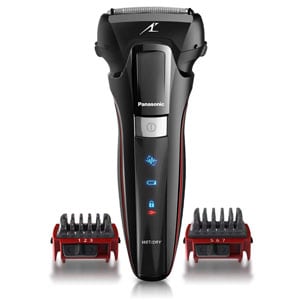 This foil electric shaver has a unique onboard computer that ensures the smoothest shave imaginable no matter what length your stubble currently is.
Specs
Who Is It Best For?
This is the ideal choice for men that shave their stubble at varying times throughout the week or month; the computer can handle any length discrepancies and works great for both wet and dry shaves.
Key Features
This foil electric shaver uses a smart shave sensor that recognizes any natural differences or deviations in the density of your beard and stubble.
This allows the onboard computer to automatically adjust the height of the foil so that it can capture your individual hairs with exceptional efficiency and speed.
The result?
You'll have a supersmooth wet shave every time regardless of whether you shave at the same time every week.
The three precision blades used by this electric shaver can cut through even thick or dense hair without issue.
They're assisted by ultrathin ARC foils that consistently capture your beard hair every time, even if your hair leans in awkward or crooked positions.
They are powered by a 13,000 CPM linear motor drive that can maintain consistent speed even if your battery is running on fumes.
Speaking of battery, you get 50 minutes of life for one full charge.
This battery powers both the motor and the LED display that indicates the gadget's battery life.
But the real value of this shaver comes with its two comb attachments.
These attachments allow you to trim your beard or mustache and effectively eliminate the primary weakness of the electric shaver.
No longer do you have to only use this tool for stubble or getting a smooth shave.
By clicking on either of the two attachments, you can keep your beard at the ideal length or trim it down easily before going for a smooth shave.
This shaver is water-resistant for use in the shower and includes a pop-up trimmer so you can further contour or detail various sections of your facial hair.
You can activate this precision trimmer with a single flick of your finger; it's been honed to a 45° angle to cut through hair with total ease.
The battery life could be a little better for this model, and the motor is the fastest we've seen, but both minor flaws don't really knock down the rest of the shaver.
Our testers think it's a great choice if you go between having a beard and enjoying a clean-shaven face all the time.
Check out the thousands of customer reviews here on Amazon.
---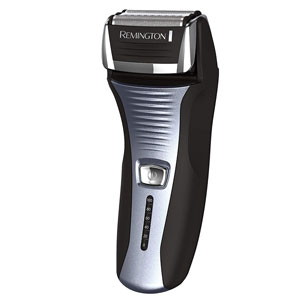 This foil electric shaver is a simplistic model that lacks a lot of advanced gizmos, but it still gets the job done and can be purchased for an affordable price.
Specs
Who Is It Best For?
This is an excellent choice for men that don't like a lot of extra features or additions, but who still need a dependable shaver that can bring results every time.
Key Features
This Remington shaver is a simple tool that men who prefer just the basics will appreciate.
The handle is easy to grip and ergonomic and has been rubberized so you can hold it without slipping even if your hand is wet.
However, this model isn't waterproof, so be careful when washing it under the sink.
It utilizes foils that have Intercepting Shaving Technology.
This pre-trims longer hair that they might come into contact with, making it easier to shave shorter hairs and achieve a super smooth shave as the end result.
The head can pivot and flex to some extent so you can trace the edge of your jaw, although it's not quite as effective as the work of a rotary shaver.
There's also a pop-up trimmer that allows you to put the finishing touches on your sideburns or mustache.
Both are powered by a motor that can run for 60 minutes after being fully charged.
However, the motor only runs at about 10,000 CPM, which is a little low when compared to the competition.
It's affordable, simplistic, and easy to use.
Our testers found in many more advanced electric shavers, but if all of those seem to be a little too busy or complicated, then this shaver might be a better choice for your preferences.
Check out the thousands of customer reviews here on Amazon.
---
Frequently Asked Questions About Electric Shavers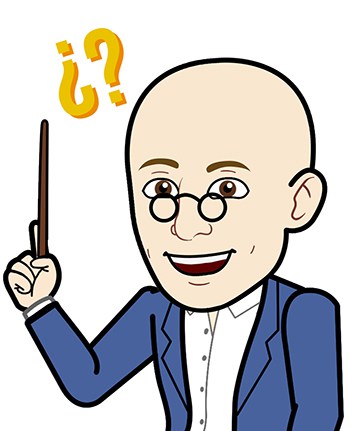 Now that you've got a quality new electric shaver (or at least know where to start looking), you might have some persistent questions about how to use them correctly for best results.
We can answer those for you right here.
1. How Should I Shave with Electric Shavers?
Thankfully, shaving with either type of electric shaver is very close to the same routine that you would follow if you used a manual razor.
For starters, it's a good idea to wash your face with warm water before taking a razor of any kind to your facial hair.
We've also done a guide on the best safety razors for men if you want to learn more.
The reason for this is because warm water opens the pores of your face and causes your facial hair to stand out a little more from your surface skin.
This causes the hair to be cut more closely to the root and extends the amount of time that you can enjoy your super smooth skin before you need to shave again.
Therefore, it is advantageous to do your shaving in the shower since you'll presumably have lots of warm water and plenty of soap anyway.
But you can accomplish the same effect with a warm washcloth if you don't have a water-resistant or waterproof electric shaver or simply want to do your shaving over the sink.
After you've warmed and washed your face, you can apply shaving cream if you desire.
However, the designs of both types of electric shaver mean that shaving cream is unnecessary.
The blades of electric shavers want to directly touch your skin unless something is wrong with the model.
Since shaving cream is designed to protect your skin from being irritated due to the direct contact of a manual hand razor, it fulfills basically no function when combined with electric razors.
We have done a guide to the best shaving creams for men, too.
You can simply start shaving right away.
Remember those foil shavers are designed to be used in up or downward motions and rotary shavers can be moved around in any orientation or pattern that you need.
Take your time around the corners of your jaw or chin to ensure that you shave the hair all the way down to your skin.
This will be easier with a rotary shaver, but it can be accomplished with a foil shaver.
You just must go for a few extra passes with that type.
When using a foil or rotary shaver, you don't need to push the head of the shaver very hard on to your skin.
Both types have specific mechanisms designed to pull your hair in and trap it for easy cutting by the blades.
Pressing onto your skin with a lot of pressure will just make you uncomfortable and isn't likely to result in a closer shave.
This is especially true for foil shavers, whose capturing foils are specifically designed to grab hairs that are lying flat or standing up, alike.
After you've shaved, don't forget to clean the head of your electric shaver by running the head under a stream of water.
This can be either your showerhead or the faucet of your sink.
The main thing is to avoid letting hair or skin debris remain in the head of your electric shaver since this may exacerbate potential rust issues or make your blades dull more quickly.
2. Can I Dry Shave with An Electric Shaver?
You can undoubtedly dry shave using an electric shaver.
Since the blades won't touch your face, the pore-opening effect we described above isn't strictly necessary to achieve a clean shave.
But it's still much more comfortable to achieve optimal results if you do warm and wet your face beforehand.
However, the fact that you can dry shave with electric shaver grants this kind of tool a little extra versatility.
Don't be afraid to take a razor to your facial hair right before you walk out the door if you spot a tiny section of facial hair that you missed during your initial shaving routine.
Men with sensitive skin should probably avoid dry shaving entirely due to their likelihood of getting skin inflammation from minor disturbances.
3. Can an Electric Shaver Take Care of a Beard?
Electric shavers are not designed to trim away beards that are longer or thicker than regular stubble.
While it's true that some electric shaver models have attachment heads which can tackle longer or thicker hair, the primary purpose of an electric shaver is to do the same job as a manual shaver, just more quickly and under electric power instead of muscle power.
We wouldn't recommend using an electric shaver to handle your beard unless it comes with an appropriate attachment.
If you don't want to purchase the entire extra tool just to trim your beard for your initial efforts, you can use trimming scissors to cut away most of your long hairs and then use the electric shaver takes care of everything shorter.
The reason you want to avoid using an electric shaver for cutting beards is that the longer hairs may get tangled or clogged inside the head of your electric shaver relatively easily.
It is theoretically possible to very slowly trim your beard down to a stubble length by only cutting the edge of your beard with your electric trimmer.
But this would take so much time that we don't think the effort is worth it, and you would be faster with scissors or separate tool anyway.
We've done a guide to the best beard trimmers for men if you're interested.