Everyone knows that nose, ear, and awkward eyebrow hairs are unsightly.
But no one wants to have to go through the discomfort of plucking or pulling nose hairs individually.
Instead of plucking nose hair, you can buy the pocket-friendly manual nose hair trimmers.
We all know the feeling; you see a strand of nose hair poking out, taunting you, and you know that you have to pull it before you go on your date.
Ouch!
What if there was another way?
There already is; it's called a trimmer.
Many trimmers are multi-purpose and are perfect for cutting your nose and/or ear and eyebrow hair.
An ear nose trimmer will make grooming much more relaxed, more comfortable, and faster than ever before.
There's no downside to picking one of these excellent tools up to streamline your grooming process.
In the same way, you'll definitely want to choose the best razor (safety razor vs straight razor) for your beard grooming.
If you don't know where to start, you've come to the right place.
We put this guide together to educate you on the best eyebrow, ear, and nose hair trimmers for all your facial hair trimming needs.
We'll even explain how best to trim each type of annoying hair towards the end.
Ready to get started?
Let's go!
QUICK OVERVIEW: Best Ear, Eyebrow & Nose Hair Trimmers
FlePow Ear, Nose, Eyebrow Hair Trimmer

Versatile
Durable and long-lasting

VIEW ON AMAZON →

ToiletTree Professional Steel Nose Trimmer

Very durable
Only need 1 AA battery instead of 2

VIEW ON AMAZON →

AMAGRAM Nose Hair Trimmer

Fast motor
Excellent price and warranty

VIEW ON AMAZON →

POPPYO Nose Hair Trimmer for Men and Women

Good attachment use
An innovative cutting blade shape

VIEW ON AMAZON →

Tauracle 4-in-1 Grooming Kit

Easy to change heads
USB charging

VIEW ON AMAZON →

Liberex Electronic Nose and Ear Hair Trimmer

Good cutting feeling, not uncomfortable
Affordable

VIEW ON AMAZON →

ROZIA Professional 3-in-1 Facial Hair Trimmer

Excellent for all hair types
The battery is superb and easy to check

VIEW ON AMAZON →

Panasonic Nose and Ear Hair Trimmer

Good cutting design
Safe for cutting close to nose surface

VIEW ON AMAZON →
Use the table of contents below to jump to the sections most important to you.
Things to Consider when Buying Facial Hair Trimmers
Of course, before we get into the best electric trimmers to use on all your annoying, scraggly hair, it's crucial that everyone understand exactly what to look for in an optimal tool.
There are mediocre ear and nose trimmers that you want to stay away from.
What's the best way to avoid those nose and ear trimmers?
Examine these key features before making a final decision.
Note that there are electric and manual hair trimmers that you can buy, but we're going to exclusively focus on electric trimmers since these are faster and generally affordable, even for men on a budget.
A manual ear nose trimmer or other manual trimmers are great for guys who only must do occasional trimming, but most men looking for a nose, ear or brow trimmer are going to want something a little more reliable and heavy-duty.
1. Hair Types
---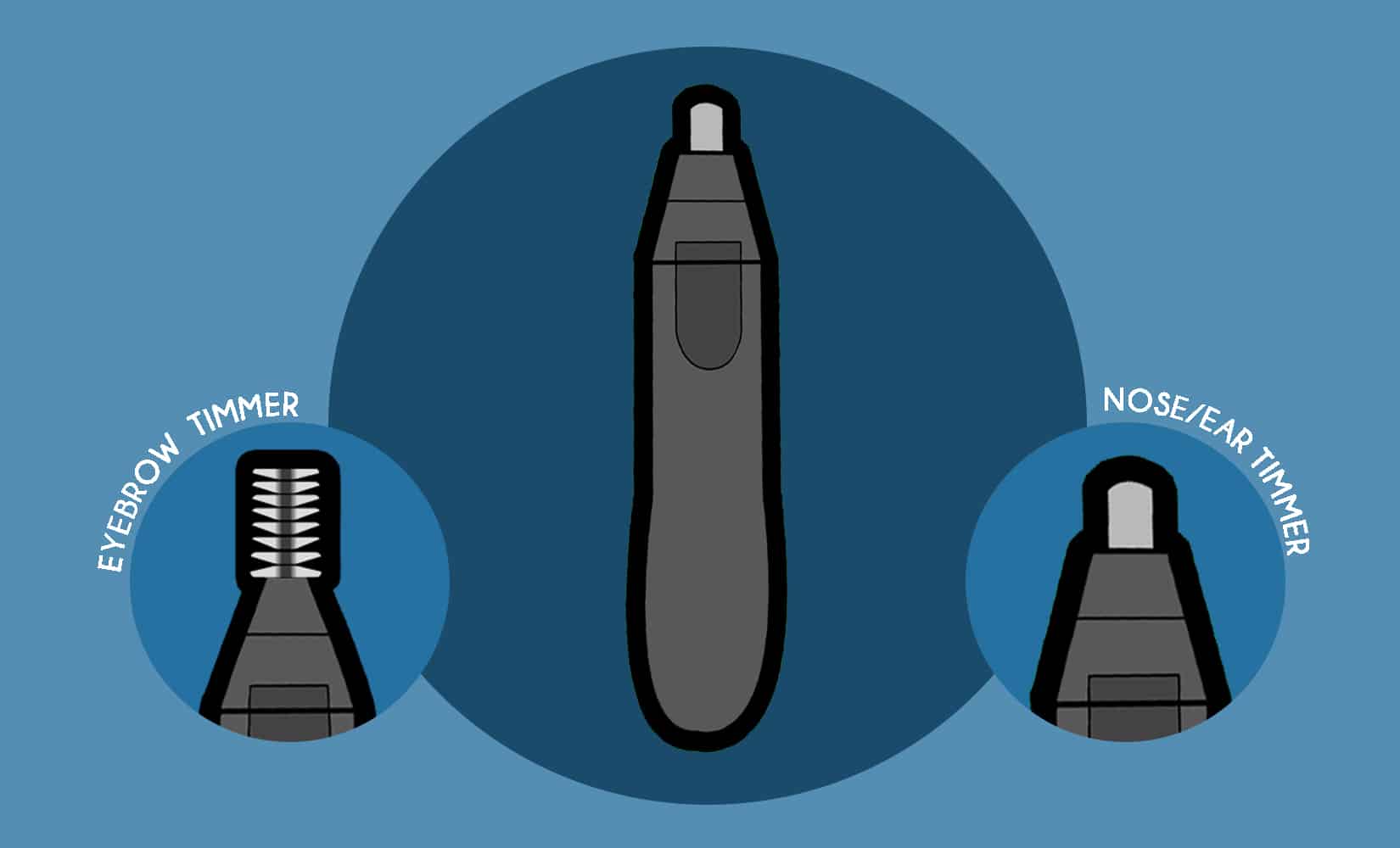 Obviously, individual trimmers are only going to be used for one type of hair.
For instance, there are exclusive nose hair trimmers that can't be used for ear hair (at least not effectively!).
Let's go over what distinguishes the various types from one another.
The best nose hair trimmer is usually tall and thin and has a small wire or blade that's hidden in a small apparatus at the trimmer tip.
This apparatus allows your nose hairs to be trapped within their shroud and keeps the skin of your nose safe and away from the cutting edge of the trimmer blade.
This is crucial because it's easy to accidentally trim your long nose hair too short or reach too far back and cause your nose problems.
Learning how to trim nose using nose hair clippers is practically the best way to trim nose hair without doing damage to your nasal cavity.
As you might know, nose hair is integral for our bodily health and for keeping bacteria and other debris from entering our lungs all the time.
A good nose hair trimmer will let you cut without going too far and this makes trimming nose hair easy and safe.
The protective shroud at the trimmer tip is in place to prevent you from cutting into the mucus layer that's directly beneath most nose hair.
This mucus layer is super essential for trapping dust and debris and shouldn't be disturbed at all.
Overall, nose hair trimmers will generally be light and quiet.
These best nose trimmers are excellent for men who frequently must fight their nose hair and who are tired of plucking or waxing it instead.
When looking for the best nose hair trimmer for men, you should consider checking out nose hair trimmer reviews on amazon before making a decision on the exact nose hair clippers to purchase.
Check out our guide to the best nose hair trimmers if you want to learn more!
The best ear hair trimmer will look really like a nose hair trimmer.
They're also designed to fit into a tight space and cut hair short without causing permanent damage as a result of going too deep.
Their blades or cutting wires will also usually have a protective shroud to avoid causing physical damage when used.
In fact, many nose and ear hair trimmers can be used relatively interchangeably due to their similar design.
You might find different attachments that specialize the tool for one body part or the other, but overall, the two tools fulfill very similar functions.
An ear hair trimmer is ideal for a man who only needs to trim this part of his face.
We also did a guide on the best ear trimmers for men.
Eyebrow trimmers are where things start to become noticeably different.
While some models might look really similar to ear or nose hair trimmers, others will have a long rod at their tip that almost looks like a comb!
These cutting blades are designed to trim your eyebrow hair in an even way and maintain the natural tapering that most people have at the edges of their eyebrows.
These trimmers will occasionally come with guards that you can use to ensure that your eyebrow hair doesn't reach a length that is too short for aesthetic purposes.
We're not trying to shave our eyebrows totally off, after all.
The best eyebrow trimmers are also usually quiet, although you can get a few loud ones every once in a while that buck the trend.
Eyebrow trimmers are best for men who have really thick, bushy eyebrows that might join in the middle to form an unsightly unibrow.
They can also be perfect for men who want to sculpt their face as much as possible; eyebrows play a huge role in how people see us and how our expressions come across.
Fine-tuning your eyebrow shape is a proven way to alter the way people look at you.
As you might have guessed, we did a guide on the best eyebrow trimmers as well.
The holy grail of trimmer tools is one that does all three.
Some of these combination trimmers might have the original, pointed shape we talked about above, while others might rely on attachments to switch between body parts.
It doesn't matter how they accomplish trimming for each trouble spot.
The point is that you can get one universal tool that's perfect for trimming all of your nose, ear, and eyebrow hair all in the same grooming session.
That's both efficient and cost-effective since these combination trimmers are usually cheaper than if you bought one of each specific type alone.
These are excellent picks for men who have really hairy faces and who need work done for each part.
Why go to the trouble of buying special tools when one trimmer can take care of all of the scraggly hair issues you might face?
It's a no-brainer.
Look for these above all else if you need to trim frequently.
2. Battery or Corded?
---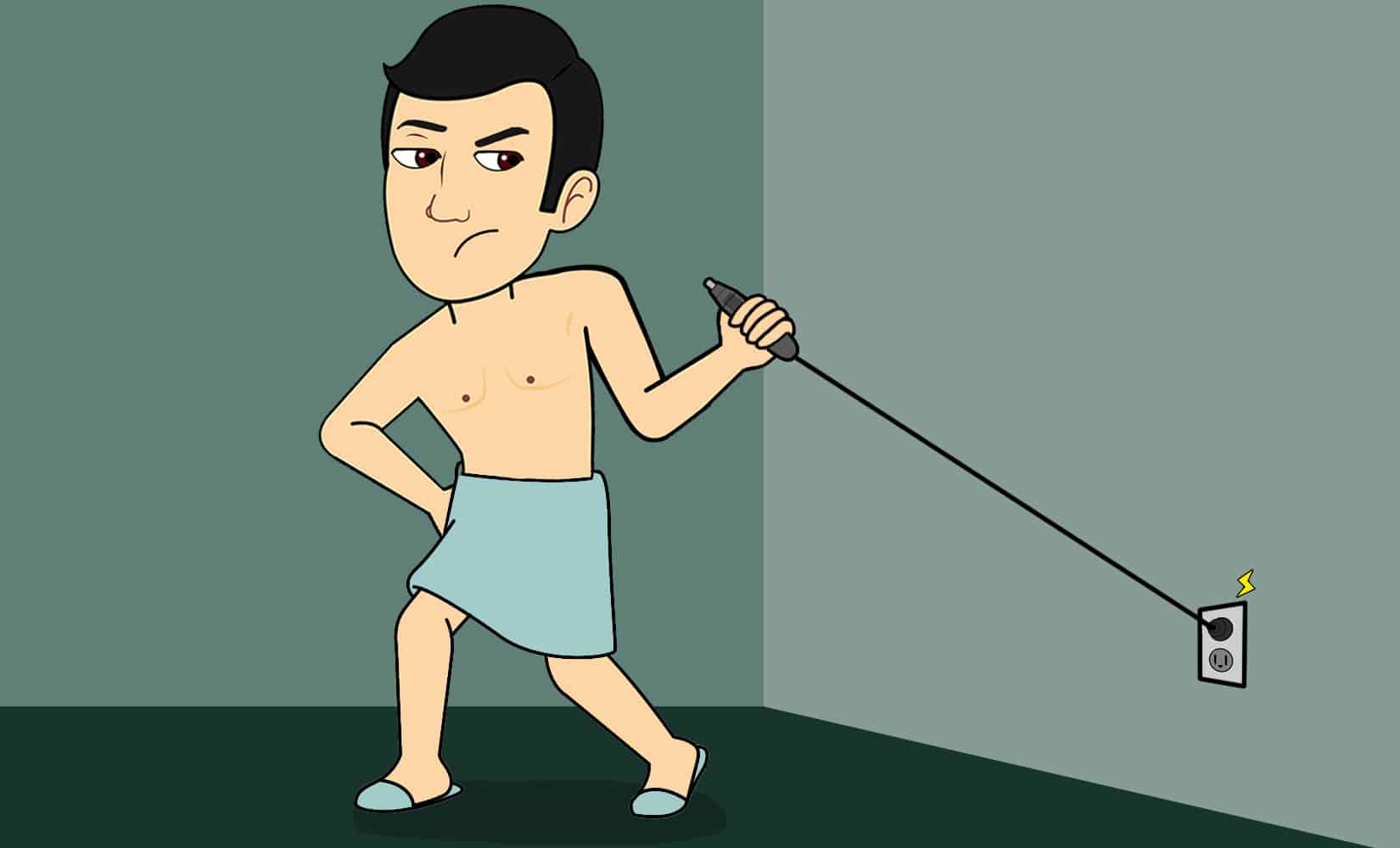 The second aspect to consider is whether or not the trimmer you are eyeing is battery-powered or corded.
This is a minor aspect to think about since most modern trimmers are already battery-powered or rechargeable.
But every once in a while, you find one that is only corded, and this can provide a lot of frustration if you aren't ready for it.
Corded nasal hair trimmers have a slight advantage in that they are usually able to power slightly faster motors.
This equates to faster cutting time and a more robust blade that's better for cutting sick, coarse hair.
But the truth is that most men don't have nose, ear, or eyebrow hair that is unusually thick.
This isn't useful for most men, most of the time.
Battery-powered trimmers are much better on almost every other level.
They're much more portable, and you can move around the sink freely and make sure that your trimmings fall into a disposal or garbage can.
Besides, most modern trimmers are still powerful enough, even with batteries, to take care of facial hair without much of an issue.
Other battery-powered trimmers have rechargeable batteries that can be refilled continuously via a cord.
These are the best of both worlds but are still technically described as battery-powered since they don't have to be plugged in the entire time.
You may occasionally come across corded trimmers, and so are much cheaper than their battery-powered competitors.
This might be an exciting aspect if you're on a super tight budget.
Overall, we still recommend going with battery-powered if you can help it, although a corded power supply isn't a deal breaker.
3. Noise Level
---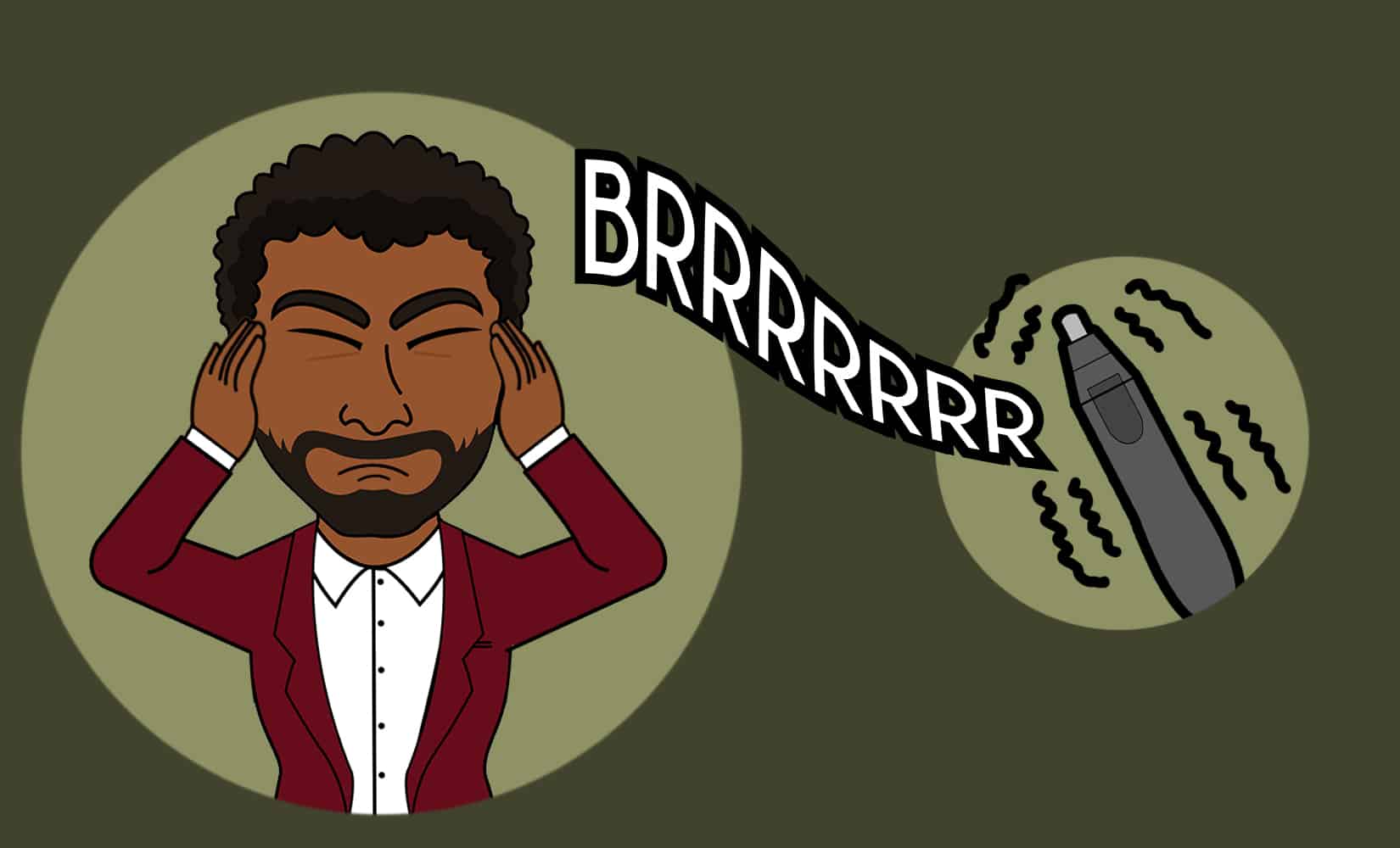 Many trimmers are quiet, but plenty others are loud and obnoxious to listen to as you are doing the trimming work across your face.
Nothing is worse than having to hang around your sink for up to a half hour and listen to the buzz of a whiney hair-trimming tool.
Do yourself a favor and check to see what other people say about a particular trimmer's noise level before you buy anything.
Noise level is positively correlated with how powerful motor is.
Basically, if the trimmer's motor is very powerful, you can expect it to be louder than a trimmer with a weaker motor.
These days, it's not too hard to find a trimmer that powerful enough to handle even coarse eyebrow hair that also isn't too loud to be irritating.
But you don't want to accidentally purchase the great trimmer and find out that it's one of the droning ones that you can't stand.
Just check this aspect before finalizing a purchase.
You won't regret it.
4. Attachments
---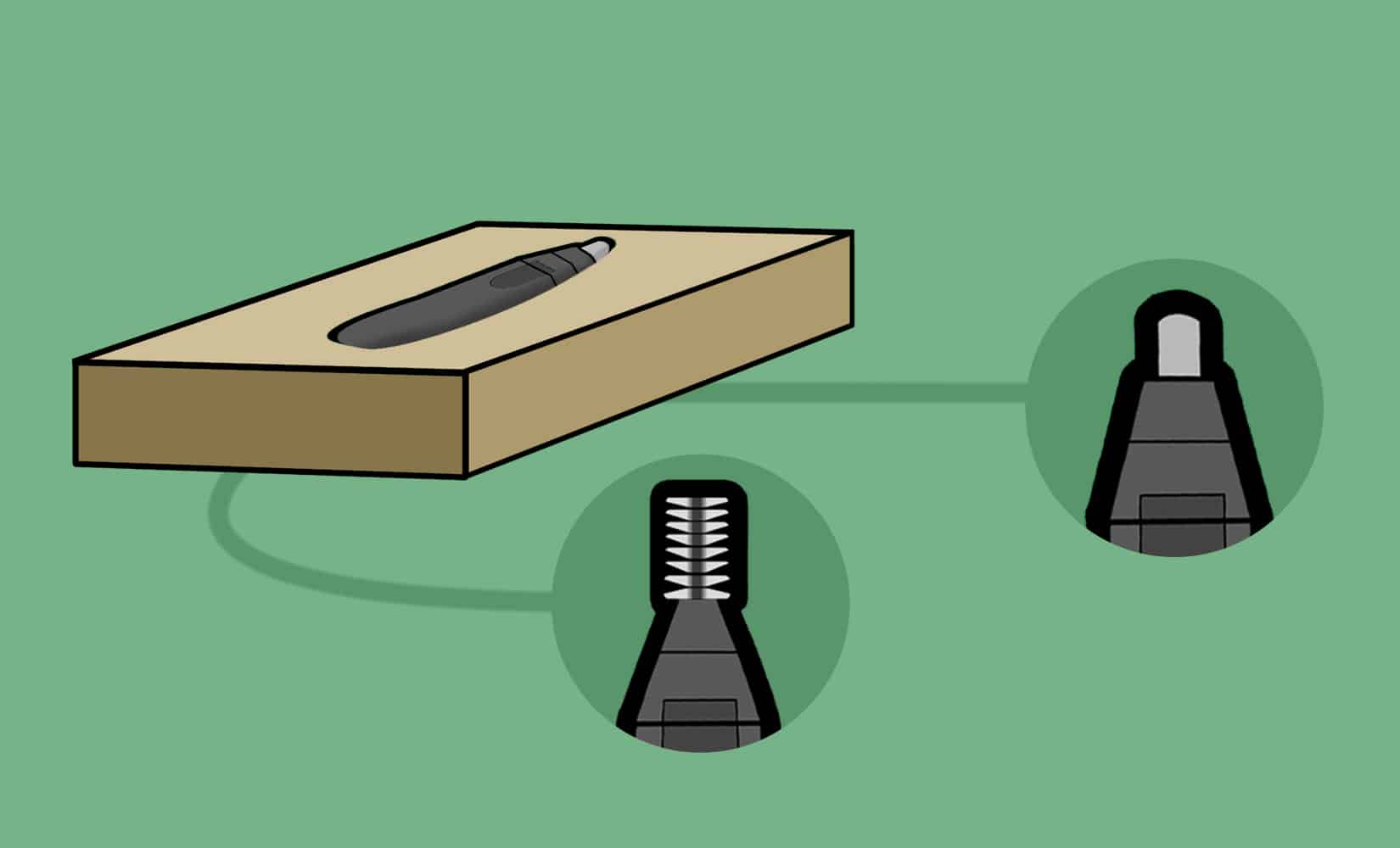 Another significant aspect to consider before making a purchase is the number of accessories that come with the trimmer itself.
Most trimmers come with at least one or two attachments as a matter of course.
It's the industry-standard and allows your trimmer to have a little versatility and extra function.
Certain attachments are better for different body parts were different types of hair.
Of course, the combination trimmer tools that we discussed above, which can tackle all types of facial hair, will probably come with a whole bucket of attachments that you'll need to keep an eye on or organize for later use.
Most trimmers have attachments that can be switched on or off with a minimum of effort.
This is important since you don't want to have to waste minutes struggling with your trimmer and trying to get the ear hair head off when you need to start moving on to your nose hair.
Check to see what kind of attachments that your trimmer has and what all they are advertised to do.
Many trimmers have attachments that are made with stainless steel or other rust resistant materials.
These are excellent picks because the attachments will last for much longer than cheap plastic versions, which are liable to fall apart or not be secure after a few weeks of enduring vibrations from the trimmer itself.
5. Material
---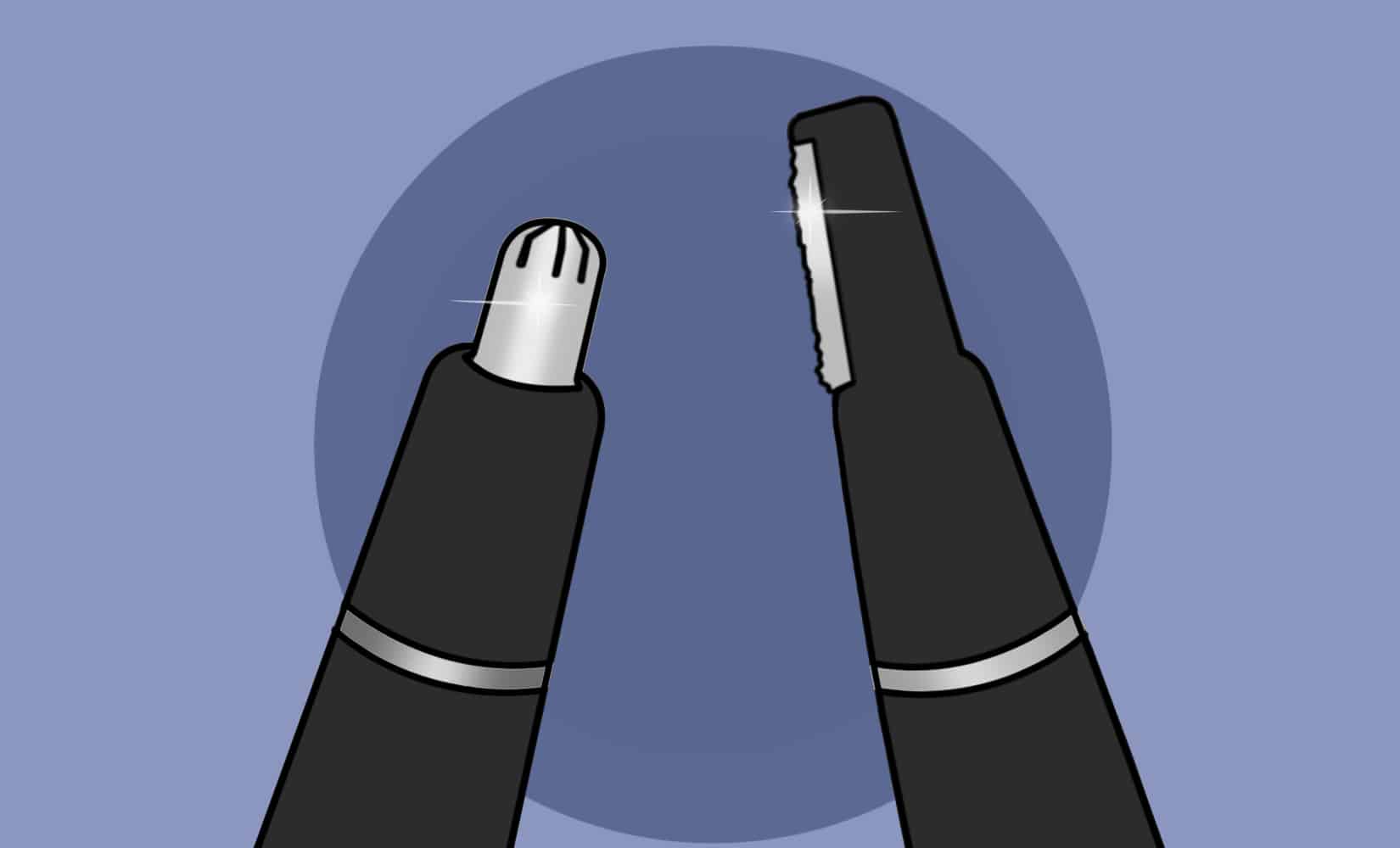 The material that your trimmer is made of is critical for similar reasons.
Stainless steel or similar materials are the best because they directly translate to a longer lifespan for the trimmer.
The decision is clear; every man would rather have a trimmer that lasts for years on end, right?
You can avoid giving yourself a headache by spending a little extra money and purchasing one made with decent materials ahead of time.
Chances are, trimmers made with good materials like stainless steel will also have similarly good motors and strong blades.
Good blades are particularly important because these affect how well the trimmer does when it comes to cutting your ear, nose, or eyebrow hair.
Blades that aren't made with sharp metal or rust-resistant materials are likely to dull very quickly.
At this point, the trimmer isn't doing you any favors at all, and you should go back to the drawing board.
In essence: save yourself a headache and buy a trimmer with good materials, especially for its blades.
6. Waterproof
---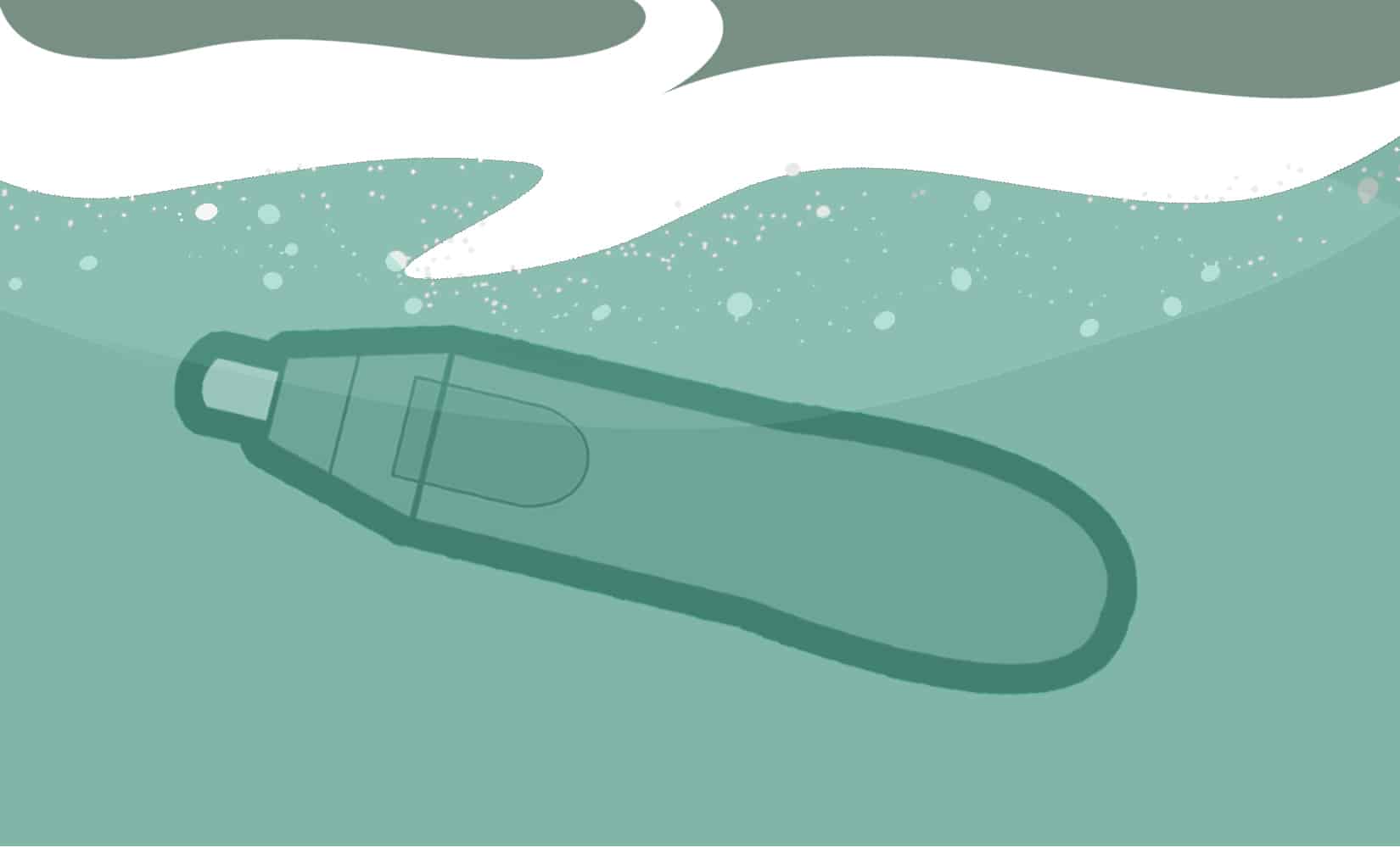 Finally, check to see if your trimmer is waterproof.
This isn't an essential component by any means, but it is handy, and many men will find that it cuts precious minutes out of their morning routine and stop things from becoming too crunched.
You see, if your trimmer is waterproof, you can easily take it into the shower and do all your grooming at the same time, with the drain acting as a convenient disposal place.
A waterproof trimmer is a lot more versatile than one that is not.
That being said, a trimmer not being waterproof isn't automatically off the table.
It's not too much trouble to simply do your trimming over the bathroom sink.
However, you will have to be a little more careful when it comes to cleaning a trimmer that isn't waterproof since you will need to prevent water from getting into the delicate electronic circuitry in the handle or head.
Waterproof is always better, so look for it as a bonus aspect when considering your final decision.
---
8 Best Ear, Eyebrow, and Nose Hair Trimmers of 2022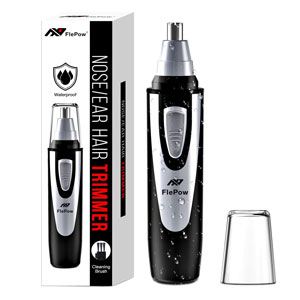 This affordable trimmer is also one of the most versatile and uses one head to cut all types of hair, to mixed results depending on the hair type.
Specs
Who Is It Best For?
This is best for men who have a surplus of nose and ear hair to cut or who only occasionally trim their eyebrows.
Key Features
This trimmer is one of the most versatile tools around, all without having to use a ton of attachments.
This is both good and bad.
You see, it relies on a single narrow head to cut all types of facial hair equally.
This also means that, when it comes to eyebrow hair specifically, it can sometimes leave a bit to be desired in terms of precision.
It's easy to cut too deeply into your eyebrows with this trimmer accidentally.
But for the other two types of hair, it's great.
It's exceptionally quiet and it has stainless steel blades that aren't likely to rust anytime soon.
This means that you'll be able to enjoy the tool for a long time to come.
The blades also have a 360-degree rotating interior design; this lets them cut nose and ear hairs particularly well since they'll cut hair fibers in all directions once strands are caught within its trap.
Also, there are LED lights around the nose head to illuminate your way as you try to cut your nose hairs.
The trimmer is totally waterproof, and the head can even be removed to make washing it easier once you're all finished.
While there aren't any real attachments, there is a cap that you can place atop the trimmer's head to prevent dust from falling into the blade apparatus when it's not in use.
Overall, it's undoubtedly one of the best picks for a trimmer that at least touches on all the right bases.
It's affordable and an excellent pick for a man that doesn't spend too much time on his eyebrows frequently.
It is also one of the top-rated nose hair trimmers out there.
You can always use tweezers or scissors to get more precise eyebrow work done, anyway.
Check out the thousands of customer reviews here on Amazon.
---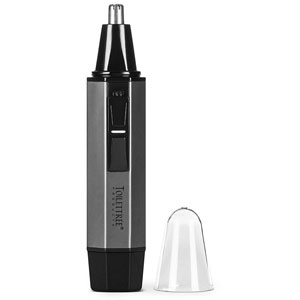 This trimmer has a versatile head that's perfect for two hair types and serviceable for a third.
Specs
Who Is It Best For?
This is ideal, once again, for men who mostly need to trim nose and ear hair above all others.
Key Features
This is another affordable trimmer that can take care of all types of hair whether they are in your nose, ears, or on your eyebrows.
It's a little louder than the previous trimmer we looked at, but our testers still thought that it counts as "low" in the noise category.
You can safely use it even when your family is trying to sleep without having to worry about it waking them up.
While it's not waterproof, it is water resistant and is therefore durable enough to be taken into the shower and used even when water is falling around its surface.
It also comes with a similar dust protection cap to keep the blades in good condition.
Speaking of blades, they're made of stainless steel and have their own LED light ring around the tip to help illuminate your efforts.
The rest of the trimmer is made with heavy-duty steel that is still rust resistant and assured to last for a long time.
This trimmer is also battery powered, and it only requires one battery instead of two.
This makes it slightly more economical than the first trimmer we examined.
It's just as affordable in terms of asking price as well.
The most significant downsides are echoed from the previous trimmer's review.
It's not the best tool when it comes to trimming your eyebrows, and it lacks any specialized attachments to help make this part of the grooming routine work.
That being said, it's still an excellent choice for men who don't often work with their eyebrows, and who need a water resistant trimmer.
Check out the thousands of customer reviews here on Amazon.
---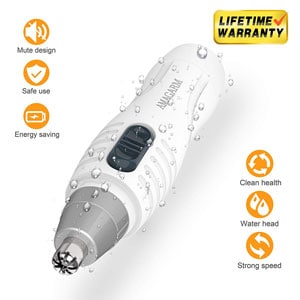 This trimmer is one of the quietest we examined and is excellent at trimming most types of facial hair.
Specs
Who Is It Best For?
It's perfect for guys who have to get their morning grooming done while others are still sleeping or who just personally can't stand a constant, incessant buzzing while they trim.
Key Features
This is an extremely lightweight and quiet trimmer.
Our testers found that it was one of the quietest models they found during our examinations.
If silent trimming is an essential factor for your decision, this might be the best possible choice you can make.
It's also totally waterproof, and the head is removable to be washed under a stream of water.
This is important since its spinning blades have a tendency to trap excess hairs within the apparatus and keeping small particles there even after a quick rinse.
We recommend removing the head every time for a thorough cleaning.
Despite its quiet noise level, this trimmer has one of the best and fastest motors you'll find on a traditional nose hair trimmer.
This allows it to do its work much more quickly than many competitors, and it only runs on one AA battery.
Flicking the trimmer on and off is simple and easy thanks to the single button in the center of the handle.
This trimmer doesn't have as many stainless steel parts as some other trimmers, however.
This means that it may not last quite as long as those competitor models.
However, it has a meager asking price and a lifetime warranty. Both of these additions more than makeup for this flaw, in our eyes.
Check out the thousands of customer reviews here on Amazon.
---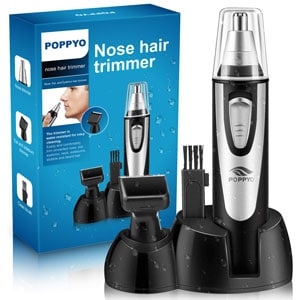 This trimmer has a specially shaped cutter head that makes it ideal for cutting nose and ear hair.
Specs
Who Is It Best For?
This is perfect for men who have gnarly or thick nasal and ear hairs that always seem to come crawling back out.
Key Features
This trimmer is technically all right for use with all facial hair, but it's really only specialized for nose and ear hair specifically.
It has an R-shaped rounded cutter head; this makes it specially-designed for tackling nasal hairs as opposed to others on your face.
While it can manage ear hair perfectly well, it's not very well suited for eyebrow hair due to this shape.
You might be able to manage a little eyebrow trimming with this tool, more specialized trimmers will be a better bet.
However, you can use the two attachments that come with this trimmer to tackle other sections of facial hair like your sideburns.
The wider sideburn trimming head is perfect for this purpose and will be a welcome addition for men who have sideburn hair that tends to grow faster than the rest of their beards or hair.
This trimmer also has a nonslip grip.
Although some sections are made of stainless steel, the other parts of the trimmer are made of a specific rubber material that makes it easy to use in the shower.
It's water resistant, see you can safely use it there without having to worry about it short-circuiting.
Finally, this trimmer is decently quiet even with its powerful motor.
While it's not quite as noiseless as the last trimmer we looked at, it should still be fine for the purposes of most.
Check out the hundreds of customer reviews here on Amazon.
---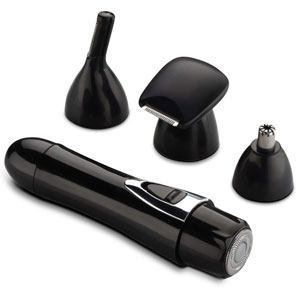 This grooming kit has replaceable heads that allow it to trim virtually every type of facial hair you might have.
Specs
Who Is It Best For?
It's best for men who need some trimming done in every area and who don't mind a little extra noise.
Key Features
This trimmer switches things up a bit.
It's the first we've looked at that is truly perfect for use with all facial hair.
It accomplishes this versatility thanks to its various attachment heads.
Your purchase gives you access to four: a head for nose trimming, one for eyebrow trimming, one for shaving off facial hair and one for shaving the hair off your body.
This is a little outside what we are specifically shopping for, but there's no denying how useful these attachments can be.
You can use the best nose trimmer to accomplish decent results inside your ears without having to work too hard, and the eyebrow trimmer attachment means that it's perfect for actually shaping or sculpting your eyebrows.
The body and facial hair shaver heads probably won't be used by most men, but they might be decent for touching up sideburns or getting rid of peach fuzz in unattractive areas.
Extra heads isn't really a negative in our eyes.
The best nose trimmer is powered via a USB charging cord, see you can either use it in a portable fashion or plug it in and keep it charging as you trim.
That said, there are a few downsides.
For starters, this trimmer isn't waterproof so you can use it in the shower without risking it short-circuiting.
For another, it's not made of any super-durable materials.
Since you have to change the heads often, this will likely drive down the life span of the tool relatively quickly.
Finally, the noise level is okay but not very quiet when compared to other models.
This will be a bad pick if you're a man that needs quiet in the bathroom during your grooming efforts for whatever reason.
But overall, we still recommend this for men who need to trim a lot of hair on their face and you don't mind a little extra buzzing.
Check out the hundreds of customer reviews here on Amazon.
---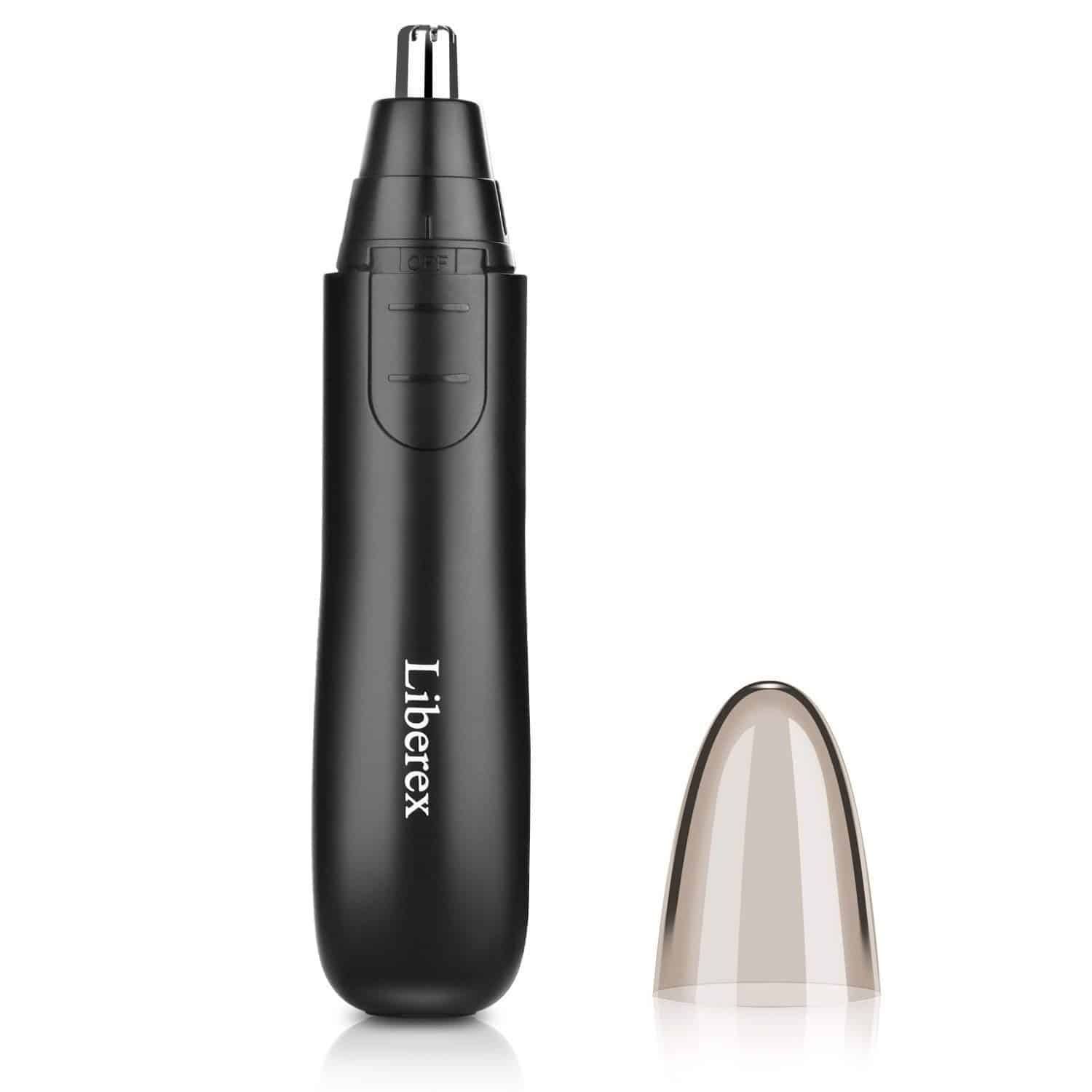 This trimmer is a super light and easy to use tool that's perfect for most trimming jobs.
Specs
Who Is It Best For?
This is great for men who need work done in every category and who might appreciate a lightweight tool.
Key Features
This trimmer also claims that it's perfect for trimming all hair on your face.
While this is technically true, our testers found that it wasn't the best liking to trimming your eyebrows with any kind of real precision or control.
The head is much better suited for nose or ear hair removal above all.
This is due to the design of its blades, which are dual-edged and spin in a full 360°.
This helps to remove nose and ear hair without pulling them or making the experience uncomfortable for you, but it's not the best design when it comes to eliminating eyebrow hair.
The head can be easily removed for washing by simply twisting and pulling it when it's not running.
The entire trimmer is water resistant, so it's okay for use in the shower, although, be careful not to submerge it completely.
It also comes with an LED light around the head to help you see tricky hairs in the darkness of your nostrils.
It's one of the lightest trimmers that our team found and only runs on one AA battery.
Note that the battery isn't included with your purchase, although the asking price is pretty low so this is much of a con.
The blades are made of stainless steel, and the rest of the body is made of ABS plastic.
This should result in a trimmer that lasts for several years of use so long as it is kept clean and dry.
Check out the hundreds of customer reviews here on Amazon.
---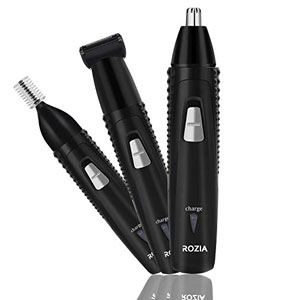 This trimmer is excellent for trimming all types of hair and has a superb rechargeable battery.
Specs
Who Is It Best For?
This is perfect for men who have to trim everything often, either in the bathroom or at a hotel.
Key Features
This is one of the best all-around trimmers we found.
It combines some of the excellent design features of the earlier models with the attachments that we liked as well. It comes with three different heads.
One of these is for nose and ear hair, the other is for eyebrow hair, and the last is for any other facial hair that you want to trim away.
This allows men to tackle any facial hair that they desire with just one easy by using the trimmer.
Swapping the heads is super easy and only takes a couple of seconds.
Each of the heads is individually washable to keep them operating for years to come.
The rest of the trimmer is also waterproof, so feel free to take it into the shower for best results.
It has a rechargeable battery that provides 45 minutes of power once a full charge.
This is the best of both worlds in terms of power supply.
There's a small battery life light located at the bottom of the trimmer to let you know how much time you have before you need to plug it in again.
Besides, its motor is powerful but not too loud, either.
This lets you comfortably cut away, even thicker nose hairs without having to endure annoying buzzing at the same time.
The only downside is that it's made with general metal and plastic materials.
This probably won't translate into a trimmer that lasts for years on end.
However, it's affordable enough that we wouldn't mind purchasing it even a second time if necessary due to its overall usefulness.
Check out the hundreds of customer reviews here on Amazon.
---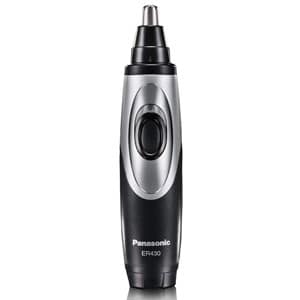 This trimmer is superb for ear or nose hair and quickly catches any particles or debris within its apparatus.
Specs
Who Is It Best For?
It's great for men who have trouble keeping their ears and nose clean after trimming.
Key Features
This trimmer is one of the best for ear and nose hair, specifically.
It's totally waterproof, which allows for easy use in the shower and for cleaning once trimming is done.
The blades are made of hypoallergenic stainless steel, and the rest of the handle is made of durable plastic.
The blades are curved to match the contours of your nostrils.
This lets them follow the shape of your inner skin and safely cut nose hair relatively close to the surface level of the mucus layer that you want to preserve.
The same situation applies when cutting your hair.
The smart vacuum cleaning system, or the apparatus that surrounds the cutting blades, is really great at quickly collecting any debris or trend hair particles into the chamber.
This makes cleaning your nose and ears relatively easy once the trimming is completed.
You also get a travel pouch and cleaning brush as part of your purchase.
These are even more value to its already reasonable asking price.
The noise level is low enough that our testers didn't have any issue with it individually, although it's not quite as low as some of the earlier trimmers we examined.
The only downside is that it's not super great for trimming eyebrow hair or other facial hair.
Check out the thousands of customer reviews here on Amazon.
---
Nose, Ear, and Brow Trimming Guides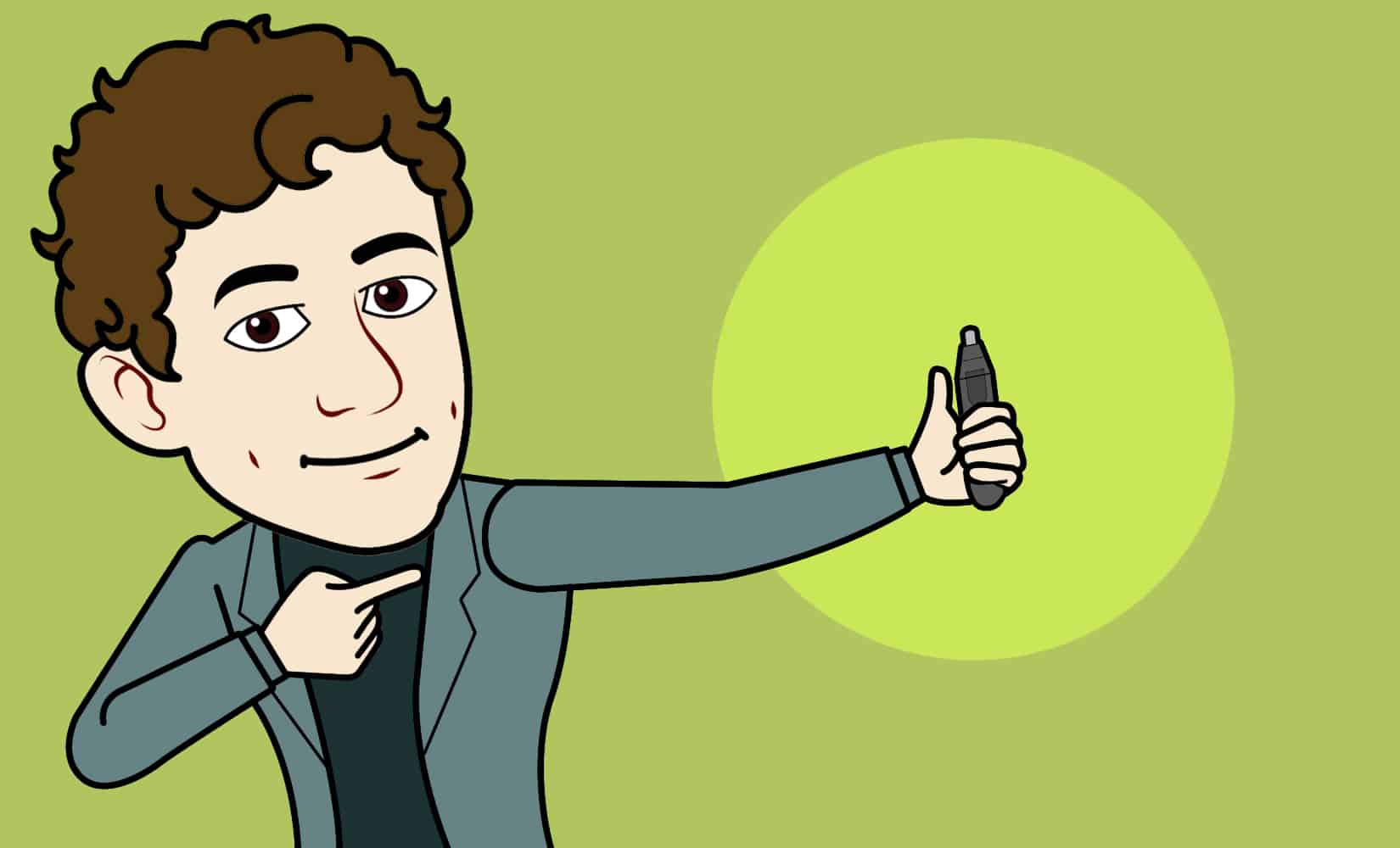 So, you've selected the best trimmer for your needs, but now you might be wondering how to use it.
Not to worry; we've already put together a guide for how to use each type of trimmer safely and efficiently.
Let's get into it.
You should note that, since we're going to be using electric trimmers, you only need to use one hand instead of two.
This is extremely helpful since you can use your free hand to move the flesh of your face around to get a better view of the hair you want to cut or two simply brace yourself on the bathroom counter.
How to Use a Nose Hair Trimmer
---
First off, you want to pick a room with great lighting so you can clearly see into the orifice you're going to be cleaning.
This is a little less necessary for eyebrow trimming, but it's still a good idea since you'll want the best view possible when shaping your eyebrow hair.
The slightest mistake can actually end up looking pretty bad.
It's best to err on the side of caution and turn as many lights on as possible.
Obviously, you'll also want to be near a mirror.
The one possible exception to this is one you trim nose hair.
Some men simply take the trimmer and run around the edge of their nose and call it a day.
We're going to go a little more in depth, so we recommend using a mirror every time.
You can use either the bathroom mirror or a handheld mirror to great results.
Before trimming your nose, clean it out thoroughly.
This means taking a piece of tissue and cleaning out any debris, including excess snot.
You can also blow your nose to achieve the same effect.
A wet cloth is an even better idea since it'll spread the nose hairs out and makes them more susceptible to being caught by the trimmer for cutting.
To make sure that you're seeing everything correctly, tilt your head back and pull your nostril part with your free hand's fingers.
Once your nose is clean, you can then take the trimmer and start running it along the edge of your nostrils.
Target the longest and most noticeable hairs first, and give each nostril a couple of passes on this most basic level before progressing.
Once you got the edge hairs cut, you can progress a little deeper into your nose.
Be sure to point the tip of the trimmer "outside" or towards the outer skin of your nose to avoid accidentally trimming too deep and messing with the hair layer that we mentioned at the beginning of the article.
Remember, your nose does need some nose hair to operate effectively and protect your lungs.
Don't clean out all the hair you can; you'll only end up causing yourself more trouble down the road.
This and tire process shouldn't take more than a few minutes.
Once you're done trimming, withdraw the trimmer and be sure to wash it off thoroughly.
Chances are that there's a lot of gunk and debris trapped inside the cap or maybe even on the blade itself.
Clean the trimmer, then clean the inside of your nose with a wet washcloth or just water, depending on your preference.
You should feel clean and refreshed, and breathing will probably be slightly more relaxed, too.
Knowing how to cut nose hair is the first step to making a good choice of nose hair cutter that will safely remove nostril hair.
You must also consider the factors discussed above while making a decision on what nose clippers, nose shaver or nose hair remover to get.
You can also make a choice after checking out nose hair trimmer amazon reviews.
Our guide for how to get rid of nose hair tells you even more; check it out!
How to Use an Ear Hair Trimmer
---
Trimming your ear Hair requires a lot of the same fundamentals as trimming your nose hair.
For starters, you want to clean your ears thoroughly by using a Q-tip and getting rid of excess earwax.
Don't plunge the Q-tip too far into your ear canal.
This is an essential tip that everyone should know from cleaning their ears every couple of days, but in case you haven't got the memo yet: you can cause damage to your ears by stabbing a Q-tip in too deeply.
Don't do it.
Ouch.
Once your ear has been cleaned, insert the trimmer into your ear canal and move it gently across the surfaces of your ear.
It's totally fine to follow the natural arcs of your ear cartilage, as this is likely where some smaller hairs might be growing.
But most of the hairs will be in the center of your ear, towards the canal itself.
These can certainly be trimmed; you just need to go carefully.
Trim until the hair is no longer noticeable and then withdraw the trimmer.
It's a good idea to rinse your ears out much like you rinsed your nose out before.
Just use a wet washcloth and let your ears dry for about 15 minutes before dunking them in the water again (say, if you're going swimming).
Don't forget to clean the trimmer, too!
It's probably even dirtier than the nose hair trimmer due to residual earwax.
How to Use a Brow Hair Trimmer
---
Trimming your brow Hair is a little more technical than the other two processes.
To begin, you'll want to brush your eyebrows with a small comb or even your fingers if you don't have a small comb on hand.
The purpose of this is to get all of your eyebrow hair going in the same direction so that it's easier to cut all at the same time.
Next, you'll trim the outside hairs around the edges that are clearly distinct from the main bunch.
In this case, small hairdressing scissors or tweezers are your best bet.
These are best for cutting or pulling away individual hairs that would be a waste of time for an electric trimmer.
This includes hairs that might be in between your eyebrows.
If you're a man that doesn't suffer from a unibrow, you can usually use tweezers to clean up any small hairs that might be shadowing the space between your eyebrows.
After you've gotten rid of any stragglers, you can now take your trimmer and use it to get rid of the excess volume.
Eyebrow trimmers are primarily used to make your eyebrows less bushy, remember.
In this case, you'll run the comb blades or teeth, or the tip of the trimmer, depending on the shape, across your eyebrow.
The trimmer should already have a guard or length setting that prevents the trimmer from cutting away all of your eyebrow hair at once.
Make sure that this is true before beginning.
When trimming, move the tool across your eyebrows in the direction that the hairs are naturally leaning.
This will prevent you from accidentally cutting your eyebrow hair too short and ruining your look.
After this, use tweezers to make sure that any other stragglers are totally gone.
Then, clean the trimmer with water and use a wet washcloth to cleanse any small hair particles from your eyebrows.
That's it!
Not too hard, right?
We've done an even more in-depth guide for how to trim men's eyebrows.
Check it out!