Opinions and habits vary greatly when it comes to proper facial hair care and shaving.
As men are not a monolith, it can be difficult to know what the grooming habits of men really are since any two guys on the street might have vastly different ideas about what constitutes smart shaving techniques and grooming.
Since there is no best way to shave face, you will need to apply the proper shaving technique from shave tips for men on how to get a smooth shave.
To get some clear answers, we commissioned a detailed survey to learn about Men's facial hair and shaving, how men generally shave, what they worry about, and how they learn to take care of their facial hair and turn to smooth shaved men.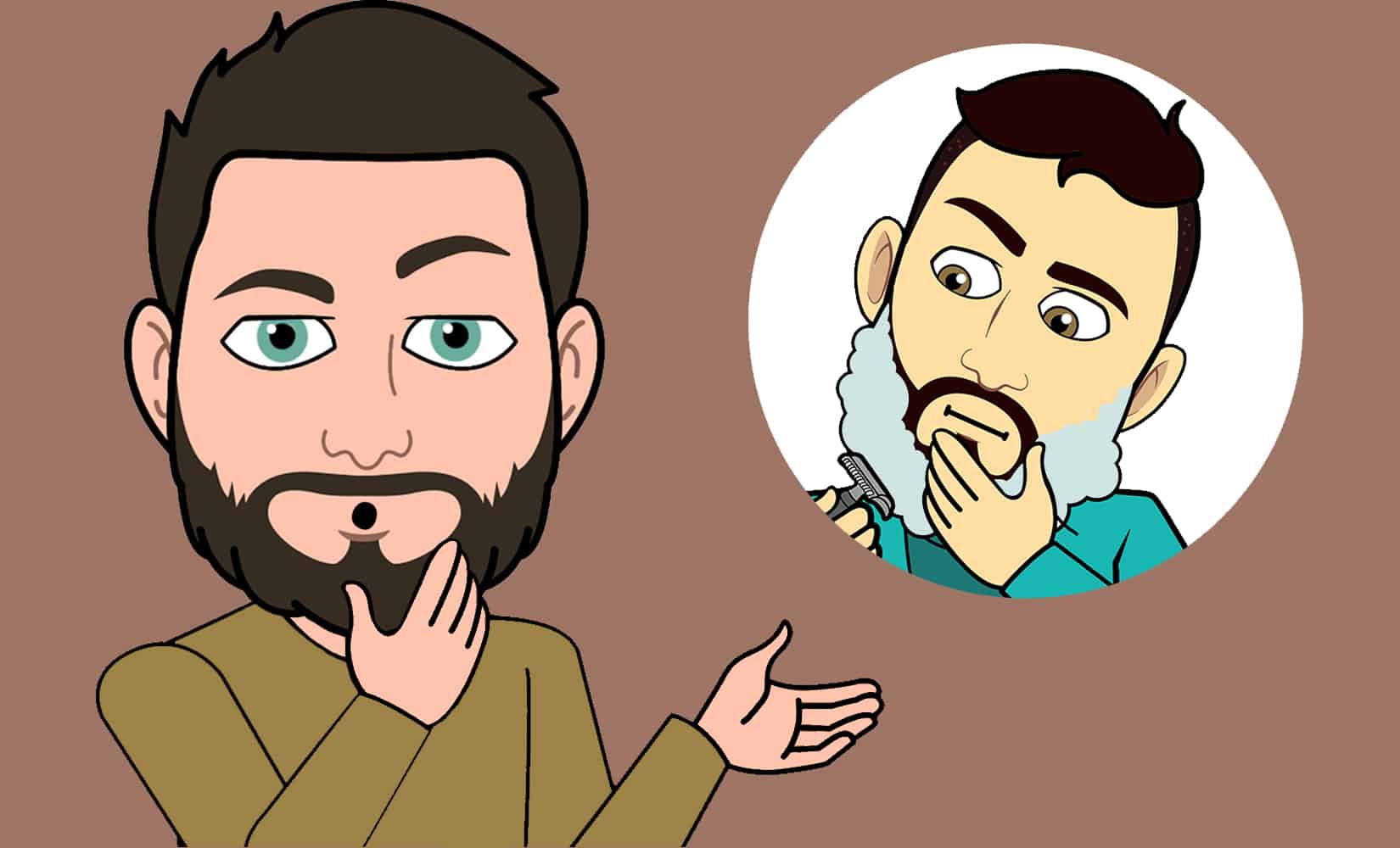 Prim & Prep commissioned Pollfish to survey 600 men throughout the United States, aged 18+, for their habits and opinions about men's grooming.
Prim & Prep designed and paid for the survey and welcomes the re-use of this data under the terms of the Creative Commons Attribution License 4.0, which permits unrestricted use, distribution and reproduction in any medium, as long as the original source is cited with attribution to "Prim & Prep."
Relevant Results Overview
Men care greatly about the look of their facial hair, and most of them have preferences that are opposite to the preferences of women.
This matches up with the survey's earlier findings that most men groom for self-respect as opposed to courtship reasons.
In addition, most men have similar shaving habits and could benefit from better shaving products, although younger men are more likely to make use of quality products than older men.
Below is an infographic with the highlights of the survey results:

Men Find Facial Hair Very Important
It should be no surprise that men think a lot about their facial hair and consider it to be an important aspect of their personal aesthetic or style.
78% of US men reported that they found the look of their facial hair to be very important.

Perhaps inevitably, most men worry about their facial hair, as well. 61% of men worry about the results of the process (i.e. razor burn or bumps) while 55% of men worry that their shave isn't close enough.
Both of these worries are related to shaving education or can be solved by purchasing the right shaving products.
Far from being as stoic as their gender role expects, men have insecurities that need to be answered.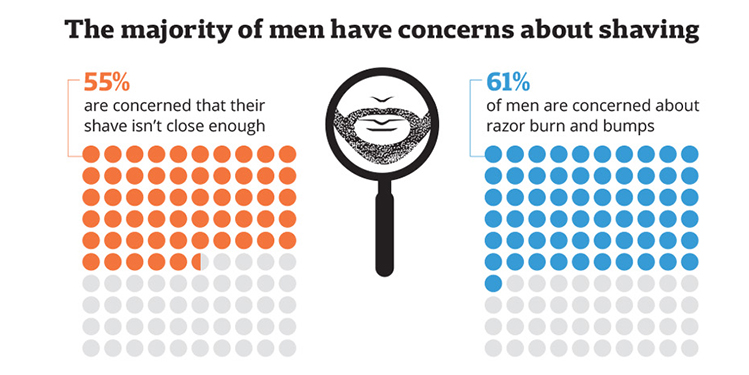 Frequency of Shaving is Distributed Evenly…
Men's frequency of shaving or trimming is fairly evenly distributed.
Essentially, the survey results found that most frequencies measured had about 10% of the respondents belong to them.
For example, 11% of men shave 5 to 6 times a week, 13% shave four times a week, 9% shave less than once a week, and so on.
The largest demographic was those who shaved every day, taking in 20% of the respondent population.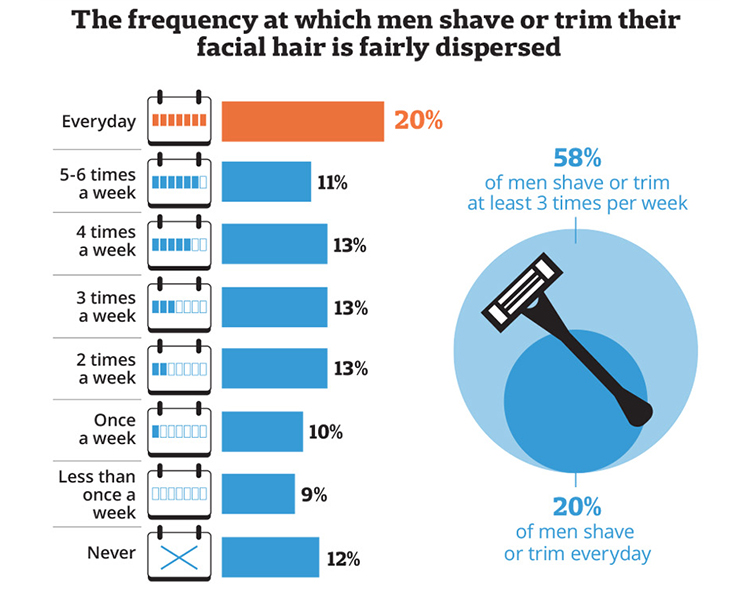 Most Men Shave in the Morning Before Showering
Time of day is relatively consistent across the male population.
Most men prefer shaving or trimming before they take their shower and in the morning, with 55% and 61% of the respondents, respectively.
Shaving or trimming after the shower and at night were the second most popular answers, at 27% and 26%, respectively.
This indicates relatively clearly that most men are morning shavers or trimmers and usually do their grooming before they shower.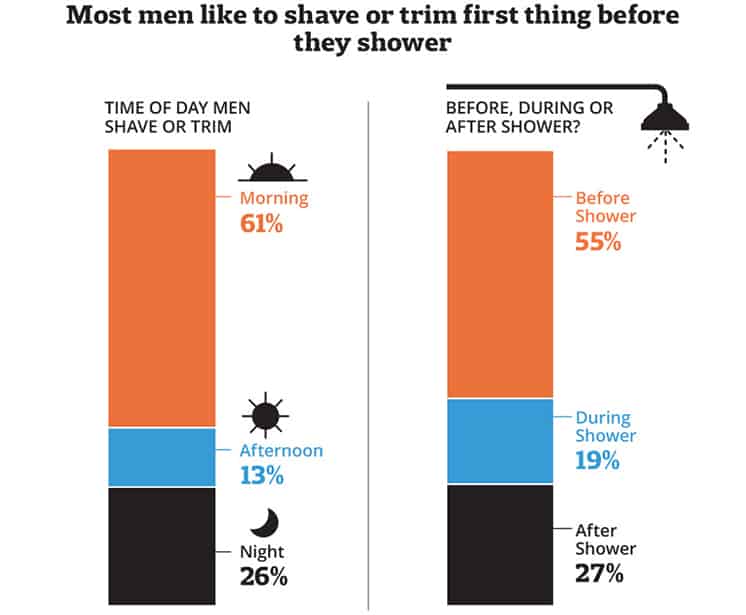 … But the Type of Shaving Products Used Varies by Age
Regardless of age, the majority of men use inferior shaving products like aerosol creams or gels, to assist them with their shaving efforts.
Among this group of 65% are those that only use water or lack a product entirely.
However, although the majority of men use inferior shaving products, younger men are less likely to use them in general.
52% of men, or the male respondents aged over 45, use aerosol foam or gel while only 18% of men, or the male respondents aged 34 or below, used aerosol foam or gel.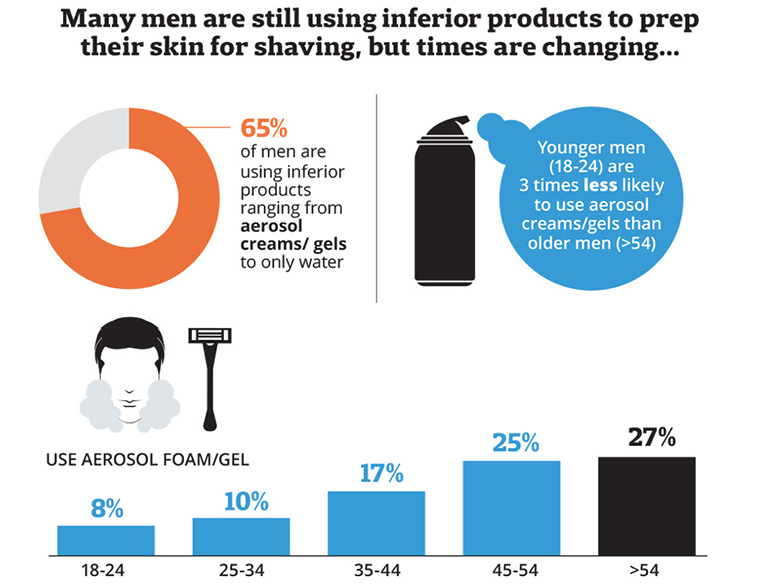 The likelihood of younger men being interested in quality shaving products can be seen with more data collected by the survey.
In the age brackets of 18 to 24 and 25 to 34, 44% of men used quality products such as non-aerosol creams, gels, and shaving balms.
While the majority of men in those age brackets still use inferior products, the proportion who use quality products is larger than the proportion of men aged 54 or above who do the same (25%).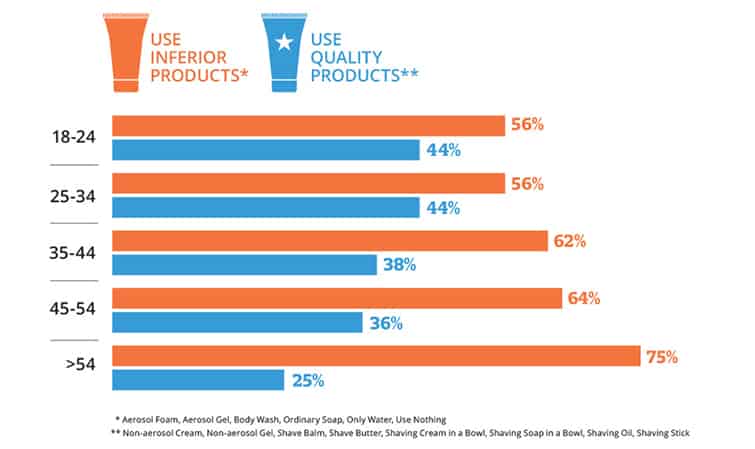 Men's Facial Hair and Shaving: Shaving Razor Industry Conclusions
The survey data showed that the vast majority of men still use a cartridge razor or one-piece disposable razor, making up 68% of the respondent population.
Cartridge razor use is almost double disposable razor use, at 45% and 23%, respectively.
The market for these two types of tools is greater than the following four shaving tool types combined.
Most men, it seems, prefer the simplest and most common method of shaving.
However, greater education about grooming habits and the potential advantages of electric shavers, safety razors, straight razors, etc. may change these results over time.
Having the right shaving tools alongside knowing the proper way to shave from men's shaving tips will help out on how to get a good shave ultimately.
If you're a wet shaver like me, you should check out this infographic on safety razors vs straight razors to know the right one for you.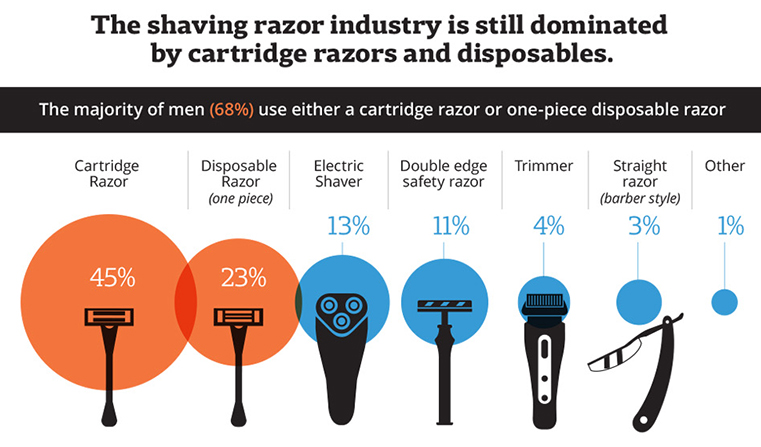 Men Want Different Facial Hair Than Women Find Attractive…
Interestingly, survey results indicated that the preferred facial hair for women differs greatly from that of men themselves.
28% more men desire a clean-shaven face than women do, while 45% more women enjoy stubble on a man's face than men do.
The data is clearer to see another way:
49% of men like clean-shaven faces as opposed to 38% of women
20% of men like stubble as opposed to 29% of women
Boiled down even further: men like mustaches and clean-shaven faces more than women, while women prefer every other facial hair type more than men.
… But Many Don't Have the Facial Hair They Want, for Various Reasons
Despite their preferences, many men do not have their ideal facial hair (42% of respondents).
The reasons for this vary, with the primary reason being insufficient time.
This is valuable since time management and efficient grooming routines can both be improved upon with the right shaving guide and practice.
The secondary reason is that some men cannot grow the right amount of facial hair for their desired style.
This is not something that blogs or guides can assist with, unfortunately.
The other reasons range from budget constraints to an improper skill level, to not having the right products or discomfort.
Men with sensitive skin might benefit from products tailored to their skin type which may allow them to achieve their ideal facial hairstyle.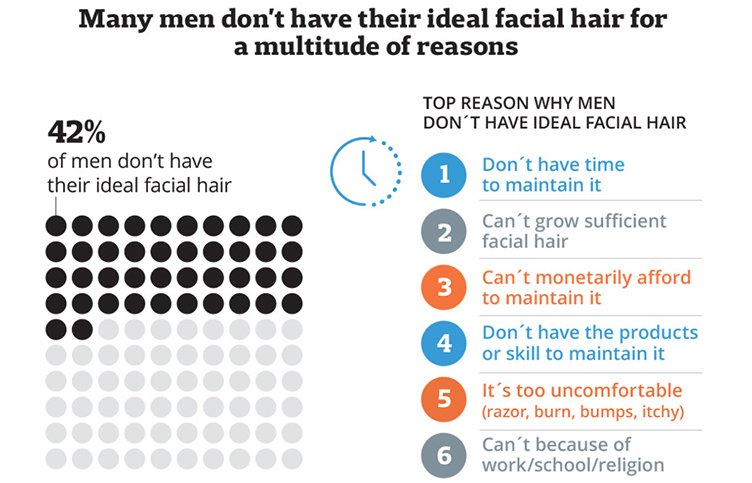 Body Shaving/Trimming Habits
The survey results showed that the majority of men don't only shave their faces.
In fact, 61% of men also shave their pubic area, although the reasons for this are not known.
This indicates a significant proportion of men might make use of advice or products relating to pubic hair trimming and shaving.
In addition, 45% of men shave or trim their own head hair instead of going to a barbershop.
Armpits, legs, chest, arms, and back followed the pubic region and the top of the head as the most shaved regions.