Hi everyone.
In this article, we'll be comparing straight razors and safety razors to see which one is actually best for you.
At the end of the reading, you'll learn:
the pros and cons
whether to sharpen them or not
which is safest among the two, and
answers to your frequently asked questions
Both of them have their ups and their downs, and I personally like using both depending on my mood.
So, let's hop right in and find out the differences between these two shaving tools for grooming – and which is perfect for you.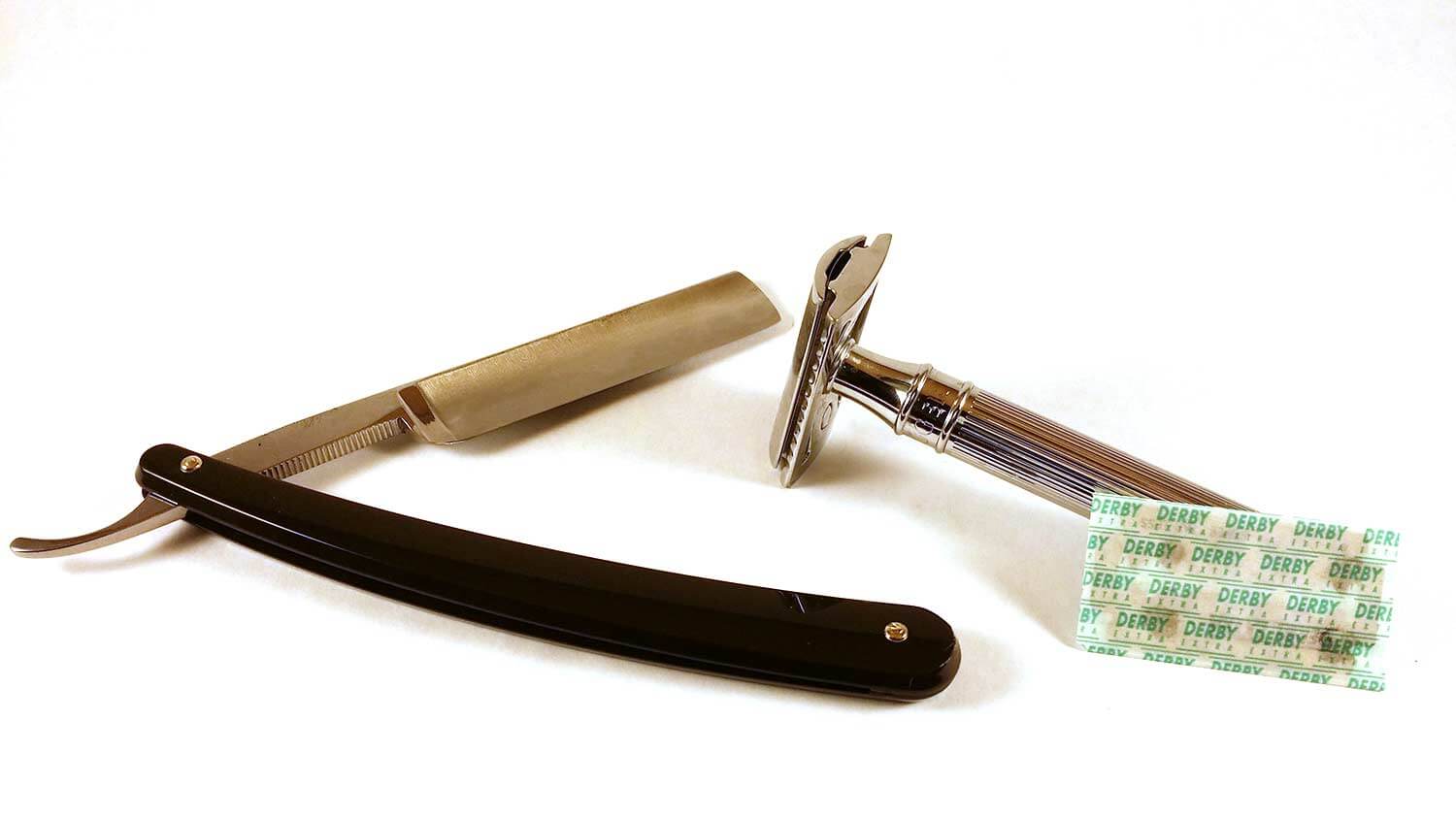 In this picture on the left: Dovo straight razor (my review / current price on Amazon) and on the right: Edwin Jagger DE89lbl (My review/ current price on Amazon)
Safety Razor vs Straight Razor Video
Safety Razor vs Straight Razor Infographic
Here is a helpful infographic that summarizes the differences between safety razors and straight razors.
Also, don't fail to read the information below the infographic – as it provides far more detail on both types of razors.
Feel free to share! (but please be sure to reference the entire article as it has much more information)

What the Heck Are They?
In all likelihood, you're probably at least partly familiar with straight razors as they're commonly featured in movies and on television; or maybe you saw your grandpa using one as a child.
Safety razors and straight razors (also called cut-throat razors) have been very popular tools for wet shaving for the last few centuries.
Though they've gradually been phased out due to the advent of electric shavers and cartridges, they still give the closest shave of all three types.
A true straight razor is exactly what the name says, a long straight piece of metal with a razor-sharp tip that's attached to a pivoting handle.
In fact, a straight razor actually closely resembles a stainless steel knife than it does any razor you're probably used to.
Of course, it not only resembles a knife but cuts like one as well, which is why they're often referred to as "cutthroat" razors.
Straight razors were basically the first type of real razor that was invented and were really the only option for many years until Gillette invented the safety razor around 1900.
Since that time, straight razors steadily declined in popularity until such a time as they were really only used by professional barbers.
While you can still easily find barbers that offer a traditional wet straight razor shave, straight razors are also making a bit of a comeback amongst regular guys as well—both for the old-school appeal and the fact that they provide an excellent shave.
While straight razors look more similar to a knife, safety razors much closer resemble those disposable or cartridge razors (Mach 3 or fusion) you're used to—both in terms of the look and how they're used.
Still, while most cartridges and even the best disposable razors are made of plastic, the higher quality safety razors are almost always constructed entirely of metal.
If you were to look at straight razors vs safety razors side by side, there's obviously no confusing the two, and the same can be said for how they're used as well.
Let's talk about some pros and cons of a straight razor
Pros
One of the main benefits of using a straight razor is that it is incredibly well made and sturdy.
It's also nice that it comes with one blade that lasts a whole lifetime.
With some practice at honing and stropping, you will only need to re-sharpen in the blade every six months to twelve months.
I really like that it has a 3-inch blade because it covers a lot of surface area on your face with each shaving stroke.
A lot of straight razors have multiple different options for handles, so you could get the perfect-looking straight razor to fit your personality and shaving experience.
It just feels so badass to shave with the traditional straight razors!
If you're thinking about picking up a straight razor, be sure to first check out our list of the top straight razors on the market today.
Cons
Shaving with a straight razor takes tons of practice to get a perfect shave out of it.
You have a much higher chance of getting cuts and nicks from using a straight razor compared with a double-edge safety razor.
Because it comes with one straight edge blade, if it ever gets damaged, you will need to replace the entire unit.
Once your blade gets dull, it takes a lot of time and skill to re-sharp and the blade.
The initial(but only) investment on a straight razor is typically more expensive than safety razors or shavette's.
Here are the top two straight razors recommended by PNP
The Boker Straight Razor King Cutter(my review) – Check out the current price here on Amazon or see what dozens of users have to say!
The Dovo Classic Straight Razor – Check out the current price on Amazon here or see what dozens of users have to say!
Here are some pros and cons of a safety razor
Pros
The biggest benefit of using a safety razor is that it is a safe way to get an extremely close shave compared to shaving with a straight razor.
It takes a lot less practice to get a perfect shave than with straight razor shaving.
It is nice to be able to replace the disposable blades of a double edge blade whenever one of them gets dull, without having to hone and strop the edge.
Compared to a modern cartridge razor, it is still extremely cheap to shave with a safety razor.
Each double-edged blade costs less than five cents apiece and usually lasts me at least a week (if I am shaving most days).
If you're thinking about picking up a safety razor, be sure to first check out our list of the top safety razors on the market today.
Cons
You do not feel as badass or cut-throat when using a safety razor compared to a straight razor.
Another downfall is that you do need to pay for additional double-edged blades throughout your lifetime, whereas a straight razor will last a lifetime with its one blade.
Although, we have lots of favorite safety razors here at PNP, here are two of our favorites!
The Edwin Jagger DE89lbl (my review) – Check the current price on Amazon or see many other reviews from current owners
The Merkur 34c (my review)- Check the current price on Amazon or see many other reviews from current owners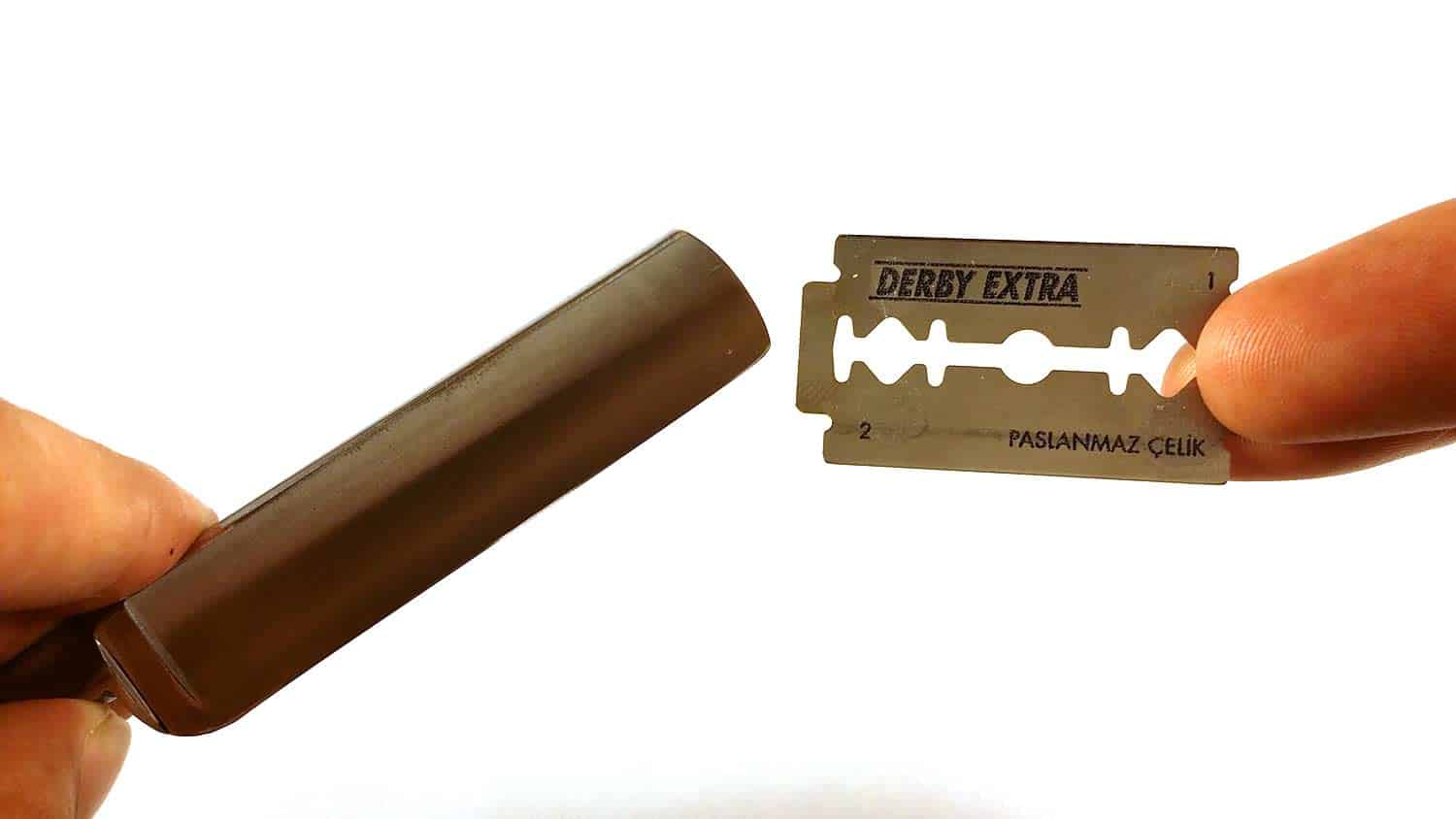 Straight Razors vs Safety Razors: For the Best Shave Ever
If you're one of those shaving traditionalists who scoffs at the idea of those poor men who still use cheap cartridge razors or worse still, even cheaper disposables, you can probably stop reading right now.
We can assume you already know all there is to know about straight and safety razors.
However, for those of you who are looking for a better quality shave, the first thing you need to know is that it's all about the wet shave.
In all honesty, we really don't know why men continue to subject themselves to the pain and irritation of their normal inferior shaving routine when there are so many better options out there.
Not only does a wet shave better prepare your face and facial hair for the process, but it also provides much better results—giving you a closer shave with less irritation and razor burn.
All you need is good shaving soap or shaving cream, coupled with a nice shaving brush, to get you that cutting-edge "barbershop" shave.
The reason behind this is that a true wet shave involves using either a straight razor or safety razor, both of which only feature one blade, albeit one extremely sharp blade.
While Gillette and other companies market their multiple blade cartridge razors and being able to give a closer shave with less irritation, the truth is that it only takes one blade to give you as close of a shave as possible.
Also, the fewer times the blade touches your face, the less irritation your skin will experience as a result.
As you can imagine, each stroke with a multiple blade razor is the equivalent of three to five strokes with a single blade razor and as such, will likely cause that much more irritation when compared to using a single blade straight or safety razor.
The biggest problem with disposable or cartridge razors lies in the weight and quality of the blades.
Whereas straight and safety razors tend to use high-quality steel, these other throw-away products use inferior quality metal that simply cannot achieve such a sharp edge.
This, in turn, means you'll need to press down harder to get the blades to cut properly, which further increases the amount of irritation.
However, a quality straight or safety razor basically glides right over the face, as the weight of the razor does all the work and thus provides a closer shave while lessening the pain and irritation.
We could sit here and discuss the virtues of using a single blade razor all day long, but in fact, we've already done it.
So, to keep things short, all you really need to know is that both straight razors and safety razors are virtually guaranteed to provide you with one of the best shaves you've ever experienced—provided you know how to use them correctly (if you don't, you should definitely check out our how-to guides on using a safety razor and straight razor).
Still, while both razors can provide a high-quality shave, that's really about all that they have in common.
So to help you make a better-informed decision on which type of razor is right for you, we're here to tell you all you need to know about straight razors vs safety razors. 
To Sharpen or Not to Sharpen
Another one of the major differences between straight razors and safety razors is in the blade itself.
On a straight razor, the blade is long, exposed, and downright dangerous, whereas safety razors require the use of removable or disposable razor blades that lock into place on the razor's head.
So what does this mean to you, the user?
Well, for starters, many men prefer the ease and convenience of safety razors, as you can simply throw away the blade and reach for a new one whenever it becomes dull.
On the other hand, straight razors require honing and sharpening to keep them cutting properly.
In fact, you'll need to strop your razor each time before using it, otherwise the blade can quickly become too dull and eventually require specialist sharpenings that can be incredibly expensive.
Safety razors are also popular for the fact that there are so many different kinds and qualities of blades (single edge razor and de razors) available that you can try numerous options until you find the perfect one for your particular face (top safety razor blades).
On the other hand, the fact that you'll need to continually purchase replacement blades for your safety razor means that, in the long run, this method could be slightly more costly than using a straight razor.
However, this is before you figure in the extra cash you'll need to spend on a strop, stropping paste, and the other accessories you'll need to keep your straight razor sharp.
That being said, most replacement safety razor blades are quite inexpensive, so you'll likely end up spending much less on them than you would on purchasing replacement cartridges for that Mach 3 or Fusion.
Similarly, while strops are not necessarily cheap, they should last quite a long time, so you can also look at straight razor supplies as a more long-term investment.
How They're Used
Generally speaking, you won't really have to learn a new shaving technique when using a safety razor, as you'll hold and shave with it in much the same way as you would any other razor.
On the other hand, straight razors tend to have a much greater learning curve, as they require you to hold the razor specially and also to shave differently.
Straight Razors vs Safety Razors: The Final Verdict
Now that you know the basics of straight razors vs safety razors, we'll simplify things even further by quickly going through the pros and cons of using each type of razor.
Safety Razors:
Lower initial investment when compared to straight razors; minimal continued costs for purchasing replacement blades
Little to no learning curve, making it super easy to transition from the cartridge or disposable razors
Slightly increased risk of nicks and cuts when compared to cartridge razors, but much lower than straight razors
Can provide a much closer shave than a cartridge or disposable razor, but still has some limitations when compared to straight razors
Straight Razors:
Much steeper learning curve, as you'll need to learn a whole new method of shaving
Higher initial investment, but low continued costs (except when razor needs a specialist sharpening)
Increased risk of cuts, especially as you're still learning the proper technique
The highest level of freedom and control you can get while shaving
Makes you feel like a real man
The next thing that I recommend is to check out our article on the best safety razors as well as the best straight razors.
Also, check out what hundreds of people have to say about one of our favorite straight razors here and one of our favorite safety razors here!
At the end of the day, we can highly recommend either shaving system, as both are virtually guaranteed to provide high quality, more enjoyable shave than you could ever hope to get with a throwaway razor.
However, choosing between the two comes down to your personal preferences and what you're most comfortable with.
Still, if you've never experienced a wet shave before, we would probably recommend starting with a safety razor, both due to the lower initial investment and the fact that it's a heck of a lot easier to use.
Of course, if you're feeling daring, you should definitely try a straight razor, as the feeling is like nothing else and we believe it's something all self-respecting men should try at least once in their life.
Frequently Asked Questions
Hey! Don't Leave Yet!
If you found this article helpful please be so kind as to share it on Facebook or other social media per the buttons below.
We really would appreciate it as we have worked so hard on this post for you.
I have a feeling some of your friends and family will find it helpful as well.
Also be sure to join the Prim&Prep community!
Not only will you have a chance to WIN your choice of a quality safety razor or beard oil but we will provide you with all kinds of helpful and enlightening male grooming tips and advice directly to your inbox so you don't have to waste your time fiddling on the web to find the right information to look and feel your best.
There is nothing to lose and so much to gain. SIMPLY SUBSCRIBE BELOW!