Pros
Produces great shaves for all skill levels
One of best grips on any safety razor
Build quality is out of this world
Merkur 34c review - Come check out this very popular razor!
The Merkur 34C is definitely one of the most sought-after and highly rated safety razors of all time.
For me personally, Merkur 34C is in my top five favorite safety razors and has rightfully made our list of the top safety razors on the market.
This Merkur safety razor set reminds me a lot of the Edwin Jagger de89lbl because of how aggressive it is.
This product is an absolute delight to hold in my hands.
The craftsmanship is really, on the whole, on another level.
Let's get into the details about this extremely popular safety razor – the Merkur 34c.
Balance and Weight
The Merkur 34C weighs in at 2.4 ounces.
This is about the average wait for a safety razor.
Because it is a two-piece safety razor it has a mechanical knob at the bottom in order to separate the two pieces.
Because of this, the handle of this Merkur heavy-duty double edge razor is slightly heavy in comparison to other one or three-piece safety razors.
Because it handles heavy I really feel you could hold it anywhere on the handle.
Although this is a very average weight for a safety razor because the Merkur 34C is such a short safety razor it makes it feel very dense and durable.
The Merkur 34c is simply a solid tool that is crafted extremely well.
Grip
The grip on the Merkur 34C might be the best out of any safety razor that I have ever held.
The majority of the handle has a gritty metal texture.
Even the knob at the very bottom has vertical grooves for extra grip.
No matter how wet and soapy my hands get I am extremely confident that the safety razor will never slip out.
And although the gritty metal takes away from some style points (in some people's opinion), the added grip is definitely worth it.
Length
This is probably one of the biggest downfalls of the Merkur 34C.
It is one of the shortest safety razors that I am coming in at 3.3 inches.
The biggest reason it is a downfall for me is that I have larger hands than most people.
For people with average-sized hands, it should be no problem.
Even with my larger hands, I have been able to manage mostly because it has such a good grip along with the whole entire handle.
Aggressiveness
Like the Edwin Jagger de89lbl, the Merkur 34C is a mild safety razor.
I even rate it slightly less aggressive than the Jagger.
Out of 10, I would give it a 3/10.
And although this mild angle will not cut as close as an extremely aggressive angle, you will run less of a chance of cutting your face up.
It is an extremely good razor for people that are just starting out.
Check out my article on what aggressiveness means if this is still unclear!
Blade Replacement
The blade replacement on the Merkur 34C is extremely easy.
Since it is a two-piece razor (types of safety razor), all you have to do is unscrew the knob at the bottom of the handle and a clockwise motion and the top piece will come right off.
It is easier to replace the blade on this than the three-piece Edwin jagger de89lbl but more difficult than any butterfly open safety razor.
It would be very difficult for you to cut yourself on the double-edged blade while replacing it with this safety razor.
Be sure to pair your safety razor with the right safety razor blade for you.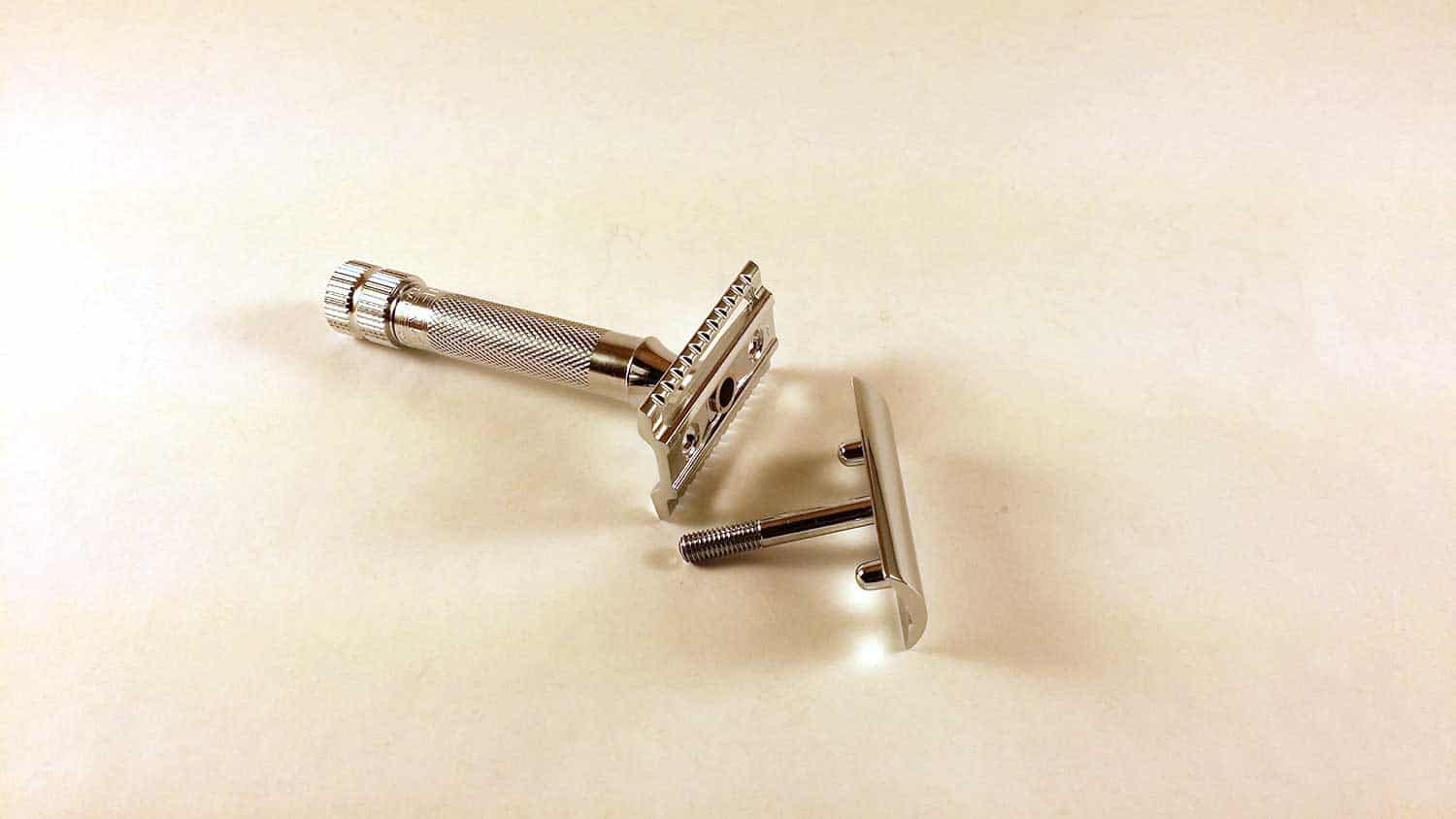 Conclusion
To conclude my Merkur 34C review let's recap what you have learned.
This safety razor slightly handles heavy but overall very well-balanced.
It probably has the best grip of any safety razor that I have ever used.
It is on the shorter side compared to other safety razors so if you have extremely large hands you might want to look into other options.
I personally can use it just fine in my hands are on the larger side.
The two-piece design makes it extremely easy to remove old blades and the mechanism that it uses is extremely durable and will last a lifetime.
This is an extremely mild safety razor in terms of blade angle.
I recommend it for anyone just starting out or for people who tend to get razor burn very easily like myself.
I actually have rated this razor as not only one of the best Merkur safety razors in my Merkur razors reviews but one of the overall best safety razors and one of the best razors for shaving your head.
You can also check out the Merkur 38c review – the bigger brother to 34c and then you'll see the main differences between the two brothers (Merkur 38c vs 34c).
Also, don't forget to check out our infographic on straight razors vs safety razors as well as our list of best straight razors on the market.
Let me know your thoughts and experiences with this very well-known safety razor!
Now get out there and work on getting your baby's bottom smooth shaved with your new safety razor!
Hey! Don't Leave Yet!
If you found this article helpful please be so kind as to share it on Facebook or other social media per the buttons below.
We really would appreciate it as we have worked so hard on this post for you.
I have a feeling some of your friends and family will find it helpful as well.
Also, be sure to join the Prim&Prep community!
Not only will you have a chance to WIN your choice of a quality safety razor or beard oil but we will provide you with all kinds of helpful and enlightening male grooming tips and advice directly to your inbox so you don't have to waste your time fiddling on the web to find the right information to look and feel your best.
There is nothing to lose and so much to gain.
SIMPLY SUBSCRIBE BELOW!