Guys, let's face it. When it comes to keeping "down there" trimmed and under control, the girls have us beaten hands down.
One (very discrete) glance around any gym changing room will show you that the majority of guys simply have no interest in keeping their pubes under control.
But there are so many advantages to keeping everything nice and trimmed.
That's why we're here today, to take a look at the best pubic hair trimmers on the market right now, along with some tips for picking the right one for you.
Then we have some guides on how to use your hair clippers – and trust us on this, your better half will be very, very grateful!
QUICK OVERVIEW: Best Pubic Hair Trimmers
IMAGE
PRODUCT

Phillips Norelco Bodygroomer 1100

Highly Maneuverable
Low Weight

VIEW ON AMAZON →

Wahl Clipper PowerPro Corded Trimmer

High Power
Huge Accessory Set

VIEW ON AMAZON →

Gillette Fusion ProGlide 3-in-1 Trimmer

Razor Attachment Allows for High Accuracy
Very Comfortable to Hold

VIEW ON AMAZON →
Use the table of contents below to jump to the sections most important to you.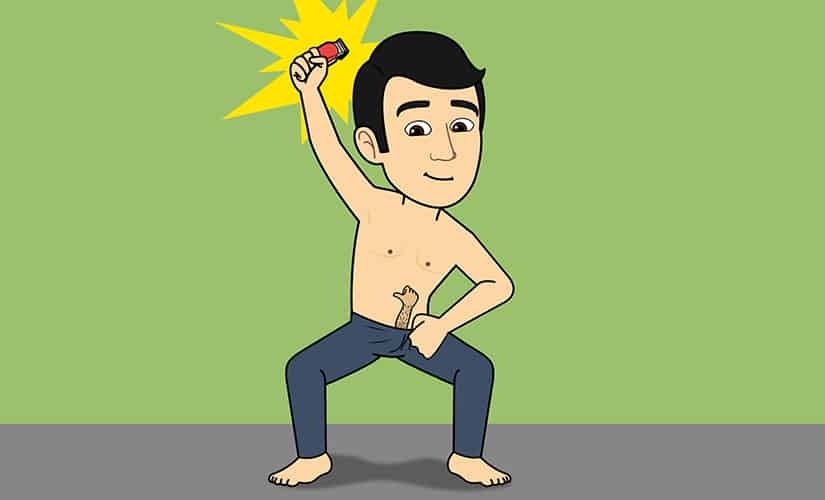 ---
5 Best Pubic Hair Trimmers of 2023 Reviewed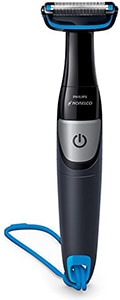 We'll kick off our list with this small penis shaver from Phillips.
They are of course a huge electrical brand with worldwide recognition for making top quality electrical items that don't break the bank.
So what was it about this item that attracted us?
Specs
Who Is It Best For?
Men looking for the best pubic hair trimmers that are easy to handle and extremely maneuverable.
Key Features
The big stand out of the Philips Norelco trimmer, and the thing that most impressed us, was the maneuverability that this product brings.
It is just less than eight inches in length and weighs about four inches or so.
In other words, it is tiny.
As we mentioned above, and will talk more below in our grooming guide, maneuverability is an important feature to look for when selecting your trimmer.
It helps you to trim your hair more effectively and efficiently and it can also help to keep you safe when you can concentrate on the trimming and not on keeping your hand on a huge unwieldy electrical device.
It brings other interesting features to the table too.
It has integrated skin protector guards to protect your skin as you trim for example.
The body shaver head itself is bi-directional.
This means the cutting surface faces in two directions, making trimming easier and faster as you essentially have twice the cutting blades at your disposal.
The whole thing is completely waterproof, so not only can you use it in the shower it's also very easy to clean when you are done.
The only real negative about the Philips Norelco trimmer is the fact a single AA battery powers the device.
Philips claims this will provide a lifespan of around 2 months of average use per battery.
Frankly, we'd be surprised if you can squeeze that much juice out of a single AA.
Still, it's a comprise really, as without that smaller and simpler power source you would lose the high degree of maneuverability that really is the main selling point of this penis hair trimmer.
The Philips Norelco bodygroomer also helps to keep the price down and it's worth pointing out this is easily one of the cheapest items on our list.
See the consensus of thousands of reviews here on Amazon.
---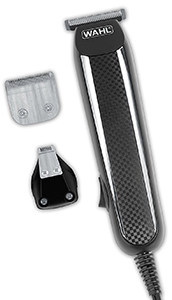 With this next item, we've thrown caution to the wind and gone for sheer power.
As a corded product, this hair clipper is going to deliver the most trimming power right into your hand.
But what else does it bring, and is pure power enough to make these the best pubic hair trimmers for you?
Specs
Who Is It Best For?
Men looking for the power and toughness of a corded trimmer.
Key Features
Well first and foremost this is a corded model, so we better kick off by talking about that.
So what does that mean? Power.
This model is not restricted to a little AA battery nor does it need to be plugged into a charging cradle for hours on end.
Instead, you wham that power cable into the power outlet and you have 120 Volts of trimming power delivered right into your clammy hand.
Awesome.
Beyond the power element, there is also a lot else that we liked about this model.
The manufacturer, for example, is a big selling point.
Wahl, you see, has been in the game of making top quality hair trimming tools for almost 100 years, having been founded in 1919.
We're confident they've learned a thing or two about cutting hair in that time, which makes us happy to put our trust in this product to trim the hair on a part of our body that is pretty sensitive.
You also get a phenomenal level of attachments and extras with this pubic trimmer to trim penis hair.
11 combs is frankly too many for trimming pubic hair so some will go into the recycling.
But many of them are extremely useful and it's great to have them. The T-Blade will make short work of wider bodies of hair (like your lower stomach).
The detail trimmer attachment meanwhile will be perfect for trimming in tighter areas, or when you're looking for more accuracy in your manscaping.
The blades themselves are all high quality and made in the USA.
The only negatives, of course, are that you are tethered to a power outlet.
This product is also not waterproof, but the included cleaning kit makes it easy to clean up after use.
Check out the collective opinion of hundreds of reviews here on Amazon.
---

When it comes to shaving, Gillette is a company that requires no introduction.
They are perhaps the best-known pubic hair razor company in the world, but here they have dipped a toe into the hair-trimming world.
Have they done a good job – or should they stay in their lane?
Specs
Who Is It Best For?
Men looking for a simple but effective best bikini trimmer that can create sharp lines for hair trimming designs.
Key Features
What we have here is a powered best pubic hair trimmers that also contains an attachment for you to place a traditional Gillette shaving head onto the device.
That makes this device something of a jack-of-all-trades, allowing you to trim your pubic hair as with any other device.
At the same time, the fact you can attach traditional blades allows you to shave to accurate lines.
This feature could interest anyone considering going down the route of pubic area hairstyles instead of a simple all-over maintenance trim.
Whilst the Gillette shaving head is the big stand-out for this design, we are here to look at trimmers rather than shavers in this article.
Luckily, the trimmer element is top quality.
Gillette has clearly realized that their specialty lies in shavers, so they have brought in Braun, the German electrical manufacturer, to make the trimmer for them.
They have produced the best pubic hair trimmers that are simple but effective, small, and easy to maneuver.
It's nice to see that the product is waterproof, so you can use it in the shower or bath and it is very easy to clean.
The power supply is via an internal AA battery contained in a protective power cell, with decent battery life.
Again, this is about the bare minimum of power these penis grooming kits can get away with.
Again, this is about the bare minimum of power these devices can get away with.
Also, again, it is because of that battery power that the weight and price are kept down.
See what thousands of customers have to say per the reviews here on Amazon.
---

Don't be put off by the feminine name. It may be marketed towards women, but it should not be overlooked as a great option for a man's pubic hair duties as well.
Specs
Who Is It Best For?
Any man looking for a trimmer designed for sensitive skin is also after a phenomenal bargain.
Key Features
Yes, that's right, it says Bikini trimmer right up there in the product name because this is a trimmer marketed to women.
For some guys, that will be enough to scroll right on past to the next item and if that's you, fair enough.
But if you are not the kind of guy whose masculinity is so fragile he can only use a bath bomb shaped like a hand grenade, if you can handle buying and using a trimmer designed for women you could be making a very good decision here.
That is because this is a very, very good pubic hair trimmer, especially if you have sensitive skin.
The trimmer head is angled and has a built-in comb with 5 different length settings for trimming penis hair.
What is great about that design is you don't risk losing your comb attachments, because they are always there.
The trimmer head itself is waterproof, making it easy to clean, though the body of the trimmer is not, so don't fully submerge it.
The trimmer is small and light but very ergonomically designed so it fits easily into the hand.
It should be noted that not one but two AA batteries power the product. Ironically making it more powerful (and longer-lasting) than many trimmers marketed to men that we've looked at.
Because the length comb is attached to the trimmer, there is not much in the way of extras, though you do get a very useful little cleaning brush.
Finally, because this is marketed to women, it is cheap.
Why? Because there are loads of "bikini" trimmers on the market (way more than male trimmer models)
So, you get more for your money when you buy one – it's a highly contested market.
Yes, as we said it is marketed for women.
But you know what? The trimmer can't tell if is cutting male or female hair, pubic hair trimmer female will do a great job on both including for a frankly astoundingly low price.
---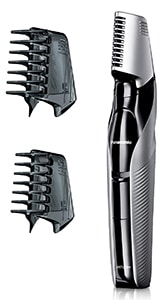 This is definitely the top shelf of pubic hair trimmer for women and the best pubic hair trimmer for your balls and entire pubic region.
A high-quality piece of engineering that will perform but it comes with a price that matches its superior performance.
Specs
Who Is It Best For?
For anyone looking for a powerful cordless penis shaving trimmer with top quality blades.
Key Features
We'll stay with Panasonic for our final product to make our list, this hair trimmer that is very different from the one we just looked at.
Made expressly for men, it has the power to cut hair anywhere on the body, it's the best trimmer for balls that our crew tested.
It also has the accuracy to tackle pubic hair though.
It has a pretty limited set of extras, limited to just a pair of combs.
That is because Panasonic has packed the entirety of the stand-out features right into the product itself, starting with a set of very high quality blades.
They are of a design with rounded edges to the bottom row topped with incredibly sharp-edged teeth on the top row.
The gap between the blade teeth is minimal, and we don't say that lightly.
The best pubic hair trimmer itself is fully waterproof so you can use it anywhere and clean it easily.
The trimmer itself is fully waterproof so you can use it anywhere and clean it easily.
It has a great, ergonomic handle that is comfortable to hold too.
An internal battery powers this model. That does mean it can generate a good degree of power for a prolonged period.
There is no battery level indicator though, so you do need to keep an eye on the power level and pop it on charge periodically.
We should state now that this is not a cheap model, so expect to drop a fair few dollars on this product.
If you do though, you will be investing in the best pubic hair trimmers for your private parts that offer an excellent power level with good control.
See why this pubic trimmer can justify its higher price tag per the stellar reviews here on Amazon.
---
That completes our list of the best pubic hair trimmers on the market right now.
Whether you have already selected the right model for you, or even if you're still a little unsure, our next section is still for you regardless.
We're going to show you how to use your new trimmer safely and effectively.
Let's face it, when you're trimming up down there you want to be able to do it safely, right?
After that, we'll give you a few maintenance tips for your pubic trimmer and that will just about do it for us.
---
5 Things to Consider When Buying Best Pubic Hair Trimmers
Before we get to our review of how to cut penis hair and the best manscaping trimmers, in this first section we'll highlight the features that you should bear in mind whilst reading our reviews.
Remember them, and they will help you to find the right penis groomer to suit your needs for shaving penis and balls, as each feature will be more or less important depending on what you're looking for in the product to trim your balls.
And when it comes to trimming your balls (and that general area in fact) you really do want the best pube trimmer you can find, right?
So here is what you should bear in mind when choosing your new pubic hair trimmer.
1. Where are you Trimming?
---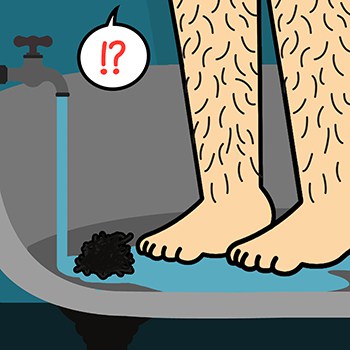 The first question you've got to ask yourself is where do you plan on doing the deed?
Perhaps more than any other factor, this is going to have a big impact on the body hair trimmer that is right for you.
For example, there are obvious benefits of shavers for vagina in the shower.
They will already be clean, cut hair will be rinsed away by the water for an easy cleanup and you have the lubricating effect of running water.
But if you want to do that, you need a waterproof ball trimmer.
On the other hand, some people prefer to do it standing up in the bathroom or even in the bedroom.
The benefit here of course is probably better lighting than in the shower, better access to mirrors to see what you're doing and you can take your time.
In that case, you may prefer to take advantage of your dry environment to go for the extra power of a corded best pubic hair trimmers.
2. Size
---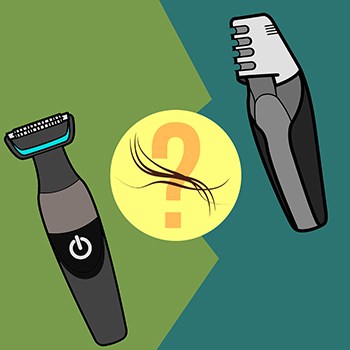 The next thing you should consider is the size of the trimmer that you need.
Now, when it comes to picking a new tool for trimming your private parts with meridian shaver, many guys will just go for the biggest one we can find.
We get it, bigger is often better – it's like Supersizing your meal, can you really have too much of a good thing?
In the case of the pubic hair trimmer, the answer is yes.
For one thing, and we're sorry to have to break this to you, the area you're looking to trim is relatively small.
It also has a lot of angles, nooks, crannies, skin folds, and odd-shaped things down there.
What we're saying is (without being too disparaging to the weird shape of your crotch) is that it can be harder to trim the hair down there compared to anywhere else on your body.
A smaller-sized lady shaver for intimate areas will be easier to handle and allow for more accurate shaving.
You could also try one of the best pubic hair removal cream for private parts male version of the course to help you do the deed a little bit easier.
3. Power
---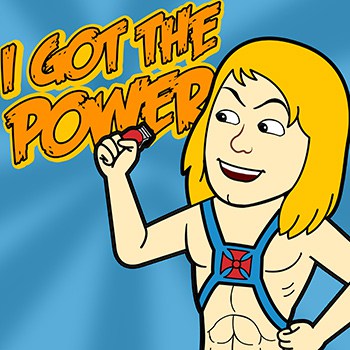 When it comes to hair trimmers, you really need to think like He-Man.
Not only because his body hair trimming routine is clearly on point (just take a look at him, he is bald as a cue ball from the chin down) but also because, as he is fond of bellowing, "I have the power!"
When you are trimming your pubes you need the power too.
Pubic hair is extremely coarse and much tougher than the hair on your head.
In fact, because pubic area hair usually gets less care and attention it can even be coarser than your beard hair.
You need a trimmer with a good power output in order to cut through that hair.
Look for trimmers with motors that kick out 2,000 to 4,000 RPM, preferably more if you can find it.
4. Power Delivery
---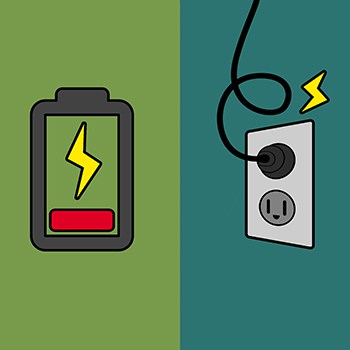 This feature is quite closely connected to the first one we looked at above, deciding where you want to use your trimmer to trim penis hair.
As we said at that point, your decision was mainly down to a corded or cordless design.
The thing is though, it is a little more complicated – hence this feature point here.
Cordless is simple, though you should make sure that if you go down that route the trimmer cable is nice and long.
When it comes to cordless, the situation is a little more complex.
Yes, cordless means battery power, but what type?
An internal battery will often deliver more power but needs a specific charger.
External batteries (like an AA battery) are cheap and easy to replace, but may not be able to deliver those power levels for long.
5. Attachments
---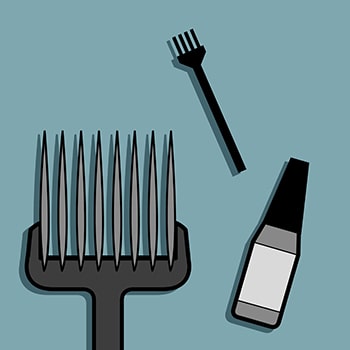 The final consideration is the attachments that the trimmer comes with.
The price of the trimmer you go for may have an impact here, though most trimmers should come with a blade guard or two as a minimum.
Attachments that affect the cutting length can be the most useful, and the best manscaping trimmers will usually have a good selection.
What is manscaping? More on that later!
FAQs Regarding Best Pubic Hair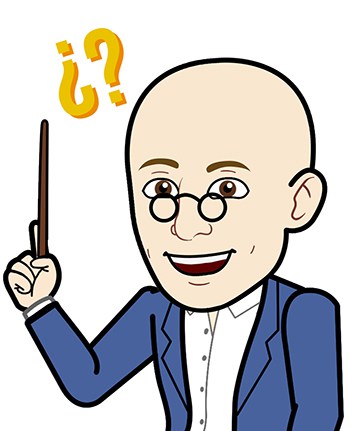 1. Why should I trim instead of shaving?
Trimming is easier to maintain than a full shave too, which is going to start getting stubbly after just a few days.
Plus, and again trust us on this, when those pubes start growing back through after a shave you will be thinking that your boxers are full of sand all day.
Most people who trim their pubes will do so for what are manscaping purposes – to make it look better down there.
If you want to manscape, go for it.
If you just want to trim the hair on your balls without giving the whole procedure a name, go for that too.
3. How often do I need to trim?
You are going to know better than anyone how quickly your hair grows, right?
Personally, we take care of business about once a week.
Again, it really comes down to personal choice, so just do what feels comfortable.
---
How to Clean & Maintain a Pubic Hair Trimmer
As mentioned then, a quick word on how to maintain your new trimmer.
This will actually be a pretty quick section because they actually don't need much maintenance.
Just another of the reasons why we love them so much.
A few tips to keep your trimmer healthy include:
How to Clean & Maintain a Pubic Hair Trimmer
Yep, as simple as it sounds, a good rinse under running water is usually all the trimmer head needs to be clean.
Of course, make sure that your trimmer head can be rinsed before you do that!
A few tips to keep your trimmer healthy include:
Always, always dry your pubic trimmer head thoroughly before putting it away.
Even though stainless steel blades won't rust, they will be dulled by continued moisture exposure.
Another great way to keep the trimmer clean is simply to brush the blades.
Some trimmers come with a little brush to do just this, or an old toothbrush can be just as effective.
Finally, a few drops of oil will go a long way to keeping your trimmers happy.
Again, some trimmers come with a little bottle of oil.
If not, regular vegetable or olive oil will be fine.
---
5 Reasons You Need a Pubic Hair Trimmer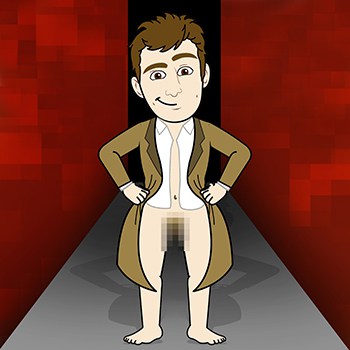 Let's look at some of the reasons why you should invest in the best shaving penis hair trimmer.
#1 Look Bigger
---
Hell yeah! This is one of the best reasons to keep everything trimmed up down there.
It's basically an optical illusion, but by removing hair from around your little man, you will genuinely make it look bigger.
It's kind of how a room looks bigger once it has been tidied up.
Too much clutter and debris take over your field of vision.
Take all that away and suddenly the room looks larger.
It's the same with your junk.
Trim back that out-of-control growth of pubic hair and your dick will look bigger.
Make sure you don't go too fat though – trim it, don't shave it.
#2 Better Sex
---
No, a trimmed up Johnson won't necessarily convince your wife or girlfriend to dress up as Wonder Woman – you need to work on that fantasy yourself.
However, it can help in a couple of ways.
Firstly, have you ever gone down on a hairy chick and come up spitting pubes?
The same thing happens to the ladies.
If she's reluctant to go down on you, trimming away some pubes may make her more likely to venture south of the equator.
Secondly, what does your face feel like after a shave or a trim?
It feels sensitive, right?
Remember the last time you shaved then walked out in a stiff breeze – it feels really invigorating.
Trust us, it will be the same south of the border after a trim. The increased skin exposure can really make sex more sensual (and enjoyable) for you.
That's even if you're doing it by yourself too.
(And hey, don't knock masturbation. It's sex with someone I love.)
#3 Better Hygiene
---
Let's face it, the groin is a pretty gross part of the body in some ways.
It gets way less fresh air than other parts of the body (and if you give it too much, you risk getting arrested).
We all know that we can get really horrible and sweaty down there too, especially after sports but often when just sitting and watching Netflix.
Bacteria love it down there, as it is dark and moist.
If you trim your pubes you cut back on the areas where that bacteria can breed and grow.
So by keeping your bush trimmed you can make it a much healthier, much better smelling environment down there.
#4 Comfort
---
Finally, out of control growth can be plain uncomfortable.
It can really chaff, especially walking and particularly when doing exercise like running or lifting weights.
Spending just a little time on keeping the downstairs clean and tidy can therefore go a long way to making you feel extra comfortable in your shorts.
#5 Girls Like It
---
Yep, women prefer trimmed pubes on a guy. How do we know that?
Because we asked them – in fact, we asked more than 300 of them in our nationwide survey.
What did we find?
That's an amazing 64% preferred trimmed pubes on a man.
Another 16% preferred a clean shave and 20% preferred an all natural, untrimmed look. They must be Burt Reynolds fans.
---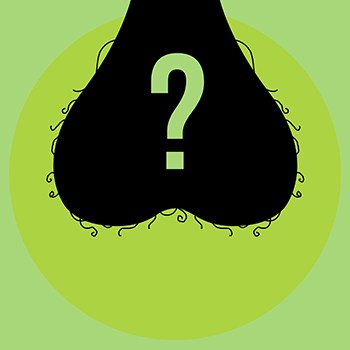 Also known as our handy guide to how to trim pubes, because there is a lot more to keeping trim down there than just haircuts for Harry and Megan (or whatever you've called your own balls, there's no judgment here).
This is not by the way going to be a guide on how to manscape.
We may write that article one day (what a job we have, huh?)
But for now, this is a more general-purpose guide on how to trim pubes.
The first stage is to make sure that everything is nice and clean.
To that end, it could be a good idea to take your best pubic hair trimmers into the shower with you – provided of course it is a waterproof model.
If it isn't, or if you don't want to shave in the shower, try to shave as soon after taking one instead.
That way you will be nice and fresh.
#2 Select the Best Location to Trim
The next step is to choose the location for your trim.
Obviously, if you've decided to do the work in the shower then you don't need to worry about this stage!
If not, there are a few options.
Some men, for example, like to trim up whilst standing or sitting in an empty bath.
That way, when you are done you can simply flush the cut hair down the sink.
Others like to do it in the bedroom so they can use a static mirror and check out what is going on as they work.
If you choose that route, place a sheet of newspaper or two underneath you to catch any hairs.
Wherever you go, just choose someplace where you are comfortable.
#3 Start With the Longer Hair
Start with longer hair, especially if this is your first trim for a while.
In fact, some trimmers will struggle to tackle longer hairs, so it can be a good idea to give pubes a once over with a pair of scissors (please God be careful!) before tidying up with the trimmer.
#4 Get Assistance if Available
It is going to go better if you get some help.
This could be your better half if you can convince her it's in her best interest that you have a trim (see our list above for some useful reasons why it is in her interest!)
Failing that, and we recognize trimming body hair may not be the most popular pastime for all couples, consider investing in a cheap hand mirror.
Make sure it's plastic so you can take it into the shower if need be, and it can be a very useful tool during pube trimming.
Once everything is trimmed up, neat, and tidy then the next stage is to clean up.
Don't worry for now about cleaning the trimmer, we'll get onto that in a minute.
For now, we're just talking about cleaning you up.
This, by the way, is why it can be a good idea to do this in the shower if you can.
Either way, you need to rinse your undercarriage off now, even if that means taking another shower.
Why do you need to do this?
Let's put it this way, here at PrimandPrep we don't tell you to do anything that we haven't tested out ourselves first.
Trust us here, you do not want to trim your pubes then pull on your boxers, jeans and head out the door.
That is a recipe for a full day's extremely itchy crotch, followed by a very attractive rash.
Learn from our mistakes, guys.
When you are trimmed, cleaned, and dry, there is just one step left – moisturize!
Yep, we find it crazy that some men will shave their faces or trim their beards, then break out the skin moisturizer and beard oils – just as they should be.
Those same men though will then trim their pubes and… nothing.
Look, the hair and skin down there are exactly the same as the hair and skin on your face.
So look after it and slap a bit of moisturizer or even some beard oil or balm down on your pubes and skin.
That is about it boys.. We assume no women are reading this on tips to trim their balls but if you are, then you are very welcome.
Of course, this is just a rough guide to what you should do; it's just a few tips to get you started if you're new to manscaping or even just maintenance trims.
Over time you'll no doubt find your own routines.
Conclusion
---
There we go, we hope you enjoyed reading how to shave balls and penis, as much as we enjoyed typing "balls" and "pubic hair" over and over again.
Trimming pubic hair, as we've shown best pubic hair trimmers, can be a secret weapon to impressing the ladies with your grooming.
What's more, it is easy to do and the best pubic hair trimmers can be yours for just a few bucks.
Whichever model you choose, we wish you happy trimming and hope you enjoy your good-looking balls for many years to come!