I think you'll agree that a quality shaving brush is a key piece of equipment for an optimal shave, but determining which shaving brush among the hundreds is best for you is a difficult task.
Luckily, our team of wet shaving experts has reviewed all of the top brands and determined which are the best shaving brushes you can buy for every budget and preference.
In this guide, we're going to take an in-depth review of the best shaving brush out there right now, and help you find the right and the best shaving brush for you with our easy-to-follow step-by-step buyer's guide and reviews.
Please refer to the table of contents below to jump to the sections most important to you.
QUICK OVERVIEW: Best Shaving Brush
Our Top Pick

Sigma Grooming Shaving Brush

Quality Pure Badger Hair
Best Bang for Your Buck

VIEW ON SIGMA →

Light & durable handle
Great price

VIEW ON AMAZON →

Vikings Blade Shaving Brush

Aesthetically pleasing handle
Cruelty-free synthetic bristles

VIEW ON AMAZON →

GBS Premium Shaving Brush Kit

Comes with stand and mug
Quality Pure Badger Hair

VIEW ON AMAZON →

Parker Safety Razor Shaving Brush

Premium Silvertip badger bristles
Long-lasting

VIEW ON AMAZON →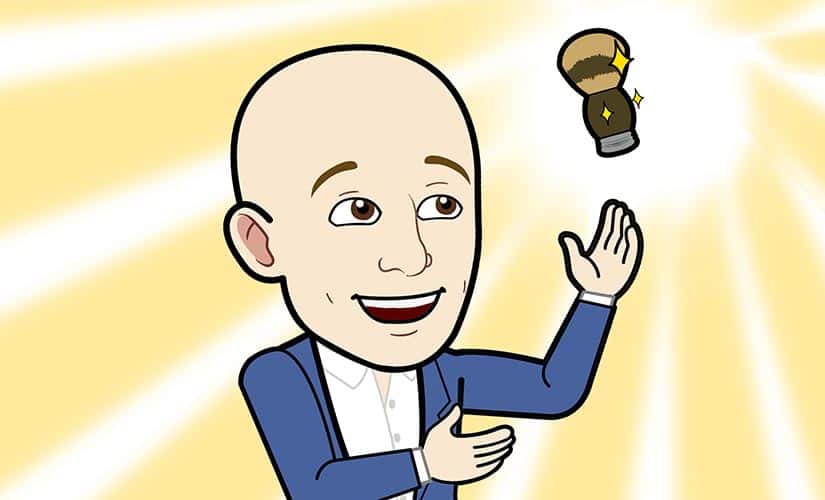 Best Shaving Brushes of 2023
Sigma Grooming 100% Badger Shaving Brush
Omega Shaving Brush Boar Bristle Pro 48
Vikings Blade Luxury Synthetic Silvertip Brush
GBS Premium Men's Brush Kit
Haircut & Shave Co. Synthetic Shaving Brush
Parker Safety Razor Silvertip Badger Bristle Shaving Brush
---
6 Best Shaving Brush of 2023 Reviewed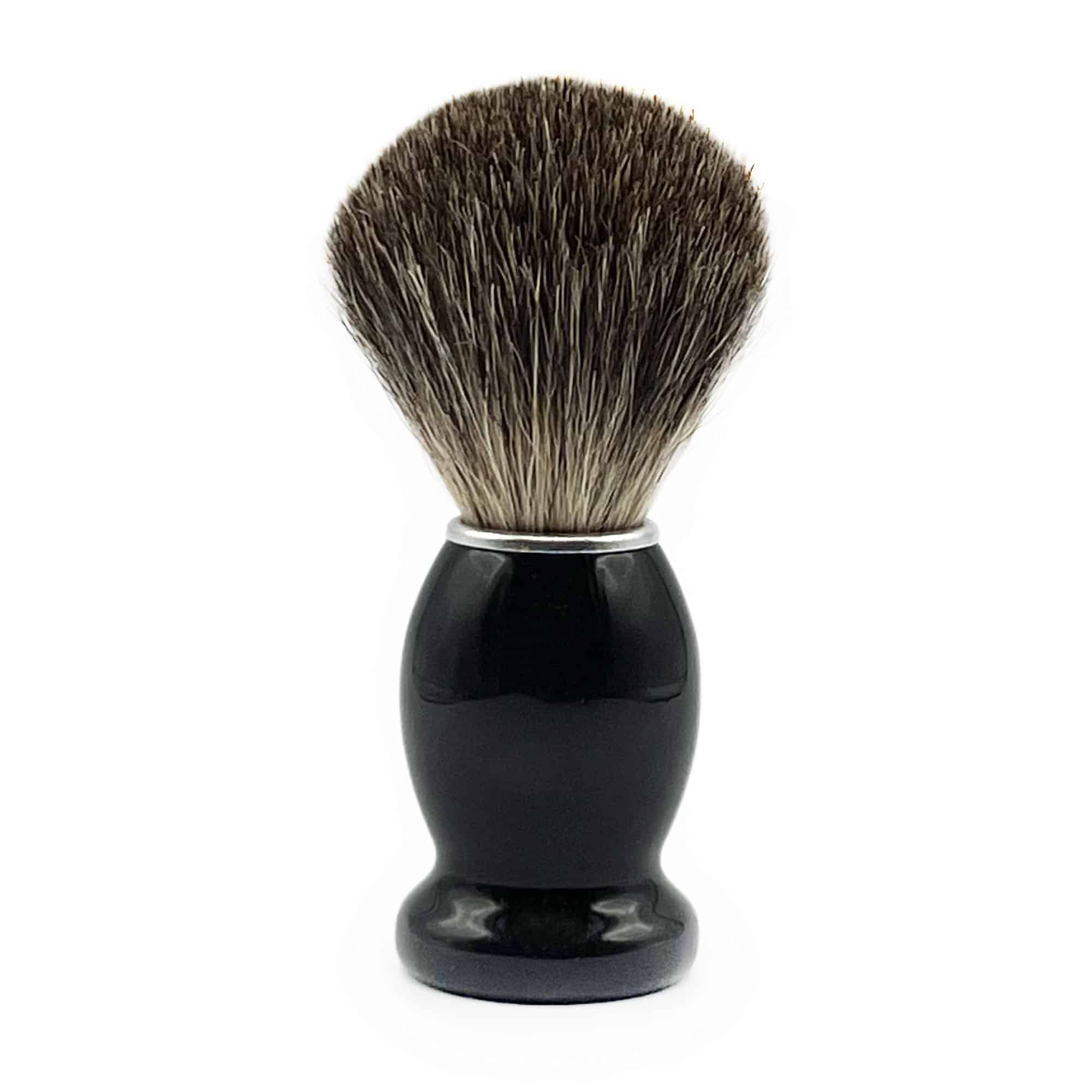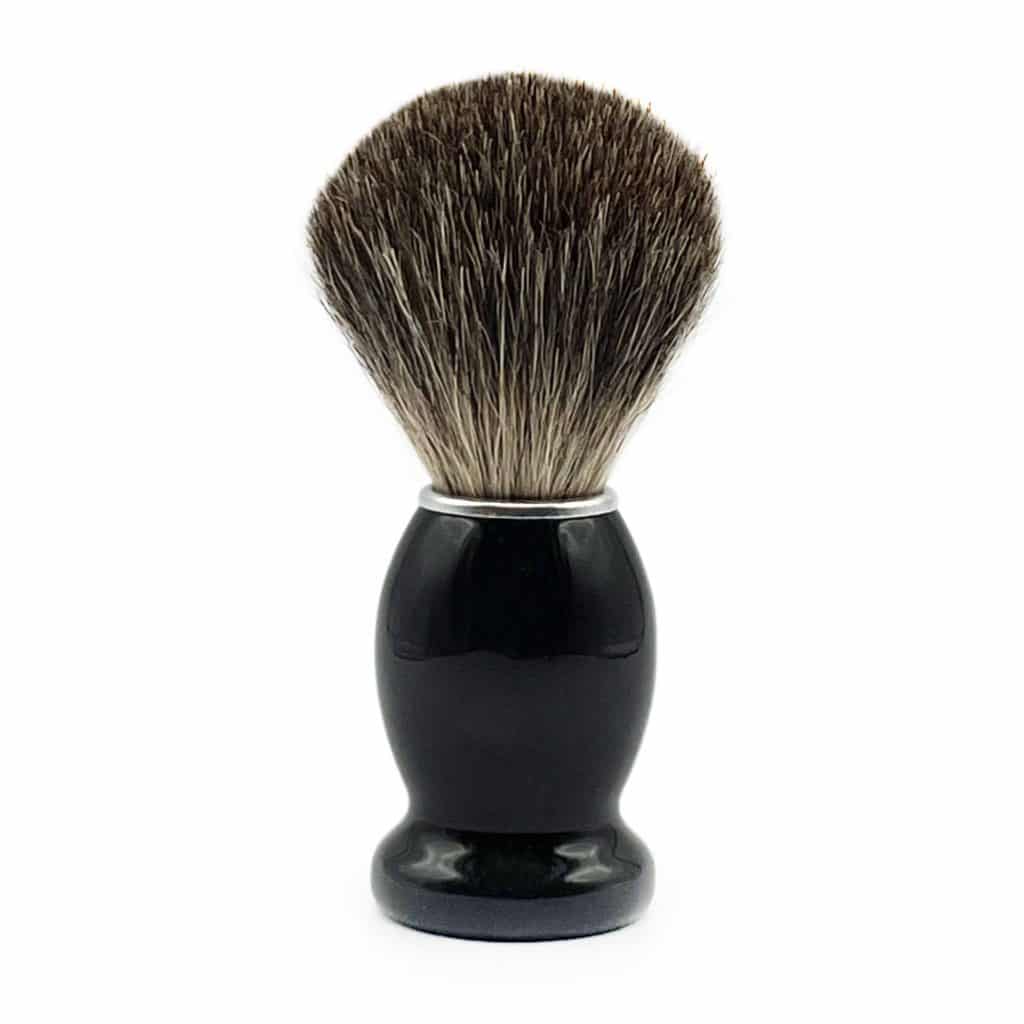 Coming in as the best all-around shaving brush, we have Sigma Grooming's full badger bristle brush.
Combining affordability, simplicity, and quality, this brush will provide the way to a great shave every time.
Specs
Who Is It Best For?
Anyone looking for a premium brush at a low price point.
Key Features
The number one reason we chose this brush as, well, number one, is the fact that it has a 100% badger bristle brush head.
To get a full badger brush for under 20 bucks is a pretty killer deal.
The brush looks pretty simple, so that is probably how Sigma Grooming achieved this price point.
The handle is acrylic which feels great in the hand but isn't much to swoon over in terms of looks.
Still, the brush overall is something to swoon over.
Badger bristles give you the best shaving experience because they are soft and retain water and heat well so you can create a fantastic shaving cream lather.
Badger bristles will also retain their shape and feel much longer than synthetics.
I also like that this brush utilizes a hybrid tip shape.
I've found that as I lather the shaving cream in my bowl, it is quick and effective because of the rounded bristles but then the fanned bristles also help apply the shaving cream to my face and lift the hairs up.
Overall, you can't go wrong with Sigma Grooming's Shaving Brush.
It's got everything the high-end brushes have at a lower price. You can also give try to wolf whiskers shaving brush or varlet shaving brush.
Pros
Great Water and Heat Retention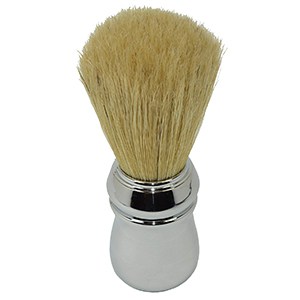 We'll kick off our list with this lovely brush made with boar bristles from Omega.
This is a company with a long and well-earned reputation for producing top-quality, professional-grade shaving brushes.
Specs
Who Is It Best For?
Anyone looking for a high-quality natural material brush without the premium price tag. The silvertip badger shaving brush is best for you.
Key Features
Boar bristles produce a brush that is certainly not to everyone's taste.
They are rougher than the finest badger hairbrush, and not as long-lasting as synthetic ones.
They do however maintain a small but devoted fan club that will not allow any other material to touch their faces.
If that sounds like you or if you want to try boar bristles out for yourself then it is hard to look past this offering from Omega.
First of all, you are getting Omega quality, and that is not to be sniffed at.
It means a well-designed brush with tough construction and top-quality materials – par for the course from Omega.
A boar bristle brush should also mean simplicity. That, to us at least, is the appeal of this kind of brush.
This brush is everything we hoped for. It is simple, it is unassuming, but it is effective.
The handle, for example, is ABS plastic plated with chrome.
This makes for a practical construction technique, as the handle is light but sturdy and the chrome plating elevates it above the typical plastic handled, entry-level models.
The bristles are top quality and of all-natural farmed boar.
The brush is soft but dense, the trademark of the boar bristle.
This is a professional-grade brush that will really deliver results for you.
The last big bonus of boar is the price tag. You are getting a very good quality brush here for less than 20 bucks.
Very, very impressive.
See the consensus of hundreds of customer reviews here on Amazon.
---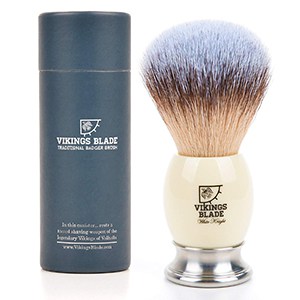 Next up is this very interesting brush from Vikings Blade that offers men a luxurious shaving experience.
It attempts to take all of the benefits of Silvertip badger hair – a premium material – and deliver all those advantages via a synthetic copy.
This is definitely the best high-end synthetic shaving brush on the market.
Specs
Who Is It Best For?
A man looking for the lathering quality of a Silvertip brush without breaking the bank.
Key Features
As we mentioned above, Silvertip badger hair is not just a premium material when it comes to shaving brushes – it is THE premium material, the king of shaving brushes.
But, such is life, when you start looking at premium materials you are also looking at premium price tags.
That though is where Vikings Blade comes in.
They have produced a real high-quality shaving brush that seeks to create a synthetic version of Silvertip hair.
This means you don't just have a brush that looks the part, but it plays the part too.
For one, it is remarkably soft for a synthetic material.
It doesn't quite have the heat and water retention of true Silvertip, but frankly, it is not far away and that is no disgrace at all for a synthetic brush.
It looks amazing too. They have done a really good job of modeling the looks of Silvertip.
The handle too is a traditional style, and whilst it is made of practical but boring acrylic, that Swedish alloy tip looks great and adds stability to the brush when resting on countertops.
So what we were really looking at when we started reviewing this brush was whether it could be a replacement for a Silvertip brush.
The truth is that no, it is not quite as good as a true, all-natural brush.
It is however not too far away, and with a price tag probably about half what you would expect to pay for a natural brush.
This is certainly a very intriguing option. If you are looking for more synthetic brushes you can try plisson shaving brush synthetic or dogwood shaving brush.
Check out the hundreds of customer reviews here on Amazon.
---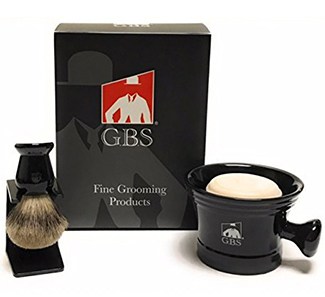 We're taking a look at a full-on, well-equipped shaving brush kit from GBS next.
With the amount of equipment that comes in this set, you're certainly getting good value for money.
Is it quantity over quality, however?
Specs
Who Is It Best For?
Anyone who needs a full shaving kit delivered all in one handy box.
Key Features
The first thing to note with this product is, of course, the fact it is a kit.
So before we start looking at the brush (which let's face it, is what we're all here for, right?) we need to quickly go over the other items in here.
What do we have?
Well, a badger hairbrush with a brush stand, a ceramic soap cup, and a 4 Oz. block of shaving soap.
Let's start with the shaving soap bowl because in all honesty we really like it.
It is of a traditional design with a horizontal, side-mounted handle and a tough and attractive ceramic construction.
It is the kind of accessory that really can provide years of useful service, making it well worth the money.
The soap is comes with is a 7 out of 10 at best. It's ok, but there are certainly better soaps out there.
Don't worry about that though, you're not buying this kit for the soap.
Use it once or twice then replace it with a better soap for a few bucks.
The brush is of course what we are here for and it is worth it.
It is badger hair, which is always great to see.
It is a lower grade of brush, probably a Pure grade of hair.
That being said though, Pure grade badger hair is still a better material for shaving brushes than what you will find in a lot of other rival brushes out there.
Add in the high-quality mug and a very useful little storage stand and you have a premium shaving brush kit that also represents phenomenal good value.
See the customer reviews here on Amazon.
---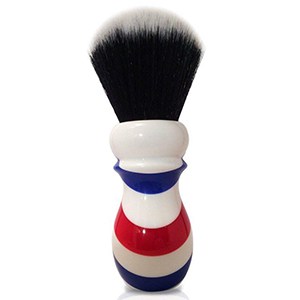 Our next brush is an entry-level, synthetic material model from Haircut & Shave Co.
With a company name like that, you assume they know a thing or two about shaving brushes, but what are you getting for your money here?
Specs
Who Is It Best For?
Anyone shopping on a budget.

Key Features
Just because a product is marketed as entry-level, doesn't mean it is of a lower quality than premium models, at least in terms of design.
Yes, some compromises are made to get the price down.
The brush material here, for example, is not the high-grade synthetic we saw on the Vikings Blade product we looked at above.
That said, it is still a high-performing brush head material.
It is nice and soft with decent water and heat retention.
It is not quite in the league of, for example, a Silvertip badger brush, but then neither is the price tag.
What you do get is a simple but effective brush.
We especially liked the handle too.
Not only does it feature a jaunty and attractive barber pole-inspired design, but it also works well too.
It is ergonomic and comfortable, designed to feel good in the hand.
It is also that much bigger than many other handles, so if you have larger hands or just feel more comfortable with a full-sized handle, that could certainly make this shaving brush more attractive.
There is no point in lying and saying this is a premium product, the price tag alone shows that can't be true.
But speaking of that price tag, this is still a very good brush that delivers an excellent lather for a very, very reasonable price.
If you are looking for a new shaving brush on a budget, this is one of the best out there.
Check out the collective opinion of the customer reviews here on Amazon.
---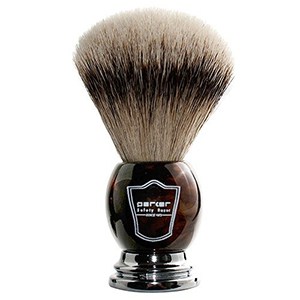 From an outstanding entry-level brush, we'll finish up with a true premium product here.
Parker Safety Razor has over 40 years of experience producing high-end shave products.
They've taken that pedigree and experience and used it to turn out this beautiful 100% Silvertip badger bristle brush.
Specs
Who Is It Best For?
Anyone for whom money is no issue, looking for a truly premium brush.
Key Features
This is a beautiful brush, let's get that out the way straight off the bat.
It just looks incredible, but there is a lot going on under the hood too.
The big stand-out feature, of course, is that 100% Silvertip badger bristle brush head.
This really is top of the range, premium materials we are dealing with here, and this brush is designed to give the best shaving experience, hands down.
To achieve that, the badger bristles are incredibly soft and provide the best possible water and heat retention levels for a truly world-class shave.
Don't forget as well that badger hair, by its very nature, is remarkably tough and long-lasting.
Bearing the hefty price tag in mind, that is certainly good to hear, as you want to get multiple years of use out of this brush.
Luckily, because it is such a tough material, that is exactly what you will get.
Look at it as a long-term investment.
Break the initial cost down over the years of premium quality shaving this will help you achieve and it starts to look like a bit of a bargain really.
There is a lot to like about this brush, but yes, it is not exactly cheap.
But for that outlay, you truly are getting a top-quality, premium product that is at the very top end in its category.
Check out all the stellar customer reviews here on Amazon.
---
So that is our list of the best shaving brushes out there right now.
You also have the factors to bear in mind when choosing your brush.
So the next question really has to be – why bother buying one at all?
Don't worry – we've got your covered there too:
---
Other Good Shaving Brushes that you can also consider using are:
Semogue Shaving Brush
Rubberset Shaving Brush
Vulfix Shaving Brush
5 Things to Consider When Buying The Best Shaving Brush
Before we get to our best shaving brush assessment and reviews, in this first section we'll highlight the features that you should bear in mind whilst reading our reviews.
Remember them, and they will help you to find the right brush to suit your needs, as each feature will be more or less important depending on what you're looking for in the brush to lather up your precious little face.
1. Size
---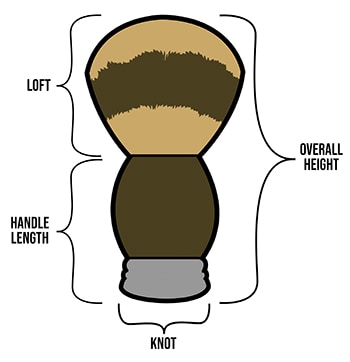 The first consideration has to be the size of the brush. When it comes to shaving brushes there are actually four sizes that are important.
1. Overall length
Overall length is pretty self-explanatory, right? It is literally the length of the entire brush including the handle and the hair.
Most brushes are going to be around five to six inches as an average.
2. Loft Length
The loft length is much more of a brush-specific measurement, and we will bet a shot of whiskey that you've never heard the phrase "brush specific measurement" before.
Possibly because we've just made it up.
Anyway, the loft is just the measurement of the length of hair in the brush.
Typically it is going to be between 2 inches at a minimum and up to 3.5 or 4 inches at the longer end.
Anything longer than that and you're trying to shave with a troll doll, which is not recommended.
But what does this mean for you?
Well in practical terms it simply means that if you have facial hair you are maintaining and want to shave around, go for a brush with smaller head size.
That will give you a useful level of accuracy to just put the shave soap where you need it.
If you just need an all-over shave every morning then a brush with a larger head size would be ideal for you.
You sacrifice the accuracy you don't need and instead get speed, with the larger brush head allowing you to apply to shave soap and lather up much quicker.
3. Knot or Collar Diameter
The knot diameter is the diameter of the base of the bristles where they are bound together.
The diameter will determine the actual amount of bristles that are contained within the brush, but this is not always perfectly consistent as the density (i.e. how tightly they are bound together) can vary from brush to brush and manufacturer to manufacturer.
The knot diameter can vary between 19 – 30mm but the majority of shaving brushes are between 20 – 24mm which provides a sufficient amount of bristles.
4. Handle Length
The handle length should not be of great concern, but some people with particularly large hands may prefer a longer handle.
2. Brush Material
---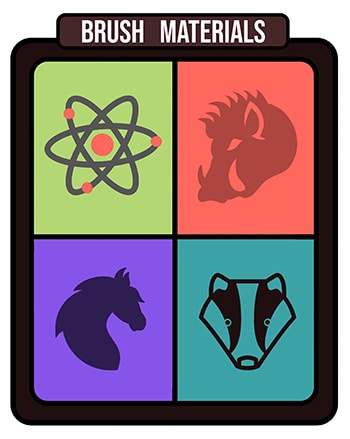 Brush material may well be the most important factor to consider since it will have the most direct impact on the quality of shave the brush helps you achieve.
Broadly speaking there are 4 materials on the market right now:
Badger Hair
Simply the best material on the market, hands down.
Badger brushes have the best water retention, best heat retention, and longest lifespan.
A pure badger shaving brush is also soft and luxurious and does a great job of gently massaging your skin and lifting your hair.
You need to be aware however that not all badger hair brushes are created equal!
There are in fact three grades of badger hair:
Pure Badger Hair
The lowest grade, but still a quality bristle material.
Super/Fine Badger Hair
A step up from pure and very good material in its own right. But not quite as good as…
Silvertip Badger Hair
The absolute Mack Daddy of badger bristles.
Super soft, super tough, and very absorbent.
This is only made with hair harvested from the badger's neck, which for some reason is the best shaving brush material in the world.
If you truly want to buy the best badger shaving brush, make sure it is made out of badger hair.
Boar Bristles
The second material that you will find many brushes made of is boar bristles.
They don't have the same water and heat retention quality as badger hair, but they still provide a great quality brush.
They also come with a price tag well below the finest badger hair shaving brush prices.
Surprisingly, they come from such a tough and rugged animal, but the bristles themselves are not particularly tough.
This type of brush will have a far shorter lifespan than both badger and synthetic.
It will though provide a good quality brush material without breaking the bank.
Synthetic
Brushes made of synthetic hair have really grown in popularity recently.
This is due to 2 reasons:
1. The advancements in the synthetic materials have allowed the brushes to often perform as well as varying levels of badger hair brushes and are very tough, with a far longer lifespan compared to boar bristles.
Cheap and low-grade synthetic brushes have given this material a bad name, but the better models actually can be of very high quality and provide a great lathering action.
2. The questionable practices of harvesting badger hair have caused many to select a cruelty-free synthetic brush.
Horse Hair
Back in the day, many people would have a horse hair shaving brush.
Then it was discovered that poorly disinfected horsehair shaving brushes were spreading Anthrax.
Now, we are not Mad Men-style advertising geniuses, but even we know that is found to be spreading Anthrax is not a good look for a product, and horsehair brushes quickly fell from popularity.
3. Tip Shape
---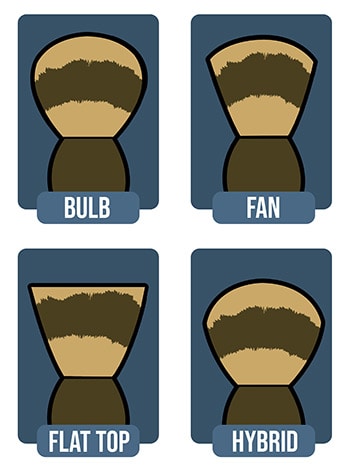 There are a variety of brush style tips out there.
A fan or bulb style is traditionally the most common among natural brushes and the hybrid tip is common among synthetics.
I personally have not noted much of a difference between them in their ability to work up a nice deep lather or effectiveness in applying the soap or cream to my face.
4. Handle Material
---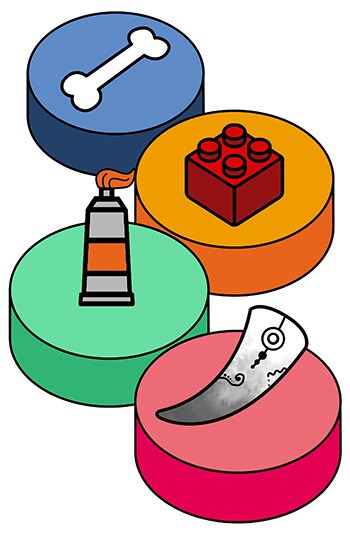 The handle is of course not the most important part of the brush, as the most important part is, well… it's the brush, isn't it?
That being said, don't get yourself stuck with a poor-quality handle if you want to enjoy your shave.
Material-wise, you have everything out there from bone, faux bone, ABS plastic, acrylic, and wood.
5. Price
---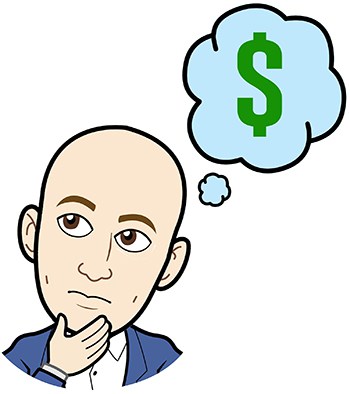 The final consideration is a factor that plays into just about any purchase – the number of greenbacks you're going to have to lay down.
Everyone has a different budget, so get the number in mind before you start shopping for a new brush.
As a general rule of thumb, an entry-level synthetic brush will set you back around 20 bucks or so.
At the opposite end of the spectrum, handmade Silvertip badger hair brushes can easily cost well over 50 bucks.
Frequently Asked Questions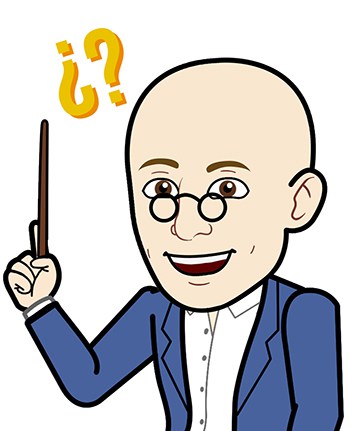 Which material is the best?
Badger hair is the best.

Next question.
Can you elaborate?
You're very needy today.

Ok, cards on the table, badger hair is the best brush material.

Why though if that is true do they make brushes of other materials?

Because badger hair is the best overall – but that doesn't mean it's the best for every individual person.

Some people like hog hair because it is cheap and rough, it's what cowboys shaved with for crying out loud, and cowboys are cool.

Some people like synthetic as you get none of the natural variations that can occur with a natural material like badger or hog hair.

If you like a synthetic brush, the next time you buy it will be exactly the same as the first model you used.

Additionally, developments in synthetic fibers are getting close to matching the quality of badger hair.

There is no best material – there is just the best material for you.
Should I be worried my new brush is shedding hairs?
It's a short answer to this question – no, you don't need to be worried.

Due to the way most brushes are manufactured, they are going to shed a few hairs during anything up to the first 10 times you use them.

It's perfectly natural and nothing to worry about.

A quick tip to stop the shedding earlier is to give your brush a good wash in shampoo and warm water as soon as it arrives. That will help to dislodge any loose hairs into the sink rather than onto your face.
Do I need to buy a stand?
We are the kind of shavers who like to buy all the trinkets and toys, because we enjoy it.

We like to try out new balms and brushes and oils – heck, it's why we run this site, because we love grooming.

Because of who we are, our natural inclination is to say yes you do need a stand. But in reality, it is not so black and white.

The main advantage of a stand is that leftover water can drip off the brush and help it dry quickly after use.

That is certainly very useful.

But really, you shouldn't be leaving excess water in the brush after use anyway.

If you follow a proper use and cleaning routine it should be dry enough to store without a stand.

Buying a stand is certainly not going to do any harm, but neither is it strictly necessary.

It's really up to you, and what is the most convenient way to store your brush.
How long will my brush last?
Shaving brushes are all in all quite long-lasting, but they are not indestructible.

Unless that is if you buy a brush made of cockroach hair, but who wants to shave with cockroach hair? No one.

Heck, we don't even know if cockroaches have hair.

It's hard to give a precise time, as a lot of factors will weigh on the longevity of your shaving brush.

Material, for example, plays a part.

Hog hair is generally the least long lasting brush material, with badger hair being the longest and the best synthetic shaving brushes coming in the middle.

Bottom line, if you take care of it properly and follow the care instructions we outlined above then you can expect your brush to last for a good number of years.
Give me one final Top Tip to care for my brush.
Well firstly that's not actually a question but it's ok, we're all friends here.

If you've read all of the advice above then frankly you're already pretty well placed to look after your new shaving brush.

One extra tip we picked up years ago that we could pass on now though – never expose your brush to boiling water.

Some people will pop their brush into a cup of bubbling H20 in the mistaken belief it's sterilizing the brush tip.

Wrong!

What they are actually doing is damaging the hair itself, making it brittle.

It will hold shaving foam lather poorly and will start falling out in clumps.

So keep your brush away from boiling water!
---
5 Benefits of Using a Shaving Brush
For our money, there are a number of useful benefits to using a shaving brush, such as:
#1 Exfoliate
---
A brush is great for exfoliating the skin.
As you are working the bristles over your face to generate lather, those same bristles are also gently lifting dead skin and dirt up and off the skin under your hair.
That can help keep acne and spots at bay, keeping your skin looking great.
#2 Water Retention
---
A brush helps you to create a great lather by retaining lots of lovely water amongst the bristles.
This water mixes with your shaving soap to help create a deep and luxurious lather.
That, in turn, helps the razor blade to glide over your face with the least resistance, minimizing skin irritation.
#3 Convenience
---
Another benefit of water retention is that it works up a lather fast, much faster than you can do with your bare hands.
It is also more accurate, and you can get soap exactly where it needs to be, rather than, well everywhere, which happens when you use your hands!
It also makes cleanup faster, as you don't need to rinse the soap lather off of your hands.
#4 Adds Heat
---
You should always use hot water on your brush.
Shaving brushes will retain this heat so that when you are massaging the soap onto your face, that heat can go to work opening your pores.
That helps to lubricate your face, making for a smoother shave with less razor burn.
#5 A Better Overall Shave
---
The final big selling point for a shaving brush is a simple fact that it delivers a better quality shave.
We mean, just look at those factors we outlined above.
A shaving brush is fast, it is convenient, exfoliates, it opens your pores and it promotes a smoother shave experience to protect your skin.
It does all that without taking up hardly any space or costing much money.
It's a winner!
---
How to Use a Shaving Brush
A shaving brush is a great first step toward an outstanding shave.
But just like any other tool, you need to know how to use it correctly if you are going to get the best results.
Luckily, it is very easy to get the most out of your brush, especially if you follow our handy How to Guide, which you can find right here…
Time needed: 15 minutes.
How to Use a Shaving Brush
Use the Right Shaving Brush

It goes without saying, but the first stage is to make sure you have the best shaving brush for you.

If you are reading this guide and your brush holding hand is empty, we would really suggest going back up and starting again and using our product guide to pick out the right brush for you.

Wet the Brush

Once you have your brush, the next step is the same as the end of date night with your other half – you've got to get her wet.

But, it's not as easy as sharing a bottle of red and watching a Channing Tatum film on Netflix – your shaving brush is frankly a much more discerning partner than your girlfriend.

This is because the amount of moisture on the brush is not a fine art, and some people will prefer a dryer brush, some prefer a little more moisture.

Run it under warm running water or soak it in a shaving bowl to soften up the bristles.

Either method is fine.

Remember, at this stage the wetter the brush, the more lather you're going to create in your shaving bowl, so it really does comes down to personal preference.

Experiment a little with your moisture levels, though as a rough guide you probably don't want it to be either bone dry or soaking wet.

Build a Lather

When your brush is at the moisture level you like, it's time to bring out your preferred shave soap or shaving cream.

In our humble opinion, the best way to work up a dense and luxurious lather is by using a shaving bowl.

Don't try to do it on your face with a soap paste on the bristles, that is a road to irritated skin.

Shaving bowls have been around forever because they are the best way to build up that lather.

If it isn't broke then don't fix it, so get your shaving bowl out now.

Check out our article and video on how to build a lather for more detailed instructions.

Apply Lather On Your Face

Once you have a good lather going, work it into your shaving area (also known as your face).

Use circular motions so that you are applying a nice layer of lather as well as lifting up hairs and stubble.

This will both help the razor to glide smoothly over your skin and also make your hair and stubble easier for the blade to cut.

Shave and Reapply

Once you are lathered up nicely it is time to shave.

Reapply as necessary to go over the areas of your face again at different angles (i.e. with the grain, across the grain, against the grain) to achieve that baby-bottom smooth shave.

Clean & Maintain Your Brush

When your face is clean of hair, it's time to finish up the cleaning routine by taking care of your brush.

Very luckily, our next section in on doing just that, so read on to find out how to clean and care for your shaving brush.
---
How to Clean & Maintain a Shaving Brush
A shaving brush is actually pretty easy to look after.
Just ensure that after every time you use it, you give it a thorough rinse in clean running water to remove as much leftover soap lather and dead skin cells as possible.
After you've cleaned the brush, make sure to dry it thoroughly as nothing will make your brush gross faster than leaving it wet.
A shake in the sink will remove most of the water, then gently squeeze the brush tip through a dry towel to remove any lingering drops.
Don't squeeze too hard though, as you don't want to end up with a misshapen head.
In fact, that's a good tip for life in general right there, always try to avoid a misshapen head and you'll probably be just fine.
If your brush is starting to look a little funky, then good old-fashioned Borax is your friend.
You can pick this up in drug stores or in the laundry aisles of larger stores and markets. In a small bowl, mix up a small amount as per the packet instructions.
Pop in your brush, give it a good clean, rinse with water, and dry. It will be back to new in no time.
If you are looking for more shaving brushes you can also give a try to these brushes semogue shaving brush, rubberset shaving brush, vulfix shaving brush, west coast shaving brush, bevel shaving brush, and new forest shaving brush.
---