Whether you've just moved out on your own or you're replacing your cheap shaving and grooming tools with new stuff, it can be quite a hassle to pick up individual items for each of your needs.
There are razors, shaving lubricants, combs, trimmers, brushes, and more to consider.
Considering all the things you need to look your best, having to spend time finding ideal choices for each item is something lots of guys don't want to think about.
But what if we told you there was another way?
The best men's shaving and grooming kits are a great way to build up your hygiene tool collection or fill your bathroom cabinet with a single purchase.
These comprehensive kits often contain everything you need to shave and groom yourself each morning before work.
These include the best razors, best shaving blades, wet shaving products, and much more.
Or they might be perfect selections of the top tools for doing specific things, like maintaining a beard.
Even better, many of these shave kits are specifically designed to be used while on the road.
So, they're great choices if you need a bathroom toolset for your next business trip.
Ever heard of these?
No problem; we've collected the best shave kits for your perusal.
Let's get started.
QUICK OVERVIEW: Best Men's Shaving & Grooming Kits
Viking Revolution Luxury Safety Razor Shaving Kit

Includes several things to make it ideal for sensitive skin
Plenty of each liquid in bottle

VIEW ON AMAZON →

Fulllight Tech Beard Kit for Men

Can be bought for an affordable price
Has learning materials for new beard growers

VIEW ON AMAZON →

DOVICH 12-in-1 Beard Grooming Care Kit

Great for men with dry skin
Very affordable

VIEW ON AMAZON →

VICYUNS Luxury Grooming Shaving Set for Men

Bowl comes with a mirror for accurate shaving
Has plenty of replacement blades for your razor

VIEW ON AMAZON →

Beard Reverence Premium Beard Grooming Kit for Men

Tools are made from excellent materials
Comes with convenient carrying case

VIEW ON AMAZON →

Beard Baus Grooming Kit for Men

Tools are made with quality materials
The included box is stylish

VIEW ON AMAZON →

Includes decent cartridge razor
Has lots of length settings for different styles

VIEW ON AMAZON →

Alpha Vikings Beard Care Grooming Kit for Men

All the tools are well-made
The travel bag is very durable

VIEW ON AMAZON →
Use the table of contents below to jump to the sections most important to you.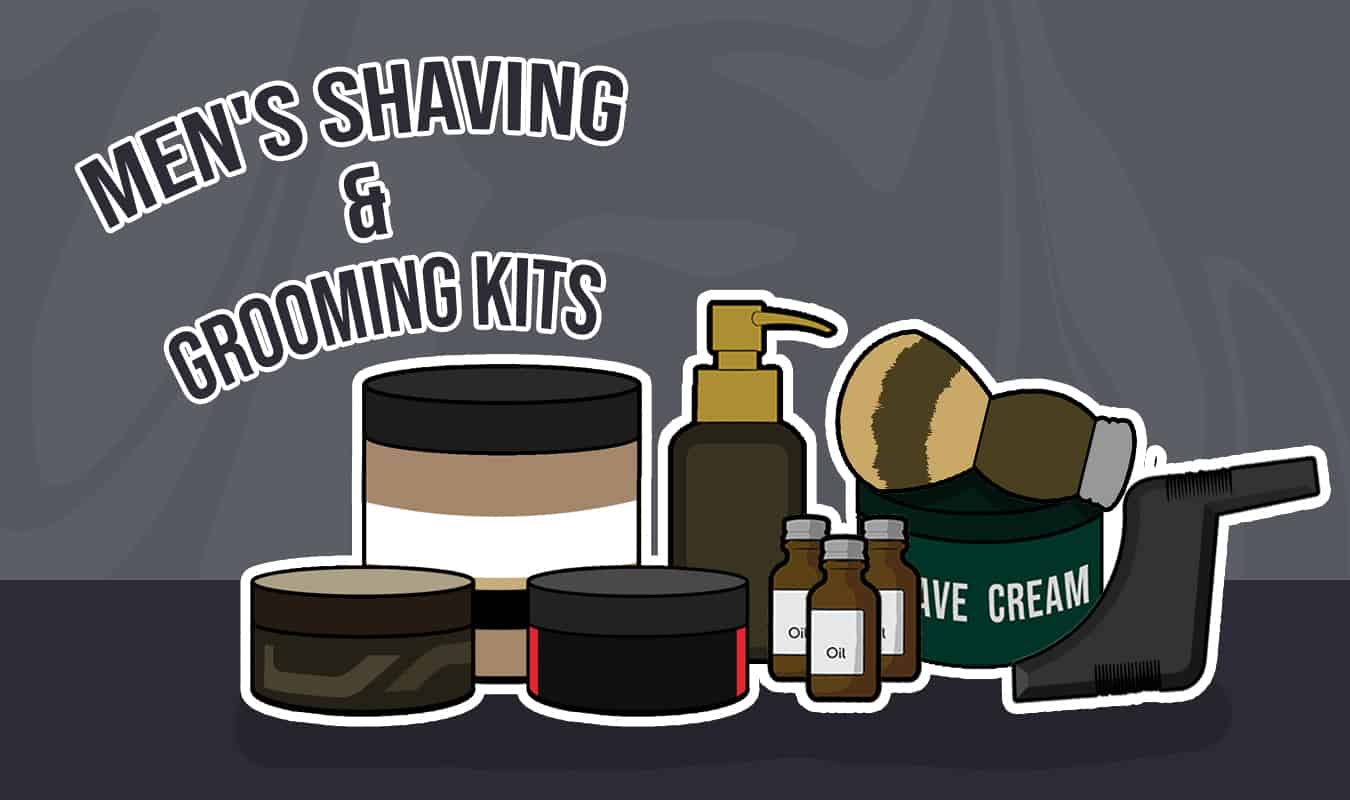 8 Best Men's Shaving and Grooming Kits 2023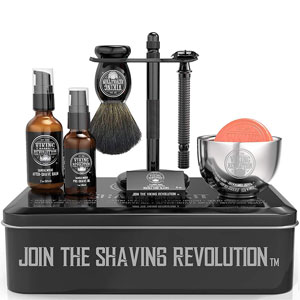 This luxury razor shaving kit has everything you need to give yourself the best shave of your life and comfort.
Specs
Who Is It Best For?
It's a prime choice for guys who want to supercharge their shaving routine and treat themselves to excellent products.
Key Features
This is a perfect wet shave kit for men that want to improve their shaving experience without going all the way to a straight razor.
Includes a safety razor that's built with high-quality materials and comes with 10 razor blades, so you'll be able to use the kit for a long time without having to replace any of the included materials.
There are also several other additional products included with the razor to boost the feel of your shave.
These include an aftershave balm and a separate oil that can make using the safety razor an absolute joy.
Our testers reported that the razor felt great on their skin when used in conjunction with the included soap and oil.
The kit comes with a classy stand that can hold both the razor and the brush that you use the lather the soap into the correct texture.
We were most impressed by how well the various elements of this can come together to make a complete shaving station for any man's bathroom.
We also really appreciate the money-back guarantee.
It's a great deal if you find that you aren't satisfied with the products.
The asking price isn't too high while still reflecting the overall quality of the razor and stand.
The only downside we have to report is the chrome-like color of the bowl, which reflects spots or bathroom gunk a bit too easily.
It drags down the aesthetic of the set as a whole.
Still, this is hardly a real downside, and we'd readily recommend this shaving kit for men in a heartbeat.
Check out the hundreds of customer reviews here on Amazon.
---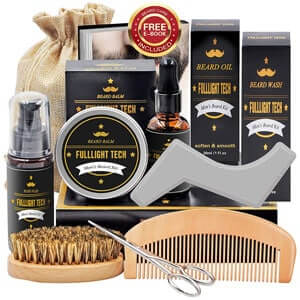 This beard kit has lots of stuff for the care and conditioning of your beard.
Specs
Who Is It Best For?
It's the best men's grooming kit, especially for guys with fluffy beards who want them to look great no matter the weather or time of day.
Key Features
This beard care kit is an ideal choice for guys that have fluffy facial hair and want to keep it looking great.
It includes everything you need to properly care for in trimming your beard at longer or thicker lengths.
Some of these materials include a wooden comb that is built to last and which features lots of thin teeth that are perfect for pulling out curls or smoothing your beard.
The included scissors are made of stainless steel and are hypoallergenic, so you'll be able to rely on them without worrying about rust damage from your moist bathroom.
The beard brush included with this kit uses boar hair; these bristles feel soft to the touch but maintain enough rigidity to quickly bring healthy hair oils from the roots of your beard hair to the tips.
Add to these excellent tools, a set of perishable beard oils and conditioner products, and you have everything you need to help your beard look and feel its best every day.
What's more, is that you can get all of these tools for an extremely affordable asking price.
There's even more value for money in the included free e-book to help you learn to take care of your beard and a carrying bag so you can keep all your products together.
All in all, we would easily recommend this beard kit for men starting to learn how to take care of their facial hair.
It's a rather niche kit that doesn't include tools for other grooming needs, but it's superior for what it's meant to do.
Check out the hundreds of customer reviews here on Amazon.
---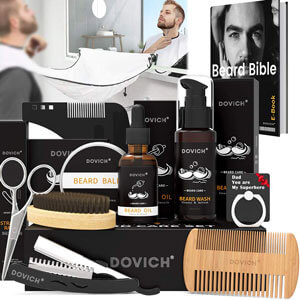 This is a beard grooming kit that also features a few extra tools for whole-face grooming functions.
Specs
Who Is It Best For?
This is the best men's grooming kit (shaving kit), especially for men who need to build up their cabinet supplies or who have styles that incorporate facial hair and clean-shaven areas in equal measure.
Key Features
This includes lots of materials such as the best men's shaving kit that takes care of your beard and a few extra tools to help you achieve a closer shave.
For this reason, our testers think it's an excellent pick for men who have long facial hair on one part of their face and are clean-shaven on the other parts.
The shaving can be accomplished with the included straight razor that features a safe block to help you use the razor properly.
The razor also features two blades for variable cutting needs.
However, this kit curiously lacks any shaving cream or lubricants, so you'll have to supply your own materials if you want to use the razor effectively.
But when it comes to beard supplies, this kit has it all, including several oils and a conditioner to make your beard feel and look amazing.
In fact, beard oil and wax incorporate several hydrating elements, so they're great products to use if you have naturally dry skin or your beard frequently suffers from dandruff.
The beard scissors and brush are similarly high quality.
Trimming your beard is easy thanks to the helpful bib, which catches your beard clippings and makes their disposal convenient.
All in all, it's a top-tier beard maintenance kit that can be bought for an affordable asking price.
Give it a shot if you incorporate both facial hair and a clean shaving routine each morning.
Check out the hundreds of customer reviews here on Amazon.
---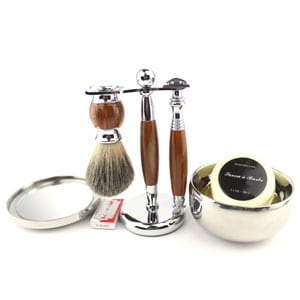 This shaving set for men is a high-quality kit that can provide an excellent shaving experience stepping up from cartridge blades.
Specs
Who Is It Best For?
It's a phenomenal choice for guys who want to get a closer, more comfortable shave than they've ever experienced before.
Key Features
This is another best shaving kit for men who struggle with razor bumps or skin irritation every time they take a blade to their face.
For starters, this kit uses an allergy-free shaving soap.
It's made from 100% organic ingredients, and it's not likely to irritate your skin or clog your pores.
This means that each time you use the razor, you shouldn't see your skin transform into a red color automatically.
The safety razor included with the kit has a classy handle and is made from durable materials.
It comes with 10 replacement blades, so you can use it for a long time before you need to resupply.
The included bowl comes with a mirror to help you accurately shave your face without making mistakes, which is an excellent inclusion for beginners.
The included stand can take both the safety razor and the beard brush, the latter of which uses badger hair.
This kind of hair is soft and gentle for the skin, which adds to this kit's suitability as a choice for men with sensitive skin.
The only major downside is the high asking price, especially since you don't get an aftershave with the purchase.
But our testers would still firmly recommend this choice for guys who struggle with feeling comfortable when they shave.
It's very much worth the price when you consider the joy you'll get when you finally shave without feeling like your face is burning.
Check out the hundreds of customer reviews here on Amazon.
---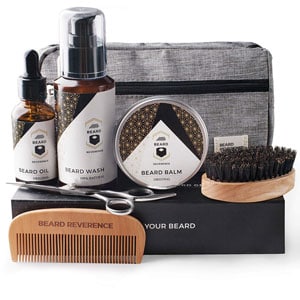 This beard grooming kit can make your beard fluffier and softer than before.
Specs
Who Is It Best For?
We'd recommend it for guys who have historically had problems with your beard hair being too rough.
Key Features
This is the best men's shaving kit and is considered an ideal grooming kit for men that have full beards or lots of facial hair.
It includes all the tools you need to brush and untangle your beard each day plus several perishable products made from all-natural ingredients and organic elements.
The perishable products include oil and wax that will help your beard feel and look excellent.
There's also a balm that can soothe any skin that might be irritated beneath your beard hairs, especially after you've finished brushing your facial hair.
The included scissors are barber style and stainless steel, so they are perfect for clipping away stray hairs from your beard and tightening up its look.
The comb included with the kit is made of pearwood that looks and feels excellent in your hand, and the brush is made of 100% boar bristles.
Our testers were blown away by the overall quality of each piece of this phenomenal kit.
Everything also comes in an easy to carry case that makes this an excellent choice for men who travel frequently and want to ensure that their beard always looks its best.
You can even pick this up for a very reasonable asking price.
It doesn't include a razor or anything for your head hair, but the real negative we found was the bag's durability; the zipper isn't very tough, so take care when using it.
But if that's the only real con we found, it only demonstrates how excellent the kit is as a whole.
Definitely consider this if your primary need revolves around properly grooming your beard.
Check out the hundreds of customer reviews here on Amazon.
---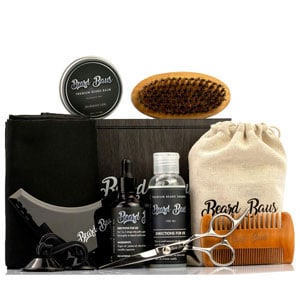 It's a grooming kit that can turn your beard trimming or conditioning routine into a breeze.
Specs
Who Is It Best For?
This is an excellent kit for guys who leave beard hair trimmings around when they take care of their facial hair.
Key Features
This is another fantastic beard and general best men shaving kit that features nine complete pieces that are ideally chosen for trimming and shaping your beard or mustache.
The kit starts with a pair of professional-grade stainless steel trimming scissors that are perfectly sized for cutting away small hairs on your face.
The brush has boar hair bristles to improve oil saturation throughout your beard and provide you with a comfortable experience.
The double-edged comb is another notable point that includes differently sized teeth on either side.
You can use this comb and multiple ways as a result.
There's also a beard shaping tool to help you perfectly trim your beard into the style or shape you have in mind.
You need to bring your own razor to the kit, of course, which is a bit of a downside in our eyes considering all the other tools included in the kit.
But it also has lots of perishable products, like beard oil, to improve its moisturization and feel and a beard balm to soothe your skin beneath your hair.
These products are made with natural ingredients that utilize helpful carrier oils and moisturizing elements.
As a result, this kit is a top choice for men with dry or easily irritated skin.
Everything comes in a luxurious wooden box and a drawstring bag.
You can use either of these two cases to travel with your gear conveniently, although a more modern carrying implement would have been an ideal pick for real businessmen.
Still, it's a fantastic kit overall, and we wouldn't hesitate to recommend it for men that have thick beards and mustaches and who trim them frequently.
Check out the hundreds of customer reviews here on Amazon.
---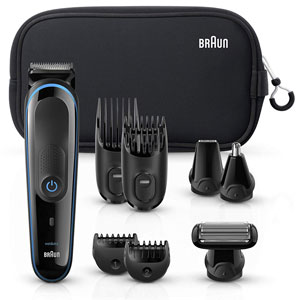 This multi grooming kit has a razor and a multi-use trimmer that can tackle facial and head hair alike.
Specs
Who Is It Best For?
It's a perfect choice for men who need to cut away all kinds of hair or who aren't concerned with a particularly close shave.
Key Features
This comprehensive kit is a perfect all-in-one choice that has everything a man needs for daily trimming and shaving without getting too fancy with it.
It comes with an electrical trimmer that features 13 length settings incorporated into the central unit.
There are also four-guard combs to let you customize your trimming style.
Because of all this versatility, you can easily use the electric trimmer for your beard and head hair with equal effectiveness.
To make things even better, the trimmer comes with swappable heads that can let you use it as an ear and nose hair trimmer, too.
It's an excellent tool that provides 60 minutes of trimming for every 60 minutes you charge it.
It's also 100% waterproof, so feel free to take it into the shower to get your trimming done in record-breaking time.
Just by itself, the electric trimmer caught our eye and made this a worthwhile purchase.
But the kit also comes with a cartridge razor that uses a unique FlexBall neck that lets you quickly pivot the razor head around your neck or face.
It's particularly adept at shaving trouble spots like the corners of your jaw.
While this kit doesn't come with any shaving lubricants, it has all the tools you need to clear your face of hair efficiently.
It even comes in a small travel case that's perfectly sized for throwing into a suitcase or taking with you to a hotel.
Since you can get all this for a reasonable asking price it's our number one choice for travelers for campers that need to keep their faces relatively clean of facial hair.
While it may not give you the closest shave of your life, few kits can shave as many kinds of hair as the Braun Multi Grooming Kit.
Check out the hundreds of customer reviews here on Amazon.
---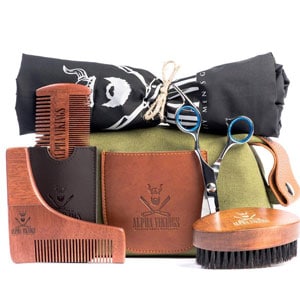 This grooming kit is a simple set with the primary tools needed to care for your beard in the long term, properly.
Specs
Who Is It Best For?
It's an excellent choice for a camper or for men who don't worry so much about oils or conditioners when it comes to their facial hair.
Key Features
This is a phenomenal general beard grooming kit that has an aesthetic we really appreciate.
Everything comes in a ready to go canvas storage bag that's durable and long-lasting, and you get a smaller leather pouch for the included wooden beard comb.
The comb is made from maple wood and features two sizes of teeth on either side.
This lets you use the comb for your head or beard or simply switch between the teeth sizes you prefer.
The beard brush is also made of maple wood and boar bristles.
It's a fantastic choice for spreading around healthy hair oil and improving the softness and texture of your hair.
The kit also includes razor-sharp stainless-steel scissors that are perfect for trimming unmanageable hair and tightening up the look of your beard as a whole.
You can use the wearable beard apron to collect your trimmings and make cleaning up easier.
Finally, there's a beard shaper also made of maple wood that'll let you shape or style your hair with excellent accuracy.
This is a fantastic camper's beard grooming kit overall, especially since it's so affordable.
Pick it up if you want to lean into a rugged aesthetic and appreciate wooden grooming tools.
Check out the hundreds of customer reviews here on Amazon.
---
<_a name="Things_To_Consider_When_Buying_The_Best_Shaving_And_Grooming_Kits">
Things To Consider When Buying Best Men's Grooming Kits
When you browse all the available grooming kits and shaving kits for men, there's quite a lot you'll have to consider to find the best shaving kit for your unique grooming needs.
1. What's Inside?
---
First and foremost, each best men's shaving kit is defined by what is contained within the purchase.
Not all men's shaving kits contain the same number or type of items, so consider what's inside carefully before pulling the trigger on a men's shave kit.
Some kits are more complete than others, while a few kits are specialized for particular needs.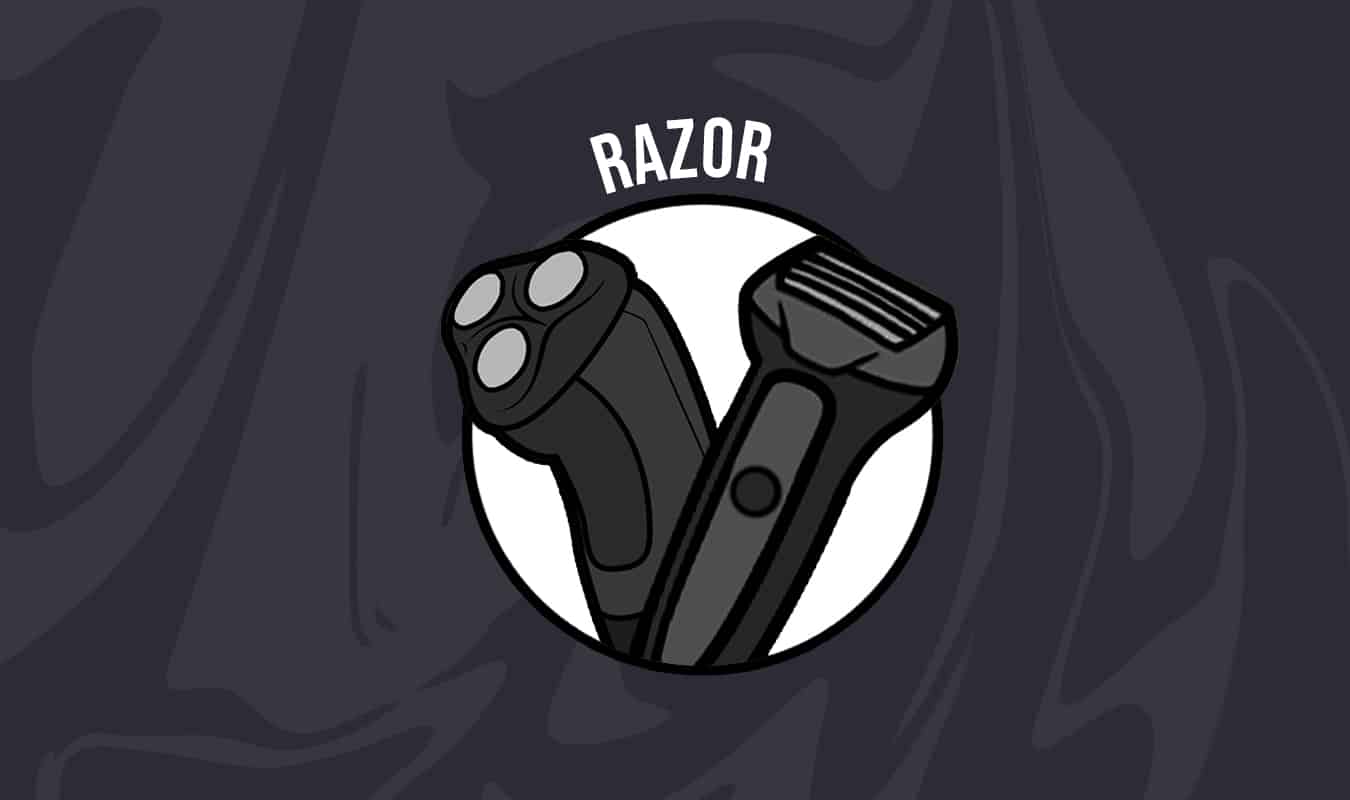 Lots of best men shaving kits will have a safety razor kit of some kind.
The only kits that don't contain the razor will be the ones meant for trimming the hair on your head or your beard.
The razor is the iconic tool of male grooming, so most kits worth your time and money will have at least one.
However, the type of razor contained within a kit can vary dramatically.
The best shaver for men and the best razor for men will not necessarily come in the same grooming kit package.
Some razors are better for beginners, while others are ideal for shaving connoisseurs that want the best results possible.
You should also consider the material used to make the razor and how its blades are refreshed or replaced.
For instance, the best men's razors made with durable stainless steel or similarly tough materials will last a much longer time than razor sets made from plastic or a cheaper material.
At the same time, some of the best men's razors may come with disposable cartridges, while others will have permanent blades that you'll need to sharpen from time to time to keep them working their best.
Any kind of razor can work in the short term, but you should think of your shaving set or grooming kit as a long-term purchase.
It's better to spend a little extra money to pick up a shaving brush kit with a razor that will last you a long time since you get more bang for your buck and net a quality razor in the process.
Overall, we would recommend not skipping out on an old-school shave kit with a great razor.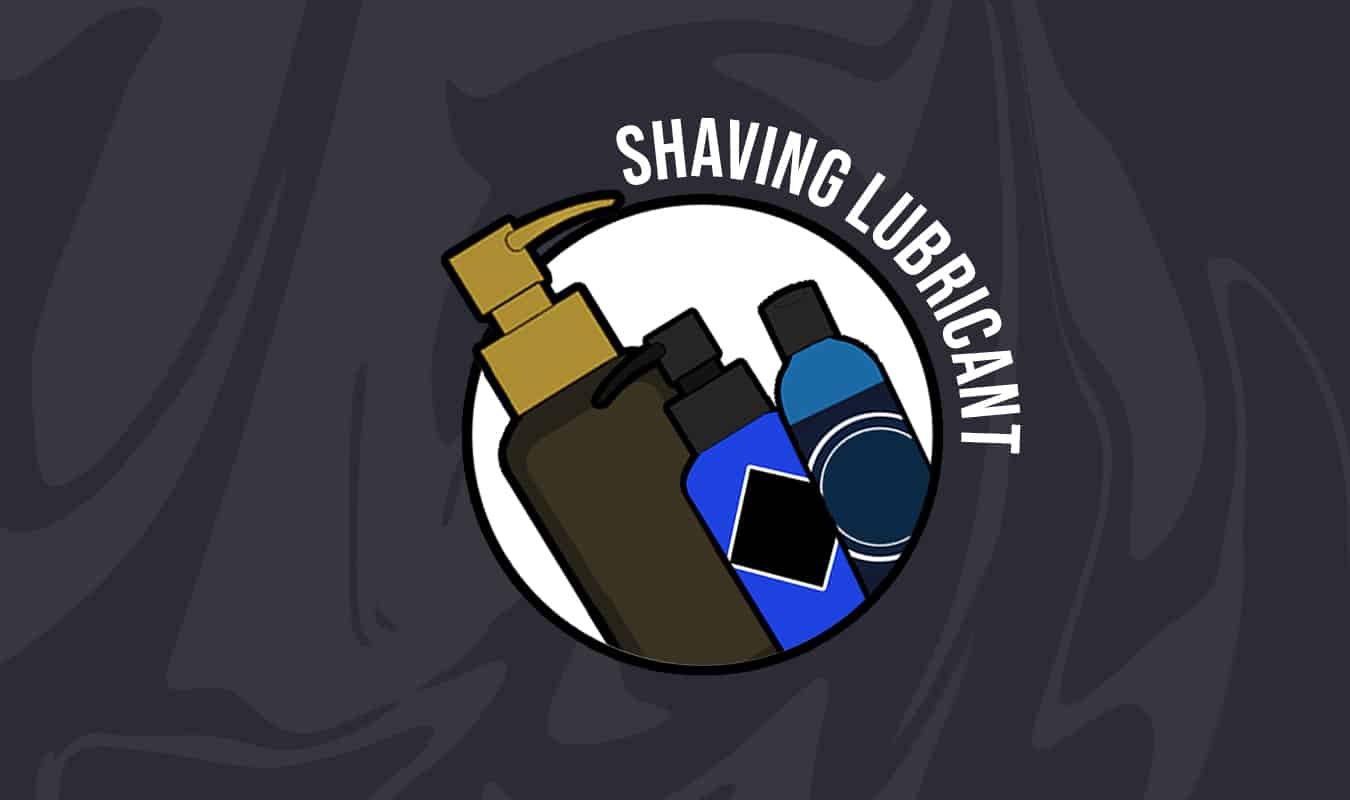 Next, consider the type of shaving lubricant included with a given shaving kit.
Lubricants can range from gels to oils to creams depending on the exact men's shaving product.
Shaving cream is the most basic version of this inclusion, and it's used almost ubiquitously by men who shave frequently.
Since you should never dry shave, the shaving lubricant contained within wet shave products can give you a good idea as to its value.
Different shaving lubricants work better for different skin types or conditions, however.
Thinner shaving lubricants are better for men with pores that are easy to block or men with sensitive skin.
Alternatively, thicker shaving creams are great for guys who need to shave away lots of hair each time they take a razor to their face.
There's no right or wrong answer considering the ideal shaving lubricant you should choose; just consider your personal needs and go from there.
Additionally, think about how much shaving lubricant is included with your grooming kit.
Men's shaver sets that have smaller bottles or containers of lubricant are usually worth less money in our eyes since you'll have to refresh the lubricant sooner rather than later.
However, depending on the quality and cost of the lubricant in question, this may not be much of a financial problem.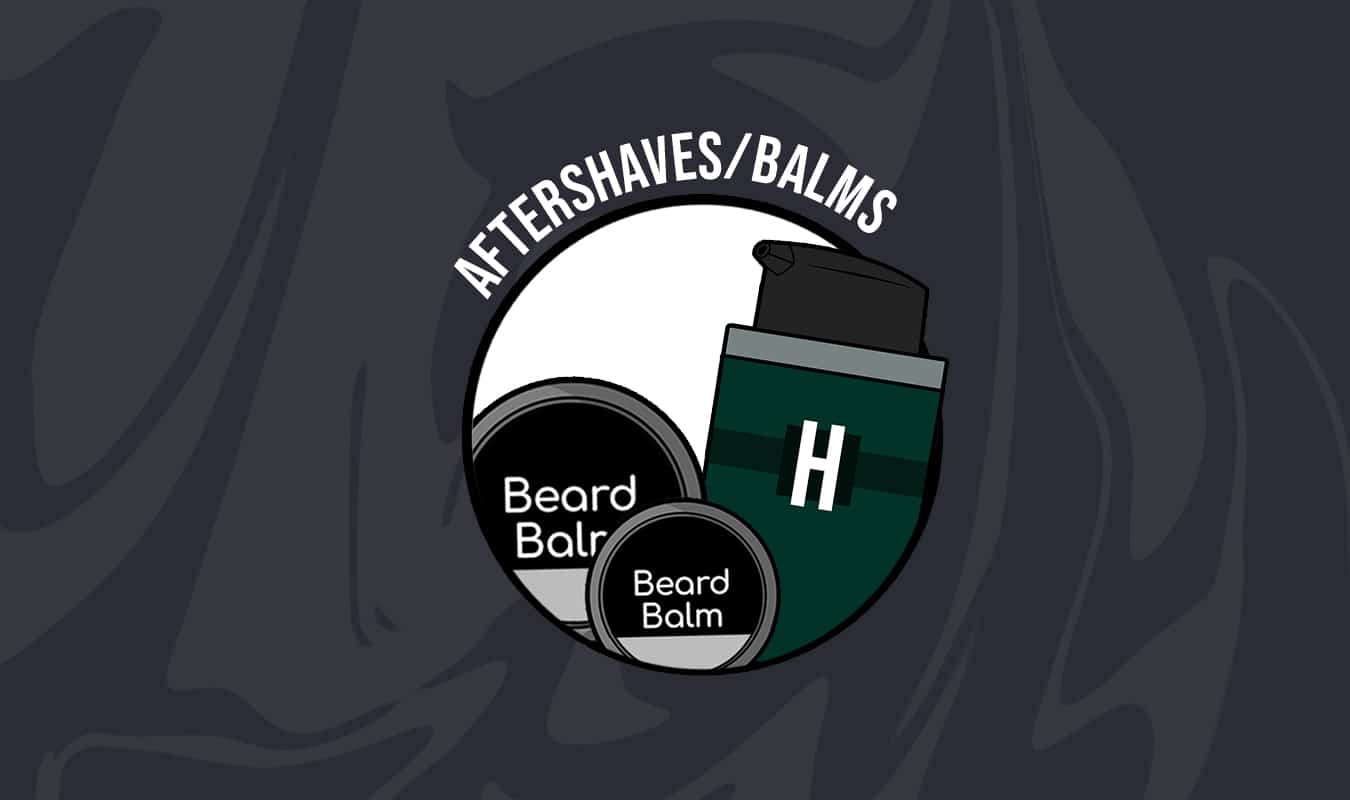 Next, investigates the best men's shaving kit and see if it has an aftershave or balm product.
Aftershaves are particularly useful if you have sensitive skin or frequently suffer from razor burn and bumps even if you go carefully during your actual shaving routine.
They can clear your pores out and mitigate the long-lasting effects of shaving while refreshing you at the same time.
Balms are great for calming your skin or soothing it after it's been heavily irritated from a harsh shaving session.
Either of these products is fantastic to include in an all-encompassing shaving kit, so we'd recommend looking for at least one of them if you're after a top-tier option.
That being said, aftershaves and balms are not strictly necessary for any man to complete a shaving and grooming routine.
They're simply lovely extras that we'd recommend for guys who want to round out the edges of their grooming experience each morning.
These products can add excellent value for money to any shaving kit.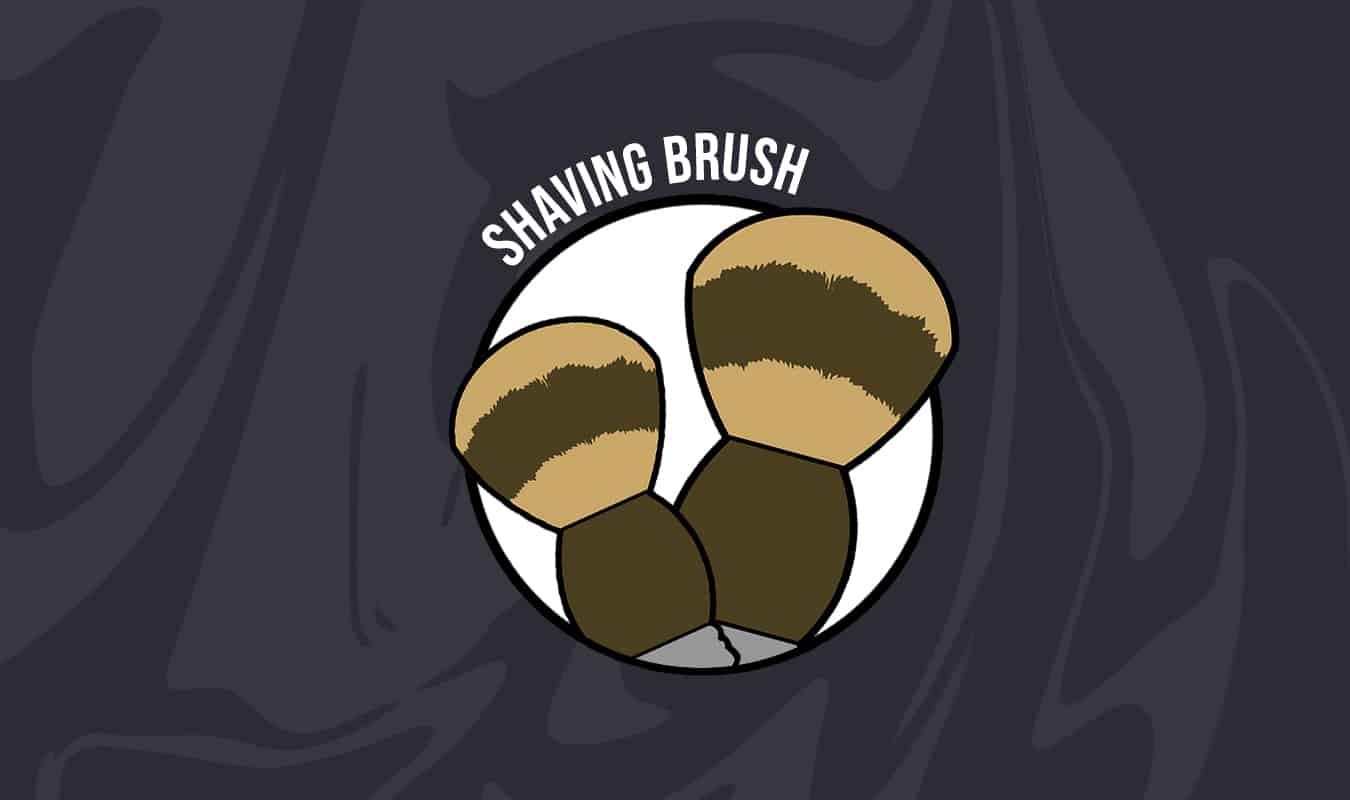 Some of the best men's grooming kits on the market will include a shaving brush, which is an integral part of a shaving routine if you use a straight razor.
Shaving brushes are required to successfully lather your shaving cream or soap into the right consistency.
While it's possible to do this with just about any brush, shaving brushes are specifically designed to lather shaving soap effectively and spread it around your beard or jaw quickly.
Not to mention, shaving brushes usually feel better on your skin than brushes not designed for this purpose.
Definitely look for a kit that incorporates a brush if it has a straight razor, or you already have a favorite straight razor that you use frequently.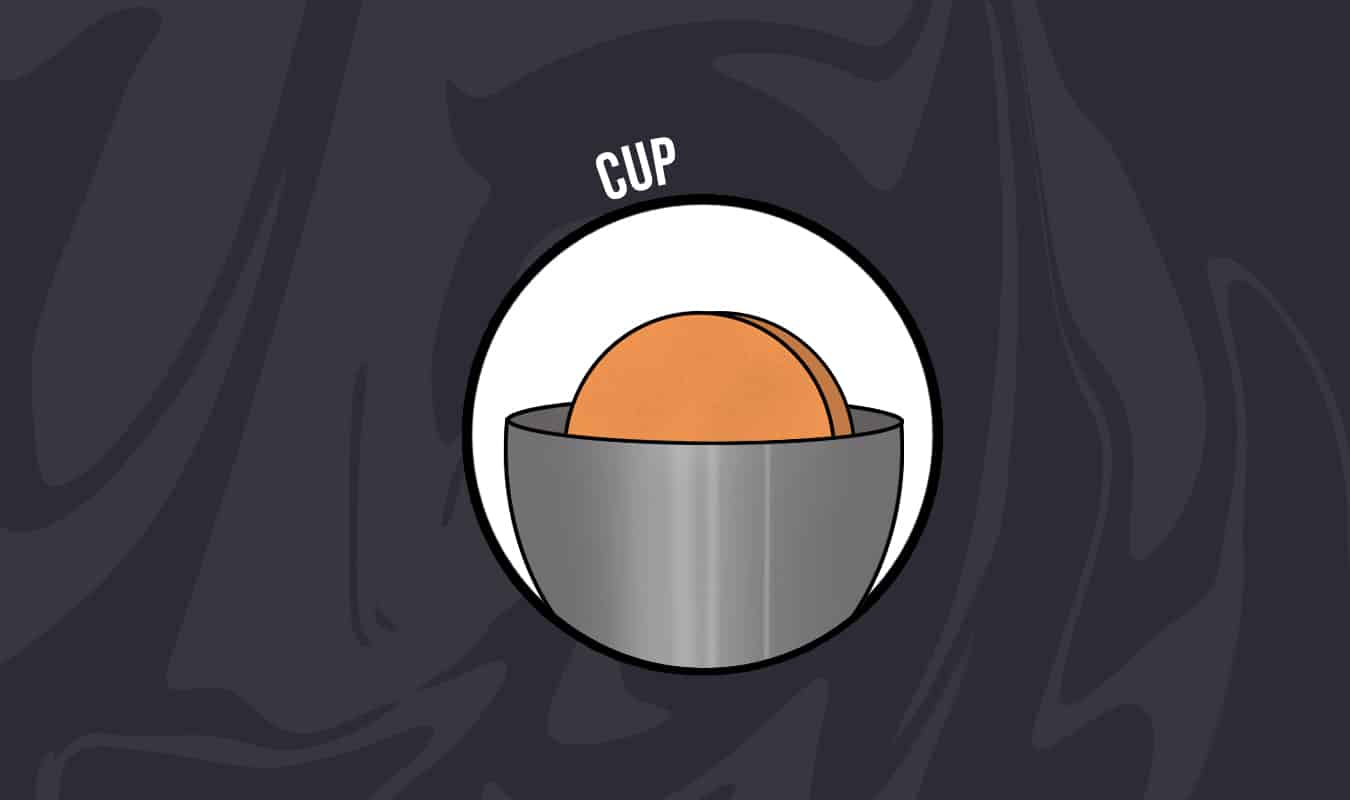 Just like a shaving brush, a soap or cream container is necessary to use a straight razor properly.
Some of the best shaving bowls will come in elegant and aesthetically pleasing kits; the cups will look like mugs or small bowls that add some class to your bathroom.
These are definitely great choices if you are decorating your bathroom or filling your cabinets for the first time.
However, specially designed cups aren't strictly necessary because you can always use a regular bowl if you are looking for a kit on a budget.
Still, most shaving kits that come with a straight or safety razor will include a cup of some kind by default.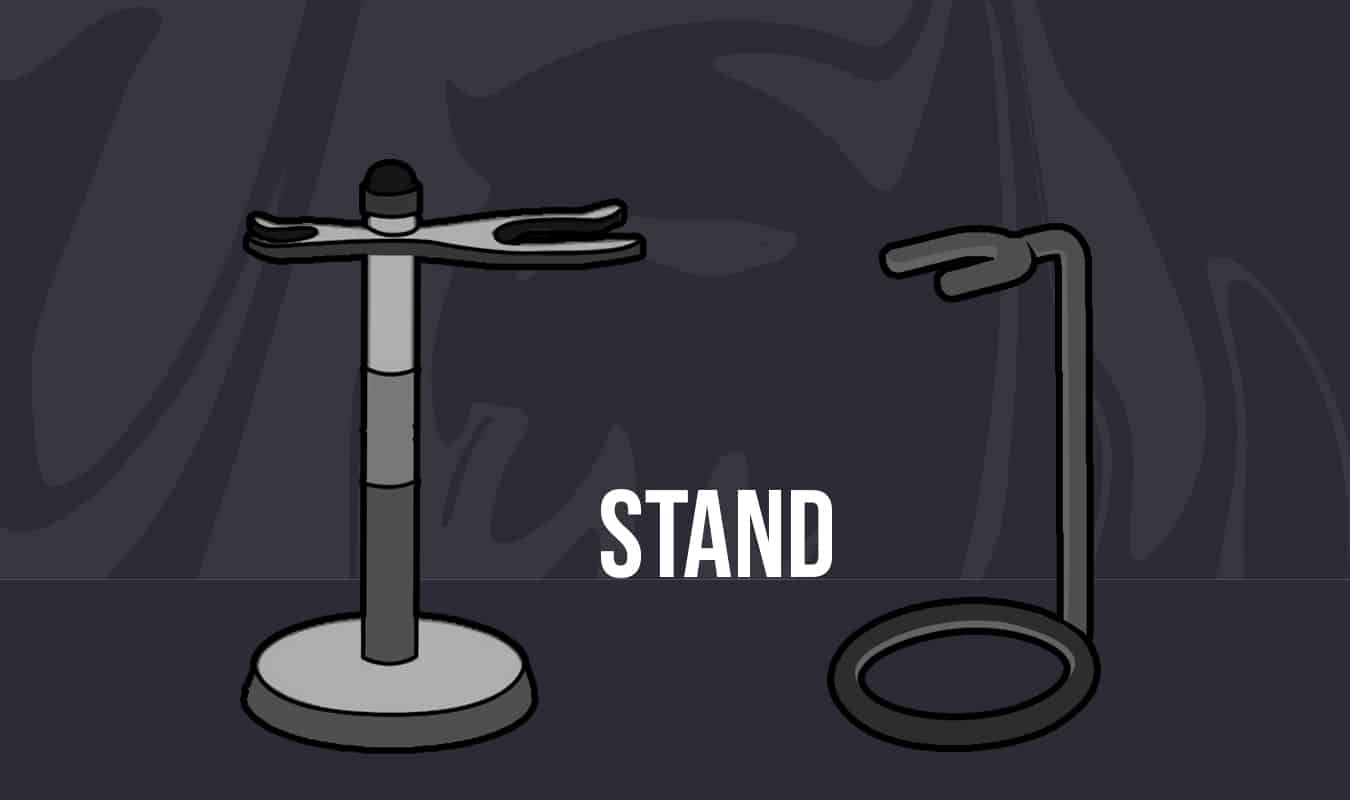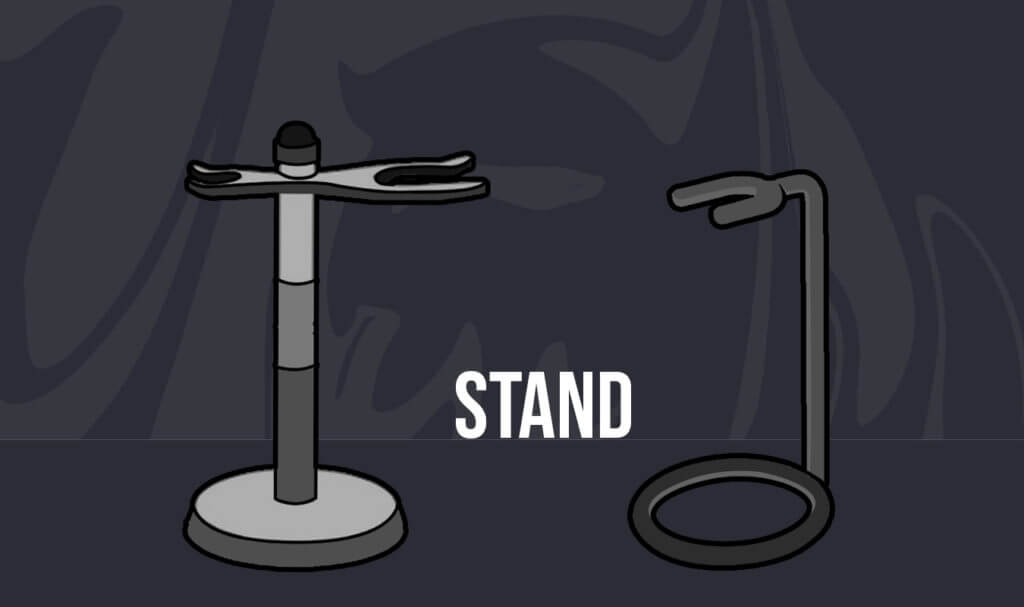 Stands for your razor, straight or otherwise, are excellent additions to any of the best men shaving kits.
Not only do these look much classier than placing your razor on the countertop, but they'll improve the durability of your blade and prevent it from being dulled on the countertop material each time you set it down.
Such stands can even help your blade dry out after using it, which is vital for straight razors above all other kinds of tools.
Many stands will even have extra hooks for different tools, like a beard brush.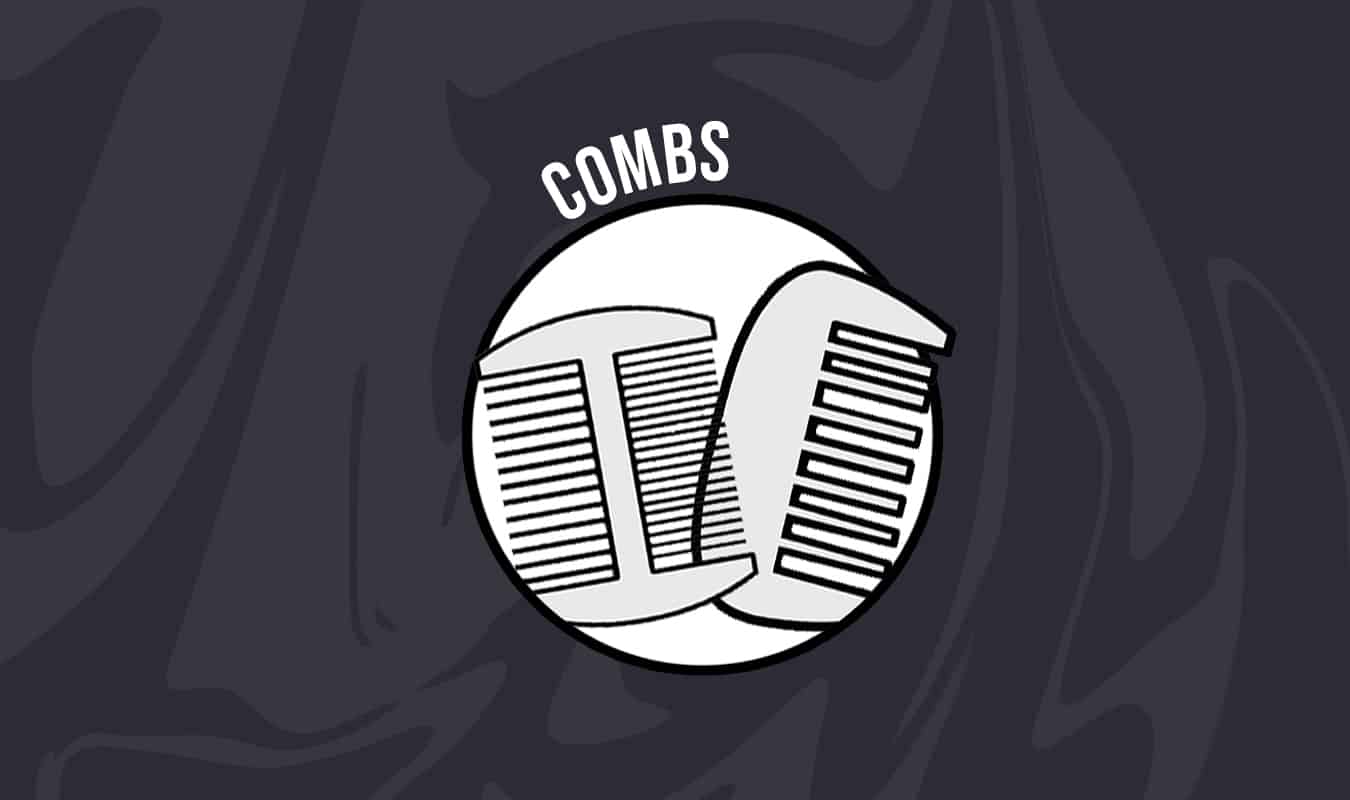 The best men shaving kits on the market frequently incorporate combs that can either brush your beard or head hair, while a few combs can do both.
We'd recommend looking for a grooming kit that has a comb that can tackle whichever kind of hair you needed to.
Beard combs are often a little thicker than head hair combs, but they're not less valuable.
Both types of combs have a place in any useful grooming kit.
The best men's shaving (grooming) kit looks for ones made of wood or a similarly durable material instead of plastic if you want the most bang for your buck.
You can also try to find combs that will fit in your pocket if you'd like to take the comb with you while you're out and about.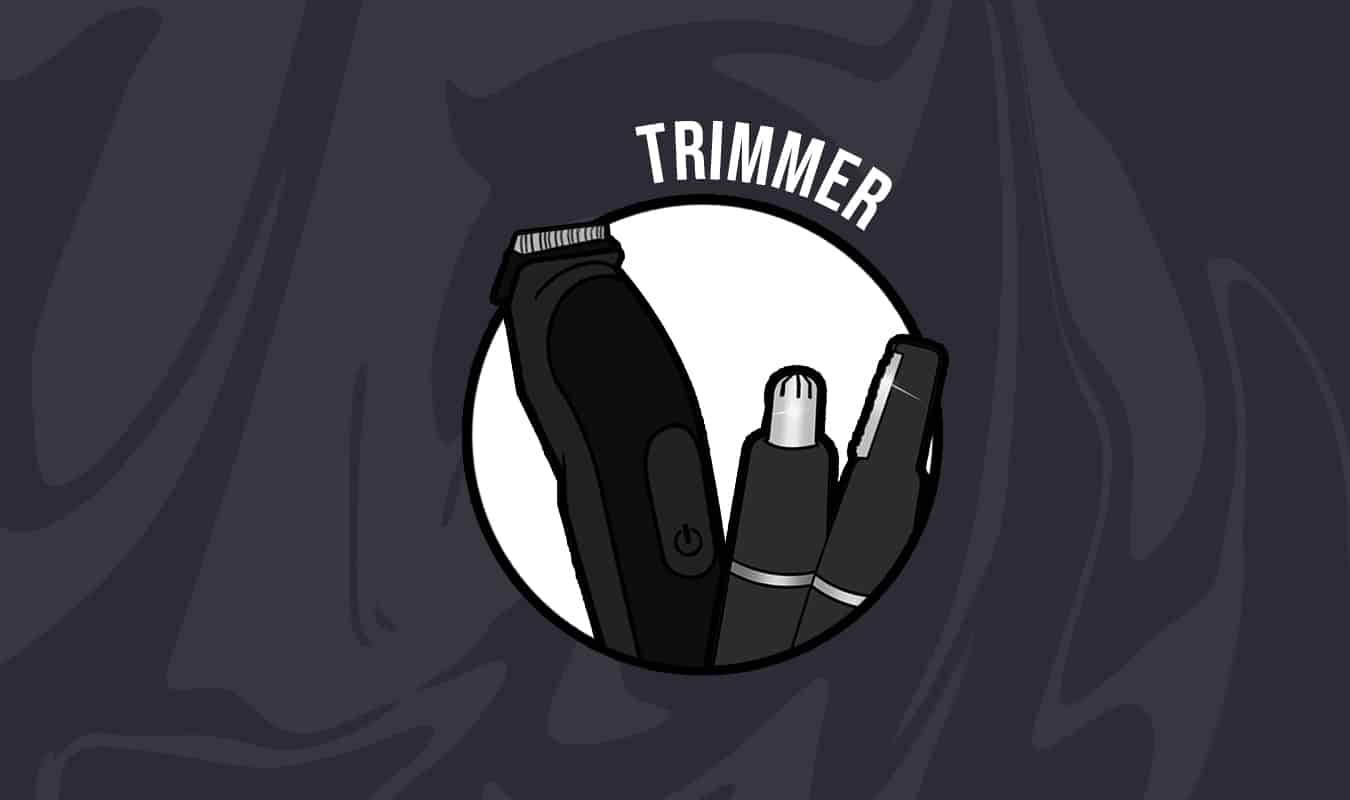 The best men shaving kits will incorporate a trimmer, which is an electric tool that automatically shears away head hair or beard hair depending on the attachments included in the kit.
Hair trimmers can work with both your face and head with equal efficiency, while others may be designed for shearing only a certain kind of hair.
Generally, we'd recommend looking for a kit that has a versatile trimmer if you want something that can handle your hair grooming needs for a long time to come.
These trimmers will have a few different settings or speeds and come with several guards or trimmer heads to let you customize how much hair is removed with each pass.
Note that these tools are always electric, so you'll need either batteries or an electrical outlet depending on how they are powered.
You may not find trimmers with many shaving kits, although some shaving kits incorporate beard trimmers in addition to a close shave razor.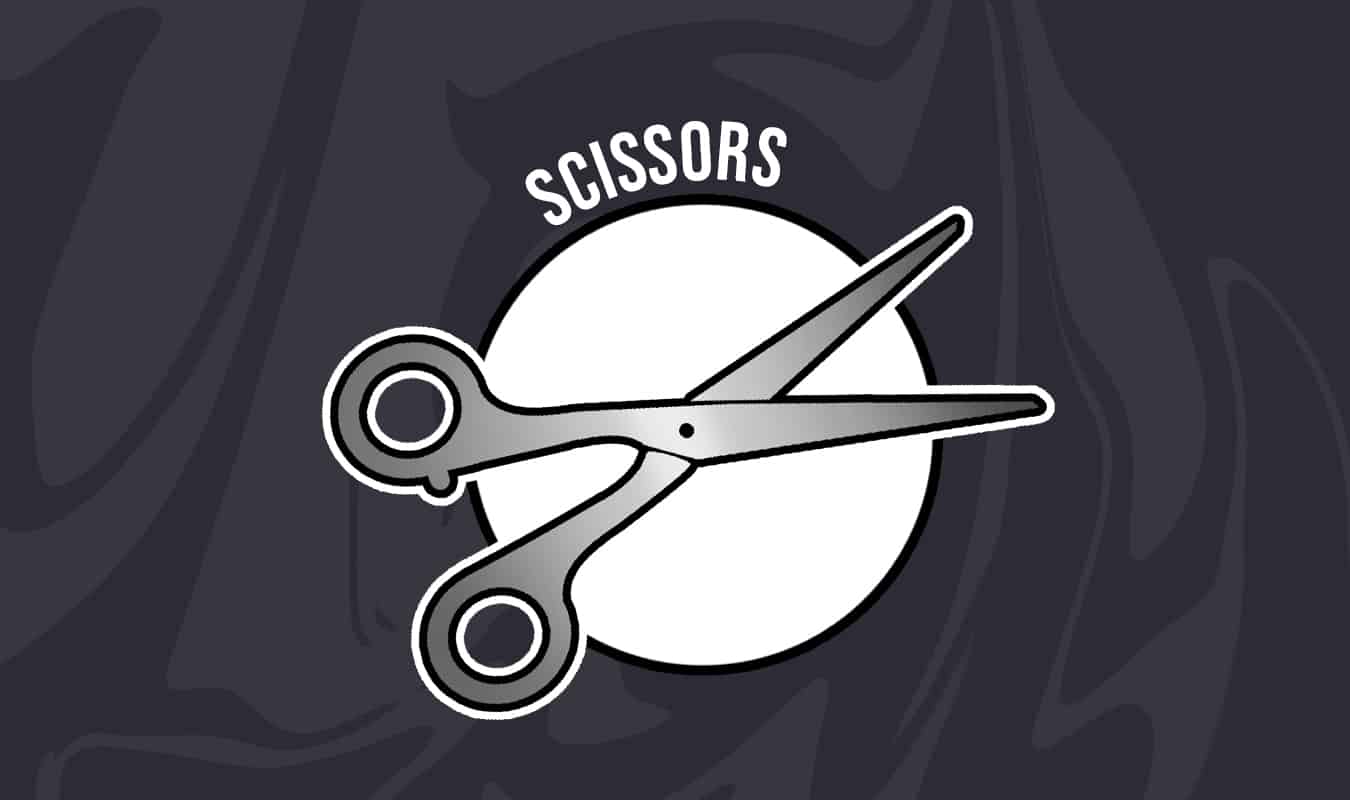 Lots of best men shaving kits also include scissors, either for helping you trim your beard or for clipping your hair.
Excellent scissors will be made from durable and long-lasting material and will be easy to handle.
Check to see how the scissors bear with beard hair or head hair, depending on your needs.
Be aware that most of the time, you'll find scissors in grooming kits rather than shaving kits.
But you can also find them in combination kits that have tools for both needs.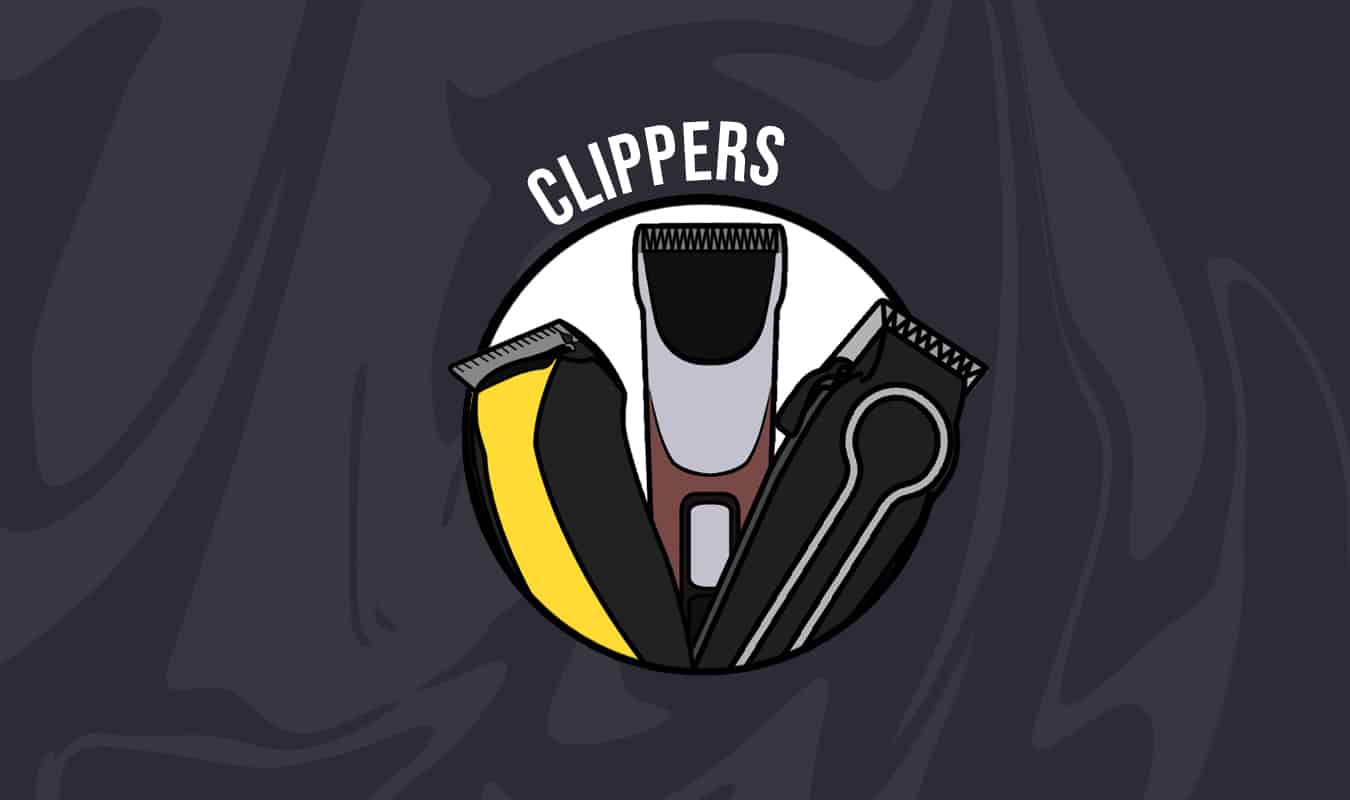 Finally, head grooming kits and best men shaving kits will also have hair clippers more frequently than any other kind of tool.
These clippers will have lots of different blade guards to allow you to cut your hair at different lengths and accommodate different styles.
These are also always electrical, so be sure to pay attention to whether they use batteries or power outlets for energy.
The best clippers for men will have multiple settings and extra features to make them worth your time and money.
Check out our guide to the best clippers for men if you'd like some choice product examples for a clipping guide.
2. Razor Type
---
After checking the included products in a given best men's shaving kit, consider what type of razor is included with the kit.
There are three main razor types you might find.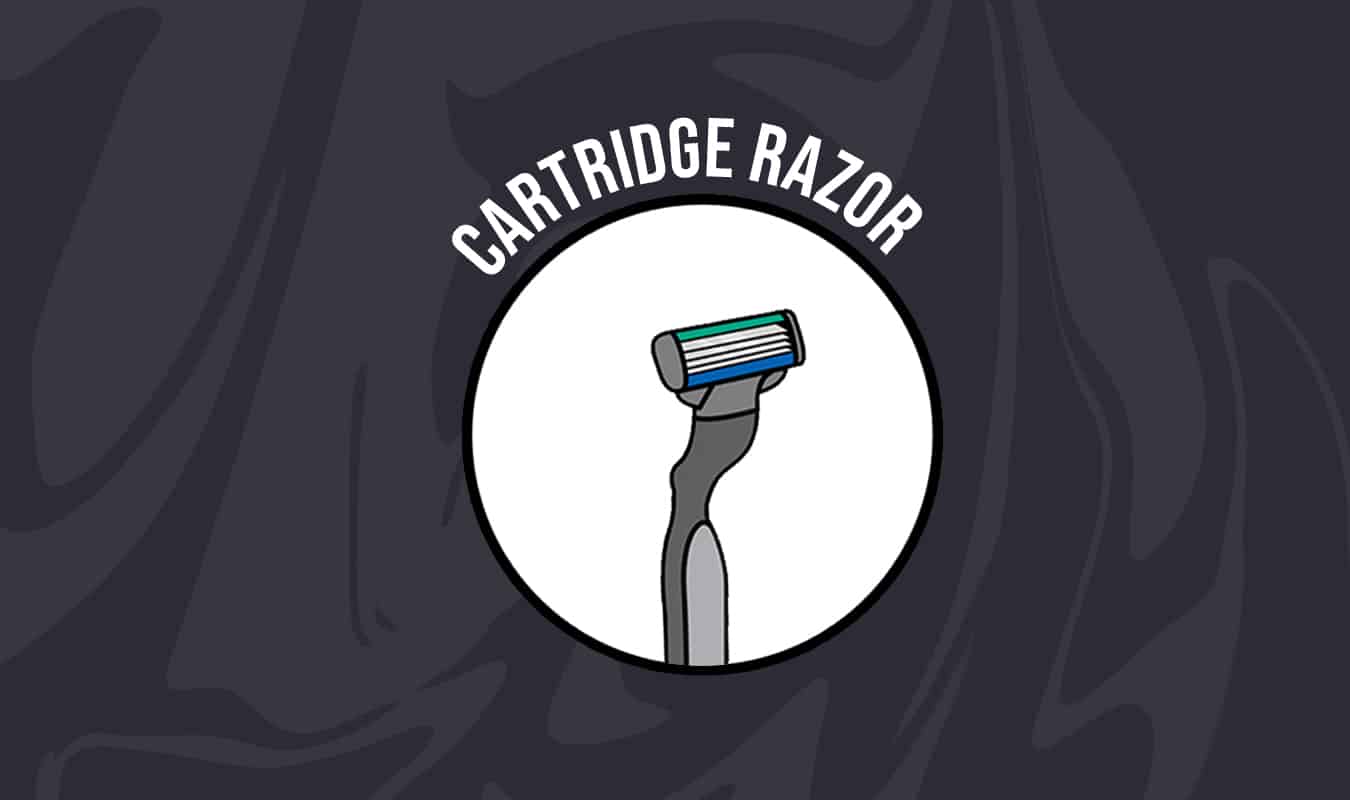 Cartridge razors are the most common on the market and use replaceable cartridges to facilitate fresh shaving results every so often.
These are probably the types of razors that you started using when you were a teenager, and they don't very easily cut your face or neck when you use them.
They use between three or five blades depending on the type of cartridge inserted into the handle.
Although these are easy to use, they don't provide as close of a shave as the other two types.
For this reason, cartridge razors are best used for beginners or for men who don't care about getting a super close shave.
You also have to replace the razor cartridges periodically, so keep this in mind when calculating the overall cost.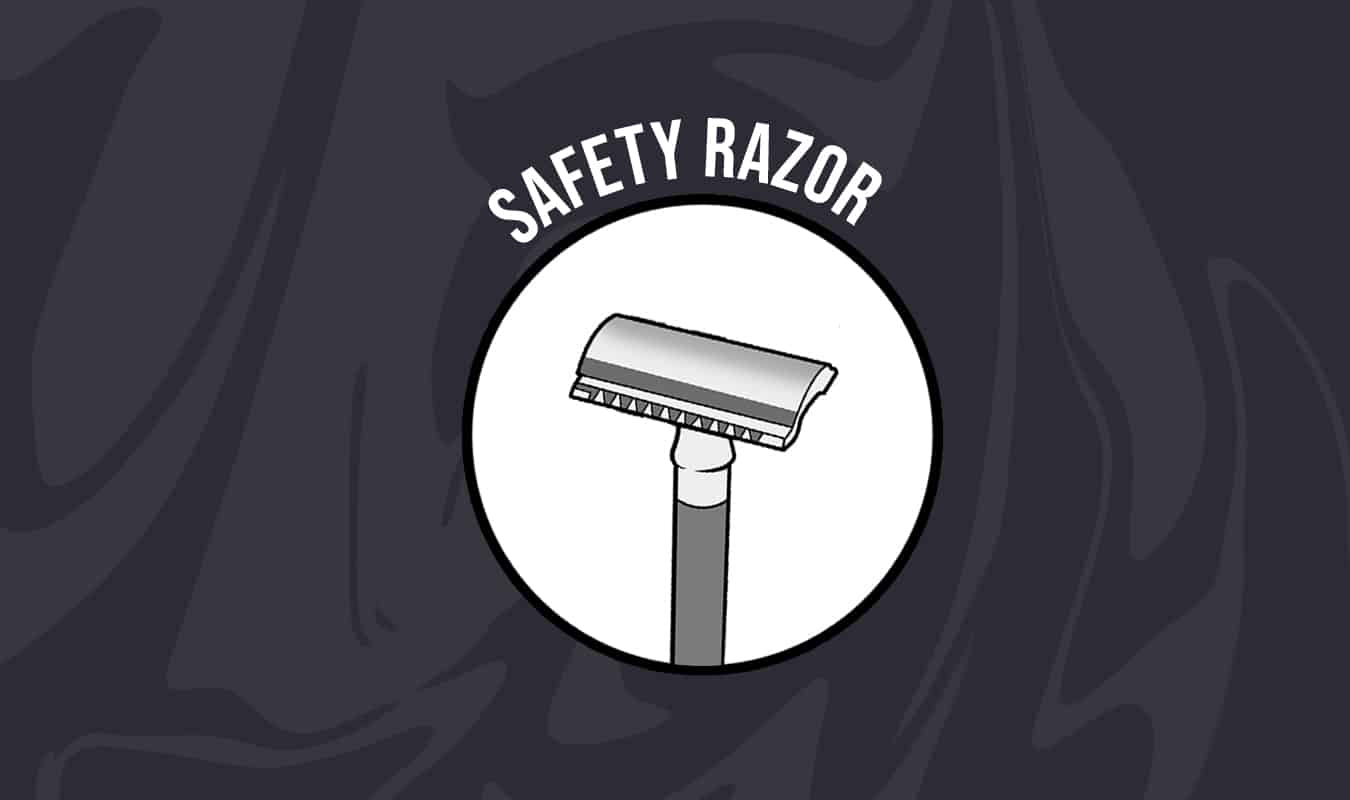 Safety razors are a step up in terms of shaving closeness when compared to cartridge razors.
They usually have a single blade and a safety guard to make cutting your own skin more challenging while still providing a closer shaving experience.
These are similarly easy to use and don't have much of a learning curve compared to straight razors.
They're a great middle-ground between shaving quality and difficulty without compromising too much in either direction.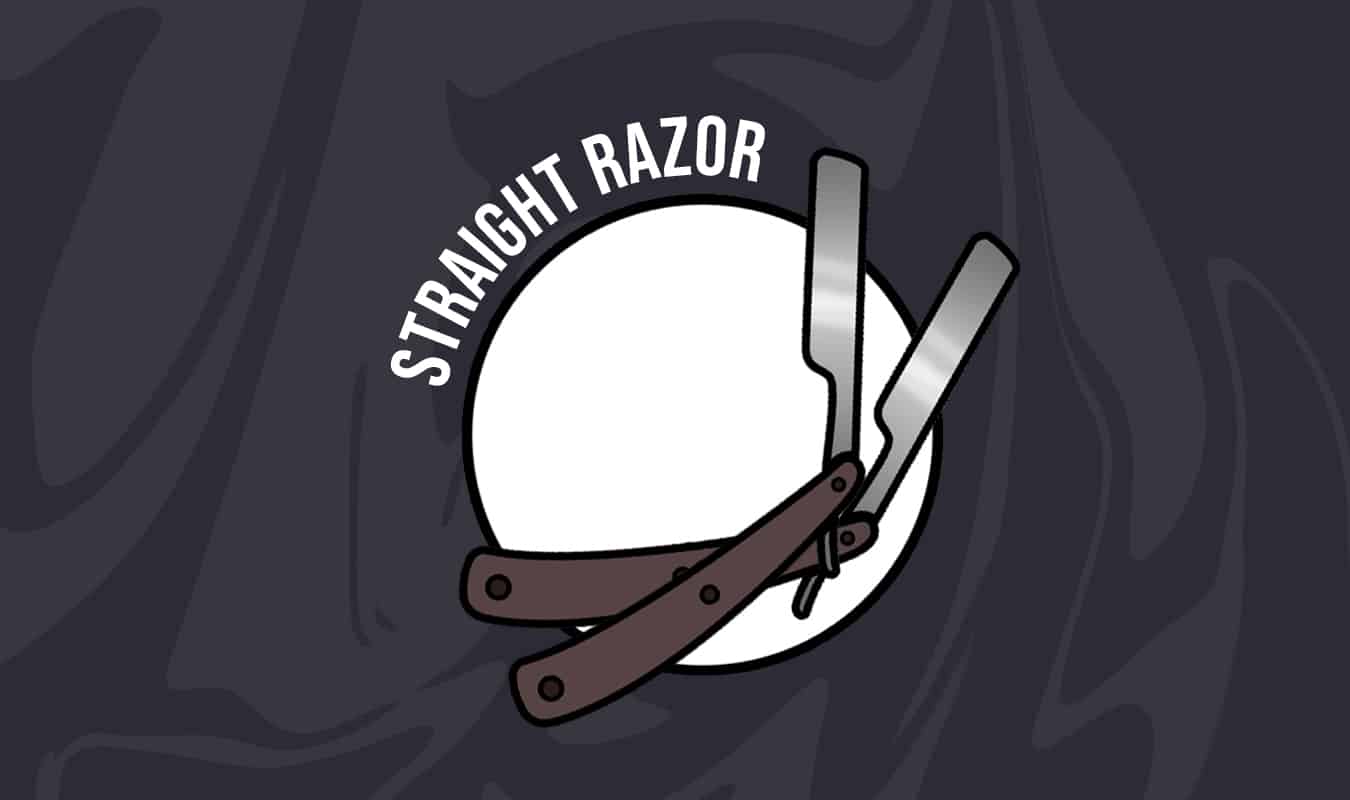 Straight razors are old-fashioned tools that provide shaves close enough to astonish you or your significant other.
They are held differently from other razors and rely on a separate preparatory period than the other two shaving routines.
This means that they do have a bit of a learning curve.
Besides, it's much easier to cut yourself with a straight razor than the other two types.
However, these razors are well worth the cost and effort to learn how to use them.
They usually last quite a long time and require regular sharpening to perform at their best rather than requiring you to spend more money on replacement cartridges.
Pick up a kit with a straight razor if you want the best of the best, and you want your kit to exude confidence and elegance.
3. Skin Type
---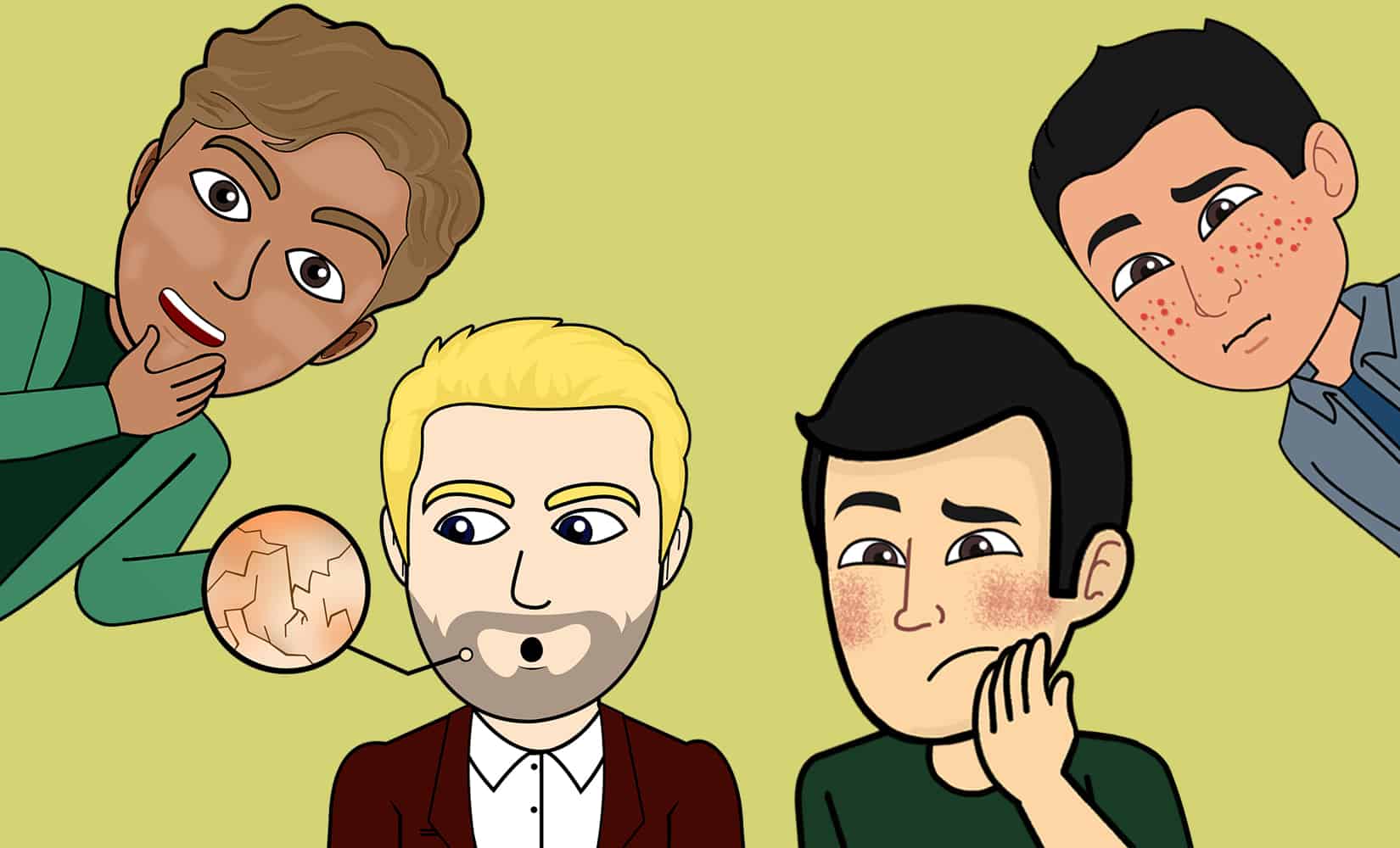 Think about your skin type before making the final purchase of a shaving and grooming kit.
Different skin types respond differently to certain products or razor types.
For instance, men with sensitive skin should try to find a shaving and grooming kit that incorporates shaving lubricants or tools that are unlikely to irritate their skin.
This includes tools with hypoallergenic materials and lubricants that won't clog up their skin pores or exacerbate their acne.
Men with dry skin should avoid kits with aftershave unless there's also an included hydrating lotion to be used after the aftershave.
It can be challenging to tell which skin type a given kit is meant to be used for, but remember that you can always pick out a kit and use most of its tools or products and set aside the ones that don't work for your skin.
It's still better to try to find a kit whose elements all work for your skin, however.
This way, you get the full value for the money of the kit.
4. Are There Electrical Components?
---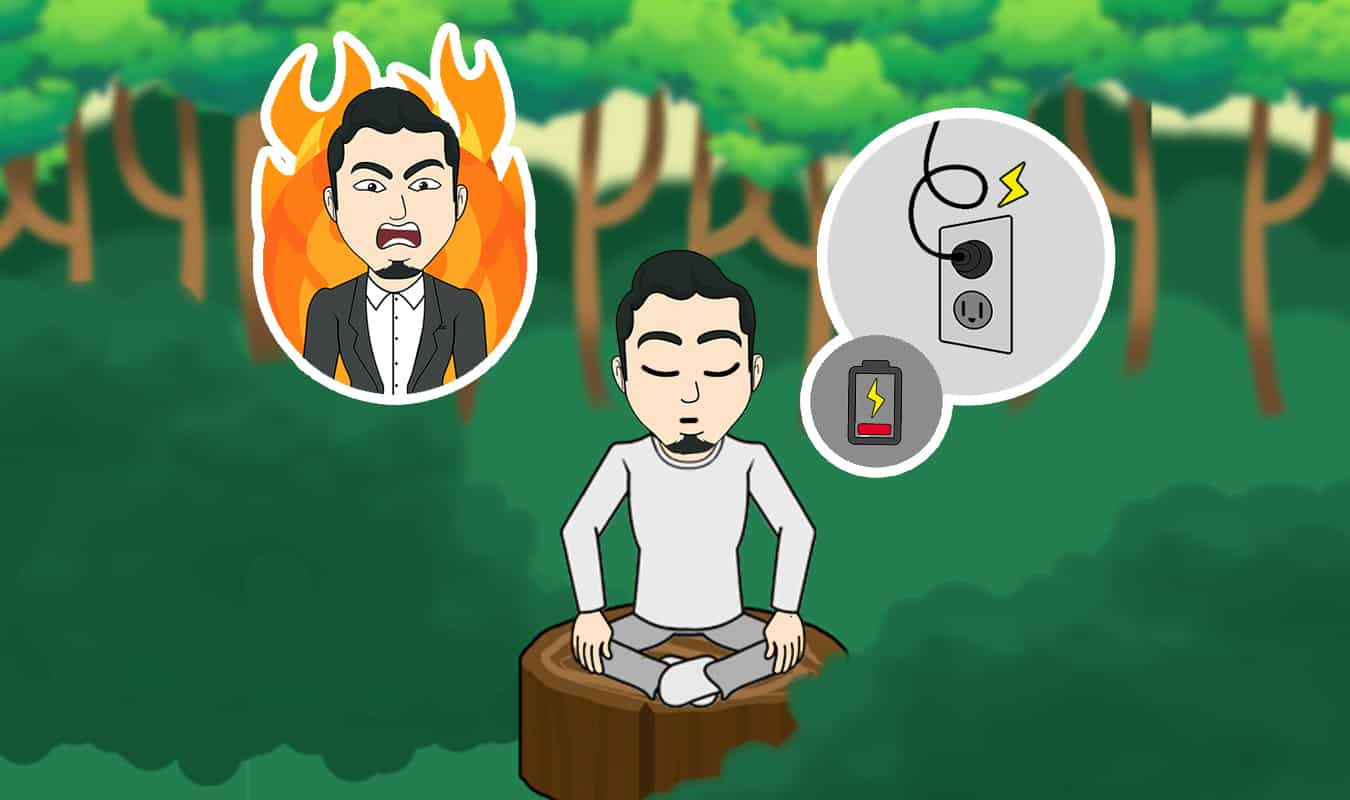 Finally, consider the best men shaving kits, whether there are any electrical components or tools incorporated into a kit before purchasing.
The reason this matter is because it affects where you can bring your kit and how often you can use it.
Travel kits that incorporate electrical parts are harder to use than shaving and grooming kits that don't need any power source.
This may be important if you want to take your shaving and grooming kit camping, for instance.
A kit that doesn't need batteries or power outlets will be able to provide you with all your shaving and grooming tools no matter where you are or how far from civilization you've traveled.
However, shaving and grooming kits that are only going to be used at home can easily take electrical tools or components.
You should always be able to find batteries or power outlets for a kit that will mostly be used from the comfort of your primary doctor.
---
FAQs About the Best Men's Shaving and Grooming Kits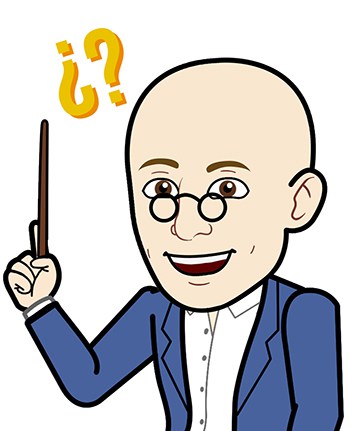 Now that you've taken a look at our testers' favorite shaving and grooming kits, let us answer any final questions you might have before you head off.
1. What Kind Of Kit Should You Get?
Start with a question: do you need your kit to handle your beard, your shaving routine, or both?
For example, if you only need a kit to handle trimming your hair or maintaining your beard, you've already narrowed down the competition to kits that don't include razors or other shaving products.
2. Are Travel Kits Worthwhile?
Travel shaving and grooming kits are worthwhile if you'll make use of their cases and products.
But kits that are intended for travel are easily identifiable since they usually have smaller bottles or containers of perishable products and may not have electrical tools.
3. What's An Ideal Grooming Routine?
The ideal grooming routine for you may be different, but most men follow a fairly standard path to looking excellent.
Showering is where all grooming starts.
Do any trimming or cutting that you had in mind at this step.
Next, it's time to shave.
Apply any aftershave or balm products you have in your kit.