Having the right hairstyling clay or gel is one thing, but every man also needs a great comb and/or brush if they want their morning routine to be successful.
Contrary to what you might think, not all combs and hair brushes are alike.
The type of hair brushes and type of combs that men use depends mostly on the length and type of hair.
The worst among them can be uncomfortable to use and tear away strands of your glorious mane each time you use them.
Others aren't even great for untangling your hair or keeping it neat and tidy.
As easy as brushing hair may sound, knowing how to brush your hair or how to use hair combs appropriately for the best results is very important.
Whether it's for a date or a job interview, poorly combed and unbrushed hair is a recipe for disaster.
The best hair combs and hairbrushes for men not only organize your hair but also improve its texture, feel, and health.
That's why we put this guide together: to unite men of all ages with the right combs and brushes for their needs.
You won't have to spend any time researching since we already found the best combs and hair brushes alike.
We can't wait to share them, so let's get started!
QUICK OVERVIEW: Best Combs & Hair Brushes
Dovahlia Boar Bristle Hair Brush and Comb Set

Both comb and brush are made to last
Great wooden finish for comb

VIEW ON AMAZON →

Kent Gentleman's Hair brush Model No. MG3

Great shape, hard to drop
Bristles are stiff enough to clean but flexible enough to be comfortable

VIEW ON AMAZON →

Kent Handmade Combs for Men Set of 3

Variable sizes for versatile uses
Rounded teeth prevent hair or scalp damage

VIEW ON AMAZON →

Kent Handmade Comb, Coarse, and Fine-Toothed

Made of a polished plastic to improve the look and feel
Teeth have rounded tips for comfort

VIEW ON AMAZON →

Diane 100% Boar 2-Sided Club Brush

Easy to grasp with handle
Great wooden finish

VIEW ON AMAZON →

All the bristles/teeth are rounded
Lots of tool types for styling variety

VIEW ON AMAZON →

Hunter Jack Beard Comb Kit for Men

Has two sizes of comb teeth for versatility
Can be used for hair or beard

VIEW ON AMAZON →

Has teeth of two sizes
Very easy to hold

VIEW ON AMAZON →
Use the table of contents below to jump to the sections most important to you.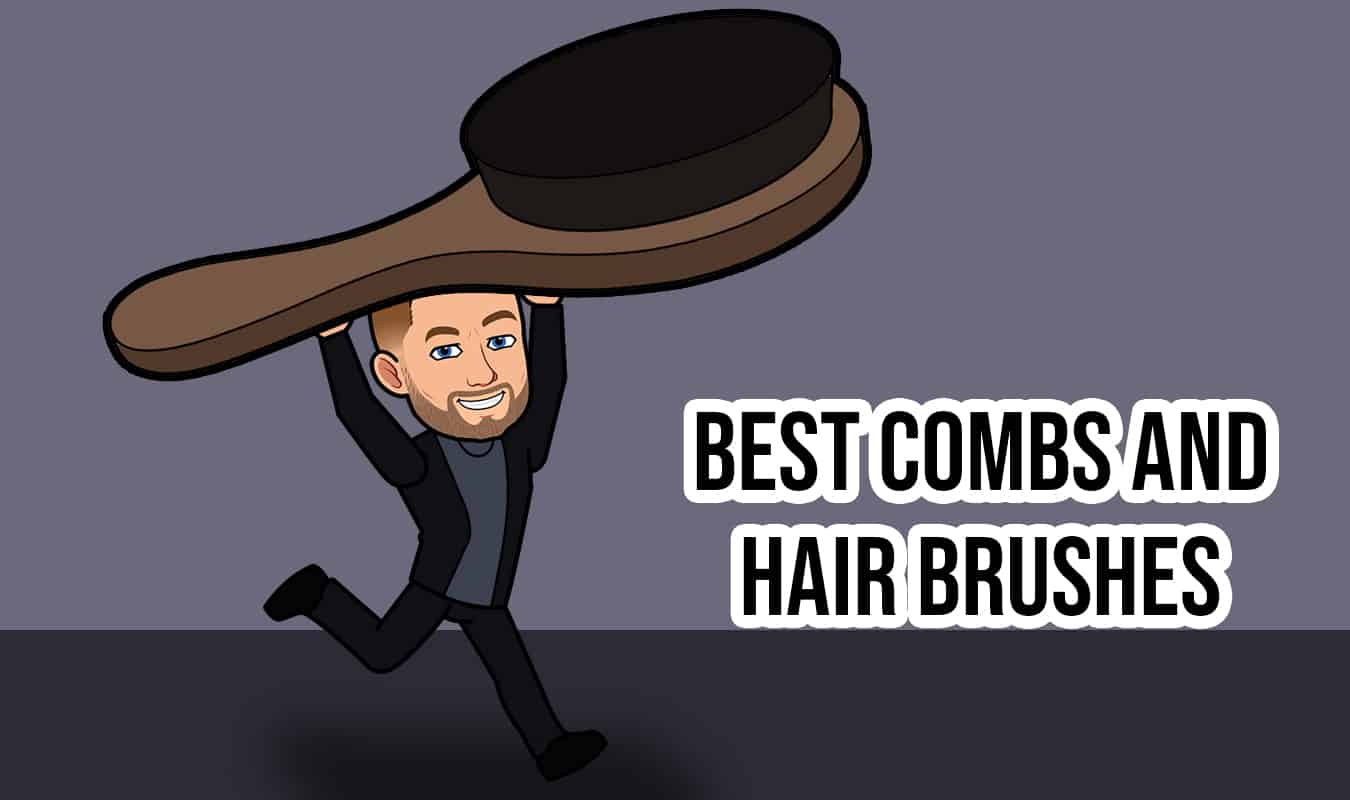 Things to Consider When Buying A Comb Or Hair Brush
We've already discovered the best combs and hair brushes for men of all hair types.
But our testers focused on a few key attributes to know which products to bring to you.
Let's review those features now.
1. Bristle Type (Brushes Only)
---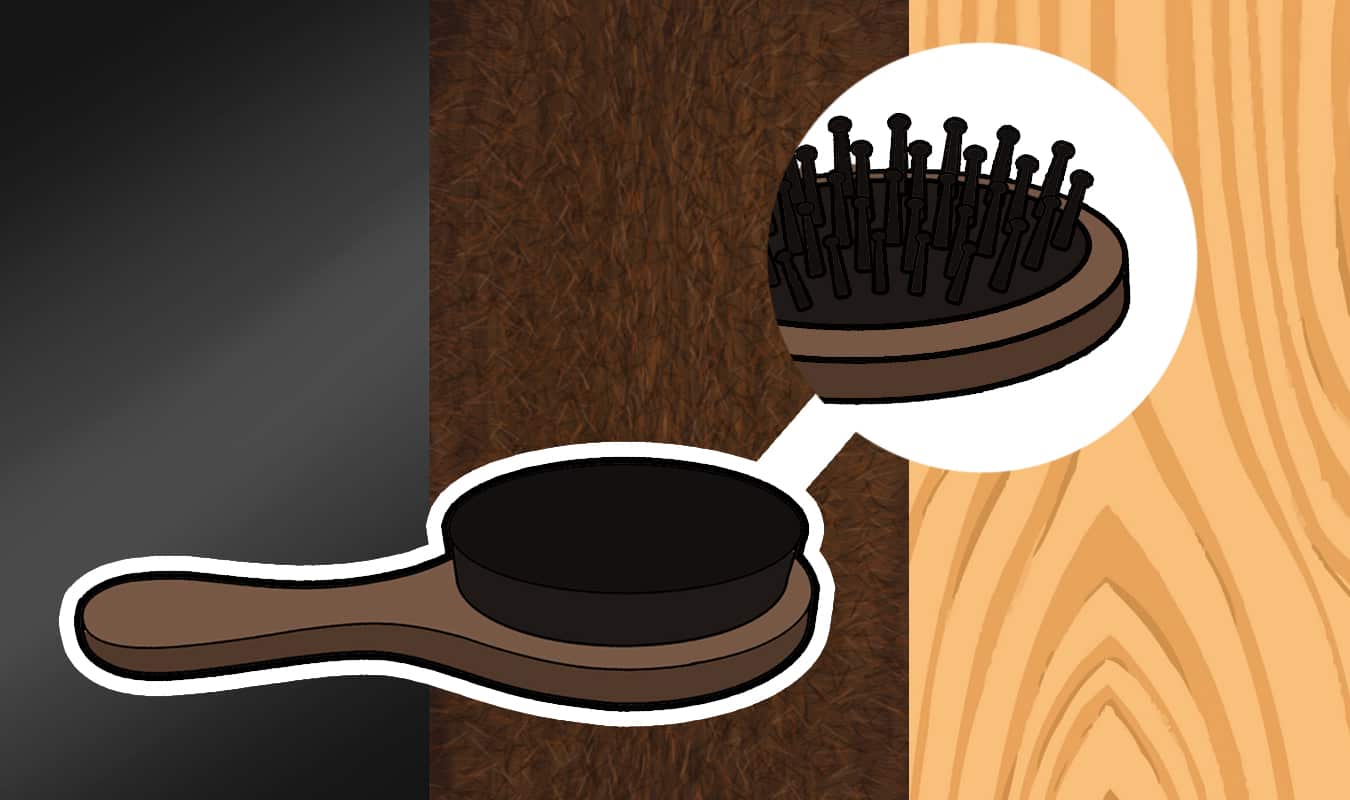 This first factor only really applies to hair brushes, as combs don't use bristles.
The type of bristle used for your hair brushed can impact its ideal use and dictate whether the brush will be right for your hair.
Some of the best hair brushes for men are made from either synthetic bristles, boar hair or a combination of both.
There are a few different subtypes of bristles, each of which is priced differently from the others.
These bristles are among the most affordable since it's easy to mass-produce their fibers.
These bristles are made of synthetic nylon material and are usually quite stiff.
Naturally, this lends synthetic bristles well to men with thicker hair or long hair who don't have particularly sensitive scalps.
It's also suitable for those who aren't worried about accidentally pulling out some strands now and again.
Synthetic bristles are usually clumped together tightly to improve their exfoliating and untangling abilities.
The bristles are usually dark-colored and can feel relaxing if you have a scalp that suffers from dandruff or itchiness.
But keep in mind that synthetic bristles are far from gentle and are not a good choice if you have weak or naturally thin hair.
Synthetic bristles do not make the best hairbrush for fine hair rather they are good for coarse hair men and other hair brush types.
These bristles can accidentally break hair strands or pull out too much hair each time you use a brush of synthetic bristles.
This type of bristle is well known and for a good reason.
These types of hair brushes are fine but seem dense when they're packed together into a traditional brush formation.
Because they feel so gentle and pleasing to the scalp, they're a perfect choice for men regardless of hair or scalp type.
The flexibility and excellent control offered by the bristles make them a perfect choice for men with fine or straight hair, in particular.
These bristles are so well-known because they can easily help distribute the natural oils that come from your hair follicles and scalp up to the rest of your hair strands.
So, they can even be helpful if you have longer hair than average.
Boar bristle brushes usually don't cost too much money, although you can find some pricier brushes that will take a bite out of your wallet.
These brushes are usually only worthwhile if you have particularly sensitive hair or dedicate a lot of time to your regular morning routine.
Yes, you can make airbrush bristles out of wood.
The individual strands are made of a gentle but durable type of wood, which can vary from brush to brush.
Because these bristles are so gentle, they are an ideal choice if you have naturally fine or more easily broken hair.
These bristles also tend to be much wider than bristles of other types.
This prevents them from breaking your hair strands as frequently as other bristle types and promotes scalp blood circulation.
When you try a wood bristle brush, you'll feel as though your scalp is being gently massaged throughout the entire process.
It's particularly nice if you suffer from frequent scalp irritation or inflammation, and it can promote scalp health in the long run.
Finally, mixed bristles are affordable options that usually combine both synthetic and boar bristles together.
This way, you get the strength and detangling ability of synthetic bristles with the gentler sensation and the oil spreading capabilities of boar bristles at the same time.
The bristles usually are distinguished by different colors or lengths as they're packed together.
For instance, the boar bristles might be shorter or longer than the synthetic ones.
This allows you to alter which bristles you want to primarily use with your hair at any given moment by adjusting the pressure placed on the brush.
2. Material
---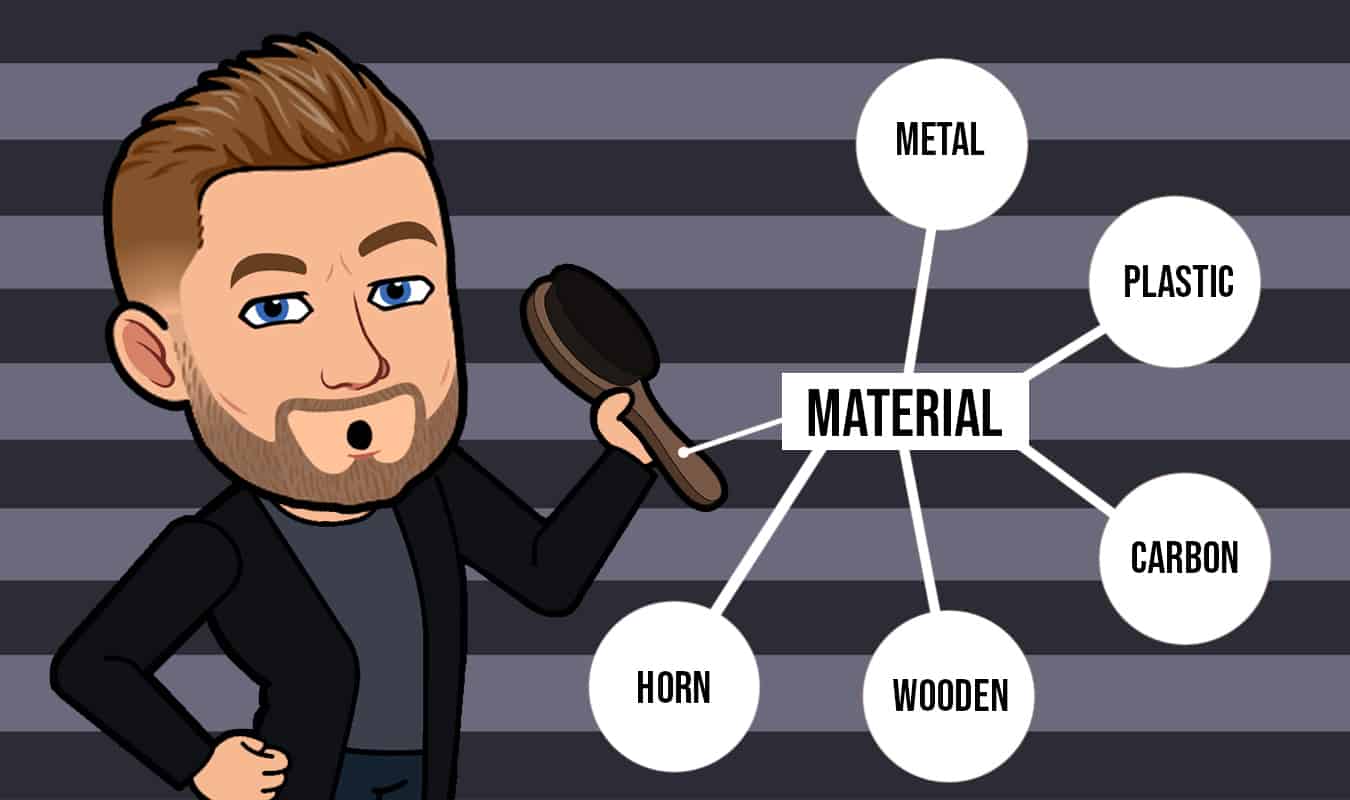 Mens hair brush is made of various materials some of which are used to make the best brush for curly hair and other materials make the best hair brush to prevent hair loss.
The chosen material for either your brush handle and shape and the overall material of a comb brush can have a serious impact on your enjoyment of the product or its efficacy.
Metal hair brushes and combs are incredibly durable, and you can usually get them for an affordable price.
These tools also tend to weigh a lot more than combs or brushes made from materials, but this can be advantageous if you want the heavy-duty brush or comb or your thick, long hair.
However, some metal combs aren't made with much quality in mind.
Metal combs that have not been polished and filed down to a smooth consistency can trap your hair strands between your teeth and cause you significant pain.
Make sure to purchase a decently crafted metal brush or comb if you decide to go with this material.
Many affordable brushes and combs have plastic handles or shapes.
This makes them really cheap and a great choice as a travel tool or if you lost your main brush or comb and need a quick backup.
But plastic materials are really easy to break and don't tend to last very long.
This is especially true for plastic combs, that usually have fragile teeth that can easily snap or bend out of place if the comb is used frequently.
Some plastic combs are made with better quality in mind and are hand-cut, which reduces the amount of hair breakage that might experience as you move the comb through your hair.
Plastic handles or shapes for brushes aren't too different from wooden ones, but they might not look very classy, which can be a deal-breaker if the brush aesthetics matter to you.
Keep in mind that both metallic and plastic combs and brushes carry with them some potential to create static as you run them through your hair.
This can be an issue if you have naturally frizzy hair, so you might want to choose a different material.
The potential for static electricity buildup is impossible to eliminate from metal or plastic handles.
You can get both combs and brushes made of carbon, which are usually quite durable and firm.
These hair styling tools also usually look quite impressive, often with a sleek black finish.
They're sometimes a little expensive, but a good choice if you want something lighter than metal but sturdier than plastic.
Wooden brushes and combs are among the most classy and impressive hairstyling tools.
In fact, combs made of wood are arguably the best you can find in any market.
Wooden combs can massage your scalp and help to release natural oils all along your hair strands, just like boar bristle brushes.
These wooden combs will also have strong teeth that aren't likely to break or bend easily.
Furthermore, wooden combs and brushes don't suffer from static electricity build-up.
So wooden hairstyling tools are always the way to go if you have naturally frizzy hair.
Many of the best wooden combs and brushes will have excellent shapes or aesthetics and might be finished with a long-lasting paint to change its color.
Just be sure that you purchase a wooden comb or brush that has been sanded or filed down to a smooth finish.
Wooden tools that are liable to stick splinters in your fingers are something to avoid at all costs.
You can occasionally find special combs or brush handles made of animal horn, whether it's from an ox or buffalo.
Horn is a naturally smooth material that doesn't produce static electricity and which can provide many of the same health benefits as wooden tools.
But they're usually a little more expensive, and you might have a moral compunction against using the material since it was harvested from an animal's body at some point.
For our part, we think horn combs and brushes are an excellent choice for men interested in long-lasting hairstyling tools with an eye for aesthetics.
3. Teeth Spacing (Combs Only)
---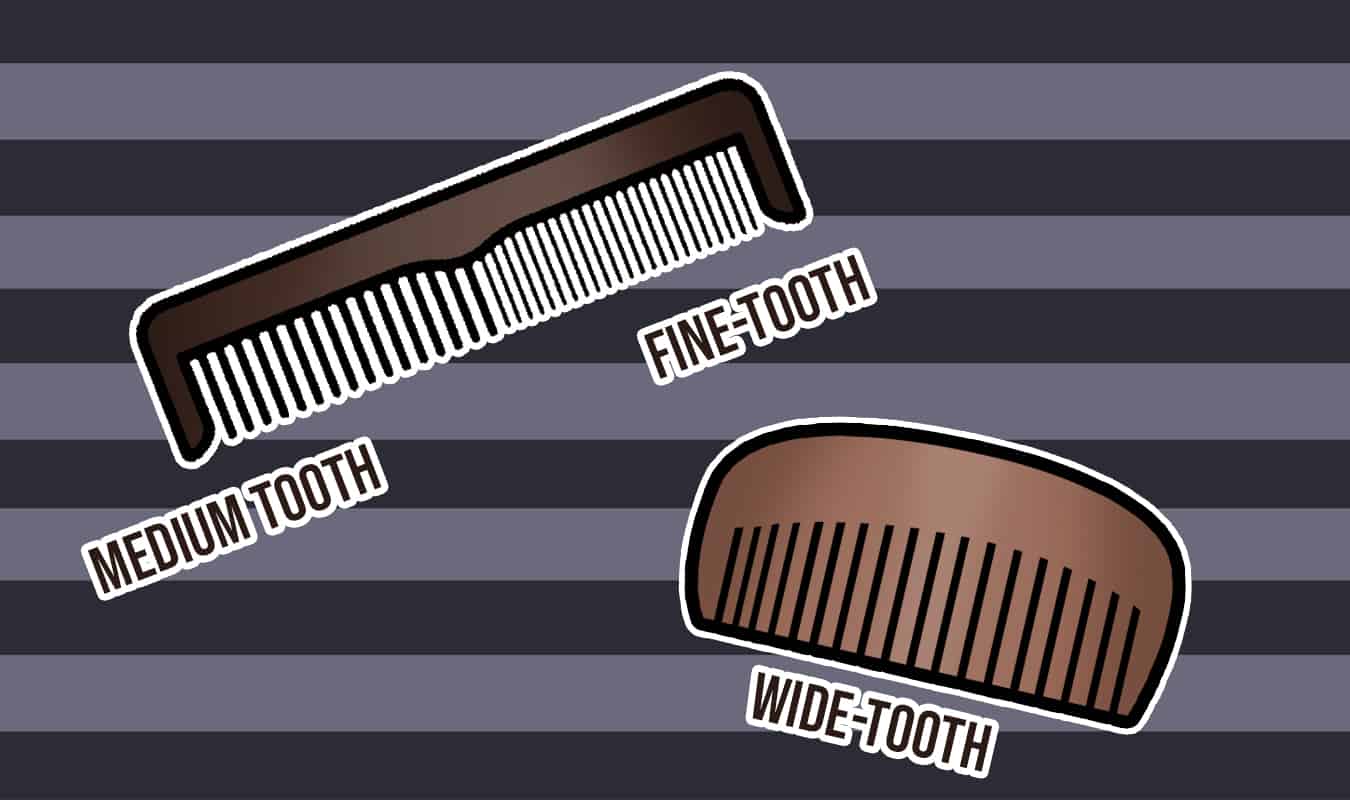 There are three primary teeth spacing types when it comes to combs.
There is however no one best comb for men's hair because different men have different hair types and lengths.
The type of comb or combing brush used by men depends on their type of hair (short, long, fine, coarse, etc.).
Let's take a look at some of the common types of combs.
These combs are perfect for men with naturally thin or straight hair.
They feature lots of narrower teeth that capture smaller hair strands and pull them into place.
These are also great for untangling your hair and for sculpting smaller sections of your hair into position.
However, these combs aren't ideal for daily brushing if you have really long hair or thick hair since the teeth are limited by their size.
So many teeth in the center of the comb prevent the tool from gripping larger swaths of hair with each brush.
This is arguably the most common comb-type you can find on the market.
It features teeth halfway in size and number between fine-tooth and wide-tooth combs.
These combs are relatively versatile and are great for calming hair of most types and thicknesses.
You can use them to both untangle your hair and style or shape your hair depending on your needs.
Because of their versatility, you'll usually find medium-tooth combs used by barbers or hairstylists since it works with just about everyone's hair.
Finally, these combs feature thicker teeth and usually fewer of them unless the comb is particularly large.
The size of the teeth makes this type of comb especially suitable for thicker and curlier hair, as it's untangling capabilities are second to none.
Thick hair passes through the wider gaps of the comb's teeth and is pulled into place.
These types of combs are also perfect if you have damp hair and want to comb your hair immediately after taking a shower.
All in all, choose a comb with teeth that are suitable for your hair type and styling purposes.
You can also always go with a medium-tooth comb if you have average or "combination" hair that doesn't lean too far toward any type.
4. Brush Type (Brushes Only)
---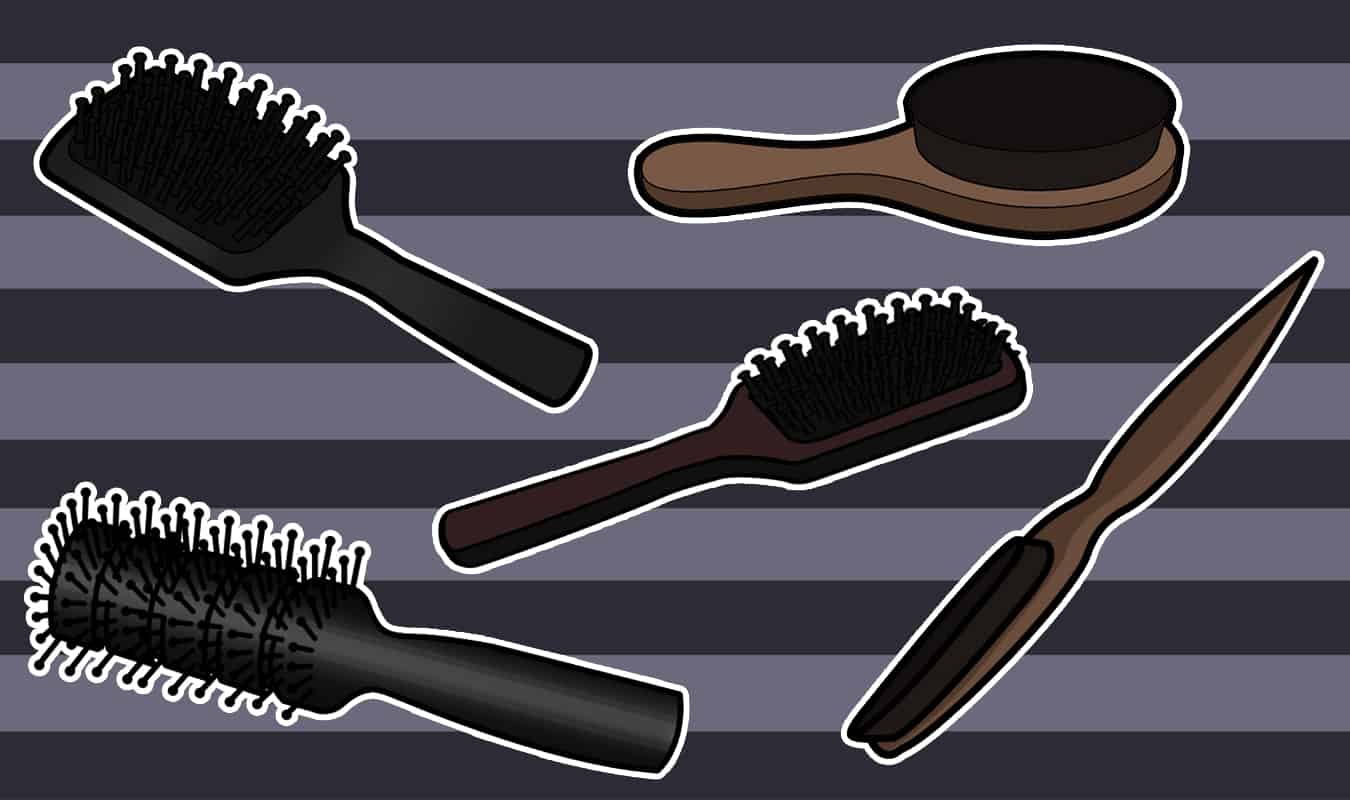 There are several types of hairbrushes, and each is designed for a particular use.
These are iconic and very common.
They're round in shape (of course) and are the type of brush most frequently used with a blow dryer.
We've done a guide to the best hair dryers for men if you want to few recommendations in that regard, by the way.
Round brushes usually feature quite a lot of space on which to store their bristles, so they're great for brushing lots of hair at once or for organizing longer locks on your scalp.
All in all, you can use round brushes for just about anything; they're a great go-to choice if you don't need a brush for a particular task.
Paddle brushes are shaped like paddles and are great if you have longer than average hair.
Paddle brushes require a little more pressure to effectively untangle your hair and mix the bristles with your hair strands.
But these brushes are particularly adept at massaging your scalp.
When combined with boar hair bristles, paddle brushes are arguably the best brush type for spreading healthy hair oils all throughout your hair.
Paddle brushes are really great for untangling big chunks of hair all at once.
Wet brushes are hairbrushes specially designed to be used by your hair is still damp.
They usually take advantage of unique bristles made of a synthetic compound or are designed with a distinctive shape to make untangling wet hair more achievable.
You should pick up a wet brush if you find yourself frequently brushing your hair right after stepping out of the shower.
Vented hair brushes are best used in conjunction with a hairdryer.
They spread your hair strands around much more efficiently than other types of brushes, so they allow the warm air from a hairdryer to more quickly dry out the roots of your hair and scalp.
As a result, you can get your blow-drying done more quickly and possibly prevent your hair dryer from overly drying out your scalp or damaging your hair from excess heat.
These hair brush types are an excellent choice for men who like to minimize the amount of time they spend on their morning routine.
This is a variant of the paddle brush.
It's a little gentler on the scalp and is great for untangling your hair or smoothing out dry, coarse hair.
Teasing brushes are another variant of the standard paddle brush shape.
They are usually quite small and only have a few rows of bristles, but they are designed to untangle your hair and keep it straight without putting too much pressure on your scalp or skull.
They're a great choice if you have a sensitive scalp or have to spend a lot of time brushing each day; this will make the process a little more comfortable.
5. Handle Length
---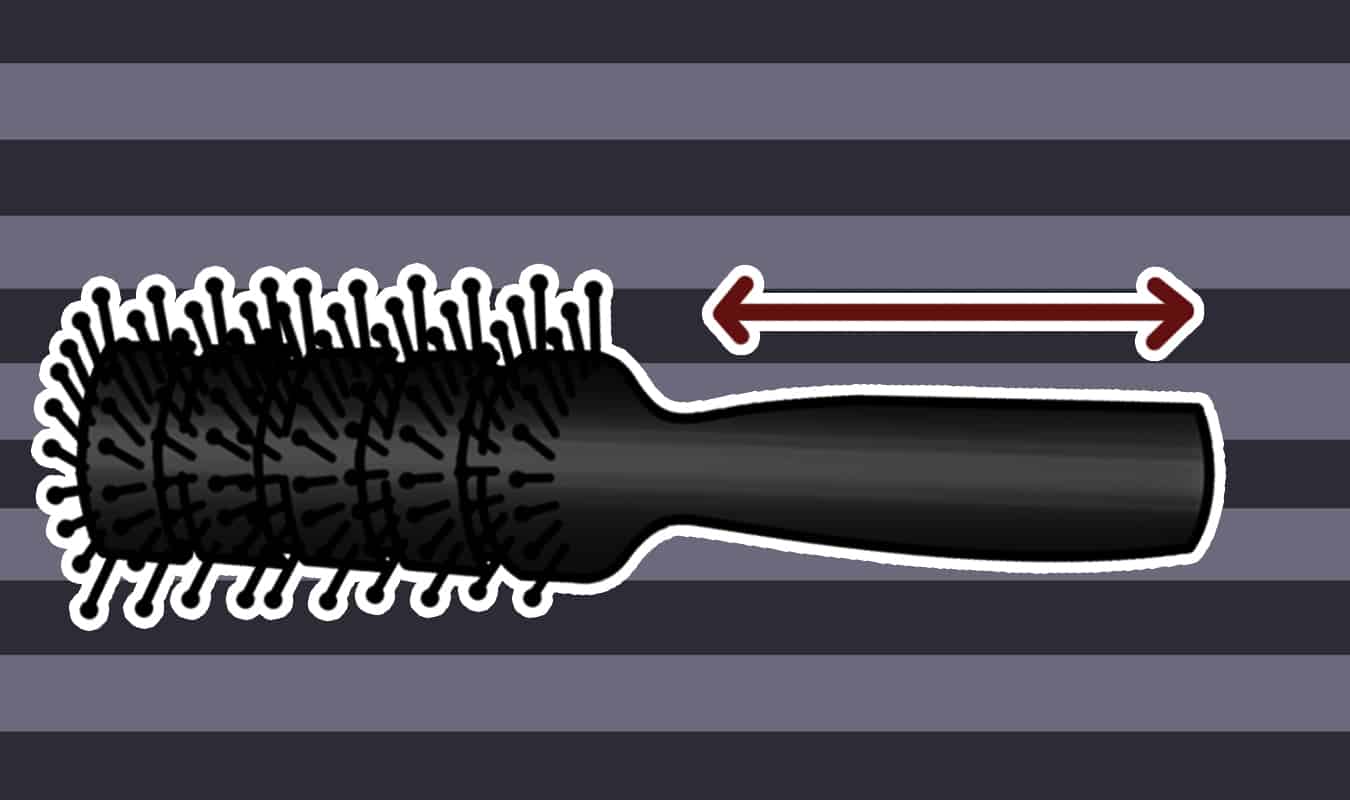 The handle of your comb or hair brush can affect how easy the tool is to use or what type of hair it's designed for.
Longer handles are great for use with thicker and longer hair since you can brush your hair in a slightly longer arc than with a brush without a real handle.
By the same token, brushes and combs long handles are a little harder to store or transport.
Brushes and combs with smaller handles are more comfortable to carry your jacket or pants pocket, but they don't offer quite as much leverage when it comes to combing or brushing longer hair.
You can also find the so-called "tail" combs.
These have an extra-long but ultra-thin, pointed handle.
This is used by hairstylists most frequently since they can use the pointed tail on the end of the handle to divide your hair into segments.
It's a great tool when used to style your hair each morning.
Combs or brushes that don't have much of an extended handle are great if you have shorter hair or like to bring more direct pressure to your hair or scalp.
This can help with exfoliation, scalp massaging, or detangling.
There's no one perfect handle type, all in all.
It just depends on what you're looking for and what feels the most comfortable in your hand.
---
8 Best Combs and Hair Brushes for Men of 2022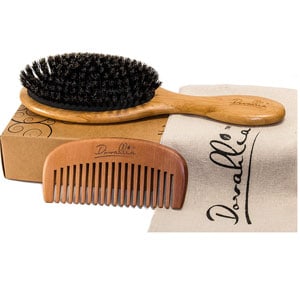 This hair brush and comb combination set features high-quality tools for men of most hair types.
Specs
Who Is It Best For?
This is a great beginner set for men that don't have any hair styling tools or men who need an upgrade from subpar tools as it can be used effectively as a styling comb.
Key Features
This is a brush and comb set that has everything you need to style your hair, no matter its style, effectively.
The brush is made from a lightweight and long-lasting shampoo and uses boar hair bristles to afford you a high-quality brushing experience each time you use it.
The brush has a more extended handle to give you plenty of leverage for both long and short hair alike, and the brush shape is a versatile oval that should work for most brushing needs.
Meanwhile, the comb is made with a wide teeth design and is constructed from a smooth wooden base.
It feels great to the touch and doesn't stand a chance of accidentally snagging your hair on splinters or between its teeth.
Since the teeth are relatively broad, it's a fine comb or thick or coarse hair that frequently becomes tangled.
That's not all this set includes.
There's also a washable travel bag so you can bring these tools along with you on your next business trip.
Given the affordable asking price, we think this is an excellent starter kit for men that don't have a brush or comb and who need both.
It's best to start off on the right foot when it comes to your hair styling habits.
Check out the thousands of customer reviews here on Amazon.
---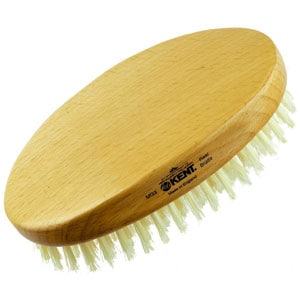 This exceptional hair brush is made of high-quality Beechwood and is designed for thicker and thinner hair alike.
Specs
Who Is It Best For?
It's perfect for men who prefer the comfort and power of paddle brushes.
Key Features
This paddle style hair brush has both a wooden outer frame and thin wooden bristles to provide your scalp and hair with excellent cleaning and untangling results.
The paddle handle has been finished with a light-colored Beechwood that feels smooth to the touch and is easy to grasp without it slipping from your fingers.
The bristles are made from the same kind of wood but are filed down to a very thin size to afford them an average amount of both stiffness and flexibility.
The resulting brush is suitable for hair types of most sizes, especially since the bristles are about half an inch long.
You can use this brush on both thicker and thinner hair alike without running the risk of breaking your hair or irritating the scalp.
In fact, the paddle shape makes this brush an ideal choice for men that like to massage their scalps or stimulate blood flow.
The only downside is its extremely high asking price.
There's no doubt in our testers' minds that this brush will last for a long time to come.
But it will be a hard sell for men who just need a brush to get by with during their day-to-day routine.
We'd recommend this for hairstylists or men that have unusually sensitive scalps or hair that frequently becomes tangled.
Only men that need an exceptional brush will see the value in paying top dollar for this tool.
Check out the hundreds of customer reviews here on Amazon.
---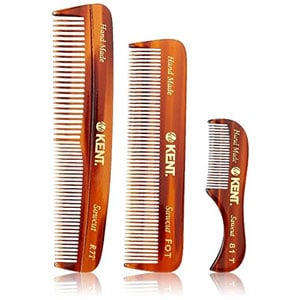 This handmade comb set is affordable and has combs of whatever size teeth you require.
Specs
Who Is It Best For?
It's a great comb set for men with medium-thickness hair or guys who like to experiment with different combing styles.
Key Features
This set of three plastic combs is both affordable and exceptional.
While the combs are made from a plastic material, don't let this dissuade you from considering them for your bathroom.
The plastic synthetic that the combs are constructed from is actually more durable and long-lasting than cheaper plastics that makeup comes from the dollar store.
Each comb has teeth of different sizes, although the largest comb has both bigger and smaller teeth for variety and styling assistance.
These teeth have been saw-cut and hand-polished so that the teeth edges are rounded and won't damage your hair or scalp.
The smoothness of the teeth also helps to spread the natural oils from your scalp throughout your head.
Having all three major sizes of combs and teeth can be advantageous if you are a hairstylist or if you like to experiment with different styles on your own hair.
The smallest comb is specifically designed to fit in your pocket and works as a great travel comb.
All in all, the plastic material helps to drive down the price of the set and makes it an excellent pick for men interested in using multiple combs to style their hair to maximum effect.
Check out the hundreds of customer reviews here on Amazon.
---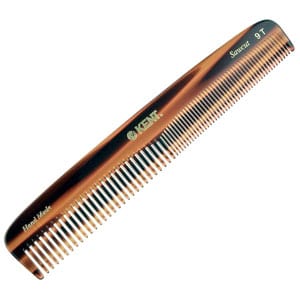 This handmade comb is cheap and surprisingly stylish even though it's made of plastic.
Specs
Who Is It Best For?
It's an excellent budget option for men who just need a simple, reliable comb.
Key Features
This comb is made from polished plastic, which both keeps it affordable and gives it a stylish aesthetic that raises it above other plastic combs.
It features teeth of both fine and wider varieties, strategically spaced along the lower and upper ends of the comb's length.
This way, it's easy for you to decide which teeth you want to use by merely flipping the comb around at your leisure.
The comb is made by hand-sawing the teeth out of the main shape, resulting in smooth edges that won't ruin your hair or irritate your scalp as you use the tool.
The comb's plastic finish also makes it easy to grip in your hand, even if you're combing your hair in a wet or steamy bathroom where it's easy to drop things.
Overall, our testers really liked this comb as a simple solution for men who don't need a complicated pick.
This comb is affordable, does precisely what you'd expect, and feels great to use.
It's the perfect solution for men who already have a decent hair brush and just need a regular comb to get the job done every time.
Check out the hundreds of customer reviews here on Amazon.
---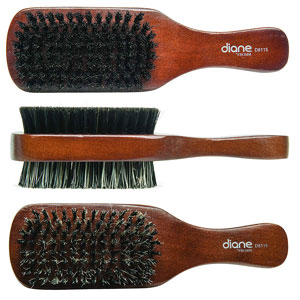 This boar hair brush features a unique bristle positioning design and quality materials.
Specs
Who Is It Best For?
It's perfect for men who need different brushing capabilities for different hairstyles or climates.
Key Features
This is a relatively unique hair brush compared to the others.
It features boar hair bristles not just along one side but two.
This allows you to flip the brush around to use the bristles that are best for your hair type or current situation.
One side has boar hair bristles that offer a medium amount of flexibility, while the other side's boar hair bristles are much stiffer.
That side's better used for untangling your hair or for brushing the longer locks on your scalp.
Either way, even the stiffer side isn't truly inflammatory to your scalp; the boar hair bristles are notoriously comfortable and do a great job of spreading healthy scalp oils around your head.
The brush has a handle of a decent length that affords you some good leverage without making it hard to grasp.
The wooden material comprising the handle and shape is smooth and stylish, as well.
The only downside is its unsuitability for thinner hair.
The positioning of the bristles makes it easy for thinner or fine hair to become trapped in the brush, making it all too easy to be pulled out of your scalp.
But if you have medium or coarse hair, there are few brushes better.
If you have frizzy hair, don't forget to check this out as well, since it won't create static electricity to deal with.
Check out the hundreds of customer reviews here on Amazon.
---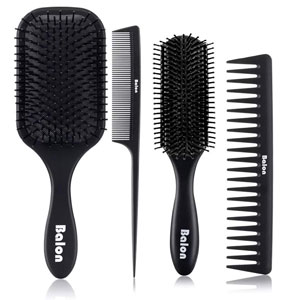 This set includes both brushes and combs for hairstylists and men who like to experiment with their aesthetic.
Specs
Who Is It Best For?
It's an ideal choice for hairstylists or for guys who don't care too much about static electricity build-up.
Key Features
This is a four-piece hair brush set that includes hairstyling tools for men that like to experiment with different looks or for men who style hair as a profession.
There's a paddle brush to allow for easy untangling and overall hair maintenance, plus a specific styling brush with a longer handle that you can use to move your hair where it needs to go.
Both brushes use a stiff synthetic type of bristle that's ideally suited for coarse or thick hair, especially since the bristles are spaced particularly far apart.
The combs are made of a carbon material that's both durable and long-lasting, and it works well with the black color of the brushes' plastic.
The combs have wide or fine teeth, depending on which you want to use for the moment.
The fine-tooth comb also has an extra-long handle that you can use to help style your hair just the way you like it.
Whichever comb you use, the teeth have been rounded to increase your comfort.
By the same token, the bristles of the brushes have rounded plastic tips to prevent them from irritating your scalp too much, even if you press down on your hair.
We think this is an excellent set for men that don't have combs or hairbrushes and who like to change their hairstyles frequently.
It's extra affordable, too, so even men on a budget can pick it up
Check out the hundreds of customer reviews here on Amazon.
---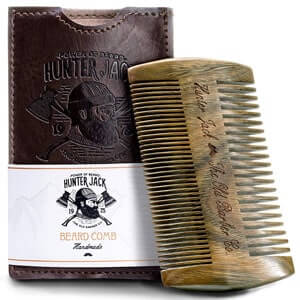 This exceptional comb features teeth on either side of its main body.
Specs
Who Is It Best For?
It's perfect for men who need to comb both their beard and their hair and don't see the point of having a separate comb for both.
Key Features
This is arguably the best comb choice if you're a man that has a thick beard that also needs to be combed relatively frequently.
This purchase is a single sandalwood comb that has two sides with different teeth: one side features fine teeth, and the other has teeth of medium size.
You can use this comb for both your hair or your beard depending on your needs and hair type, and the sandalwood material feels smooth to the touch and looks aesthetically pleasing as well.
All of the teeth have been hand cut and feature rounded tips to prevent them from irritating your jaw or scalp.
The comb is easy to grip with a single hand and is perfectly sized to fit in your palm or between your fingers.
It's also suitably small that you can store it in a jacket or pants pocket without trouble.
To make things better, the comb comes with a free leather carrying case to improve your woodsman-y style even further.
Add to that an excellent asking price, and you've got one of the best overall combs for men you can find online.
Its versatility and quality craftsmanship elevate it above the competition.
Check out the hundreds of customer reviews here on Amazon.
---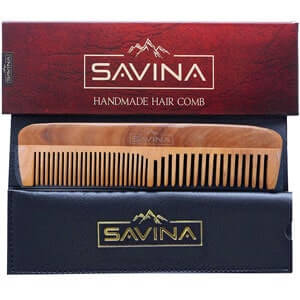 Like the last choice, this comb also has teeth of two different sizes to allow for versatility.
Specs
Who Is It Best For?
It's a good pick if the dual-sided teeth approach of the Hunter Jack comb seems unreasonable, but you still want a single comb for your beard and hair.
Key Features
This exceptional comb for men can also be used for your hair or beard alike.
It also features two sizes of teeth, but unlike the last pick, these teeth are organized along a single side.
You merely flip the comb around in your hand, depending on which size teeth are suitable for your needs at that moment.
This naturally makes the combing process a little slower, however, since each segment of teeth has less space to pull hair through than a full comb with only a single size of teeth.
The comb is made with a fine-grain wood that's been hand-smoothed to improve your comfort and ensure that splinters won't affect your face or hair while you use the comb.
All of the teeth have been hand sawed to provide them with rounded tips.
Our testers found that this comb was quickly the least inflammatory of all of them, mainly due to how well rounded those teeth actually are.
The comb also comes with a rounded handle that makes using it more comfortable for your hand.
Finally, the comb comes with a stylish protective carrying case that improves the aesthetic of the comb and looks perfect when sitting in a jacket or pants pocket.
You can get the comb in the broader size as well.
This not only increases the overall size of the comb but changes the sizes of the teeth as well, moving from medium and fine teeth to medium and wide teeth.
You can pick up either comb depending on your hair type or comfort level.
It's a great extra choice if you're a man looking for a high-quality comb and dislike the dual-sided design of the Hunter Jack comb.
Check out the hundreds of customer reviews here on Amazon.
---
Frequently Asked Questions About Men's Combs And Hair Brushes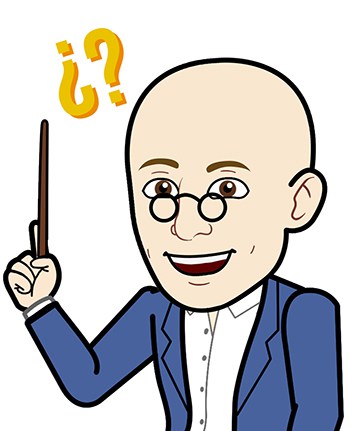 Now that you've seen our choices for the best combs and hairbrushes for male grooming, let us answer any last questions you might have about all this before we send you on your way.
1. Comb or Brush? Which Should You Use?
Comb vs Brush?
Combs and hairbrushes both untangle your hair and helps to style it, but which is better overall?
The truth is that hair combs and brushes aren't actually interchangeable.
They're both designed for different needs.
Hair combs are much better to use to untangle your hair while it is wet.
This is mostly because combs always have wider teeth and even the thickest bristles, you'll find on hair brushes.
Thicker teeth stand less of a risk of breaking your hair strands, which is always a possibility when styling your hair while it is wet.
Combs also give you slightly better styling control since there's only a single row of teeth to worry about.
That's why combs are usually used instead of brushes to style one's hair, often in conjunction with an excellent hairstyling product like a pomade or hairspray.
We've done guides on the best pomades, clays, gels, and hairsprays for men if you'd like to learn more.
Combs are also easier to use with a styling product since they won't spread the product around erratically the same way brush full of bristles will.
Combs are also a little more versatile than most hair brushes since you can use them with virtually any hair type or style.
While it's true that certain comb teeth widths are better for specific hair types, you really can use any of them with your hair.
The association with certain teeth widths and hairstyles is more of an advanced technique than something you always have to adhere to.
Meanwhile, hairbrushes are best used after you've already honed your hair and marshaled most of your erratic strands into place.
Hair brushes affect more of your strands with each stroke and can help pull hair strands within a lock into position, making your hair appear more uniform and directed in whatever style you like.
Because there are more bristles on a hair brush then there are teeth on the comb, hairbrushes are also great for exfoliating the scalp and massaging it, which can assist with improving blood circulation and nourishing your hair follicles.
Hair brushes can also help your scalp release natural oils and spread them along the lengths of your hair strands.
Brushes are great for improving the look and texture of your hair by volumizing it and making your strands look "full."
At the same time, you can use a hairbrush to smoothen your hair, which is helpful if you have naturally curly or frizzy hair.
Put simply, combs are best for initially organizing your hair and styling purposes.
Brushes are best for improving the texture of your hair and massaging your scalp.
Many men with thick, full heads of hair off to use both to their maximum benefit.
2. What to Do If Your Hair Is Wet
Combs are usually much gentler on your hair than brushes.
While some experts believe that combing or brushing your hair while wet is never okay, our testers think that using a comb is perfectly fine, as long as you don't pull on your hair too hard.
In fact, using a comb while your hair is still damp can help you untangle it and make brushing later a more pleasant process.
3. Should You Clean Your Hair Brush?
Yes, absolutely!
Unfortunately, this isn't something that many men think of naturally.
But it makes sense: after all, your hair brush will be smothered in the natural oils of your scalp and any dirt or debris trapped within your thick hair each time you use it.
This means that well use hairbrushes will accumulate sebum over time.
Sebum is the natural waxy/oily substance that your scalp produces to protect your hair follicles and the roots of your hair from daily wear and tear.
But sebum can build up in your hair brush over time, which creates an excellent breeding ground for bacteria and which more easily collects dust and dirt.
If you don't clean your brush, the bacteria and other contaminants can easily be rubbed back into your hair and into your scalp.
So, you should clean your hairbrush at least once every two weeks.
Of course, if you have naturally long and unusually thick hair you should probably up this frequency to about once per week.
Think of your hairbrush as a tool.
You must take care of it, so it continues to perform well.
Thankfully, cleaning your hair brush doesn't take too much effort.
Simply remove any hair strands that might still be stuck in the bristles of the brush, then make a solution of warm water and your shampoo in a bowl.
Swirl the bristles side of your brush in that solution and rinse it before letting it air dry.
If done correctly, washing your hairbrush should only take about five minutes once every week or so.
4. Combing and Brushing Tips
If you didn't think you need to know how to comb your hair or how to use hair combs and mens hair brush, then the tips below are definitely for you.
The following pieces of advice are generalized and aren't meant for men with any particular type of hair.
But following them can help you get the best experience from your next combing or brushing session.
Firstly, only use long and smooth strokes when using your hair brush.
Short or choppy strokes will result in uneven texturing across your hair and irritation.
Secondly, never press down too hard with your hairbrush or comb.
While specific models might be ideal for exfoliating the scalp or improving scalp blood circulation, you should not be pushing down so hard as to irritate your scalp.
If brushing or combing your hair hurts, you've gone too far.
Thirdly, untangling knots isn't a matter of pulling on the knot with all of your strength.
Instead, it's often a better ideal to start at the end of your hair and slowly untangle your locks from the bottom up.
This will make the untangling process more comfortable without risking hair breakage.
Finally, take your time.
It does you no good to use the best comb or best hairbrush if you're just going to rush through the process each time.
Your hair is a beautiful thing; take care of it!