Men of all ages struggle with hair thinning.
It's not just a condition that sneaks up on you with old age!
Indeed, the majority of men will experience some baldness or thinning by the time they're 35 years old.
While some guys can rock a bald head and make it work, others rely on the healthy hair for their style.
If you've ever wanted to improve your hair growth or thickness, a perfectly-formulated hair oil might be the solution you've been waiting for.
We're not talking about growing hair overnight here – definitely not overnight!
The best oils for hair growth and thickness can help your hair grow stronger, faster, and fuller than ever before.
Plus, excellent oils usually bring other key perks to the table; they can moisturize, repair split ends, or clean your hair shaft from sebum and dandruff.
There are tons of hair oils and hair masks in the market that'll compete for your attention.
But that's why we put this guide together.
You don't need to spend hours researching on your own or trying out different oils without knowing what they'll do to your hair or scalp.
Our testers already found the best of the best, and we're ready to share them with you now.
Let's get started!
QUICK OVERVIEW: Best Oils for Hair Growth & Thickness
Aria Starr Castor Oil Cold Pressed

Feels great on the scalp
Works relatively quickly

VIEW ON AMAZON →

Pura D'Or Moroccan Argan Oil

Easy to use cap
Promotes hair color and growth

VIEW ON AMAZON →

Very affordable for the amount
Can help repair hair damage

VIEW ON AMAZON →

Hair Thickness Maximizer Organic Hair Growth Oils

Comes with a 90-day customer satisfaction guarantee
Easy to apply with cap

VIEW ON AMAZON →

Handcraft Blends 100% Pure Castor Oil

Can be used on nails and skin as well
Locks in moisture and nutrients effectively

VIEW ON AMAZON →

EssyNaturals Natural Hair Growth Oil

Can do lots of things at once
Repairs hair to be stronger

VIEW ON AMAZON →

Jamaican Black Castor Oil

Improves color
Can be used to relieve pain or inflammation

VIEW ON AMAZON →

Hair Thickness Maximizer 100% Organic Jamaican Black Castor Oil

Comes with an easy dispenser
Gets rid of dandruff

VIEW ON AMAZON →
Use the table of contents below to jump to the sections most important to you.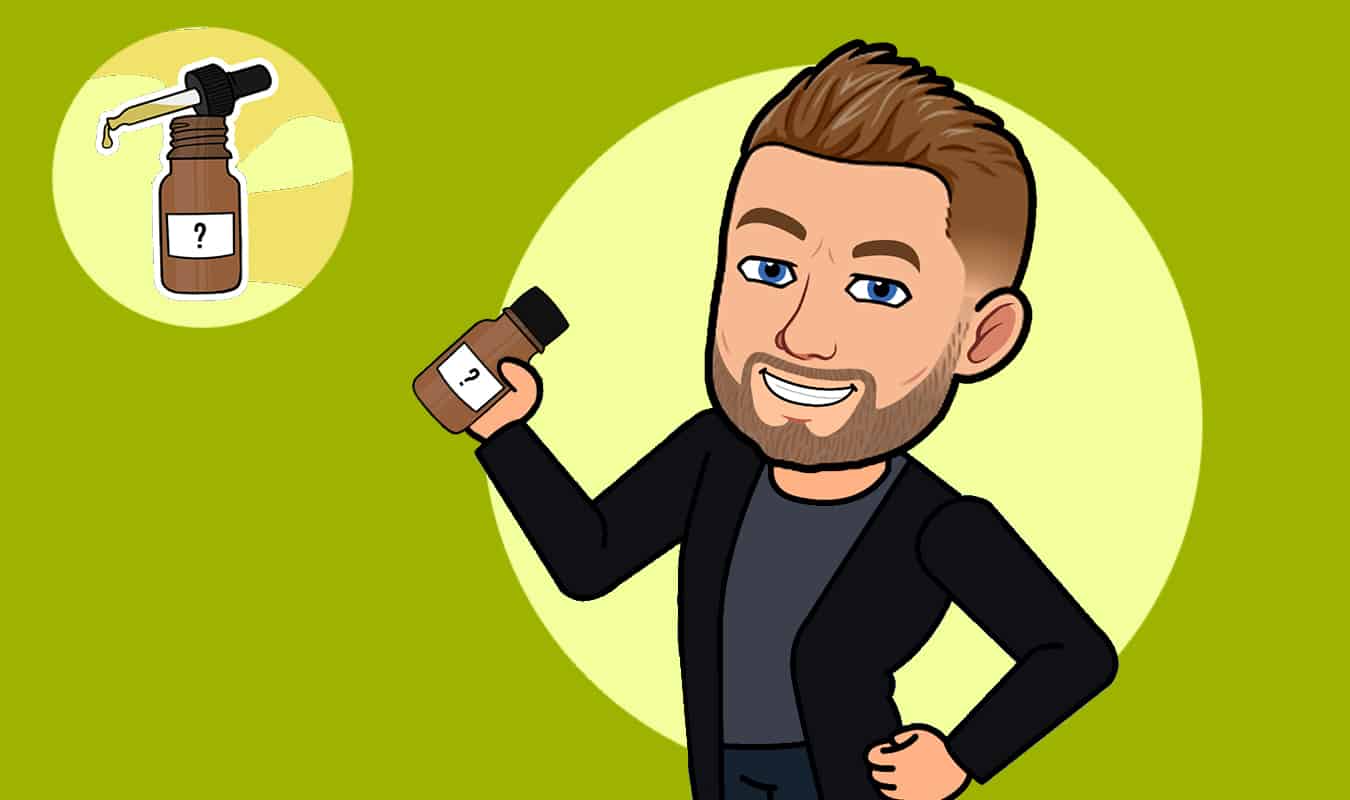 What Are The Types Of Oil?
When it comes to oil that can provide valuable benefits to your hair, you've got options.
This article is not about how to grow hair faster in a month or how to grow hair faster in a week, rather, we'll be focused on the best hair oils for men that will improve your hair health and thickness over time.
In fact, there are almost too many assistive oils that people have used for hair growth and thickness for centuries.
In the modern-day, hair formula experts have learned how to make active hair serums and solutions out of these oils.
Some of the best hair growth serums are pure or might only have a few key ingredients, while others may be blends of multiple types of oil and are more complex.
Let's go over the major types of oil you'll find in most hair growth products, so you know what each is used for.
Castor Oil
---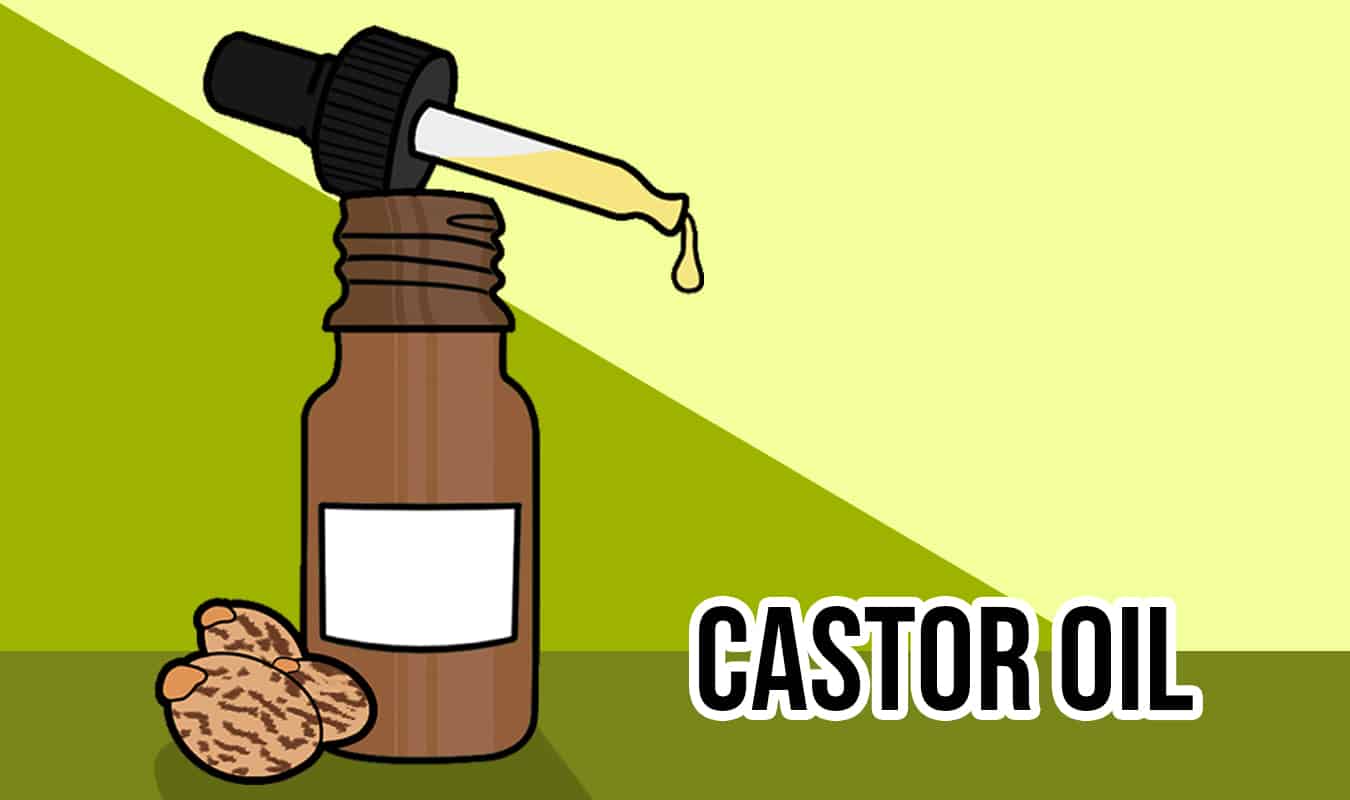 Castor oil is one of the most common assistive oils you'll find for both skin and hair issues.
Castor hair oil inhibits a hormone called prostaglandin, which is often found in men and women who suffer from hair loss.
As it inhibits this hormone, it retroactively boosts hair growth and strength at the same time.
There are three major types of castor oil, but these are all great for general hair strength and growth benefits.
However, there are more castor oil benefits that we will discover later in this article.
We've done a guide to the best castor oils for hair growth and thickness if you'd like to see just how effective this specific category of oil can be.
Olive Oil
---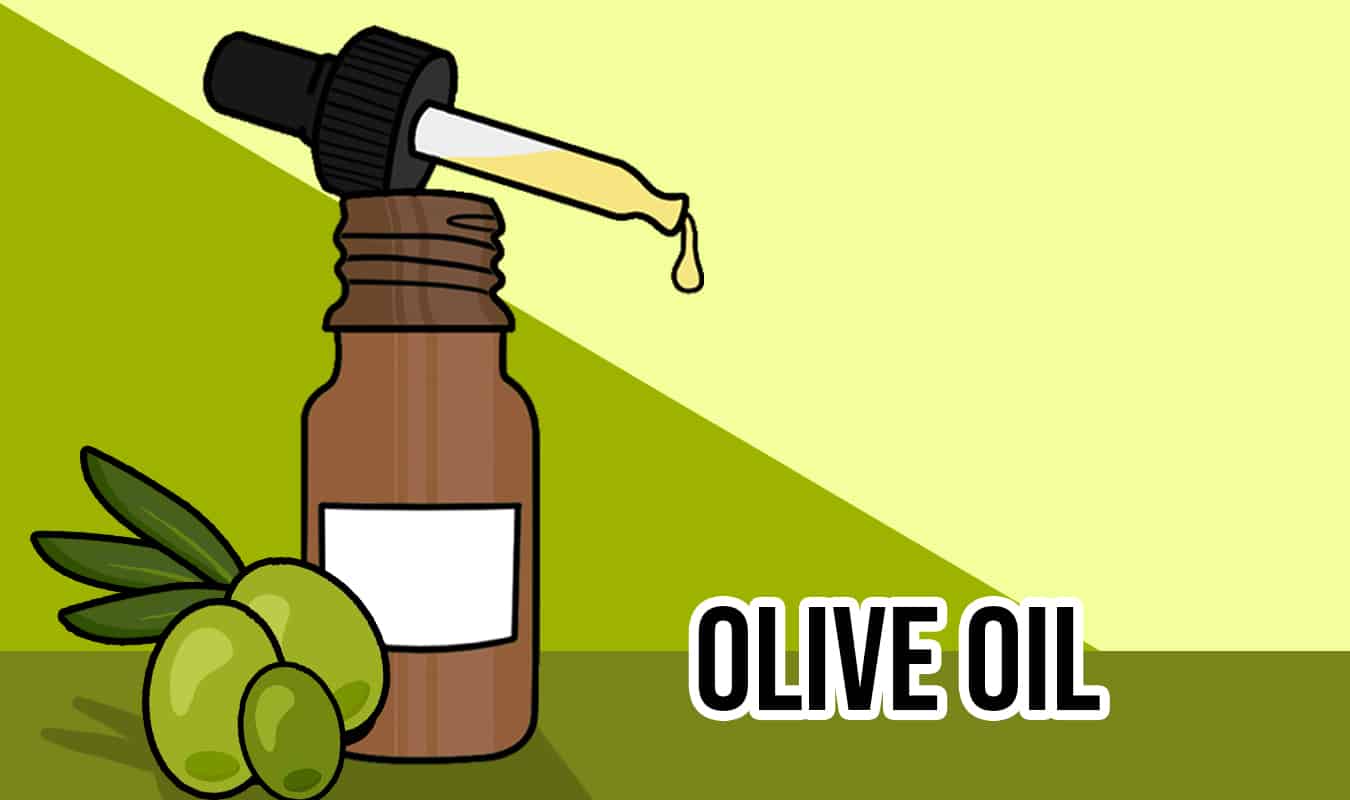 Olive oil isn't just used for cooking.
It's been used for hair treatment and hair growth since the ancient Egyptians and potentially earlier.
Olive oil is excellent for reducing inflammation on your scalp and reducing dandruff, so it's one of the top hair oils for men with natural hair dryness.
In addition to this benefit, olive oil has lots of vitamin E.
This powerful antioxidant can reduce the amount of free radical oxygen molecules that can damage the growth of hair strands or the skin of your scalp.
When used correctly, extra virgin olive oil for hair is one of the most versatile ingredients around.
Arguably the best oil for dry hair, this oil moisturizes your hair, fights bacteria, and promotes hair growth.
Our testers would definitely recommend that you keep an eye out for hair growth products with olive oil.
Coconut Oil
---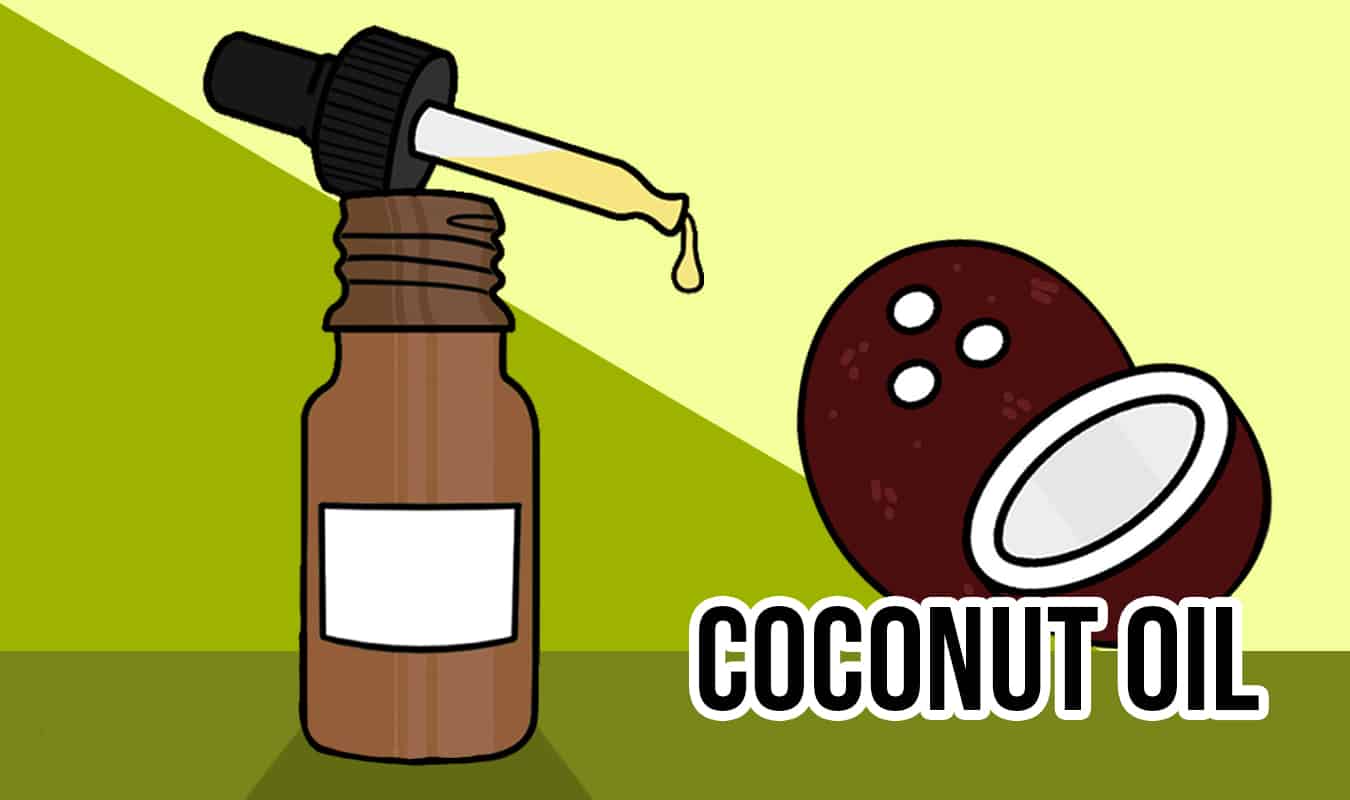 Coconut oil for hair growth or loss is another common oil product that shares anti-inflammatory properties with olive oil.
It's naturally antifungal and antibacterial, so it's one of the best types of oil you can apply to your head if you're currently suffering from dandruff or a scalp fungal infection.
Lauric and capric acid, both of which are present in coconut oil, lend these effects.
Just like olive oil, it also has plenty of antioxidant vitamin E.
It can moisturize your scalp and hair strands, as well.
Coconut oil has a distinctive smell that most people find pleasant.
Keep this in mind if you like to add another artificial fragrance to your hair.
In most cases, the coconut smell shouldn't be too overwhelming.
Jojoba Oil
---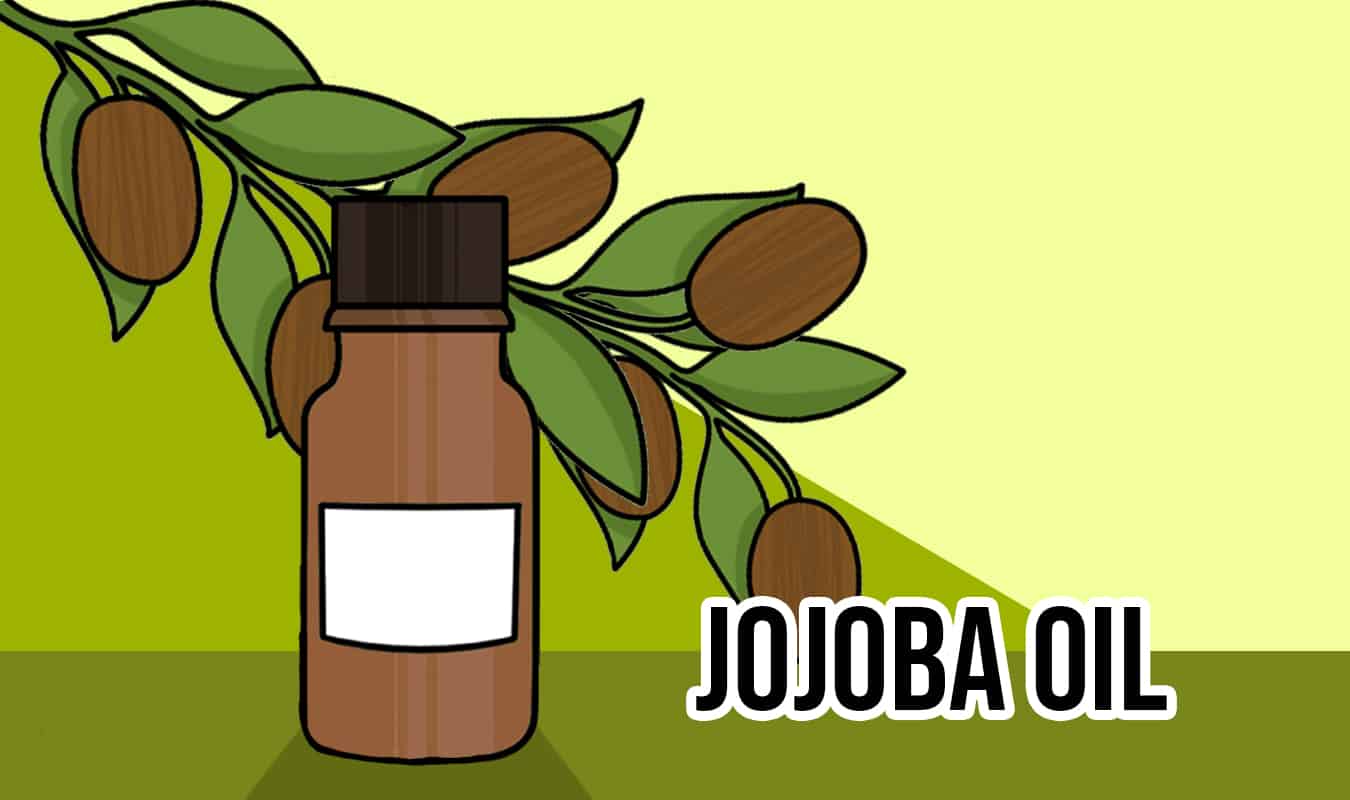 Jojoba "oil" is a bit of a misnomer, as the oil format that most people are familiar with is actually an extraordinarily runny or liquidy type of wax.
Still, it's close enough that it looks and feels like oil to most of us.
Jojoba oil for hair growth has lots of vitamins D, E, and A.
These antioxidants can both nourish your hair and scalp and protect them from further damage.
Jojoba oil promotes proper hair growth and repairs damage.
It's why you'll find this oil in both skincare and hair care products all around the world.
Rosemary Oil
---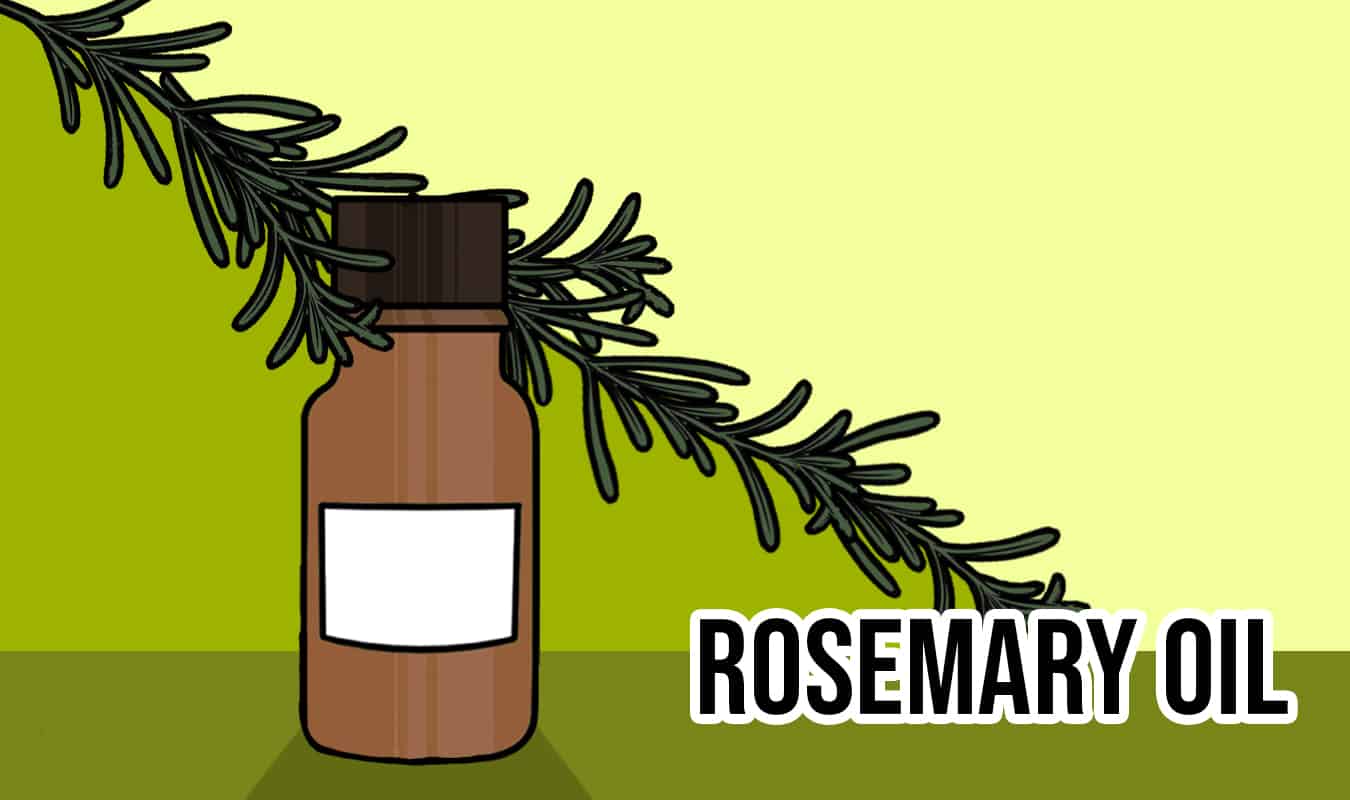 Rosemary oil is another favorite of our testers.
It's one of the best oils for boosting cell regeneration and formation, meaning that it will help your hair grow faster and stronger than before.
Rosemary oil for hair growth can even make your hair look and feel thicker.
Therefore, rosemary oil is an essential oil for thin hair which is a particularly nice choice if you have thin or wispy hair.
Almond Oil
---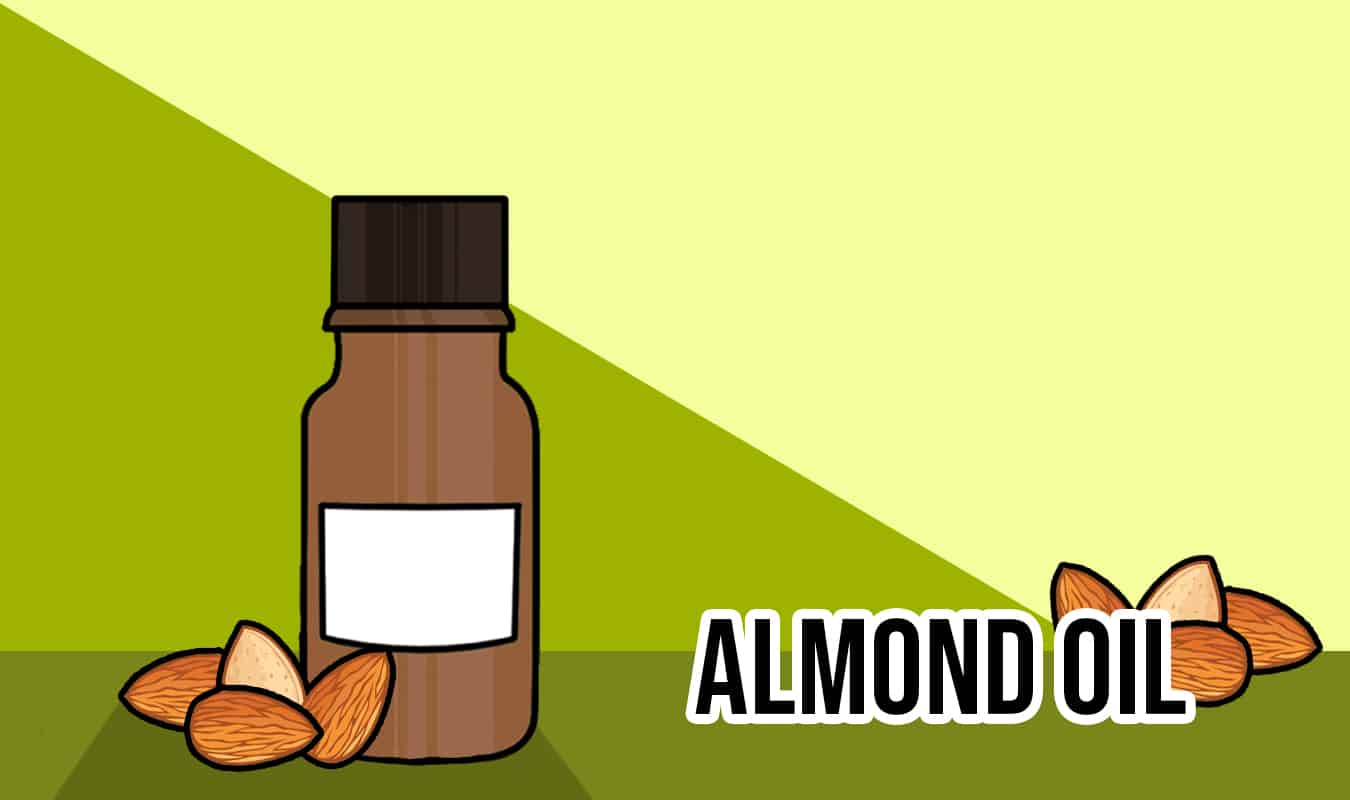 Don't forget – almond oil!
This excellent ingredient has lots of nutrients that your hair and scalp can make great use of.
These include omega-3 fatty acids, magnesium, phospholipids, and vitamin D.
All of these can help strengthen your hair, nourish your scalp, repair or reduce damage from daily wear and tear, and improve hair thickness.
It's an all-around excellent oil whose value is reflected in its cost.
Almond oil is often a little more expensive than other hair oil products.
Still, we think almond oil hair blends are worthwhile, especially if your hair suffers from multiple problems.
Grapeseed Oil
---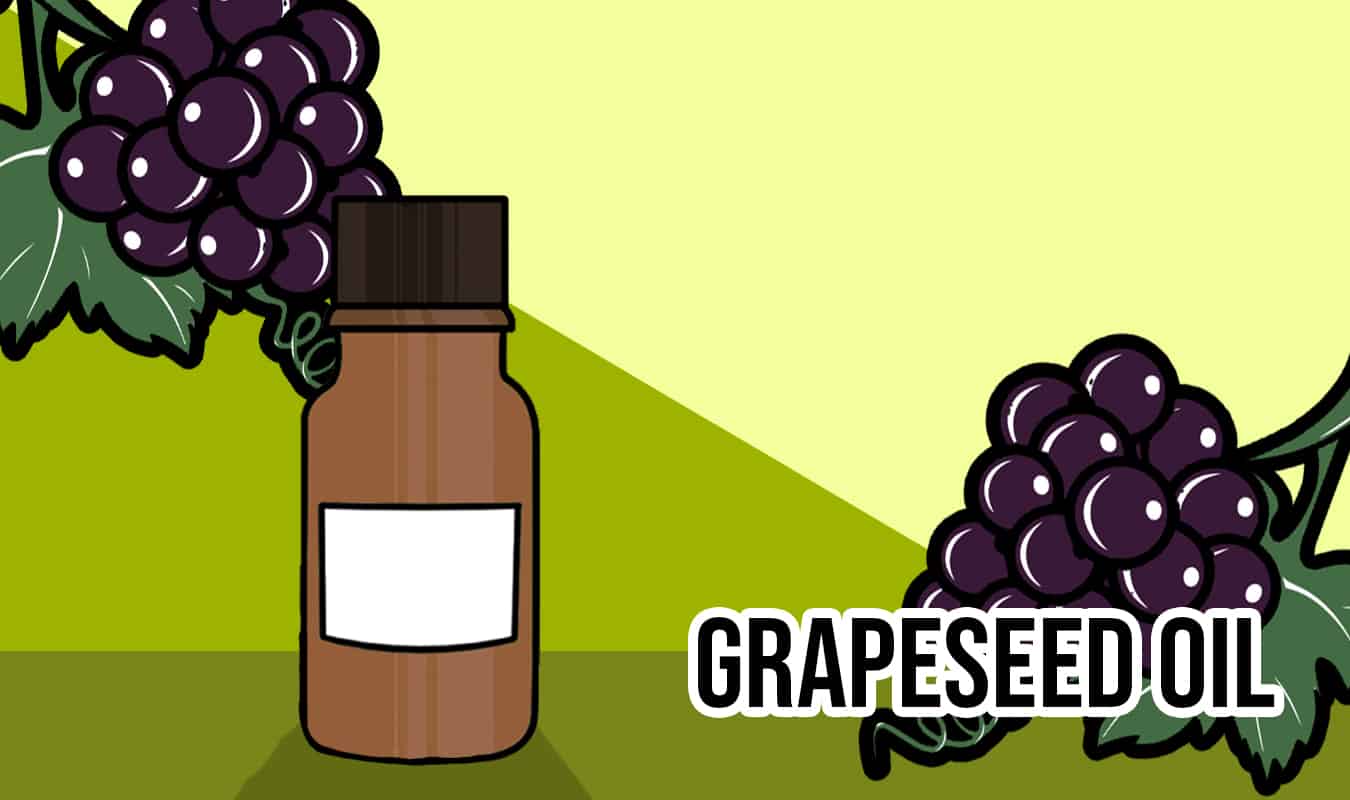 Grapeseed oil is a little rarer than other hair oil types, but it's nonetheless one of the most effective ones you'll find online.
As a fat-soluble antioxidant, it's incredibly protective and can help reduce damage and inflammation even more efficiently than olive oil.
We would recommend seeking out grapeseed oil for hair if your scalp is particularly sensitive or if you suffer from extreme dandruff and infection.
Baobab Oil
---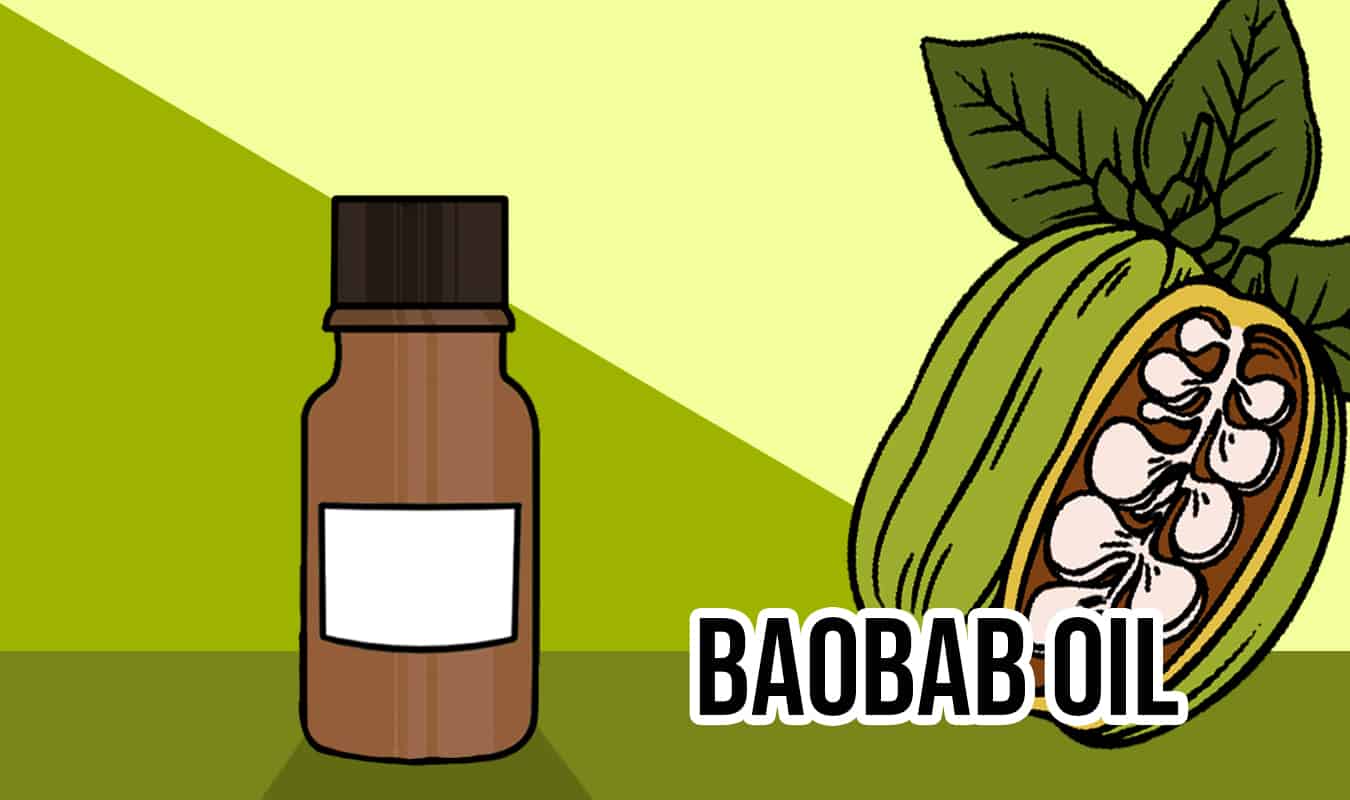 This rare hair oil has tons of useful vitamins that can boost hair growth and protect your hair from damage.
These vitamins include A, D, E, and F.
It's more valuable because of its versatility, so you'll often find it paired with other hair oil varieties.
Peppermint Oil
---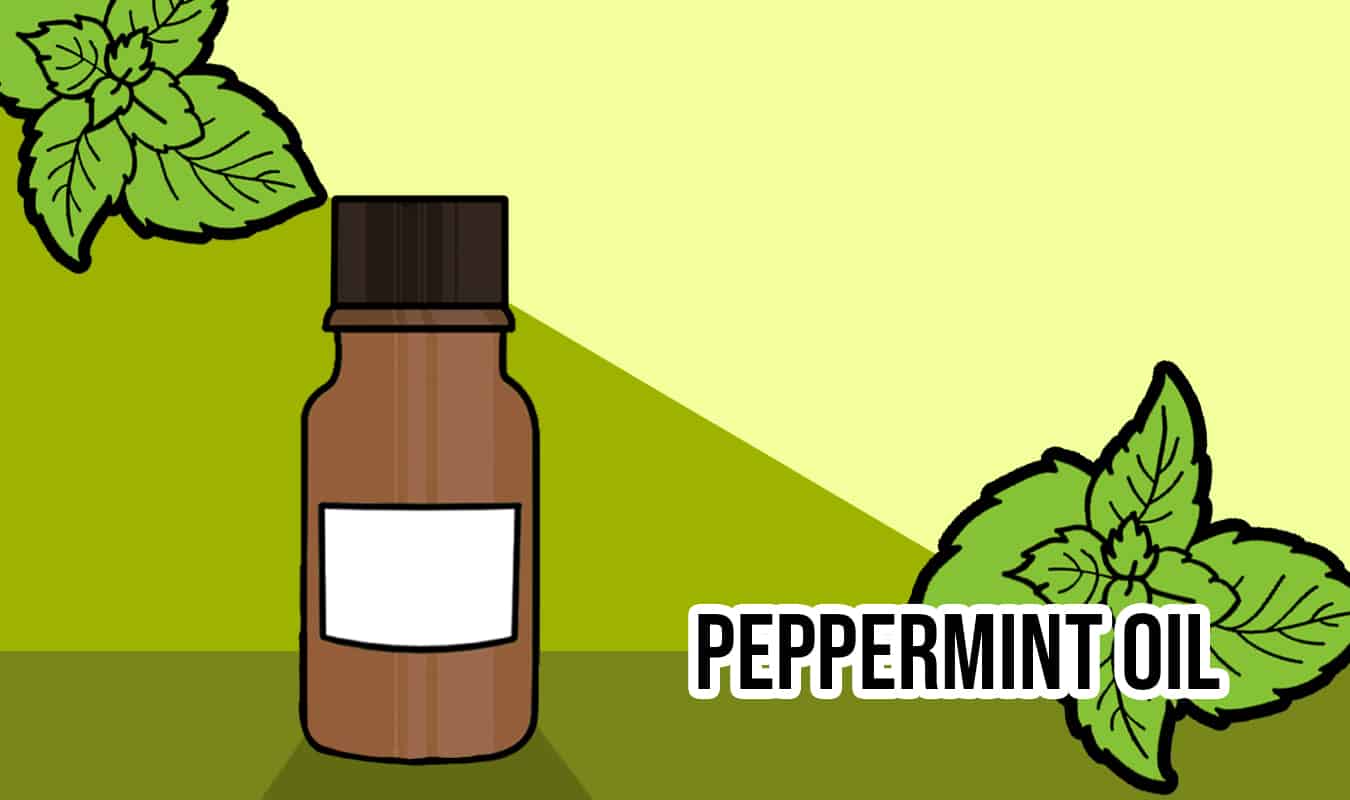 Peppermint oil for hair growth is a favorite for masculine themed hair growth products because of its distinctive smell.
Many peppermint oil products will also leave your scalp feeling a little tingly, though this is generally comfortable rather than annoying.
Peppermint oil for hair can improve blood flow when it's rubbed into your scalp.
This helps to promote hair growth as more nutrients reach the top of your head and your hair follicles than they would otherwise.
As a result, it can increase the number of hair follicles you have and follicle depth.
It's one of the best oils for improving hair growth and thickness, bar none.
Lavender Oil
---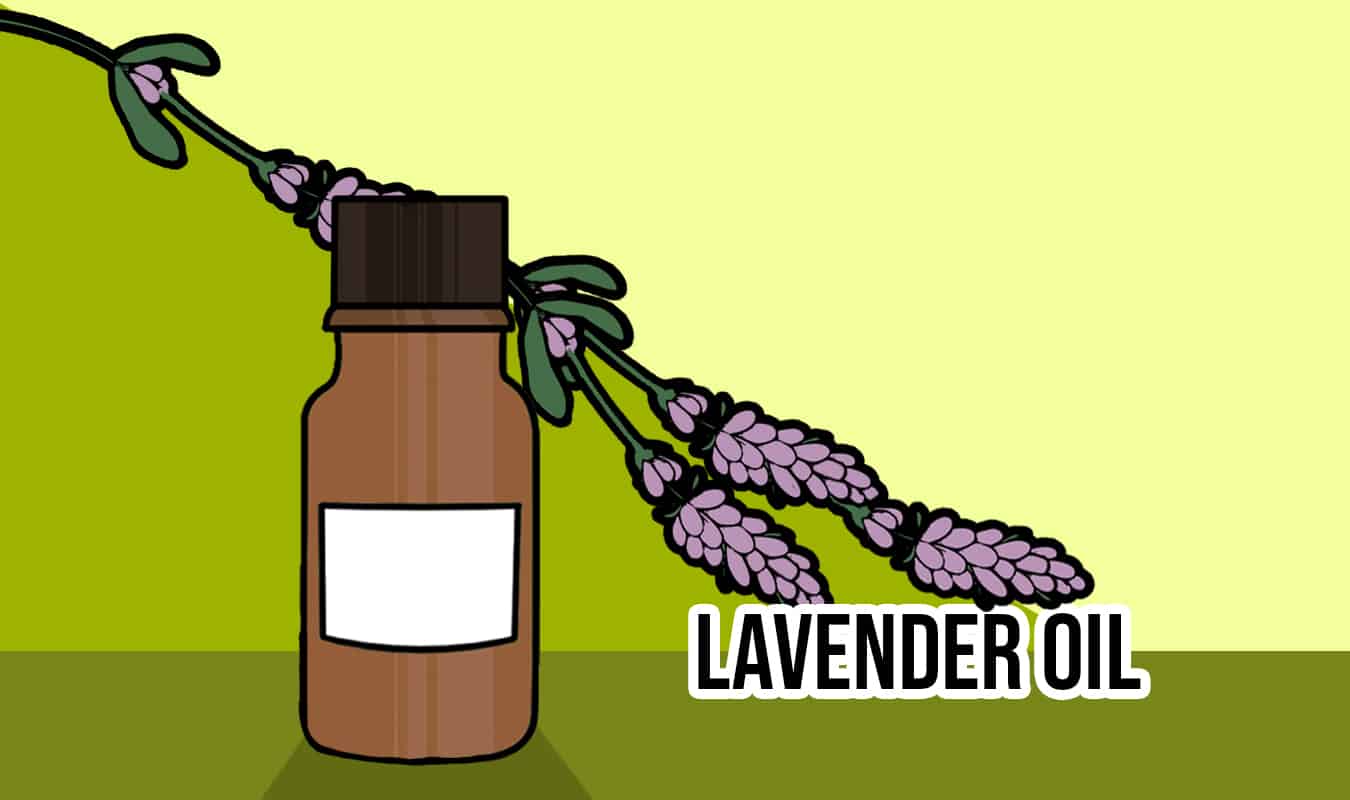 You'll find lots of helpful hair growth products that contain lavender oil.
Lavender oil for hair growth promotes speedy cell regeneration and can even instigate faster cell reproduction.
It's an excellent oil if you want to grow your hair fast or aren't as concerned with hair thickness.
But you can always find lavender oil paired with other oils if you'd like both benefits.
Argan Oil
---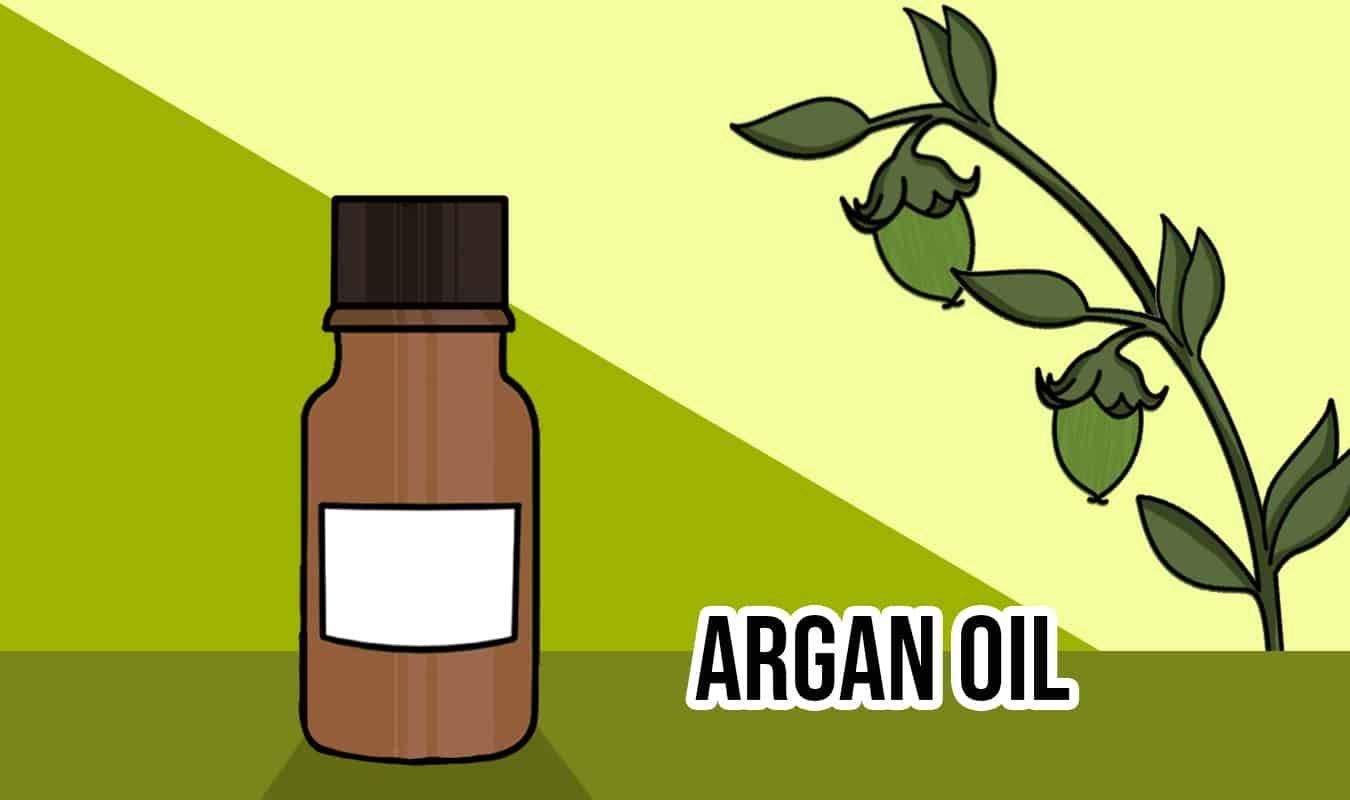 Argan oil is made from the kernels of argan trees.
This oil has plenty of antioxidants that can protect your scalp and hair and repair damage from daily activities.
Argan oil's effectiveness is so well-known that you'll find this oil in skincare and hair care products all across the world.
This does come with a generally high price tag, but we feel that using argan oil for hair growth is worthwhile most of the time.
You are probably going to use this oil or one of the other carrier oils for hair as your primary ingredient if you plan to make your own home remedies for hair growth and thickness.
Avocado Oil
---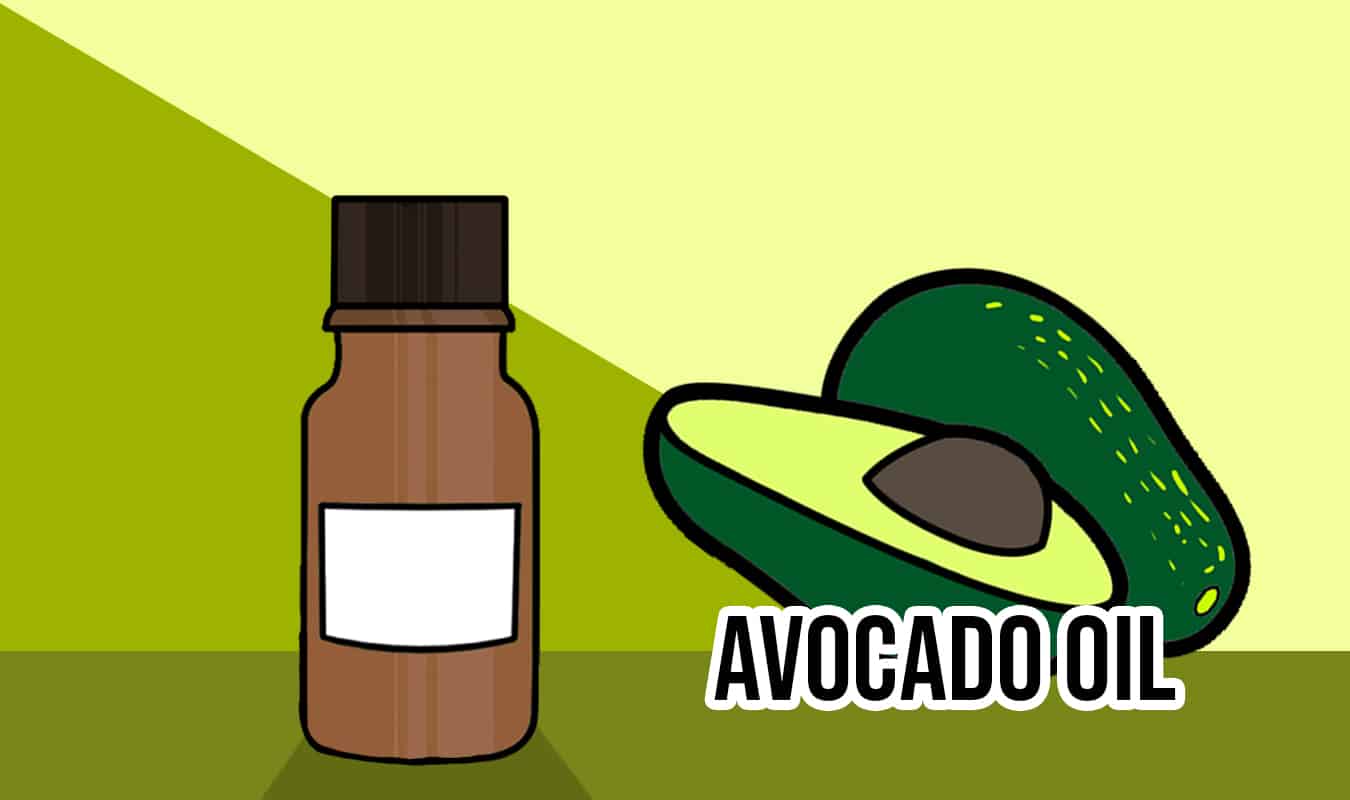 Avocado oil is a favorite of some of our testers.
It has fatty acids, just like olive oil, improving hair strength and repairing daily damage.
Avocado oil also has an additional benefit in that it can prevent DHT from accumulating.
DHT, or dihydrotestosterone, is heavily linked to male pattern baldness and hair thinness overall.
We'd recommend that men with thinning or balding heads seek out avocado oil ASAP.
Cedarwood Essential Oil
---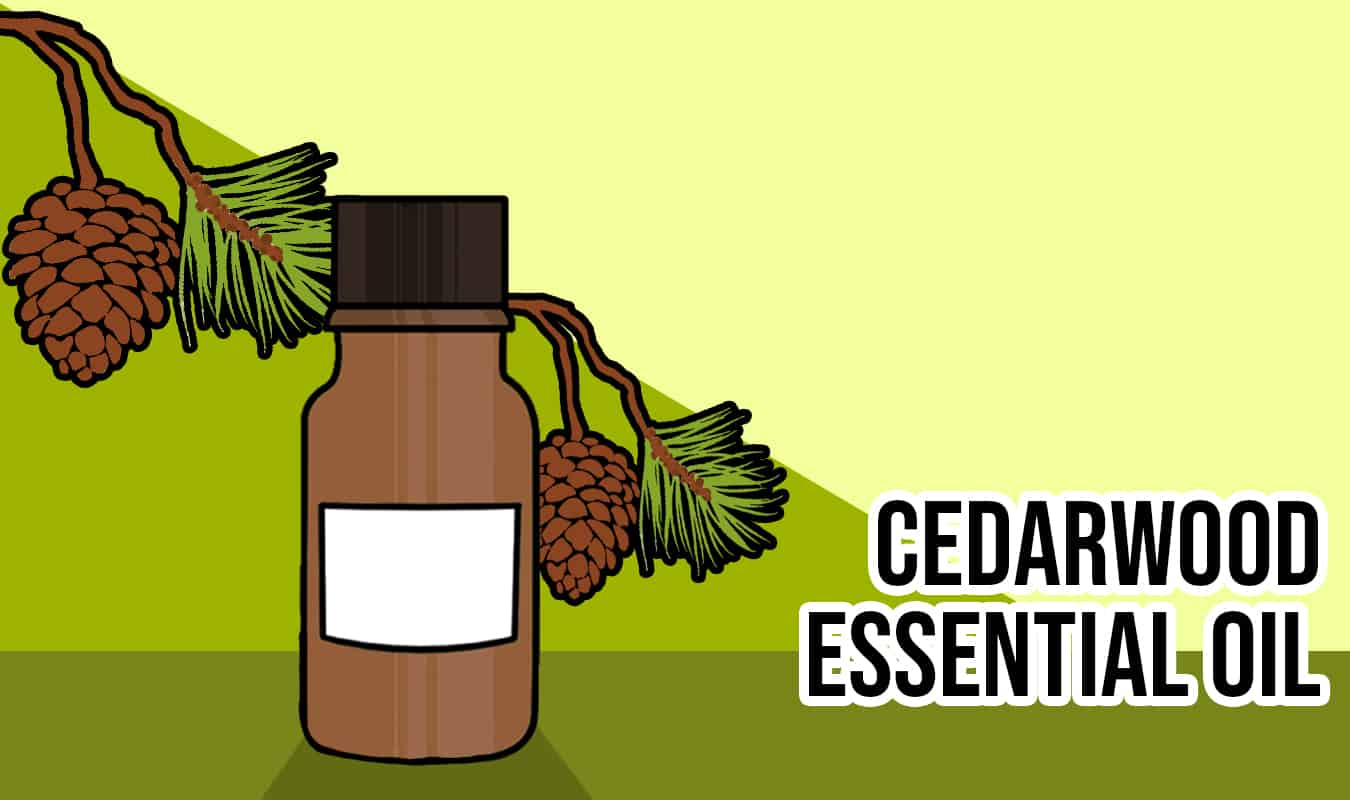 This essential oil for hair loss has both antifungal and antimicrobial properties.
This makes it an excellent oil choice if you suffer from extreme dandruff or some kind of scalp infection.
They can also balance out the oil production of your scalp as a whole.
Men with greasy or overly oily hair can use cedarwood essential oil and slowly reduce the amount of oil they naturally produce over time.
It's an excellent choice for those hair types.
Horsetail Plant Oil
---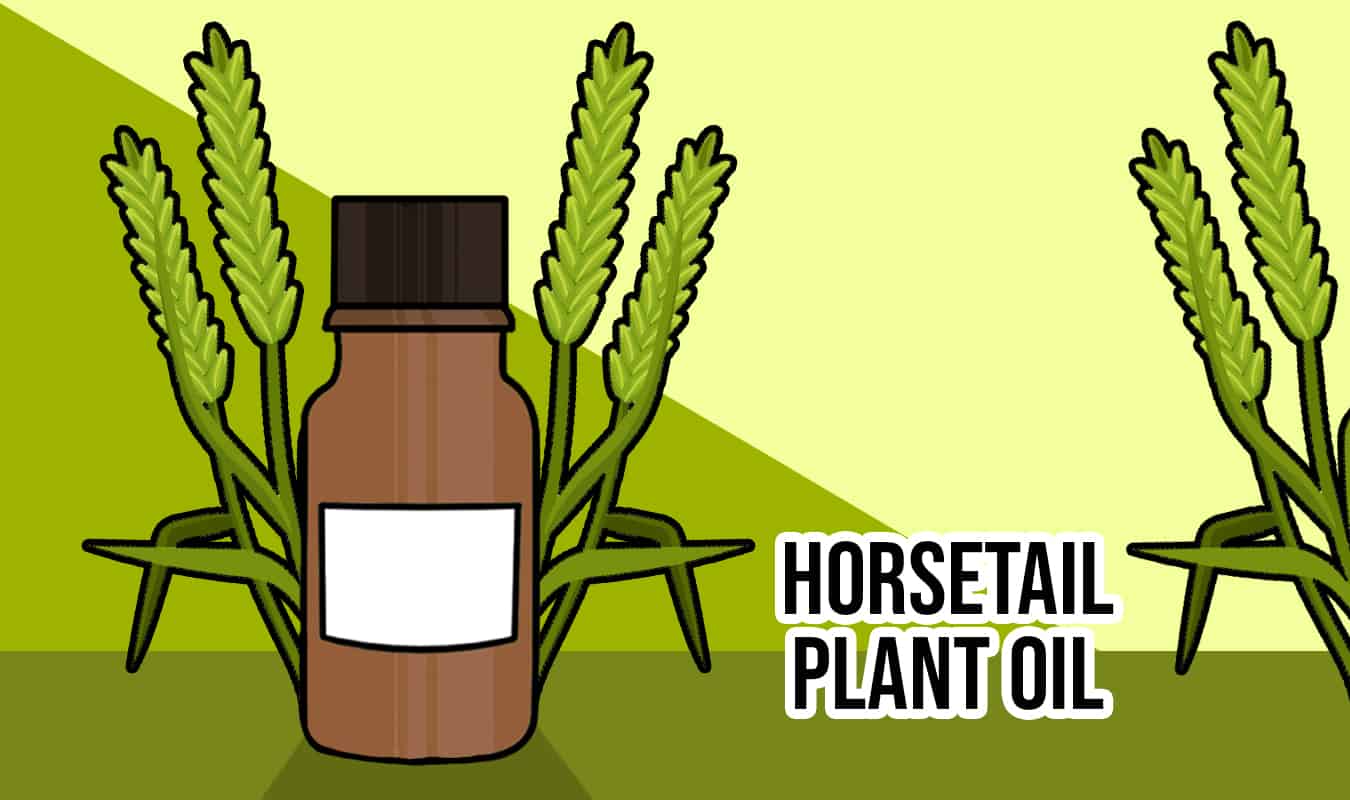 This rarer oil comes from the horsetail plant, of course.
It can improve blood circulation to the scalp and boost your hair's growth speed and strength.
So if you want to grow hair fast, this hair growthing oil is one ingredient to consider.
---
Things To Consider When Looking For Hair Oils For Growth And Thickness
Now that we've listed the main types of oils you'll find on our list, let's go over what else our testers focused on in their search for the best.
1. Ingredients
---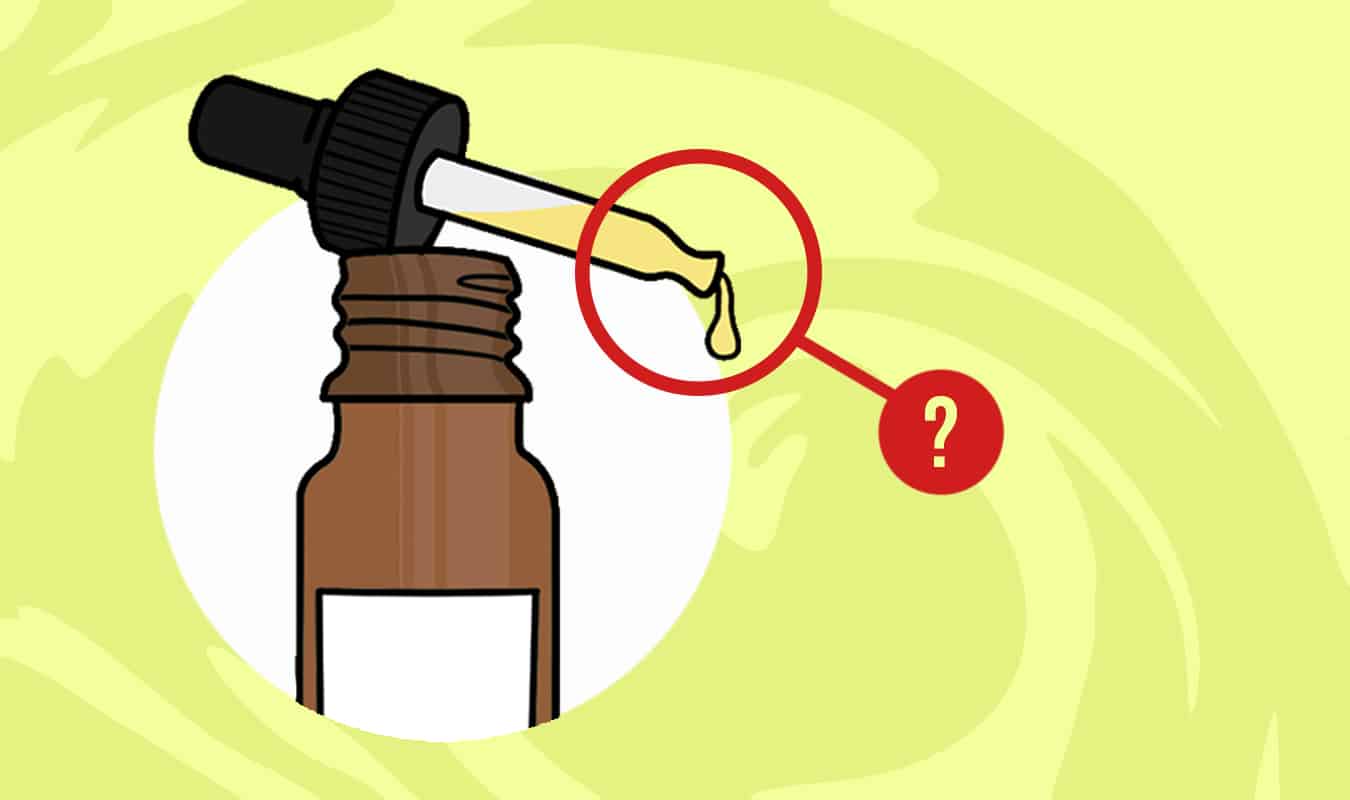 Of course, the main ingredients of any hair oil formula are directly responsible for the benefits provided and any possible side effects.
Obviously, any hair oils will have at least one distinct oil type as their primary ingredient.
But other hair oils might blend several oils to provide the serum with extra properties or to make it appropriate for multiple hair types.
There isn't any downside to oils being blended or 100% pure.
However, keep in mind that more concentrated oils will be better individually at their specific benefits than blended serums.
It's all because of concentration.
If you have a drop of 100% pure argan oil, a single drop of that oil will be more effective at protecting your scalp and repairing hair damage than if that drop also had to share space with cedarwood essential oil.
We'd recommend looking for 100% pure formulas if you only need one benefit from the oil.
Otherwise, taking a versatile blend that can bestow multiple benefits is usually a better bang for your buck.
2. What Hair Type Is It Good For?
---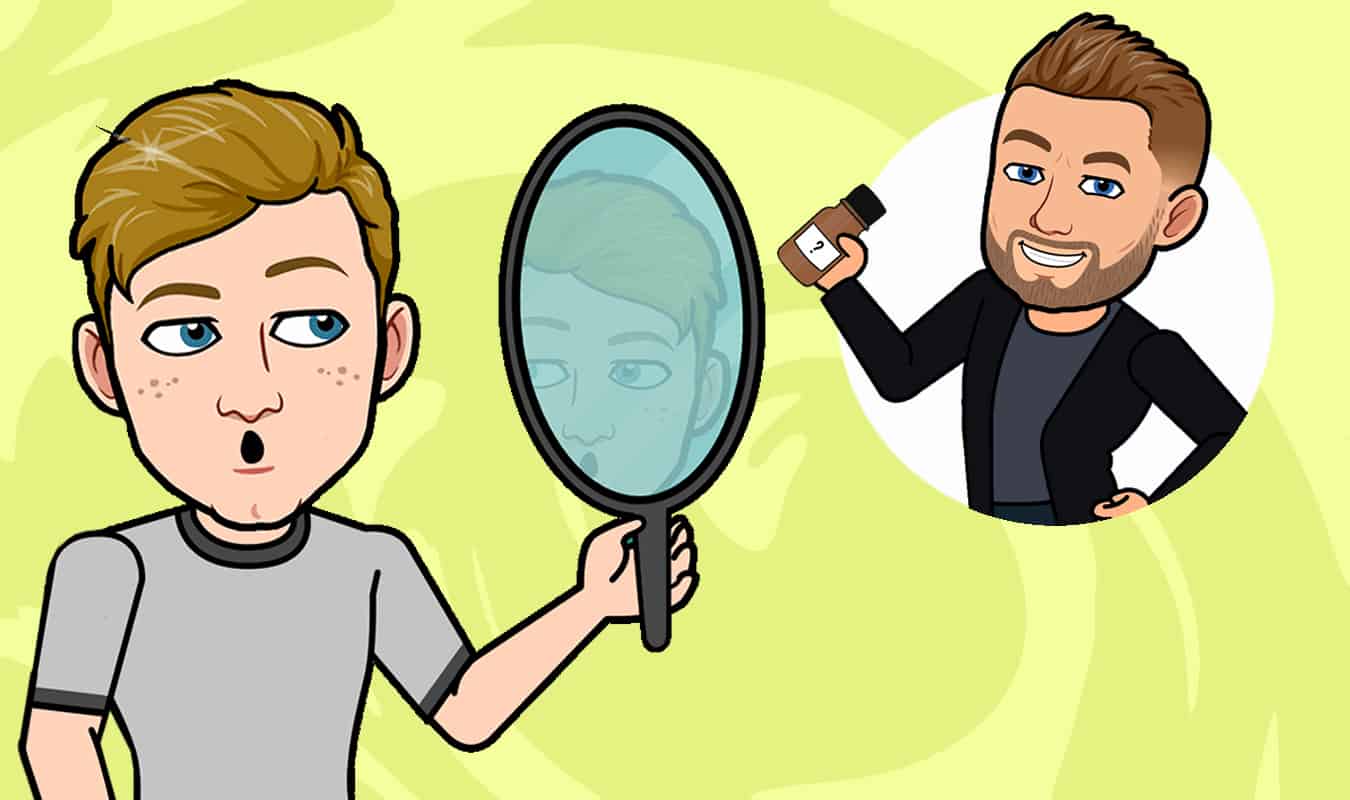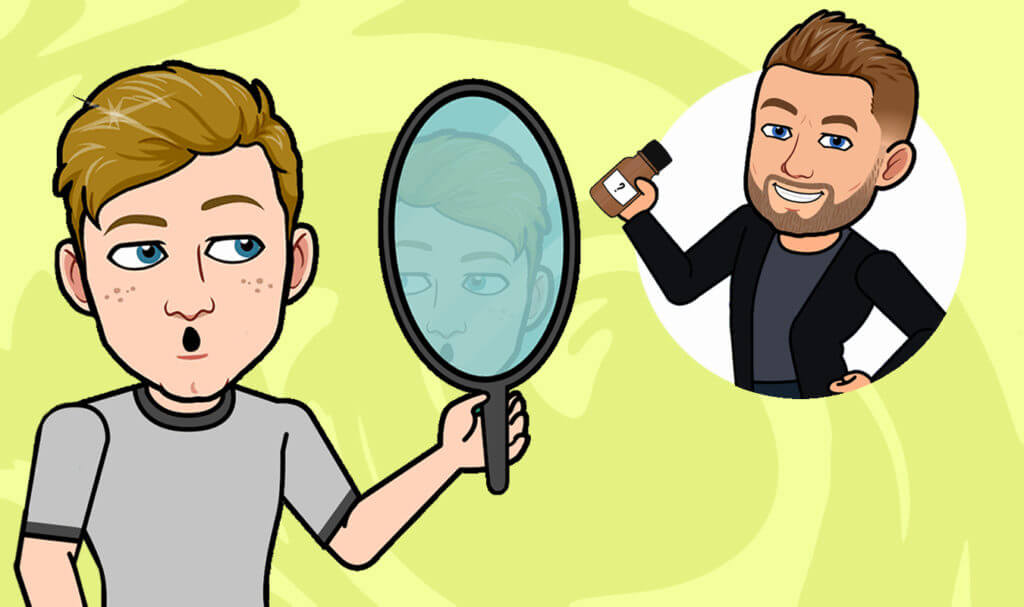 Next, consider your hair type and whether or not a hair oil or blend will be suitable for it.
There are three main types to be concerned with – dry, oily, and sensitive.
Lots of men suffer from this hair type all across the world.
It's prevalent in winter, too, since the lower overall humidity in the air can suck away moisture in your head.
Men suffer from this more frequently than women because our hairstyles tend to be shorter on average, so our hair isn't as good at keeping moisture in our scalp's skin.
Thankfully, lots of hair oils and blends are excellent for use with dry scalps or hair.
Seek out those that specifically moisturize your scalp, and have oil that reduces or eliminates dandruff.
Dandruff is much more common among men with dry scalps than the other types.
Oily scalps and hair are the next most common type you'll find or experience.
While hair oil isn't designed to make your scalp greasier than it already is, some oils are better at this than others.
We'll let you know if you should stay away from any particular oil if you already have a greasy scalp.
If you have a sensitive scalp or hair, the good news is that most oils and blends are excellent at reducing inflammation and soothing your scalp as you apply them.
Still, you should specifically seek out oils that are known for their anti-inflammatory properties.
Oils like coconut and olive oil are excellent choices for guys whose scalps flare up or become itchy whenever they apply a hair care product or serum.
3. Extra Benefits
---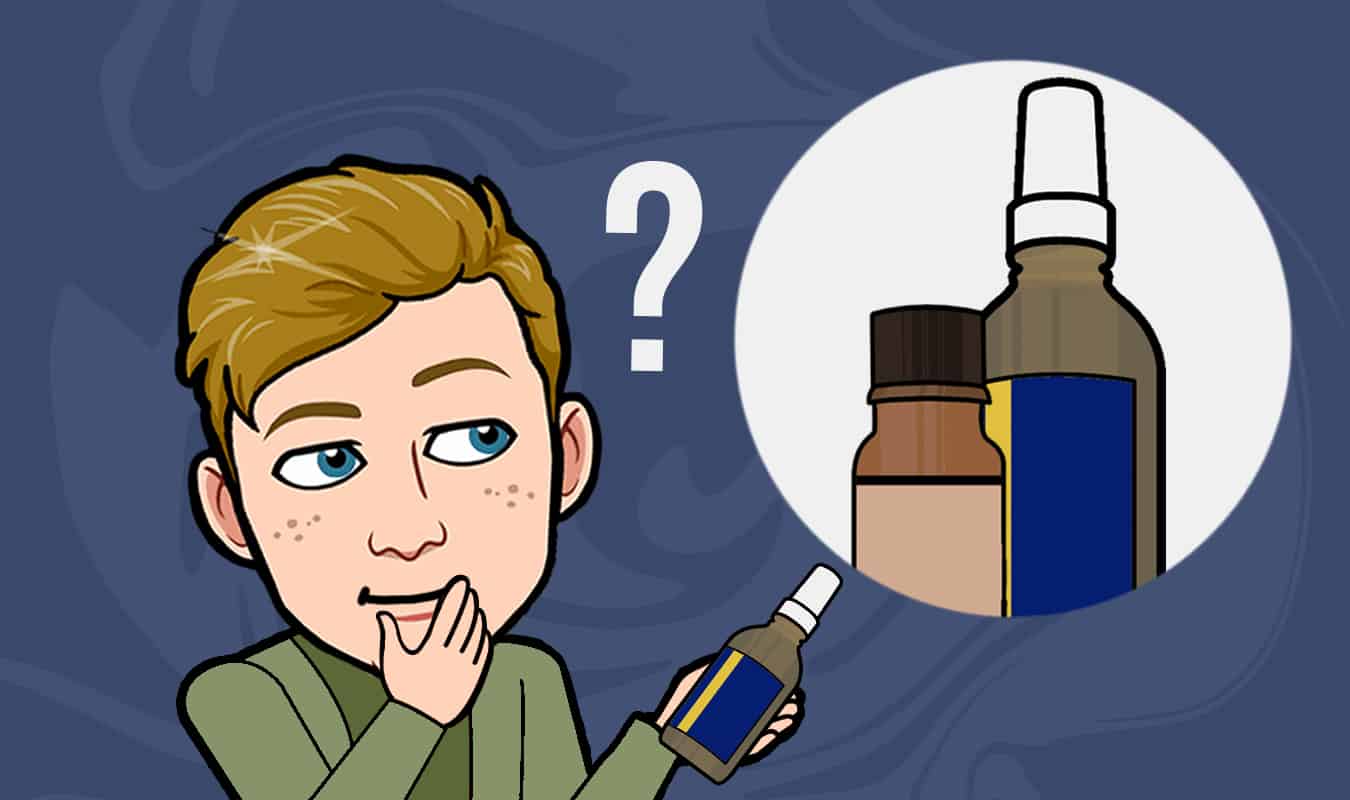 Most hair oils or blends can also lend you benefits beyond hair oiling for growth and thickness.
Lots of the best oils for hair will moisturize it, usually by trapping moisture in your scalp to prevent it from bleeding away over the day.
These also shouldn't make your hair greasier.
Moisturizing benefits from your oil aren't strictly necessary if you don't have a dry scalp or hair, but a scalp-hydrating oil is never a bad thing.
Most oils will moisturize to some extent, but to make your product selection easier, we'll distinguish between oils that are specifically designed to moisturize versus ones that aren't.
Other oils, like coconut and olive oil mentioned above, can bring anti-inflammatory benefits to sensitive scalps.
Both tea tree oil for hair and eucalyptus oil for hair also has excellent antifungal and antibacterial benefits.
Plenty of oils can also help you get rid of dandruff.
Still, more might even improve blood circulation, which is healthier for your head overall.
Overall, we're here for oils that can maximize hair growth and thickness, but it never hurts to pick up oil that can give you extra benefits.
4. Amount
---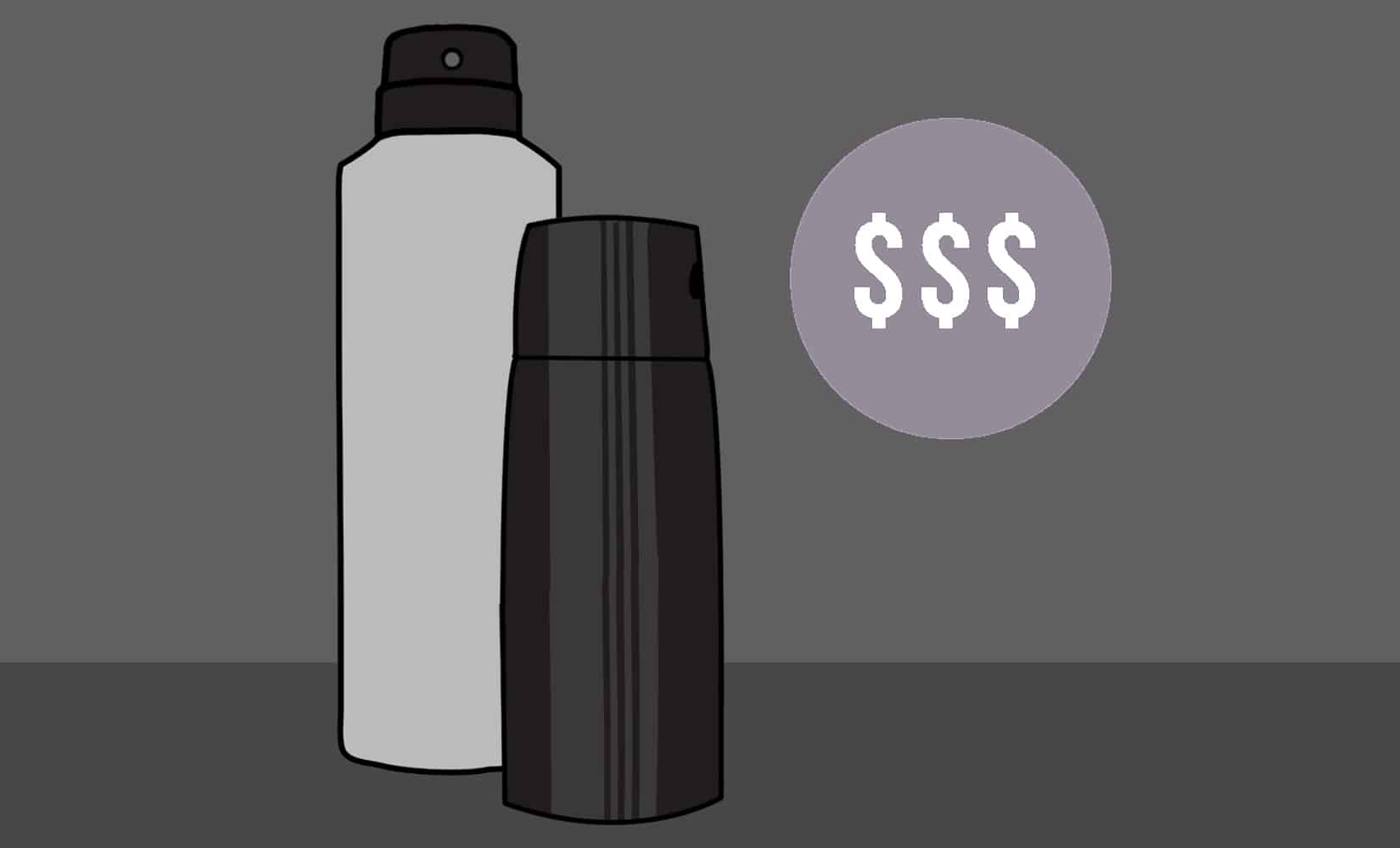 Finally, consider the amount of oil you get with your purchase before making a final decision.
When you're applying oil to your hair, you'll only ever use a small amount at a time.
But it's still worthwhile to think about how often you plan to apply the oil and, thus, how quickly you'll run through your supply.
This directly affects an oil's value for money.
We'd recommend picking up extra oil in larger bottles or containers if you have severe hair issues and are going to be using the oil for a long time to come.
But if you're only going to use oil sparingly, you might consider spending a few extra dollars on a smaller but more potent bottle of oil.
There's no wrong answer here, as it all depends on your preferences and goals.
---
Best Oils For Hair Growth and Thickness of 2022 Reviewed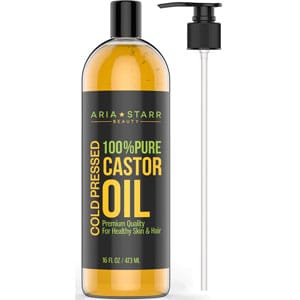 This cold-pressed castor oil is versatile, easy to use, and comfortable.
Specs
Who Is It Best For?
This is a great starter oil for hair growth if you have dry or thin hair.
Key Features
This 100% pure castor oil formula is one of the best hair growth oil and dandruff relief oil products we've found.
The castor hair oil for the formula was produced through the cold-pressing method – this preserves much of the oil's natural health properties and texture.
Generally, castor oil hair products are excellent for stimulating better hair growth because of natural ingredients, and this product is not an exception.
This formula is particularly great at moisturizing your scalp and hair.
So, if this castor oil hair treatment formula is part of your regime, it can help eliminate dandruff or scalp irritation just as much as it can boost hair growth.
It's excellent for thickening the roots of your hair strands and improving the color and shine of your hair at the same time.
Because it isn't cluttered with a bunch of different types of oils, you get the benefits quickly and don't have to use as much oil to see hair growth results.
As castor oil is a carrier oil, there's also no chance of causing scalp inflammation as a result of the serum being too intense for your skin.
Even so, there are more castor oil benefits that can be derived from this formula.
It's comfortable, practical, and produces results fast; what's not to like?
In general, our testers found it to be a bit oily overall in terms of texture, so we would avoid this oil if you already have a greasy scalp and don't want to exacerbate the issue.
Still, for men with dry hair and scalps, there's little better than this formula.
Check out the hundreds of customer reviews here on Amazon.
---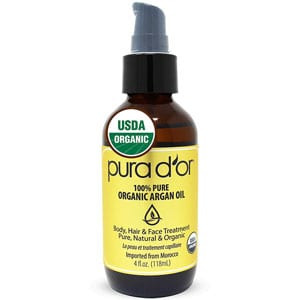 This argan oil is one of the easier products to use thanks to its cap.
Specs
Who Is It Best For?
It's perfect for men of all hair types or guys who don't want to struggle to pour the perfect amount each time.
Key Features
This 100% pure argan oil formula is exceptional when it comes to boosting hair growth and improving hair strength across the board.
It'll make your hair look more whole-bodied and bring out more of its natural color.
The oil is deposited with a handy squirt cap at the top.
You don't need to uncap the bottle and clumsily pour the right amount into another container.
Just press and go.
This is a great thing since the oil is designed to be used daily.
It's comfortable enough that it shouldn't cause any skin irritation or scalp greasiness even if you use it frequently.
The biggest downside with this oil formula is the small amount that comes in the bottle.
You only get 4 ounces for your purchase, and you can usually find more hair growth oil or around the same price from other manufacturers.
We would still recommend this for men who want a daily use of hair growth oil that isn't liable to make their hair too oily or cause them any adverse side effects.
Just be aware that you might need to purchase several bottles in advance if you plan to take advantage of its daily-use formula.
Check out the thousands of customer reviews here on Amazon.
---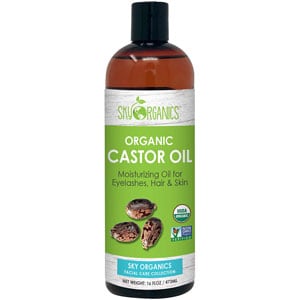 This oil is made of 100% organic components and can improve your hair growth almost immediately.
Specs
Who Is It Best For?
It's ideal for men who want to stay away from synthetic products but still boost their hair growth.
Key Features
This versatile castor oil is excellent for moisturizing your hair and improving its growth speed and strength at the same time.
It's perfect for helping your scalp and hair absorb vital nutrients from both the oil itself and blood, as it can improve your circulation to some extent.
The castor oil here is 100% organic and was made with chemically safe processes.
This makes it capable of helping you grow natural hair faster.
The cold-pressed method used ensures that it retains its myriad castor oil benefits without any side effects.
Our testers thought it felt extremely comfortable what they applied it to their own hair.
Because the oil is totally organic, it's also one of the few castor oils that can help rejuvenate and repair your hair beyond the norm.
We'd heavily recommend it for men with thin or wispy hair that's prone to breakage under daily activities or styling.
You also get 16 fluid ounces for your purchase, making it one of the most affordable hair growth oil products in terms of ounces per dollar.
However, like many 100% pure castor oil products, this oil might make your hair too greasy for comfort if you accidentally apply too much.
We would recommend going easy on the amount you apply at first until you figure out the ideal.
Check out the thousands of customer reviews here on Amazon.
---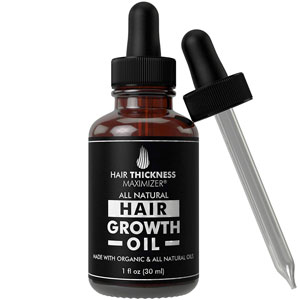 This complex oil blend can do almost everything with just a few drops.
Specs
Who Is It Best For?
It's an excellent choice for men with more than one hair health issue.
Key Features
This unique oil blend comes with a small dispenser designed to let you use just a few droplets of serum at a time.
It's a much more complex oil blend than any of the options we've looked at so far.
It contains six distinct essential or carrier oils, plus several other plant extracts to lead to additional reparative and bacteria-killing properties.
Combined together, these excellent ingredients ensure that this hair oil blend is one of the best on the market in terms of improving hair growth and restoring hair that was lost due to damage.
We would recommend this above almost every other choice for men with thinning hair.
This is especially so because you only have to use a few drops to receive maximum benefit.
This way, your patchy head won't display lots of glistening oil as the serum does its work.
The hair that results from the serum should provide you with long-lasting, thicker hair than you imagined, and it shouldn't take too long, either.
The peppermint and lemongrass oils are also adept at getting rid of bacteria or microscopic fungi that might be living on your scalp, causing dandruff or irritation.
The only negative that we saw was its high price tag.
But we still think it's worthwhile if you're after the best bang for your buck.
Check out the hundreds of customer reviews here on Amazon.
---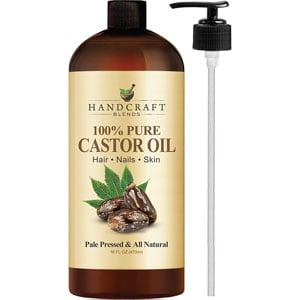 This castor oil is perfect at both boosting hair growth and moisturizing your scalp.
Specs
Who Is It Best For?
It's one of the best choices for men with dry hair, but it's not too slippery that men with oily hair can't also enjoy its benefits.
Key Features
This 100% pure castor oil formula, just like most castor oil hair products can be used on your skin and nails in addition to your hair to impart its moisturizing and protective benefits.
The castor oil here is cold-pressed and retains the majority of its health benefits and excellent texture, which is a little thicker and better designed for absorption than regular castor oil.
As a result, our testers feel comfortable recommending this bottle even to men with overly oily hair.
But its real use is for boosting hair growth and improving overall shine and color.
It can help lock-in moisture and nutrients at the same time, and it feels excellent as you massage it into your scalp.
Warming up this castor oil hair treatment before an application is definitely recommended for the sensation alone.
It even comes with a handy dispensing cap – making it easier to apply castor oil for hair.
However, our testers weren't super impressed by the performance of this cap.
In most cases, you'll be better off hand pouring the oil.
Still, this is a very minor flaw compared to all of its benefits.
Check out the hundreds of customer reviews here on Amazon.
---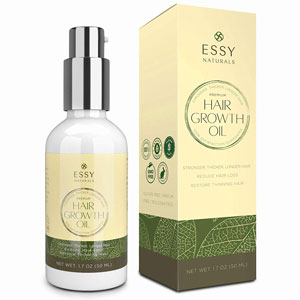 This natural hair oil blend is one of the most effective in terms of short-term hair growth progress.
Specs
Who Is It Best For?
It's a perfect choice for men who want to see fast hair growth results.
Key Features
This oil blend combines castor oil as a carrier oil for rosemary oil, caffeine, and biotin.
All of these elements combine to boost your hair growth by leaps and bounds.
Biotin is the standout ingredient in our eyes.
It's a high-quality protein that your hair already naturally uses to spur its own growth and repair from daily damage.
Adding a little extra biotin can encourage your hair to grow thicker and more quickly than before.
The oil feels excellent and absorbs quickly, and it's full of antioxidants and other vitamins to make your hair less frizzy and prone to breaking.
It can also get rid of bacterial or fungal problems you might have on your scalp.
So it's a great antidandruff hair oil as well.
The caffeine ingredient included in the formula can improve your scalp and hair root's health and give you a pleasant energy boost as your scalp absorbs it.
The only downside to this formula is the small amount you get for your purchase.
It's already a little pricier than most other hair growth oils, and you only get 1.7 ounces.
We'd recommend it for men who want the best of the best or who won't be using the oil daily.
For sparing use, this is an excellent oil blend.
Check out the hundreds of customer reviews here on Amazon.
---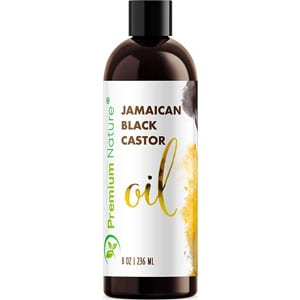 This high-quality castor oil can impart multiple benefits with a single application.
Specs
Who Is It Best For?
It's ideal for tackling both hair growth and dandruff issues.
Key Features
This is one of the best types of castor oil you can find in any hair growth product.
Specifically, Jamaican Black castor oil has excellent antibacterial properties and can eliminate any fungal problems you might be having.
So, it's one of the best antidandruff hair oils around in addition to its hair growth and thickening aspects.
It's excellent for boosting hair thickness and regeneration over time.
The more you use it, the better its effects.
Because it's so good at repairing damage, it's one of the best hair oils for men with thin hair or hair that breaks easily.
You get 8 ounces for the purchase, and it's affordable, so this is a fantastic budget pick.
Our only real complaint is a tendency to run all over the place.
It's a thin oil product, so avoid it if you have oily hair already.
If you do pick this up, apply this castor oil for hair sparingly.
You only need a tiny amount to spread through your whole head of hair.
Check out the hundreds of customer reviews here on Amazon.
---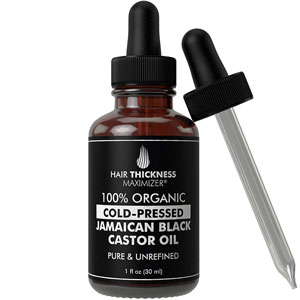 This 100% organic oil is perfect for restoring broken or brittle hair into full-fledged, thick locks.
Specs
Who Is It Best For?
It's an ideal choice for men with the wispiest hair.
Key Features
This concentrated Jamaican Black castor oil formula comes with a small dispenser to help you apply just a few drops of the product to your hair.
If you want to make your own DIY hair growth oil, this organic castor oil brand should be on your ingredients list.
It's incredibly effective at improving your hair thickness overall.
Our testers reported excellent results when it was used on hair that is naturally thin or brittle.
It can improve the condition of dry scalps and hair and help get rid of dandruff – thanks to its excellent antibacterial properties.
This Jamaican Black oil is even better than the last we picked since this has been cold-pressed and is 100% organic.
It's one of the highest quality and highest concentration hair growth oils around.
It is a little pricey, but we still think it's worthwhile if you have reclining hair and want to fix the problem fast.
Check out the hundreds of customer reviews here on Amazon.
---
Frequently Asked Questions About Oil and Hair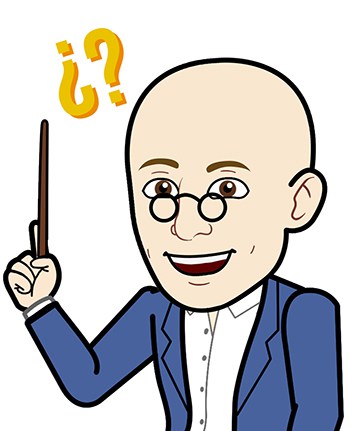 Now that we've gone over the best essential oil for hair growth and thickness, let's tackle any remaining questions you might have before we send you on your way.
1. How To Use Oil In Your Hair
You can't just drop some oil in your hands and thread it through your hair like a gel.
Instead, using an oil blend properly requires a bit of preparation and thoughtful application if you want the full benefits.
Step One
It's prep time.
Unlike many hair care products, you can apply oil when your hair is dirty or clean as you prefer.
Your hair usually has a little bit of oil or grease build-up from the day already.
This can help the oil spread through your hair more quickly or combine with the oil to give your head a pleasing softness.
Naturally, this route is only recommended for men that don't suffer from overly oily hair already.
Showering and thoroughly washing your hair is a perfectly fine idea, as well.
Applying oil right after you've shampooed your hair ensures that there isn't any oil or debris to get in the way of the nutrients or components you want to rub into your scalp.
You'll also want to comb your hair, regardless of which of the above two options you decide to pursue.
Messy or tangled hair is harder to spread any kind of product through.
Combing or wrestling your hair into general order is your best bet for ensuring that the oil reaches everywhere that it needs to go.
Even oil application is vital.
Step Two
Even "thicker" hair oils are naturally quite runny and greasy to the touch.
No matter how hard you try chances are that some of the oil is going to drip onto the immediate area as soon as you start to apply it.
It's a good idea to lay down some paper towels or hand towels in your general work area before you start to apply the oil.
If you're using a restorative oil to boost hair growth and thickness and need to leave it in overnight, simply place a towel thick enough to soak up any excess oil on your pillow to protect the cushion.
You can also apply the oil directly over the sink, but be careful anyway, as oil can run down your neck and chest despite your best efforts.
Step Three
Now it's time to apply the oil.
Each manufacturer or bottle has a separate recommended amount.
This is the absolute limit that you should always pour into your hand.
Never go above the recommended amount of oil unless you want to give yourself greasy hair to rival the scalps you see in 1950s movies.
In most cases, about a tablespoon of oil is recommended, but you should always read the instructions just to be sure.
Step Four
Apply the recommended amount of oil by using your fingertips and spreading the oil into your scalp to the roots of your hair.
It's a good idea to massage the entire scalp, starting from back to front.
You don't need to make your fingers into, particularly stiff points, to rub the oil into your skin.
Soft, circular motions are just fine and can even help with blood circulation.
Take your time here, and make sure that you apply oil to the entire surface area of your scalp evenly.
Tip: Heat the Oil
If you live in a cold apartment or simply want the benefits of the oil ASAP, you can microwave a small amount of oil and make it warm to the touch.
Keep the microwave time beneath 10 seconds, so you don't bring the oil to a boil.
Warm oil can penetrate the pores of your scalp more quickly, and it'll feel great at the same time.
Step Five
Once you've applied your oil, let it rest between 15 minutes and an hour.
You can feel free to use a towel to dry up any errant oil droplets that might be running down your neck, but oil should fully penetrate your scalp and deliver its nutrients before you wash your hair.
It's a good idea to have some activity prepared beforehand, so you aren't too bored while you wait for the oil to do its work.
2. Why Is Oil Helpful For Hair?
Men with naturally greasy or oily hair might be asking what's the point of adding additional oil to their scalp.
The benefits are hidden in the nutritional or molecular reactions that occur when certain types of oils are rubbed into the scalp and hair.
These oils have plenty of extra vitamins or other components that can provide your hair and scalp with what it needs to thrive in multiple environments or overcome certain infections and conditions.
Oils are no different than any other medicinal product that we apply to our bodies to tackle specific issues.
Because these oils are concentrated and you don't use very much of them, it's not appropriate to think of them as the same as your natural scalp oil.
The oil produced by your scalp is typically there to lubricate your hair, protect the scalp from drying out, and defend the roots of your hair from breaking or weakening.
This oil is naturally thinner and greasier than any of the concentrated oils that we've listed above.
In total, hair oil can:
Aid hair regrowth and repair
Massage your scalp and improve blood circulation
Assist with the spreading of nutrients to the roots of your hair
Revitalize and regenerate your scalp skin cells
Improve your hair shine or color
Make frizzy or hard to control hair more manageable
Improve hair strand strength
Boost hair follicle and strand growth speed
With these myriad benefits, it's clear that any man looking to enhance their hair in terms of thickness or growth speed can benefit from a great oil formula.
3. Does Oil Make Hair Greasy?
You wouldn't be foolish for asking if oil can make your hair greasy, even if the manufacturer (and our guide!) claim otherwise.
The reason hair oil doesn't make your hair or scalp greasy is that you only use a minuscule amount for each application session.
Even if you use hair oil daily, you shouldn't make your scalp too greasy or oily because you won't be adding enough to notice.
Of course, if you were to dump an entire bottle of an oil formula into your hair, you notice exceptionally quickly!
But that's not the proper method of application.
Besides, hair greasiness is usually caused by overactive glands in your hair.
It's a continuous reaction.
You don't get greasy hair after a few minutes.
In short: adding a small amount of concentrated or blended oils isn't going to make your greasy hair situation any worse than it may already be.
4. What Makes An Oil "Essential" Or "Carrier"?
You've probably heard of both of these terms before, and several times as we listed the best oils for hair growth and thickness.
The terms "carrier" and "essential" both refer to specific properties or compositions of a particular oil.
Carrier Oils
These oils carry other oils or nutrients to the deeper parts of your scalp and hair follicles.
They are typically characterized by thinner consistencies, and their source is mostly natural.
Lots of vegetable oils happen to be carrier oils, and all carrier oils come from the fatty parts of plants.
Seeds, kernels, and nuts are common sources of carrier oils.
Carrier oils also aren't very effective in small doses.
They are mainly combined with other types of oils and help to deliver the goods where they need to go.
Because of their thin consistency and relative weakness, carrier oils are often used to dilute more potent essential oils and make the formula tolerable for skin and hair alike.
You can apply carrier oils straight to your skin and usually experience no irritation or redness.
Compared to essential oils, carrier oils last for much longer and don't evaporate as quickly.
This is why you can find lots of carrier oils that double as moisturizers, as they trap water in the skin and prevent it from escaping.
However, this does mean that carrier oils are a lot oilier and can worsen greasy scalp issues if you were to apply a fair amount to your head.
If you plan to do so, be sure to apply it sparingly or purchase a blended oil serum.
Essential Oils
These are the much more potent counterparts to carrier oils.
They are usually a lot more concentrated than carrier oils and are rarely applied in their pure state.
This is because essential oils can cause skin irritation or inflammation if they are rubbed directly onto the skin without some kind of diluting agent.
Essential oils typically come from non-fatty parts of plants.
These areas include the stems, leaves, bark or roots, or any parts of plants that carry heavy aromas.
As you can guess, this is why many essential oils have heavy fragrances and are often mixed in hair and skin care products.
Because essential oils are so concentrated and powerful, you don't need to use them very much to extract most of their benefits.
When diluted in a carrier oil, a few drops are all that is necessary for most circumstances.
Essential oils evaporate a lot more quickly than carrier oils, so they aren't quite as good at moisturizing.
When paired with a suitable carrier oil, though, that can last for much longer.
Check out our guide to the best essential oils for hair growth if you'd like to see some specific examples of excellent products.