Haircuts are a fact of life for the well-groomed man.
We all must head back to the barbershop sooner or later unless you've decided to shave it all away and rock a bald head. Now you actually can by using an electric head shaver!
But if you still have a full head of hair, chances are you're coming up on a trim.
You don't always have to go to a salon to get a decent haircut, however.
Trying to cut your hair with only scissors is a recipe for frustration, and they're often too clunky to cut your hair steadily or evenly in the mirror.
Instead, you could use some user-friendly, professional-quality hair clippers and get your trim done in no time.
A hair clipper is a hair cutting machine sometimes known as a hair buzzer.
The best hair clippers make any haircut a fast and straightforward affair, and most of them offer you exceptional control so you can style or shape your hair into whatever configuration you like.
You will want to use professional barber clippers instead of beard trimmers.
Don't believe us?
Keep reading and see what we found when we sought out the best hair clippers and best trimmers for men.
We'll discuss some of the best barber clippers, best cordless hair clippers, best vacuum hair clippers, and best rechargeable hair clippers.
We can show you the top picks for men of all hair types, plus give you some clipping advice and show you how to trim your hair well enough to rival results from a professional barber.
Let's get started.
QUICK OVERVIEW: Best Hair Clippers
Wahl Clipper Elite Pro High-Performance Home Haircut and Grooming Kit for Men

Perfect motor, also quiet
Blades will last for a long time

VIEW ON AMAZON →

Upgraded Geedar Cordless Hair Clippers for Men

Nice warranty included
You can pick between corded or cordless operation

VIEW ON AMAZON →

Wahl Color Pro Complete Hair Cutting Kit

Comes with plenty of extra accessories
Storage case helps to keep things organized

VIEW ON AMAZON →

Remington HC5855 Virtually Indestructible Haircut Kit

One of the most durable hair clippers
Comfortable grip

VIEW ON AMAZON →

CEENWES Updated Version Professional Hair Clippers

Very quiet compared to other clippers
Blades are very high-quality

VIEW ON AMAZON →

GOOLEEN Hair Clippers for Men

Excellent battery life/charge time ratio
Totally waterproof

VIEW ON AMAZON →

WONER Waterproof Cordless Hair Clippers for Men

Easy to switch out blades
Comes with carrying case

VIEW ON AMAZON →

Wahl Professional 5-Star Cord/Cordless Magic Clip

Tapering lever included
Can be either corded or cordless

VIEW ON AMAZON →
Use the table of contents below to jump to the sections most important to you.
8 Best Hair Clippers For Men of 2023 Reviewed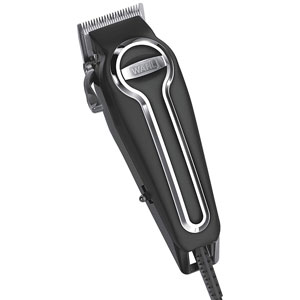 These Wahl hair clippers are affordable and versatile, and still, feature one of the best motor and blade combinations we've seen.
Specs
Who Is It Best For?
They're an excellent choice for men who like to switch their haircuts every now and again.
Key Features
This is a high-quality and heavy-duty hair clipper kit that has everything you need to cut your hair in any style imaginable.
It has a great rotary motor that provides plenty of cutting power and speed, so it's great for men with short hair or long hair alike.
It also features an 8-foot power cord that's durable and partially insulated against water damage.
But most of the value of this grooming kit comes from its vast number of included accessories.
You get some excellent blade oil, a bib to stop hair from falling down your shirt, several storage containers so you can keep things organized in your bathroom or during travel, and a cord wrap so you can minimize the amount of space this clipper set takes up on your bathroom counter.
It comes with 10 guard combs in total that are specifically designed to fit quickly and securely atop the clipper blades.
Both the clips and the blades are made of stainless steel, and the blades are self-sharpening, so they last for a long time to come.
Even better, this hair clipper comes with a taper lever.
Value for Money
This is arguably the best hair clipper for men and also the best hair clippers for black men.
Generally, Wahl trimmers/clippers are very good and durable.
You can use this lever to more easily fade or blend your sideburns into your beard or any other part of your hair.
The included lifetime limited warranty seals the deal in our eyes.
This is a hugely valuable grooming kit at the perfect choice for men who need to gather a complete clipping kit from scratch.
Check out the thousands of customer reviews here on Amazon.
---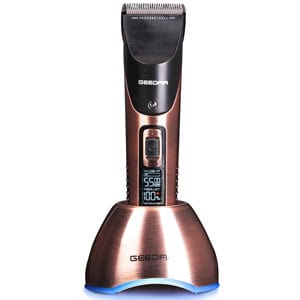 This hair shaver has a great pair of blades and lets you customize the speed at which they vibrate.
Specs
Who Is It Best For?
They're one of the best hair clippers for men with sensitive scalp.
Key Features
This is a versatile hair clipper kit, as it can be used in either a corded or cordless configuration depending on your preferences.
It comes with a charging station that you can use to recharge the lithium-ion battery that provides up to 5 to 7 hours of haircutting power on a single charge.
Or you can use the cord which plugs straight into the bottom of the unit and have infinite power provided you are in the range of a power outlet.
Whichever option you go with, you can enjoy the crystal-clear LED display that lets you know how much energy you have left as well as your current speed setting.
You can switch between 5500 RPM or 6500 RPM, depending on how thick your hair is or how fast you want your hair cut to be done.
The blades are made of a titanium ceramic alloy, so it combines both the low heat retention of ceramic blades with the durability and extra sharp cutting power of titanium blades.
They're some of the best blades our testers examined in their search for the best hair clippers.
You also get seven guard combs so you can adjust the length of your cut on the fly.
Of course, the purchase also includes some quality blade oil and a cleaning brush.
Value for Money
The included one-year warranty is a 100% moneyback guarantee and sweetens the deal even further.
The only negative out of the entire set is the relative fragility of the cutting blades.
They won't last a long time if you end up dropping them or smacking the head of the clippers into the countertop.
Be careful with the blades, and this clipper set will likely last you for a long time.
Check out the hundreds of customer reviews here on Amazon.
---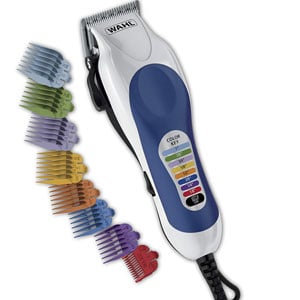 This set has enough guide combs for a family, plus the accessories to match.
Specs
Who Is It Best For?
These Wahl professional clippers are fantastic for families or men who need lots of length settings.
Key Features
This high-power haircutting kit brings a decent pivot motor to bear on your hair and provides lots of cutting power at a steady speed, making it one of the best hair clippers for men.
It also includes 11 multicolored guide combs.
It's very easy to choose the right one for your needs, and it's almost impossible to mix them up since they're clearly labeled.
Whichever length setting you choose, you can also take advantage of the tapering control included with these best hair clippers, plus the self-sharpening carbon steel blades.
These blades are great for providing a sharp cutting edge for even the toughest hair fibers and for lasting a long time.
To extend the life span of the blade even further, be sure to make use of the included blade oil and cleaning brush.
But you get even more accessories with this kit, such as a barber comb, styling comb, and some scissors.
There's everything you could want for cutting your hair as precisely or intricately as you desire.
Because of all the included hair cutting tools, these are also the best hair clippers for men who have a family.
Value for Money
If you have kids, who offer different hairstyles, giving them all the ideal haircut is made easy thanks to the colored guide combs and the extra tools included.
A six-inch storage case means that these corded hair clippers are easy to organize, even in a crowded bathroom environment.
Our testers did note that the overall material of the handle is a little cheap, but that's acceptable given the low asking price.
The blades, which are the real part we'd be concerned about with fragility, are made to a high standard and aren't likely to break easily.
Check out the thousands of customer reviews here on Amazon.
---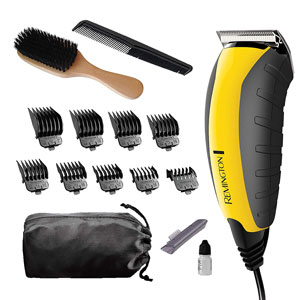 These best hair clippers are super durable and have blades sharp enough to deliver an excellent haircut.
Specs
Who Is It Best For?
They're a good pick for men concerned about the longevity of their hair clippers.
Key Features
These hair clippers are made from some of the most robust materials around.
They have a comfortable, rubberized grip and ergonomic shape, but the rubber is made of a heavy-duty polymer and surrounds a high-impact polycarbonate casing.
This shell protects the interior of the hair clippers and ensures that they'll continue to work even if you drop them from high above the ground.
These corded clippers are also super easy to clean, as the removable blades are built to be washed under water and replaced smoothly.
The POWERCUT blade system is designed to keep the blades in the perfect position for smooth and even cuts every time.
Our testers didn't have any problems with uneven haircuts when they tried these clippers on their own heads.
The purchase comes with seven guide combs and a styling comb, plus a handy beard brush you can use to work the kinks and curls out of your facial hair.
The magnetic motor is a little noisy, but it goes really fast and is a great choice for use with longer hair.
Value for Money
With all of the focus on invulnerability, we were a little surprised that the blades are only made of durable precision-ground steel rather than a more hard-core material like carbon steel or stainless steel.
Still, these are some of the best hair clippers since they are built to last and can deliver plenty of cutting power, especially considering the asking price.
Overall, it's one of the toughest hair clippers we've ever seen and is a perfect choice for men concerned about the durability of their hair trimming tools in the long term.
Check out the hundreds of customer reviews here on Amazon.
---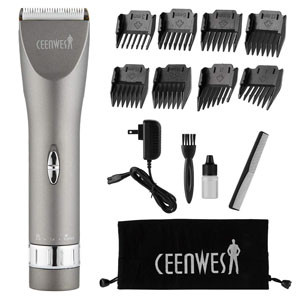 These cordless clippers are of superior quality, and they're one of the few that don't annoy the ear after a few minutes.
Specs
Who Is It Best For?
They're a good pick for men who need quiet while they cut their own hair.
Key Features
These hair clippers are another perfect choice for men looking for top-tier quality.
This set uses clippers with titanium ceramic blades that are coated with antibacterial material; their excellent blades if you frequently suffer from scalp irritation or skin inflammation.
The blades will retain their sharpness and durability over the long term.
These are paired with a great rotary precision motor that is ultra-quiet and which doesn't vibrate too much in your hand.
This improves the ergonomic comfort of the unit, as your hand muscles won't become tired during a long trimming session.
Since they're cordless, these best hair clippers are even easier to use and a convenient choice for men who travel frequently.
The clippers also come with several guide combs, two of which are set at a particular angle to make it more difficult to hurt yourself accidentally.
Value for Money
These clippers are great for both beginners and experienced barbers alike.
The lithium-ion battery provides plenty of power once it's up to full capacity: about three hours for a four-hour charging period.
However, we did find it to be a bit of a bummer that these clippers come with a cleaning brush and a styling comb but lack any cleaning oil.
You'll have to purchase some on your own after the fact.
Still, there's a lot to like, particularly if you're a guy that is looking for some best hair clippers that will provide a comfortable and user-friendly experience.
Check out the hundreds of customer reviews here on Amazon.
---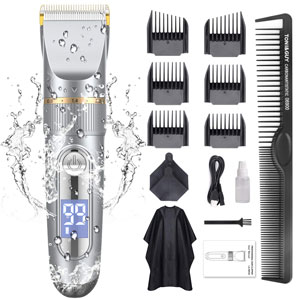 These clippers offer multiple different length adjustment options.
Specs
Who Is It Best For?
Pick these up if you like to change your hairstyle or cut your hair at different lengths to achieve your perfect look.
Key Features
These hair clippers are great for trimming your hair or even touching up your facial hair.
This versatility is something that isn't seen too often among hair clipper sets, but we're pleased to find it here since it offers a great budget option for men who need both types of products.
You can use the ceramic-titanium blades for both your head hair and facial hair, and to the length of the blade, either by using the control on the handle of the clippers or the six included guide combs.
As these clippers are cordless, you can use them anywhere you like with maximum comfort.
The lithium-ion battery provides you 210 minutes of running time after just four hours of charging.
You can recharge the clippers with a USB charging plug, so you don't need to rely on a bulky charging station.
To make things even better, these best hair clippers are totally washable thanks to their waterproof casing.
You can easily give yourself a good haircut, then take the same clippers into the shower and touch up your facial hair or make sure that your sideburns are blended appropriately.
Value for Money
Add to all of those benefits some great accessories, like a hairdressing cape, a cleaning brush, and a dedicated hair comb, and there's a lot of value in this pick.
There's even a 12-month free replacement warranty and customer service whenever you need it.
Overall, it's hard to find something not to like about these clippers.
The only thing we'd change is its noise level, which is a rather high buzz that can become annoying after a little while.
Check out the hundreds of customer reviews here on Amazon.
---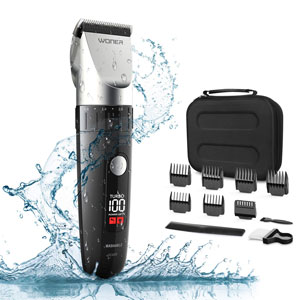 These clippers let you adjust their blades in two ways and have separate materials for each blade, as well.
Specs
Who Is It Best For?
Use these best hair clippers if you enjoy the sharpness of titanium with the heat-protection of ceramic blades.
Key Features
These hair clippers come with tons of user-friendly customization settings.
You'll note right off the bat that the clippers are protected by a semi-waterproof and shockproof casing that ensures that they'll continue to work even if you drop them on the ground.
There are also both blade-specific length settings and guide combs to let you customize your haircut.
The blades combine the best aspects of both ceramic and titanium materials since you get one of each.
The ceramic movable blade ensures that you'll never have to feel your skin burn from the motor running too long.
Our testers also noticed that the blades are much easier to remove and set back into proper place compared to other best hair clippers.
This makes switching out your old blades for new ones or removing your current ones to clean them a much less frustrating task.
Value for Money
You get plenty of excellent accessories like a storage case and two separate cleaning brushes to make this an even better versatile purchase.
Our testers did notice that the removability of the blades seemed to make them misaligned slightly more frequently than others, but this is a small flaw overall.
Check out the hundreds of customer reviews here on Amazon.
---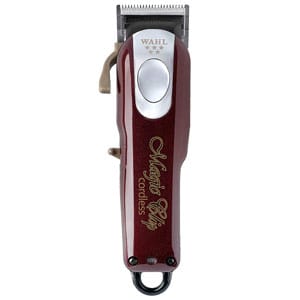 These professional hair clippers are made for hardcore, precision work.
Specs
Who Is It Best For?
These are the best of the best if you have a little extra cash and want some clippers that'll last.
Key Features
These clippers have been designed for professional use, so men looking for high-quality haircuts should definitely consider them.
They use excellent stainless-steel blades to deliver fantastic cutting power and are combined with a great rotary motor that provides plenty of speed, as well.
These clippers can be used in either corded or cordless fashion.
Simply plug the cord into the bottom of the unit to eliminate the need for recharging.
If you do decide to go cordless, you get about 90 minutes per charge, which is a little short but still manageable for most haircuts.
Value for Money
These best hair clippers are equipped with a tapering lever you can initialize whenever you want to do some stylish fading on your sideburns or other areas.
They also come with plenty of guide combs to further customize the length of your hair.
The only downside we noticed was the small number of accessories, especially given the high asking price.
Check out the thousands of customer reviews here on Amazon.
There are other hair clippers that did not make it to our list but are still good enough. They include;
Mangroomer palm hair clippers
Vidal sassoon hair clippers
Bevel hair clippers (Black owned hair clippers)
Things To Consider When Buying the Best Hair Clippers
Now that we have known the best hair clippers for men, let's examine the factors our testers considered as they discovered eight quality haircut clippers products.
1. Motor Type
---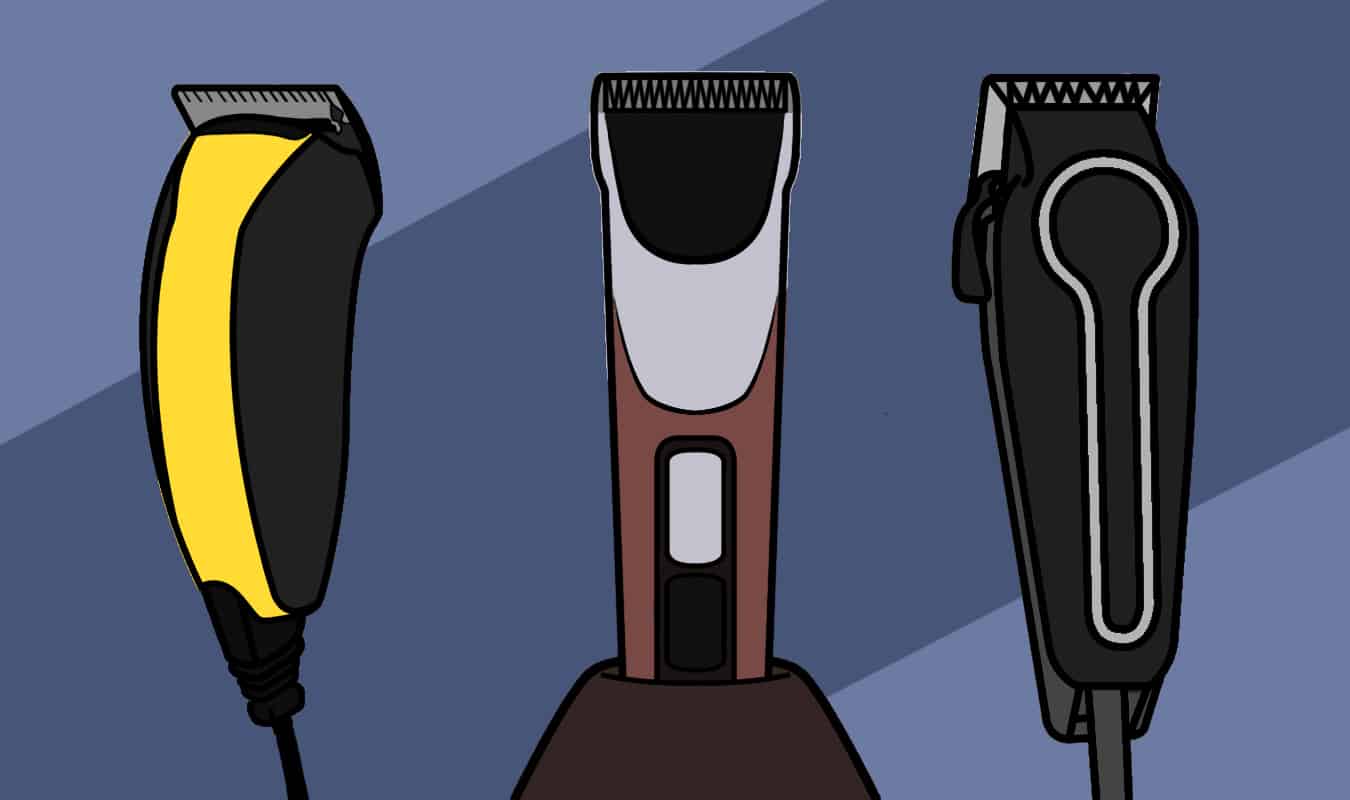 Electric hair clippers or electric hair trimmers all run on corded or cordless electrical power to oscillate a series of blades to cut your hair.
But the motor attached to a given hair clipper tool can vary from model to model.
Motors can be more or less powerful, and this often translates to a higher or lower asking price of electric clippers.
Besides, there are three main types of motors to keep an eye out for.
These motors tend to have high cutting power, so they're particularly excellent for thicker or longer hair as they can chew through your hair strands with a minimum of difficulty.
These motors are also pretty easy to use and don't have a fast blade speed.
Some of the best hair clippers come with pivot motors.
However, these motors get most haircutting jobs done more quickly since most pivot hair clippers pull their blades in opposite directions.
This doubles the number of blade strokes you'll get per second.
Most pivot motors also come with removable plastic guards or attachable combs.
They'll also typically come with a lever that lets you adjust the length of the blades relative to your hair, you can customize your cut length.
These motors are also great if you cut your hair when it's still damp from a shower.
Rotary motors power some of the best professional hair clippers for fades.
These combine excellent cutting power with long-lasting durability, usually for a much higher asking price.
They offer lots of cutting power and high blade speed, so they can cut thick or short hair in equal measure.
They'll also get most haircutting jobs done very quickly.
These motors tend to be pretty lightweight and make the clipper as a whole a little easier to handle, especially for longer haircutting sessions.
Rotary motors are also usually quiet compared to the other types.
They're excellent for use in a crowded apartment or bedroom, as a result.
Most rotary motors come with detachable clipper blades, which let you change the length or style of your cut.
Overall, rotary motors are versatile and great for a wide variety of haircuts.
Finally, magnetic motors are powered by electromagnetic devices that operate on both AC and DC power.
They usually feature incredibly fast cutting speed, generally reaching up to about 7200 blade strokes per minute.
However, the trade-off is that magnetic motors don't have as much cutting power as either of the other two types.
The faster blade speed from an average magnetic motor means that these best hair clippers are perfect for cutting longer hair that isn't particularly thick.
They're also great for more casual haircuts since these are easy to use and get the job done super quickly.
They come with a lever to let you adjust the length of the blades much as pivot motor clippers do.
Magnetic motors usually come with a spring that retracts the blade back into the clipper chassis after the motor has pulled it forward.
This causes magnetic motors to pull blades in only one direction instead of two.
Because magnetic motor hair clippers are usually a little cheaper and more compact than the other two types, they're a little more vulnerable to wear and tear if you use them frequently.
They also tend to be noticeably noisier than the other two types, so they're best for men who have enough privacy as not to disturb their roommates or significant others.
2. Blade Type
---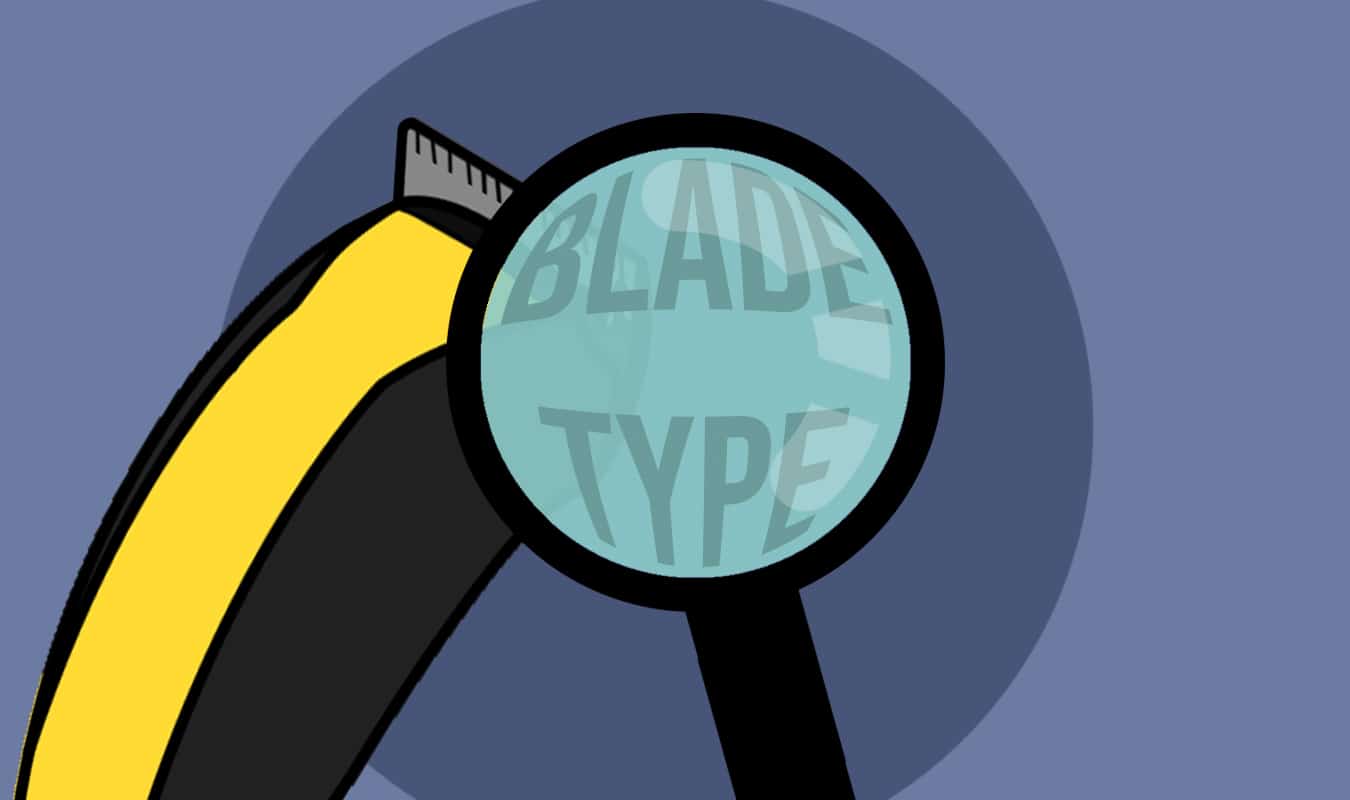 Next, you'll want to think about the type of blades that come with your chosen hair clippers.
Blade quality and material are crucial for dictating just how well you like your next haircut and how long the clippers will deliver an excellent performance.
There may however be an indirect relationship between fades and blades, professional clippers usually come with the best quality hair razor blades.
Most men's hair clippers and haircut machines must have quality blades to make them great haircutters or hair trimmers.
Cheap blades require frequent replacement and can often deliver a subpar haircut, causing the ends of your hair to fray or split.
This looks and feels terrible, so it's well worth purchasing a better hair clipper set for a few extra bucks provided that they also come with excellent blades.
Look for blades that come with stainless steel, as a starting point.
Stainless steel blades aren't as vulnerable to rust damage as other materials.
They're incredibly long-lasting while producing a sharp edge all the while.
You can also find carbon steel or high carbon blades.
These are so-called self-sharpening, which basically means that the hair clippers edgers last for a much longer time than average.
These are great when paired with hair clippers designed for cutting thicker or longer hair, as you can get the most bang for your buck out of these super-sharp blades.
You should also look for titanium hair clipper blades.
These are usually a little more expensive, but they last for quite a long time and deliver a very sharp edge of their own.
Finally, you might find hair clippers that offer ceramic blades.
Ceramic blades are suitable for men who don't have their necks or heads heating up when they use hair clippers.
Ceramic blades don't warm as quickly as blades from other materials, so there's less of a risk of accidentally burning yourself if you take too long to trim the back of your neck, for instance.
However, ceramic blades are also a little more fragile than other types, and they're on the higher end of the pricing range.
Overall, any of these materials will be a pretty good choice for most men.
While it's sometimes acceptable to purchase a hair clipper set with regular steel blades, be prepared to have to replace them frequently.
You'll usually find regular steel blades included with budget hair clippers.
3. Length Settings
---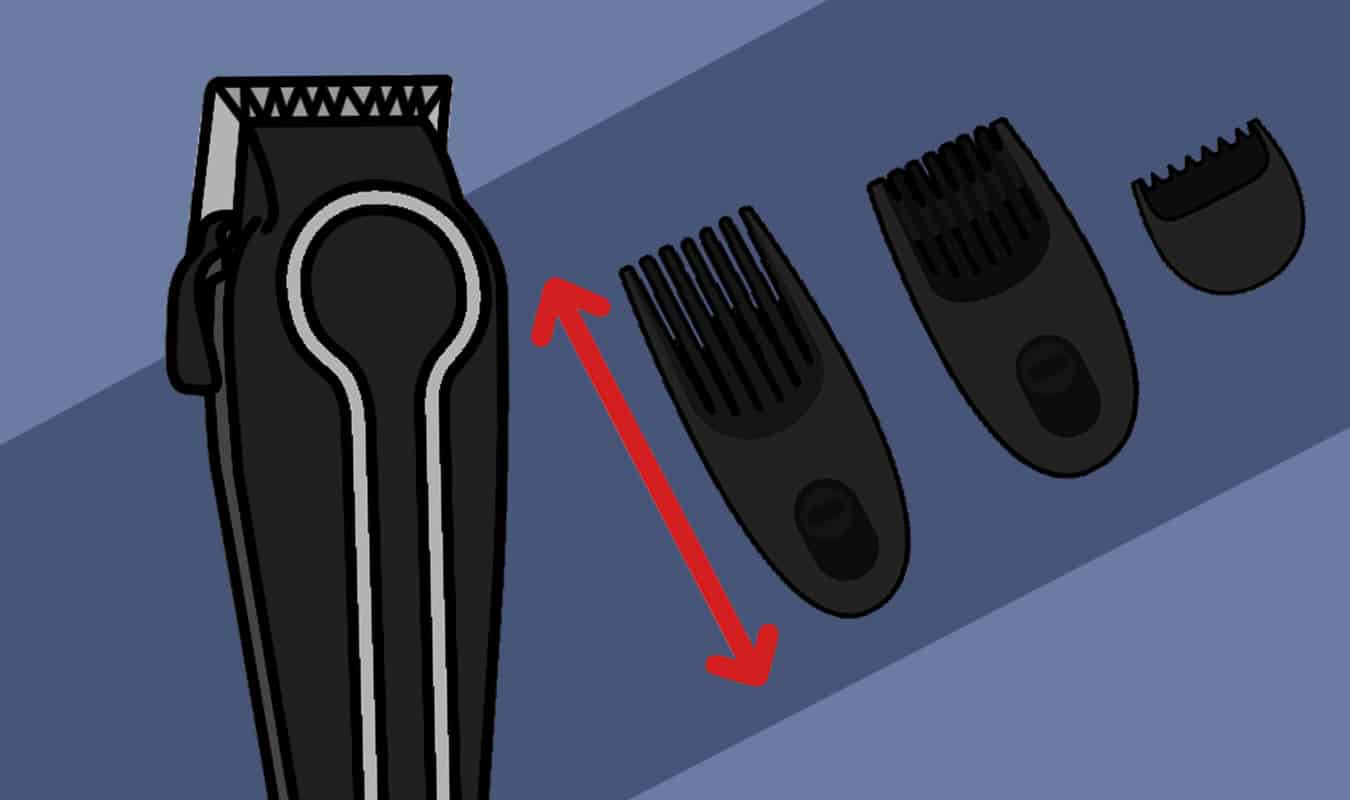 You should also pay attention to the advertised length settings that come with a given hair clipper model.
Usually, the good hair clippers for fades come with varying clipper lengths and make cutting hair with clippers nice and effortless.
A hair clipper that has variable length settings is a tool that you can use no matter what you want your hair to look like.
These best hair clippers can deliver fantastic cuts of variable styles, so you can feel free to adjust your personal aesthetic whenever you please.
Hair clippers with plenty of length settings are great for men who like to adjust their hairstyle or haircut relatively frequently.
Length settings can be delivered either by a lever on the side of the best hair clippers or by several guard combs that are placed above the blades.
These guard combs can be switched out quickly and easily and are usually paired with hair clippers that have blades stuck at a single pre-set length.
Either way, you can't go wrong by finding hair clippers that let you adjust the length of your cut.
In fact, being able to adjust the length of your cut is critical if you want to give yourself a perfect, well-considered haircut.
4. Corded Or Cordless?
---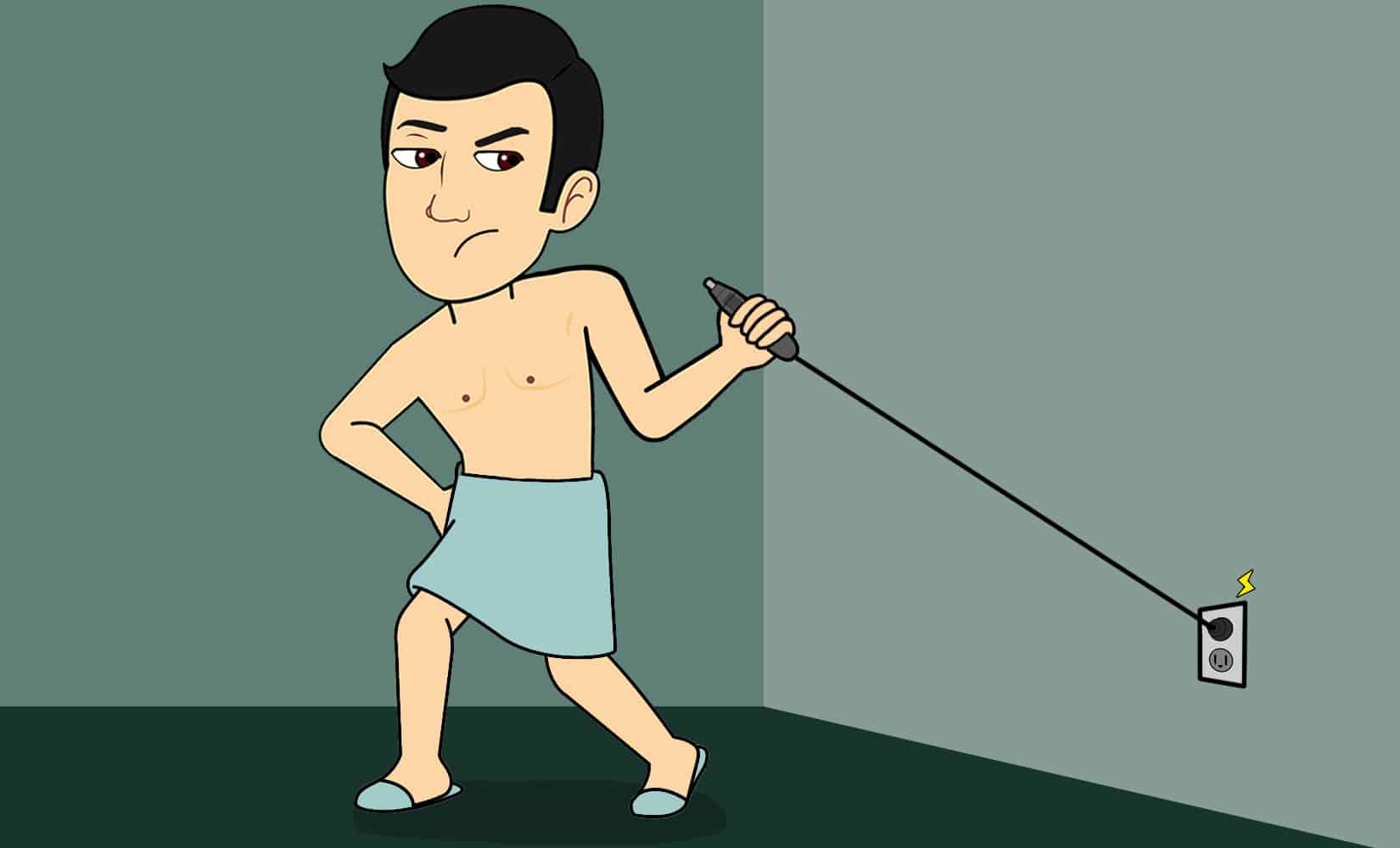 Next, investigate whether or not your best hair clippers are corded or cordless.
Despite what some manufacturers may claim, there's nothing inherently wrong with getting a corded hair clipper set.
Corded models have the advantage of never running out of power at an inopportune moment.
These best hair clippers will keep running so long as you keep them plugged into a wall outlet.
This is a great thing to rely on, as there's nothing more inconvenient than getting midway through your haircut and having to take a break since your hair clippers run out of battery.
Corded personal hair clippers usually offer you a decent length to move around freely, too.
8 feet or so seems to be the standard cord length for modern hair clippers.
However, corded models can also be inconvenient themselves since the court can get in the way of other things in your bathroom.
This is more of a problem if you have a cramped bathroom to start with.
Cordless models are much more portable and more comfortable to take with you on a trip and have the advantage of being able to be used anywhere.
But you should always pay attention to the battery life of your best hair clippers if you purchase a cordless type.
Try to remember to plug it in whenever it's not in use, so you never run the risk of running out of battery.
Also, look for cordless hair clippers that have lithium-ion batteries.
These last longer and can recharge more times before starting to lose their maximum energy capacity.
The best cordless hair clippers will have batteries that last over an hour to give you plenty of time to finish your cut.
5. Accessories
---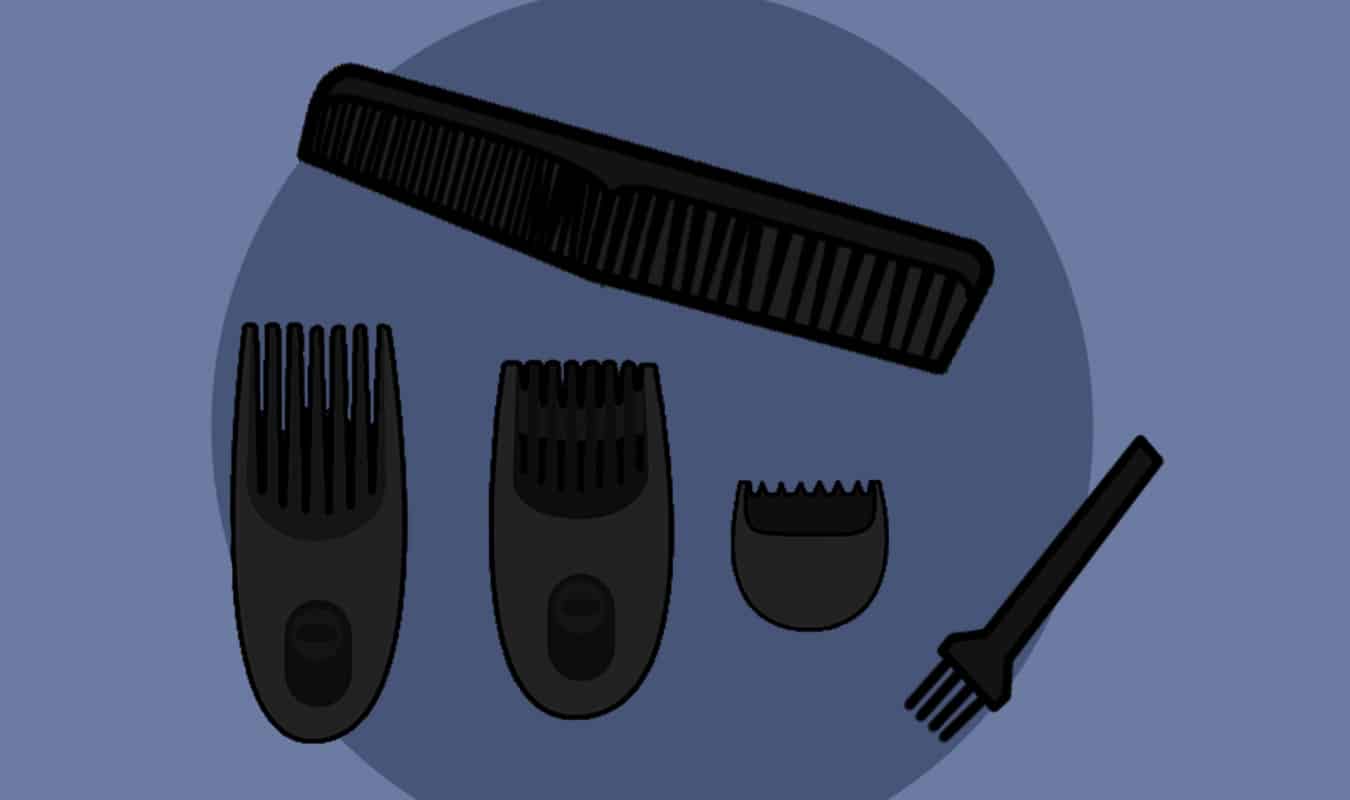 Don't forget to examine the accessories that come with the best hair clippers.
Lots of exceptional hair clippers have small trimmers that pop out of the side, blade guards or guard combs, or clipper oil.
Clipper oil is a particularly nice accessory to seek out.
It's a kind of oil that you rub on your blades and which helps keep them lubricated.
Good clipper oil can extend the life span of your blades and help your hair clippers run more smoothly over time.
Overall, a nice batch of accessories can do a lot to boost the overall value for money of any hair clipper set.
Accessories can also be used to break a tie between two similar products if you can't decide which of the two you prefer.
---
Next, let's examine the best technique for effectively cutting your own hair.
Step One
First, choose a hairstyle before taking your best hair clippers.
Giving yourself a haircut isn't something you should do on a lark; it takes some preparation and thought beforehand.
If you know what hairstyle you're going for in the beginning, you'll be less likely to make any mistakes and have to adapt on the fly.
Step Two
Consider how your hair grows and what natural directions your locks may take.
Any professional barber will tell you that you should always cut in the same direction that your hair naturally leads.
If you cut in the direction opposite to your hair's inclination, your hair will appear jagged or sharp on the ends, resulting in a choppy appearance.
You'll also want to prepare your space for cutting.
If you're giving yourself a haircut in the bathroom, remove any rugs or other soft material that your hair might stick to.
A hard bathroom floor is easier to clean after a haircut, as you can simply sweep the hair particulates away with a regular broom and dustpan.
Step Three
The exact steps for your haircut will depend on the hairstyle you've chosen, but in general, you should start at the base of your head and work up toward the top.
Tilt your head forward and allow the clippers to rest against the back of your neck as you press them onward.
When you're cutting, keep a firm and even pressure on the best hair clippers, so the cut stays even all the way across.
Step Four
You should do the sides of your head after you've finished with the back.
Begin at the base of your sides and move up toward the crown of your head.
Pull your ears out of the way, and don't forget to cut around their curve.
Continue to pay attention to the natural inclination of your hair and cut in the same direction.
Step Five
Save the top of your hair for last, as you'll be able to gauge your progress so far if you've done the sides beforehand.
Step Six
Now it's time to do any touch-up work.
Scrutinize your hair and continue to trim so that all of your hair appears to be the same length unless you deliberately cut it at different lengths for a particular hairstyle.
Feel free to adjust your guard combs or blade length throughout this process as necessary.
You may want to remove the guard comb entirely if you're going to touch up your sideburns or blend them with your beard.
To blend your sideburns with your beard, remove the guard comb, but don't press your clipper blade directly to your skin.
Instead, hover it slightly over the top of your hair and gently cut away some sideburn thickness until it appears to blend with your beard hair naturally.
Step Seven
Time to clean up.
Be sure to clean up any hair that may have fallen on the floor, and don't forget your clipper cleaning procedures.
Apply some blade oil if you haven't already this week and be sure to wash the blades thoroughly regardless.
If you have a cordless model, remember to plug it in, so you don't run the risk of running out of battery during your next haircut.
---
Frequently Asked Questions About Hair Clipping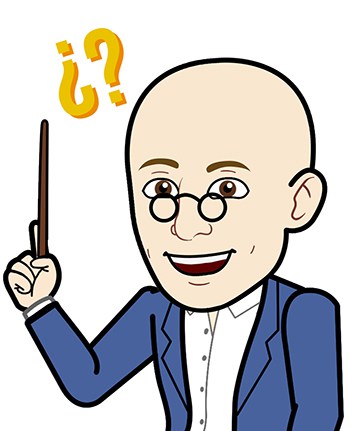 Now that you've seen some of the best hair clippers for men let's answer any remaining questions, so you're fully prepared to give yourself the best haircut you've ever seen.
1. How Do Hair Clippers Work?
Hair clippers work through at least two blades although many best hair clippers have more.
One is held in place and permanently attached to the main body.
The second blade oscillates back and forth and the resulting pressure and cutting action slices through your hair incredibly efficiently.
2. How Often Do I Need To Change My Blades?
This varies from material to material.
For instance, stainless steel or carbon steel blades don't need to be replaced very often, whereas blades made of lesser steel will obviously need to be replaced much more frequently.
In general, you won't want to go for more than six months.
3. What About Clipper Blade Oil?
Regardless of how often you cut your hair, you should always use good blade oil to maintain its quality over time.
You should oil your blades about once per week, even if you haven't used the best hair clippers.
Oil helps keep the blades from getting rust or corrosive damage.
4. Can Blades Become Misaligned?
They can.
Uneven blades mess with the look and shape of your haircut.
To align your blades, take a screwdriver and unscrew whatever is holding the blades into place and realign them properly.
5. Are There Any Other Things I Should Do To Clean My Blades?
No matter what, you should always rinse out your blades after a haircut.
Simply rinse them in the sink and use a small brush to work out any dirt or hair particles that might remain.
Many of the best hair clippers come with cleaning brushes specifically designed for this purpose.
6. What Are Clipper Guard Sizes?
In terms of hair clippers sizes, most comb sets are sized according to a 1 to 8 scale.
This scale corresponds to 1/8 of an inch, and it's the length of your hair after it's cut.
It starts with 1 as the lowest number to about 1/16 of an inch.