Put the soap down: It's terrible for your face!
Don't get us wrong; it's still a good idea to use some kind of cleanser for your face, but you should use special facial cleansers rather than any old bar soap or shampoo, like some kind of heathen.
Whilst it is ideal to use the best soap for men while bathing, it should by no means be used on the face – a good face wash will be best suited for that purpose.
The truth is that facial skin is some of the most delicate and vital skin on your entire body, and I'm sure you don't ever want to ruin that – or do you?
Think about it – people spend all day looking at your face, which is why you should pay more attention to the products that you use for washing your face.
The least you could do is make it look nice and clean.
Finding the right facial cleanser isn't just a matter of hygiene and basic men's grooming; it's a matter of personal pride.
Thinking of all the different types of men's facial cleansers on display can be intimidating.
They all do the same job, right that?
Sort of; most of them are actually better suited for a particular type of skin or another as a result of their texture or ingredients.
Don't worry, though.
We've put this guide together and done the research so that you don't have to.
We'll show you how to find the best face wash for men on the market, then teach you how to narrow down those face washes to find the perfect product for your needs.
We'll also give you some quick tips to make sure that you cleanse your face effectively each and every day.
Ready?
Let's get started!
QUICK OVERVIEW: Best Face Washes for Men
L'Oreal Paris Skincare Men Facial Cleanser

Very good at cleansing pores
Affordable

VIEW ON AMAZON →

CeraVe Foaming Facial and Hydrating Cleanser Two-Pack

Has two bottles for variable skin conditions
Foaming cleanser is excellent for clearing out pores

VIEW ON AMAZON →

InstaNatural Vitamin C Facial Cleanser

Very gentle when applied
Good for fighting dark age spots, too

VIEW ON AMAZON →

Brickell Men's Clarifying Gel Face Wash

Very good at deep cleaning
Removes embedded dirt and debris

VIEW ON AMAZON →

Doesn't dry out face, moisturizes instead
Good amount of formula in the bottle

VIEW ON AMAZON →

NIVEA Men Maximum Hydration Moisturizing Face Wash

Helps with aging lines
Restores youthful look

VIEW ON AMAZON →

Era Organic's Organic Men's Face and Body Wash

Very good for various skin types
Made from natural ingredients

VIEW ON AMAZON →

Lather and Wood Exfoliating Facial Scrub

Made with natural ingredients
Helps skin appear smoother and healthier

VIEW ON AMAZON →

Viking Revolution Charcoal Face Wash for Men

Comes with a travel bottle
Uses charcoal to effectively deep cleanse

VIEW ON AMAZON →
Use the table of contents below to jump to the sections most important to you.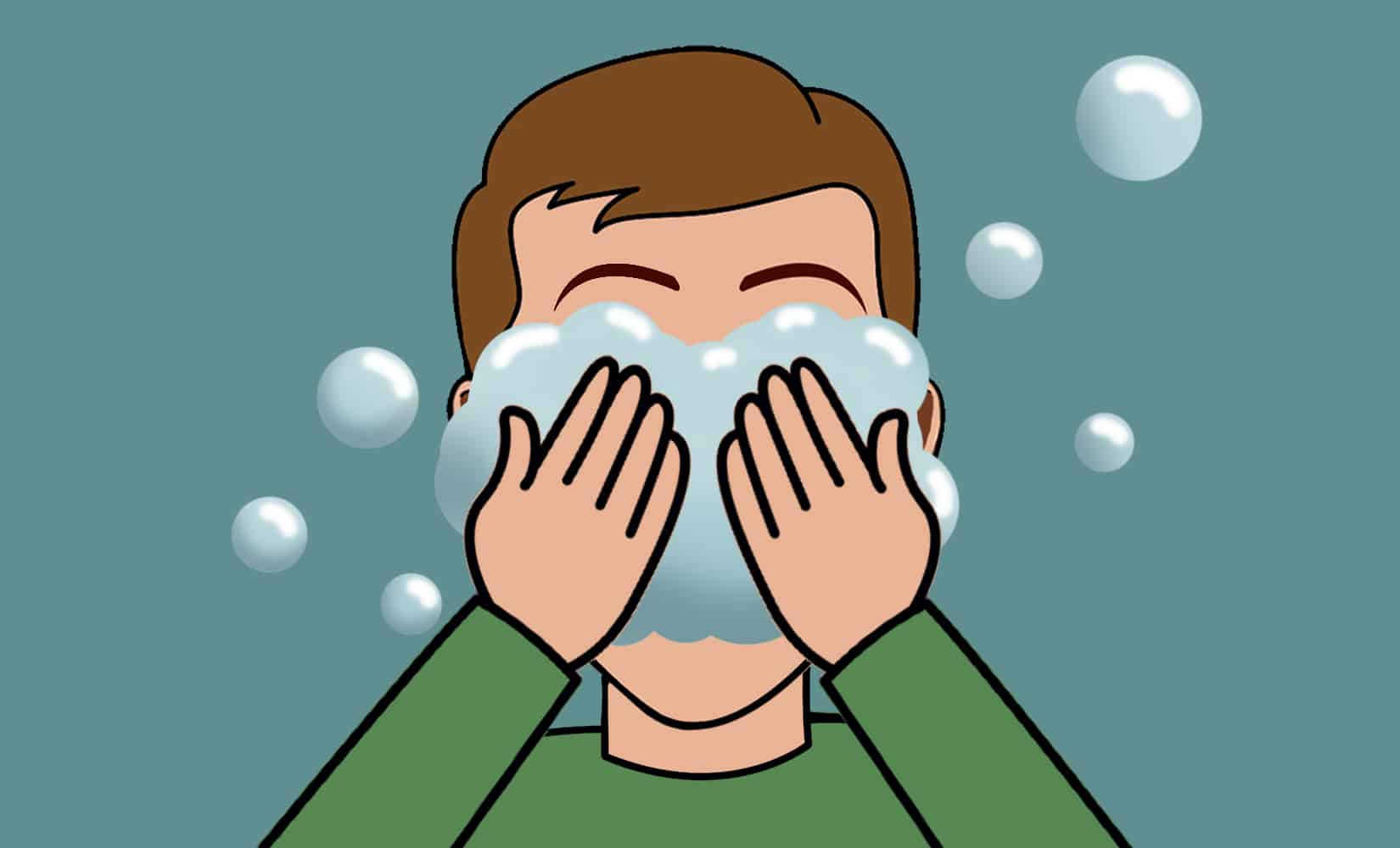 Things to Consider when Buying a Facial Cleanser
How did we come to our conclusions and narrow down the best face washes for men?
Well, we focused on specific aspects of the best men's face wash which includes its potential to impact a man's enjoyment the most while in use.
When we tested each wash, we categorized them according to these specific factors: you should read through each element and consider where you fall on the scale so that you can more effectively choose the best facial cleanser for your specific needs.
We know you could easily visit your dermatologist and have an over-the-counter face wash prescribed for you.
But since you're here, we promise not to let you down…
1. Wash vs. Cleanser: What's the Difference?
---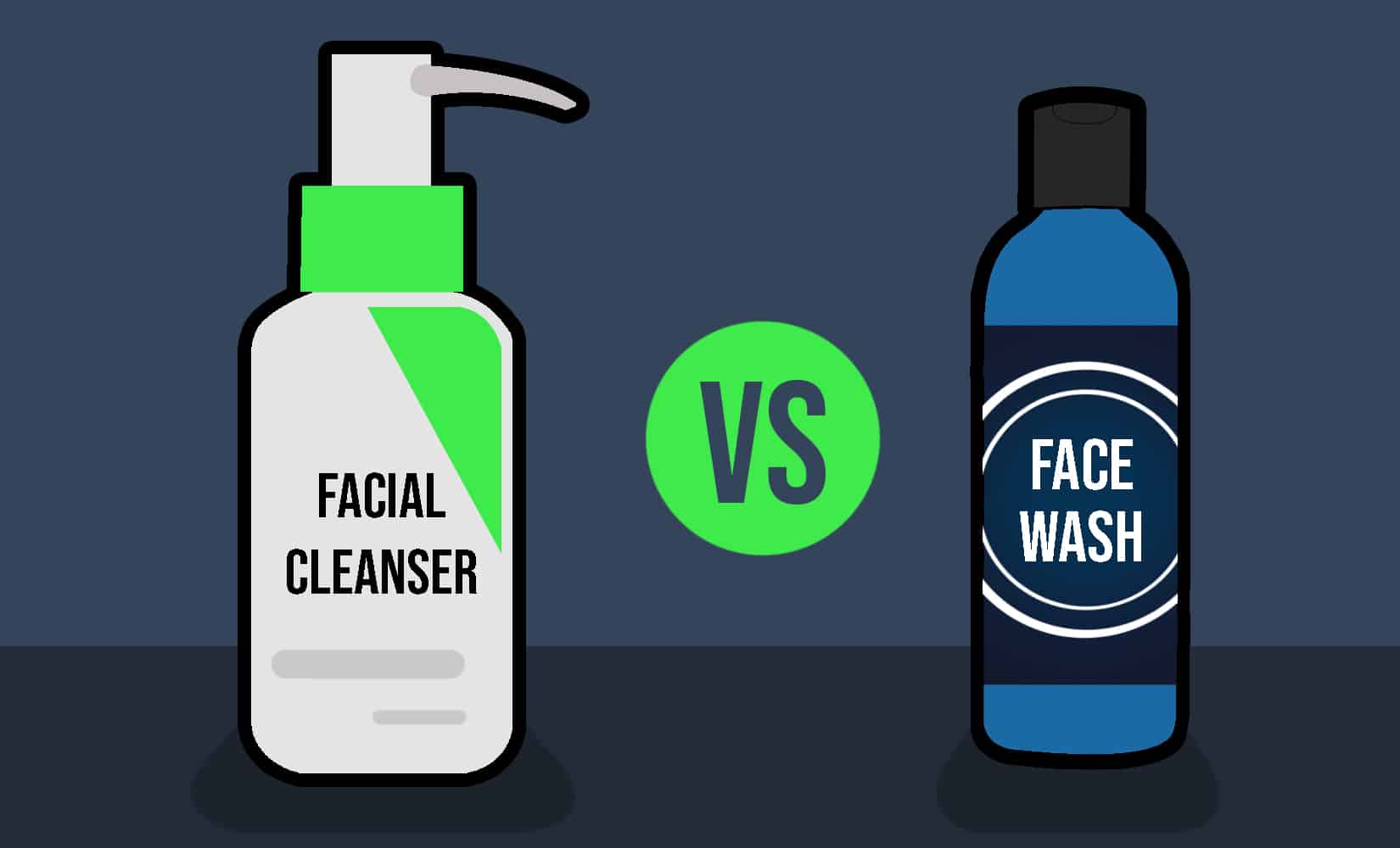 Before we really get into the details, it's important to note that, technically speaking, facial washes and cleansers are two different types of products.
The trouble comes in when most advertisers and manufacturers use both terms relatively interchangeably; you'll often see products referred to as facial washes and cleansers in the same sentence.
That's why you'll see us use the two terms interchangeably throughout this guide, as well.
However, there are a few minimal differences between the two types of products.
Right! Facial washes are a little stronger and rougher on the skin and are better for deep cleaning the pores.
Facial cleansers, on the other hand, are gentler on the skin and usually have more moisturizing and nourishing ingredients.
However, these two lines can become blurred very quickly, as certain men's face washes will have ingredients commonly found in facial cleansers and vice versa.
The truth is that you can't necessarily categorize a product into either of these sides based on its name alone.
You have to look at its actual effects and ingredients to see which one it is more like.
2. Skin Type
---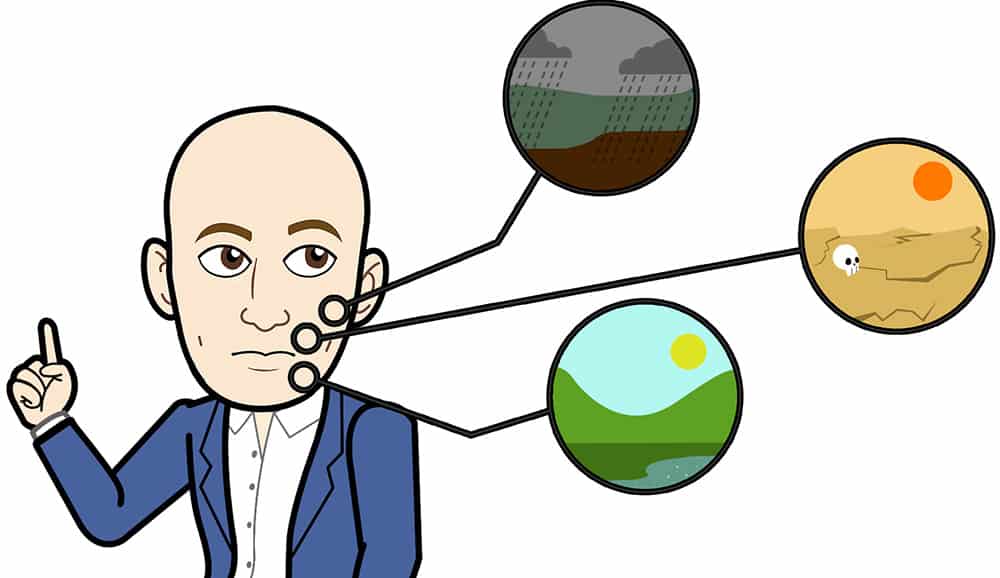 Your type of skin can obviously have a drastic impact on which facial wash will be the most effective for you.
Not all facewash for men is perfect for all skin types – since the surface and complexion of your skin directly affect how easy it is for the wash to penetrate your pores, clean out dirt, or leave your skin feeling hydrated.
There are a few different main types of skin that we can consider.
Dry skin is quite common among men, particularly those who are starting to age a little.
You might have experienced the bane of dry skin personally when you've tried washing your face with regular soap.
The truth is that regular soap can strip away natural oils from your skin and actually make it harder to remain hydrated.
That's why getting a good daily face wash that has hydrating elements (like chamomile or glycerin) or moisturizing components is critical.
In fact, I'll say you go for the best face wash for dry skin and not just any mens face wash.
This will allow you to cleanse your face effectively with the wash without drying it out further than it already is.
Besides, some of the best face washes have moisturizing components that can help your skin become less dry over time; you'll essentially be killing two birds with one stone, so look for washes with high amounts of moisturizing ingredients if you fall into this category.
Oily skin is more common among men than women due to our excessive testosterone.
Also, it can easily be caused as a result of the pores of your skin being clogged from dirt and debris.
Your skin generates extra oil to try to get rid of this debris.
To that end, you should try to find a facial wash that isn't very thick, as thinner washes have less of a chance of clogging your pores further and causing more oil to be generated.
You should always go for the best face wash for oily skin that you can find in the market if you have an oily face.
These men's face washes are rated explicitly for oily skin, as they are exceptionally good at removing dirt and debris build-up from deep within your pores.
You can use these facial washes that contain salicylic acid to lessen the amount of acne you have to experience overtime or find products that explicitly claim to be the best acne face washes.
However, if you ever see a face wash that's rated as "non-comedogenic," this is a good thing.
What does non-comedogenic mean?
It just means that the skincare product will not clog your pores excessively.
Therefore, it'll be a great pick if you already suffer from acne-prone skin.
If you're a man with more sensitive skin than average, there are still face wash options available to you – I'll definitely go for the best face wash for sensitive skin without hesitation if in your shoes.
Nothing beats a fresh-looking face with a great smile while walking down the street.
Many of the best face cleansers are rated for sensitive skin, meaning that they use ingredients like eucalyptus that aren't supposed to irritate or inflame your skin when they are rubbed in.
They also might be thinner rather than thicker, although this is not always the case.
You should look for facial washes without alcohol or which states they are for sensitive skin and you'll be in the clear.
Alcohol should be avoided – since it can be rough on the skin even though it has effective cleansing properties.
You also might have skin that is a combination of any of these types or is technically none of the above – in which case you'll have to get the best face wash for combination skin.
Or, it could be considered "normal" since it doesn't fall too far down one category.
In this case, you can find virtually any face wash and have it be effective.
But more specifically, face cleansers that contain glycolic acid are safe for every skin type and helps with skin exfoliation while still maintaining balance of the skin's PH.
You should choose your perfect product according to its other specifications and attributes.
Besides, while wrinkly skin can be considered a separate type of its own when you are choosing different skincare products when it comes to face washes, it's best to consider wrinkly skin as a sub-type of either dry or sensitive skin, depending on your feeling.
If you have wrinkly skin, chances are that it is either drier than average or more sensitive than average, or both.
Therefore, choosing the best face wash that can help with those skin types should be effective for your wrinkly skin, too.
Skin color can have something of an effect as well, although this is less drastic.
Basically, men with darker skin can suffer from irritation or inflammation more easily.
Fortunately, ingredients such as witch hazel, menthol, and peppermint oil have anti-inflammatory properties that can help soothe irritation caused by acne.
So, if you're a black man, you'll be better off with a face wash that's good for sensitive skin rather than a rougher product.
3. Ingredients
---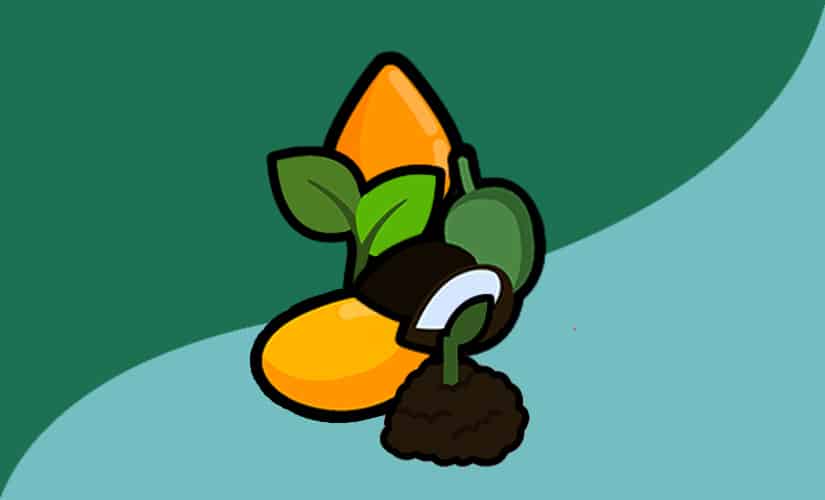 The next most vital aspect to consider is the ingredients contained in each facial cleanser formula.
These ingredients will directly impact what kind of skin type the facial washes are suitable for and how effective they are at clearing away your pores of daily dirt and debris.
For example, the best exfoliating face wash is best for men with dead skin cells on their faces.
Obviously, all face washes will have a cleansing agent, so we'll look at the additional ingredients that may or may not be included with each product.
Many face cleansers have moisturizers as an additional key component in the formula.
In truth, the best cleanser for dry skin should have moisturizing properties without a doubt.
These moisturizers can be things like aloe vera, hyaluronic acid, or other compounds that are derived from natural sources.
These moisturizing elements can help your skin retain water and prevent it from losing water as a result of the cleanse and all through the day.
Sometimes, this can have a "shielding" effect where your skin remains moist for many hours after cleansing.
These are particularly useful ingredients to look for if you already have dry skin and want to avoid drying it out even further.
Antioxidants remove free radicals from the cells of your skin.
What exactly are free radicals?
You can think of them as unbound oxygen molecules, which can cause damage and irritation to the surrounding skin cells.
By applying antioxidants to your skin, the oxygen molecules are absorbed and removed, allowing your skin to regenerate more effectively.
Some antioxidants, like Vitamin C, also help boost skin cell production of collagen.
Collagen is a crucial resource that skin cells use to heal and divide properly.
Therefore, antioxidants are also a great antiaging compound that can help alleviate the signs of aging and make skin wrinkles appear less drastic over time.
Your skin will appear tighter and a little younger after continued application of antioxidants.
Alcohol and its various subtypes (which will all use the suffixes "-ahol" or "-ohol") are great cleansing ingredients that can really dig deep into your pores and help eliminate excess oil and debris.
This makes alcohol a great ingredient if deep cleansing your face is your primary objective.
Because of this, the best cleanser for oily skin should contain a reasonable amount of alcohol.
However, alcohol can also dry out your skin if it's used in excess, so if it is already dry, then facial washes with alcohol are not recommended.
Also, alcohol can be a little rough on the skin that's already sensitive, so look for something else if it is prone to inflammation or irritation.
These are usually referred to by their specific ingredient names, such as shea butter.
Emollients help your skin cells produce collagen, much like antioxidants, and they lessen the space between the cells, making your skin appear tighter and more youthful.
Because of this, they are excellent ingredients if you have skin that could use a little aesthetic pick-me-up or if you want to combat the early onset signs of aging.
Charcoal is a specific cleansing ingredient that you'll see now and again.
A purifying charcoal face wash is an incredibly effective cleanser since it acts like a "magnet" by sucking up dirt and other impurities in your pores before being washed away.
Not all face washes have charcoal as a primary ingredient, but those that do can be counted on to really cleanse your pores effectively.
Charcoal should be the primary ingredient in the best face wash for blackheads and blemishes because of its deep cleansing ability.
As a bonus, charcoal isn't very hard on your skin, so you can feel free to use charcoal as a part of your facial wash if you have more sensitive skin than normal.
Charcoal is also adept at removing excess oil, so it's a good solution for oily skin, too.
4. Thickness
---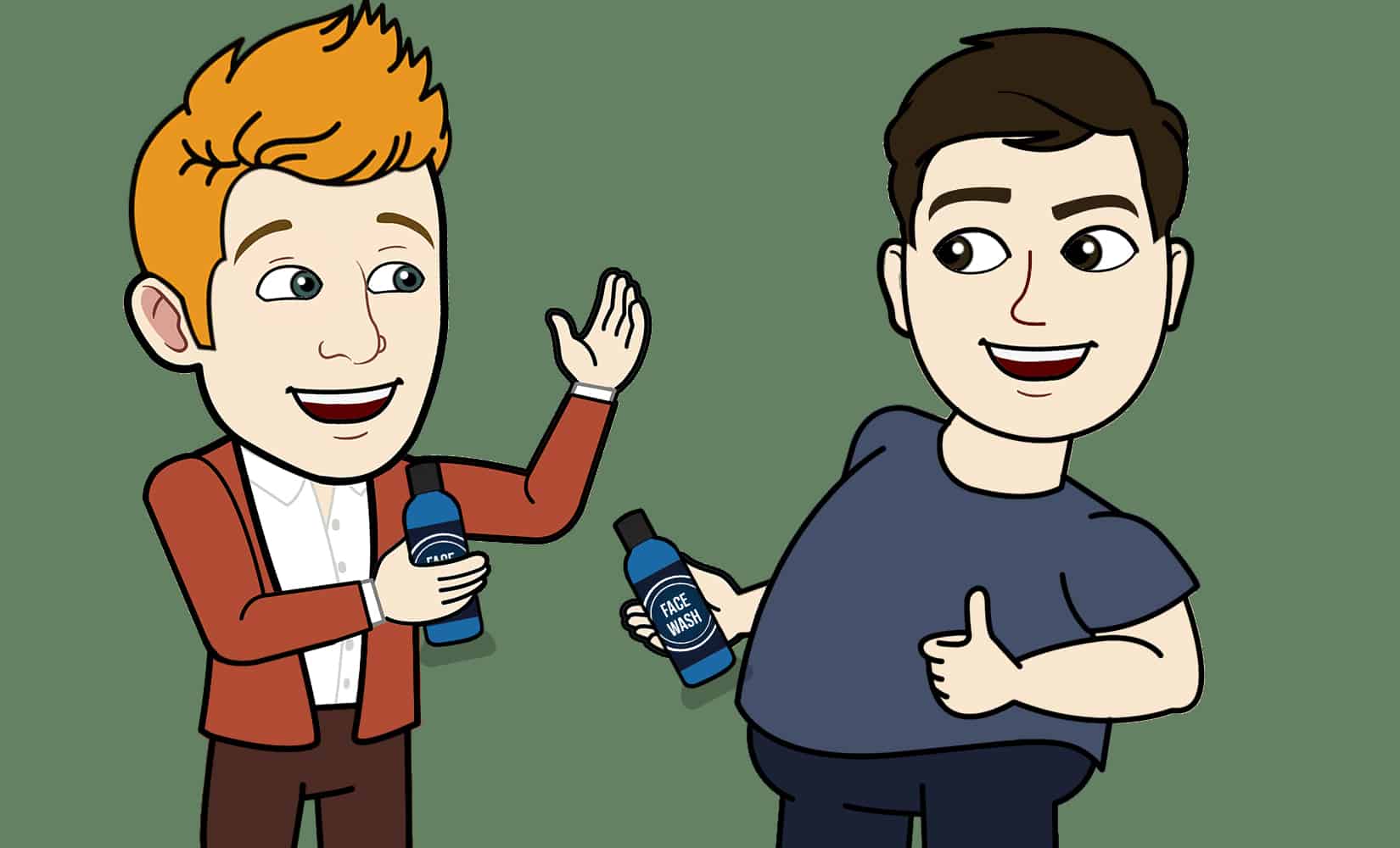 The thickness of a facial wash can determine whether or not it'll be a good pick if you have acne-prone skin.
In other words, the best cleanser for acne-prone skin should be as less dense as possible.
Thicker face washes have a higher chance of clogging your pores than thinner facial washes.
Also, some men prefer thinner facial cleansers due to texture alone.
Thicker facial cleansers can feel really odd and irritating, even when they have washed away.
This comes down to personal preference, so if you've used facial washes before, you might already have a good idea of what kind of wash thickness you prefer.
5. Fragrance
---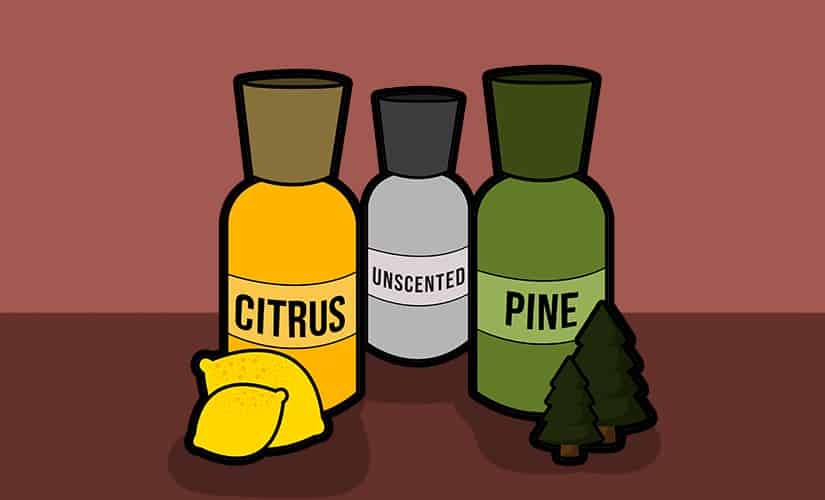 Not all facial cleansers come with a particular fragrance or scent, but some do.
This is an important aspect to consider if you frequently use cologne or another artificial fragrance to add to your personal aesthetic.
Masculine facial washes are likely to be accompanied by a masculine scent, but most men will probably enjoy a fragrance-free facial cleanser.
There isn't a right or wrong answer here: it's just personal preference.
But it's still a good idea to think about this beforehand, so you know which facial cleansers to cross off your potential list right away.
6. Amount
---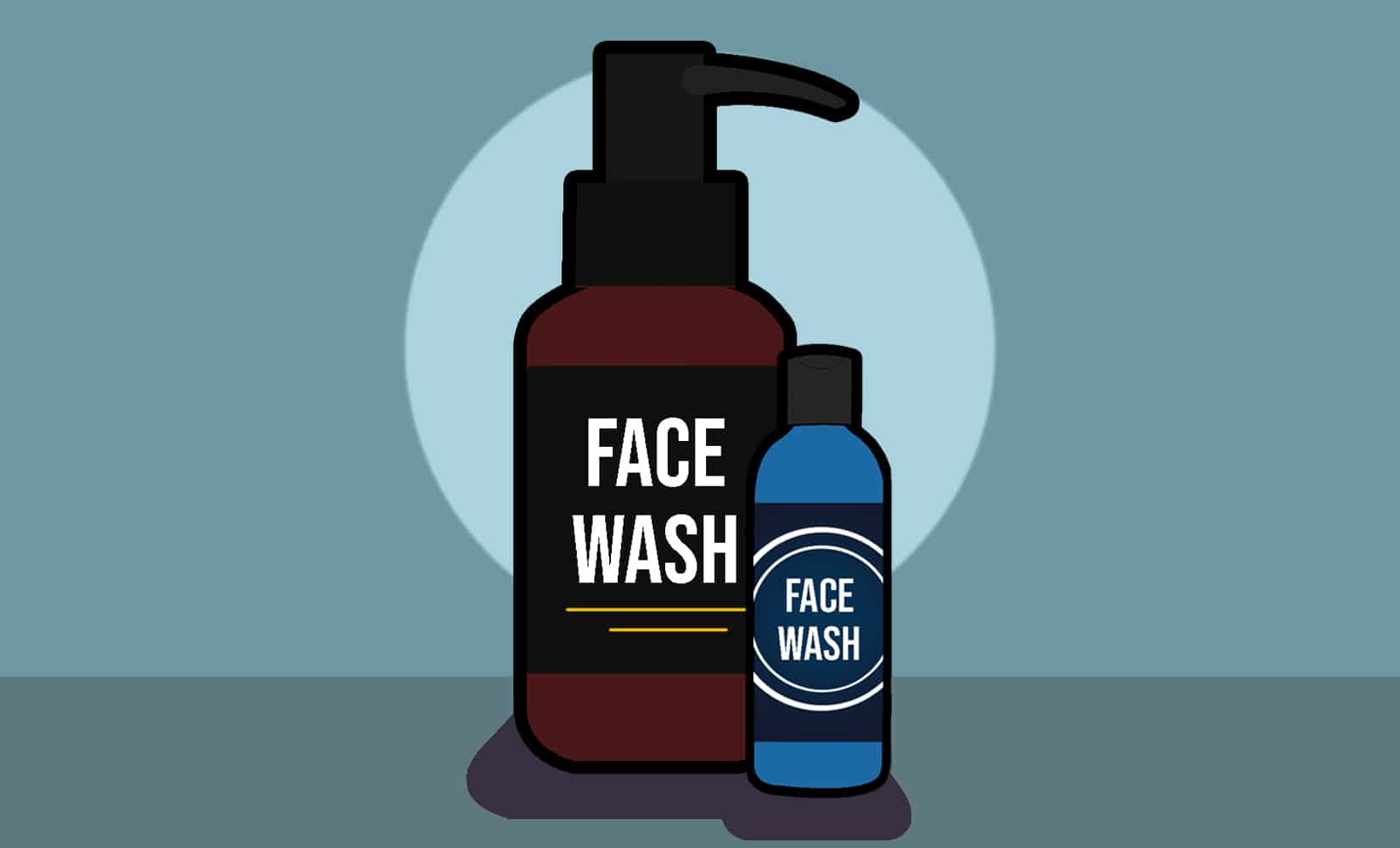 Finally, the amount of cleanser that you get in your purchase directly affects the value for money.
Some facial cleansers come with tons of the formula included in their bottle, while others only have a couple of ounces.
Once again, there's no right or wrong answer here.
But it's something to consider when you're thinking about your overall budget and how much face wash you plan to use on a daily basis.
---
Best Face Wash for Men of 2022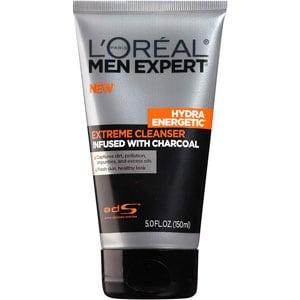 This face cleanser combines activated charcoal and antioxidants to deep clean your face and ensures cell health.
Specs
Who Is It Best For?
It's a great pick for men who need to fight off acne and who don't have sensitive skin.
Key Features
This men face wash combines charcoal with antioxidants to thoroughly cleanse your pores and rejuvenate them for future health.
The charcoal is the key ingredient here.
It does an excellent job of sucking away dirt, debris, and excess oils from your skin.
Since the charcoal basically filters into your pores and draws away any toxins or harmful compounds, you don't have to scrub very roughly to eliminate impurities or debris.
All of the bad stuff simply comes away with the charcoal as it's washed off your face.
This reduces the occurrence of pimples or any acne breakouts.
It's an elegant solution and one that feels incredibly satisfying when you finally get the charcoal off.
It's not particularly good for sensitive skin – since it does feel a bit rough on the face, according to our testers.
But if you've got naturally oily skin, there's not much better than this formula!
We also really like the fact that it's incredibly affordable, and you get 5 ounces with your purchase.
This makes it one of our top picks if you're aiming to fight acne, particularly if you're on a budget.
I'm almost tempted to recommend this product as the best facial cleanser for acne – but why not wait till you see the others on the list?
One final note: avoid using this near your eyes.
They'll definitely sting if any of this charcoal-based formula gets inside!
Check out the hundreds of customer reviews here on Amazon.
---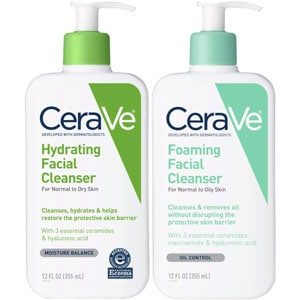 This two-pack has one bottle for hydrating cleansing and the other for foam-based cleaning.
Specs
Who Is It Best For?
This is an excellent choice for men who are willing to take the time to cleanse their skin thoroughly and moisturize afterward.
Key Features
This is actually a two-pack with two different kinds of facial cleansers.
One bottle is a hydrating formula and is best for skin that's dry or for use after the foaming cleanser.
It'll help your skin retain moisture rather than allowing said moisture to be drawn away.
The other is a foaming variety, which bubbles up and digs deep into your pores to remove excess oil and debris once it's been lathered to the appropriate degree.
This works similarly to the charcoal that you can see in other facial washes.
Rather than relying on force or disintegrating effects to take care of dirt and other impurities, the foaming formula forces its way into your pores and lifts any dirt and debris out from deep within them.
This dirt and oil are then removed when the foam is washed off your face.
Each bottle uses hyaluronic acids and ceramides, both of which help to moisturize your skin or improve aging lines.
On top of that, each bottle has 12 ounces of the formula; there's great value for money here in the amount of cleanser you get for your purchase alone!
Our testers found that the hydrating cleanser was a little better at pure moisturization, so we'd recommend using this two-pack if you have drier skin.
Obviously, this is the best facial cleanser for dry skin men on a budget.
Use the foaming cleanser first, then follow with the hydrating bottle for best results.
Check out the hundreds of customer reviews here on Amazon.
---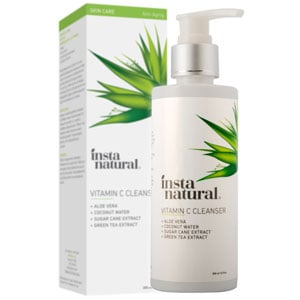 This facewash for men combines several gentle ingredients to effectively clear away dirt and oil and make your skin appear more youthful.
Specs
Who Is It Best For?
It's a good pick for men who have sensitive skin but who still need thorough cleansing or who would like their face to look a little healthier.
Key Features
This facial cleanser is bolstered with tons of Vitamin C, which boosts your skin cells' ability to rejuvenate themselves.
There's also aloe vera for hydration properties and emollients which help to reduce aging lines and make your skin healthier overall.
All of these ingredients make this product a good pick for several different skin types, even sensitive.
This is because it's an extremely gentle formula to rub into your skin – making it the best gentle face wash on our list.
The emollients help with this, as they soothe your skin and help keep it from becoming inflamed or irritated as its pores are cleansed thoroughly by the other ingredients.
Those ingredients make this formula one of the best face washes for black men.
The Vitamin C focus also allows this cleanser to target dark age spots to some degree; if you want your skin to look younger overall, this is one of the best purchases you can make.
Vitamin C accomplishes this by healing the skin cells that are commonly damaged around dark age spots.
Overall, this gentle facial cleanser is a great pick if you have a multitude of skin problems and want one product that can help combat them all.
It does have a light citrus-y fragrance, but it wasn't too noticeable to our testers.
Check out the thousands of customer reviews here on Amazon.
---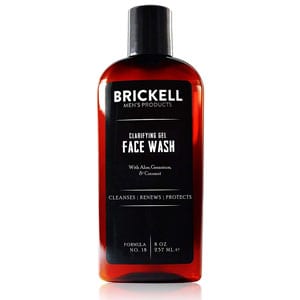 This face wash has a gel-like texture and is exceptionally effective at deep cleaning your pores, although it's a little rough.
Specs
Who Is It Best For?
This is a good choice for men who have tougher skin than usual, and who don't mind a little roughness when it comes to fighting acne.
Key Features
This is a gel-type face wash.
What does this mean for you?
Essentially, it'll be a little thinner and cooler than many thicker facial wash products.
This makes it one of the best facial washes for men who fight acne – since this cleanser has less of a chance to clog your pores and make the problem worse.
However, it's not a good pick for sensitive skin due to the presence of alcohol, which is an ingredient that will help deep cleanse your pores at the cost of a little roughness.
It's combined with coconut cleaners to get rid of excess oil and germanium, which is a powerful antiseptic that can help remove embedded debris and dirt – that would otherwise be harder to remove.
There's some aloe vera, too, but this is mostly used to prevent the formula from making your skin dry.
Essentially, it counteracts the drying potential of the alcohol ingredients.
It's not powerful enough when combined with the other ingredients to moisturize your face.
You can easily counteract this effect with a specific moisturizing product, but you'll have to consider whether the money spent on that moisturizer is worthwhile.
If you don't already have abnormally dry skin, it probably won't be much of an issue for you.
It's a bit pricey, but you do get a good amount of product for your purchase.
Overall, this face wash is best for men who need to deep clean their pores.
Check out the hundreds of customer reviews here on Amazon.
---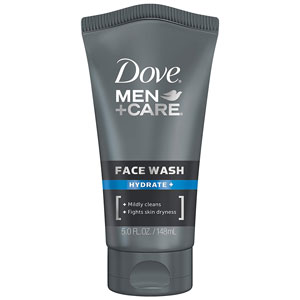 This face wash uses alcohol as its primary ingredient to take away moderate levels of dirt, debris, and oils.
Specs
Who Is It Best For?
This is a good pick for men who need a budget daily facial cleanser, and you aren't concerned with deep cleansing your pores frequently.
Key Features
This facewash for men is a mild cleanser.
Don't expect it to deep clean your pores like the previous pick.
But this isn't necessarily a bad thing; instead, you can see this face wash as a general, daily-use product that's a good addition to a morning hygiene routine.
You won't experience a lot of discomforts because this face wash doesn't penetrate deep enough into your pores to cause inflammation.
The presence of alcohol ingredients still makes sure that it's effective for removing most daily grime from your pores.
Besides, other ingredients from Dove are included to make sure that the alcohol doesn't dry out your face.
In fact, our testers found that their skin was a little more moisturized than before, despite the presence of alcohol.
This makes it an acceptable choice if you have dry skin and just need a basic to moderately powerful face wash.
It's also very affordable and comes in a decently sized bottle; we could see this face wash being a good choice for young men or anyone on the go.
It's definitely not the most premium pick, but it's good at what it does and might be the perfect, simple solution for some men.
Check out the hundreds of customer reviews here on Amazon.
---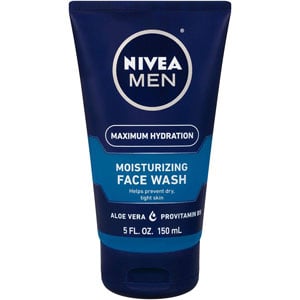 This face wash is best for men who want to deep clean their pores while reducing the signs of aging and making your skin appear tighter and younger.
Specs
Who Is It Best For?
This is a great choice for men who want their faces to look younger and healthier while getting rid of acne at the same time.
Key Features
This face wash combines alcohol which is a potent ingredient for cleaning your pores and emollients that can help hydrate your cells and keep them rejuvenated, despite the alcohol.
This is a great combination that allows the face wash to be used for dry or oily skin types.
Aloe vera is also included in the formula to keep moisture trapped within your skin cells.
Our testers found that, after applying this face wash, they felt that their skin was clean and fresh without being tight or dry.
The emollients present also have the effect of tightening wrinkle lines and making your skin appear younger and healthier.
This means it's a good pick if you're a man focused on his skin aesthetic.
There is a slight fresh fragrance with this face wash, although it's not super noticeable.
It can easily be covered up by deodorant or cologne.
Speaking of, we just did a guide on the best natural deodorants for men.
Check it out!
Anyway, we'd still tentatively recommend a moisturizer be used after applying this face wash.
This is because the alcohol does tend to dry the skin out despite the presence of aloe vera.
Our testers found that the aloe vera basically made sure that the alcohol didn't totally dry out your skin, although some dryness was still experienced.
It's not too drastic, but if you already have dry skin, you'll probably feel it more than a man with a normal or combination skin type.
It's also pretty cheap and comes in a small bottle; you can feel free to take this with you when you travel so you can keep up your facial wash routine no matter where you are.
Check out the hundreds of customer reviews here on Amazon.
---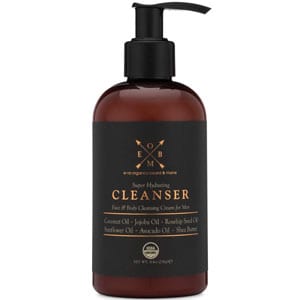 This face wash can actually work for your body as well and is gentle enough for virtually every skin type.
Specs
Who Is It Best For?
This is a great pick for men who would like all of their required skin wash formula in one bottle.
Key Features
One of the best things about this face wash is that you can use it on your face and body.
It's a versatile product because of this and is an excellent pick if you're a man that likes to have only a couple of skincare products in his bathroom, either due to space needs or simplicity.
If you need a body-specific wash, however, we already did a great guide detailing the best body washes for men.
The cleanser is loaded with a bunch of great ingredients.
There's a vast amount of emollients packed in here: jojoba beads, avocado, and rosehip – making it the best natural face wash that made our list.
These will help your skin retain its youthful appearance, and they'll also reduce aging lines.
Then there are the antioxidants included with the formula.
These will help your skin avoid inflammation and retain natural moisture to some degree; you shouldn't experience any dryness when using this cleanser across your face or body.
In fact, it's one of the best face wash for men with dry skin that we've found.
It's also an incredibly gentle formula for all skin areas, so if you have more sensitive skin than normal you should love this pick.
This product does not contain chemicals like parabens or sulfates as it's made from all-natural ingredients and comes with nearly 9 ounces in the bottle.
This is enough to ensure that you won't have to replace the bottle relatively soon; you can enjoy it for a while and really make sure that it's the right product for you before buying another and continuing with your face wash routine.
It has great value for money since you can use it on your body as well as your face.
Just remember that you'll probably go through it a lot quicker than standard, face-only washes!
Check out the hundreds of customer reviews here on Amazon.
---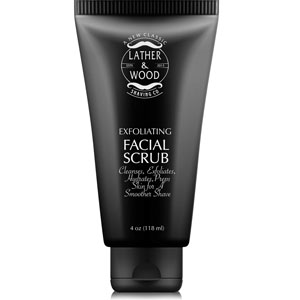 This mens facial scrub can deep cleanse your pores and exfoliate your skin, leading to younger and healthier-looking skin over time.
Specs
Who Is It Best For?
This is a good pick for men with tough skin who would like to add a little rejuvenating exfoliation to their morning routine.
Key Features
This face wash is one of the toughest on our list.
It's technically a face scrub, although it has cleansing properties that allow it to be classified as a cleanser as well.
It can exfoliate your skin lightly.
What is exfoliation?
Basically, using this scrub will help remove dead skin cells and excess dirt and debris from your face.
This can help your face fight off acne and become healthier overall since your pores won't be as clogged as often.
Jojoba beads are the primary exfoliating ingredient.
While they can feel great on normal skin, men with more sensitive skin than normal will likely face a tough time using this scrub.
We don't recommend it if your skin is sensitive.
It'll also help your skin appear smoother thanks to the emollients included in its formula.
This scrub is made without any synthetic ingredients or chemicals, which we really like.
You get 4 ounces of product for your purchase, which isn't a ton, but you shouldn't need to use too much to clean your face entirely anyway.
Overall, this is a great pick if you have acne-prone but tough skin.
Check out the hundreds of customer reviews here on Amazon.
---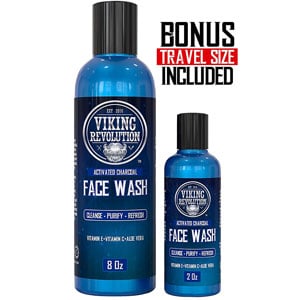 This face wash also uses activated charcoal as a primary ingredient to lift away dirt and oils from your pores.
Specs
Who Is It Best For?
This face wash is an excellent choice for men with mildly-sensitive skin who still need help fighting off acne.
Key Features
This face wash is an excellent pick when it comes to overall deep cleaning.
It uses charcoal as its primary ingredient, which is an excellent pick since the charcoal sucks away dirt and oil from your pores before being washed away.
Also, this formula is packed with aloe vera to help keep your skin moisturized despite this deep cleansing.
Vitamin E will help maintain your skin cells' overall health and reduce the chance of inflammation.
We really like this pick since it's so effective without being detrimental to your skin in any way.
It provides great value for money due to its price-to-ounce ratio, which is generous.
Even better, you get a smaller, 2-ounce travel bottle with your purchase.
This means you never have to leave your skincare routine behind, even while on vacation or a business trip.
There is a hint of mint fragrance with this pick, but it's not too drastic.
You'll definitely notice it if you don't cover it up with another fragrance, however.
Also, it's not explicitly rated for men with sensitive skin, but our testers found that it wasn't too tough on their skin.
This wash is probably okay for men who have mildly sensitive skin, although, if it is susceptible, you might want to look elsewhere.
Check out the hundreds of customer reviews here on Amazon.
---
Other prominent face washes that didn't make our list are:
Jack Black Pure Clean Daily Facial Cleanser
Kiehl's Ultra Facial Cleanser
Aesop Fabulous Face Cleanser
Clinique Liquid Facial Soap
Bulldog Natural Skincare Original Face Wash For Men
Neutrogena Deep Clean Daily Facial Cream
Frequently Asked Questions about Facial Washes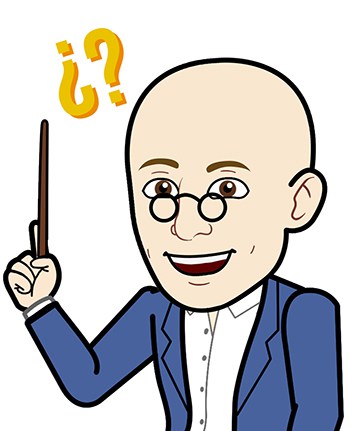 You've got some new facial cleanser: excellent!
But now, you might be wondering how to use it most effectively.
We've got you covered here, too.
Let's go over some common questions surrounding the use of the best facial cleansers for men.
1. How often should I use my facial wash?
Every day, of course!
The best time to use your facial wash is in the morning or the evening, depending on your preference.
If you decide to use your wash in the morning, you can add this to your daily showering routine, along with a thorough cleaning of every other part of your body.
You can also use your face wash outside the shower either before or after.
If you shave every day, using your facial cleanser beforehand is a great trick since it will clear your pores up and allow your razor to cut your facial hair closer to the root.
This has the added benefit of giving you a closer shave and extending the amount of time that you have to enjoy smooth skin before you have to shave again.
Using a facial cleanser at night is a good idea, too.
This is because your face isn't encountering dirt or dust particles like it might be if you were awake and doing your daily activities.
This can give your face a good chance to rest and rejuvenate with clear pores, and it might help your skin be ready to face the next day.
Just because these face washes have a bunch of ingredients doesn't mean that they are somehow toxic to your skin or shouldn't be used every day.
Most face washes are actually made of natural ingredients and are healthy.
Some of the natural ingredients that you should look for in a facial wash include green tea, jojoba oil, willow bark various essential oils, among other ingredients.
Face washes aren't like pure exfoliators, either.
As long as you're using the right facial cleanser, you shouldn't run any risk of stripping your skin of its natural protection or rubbing it raw in an attempt to remove dead skin cells.
No matter the facial wash or cleanser you use for your face, using a good face lotion afterward will soothe your tender facial skin properly.
2. What's the best way to use my facial wash?
Using a facial cleanser is pretty easy.
First off, make sure that you don't squeeze too much of the product onto your hands.
You only need a small amount to rub it all across your face effectively.
You'll see that this is true once you rub it between your hands and work up a lather, just like the kind you might see with traditional soap or shampoo.
By lathering it, you'll also be helping the facial cleanser's ingredients to activate more quickly.
Spread the wash across your face and rub it into your skin.
You don't need to apply too much pressure here, but light or gentle scrubbing motion is a good idea.
Basically, you want the facial cleanser to really be worked into your pores to get rid of any oil or dirt.
The entire scrubbing process should take about half a minute; after 30 seconds of past, the cleanser has likely done all that it can.
Next, go to the sink and use warm water to rinse the facial scrub lather off your face.
Doing this in the shower makes it especially convenient since the water source is already on and right in front of you.
Don't use cold water, as this will close your pores and trap some of the facial wash inside; you definitely don't want a facial cleanser to remain inside your pores all day, as it's unhealthy for your pores to be blocked by anything, even all-natural ingredients.
Some facial washes or cleansers don't need to be rinsed off and are instead designed to be totally absorbed by your skin, although most do recommend that you rinse.
Read the directions of your chosen product carefully to see if your pick falls in this category.
3. Is it possible to scrub too hard?
It's technically possible to scrub too hard with a facial cleanser and cause irritation, particularly if the formula has alcohol as the primary ingredient.
However, this is pretty difficult, and you shouldn't worry about scrubbing too hard and causing damage to your skin.
After all, most men would probably feel when the scrubbing was starting to become painful and would desist as soon as he became uncomfortable!
The main thing you'll lose by scrubbing too hard is time.
One thing to keep in mind is that it's a lot easier to scrub too hard if you use an additional scrubbing implement, like a sponge or pad.
You only need to use your fingers to rub a facial cleanser into your pores effectively.
No other tools are required.
4. What can I combine my wash with?
You can combine your facial washes and cleansers with other products or even together!
You just need to keep an eye on the ingredients and make sure that you're not saturating your skin too much in any one component, such as alcohol.
It's also a good idea to thoroughly apply one product at a time, rinse your skin, then apply the other.
Give your pores time to breathe and absorb the various compounds from the first product before they have to tackle a second.
This will help keep your pores clean and your skin healthy.
5. Why are facial washes better than bar soap?
Bar soap certainly has its uses, but most bar soaps have alkaline-based compositions.
How does this harm you?
It's okay for your body, but your face has more delicate skin than that covering the rest of your body.
Alkaline-based products can easily strip away natural oils and protective compounds that keep your skin flexible and fresh on your face.
Therefore, bar soap isn't a good fit when it comes to cleaning your face.
Additionally, bar soap can quickly dry out your skin, compounding the problem if you have drier skin than average.
This may even cause your body to produce extra oil to counteract this effect, eventually leading to an outbreak of acne.
Overall, you're better off avoiding bar soap when it comes to the skin on your face.
However, if you are interested in bar soap for your body, come see our guide to the best bar soaps for men!