Many men don't want to rely on foundation to correct a few minor color spots on their faces.
At the same time, tons of men suffer from dry skin and have to use face moisturizer products to keep their skin hydrated.
Wouldn't it be something if there was a product that accomplished both of those goals at the same time?
Turns out there is!
It's called a tinted moisturizer, and it combines hydrating power with some light colorwork to provide the needed benefits to your skin.
What is a tinted moisturizer?
It's a multipurpose tool in a world of single-use makeup products, and plenty of men are starting to recognize the value of adding a little tinted face moisturizer to their morning routines.
This is basically a moisturiser with a few makeup pigments added to its formula.
If you're just learning about this product now, don't worry.
We are here to help, and we've spent plenty of time testing out various tinted facial moisturizers to determine the best products for men of all skin types.
We'll explain how to tell the best tinted-moisturizers with SPF ratings apart from mediocre ones.
We'll also answer any questions you have about how these excellent makeup/moisturizer combination products work and can improve your day.
Let's get into it!
QUICK OVERVIEW: Best Tinted Moisturizers
Lab Series SPF 35 BB Tinted Moisturizer

High SPF protection
Lasts all day

VIEW ON AMAZON →

CC Cream for Men by Strictly Man Supply Co.

Doesn't clog pores
Doesn't make the face shine

VIEW ON AMAZON →

NARS Pure Radiant Tinted Moisturizer

Good amount in the bottle
Excellent for clearing oil and acne

VIEW ON AMAZON →

Purlisse BB Tinted Moisturizer Cream

Has some anti aging qualities
Soothing when applied

VIEW ON AMAZON →

bareMinerals Complexion Rescue Tinted Hydrating Gel Cream

Nice and soothing
Good at removing oil

VIEW ON AMAZON →

The Balm SPF 18 Balmshelter Tinted Moisturizer

Easy to apply in layers
Lasts for the entire work day

VIEW ON AMAZON →

Bella Terra BB Cream 3-in-1 Tinted Moisturizer

Defends from UVA rays
Has antiaging abilities

VIEW ON AMAZON →

Garnier SkinActive BB Cream Face Moisturizer

Great for fighting aging signs
Moisturizes well

VIEW ON AMAZON →
Use the table of contents below to jump to the sections most important to you.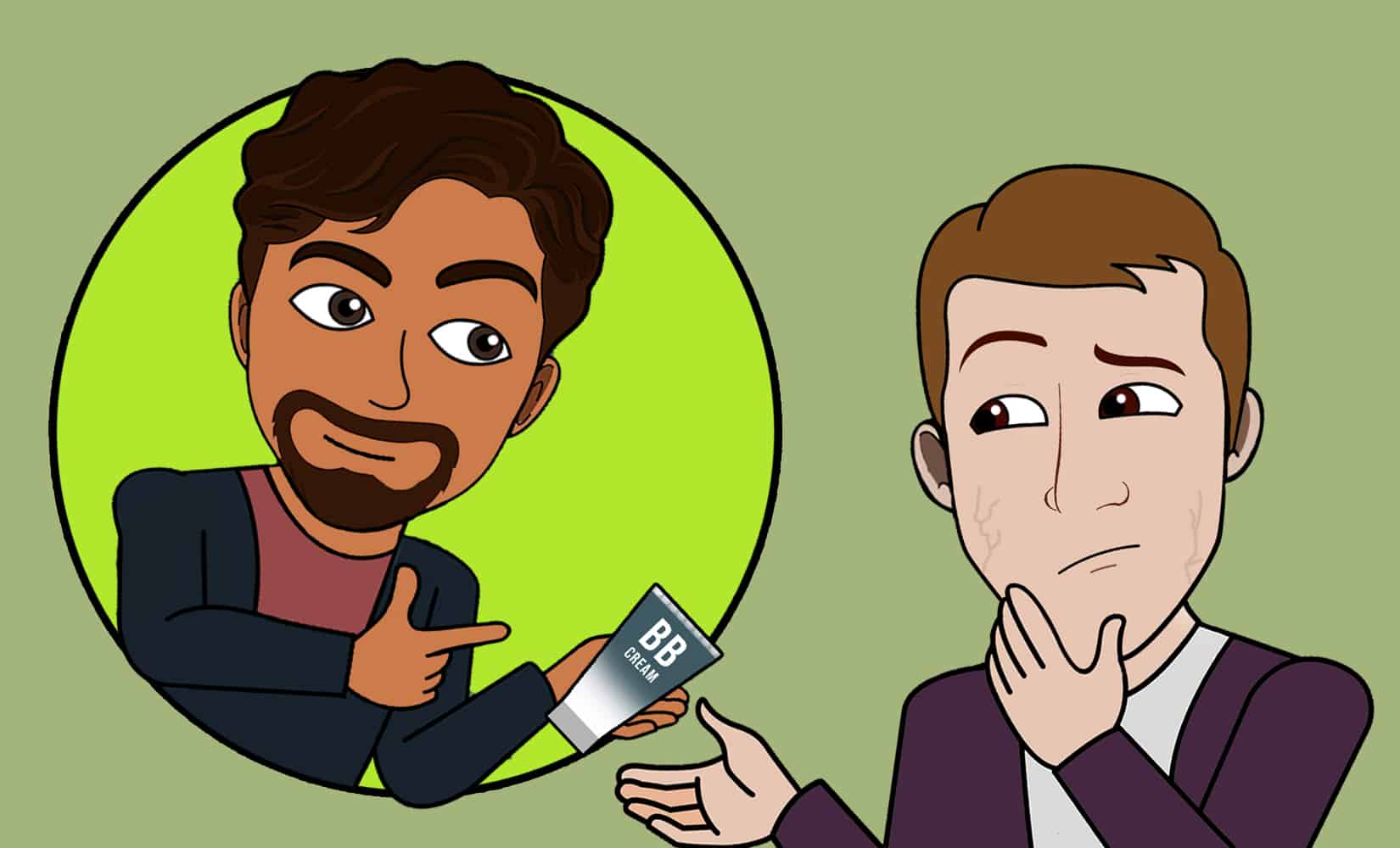 Things to Consider when Buying Tinted Moisturizer
Before we head deep into the product reviews, let's go over some of the critical aspects that you should understand when browsing for the best tinted moisturizers.
You need not know how to make tinted moisturizers as you can easily get an affordable one over the counter.
These are the things we looked at to determine the good from the bad and to figure out which face moisturizing products should be recommended for which men.
1. Non-Comedogenic
---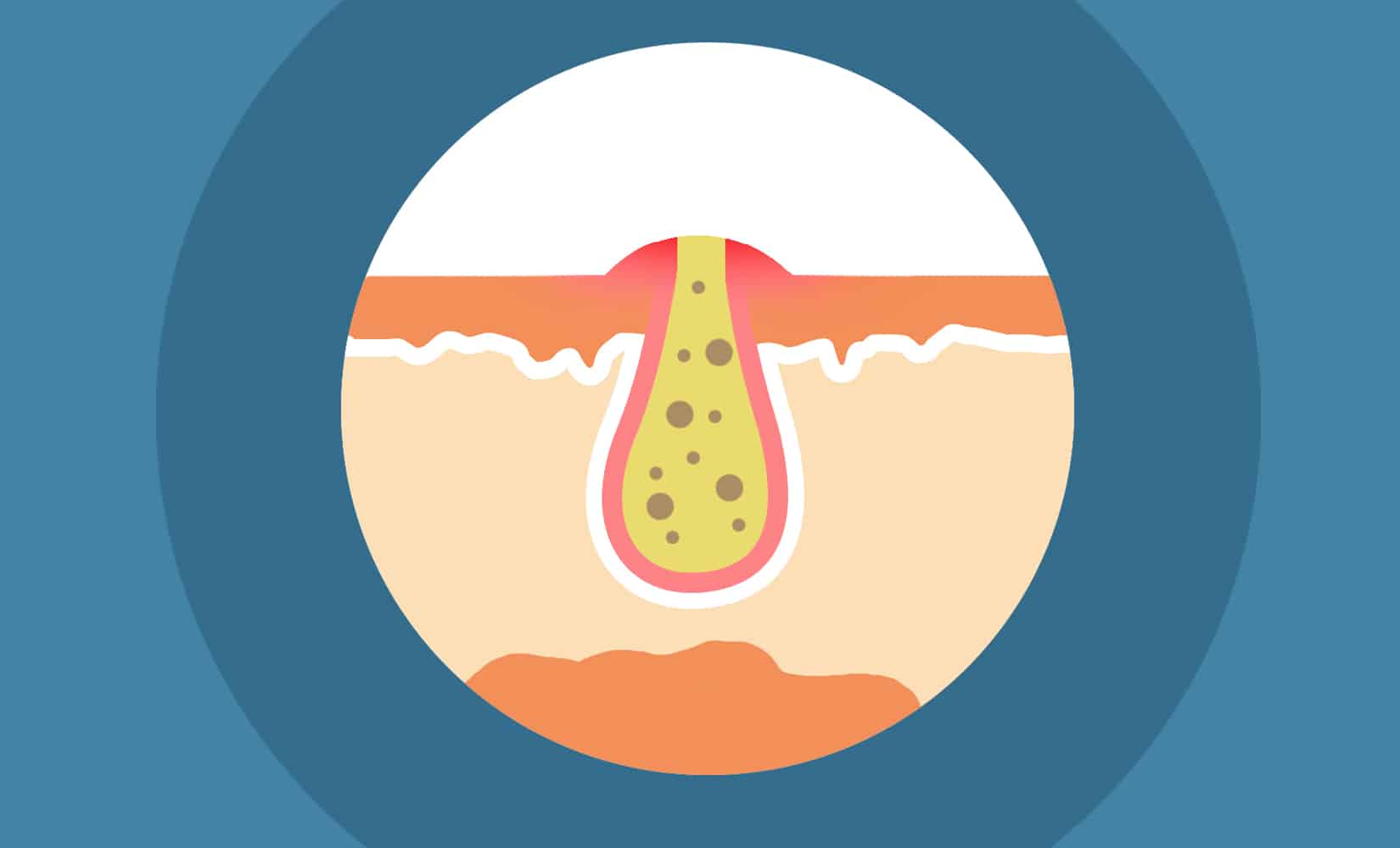 When we talk about something being non-comedogenic, we mean that it can't clog your pores and cause acne issues.
Comedogenic products are those that have compounds or a density that makes them likely to clog your pores.
Since clogged pores are a direct cause of acne outbreaks, we recommend that you avoid any products that aren't explicitly rated as non-comedogenic if you're a man that frequently suffers from acne.
Remember to look for non-comedogenic face moisturizers for men specifically.
Any company can advertise that their products don't clog your pores or reduce acne, but you should only ever truly trust a product that is rated as non-comedogenic.
The good news is that the vast majority of tinted moisturizers won't be very likely to clog your pores anyway, although some will likely be a little thicker than others.
Even though the top tinted moisturizers aren't likely to clog your pores, it's still a great thing to find a product rated explicitly as non-comedogenic if acne is a common issue for your face.
2. SPF Rating
---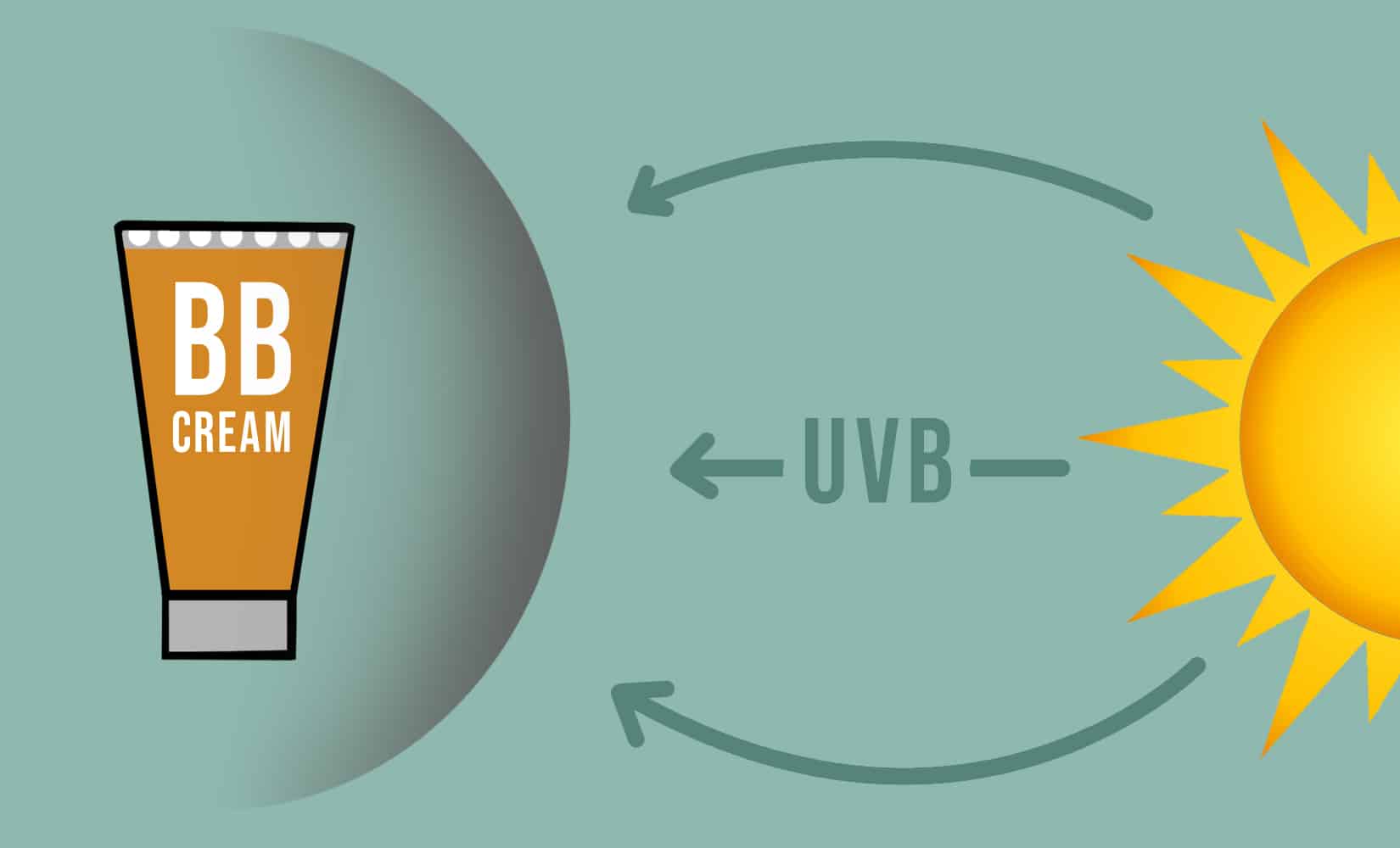 Many tinted moisturizers have some kind of sun protection factor as an inherent part of their formula.
Whether it's the result of zinc oxide being a mineral included in the mixture or another compound that acts as a sun shield, you'll want to take a look at the SPF rating for any given tinted moisturizer before making a final purchase.
The best drugstore tinted moisturizers should have clearly stated SPF ratings.
The SPF rating, or sun protection factor rating, is a direct measure of how effective a given product is at blocking out the sun's harmful rays.
A tinted moisturizer with an SPF rating of 30 (usually indicated as SPF 30) or more is very good and is the recommended minimum by most Dermatologists.
There are technically two types of UV radiation that the sun emits that you should try to protect yourself against, but the SPF rating only measures a given product's defensive ability against UVB rays.
These rays are some of the most commonly emitted by the sun.
The best tinted sunscreens for the face can be helpful to prevent these rays from damaging your skin.
UVA rays, on the other hand, are usually only protected against by the inclusion of specific ingredients or minerals in a given formula.
If a tinted moisturizer has zinc oxide as part of its ingredients list, you can rest assured that you'll be protected from UVA and UVB rays as well.
In general, a broad spectrum SPF rating of about 15 is a good minimum number for you to be sure that your skin won't be harmed from exposure to the sun during the day.
Of course, higher numbers of SPF are always better since this indicates that the tinted moisturizer in question is even more effective at blocking out harmful UVB rays.
However, SPF 20 is more than enough for most people – since an SPF rating of 15 protects your skin from about 93% UVB rays emitted by the sun.
An SPF rating of 30, in comparison, only gives you a 4% increase to protect you from 97% of UVB rays.
Look for tinted moisturizers that have higher SPF ratings if you have pale skin.
This is because men with pale skin are much more naturally likely to develop sunburn and skin cancer from solar radiation.
If you live in a climate that frequently gets a lot of sunlight, you should also look for a high SPF rating product, even if you have darker skin.
Tinted moisturizers with no SPF are not advisable for anyone, and I'll not recommend any tinted moisturizers without SPF (minimum SPF rating of 15) to anyone.
3. Skin Tone
---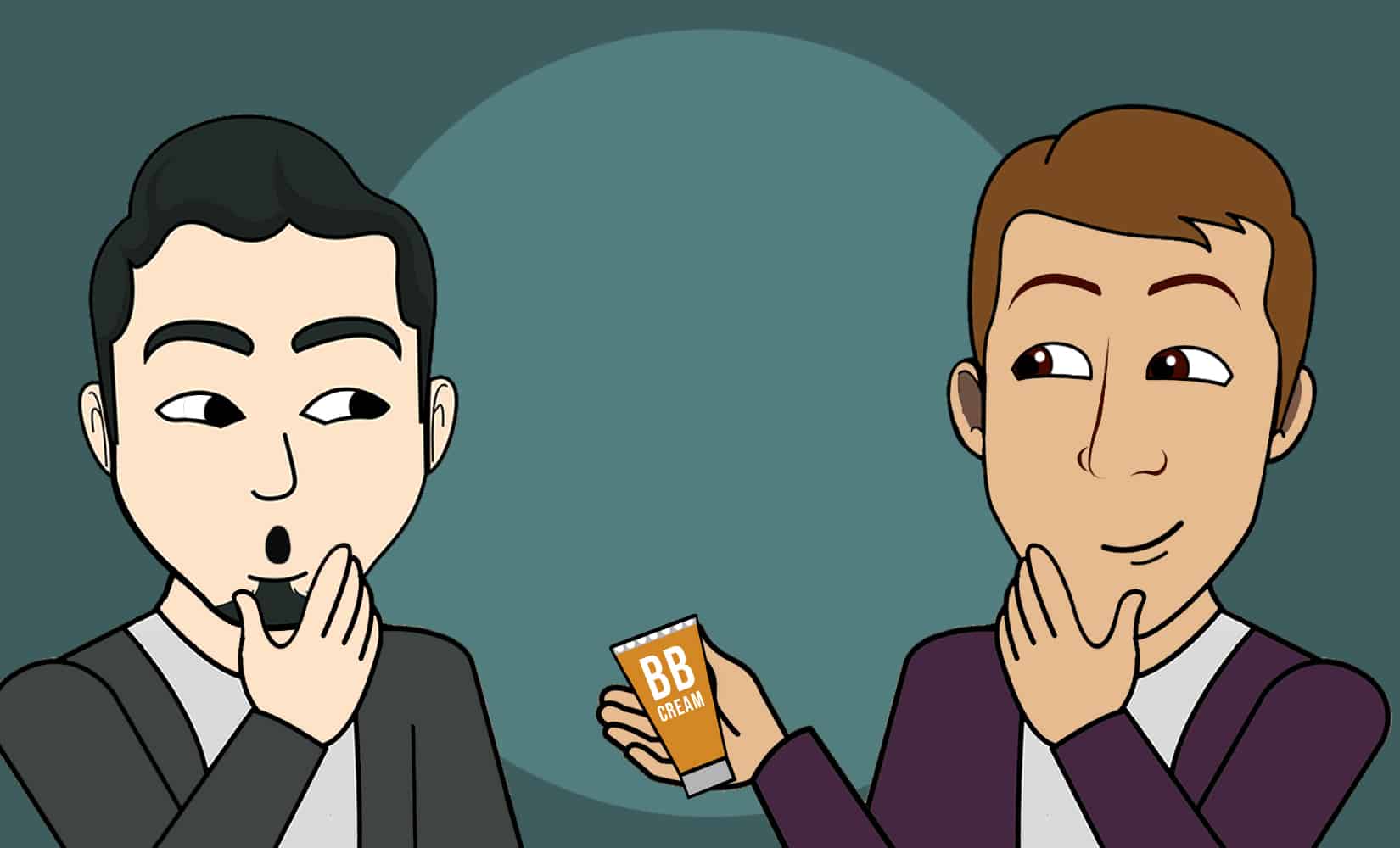 Your skin tone, of course, has an essential impact on the type of tinted moisturizer you should pursue.
Some men's face moisturizers have a color that's only suitable for light skin, while others have a color that's fine for darker skin (go for tinted moisturizers for dark skin).
Still, more tinted lotions have many different tinting choices that can work across all types of skin tones, and a few only work for one skin color in particular.
Also, tinted moisturizers that contain vitamin c are effective for skin-brightening, nourishing, and concealing/removing dark circles from the face.
Whatever the case, be sure to check the advertised tint on the moisturizer product to determine whether or not it'll be a good match for your skin color.
You shouldn't use a tinted moisturizer that's good for light skin if you have dark skin, for example, as the formula will be very noticeable and cause the opposite aesthetic effect that you're going for.
So when buying your face moisture lotion for men, be sure to look on the side of the screen and select your chosen color manually.
This is important because many tinted moisturizers start with a default pick in the middle of the color scale, which might not match up with your preference.
4. Skin Type
---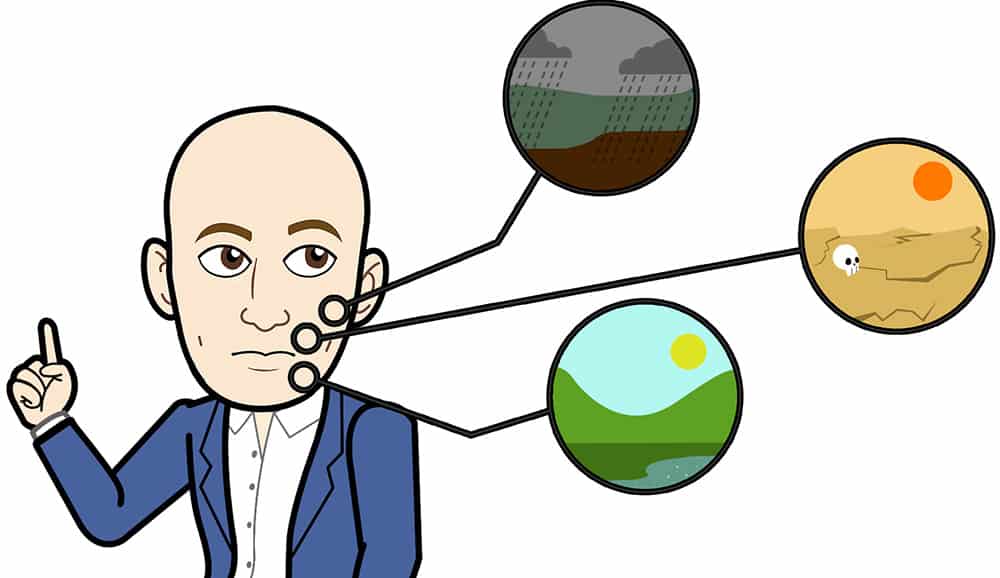 Your skin type is also something to keep in mind when browsing for your ideal tinted moisturizer.
While all men's face moisturizers will help with dry skin – since they inherently contain moisturizing ingredients and compounds, some will have other elements that make them good or bad choices for specific skin types.
That said, let's go over a few of the most common variants.
If you have oily skin, you'll want to avoid tinted moisturizers that have an excess of natural oils or synthetic oils as part of their formula.
You will want a healthy glow as opposed to one that could block your pores.
This is because these oils are great at keeping moisture in your skin and preventing it from drying out.
But they can also exacerbate your oily issues and make your face appear shiny or glossy.
This is the direct opposite of what most men want from their tinted moisturizer.
Instead, target tinted face moisturizers for men that exclude oils or which are rated as non-comedogenic.
These products often have pore-cleansing or oil-diminishing ingredients and compounds that make them an excellent fit for your skin.
These are usually the best tinted moisturizers for oily skin and are also a good choice of tinted moisturizers for acne-prone skin.
If you have sensitive skin, you'll be pleased to know that most tinted moisturizers are going to be soothing enough that you should be able to apply them without issue.
However, some might have particularly soothing compounds, such as chamomile, that can make them even more perfect for your skin.
Besides, you should also try non-comedogenic products – since many men with sensitive skin also suffer from acne.
These acne breakouts can even cause you to be sensitive since they make your skin swell and become inflamed.
However, tinted moisturizers for acne-prone skin can also be used as tinted moisturizers for sensitive skin.
All in all, non-comedogenic tinted moisturizers will help reduce the prevalence of acne across your face and, in the process, might make your face less sensitive over time.
Men with wrinkly skin can also use tinted moisturizers – since the hydrating effects will often help reduce the signs of aging and make your wrinkles appear less drastic.
This is because many men with aging skin also suffer from dry skin as a result of the aging process.
The only thing you want to avoid if you have wrinkly skin is any tinted moisturizer that tends to be thicker rather than thinner.
If a particular product looks like it's too chunky or thick for you, avoid it.
This is because thick skincare products will tend to collect in the negative space between your wrinkles and might appear "cakey".
This can make your face look worse than it did before.
Instead, try to find a thin or watery face moisture cream for men that will be more easily absorbed by your skin and which won't collect between your wrinkles.
These also work well as the best tinted moisturizer for dry skin.
Also, many tinted moisturizers have anti-aging ingredients or compounds as part of their formulas.
These are great picks if you have wrinkly skin.
Plus, a few rare products will contain antioxidants as a key ingredient.
How do these help you?
Antioxidants (like squalane) help repair your cells and keep them regenerating helpfully, which will keep your skin looking young and naturally tight even as you collect years.
Antioxidants are never a downside and should always be viewed as a bonus.
4. Amount
---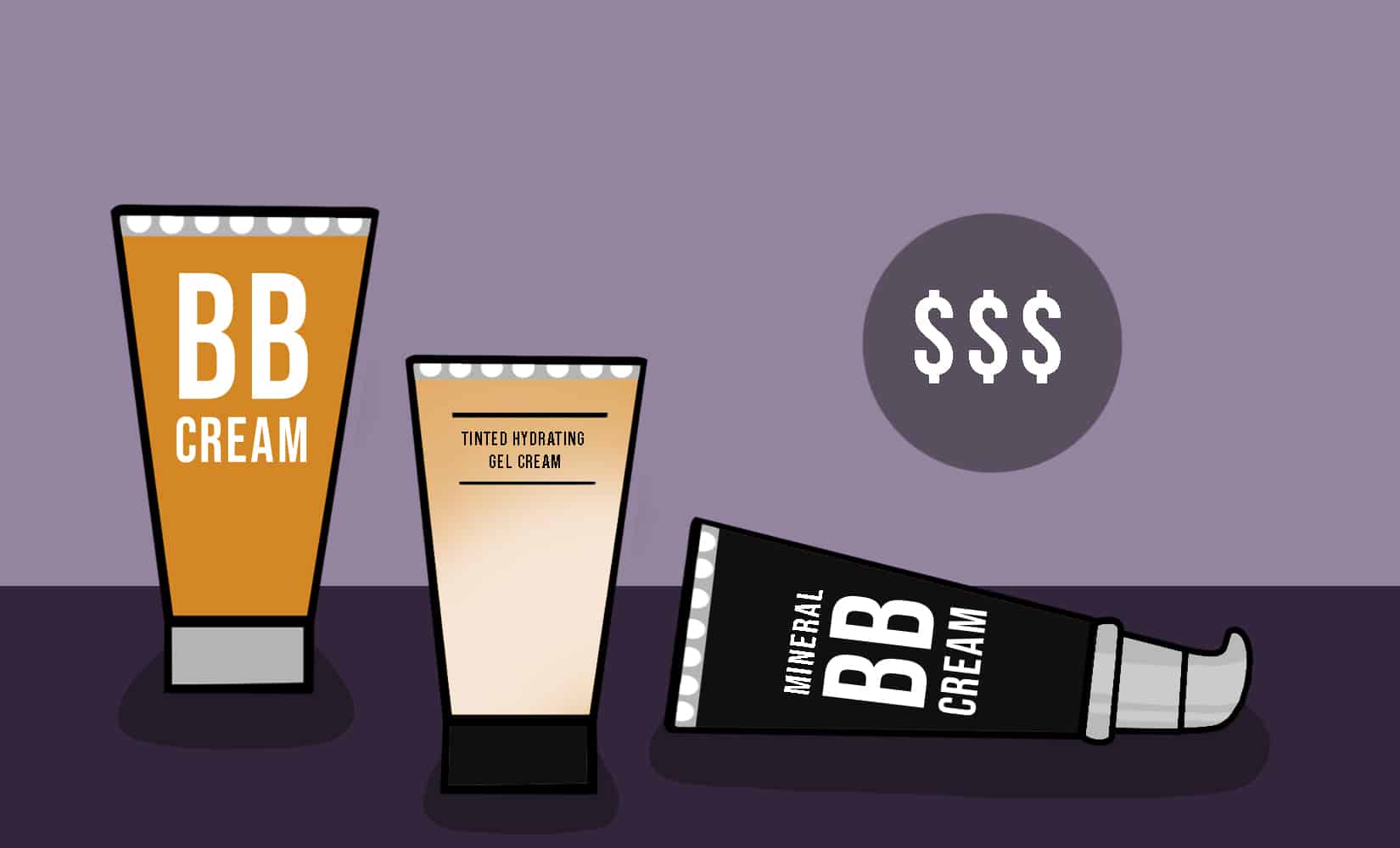 Finally, it's also always a good idea to pay attention to the amount of face moisture lotion for men you'll get with any given purchase.
For instance, some products have enough fluid ounces to last you for several weeks or months; these usually represent excellent value for money.
On the other hand, some face moisture cream for men might only come with a few fluid ounces of the product, meaning you'll need to refresh your stock relatively quickly.
This can end up costing you more money over time.
Of course, sometimes higher-quality tinted men's face moisturizers will come in smaller packages as a direct choice from the manufacturer.
You'll have to consider the trade-off between quality and quantity in a lot of cases.
There isn't one right answer for everyone, unfortunately.
Instead, just keep the amount you'll get for your purchase in mind to strike the right balance and be truly satisfied with your product.
---
Best Tinted Moisturizers for Men of 2023 Reviewed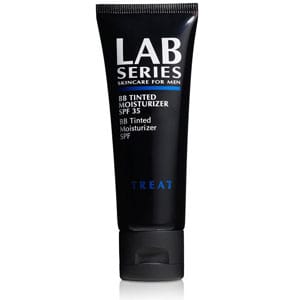 This tinted moisturizer services all skin types and provides good value for money due to its effectiveness and versatility.
Specs
Who Is It Best For?
This high-SPF tinted moisturizer is a great pick for men of all skin types whose tone tends toward the darker range.
Key Features
This tinted moisturizer is an excellent pick for men of all skin types and is one of the best coverage tinted moisturizers for men.
Due to its unique formula, it can be used equally as effectively with wrinkly, sensitive, and oily skin and protect them all adequately, thanks to its SPF rating of 35.
This best tinted moisturizer with an SPF rating of 35 is higher than many commercial sunscreen products, so you won't need to combine this moisturizer with a dedicated sunscreen, even if you live in a super sunny climate.
In fact, I refer to this product as "the tinted sunscreen moisturizer".
Interestingly, the color lasts throughout the entire day, and you won't need to reapply the moisturizer unless your face becomes abnormally wet.
So you should feel confident applying this moisturizer once in the morning and then going about the rest of your day.
The tinting for this product ranges from a medium shade to a darker tan, so it's great for men with skin tones around those ranges.
Men with pale skin will, unfortunately, not be able to take advantage of this product quite so frequently – since the color is relatively deep and noticeable.
However, the downside to this fantastic bb cream for men is that it's relatively pricey, even if you get a competitive amount of the product contained with the bottle.
The high asking price makes it something of a tough sell if you're looking for a more budget pick, but there's no doubt in our minds that this is one of the best tinted moisturizers you can get in terms of sheer value for money.
You don't find moisturizer this powerful with sunscreen protection as high as 35 SPF very often.
If you want some of the best quality you can find in your tinted moisturizer, this is definitely one of the top picks for you.
Check out the hundreds of customer reviews here on Amazon.
---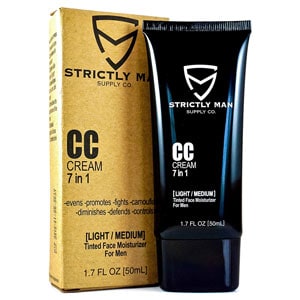 This moisturizer contains rare and valuable zinc oxide and is versatile enough to service all skin types.
Specs
Who Is It Best For?
It's a great pick for men who want some protection from UVA rays and whose skin tends toward the lighter side of the scale.
Key Features
This is a CC cream, which combines tinted moisturizing capabilities with high color correction and some sunscreen effects.
While its SPF rating isn't listed anywhere on the product, the formula does contain zinc oxide.
What does this mean for you?
Zinc oxide is one of the best minerals available for diminishing UVA rays' effects on your body.
This means that the tinted moisturizer does have some sunscreen capabilities, probably around 15 SPF if compared to similar zinc oxide sunscreen products.
The tinting range here is from light to medium, so there's a wide range of men that can take advantage of the cream's help.
Men with darker skin will be a bit left out, however.
Our testers also found that this cream is perfect for every skin type, no matter how sensitive or oily your face normally is.
I cannot say expressly that this is the best cc cream for oily skin, but it will be worth the buy in the long run.
It's even non-comedogenic, so if you suffer from excess acne outbreaks you shouldn't have to worry whatsoever about this tinted moisturizer clogging your pores.
In fact, it's likely to help your acne outbreaks become less severe over time – thanks to its moderate cleansing capabilities.
It's one of the best tinted moisturizers for covering acne spots or old scars on your face because its color correction is very deep.
This is particularly helpful for men with pale skin because skin blemishes and other markings stand out more on pale faces than they do on darker skin.
This formula will also help you fight the signs of aging by reducing the appearance of your aging lines and wrinkles.
It also won't make your skin appear shinier than before, even if your skin tends to produce more oil than usual – making it the best cc cream for dry skin on our list.
Overall, we'd recommend this for any man who has a skin tone that can benefit from the ranges offered by the product.
Check out the hundreds of customer reviews here on Amazon.
---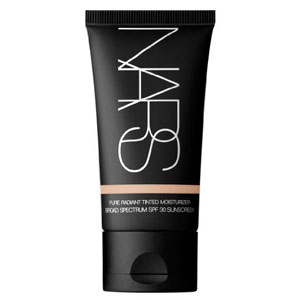 This tinted moisturizer has a decent SPF rating and can help you clear away excess oil while moisturizing your skin at the same time.
Specs
Who Is It Best For?
It's perfect for men with excessively oily or acne-prone skin, and there's plenty of the formula included with your purchase.
Key Features
This tinted moisturizer is another great pick that has a really high SPF rating which puts it on par with dedicated sunscreen products.
The SPF rating of 30 is more than enough to protect you from the majority of the sun's rays.
Also, this moisturizer covers a wide range of possible skin tones.
Skin tones ranging from extremely pale to pretty dark may take advantage of the coloring and moisturizing benefits of this product.
Depending on your skin tone, the tinting might be a bit too light for your needs, but this is better than the alternative of having it be too thick upon initial application.
If you need to apply more, you can simply add more to your finger when applying the moisturizer in the morning.
We also really like the fact that you get a whole 3 ounces with your purchase.
This is more than the standard amount that comes in many competing bottles of tinted moisturizer.
The flip side is that you have to pay a relatively high asking price to get the full 3 ounces.
It's definitely a case of whether or not a one-time bulk purchase is worth the higher initial price to you.
This formula is also non-comedogenic oil-free, so men who suffer from excess oil or acne should find no problem when applying the moisturizer.
We wouldn't recommend it for sensitive skin since there aren't any soothing compounds included in its formula, and it's not rated specifically for sensitive skin.
Still, it's one of the best picks in terms of its pore-cleansing ability.
Men with acne should definitely consider this tinted moisturizer as one of their top choices.
Check out the hundreds of customer reviews here on Amazon.
---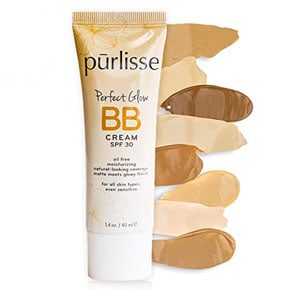 This tinted moisturizer doesn't have any oils as part of its formula.
It can work for all skin types and all skin colors.
Specs
Who Is It Best For?
It's a great all-around pick for virtually any man with any need, provided they are willing to spend a few extra dollars for the highest quality.
Key Features
Once again, we've got a sunscreen competitor that has an SPF rating of 30.
This is more than enough to protect you from most of the sun's rays, and it's got an excellent range of potential skin tones to choose from.
Virtually no man is left out from primarily using this product to solve their coloring and moisturizing needs.
The formula is oil-free, so feel free to apply this to your skin if you have overly oily or acne-prone skin.
It's also non-comedogenic, so it won't be clogging your pores anytime soon.
Our testers found that it was perfectly fine for use with sensitive skin, too, and the fact that it's non-comedogenic might also help your skin lower its acne outbreaks.
Chamomile and other antioxidants are included to soothe your skin and repair damage your skin cells may take during the day.
In fact, the inclusion of antioxidants means that this tinted moisturizer also has some light anti-aging properties.
Antioxidants can help your cells repair themselves more effectively, meaning that your wrinkles will be less likely to spread and may even diminish slightly over time.
Though this isn't a dedicated anti-aging product, it's nice to have some service to men with wrinkly skin, anyway.
The tinting coverage lasts throughout the entire day, so you only need to apply it once in the morning to get good coloring for the next 12 hours or more.
This tint lotion is also hypoallergenic…
Meaning there are no allergens present in the formula and is definitely one of the best bb creams for men in the market today.
Once again, all these qualities come packaged in a relatively small bottle that's a little pricey in terms of its asking rate.
Still, we would certainly recommend this product for men who are more concerned with quality than finding a budget pick.
Check out the hundreds of customer reviews here on Amazon.
---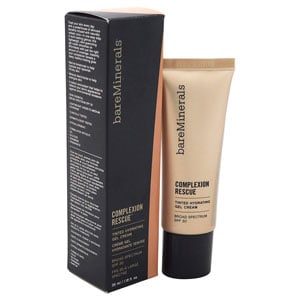 This tinted moisturizer is somewhat non-comedogenic and has a pretty good range of potential skin color options.
Specs
Who Is It Best For?
This is great for men with most skin types who don't want to use a moisturizer that's super harsh to clear out their pores.
Key Features
This tinted moisturizer is an excellent choice for men with oily skin due to its inclusion of a high number of acidic ingredients and anti-oil compounds.
Even with all of these acidic compounds, our testers found that it wasn't too irritating for sensitive skin, so feel free to choose this moisturizer if your skin is easily irritated or inflamed.
With an SPF rating of 30, you shouldn't have to worry about the majority of the sun's rays causing any harm to the skin on your face.
Also, its acidic composition does lend it some non-comedogenic qualities, though it's not explicitly rated as such by the manufacturer.
Because of this uncertainty, our testers are a little hesitant to call it non-comedogenic ourselves, but we do think it's unlikely to cause clogging your pores thanks to its ingredients list.
Overall, we'd call it "somewhat non-comedogenic" and say that men with acne-prone skin should likely be able to use this moisturizer without any significant issues.
Plus, there's a decent range of potential color options to choose from, though it doesn't quite reach the darker range of the spectrum – so some men will be excluded.
Besides, there's only a little bit over 1 ounce of the formula included with your purchase, and it's not the cheapest option that we reviewed.
It might still be an excellent pick for certain men with the means.
Although, having a little more moisturizer per purchase, even for a few extra dollars, might've made it a better choice for most men in our opinion.
Check out the hundreds of customer reviews here on Amazon.
---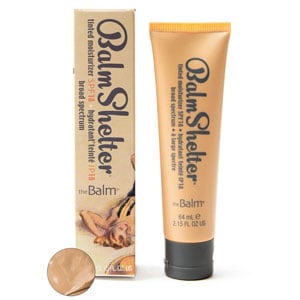 This tinted moisturizer has one of the weakest SPF ratings in our selection, but it also feels incredibly soothing and gentle when applied to the skin.
Specs
Who Is It Best For?
This is perfect for men with abnormally sensitive skin and who might benefit from a polished complexion.
Key Features
This tinted moisturizer is one of the most soothing compounds we tried during our testing.
It feels practically weightless when applied to your skin and silky smooth as it settles and starts to moisturize your skin cells.
Once it's finally settled, it'll leave your skin with a polished complexion that's best seen with men with lighter skin tones.
Its overall skin tone range goes all the way to a light brown color, but it doesn't quite reach the darker end of the spectrum, unfortunately.
That being said, all of its colors feel fantastic to use, and they come with an SPF rating of 18.
This isn't the highest that we've seen, but it's still enough to compete with many commercial sunscreen products and can protect your skin from most of the sun's rays.
However, if you're looking for more sun protection, there are definitely better picks to make.
The moisturizer and coloring will last for about eight hours before it needs to be refreshed or washed off, which is great since most workdays last about this long.
It's also reasonably thin when first applied, so if you want darker coverage or a potential trouble spot needs an extra layer or two, feel free to add a little bit extra and build it layer by layer until you're satisfied.
Since it's thin already, your chances of overapplying the tinted moisturizer are pretty low unless you really overdo it.
With all these benefits, it's a great pick for men with sensitive skin who could use the assistance of a soothing and moisturizing product.
It's even suitable for men with oily skin since it includes alcohol as a part of its formula.
And the fact that it manages to still be comfortable enough for men with sensitive skin is another great point in its favor.
Check out the hundreds of customer reviews here on Amazon.
---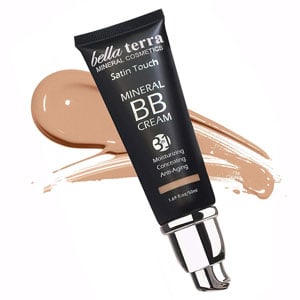 This tinted moisturizer can protect you from UVA rays and has a good range of skin color options.
Specs
Who Is It Best For?
It's great for men who are more interested in moisturizing their skin and protecting themselves from UVA rays, in particular, above all else.
Key Features
This BB cream-tinted foundation uses natural minerals, including zinc oxide, to give its formula an SPF rating of 15.
While this keeps out the majority of the sun's rays, the real value is seen with the zinc oxide itself – which protects your skin from harmful UVA radiation.
It's great for defending your skin from the sun because of these reasons and doubles as a good natural tinted moisturizer.
It also has an extensive skin tone range, so men with most skin types should be able to find the color that works for their unique tone.
The formula is excellent for moisturizing your skin and keeping everything hydrated.
Even with all the extra water that'll be on your skin due to hydration, the makeup ends up settling into a matte look that reduces the odds of your face looking oily and shiny.
This formula is great for reducing the chance of excess oil, too, despite the lack of inclusion of any specific anti-oil compounds in its ingredients list.
We can't treat this "matte tinted moisturizer" as non-comedogenic, but our testers also don't think that it's likely to clog your pores very easily.
There are anti-aging compounds included in the formula as well – these will help reduce the incidence of wrinkles and help your skin look younger and more vibrant than before.
Once again, this quality comes with a relatively high asking price that you'll have to decide whether it's worth the cost.
We definitely recommend it for most men since it comes with such a variable range of color options and several decent benefits, including sunscreen protection, zinc oxide for UVA defense, and the capability to work well with all skin types.
Check out the hundreds of customer reviews here on Amazon.
---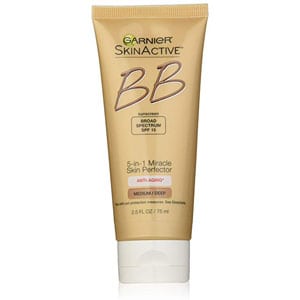 This tinted moisturizer has limited skin tone options, but its formula contains many anti-aging compounds.
Specs
Who Is It Best For?
It's great for men who could use a moisturizer and wrinkle-fighting product all in one.
Key Features
This best BB cream for dry skin comes in a bottle that offers 2.5 ounces of cream for your purchase; when combined with a reasonable asking price, this is one of the best choices for a tinted moisturizer in terms of the total value for money.
That being said, there are only two color choices, and both are relatively near the middle of the spectrum.
This automatically excludes a large number of men potentially benefiting from this moisturizer.
If you're one of the lucky men whose skin tone matches with this product, you can take advantage of its excellent hydrating potential and antiaging benefits.
The antiaging compounds included in the formula are fantastic for reducing the size and appearance of wrinkles and making your skin appear younger than it did previously.
It'll firm your skin and make it appear tighter, which will help with your face's color just as much as the tinting mixed in with the product.
There are antioxidants included in the formula to help your cells repair themselves and keep your skin from creating new wrinkles and aging lines in the future.
Antioxidants can also sometimes reduce the incidence of dark aging spots.
There's some minor sunscreen protection, reaching about an SPF rating of 15, so you won't have to worry about the sun diminishing your skin health efforts.
All in all, this is one of the better picks if you're a man with wrinkly skin who could use a moisturizer/tinting product combination.
Check out the hundreds of customer reviews here on Amazon.
---
Frequently Asked Questions about Tinted Moisturizers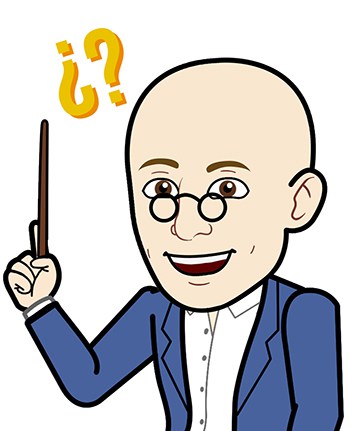 Now that you've seen the best tinted moisturizers on the market, let's go through some of the most common questions that many men have on the use of tinted moisturizers.
1. What's the Real Difference between Tinted Moisturizers, BB Creams, and CC Creams?
The difference lies in what each type of product does for your skin.
Tinted moisturizers moisturize your skin and color it slightly to cover up blemishes or even your skin tone.
BB creams combine foundation, sunscreen, and moisturizer into a single product, and CC creams do all of that with some extra tinting or color-correcting effects.
While the terms are often used interchangeably, these differences are consistent across types.
We've included some creams in our guide above, but what category they technically belong to is generally seen in the product's name.
For your understanding, here's a quick summary of all three types.
BB and CC creams are both tinted moisturizers, although BB creams always have sunscreen, and CC creams have a little more color than either BB creams or straight tinted moisturizers.
When we speak of "more color", what we mean is that the given shade of the product is "deeper" or more full than a thin, light shade.
You can usually apply less of a CC cream than a regular tinted moisturizer if you want a fuller, more vibrant coloring effect on your face.
2. Can I replace Foundation with Tinted Moisturizer?
Not really.
While foundation also adds a little bit of color to your skin in the attempt to make your overall skin tone more uniform, foundation usually has more color than the slight amount included in tinted moisturizer formulas.
Tinted moisturizer is best thought of as a "spot-fixer" instead of a whole-face solution.
That being said, nothing is preventing you from using a tinted moisturizer instead of foundation if you find the foundation to be uncomfortable or because your skin simply doesn't agree with it most of the time.
We just wouldn't recommend replacing the foundation with a tinted moisturizer if you plan to apply makeup daily and want to add more layers than just a bit of concealer.
3. Can Other Types of Makeup be Used with Tinted Moisturizer?
Tinted moisturizer is a focused product that does several things at once.
It's designed to be a solution for men with dry skin who only need light color correction or skin tone uniformity.
We wouldn't recommend using tinted moisturizers with a bunch of other makeups.
We'd rather recommend that you just use foundation for better coloration results and then add more makeup afterward.
That being said, you can use other men's makeup with a tinted moisturizer if you desire.
You can use liners, mascara, blush, or even concealer in conjunction with tinted moisturizer.
However, be careful not to overdo it if your pores are particularly sensitive to becoming clogged.
This is because all of these products can combine to really increase your acne outbreaks if you're already prone to it.
4. When Should I Take Tinted Moisturizer Off?
Like all makeup, tinted moisturizers should be removed from your face at the end of the day or when you're no longer presenting yourself to the public.
Some men think that the fact that there are moisturizing compounds present in the formula means that tinted moisturizer is totally absorbed by the skin.
This is false; the tinted part is still regular makeup and needs to be washed off your pores or you'll compromise your overall health.
It's never a good idea to leave makeup on overnight since sleep is usually the period when your skin regenerates itself and your pores have time to breathe.
We'd recommend taking your tinted moisturizer off before bed at the very latest.
You may also wish to apply a moisturizer-only product after the fact to really make sure that your skin is hydrated and ready to regenerate.
To remove tinted moisturizer, all you need to do is add a little facial cleanser or face wash and lather it on your face gently before letting it settle for about 30 seconds.
After this time period, you can wash your face with water or a washcloth.
Be sure to rinse thoroughly to make sure that you get all the makeup off.
You can also replace a face wash product with olive oil; this also disintegrates makeup and allows it to be removed much more easily than if you relied on water and pressure alone.
We wouldn't recommend scrubbing the makeup off without any assisting compound since this will likely cause your skin irritation and may rub it raw.
5. When Should Tinted Moisturizer be Applied?
While it's fine to apply moisturizers both at the beginning of the day and the end, we would only recommend applying tinted moisturizers only in the morning before you leave for work or your daily activities.
This is because makeup is primarily used for modifying your face for the wider world.
There's no reason to alter your appearance if you are just going to be sleeping.
If you're concerned about the moisturizing aspect, you should get face moisturizer or lotion alone to hydrate your face twice daily.
Don't rely on this moisturizer/makeup combination for your skin's moisturizing needs.
Moisturizers as a singular product will usually be a lot better at keeping your skin hydrated, anyway, since their formulas are exclusively devoted to moisturizing ingredients and compounds like hyaluronic acid or aloe vera.
---
How do I Apply Tinted Moisturizer?
Applying a tinted moisturizer is a lot easier than many other makeup products.
However, you should still follow the same cleansing and drying rules that many other skincare guides recommend.
This is how to apply tinted moisturizers.
The time needed: 2 minutes.
For instance, the first thing you should do is clean your face thoroughly before applying anything at all.
This includes taking a shower or using a warm washcloth to perform a surface-level scrub and get rid of any obvious dirt and debris.
After this initial wash, we recommend using a facial wash or cleanser product to clean out your pores in a deeper way.
This will both help your face be healthier overall and prevents any unhealthy dirt from being pushed into your pores by the application of makeup afterward.
We've done a guide on the best face washes for men if you don't know where to start.
After you've washed your face, be sure to dab yourself dry with a soft towel.
Don't scrub your face, for you might cause your pores to shrivel up, which can make the application and absorption of moisturizer more difficult.
Next, you'll apply any concealer that you want on your skin before you apply tinted moisturizer.
This is to make sure that the concealer sinks into your skin and covers up any fine lines, wrinkles, blemishes, or dark spots that you want to go.
If you apply the concealer after the moisturizer, your lubricated skin may not hold on to the makeup adequately, and it might wash or slide off over the course of the day.
Once any concealer you desire has been applied, you'll want to put the tinted moisturizer on a dry makeup sponge.
Don't use your fingers because a makeup sponge is better at spreading the formula evenly across your skin.
Begin with your forehead, then move down to your nose, cheeks, and chin.
Don't forget to apply some of the tinted moisturizers to your jawbone and the upper part of your neck.
Reaching these areas helps your face maintain a uniform skin tone with the darker skin of your body.
If necessary, you can apply a little foundation after this part of the process to ensure your entire makeup stays on throughout the day.
Don't overdo the foundation, since it might dry out your skin somewhat or "cake" on and look chunky.
Speaking of foundation, check out our guide on the best foundations for men while you've got the chance