Are your hands usually dry or cracked?
Are you irritated continuously by how itchy the skin on your hands feels?
The truth is that these are common problems experienced by many men, in large part because men do manual labor or have hobbies where they use their hands pretty roughly.
The good news is that there is the best hand lotion for men specially formulated for men to help relieve you of these symptoms.
Science says that these really do help with dry hands.
If you've never thought about using hand lotion before, you've come to the right place.
We will take you through the best hand lotion for men in the market and explain what makes each of them a viable solution for your dry hand's troubles.
QUICK OVERVIEW: Best Hand Lotions
Gold Bond Men's Everyday Essentials Lotion

Very affordable
Dries quickly

VIEW ON AMAZON →

Jack Black Industrial Strength Hand Healer

Can be used on feet as well
Not oily/greasy

VIEW ON AMAZON →

NIVEA Men Maximum Hydration 3-in-1 Nourishing Lotion

Rapid absorption
Suitable for body, face, and hands

VIEW ON AMAZON →

O'Keeffe's Working Hands Hand Cream

Boosts moisture levels
You'll feel long-lasting results

VIEW ON AMAZON →

Burt's Bees Ultimate Hand Cream

Gently exfoliates in addition to hydration properties
No greasy after-effects

VIEW ON AMAZON →

Lubriderm Men's 3-in-1 Unscented Lotion

Good as post-shave lotion
Fast-absorption

VIEW ON AMAZON →

Absorbs in 15 seconds
No greasy residue

VIEW ON AMAZON →

AHAVA Men's Dead Sea Mineral Hand Cream

Instantly activates and goes to work
Nutrient-Rich

VIEW ON AMAZON →

Neutrogena Norwegian Formula Moisturizing Hand Cream

Acts well with just a drop of lotion
Lasts for 24 hours

VIEW ON AMAZON →
Use the table of contents below to jump to the sections most important to you.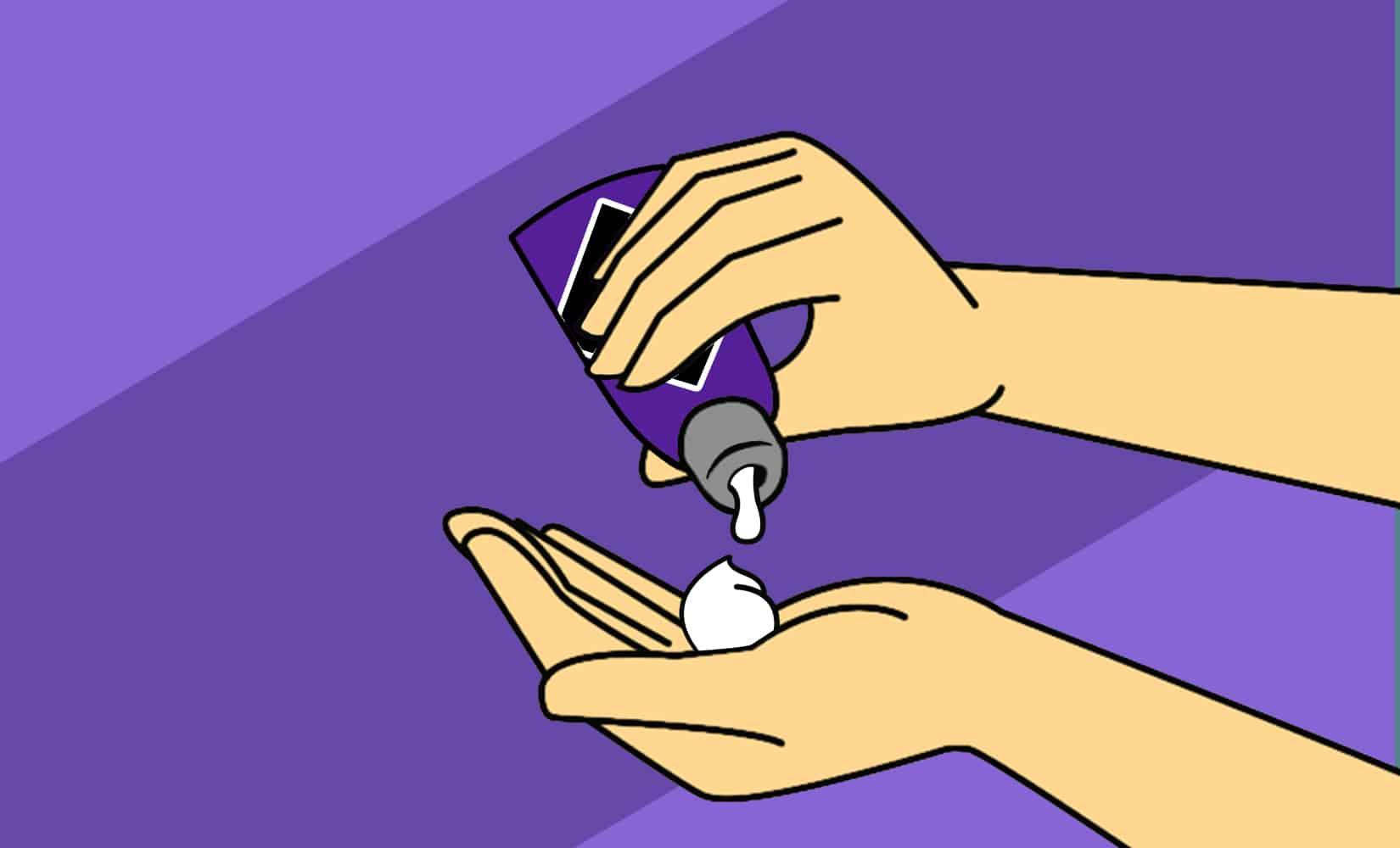 Best Hand Lotions for Men of 2023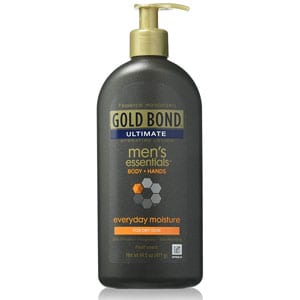 This lotion combines all three significant effects from the best hand lotion for men in a very affordable and quick-drying formula.
Specs
Who Is It Best For?
It's the best hand lotion for men who enjoy the idea of one bottle taking care of all their hand care needs.
Key Features
This is a great lotion that's both affordable and effective for multiple different problems.
You can use this lotion for three different needs: moisturizing, repairing, and soothing.
The moisturizing aspect will help you take care of your hands if they quickly become dry or if you're working during the winter.
After just a few minutes your hands will feel healthier and smoother.
This best hand lotion for men also has reparative effects.
While this can't be seen immediately, applying the lotion for a few weeks will eventually lead to skin that dries out less frequently that maintains a healthy color.
The lotion also feels great to use, imparting a soothing effect as you apply it.
This lotion isn't too thick or chunky, meaning that it'll be pretty pleasing to spread it over your hands.
It's also not sticky; in fact, it dries pretty quickly and gets to work immediately.
Why does this matter?
Lotion that gets to work immediately or dries quickly allows you to get back to work on whatever project or task you have been working on for the day.
This male hand lotion really needs to allow for continued work after application, since men frequently use their hands for manual labor even after applying lotion whereas women usually don't.
The lotion does have a distinct smell that's labeled as "Fresh" on the packaging.
Value for Money
When we tested this best hand lotion for men, we couldn't really tell what this was supposed to refer to.
Instead, it reminded us of generic chemical freshness, which may not be to your liking, especially if you have in use these kinds of products before.
Also, the bottlecap tends to leak, especially if you turn it upside down as the lotion starts to run out.
But overall, these minor flaws can be overlooked given how affordable the lotion is and all of the value it can bring in one bottle.
Check out the hundreds of customer reviews here on Amazon.
---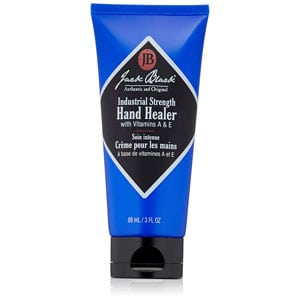 This lotion is a moisturizing and reparative product that can help you return to work even if your hands are always dry and cracking.
Specs
Who Is It Best For?
This is a formula specially designed for manual laborers or men who often build with their hands.
Key Features
This best hand lotion for men is designed for use by the working man who's regularly using tools or is outside using his hands to get things done.
To that end, it does two main jobs: moisturize and repair.
The moisturizing effect is well-known and is pretty universal among hand lotions.
The reparative effect is more interesting.
After you apply it, you'll find that your hands feel a lot better and callouses will start to appear less frequently.
Applying this lotion to hands with tiny cuts or bruises is also effective, as the moisturizer will toughen your hands over time and prevent the skin from drying out.
How does this help?
Dry skin is easier to crack or break, especially under manual labor.
Value for Money
By ensuring that your hands aren't as dry and the skin is a little tighter, you'll experience fewer injuries thanks to this hand cream.
You'll also enjoy the feel of the lotion; it doesn't use grease or oil or any slippery component, meaning that it's kind of thick instead.
This might take a little getting used to, but once you've applied it, the formula actually dries very quickly and doesn't leave behind any residue.
This means the cleaning up is a non-issue and you can get back to work right away.
You don't even have to limit its use to your hands; you can use it on your feet, as well, and experience the same great results.
Many working men often suffer from callouses on their hands and feet, and this is a perfect solution that doesn't take a lot of time out of your day or requires you to purchase several different products.
While it is a little pricey, we think this is an excellent pick for men who are looking for the best handle lotion for mechanics who are looking for something that can help them maintain an active lifestyle where their hands are their primary tools.
Check out the hundreds of customer reviews here on Amazon.
---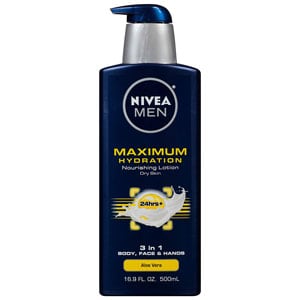 This is a lotion that can be used to moisturize your hands, body, or face.
Specs
Who Is It Best For?
It's the best hand lotion for men who don't want to have to bother with differentiating between different lotions for different parts of their body.
Key Features
This lotion focuses on one duty above all others: moisturizing.
Because of this focus, the lotion is exceptional at restoring hydration to your skin, even if you have chronically dry hands from daily work or a skin condition.
The lotion is absorbed into your hands and skin in just seconds and begins its work immediately.
Our testers were able to tell an immediate difference right after rubbing the lotion in, so it's okay if you need relief from your dry hands or to squeeze in between working tasks during a busy day.
The lotion also lasts for quite a long time.
The lotion has a 24-hour lasting effect.
This makes it really convenient for men who don't want to have to take their lotion to work; you can just apply it in the morning before you leave and you'll be all set for the rest of the day.
Value for Money
You can use this lotion on your face, hands, or body, so it's really an excellent fix for dry skin anywhere you may experience it, not just your hands.
For face-specific lotion, we've already done an in-depth guide on facial cream for men.
However, there is a small downside in that this lotion has that strange fresh smell that we talked about earlier.
It's difficult to pinpoint, but it's not particularly appealing, either.
The cap is also particularly bad to use, as it only depresses by a small amount with each press.
This means that you'll have to squeeze several times before you get the right amount of lotion onto your hands.
But altogether, despite the minor flaws, this is still a pretty solid hydration lotion that's a good pick for men who need to moisturize their skin above all else.
Check out the hundreds of customer reviews here on Amazon.
---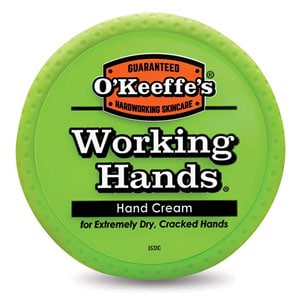 This cream is a heavy-duty variety to repair and moisturize extremely cracked or dry hands from a day of manual labor.
Specs
Who Is It Best For?
This is an excellent choice for any man who wants a long-lasting hand cream that can repair and protect for many days or weeks to come from dry cracked hands.
Key Features
This is another best hand cream for mechanics.
It's particularly heavy-duty and is designed to help men who have cracked or dehydrated hands.
It's reparative effects are so powerful because it actually generates the protective layer over the skin of your hands to trap in moisture and prevent any extra moisture from being lost throughout the day.
This layer is so active that you'll feel a real difference within just a few days, and if you consistently apply the cream the effect will extend into weeks and months.
In addition to the reparative effects, the cream also suits your chapped hands as a moisture trapping byproduct.
You'll be able to use your hands more freely and more comfortably as when you apply this cream consistently.
Value for Money
The ingredients used to make this product are also safe for diabetics who have certain limitations due to the risk of skin absorption of harmful sugars and chemicals.
The limitation of this hand cream is that you should apply it at specific times.
Try to use this best hand lotion for men after you've bathed or thoroughly washed your hands, or before bedtime.
These are the most effective times to moisturize your dry skin, but they do limit its application if you have a busy day and want to take this with you to work.
Because of this, it's best thought of as a long-term solution for dry hands rather than a daily fix to relieve a little discomfort.
If this sounds like something that would benefit you, we can't recommend this cream enough.
Although you only get a small amount in the tin, we think it's very much worth buying a pack of multiple tins at once.
Check out the thousands of customer reviews here on Amazon.
---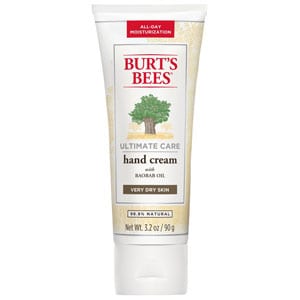 This cream is a great all-purpose product that can moisturize and exfoliate the skin of your hands.
Specs
Who Is It Best For?
It's the best hand lotion for men who have sensitive skin or who will enjoy the soothing effect of exfoliation as dead skin is removed.
Key Features
This hand lotion does an exceptional job at moisturizing your skin even if you have naturally dry or cracked hands.
It uses an all-natural ingredients formula, so there's no chemical sent or any other fragrance to overwhelm your natural body odor, deodorant, or cologne.
The natural ingredients also provide the lotion with several soothing effects; our experts reported that the lotion felt great to apply at first, no doubt due to the natural extracts included in the formula.
Once applied, you can expect the hand lotion to last for up to 24 hours.
This makes it an excellent choice for a daily handle lotion that you can apply before going to work or the in of the night before bed.
In addition to its soothing and moisturizing properties, this lotion will also gently exfoliate your skin.
How does exfoliation help?
Exfoliation involves the removal of dried or dead skin cells.
This will allow your hands to naturally moisturize themselves more easily and look healthier and younger than before.
You'll also reduce how oily your hands feel as a result of cleaning away dust and debris that would have otherwise been trapped in your skin's pores from dead or dry skin cells.
Value for Money
It's the best hand lotion for men you have hands that are naturally flaky because of this.
You might find that this particular hand cream formula feels a little sticky; this is due to the lack of any sort of grease-based ingredients.
While it prevents any greasy aftereffects, it does mean that the cream can feel a little sticky after it's been applied and is settled over your skin.
After a few hours, however, this feeling should dissipate as the cream is fully absorbed into your skin to do its long-lasting work.
You don't get a whole lot of cream in the bottle, but it's still a worthwhile choice if you need the best hand lotion for men who are looking for something that can help you with your dry hands.
The small bottle is actually advantageous if you need to fit your hand cream into a carry-on bag for a flight, for example, or for any other travel.
Check out the hundreds of customer reviews here on Amazon.
---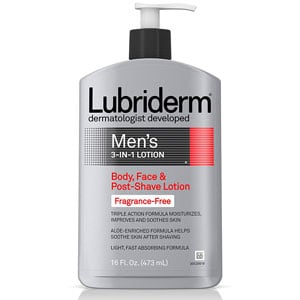 This is a 3-in-1 lotion that can be applied to your hands and face as well as act as an after shave cream.
Specs
Who Is It Best For?
This is the best hand lotion for men who want one lotion to handle their hands but can also use a little help with the sensitivity they experience after shaving their face.
Key Features
For the hands and face, this lotion moisturizes and soothes due to its key ingredients and the addition of aloe.
The lotion acts pretty quickly and doesn't have any greasy aftereffects, so you'll be able to experience relief from dry hands right after applying.
Because of its minerals and essential moisturizers, you can also apply this lotion after shaving to soothe any skin irritation that you might experience.
This can be particularly effective for men who have sensitive skin and to struggle with their daily shave because of this.
We've also got a guide on the best aftershaves. Take a look!
While this lotion does have a "fresh" scent, our testers actually found that it wasn't as noticeable or as strange as other fresh scents.
While you can tell it's there, it doesn't lead to any adverse reactions or noticeably hampers your overall odor or aesthetic in any way.
But while the bottle claims that the moisturizing effects can be felt for a full 24 hours, our testers actually found that the real results are a bit less impressive.
You can expect the lotion to last for several hours, to be sure, but it's definitely less than a full day.
As such, you'll need to apply this lotion several times per day if you want its effects for all of your waking hours.
Also, the lotion tends to pool at the bottom, meaning that it's hard to get the last remnants out as you start to run dry.
While both of these aspects are annoying, they're not enough to discount the value that this lotion brings when you consider all of the areas in which you can apply it and how much lotion you get per purchase.
It's an excellent bulk-focused pick for men who were going to buy a lot of hand lotion regardless, and who don't mind having to apply it multiple times per day.
Check out the hundreds of customer reviews here on Amazon.
---
This is a standard household care product that is nonetheless exceptional at moisturizing and repairing all skin types, hands included.
Specs
Who Is It Best For?
It's the best hand lotion for men who want a lot of lotion so that they don't have to worry about replenishing it anytime soon.
Key Features
The Vaseline lotion both moisturizes and repairs using a unique formula that doesn't have greasy elements.
The moisturizing effect is pretty standard but effective and does an excellent job at reducing the irritation on the dry hands or skin and preventing future dryness through the effective trapping of moisture.
The chemical composition of the Vaseline might be a bit of a shock for men who never used it before.
Rather than an ordinary lotion or cream, Vaseline is a jellylike substance that can feel a little silly to apply at first.
This isn't much of a downside, but it's something to consider so you know what you're getting into.
The good news is that once applied, it vanishes within 15 seconds as it's rubbed into your skin.
You don't have to worry about dealing with the jelly feeling on your skin all day.
Once applied, the Vaseline goes to work with its unique formula, which contains the essential Vitamin B3.
This vitamin and the other ingredients are essential for the healing effects that this lotion can bestow upon your hands and face.
You'll start to see results even after the first day, and the more you use the Vaseline, the higher the effects will be.
Since you can use Vaseline on virtually any part of your body, it's great if you have other dry areas that need to be treated as well.
As an aside, we've done reviews for the best body lotions for men, too, if you want to take a look!
Value for Money
The upfront price is a little steep just for a lotion, but you're actually getting three bottles of Vaseline in one purchase, and each bottle has 20.3 ounces of product.
Why does this matter?
It basically sets you up for well-hydrated skin for a couple of months depending on how much lotion you need to use.
You can make this one purchase right now and have all of your hand healing needs met for the foreseeable future.
The real decision to make is whether the price is worth it, but if you're a man looking for a way to keep his hands after daily dryness, this might be a good call for you.
Check out the hundreds of customer reviews here on Amazon.
---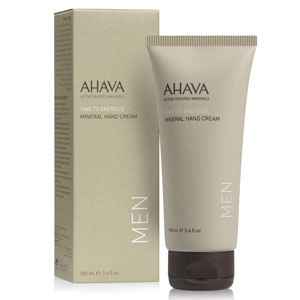 This men's hand cream is an exceptional product that's made with the best minerals to rejuvenate and revitalize your hands.
Specs
Who Is It Best For?
This is great for men who want the best possible quality of hand lotion in terms of raw moisturizing and rejuvenating power.
Key Features
This lotion is a hypoallergenic and vegan product that can moisturize, repair, and soothe your hands after just one application.
The formula starts working immediately and doesn't contain any greasy aftereffects, and it also lasts for the full day once applied.
The lotion's soothing and healing capabilities come primarily from its mineral-rich formula.
The minerals come from the Dead Sea, as you might've guessed from the lotion's name.
Some of these minerals include magnesium, calcium, and potassium.
The great thing about these minerals is that there naturally needed by your skin for healthy appearance and repair work.
By restoring these minerals and giving your skin a good boost, you'll find that your hands start to naturally moisturize and replenish themselves after you've used this lotion for a little while.
One other side effect of this nutrient mix is that your hands or whatever skin that you apply this lotion to will start to look and feel a lot younger than it currently does.
Value for Money
While it's no substitute for real youth, you'll find that the color and suppleness of your hands is much higher than it was before you applied the lotion.
The only downside to this product is that you only get a few ounces of lotion per purchase, and each purchase is a little pricey.
This is a premium product for men who are after the utmost quality and who don't care too much about the overall price.
Check out the hundreds of customer reviews here on Amazon.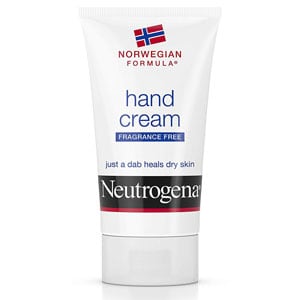 This is a fragrance-free hand cream that can effectively moisturize your hands with a formula that is a little more slippery than usual.
Specs
Who Is It Best For?
It's a good choice for men who could use several bottles on hand for storing in different locations.
Key Features
This best hand lotion for men is particularly effective at restoring moisture to dry hands.
It uses a unique Norwegian formula that's dermatologists recommended; it utilizes higher levels of glycerin to make your skin softer and smoother than before.
It is the best hand cream for construction workers who have naturally rough hands or hands with a lot of calluses.
The lotion lasts for 24 hours after application, and you only need a small drop to spread between all the space of your hands.
This is the advantage of the high-glycerin formula.
Also, the formula is totally fragrance-free, so you don't need to worry about your hands smelling funny throughout the day.
Each bottle is relatively small, but you get six with this purchase to help justify the upfront cost.
You can get creative with that many bottles; for instance, you could put one in every room of the house or have one in the car, a couple in the home, and a couple ready to go into travel bags so that you'll never be without your hand lotion.
Value for Money
While we would necessarily call this formula greasy, it's definitely more slippery than many other competitor lotions.
This does help to keep the cream feeling less chunky or not as thick as other lotions, but it's a different sensation to get used to it might be annoying depending on your own preferences.
Some men will definitely not prefer to still feel this best hand lotion for men between their fingers a couple of hours after application.
If this doesn't bother you and you enjoy the small bottle size for use in travel bags or for placing in multiple locations across your home, there's still a lot to love about this moisturizing lotion.
Check out the thousands of customer reviews here on Amazon.
Things to Consider when Buying the Best Hand Lotion for Men
Now that you have gotten the gist of the best hand lotion for men, let us explain what key factors we looked at that helped us reach our conclusions.
Keeping these aspects in mind will help you narrow down your own preferred lotion.
1. Amount
---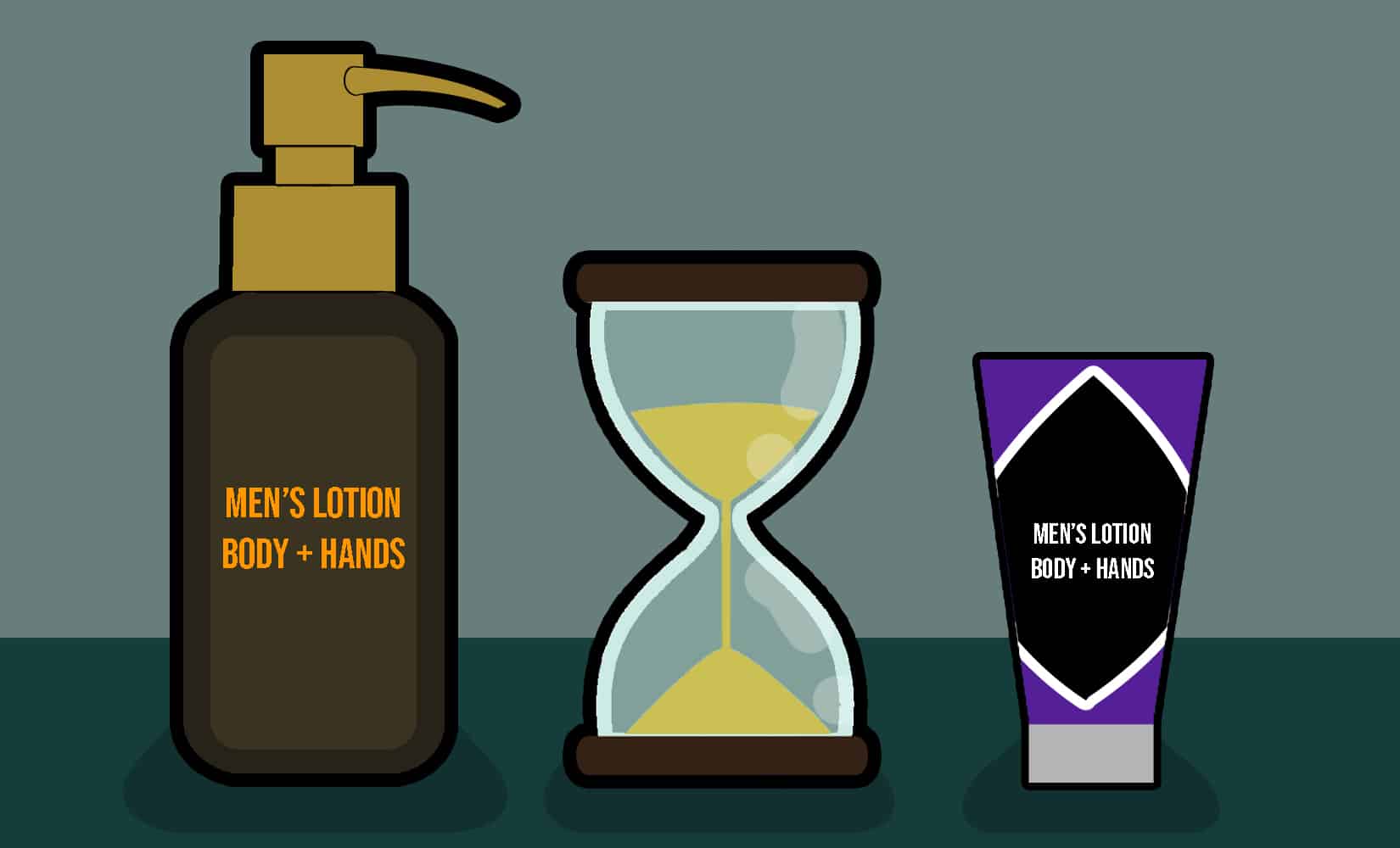 The amount of the best hand lotion for men you get per purchase dictates how liberally you can use the lotion and how careful you have to be with each pump or squirt.
Smaller bottles will require you to purchase more lotion soon after, while larger containers will obviously extend the amount of time before you have to buy more.
Take a look at the price and the amount of lotion with each pick to help you decide whether your best hand lotion for men is worth it.
2. Effects
---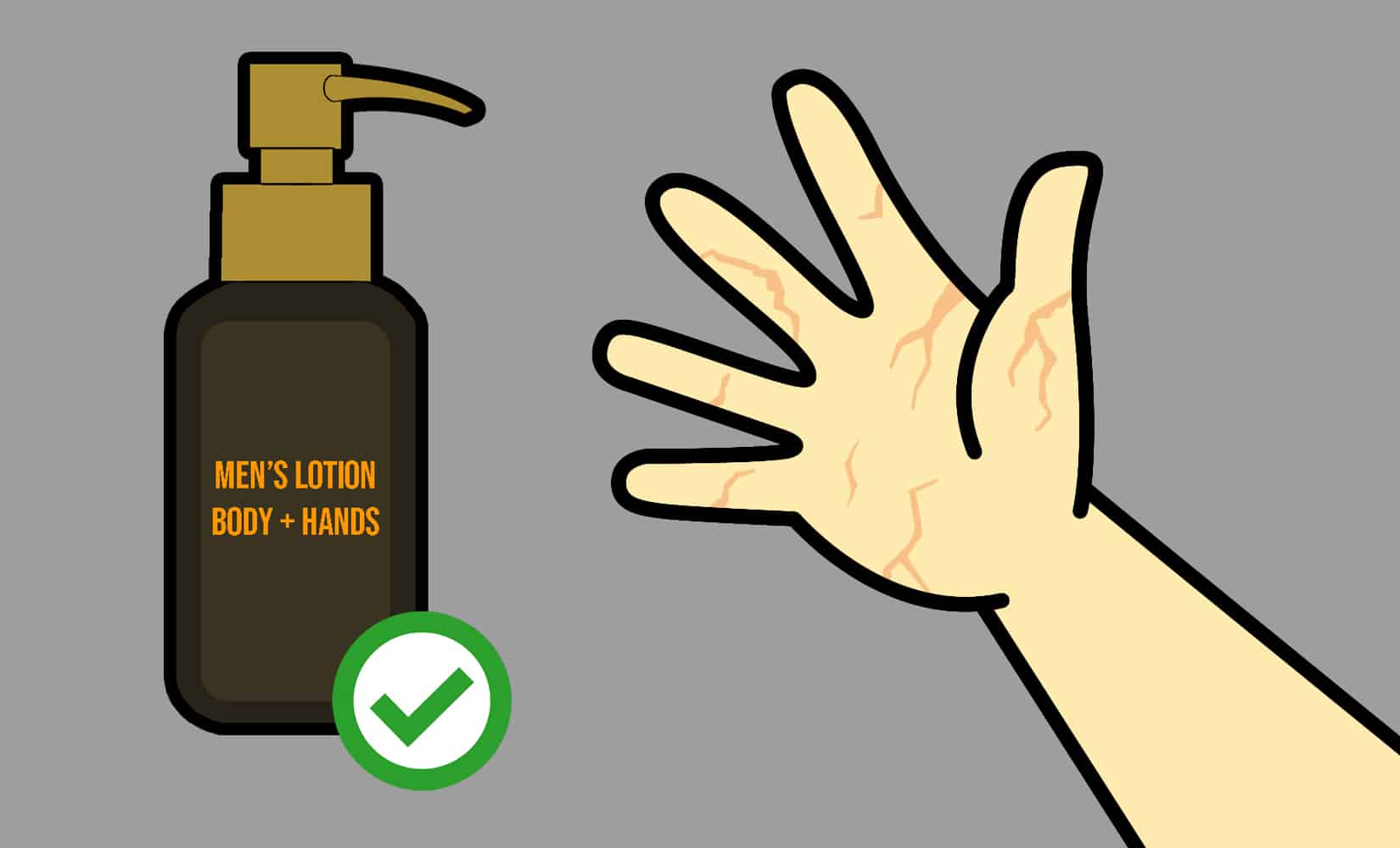 Virtually all hand lotions will moisturize, but a few will also repair or soothe the skin on your hands as well.
Reparative hand lotions will help reduce the number of cuts or minor damage often sustained during manual labor.
These kinds of lotions may also help prevent future injury or dryness of hands through their mineral or chemical composition.
This is the best hand lotion for men who frequently have small injuries on their hands from their job or hobby.
The best hand creams for men that soothe usually have another active ingredient that makes applying the lotion very pleasant.
This can be a good idea if you have abnormally sensitive skin and will benefit from feeling better after you apply the lotion.
Lotion that soothes can also help you get back to work more quickly if you've been suffering from dry hands and it's been impacting your performance.
3. Scent
---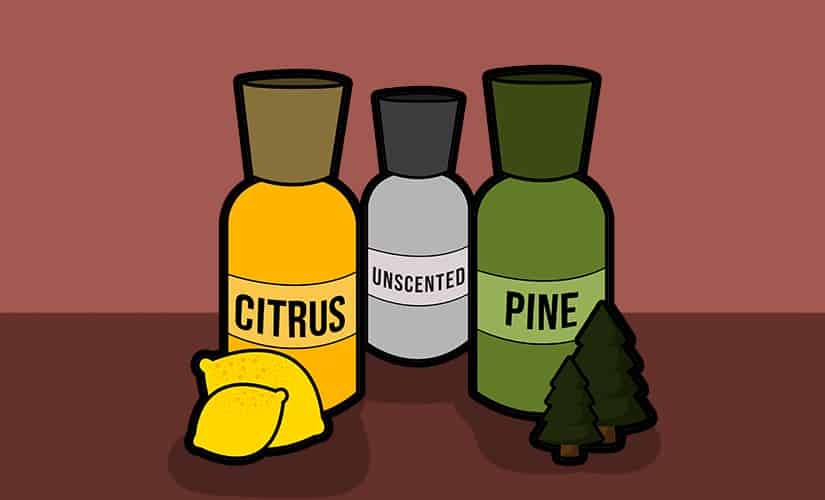 The smell of the best hand lotion for men is also essential.
Why does this matter?
A distracting scent can be frustrating at best or clash with your natural body odor or chosen cologne at worst.
Some hand lotions don't have any smell, while others can be kind of overpowering.
Think about whether or not you rely on smell for your daily aesthetic to determine whether or not the scent of the best hand lotion for men is a significant factor for you.
---
Frequently Asked Questions about Hand Lotion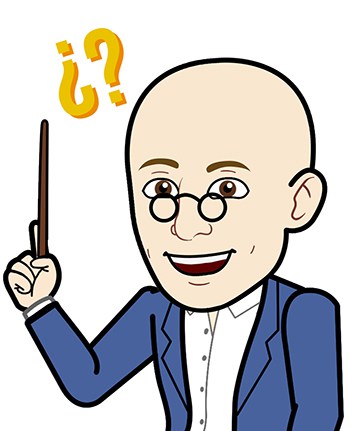 1. Can I Wash my Hands After Application?
Yes, you can, although you should wait for a few minutes or whatever designated time may be on the back of the bottle before doing so.
This will give the best hand lotion for men time to work on their skin as intended and truly settle in.
2. My Hands Stings or Itches. What Does that Mean?
If your hands react negatively to the best hand lotion for men, it means the formula is not meant for your natural skin composition.
It means that you'll have to get a different hand lotion and you can usually relieve the effects by thoroughly washing your hands.
3. Some Lotion got in my Eye. Am I in Trouble?
No.
All you need to do is try to rinse the eye out with fresh, clean water and you should be fine.
Your eye may be sensitive for a little while, but you'll suffer no lasting damage.
4. Can You Use Hand Lotion on Your Beard?
No, it is not recommended to use hand lotion in beard hair.
Hand lotion differs from beard oil in that it is intended for use on the skin rather than the beard.
Beard oils, on the other hand, soften both the skin and the hairs of the beard.