The back is one of if not the most tedious parts of your body to remove hair, but unfortunately is also one of the most necessary areas to maintain as well.
It ranks up there in terms of importance with nose hair (best nose hair trimmers), ear hair (ear hair removal article), and pubes (how to shave your pubes).
Facial hair and chest hair are way more tolerable and easier to maintain than back hair, for obvious reasons.
Therefore, the best solution on how to shave your back is to know the basics, whether it be with a manual razor or an electric shaver.
There are other back hair removal options as well, these include laser hair removal options – which may prevent any future hair growth.
The only other method I would recommend considering is depilatory creams, which I have tested many.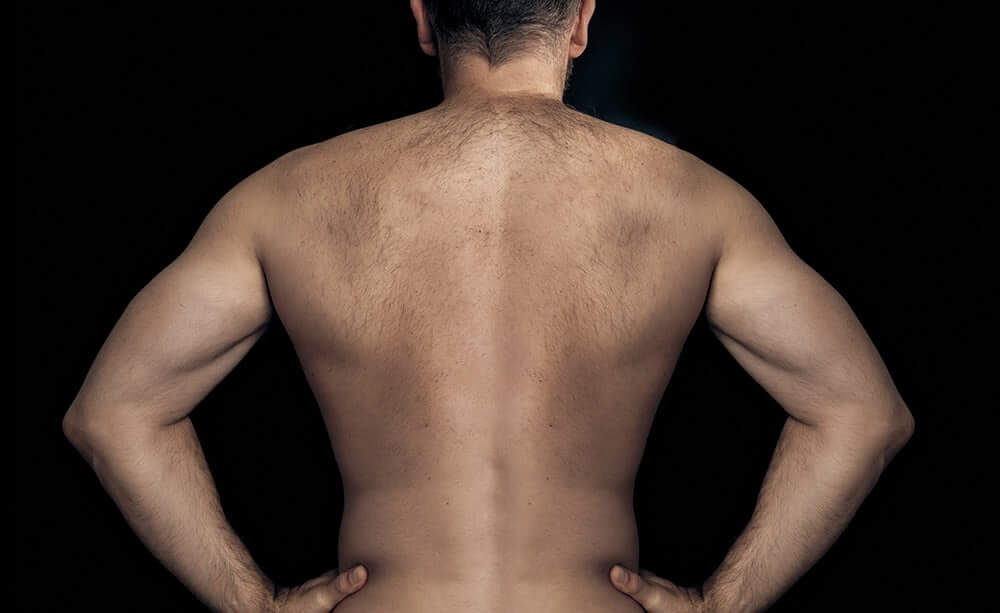 You can see which ones are the best in my article on the best hair removal cream for men if you are considering this option, but it's not for everyone.
I highly recommend that you don't fiddle with any other methods, including waxing or laser treatment.
These methods don't always work, are very painful, and/or extremely expensive, to name just a few of the downsides.
Now the easiest way to get rid of that hair is to use a helping hand from your significant other or a very good friend as you learn how to shave your back.
Many people don't have somebody around that are willing to provide such assistance.
If that is the case for you, you don't necessarily have to deal with this issue on your own.
There is always the option of recruiting a professional back shaving service at a waxing salon but this can be very embarrassing, expensive, and painful.
Fortunately, there are some products out there that will allow you to remove your back hair on your own!
I will mention these products throughout the following detailed instructions provided below.
So whether you have recruited a helping hand or you are going the do-it-yourself route, this "how to shave back hair" guide will give you the necessary information to complete the task efficiently and effectively, so you can pull off that shirt with confidence.
How to Shave Your Back Hair
1. Acquire Appropriate Supplies
When learning how to remove back hair by yourself, there are some important essentials that you need to make it easier to shave your own back hair.
These essentials will include;
i. Hand Mirror
This is necessary so you can see what you are doing as you're shaving back hair.
This is especially true when you're shaving your own back hair.
ii. Preshave Oil and Shaving Cream/Gel
The preshave oil will help loosen up the skin and hair which will provide it easier smoother shaved back. 
I recommend using a shaving gel over a shaving cream as I believe it is easier to get complete coverage over the entire area and you are more easily able to see what you're doing which is one of the primary challenges of learning how to shave your own back.
iii. Razor
There are multiple options (cordless clippers and electric razors) that you can choose from, but I will go to the ones I think are best and focus on the products that will allow you to perform this procedure on your own.
Razorba Back Hair Shaver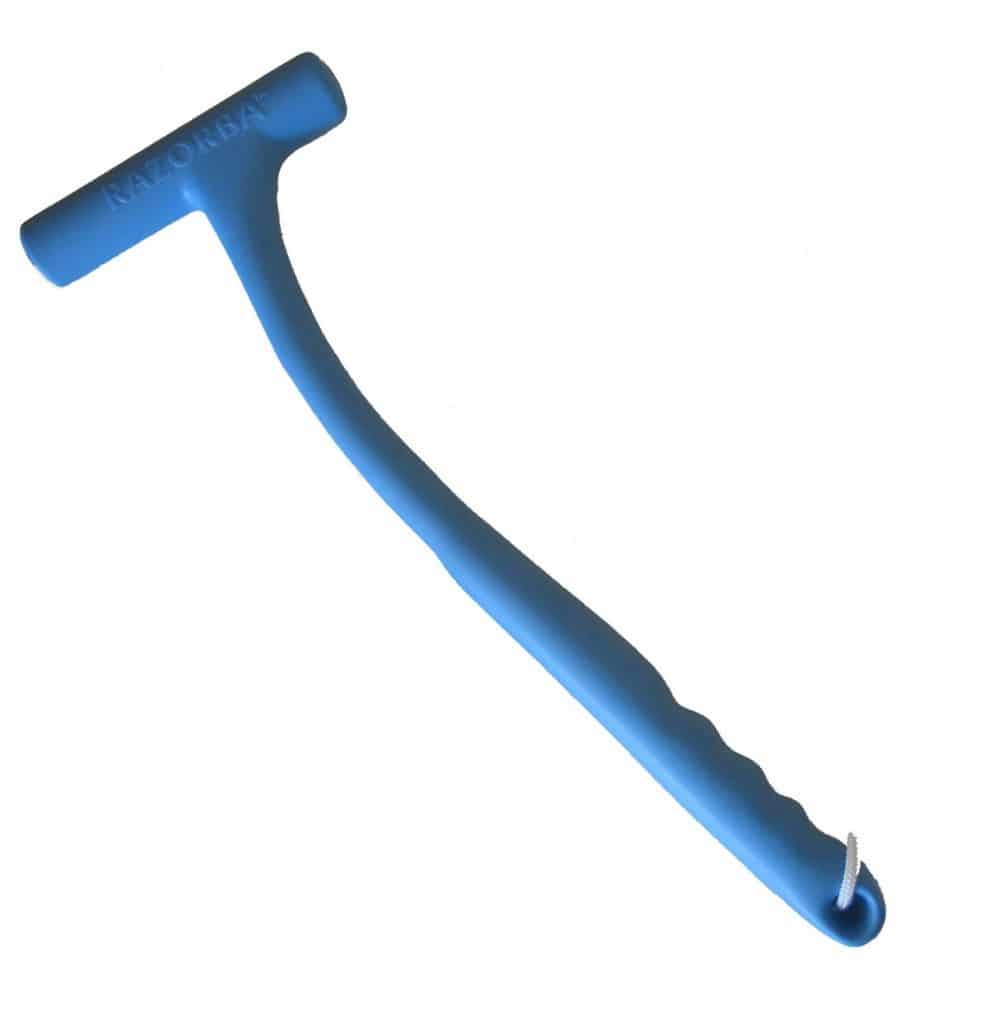 This nifty product attaches to Gillette Mach 3, Gillette Sensor Excel, Bic, and other disposable razors.
The Razorba gives you that extra reach ( approximately 16") that allows you to get the job done on your own.
I recommend using the Gillette Mach 3 as this is not only the best razor of the possible attachment models but one of the best replacement cartridge razors on the market overall.
With this razor, you won't experience any razor burn on back hair and other places as a result of ingrown hairs.
Check out our list of the best disposable razors as well as our post comparing Mach 3 vs Fusion. If you're shaving your own back and want the closest smoothest shave, this is the product I would recommend.
They really did a great job at designing this product to make shaving your back as fast and easy as possible.
Don't just take my word for it, check out other unbiased user reviews on Amazon which give it 4.5 out of 5 stars with almost 500 reviews! You can buy it for about $23 on Amazon.com.
Mangroomer Professional Body Groomer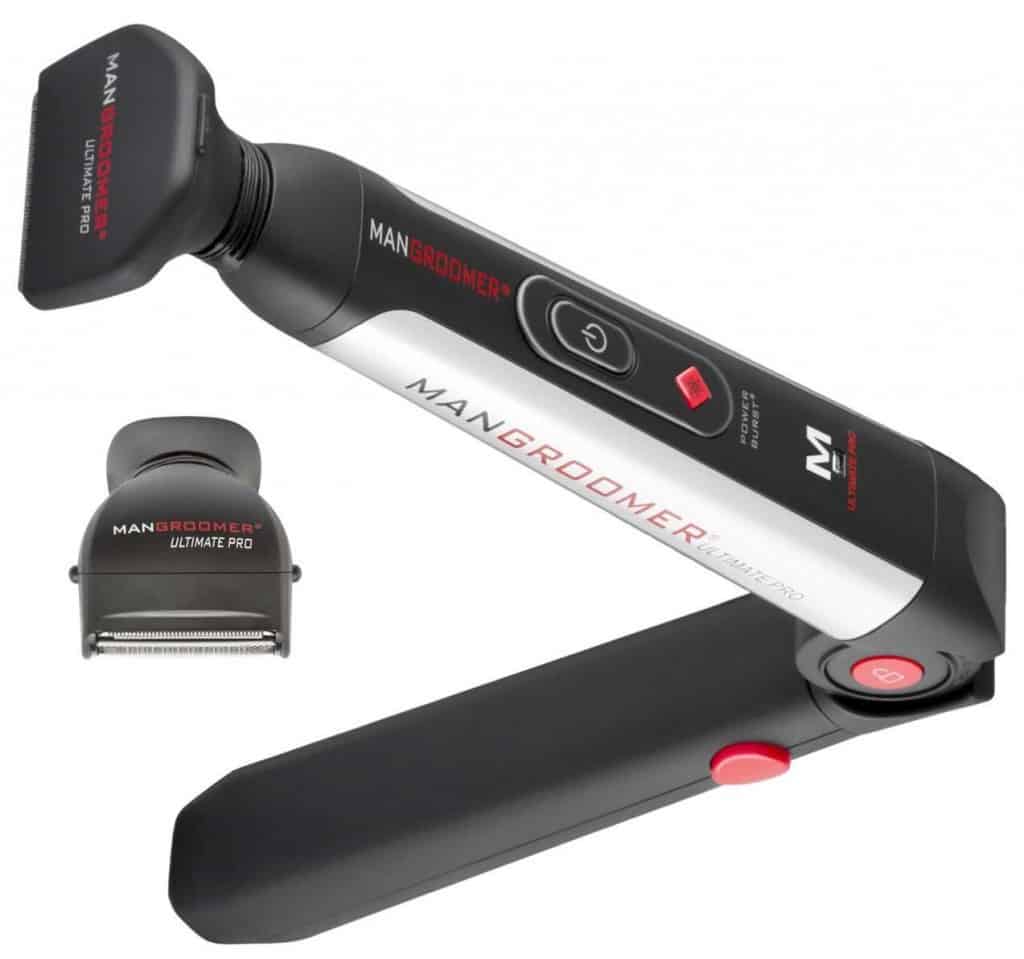 The man groomer's electric shaver with an adjustable long handle allows you to reach those hard spots on her middle and lower back.
This manscaping product makes it very easy to learn how to shave your back on your own without the risk of nicks and cuts but won't provide quite as close and smooth of the shave as a razor.
The length of the blade is adjustable so if you simply want to trim your back hair in place of the complete shave this product will allow you to do so.
There are multiple models of this product ranging from $25-$50.
The newest model is the man groomer ultimate Pro.
Improvements on this model relative to past models include:
Two interchangeable shaving heads including one ultra-wide groomer head (1.8") to get all the longhairs quickly in a foiled body to get that extra smooth back.
Shock absorbers on the head and the handle allow you to go over the skin without having to worry about applying too little or too much pressure, especially when learning how to shave your back.
I also like that the added push-lock allows you to lock in the handle at a multitude of angles.
Overall, based on the new features, the Ultimate Pro is well worth the additional costs.
Another great shaver you should try is the Easace back shaver which makes shaving quick and easy.
Check out the article on best body hair trimmers for more details on the various Mangroomers.
iv. Applicator Brush
If you are learning how to shave your back, you also need an elongated applicator brush so you can apply the preshave oil, shaving gel, and other products on your entire back.
– If you decide to purchase the Razorba, there is an additional attachment called the stud stamper for an additional $11 (3 Pack). It's an applicator brush that attaches to the end of the Razorba.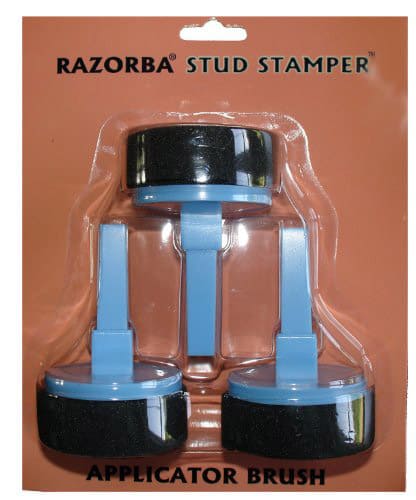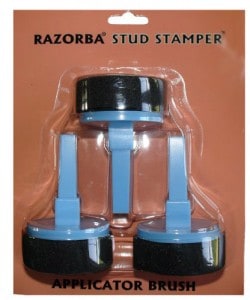 – There are also traditional applicator brushes as well.
The Aquasentials Easy Lotion Applicator is a great one, and the cost is $7 on Amazon.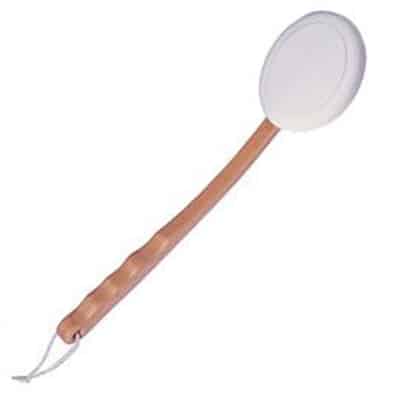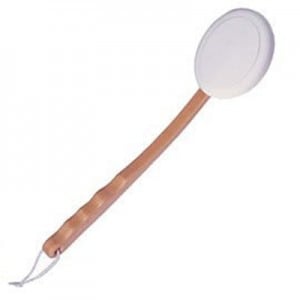 v. Antiseptic and Moisturizer
These are essential products for post-shave maintenance.
2. Take a Warm Shower
Now that we have all the necessary supplies we're ready to get started on how to shave your back.
The first step is simply to take a nice warm shower with a good body wash to loosen up the hair follicles and skin.
I would suggest that you remain in the shower when performing the actual shaving as this will make cleanup much easier.
3. Apply Preshave Oil and Shave Gel
After you dry your back, apply the preshave oil first with an applicator brush and then apply the shave gel.
You should use a shave gel with exfoliating properties to prevent ingrown hairs in addition to giving you a clean, close shave.
Use your bathroom mirror and hand mirror to ensure that you have appropriate coverage.
4. Shave
If you're doing your body grooming yourself, then, when learning how to shave your back hair, do it in an upward motion.
I preferred using small short strokes as this will ensure appropriate coverage and reduce the chances of nicks and cuts.
When you think you're done, be sure to do a thorough inspection of your back shaving to see if you've missed any spots.
After inspecting, you should re-lather your back if you want a hair-free back that is smooth and refreshing.
If so, apply more shaving gel to those identified areas and shave.
5. Apply Antiseptic and Moisturizer
Once you are satisfied, you should apply antiseptic with the applicator brush to help close the pores and kill any bacteria that can cause pimples as the back can be a problematic area for acne.
Then apply a moisturizer or aftershave balm to moisturize and replenish your skin, preventing razor burn and irritation.
If you have sensitive skin, be sure to get an appropriate moisturizer that will prevent razor bumps.
Don't worry, aside from tips on how to shave your back, we've done all the testing and research for you.
Check out our lists of the best body lotions for men and the best aftershave balms so you don't waste your money on the wrong product.
Other Notes on How to Shave Your Back
If You Have a Helping Hand – If you have somebody to help you out, simply follow the instructions on how to shave your back the same as you would if you're doing it yourself but obviously the products, such as the applicator brush and the Razorba will not be necessary.
Electric Shaver – If you decide to use the electric shaver, the preshave oil, and shaving gel are not necessary but I would still definitely use an antiseptic and moisturizer/aftershave balm after shaving.
Well, there you have it.
All you need to know on how to shave your back.
Soon you'll be showing off that BBS (Baby Bottom Smooth) back at the pool, beach, and most importantly, in the bedroom.
Please provide any comments, insights, or questions in the comment box below.
I always appreciate other people's perspectives, and I'm happy to answer any follow-up questions you may have.
If you want to achieve that desired BBS shave on your face be sure to check out our reviews of the top safety razors, top-tier shaving soaps, and more.