Since I started shaving with a safety razor I've tried a lot of different blades to determine which one is the best for me as well as try to help others find the blade that works best for others.
One of these many blades that I've tried is the Merkur Super Double Edge Razor Blades.
In this Merkur razor blades review, we'll find out how good these Merkur blades really are, or are they just pricey?
These stainless steel razors can be used in most safety razor models.
Merkur is a German-based company and as you know, German companies have always had a high standard of quality.
How good are German razor blades?
Well, the German razor company (Merkur razor company) boasts of manufacturing some of the best safety razors available worldwide.
One of the top Merkur safety razor blades is the Merkur 34c.
I really like their safety razors (multiple Merkur razors made the list of best safety razors) so I thought their blades must be of top quality as well.
There are also Merkur super blades like the Merkur super platinum Solingen razor blades.
I can happily tell you that I was not disappointed.
I would definitely put this blade as one of my top ten safety razor blades.
Below I will break down my experiences with using this blade as well as additional insights I have gathered from others.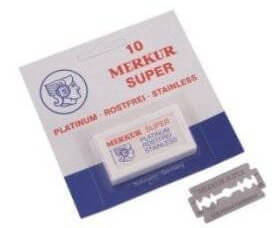 Sharpness of the Blade:
The blade was pretty darn sharp and I'll give it about an 8/10 rating.
Now there are obviously blades that I have found to be even sharper such as the coveted Feather Blade (Feather Blade Review).
For some reason, I as well as some others that I spoke to had a similar experience in which some of their blade's first couple of shaves with a new Merkur razor was not as smooth as the third and fourth shaves.
I don't know if this has to do with the finishing of the blade within the manufacturing process.
Possibly there are some small remnants left on the blade that once are removed after the first couple shaves causes it to be much smoother and sharper?
Well, besides that unusual phenomenon, I have no complaints in terms of the degree of sharpness of the blade.
I know some prefer the sharpness relative to the slightly sharper feather blades as they're willing to sacrifice smoothness for a reduction of likeliness to cut yourself.
This is a purely personal preference.
Longevity of the Blade:
The longevity of this blade seems to be fairly standard.
Myself as well as others have averaged around seven shaves per blade but I have seen reviews stating they have gotten closer to 20 to 25 shaves.
Obviously, the number of shaves you get out of a blade highly depends on the thickness and coarseness of your facial hair as well as how often you shave.
You will have to determine the number of shaves you are able to personally get out of this blade and adjust appropriately.
Just be sure that once you start feeling any slight tugging her catching of hairs you should immediately replace the blade as it is not worth trying to stretch out the longevity of a blade for purposes of saving a couple of pennies.
Price of Merkur Razor Blades
The only legitimate downside to these blades is the price.
A pack of 10 blades costs a little more than $9, equating to about a $1/blade.
This is far more expensive in comparison to other high-quality blades including the feather blade in which a 10 pack costs around $4 ($0.40/blade) or the Derby blade costing around $9.50 for 100 blades ($0.10/blade).
Conclusion:
Overall, the Merkur blade is top-quality and I would recommend it to anyone.
This blade receives a 4.3/5 star rating on Amazon with over 100 reviews.
I enjoyed using these blades and I especially appreciate the consistency between each blade.
This consistency is very important to me as you learn to know what to expect and how to shave with it.
This is definitely a quality blade that I would recommend to beginners as the degree of sharpness provides a little bit of wiggle room for error.
I hope you found this Merkur razor blades review helpful.
Here is a link to hundreds of more reviews for this product!
Please provide any comments, insights, or questions you may have in the comment box below.
If you're interested in Merkur de razor or Merkur shaver, be sure to check out this article on the best Merkur safety razors, and don't forget a quality shave also requires a top-tier shaving soap or an outstanding shaving cream so be sure to check out our lists of the best.
Also, check out our infographic on straight razors vs safety razors as well as our list of top-notch straight razors.