One of the questions we get asked the most here at Prim & Prep is how to straighten a beard to achieve that attractive look.
Now, we love getting your questions, so keep them coming.
Secondly, we love answering them too, and this is an article we've planned for a while.
So that is exactly what we're going to do here.
We'll look at all of the different methods on how to straighten a beard, talk you through the steps, the pros and the cons of each one, and help you decide which one is best for you and your beard.
Use the table of contents below to jump to the sections most important to you.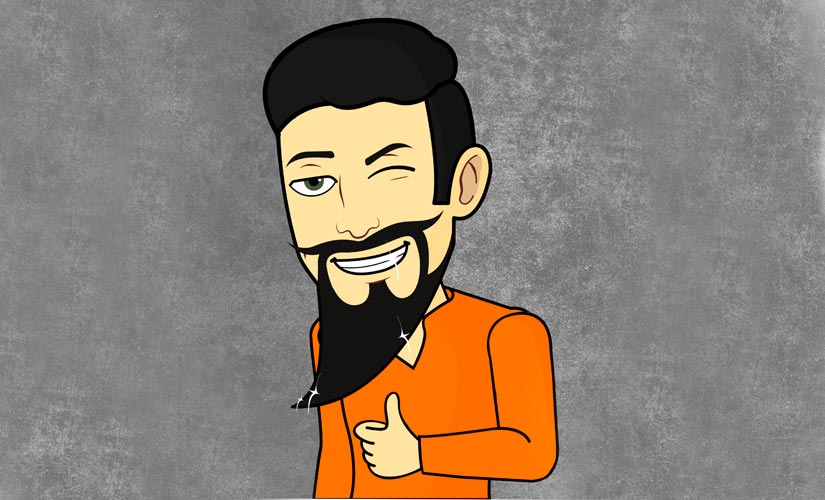 How to Straighten a Beard: The Skinny on Beard Straightening
Do you remember we said that we've been planning this "how to straighten a beard" article for a while?
Come on, we just said it twenty seconds ago, keep up.
Well, that's because when we were researching our article on the best products to straighten a beard, we found there was a huge array of them out there, whether you're looking for how to straighten black beard hair or white hair.
Companies don't make products where there is no demand for them.
Add that to our bulging inbox packed with repetitions on the theme of "how to straighten a beard" and "how to make a curly beard straight" questions, and we know this is something a lot of people are looking for.
But here's the catch.
Loads of men, the vast, vast majority, in fact, have naturally curly beards.
So, the big question today is how to straighten a beard or curly hair.
And whilst many women these days like a beard on their man, they are also quite picky in what they want to see.
Now we would never tell anyone what to do with their beard or that it doesn't look great.
Some people actually prefer a curly mustache and others actually want to know how to get curly hair naturally permanently for guys.
Well, it's your beard and your hair, if you like it, then we like it.
It really does seem though that the fashion right now does seem to be more for straight beards.
This, we feel, is why so many guys are asking for advice on this issue.
So instead of continuing to pretend we're still cool 19-year-olds (when in truth we actually have socks that are older than that), let's kick this off and get straight into our comprehensive guide on how to straighten a beard.
---
How to Straighten a Beard – Stage 1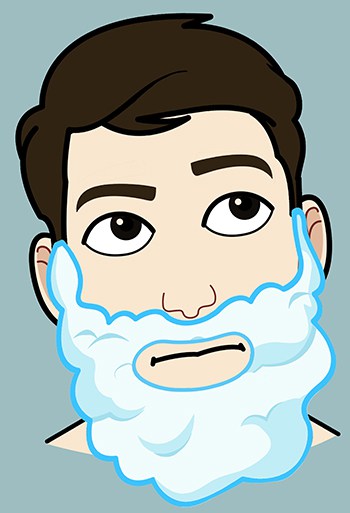 On our journey to learning how to straighten a beard, whilst there are many weapons that we may choose, no matter which one we go for, we all start the journey in the same place – the bathroom.
That is because no matter the method you use to learn how to straighten a beard, it needs to be cleaned before you do anything else.
So a quick recap on how to clean your beard:
You will need:
Beard Conditioner (Optional)
Warm Water
Clean Towel
Time needed: 15 minutes. 

How to Straighten a Beard – Stage 1



 

Fire up the shower  

 
And by fire it up we mean turn it on – and remember, warm water only.

A long, hot shower can actually be real bad for your skin, especially the skin beneath your beard.

Irritate that skin and you can end up with the dreaded beard itch, so keep the water temperature down. 



 
Squeeze out a portion of your favorite beard shampoo and work that baby into your beard.
 

 
We mean really work it in, especially if you have a longer beard.

Use your fingertips to get it right down to the skin and the base of your beard hairs. 



 
Rinse thoroughly (do we really need to add with clean water?) then condition if you like.
 




 
Remember to dab your beard dry with a clean towel, don't rub it.
 

 
That's all folks. Just a simple but effective regime to ensure that your beard is clean and healthy – and just as importantly ready to be straitened.  

Which is useful, because it is now time to: 



 
---
How to Straighten a Beard – Stage 2
Yep, as we alluded to above and mentioned in our previous article, there is a wide range of tools and products out there to help you to learn how to make a beard straight and soft.
There are lots of tools available on how to make hairs straight and some include beard straightener comb, heated beard brush, beard relaxer, and various other beard straighteners for men.
Many people ask us which is the best method or tool or product to use when learning how to straighten a beard.
But here's the deal.
We won't tell you which is the best beard straightener of all.
Not because we're mean, but because we don't know.
Or rather, we don't know which is the best method or tool, or product that will work best for you specifically.
In this section there lies three doors, behind each one is the method on how to straighten a beard with each tool or method.
We suggest you look at how to straighten a beard with each one of them, cross-reference it with our awesome product reviews, and work out which one is best for you and your beard.
Some of the recommended beard straighteners you can use are;
Tame the Wild Beard Straightener
Brooklyn Beard Straightener
Vaeringjar Heated Beard Brush Straightener & Volumizer
Path 1 – Use Heat
---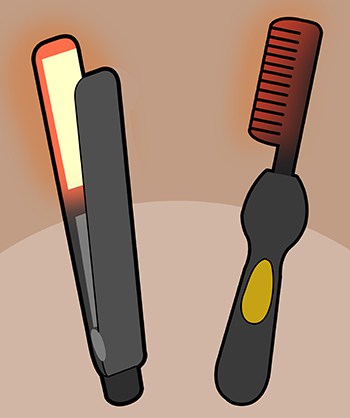 The first method on how to straighten a beard is tried and trusted on our behalf by nearly enough all the women in our lives – thanks, gang!
We're talking about using heat.
Heat is an effective way to learn how to straighten a beard because all hair strands contain a protein called keratin.
When heat is applied to keratin, the hydrogen bonds within the chemical makeup of the protein are broken.
This in turn makes the hair more pliable and easier to manipulate.
Science huh?
Who knew it actually had any practical uses?
Anyway, because heat is so effective at performing this task, there is a huge range of heating tools.
They often use ceramic plates but can also look like normal brushes or combs, but with a heating element too.
Using them is also nice and simple:
1) You need to work by section instead of tackling the whole beard.
To learn how to straighten a beard, start by pulling small sections or strips of beard from out of the tangle and running them through the ceramic plates of the beard straightening brush or heated beard comb.
2) Always work pulling away from your face.
In other words, get the tool as close to the base of the beard as you can.
Be careful not to actually burn your face though.
That's not much fun.
3) Work through the small sections until they are all straight, pulling downwards on each stroke with enough force to affect the beard.
Go slowly enough that the heat can do its work, but not so slowly that your hair burns.
It can take a bit of experimentation here, so always start off with the temperature at its lowest setting.
Feel free to use bigger sections of wiry beard towards the end when most of the work is done.
Pros/Cons
The downside to this method is that it can be pretty slow and tedious.
The upside is that it is extremely effective!
Path 2 – Use Force
---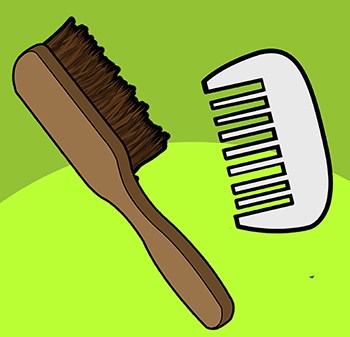 Or use the forks, it's up to you.
No wait, don't use a fork, that's crazy.
Instead, you can use a quality beard straightener brush or a comb for a simpler, low-tech way to learn how to straighten a beard.
The tools themselves are simple, and the method is pretty easy too.
1) First of all, this is something that is best performed after you step out of the shower.
That's because if you plan on using force, i.e. a brush and/or comb, it will work best on damp hair.
If you're doing this on a dry beard, we suggest you dampen it down a little.
2) Get your hands on your brush/comb as a minimum.
A hairdryer and some beard oil will also be required when learning how to straighten a beard.
3) Start off by applying a little beard oil, this is going to help lock in the moisture and keep your beard looking great after you've done it.
4) Next turn on the hairdryer, but leave it blowing cold air only.
Hot air is going to dry out your beard and make it feel like wire wool.
Using the hair dryer to blow dry beard straight, start by blowing up through your beard, toward your face.
Comb or brush your hair upwards at the same time.
Yes, you will look ridiculous.
Yes, it will be worth it.
5) The whole point of this upward blast of air combined with the combing or brushing action is to straighten all the hairs in your beard.
By this stage, they will all be nice and straight – but will be sticking straight outwards from your face.
Now is the time to style, so simply reverse everything.
Hold the hairdryer so it is blowing down and comb or brush your beard down so it looks like… well so it looks like a beard.
Except now it will be nice and straight.
Pros/Cons
The good thing with this method is that it is extremely easy, and requires little in the way of special tools.
The downside is it may not be as effective with longer beards, and the results may not last too long.
Path 3 – Use Magic (Product)
---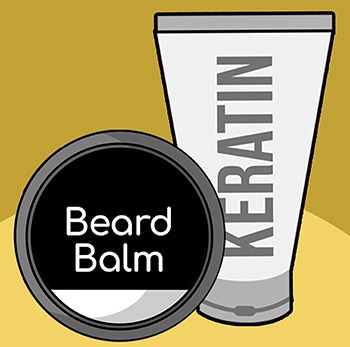 Ok, not actual "you're a wizard, Harry" magic because, sorry to tell you guys organizing real-life Quidditch tournaments on BMX Bikes, magic isn't real you losers.
(Besides, have you seen Hagrid's beard? The guy needs to magic himself up some anti-frizz balm ASAP).
Moving on, very swiftly what we're talking about here are products that you need to learn how to straighten a beard without all the effort of the two methods we talked about above.
At the milder end of the magic product list, we have things like beard balms and beard jelly (basically thicker beard oils).
Balms and similar products are simple to use:
1) Wash beard as above.
2) Apply balm or jelly to beard and smooth down.
That's… that's about it.
These products work in a very similar way to using products like putty, gel, or styling creams on your head hair.
They are thick and viscous and will dry in place and hold your beard in the style you've moved it into.
Hair Treatments:
Then there are hair treatments designed to offer long-term, or at least semi-permanent, solutions.
Each product will have slightly different application and aftercare, but as a general rule of thumb you can expect to:
1) Always apply to clean and damp beard hair.
2) Work the product through the length of the hair, from root to tip, with a fine-tooth comb.
3) Leave the product to work its magic for the time indicated on the packet.
During this time it can be helpful to comb the hair straight again every five minutes or so.
This is especially helpful with shorter to medium-length beards, whose hairs can tend to curl up again if left unattended.
4) Rinse it, dry it and comb or brush the beard flat again.
5) For longer-lasting results, you can now apply a heat treatment such as a heated comb or ceramic straightener plates to really make sure you're keeping beard straight and exactly how you want it to be.
Pros/Cons
The benefits of balms and jellies are that they are about the simplest ways to straighten a beard.
The downside is that it can be hard to conceal the fact you have the product in your beard, losing that natural look that many men prize.
Beard straightening cream is great as a semi-permanent solution, and you may only have to do it every couple of months or so.
The downside of keeping a beard straight is that it is very hard to tell what damage could be done to your beard over time by the concentration of often harsh chemicals found in some creams.
---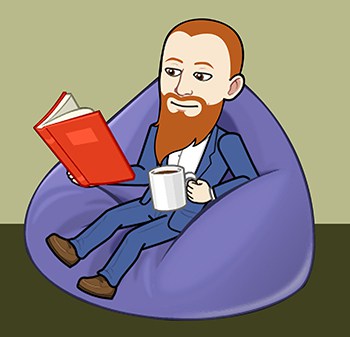 There you go, that's it – the method behind using the three most common ways to learn how to straighten a beard.
As we said above, we have no idea which method will be most suitable for you because so many variables go into that suggestion.
Still, what we do know is that each method can be extremely effective in its own right.
It's actually more a case of finding which one works best for you, and also which one you'll be happy doing most often.
We would suggest trying the above methods up with the different products they go with and see which one takes your interest.
Experiment if you like, try different tools and products – it's your beard, after all, you may have it for quite some time so it does make sense to invest a little time on how to straighten a beard.
It will all be worth it in the end, we promise.
After you've straightened it out, maybe try choosing a natural color for beard dyes and having a bit of fun making your beard look fantastic!
Whichever method or tool you go for, we wish you the best of luck with your healthy – and straight – beard!