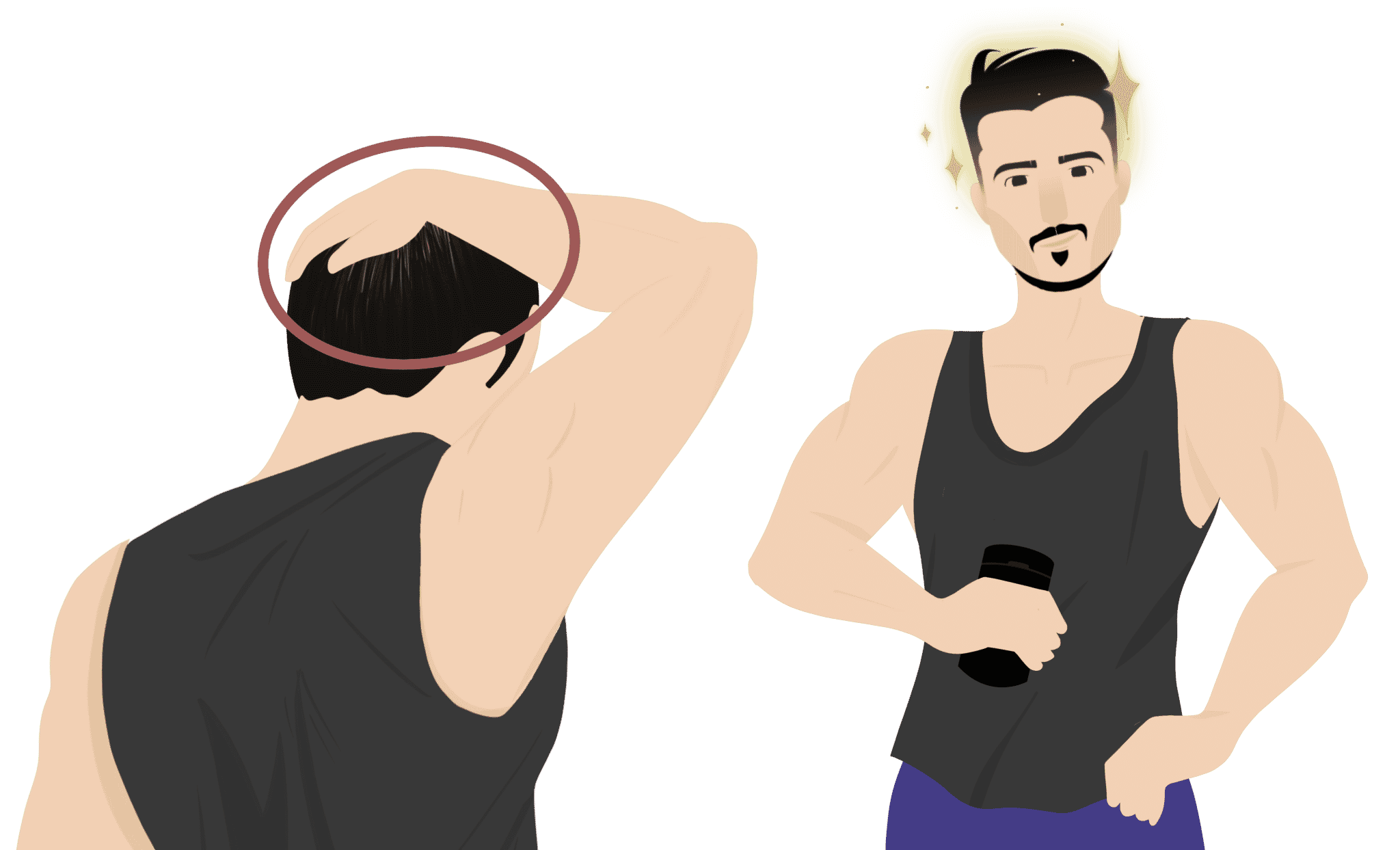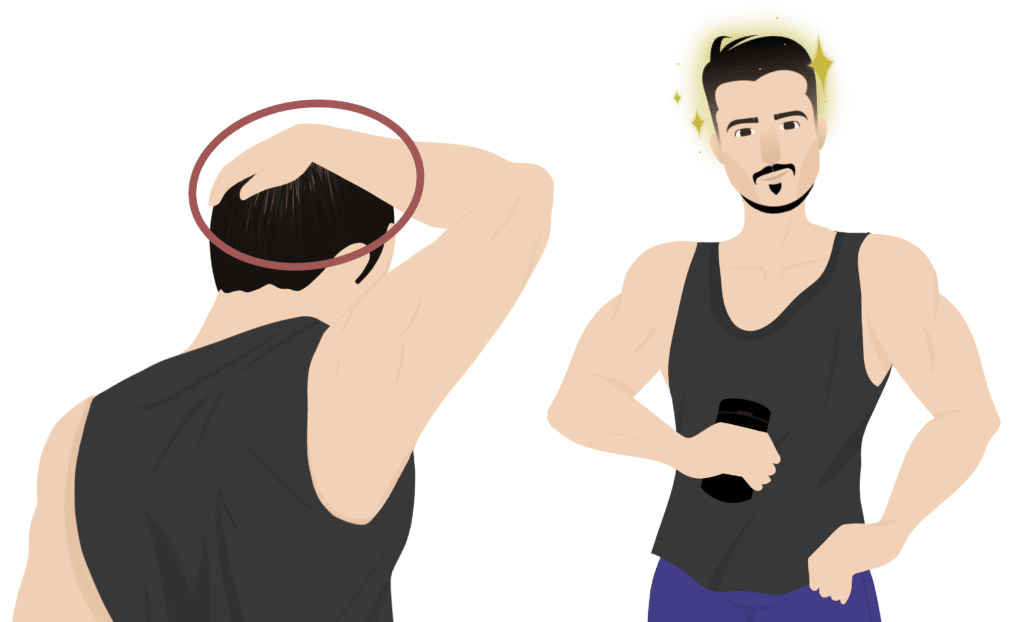 When it comes to thinning hair, Alopecia, or male pattern baldness, there are a few hair loss treatments to choose from to help alleviate the look of balding. While products like Rogaine and Minoxidil help stimulate new hair growth, they can take time (often up to six months) to produce results and usually come with a host of unpleasant side effects.
Men looking for a solution that provides instantaneous results may want to use a hair loss concealer. These products come in the form of hairspray, a cream, or a powder, and come in different colors. They are made from various materials such as keratin fibers, natural fibers, and even human hair fibers, which help make your hair appear thicker and fuller.
Unfortunately, not all hair loss concealers are made equal. To make it more straightforward for you to find the concealer that will best suit your needs, we have gathered together the best products Amazon has to offer and reviewed each of them.
Let's dive in!
We tried and tested various hair loss concealers from Amazon and concluded that these 18 are the best for a natural look. We used the approach to chat to men about what they want in a high-quality concealer and collected together the ones on Amazon that ticked these boxes before reviewing each. We based our evaluation on the following criteria: the materials and microfibers used, ease of use, color offerings, functionality, and durability.
Elevate is a brand that places its focus solely on the formulation and manufacture of thinning hair concealers. The brand prides itself on using only natural hair fibers to create a product that offers, according to Elevate's website, instant coverage and is 100% undetectable.
The ELEVATE Hair Fibers for Thinning Hair are quick and simple to use, offering coverage for those who are balding or battling with thinning or a receding hairline.
Specs
Comes in various colors
Made with 100% natural keratin fibers
Shake and sprinkle powder application
Each bottle offers a two to three month supply
Who is it Best for?
Whether you are experiencing thinning areas or bald patches and you are looking for a fast-acting solution, then you may want to give this product from Elevate a try.
Elevate currently offers this unique powder in four shades: light brown, medium brown, dark brown, and black, so you can find the color that best matches your existing hair.
If this is your first time using a product and you're feeling skeptical, don't worry, Elevate offers a 30-day money back guarantee, so if you don't love it, you can return the concealer and get your money back. However, you will find, compared to brands such as Toppik, this product from Elevate is very well priced, costing a third of what you would otherwise pay while providing the same results.
Key features
Elevate makes this hair loss concealer from premium quality natural hair fibers. When sprinkled onto your head, these fibers adhere to your real hair, making it appear thicker and fuller. The result? You are left with a fuller head of hair that looks natural and even.
The brand claims that your hair is left looking and feeling thicker in just 30 minutes, and after giving this product a try, I can say Elevate is spot-on there. After applying it and shaking it through to spread evenly, my hair looked amazing. What I enjoyed most, though, was that it didn't look like I had used a product to my hair; it appeared to be naturally thick and voluminous. The easy application and the fact that the fibers didn't weigh down my hair or leave it looking greasy were definite pros in my book. The only con is that this product is not waterproof.
Pros
It won't leave your hair looking greasy
Exceptionally well-priced
Cons
The powder is not waterproof
Boldify was founded as a result of one individual's search for the perfect hair thinning treatment. Unable to find a product that met their needs, this entrepreneur decided to go ahead and create a hair growth treatment that did. Fast forward a few years, and the brand now offers a range of hair care products that address hair thinning and baldness.
One of the brand's more popular treatments is the BOLDIFY Hair Fibers for Thinning Hair. Fast-acting and simple to apply, it is no wonder this product is loved by so many.
Specs
Comes in 14 different colors
Made with natural plant-based hair-building fibers
Cruelty-free formulation
Water-resistant
Who is it Best for?
Bald spots, thinning hairlines, and uneven hair growth all can affect how we view ourselves and can take a toll on our self-esteem. It makes sense then that you would want a product that provides instant results if you struggle with any of these. Hair transplants, Biotin, and treatments such as Rogaine all take time, but Boldify, according to their website, produces results in just over 15 seconds.
Seeing the rapid results offered by this powder, I had to give it a try to see if it stood up to scratch. And does it ever! The coverage was instantaneous and undetectable (unless you came up and very closely and carefully inspected my hair).
There were a few areas that Boldify could improve on, however. To apply the product, you need to comb your hair into place first and then use the powder. Combing after application will cause the fibers to disperse, and they won't be as effective. This is fine at first but, what about when I head out to a meeting on a windy day, and I need to comb my hair back into place?
Also, the product requires hair spray to set it into place; this means purchasing two products instead of one, and if you're not a fan of the way hairspray makes your hair look and feel, then this may not be the product for you.
Key features
Boldify makes this remarkable hair loss concealer from 100% natural plant-based fibers and uses a cruelty-free method to formulate its products.
The powder attaches quickly and easily to your hair, thickening out each strand to leave you looking as though you have a full head of lush, thick hair.
Boldify offers these fibers in 14 unique colors ranging from white and grey to light blond, auburn, black, and an impressive selection of brown shades. The idea behind this is to help you find a color that sits as close as possible to your current hair color, allowing for a more natural and even look.
This product is simple to apply, taking only a few minutes, and best of all, it is resistant to sweat, rain, and wind, so you can be sure it will stay in place.
Pros
Resistant to the elements
Cons
You cannot comb your hair after application
Requires hairspray to set it in place
Minute Hair is a unique brand that specializes in the manufacture of hair loss fibers. Designed for individuals suffering from thinning hair and baldness, this fast-acting product renews your look with thicker, fuller hair.
The Hair Building Fibers by Minute Hair provide a hassle-free way to restore your hair to its former glory (if only for a while), leaving you with the confidence to go about your day.
Specs
Comes in ten unique colors
The fibers are statically charged and cling to hair with ease
Comes in a refill bag
These fibers are hypoallergenic
Who is it Best for?
If you already use natural hair loss fibers to conceal bald patches or areas of thinning hair, you may want to look a little closer at this offering from Minute Hair. Instead of buying a new spray bottle or canister each time, Minute Hair provides a refill pack that saves you money and is more environmentally friendly.
Compared to Toppik or Boldify, Minute Hair's hair fibers cost almost 50% less while offering the same quality. The lack of expensive packaging allows the brand to sell its products at a far lesser price, making them more cost-effective and gentler on your pocket.
I was skeptical at first (the low price made me question the efficacy of the fibers) but was pleasantly surprised when I gave them a try. These fibers offer maximum coverage and don't clump at all.
Key features
Aside from the impressive price, Minute Hair's handy little fibers are remarkable. These hair loss fibers come in ten unique colors that make it simple to find the color that most closely matches your existing hair color.
Application is easy. Brush your dry hair to create static electricity and then comb it into place. Sprinkle the fibers onto the areas that need a little extra oomph and then tap them into place. Spray your hair with a little hairspray to set the fibers, and you're done.
The only downside to this product is that it doesn't come with an applicator; however, you can use the powder with an existing applicator you may already have, or you can find an applicator that works best for you.
Pros
Offers excellent coverage
Cons
Does not come with an applicator
Thicken It is an American brand that focuses on providing customers with healthy and easy-to-use hair thickening solutions. Some of the offerings the company offers include hair extensions of all shapes, colors, and lengths, and scalp cover for men and women with bald patches, thinning hair, and receding hairlines.
The Thicken It 100% Scalp Coverage Hair Powder is designed for use on hair of all lengths. No matter how short your hair may be, you can achieve results that are impressive and that provide you with full coverage.
Specs
Comes in a compact holder with an applicator
Includes strong cotton fibers that adhere to your hair so the coverage lasts for longer
Offered in five different colors
Talc-free formula
Who is it Best for?
Men with shorter hair in a buzz-cut style or those with a receding hairline may find that this product offers the coverage they need. It provides a natural-looking cover to fill out areas of thinning hair or balding patches.
Thicken It packs this handy product into a unique compact that makes it easy to carry with you should you need to touch up here and there. Also included is an applicator, and inside the compact is a mirror for on-the-go use.
Compared to competitors such as Toppik and Boldify, Thicken It offers a product that sits at the lower end of the price scale. The lower price makes it an excellent option for those who haven't used it before and would like to try it out without having to pay high prices for a product they may not enjoy.
Key features
Thicken It offers this hair loss concealer in five unique shades: black, red, light, medium, and dark brown. The color offerings make it simpler to match the powder to your existing hair colorants, leaving you with a more natural look.
The formula features cotton fibers that adhere to your existing hair. Because these natural fibers are strong and resistant to water, they stay in place until you shampoo them out.
This durable product is simple to apply, offers 100% scalp coverage, and is talc-free. One thing you may find, though, is that this powder is better suited to those with shorter hair or for application around the hairline, as you don't sprinkle the powder into your hair but rather apply it with an applicator.
Pros
The product is easy to carry with you
Does not transfer onto your bedding
Cons
Rubs off relatively easily and may need to be reapplied throughout the day
Not ideal for large bald patches
Finally Hair is a brand that focuses firmly on the design and production of premium quality products aimed at helping those who are balding, have thinning hair or are experiencing hair loss. Finally Hair composes its unique hair loss concealer to offer a more natural-looking and easy-to-use solution using natural, vegan ingredients.
The Finally Hair Black Dab-on Hair Fibers & Hair Loss Concealer offers the ideal solution for anyone who is looking for a product that provides fast-acting results.
Specs
Comes in 11 unique colors
Vegan-friendly
Waterproof
Features a special anti-itch formula
Who is it Best for?
Looking for a hair loss concealer that offers a quick and easy application that you can use on more than just your head? This product from Finally Hair may be precisely what you need.
This dab-on concealer is designed for use on your hairline, in your hair, beard, and even on your eyebrows.
Because Finally Hair makes this concealer in so many shades (11 to be exact), it is easy to find the color that perfectly matches your current hair color. Whether you want a medium brown or blonde, pure white, sandy blonde, or even a dark grey, you will find it here.
Compared to competitor products, this concealer is well priced and comes in at the lower end of the scale, making it affordable.
I enjoyed this product because it is compact enough to bring along with you, although it offers staying power that ensures you won't need to apply it multiple times.
Key features
Finally Hair uses 100% natural, vegan-friendly ingredients to make this versatile concealer. These hair-building fibers are designed so that they cling to the static electricity in your hair. This electricity works like a magnet, binding the fibers to each of your hair follicles, filling them out, and making them appear thicker.
The application of these fibers is simple, with no hassling with trying to sprinkle them in the right place. Finally Hair provides you with an applicator that makes it easy to dab on the fibers where you need them most. Applying the product in this way allows you to achieve excellent coverage where you need it, so you can tidy up your hairline, neaten brows, and full out your beard.
Pros
The fibers are waterproof and only wash out with shampoo
Comes with two applicator styles for ease of use
You don't need hairspray to set it in place
Cons
Getting the exact color right may involve a little trial and error
Chromatique Professional is a brand that designs and manufactures a series of hair care products. From hairdryers and straightening irons to accessories and treatments, Chromatique Professional strives to provide its customers with premium quality tools and formulas they can rely on.
The Chromatique Professional Hair Building Thickening Fibers is one such product the brand offers. With its safe and natural formulation and ease of application, it is no wonder that this is one of the brand's top-selling formulas.
Specs
Made using natural Keratin and organic fibers
Provides results in just 30 seconds
Resistant to wind, rain, and perspiration
Washes out with shampoo
Who is it Best for?
When it comes to maintaining a full head of hair, biology and genetics can get in the way. Whether you are battling a receding hairline, have hair thinning in some patches, but not others, or have developed a sizeable bald patch, chances are you wish you could get your hair back. Chromatique Professional aims to give you that with its hair loss concealer.
The fibers are simple to apply. Sprinkle them onto dry, styled hair, pat the fibers down, and spray them with a light mist of your favorite hairspray and you're good to go. This ease of application makes the fibers great for use by men who don't have time to fuss in the mornings with overly involved hair care routines.
Key features
Chromatique Professional takes care to formulate this product using natural keratin and organic fibers. These fibers bond naturally to your hair with static electricity and only require a light misting of hairspray to set them in place.
This formula only takes 30 seconds to give you the results you're looking for and will leave you with thicker hair that looks fuller and healthier. The fibers are undetectable and easily simulate your real hair.
I appreciated this product because it is resistant to the elements and perspiration, so there is no chance of these colored fibers running down your face on a hot day.
Compared to competitors Infinity and Toppik, these fibers are relatively inexpensive; however, the color offering and natural likeness of the shades are not as spot-on as the brand's competitors.
Pros
These fibers hold up in the wind very well
Application is uncomplicated
The product is inexpensive
Cons
The fibers pour out of the bottle very quickly
The color offerings and shades could be improved on
Dexe is a relatively new brand founded in 2005. But, as they say, age is but a number, and Dexe has indeed proved this true. The brand prides itself on offering top hair care products from shampoos and hair colorants to hair thickening formulas. It is by providing high-quality products that Dexe now sees itself as a well-loved hair care brand.
The Dexe Hair – Hair Thickening Fibers with Natural Keratin for Thinning Hair provides a solution for those bald patches you would rather not have in a way that is easy to apply and non-invasive.
Specs
Made from natural colored keratin and vegetable resin fibers
Comes in three color options
Formulated to be long-lasting
Offers no side effects
Who is it Best for?
If you want a long-lasting, natural hair loss concealer that has no side effects, then take a closer look at this product from Dexe. This formula is the ideal way to transform thin hair into lush, thick locks that look natural.
Whether you're a guy who likes to tie his hair up in a ponytail or wear it short and sleek, these fibers will transform your hairstyles, leaving you looking and feeling great.
Dexe is very well priced compared to competitors, coming in at a third of the cost of a competitor product, Infinity Hair Fiber – Hair Loss Concealer. At such a low cost, I was expecting this product to be sub-par and was left surprised. It offers excellent coverage, doesn't make a huge mess, and is simple to apply. One downside to the product is that it comes lightly fragranced; I would have preferred no smell at all.
Key features
Dexe manufactures this formula from natural colored keratin and vegetable resin fibers. The product features a natural protein found in your hair, keratin, which allows the fibers to look natural and thicken your hair.
The fibers bond to your hair by using static electricity, and it is this bond that secures them firmly to your hair follicles. This sturdy bond makes the fibers resistant to wind, rain, and sweat, keeping them in place. It is only by shampooing your hair that you can effectively remove the product from your hair.
An area Dexe could improve upon is the color offerings. Currently, the brand only offers three shades, eliminating it from the use by people with silver and red hair.
The application of the product is simple, and the microfibers don't need additional products such as hairsprays to keep them in place.
Pros
Not as messy as some of these fibers can be
It feels very natural and not at all clumpy
Boldify's product left me so impressed I had to see if the brand's other offerings were as good. Boldify understands the problems faces by those with baldness or thinning hair. The brand also understands that our preferences are as unique as our hair types and growth patterns. It is for this reason that the company offers more than one way to conceal your hair loss.
The BOLDIFY Hairline Powder offers a different application method from the sprinkle on fibers allowing you to find the product that best suits you.
Specs
Features a 48-hour stain-proof formula
Offered in four unique colors
Is non-comedogenic so the powder won't clog your pores
Resistant to wind, rain, and sweat
Who is it Best for?
If you're looking for a hair loss concealer that lasts and lasts, then this product is your best bet. Boldify designs it to last up to 48-hours, so if you're on the go throughout the day and head off to dinner after, you won't need to reapply or cover-up and spots. Best of all, the product will last through the night and still be there the following day. The only way to get it out of your hair is with a good shampoo.
The product is stain-proof, too, so if, like me, you're a creature of habit and frequently run your fingers through your hair, you won't need to worry about the concealer staining your hands. This is a unique attribute to a hair loss concealer and one that I found the most impressive.
Key features
Boldify's powder concealer works similarly to root touch-up powder. It is applied with a provided sponge so you can target the areas that need it most without fuss or battling with getting sprinkles in the right place.
The particles bond tightly to your hair follicles and scalp, leaving you with a natural finish that is not clumpy, gunky, or mucky. Best of all, the powder is non-comedogenic, meaning it won't clog your pores and cause breakouts.
Boldify designs this concealer to be used on your head or in your beard and leaves you with fuller hair that looks healthy and vibrant. This unique filler allows you to cover any gaps with ease and slides onto your hair smoothly.
This product stands out because it is perfect for use on all hair types, making it a product truly designed for everyone.
Pros
You won't need hairspray to lock the powder in
You can control the density of the applied product to achieve a natural look
Masquerade is a brand that understands the trials of daily life and has placed its focus on offering exceptional products that make life manageable and straightforward. Whether your hair loss is a result of your genetics, a medical condition, or stress, Masquerade has a solution for you.
The Masquerade Natural Hair Loss Concealer is the perfect way to cover up unwanted bald patches and thinning hair quickly and without fuss.
Specs
Made from organic keratin proteins
Compatible with hair regrowth treatments such as Rogaine and Minoxidil
Comes in 9 colors that can be mixed
Covered by a 30-day money back guarantee
Who is it Best for?
Masquerade provides a simple solution to hair loss, natural fibers that cling to the hair follicles that leave you with thicker, fuller hair.
When I first came across this product, I was skeptical. Would it look natural? Would the color match that of my hair? Would the color and fibers run down my face while I exercised? And most importantly, could I use it in conjunction with the topical Rogaine I was using?
After trying Masquerade's hair loss concealer for a few weeks, here is what I found:
The product offers exceptional coverage; the only downside is that if you touch the fibers once they are applied, they transfer to your hand, leaving you with less coverage than before. If you tend to run your fingers through your hair, this product may not be for you.
These fibers are resistant to wind, rain, and, thankfully, sweat, so you can exercise with abandon and not have to worry about your sweat turning a shade of brown or black.
Key features
When it comes to color, Masquerade offers this product in nine unique colors. What I enjoyed about this was that you could mix the colors to achieve a shade closer to that of your natural hair. It took me a few tries to get the color perfect, but I was impressed with the result once I did.
The fibers are made from natural keratin protein, the same protein found in the make-up of your hair. These natural fibers bind to your hair using an electrostatic charge that keeps them locked in place. Because these fibers are natural, you can use them in conjunction with hair loss treatments such as Rogaine and Minoxidil. I found it to cause no side effects and the fibers started to cling to the regrowth I was experiencing as a result of the Rogain, making my hair look even fuller.
Best of all, the application of the fibers is simple, and all you need is a light misting of hairspray to keep them in place. These fibers look like bonafide human hair, so you look natural, and they make styling your hair so much more straightforward – comb-overs be gone!
Pros
Doesn't itch or burn your scalp
Provides exceptional coverage
Cons
Requires hair spray to stay in place
The fibers transfer to your hands if you touch them
Toppik offers a full range of hair thinning solutions. Some of the products you can expect to find include: hair thickening serum, spray-on foot touch up, hair building shampoo and conditioners, and hair building fibers.
Toppik has fast become one of the world's most loved brands, gaining international recognition through demonstrations on shows such as Dr. Oz and featuring in magazines like Harper's Bazaar and Vogue. The Toppik Hair Building Fibers are one of the brand's most popular products, and it is easy to see why.
Specs
Made from colored keratin fibers
For all hair textures and types
Offered in nine different shades
The fibers are colorfast
Who is it Best for?
When it comes to covering up bald patches or neatening hairlines that are beginning to look a little thin, a product such as these hair loss fibers from Toppik will come in handy. An aspect of these fibers that stood out is that you can use them on all hair types and textures. These fibers can also be used on bald patches or in thinning hair patches.
I gave Toppik's hair fibers a tray and found them to offer excellent coverage with a natural look. However, it is essential to note that the product needs to be used in moderation, apply too much, and your hair starts to look powdery.
Another thing I need to mention is that this concealer is expensive. It sits at the higher end of the price scale, often costing more than double that of similar products. But, if you're willing to pay, this product is worth the cost.
Key features
Toppik makes this concealer from natural keratin fibers. Keratin is a protein that occurs naturally in our hair. Toppik uses this protein to achieve a natural look and ensure that the fibers bond easily to all hair types. The fibers cling to the follicles of your hair with static electricity and a light spritz of hairspray.
Toppik manufactures these fibers in nine unique colors that range from white and grey through to auburn, black, and a selection of blonde and brown shades. Finding the color that matches your hair ideally is a little tricky, as I was to learn, but once you find the right one, the fibers work well to provide excellent coverage.
Because they are so easy to apply, these fibers quickly become part of your morning grooming routine. Just remember not to use them on wet hair.
Pros
Quick and simple to apply
The fibers simulate real hair very well
Resistant to the elements
Cons
Applying too much of the product will leave your hair looking powdery
Only works on areas where there is hair for the fibers to cling to
Hairatin is a haircare brand that focuses mainly on assisting customers with alleviating the signs of hair loss and balding. The brand, often recommended by hairstylists, prides itself on offering a product like no other on the market.
The Hairatin Hair Building Fibers to Conceal Thinning Hair are designed to cover up receding hairlines, areas of thinning hair, and to make bald patches disappear. Let's see how this product measures up.
Specs
Comes in eight semi-translucent colors
Made from natural keratin fibers
Powder format
Ammonia-free
Who is it Best for?
Hairatin hair-building fibers are the perfect way to get rid of those bald spots and receding hairlines that can leave you feeling self-conscious.
According to their website, Hairatin claims this product is unlike any other on the market for a few reasons. The first being that these fibers adhere to your hairs only and not the scalp. This means no more bold outlines around your hairline that look like you have applied makeup to your hair. The other is that Hairatin's fibers are semi-translucent, which means that the color of the fibers blends naturally with that of your hairs; you don't have to hassle with finding the exact right color to achieve a natural look.
I decided this product needed to be reviewed on these claims alone. Expecting to be disappointed, I was instead left pleasantly surprised. The coverage was excellent, for once my scalp did not look as though I had treated it with my wife's eyeshadow, and the color was an almost exact match.
Key features
Hairatin makes these fibers from natural keratin and ensures that the formula is free from ammonia that can cause the clogging of pores, itching, and skin sensitivities. It is also important to note that ammonia will dry out your scalp and hair, causing breakage and increase hair loss.
The fibers are simple to apply and offer unparalleled coverage, binding to the hair follicles (and not your scalp) using dipolar charges. This unique charge allows the hair and fibers to bond more readily, allowing for a thick natural coverage that lasts.
The only downside to these fibers is the price; they are pretty expensive and sit at the higher end of the price scale. The benefits make them well worth the cost, though, and the canister comes with six months' worth of product, making it relatively cost-effective at the end of the day.
Pros
The coverage is unparalleled 
No need to mix your own colors
Features a great texture and soft fragrance
Cons
The product is rather expensive
Caboki is a brand that comprises a unique team of scientists and makeup artists who came together to create a solution for hair loss ad thinning. Founded in 2011, Caboki's products have taken the world by storm, and today the brand offers a wide selection of sprays, serums, fibers, and mists.
The Caboki Hair Loss Concealer is one of the brand's phenomenal products. What makes it so great? It is made entirely with natural materials that work to make your scalp healthier while offering impressive coverage.
Specs
Made from natural Moroccan Gossypium Herbaceum fibers
Free from synthetic dye fillers, preservatives, and animal products
Features mineral colorants
Comes in 14 unique colors
Who is it Best for?
Caboki is a quick and easy-to-use hair loss concealer that goes on smoothly and leaves you with a head of hair that is full, thick, and free from balding patches.
The brand offers a product that provides a natural hair look and feel for a relatively reasonable price. Caboki sits mid-range on the price scale compared to competitors, making it affordable but certainly not cheap.
After trying this hair loss concealer, I found it exceptional when it comes to coverage, both in that it covers my bald patches well and that it doesn't leave you looking as though you have makeup patted onto your scalp. It also works really well on large balding patches and doesn't leave you feeling or looking powdery.
Key features
Caboki makes its hair loss fibers from all-natural materials; they use Moroccan Gossypium Herbaceum fibers free from chemicals and synthetic colorants, using mineral colors to tone the fibers instead. This formula is also free from any animal by-products. The fibers are designed to complement the natural make-up of your scalp instead of drying it out, which causes more hair loss and breakage.
These fibers sprinkle onto your already styled hair, and then all you need to do is pat them into place and finish it off with Caboki's Volume Control Mist, quick and straightforward.
The fibers come in 14 unique colors that range from auburn to white, black, brown, blonde, and even a salt-and-pepper mix. Finding the right shade to match your hair is simple; all you need to do is find the shade that best matches the root color of the hair near your balding patch.
Pros
Covers bigger patches really well
Only comes out when you shampoo it
Perfectly simulates human hair
Cons
The product is relatively expensive
Infinity Hair Loss Solutions was founded by a product developer who saw the hair loss struggles friends and family faced. In an effort to come up with a product that provided instantaneous results that look like real hair, various formulas were tried and tested before the perfect product was created. The Infinity Hair Fibers – Hair Loss Concealer was born.
This unique concealer is simple to use, provides results in just 30-seconds, and leaves you with a head of thick, vibrant hair.
Specs
Made from Keratin fibers
Offers two application methods
Comes in ten different colors
Works in only 30 seconds
Who is it Best for?
Infinity hair loss fibers offer realistic coverage in under 30-seconds. According to the website, Infinity claims that this hair loss concealer is quick and simple to use. The brand provides the fibers with two application methods: spray-on application for precise, all-over coverage or sprinkle the fibers on your hair to cover smaller patches.
I gave both these methods a try, and I found the spray-on application to be much more handy and straightforward to use. The results were far more accurate, and there was no mess to clean up after.
Compared to competitor products, this offering from Infinity sits at the lower end of the price scale. The hair loss concealer is well-priced and, because it is so inexpensive, is ideal for first-time users. If you don't enjoy the product, chances are you won't feel bad about the money you have spent on it.
Key features
Infinity makes this product from natural keratin fibers. These fibers are then colored so you can find the ones that best match your hair color. The fibers are offered in ten different colors that range from a series of browns and blondes to black, grey, white, and auburn.
Application of the fibers is easy. Style your hair (it must be dry) and then spray or sprinkle the fibers onto your head. Pat the fibers down to ensure they bond properly to your hair and then finish them off with a spritz of Infinity Fiber Locking Spray. This spray locks the fibers into place and gives them a slight shine to prevent them from looking like powder.
I found this product simple to use, easy to match to my hair color, and looked more natural than I had expected.
Pros
The spray-on method is quick, simple, and mess-free
The colors blend well with your natural hair
Cons
You need to use a fixative product in conjunction with the fibers
Cuvva was founded in 2012 to help men and women who suffer from hair loss and thinning gain back their confidence. Today the brand offers a wide selection of hair loss products, each designed to aid in hair regrowth.
Cuvva understands that these regrowth treatments don't always work as quickly as we would like, so the brand also developed products like the CUVVA Hair Fibers – Keratin Hair Building Fibers. These fibers provide coverage for patches with thinning hair or balding areas.
Specs
Made with organic keratin protein
Designed for use with all hair types and textures
Resistant to wind, rain, and sweat
Dermatologically tested
Who is it Best for?
Suppose fast-acting, natural, rain and sweat-resistant and dermatologically tested are all words you want associated with your hair loss concealer. In that case, you may want to look more closely at this product from Cuvva.
The brand offers this versatile product in 14 colors. This vast offering of shades makes it a little easier to match the fibers to your existing hair color. Whether you want auburn or white, extra black or medium brown, you can easily find it here.
Cuvva's hair loss concealer is inexpensive and sits mid-range on the price scale compared to competitor products. I decided to give these inexpensive hair fibers a try and found them to provide excellent coverage. The fibers come out of the canister really easily, too, making them simple to apply and making little to no mess on my countertops.
Key features
Cuvva makes this product using organic keratin protein. These are the same fibers that occur naturally in your hair, so the fibers bind so well to the hair follicles. An aspect of the formula Cuvva could improve upon is the inclusion of ammonium chloride, as ammonia can dry out your scalp and hair and cause greater hair loss. However, the product is dermatologically tested and is safe for use.
These natural hair fibers are made to be resistant to wind, rain, and sweat, so you won't end up with the fibers running down your cheek on a hot day. If you go swimming, I suggest keeping your head above water. As I found out, placing your head underwater shakes many of the fibers loose and interferes with the look you are trying to achieve.
Pros
Provides a far more natural look than competitor products
Cons
Contains ammonium chloride and silica
The fibers won't stay in your hair if you go underwater while swimming
DermMatch was founded over 25 years ago; since then, the brand has provided people across the globe with hair loss solutions. DermMatch offers a unique product to combat hair loss. Unlike other brands that provide fibers and sprays, DermMatch provides a topical shading solution.
The DermMatch Waterproof Hair Loss Concealer leaves us with a revolutionary way to cover bald patches and areas with thinning hair. Gone are the days of sprinkling fibers and not feeling confident in your own hair.
Specs
Uses natural botanical ingredients
Features a waterproof formula
Offers easy application
Comes in a compact carrier so you can take it on the go
Who is it Best for?
If hair fibers are not for you, perhaps this hair loss concealer is the solution you need. DermMatch makes this concealer in an altogether different way, leaving us with a new take on covering up bald patches and areas of thinning hair.
Compared to competitors such as Finally Hair Dab-on Hair Loss Concealer, which we reviewed earlier, this product from DermMatch is a lot more expensive. The small amount of product you receive compared to the number on the price tag may leave you wondering if this product is worth your time.
I decided to give this product a try to see if it was worth the asking price. I found that it excelled in areas of thinning hair. However, I wouldn't recommend use on areas that have very little to no hair as it tends to leave your scalp looking as though you have covered it with makeup.
Key features
DermMatch makes this topical concealer from a blend of botanical and natural ingredients that apply smoothly to the scalp without blocking your pores. DermMatch includes emollients in the formula designed to soothe and nourish your scalp and encourage hair regrowth. Colorants used in this formula come from botanical and mineral sources and not from hair dyes.
The main selling point of this concealer is that it is waterproof, and it won't fall out of your hair onto your face or clothing the way hair fibers do. After testing the product in a few different situations, I found this claim to be accurate, something I really enjoyed because this meant I could go for a swim with a friend and not have to worry about exiting the water with half my "hair" gone and streaks of brown flowing down my cheeks.
Pros
Provides waterproof coverage even in a swimming pool
Comes with two applicators for smooth application
Blends well with your hair
Cons
Not ideal for use on large bald patches
XFusion is a subsidiary of Toppik and is a professional hair care brand aimed at providing solutions for hair loss and thinning hair. Whether your hair loss is genetic, environmental, or a symptom of an illness, the products from XFusion are natural and safe to use, providing you with an excellent cover-up solution.
The XFusion by Toppik – Keratin Hair Fibers is natural, fast-acting, and effective, making it quick and easy to add to your daily grooming routine.
Specs
Made from natural keratin fibers
Comes in 11 different colors
Simple to apply
Offers long-lasting results
Who is it Best for?
If you have thinning hair or a balding patch and want instantly thickened, lush and vibrant hair, you want to give these fibers from XFusion a try. The fibers shake on with ease and, once patted down, will adhere to the hair follicles of your existing hair. Once in place, a blast of hair fiber spray will lock them in place so you can go about your day without worrying about the fibers blowing or falling out.
Men who have a get-up-and-go lifestyle or those with a busy family life and not much time for morning grooming will appreciate the ease and efficiency with which you can apply these fibers. The process works into your grooming routine as a quick last step.
XFusion offers these fibers in 11 unique colors, making it simple to match the fibers to your natural hair. Whether you need a shade of brown, blonde, black, or even pure white, XFusion has you covered.
Key features
XFusion makes these fibers from static-coated natural keratin. The combination of this protein that occurs naturally in human hair and the static charge causes the fibers to bind with your hair strands quickly and firmly.
Compared to competitors, these fibers are reasonably priced and sit at the mid to lower end of the price scale. I found the fibers to offer impressive natural-looking coverage and worked really well when styling your hair in different ways.
I did find the product to be more effective on patches of thinning hair than on large areas that were outright bald. If you apply them to places where you have no hair, it will leave you looking like you have applied makeup to your head. The product does state that the fibers cling to existing hair, so this result would make sense.
Pros
Holds up well when you sweat
Provides a natural look when applied correc
Cons
Needs a fixing spray to keep them in place
The consistency is very powdery
Febron is an American brand founded by three professional hairstylists who wanted to create a product to help those with thinning hair. But unlike other similar products available, these stylists wanted the product to nourish and protect the existing hair follicles leaving customers with vibrant and strengthened hair.
The FEBRON Hair Fibers For Thinning Hair is an award-winning product that is favored by celebs and stylists across the globe, making it a hair loss concealer we had to try.
Specs
Made from 100% natural ingredients
Free from silica, preservatives, and GMOs
Fibers are extra light and non-comedogenic
Comes in 11 unique shades
Who is it Best for?
If you have tried other hair fibers in the past and have, as a result, suffered from blocked pores, an itchy scalp, or rashes, then this product from Febron is an excellent solution.
According to its website, Febron puts safety first and has taken great care to formulate a product that is gentle on your scalp and won't cause clogging, clumping, fibers not adhering to your hair, or itching. Febron's hair fibers are designed to be the lightest in the world, ensuring that none of these side effects come from using this product.
These lightweight hair fibers come in 11 different colors so that you can match them to the color of your natural hair. The only downside is that the brand doesn't appear to offer the fibers in a vivid red color.
Key features
Febron's formula is popular in the entertainment industry as the lightweight fibers blend exceptionally well with the hair follicle, making them virtually undetectable, even under harsh stage lighting.
Because these fibers are so light, they won't weigh down your hair, making it easier to style it in numerous ways. It also means that your hair won't appear flat and treated with a product.
The hair loss concealer is designed to last all day and is resistant to wind, rain, and sweat, so you can remain as confident about your look that evening as you did that morning when you applied the fibers. The only way you're getting them out is with a shower and shampoo.
Something unique to this product is that you can brush your hair after you have applied the fibers and not have them all fall out.
Pros
You can use a brush with these fibers
Offers an excellent color match
Doesn't leave your hair feeling heavy or flat
Cons
Does not come in a vibrant red shade
Luxe Professional sells its LUXE Hair Thickening Fibers with the tagline that labels the product as confidence in a jar. The brand takes pride in the formulation and manufacture of these handy little fibers that blend effortlessly with your hair to leave you with thick, vibrant locks in place of thinning, uneven patches.
Luxe aims to help you regain confidence, making it a breeze to go about your daily life without having to worry about the appearance of your hair or, rather, lack of it.
Specs
Hypoallergenic
Fragrance-free
Comes in seven different shades
Made from natural fibers
Who is it Best for?
This hair loss concealer is ideal for those with sensitive skin. It is hypoallergenic and made in such a way that it won't clog your pores or clump together on your scalp and cause itching. Instead, these fibers help to build volume, leaving you with a head full of thickened hair.
Compared to offerings from Toppik and Boldify, these fibers from Luxe are well-priced and are inexpensive. The color offerings are slightly limited, and you will find only nine different shades from which to choose. Luxe takes care to offer a range of hues throughout the natural hair color spectrum from black to light brown, blonde, white, and even auburn. What you won't find, though, are salt-and-pepper shades or platinum blonde.
Key features
Luxe makes these hair fibers from natural, premium quality keratin. These proteins are electrostatically charged and bond quickly to your existing hair follicles when applied to your head. The great thing about these fibers is that you can brush through them once they have been applied, unlike other hair fibers on the market. This makes it easier to style your hair and to ensure it doesn't look flat.
These hair fibers are dermatologically tested, have no side effects, and are ideal for use on all hair and skin types. Better yet, they create volume and shine and won't stain your skin or clothing.
After trying these fibers out myself, I found them to be slightly thicker than other fibers available. If you have to apply them in large areas, they become a lot more noticeable. However, if that is the only downfall, then, in my opinion, this is an exceptional product.
Pros
You can brush your hair after application
Cons
The fibers are thicker and don't do well over large areas
Things to Consider When Buying a Hair Loss Concealer
1. Material
When buying a hair loss concealer, it is essential to look at the ingredients or materials used to make the product. Not all of these products are created equally, and you don't want to end up with a concealer that causes you more hair loss in the long run.
Hair loss concealers that contain harsh chemicals, preservatives, and synthetic dyes can lead to irritation or drying of the scalp. When your scalp is itchy, has clogged pores, or is dry, your hair will fall out much faster.
Take the time to find a concealer made from natural products such as plant-based fibers, natural keratin and that uses mineral colorants.
2. Color
Color is another important consideration when buying a hair loss concealer. You don't want to spend your money on a product that is entirely the wrong shade for your hair, and that leaves your condition more noticeable and worse off than when you started.
Some hair fibers can be mixed together to achieve a shade that is most like your current color. Others feature fibers that are semi-translucent and that blend more readily with your existing shade.
Brands that don't offer these options will usually provide a detailed guide on finding the color that is closest to the color you want.
Our advice is always to read the reviews on the product, such as this one. People who have spent their money on concealer are more likely to give you an honest insight into how well the color matches natural human hair.
When looking for the best hair loss concealer, there are several things to consider. Giving thought to the brand, coverage, the ingredients used, color options, how real the results look, and quality will all put you a step closer to finding the hair loss solution that best suits your needs.
By closely examining and testing each of the hair loss concealers in this review, we concluded that they each surpassed the criteria discussed above. We hope this review makes it simpler for you to find the ideal hair loss concealer for your needs.