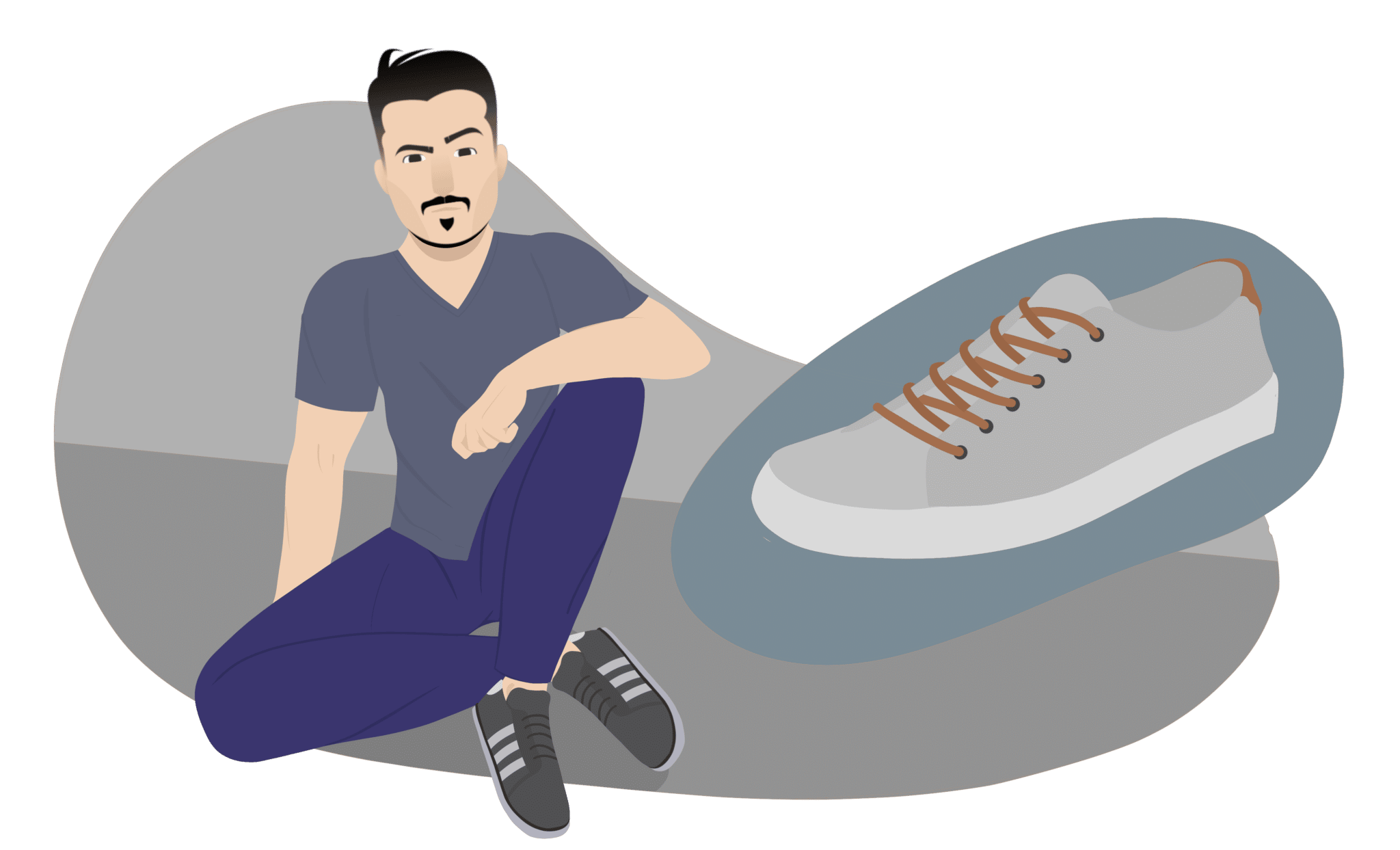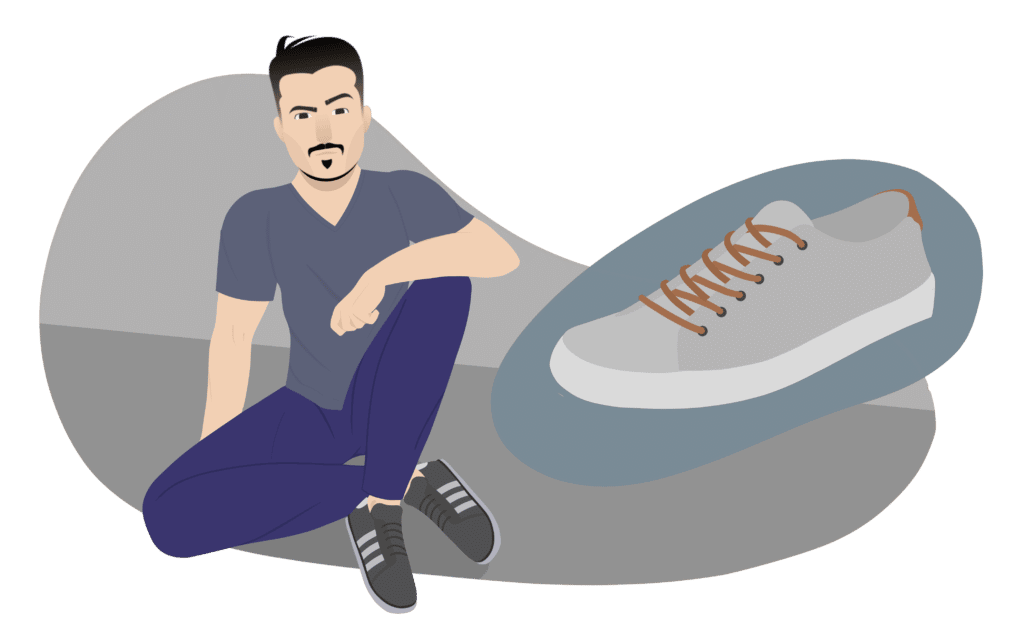 When it comes to men's shoes, there is a range of dress shoes and sneakers available, and where one leans towards the more formal side of things, the other is squarely in the casual corner. So what happens when you need a pair of shoes that fits somewhere in the middle?
A pair of casual shoes that features the comfort and support of a sneaker and the styling of a dress shoe is the perfect happy medium. These shoes come in loafers, brogues, and chukka boots, to name a few. They are easy to slip onto your feet, comfortable, and provide support for all-day wear.
Unfortunately, not all men's casual shoes are made equal. To make it less challenging for you to find a high-quality pair, we have gathered together the best casual shoes Amazon offers and reviewed each pair.
Best Casual Shoes for Men
We tried, tested, and wore various casual shoes from Amazon and concluded that these eight are the best brogues for daily wear. We used the approach to chat to men about what they looked for in a high-quality casual shoe and collected together the ones that ticked these boxes. We then reviewed each of these pairs of footwear. Our evaluation of each was based on the following criteria: the materials used to make the shoes, style and design, durability, functionality, and comfort.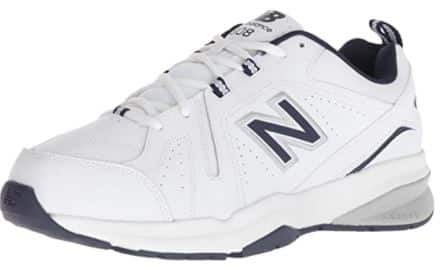 New Balance is an American brand that was founded over 100 years ago. Today, New Balance is renowned for its impressive footwear and apparel, designed with athletes in mind. New Balance strives to produce shoes that allow athletes to reach their goals. Luckily for us, these shoes are so comfortable, and they look so good that they can be worn as fashion footwear.
A prime example of the brand's versatility is the New Balance Men's 608 V5 Casual Comfort Cross Trainer. This shoe is perfect for training and fashion wear.
Specs
Features an ABZORB heel crash pad
Made with a premium leather upper
Includes a New Balance Comfort Insert for memory comfort insole
Comes with a flexible rubber outsole
Who is it Best for?
If you are looking for a shoe that offers more than just comfort, you need a pair of shoes from New Balance. These sneakers wear well as fashion footwear, but they are also designed to be cross trainers, providing you with the right amount of flexibility and support to perform your training efficiently.
Compared to another shoe style from the brand, the New Balance Men's 410 V7 Trail Running Shoe, these are inexpensive and offer similar functionality.
We tried these shoes out and found them to be very stylish, and the flexibility they offer is impressive. However, the toe box runs a little small and tends to pinch your toes. If you have wide feet, these may not be the shoe for you.
Key features
These sneakers from New Balance are made from premium leather uppers that feature tiny aeration holes to allow for breathability. These holes allow air to circulate your foot, keeping it cool and comfortable, preventing it from overheating and becoming sweaty.
The shoe provides cushioning and comfort from all angles. A dual-density foam collar offers support and stability for your ankle, keeping your foot firmly in place and preventing injury.
The removable memory foam insole is included to provide cushioning and comfort while you train.
New Balance uses its ABZORB Technology to introduce an ABZORB heel crash pad designed to absorb shock and provide compression resistance.
The flexible rubber outsole is made to provide you with excellent traction for forwards or lateral movement.
Pros
The shoes offer good flexibility
The insoles are removable so you can replace them with your own
The cushioning is exceptional
Cons
The toe box is a little on the small side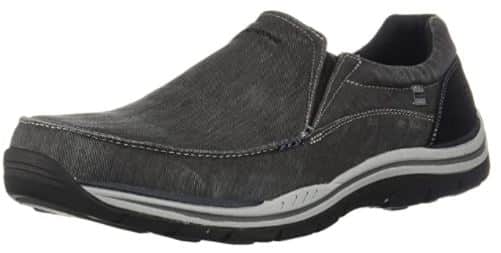 Skechers is an American footwear brand founded in 1992. Skechers is renowned for its shoes; however, it is their performance footwear that has left customers impressed. Today, Skechers is the third largest athletic footwear brand in the United States.
Skechers Men's Expected Avillo Relaxed-Fit Slip-On Loafer is one of the brand's fashion shoes. The style and design make them ideal as casual shoes or as dress shoes.
Specs
Made from a canvas upper
Includes a durable rubber sole
Slip-on design
Features a memory foam footbed
Who is it Best for?
These loafers from Skechers come with a unique retro style. They slip easily onto your foot and are ideal for those times when you need to dress quickly for an event.
We gave these loafers a try to see if they were as comfortable as they looked, and we weren't disappointed. The shoes fit your foot as though you have already worn them in, providing instant comfort. They also don't cut into the back of your heel the way many other shoes of this style do.
The only downside to these shoes is that Skechers could have executed the distressed look they feature a little more carefully. The design is a little uneven on the loafers we bought, and this left them looking a little odd.
Key features
Skechers makes these shoes with a durable canvas upper. The loafer style makes these the perfect slip-on shoes. The padded collar provides a sturdy opening that makes it simple to slip your foot right in, and it gives soft padding that protects the back of your ankle to prevent blisters and chafing.
The footbed is made from soft memory foam that provides excellent cushioning. In addition, these insoles reform their shape each time you remove your foot, so you are left with a soft pillowy feel each time you put the shoes on.
A durable rubber outsole provides exceptional traction that keeps you stable on your feet no matter what sort of surface you traverse.
Skechers design these shoes to be worn as dress shoes, and they pair well with chinos or Capri pants, or even jeans and a t-shirt.
Pros
The shoes fit your feet perfectly from the first wear
The shoes are designed to offer support and cushioning
These shoes are lightweight
Cons
The distressed look could have been better executed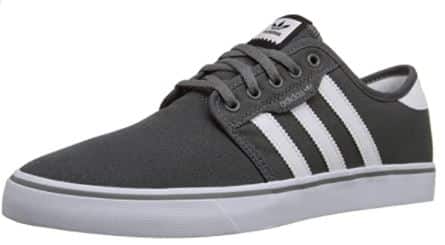 Adidas was founded in Berlin, Germany, in 1924, by a young man named Adi Dassler. Dassler's mission was to provide athletes with the best footwear possible to allow them to reach their optimal performance. Dassler spent hours honing his shoes by chatting with the athletes whom he would create them for.
This quest for understanding allowed Dassler to develop technology that now enables the brand to produce some of the world's most-loved shoes. One such pair of shoes is the Adidas Originals Men's Seeley Running Shoes.
Specs
Made from synthetic uppers
Comes with a durable rubber sole
Features an abrasion-resistant design with a vulcanized rubber outsole
Comes with a reinforced toe
Who is it Best for?
If you want a comfortable pair of canvas sneakers, these shoes from Adidas are a great place to start. They are comfortable, lightweight, and highly breathable.
Initially designed as a skating shoe, these casual sneakers were so trendy that they became fashion footwear too. This blend of comfort and style piqued our interest and left us wanting to find out more, so we ordered a pair or two and tried them out for a few weeks.
While marketed as skate shoes, we advise you to use them for walking or as fashion shoes as they don't hold up to the wear and tear that comes with skating. However, if you use them for less impactful wear, you will find them, as we did, to be highly comfortable and lightweight.
Key features
Adidas makes these slip-on sneakers from synthetic canvas that is breathable and lightweight. The breathability of these uppers allows air to circulate through the shoe and around your foot, regulating your body temperature and keeping your feet from overheating and becoming sweaty.
These abrasion-resistant uppers also come with a reinforced toe for added durability. A padded heel provides comfort and support and makes it easy to slip your foot into the sneaker with ease.
The sneakers come with a platform that provides stability and additional protection for the underside of your foot. A thick vulcanized rubber outsole is added to the shoe to offer grip, whether on a skateboard or a slippery pavement. These soles are thick and durable and provide excellent shock absorption too.
Pros
They are lightweight and very comfortable
The shoes slip onto your feet with ease
Adidas offers these shoes in an assortment of colors
Cons
The shoes fare better with low-impact use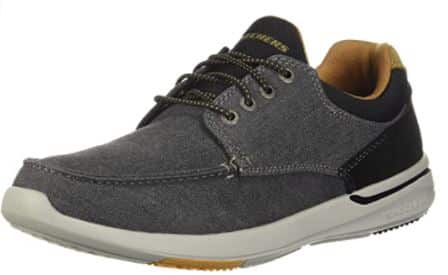 Skechers is an all-American footwear brand that specializes in performance shoes in particular. The company, founded in 1992, has grown in leaps and bounds thanks to its fashionable designs and high-quality materials used to execute them.
The Skechers Men's Relaxed Fit-Elent-Mosen Boat Shoes are a perfect blend of performance shoes and fashionable design. The result is a high-quality shoe that looks great when paired with an assortment of outfits and the comfort that makes an everyday shoe worth wearing.
Specs
Made with a textile and leather upper
Comes with a durable rubber sole
Features an air-cooled memory foam inner
Wears as a pair of slip-on shoes
Who is it Best for?
Men wanting a shoe that is big on comfort and style for everyday use may want to look a little closer at this option from Skechers.
These boat shoes offer a more relaxed look that sees a unique blend between a more formal dress shoe and a classic sneaker.
Intrigued with the look and design of the shoe, we decided to give them a try to see whether they were as comfortable as they looked. The shoe itself is very comfortable and features a wider toe box making them perfect for people who suffer from bunions or hammertoe.
It is important to note that the lace-up design of the shoe is purely for show and that these are, in fact, slip-on shoes.
Key features
Skechers makes these shoes with a durable rubber outsole that provides exceptional grip and traction. This grip makes it easy to traverse slippery surfaces, high-shine flooring, and uneven pathways while keeping upright and on your feet.
The upper of the shoe is made from a breathable textile that allows air to circulate your foot, preventing overheating and stopping your foot from becoming sweaty. Combined with this textile is a leather detailing that adds stability and a touch of style to the upper.
The collar and tongue of the shoe are padded and provides a sturdy opening to the shoe, making it simple to slip your foot in and out of it. This padding also creates a soft cushioning on the back of your ankle, preventing blisters and chafing.
The inner is made from air-cooled memory foam that is so soft it leaves you feeling like you're walking on air.
Pros
The memory foam inner leaves you feeling as though you're walking on air
The shoes slip onto your feet easily
The fit is ideal for those with wider feet or bunions
Cons
The laces of this shoe are decorative only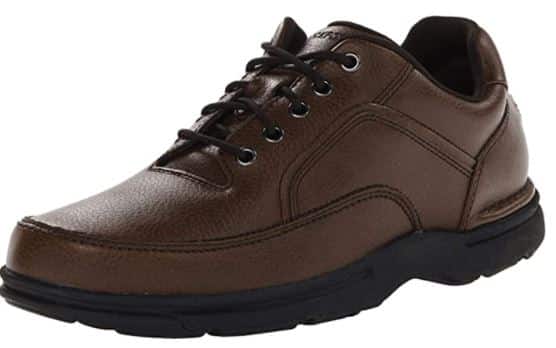 Rockport is an American brand founded in 1971 that focuses on producing shoes, but not just any shoes. Back in the day, there were dress shoes, and there were sneakers, and that was pretty much the sum total of it all. Rockport saw a niche and began designing and manufacturing footwear that offered a happy medium between the two styles.
Today the brand is loved across the globe, and looking at the Rockport Men's Eureka Walking Shoe; it is easy to see why.
Specs
Made from genuine leather
Includes a shock-absorbing EVA midsole
Features a fatigue-fighting latex footbed
Comes with a breathable and moisture-wicking lining
Who is it Best for?
If comfort and style are what you seek in a pair of leather sneakers, then you may want to look at these a little more closely. These Eureka Walking Shoes from Rockport feature a minimalist style yet are packed with features that make them perfect for comfortable daily wear.
The shoes come with a sleek yet almost rugged look to them, leaving them with the appearance that perhaps they are not the most comfortable shoes. If this were your thinking, you'd be wrong.
We gave them a try and found them impressive when it comes to comfort, cushioning, and fit. Rockport could improve on the durability of the shoe, as these began to show signs of wear and tear far sooner than we would have liked.
Key features
Rockport makes these shoes from genuine leather, leaving you with soft yet durable uppers that are breathable and sturdy. Rockport designs these shoes to feature a San Crispino construction that adds to the durability and style of the shoe.
Inside the shoe, you will find areas of padding in strategic places that prevent blisters, chafing, and discomfort. A breathable lining allows air to circulate, keeping your feet from overheating, while the moisture-wicking properties draw any sweat or moisture to the surface, allowing it to evaporate.
A latex memory foam inner provides exceptional cushioning and reduces foot fatigue, making these shoes comfortable to wear for extended periods or while you are out on a leisurely walk. These footbeds also absorb any shock on impact, protecting your foot and ankle.
Pros
Suitable for all skin types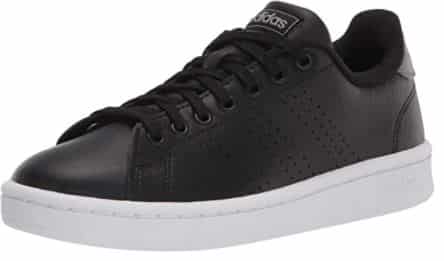 In 1924, in the small town of Bavaria, Germany, a young man named Adi Dassler founded a small shoe company that placed its focus on providing athletes with the best shoes in the world. These shoes were designed and tweaked until the technology and materials used to make them allowed the athletes who wore them to perform optimally.
This attention to detail and perseverance to create the ideal shoe continues today. It can be seen in any of the brand's shoes; an exceptional example is the Adidas Men's Advantage Sneaker.
Specs
Comes with a lightweight synthetic upper
Includes a durable rubber outsole
Features a Cloudfoam sockliner
Made for wear as tennis shoes
Who is it Best for?
If you want a shoe that offers versatility, then these are for you. Adidas designed these sneakers as tennis shoes, but they wear so well they are frequently bought as fashion shoes for daily casual wear.
The low top design combined with the wide selection of color options means you can buy these as a pair of white sneakers or black.
The versatility combined with the color options left us wanting to know more, so we gave these shoes a try. The design and comfort of the shoe left us impressed. However, if you have slightly wider feet or prefer to wear your shoes with thick socks, then you may want to buy a slightly larger pair as the sizing runs a little small.
Key features
These shoes are made from a 10% synthetic upper that provides durability and makes them very easy to clean. The textile used is made from Primegreen, a substance made from 50% recycled materials, making these shoes environmentally friendly.
Punched into the sides of the sneaker are small perforations that allow for breathability. These perforations work with the textile lining that allows air to circulate your foot, preventing it from overheating. This lining also wicks away moisture to the surface of the shoe, where it can evaporate through these perforations.
Inside the shoe is a Cloudfoam Sockliner that provides exceptional cushioning and adds comfort, making the sneakers perfect for daily casual wear.
The durable rubber outsole ensures that you are stable on your feet by absorbing shock and providing traction.
Pros
The insole is extremely comfortable
These shoes are simple to maintain
The sole provides excellent traction
Cons
The sizing of the shoe is a little snug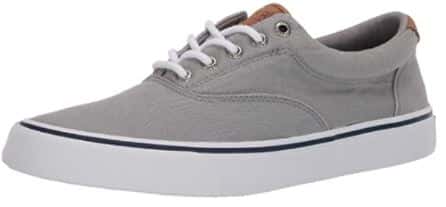 Sperry, also known as Sperry Top-Sider, is an American brand renowned for its boat shoes and apparel. The company was founded in 1935 and was the first to produce boat shoes for the boating and footwear markets. The brand made shoes that provided exceptional grip and durability and soon became the official shoe of the US Navy.
Today, the brand is loved across the globe and produces a range of footwear, including the Sperry Men's Striper II CVO Nautical Sneaker that ties in nicely with the brand's maritime origins.
Specs
Made with a canvas upper
Comes with a sturdy rubber outsole
Features a hidden gore construction
The shoes feature a slip-on design
Who is it Best for?
Sperry's men's nautical sneakers are the ideal shoe to wear while spending time on your yacht, chilling on the boardwalk at the beach, or taking a leisurely stroll around town. They feature that quintessential classic maritime sneaker look and offer the comfort to match.
After wearing these nautical sneakers around town for a few weeks, we concluded that they are as comfortable as they look, if not more. The only downside to these maritime shoes is that they are not water repellant, water-resistant, or waterproof, so don't let the name mislead you.
The design of the shoe allows them to slip onto your foot with ease, and slipping out of them when you want to remove them is even less of a hassle.
Key features
Sperry makes these casual sneakers with a durable but soft canvas. The canvas is breathable and allows for airflow through to your feet to keep them cool and comfortable. This breathability also prevents your feet from becoming sweaty and also stops your shoes from becoming odorous.
The sneakers come with a padded collar that provides protection for your heel and makes the opening sturdy. This design then combines with the hidden Gore construction to make it simple to slip the shoes on and off your feet without having to struggle.
A solid and durable rubber outsole provides ample shock absorption and protects your feet, knees, and ankles from impact. These soles are non-marking and feature a molded Wave-Siping that provides non-slip traction.
Pros
The traction these shoes provide is impressive
These shoes are true to size and don't need any breaking in
They are flexible and comfortable to walk in
Cons
These shoes are not water-resistant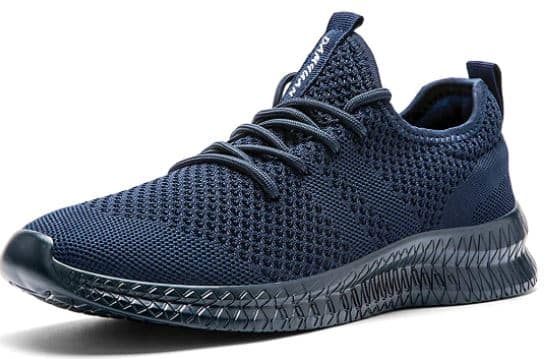 Fujeak is a brand that specializes in men's and women's running and casual walking shoes. This sneaker brand focuses on offering exceptional comfort and style when it comes to footwear, making its shoes popular and favored by athletes.
The FUJEAK Men's Casual Shoes are a prime example of the brand's ability to combine comfort, style, and functionality to form a shoe that meets your needs.
Specs
Made from a flying woven mesh upper
Includes a unique honeycomb insole
Features an Air-Cushion sole with an anti-slip grip
Offered in an assortment of solid colors
Who is it Best for?
Shoes that offer versatility ensure you get more bang for your buck, and these shoes from Fujeak offer just that. The shoe is designed to be worn casually or as a running or walking shoe so that you can get more wear out of it in all kinds of settings.
The shoes come in a range of unique shades from brilliant red to olive green and navy, making it easy to find a pair that suits your tastes and wardrobe.
We decided that the red sneakers were too good to pass up, so we bought a pair and gave them a try. The shoes arrived, and we put them on, and at first, they felt a little snug. However, after wearing them in for a few hours, the shoes stretched out a little, providing the perfect fit.
The only element to the shoe we found unusual is that they are listed as slip-on, which we expected. However, it is important to note that these are, in fact, lace-up shoes.
Key features
Fujeak makes these shoes from a flying mesh upper that is highly breathable, keeping your feet cool, comfortable, and free from sweat, moisture, and odor.
The insole of the shoe is made from elastic rubber that forms a honeycomb design. This honeycomb construction allows the shoe to mold your foot while providing excellent cushioning and preventing foot fatigue.
A durable rubber outsole with a built-in air cushion design provides absorption of shock in impact and allows for a slight bounce in your step. Beneath the sole is a unique non-slip pattern that prevents you from slipping by creating impressive traction. No matter where you find yourself, be it on slippery wet paving, high-shine tiles, or on uneven gravel, you can be sure you won't slip up.
Pros
They are more comfortable than they look
The shoe mold to fit the shape of your feet after only a few hours
The breathability of the shoes is impressive
Cons
These are not a slip-on design
Things to Consider When Buying Casual Shoes for Men
1. Style
Whether you buy your shoes from a retailer such as Zappos or buy your boots online from a retailer such as Amazon, think about where you will be wearing them and then make a call as to which style will best suit your needs.
There is a wide assortment of different shoe styles to choose from, including sneakers, high tops, low tops, flip flops, loafers, brogues, chukka boots, Chelsea boots, and mules.
2. Materials
Different styles of shoes are made from different materials. Some materials work well in cooler climates and provide additional warmth and comfort, while others are better suited to wear in warmer locations.
Shoes made from synthetic textiles often feature an upper with a faux leather or plastic feel. Unfortunately, these shoes are not breathable. Suppose you choose to opt for a pair made from synthetic materials. In that case, it is always best to ensure they have small perforations to allow for breathability to prevent your feet from becoming hot and uncomfortable.
Canvas or mesh shoes are usually exceptionally breathable and are ideal for wear in warmer regions or times of the year. The downside t canvas shoes, though, is that they are often not water-resistant.
Leather, whether it be full-grain leather, genuine Italian leather, or suede, is another excellent material for shoes. It is soft, molds to the shape of your foot, and is breathable. In addition, leather works well to regulate the temperature of your foot; however, if you are looking for a pair of casual leather shoes for winter wear, it is always best to find a pair with good insulation. An excellent example of a genuine Italian leather shoe is the Koio Men's Triple White Capri Sneaker.
When looking for the best sneakers, there are several things to consider. Giving thought to the brand, durability, the material used, style, and quality will all put you a step closer to finding the casual shoes that most suit your needs.
By closely examining and testing each of the men's casual shoes in this review, we concluded that they each meet the criteria discussed above, making it more simple to find the best sneakers or loafers to meet your needs.