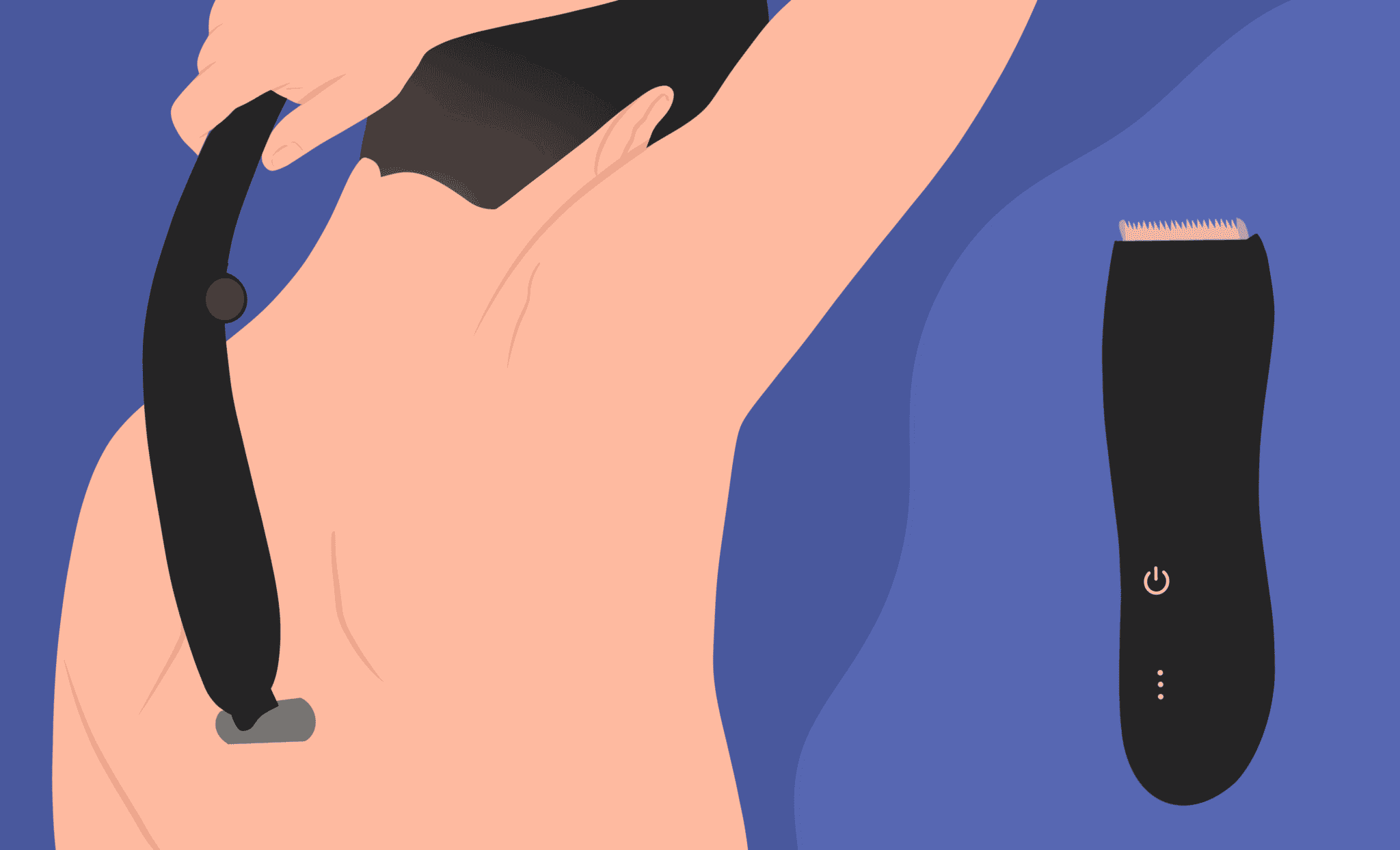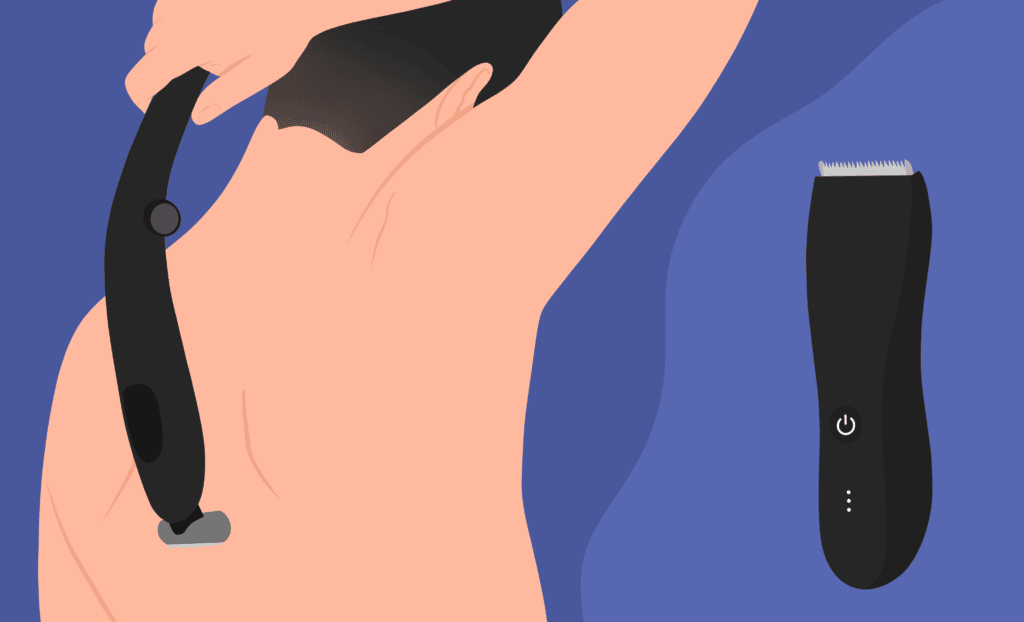 When it comes to grooming your body, only the very best groomers and trimmers will do. There is nothing worse than trimming your hair only to end up with ingrown hairs, nicks, cuts, and razor burn or rashes.
Using a high-quality body groomer, you will experience an efficient trim that cuts your hair evenly and without pulling and pinching. So whether you have sensitive skin, you compete as a bodybuilder, or you prefer a hairless manscaped look, a body groomer is a tool you need.
Unfortunately, not all grooming tools are made equal. To make it less challenging for you to find the best body groomer, we have gathered together the best Amazon has to offer and reviewed each of them.
We tried and tested various body groomers from Amazon and concluded that these eight are the best trimmers for that manscaped look. We used the approach to chat to men about what they looked for in a high-quality shaver and collected together the ones that ticked these boxes. We then reviewed each of these body groomers. Our evaluation of each was based on the following criteria: functionality, ease of use, wet or dry use, battery life, and features.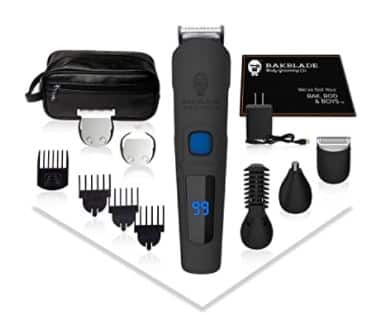 Bakblade is a brand that focuses on the design and manufacture of men's grooming tools. The brand was founded by a young man who had his fair share of back hair that not only left him feeling self-conscious but that was not easy to reach and shave with even the most expensive tools on the market.
His response to this issue was to design his own grooming tool. As a result, today, the brand offers a wide selection of groomers to meet your individual needs. One such groomer is the baKblade Body Grooming – BODBARBER – 11 in 1 Men's Body Grooming Kit.
Specs
Includes 11 grooming attachments
Designed for wet or dry use
Uses a rechargeable battery
Features two-speed settings
Who is it Best for?
Men looking for an all-over body groomer to keep their back hair, pubic hair, and facial hair in check may want to look a little more closely at this groomer from baKBlade.
The groomer comes with a wide selection of accessories that make it easy to trim and shape the hair across your body. The features this groomer offers piqued our interest and left us wanting to find out more.
This grooming set is relatively inexpensive compared to the PHILIPS Norelco OneBlade Pro-Kit, Hybrid Electric Trimmer, and Shaver.
We found this shaver to offer exceptional functionality. It works very well across the board, no matter what area you choose to trim or shape, unlike other brands that function better with beards than body hair or vice versa.
Key features
The Bodbarber comes with 11 unique comb attachments that allow you to groom your body from head to toe.
A GroinGroomer comes with micro-teeth to leave you with a smooth trim without the pinching and pulling, perfect for those more sensitive areas.
The BodyGroomer is designed to trim your body hair from your legs, arms, back, and chest hair, leaving you with an even cut and skin free from rashes and blemishes. The ear and nose hair trimmer makes it easy to groom those small and hard-to-reach areas.
You will also find a foil shaver designed to leave you with a soft, smooth shave for your beard, neck, and jaw.
This handy groomer features an ergonomically designed handle that makes it simple to maneuver and comfortable to hold.
Use this rechargeable trimmer wet or dry to achieve the look you have always wanted.
Pros
This trimmer works very well on more sensitive areas
The trimmer is exceptionally versatile
It leaves you with the perfect cut
Cons
The guards are prone to slipping off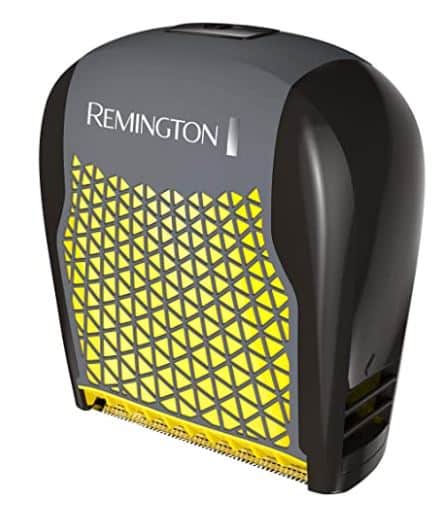 Remington has been creating personal care products for over 80 years. Whether it is a hairdryer, curling tongs, shavers, or body groomers you need, Remington will have it. The brand aims to provide you with tools that elevate your personal style and look.
The Remington BHT6455FF Shortcut Pro Body Groomer is one of the many grooming tools Remington has to offer. We decided to give it a try and see what results it produced.
Specs
Includes an extendable handle to reach all areas of your back
Comes with stainless steel blades
100% waterproof for wet or dry shaving
Features a rechargeable battery with 40 minutes of runtime
Who is it Best for?
If you're looking for a grooming tool that fits neatly into your hand and that can extend to reach all areas of your back, this may be the tool for you.
Remington designs this handy hair removal device to make it simple and effective. This body hair trimmer is perfect for use on chest hair, back hair, and on your arms or legs.
The extendable handle that comes with the shaver appealed to us, so we decided to give the trimmer a try. Compared to the Panasonic Body Hair Trimmer for Men, this offering from Remington is a lot more affordable and has the bonus of reaching even the most challenging places. If you are looking for a cost-effective and versatile shaver, this is it. They are fantastic when it comes to a smooth, even shave, and because the wide blade is slightly curved, we found it great for shaving your head too.
Key features
When it comes to features, Remington does not mess about; look at the accessories that come with this multi groom shaver.
The groomer comes with five guide combs so you can trim your body hair evenly to different lengths.
The trimmer features an ergonomic design that makes it easy to hold in your hand for greater control, and it also comes with an extendable arm. This arm makes shaving difficult to reach areas such as your lower back quick and easy to get to.
The dual-sided blade is wider than most of those found on regular hair clippers, allowing you to trim your hair more efficiently. The stainless steel composition of the blade ensures it will last, making the shaver cost-effective.
This trimmer runs off a lithium ion battery that charges quickly and provides up to 40 minutes of run time.
Best of all, this shaver is 100% waterproof, making it ideal for use in the shower or over the basin.
Pros
The wide blade is slightly curved which is excellent for shaving over contours
The battery life of this shaver is excellent
The extendable are makes trimming back hair a breeze
Cons
This trimmer is not designed for armpits or pubic hair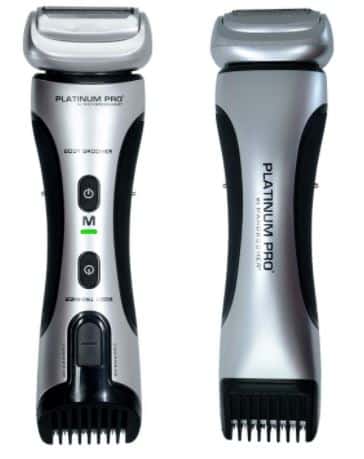 Mangroomer is a brand that focuses on the design and production of men's grooming products and electric shavers. The brand aims to create shavers and trimmers that provide a sleek, smooth shave that is gentle on sensitive skin.
The PLATINUM PRO by MANGROOMER is one of the brand's exceptional offerings for body grooming. It works as both a shaver and a trimmer, so you can achieve the cut you need most.
Specs
Comes with hypoallergenic stainless steel blades
Designed for wet or dry shaving
Features eight length settings
Includes a shock absorber multi-functional flex neck and body groomer head
Who is it Best for?
Men looking for a body groomer that does it all will enjoy this hair clipper. It comes with both a foil and a trimmer so you can shave, trim, or detail the areas of your body. Better yet, it is perfect for sensitive areas such as the armpits, the groin, bottom, and stomach.
Compared to the MANSCAPE Electric Groin Hair Trimmer The Lawn Mower 3.0, this all-in-one trimmer is less expensive, and it comes with a foil for sensitive skin.
The excellent price and impressive features left us wanting it to give us a try. After using it for a few months, we are happy to conclude that this shaver is efficient, and best of all, it doesn't snag, pull, or pinch. The only downside is that it does make a slight rattling sound when you switch between the trimmer and the razor.
Key features
This groomer from Mangroomer is designed to trim and shave the hair that covers your body. It features a shaver and a trimmer in one, so you can trim your longer hairs down before shaving them off completely, and you can neaten up your sideburns or get to styling your beard.
The one side of the device features a trimmer and foil blade that comes with a shock absorber flex neck that allows you to shave your hair in one swift motion. The other side features a trimmer that comes with eight length settings that allow for you to use it as a detail trimmer or as a way to neaten up long hair.
This electric shaver runs off a lithium ion battery and comes with a handy charging cradle. A red/green charging indicator light lets you know when the shaver is low on battery or is fully charged. Although electric, it is designed for use as a wet or dry shaver for added convenience.
Pros
Doesn't pinch, tug, or pull
Is excellent on sensitive areas
Cons
Makes a slight rattling noise when you switch between the trimmer and the razor
Cannot be used as a beard trimmer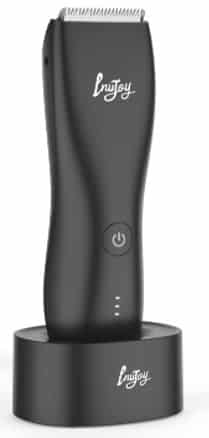 INVJOY is a brand specializing in men's grooming products. The brand makes a wide selection of grooming tools designed to elevate your look and keep you feeling great. Whether it is a beard straightening brush to neaten up your facial hair or a body groomer to keep your body hair trimmed and tidy, INVJOY is a great brand to look at. 
The Pubic Hair Trimmer for Men by INVJOY is one of the brand's many products and is designed for use in those more sensitive areas.
Specs
Includes a ceramic blade
Designed for wet or dry shaving
Offers 60 minutes run time and 1.5 hour charge time
Comes with a USB docking station
Who is it Best for?
This unique trimmer is designed specifically to groom the groin area and other sensitive areas across the body, such as the armpits. It comes with a charging dock that doubles as a storage station, allowing you to keep it neatly stored and fully charged.
The specific nature of this groomer left us wanting to test it out to see whether it provided what it promised, a smooth shave that doesn't pinch or pull.
This trimmer stood up to the test. It delivered a smooth, even cut free from cuts, nicks, and pulling. It works really well in the shower and makes it simple to get the task at hand done efficiently.
Compared to The Trimmer by Meridian: Electric Below-The-Belt Trimmer Built for Men, this shaver is affordable and delivers results that matter.
Key features
This groin trimmer comes with a double-sided guide comb with a three-millimeter length on one side and a six-millimeter length on the other.
A simple on/off switch makes it easy to operate the trimmer, and when you're done, you can place it back in the docking station to recharge. This station is compact and won't take up too much space on your bathroom counter.
A three-light indicator keeps you informed about when the trimmer will need charging. It takes a mere 90-minutes to charge fully, and it will leave you with 60-minutes run time when it is complete.
If you don't want to charge the trimmer in its dock, you can also charge it via a USB cable connected to a laptop or power bank.
Pros
The shaver is comfortable to hold and leaves no wrist fatigue
The trimmer is inexpensive
Cons
Not designed for beard or head trimming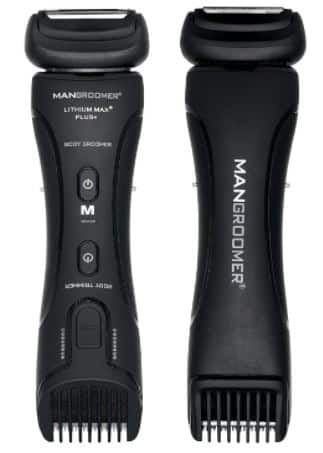 When it comes to personal maintenance, Mangroomer understands the needs of men. The brand has spent years honing unique designs to leave you with body groomers that get the job done efficiently, painlessly, and without hassle.
The MANGROOMER Lithium Max Plus Body Groomer is a two-in-one design that allows you to effectively trim and groom your body hair in even the most sensitive of places, making it an excellent choice for your grooming needs.
Specs
Includes hypoallergenic stainless steel blades
Offers two trimmers in one
It is shower safe and can be used for wet or dry shaving
Comes with eight unique settings
Who is it Best for?
Men looking to tackle their body grooming needs with one device need look no further than this offering from Mangroomer. It features a two-in-one design that is designed to groom and trim hair quickly and effectively.
When compared to the Philips Norelco BG7040/42 Bodygroom Series 7000, this shaver is slightly more expensive. However, it does feature dual functionality that makes up for the additional cost.
We tried it out to see if it was as efficient and effective as Mangroomer's website claims it to be. Needless to say, we weren't left disappointed. This dual shaver is easy and comfortable to grip, thanks to the practical ergonomic design. The only downside is that the button to switch between the groomer and the trimmer is easily pressed by accident, which can be a bit of an annoyance when you are mid-shave. The trimming itself is impressive, and it doesn't pinch or nick your skin.
Key features
This unique groomer features two sides that each offer a particular function. The one end comes with a shock-absorbing flexible neck and head that easily follows the contours of your body, preventing nicks, cuts, and rashes. It comes with a hypoallergenic stainless steel foil head that allows for a close shave that won't irritate or cut sensitive skin.
The other end features an adjustable trimmer with eight different length settings that allow you to cut different hair lengths evenly and use the device as a detail trimmer.
This trimmer runs off a Lithium-ion battery that you can recharge to ensure your shaver is always ready to go.
Because the groomer is designed to be 100% water-resistant and waterproof, you can use it in the shower for a wet shave or over your vanity for a dry shave. This also means that the shaver is simple to clean and can easily be kept hygienic.
Pros
The shaver is very comfortable to hold and easy to grip
The blades and foil are hypoallergenic
This shaver doesn't leave your skin irritated
Cons
The switch-over button is easily accidentally pressed when you hold the device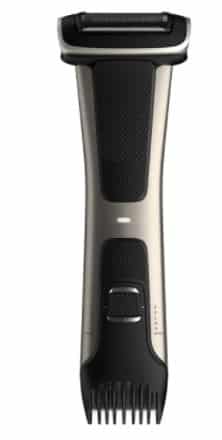 Phillips Norelco is the name of the American division of the consumer electronics brand, Phillips. The brand has been manufacturing and designing electric shavers since 1939. For over 80 years, the brand has honed its technology and expanded its product offerings, leaving us today with reliable products such as light bulbs, grooming tools, and audio products.
The Philips Norelco BG7030/49 Bodygroom Series 7000 is one of its many personal care products and is renowned for its precise shave and ease of use.
Specs
Comes with a dual-sided design
Features self-sharpening blades
Offers five adjustable lengths
Delivers 80-minutes run time of a one hour charge
Who is it Best for?
If effortless body grooming is something you wish to include in your daily routine, this groomer from Philips Norelco is an excellent way to achieve it. The groomer is designed to offer the option for a shave, a trim, or both, making it simple to achieve the look you want.
We compared this shaver to a few others on the market, such as the MANSCAPED Electric Groin Hair Trimmer, The Lawn Mower 3.0. We found it to offer equally as impressive features at a far lesser cost, making it ideal for men looking for a groomer to start them off.
When we tried it out, we found the body to feel a little plastic and cheap. Also, this trimmer is designed for body hair only, not for use on your beard or facial hair. However, it provides a smooth and even shaves, and the trimmer works well to efficiently clip away any unwanted longer hair.
Key features
Phillips Norelco designs this men's grooming tool to feature a dual-ended design, where the one side features an integrated trimmer that is easily adjustable. The self-sharpening trimmer features five unique length settings that are easily selected without using different trimmer attachments.
The other end features a skin-friendly foil shaver that sits atop a pivoting head that allows you to shave over the various contours of your body easily.
This groomer runs off a rechargeable battery that takes a mere 60-minutes to recharge when it comes to power. Once fully charged, the shaver delivers 8-minutes of run time, so you don't need to charge it very often, making it convenient and ideal for travel.
This shaver can be used in the shower and is 100% water-resistant, making it perfect for wet or dry shaving.
Pros
It doesn't leave your skin irritated or itchy
The battery life is impressive
The trimmer is ideal for more sensitive areas
Cons
The trimmer is not designed for use on beards or facial hair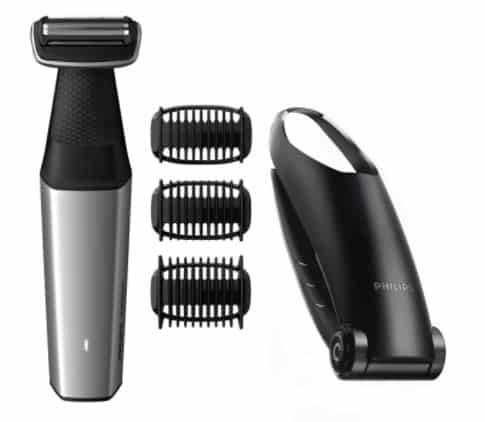 Phillips Norelco is the American Division of the Dutch electrical brand, Phillips. Known across the globe for its various products, from lighting solutions and bulbs to personal care items and audio products, Phillips is synonymous with quality and durable designs.
The Philips Norelco Bodygroom Series 3500 is one of the brand's grooming tools for men. It features a unique design that makes trimming even the most difficult to reach body hair a cinch.
Specs
Takes one hour to charge and provides one hour of run time
Features a fully waterproof design for wet or dry shaving
Comes bi-directional trimming guards
Includes an extra-long back attachment
Who is it Best for?
Men who want a groomer designed to tackle all areas of the body may want to try this shaver as an option. While it is not one of the best beard trimmers (in fact, it is not for beards or facial hair at all), it is perfect for the five areas of the body that men prefer to groom, including legs, groin area, arms, and underarms, chest and abs, and the back and shoulders.
Compared to similar groomers on the market, this offering from Phillips Norelco is exceptionally well-priced and is the ideal choice for a man looking to test out body hair grooming – if it's not for you, you won't have spent a heap of money on a shaver.
Key features
Phillips Norelco makes this shaver with a unique extendable arm that allows you to reach all areas of your back and shoulders and any other places you may find hard to get.
The shaver comes with a skin-friendly foil that won't tug, pull, or nick your skin, and it keeps you free from rashes and irritation too.
This design ensures upright and flat-laying hairs are picked up and trimmed for a smooth, even shave.
Because it is fully water-resistant, the shaver can be used for wet or dry shaving, although it does seem to function better when cutting dry hair.
The device runs off a rechargeable lithium ion battery that takes only an hour to recharge and delivers a full hour of run time off a single full charge.
Pros
The blades come with rounded tips for pain-free shaving 
The extendable arm is very useful
This shaver is very easy to clean
Cons
The groomer does not come with a stand or docking station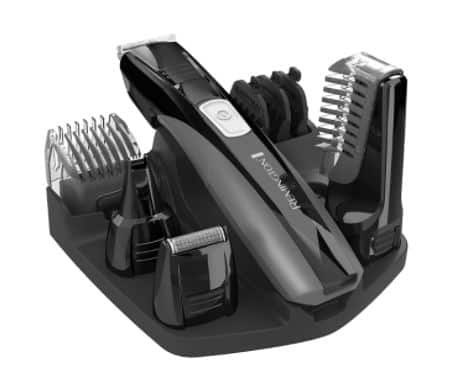 When it comes to personal care and grooming, you can't go wrong with Remington. The brand has gained international acclaim for its durable and high-quality grooming tools that range from hair dryers, curling irons, electric shavers, and hair clippers. Remington aims to provide its customers with tools that make it simple to achieve the look and style they want most.
One such tool is the Remington PG525 Head to Toe Lithium Powered Body Grooming Kit. This kit is designed to allow men to achieve that smooth-all-over look they love.
Specs
Comes with nine trimmer attachments and a docking station
Includes eight length settings
Features self-sharpening surgical steel blades
Delivers a 70-minute run time after a four hour charge
Who is it Best for?
This shaver does it all. Whether you are looking for a groomer to trim your beard, neckline, and sideburns, or a tool to clip away nose hair, or even a trimmer to cut away body hair on your chest or back, this is the one to try.
The set comes with a docking stand that provides a place for each attachment and the trimmer itself, so you never need to worry about losing a piece of the kit.
The aspect of this shaver that left us most impressed is the price tag. This versatile shaver costs next to nothing, making it perfect for those wanting to try it out for the first time. After testing it out, we found the shaver to have finer teeth than most, making it ideal for trimming hair across the body and face without pinching or pulling. Its versatility is also a bonus.
Key features
Remington's grooming kit is just that, a kit designed to target hair all across the body. The set features a full-size trimmer that is designed to trim your sideburns, neckline, and beard with ease.
Also included is a body hair trimmer that comes with a three-length adjustable comb that makes it simple to trim your body hair to your desired length.
A nose and ear hair trimmer make it simple to keep the hair trimmed in those small and hard-to-reach places, leaving you looking well-groomed and neat.
The foil shaver allows you to get a cut very close to the skin without causing irritation, razor bumps, and rashes.
This shaver is powered by a Lithium-ion rechargeable battery that provides 70-minutes run time. The only downside is that the shaver takes four hours to charge fully.
Pros
It provides an impressive run time 
The shaver doesn't nick or catch your skin or cause irritation
It is very comfortable in hand
Cons
The charging time is a lot longer than we would have liked
Things to Consider When Buying Body Groomers
1. Functionality and Versatility
When buying a body groomer, there are various things to consider, such as the areas of the body it allows you to trim and shave. Not all body groomers are designed for use on the face and the body. Suppose you are looking for a design that will trim ear and nose hair, your sideburns, your beard, and the various areas of your body. In that case, you need to ensure that the groomer offers these features and how effectively it can provide this functionality.
2. Cordless Design and Run Time
If you opt for a cordless body shaver, it is essential to consider the shaver's battery life or how long it holds this charge. You may also want to consider how many hours the battery takes to recharge and how many hours of run time it delivers off a single full charge.
On average, a good shaver will offer between an hour and two hours of run time of a similar charge time.
When looking for the perfect body groomer, there are several things to consider. Giving thought to the brand, durability, functionality, run time, accessories, and quality will all put you a step closer to finding the body shaver that most suits your needs.
By closely examining and testing each of the men's body trimmers in this review, we concluded that they each meet the criteria discussed above, making it more simple to find the best body hair trimmer to meet your grooming needs.