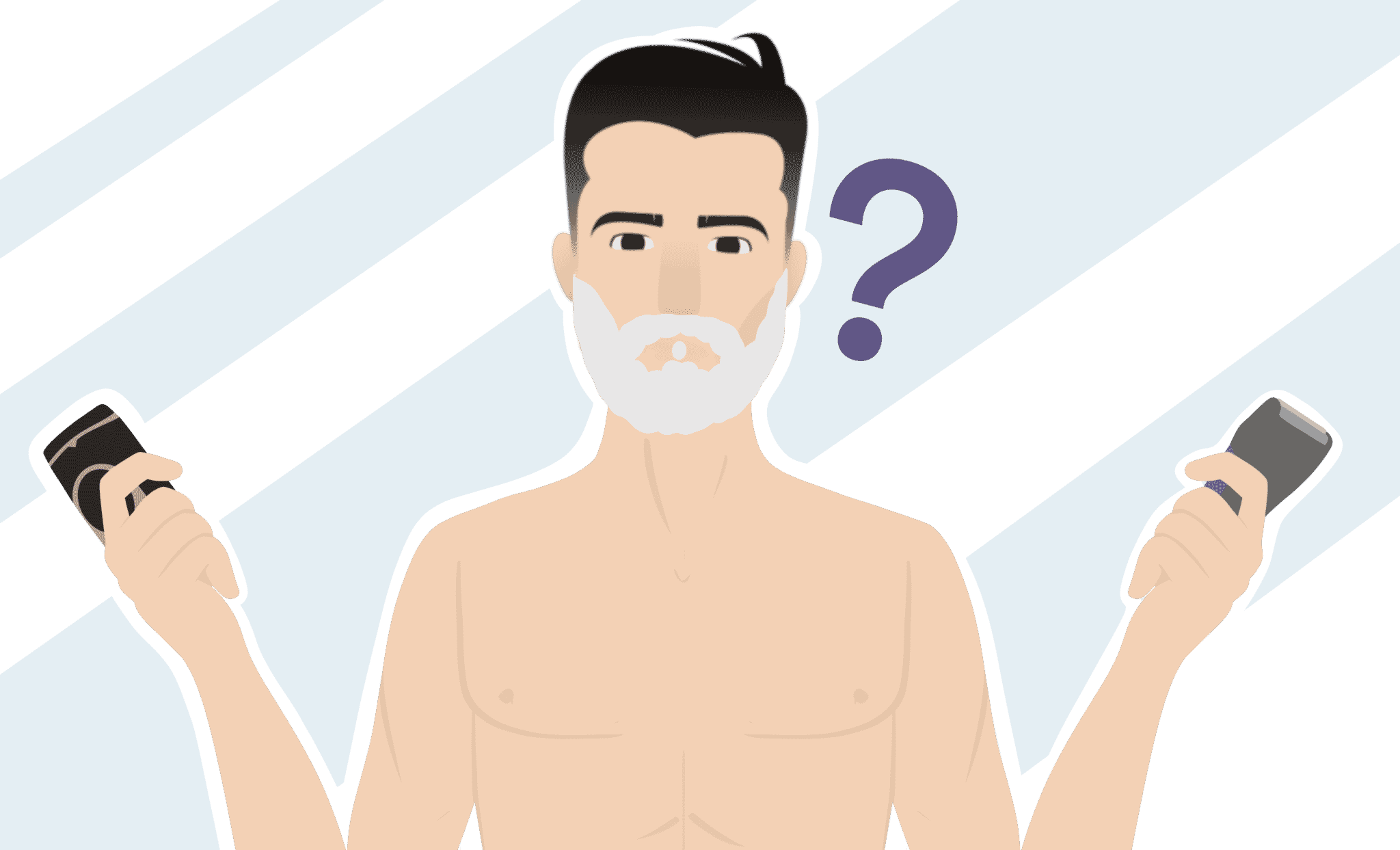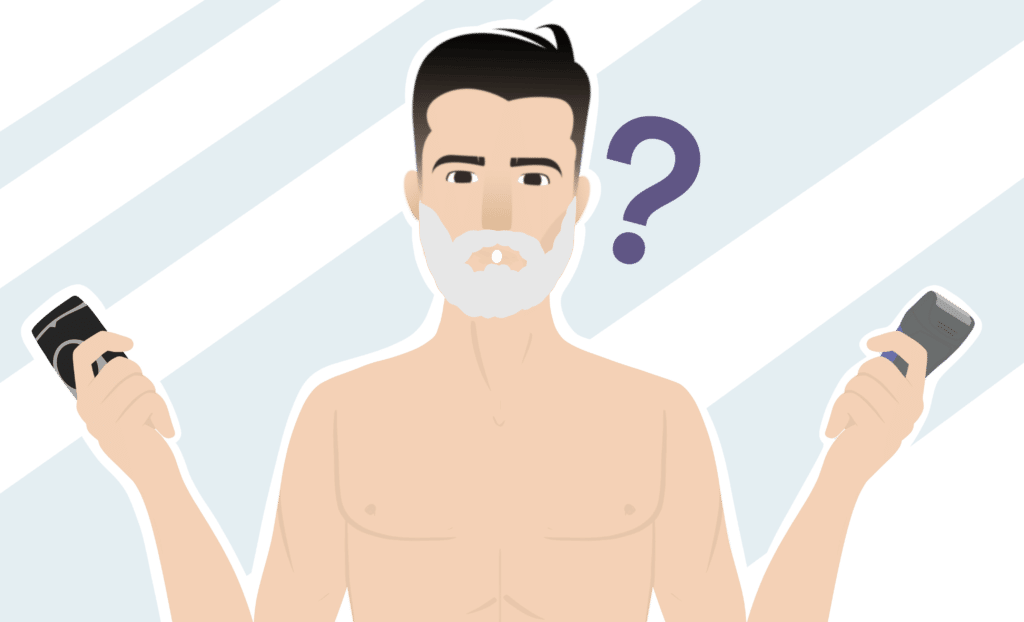 Shaving is something we need to do to keep up a neat and tidy appearance. But, the hassles that accompany this daily grooming routine may often leave you feeling as though you would rather throw in the towel. Razor burn, skin irritation, and a shave that isn't as close as you would have liked, how do you alleviate these issues?
The best foil shaver there is should do the trick. These unique electric shavers are designed to offer you the closest shave possible without irritating or nicking your skin. Better yet, most are rechargeable, so you needn't spend money continuously replacing the batteries.
The only problem is that not all electric foil razors are made equal. To make it less challenging for you to find a shaver that best suits your needs and that offers high quality, we have gathered together the best foil shavers Amazon has to offer. We have also taken things one step further by reviewing each of these shavers found on Amazon, allowing you to get a good look at them.
In our approach to finding the best of the best foil shaver on Amazon, we first did our research by chatting with a large group of men to find out what factors they looked for in a quality foil shaver. Durability, a long runtime, the ability to wet or dry shave, and being rechargeable were all criteria mentioned frequently. The electric razors on this list were all studied and tested so that they could be independently reviewed. After this stringent evaluation, we concluded that these electric shavers each offered these features and more. So, let's get started and see which of Amazon's foil shavers made our list.
According to their website, the Braun Electric Razor for Men, M90 Mobile Electric Shaver Precision Trimmer offers a range of features that include:
A wide floating foil that provides a close shave.
A precision trimmer for those tight to reach places.
A unique design that makes the device easy to hold and keeps the foils protected.
In comparison to other products offered by Braun, this M90 shaver is a considerable step up from the Braun M60b Mobile Electric Shaver that offers a similar look and feel. The M90 is miles ahead in that it provides almost double the battery life of approximately 120 minutes, and it weighs half of what the smaller M60b does. So let's take a closer look.
Specs
Wide floating foil
Includes a precision trimmer
Twist cap included
Ergonomic design
Who is it Best for?
This handy electric shaver is ideal for men who often travel for work. It features a neat, compact design that doesn't take up a lot of space in your luggage. Because the device runs off AA batteries, you may need to stock up, but you won't have to worry about whether the shaver is fully charged before heading out for your trip. The obvious downside, though, is that if you are traveling light, there is no way you can keep this razor with its batteries in carry-on luggage as per TSA rules.
The battery operation of this shaver also means that it isn't waterproof but makes it perfect for dry shaving. If you're not a fan of shaving in the shower and prefer to do your grooming over your vanity, then this one is for you.
While it isn't waterproof, the shaver is washable, so you can keep it in tip-top condition and looking like new.
Key features
The Braun M90 foil shaver comes with a wide floating foil designed to give you a comfortable and close shave. The smart foil used to cover the blades comes with a unique pattern designed to capture hairs that grow in all directions, ensuring you shave away each hair with one easy pass, leaving you with perfectly trimmed facial hair.
We have found, though, that this shaver works better for daily use. It isn't fantastic to cut longer hair and give an uneven cut where your hair may be thicker or longer. We suggest using this shaver at least every second day to reap its benefits fully.
The Braun M90 comes with a precision trimmer designed to help you achieve a neat and even cut in hard-to-reach places such as on your mustache and sideburns.
Included with this groomer is a twist cap that keeps the foil protected when the shaver is not in use, keeping it razor sharp and fully functional at all times. The cap isn't the most stylish addition to this razor, but it does its job, which is good enough for me.
Pros
I easily washable is a bonus
The shaver offers a very close shave
Features smart foil to keep skin from becoming irritated
Cons
Sadly, the batteries will require fairly frequent replacing
I did not like the plastic look of the shaver as a whole
Braun has been crafting some of the best electric razors since the 1950s. For over 70 years, the brand has fine-tuned its men's grooming devices, leaving us today with a wide selection of some of the best electric shavers on the market.
According to the Braun website, the Braun Electric Razor for Men Series 3 3040s Electric Shaver with Precision Trimmer is designed to offer faster shaving with extra comfort, and it forms part of the Series 3 range that is made with precision and fine detail in mind.
Specs
Includes a precision trimmer
Rechargeable
Wet and dry use
Stainless steel blade
Who is it Best for?
Men looking for a mid-range razor that offers outstanding German quality need look no further than this shaver. Compared to the Panasonic Arc4, it is priced a lot lower. It provides wet and dry functions, although the Panasonic ups it in efficiency by delivering four blades instead of three.
This is purported as one of the best electric shavers for men who suffer from sensitive skin as it features a patented mesh foil known as SensoFoil designed to give you a close shave without causing razor burn, rashes, and breakouts. While some men find this, I discovered that the shave isn't quite as smooth as I would have liked if you have longer facial hair.
The razor is also made to capture each hair on a single pass, preventing you from having to go over the same spot twice, avoiding irritation. This feature works well when you have one or two-day-old stubble.
Key features
The Braun Series 3 3040s features three unique shaving elements that work together to offer you a gentle and close shave. Included in the design is micro comb technology that allows the razor to capture more hair on the first pass, preventing you from having to move over the same area and irritate your skin. I found that this is precisely the shave I received on one day's worth of stubble; just don't leave it too much longer than that.
You will find a precision trimmer built into the razor. This trimmer offers a slightly larger size than most on the market, so you can neatly trim and shape your beard, sideburns, and mustache. A thin precision head design makes it easy to reach those not so simple to shave areas such as under the nose, which I am sure we all agree is rather handy.
Because this shaver is completely waterproof up to five meters, you can use it for wet shaving or as a dry shaver. I like that the rechargeable NiMH battery takes just one hour to charge fully and offers 45-minutes of run time off a single full charge. And even more so, that you can plug it in for just five minutes to get enough charge to allow you to get your shave done.
Pros
Triple action cutting system for a faster, smoother shave
Waterproof to five meters so you can use it wet or dry
Cordless design that offers convenience
Cons
One of the drawbacks is that there is no docking station included
Sadly, the shaver doesn't work very well with longer or curly facial hair and it tends to pull
Kemei is a brand that places its focus on creating electric razors and epilators. Whether it is rotary razors or foil razors you're after, Kemei has a high-end razor. The brand even offers a range of hair clippers, making it unsurprising that this brand's products are often seen in your local barbershop.
If your interest is piqued and you would like to give this brand a try, I suggest the KEMEI Professional Cordless Rechargeable Electric Razor for Men Electric Foil Shaver.
Specs
Gold titanium blade
Rechargeable
60 minute run time
1.5 hours recharge time
Who is it Best for?
Kemei's razor features a cordless design and makes use of a powerful lithium battery. The battery is charged via a USB interface that makes it easy to charge your shaver through a wall socket, laptop, or even a power bank, so if you travel, this is a great option. This razor is comparable to the Braun M60b but knocks it out of the park as it offers a rechargeable system but at almost double the price.
The battery takes only 1.5-hours to charge fully, and once at capacity, the battery life will last for 60-minutes before needing to be recharged. As someone who doesn't have the time to wait for my razor to take a day to charge, I found this feature quite impressive.
Key features
This foil shaver by Kemei features independent double cutters that are easily replaceable. These double cutters allow for high-speed shaving without compromising on the precision of your shave. Two layers of floating cutting net offer an increased surface area that makes it easier to shave more quickly by increasing the surface area that touches the skin.
The skin-friendly titanium blades are durable and made to last while preventing skin irritation, razor burn, nicks, and rashes. The only downside to this is that the razor is not made for wet shaving, so cleaning it takes a fair bit of time.
Kemei includes various extras with their razor, including a replacement shaver head, a foil guard for when the razor is not in use, a USB cable for charging, and a cleaning brush.
They also included a reverse blade for trimming your mustache and sideburns.
Pros
Features a rotary motor that offers impressive power
Includes a USB charging cable so you can charge it anywhere
Cons
The main downside is that no docking station is included so you have nowhere to store or stand the shaver
Sadly the placement of the buttons can cause some hassles mid-shave
Remington was founded in New York in 1937, and today the brand is a global leader in personal care. The brand is known for its wide selection of technologies and products that make daily grooming an enjoyable and straightforward task. The Remington PF7300 F3 Comfort Series Foil Shaver Men's Electric Razor is one of the brand's foil shavers that caught our eye.
Compared to the Wahl Groomsman Electric Shaver, which offers a similar size and price point, the Remington came in a little cheaper and featured a foil protector but can only be used for dry shaving, which is great if that's your style. The Wahl, however, did offer use as a wet and dry shaver which lends it a little more versatility.
Specs
Includes two flexible foils
Stainless steel blades
Quiet motor
Contours to your face
Who is it Best for?
There is nothing more annoying than an electric razor that buzzes and hums while you are trying to listen to the morning news as you get your daily grooming routine underway. If this is one of your pet peeves, then the Remington PF7300 F3 Comfort Series might be the solution you need. The Quiet Drive advanced motor offers a relatively quiet and vibration-free shave, providing you with a much quieter shaving experience.
Remington offers this shaver in two color options: black with royal blue detailing or teal with lime green detailing, demonstrating that they do understand that we all have unique tastes, even when it comes to the color of our shavers. Personally, I found the black and blue more appealing and thought a red and black version might have been a better choice than the teal, but that's my perspective.
Key features
This electric shaver by Remington may not achieve a shave as close as a manual razor, but it comes close. Two stainless steel blades give you a sharp and precise cut, while two flexing foils cover these blades to allow for a clean shave that won't agitate your skin.
The constant contour design allows the shaver to hug the contours of your face and jawline, offering you a sleek and precise cut each time.
Remington designs this shaver to include a pop-up trimmer that allows you to finely trim details such as your mustache, sideburns, and other facial hair, a feature I found to be somewhat helpful.
The electric razor runs off a rechargeable battery that offers up to 40-minutes of cordless run time monitored by the LED indicator.
Pros
Offered in black and blue or teal and green
Rechargeable battery eliminates the need to constantly purchase batteries
40 minutes runtime so you don't need to recharge it that often
Cons
Sadly, the shaver provides a dry shave only eliminating those who prefer a wet shave from buying the device.
As one of the industry leaders for electronic grooming devices, Remington is recognized for its remarkable quality, durability, and functionality when it comes to its products.
The Remington PF7400 F4 Comfort Series Foil Shaver Men's Electric Shaver is comparable to a close competitor, the Wahl Groomsman Electric Shaver, both sit in the $30 – $40 category, and while seemingly similar in shape and size the only real difference is that the Remington, unfortunately, does not offer wet shaving capabilities. On a dry shave though, it offers a smooth and close shave.
Specs
Constant contour
Flexible foils
Stainless steel blades
Quiet Drive motor
Who is it Best for?
If you want a shaver that is cordless but not necessarily waterproof, then this Remington is one to try. It comes with a rechargeable battery that, when fully charged, offers a run time of 40 minutes, leaving you with a few days of battery life before you need to recharge it again. Not only is this design handy for home use, but it makes shaving while you are traveling simple too.
The only downside to this battery is that it takes up to 16 hours to recharge fully, which means it is best left to charge overnight or during the day while you're at work. An LED indicator makes it easy to see when the battery needs recharging, so you don't end up with a dead shaver halfway through your shave.
Key features
This Remington shaver features stainless steel blades covered with two flex foils that allow for a closer shave that won't irritate your skin. The pivot and flex shaving head enable the shaver to offer you a cut that contours to the shape of your face. The flexible head means you can get to all of those hard-to-reach places like under the nose.
Because of the pivoting head design, the razor allows you to get to those complex contours such as the jawline and under the chin without compromising on the precision of your cut. I have found, though, that while most of these features work as they say they do, the blades do tend to tug at my whiskers, making it a better choice for your daily shave rather than a weekly one.
The razor works as a dry shaver but is washable, making it simple to clean off the shaving cream and loose hair.
Pros
Includes pop-up trimmer for neatening your sideburns
The 40-minute runtime means infrequent recharging
Cons
What I found frustrating is that there is no docking station included
The shaver tends to pull at my longer whiskers which at times can be quite painful
Remington has been designing and manufacturing premium-quality grooming tools for nearly a century. And as one would expect, with this extended involvement comes unrivaled knowledge and expertise.
The Remington PF7200 F2 Comfort Series Foil Shaver Men's Electric Razor caught our eye. This sleek men's foil shaver features an elegant design and impressive functionality that makes your daily shave a pleasurable experience. Comparable to the Remington F-3800, both shavers are of the same weight, and both feature nickel-plated foils, but this one offers a much smaller size, which if you have larger hands is not ideal. Also, if you find yourself allergic to nickel, you may want to give this one a miss. However, if it's compact you're after then this one is great.
Specs
Surgical steel blades
Two durable foils
Pop-up trimmer
Rechargeable
Who is it Best for?
If you're on the market for a razor that offers a close and comfortable shave, this razor by Remington is a great option. It comes with a smaller handle than most that make the device easy to hold, allowing you to get a precise shave if you have smaller hands, that is. Mine are averagely sized, and I found I could quite comfortably grip the shaver, so it comes down to personal preference.
Men with sensitive skin that want a clean shave without irritation will also enjoy this foil shaver. It features two flex foils that increase the surface area on your skin, relieving the pressure that causes razor burns and breakouts.
The foils also pick up all the hairs on your face, even the longer hairs, allowing you to achieve a precise cut with just one pass; by moving over an area only once, you prevent the likelihood of ingrown hairs developing.
Key features
Remington crafts this razor with surgical steel blades that won't rust, corrode, or dull with time. Over the year that I put this razor to practice, the durability of the blades exceeded my expectations, and to this day, they are still sharp and effective. You will also find a pop-up trimmer that makes it simple to trim areas such as sideburns, mustaches, and beards with precision.
This cordless razor works off rechargeable batteries that offer 30 minutes run time and an LED indicator light that makes it easy to see when the battery is running low. The only downside is that the battery takes up to 16 hours to charge, and in my opinion, the battery life could be a little longer.
Pros
A handy cordless makes it great for travel purposes
The compact size makes it simple to store
LED charge indicator lets you keep tabs on the battery life
Cons
Areas they could improve fall under versatility as it offers a dry shave only
Sadly, the battery life is only 30 minutes
Worse than expected, the battery takes 16 hours to recharge
Yasun is a brand that designs and manufactures men's grooming tools such as electric razors. The company focuses on providing its customers with high-quality and durable alternatives to manual or rotary razors.
The YASUN Men's Foil Shaver Wet/Dry IPX7 Waterproof Electric Shaver for Men easily rivals offerings by competitor, Braun in that it offers extensive battery life for a fraction of the price, and after extensive use, I found it to be just as good in terms of the shave it provides.
Specs
Titanium blades
Wet/dry shave
Cordless
Rechargeable
Who is it Best for?
If you enjoy the option of being able to either dry shave or wet shave, this shaver offers both. It comes with a waterproof rating of IPX7, which means the shaver can be submerged to a depth of one meter for a period of 30 minutes before it will begin taking on water. This allows you to comfortably use it in the shower or run it under water to clean the shaver without causing any damage, and if you drop it in the bath, it will be fine too -I speak from experience here.
This cordless shaver comes with impressive battery life, something Yasun got right. It takes a mere two hours to charge the lithium-ion battery fully, and once completely charged, the shaver offers 80 minutes of run time. A feature I grew to appreciate more and more as I used the shaver is the quick charge feature – the battery will quick charge enough in five minutes to allow you to get one complete shave in.
Key features
Yasun's men's foil shaver comes with ultra-thin foil technology that allows you to get the closest shave possible while preventing skin irritation. The hypoallergenic titanium foil heads ensure a reduced level of irritation, making the device perfect for men with sensitive skin. What I found lacking, though, was the power of the motor which means you need to shave a little slower to get that even shave.
The anti-pinch system prevents you from nicking, cutting, or pinching your skin while you shave. The days of blotting shaving cuts with small wads of tissue paper are over.
Keep your foil shaver charged even when you're on the go by charging it via your car charge, laptop, or power bank, but don't expect an LED indicator to let you know when you need to recharge the battery, as there isn't one.
Pros
Pop-up trimmer helps target sideburns
IPX7 Waterproof that makes shaving in the shower easy
Ultra-thin foil technology offers a lighter shave for sensitive skin
Cons
Yasun could improve the design by adding in an LED battery indicator
The slower motor is also a drawback, especially on days when you need a quick shave
The Hizek Electric Shaver Beard Trimmer Wet/Dry Waterproof Foil Shaver for Men is one of the brand's most popular products according to their website, and it is easy to see why as it offers versatility that most other foil shavers don't.
Where most other foil razors are designed for face and neck use only, this one extends its offerings to include your head too. While it may not offer the smoothest facial shave it does a good job keeping your overall look neat and tidy and it eliminates the need for multiple grooming tools.
Specs
Wet and dry shave
Adjustable trim length
Waterproof
Rechargeable
Who is it Best for?
Hizek includes four guide combs that allow you to cut your hair or beard to your desired length, giving versatility to the tool that I found exceeded my expectations. This beard trimmer also comes with a broader and sharper shaving head that will enable you to shave and trim your head and facial hair efficiently.
The shaver is perfect for men who travel often. It features built-in lithium-ion batteries that offer high power and long battery life, so you can shave on the go without having to hassle with finding a place to plug in your shaver each time you use it. The lightweight design of the shaver also makes it simple to pack into your luggage.
Key features
Hizek designs this razor with two high-precision blades that come with foils that provide you with a close and smooth shave. The high-speed, powerful motor offers you a quick and effective shave with little to no noise.
The flexible shaving head allows the razor to fit the contours of your face, even in those pesky hard-to-reach places. Best of all, the foils prevent any cutting, pinching, irritation to the skin.
This unique razor offers a waterproof rating of IPX6 which means the shaver can resist high pressure and heavy sprays of water but cannot be submerged entirely in water. So, while you can use this razor in the shower, it shouldn't be for long periods. This is something that Hizek could improve on; shaving your head in the shower shouldn't be a rushed task.
Pros
Includes four guide combs for cutting different lengths
Wider clipper head allows you to reach larger areas more quickly
The floating blade system gives a gentler shave
Cons
Hizek , sadly, does not include a docking station
The main downside is that the shaver doesn't have a great waterproof rating
Leo J. Wahl, who used an electromagnetic medical massager for his uncle, found Wahl in 1911. After selling these devices to barbershops, he realized he could improve the tools of these barbers in the same way. From 1919 the brand became one of the leaders in professional and home grooming.
The Wahl Model 7061-100 Lifeproof Lithium-Ion Foil Shaver is one of their most popular home shavers according to the Wahl website.
Specs
Lithium-ion battery
Waterproof
90-minute runtime
Five-minute quick charge feature
Who is it Best for?
If you own a cordless shaver but find it only offers a minimal run time and you would like a shaver with a battery that lasts, this option from Wahl is an excellent choice. The lithium-ion battery takes only an hour to charge and provides a 90-minute battery life. If you can't wait for an hour for the shaver to fully charge, then the five-minute quick charge option comes in handy.
The shaver comes in four unique colors, too, so men looking for an electric razor that meets their personal taste will enjoy these. Wahl offers the razors in vibrant yellow, grey, lime green and vivid orange. However, a few less visually striking options would be nice too.
Because the shaver is compact and rechargeable, it makes an excellent option for men who travel often. It packs neatly into your luggage and doesn't require plugging in to operate.
Key features
Wahl's Lifeproof Lithium-Ion Foil Shaver features advanced technology and flexible foils that move with your skin to capture each hair on a single pass without irritating or damaging your skin. You are left with a smooth, clean shave and skin that is free from rashes and burns; what the website fails to mention, though, is that this shaver works best with one to two-day-old stubble. It tends to pull longer hairs and doesn't cut them as evenly. If you want to reap the benefits of this razor, then use it for your daily shave.
What I found most beneficial with the design of this shaver, and it is something Wahl got right, is the ergonomic design of the handle and the non-slip grip.
Wahl makes this shaver with an IPX7 waterproof rating, allowing it to be submerged in water up to a meter deep for a period of 30 minutes, making it great for wet or dry shaving.
Pros
Offered in four unique colors
Precision trimmer is included for trimming your sideburns
Fully charged in just one hour
Cons
The main downside is the lack of a docking station
I was a little skeptical of the color offerings
The Remington F5-5800 Foil Shaver Men's Electric Razor perfectly demonstrates the brand's dedication to creating tools that make life easier. This shaver offers a similar design to the fellow Remington PF7400 F4 Comfort Series but offering a more sturdy weight and a slightly higher price point. The Remington F5-5800 also comes with a more ergonomic handle design that makes it much easier to hold.
Specs
Cordless
Pivot and Flex Foil Technology
Rechargeable
60-minutes runtime
Who is it Best for?
If you want a cordless electric shaver that doesn't take all day to charge, then this option from Remington makes an excellent choice. The battery takes only two hours to charge completely and leaves you with 60 minutes of run time. I did find, though is that this shaver works best when fully charged and that the battery doesn't power the motor as well when it reaches the end of a charge.
But, the charger supports worldwide voltage, so you can take this shaver with you on your travels and keep it fully charged no matter where in the world you go. Because the razor is so compact, it fits neatly into your luggage, too.
The razors come in a dazzling black or a gleaming white design, so you can opt for the one that best suits your taste.
Key features
Remington's cordless electric shaver features unique technology that makes shaving enjoyable and straightforward. The pivoting shave head makes it easy for you to reach complex contours on your face and neck, such as on the jawline and beneath your chin.
Something Remington excels at is the flex foils that cover the blades, which offer a dual-action. They protect your skin from irritation by increasing the surface area and decreasing the pressure the razor applies to your face and neck. I found the flex function of the foils allowed the razor to glide over the contours of my skin, eliminating the need for multiple passes.
Where this electric razor is lacking is that it is not waterproof but, it can be easily rinsed to clean it, just don't drop it in the sink.
Pros
Offered in black or white for a few style options
Includes pop-up trimmer that makes trimming sideburns a lot more simple
It is a lot more convenient than other non-washable shavers
Cons
Foils may be expensive to replace in which case replacing the entire shaver makes more sense
According to their website, the Panasonic Arc5 Electric Razor Men's 5-Blade Cordless with Shave Sensor Technology is a popular grooming tool amongst men, who claim the shaver offers both efficiency and a remarkable shaving experience.
Was our experience with this shaver the same? Let's take a look.
Specs
Features five blades
Wet and dry use
Pop-up trimmer
High-performance linear motor
Who is it Best for?
If you find yourself up most mornings with more than enough time for a sleek dry shave, but then other days you find yourself in a mad rush that means you only have time for a quick shave in the shower, this shaver is for you. This electric shaver is waterproof so that you can use it as a wet or dry shaver.
The razor includes a high-performance linear motor that makes it possible to have a quick shave on the days when you're running late. This razor sits at the bottom end of the Panasonic Arc5 collection, although the only significant difference is that it features an active sensor technology instead of intelligent sensor technology.
Panasonic designs this shaver for efficiency, and that includes the handle, which is ergonomically designed to make it easier to grip for a smooth and comfortable shave.
Key features
The Panasonic Arc5 Electric Razor is designed to provide you with the smoothest, closest shave. It features five blades that sit at a 30-degree angle that allow them to sit close to one another. This closeness and increase in the number of blades minimizes friction and allows all the hairs to be cut in a single pass. Compared to the Braun 9 Series, the Panasonic is much quieter, and the motor offers 14 000 cycles as opposed to the Braun's 10 000, so it packs a lot more power, and you can feel it. The Panasonic also clings to your contours much more closely and provides a smoother shave.
Active shave sensor technology adjusts the speed of the motor of the shaver to prevent any nicks and cuts, especially in areas that require a little more delicacy.
A ten-stage LCD display allows you to keep track of the battery life easily, so you are never left with a dead razor mid-shave.
Pros
Ultra-thin arc foil for a more gentle shave
Multi-flex pivoting head for reaching the unreachable
Waterproof for a wet or dry shaving experience
Cons
With such a great-looking razor, Panasonic fell short in not supplying it with a docking station.
The price point is relatively steep
When it comes to German engineering and design Braun products, offer just that. The brand is known for its high-quality materials, innovative designs, and durability. It makes sense then that the company is also seen as one of the leaders in electronic goods.
The Braun Electric Razor for Men Series 9 9385cc Electric Foil Shaver offers a practical and simple way to trim your facial hair in a matter of minutes.
Specs
Rechargeable
Cordless
Wet and dry shave
Includes a clean and charge station
Who is it Best for?
If you are all about efficiency, then you may want to give this shaver from Braun a try. This Braun shaver uses five shaving elements to ensure a faster, more efficient cut that prevents you from having to hit the same spot twice. This efficiency will also benefit those with sensitive skin, as multiple passes over the same area; can be known to cause rashes, razor burn, and ingrown hairs.
The Braun shaver also makes use of sonic vibrations that allow the razor to glide over your skin.
Because it is cordless, this razor is ideal for travel and fits neatly into your luggage. The only downside is that should you forget the charger at home and the battery runs flat, you will have to use a manual shaver. Also, the docking and cleaning station that comes with the shaver only fits this model.
Key features
Braun includes a docking station with this electric shaver that is handy and provides a great place to store the razor when it is not in use. The downside to this charge station is that it is rather bulky and may take up a lot more space on your bathroom shelf or vanity than you had expected. Also, this docking station only works with this model of razor.
Designed for wet or dry shaving, the electric shaver is waterproof, so you can use it dry with shaving cream or in the shower. This design is ideal if you like having the option to choose but, if you're not much of a wet shaver, this may not be the shaver you need.
Offering a more capable battery, the Braun shaver provides 60 minutes of run-time per full charge, so you can get a good week's worth out of the shaver before having to charge it up again.
Pros
Offered in graphite or silver so you can take your pick
Comes with a leather travel case
Five shaving elements offer a more comfortable shave
Cons
The docking station is fairly bulky and where Braun really drops the ball is that this docking station only works with this model
The razor sits at a very high price point
I did not like that the razor is quite heavy compared to most others on the market
The great thing about Braun is that the brand understands that how a product looks is often as important as how it functions. You won't find an ugly Braun appliance on the market.
If you are looking for a shaver that visually appeals to you and gets the job done, then the Braun Electric Razor for Men Series 5 5018s with Precision Beard Trimmer is worth a closer look.
Specs
Wet and dry shaving
Three flexible blades
Rechargeable
Waterproof
Who is it Best for?
When it comes to keeping your electric shaver clean, those that require a lot of work generally get relegated to the back of the closet, never to be seen again. This shaver is not one of those. It features an easy-clean design that makes keeping your razor clean a simple task. You don't even have to remove the shaver head, which I feel is something Braun should incorporate into all of their designs.
Better yet, the Braun shaver is completely waterproof, allowing for wet or dry shaving. Whether you prefer to shave wet or dry, you can do so without issue. Naturally, wet shaving also makes cleaning the shaver quicker, but in the end, it's each to their own.
The included cleaning station that allows you to stand your razor up while you give it a brush or to dry after you have rinsed it off. This station also doubles as a docking station for charging too, so it is great in terms of convenience.
Key features
This Braun shaver features three blades that give you a clean, smooth shave. These blades are flexible, allowing them to adapt to the contours of your face for an even shave that doesn't require you to pass over the same area multiple times. Where Braun falls short though is when it comes to protecting the foils that cover these blades. They don't include a cap or foil protector so if you leave it in your toiletries bag, you may find your foils in a poor state.
Braun includes a Lithium-ion battery that, when fully charged, provides you with 50 minutes of run time. The brand claims that this will leave you with three weeks' worth of charge, but really it comes down to how long and how frequently you use the shaver that determines how often your battery will need recharging.
Pros
Includes a precision beard trimmer for sideburns
Easy to clean which offers convenience
Braun did a good job offering the 50-minutes runtime
Cons
Where the Braun falls down is that the shaver's head does not pivot
What I didn't enjoy was the lack of a foil protector
Worse than expected was the precision trimmer that comes as an attachment, this piece is easily lost and takes effort to attach and detach. 
Braun offers not one but many electric shavers, each with its own features, design, and functionality. The brand produces everything from a rotary razor that cuts hair by passing over the skin in a circular motion to foil shavers that utilize a unique up-down motion that gets the job done.
The Braun Electric Razor for Men, Series 7 7020s 360 Flex Head Electric Shaver uses the latter of the two and is designed to provide a smooth shave each and every time.
Specs
Rechargeable
Wet and dry shaving
360-degree flex head
Auto-sense technology
Who is it Best for?
This Braun shaver is ideal for men who are just learning how to shave, who are using a foil shaver for the first time, or who battle with those hard-to-reach places. Braun fits this shaver with a 360-degree adaption that makes this shaver able to reach all areas equally well to leave you with a smooth and even shave. This is great for places like jawlines and under the chin, where getting a uniform cut is often tricky.
If you're looking for a razor that comes with a docking or cleaning station, this is not it. Not all Braun shavers come with a station that can prove frustrating, especially if you use them as a storage unit for the razor. While this shaver doesn't feature a Braun SmartCare center, it does come with a host of other features that more than make up for this.
Key features
Braun designs this shaver with stainless steel blades resistant to rust and corrosion and then covers them with foil heads that offer additional protection for your skin.
Taking things to the next level, Braun adds in Auto Sense Technology. What this does is that it senses the density of your beard and applies power accordingly, making it easy to move through the hair to create an even shave.
The shaver comes with a built-in Lithium-ion battery that works by being recharged. While this means no more buying batteries, it does mean keeping an eye on the LCD display to keep track of when the shaver needs recharging. Braun states that the battery comes with a life of 50 minutes of run time after a full charge. This should leave you with around three weeks between charges, but this is ultimately dependent on how long and how often you use the razor.
Pros
LED display makes for great convenience
The ergonomic design makes handling the shaver much easier
The shaver is waterproof which offers greater versatility
Cons
What I wasn't impressed with is that the shaver does not come with a SmartCare center
Again the precision trimmer comes as an attachment that is both fussy and easily lost
Things to Consider When Buying a Foil Shaver
1. Waterproof Rating
When choosing your shaver, considering where you will be doing your shaving will make it far simpler to find one that meets your needs.
Not all of the best electric shavers offer an excellent waterproof rating, while some aren't waterproof at all. If you're looking for a razor that works well dry or in the shower, then try opting for one that offers a minimum waterproof rating of IPX6.
If you are going for a dry razor, finding one that you can still rinse will add to the convenience of the razor.
2. Battery Life
Taking note of the battery life of the shaver, you intend to buy and how long the battery takes to charge will help in the long run. We suggest a shaver that offers a longer battery life with a short charging time, and if it comes with a five-minute quick charge function, even better.
When it comes to buying the best beard trimmers or electric shaver, many of the features you require personally will affect your choice. Where it benefits to take a little extra care in choosing comes down to aspects such as how often you intend to shave, whether you want a wet or dry shaver, whether you want one that is corded or cordless, and how long the batteries last.
While they all offer their strengths and weaknesses, any of the shavers discussed in the reviews above will provide you with a great shave.