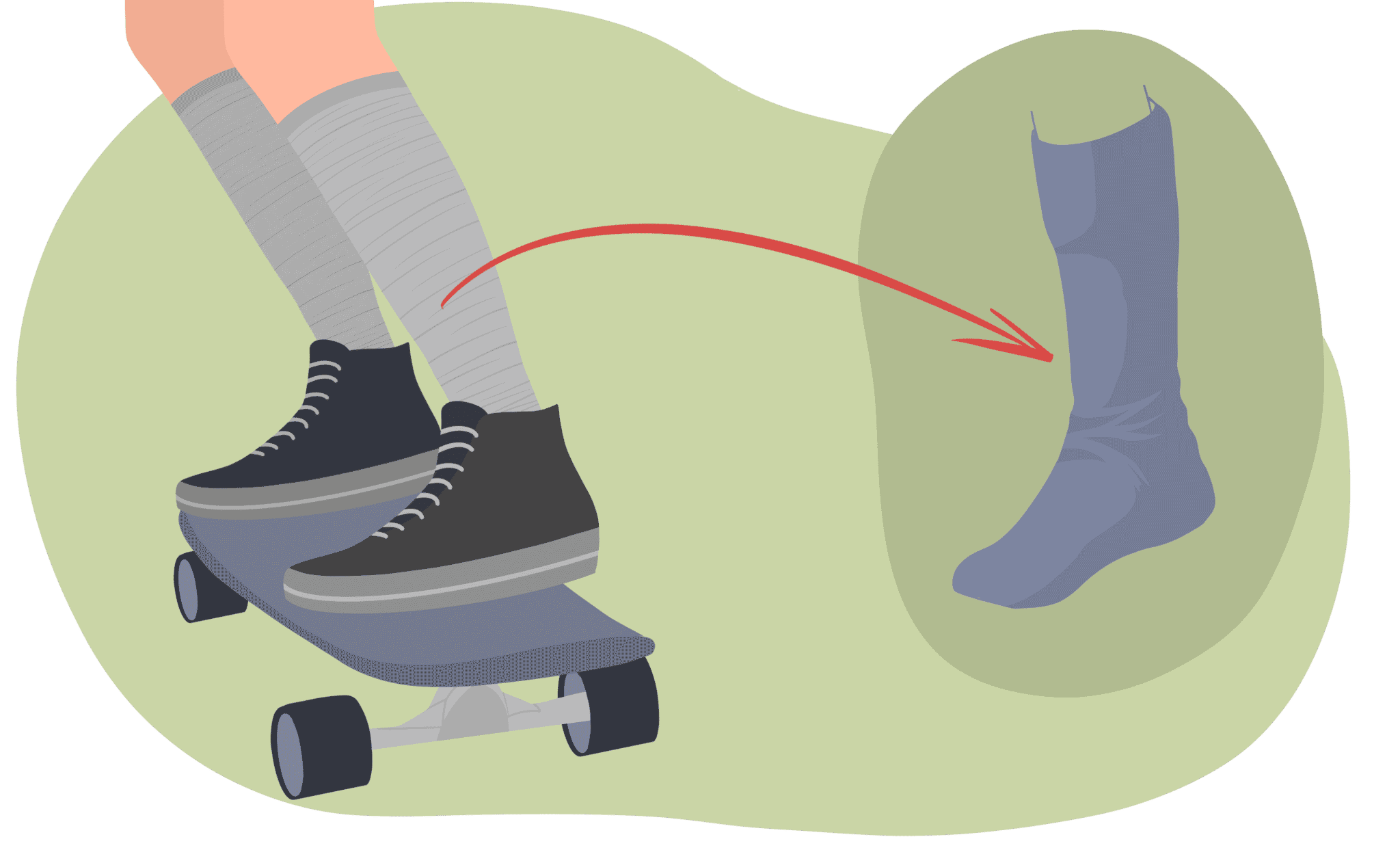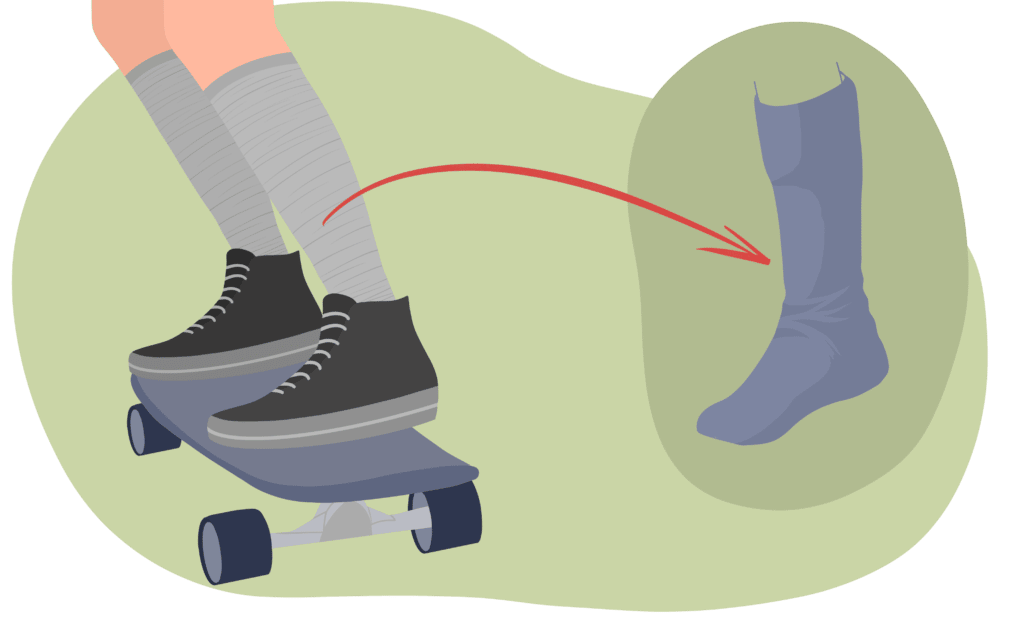 If you suffer from poor blood circulation, plantar fasciitis, spider veins, varicose veins, or shin splints, then chances are you need a pair of graduated compression socks.
Compression socks work by assisting the vascular system to improve blood flow through the lower legs and feet and back to the heart. This improved blood flow prevents blood clots and helps to supply more significant amounts of oxygenated blood to the legs, increasing recovery time.
Unfortunately, not all compression socks are made equal. To make it less challenging for you to find the best compression socks, we have gathered together the best Amazon has to offer and reviewed each of them, making it more straightforward for you to find the graduated compression socks you need.
We tried, tested, and wore various compression socks from Amazon and concluded that these six are the best-graduated socks for daily wear. We used the approach to chat to men about what they looked for in high-quality compression socks and collected together the ones that ticked these boxes. We then reviewed each of these pairs of compression socks. Our evaluation of each was based on the following criteria: the materials used to make the socks, style, pressure, functionality, and comfort.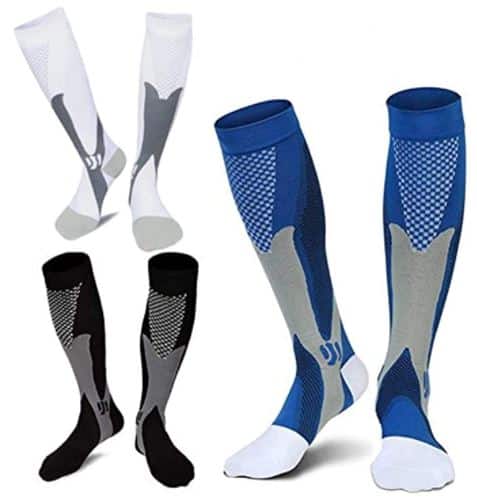 ZFist is a brand renowned for its impactful and comfortable medical compression sleeves, stockings, and socks. You can find this popular brand in stores at places such as Walmart or online on Amazon. In addition, ZFist offers its compression socks in a wide selection of mmHg (this is the symbol used to reference millimeter of mercury, the manometric measurement of pressure when describing blood pressure, and the pressure provided by compression socks.)
One of the brand's most popular pairs is the ZFiSt 3Pair Medical Compression Socks 20-30mmhg. These socks provide firm support where you need it most.
Specs
Made from 100% nylon
Provides the strongest possible compression of 20-30 mmHg
Improves circulation and reduces the accumulation of lactic acid
Knee-high design
Who is it Best for?
Athletes and individuals who find themselves standing or sitting for extended periods may find these knee-high compression socks handy.
ZFist designs these socks with a knee-high fit that makes them comfortable to wear while providing you with the best possible compression.
Compared to other compression socks on the market, such as the NuVein Men's Compression Socks, these are relatively inexpensive, and they come in a pack of three. These compression socks from ZFist also come in a selection of sizes, making it simple to find the ones that provide you with the best fit.
We tried out these socks to see whether they worked and found their functionality to be impressive. These socks are thick but not too thick, and they didn't slide down our legs and bunch around the ankles even after a few hours of wear. However, the sizing tends to run a little small, so keep this in mind when purchasing these socks.
Key features
ZFist makes these compression socks from 100% nylon. The fabric is breathable, allowing air to circulate your lower legs, preventing you from overheating and becoming uncomfortable. In addition, the moisture-wicking properties draw any sweat to the surface of the sock, so it can be evaporated into the atmosphere, keeping you dry and odor-free.
The knee-high socks provide a firm compression up your lower leg and end just below the knee. The toe box is spacious and won't pinch your feet or create any pain in the toe area.
These socks provide a level of compression of 20-30 mmHg. This level is ideal for anyone who suffers from varicose veins, is prone to deep vein thrombosis or DVT as it is sometimes known.
Pros
The socks don't slip and slide down your leg as you walk
They feature a sturdy yet comfortable thickness
These socks provide impressive compression
Cons
The sizing runs a bit small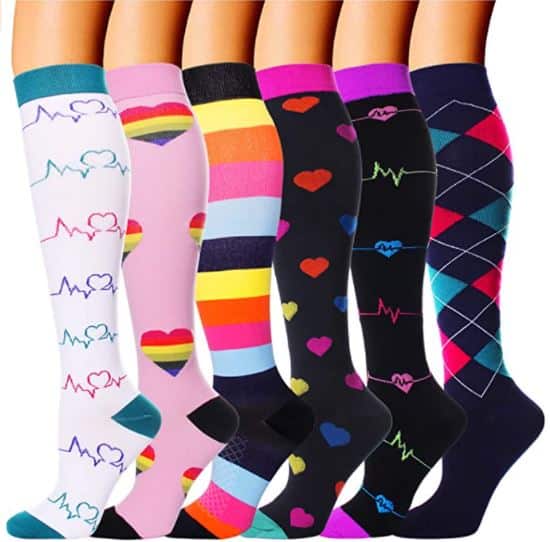 Double Couple is a brand specializing in the design and manufacture of high-quality compression socks. The brand is most noted for the durability of the socks it produces and the wide variety of colors it creates them in. The vibrant designs combined with the fabric's softness leave these socks as some of the most-loved on the market.
The 20-30 mmHg Knee High Compression Stockings by Double Couple are pairs of the brand's socks that offer the highest amount of compression.
Specs
Provide a firm compression of 20-30 mmHg
Offers arch support to alleviate plantar fasciitis
Features a reinforced toe and heel to prevent blisters
Made from a copper-infused moisture-wicking fabric
Who is it Best for?
Double Couple makes these socks for use for an assortment of reasons. Perhaps you are a nurse who spends long hours on their feet, maybe you travel frequently and endure long flights, or perhaps you are seated at your desk for long periods of time; either way, these compression socks can help.
Compared to Physix Gear Compression Socks 20-30 mmHg, these may appear to be a little more costly at first; however, keep in mind that this is a six-pack of socks, not just three pairs.
To see if these socks were as effective as their website claims them to be, we ordered a set and tried them out. Our first impression was that these socks are soft and comfortable against the skin, there was no itchiness, and they stayed up and in place. They were a little tight around the back of the knee, but as the material relaxed slightly, it became less so.
Key features
Aside from the exciting patterns and different colors these socks come in, there is also a host of benefits of compression socks that these socks provide.
These socks provide compression therapy by improving the blood circulation in your feet and lower legs. In so doing, they prevent the build-up of lactic acid in the muscles that often leads to soreness and cramping after a workout. The increased circulation also supplies your muscles with more significant amounts of oxygen that promote muscle recovery.
These socks come with a reinforced toe area and heel that offers cushioning and prevents chafing and blisters, and they come with a non-slip cuff that ensures they remain in place throughout the day. They also provide ankle protection for more stability and arch support essential for those who suffer from plantar fasciitis.
Double Couple makes these socks from a breathable fabric that wicks away moisture. The material is then infused with copper fibers that improve circulation and conductivity of energy.
Pros
The fabric is soft and doesn't cause any itching
They provide a firm compression
These socks offer excellent durability
Cons
The stockings are a little tight around the back of the knee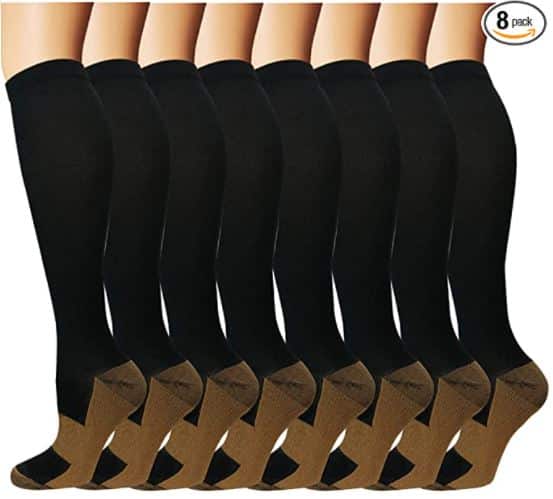 Sooverki is a leading brand in the healthcare and sporting industry that offers various products that include maternity leggings, ankle compression socks, and knee-high compression stockings. Known for its high-quality materials and impressive designs, the brand has become synonymous across the globe as the place to go for compression socks, stockings, and leggings.
The Graduated Compression Socks with Copper by Sooverki are loved by healthcare workers, travelers, and those with circulation problems.
Specs
Offers moderate compression of 15-20 mmHg
Made from a blend of nylon, polyester, and copper fibers
Comes in a pack of eight pairs
Features a mesh ventilated design
Who is it Best for?
If you are on your feet for long hours or suffer from varicose veins or frequent muscle fatigue, these socks make an excellent choice to help eliminate these issues. Sooverki offers them in a large pack of eight pairs, so you have a set for each day of the week and a spare pair too. They are provided in plain black for a more discreet look, or if you love colors and patterns, there is an assortment of those too.
We tested these socks out to see what sort of pressure and support they offered and found them to be of premium quality. The socks are thicker than your average dress socks but not as thick as athletic socks, and they offer a very comfortable fit. They are a bit of a struggle to get onto your feet, but once they're on, they certainly do their job.
Key features
Sooverki makes these socks from a soft yet durable mesh material. This breathable fabric allows air to circulate your legs, preventing any discomfort, overheating, or sweating. Infused into the fabric are copper fibers that are favored for their properties that encourage better circulation.
The design of these socks sees a gradient compression that is stronger towards the foot and ankle and lessens as it reaches the cuff of the sock that sits around the knee. This unique design is convenient for diabetics or those with Raynaud's Syndrome.
These socks are made to be safe to wear during the day or at night while you sleep and offer moisture-wicking properties that prevent dampness and itchiness. Moderate compression of 15-20 mmHg is provided to keep your blood flow optimal and to avoid muscle fatigue, soreness, and cramping.
Pros
The socks are durable and sturdy
They offer excellent compression that removes any muscular pain
The fit around the toes is very comfortable
Cons
The socks are relatively difficult to put on
They do tend to roll down around the knee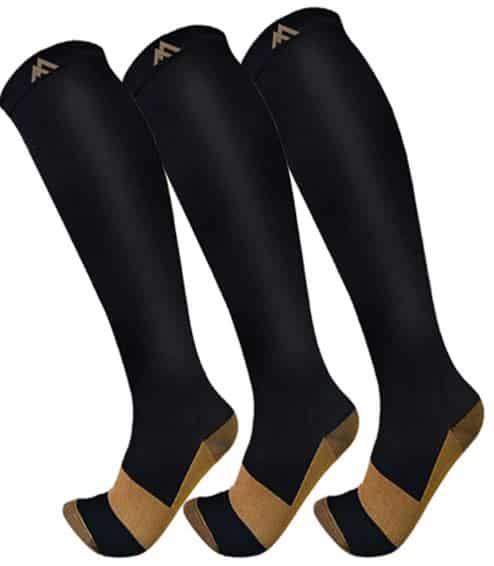 FuelMeFoot is a brand that focuses on foot and circulatory health. The brand designs and produces a wide selection of compression sleeves and socks designed to improve blood pressure in and around the foot and lower leg area.
The 3 Pack Copper Medical Grade Compression Socks by FuelMeFoot features a handy pack of socks designed to make the wearer's life more comfortable and pain-free.
Specs
Made from a blend of nylon, polyester, and copper fiber
Comes in a pack of three pairs
The socks are breathable and moisture-wicking
Offers a compression of 15-20 mmHg
Who is it Best for?
If you're an athlete, a runner, or someone who has arthritis or poor circulation, these socks are for you. FuelMeFeet offers a pack of three pairs of compression socks designed to improve your circulation and blood flow by increasing the pressure on the vascular tissue in your feet and legs. The result is a steady and even blood flow that eliminates lactic acid build-up to prevent muscle cramping, fatigue, and sore or stiff joints.
We gave these socks a try for a few weeks and found them comfortable and more durable than they appear. They are resistant to rips and tears and hold up well when laundered.
They provide a more moderate level of compression that makes them ideal for athletes, and what we enjoyed about them was that you could wear them at night.
Key features
FuelMeFoot makes these socks from a blend of nylon, polyester, and copper fibers. This fabric blend is designed to leave you with socks that are soft to the touch and that offer exceptional breathability and moisture-wicking properties to keep you cool, dry, and comfortable.
The socks come in a pack of three and feature a 15-20 mmHg compression rating, meaning they offer moderate to firm compression.
These socks provide arch support designed to assist those with plantar fasciitis, and they come with a thickened, reinforced toe area to prevent blisters and chafing. The heel area is also reinforced and provides cushioning for a softer feel.
The copper fibers in the socks are present to help eliminate odors, and they do their part to help improve circulation.
Pros
These socks are remarkably durable
They are soft and don't itch or scratch your skin
The copper helps eliminate odors 
Cons
Not ideal if you require socks with a high level of compression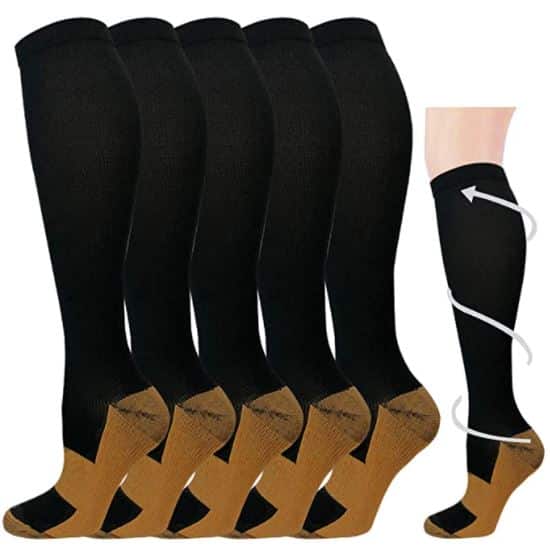 Hi Clasmix is a brand that focuses on the design and manufacture of performance and activewear. The brand offers an assortment of workout apparel, including yoga pants, leggings and joggers, sports bras, shorts, and compression socks. Each garment is designed to improve your workout and offer you the best possible apparel for optimal movement.
The Graduated Medical Compression Socks by Hi Clasmix is a pair of socks most athletes will vouch for, thanks to the sturdy and high-quality design the socks offer.
Specs
Provides a compression rating of 20-30 mmHg
Made from a blend of nylon, polyester, and copper fiber
Offers sturdy arch support
Features an odor-free design
Who is it Best for?
Hi Clasmix offers these compression socks in a pack of six pairs that come in a wide assortment of fun colors and designs. This pair of compression socks provide a firmer compression rating of 20-30 mmHg, making them ideal for those who need added support.
Whether you have poor circulation as a result of a medical condition, you stand or sit for extended periods, or you have arthritis, muscle fatigue, varicose veins, or are prone to DVT, these socks are precisely what you need.
We tested these compression socks out to see whether they provide the support they claim. After hours of wearing them, we found that not once did the cuff roll down on the socks, and there was no pinching or irritation of the skin at all. The only downside is that they are tricky to pull on, but they do their job well once they are in place.
Key features
Hi Clasmix makes these socks from a polyester, nylon, and copper blend that leaves you with a breathable and soft pair of compression socks that are durable and comfortable. The breathability these socks provide means that your legs and feet remain cool and relaxed, even in summer. The moisture-wicking properties leave you with dry feet free from sweat. The copper threads help to eliminate the odor that comes with sweat to ensure your feet remain smelling fresh throughout the day.
This pair of compression socks come with a double wear-resistance reinforcing at the toes and helps to provide you with cushioning and prevent the formation of blisters and chafing.
Compression at the arches of your feet eliminates foot pain and provides additional support that is particularly helpful to those with plantar fasciitis.
Pros
These socks help to reduce post-operative swelling
They eliminate muscle fatigue
These socks don't leave your legs and feet sweaty or smelly
Cons
These socks can be a little tricky to pull on and off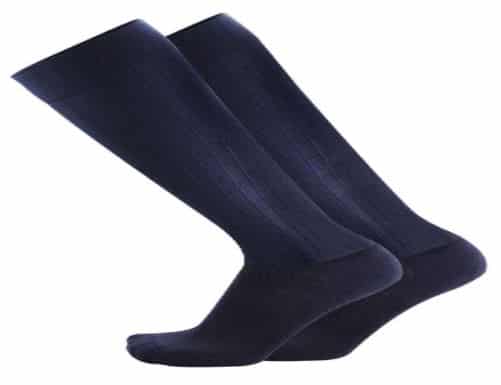 OrthoSleeve is a brand that manufactures and designs braves, sleeves, socks, and stockings intended to aid in pain relief. Whether you are experiencing pain in your wrist, elbow, knee, or calf, OrthoSleeve will have a brace or sleeve designed to ease your pain.
The OrthoSleeve Graduated Compression Socks 15-20 mmHg are designed to provide intermediate compression to relieve pain caused by varicose veins, deep vein thrombosis, muscle stress or fatigue, and strain.
Specs
Made from a high-quality micro-nylon lycra spandex blend
Features an anti-odor design
Offers true graduated compression
Provides moderate arch support
Who is it Best for?
Muscle fatigue, cramping, extended recovery time, and aches are all things athletes and those who sit or stand for long periods are familiar with. OrthoSleeve has designed these graduated compression socks to alleviate these symptoms and to prevent the formation of varicose veins, spider veins, and DVT.
These compression socks help to improve blood pressure and circulation, bringing oxygenated blood to the areas under strain to hasten recovery and provide pain relief.
We gave these socks from OrthoSleeve a try to see whether these medical-grade socks provided the results the brand promised. We found them to offer exceptional support, with an increased firmness in the foot area that lessened as the sock reached the knee. In addition, these were far easier to pull on than some others, and they stayed up once in place.
Key features
OrthoSleeve makes these medically accurate graduated compression socks from a high-quality micro-nylon lycra spandex blend interwoven with silver-ion treatment. This silver-ion fiber eliminates any odor and promotes optimal foot health to keep your feet and legs cool, comfortable, and smelling fresh.
These socks are FDA-registered, and they are designed to be medically correct. The toe area is seamless for a more comfortable and blister-free fit, while the overall fit provides the proper foot support in all the right places.
The graduated compression keeps your veins and arteries upright and more easily able to allow for blood flow, preventing clotting and medical conditions such as deep vein thrombosis.
The socks provide a light compression across the toes to prevent pinching and discomfort while giving moderate compression from the arch up past the ankle to the calf area. This ensures even and steady circulation across the foot and up into the leg.
Pros
These socks are easy to put on
They are extremely soft against the skin
The socks remain in place and don't roll down your leg
Cons
These socks are expensive
Things to Consider When Buying Compression Socks
1. Compression Level
Compression socks don't just come with one level of compression. Take some time to consider what levels of compression you need from your socks.
These socks offer a moderate level of compression and are ideal for athletes to wear after a sport or for those who need that little bit of extra support to improve their blood flow.
These socks provide firm compression and are better suited to those prone to deep vein thrombosis, who need compression socks post-operatively, or those who have arthritis, varicose veins, and spider veins.
These compression socks vary in compression ratings throughout the sock. They offer a lesser compression in some areas, such as around the toe and below the knee, but provide a higher compression level from the arch to the mid-calf. These are ideal for wear by those needing the best of both worlds, such as pro athletes or nurses.
2. Materials
Different compression socks are made from different materials. For example, you will often find them made from a blend of nylon and polyester with a spandex inclusion. This is because these materials are lightweight, durable, and offer exceptional breathability and comfort.
A few other materials you may expect to find in your compression socks include:
Merino Wool – This material is excellent for moisture-wicking and breathability but can be exceptionally expensive and pretty warm for summer wear.
Elastane / Spandex – These two materials provide the socks with their stretch and comfort that allows them to stay up and provide the compression you need. However, you won't want to purchase a pair of socks made purely from either of these materials as neither is remarkably breathable or moisture-wicking.
Polyamide – is a form of nylon with exceptional insulating properties; it is durable and offers excellent stretch, although breathability is not as great as polyester or wool.
When looking for the perfect compression socks, there are several things to consider. Giving thought to the brand, durability, the compression offered, style, and quality will all put you a step closer to finding the socks that most suit your needs.
By closely examining and testing each of the compression socks in this review, we concluded that they each meet the criteria discussed above, making it more simple to find the best socks to meet your needs.