Who is this article for?
It's for anyone that is looking for advice, guidance, and expert knowledge in order to buy the best beard brush that their cash can get them, for their beard care routine.
You might want to check out this survey that discusses more men's opinions and habits on facial hair and shaving.
Beards are on trend for a few reasons, but it is mainly because they look cool. It's that simple.
There are a few key elements that help to ensure your beard looks exactly as you want it, rather than just making it appear that you've only just returned to civilization after being stranded on a desert island for a year.
You're going to want to think about the best beard style for you and whether you need to invest in a beard shampoo or maybe a beard oil or beard balm.
But in order to be one of the well-groomed men, you must have well-groomed beards and that needs the best beard brush.
Knowing how to brush your beard doesn't only make you a well-groomed man but also in general brushing hair stimulates growth.
We have put together some of the best brushes in this buying guide.
That is where I come in!
QUICK OVERVIEW: Best Beard Brushes
A range of bristle stiffness to pick from
Incredible build quality and performance

VIEW ON AMAZON →

Seven Potions Beard Brush for Men

No handle makes it easier to travel with
Performs very well

VIEW ON AMAZON →

CanYouHandleBar Beard Oil Brush

Best brush for distributing oils throughout your beard
Compact, making it easy to travel with and store

VIEW ON AMAZON →

Smooth Viking Wild Boar Beard Brush

Great for a shorter beard, offering brilliant results
Looks awesome and great branding

VIEW ON AMAZON →

Brush Strokes Firm Boar Bristle Brush

The price!
A good option for an economy shopper

VIEW ON AMAZON →
Use the table of contents below to jump to the sections most important to you.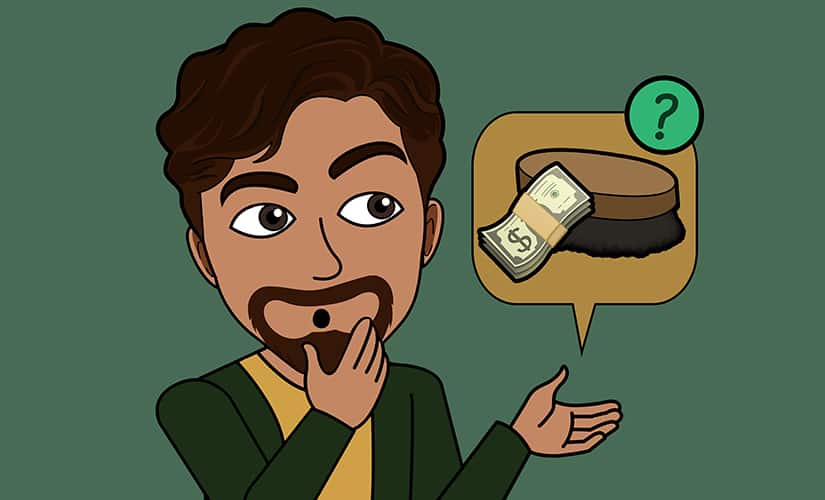 5 Best Beard Brushes of 2023 Reviewed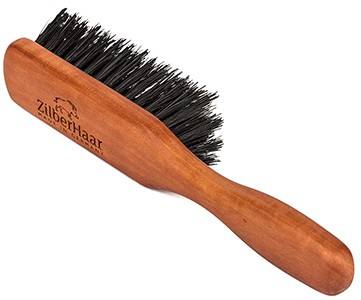 If this beard brush were a car, it would be…
Mercedes-Benz (DDAIF) S65 AMG Cabriolet. German engineering looks awesome.
Specs
Who Is It Best For?
This is the best beard brush for men who want to buy only one beard brush in their life.
Because in terms of options relating to the bristle softness, you can purchase the correct one for your beard type and then relax and just enjoy the quality.
Quality
ZilberHaar is German. Should I go on?
Well, I will actually, because it is worth pointing out that their reputation for being arguably the finest manufacturer of some of the best beard brushes is truly deserved, despite being relatively new on the scene.
Originating as a company in the heart of the Black Forests of south Germany, this is a company that produces some of the highest quality, best beard brushes from nothing but the finest natural materials.
All their brushes come with a standard 5 years guarantee, but you could probably through your proof of purchase in the trash because nothing is going to go wrong with it.
This brush has a range of bristle stiffness, allowing you to go for a softer or more firm bread brushing experience.
Check out the reviews on Amazon here.
---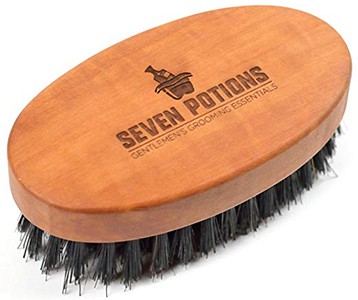 If this beard brush were a car, it would be…
A VW Golf. It would be hard to pick out a weak area.
Specs
Who Is It Best For?
If are looking for arguably the best beard brush for men all-rounder on the market.
No, handle so you can take it anywhere, strong bristles to get deep into your beard (which you don't always find in a smaller brush), great build quality, a good weight (which again isn't always the case with a smaller brush).
Quality
Again, a relatively new company, but that doesn't mean inexperience; it means they have essentially let everyone else spend the last 100 years experimenting and doing all the research and they have come in and cherry-picked the best material, techniques and methods.
Based in London, England, their full range is always worth a look, offering beard oils, balms, beard shampoo, and a whole load of shaving equipment if you decide this beard thing isn't for you after all!
You'll struggle to find a bad review, and thanks to its high-quality natural materials and excellent craftsmanship, you will be buying the best beard brush you know you'll be using for a very long time.
TOP TIP: some reviewers feedback that the bristles are initially too firm, but after using it a few times they do soften to provide the optimum texture.
See the collective opinion of hundreds of Amazon reviews here.
---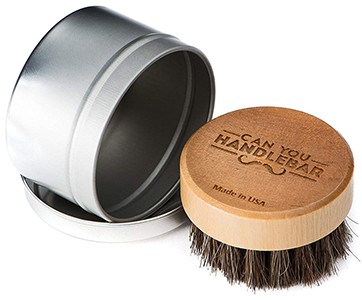 If this beard brush were a car, it would be…
Audi A1. Small, compact, and just really, really good.
Specs
Who Is It Best For?
You want to make the very most of your beard oils, see our comprehensive list here.
Everything about the brush is designed to make the conditioning of your beard a priority, even the size, and shape of the brush isn't an accident; the thought has been put in to make it is easy to pair with the tub of a beard wax or balm.
Because it leans towards being a great adapter, carrier, and transporter of beard products, the bristles are a little softer than some other beards.
The result is it might not be the best beard brush for anyone with a full, thick beard that needs a brush capable of working deep into the hair.
Quality
This company places a huge emphasis on the build quality, and this is reflected in the price.
But it is a justified price, such as the standard of craftsmanship.
The USA-born and made, CanYouHandleBar products are well designed by people you can tell totally understand what it means to look after a beard.
To be honest, the only reason this non-boar beard brush wasn't higher on our list was that it's a bit of a specialist product, with the focus placed on the brushes' ability to move oils and balms around your beard rather than the brushes ability to, well, brush.
If it were a touch bigger and with slightly stiffer bristles, it would undoubtedly be a challenging top spot.
Check out the consensus of hundreds of customer reviews here on Amazon.
---

If this beard brush were a car, it would be…
Any of the Volvos! Scandinavian heritage combines that ruggedness with superb quality.
Specs
Who Is It Best For?
This is the best beard brush if you're looking for a well-groomed, healthy shorter beard.
Some users suggest it doesn't penetrate longer, thicker beards as well as others.
Presumably, because the bristles are so tightly compact and a little shorter, so if you are only able to really impact the surface of your beard.
Quality
The build is good, the brand is strong.
Again, everything is natural and well crafted, so you are confident of a brush of quality.
Worth noting where the company gets its name from though, as that will help paint the picture of the product you are buying.
Smooth Viking attempts to replicate the image that is conjured when thinking of the Vikings; battle-ready, fearsome warriors.
However, what you may not know is that the Vikings placed a huge amount of importance on appearance and personal hygiene.
So the implication is you are buying the best beard brush that is strong and robust, whilst refined and polished enough to appeal to the well-kept man.
Which is pretty much what the perfect beard should be doing also.
See the collective opinion of thousands of customer reviews here on Amazon.
---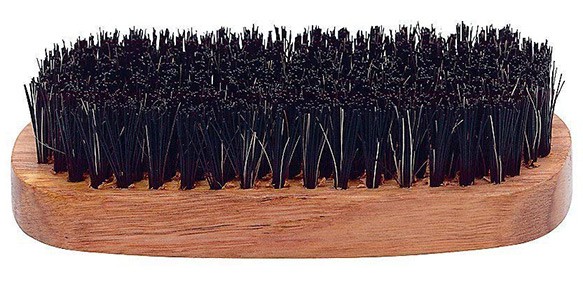 If this beard brush were a car, it would be…
Toyota Yaris. You know what you're getting so don't expect too much from it. But still, it's a good car from a good manufacturer.
Specs
Who Is It Best For?
You are not looking to spend big bucks but still, want a brush that will tame an unruly facial masterpiece
Be aware, however, that the bristles are not the softest on the market so this would not be suitable for anyone with a shorter beard or with a fine beard.
Quality
As is true for nearly everything in this world, you get what you pay for.
But if you are looking to spend less, I believe this is your best option.
You still get the benefit of (some) natural bristles and the company is well established suggesting they are clearly not shipping out terrible products.
Not as expensive as others, but that doesn't necessarily mean cheap.
Some reviewers suggest the mix of natural bristles with synthetic is not 50/50, giving the brush a quite coarse feel.
Also worth pointing out that as the brush itself is made from bamboo, you are going to have to keep this thing dry.
It's a cheaper wood and is prone to water damage. As soon as that water damage sets in, you are in a losing battle.
Check out the consensus of hundreds of Amazon reviews here.
Things to Consider When Buying the Best Beard Brush
New to men's beard combs?
Not a problem because this section will let you know what to be on the lookout for to ensure you buy the one that is perfect for you and your beard.
Beards look awesome when done right.
There is basically no manual on how to brush a beard properly, but having the appropriate beard brush kit will make brushing beard easier and more effective.
Your beard comb and beard brush will help your facial hair become the well-crafted asset you are hoping for, rather than something you've had to grow as quickly as possible to help avoid detection after committing a felony.
We recently surveyed over 600 men across the united states with regard to their opinions of facial hair and grooming habits.
But one man's best beard brush may be another man's waste of money.
So it is worth highlighting some of the key beard care considerations before you part with your cash.
1. Handle/Barrel Material
---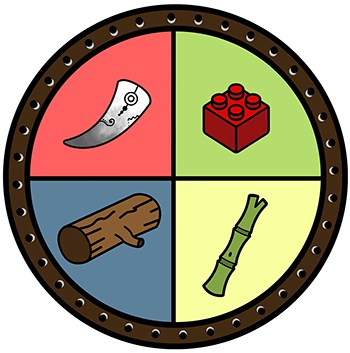 The main body of the hairbrush is likely to be made of one of the following materials:
There is a fourth, albeit less common, material:
If you buy a less expensive version of any of these, you will have to make sacrifices in the hair brush's integrity
You'll notice a bit more flex and it essentially isn't going to last as long.
Less expensive wood and bamboo brushes are particularly vulnerable to water damage, so if you ever get them wet it is essential that you dry them thoroughly.
Wood and bamboo are the options for the eco-aware bearded gentleman, whilst ox horn beard brushes were probably only invented in case Mick Dundee one day were to stop shaving.
Joking aside, they do offer the quality of a well-built, high-end wooden hair brush without the environmental concerns of the plastic options.
Although of course, they're not exactly top of the list for a vegan.
2. Bristles of the Brush
---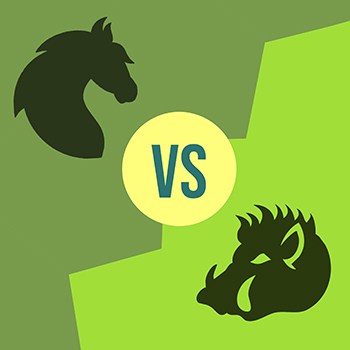 The type of bristles that your best beard brush has is a big deal. It's going to impact a lot of things, from your beard's health to the success of your desired style.
Broadly speaking, there are two types of bristles in the best beard brushes. They are:
Natural Hair
Most often wild boar or horse hair. If you thought I was going to say badger hair, that tends to be used in some of the best shaving brushes as it is far softer and less stiff, as you will find out in our shaving brushes guide.
Advantages
They are great at distributing oils throughout your beard, both your naturally occurring oils and the essential beard oils that you may choose to apply.
Humans, boars, and horses (as well as many other hairy mammals of course) all secret sebum oil from their skin.
Therefore, when the hairs of boars and horses are used in your beard brush as bristles, it is second nature for them to be in contact with this oil allowing it to be effortlessly circulated and dispersed throughout your beard.
You will be conditioning your bushy beard simply by brushing it with boar bristles!
The lower shaft and backbone of boar and horse hair are coarse and strong.
But unlike a lot of synthetic brushes, that doesn't mean the hairbrush is overly aggressive and damaging to your beard.
So you can detangle your beard and remove impurities that gather throughout the day, without harming your facial masterpiece.
Disadvantages
Boar bristles can tend to be a touch more expensive because you are paying for quality and they are often handcrafted.
Synthetic
Advantages
Obviously, there are often ethical reasons someone may choose a synthetic hair beard brush over the natural alternative.
Another large advantage is that you can find a lot of good synthetic hair beard brushes that won't necessarily require you to spend a lot of money.
Plus, because the bristles are manmade, they can be carefully created to help you achieve the exact style and texture you are looking for.
Although some of these effects are so specific there is a question mark over their ability to achieve them!
Disadvantages
They are generally not as good at the job as their natural hair counterparts.
Let's be clear, you can get very good synthetic hair beard brushes, so do not rule them out.
In fact, arguably only the best beard brush expert would be able to notice the difference sometimes.
But that's what I am, so I do notice a difference!
The other disadvantage is that they can be a bit aggressive.
So if you have particularly fine whiskers, be sure to at least try a similar hair brush first before purchasing one, if possible, because you might find it ends up doing more harm than good.

3. Price
---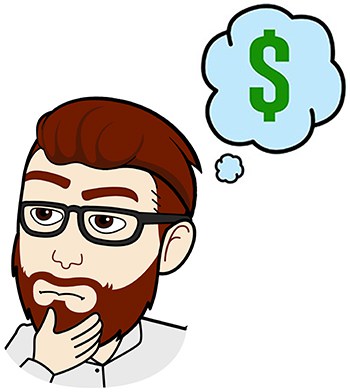 I'm not going to say that you have to spend mega-bucks in order to get the best beard brush for you nor am I going to prescribe where to buy a beard brush for you.
But I will say this – don't go too cheap when choosing a brush for your beard.
Cheap means a poor quality brush, and a poor quality brush means a poor quality beard.
If you buy a beard brush that is poorly made using cheap materials, you are making yourself vulnerable to two things; firstly, static.
A cheap brush is going to generate static which makes your beard difficult to manage and control.
Secondly, a cheap brush is going to damage your hair follicles and cause split ends.
You don't need to break the bank to get a beard brush.
But please don't just grab any $3 thing you might find in your local drug store.
4. Bristle Length
---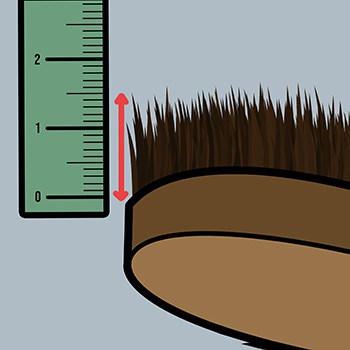 On the topic of bristles, you will need to give some thought to the length.
Got a thick or long beard? You'll need a longer bristle to be able to get in there so you're not superficially brushing it.
A shorter or finer beard will require shorter bristles so that you aren't working it too much or risking aggravating your face beneath.
5. The Handle, Shape, and Size
---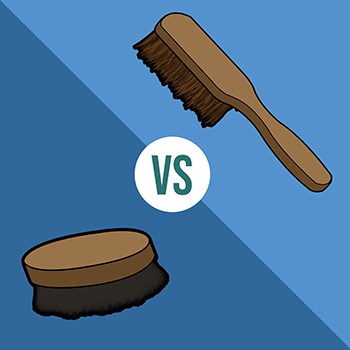 You are nearly always looking at a combination of these options:
Handle or No Handle
Oval or Square
There isn't much to say here other than it is going to boil down to personal preference.
However, some factors that might influence your decision are:
Do you travel a lot?
If you go away, packing a bigger brush for brushing your beard with a handle might prove tricky.
Big beard?
A handle might give you that extra grip and stability that you need to help you brush your monster.
Where do you plan on keeping it?
Again, size and dimensions could play a part.
Brushing wet?
You shouldn't really be using your best beard brush when your beard is still wet, that's the job of your beard comb. However there might be times when it's unavoidable, and therefore having a handle is going to be of use to give you that bit of purchase.
---
---
Beard Brush or Beard Comb?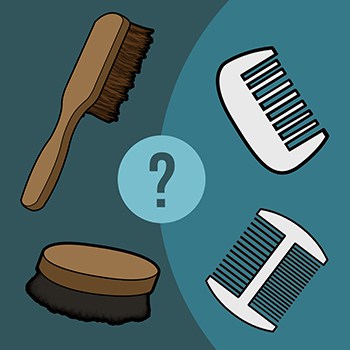 We've done a lot of research into finding the best beard comb too. But what's the difference between the two and which should you use?
If you are wanting to achieve anything close to the best beard you are capable of, the answer would be this; use both, and use them alongside other products like oils and beard balms.
They have different strengths are in fact designed for different things, although there is of course some crossover.
Detangling – COMB
If you have grown your long beards to a good length, say the 4th-month stage onwards, you will need a comb to detangle the inevitable knots and to prevent matting, soft bristles will not be sufficient for this, you will need a strong brush. In addition, get some beard balms to keep it soft to the touch.
A good time to do this to your beard hair is after a shower when your beard is wet.
Styling – COMB
Again, for longer beards, this is when a brush and comb become vital, learn which is better for you, or you actually need both.
The accuracy of a comb allows you to style your masterpiece and create the specific look you are trying to achieve.
Cutting/Trimming – COMB
To keep your desired shape or length, a beard can isolate hairs that need cutting and help maintain a well-kept look.
This is something that a brush can not help with.
Conditioning – BRUSH
As discussed, the best beard brush will distribute oils (both the naturally occurring ones or the oils you may choose to add). This can be a boar bristle beard brush or one with synthetic bristles, it really doesn't matter.
Making your beard look and feel healthy and strong.
Cleaning – BRUSH
Beard brushes are excellent at removing the build-up of deposits from the day, especially in long beards.
As your beard grows in length, so too will the number of bits it collects from the day.
Some you can't see (dust and dirt), some you can (crumbs from that lovely pastrami bagel you had for lunch).
Shorter Beard – BRUSH
The best beard brush will encourage your beard to become healthy and strong, particularly as it begins to make itself at home on your face.
Brushing stimulates oils to be released in a way that a comb can't.
Additionally, using a comb on a short beard will essentially mean you are just scratching your face rather than doing much for your facial hair! You are probably better off with a mustache brush for the job.
This article is not about the best mustache comb or mustache brushes, but it's definitely worth the mention.
Thick Beard – BRUSH
The best beard brush is going to be an important ally if you are sporting the thick beard look.
Regular brushing when washing your beard and grooming your beard will keep it healthy and encourage it to grow and rest in the shape and style you are hoping to achieve.
It's a bit like when you get your hair cut by a quality hairdresser/barber who properly understands your hair and head; even without making much effort, your hair will look like it's been styled simply because the hair has been cut well and encouraged to grow in a certain way.
A well-brushed beard will do the same thing – it will look like facial hair that was destined to sit on your face rather than some wiry attempt you thought you would try because Leonardo DiCaprio gave it a go (although, to be honest, his attempt was pretty bad).
---
So you've got your safety razor in your hand and you've got stubble on your cheek.
This is how to get the most from your beard brush.
The first thing to note is that in order to be getting the maximum benefit from your best beard brush, you really need to be using it daily.
I would advise using it in the morning; a lot of oils get secreted overnight which you can make the most of by brushing then, plus it becomes part of your morning routine.
Once you are home at the end of the day, unless you are super committed, 'brush my beard' will be just put on the list of things you know you're never going to do which also includes; learning a language, writing a novel, call mom more often.
Time needed: 15 minutes.
But how to use a beard brush? There are 5 steps;
1. Comb When Wet, Brush When Dry.
If your beard is wet, use this opportunity to run a beard comb through it.
This will do an important detangling job.
Once your brad is dry (longer, thicker beards might want to blow dry) then you can get reach for your boar bristle beard brush.
Before brushing, apply some of your favorite beard oils, or a beard balm to your beard.
You don't need to visit the best beard barber in order to know how to apply beard oil and brush your beard properly.
Once you then begin to use your boar bristles brush, or whatever you like, you will distribute them evenly and deeply throughout your beard to help a good growth and excellent condition.
Much like a cat will slash your face off if you stroke it against the direction of its fur, a beard will hate you for brushing it in any other way than with the grain (the direction of the hair growth).
This is by far the best description of how to brush a beard.
Start with the tips and edges of your beard, then work on to the main body.
5. Apply Pressure…But Not Too Much
You are giving your beard a bit of a workout, but you are not beating it up!
Apply enough pressure so that it is not a superficial brushing, you want to get all hairs not just the surface layers.
But equally, if you notice a lot of hairs coming out on the brush and it's uncomfortable to do, chances are you are being too heavy-handed.
Your best beard brush is going to unearth a lot of debris, that includes dead skin, and therefore it is going to need looking after.
It is important that you know how to clean your beard brush or beard balm brush.
Work it with your fingers to detach the most obvious deposits, but a rinse under a warm tap will also help.
TOP TIP: Rub coconut oil into your brush to help dislodge anything left behind, and you can learn how to make beard oil at home in this guide, and the good thing is that you can make it all purely organic and natural.
BE SURE TO DRY IT! Especially if you have a wooden handle, drying your brush is crucial.
The recent explosion in beard popularity means there are a lot of newer companies doing their thing in the beard brush market.
This article highlights are our 5 best beard brushes for men.
But you can also check out the following very good beard brush and comb selection that didn't make our top 5 this time.
My number one best brush for beards is likely to be the best option for the majority, but every man, and every beard, is different so take time to consider your ultimate goal in order to help you pick out the best beard brush for you.