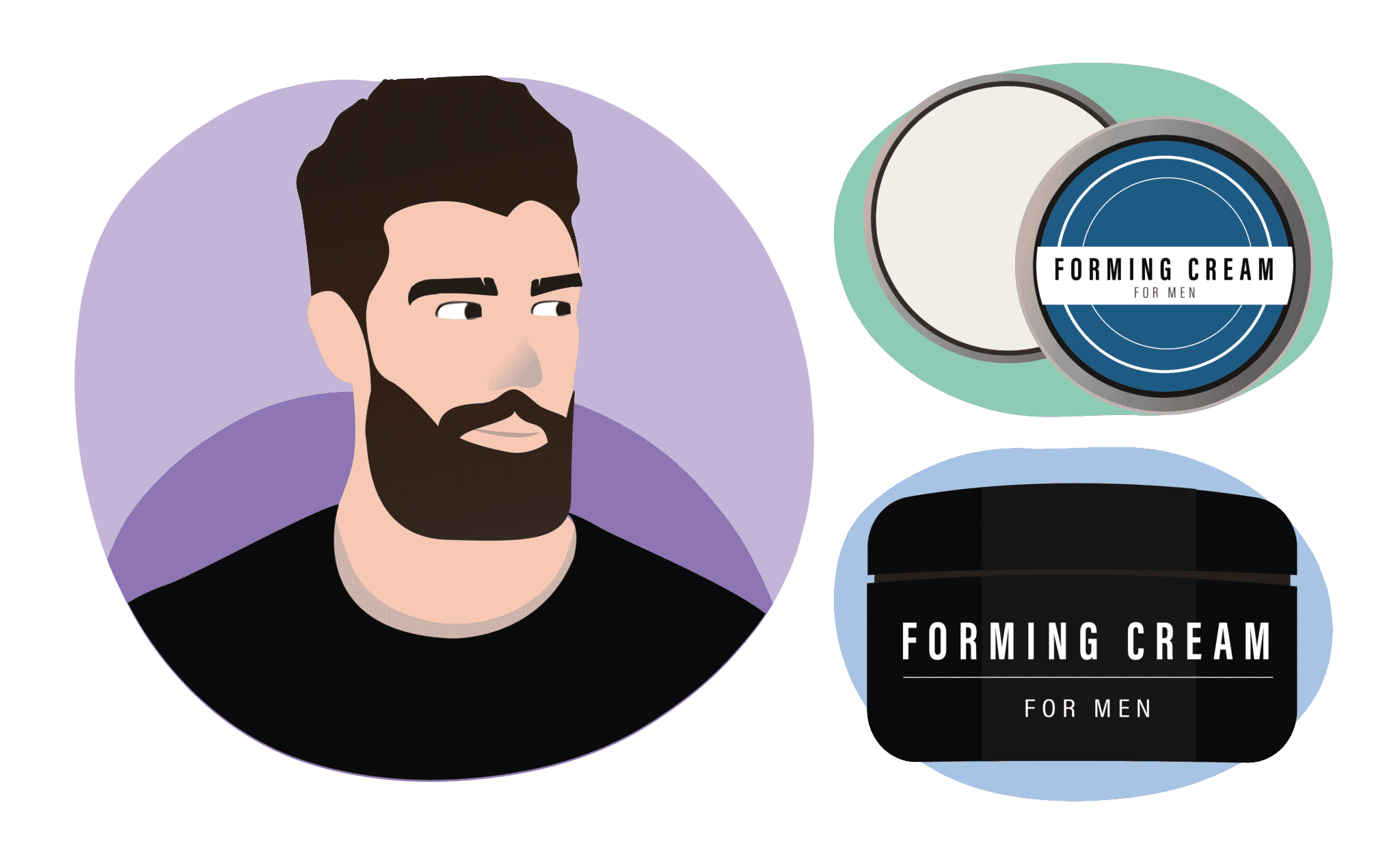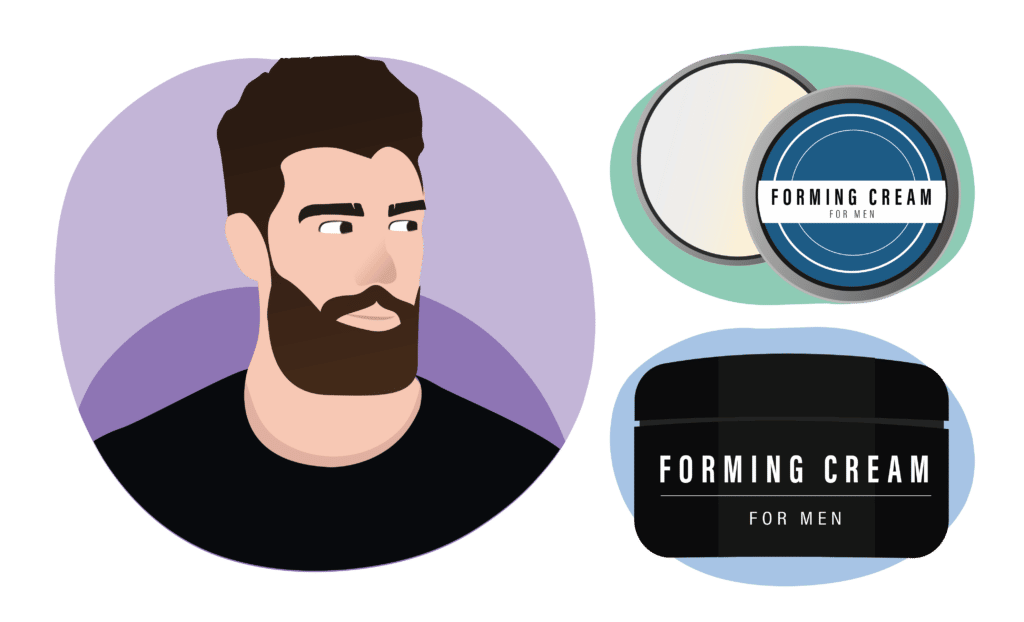 Hair cream, often referred to as styling cream, is possibly one of the most overlooked grooming tools a man can add to his arsenal of styling products. However, this unique haircare product offers many applications and uses, making it highly versatile and worth using.
Whether you need a light styling product that allows you to shape your hair without it becoming greasy and weighed down, or you have curly, unruly hair that requires a touch of product to tame the frizz, hair cream is your best bet. It often comes with natural ingredients such as shea butter, jojoba oil, aloe, amino acids, coconut oil, and argan oil that adds hydration to your hair to prevent split ends and combat dryness.
Unfortunately, not all styling cream is made equal. To make it less challenging for you to find the hair cream that best suits your needs, we have gathered together the best Amazon offers. We have reviewed them to ensure you have the best hair cream to choose from.
We tried and tested multiple styling creams from Amazon and concluded that these seven are the best hair cream for taming flyaways and styling your hair. We used the approach to chat to men about what they looked for in a high-quality hair cream and collected together the ones that ticked these boxes. We then reviewed each of them. Our evaluation of each was based on the following criteria: the formula of the cream, styling ability, and hold, hydration offered, versatility, and ease of application.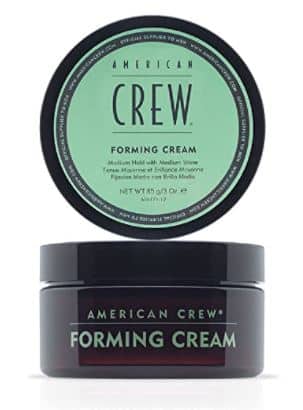 American Crew is one of the world's leading men's grooming brands. The company, founded in 1994, sought to offer men a broader, more inclusive range of products to suit their needs, transforming looking "on point" into a unisex and universal concept. Today, the brand offers a vast selection of products, including conditioner and shampoo, cologne, shaving products, and haircare.
We happened across the American Crew Forming Cream and wanted to find out more about this product and whether it lived up to the quality and efficacy the brand claims it offers.
Specs
Provides a medium, moveable hold
Creates a medium shine
Water-based formula
Includes glycerin which makes hair strands appear thicker and fuller
Who is it Best for?
If you're looking for a forming cream that provides medium hold, this is the product for you. It offers enough hold to keep your hair in place throughout the day without being too thick or too light.
Men with thinning hair or those who want a fuller-looking head of hair will enjoy this volumizing product too. American Crew formulates it with glycerin which soaks into the hair making each strand appear thicker and more robust. This helps give the appearance of a fuller head of hair.
We tried out this forming cream to see how well it held up. It kept our hair in place for most of the day, and it offered a definite natural look. There was no greasy sheen to it, and the coconut fragrance was pleasantly soft.
Key features
American Crew makes this forming cream with a selection of premium ingredients designed to keep your hair in place without it becoming hard and crunchy the way a hair gel or hairspray would leave your hair. It also won't leave it sticky or greasy the way a brill cream or pomade would.
The formula, when applied, leaves a natural-looking finish that will leave your hair with a slight shine and a fuller look and feel.
This cream is easy to apply. Rub a very small amount into your hands and then rub it through your hair. You can apply the product to dry or damp hair for ease of use.
Because the cream is water-based, it is quick and easy to wash out of your hair with warm water and shampoo.
Pros
Can be applied to dry or damp hair
Easy to apply and wash out
Makes your hair feel softer
Cons
The shine could be a little more lustrous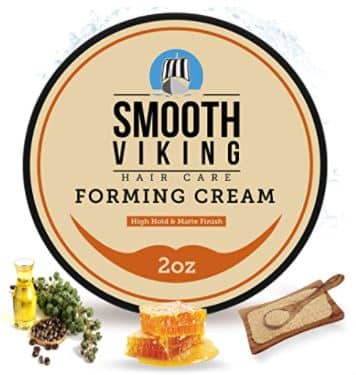 Smooth Viking is a unique brand that was founded in 2014. The brand was brought to life out of a need for premium men's beard care products because those on the market just weren't cutting it. Today, the brand offers an impressive selection of hairstyling and beard care products that will leave you looking like a million bucks.
The Styling Cream or Forming Cream For Men by Smooth Viking caught our eye with its versatility and ease of use.
Specs
Made for use with all hair types
Offers a matte finish
Provides a strong hold
Includes natural ingredients in the formula
Who is it Best for?
Whether you have fine hair or thick hair, this styling cream is for you. It offers a strong hold designed to keep your hair in place and looking great no matter how frizzy or unruly it may be.
Compared to other styling creams available on the market, this one from Smooth Viking is very well-priced. In addition, the inexpensive hair cream offers excellent styling power and is simple to apply.
Impressed with the low price, we wanted to try it out to see whether it was a case of low price poor quality. We were left impressed. The formula offers exceptional hold without looking greasy, and it takes a matter of seconds to apply. Best of all, if you go for a walk on a highly windy day, you can comb it back into place with ease. The fragrance of the forming cream could be improved on at smells a little medicinal, but that is the worst of it.
Key features
Smooth Viking makes their unique formula from a blend of natural ingredients to keep your hair looking hydrated, thick, and lustrous. Some of the elements you will find in the Smooth Viking forming cream include organic argan oil, beeswax, soybean oil, and green tea extract to leave you with a non-flakey formula that provides a strong hold for all hair types.
The cream is water-based, making it simple to wash out with warm water and shampoo. In addition, it requires the smallest amount of product for application to leave your hair looking better than ever.
The styling creme is designed to help tame curly hair, style various hair types, and soften and smooth coarse hair, thin hair, long and short hair.
Pros
Great for use with long and short hair
It is nourishing and hydrates your follicles
Cons
The fragrance is a little medicinal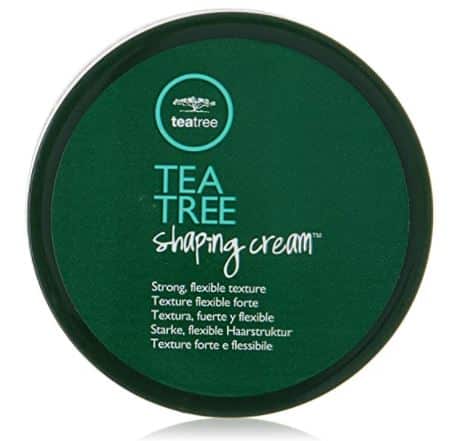 Paul Mitchell is a haircare brand that was founded in 1980. The brand focuses on producing and manufacturing premium hair care products aimed at salons and those who want to experience salon-style haircare at home. In addition, Paul Mitchell offers a host of hair styling products, shampoo and conditioner, scalp treatments, and styling tools.
It was the Tea Tree Shaping Cream by Paul Mitchell that we wanted to try to find out whether it really did provide the results the Paul Mitchell website claims.
Specs
Made for all hair types
Free from parabens and gluten
Features a tea tree and mint fragrance with a dash of citrus
Offers a strong hold with a matte finish
Who is it Best for?
If it's an environmentally-friendly hair care product you're after, this is the one for you. Paul Mitchell features this unique product in elegant but sustainable packaging that is made with recycled post-consumer packaging.
The styling cream is made for all hair types, but it is best used by men with short, choppy crops or crew cuts as it works well to add definition to these styles.
This styling cream is reasonably priced compared to competitor brands, making it affordable and great for those who want to try the product but aren't sure if it's for them.
After trying this product ourselves, we found that it works best with damp hair and provides exceptional hold when your hair dries. The fragrance is subtle yet masculine, and the jar, while small, lasts a long time.
Key features
Paul Mitchell makes this styling cream with castor oil and tea tree oil that work to nourish and hydrate dry hair and to help tame any frizz. The formula is free from gluten, parabens and is vegan friendly, making it safe to use daily.
The styling cream offers a strong yet flexible texture that is easy to manipulate into your desired style. In addition, it leaves a matte finish that provides a more natural look than that of a shiny or very glossy hair cream.
The cream is made for use with all hair types, although it tends to work best with shorter or cropped hairstyles. It is quick and easy to apply and washes out with ease.
Pros
Is a great way to treat dry ends
Offers a fresh and zesty fragrance 
Cons
Not everyone will enjoy the fragrance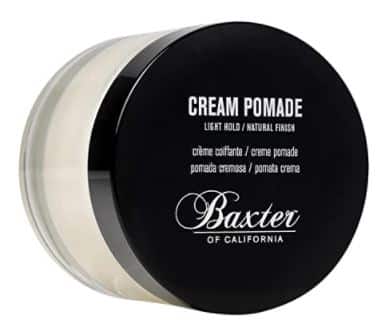 Baxter of California was founded in 1965 in response to the lack of men's skincare products available. Founder Baxter Finley, tired of the lack of grooming essentials for men, set about creating his own, releasing the brand's first products in early 1965.
Since then, the brand has grown exponentially. Today offers a wide choice of products that include body wash, bar soap, deodorant, shampoos, conditioners, shaving tools, skincare, hair gel, and even the Baxter of California Cream Pomade for Men.
Specs
Made for curly or wavy hair
Provides a light hold
Creates a natural finish
Includes glycerin for a frizz-free finish
Who is it Best for?
If you're not a fan of thick, gloopy hair gel or crunchy hairspray, and all you want is a light hold, then this cream pomade is the ideal solution. It provides a natural, lightweight hold that is perfect for taming curls with a mind of its own and keeping frizz in check.
The cream pomade also works wonders for hydrating and moisturizing dry hair.
In our opinion, this pomade offers the best of both worlds; it gives the hold and texture needed without being crunchy, stiff, and greasy. The only downside is that it doesn't do wonders for very fine hair as it is a little heavy and leaves the hair looking limp. If you have curly hair, then this stuff works like a dream.
Key features
This curl-defining cream from Baxter of California helps to keep your hairdo looking sleek and stylish. The anti-frizz formula is made with a selection of ingredients aimed at giving you a light hold. It refines and smooths your hair to prevent flyaway pieces and to add definition to unruly curls.
The formula includes elements such as beeswax that keep your hair in place without weighing it down. In addition, the pomade is moisturizing and paraben-free, so it won't dry out your hair or leave you with more split ends than what you started with.
Baxter of California makes it so that you can apply the pomade to wet hair for a slicker, more wet look or apply it to dry hair for a more matte, natural hair look.
Pros
Perfect for use with curly hair
Features a subtle lemon scent
Cons
Not ideal for use on thin hair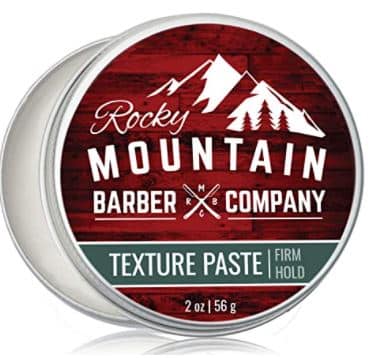 Men, who understand that hair is more than just hair and that every beard has a story of its own, founded Rocky Mountain Barber Company. The brand makes use of natural ingredients that are of premium quality to ensure that each product meets the high standards of its customers.
Rocky Mountain Barber Company offers a selection of products, including skin and body care, shaving elements, hair care, and beard care. Impressed with the brand's stylish packaging, we decided to give the Hair Paste for Men from the Rocky Mountain Barber Company a try.
Specs
Offers a reworkable, strong hold
Provides a shine-free, matte finish
Made with natural plant-derived ingredients
Water-based formula
Who is it Best for?
If you have thicker hair and are looking for a cream pomade that provides a little extra hold without feeling like hair gel or becoming flakey, this may be the solution you need. Rocky Mountain Barber Company's cream pomade offers a strong hold that will keep your hair in place on even the windiest days, and best of all, it doesn't flake.
Compared to other styling creams on the market, this offering from Rocky Mountain Barber Company is inexpensive, sitting mid-scale in terms of the price range.
Interested to see whether it really did the trick, we gave this product a try and found it to offer exceptional hold. We battled at first to get the product out of the tin, but after the first small scoop (you only need to use a little product at a time), it came out with ease. The fragrance is a little odd; it has a slightly mechanical barbershop scent to it, but other than that, it is a great product overall.
Key features
Rocky Mountain Barber Company formulates this texturizing paste with natural plant derivatives to ensure the product is sustainable and good for your hair and health. Elements such as beeswax and castor oil give your hair shape and natural shine without weighing it down or making your hair look or feel greasy.
The product works best when applied to slightly wet hair that is damper than dripping. To apply, mix a finger tip's worth of product with a splash of water and rub between your palms to form a paste. When the paste is smooth, apply it to your hair and work up the style you require.
The hair paste is water-based, so it is easy to wash out in the shower with a dash of shampoo.
Pros
Perfect for men with thicker hair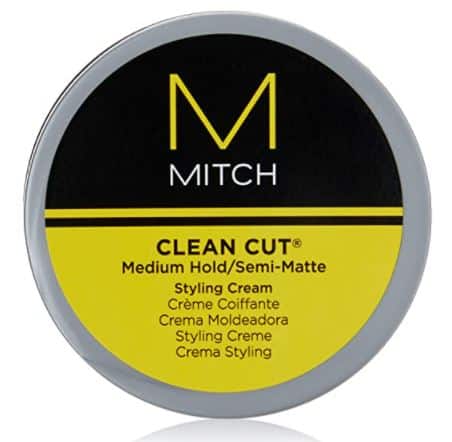 Paul Mitchell is a haircare brand that provides customers and salons across the globe with premium quality hair products. The brand, founded in 1980, has become one of the leading 9hair care brands in the world, and it is easy to see why. Each product is formulated with high-quality elements to leave you with shiny, glossy, and healthy hair.
Impressed with the quality the brand claims to offer on its website, we decided to give the Mitch by Paul Mitchell Clean Cut Medium Hold/Semi-Matte Styling Cream a go and see how well it fared.
Specs
Provides a medium hold
Offers a semi-matte finish
Comes with a citrus and white floral fragrance
Designed to condition your hair
Who is it Best for?
If you're looking for a leave-in styling cream that offers a medium hold, you may want to give this one a try. This styling cream provides a long-lasting, pliable hold that can be reworked to keep your hair looking on point throughout the day.
If the matte look is not for you, then you may enjoy this formula. It offers medium shine that leaves your hair looking healthy and vibrant without making it limp and greasy.
Compared to other hair styling products on the market, this cream from Paul Mitchell is inexpensive. The lower price point makes it great for those using a styling cream for the first time and who don't want to spend heaps on something they may not enjoy.
Our findings after testing this product are that it offers a far better hold than any mousse, hairspray, or hair gel on the market. It is, in addition, simple to apply and comes with a very soft fragrance.
Key features
Paul Mitchell makes this hair cream with conditioning ingredients that allow the product to work as a styler and as a lotion that moisturizes your hair. The moisture in the product won't weigh your hair down or leave it greasy, but it will prevent breakage and promote hair growth.
This leave-in cream provides a medium hold that will keep your hair in place throughout the day. In addition, it gives a medium shine that keeps your hair looking shiny and healthy without making it look slick and greasy or matte and dull.
Leave your hair to air dry before application for a more styled look, or for a slightly slicker look, apply the cream to damp hair.
Pros
Works well on dry or damp hair
The scent is fragrant but subtle and won't overpower your cologne
It is great for use on longer hair
Cons
The finish is more shiny than matte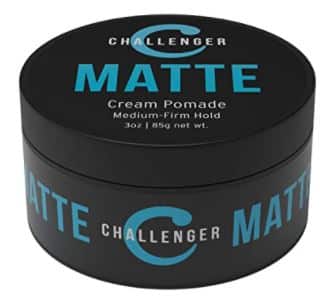 Challenger is a relatively new kid on the block. The brand was founded in 2016 and offers a selection of hair care, skin and body care, and hair growth products. Packaged in branding that reflects the high-quality yet simple formulas within, these products focus on efficacy and quality.
The Challenger Men's Matte Finish Cream Pomade caught our eye with its minimalist packaging and medium-to-firm hold.
Specs
Offers a matte finish
Provides a medium-firm hold
Water-based formula
Made for use with dry, thick, or straight hair types
Who is it Best for?
If you want the perfect solution to taming your frizz and styling your locks, you may want to try the Matte Cream Pomade from Challenger. This product is designed to offer the perfect hold while keeping frizz and unruly curls under wraps.
If you have shorter hair or a more cropped style, this styling cream is a must. It provides a medium-to-firm hold that will keep your hair in place all day long, even in windy conditions.
We compared it to other styling creams on the market and found it to be a little on the expensive side. Although slightly deterred by the steep price, we gave this product a try. While the packaging left much to be desired, the product within left us impressed. It offers excellent hold, and the matte finish ensured that our hair was not left looking greasy or dirty.
Key features
Challenger makes this hair pomade to offer a buttery cream consistency that is quick and easy to apply. The cream glides onto your hair, making it simple to style and fuss-free. Just what you need on those mornings when you set your alarm to snooze one time too many.
The pomade features a subtle yet appealing fragrance, and it ticks all the boxes in terms of being vegan and cruelty-free.
This formula provides a strong to medium hold to give you a long-lasting style no matter what the day throws at you. In addition, a matte finish leaves your hair looking natural and non-greasy.
Because the cream is water-based, it washes out with ease in a warm shower with a drop of shampoo.
Pros
The cream is vegan and cruelty-free
It is nourishing and hydrating
Works with a variety of hairstyles
Cons
This hair cream is expensive
Things to Consider When Buying Styling Products or Hair Products
1. Hair Type
When buying hair products, it is always to keep your hair type in mind. Brands usually offer a selection of products, each designed to meet the needs of each hair type. For example, those with thinning hair may need a hair cream that won't leave their hair feeling heavy and greasy, while others with curls may need a styling cream with a little silicone to prevent frizz.
If you have allergies or sensitivities, you may want to steer clear of styling creams that contain sulfates, while those prone to dandruff will want to avoid any products that can cause build-up.
2. Ingredients
When buying hair cream, it is essential to consider the ingredients that go into the product. Not only do certain elements help combat problems, but they can sometimes cause them too.
If you have sensitive skin, it is vital to steer clear of any products with parabens, phthalates, sulfates, or gluten.
Some of the ingredients you want to make sure your styling cream includes are fatty acids such as Linoleic acid, which stimulates hair growth, and Oleic acid, which helps prevent your hair from drying out. These natural oils work with other elements such as jojoba oil and aloe to keep your hair healthy and moisturized.
Ingredients such as beeswax will help keep your hair well styled without making it greasy or limp.
When looking for the best hair cream, there are several things to consider. Giving thought to the brand, hold, finish, fragrance, ingredients, and quality will all put you a step closer to finding the styling creme that most suits your needs.
By closely examining and testing each of the best styling creams in this review, we concluded that they each meet the criteria discussed above, making it more simple to find the best hair styling cream to meet your grooming needs.