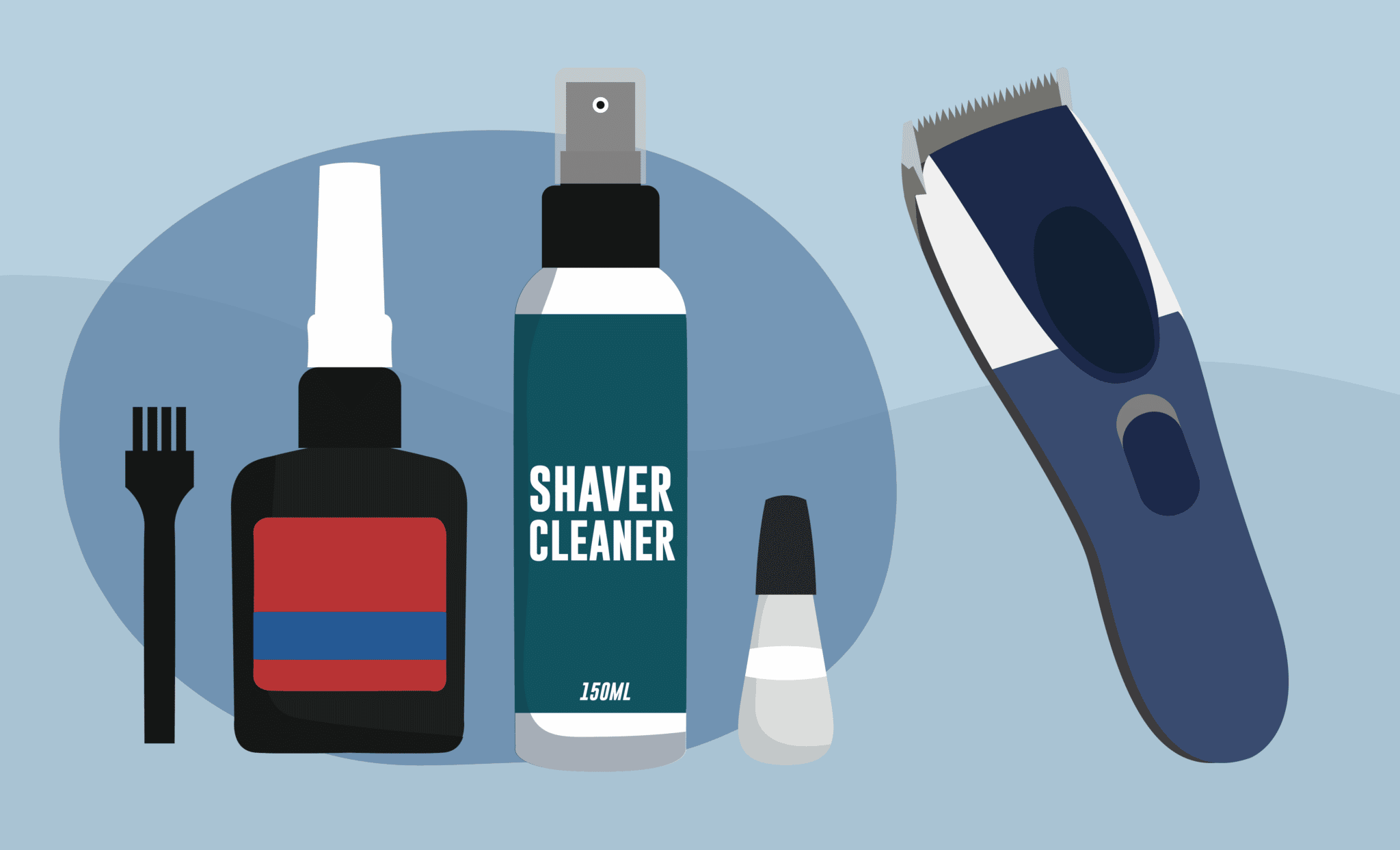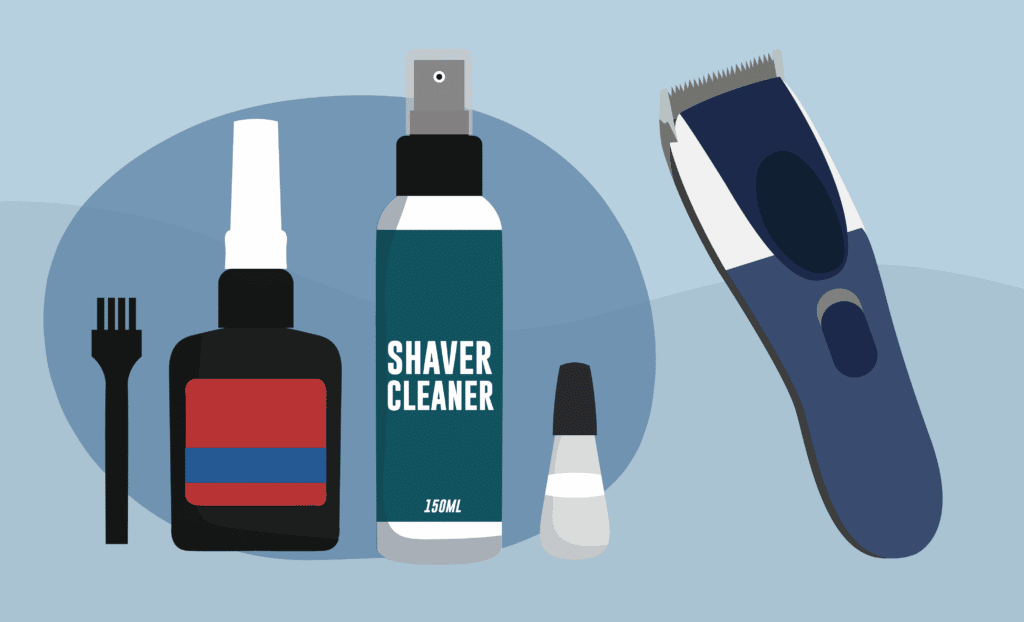 Owning a pair of clippers is the ideal way to save you time and money when it comes to getting a haircut. If you look after this tool, it will last you many years to come making it a worthwhile investment.
If you use your clippers often, you will need to make sure they are in good working order to achieve a good haircut and that the clippers don't pull or tug at your hair.
Perhaps you cut your hair only, or you're that guy in the neighborhood who is the go-to person when someone needs a trim, either way, you will need to keep your clippers hygienic and well-sterilized.
Caring for your clippers will keep them in top working condition and will help them last longer. If you're not sure how to clean and maintain your clippers, don't worry. This article will provide you with a comprehensive guide on cleaning your clippers and keeping them in good running order.
The Benefits of Cleaning Hair Clippers
Before we get into how to clean your clippers, let's look at why cleaning them is an important task:
Durability
Cleaning dirt and debris out of your clipper blades is the best way to keep them sharper for longer. Buildup of hair and grime in the blades while they are in use will cause them to dull and ultimately become blunt.
You should clean your clipper blades before and after each use to keep them sharp and in the best possible condition.
Hygiene
Disinfecting your clipper blades regularly will prevent the accumulation of germs and bacteria that could lead to infections. This is particularly important if you use your clippers to cut other people's hair and not just your own.
How to Clean Clipper Blades
Cleaning your clipper blades is relatively straightforward and makes blade care a quick and easy task. Let's take a closer look at how to go about it:
1. Removing Loose Hair and Dirt
Loose hair and dirt not only dull your blades but can also impede the operation of your clipper motor. Here are a few simple steps and tips to follow to remove the hair and dirt:
Layout a clean towel to work on and to catch all the dirt and debris.
Detach the guide comb from the clippers.
Closely inspect the blades and the area surrounding them. Then take the cleaning brush that comes with your clipper set and use it to brush away any loose hairs or debris gently. If you don't have the cleaning brush that comes with the kit, you can use a soft toothbrush or a cosmetic brush instead.
In some clippers, the blade unit is detachable. If this is the case for your clippers, follow the instruction guide included in your set and detach the blade unit. Once you have removed it, clean this unit off with the brush, too, before popping it back into place.
Do not ever use anything other than a cleaning brush to do this job. Items such as cotton swabs or tissue paper can leave behind fibers and other pieces of debris that will damage the blades in the same way as the hairs would, rendering this exercise pointless.
If the brush is not working for you, using compressed air to remove the hairs and dirt is another option.
You could also use a liquid solution to clean the hairs from your blades. For example, Andis 7-in-1 Liquid is designed to lubricate, decontaminate, clean, and prevent rust from forming on your hair clipper blades. You can buy this solution from online stores such as Amazon, and you will find it works wonders at removing those tiny, hard-to-reach hairs.
This product works by dipping the clipper blades into the solution and turning them on the run for about 30 seconds. This will remove any of the remaining hairs. When you're done, let the clippers drip dry or wipe them with a dry cloth that will remove the Andis 7-in-1 without leaving any fibers behind.
It is important to note that this product and many like it are for lubricating and cleaning; they are not made for sterilizing your clippers that you will need to do in a separate step.
2. Cleaning the Comb Guides of Your Trimmer
While it is always best to do any haircutting when your hair is clean, you can't guarantee they will arrive with clean hair themselves if you cut other peoples' hair. In this case, you may develop a build-up of grease or hair product on your comb guides. Sometimes they may collect tiny cut hairs, too, so you will need to clean them as well.
Here is how you go about it:
Remove the comb guide from your clippers, collect any others you may have used, and gently rinse them in soapy warm water.
Allow your comb guides to dry thoroughly before packing them away with your clippers. It is best to let them air dry on an absorbent clean towel overnight to ensure they dry properly.
Inspect the comb guides for any damage and ascertain whether you need to purchase any replacements. Using comb guides with broken teeth can lead to uneven haircuts, so this is a step you'll want to follow.
Store your comb guides in a place where they won't become dusty, or better yet, keep them together neatly in a pouch or bag.
3. Lubricating Your Hair Clippers
Like any piece of machinery with moving metal parts, your clipper blades need lubricating. Air, moisture, and friction can cause your blades to wear over time, and adding a little clipper oil will prevent this.
Applying lubrication to your blades keeps them running smoothly, ensures they remain sharp, and prevents them from rusting. Oiling your clippers will also ensure that hair moves off them smoothly, preventing snagging, tugging, and pulling.
It is considered best practice to oil your corded or cordless clippers or shaver after each use. This is how you do it:
Turn on your clippers and apply one or two drops of oil to the blades. Use a minimal amount of oil and quickly wipe up any excess oil as too much can make a mess and even damage your clipper motor.
Allow the clipper to run for a while to ensure the oil distributes over both blades evenly.
Wipe away any excess oil from the clipper casing.
Most hair clipper kits include a small vial of clipper oil. Clipper manufacturers often advise you to oil your clippers before you use them for the first time. When this lubrication runs out, you will need to buy more. You can quickly restock by purchasing it off a site like Amazon.
In most cases, the mechanical part of the clippers requires little to no maintenance. However, it is always best to double-check in the manual. If your clipper needs lubrication in the motor every so often, follow the manual instructions and use a screwdriver to open the casing gently. Look for the oil insertion point indicated in your manual and follow the steps accordingly.
Sterilizing Your Clean Hair Clippers
If you've ever been to a barbershop or hair salon, chances are you've seen combs, scissors, and comb guides sitting in jars or green or blue liquid. These tools are being sterilized.
Sterilization sees your clipper blades being cleaned of any germs and bacteria that may cause infection. Barbers and hairdressers are required to do this by law, or they risk losing their licenses.
While commercial-grade clippers are designed to pull apart easily for frequent sterilization, DIY home-use clippers may be a little more challenging to get apart.
How often you sterilize your clippers depends on how often you use them. Also, if you are cutting other people's hair, it is always best to clean your clippers with disinfectant before and after use or spray them with disinfectant clipper spray in between each haircut.
Sterilizing with Rubbing Alcohol
To sterilize your clipper blades, follow this simple method:
Pour a little rubbing alcohol into a dish. About a quarter-inch should do.
Using a small brush, remove any hair and debris from the blades.
Submerge only the blades into the alcohol.
Run the clippers for about 30 seconds. You will see hairs and other debris coming off the blades and into the liquid.
Repeat steps one through three until the alcohol remains clear after running the clippers.
Wipe with a clean, dry cloth and allow the clippers to air dry.
Oil your blades following the instructions above.
If your trimmer has a detachable top blade, remove it according to the manual instructions and place it in a dish of isopropyl alcohol or antiseptic. Keep replacing the fluid until it remains clean. Doing this helps to indicate when all the dirt, grease, and hair product has dissolved off the blades.
Sterilizing Using White Vinegar
You can also sanitize your hair clippers using distilled white vinegar.
Although acidic, white vinegar is relatively harmless and found in most homes and is not as hazardous for children and pets as rubbing alcohol. It is also relatively inexpensive. The acidity in the vinegar is what kills the germs and mold, sterilizing your clippers.
To sterilize your clippers with white vinegar, you will need to follow these steps:
Use a small brush to remove as much debris and hair off the blades as possible.
Pour a small amount of distilled white vinegar into a bowl or dish.
Submerge the clipper blades (not the whole clipper, only the blades) into the vinegar.
If your clipper blades are detachable, follow the instructions on the clipper manual to detach them and then place the blades in the bowl of vinegar.
Allow your clipper blades to sit submerged in the vinegar for ten minutes or so while the acid in the vinegar gets to work, removing the dirt, grease, hair product, and germs.
Remove the clipper blades from the vinegar.
Rinse the blades in warm water, making sure not to get water on or into the body of the clippers.
Allow the clippers to air dry on a clean towel.
If you detached your clipper blades, you can now re-attach them following your manual's instructions.
Unlike the rubbing alcohol method, here, you do not turn your clippers on while sanitizing them.
Sterilizing Using Clipper Spray
Clipper spray is a legal requirement for barbers in America and needs to be applied to clippers between each haircut.
This spray works as a disinfectant and kills germs or bacteria, preventing them from passing from one person to the next. So if you find yourself giving haircuts to multiple family members or the neighborhood kids, clipper spray is a must.
Another handy feature of this spray is that it prevents the clippers from overheating. Something that may happen if you are giving multiple haircuts in a row. Stainless steel blades generate heat as a result of friction. Operate your clippers for longer than 15 minutes at a time, and you'll see what we mean.
Using a product like Andis Cool Care is a great way to keep your clipper blades cool and disinfected. You can find this spray on Amazon, and it doesn't cost a whole heap either. Better still, this spray helps prevent wear and tear on the blades and protects them from rusting.
Whether you use Wahl clippers or a shaver from Andis, you are going to need to maintain them. Keeping your clippers in good working order means cleaning and sterilizing them regularly.
Removing small hairs and dirt will prevent the clipper blades from becoming. Cleaning your clipper blades also prevents the clipper from snagging, tugging, and pulling on your hair. Keeping your clippers well-sterilized will ensure that you maintain hygiene standards and prevent any infections arising from germs and bacteria trapped in your trimmer.
While cleaning your clippers may seem tedious, it is well worth it in the end. Following this practice regularly will keep them running and running well for many years to come.